Today, online buyers expect to get help in real time.
And, there are two popular ways to address this problem.
You can rely on your customer service reps and use live chat—because human support agents understand human users best.
Or—
Use chatbots to answer customer questions—because virtual assistants powered by artificial intelligence can work 24/7.
But who wins the chatbot vs live chat battle? Should you prioritize instant responses or the quality of human interactions? How to meet your customer expectations? And last but not least, is it OK to use both if you can't decide?
In this article:
If you want to learn more about chatbots and how businesses use them, you can also read:
Live chat vs chatbots: key differences
When considering live chat or chatbots for your website or app, it's important to understand the differences between the two technologies. So, what is live chat?
Live chat requires a human agent to be available to respond in real time. This solution is best suited for situations where a personal approach is needed, such as customer support or sales.
Chatbots can operate without the need for human intervention, or they can reduce it to a minimum. Chatbots are best suited for automating simple tasks, answering FAQs, or providing information.
| Live chat | Chatbots |
| --- | --- |
| Live chat provides an instant connection with a human customer service agent who can help resolve any issue or answer a question. | Chatbots use artificial intelligence to mimic human conversation and can typically only handle very specific questions or simple tasks. |
| Chat platforms can integrate with social media, email, and instant messaging to provide a single multichannel dashboard for communicating with customers. | They can interact with users through a chat interface, such as Facebook Messenger, WhatsApp, or a live chat widget. |
| Your capacity is limited by the number of customer service agents you have available to staff the chat system. | Bots can handle any volume of parallel requests, collect feedback, or gather contact information on autopilot. |
On one hand, live chat provides an opportunity for a human touch. If you need assistance or have an unusual question, nothing beats talking to a real human. On the other hand, chatbots are typically more efficient since they can send automatic replies within seconds.
Let's take a look at live chat vs chatbots comparison table.
Live Chat
Chatbots
✅ You can use it to offer thorough and personalized assistance with a human touch

✅ With skilled operators, it can be an effective upselling and cross-selling tool
✅ You can use them to provide 24/7 support with no human involvement

✅ Some solutions offer a library of templates and automation features to create great customer experiences out of the box
🚫 You must provide support via live chat personally or hire people to operate it

🚫 You need to train your team properly, as it requires knowledge of your products and good communication skills

🚫 Works well only with a limited volume of customers, and it's difficult to chat with several people at the same time
🚫 May not be able to understand some questions or handle complex issues

🚫 They can require a lot of work related to implementation, chatbot design, or maintenance

🚫 A small portion of your customers who prefers traditional communication channels may find them irritating
Best for: Providing high-quality customer service and solving complex problems
Best for: Increasing customer engagement, generating leads, and answering FAQs
Read more: Take a look at our live chat statistics report to get more business insights about this communication channel.
AI-powered chatbots equipped with natural language processing (NLP) are a good alternative to knowledge bases and traditional FAQs. But live chat offers a better opportunity to solve complex questions and tighten your sales funnels.
Now—
Which one is better? Live chat or chatbots? The answer is somewhat complicated, but let's give it a try.
How to choose between chatbots vs live chat?
There are a few key aspects you should consider when deciding between chatbots vs live chat for your business.
Both solutions can offer a great user experience when approached in the right way. But there are some common pitfalls too.
For example, if you're a startup offering consulting services, a chatbot could be a great way to offer quick answers to common questions and generate leads.
But—
Let's say that you run an online store selling musical equipment. Your customers may ask a lot of unique questions about the feel, the character, and the compatibility of different instruments and gear. They would prefer to chat with a human representative, who is also a fellow musician, not a soulless bot.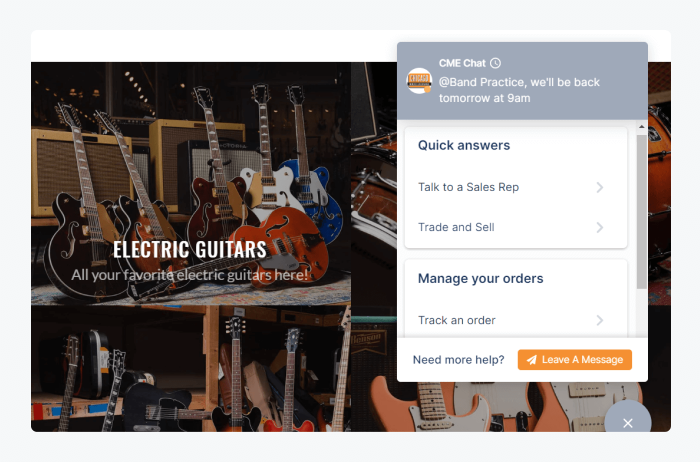 The solution above, used by Chicago Music Exchange, offers a mixed approach. You can reach out to sales reps with your specific question. But if you want to resolve generic issues, like order tracking, you can also use a self-service chatbot.
Here are some of the most common examples of when your customers would prefer one technology over the other: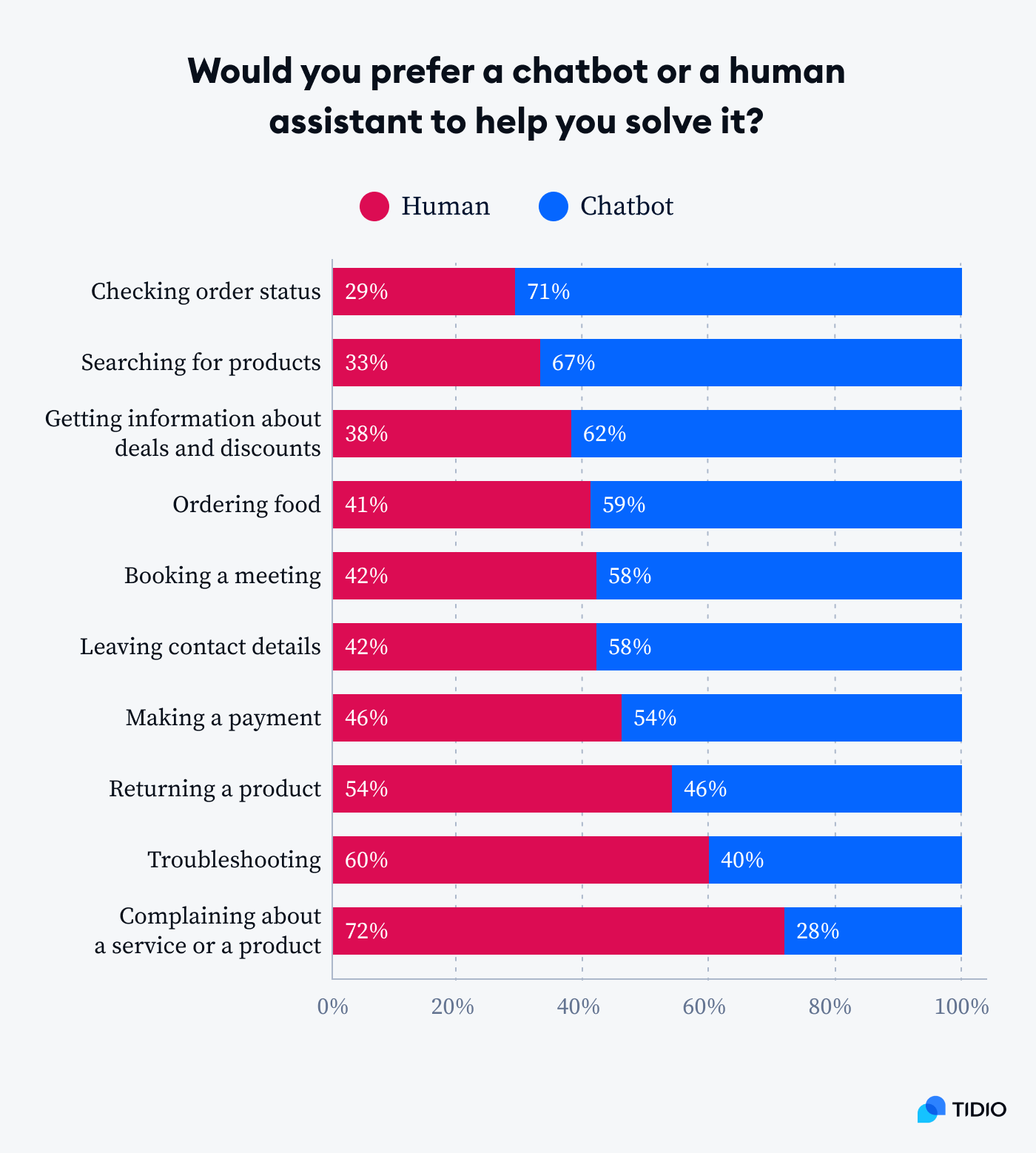 Read more: You may want to check out some common chatbot use cases and learn more about the importance of live chat in ecommerce.
In general, the main questions you should ask yourself are:
Do I need to provide quick responses and 24/7 service to my customers?
Do my customers need help with specific products or just ask general questions?
Do I have the time or resources to hire and train agents? What is my budget?
Do I have enough information about my customers to design chatbots that meet their needs?
Let's try to break down these questions a bit further and see in which areas chatbots and live chat excel.
1. Speed of response
Chatbots ★★★★★
Live chat ★★★☆☆
The first and obvious advantage of chatbots is that they will send a reply to customers instantly. This way, the wait time is reduced to zero.
Customers hate waiting, so this is a great advantage. In fact, 90% of customers believe that immediate response is an essential part of good customer service. The same study revealed that for customers, waiting for a reply is the most frustrating part of getting help from a company.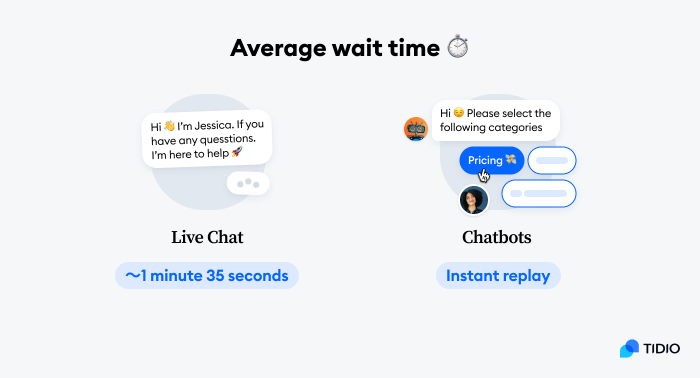 Now, with live chat, the average time to reply varies for different types of businesses and industries. However, it's widely accepted that it should be less than three minutes. The global live chat average response time is 47 seconds.
According to our estimations based on millions of conversations powered by Tidio, including smaller businesses, it's more likely to be about 1 minute and 35 seconds. It's up to you to decide if your customers would wait this long.
In the world of online business, every extra second can determine whether a customer buys your product or leaves your website. Chatbots can definitely give you the upper hand here.
Read more: Average Live Chat Response Time
2. Customer experience
Chatbots ★★★★☆
Live chat ★★★★☆
Speed of response affects good user experience. But ultimately there are a lot of other factors. Although chatbots are faster, many customers may feel that nothing can replace contact with a real person. After all, chatbots are not yet able to replicate human emotions and empathy.
Our customer experience research revealed that only 17% of customers think that businesses listen to them. And for many shoppers, being heard is sometimes more important than solving the problem as quickly as possible. For them, the very idea of talking to a robot may seem disrespectful.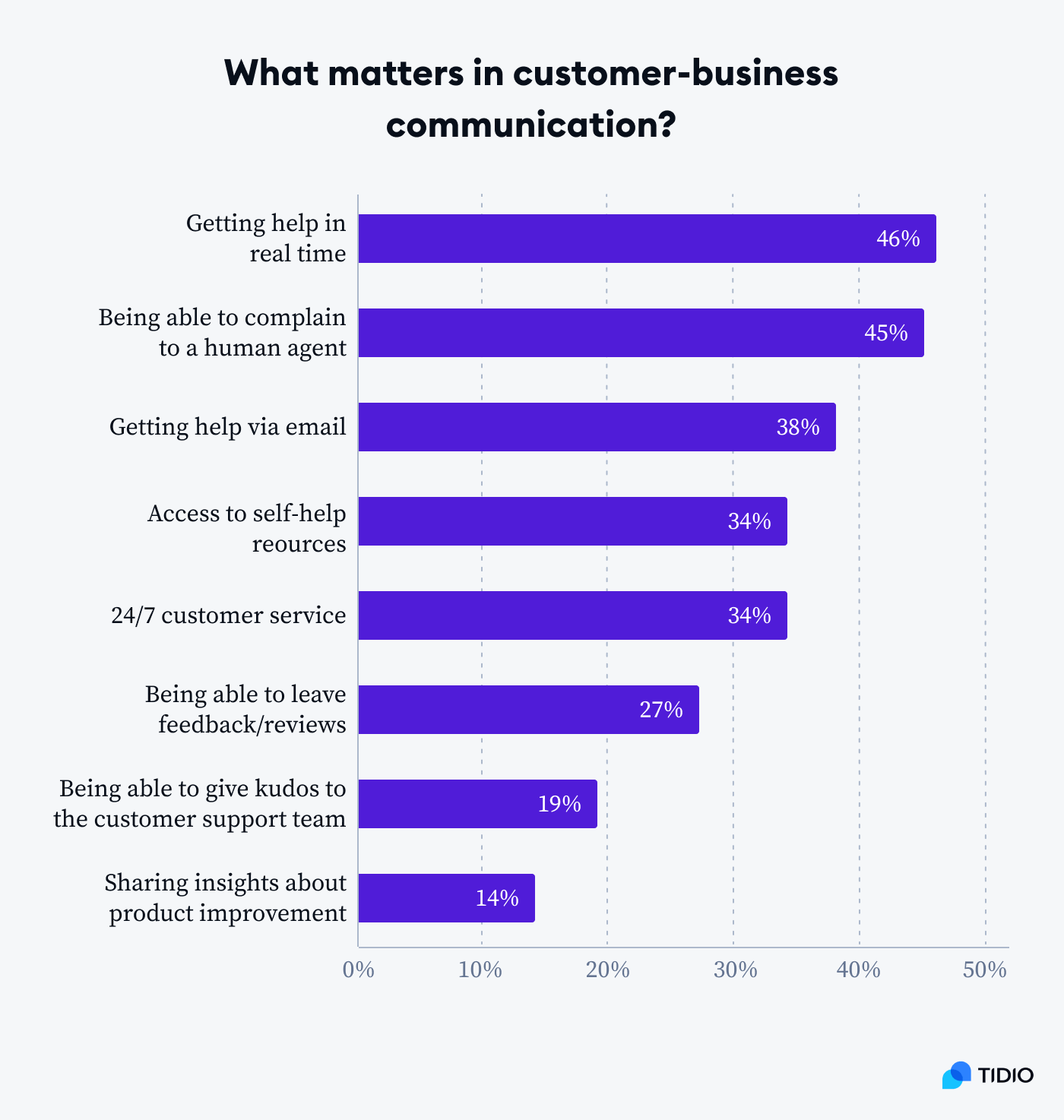 Still, chatbot technology is constantly evolving. For every person who hates chatbots, there is another who loves them. In the end, it comes down to personal preference.
A sizable portion of consumers is also open to trying new solutions and self-service tools. Given the alternative of waiting for an agent, 62% of consumers say they would prefer to use a chatbot for troubleshooting.
Given all the pros and cons, this round ends in a draw.
Read more: How to Build Customer Experience Strategy
3. Availability
Chatbots ★★★★★
Live chat ★★★☆☆
Another advantage of chatbots is that they work 24/7. They don't get tired, and they don't need to take a break. This is amazing for companies who want to offer excellent customer service, but can't afford to have someone manning the live chat around the clock. Chatbots can take care of the majority of customer queries and requests with no human involvement.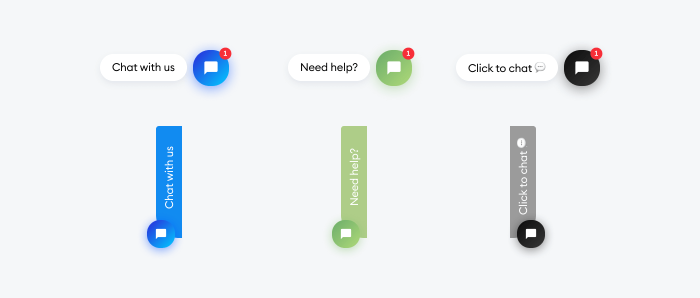 Although chatbots are unbeatable in terms of availability, live chat agents can also have some tricks up their sleeves. For example, if your daily conversation volume is low, you can use a mobile live chat app to receive notifications about new incoming messages and answer them on the go. You don't have to compromise on your customer service quality just because you're not available on your computer all day long.
Read more: Best Customer Service Chatbots
4. Personalized approach
Chatbots ★★☆☆☆
Live chat ★★★★★
If there is one aspect that live chat wins by a mile over chatbots, it's the human touch. Chatbots can provide some level of customer service, but they are not yet able to understand and read people. In fact, and about 71% of consumers get frustrated by digital experiences that feel too impersonal.
But—
With live chat agents, the sky is the limit. Especially with talented and communicative people who know how to push the right buttons and connect with customers.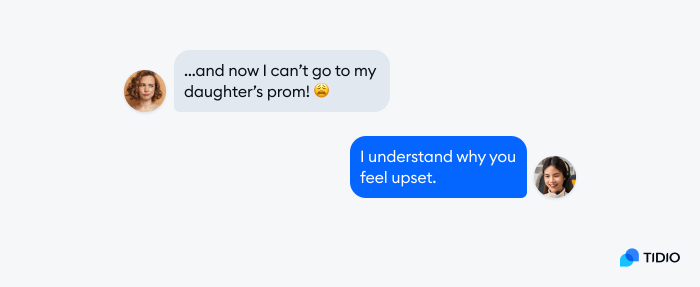 Live chat allows you to have a real-time conversation with a real person, which means that customers receive highly personalized service. You can get to know them on a personal level and understand their unique needs. Additionally, some solutions have a customer info panel with their browsing and order history. This way, you can provide them with the best possible assistance and get much more out of customer service interactions.
Read more: Customer Service Chat Handling Skills for Agents
5. Ease of implementation
Chatbots ★★★☆☆
Live chat ★★★★☆
In most cases, you have to connect your chatbot to your live chat software. This basically means that you have to implement a chat widget on your website anyway, whether you decide to use live chat alone or in combination with a chatbot.
The good news is that many live chat vendors offer pre-made chatbot templates that you can activate with just a few clicks. These are usually very basic bots that can answer some common questions. But they are still helpful in providing customers with the information they need without engaging you or your agents.
If you need to create custom chatbots, things get a little bit more complicated. It's true that some of the best chatbot builders allow you to make your own bots without coding. But it still requires some planning and effort to design a chatbot that works well.
So, what's our verdict? Both are relatively easy to install, but adding chatbots usually involves adding a chat plugin to your website anyway and some extra steps. If you're looking for something that will require the least amount of effort to implement, go with live chat.
Read more: How to Add Live Chat to Your Website
6. Potential costs and maintenance
Chatbots ★★★★☆
Live chat ★★☆☆☆
If you need a system that can handle a high volume of repetitive requests, a rule-based or AI chatbot with intent recognition may be the best option. Top chatbot platforms of this type usually are subscription-based, and you don't have to worry about maintenance since bots are not hosted on your website.
On the other hand, live chat agents will need to be paid a salary or an hourly rate, and you also need to account for the cost of the live chat software itself. In most cases, you will also need to factor in the cost of training agents to use the software and practice some common customer service scenarios.
Live chat
Chatbots
– Unlimited messages but you have to pay for additional agent seats
– The software is cheap, but you have to hire chat operators
– Changing your strategy requires updating your live chat scripts and additional training
– Different subscription tiers offer a limited or unlimited number of chats
– The software is cheap, but you may have to hire a developer or a chatbot designer
– Changing your strategy requires changing chatbot conversation flows and redesigning your bots
Overall, chatbots have the potential to be more cost-effective than live chat, especially if you need to scale up your support operations quickly. But keep in mind that this will only be true if you don't need much customization.
Using a commercial chatbot app is the cheapest option. If you need more control, you can also check out some popular chatbot frameworks for developers. However, coding an advanced chatbot on your own from scratch may be much more prohibitive.
Read more: Chatbot Pricing: How Much Does a Chatbot Cost?
7. Features and integrations
Chatbots ★★★★☆
Live chat ★★★★☆
When it comes to features and integrations, there is a big overlap between chatbots and live chat. In a way, many chatbots are actually live chat bots—they send automatic messages mainly though live chat widgets. You could say that these bots are a feature of your live chat app.
Both, live chat and chatbots, come with a wide range of functionalities that can be very helpful in providing excellent customer service. And both can be integrated with popular CRM systems, help desk software, and sales tools.
So, what features and integrations you should pay special attention to?
Your software should allow you to automatically start chat sessions based on customer behavior on your website. Automated greetings and canned responses can also be very helpful in saving time.
If you want to focus on live chat operated by agents, make sure to focus on the chat solutions that allow you to save quick replies and have a ticketing system. Chatbots should offer marketing automation features, social media integrations (e.g. for setting up Instagram bots), and the ability to connect to third-party apps through Zapier.
For building fully-automated conversational marketing flows and self-service customer support, you need to pick from the very best AI chatbot tools. But a live chat tool with features such as live typing preview, chat analytics, and native ecommerce integrations will also make the lives of your support agents much easier.
Read more: What Is Ecommerce Automation and How to Use It?
8. Messaging channels
Chatbots ★★★☆☆
Live chat ★★★★☆
One thing that you should remember is that many chatbot platforms were originally designed for specific messaging channels. For example, ManyChat is first and foremost a Facebook Messenger chatbot builder. This has a huge impact on the kind of features that you can expect. Similarly, some WhatsApp chatbots may have some great features utilizing the WhatsApp API, but will be very limited if you want to use the same bots on Telegram.
If 90% of your target audience is using Messenger to communicate with businesses, then you should try to make the most out of this channel. A Facebook-oriented bot would be a powerful weapon in your customer service arsenal. Go for it.
On the other hand, if you want to deliver a uniform customer service quality across several channels, then live chat is more versatile.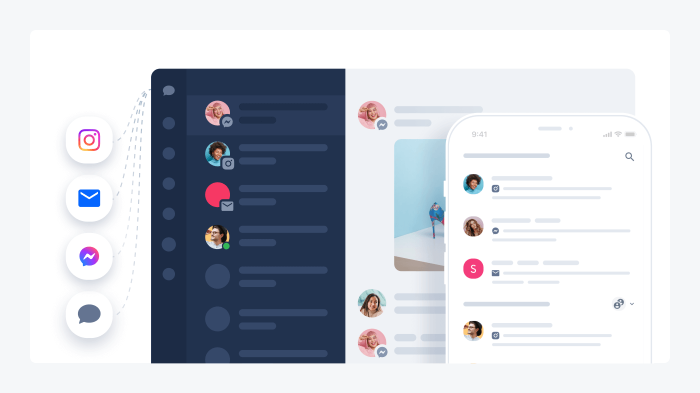 With live chat, you can use a single platform to support all major messaging channels: web, mobile app, and social media. Since the operators write messages manually, they don't need to worry about the technical restrictions of each channel. And you can still receive all messages in one panel with the multichannel inbox feature.
When it comes to chatbots, a unique trigger might work on Instagram, but on Facebook, you'll need to use a workaround to replicate the same flow. This can be bothersome in the long run, which is why we recommend live chat if you want to use multiple channels for your customer communication. Live chat wins this round by a small margin.
Read more: How to Use Facebook Messenger Live Chat Integration
9. Analytics and reporting
Chatbots ★★★★★
Live chat ★★★★☆
Chatbots come with plenty of advanced reporting options. For example, you can track how many people start a conversation, what kind of goals they complete, and how many users reach specific messages within your chatbot decision flow. You can also export all this data for further analysis.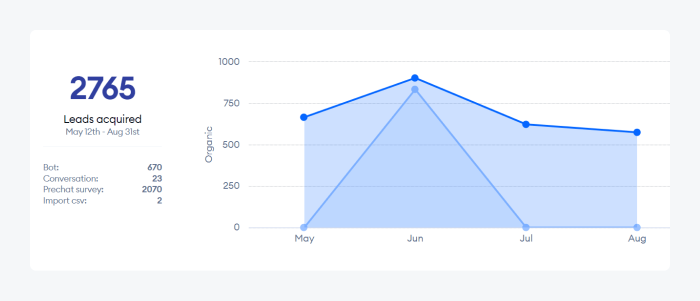 Most live chat software also comes with a decent set of reports. But they are not as comprehensive or easy to interpret. That's because live chat reporting is based on human conversations and the reports can be quite unpredictable. Whereas, with chatbots, there are fewer factors that can influence the outcome of every interaction, so the data is more straightforward.
This is why chatbots get a clear edge when it comes to analytics and reporting. If you want to have full control over your automated customer service flows or A/B test your messages, stick to chatbots. Live chat performance analytics are more likely to give you insights into the performance of your individual chat operators—not necessarily the overall quality of your customer support.
Read more: Bot Performance Analytics & Key Chatbot Metrics You Should Track
How live chat and chatbots can be used together
Clearly, there are many differences between live chat and chatbots. Deciding which one to choose can be a challenge. But keep in mind that you can also use both technologies simultaneously. A live chat chatbot that can answer questions from your website visitors is not an unusual thing at all.
Depending on your needs, you may want to consider a solution that offers both chatbots and live chat. This way, you can use bots to automate simple tasks and leave more complex issues for agents to handle.
Here's what you can do:
1. Add a live chat widget powered by chatbots
Use an all-in-one customer service software that offers both live chat and chatbots. After chatting with your website visitors, you can analyze the conversations. Doing this will let you gather information about your customers and understand their common problems. Then you should plan when to route a conversation to a human agent and when to let the chatbot handle it on its own.
Read more: High Ticket Dropshipping With Live Chat and Chatbots
2. Identify common questions and areas that can be handled by bots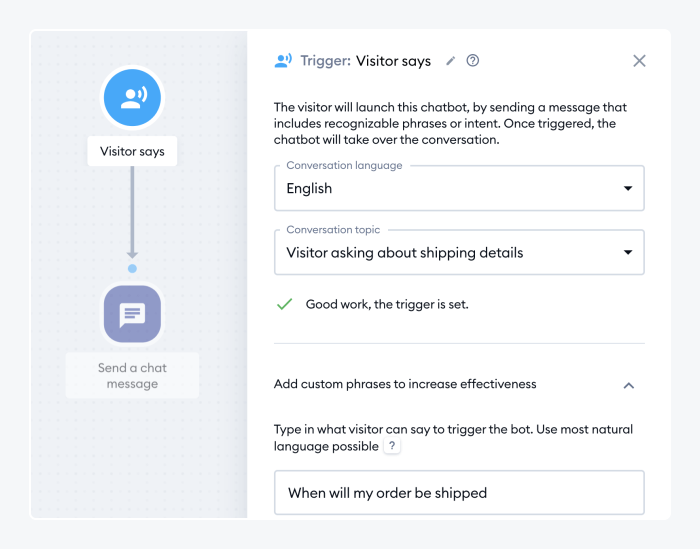 Collect conversation scripts and try to list recurring problems. Group them by their complexity. It may turn out that some of your regular inquiries don't need an answer from an agent. There are many chatbot templates that are fully capable of handling a specific type of conversation, for example, booking a meeting.
You can also let the chatbot train itself on your company data. This way, the system will suggest various bots to add to your site that can handle different intents.
3. Configure live chat bot assistants that operators can trigger manually
If you still don't want to rely on your bots only, you can let your live chat agent start certain bots manually. That way, you can be sure that even the most challenging customer inquiries get the best possible answer. Once you learn which requests can be handled by a bot, you can use your historical data for training the AI engine. Chatbots will use machine learning to identify similar intents and provide matching answers.
Read more: Using Tidio Bots in Live Conversations
4. Leave an option to contact your human reps and set up notifications
There will be times when a customer needs more than what a chatbot can offer. In these cases, you can transfer the conversation to a human agent. It's a good idea to add a "Talk to an agent" button as one of the quick decision choices. A bot can also send a mobile notification to your customer support team if there is a customer inquiry waiting for your reply.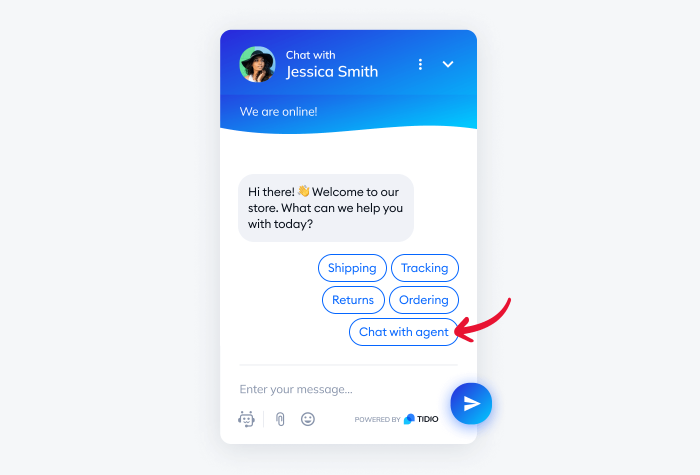 5. Monitor your results
Even if you manage to divert some of the tasks from agents to bots, you should constantly tweak and improve them. Pay special attention to your customer satisfaction metrics. The more data you have, the better your chatbots will get at providing answers. You can also ask your customers for feedback to help you fine-tune your chatbot strategy.
Many live chat support tools come with built-in chat analytics. They will give you insights into the performance of both your live chat agents and your chatbots. There are many chatbot metrics such as engagement rate and customer satisfaction that you can measure after each conversation. You can use them to decide if your bots are capable of handling interactions with your customers.
Key takeaway
Both live chat and chatbots have their pros and cons. It all comes down to your specific needs and preferences. We hope this article helped you choose the right solution for your business.
You may remember the ratings that appeared earlier in the article. Don't worry, we kept track of them. As a recap, here's a comparison list of live chat vs chatbots:
| | Chatbots | Live chat |
| --- | --- | --- |
| Speed of response | 5/5 ⭐ | 3/5 ⭐ |
| Customer experience | 4/5 ⭐ | 4/5 ⭐ |
| Availability | 5/5 ⭐ | 3/5 ⭐ |
| Personalization and human touch | 2/5 ⭐ | 5/5 ⭐ |
| Installation process and setup | 3/5 ⭐ | 4/5 ⭐ |
| Costs and maintenance | 4/5 ⭐ | 2/5 ⭐ |
| Integrations and features | 4/5 ⭐ | 4/5 ⭐ |
| Messaging channels | 3/5 ⭐ | 4/5 ⭐ |
| Reporting and analytics | 5/5 ⭐ | 4/5 ⭐ |
| Total score | 3.9/5 ⭐ | 3.7/5 ⭐ |
Chatbots seem to win with the live chat by a notch. If you had to choose one over the other, a chatbot would be the way to go.
One of the main advantages of chatbots is that they are available 24/7 and bring the wait time down to zero. They are also much cheaper than live chat. An average salary of a single customer service agent can easily cover the premium plan of most chatbot services.
However, the key point you should remember is that using a chatbot doesn't mean you have to give up on live chat completely. In fact, combining the two might be the best customer support strategy for your business.
Operators can use chatbots to take care of simple tasks and leave more demanding queries for themselves. This way, agents can focus on providing high-quality customer service without dealing with massive volumes of repetitive requests.
At the same time, chatbots can help you collect data about your customers and their problems. This information can be used to improve your customer service and products.