ChatBot is a chatbot solution developed by the same company that called their live chat LiveChat.
It's also easy to guess what the names of their help desk and knowledge base apps are.
Yes, they are HelpDesk and KnowledgeBase.
A smart trick. But you don't have to use ChatBot® to add a chatbot to your website. It's neither the first chatbot on the market nor the best. Especially when you take a closer look at their price tag.
If you just need a chatbot, you may want to consider one of ChatBot alternatives.
In this article:
If you are interested in chatbot plugins that integrate with specific platforms, you can also read:
Now—
Let's take a closer look at the ChatBot service itself.
Why you may need a ChatBot alternative
Chatbot services allow users to communicate with a computer program using natural language. They can automate tasks or provide information. You may integrate chatbots with messaging apps like WhatsApp or website chat widgets. For example, online store visitors can use a chat icon to ask questions about products 24/7 and your ecommerce chatbot will send them automatic replies.
Why is this such a big deal?
According to a report by CMO Council, 75% of customers singled out fast response times as the most important part of a great customer experience. And chatbots have a proven track record of increasing customer satisfaction. Chatbot statistics show that customer service chatbots can resolve over 90% of customer queries in just 10 messages or fewer.
Now—
ChatBot is a powerful tool that can help you make customers happy.
In general, the company offers a whole ecosystem of aptly named SaaS products for customer service—ChatBot, LiveChat, HelpDesk, etc. But their tools all come at a hefty price. And to get the most out of them, you need to use several different modules—with separate subscriptions.
To unlock features such as button actions you need to pay almost $150 month to month. And that still gets you only a limited number of chats. Also, if you want to offer a mixed solution—with AI virtual assistants and human agents—you still need to buy a LiveChat subscription separately.
There are several ChatBot competitors that offer access to unlimited chatbots and conversations for a fraction of that price. And they even add free live chat as a cherry on top.
What is the best ChatBot alternative?
If you're looking for an affordable ChatBot alternative with plenty of features, we recommend checking out one of these options.
Comparison table of top ChatBot competitors and alternatives
Let's go through all of them, and compare in detail their features, pros, cons, and pricing options.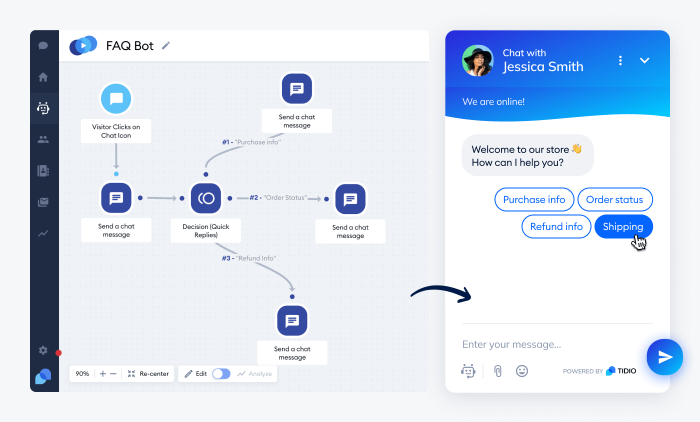 Rating: 4.7/5⭐ (based on 1,135+ reviews)
Now you should be like: Hold on! Wait for a second! Isn't this your own company?
OK, you caught us red-handed. While we really don't intend to toot our own horn, we seriously believe that Tidio deserves a spot in this ranking. With 1,000+ positive reviews on G2, it's safe to assume that our users would probably agree.
Tidio is an all-in-one customer communication and marketing software. It has one of the best visual chatbot builders that you can use for free. You can deploy chatbots powered by Tidio on your website and social media, or even generate conversational landing pages.
Our solution offers a variety of chatbot templates for different industries and technologies. The collection includes ready-to-use chatbot designs for lead generation or ecommerce shopping cart abandonment. The app can help you save time and money by automating tasks that would otherwise take up a lot of valuable resources.
Features:
No-code chatbot builder with a collection of templates to choose from
AI chatbots with bot intent detection and natural language processing (NLP)
Customizable live chat widget and omnichannel communication
Website visitor insights, conversation analytics, and A/B testing
Integration with Facebook Messenger, Instagram, and other channels
Shared inbox, ticketing system, and chat assignment features
Desktop, Android, and iOS app with notifications and messaging options
Open JavaScript API for unlocking custom functionalities
Free. Freemium plan with unlimited conversations and access to Tidio's chatbot builder
Communicator ($19/month). Visitor insights and user permissions
Chatbots ($49/month). Unlimited chatbot projects and automatic bot messages
Read more: Find Out How a Dog Accessories Store Doubled Sales With Chatbots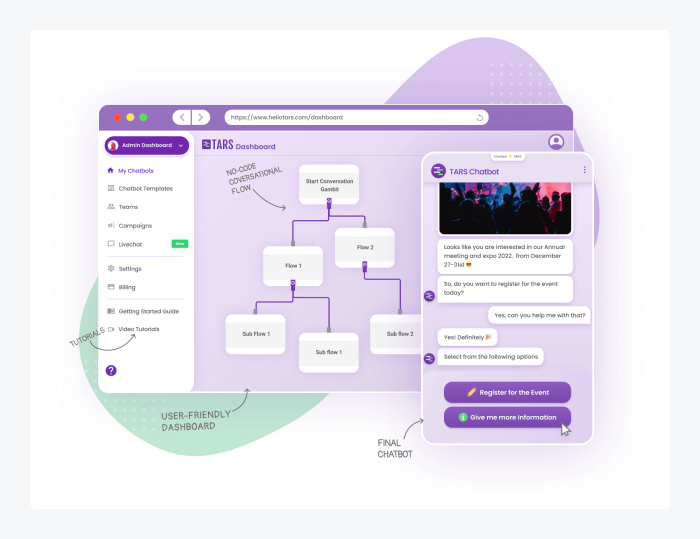 Rating: 4.7/5⭐ (based on 145+ reviews)
Tars is a no-code chatbot platform for marketing and customer service teams. You can use it to automate customer service tasks, such as answering common questions, providing information about products or services, or handling complex interactions. This chatbot builder is highly customizable and can be tailored to fit the specific needs of your business. With Tars, you can learn how to create a chatbot and provide an enhanced customer service experience to your website visitors.
Pros:
Conversational landing pages powered by Tars are perfect for PPC campaigns
Huge library of chatbot templates and different workflows, including WhatsApp chatbots
Additional features and chatbots for banking and financial services sector
Good option for inbound marketing and capturing leads
Cons:
Working with chatbot designs and projects with many nodes can be difficult
Less customer service-oriented than some of the other ChatBot alternatives
Free trial. This chatbot solution offers a 14-day trial to test the app
Business ($99/month). 5000 chats/month and 1 chatbot
Premium ($499/month). 10000 chats, 3 chatbots, and WhatsApp Business API
Enterprise (custom pricing). Increased limits, custom code, and additional integrations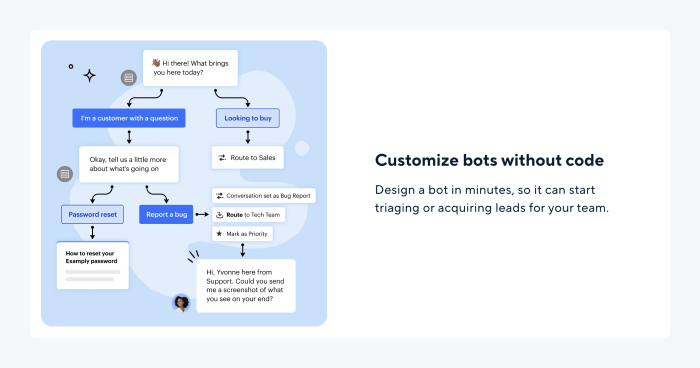 Rating: 4.4/5⭐ (based on 2,250+ reviews)
Intercom is one of the most recognizable ChatBot competitors on the market. The company offers a suite of marketing and sales tools that help businesses automate customer support, sales, and marketing. Intercom comes with its own CRM and marketing software, making managing customer interactions and keeping track of essential data easier. It also offers a robust set of features for managing customer support, including the ability to create custom workflows.
Pros:
It's one tool that combines and replaces several different solutions
Apart from chatbots, it can be used as both a help desk and a live chat app
It offers a comprehensive range of features and integrations (Slack, HubSpot, Pipedrive)
Cons:
The initial process of setting everything up on your website can be challenging
Prices are quite high and depend on the volume of customer interactions
No free plan available
Starter ($74/month). Conversation routing bots only
Support (custom pricing). Resolution bot feature
Engage/Convert (custom pricing). Custom AI chatbots
Read more: Best Intercom Alternatives You Can Try for Free
Rating: 4.6/5⭐ (based on 130+ reviews)
ManyChat is a chatbot builder that enables you to create chatbots for Facebook Messenger. With ManyChat, you can easily create bots to help you with customer support queries or conversational chatbot marketing. You can also use ManyChat to build a bot that can take orders, schedule appointments, or answer FAQs. With its easy-to-use interface and wide range of features, you'll be able to create a chatbot that meets your business needs in no time.
Pros:
Many automated response workflows for different stages of the customer journey
Easy-to-use tools for designing your own custom Facebook chatbots
Integration with email software and SMS for discount campaigns, newsletters, or booking confirmations
Cons:
It's not ManyChat's fault but Facebook policies make it difficult to use ManyChat for lead nurturing
You can connect ManyChat with many apps through Zapier but only for exporting/importing contact data and not for event tracking
You can't use it as a website chatbot widget—social media and WhatsApp are the only channels
It's not ManyChat's fault but Facebook policies make it difficult to use ManyChat for lead nurturing
You can connect ManyChat with many apps through Zapier but only for exporting/importing contact data and not for event tracking
You can't use it as a website chatbot widget—social media and WhatsApp are the only channels
Free. You can use ManyChat bots for free for up to 1,000 contacts engaged
Pro (from $15/month). SMS text messaging, email, additional customer segmentation tags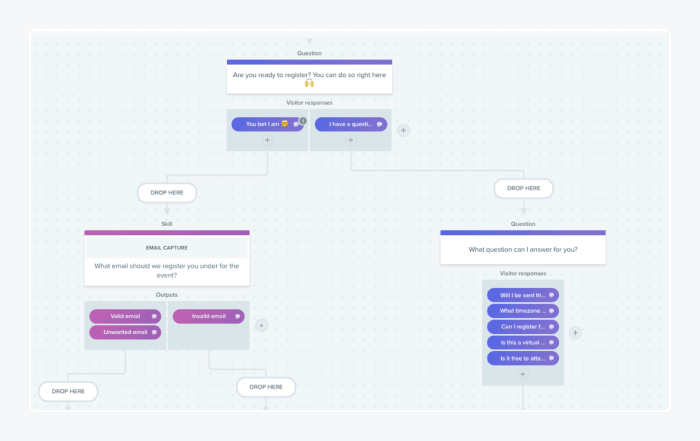 Rating: 4.4/5⭐ (based on 580+ reviews)
Drift is a chatbot software company that provides a customer messaging platform for businesses to communicate with their customers in real-time. Drift's platform includes a variety of features, such as live chat, chatbots, video chat, email, and SMS messaging. Drift also offers a number of integrations with third-party applications, such as Salesforce, Zendesk, and Intercom.
Pros:
Good analytics and activity dashboard
Many fun and personalized chatbot playbooks—ready-to-use chatbot workflows for different customer engagement scenarios
Friendly design of the chatbot and live chat icon
Cons:
Features for sending image-based welcome messages are very limited
Some users find the backend user interface confusing and difficult
Free. Drift offers a freemium plan with some limited chatbot and live chat features
Standard ($40/month). Custom chatbots and Salesforce integration
Pro ($400/month). A/B testing and lead routing rules
Enterprise ($1,500/month). Multi-language features and machine learning bots
Read more: Best Drift Competitors & Alternatives for Small Businesses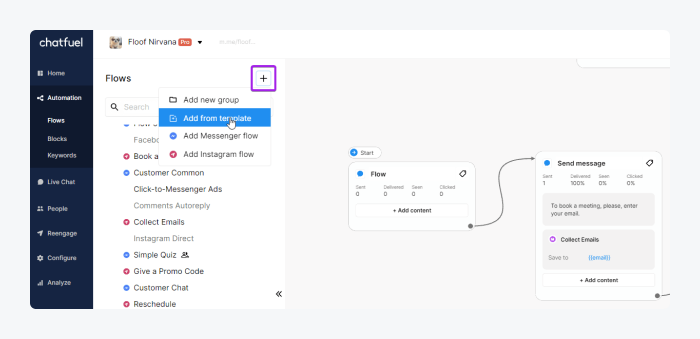 Rating: 4.6/5⭐ (based on 30+ reviews)
As of today, there are over 300,000 active chatbots on Messenger. It's because they are very effective—and easier to create than ever. If you are looking for the best ChatBot alternative for social media, Chatfuel is a great bot platform to consider. It allows you to create a chatbot for Facebook Messenger, Telegram, Slack, or any other messaging platform. Chatfuel also offers a wide range of features, including AI-powered chatbots, natural language processing, and support for multiple languages.
Pros:
A drag-and-drop builder for creating advanced social media chatbots
Easy integration with Facebook pages and a one-click sign-up process with Facebook accounts
A/B testing functionalities for increasing ecommerce conversion rates
Cons:
Like ManyChat, it focuses on social media—if you want to add a live chat to your website you need to use a Facebook Messenger website chat integration
The trial ends after 50 conversations, which is extremely limiting and it's hard to judge how the software will perform over the long term for your business
Free trial. End after automated 50 chats
Entrepreneur ($14.99/month). Priority support and 500 monthly conversations
Startup ($24.99). Priority support and 1,000 monthly conversations
Small Business ($59.99). Priority support and 3,000 monthly conversations
Enterprise (custom pricing). Flexible prices and features that match your chat concurrency
Read more: How to Integrate Tidio With Messenger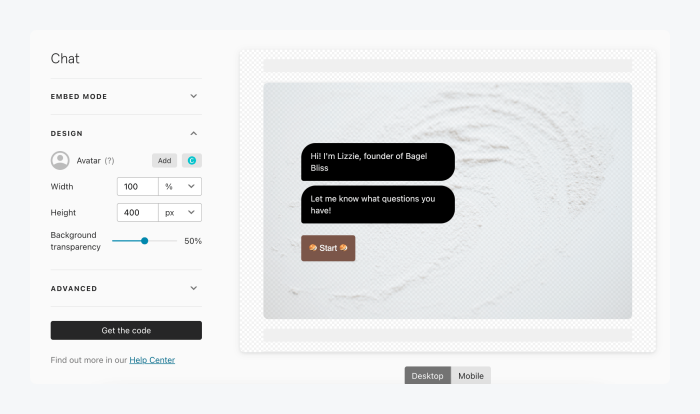 Rating: 4.5/5⭐ (based on 565+ reviews)
While not a chatbot platform as such, Typeform provides a great way to create interactive surveys. Just like bots, they can gather information from customers and employees or generate leads. And you can embed the forms on websites or create conversational surveys that look like a regular chatbot widget. Instead of bothering your customers with traditional forms or surveys, you can create semi-conversational experiences that feel like having a nice chat with a bot. Typeform is a great alternative to regular chatbots.
Pros:
A collection of survey designs for different situations and types of customer research
Conversational forms and survey interfaces can be embedded on your website or used as independent landing pages powered by Typeform
Many integrations with third-party apps and formats to export data
Cons:
No conversational AI engine—the flow logic can be determined by fixed button-based responses but not open-ended messages
You can see the visualization of your survey flow after setting the logic rules manually but there is no drag-and-drop flow editor
Free. Limited features
Basic ($29/month). 1 user and unlimited forms
Plus ($59/month). Branding removed and 3 user seats
Business ($99/month). 5 users and advanced reporting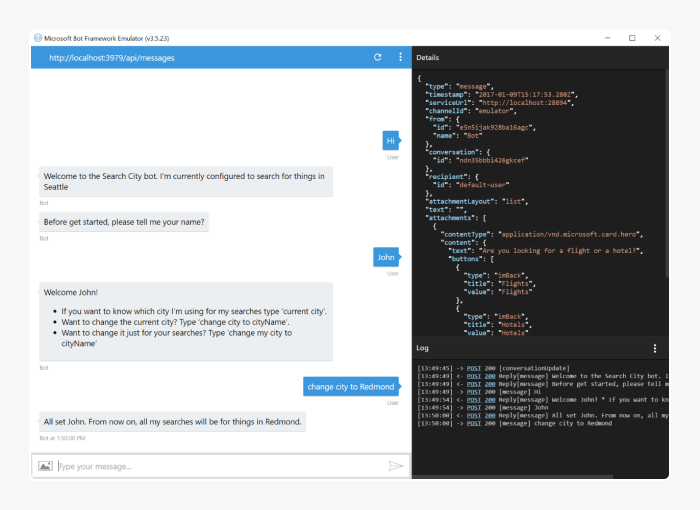 Rating: 4.3/5⭐️ (based on 2+ reviews)
Microsoft Bot Framework is a set of tools and services that help you build, connect, test, deploy, and manage chatbots. It's also an ecosystem of open-source bots. The Bot Framework powered by Microsoft enables you to build virtual assistants that support different types of interactions with users. You can design conversations to be freeform or guided. Also, the framework can be connected with Microsoft's AI platform and cloud-based services too. On top of that, you can also bind your bots to specific channels, such as Facebook Messenger, Slack, or Skype.
Pros:
Very advanced natural language processing engine
Works really well with other products developed by Microsoft such as Bing or Cortana—for example, your chatbot can appear as a rich snippet in the Bing search engine
The Payment Request API can be connected with your bots for payments in the chatbot widget
Cons:
Requires the knowledge of Azure, Node.js, or C#
Makes you dependent on the Microsoft's infrastructure of apps and services
Bots may require regular maintenance
The tools for creating bots are free. In addition, a certain amount of operations and API calls are free of charge too. However, some chatbots and channels require the bot to be connected to other services and technologies. For example, if your chatbot utilizes Azure Bot Service, you need to use the calculator provided by Microsoft to estimate your monthly costs.
Read more: What Is the Smartest AI Chatbot? Cortana, Alexa, and Replika Compared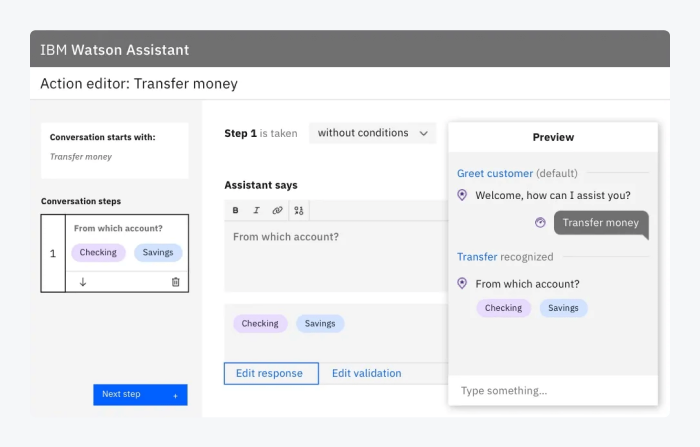 Rating: 4.4/5⭐ (based on 185+ reviews)
IBM Watson Assistant is a cloud-based natural language processing (NLP) service that uses artificial intelligence. It can combine structured data, like databases, with unstructured data, like emails and messages. This enables you to build AI applications and intelligent chatbots that can understand complex interactions. In addition to providing an interface for developers to build their own conversational applications, Watson Assistant can also be used to analyze customer sentiment. It's a very good ChatBot alternative if you are a professional developer.
Pros:
Amazing tool for data science researchers and developers
If you don't want to set everything up on your own you can use complete solutions and plugins based on IBM Watson developed by 3rd party companies
You can use it to create anything you want, from simple IT self-service FAQ bots to powerful conversational AI systems using speech recognition
Cons:
May require knowledge of and integration with additional tools such as IBM Watson Studio or IBM Watson Language Translator
The level of complexity doesn't make it a good option for small businesses
Free. Bot conversations with up to 1,000 users per month are free
Plus ($140). Additional conversations, intent recognition, and autolearning features
Enterprise (custom pricing). Additional IBM Watson API requests
What are alternatives to chatbots?
Now you know what the best alternatives to ChatBot are. But what about chatbots in general? Maybe you should be looking for something different altogether?
Chatbots are a popular choice for certain types of customer and business interactions. They can handle multiple requests simultaneously and around the clock without getting overwhelmed. This makes chatbots ideal for businesses that receive a high volume of customer queries. However, there are a number of considerations to take into account when deciding whether to use a chatbot for your business or website.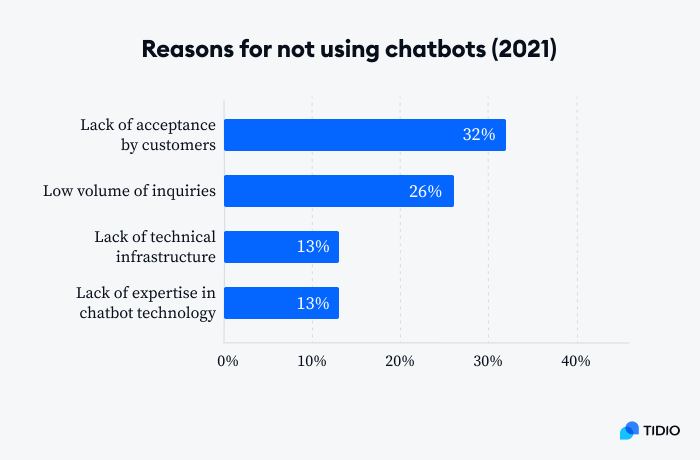 There are many great use cases for chatbots. But in some circumstances, setting up a chatbot may not be worth your time or money. A European chatbot adoption rate survey by EOS Group revealed that one in four businesses doesn't use chatbots because the volume of messages they receive from customers is too low to bother. And the same number of business owners believe that they lack tech infrastructure or expertise to implement chatbots.
The cost of setting up and maintaining the chatbot may be too high for some companies. There is also a risk of customer satisfaction issues if chatbots are not properly configured or monitored. Additionally, bots may not be able to provide the same level of personalized service as human agents.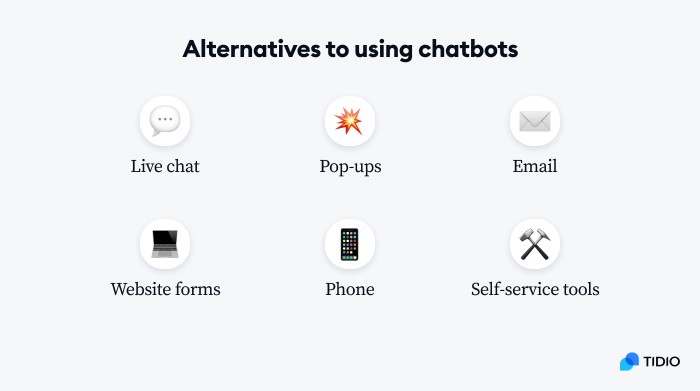 Here are some alternatives to chatbots:
Live chat. This channel offers real-time replies combined with a human touch—after mastering some basic live chat skills, an agent can resolve difficult queries and offer a more personalized experience too
Pop-ups. They are more intrusive than bots but in certain cases they can be more effective for things like newsletter signups
Email. While email response times may be much longer, they give you more message design possibilities than chatbot conversations
Website forms. They are boring but that also makes them the most seamless option for collecting customer data and qualified leads who explicitly want to reach out to you
Phone calls. Traditional phone support is still the most direct way to reach a business and some customers may prefer phone contact centers to messages
Self-service solutions. Knowledge bases and FAQ widgets work just like chatbots but use pre-defined buttons and don't encourage users to send random messages
There are many types of customer service out there. And it's really up to you to decide which ones would work for your business. The majority of channels and customer service platforms let you provide high-quality conversational interactions to your customers.
Conclusion
If you believe that ChatBot® is not for you, there are a number of other chatbot development platforms to choose from. Here is a list of ChatBot competitors grouped into several categories.
Best ChatBot alternative overall:
Tidio. The most powerful and easy-to-use chatbot tool for boosting customer experience
Best for companies with a higher budget and specific needs:
Intercom. Complex solution with many useful modules
Drift. Good for marketing and sales teams in the B2B sector
Tars. Comes with many bot templates for niche industries
Best ChatBot alternatives for social media:
ManyChat. A feature-rich platform for Facebook and Instagram bots
Chatfuel. Bot builder and social sales tool that is easy to use
Best for developers who need advanced solutions and know how to code:
IBM Watson. Cloud-based conversational AI services for enterprise companies
Bot Framework. Advanced bot development solution provided by Microsoft
The best way to find out which one is for you, try to play around with several options and compare them. Many of the chatbot providers mentioned above come with a freemium plan or a trial period for testing out their features. If you want to offer the best possible digital shopping experiences to your customers, you should act now.