So you decided to get a chatbot for your business.
Now you want to know how much you should expect to spend on this technology. Or maybe you already had a browse around, but the cost of chatbots is too confusing.
We got you.
Chatbot pricing can range from $0 to $10,000/mo.
Wait, what?
Well, it depends on several factors.
Let's look at different options, models, and plans to find out which price tag is the right choice for your company.
In this article:
Chatbot pricing comparison table
Analysis of three popular pricing models
Look into the cost-benefit ratio of chatbots
Learn more about chatbots:
First things first—
This article is about chatbot pricing in general. If you're looking for the cost of bots from chatbot.com specifically, you can jump here.
So, how much do chatbots cost?
It depends on whether you choose to build a chatbot in-house or pay a monthly subscription fee for the software. And if you choose a chatbot provider, it also matters which plan and company you go with.
For starters, here's a handy table with an overview of options you have and price ranges.
Chatbot pricing comparison table
| | |
| --- | --- |
| Standard subscription plan | Between $0 and $100/mo |
| Pro subscription plan | Between $15 and $500/mo |
| Enterprise subscription plan (custom made plans for businesses) | Between $600 and $5,000/mo |
| In-house chatbot development | About $10,000/mo |
| Hire an agency for chatbot development | Between $1,000 and $5,000/mo for development and maintenance of the chatbot |
| Consumption-based fee | Between $0.006 and $1 per text or audio request |
At the end of the day, chatbot pricing depends on how you want to implement a chatbot at your company. There are three ways to go:
Buy a subscription from a chatbot vendor
Develop a custom chatbot in-house
Get a pay-as-you-go chatbot
Here's how these three chatbot pricing models differ from one another:
Subscription model
This is the most popular and the easiest way for any company to get a chatbot. What you get is a ready-made product that you can customize.
You must be aware, though, that chatbot prices can range from $0 to $1,000 or more. It all depends on what you need and expect the chatbot to handle.
Here's a brief overview—
Free chatbots
This is a perfect plan for when you want a chatbot for self-service and customer support automation but don't have the budget for it just yet. You can create a chatbot widget and use the bot for customer service completely for free.
The most popular vendors of free chatbots include:
| Chatbot provider | Best for |
| --- | --- |
| Tidio | Small and medium businesses. It enables you to use the chatbots on your website, Instagram, Messenger, and WhatsApp SMS |
| MobileMonkey | Multi-channel marketers. It enables you to use the chatbots on Instagram, Facebook Messenger |
| Chatfuel | Startups and social media customer support. It enables you to use the chatbots on your Facebook and Instagram accounts |
| Pandorabots | Responsive interface. You can publish it on messaging channels, such as LINE, Slack, WhatsApp, and Telegram |
| ManyChat | Smaller businesses. You can use it for chat marketing campaigns through social media platforms and text messaging |
In terms of functionalities, you can expect:
Customer segmentation
Unlimited chats
Personalized chatbot design
A number of unique reachable visitors
Desktop & mobile apps
3rd party apps integration
NLP (Natural Language Processing)
What's the catch?
Usually, free chatbot pricing means that you'll encounter such limitations on:
The number of customers you can reach
The number of staff accounts you can use
The platform you can integrate the chatbot on
And yet, it may turn out that all the features you need come packed with the free version.
And there's no better way to find out than to test drive Tidio's chatbot for free:
Find out how to build your own Tidio bot from scratch for free and with no hassle.
Pro-level chatbots
When your business grows, and you need the extra features and more bots to deploy, it's time to move on to paid plans. Good news is that most platforms offer free trial periods to check out if the chatbot software is the right fit for your business, and you should make use of that. 
So how much does a chatbot cost when you want a pro plan?
The most popular providers in this category include:
The monthly fee you pay may range from $15 to $1,000. Some of the functionalities you'll get include:
Full customization and templates
Conversational AI and machine learning
Unlimited active bots
Tidio chatbot conditions depending on your business needs
Unlimited reachable unique visitors
Visitor's information
Variety of chatbot types
Live view of site's visitors and pages visited
And obviously, the more you pay the more functionalities you'll get. For example, here's what Octane offers: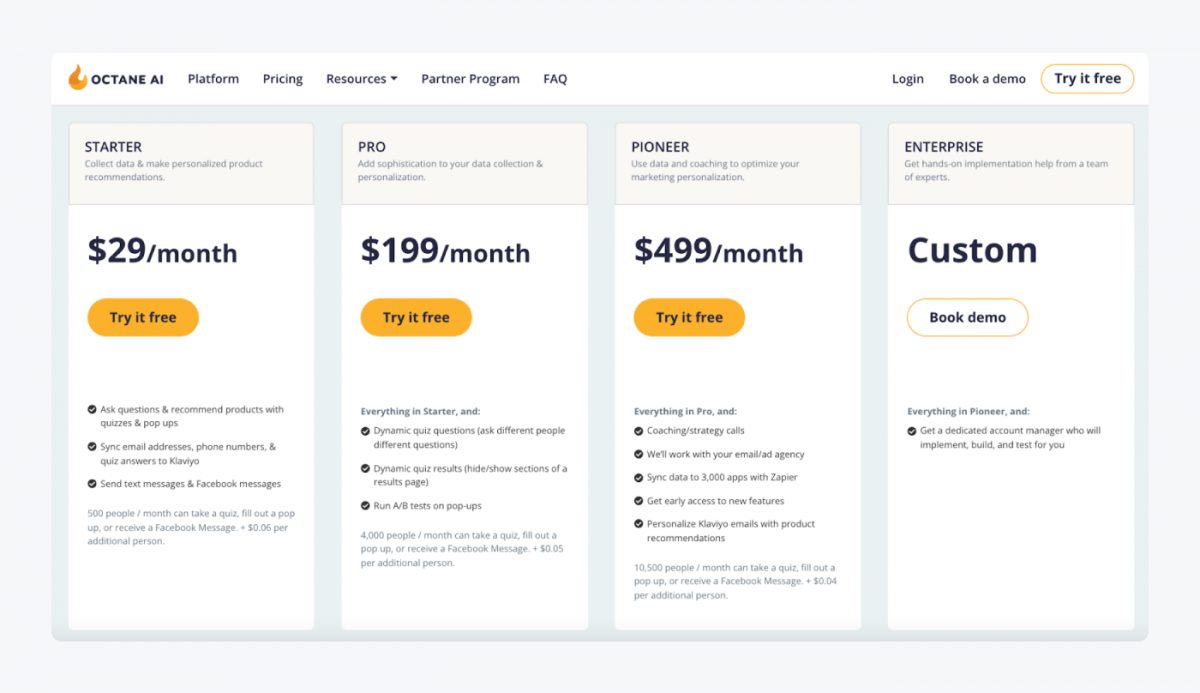 And this is what Chatbot will give you: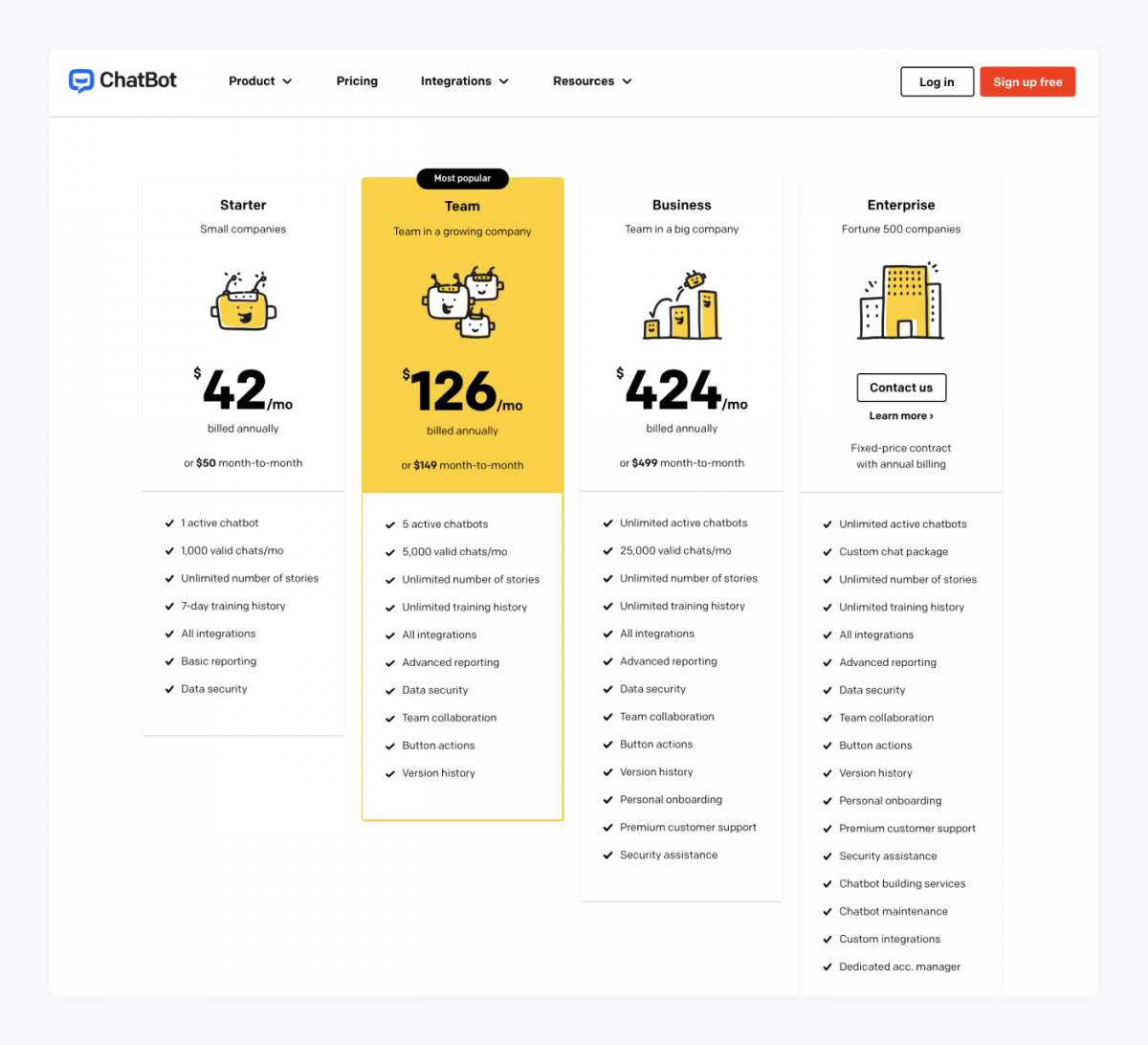 Enterprise chatbots
Now—
There are also providers such as Ada, Imperson, and Genesys DX that specialize in serving large organizations by offering enterprise-grade chatbots.
What you can expect from them are some great additional features, such as:
Booking meetings
Paying directly on the chatbot
Deep dialogue context technology
Multi-language chatbots
Video and interactive content
Audit log
A personal key account manager
Custom SSO (single sign-on)
But they all come at a price. Here's the chatbot price list from Engati: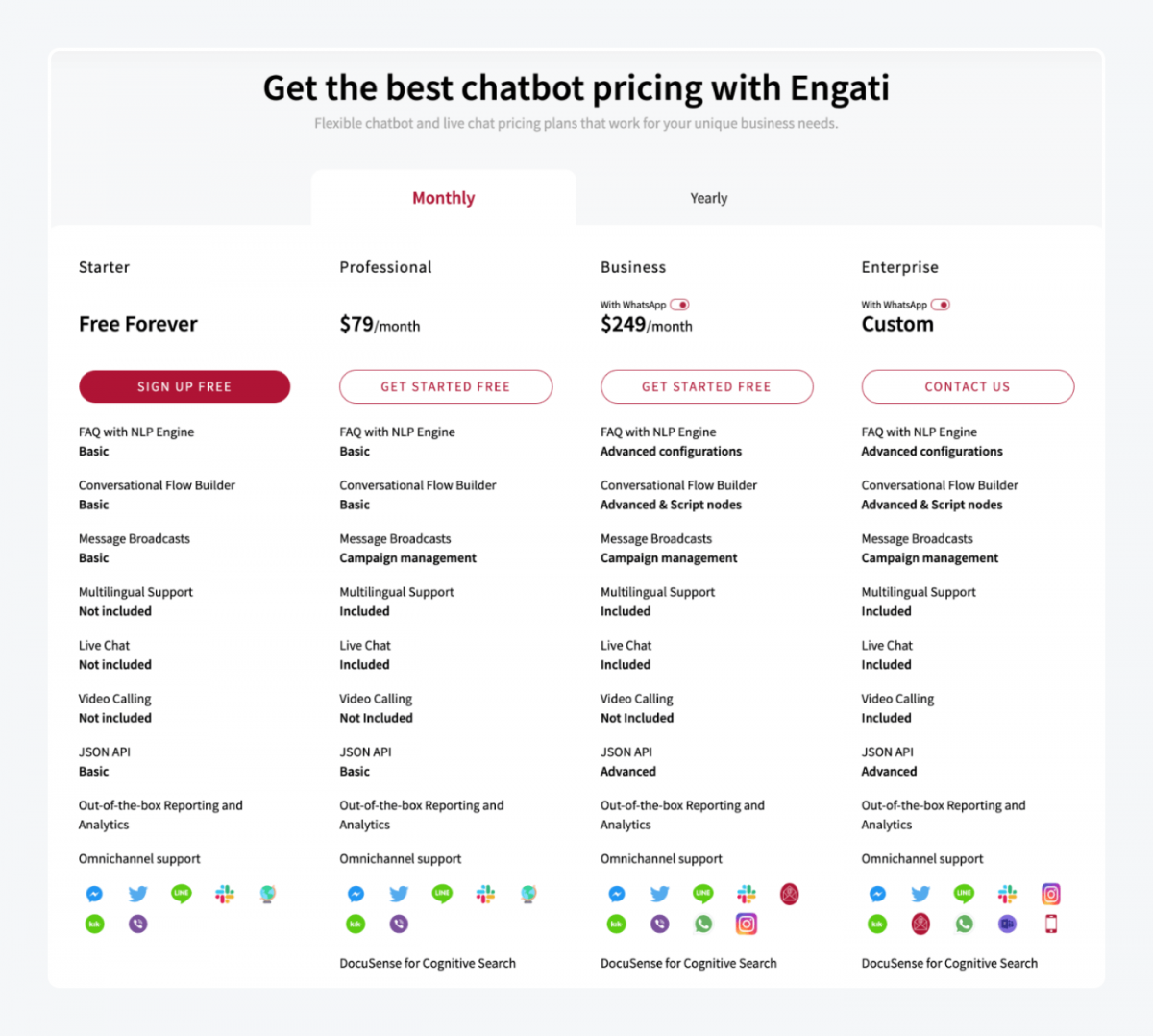 As you can see, to find out what their pricing for the enterprise plan is, you need to contact their representative. But you can expect it to be a four-digit number. Just to give you an example, Service Hub Enterprise costs $1,200/mo.
At the end of the day, what you choose will depend entirely on your organization's needs and willingness to spend.
For more details and information on features, read our article discussing the 14 best chatbot platforms.
That's all from the subscription-based chatbot pricing. However, you have to remember that the majority of well-known examples of chatbots used by popular brands are usually developed from scratch. So, let's find out what the chatbot development costs if your company wants to do it on its own.
In-house developer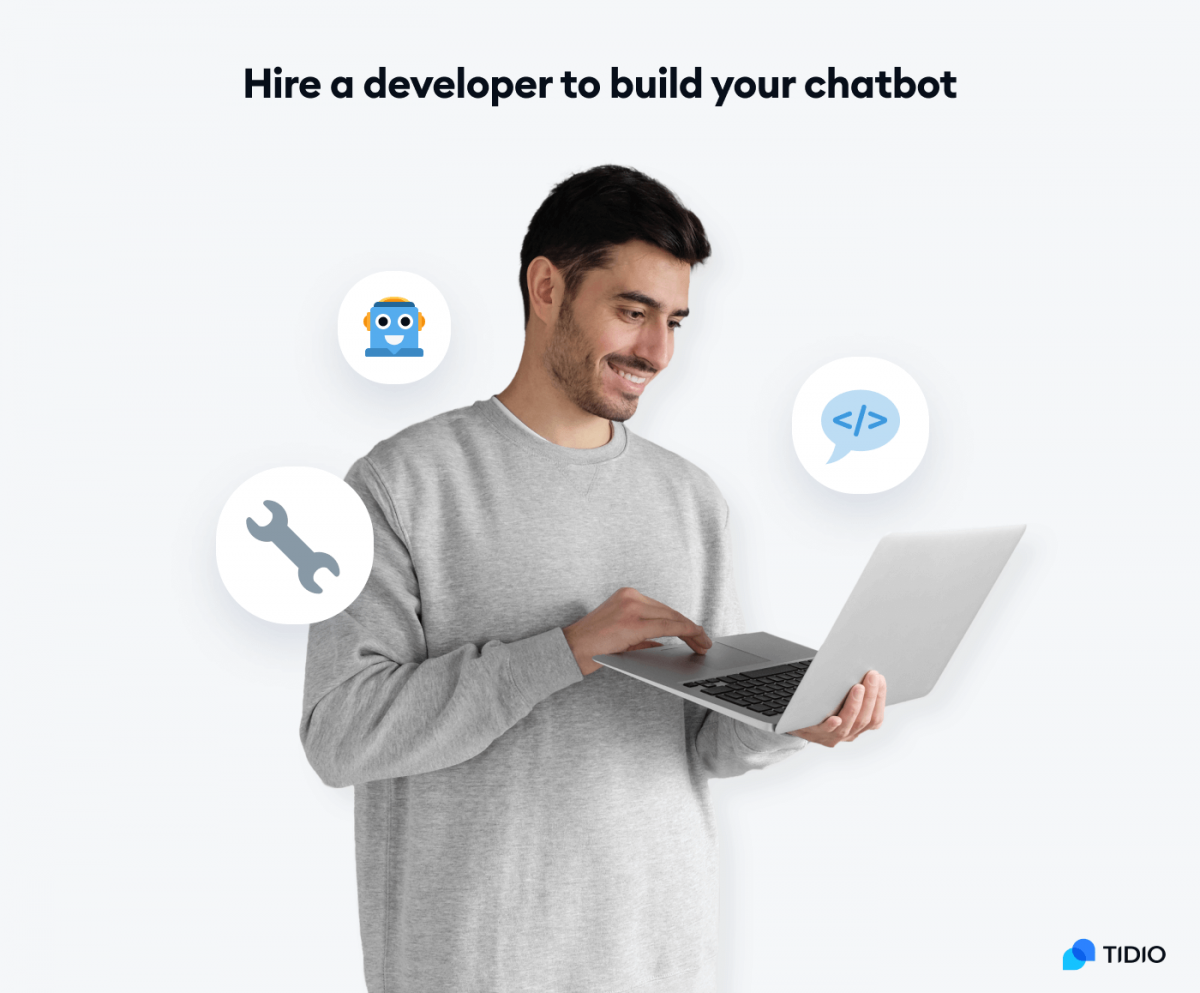 If you decide to develop a chatbot in-house rather than rely on an external platform, the costs will be much higher initially.
So, how much does it cost to develop a chatbot? Here's a quick breakdown:
Hiring a developer: the average salary is $82,585/year or around $47/hour
Graphic designer: the average salary is between $33,000 and $76,000 per year
Additional costs for integrations (for example Zapier costs range from $19.99 to $599 per month)
This gives a grand total of around $130,000 per year for one developer and one graphic designer. Also, it doesn't even include maintenance costs or any additional channels or integrations' costs.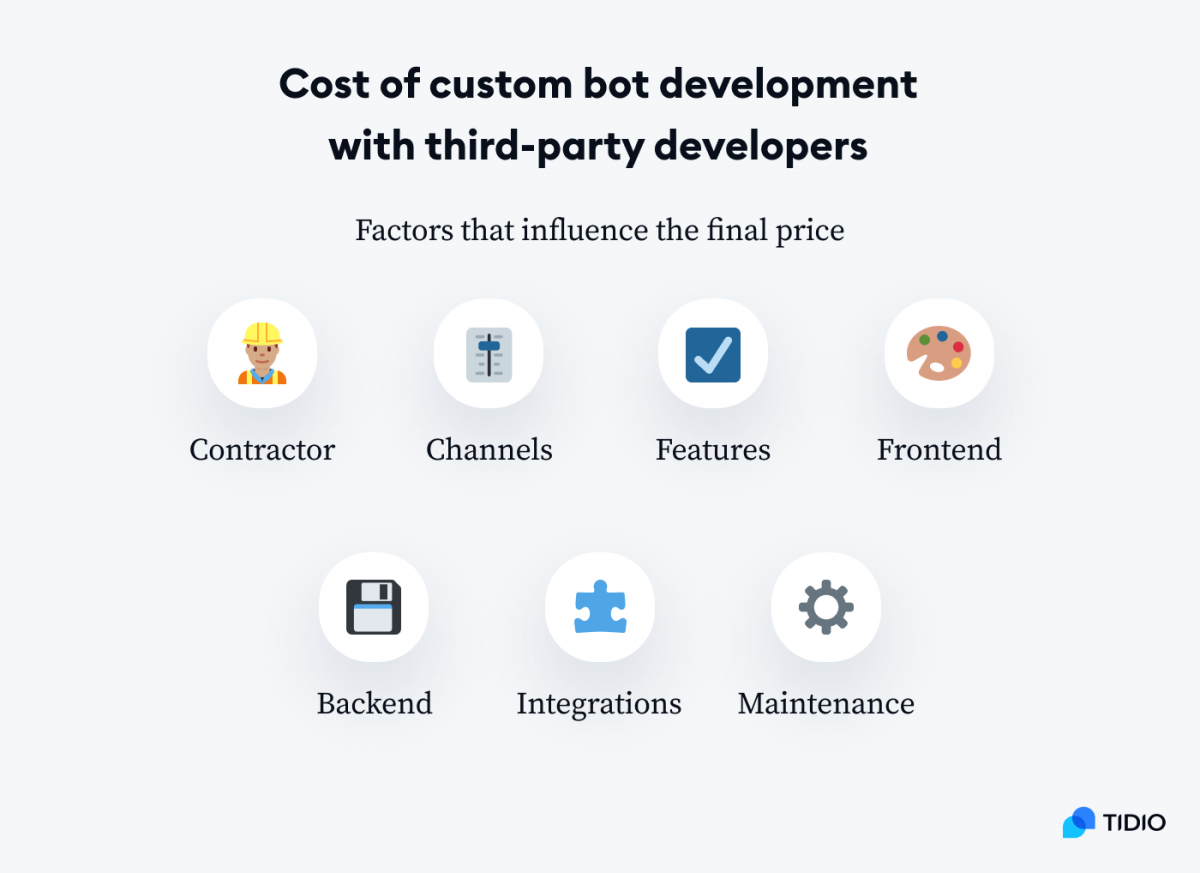 You should also consider the time it will take to plan, implement, test, and train your chatbot. So, if you decide to hire one person, it will most likely take months before you see any progress.
What do you get in return though? For example:
Full control over your chatbot's features
Customized chatbot functionalities
Ability to develop your bot on voice-enabled devices
Customized integrations
Full control over the security of the chatbot
If you want to cut a corner, you may want to consider hiring an agency and get your chatbot developed for you.
Some of the most popular agencies are:
And chatbot agency pricing ranges from $1,000 to $5,000/mo and additional costs for maintenance of the chatbot later down the line.
The benefits of using such services include a fully customized chatbot, no need for additional employees, and a fully personalized UI. The downsides are additional maintenance costs and a longer time to implement the chatbot on your site.
Check out this chatbot cost calculator to find out an estimate of what bill you'll run up if you want to hire an agency to build your bot.
The last model we'll talk about is based on your usage of the chatbot—
Pay-as-you-go chatbot pricing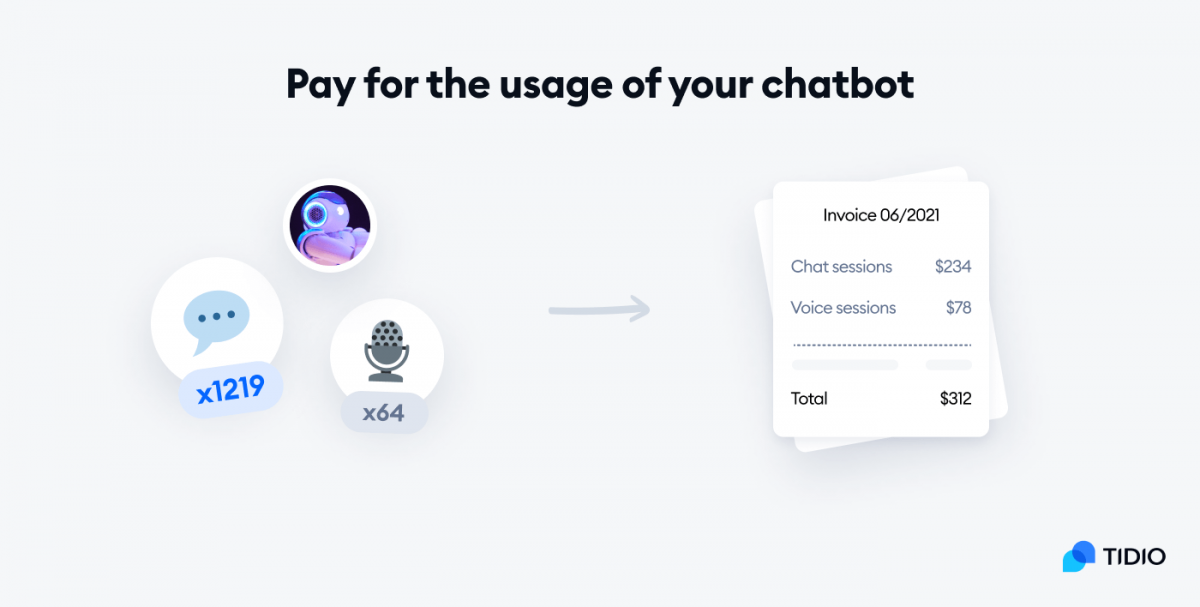 The final way to get a chatbot is to use the so-called consumption-based model where you pay an external provider but only as much as you've actually used your chatbot in a given month.
One of the most popular chatbots in this category is Google's DialogFlow, and you'll pay $0.007 per request of text input. And when you want to input audio, this chatbot costs $0.06 per minute.
But there's a big catch to look out for.
Google's DialogFlow is just an engine, not a ready-made chatbot you can pop on your website. You'll still need a developer or an agency to code a chatbot for you. Only then will you be able to enjoy all the benefits that come with what Google has to offer.
So, if you factor in these additional expenses the cost of this type of chatbot will amount to:
Between $30-$50/hour for a developer
$70 for 10,000 text messages a month
$60 for 1,000 minutes audio inputs or outputs
This model is dynamic as opposed to the previous two. One month you can pay $10 for the service, while the other month your bill can reach $100. It all depends on the number of interactions your virtual assistant had with clients throughout the month.
Let's find out if chatbots are even worth the investment and look at the benefits of the bots.
Chatbot cost-benefit analysis
Time to calculate if it's even worth starting chatbot building and creating workflow automation for your business.
The potential benefits of chatbots are clear:
Chatbots are effective in resolving customer support issues 87% of the time.
About 40% of clients prefer to chat with chatbots.
Over 87% of customers have a neutral or positive experience with chatbots.
But what about the costs?
It might seem at the beginning that chatbots cost less than live reps. But to make sure of that you need to determine how efficient they are in resolving customer support issues at your company. To do that, follow these 5 simple steps: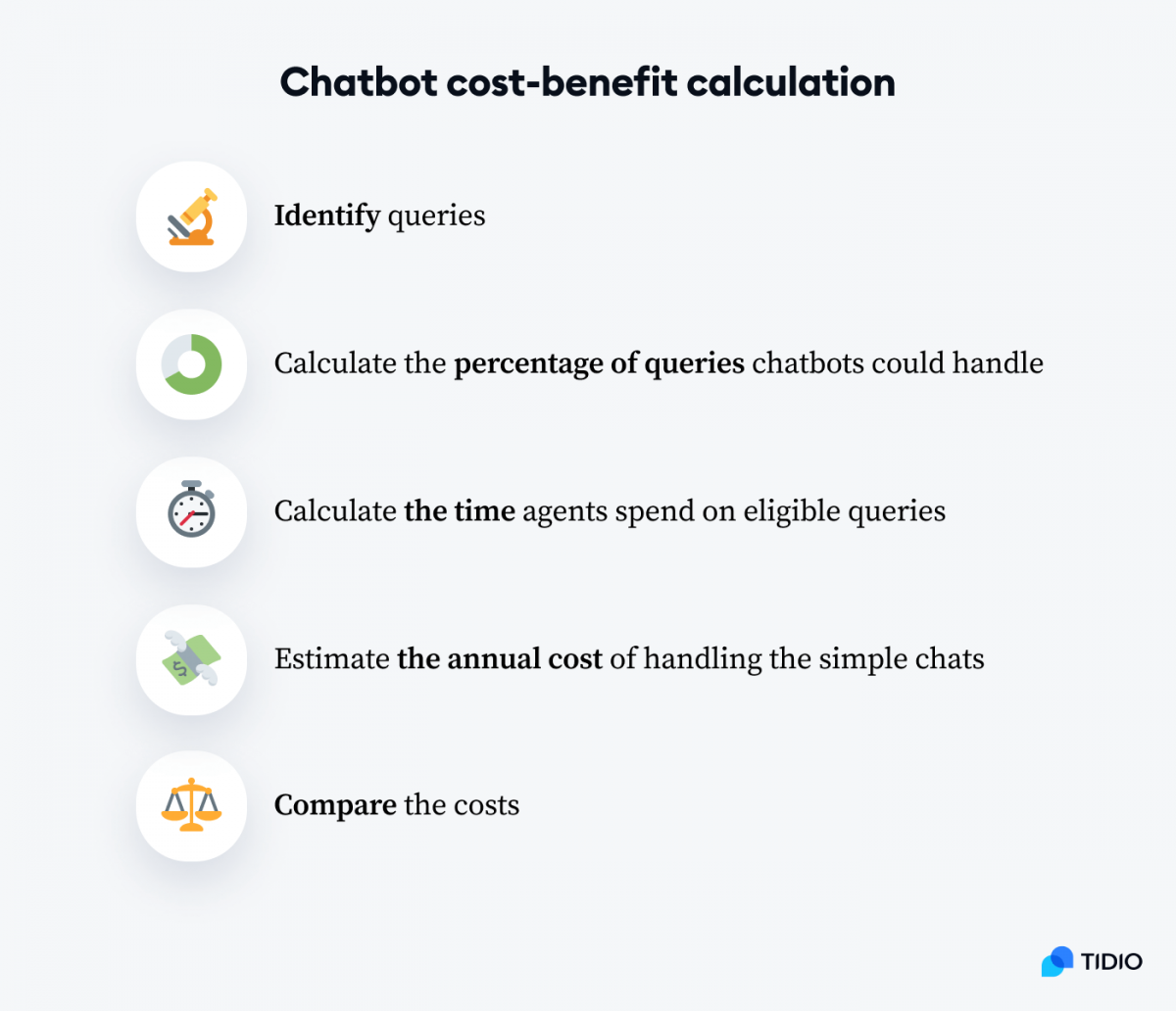 1. Identify queries
Examine what requests your reps currently receive. Then, identify the simple questions that could be resolved by a chatbot.
You can do this with the help of your internal analytical tools, or fall back on free text analysis tools.
2. Calculate the percentage of queries chatbots could handle
Determine how many of your chats are made up of simple vs. complex queries. This is the percentage of questions that chatbots could handle to free up your representatives' time.
You can do this by hand or insert all the queries into Voyant. This way, you can identify how many times a specific word or phrase appears in the text sample you insert.
3. Calculate the time agents spend on eligible queries
Work out how much time your representatives spend handling the simple queries.
Let's say checking order status takes about 3 minutes of your employee's time, and they have to do this, on average, 10 times a day. This gives you a loss of 50 minutes each day and around 17 hours each month. Chatbots can do this task in mere seconds and let your representatives focus on more complex and important tasks.
4. Estimate the annual cost of handling the simple chats
Calculate the average hourly cost of a live chat agent. Multiply that by the number of hours spent on the eligible queries per month. Then, multiply that number by 12 to find the annual cost.
So, let's assume your live agent's hourly wage is about $17, and they spend around 3 hours per day on the eligible queries. This gives you 60 hours a month and 720 hours a year. So, the total annual cost of handling the simple chats is $12,240.
5. Compare the costs
Compare how much you spend on simple queries handled by a representative and how much you'd spend on a chatbot handling them.
Let's take Tidio as an example of a chatbot provider. If you get the paid plan with unlimited unique reachable visitors, then you'll pay around $39 per month. This gives you $468 per year. So, if you're spending $12,240/year on basic queries, but a chatbot will do the same task for $468. Seems like a great bargain to us!
Just remember that chatbots are not seamless from the start. They need time to learn and therefore, you'll need your reps' help quite a lot at the beginning.
The cost of the chatbot adds up when your customers are redirected to the human rep but it also speeds up the process of solving the customer's issue. Humans only need to get involved when the query is too complicated for the bot, which still frees up a lot of their time.
Think of chatbots as virtual assistants. They are a part of your customer support and customer service team. And they're only cost-effective when they save more money than they cost you.
Key takeaway
As a quick review of your options:
Standard subscription plan—Between $0 and $100/mo
Pro subscription plan—Between $15 and $500/mo
Enterprise subscription plan—Between $600 and $5,000/mo (custom made plans for businesses)
In-house chatbot development—About $10,000/mo depending on the developer's salary
Hire an agency for chatbot development—Between $1,000 and $5,000/mo for development and maintenance of the chatbot
Consumption-based fee—Between $0.006 and $1 per text or audio request
You should remember that chatbots have many great benefits, but their cost should not be higher than what you're getting out of them. Make sure you make a priority list of features that are important to you and start from there.
A bot doesn't have to break the bank. It's there to help you make money so choosing the right platform is a very important starting point.
FAQs
How much does an AI chatbot cost?
AI costs between $0 and $300,000 per solution.

If you choose a subscription fee, the price of AI will be included in the pricing plans as one of the additional benefits. Some platforms that offer AI chatbots even give it as a standard option for free.

If you decide to hire a developer, AI will cost you thousands more and a lot of time. You will need to find a developer who can program Artificial Intelligence chatbots, and because of that skill, they can ask for a higher wage.
How much does a chatbot cost?
Chatbot pricing varies from $0 to thousands of dollars. It depends on the provider you choose and the plan that satisfies your needs.
How much does a Whatsapp chatbot cost?
A Whatsapp chatbot doesn't cost anything to implement. You get it with either WhatsApp Business or WhatsApp Business API.

After the first 1,000 conversations, you'll pay based on the consumption of the bot. Depending on your usage, it is between $0.0058/message and $0.0085/message.

Or you can use an outside chatbot to integrate it into your WhatsApp. One of the companies providing this service is WATI. This bot provider costs $49/mo for a standard version and $98/mo for a professional plan.
Are Chatbots cost-effective?
Yes, if your goal is to optimize your customer support, lead generation, and improve your client relationship.

Chatbots are effective in solving the majority of customer service inquiries, so your representatives can focus on more complex issues. This frees up their time and can be beneficial for your business in the long run.

They can also collect more leads than you would normally receive from your website. By welcoming visitors, the communication becomes more personal. And by asking them general questions and their contact details, you get qualified leads quicker and easier.
Can I buy a chatbot?
You can develop a chatbot in-house or pay a monthly fee for chatbot software that you can use to build your own chatbot. You can also hire an agency that will make the bot according to your needs.