E-commerce businesses have risen in popularity since the Internet modernized our lives and shifted most of our daily routines into the online world – we shop, communicate, relax, and learn new things virtually.
It's not a secret that the Internet has provided many opportunities for online businesses for a customer "hunt," and still many of them across all industries (as it's a common phenomenon) struggle with low website conversion rates, which hampers their growth.
There are many reasons why leads don't want to convert into paying customers and one solution to prevent them from doing so. What is it?
Keep reading…
What you're going to learn:
What Is a Conversion? What Is a Conversion Rate?
Let's start with conversion. We talk about conversion when website's visitor performs a desired action like:
signing up to a newsletter,
downloading articles or ebooks,
creating an account,
writing a review,
sharing posts on social media,
adding products to a shopping cart,
adding products to a wishlist,
which brings them closer (the action) towards the transaction completion. In this sense, conversion aims at transforming "leads" into "customers," increasing the probability of a repeat business, and building brand loyalty.
The conversion rate, however, is the percentage of visitors who engaged in one of the above mentioned actions.
Why Is Conversion Rate Important
The moment leads get stuck in the sales funnel and don't finish the buying process, your company loses time and money as the remarketing strategies only add to the costs instead of minimizing them. When prolonged in time, expenses start exceeding revenue and the companies go below the break-even point.
Therefore, measurement and analysis of the sales pipeline could help you to identify in which stage the prospects remain and what strategies should be undertaken to push them further towards the closing stage.
Once, the website conversion rate is optimized, you increase the chances of acquiring and retaining customers that will return the favor by paying a monthly subscription fee.
Note: To increase your conversion rate, you may want to try out a variety of solutions. We compiled a comprehensive list of the best website chat software that can help you with boosting your CVR.
How to Calculate the Average Conversion Rate for E-Commerce?
To find out whether a company is doing well, you can either send a short customer satisfaction metric survey or calculate the conversion rate in the following way:
Conversion Rate Formula
A high conversion rate means that you're successfully acquiring and transforming leads into paying customers.

A low conversion rate, on the other hand, indicates that many people visit the website without taking any of the desired actions. And then what?
Then, you have to look for a solution.
5 Chatbot Solutions To Improve E-commerce Conversion Rate
If you're struggling with poor lead generation, and you care about numbers, you need to try and engage customers more.
For example, with five best chatbot platforms.
Chatbots can make online shopping more similar to a traditional visit to a real store. Check out some of the most innovative eCommerce chatbot examples below.

E-commerce Chatbot Examples
1. Chatbots Collect Leads in a Friendly Conversation
Visiting a landing page doesn't translate into high conversion rate. A potential buyer can revisit a company's website several times a day, and they can leave no visible trace, as if they vanished. And so, on the one hand, website traffic indicates a large number of entries, and on the other, doesn't bring more benefits.
Even if you stop visitors from leaving with lead generation forms (forms asking for names and email addresses in exchange for discounts or newsletters), there is a small chance that they will actually use it.
For some, promotional codes might be tempting and for others simply unnecessary.
Why?
Because opt-in forms are filled with multiple options and a long sign-up procedure. Let's not kid ourselves, people have neither time nor inclination to wade through them.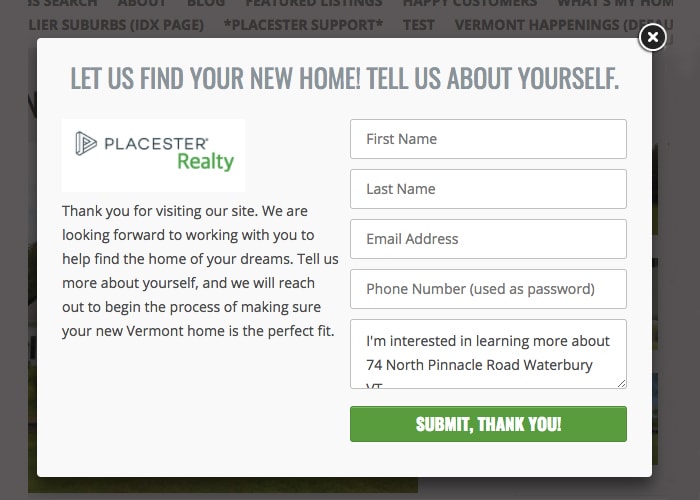 Chatbots, for example, collect leads in a far more natural and engaging way than the standard static forms as they offer a conversation-like filling form.
Visitors are not flooded with sentence-long requests, but rather short messages with text limited to the bare minimum.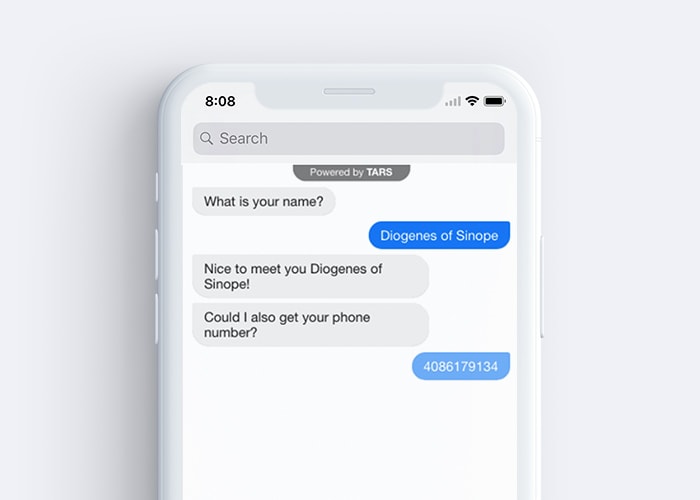 Because chatbots work 24/7, they will gather leads any time of the day or night. In this way, your customer service can get in touch with them the next day and follow up with their query.
2. Chatbots Greet New Visitors With A Welcome Message
When visitors go to the websites of streetwear brands, like H&M or Zara, one can get an inevitable impression that both websites look the same – their design, price, products – they're all so similar! So, how can they differentiate their business from the competition?
How about a welcome message?
Send welcome message with chatbots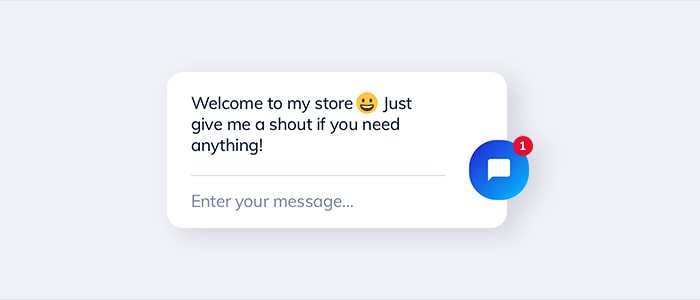 A welcome message, as the name suggests, is sent to first-time visitors to greet them to a website. It usually includes hospitality phrases, like:
Hi! It's nice to see you
Hi there, friend!
Welcome to the [company name]
The moment, the visitors become regular clients at your store, you can personalize the message and address them by names:
Hi there, [name],
Hello [name], it's good to see you here again.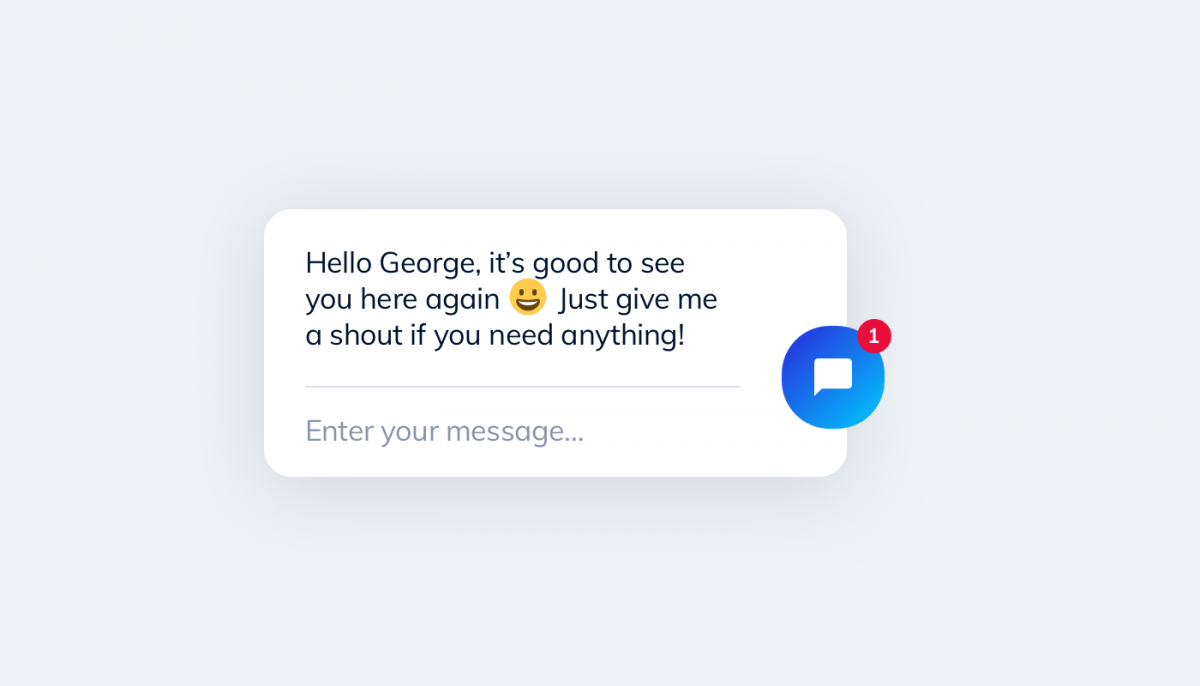 Welcome messages are a great way to start an interaction, make a good first impression and take the acquaintanceship to the next level. By introducing the company to the visitor and offering immediate assistance, you add a personal touch to the conversation.
Also, chatbot platforms allow for the welcome message customization, which means you can hand-pick the text, set time delay and adjust language to the target audience based on their country of residence.
3. Chatbots Answer FAQ In A Quick And Effective Way
Did you know that the average page visit lasts from 10 to 20 seconds?
Why so soon?
It usually goes down to website's poor design that is not adjusted to help visitors to find what they came looking for (content, product, service). And since the functionality of a landing page is a decisive factor in the process of building brand awareness, easy access to information must be considered.
So, what makes a website more approachable? Chatbots. And there is statistical proof.
A Hubspot's study has shown customers are more willing to use chatbots in order to receive quicker query responses (71%) and 53% is more likely to do business with companies that offer a messaging communication channel to avoid call queuing.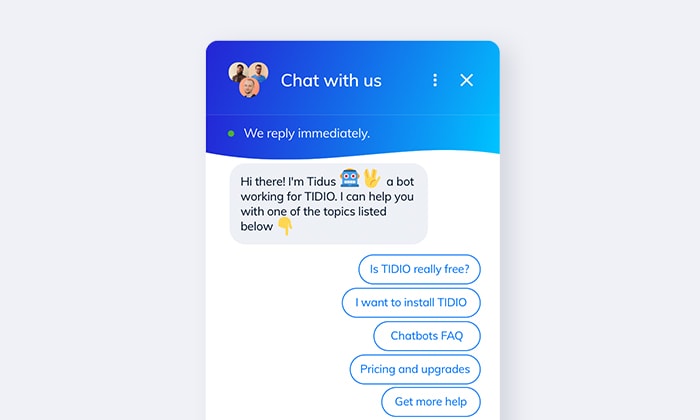 Answering the same old boring questions about prices, shipment and return policy could bore any customer service representative to death, therefore it's more affordable and user-friendly to deploy conversational bots to a website and let them do the work.
Chatbots will either patiently wait for visitors to ask their queries or they'll reach out to customers first and suggest answers to the most frequently asked questions. What visitors will have to do, then, is to simply click on one of the buttons presenting a theme they're interested in. The number of nodes and the text message is entirely up to you. To build them successfully, follow the tutorial.
A FAQ chatbot is incredibly easy to construct and extremely effective when it comes to answering ALL of the customers' queries – they never get bored and maintain a high-level of professionalism. You can build your own chatbot with Tidio in 10 minutes and enjoy endless benefits.
4. Chatbots Engage Customers And Save Abandoned Carts
Cart abandonment is one of the reasons why so many E-commerce businesses struggle with a low conversion rate. On average, the cart abandonment rate is as high as 75% and the main reasons why people don't proceed to checkout are (Statista):
unexpected shipping costs (25%),
account setup requirement (22%),
pure research (17%),
payment security concerns (15%).
Items "saved for later" seem unharmful as products added to the shopping baskets are a great incentive for customers to revisit the E-commerce store's website. But, in fact people quickly forget about the goods added on the spur of the moment, which eventually contributes to a company loss of 2 to 4 trillion dollars per year.
So, what would happen if customers were reminded by chatbots about the missed sale?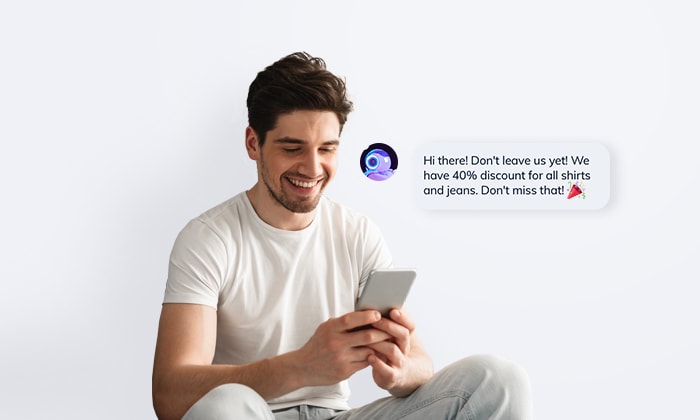 Well, first, they'll be more willingly review the selected products, rethink the decision and eventually make up their mind whether they're still interested in the product.
Believe it or not, but a quick chatbot message can reduce cart abandonment by 20-30%! Have a look at how Shopify abandoned cart apps can help you.
Even if you don't succeed in convincing customers to buy, at least you can get some feedback, which will be helpful in reducing the cart abandonment rate.
5. Chatbots Manage Returning Customers With Special Offers
An Episerver study has shown that 92% of consumers will visit a brand's website for the first time for reasons other than making a purchase.
Conclusion?
First-time visitors to a website are not going to buy your product or use your service. Most probably they'll just look around (45%), compare prices with competitors (25%) or look for store details (10%) and only later, after having made up their minds, they will return to the store of their choice.
The question, then, is the following: Will they revisit your store? And if they do, how far will you go to make them stay?
Okay, imagine this.
A visitor goes to your, say, Shopify store, with the intention to buy a faux black leather skirt. But, after looking at the competitor's prices, she abandons the purchase and she's about to leave the page. And then, she hears a friendly sound…
Ding, ding, ding!
It's an automated message from a Shopify chatbot, in which she's asked if she needs any help. Because if she does, then it's a great opportunity to offer her something special (discounts or coupon codes) and reencourage the purchase at a promotional price.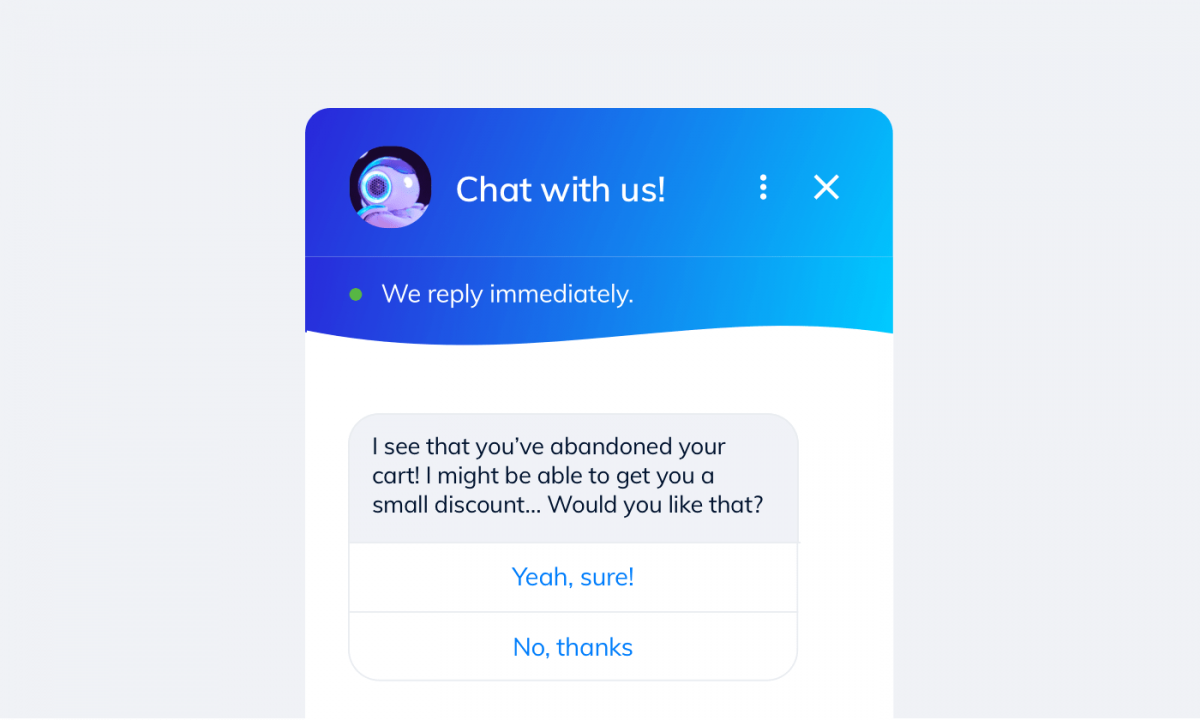 After having created a bond with customers, you can take the "manage returning visitors" feature further and offer personalized recommendations. Based on customers' purchase history, chatbots can analyze and define one's personal style and preferences, and thus offer complementary goods.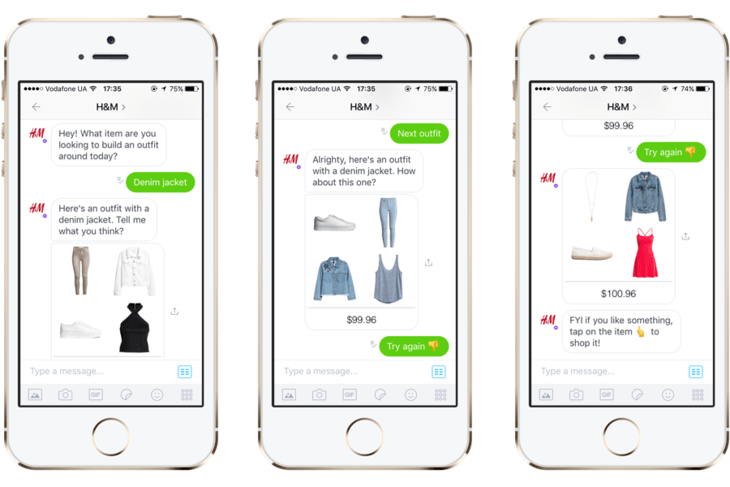 Why Is A Chatbot Needed?
Conversion rate is crucial for businesses which want to have paying customers and earn more sales. However, to do so, there are always things to consider beforehand. Deploying chatbots to a website could be helpful.
They'll help companies to generate qualified leads, maintain a steady flow of new clients, and move them through the sales pipeline. You don't have to play hide and seek to see which method is more suitable for your brand, as conversational bots will combine all of the desired features.
One chatbot, many possibilities.
Increase your conversion rate with Tidio Chatbots.
Provide 24/7 customer service even when you sleep.
Create unlimited chatbots for your website without coding to engage more visitors.
Learn About Chatbots