You want to add live chat to your website, and you thought that ManyChat is the perfect solution.
But for some reason, this software isn't working for you.
Maybe it doesn't have the desired features, its pricing might not be ideal for you, or you don't like its user interface.
Don't worry.
There are plenty of choices when it comes to ManyChat alternatives out there.
So, let's go through the best ManyChat competitors with the pros, cons, and pricing of each one.
In this article:
If you are interested in other customer service management platforms, you can also check out:
Let's start with a little introduction to ManyChat, shall we?
ManyChat is a chat marketing company that makes it easy to set up automated messaging via web chat, email, Facebook Messenger, Instagram, and SMS. Part of the tool's popularity is its simplicity. You can set up your own ManyChat bot in a matter of minutes.
ManyChat serves over 33,000 live websites at the time of writing this article. While ManyChat is a high-quality, inexpensive, and easy-to-use tool, it isn't the right solution for every business.
One of the issues that users come across is key integrations, like the one with Facebook Messenger, not working as intended.
Therefore, some users are looking for a different platform to fulfill their needs. Have a quick look at the comparison table of the top ManyChat competitors before we dive into in-depth reviews:
Now—Let's review each of the platforms.
The best ManyChat alternatives
According to G2, there are over 200 different chatbot marketing platforms. That's a lot of choices to look through when searching for an alternative to ManyChat.
We fished out the best 9 options to make the process easier on you.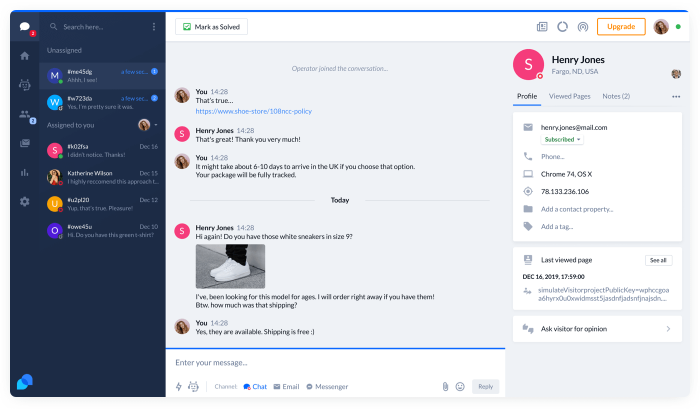 Rating: 4.7/5 ⭐ (based on 1,020+ reviews on G2)
Tidio is a free customer relationship management (CRM) platform with a live chat tool and a chatbot included. It provides a free plan with everything needed to interact with customers in real-time. It also offers a much more comprehensive version for large or growing businesses, with scalable and customizable enterprise-level service.
But enough of bragging about ourselves!
Try our platform for free and let us know if we deserve this place on the list. Also, check out the reviews our users left us on G2 and TrustPilot to get a bigger picture.
Key Features:
Drag-and-drop interface for bot building
24/7 chatbot support in many languages with NLP
Integrations with Facebook Messenger, Instagram, Zapier, and more
Ecommerce features for Shopify and WordPress stores
Beginner-friendly, no technical expertise required
40 customizable chatbot templates
Conversational AI chatbots available
Free version
Starter ($32.50/month)
Team ($65.83/month)
Scale ($332.50/month)
Read more: Learn how to easily install Tidio on your website and how to integrate Tidio with your Messenger.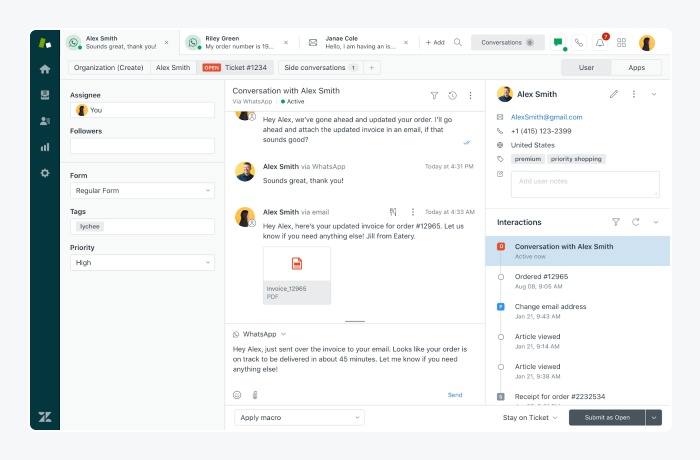 Rating: 4.3/5 ⭐ (based on 3,910+ reviews on G2)
Zendesk is the second-largest live chat technology company by market share. This ManyChat competitor offers one of the most diverse ranges of features and one of the largest selections of languages to choose from. It also provides integrations with Salesforce and Microsoft Teams for easier connectivity between software if your company is already using these systems.
Zendesk particularly stands out for its conflict management system, which walks customers through their concerns or assists with escalation 24/7. It's also a multichannel solution you can integrate with your Facebook page, Messenger, and Telegram. Users often speak highly of the smoothness and high-class appearance of the tool from the customer's point of view.
Pros:
Best in class conflict resolution, escalation, and management
Versatile and can be applied in different industries with different business sizes
Chatbots available
Cons:
Some reviewers report technical difficulties
Satisfied users still complain of slow customer support
Suite Team ($49/month)
Suite Growth ($79/month)
Suite Professional ($99/month)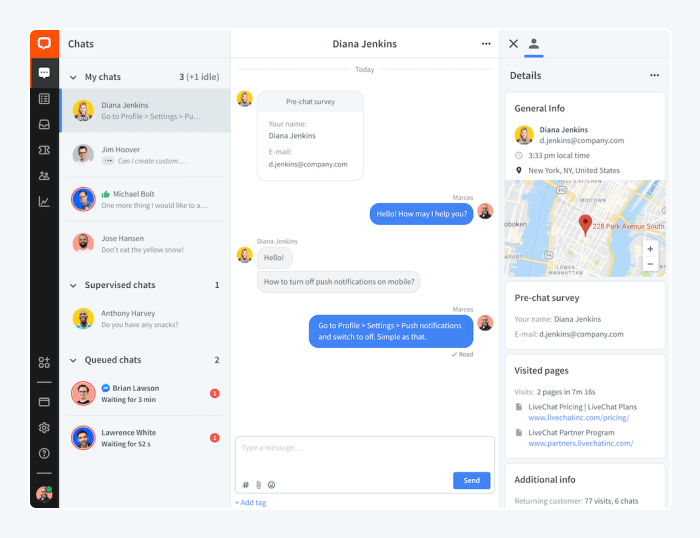 Rating: 4.5/5 ⭐(based on 730+ reviews on G2)
LiveChat is another great competitor of ManyChat. As the name states, this platform offers a complete live chat and CRM solution that is easy to use. The main product of this provider is a live chat widget that works in over two dozen languages that you can use to communicate with your customers straight from your website.
LiveChat interface is detailed and comprehensive, while also simple enough for any freelancer or business. The user interface (UI) also gives customers all the information they need to support their business on one screen, without being distracting or imposing. One of the most useful integrations is Facebook Messenger that enables you to chat with your customers from your Facebook page.
Pros:
No-code, easy to use even for beginners and new employees
Great option for solo professionals to incorporate into their customer support system
Many useful integrations, such as Slack and WhatsApp
Cons:
Doesn't offer a chatbot
Limited organization features such as spam filtering and ticket deletion
Starter package ($16/month)
Team package ($33/month)
Business package ($50/month)
Read more: Learn about Facebook Messenger bots and how to make your own.
Rating: 4.6/5 ⭐ (based on 290+ reviews on G2)
Some live chat and CRM companies focus on specific industries or offer tools that go beyond chat widgets and customer communication. Gorgias is one of the most focused and utility-rich options, although it's a more expensive ManyChat alternative. You can also connect your Facebook Messenger to your Gorgias account and keep the customer conversations in one place.
Gorgias is a customer service and help desk that includes a chatbot for automations specifically designed for ecommerce. It offers marketing and analytics tools useful to ecommerce businesses—The one that stands out the most is social media sentiment analysis. This and other analytics are presented to you on detailed dashboards.
Pros:
Social media sentiment analysis
Integrates with ecommerce industry leaders like Shopify and Magento
Comprehensive marketing analytics
Cons:
Not applicable to other industries than ecommerce
Relatively high cost is almost prohibitive to smaller businesses and startups
Basic plan ($60/month)
Pro plan ($360/month)
Advanced plan ($900/month)
Read more: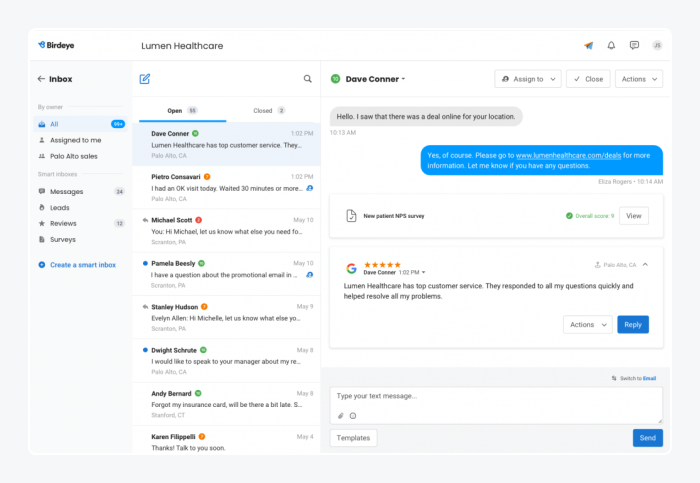 Rating: 4.8/5 ⭐ (based on 1,430+ reviews on G2)
Birdeye SaaS solution describes itself as an "all-in-one customer experience platform." It offers many regular CRM features, but also focuses on sales-oriented lead nurturing tools to turn visitors into buyers. Birdeye also offers an omnichannel platform for notifications from all of your communication channels, including Facebook Messenger, Twitter, and Slack.
Birdeye provides live chat, social media messaging, surveys, and a help desk ticketing system with a greater scope than ManyChat. What differentiates Birdeye from other ManyChat alternatives is the lead generation and qualification support for sales teams. This messaging platform focuses on customer experiences, providing metrics and other insights for each step of the buyer's journey.
Pros:
Cons:
Very expensive when compared to other CRM platforms
Some technical difficulties with integrations reported by customers
Single location ($299/month)
Professional plan ($399/month)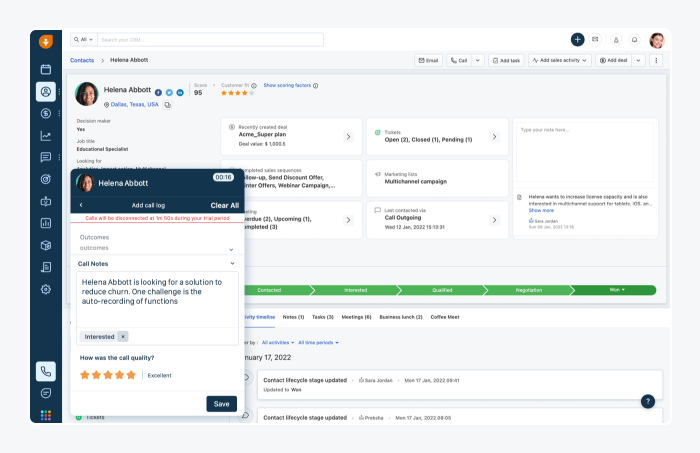 Rating: 4.6/5 ⭐ (based on 960+ reviews on G2)
This ManyChat alternative offers a sales automation tool (FreshSales) as well as a customer service system with its chatbot included. Freshworks makes good use of its chatbot and AI technology to provide customer insights, nurture leads and automate workflows for your support team. It also has a customer service platform (FreshDesk) that comes with email, phone, and chat support.
FreshWorks also includes more direct sales-oriented features like revenue and sales forecasting. It provides automated email campaigns and lead qualifications for better optimization of your marketing strategies. It also has an open-source library to help with tracking the activity of customers in your app. You can also connect your social media including Facebook Messenger and Instagram to centralize customer communication.
Pros:
Suite of sales automation and enablement tools
Built to enhance and automate existing sales processes
Forecasting and analytical tools
Cons:
Lacks third-party integrations
Most important features not included in the basic plans
Free plan available
Growth ($15/month/user)
Pro ($39/month/user)
Enterprise ($69/month/user)
Read more: 10 Best Freshdesk Alternatives & Competitors in 2023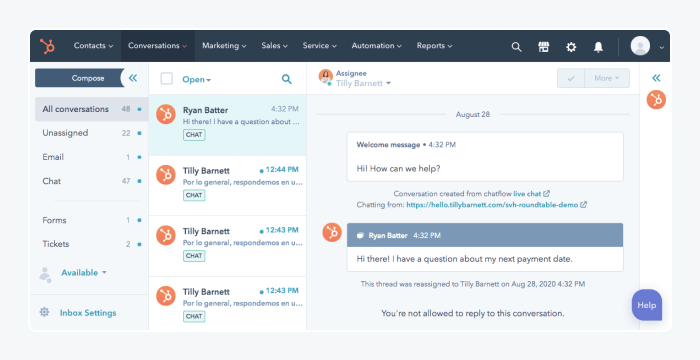 Rating: 4.5/5 ⭐ (based on 1,220+ reviews on G2)
HubSpot CMS offers great utility when used in combination with the platform's other products. This ManyChat alternative provides a flow builder for workflows that you can connect to your Google Sheets for better integration. You can also connect your Facebook Ads and your WooCommerce store to the HubSpot CMS for easier navigation and better management.
HubSpot CMS is the obvious choice for businesses already using other HubSpot products. But it's also a good starting point for growing businesses with an eye on scalability. It offers web hosting, customizable domain security features, and a drag-and-drop tool as well as enabled forms and live chat software with chatbots.
Pros:
Seamless integration with other HubSpot products for a complete digital marketing suite
Built-in native search engine to help visitors find desired content
HubSpot File Manager for storing and managing files
Cons:
Very limited customer support in the free plan
Some users state there are intrusive software updates and difficulty customizing pages
Free plan available
Starter ($23/month)
Professional ($360/month)
Enterprise ($1,200/month)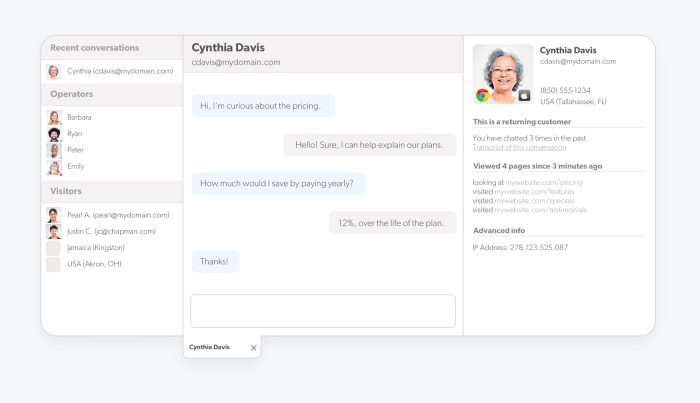 Rating: 4.3/5 ⭐ (based on 220+ reviews on G2)
Olark is a good ManyChat alternative if you're looking for a simple, inexpensive option. This platform's main features are its automated chats and ticketing system.
Olark stands out thanks to its modern marketing functionalities. These include attention-grabbing interfaces and imagery. It offers features and aspects that resonate with customers. Overall, Olark is a simple, well-grounded tool that is worth considering if you run a small business or work as a solo professional.
Pros:
Good chat transferring functionality
Integration with MailChimp for better email marketing
Chatbots available
Cons:
Some complaints of technical difficulties with messaging
Not very dynamic when compared to other ManyChat alternatives
Free 2-week trial
Full-Featured ($29/month)
Olark Pro → contact sales for a quote
Rating: 4.4/5 ⭐ (based on 2,170+ reviews on G2)
Intercom is one of the best sales-based alternatives to ManyChat. The tool features sales enablement and regular help desk functionalities. But it also features tools useful for sales teams and other professionals. For example, you can use customizable surveys to gather customer feedback through the chat.
Intercom's main features are its helpdesk interfaces and chatbots. But it also includes lead qualification and nurturing functionalities. It offers product tours and resolution bots that can solve many customer concerns at once, freeing your reps' time for the most complex queries. You can also make use of its Messenger integration and a provided chatbot to improve your customer service experience.
Pros:
Lead qualification tools
Fully customizable
Team inbox is and survey features are great for use by sales teams
Cons:
High costs
Steeper learning curve than other ManyChat alternatives
Contact sales for customized pricing based on your company's needs
Read more:
Summary: how to choose the best ManyChat alternative?
ManyChat is a good option for a live chat tool. However, if you don't like it, that's fine! There are many viable alternatives that may work better for your business.
When looking at alternatives, consider their cost alongside the features they offer. Some ManyChat alternatives were meant for specific industries, business sizes, and so on. To make things a bit simpler for you, here are some quick suggestions—
The best overall:
The best options for small businesses:
LiveChat. Inexpensive option with all expected features
Olark. Simple tool with unique small touches
The best for ecommerce:
Gorgias. The entire software was designed for ecommerce
Intercom. Lead qualification features
Birdeye. Strong sales features
Just remember—
Check the user reviews of the product, make sure the pricing of the platform suits your budget, and that the software includes all the features you need. It's good to use the free trial and the free plan provided to decide whether the platform you choose is the right one for you. You can always go through our list again and pick the top three platforms to try out.
That's all from us. Good luck!