Freshdesk is relatively inexpensive and easy to use, which makes it a great CRM for small companies. However, it's difficult to meet all business needs with one product.
After all, there are plenty of similar options that can help you reach the same goals at a lower cost. How are you supposed to know if Freshdesk is the best option for you?
Don't worry—We've compiled a short list of the best Freshdesk alternatives and reviewed them for you.
In this article:
If you're interested in customer service management tools, you can also check out:
Let's start by briefly introducing Freshdesk, shall we?
Freshdesk is a popular cloud-based customer service software. It's known as a diverse tool that helps businesses of all sizes manage their customer relations and increase customer engagement. With great customer support and a robust offering, many people trust Freshdesk to keep their customer relations infrastructure going.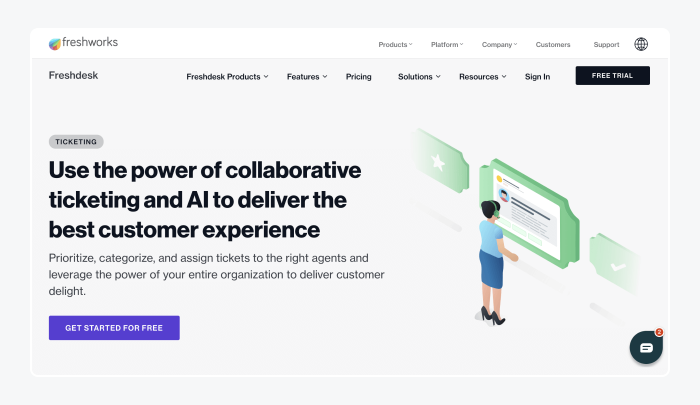 Freshdesk exists in a well-defined market segment. Within the customer service management industry, Freshdesk has a 2.94% market share. Zendesk is the most popular competitor in the same space, with a 14.16% market share.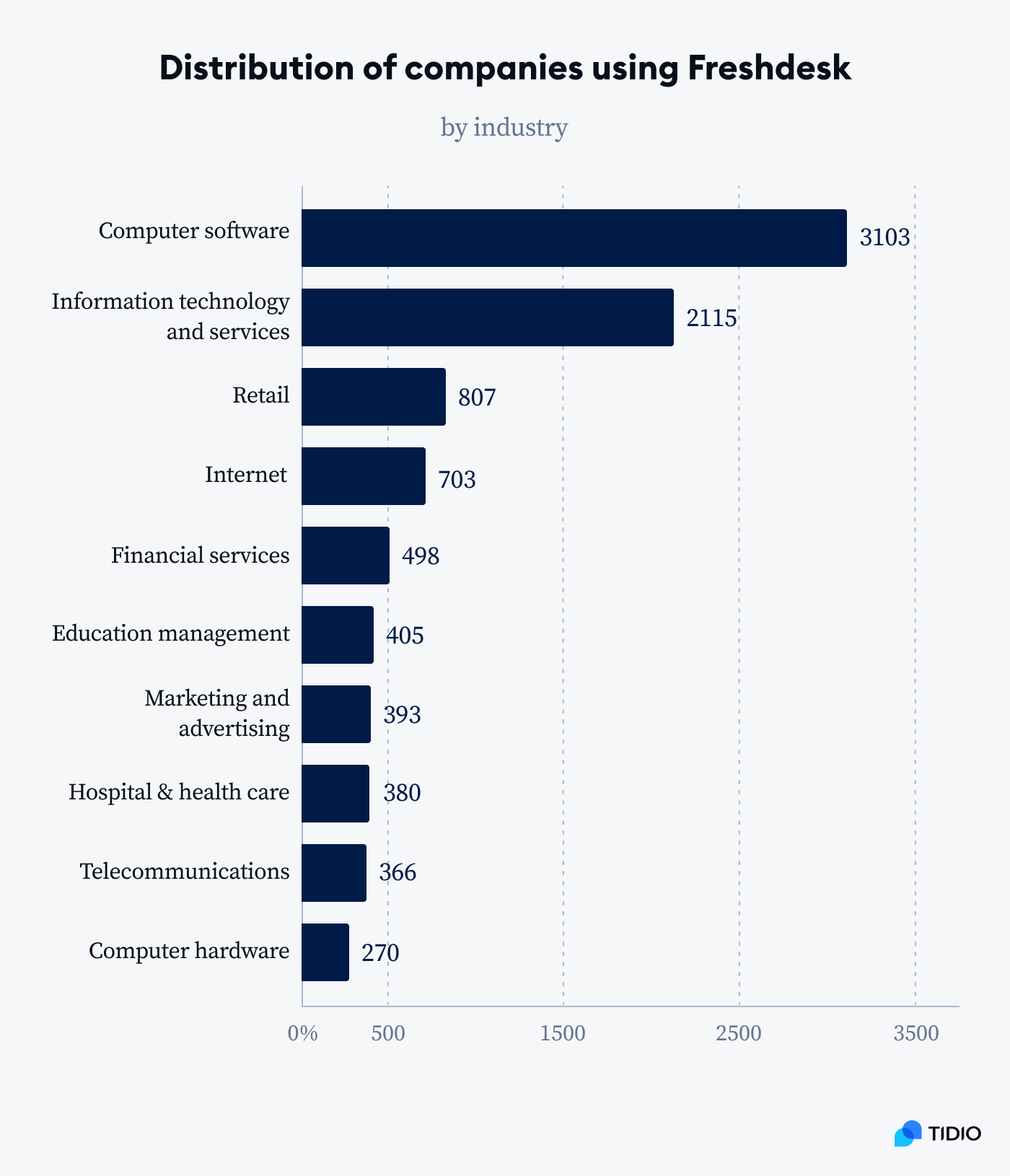 While Freshdesk certainly offers all the CRM basics, it may not offer what you're looking for. For example, if you run an ecommerce store, alternatives designed specifically for your needs might be a better fit.
Before we discuss all alternatives in depth, let's have a quick look at a summary comparison.
The best Freshdesk competitors are:
| Provider | Ratings | Free plan/trial | Best for |
| --- | --- | --- | --- |
| Tidio | 4.7/5 ⭐️ (1,000+ reviews) | ✅ | Small to medium businesses |
| Zendesk | 4.3/5 ⭐️ (3,830+ reviews) | Free trial | Multilingual support |
| LiveAgent | 4.5/5 ⭐️ (1,370+ reviews) | ✅ | Ticketing system |
| Intercom | 4.4/5 ⭐️ (2,160+ reviews) | Free trial | Lead qualification |
| Gorgias | 4.6/5 ⭐️ (250+ reviews) | Free trial | Purely ecommerce stores |
| HubSpot | 4.5/5 ⭐️ (1,220+ reviews) | ✅ | Integrations |
| LiveChat | 4.5/5 ⭐️ (730+ reviews) | Free trial | Startups |
| Birdeye | 4.8/5 ⭐️ (1,425+ reviews) | ❌ | Sales features |
| Bitrix24 | 4.1/5 ⭐️ (440+ reviews) | ✅ | Lead nurturing |
| Nutshell | 4.2/5 ⭐️ (636 reviews) | Free trial | B2B companies |
You can't make such an important choice at a glance. So, let's look into the finer details of each of the platforms.
Here's an in-depth list of Freshdesk alternatives and competitors: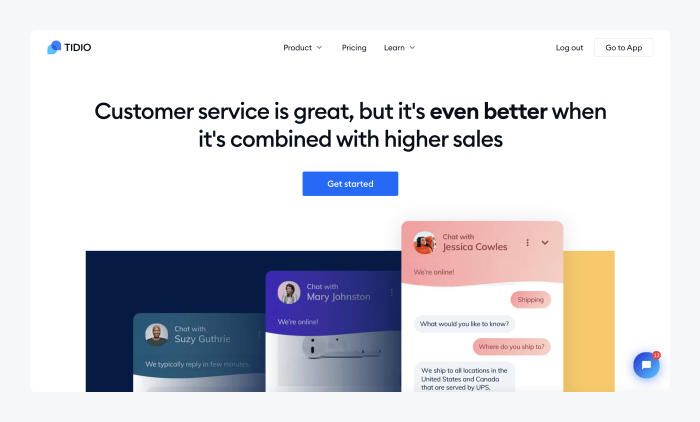 Ratings: 4.7/5 ⭐️ (based on 91,000+ reviews on G2)
Tidio is increases your business's customer support capabilities through intuitive live chat boosted with chatbot tools. Live chat enables you to connect with your customers in real-time straight from the website. Chatbot automation, on the other hand, allows your business to be available at all times.
But—We aren't going to toot our own horn here. There are plenty of more appropriate places for it. What you can do instead is just try our platform for free and compare your experience to the reviews left by thousands of others. At that point, you can decide whether we offer one of the best Freshdesk alternatives on the market.
Click here to sign up and see why over 300,000 websites use Tidio.
Key Features
Built for scalability
Easy to use
24/7 multilanguage availability
Fully customizable live chat widget
Over 16 chatbot templates available
Mobile app for iOS and Android available
Easy installation via JS Code or API
Visitor notifications for proactive customer service
Multichannel support: available for your website, Facebook and Instagram
Free version with unlimited chats for customer messaging for two operators
Starter ($32.50/month). Same as free plus advanced chatbot functionality, 3 operators, $2.50 per additional operator
Team ($65.83/month). 15,000 monthly chatbots, 5 operators, faster responses, note-taking
Scale ($332.50/month). Unlimited chatbots, unlimited operators, custom roles, chatbot consultant, 1 on 1 onboarding
Learn how to install Tidio on your website in less than 2 minutes.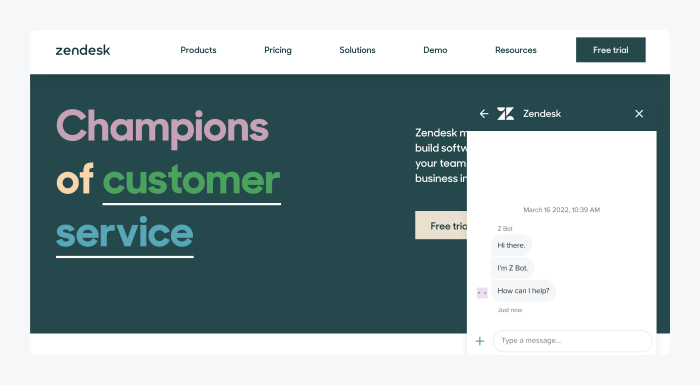 Ratings: 4.3/5 ⭐️ (based on 3,830+ reviews on G2)
Zendesk offers two options: Zendesk Support, a simple helpdesk ticketing system and Zendesk Support Suite enhanced with omnichannel functionality. The Zendesk Support Suite is one of the largest companies in its market segment.
Zendesk is a great Freshdesk alternative because of its omnichannel customer communication tools and advanced automation features. This can help you streamline the workflow of your support team and increase agent productivity. On top of that, Zendesk is available in a wide range of languages.
Pros
Includes self-service portal for automated customer support
Integrates with WhatsApp for SMS messaging
Customizable alerts and comprehensive conflict management
Cons
Technical difficulties reported by some customers
A bit expensive for small businesses
Suite Team ($49/month)
Suite Growth ($79/month)
Suite Professional ($99/month)
Read more
Who are Zendesk's competitors? Here is a ranking of the 10 best Zendesk alternatives you should consider in 2023.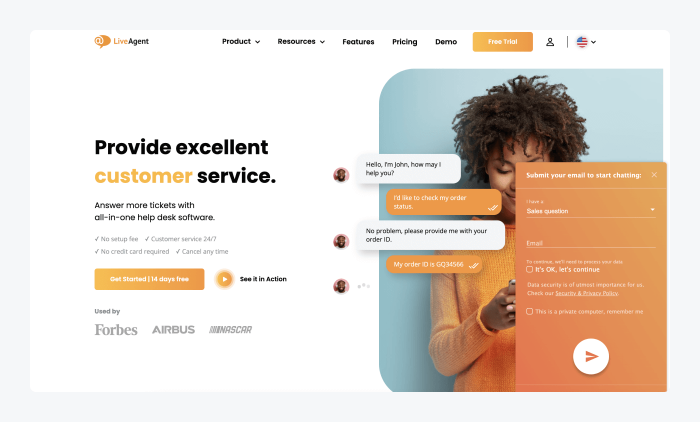 Ratings: 4.5/5 ⭐️ (based on 1,370+ reviews on G2)
LiveAgent is a Freshdesk competitor that offers packages that come with chatbots and ticket routing. This help desk software assists your support agents with ticket management to prioritize customer conversations.
If you're looking for a free CRM service to test before adopting it in your business, LiveAgent is a great place to start. Their free service is surprisingly complete with chatbots, ticketing, and prioritization. It's simple enough that anyone can use it to improve their business's customer service at a low cost.
Pros
Built-in call center with call details automatically recorded and automatic customer callbacks enabled
Paid plans are relatively inexpensive
Integrations with social media available
Cons
Fewer features than many alternatives
Limited integrations and interoperability
Free plan
Ticket plan ($15/agent/month)
Ticket + chat ($29/agent/month)
All-inclusive plan ($49/agent/month)
Read more
See what are the biggest benefits of chatbots and see how your business can benefit from implementing bots on your website, Facebook and Instagram.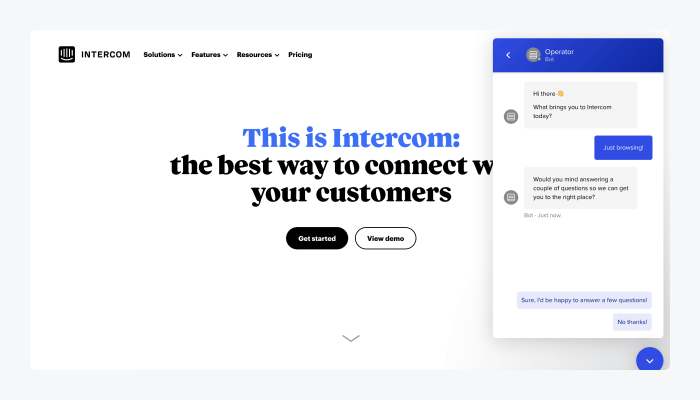 Ratings: 4.4/5 ⭐️ (based on 2,160+ reviews on G2)
Intercom is another impressive company. But what sets Intercom apart from the other Freshdesk alternatives is its diversity and adaptability, which makes it perfect for SaaS companies. You can use this customer support software for better project management and to provide self-service to your website visitors.
Intercom has all the bells and whistles expected of a CRM system. But they also offer a lead qualification system that can help users close more sales. The focus on customer service stays consistent, but extra effort is placed on nurturing the most qualified customers.
Pros
Lead qualification features
Sales oriented service packages
Great customization options
Integrates with Slack and Salesforce
Cons
Relatively high cost in comparison to competitors
Steep learning curve
Intercom doesn't offer flat, universal pricing options. You should contact their sales team to discuss your needs and receive a customized quote. In general, you can expect Intercom to cost more than other Freshdesk competitors.
You can expect to pay at least $65 per month for "eligible startups", while more complete plans costing up to $499 per month according to neutral review platform TrustRadius.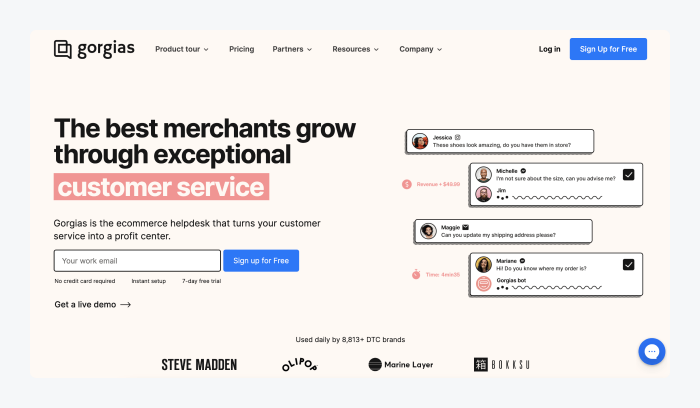 Ratings: 4.6/5⭐️ (based on 250+ reviews on G2)
Named after the pre-Socratic philosopher, Gorgias is a CRM dedicated to ecommerce businesses. The platform offers the regular CRM features, but it also offers several analytical features to help ecommerce businesses increase their revenues.
This help desk solution provides a shared inbox workspace for your service team members and call center agents that makes communication more seamless. Features, such as social media sentiment analysis and custom reports set it apart from the rest.
Pros
Impressive suite of analytical tools
Seamless integrations with Shopify, Magento, Bigcommerce
Social media sentiment analysis provides raw information on customers' opinions (not offered by Freshdesk and most alternatives)
Cons
Only available for ecommerce businesses
High costs for all plans
Basic plan ($90/month)
Pro plan ($450/month)
Advanced plan ($1,130/month)
Read more
Learn how this leather goods company recreated in-store customer experience online to increase sales. Alternatively, have a look at the list of the best ecommerce chatbots that will help you sell more.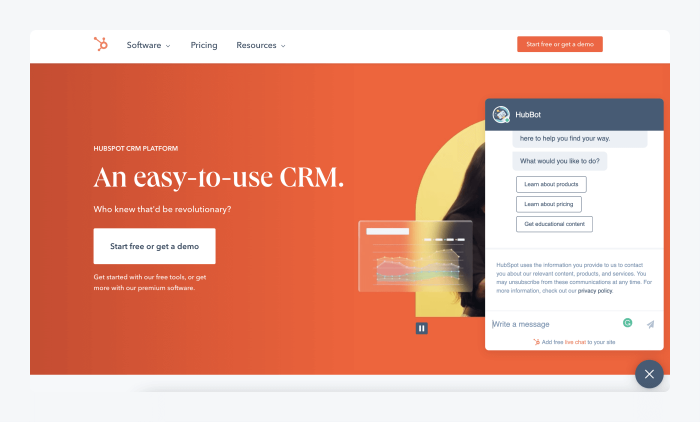 Ratings: 4.5/5 ⭐️ (based on 1,220+ reviews on G2)
HubSpot is one of the most widely known inbound marketing companies. The HubSpot CRM package platform offers some of the most comprehensive functionalities including SLA management and hundreds of integrations (with Hotjar, Scripted, and Zapier, to name just a few). It's one of the platforms that can suit the needs of businesses of all sizes.
Pros
Offers integrations with
Works with your other HubSpot subscriptions
Simple to use
Cons
Very limited customer support with free package
Paid plans become very expensive quickly
Free plan
Starter ($45/month)
Professional ($800/month)
Enterprise ($1,200/month)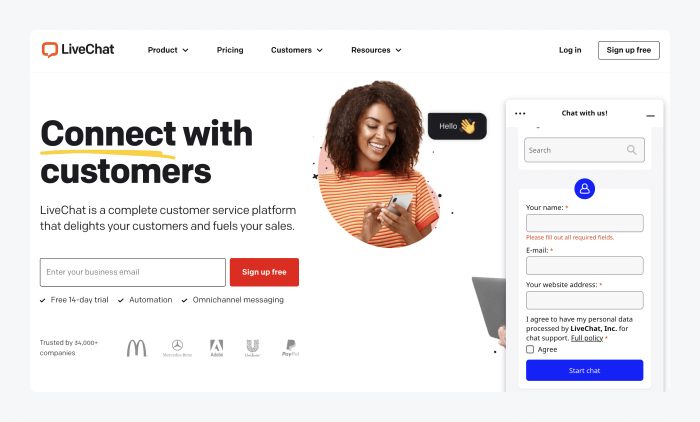 Ratings: 4.5/5 ⭐️ (based on 730+ reviews on G2)
LiveChat is a great option if you want a simple, sleek, inexpensive customer relationship management service. In this way, it's the simpler Freshdesk alternative.
LiveChat comes with an impressive roster of integrations as well as good quality for regular functions such as live chat and chatbot features. LiveChat is designed to integrate smoothly and seamlessly into any business website.
Pros
Great integration with WordPress, Shopify, and other significant platforms
Relatively easy to use
Adaptable for most business models and all sites
Cons
Lacks the comprehensiveness of some other Freshdesk alternatives
Cheaper plans are too limited even for many of the smallest businesses
Starter package ($16/month)
Team package ($33/month)
Business package ($50/month)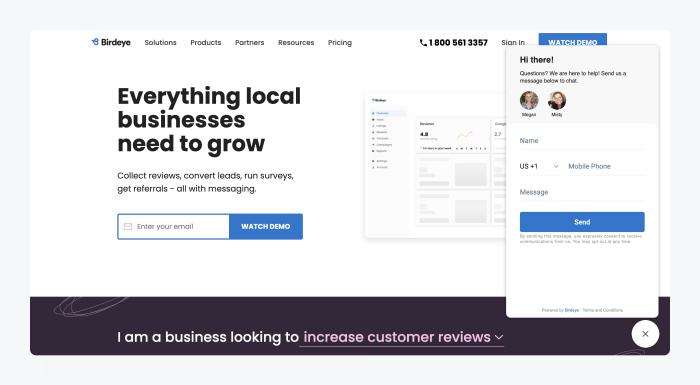 Ratings: 4.8/5 ⭐️ (based on 1,425 reviews on G2)
Birdeye is a Freshdesk alternative that focuses on the overall customer experience. To provide ideal customer support with an added focus on sales, Birdeye offers the regular ticketing system and chat features.
The platform focuses on increasing conversions more than Freshdesk and other alternatives. What that means is constantly keeping a bird's eye view on each step of the buyer's journey by providing features like marketing insights and custom customer satisfaction surveys.
Pros
Additional marketing tools such as benchmarking, referral tools and listings
Integrates with Quickbooks and 1,000 other software systems
Focuses on user experience and buyer journey features to drive sales
Cons
Relatively high cost
Some reviewers say there are technical difficulties with integrations
Single location ($299/month).
Professional plan ($399/month)
Read more
Learn more about customer satisfaction and gain more insights about your buyers.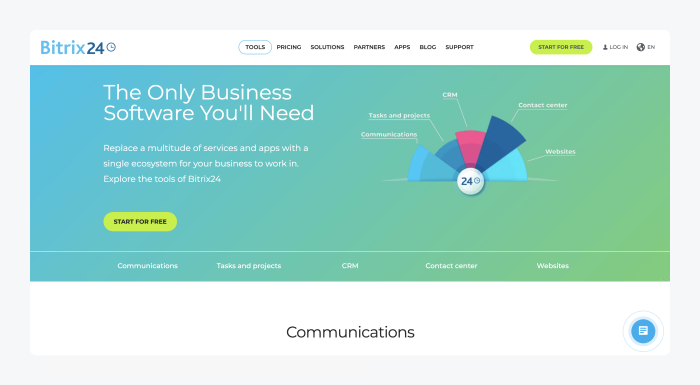 Ratings: 4.1/5 ⭐️ (based on 440+ reviews on G2)
Bitrix24 is both a customer relationship management platform and a lead management service. Like some other Freshdesk alternatives, Bitrix24 categorizes leads by likelihood to take a desirable action.
In addition to the basic lead management and CRM features, Bitrix24 has a wide array of email marketing and site building features and integrations. It supports centralized multichannel communication up to a certain number of operators at the same time (depending on your service package). This service hub also allows for better support ticket categorization at your service desk.
Pros
Direct contact or leads listing options
Video calls and site building features
Email marketing integration for sending ads through Gmail and other email providers
Cons
Complex interfaces
Lacks networking features available with some alternatives
Free plan
Basic ($39/month)
Standard ($79/month)
Professional ($159/month)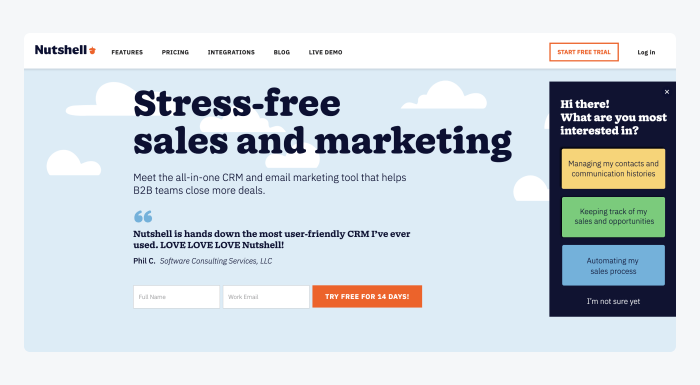 Ratings: 4.2/5 ⭐️ (based on 636+ reviews on G2)
Nutshell is an all-in-one CRM Freshdesk alternative. However, it's a B2B-specific CRM with a focus on getting your business new sales. Nutshell is a great addition to your knowledge base, forums, and FAQ page. It also improves asset management and saves customer data for any future contact for more streamlined workflows.
While it's meant for B2B customer relations management and lead nurturing, Nutshell is also easy to use. The purpose of their service is to place your B2B sales and marketing in one place to make both more efficient.
Pros
Very easy to use, especially by B2B standards
Excellent report generation features
Intuitive design
Cons
Lacks some common-sense features like a quoting interface
Some functions are overly difficult to carry out
Starter ($20/user/month)
Pro ($42/user/month)
That's all from the reviews of Freshdesk competitors. By now, you should have a good idea of the alternatives available.
Now—let's check what to look out for when choosing a Freshdesk alternative.
Key takeaways: how to choose the best Freshdesk alternative?
CRM software is made with one of two approaches: highly specialized service or adaptability. After breaking down the many options this way, you can look deeper into how each option fits into your business.
Start by making a list of features that are necessary for your business needs. Then, go through different providers and check which ones offer these functionalities. The best CRM for your company will suit your unique needs.
At the same time, you must factor in the following to make the best choice for your business:
Industry
Budget
Business size
Workflow complexity
To make your decision easier, here's the breakdown of what company is the best at.
The best options for small businesses:
Tidio. Inexpensive plans and robust packages are a no-brainer for small businesses
Livechat. Simple, no frills, and inexpensive CRM
LiveAgent. Inexpensive, free plan is adequate for many businesses
The best for ecommerce:
Gorgias. The entire software was designed for ecommerce
Intercom. Lead qualification is a helpful feature
Birdeye. Sales features are a strong addition
The best for medium and large businesses:
HubSpot. Multiple integrations, extensive packages