Open source helpdesk is a type of ticket management software with an open source code, meaning it's usually freely available for potential modification. It helps you offer customer support and handle user requests from different channels, allowing agents to manage everything from one place.
Now, while there are many great paid options for helpdesk solutions out there, open source systems are a great alternative.
Why?
Not only are these tools free to use, but also offer an impressive array of features that provide a simple way to boost your customer service game.
Interested?
Make sure to read on.
In this article, we'll talk about the following open source ticketing systems:
| Open source ticketing system | Rating | Free plan/trial | Best for |
| --- | --- | --- | --- |
| Tidio | 4.7/5 ⭐️ | ✅ | Live chat and chatbots |
| osTicket | 4.4/5 ⭐️ | ✅ | Integration capabilities |
| Zammad | 4.4/5 ⭐️ | Free 30-day trial | User-friendly interface |
| FreeScout | 4.5/5 ⭐️ | ✅ | Email management |
| UVDesk | 4.2/5 ⭐️ | ✅ | Knowledge base creation |
| Faveo | 4.7/5 ⭐️ | ✅ | Customizable workflows |
| Hesk | 4.6/5 ⭐️ | ✅ | Simple and user-friendly interface |
| Rocket.Chat | 4.2/5 ⭐️ | ✅ | Customization capabilities |
Looking for other types of software that will help enhance your customer support efforts? Check out these articles:
Let's cut straight to the chase—
A list of the best free ticketing system software
There's a vast number of open source platforms out there. So, to save you time, we went ahead and chose the best ones based on their ratings and amount of features available.
Aside from being among the top-rated helpdesk open source software, all these providers offer comprehensive customer support features. Moreover, they can assist agents in managing visitor queries and are freely available for users who desire more customization and control.
We will delve into the key features, advantages, and potential downsides of each system, enabling you to choose the one that best suits your business needs.
Here are the best open source helpdesk software: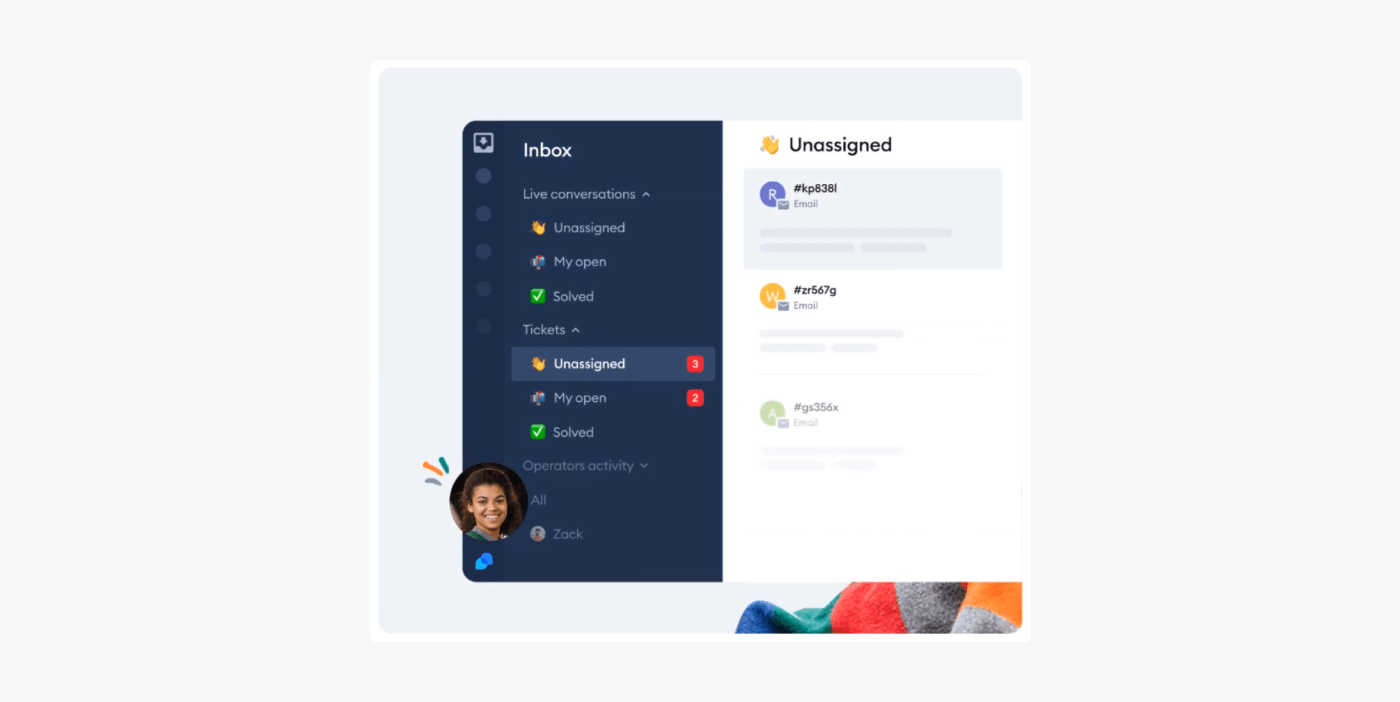 Rating: 4.7/5 ⭐️ (1,410+ reviews)
Tidio is a customer service and helpdesk system designed to streamline support and engage clients through live chat, chatbots, and email marketing automation. While it's not a fully open source solution, it does offer a lot of features for free.
This also includes a free ticketing system with an unlimited number of tickets. All in all, Tidio's practical helpdesk tools will help you optimize your support processes and improve your team's efficiency as a whole.
Main features:
Free online ticketing system to easily manage customer requests
Chat widget to enhance interactions between clients and the helpdesk team
Chatbots that allow auto-responder messages to common inquiries
Multichannel capabilities including email, Messenger, and Instagram
Routing of real-time messages and support requests to the best-suited agents
Forever-free plan available
Starter ($29/mo)
Communicator ($25/mo/seat)
Chatbots ($29/mo)
Bundled solution: Chatbots + Communicator ($54/mo)
Tidio+ (Starting from $394/mo)
Read more: Check out our knowledge base and find out all about using Tidio's ticketing system. Also, learn how this luxury beauty brand managed to increase sales using Tidio.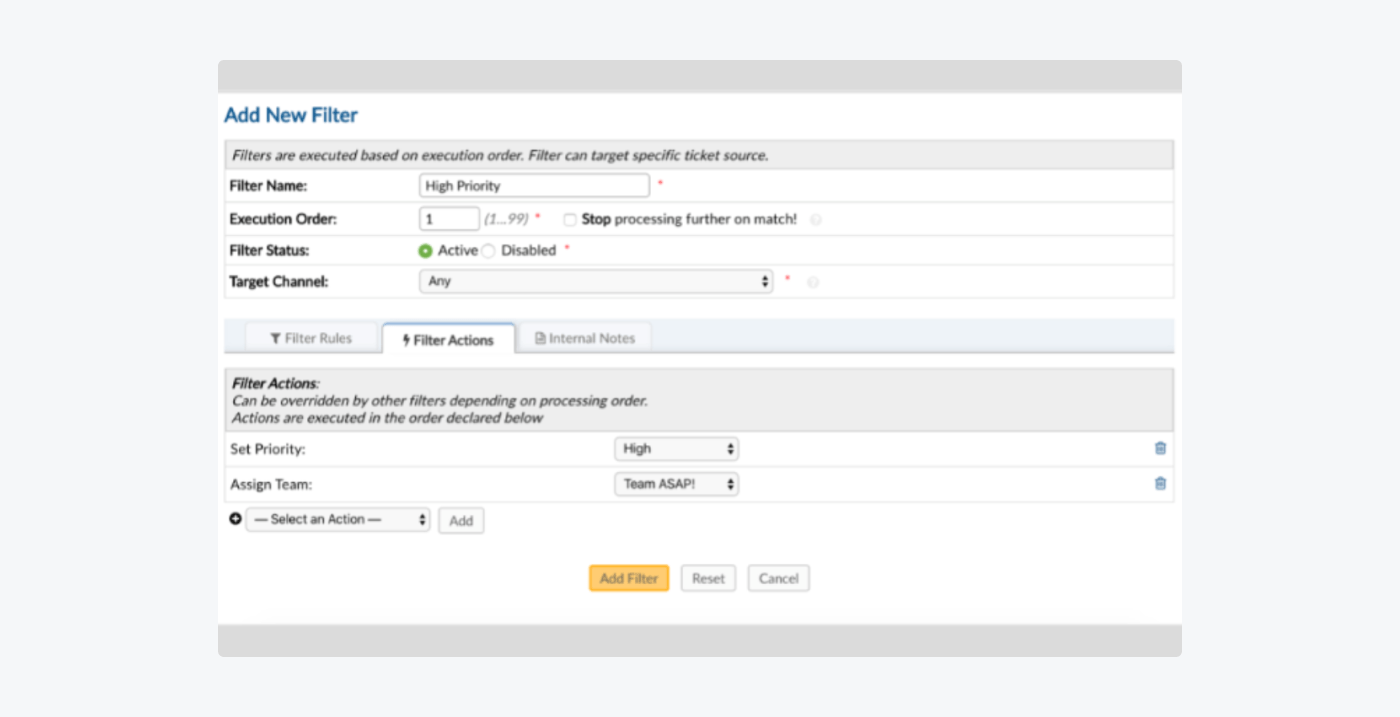 Rating: 4.4/5 ⭐️ (40+ reviews)
osTicket is another open source helpdesk ticketing system known for its simplicity and ease of use. It offers features such as support ticket system management, email integration, and knowledge base creation. With its intuitive interface and robust functionality, osTicket is a great option for businesses of all sizes.
Pros:
Custom fields to summarize collected user data when submitting a ticket
Ticket routing of notifications to the right departments
Ticket locking mechanism to avoid agent collision
Cons:
It can be difficult to find a specific ticket if you don't know its number
The UI has a bit of an outdated appearance
Open source (Free)
Cloud-hosted (Starting at $12/mo/agent)
Virtual Appliance: Contact sales
Read more: Find the best free CRM software for your business needs.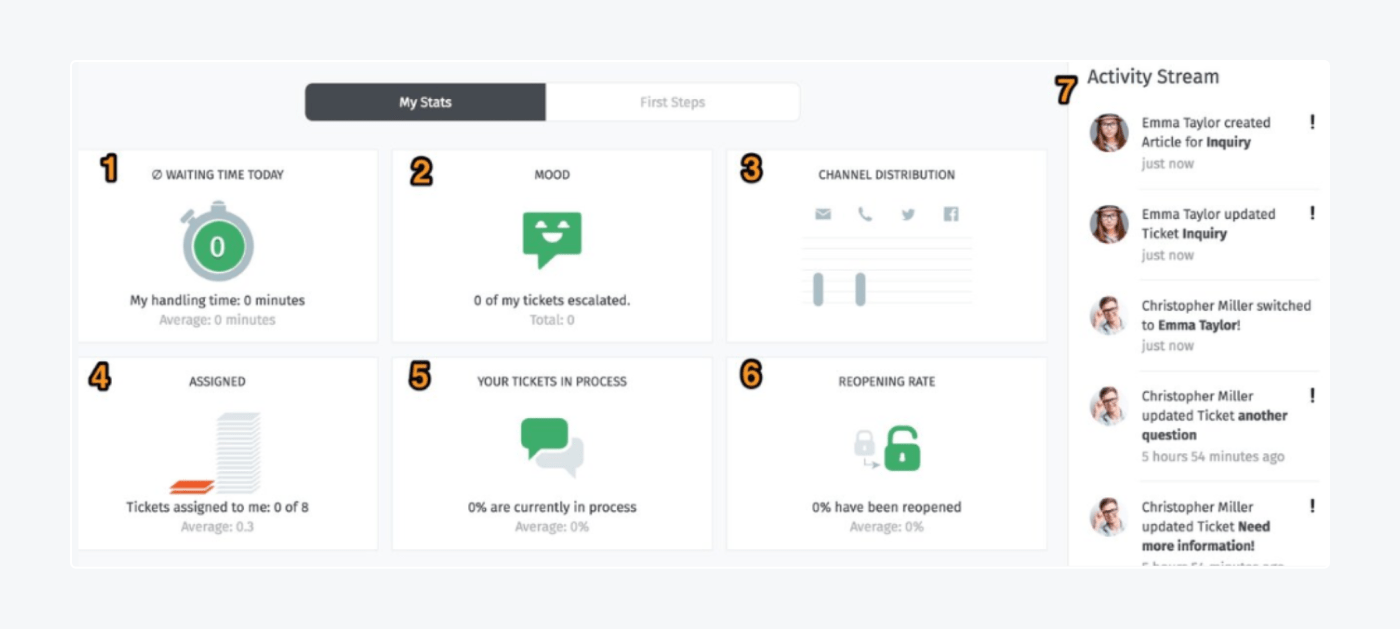 Rating: 4.4/5 ⭐️ (9+ reviews)
Zammad is a modern and user-friendly helpdesk system built with Ruby language that offers a range of features to enhance customer support. It includes ticket management, knowledge base creation and templates, as well as live chat functionality. In addition, Zammad also offers integrations with popular communication channels such as email and social media, making it a versatile choice for businesses.
Pros:
Customer interface that enables end-user to monitor the status of their ticket
History of changes to track who modified which changes and when
The ability to create individual lists and overviews for specific support teams
Cons:
Some users want to see more integrations
One user reported that the system was buggy and outdated
Free 30-day trial available
Starter ($5/mo/agent)
Professional ($15/mo/agent)
Plus ($24/mo/agent)
Read more: Check out the best ecommerce integrations available on the market.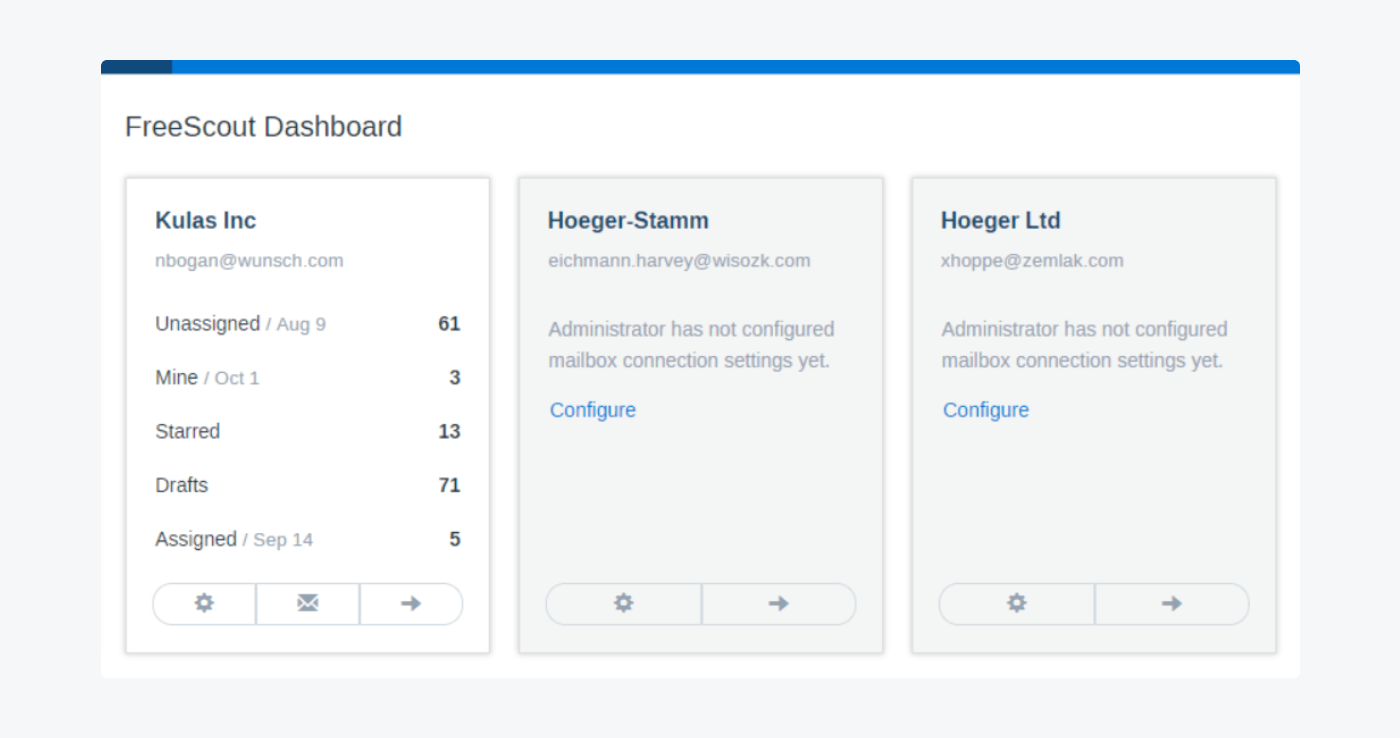 Rating: 4.5/5 ⭐️ (10+reviews)
FreeScout is a free-to-use, lightweight, and powerful open source helpdesk system. It's MySQL and PHP-based (Laravel framework) with access to the GitHub repository. This is essentially a self-hosted clone of HelpScout and a popular alternative for Zendesk. Users love it for its shared mailbox functionality, numerous modules, and seamless email integration. There's also a free version of the mobile app available for Android and iOS.
Pros:
Unlimited support agents, tickets, and mailboxes
Collision detection when two agents open the same conversation
Support of modern Microsoft Exchange authentication
Cons:
Some features are missing, like a knowledge base or API
Sometimes minor bugs appear
Free to use
Additional modules (Starting from $2.99/module)
Read more: Here's all you need to know about the top HelpScout alternatives and competitors.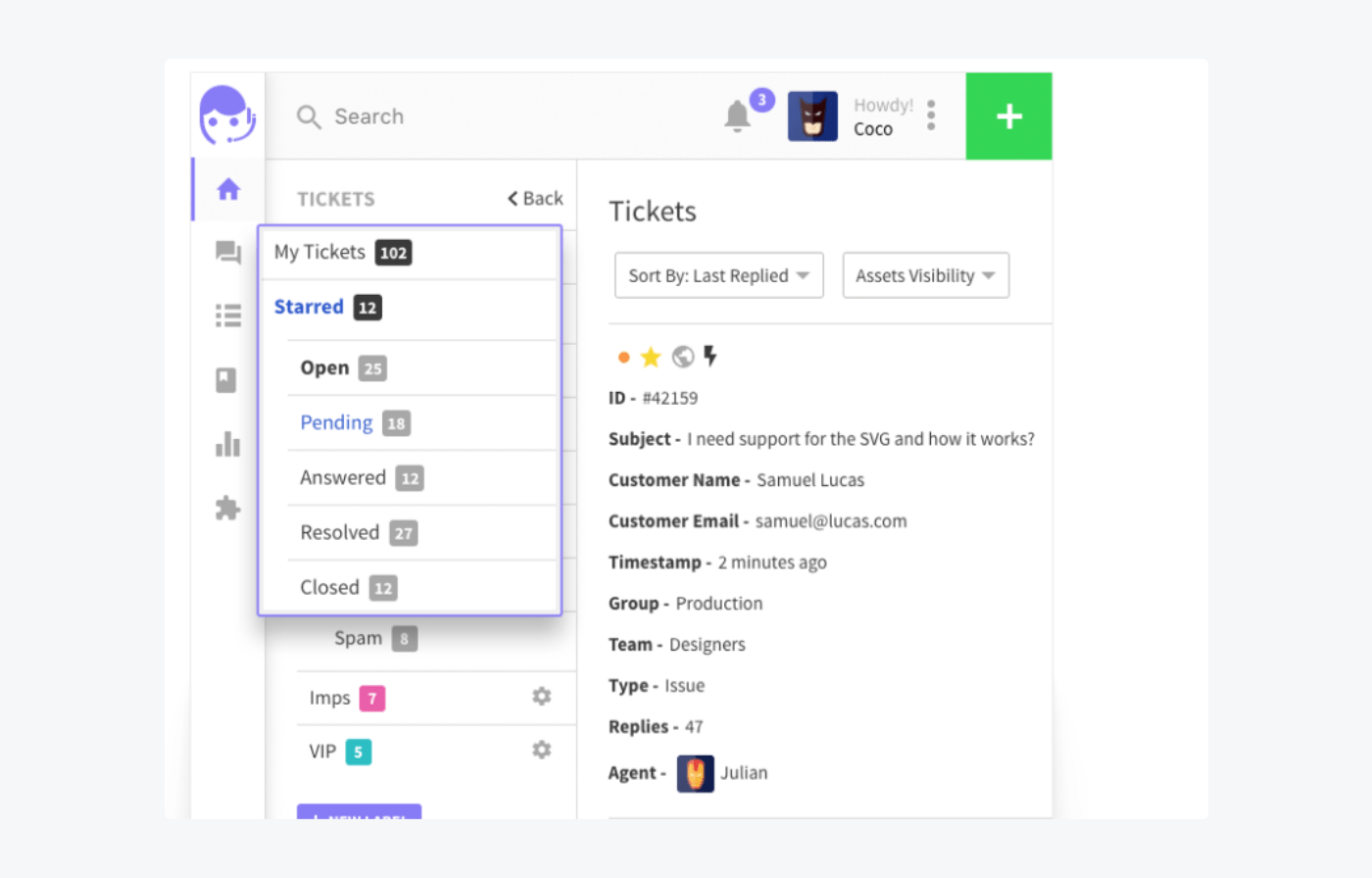 Rating: 4.2/5 ⭐️ (5+ reviews)
UVdesk is another free online helpdesk ticketing system built on the Symfony PHP framework. It offers a range of features including ticket and user management, email integration, and ecommerce tools and channels. This platform also provides multilingual support, making it a great choice for businesses with a global customer base. In addition, there's a plugin version of UVdesk that you can connect to your WordPress-powered store for seamless integration.
Pros:
Easy user management and custom workflows to respond faster
Self-service knowledge base window to provide quick replies to FAQs
Ticket assignment and condition-based workflow
Cons:
Limited integrations
UI is really basic
Open source (Free forever)
Pro ($22/mo/2 agents)
Enterprise ($36/mo/2 agents)
Read more: Find out all you need to know about FAQ chatbots and learn how they can help automate your business processes.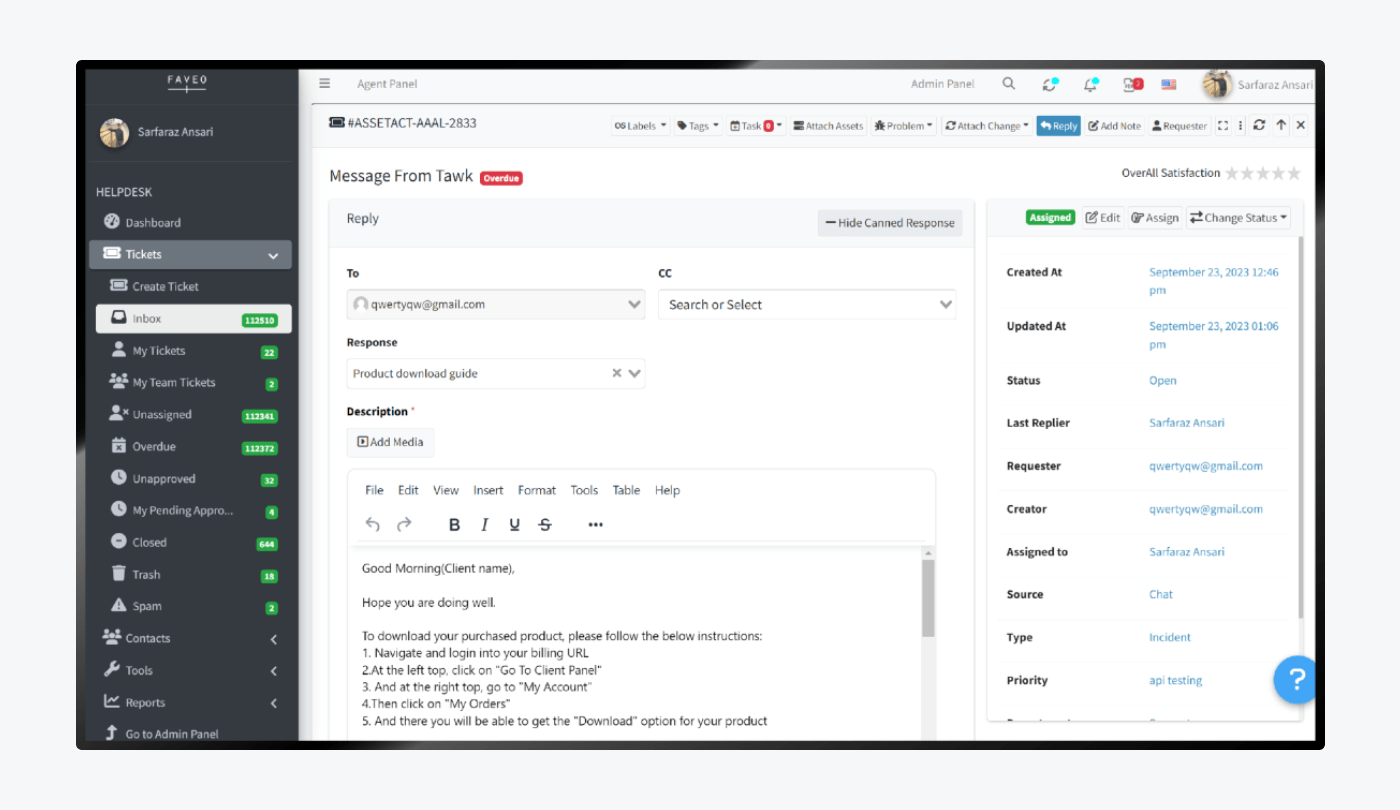 Rating: 4.7/5 ⭐️ (20+ reviews)
Simple but powerful, Faveo is another great helpdesk management system that will aid your team in staying on top of their customer support game. It comes with automation and SLA management features that help automate repetitive tasks and also allows you to seamlessly connect with all channels. There's also a comprehensive knowledge base and FAQs, reducing the need for users to contact support.
Pros:
Auto-reply, canned responses, and internal notes
Ticket merging, assignment, and workflow
Powerful reporting features
Cons:
It can be a little slow while patching updates
One user reported a few bulk functionalities being slow
Help Desk Freelancer (Free/2 agents/mo)
Help Desk Startup ($72)
Help Desk SME ($144)
Help Desk Company: Contact sales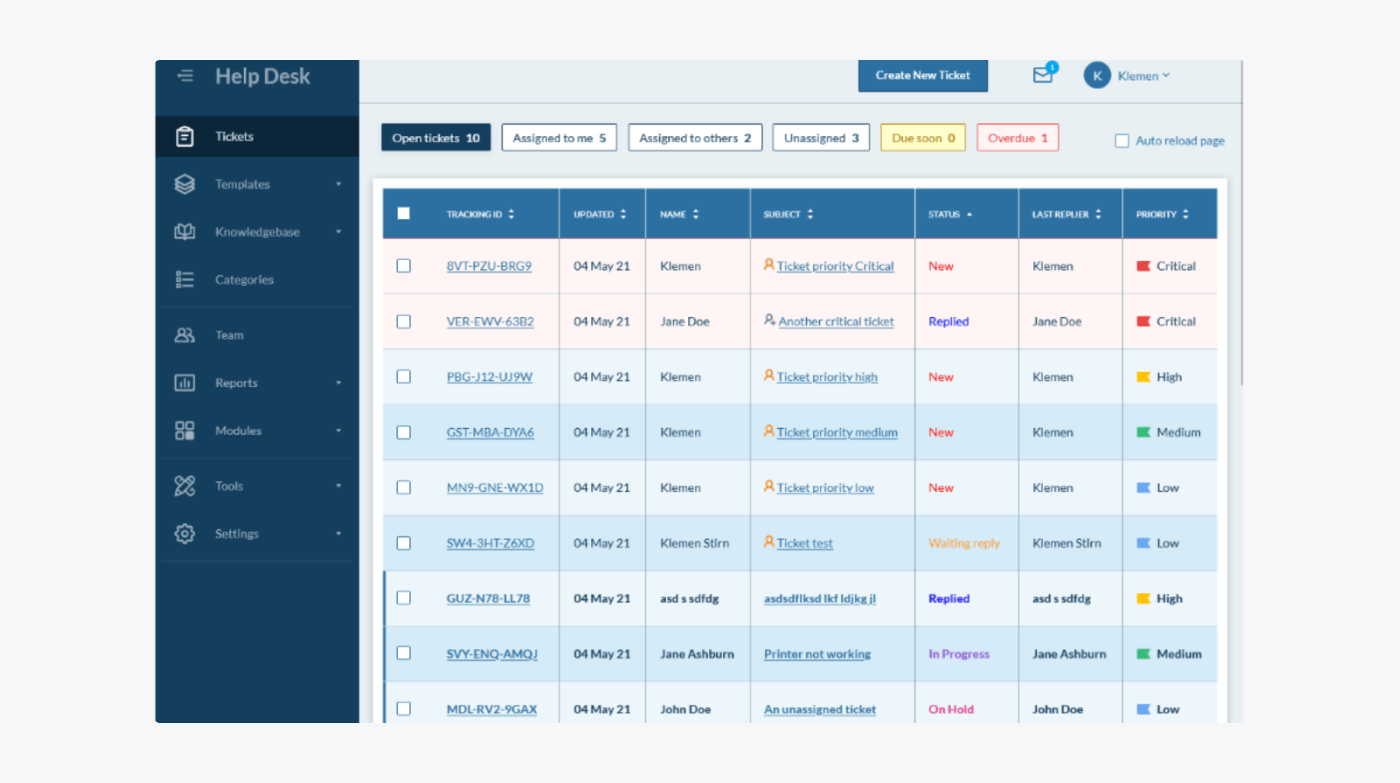 Rating: 4.6/5 ⭐️ (4+ reviews)
This is a cloud-based helpdesk and customer support software with an interface that's easy to use. Aside from a centralized support system with ticket management, it also has knowledge base features. If you'd like, you can look into SysAid, a service desk partner of Hesk, and get access to features like live chat and advanced reporting and analytics.
Pros:
The ability to prioritize and track ticket urgency and status
Canned responses, ticket templates, and custom data fields
Integrated knowledge base
Cons:
UI for editing and updating knowledge base articles has an old-school design
Some users think an archive system should be more intuitive
Open source (Free)
Hesk Website License ($49.99, one-time fee only)
Hesk Advanced License ($199.99, one-time fee only)
SysAid Service Desk (Hesk Partner): Contact sales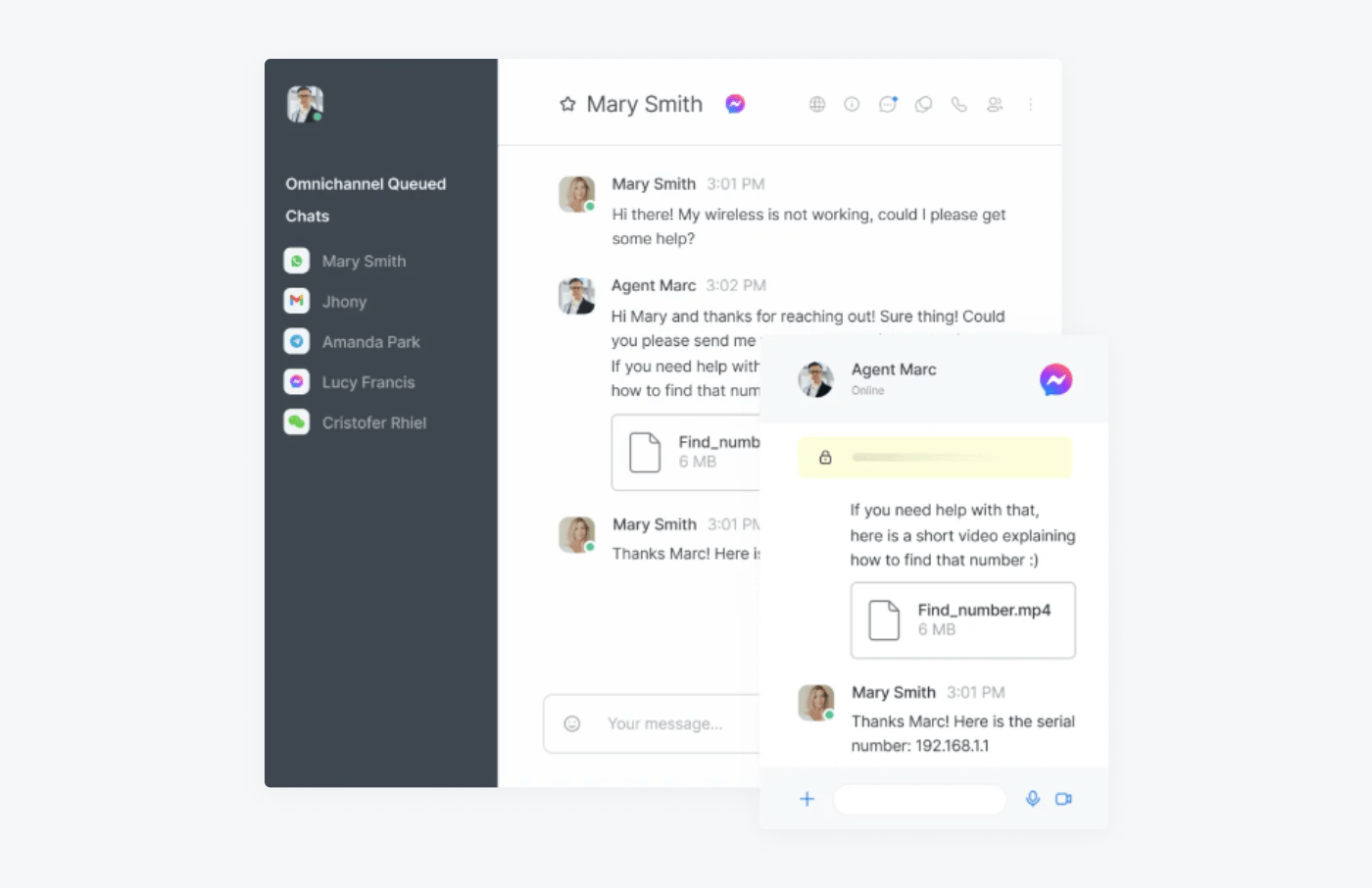 Rating: 4.2/5 ⭐️ (320+ reviews)
Rocket.Chat is a secure and versatile collaboration platform that allows you to interact with colleagues, other companies, customers, and communities. It comes with a ticketing system and omnichannel customer collaboration features, letting you respond to users no matter how they contact you. Moreover, you can easily connect Rocket.Chat with tools you already use, including WhatsApp Business, Zapier, Mod Assist, and more.
Pros:
Analytics and real-time monitoring
Live chat, email, and SMS messaging + more in paid plans
Custom roles and permissions in the Enterprise plan
Cons:
One user faced upgrading issues
It can get a bit complex for non-technical users
Community (Free)
Enterprise ($7/mo/user or $35/mo/agent)
Enterprise add-ons: Contact sales
Now that you reached the end of our list, it's time to address another important question—
What are the benefits of using an open source ticket management system?
There's no shortage of advantages that come with using the features of an open source helpdesk platform for your needs. Here are some of the most important ones:
Since open source software is typically free to use, businesses can significantly cut costs as compared to using proprietary systems. In fact, according to Zipdo, open source software saves businesses more than $60 billion every year.
Omnichannel functionality
Research indicates that the most commonly used communication channels include chatbots (44%), followed by Facebook (42%), WhatsApp (34%), and SMS (32%). Open source ticket management systems usually offer greater flexibility and can be customized to fit the unique needs of each business, including omnichannel customer service experience.
According to the latest global software buying trends, integration capabilities are a #3 factor users take into account when choosing the software for their needs. Most open source helpdesk systems are designed with this compatibility in mind and can be integrated seamlessly with other platforms.
Due to more scrutiny from the community, open source systems tend to be more secure and any safety loopholes are quickly found and fixed. In fact, as many as 89% of IT leaders believe open source is more secure than proprietary software. By using a secure system to handle customer inquiries, you keep your client's data safe and boost customer loyalty in the long run.
Best free open source helpdesk software: key takeaway
All open source helpdesk systems on our list offer a range of features to improve customer support processes. These include anything from built-in knowledge base and ticketing to email marketing functionality and third-party integrations.
Once again, the best open source ticket systems include:
Tidio
osTicket
Zammad
FreeScout
UVDesk
Faveo
Hesk
Rocket.Chat
Whether you're a small business or a large enterprise, there's surely an open source helpdesk solution on this list that can help you provide an excellent customer experience. Just be sure to check the features of each platform carefully in order to pick the one that works best for your needs.