If you're reading this, it's quite likely that you've heard of chatbot software and what it can do for businesses.
And now you're probably thinking about adding automated bot software to your website and communication channels.
But with over 600 different providers on G2 alone, it's difficult to know what's the right choice.
Don't worry—
We went through tens of different platforms and user reviews to pick the 15 best tools you should consider. So, let's compare their pros, cons, and pricing, shall we?
In this article:
Are you looking for a chatbot software for a specific channel? Check out these articles:
Before we jump to the list, let's go through some basics—
What is chatbot software?
Chatbot software simulates human conversations via text or voice messages to answer questions and perform other specific tasks it was programmed for.
Some chatbot software use artificial intelligence, machine learning, and natural language processing for more natural communication with users. Others are rule-based and can only answer very specific questions they were designed for.
There is a number of chatbot types out there. These include:
Customer service chatbots—designed primarily to answer customer support questions
NLP chatbots—use the natural language processing to understand the user intent and respond accordingly
AI chatbots—provide human-like experiences for the user
FAQ chatbots—answer the frequently asked questions regarding your opening hours, pricing, etc.
Social media chatbots—communicate with shoppers on social media channels
Marketing chatbots—promote products and services using a conversational approach
Read more: Learn, in more detail, what is a chatbot and what it can be used for.
But how can chatbots improve customer experience? And what are the benefits of chatbots for customers and for your business?
Let's find out!
How can chatbot software help your business?
You might have heard that bot software can speed up your response rate, provide 24/7 support, and improve the personalization of your service. In the long-run, chatbots can even boost the overall user experience and increase your sales.
Now, in more specific terms, what are some of the biggest benefits of using a chatbot?
Faster chat reply time
A study shows that around 69% of customers prefer to use conversational software for quick responses when communicating with a business. Our research on the future of chatbots backs this up. We found that 62% of shoppers would rather speak to a chatbot if they had to wait 15 minutes for a human rep.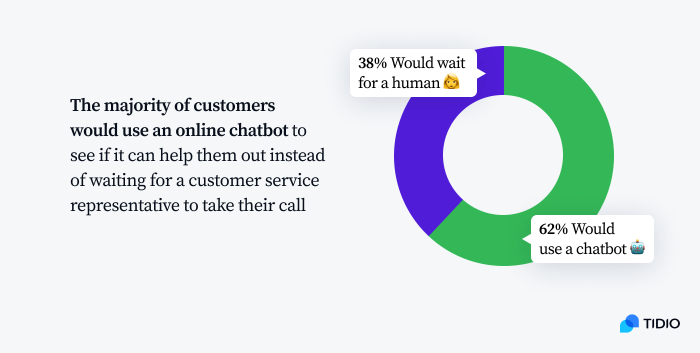 Chatbots help to speed up the chat response time for your customer service and support. They reply to your visitors within seconds, even when all of your support agents are busy. At the same time, they also decrease the queue for your representatives by taking over some of the simpler customer queries.
24/7 customer support
As simple as that—chatbot software doesn't get tired. It also doesn't need breaks and doesn't get sick. It's always available for your customers when they need support. So when you add conversational software to your website, social media, and other communication channels, your company will also be available at all times of the day and night for your shoppers.
This is essential as about 67% of consumers expect 24/7 support from businesses nowadays. Just think about it! Customers usually need your support in the evenings and on weekends. This is the time that they are free to interact with your brand. And your clients would be very grateful if they didn't have to wait until 9 am the next day for a reply, don't you think?
Boost customer experience
To increase customer experience and satisfaction, you need to meet their expectations. And for starters, you should keep in mind that about 46% of clients expect brands to respond faster than 4 hours to a query. In comparison, the average response time to customer service questions is 12 hours and 10 minutes. 

When you have happy customers, your business is on a good track to grow exponentially. So, improving the overall shopping experience and customer service satisfaction should be the apple of your eye because these two factors can make or break your business.
Improve personalization
Don't you love it when you go into your favorite coffee shop, and the barista knows your coffee order? How about when they suggest a cake you might like with it? It makes you feel special and connected with the business, doesn't it? That's the power of personalization in a nutshell.
Keep in mind that research shows that about 71% of shoppers get frustrated when they receive impersonal experience. Moreover, around 44% of first-time buyers will likely become repeat customers after receiving a personalized shopping experience. 
Increase sales
So, as we already mentioned, chatbot software improves personalization and provide a 24/7 support which, in turn, boost the customer experience. And the improved shopping experience leads to increased sales from your ecommerce.
Want proof?
A research found that more than 43% of clients say that they would pay more for a better customer experience. And business leaders using chatbots claim that they boost sales, on average, by 67%.

It's almost like a chain reaction! One thing leads to another and your business starts to grow at high speed in no time.
Now—
What is the best chatbot software on the market?
This is probably the main question that brings you here today. With so many choices, it can get overwhelming to separate the wheat from the chaff. And you don't have to!
We bring you the results of our research, so you can save time and still choose the best option for your company.
Here's a comparison table with the best chatbot software for your business.
Let's go more in-depth with our chatbot software reviews, shall we?
Rating: 4.7/5 ⭐️ (1,300+ reviews)
And before you say anything—yes, this is our chatbot software. But we'll keep it short and sweet, promise.
Tidio is an all-in-one customer service platform that offers conversational AI chatbots that use machine learning and NLP to provide the most efficient customer support for your clients. The tool also lets you freely customize your bots with a drag-and-drop visual builder to help you in the process. With this system, you can track abandoned carts, use conversational marketing, and much more.
But don't just take our word for it. Check out the user reviews and try our chatbot software for free to decide for yourself whether we deserve this spot on the list.
Main features:
Over 16 different triggers
Drag-and-drop visual chatbot builder
NLP and machine learning technology
Over 37 ready-to-use chatbot templates
App for desktop and mobile (iOS and Android)
Variety of integrations, including Shopify, Facebook, email, etc.
Free version available
Communicator ($19/mo/operator)
Chatbots ($39/mo)
Tidio+ (from $289/mo)
Read more: Learn how to create FAQ bots with Tidio for your business website.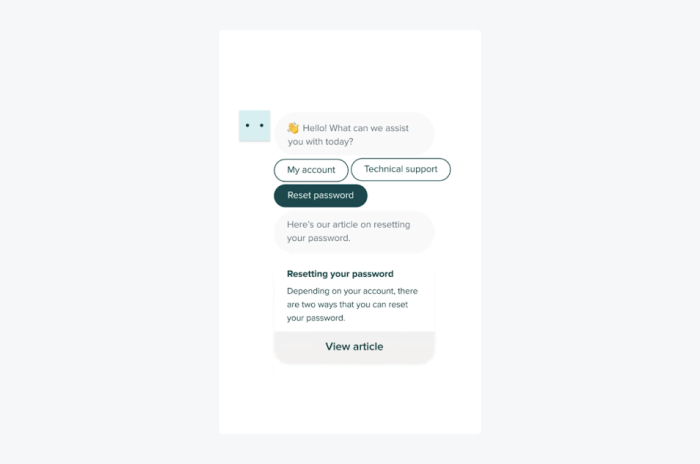 Rating: 4.3/5 ⭐️ (5,230+ reviews)
This conversational software helps you monitor, manage, and reply to your website visitors in real time. Companies of all sizes use Zendesk to provide personalized shopping experiences and improve customer satisfaction.
On top of that, you can use the ticketing system, custom forms, automated workflows, and auto-responders to speed up the response time. This way, you'll provide a great customer service that is customized to the client.
Pros:
Agent to agent chat
Robust reporting and chatbot analytics
Over 700 integrations, including Slack, Jira, Salesforce, and Freshbooks
Cons:
It has a complex interface, can be difficult to use
Some reviewers report issues with the ticketing system
Free trial available
Suite Team ($49/ agent/mo)
Suite Growth ($79/agent/mo)
Suite Professional ($99/agent/mo)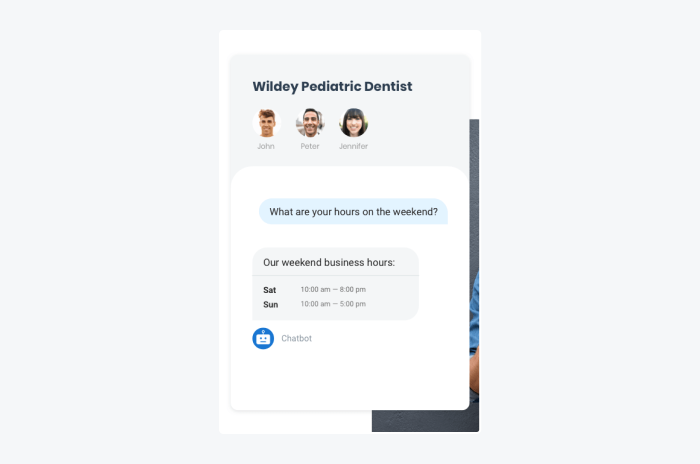 Rating: 4.8/5 ⭐️ (1,580+ reviews)
Birdeye is one of the best chatbot software that offer sales and customer success metrics tracking. This way, you can stay on top of your KPIs every step of the buyer's journey.
It also enables you to provide omnichannel customer service on Facebook Messenger, Slack, Twitter, and others. Moreover, your live agents can use a shared inbox for all the customer communication, so you never miss a lead again.
Pros:
Cons:
Expensive compared to competitors
Some reviewers have technical difficulties with integrations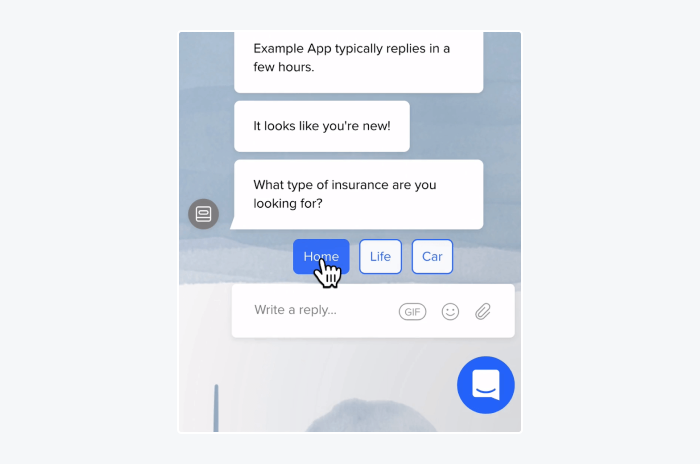 Rating: 4.4/5 ⭐️ (2,410+ reviews)
Intercom is a diverse and adaptable bots' software that is perfect for SaaS businesses. You can use it to provide self-service for your website visitors and improve your project management.
It also offers an impressive lead qualification system that you can use to give key clients the attention they deserve. This AI chatbot software sorts customers into categories based on the actions they took and predicted to take in the future.
Pros:
Multilingual chatbots
Highly customizable
Collaborative inbox
Cons:
Some reviewers say it's difficult to find previous conversations with their customers
Steep learning curve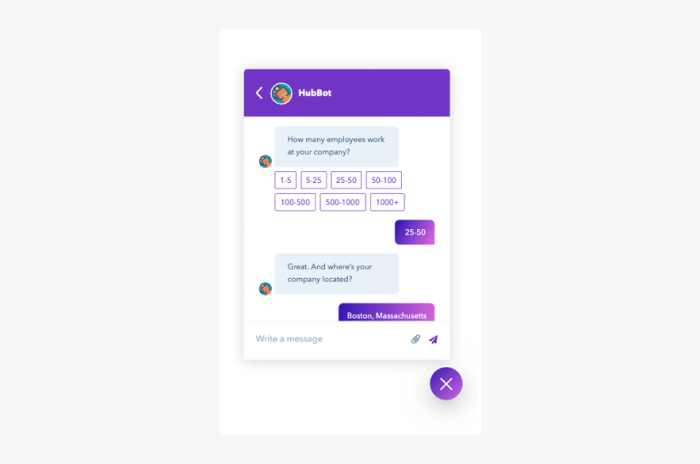 Rating: 4.4/5 ⭐️ (1,570+ reviews)
This chatbot software for websites offers a CRM system and bots that can answer common questions, book appointments, and send automated welcome messages to visitors.
You can also set your team's availability for the shoppers who prefer to speak to a human representative. HubSpot lets you create customer service training, build a knowledge base, and an FAQ section, on top of providing pop-up bots for your pages.
Pros:
Calendar bookings
Help desk automations
Variety of integrations, including WhatsApp, Google Analytics, etc.
Cons:
No onboarding material
Lack of a tagging system
Free plan available
Starter ($45/mo)
Professional ($450/mo)
Enterprise (from $1,200/mo)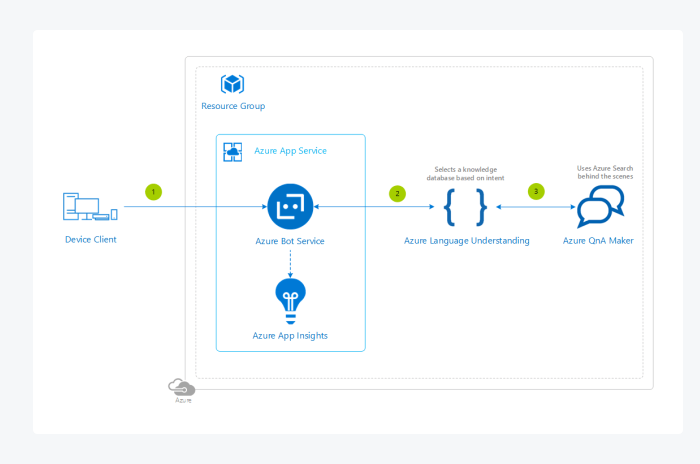 Rating: 4.3/5 ⭐️ (1,430+ reviews)
This chatbots' software is a little more advanced and requires some coding knowledge. It's aimed at developers and gives them full control over the chatbot's building experience with access to various functions.
Microsoft Azure offers an open-source bot framework that can help you build, connect, deploy, and manage chatbots. You can deploy the bots on your website, Microsoft Teams, Skype, Slack, and a variety of other channels. On top of that, this automated bot software includes multilanguage support and active learning to improve your customer communication.
Pros:
Cons: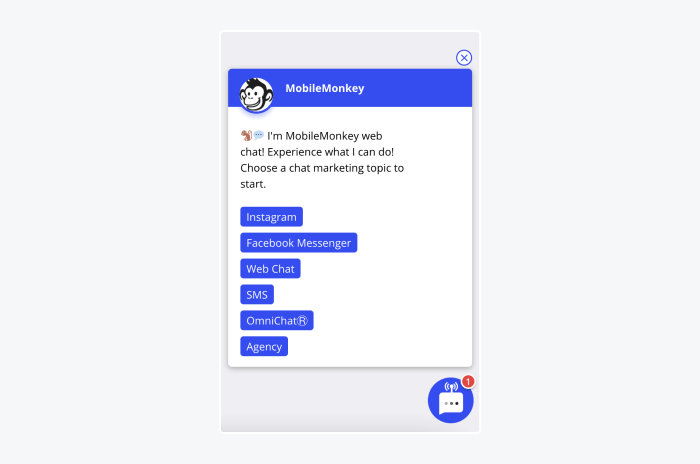 Rating: 4.9/5 ⭐️ (290+ reviews)
You can use this Facebook chatbot software on your website, messaging channels, Instagram, WhatsApp, and, of course, Messenger. This way, you're available for your shoppers wherever they are looking for your support.
It also helps you manage your inbound, as well as outbound, customer communication from a single platform. You can contact leads, schedule messages, share links with your audience, and conduct drip campaigns. This free bot software makes campaigns more convenient by letting you send batches of SMS messages in advance.
Pros:
Ready-to-use Messenger and Instagram chatbot templates
Keyword recognition
Multichannel chatbot builder
Cons:
Lack of conditions in the chatbot flow
No advanced analytics available
Free chatbot plan available
InstaChamp Platinum ($19/month)
MobileMonkey Startup ($119/month)
MobileMonkey Growth → contact sales team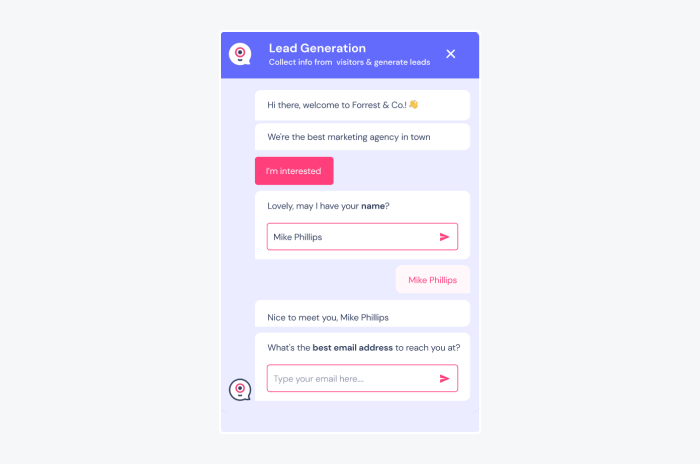 Rating: 4.7/5 ⭐️ (230+ reviews)
It's no secret that landing pages are effective in introducing and promoting your products. But to make them even more efficient, you need to engage your visitors and invite them for a conversation. That's what Landbot chatbot software does—it lets you build conversational landing pages and incorporate chatbots on any pages of your website
You can use the library of chatbot designs or create your own from scratch. This web bot software also offers a widget, live chat, and pop-ups that you can add to your website for more engagement with your visitors.
Pros:
Many chatbot types available out of the box
Automation features for WhatsApp bots
Separate chat pages
Cons:
No complex chatbot flow logic designs
No agent chat takeover available
Free version available
Starter ($30/mo)
Pro ($80/mo)
Business → contact sales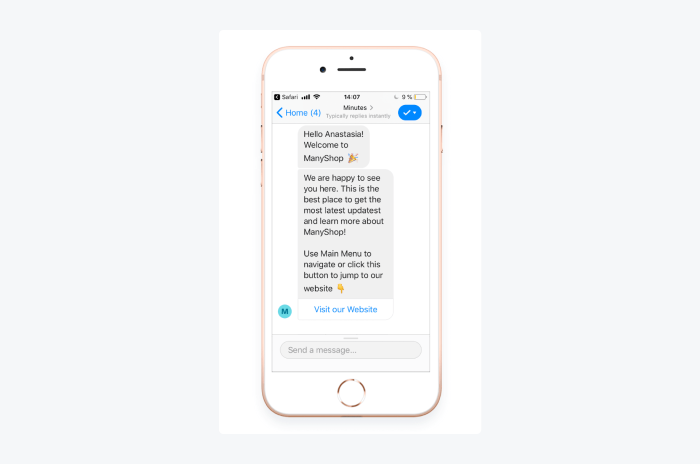 Rating: 4.6/5 ⭐️ (180+ reviews)
This is a great tool for chatbot marketing and deploying Messenger bots. It helps you drive marketing campaigns through SMS text messaging and social media channels. You can use Manychat to book appointments, build customer relationships, and generate more leads across multiple platforms.
It also offers rule-based ecommerce chatbots that enable you to redirect subscribers who click on your ads to the Messenger bot in order to collect more leads and boost your sales. Speaking of sales, buyers can also purchase your products straight from the bot.
Pros:
Customer segmentations for campaigns
Tutorials and onboarding materials
Appointment booking system
Cons:
Basic analytics only
Facebook-based platform
Free plan available
Pro ($15/mo)
Premium → contact sales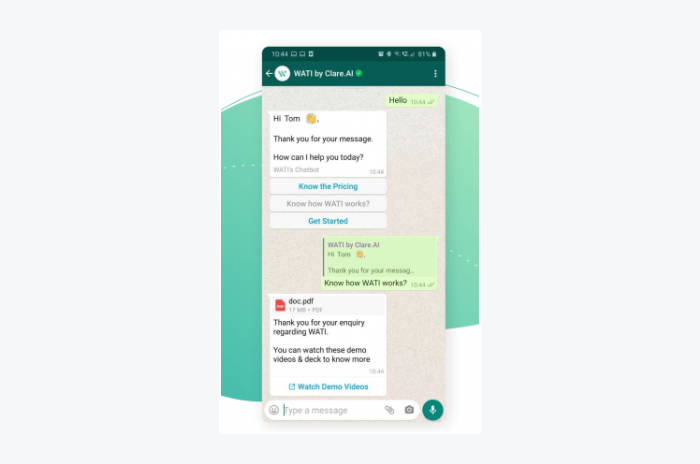 Rating: 4.6/5 ⭐️ (150+ reviews)
If you are looking for WhatsApp chatbot software, this is it! WATI is an official business partner of WhatsApp Business APIs, and it's best suited for B2C companies that communicate with their customers over WhatsApp. It offers a mobile app for live chat communication, so your agents can answer shoppers even on the go.
And you can monitor performance with data-driven insights to help you make good future business decisions. But it's worth mentioning that this platform is only available on WhatsApp communication channel.
Pros:
Training videos for onboarding
Performance monitoring
Official integration with WhatsApp Business
Cons:
No AI technology
Only available for WhatsApp
7-day free trial
Standard ($49/mo)
Professional ($98/mo)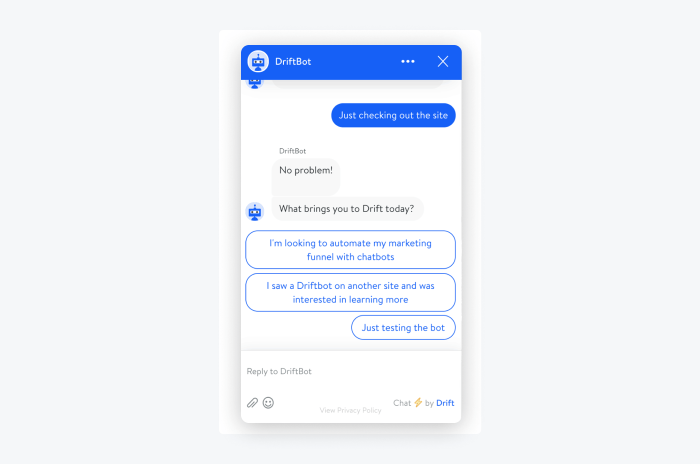 Rating: 4.3/5 ⭐️ (720+ reviews)
This is one of the best chatbot software companies to assist your customer success and sales team. It offers AI-powered chatbots that can help you personalize the customer service experience for your shoppers and collect customer data sets to learn more about their behavior.
Drift also helps you automate email campaigns using a variety of triggers, like churn prevention and customer onboarding. Moreover, you can measure the Net Promoter Score (NPS) easier with surveys sent straight to the app or by email.
Pros:
Views and conversations tracking
Variety of integrations, including MailChimp and Zapier
Patented AI for virtual assistants
Cons:
Some reviewers had troubles with using the reporting features
Limited filters for separating the chats
Read more: Check out this case study about how a wallet company used chatbots to recreate in-store experiences online.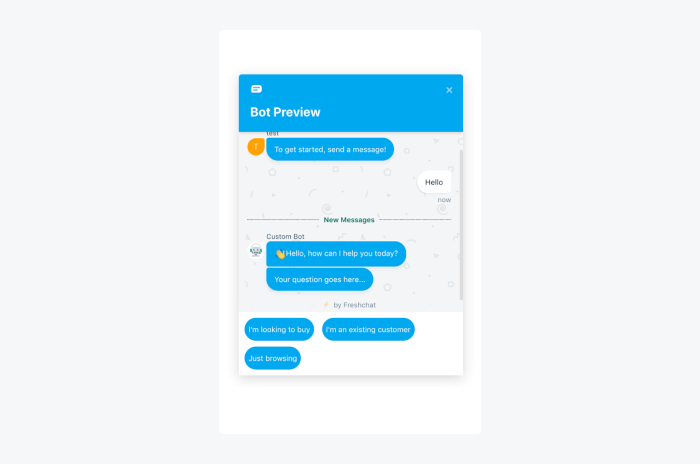 Rating: 4.4/5 ⭐️ (260+ reviews)
Looking through no-code chatbot software, you might be wondering which one of them includes a help desk and a sales platform. Well—FreshWorks has a suite of tools to match your business needs. You can just pick the right ones for your company, and they'll integrate with each other seamlessly.
Above all, FreshChat is a bot-maker software that you can use to automate workflows, nurture leads, and put your email campaigns on autopilot. You can also get revenue and sales forecasting, as well as look through customer insights collected by the bot to make data-informed decisions.
Pros:
Forecasting tools
Advanced reporting and analytics
Sales automation tools
Cons:
Can be difficult to customize because it requires some coding
Lacks 3rd party integrations
Free plan available
Growth ($18/agent/month)
Pro ($47/agent/month)
Enterprise ($83/agent/month)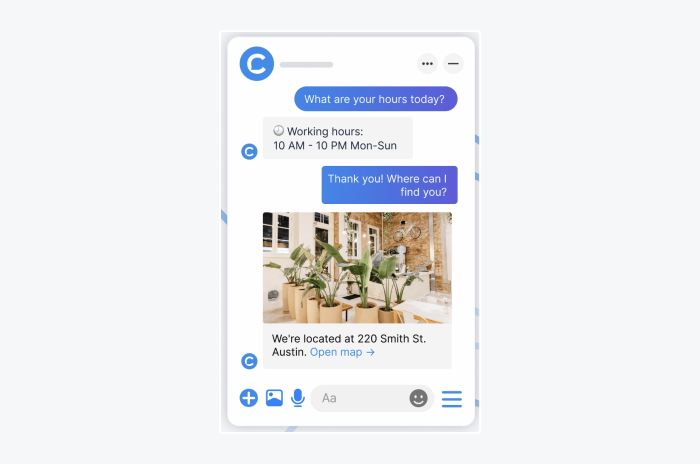 Rating: 4.5/5 ⭐️ (40+ reviews)
This chatbot marketing software lets you create AI chatbots for Facebook Messenger and Instagram accounts. It has an easy-to-use interface, and you can customize the bot to match your brand identity. It also offers great lead generation features. You can use the documentation and detailed instructions to easily build your bots.
The one catch with this Facebook chatbot builder software is that it's optimized mainly for Meta platforms and lacks optimization for other channels, such as a website. Therefore, it's perfect for start-ups, freelancers, and businesses that interact with clients through social media but not ideal for ecommerce and larger brands.
Pros:
Over 60 chatbot templates available
Straight-forward and user-friendly interface
AI technology available
Cons:
Limited customization
Mainly optimized for Facebook Messenger and Instagram
50 conversations free
Entrepreneur ($14.99)
Startup ($24.99)
Small Business ($59.99/mo)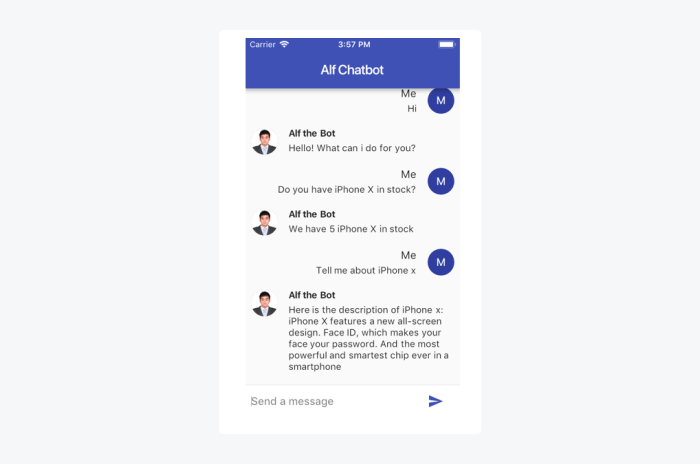 Rating: 4.3/5 ⭐️ (50+ reviews)
This open source chatbot software uses Google AI to understand user intent. It offers the latest BERT-based natural language understanding (NLU) for more efficient customer support on the complex queries.
You can also build text-based, as well as voice based conversational interfaces that connect with a variety of channels, such as Google Assistant, Amazon Alexa, mobile apps, IoT, and more. However, have in mind that this is a chatbot software for developers as you need to know programming languages to get the most out of it.
Pros:
Voice-based assistance
Sentiment analytics of inquiries
Integration with IoT
Cons:
No live customer support
Some coding knowledge needed
$300 credit for a trial
Text ($0.007/request)
Audio input/output ($0.06/minute)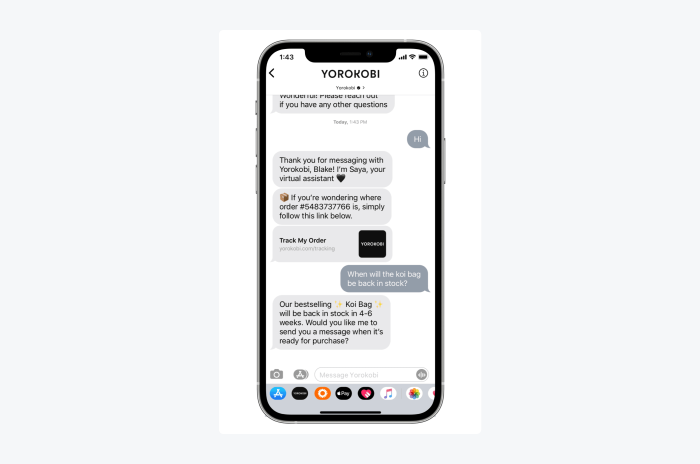 Rating: 3.7/5 ⭐️ (60+ reviews)
Last but not least, LivePerson is one of the best customer service chatbot software. It combines instant messaging apps, SMS messaging, like chat, and chatbots to provide a multichannel customer service experience.
You can also enable your customers to make payments straight in the chat and boost your sales faster. This means that a shopper can order the product that your marketing chatbot shows within two clicks. It's that easy!
Pros:
Multichannel communication available
Sentiment analysis reports
Variety of integrations, including Google's Business Messages, Apple Business Chat, and Twitter
Cons:
Poor customer service and support
Lack of grouping for chats
Free trial available
Starter ($599/month)
Read more: Check out some of the top real-life chatbot use cases that you can utilize for your own chatbots.
Now—
Let's quickly have a look at the features you should look out for when choosing the chatbot software for your website.
Chatbot software features to look for
Some of the popular chatbot platforms will offer bells and whistles that sound great, but most businesses won't actually need them. So, what are the features that really matter?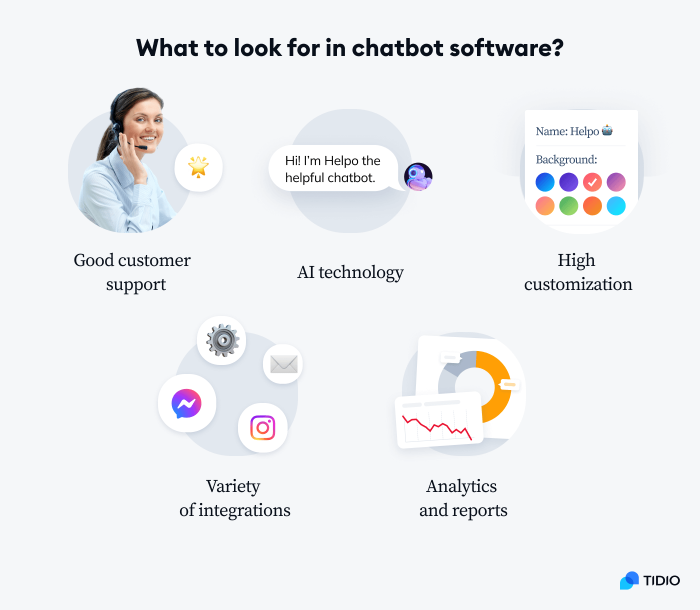 When you start using the chatbot software, you will likely come across some issues or uncertainties with the set-up and management. That's why you need to be able to get substantial help from the support team quickly. And the best way to check if the bot provider offers responsive and knowledgeable customer service is to check their ratings. The reviews are written by the current and prior users of the platform and show real-life experiences.
Bot software is great, but if you only use the basic, rule-based platform, it can be frustrating for your clients to communicate with you. The AI technology prevents frustrations and ensures smooth interactions that feel natural to the user. AI platforms also help your clients get better support by understanding user intent and providing accurate responses.
Your chatbot should match your brand voice and feel. So, when choosing the provider, ensure you'll be able to customize the chatbot software development to your needs. This includes customizing the messages to your clients and conversation flows, as well as changing the color of the chat widget, adding your own greeting, and name for the bot.
Conversational AI providers offer a variety of integrations. These integrations help you seamlessly connect the software to other platforms that you're using. Some of them can be more useful for your business than others. So, you need to decide whether you need to connect your bot with messaging platforms for multichannel customer engagement. Or, if you want to integrate it with ecommerce platforms, such as WordPress and Shopify.
Reports and analytics can show you how intuitive your chatbot design is and if shoppers are happy with your customer support. The reporting dashboard can also present the routing of the chats to your live agents. This can help you understand which chatbots need improvements and additional training.
Chatbot software: key takeaway
Customer interactions can be difficult to build in the right way.
But, chatbot software helps you improve customer engagement by encouraging visitors to start a conversation with your business. And by implementing it across various messaging platforms and social media channels you will be there for your shoppers anytime and anywhere.
Some of the conversational software are rule based, others use artificial intelligence and algorithms to recognize the intent of the user. The machine learning bots are more user-friendly, however, they are also more complex to create and train.
You should first decide what's important for your business and what features are a must for your company. Then, look for a platform that offers good customer support, AI technology, high customization, and a variety of integrations. These will make the process easier for you in the long run.
The 15 best bot software to add to your website and messaging platforms are:
Tidio
Zendesk
Birdeye
Intercom
HubSpot
Microsoft Azure
MobileMonkey
Landbot
ManyChat
WATI
Drift
FreshChat
Chatfuel
DialogFlow
LivePerson
So, to make things easier, choose the top three platforms from our list and dive deeper into their offerings. Just remember to use the free trial to test out the platforms before deciding on the right one for your company.
Good luck and enjoy the process!