Sometimes customers need a bit of hand-holding when they're starting to use your product..
And that's okay.
Because that's what customer onboarding is for.
During the process, new clients get to know your product and gain better value for their money.
Funny thing is—
Not understanding how to use the product and not gaining value from it are the two major reasons clients churn.
So take the user's hand and walk them through, so they stay with you for longer.
In this article, you'll learn:
If this isn't what you were looking for, check out these articles:
What is the customer onboarding process?
Customer onboarding is the process of introducing the client to your product or service. It includes everything from setting up the product through introducing all its features to scheduled checkups. It ensures the customer gets the most value out of their purchase as soon as possible.
Which products need onboarding for new users?
Well—
Any tech product needs some kind of onboarding. Even if it's just a little instruction manual telling people how to turn the product on, off, and all the other basic info.
But in this article, we will focus on digital products and SaaS onboarding for new clients.
Let's be honest here.
These systems are the most confusing when it comes to using them for the first time.
Think of the last time you signed up for a digital platform or software. Did you know all its functions right away? Of course not!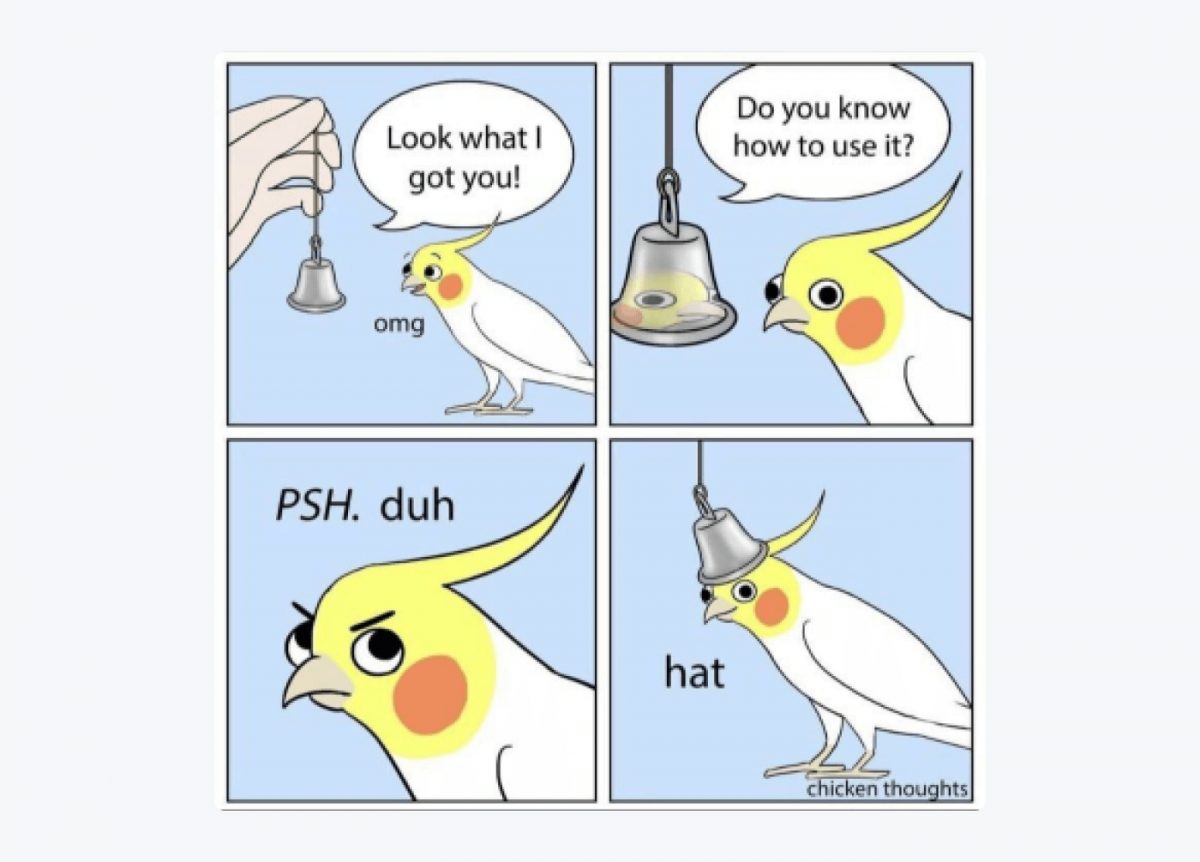 Chances are you went on YouTube and Google to search for the full use of the product.
But what if the brand gave you all the answers on a silver plate?
You would save so much time and be even happier with your purchase, wouldn't you?
That's the beauty of user onboarding. And that's what you can offer your customers.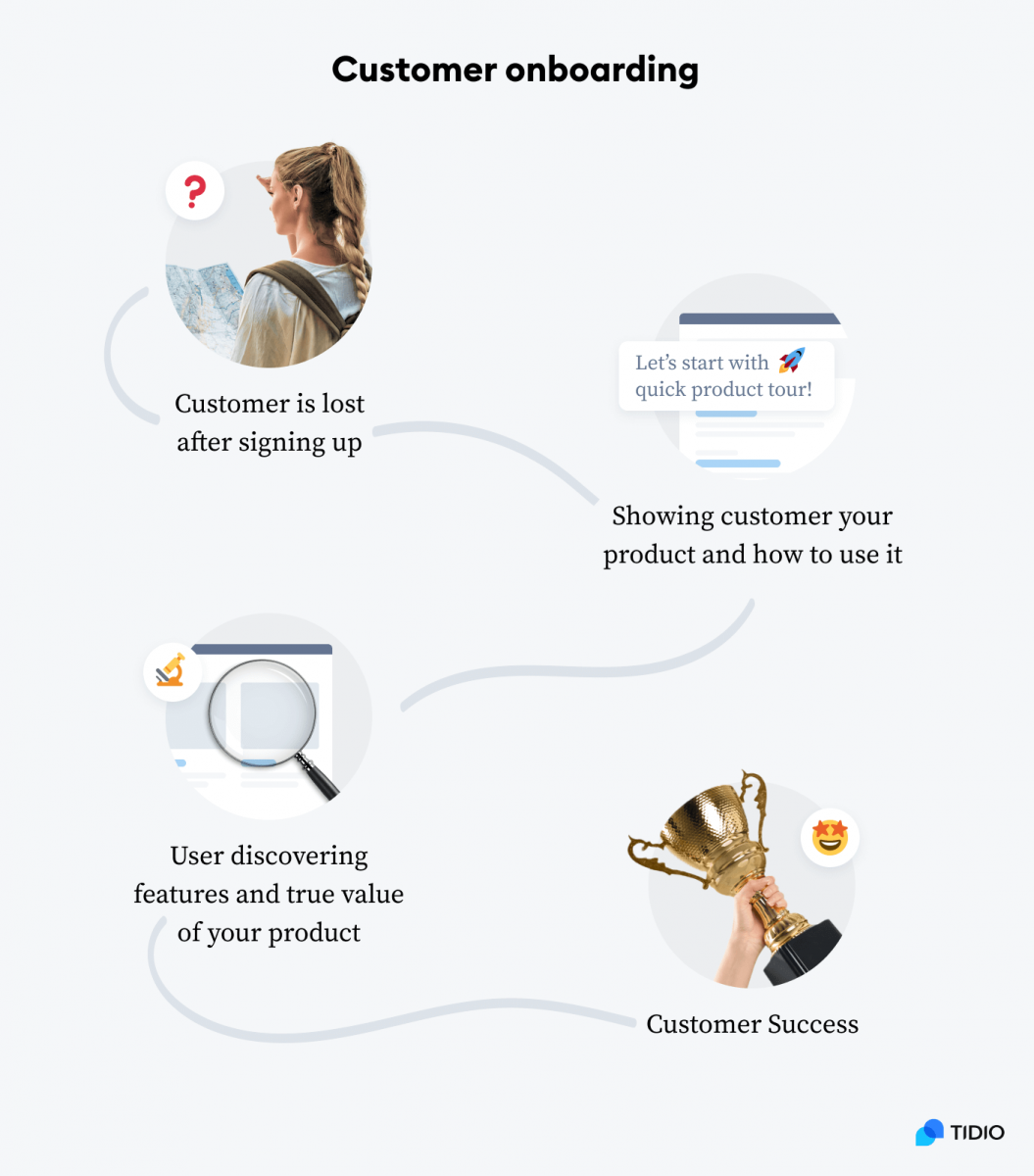 During the customer onboarding process, businesses have a chance to show customers why their product is superior to others and teach the new clients how to use it to its full potential.
Think of the new customer onboarding flow as a roadmap.
It's there for the users to achieve success and integrate the product into their lives. The process needs to be easy and straightforward for them to fully understand how everything works.
Why onboarding is important for your business
A part of you still thinks that product onboarding is a waste of time?
You have great features, the best sales team, and amazing representatives. Your customers are bound to stay with you because of that, right?
Wrong.
All the things mentioned above won't matter too much if your users leave you straight after signing up. And they will leave if they don't know how to use your product.
Your sales team is there to get the user to sign up. But then you need to show the new customer the real value of your product so you don't lose them right away.
Let's look at some statistics showing the importance of client onboarding:
As many as 80% of customers delete an app because they don't know how to use it
A whopping 55% of people say they previously returned a product because they didn't understand how to use it
And up to 85% of executives agree that successful customer onboarding ensures long-term customer loyalty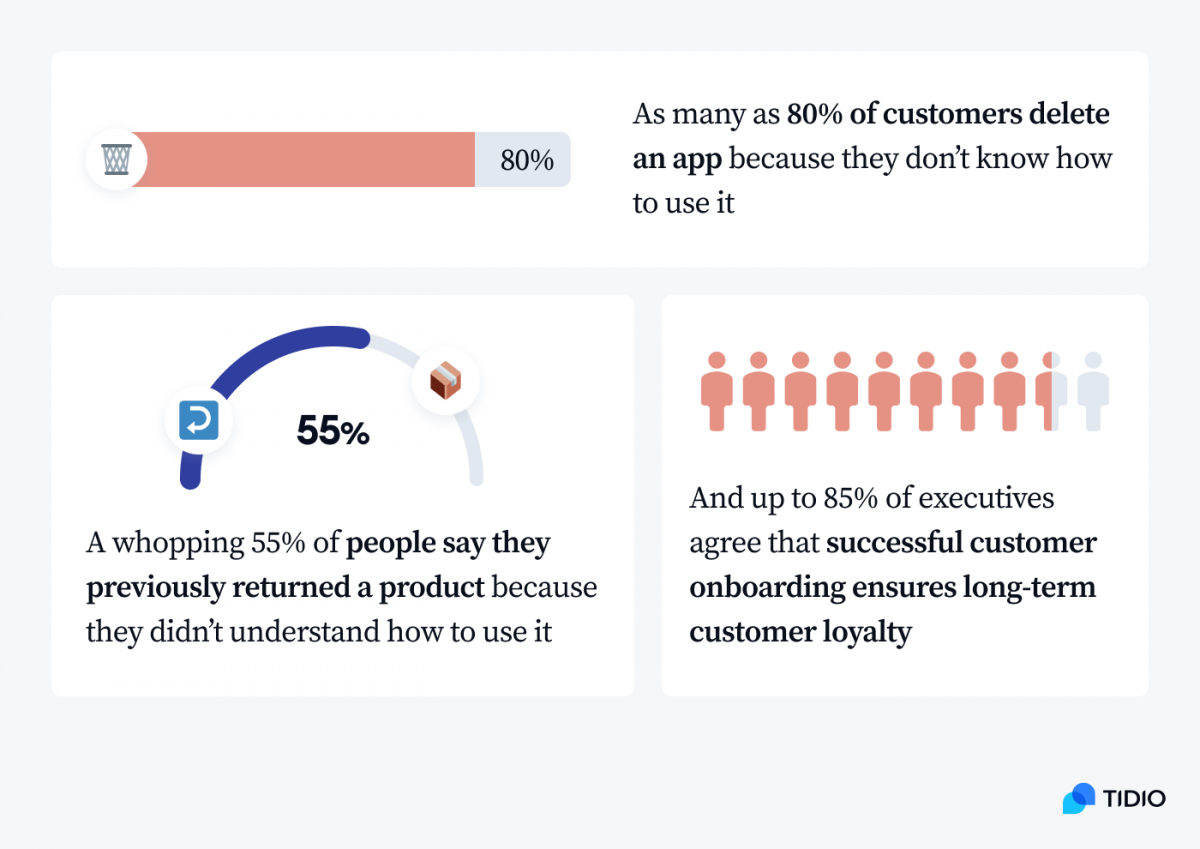 Okay, you know what customer onboarding is and why it's important. But how to do it the right way?
Effective customer onboarding process flow
The client onboarding process starts the moment your client purchases or signs up for your product or service.
Its flow differs depending on the company and the types of products you're selling.
Think about it—
It wouldn't make much sense to offer the same flow for a video conferencing tool like Zoom and for an operating system like Linux, would it?
That's why you need to customize it for your needs and your target audience.
When you're creating a strategy for your customer onboarding, think about what your clientele is like.
Do you know what their pain points are?
Address them when introducing new users to your products.
Also, this is a good time to think if your client needs a hero or a helper?
A what?
Bear with us, we'll explain everything.
Some people like the brand to tick off the task from their to-do list and do it all for them. They want a company that is a hero. These consumers are after brands saying: "We'll do all the work for you, so you don't have to worry about it."
Other shoppers prefer to achieve their goals by themselves with a bit of help from the company. They want a company that is a helper. They want the brand to say: "We'll provide you with tools, but you have to work for it yourself."
If your customer wants a helper company, implement a self-learning customer onboarding. Ensure your support team is always at hand if the customer has questions or needs help.
But, opt-in for the guided and interactive walkthroughs if your clients need a hero brand.
It is important to focus on goals instead of methods. What we want to end up with is a happy customer who is not only confident about using our product but also able to continue their own development and acquire new skills without our help. We should never have a customer think that we will always do everything for them. We can lead them and show them the way, but with a view to making them act independently in the future.
With that said, certain elements of the new user onboarding are a good fit for all companies. And you should always have these in the back of your mind:
User-friendly: the experience should be focused on the user and show them how they can get what they desire from the product. So, teach them. Don't confuse them.
Informative: you should know what the user's success is and how to give them the most value for their money. Do some research beforehand and deliver the most informative experience possible.
Ongoing: customer onboarding support should always be available to help your client with any arising issues.
Let's look at a customer onboarding template you can use to keep your efforts in check.
Client onboarding checklist to keep close by
When creating a new client onboarding strategy, make sure that it follows stages in order that makes sense.
Simple as that.
People don't like uncertainty. So, go with the way they know and expect. And add little extras along the way to enhance the user onboarding experience.
Follow the onboarding template below and tweak it to your needs:
Make the process of signing up effortless
Don't ask for too much information.
Only gather the necessary data you need to personalize the user onboarding experience. You can ask for more information later down the line.
Make sure to give the client the option to sign up with their Google account, for example, for an even smoother experience.
Take an example from Netflix. All you need to provide when signing up is the email address.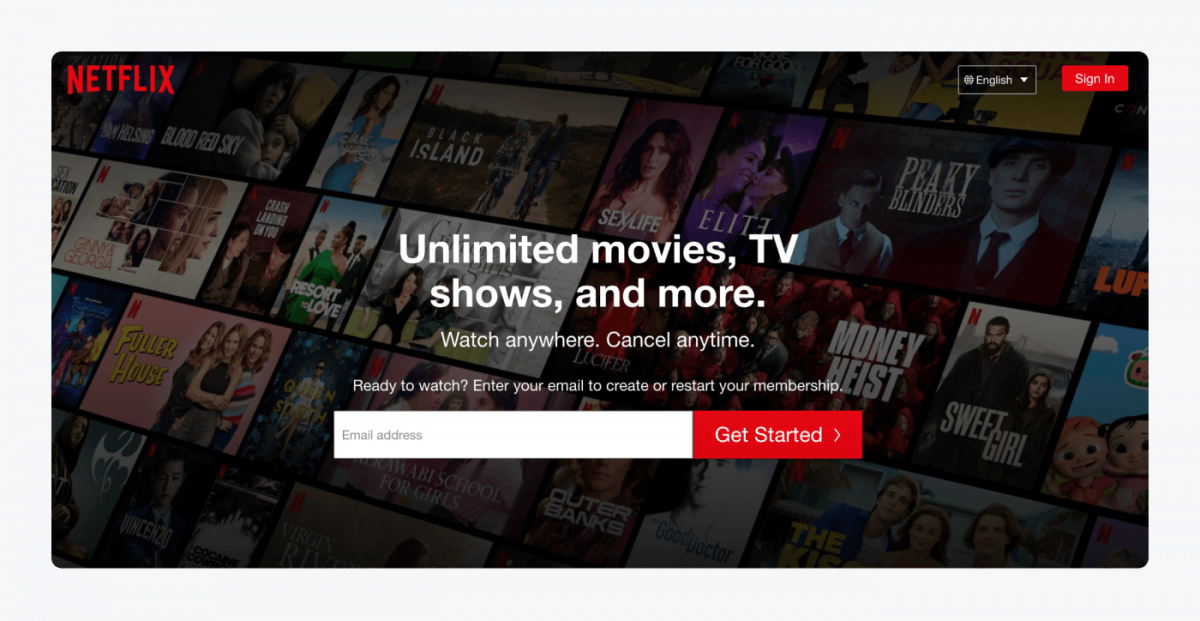 Send a Welcome email after the user signs up
This is one of the important elements of user onboarding because it's your introduction to the customer.
Make the email personal, engaging, and short.
Add some graphics that represent your brand to make it more visually appealing to the client.
Another onboarding example is monday.com. Look at what the welcome message looks like: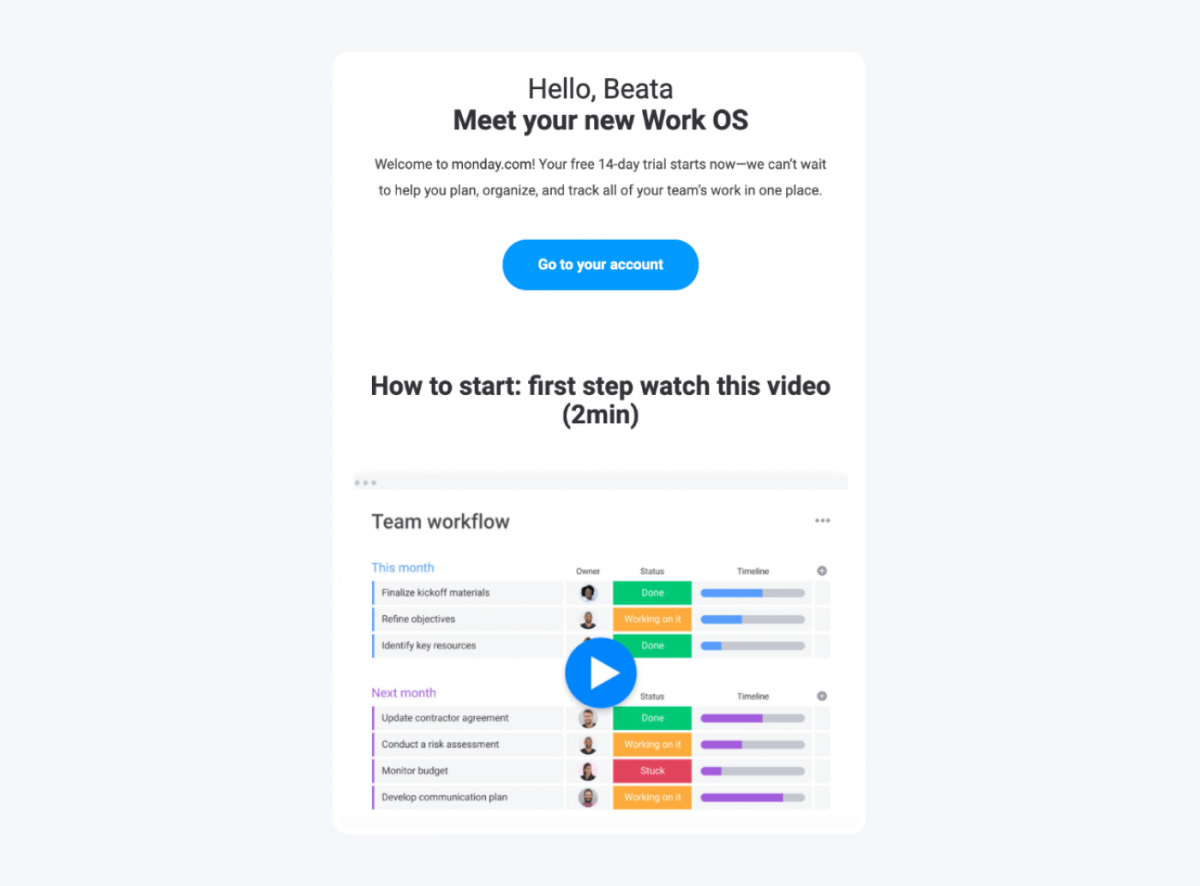 When writing up your own greetings email, you can use this customer onboarding email template to start with:
Welcome on board (name)!
image
We're excited to have you with us.
What can you expect on this adventure? Let's have a look and see:
(List benefits your users get and features they can use. Or show them how to start using your product straight away.)
Time to get started, shall we?
Start the journey
And make sure to check out our article to learn different types of onboarding emails and best practices when writing them.
Show your customer how to set up the product.
You can either do that by sending them instructions via email or automating the process by asking customers questions. We would recommend the latter option as it's more user-friendly.
As with the signup process, don't make these questions form too long.
Nobody wants to spend 10 minutes just filling in the sign-up form. In reality, if someone has to spend longer than 3 minutes on it, that's already too long. The average time to fill out a form is between 1-3 minutes.
Automate the process to make sure that the answers they provide trigger the product setup for them.
Just like Duolingo does it: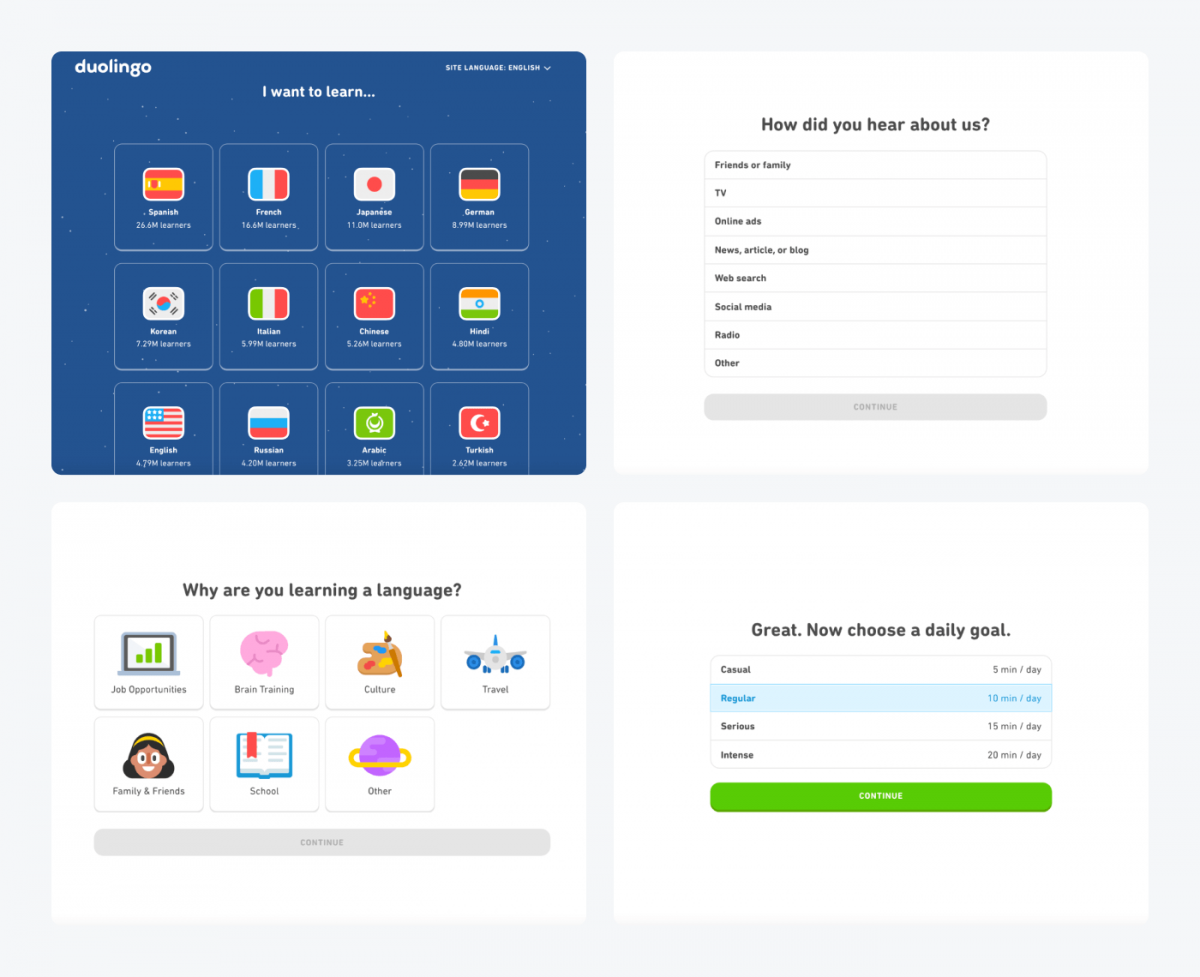 Make an interactive show of all the features of your product
Show each one to your customer and tell them a little about their functions. Create a walkthrough for an easy introduction to your product.
Airtable has this walkthrough process down to a T: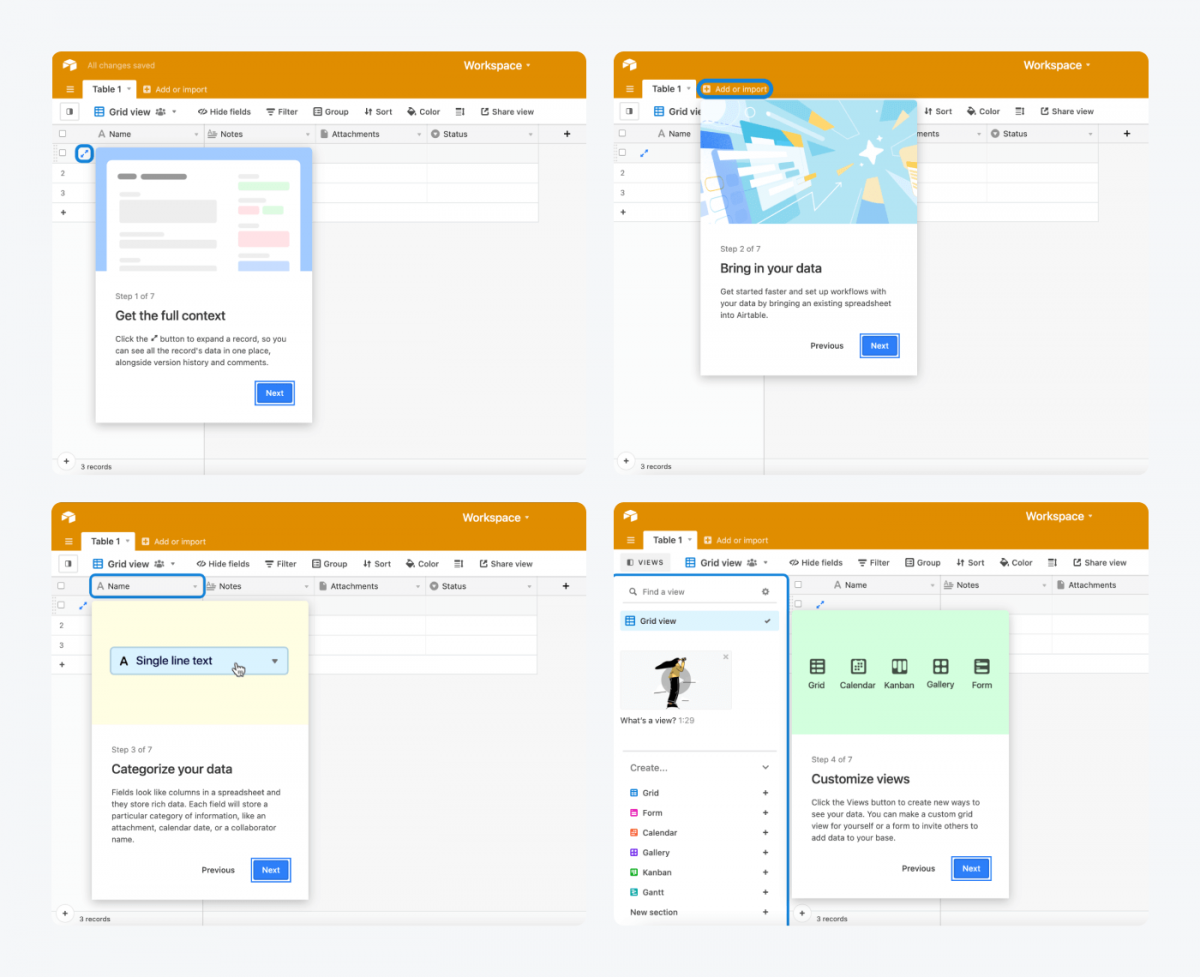 Make it interactive so your new users are not bored halfway through.
Try implementing videos and tutorials into your user onboarding. This can help your new users visualize what they need to do, provide an additional means for the information to sink in, and help with customer experience.
And don't go into too much detail. If there is too much reading involved hardly anyone will read it. Even fewer will remember what the instructions said.
Give them an option to send more information through their email on request.
Engage your customers to play around with your product
Encourage the new user to explore your product and ask questions if they get stuck on anything. The best way to learn is to start doing it yourself so give this opportunity to your new clients.
Make sure your customer support team is always there to answer any questions.
Have a look at Basecamp's user engagement during their onboarding flow: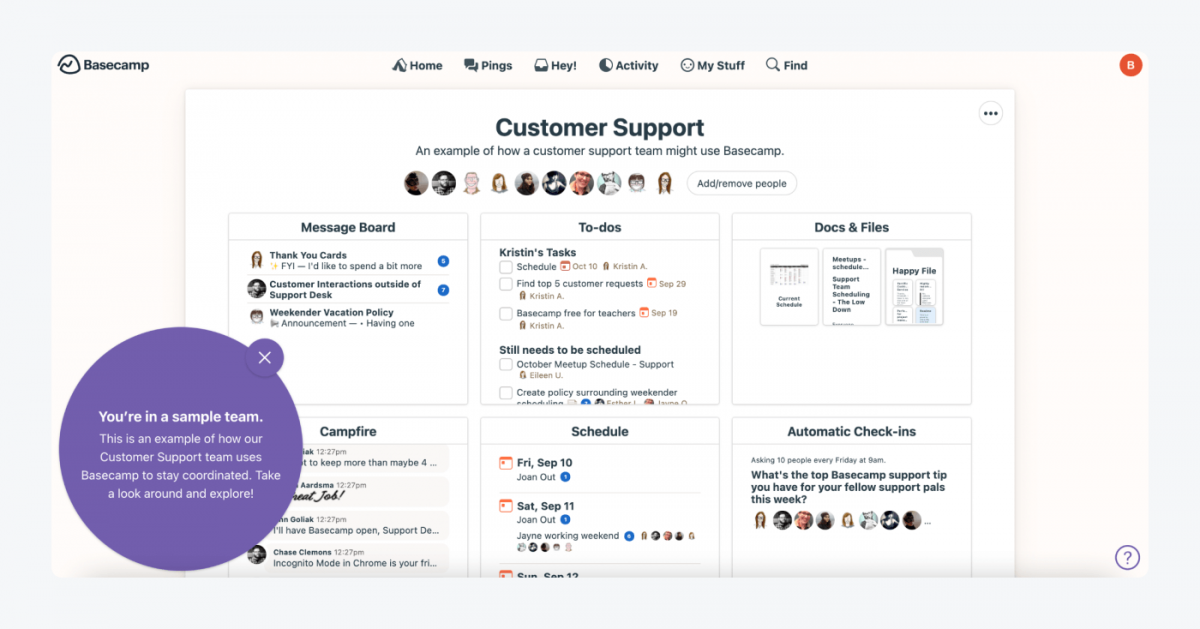 Provide a knowledge base.
This step is usually used after the initial onboarding process but it's good to introduce it during your introductions.
A knowledge base is a collection of information your customers might need when setting up and using your product. This can help them use it to its fullest potential.
For example, we provide Tidio knowledge base to help our customers with any issues they may have when using our chatbots: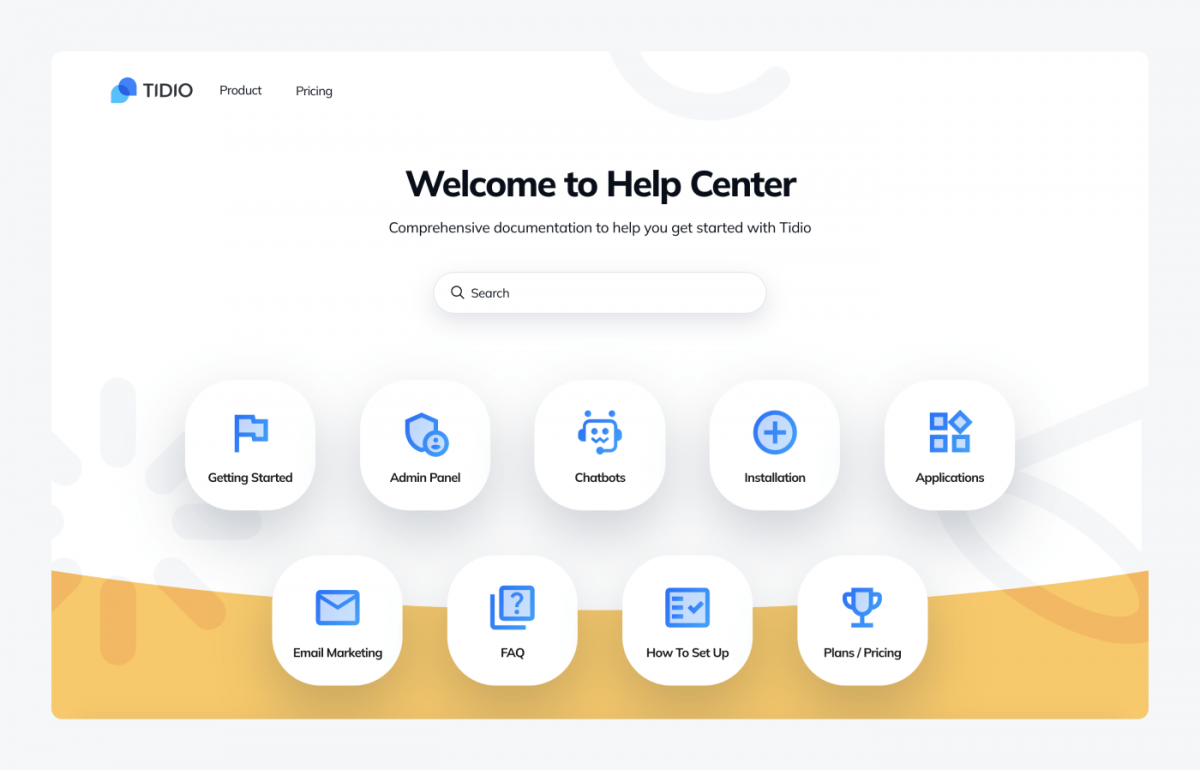 Customize it to your product and the needs of your customers.
Send your customers a check-up email or message every once in a while
When you check up on them, you'll be able to see how they're doing and if they need any additional support.
You can include any changes or additional features in these check-up messages to keep your clients up to date.
Learn how to write a follow-up email without annoying your clients.
Use questionnaires and measure your customer metrics
Keep track of the results of your implemented changes.
Create a customer satisfaction survey and ask clients for feedback on their new user onboarding experience.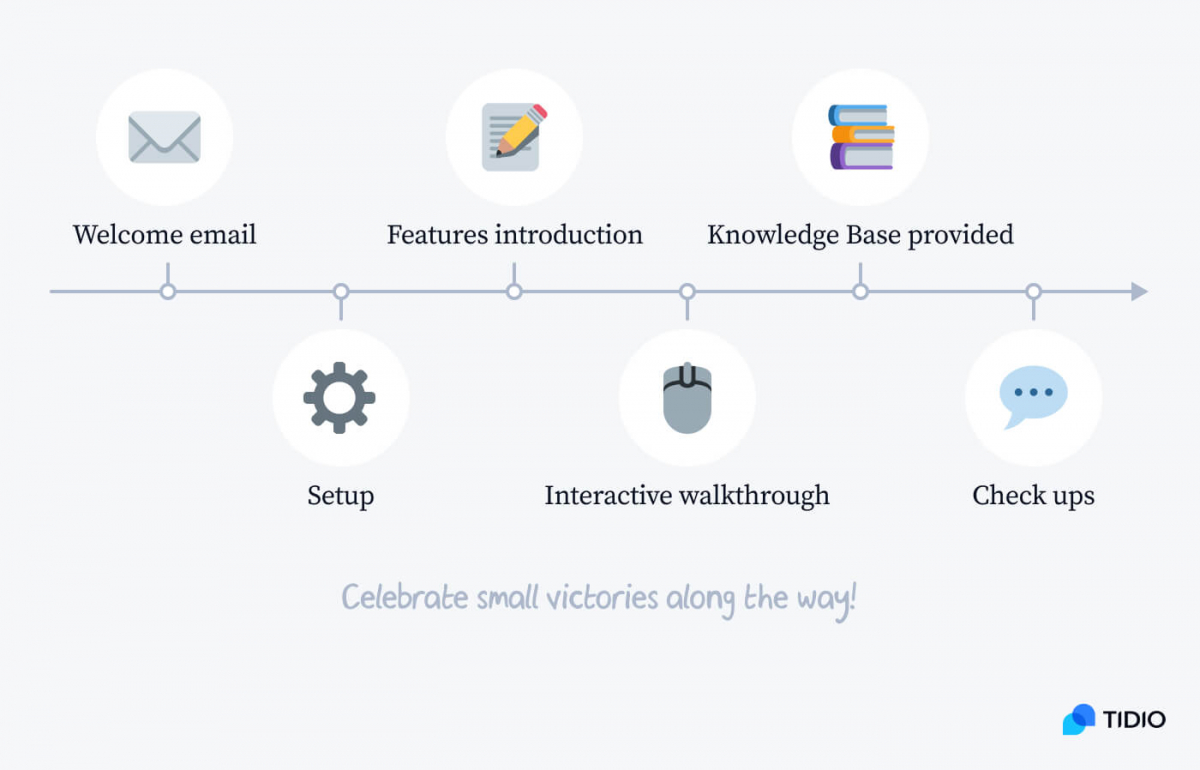 Follow along this SaaS onboarding checklist and keep track of your efforts with this customer onboarding checklist.
Best onboarding software list
Creating a user onboarding strategy, writing emails, and remembering everything that comes during the onboarding program is tough.
Good news?
There is software out there that can help you with your client onboarding process.
Here's a quick preview of five onboarding software tools that you can use for better results.

Stay present during the new user onboarding process.
Tidio offers a live chat feature and a chatbot to implement into your website. It's easy to customize and the bot can be set up to your company's needs.
This software can help your clients easily contact you when they get stuck on something while learning how to use your product. This way a part of your customer onboarding team can jump in and help them out on the spot.
Integrate Tidio at the very beginning of your relationship with the new user.

This software helps you deliver modern and easy onboarding to train users through contextual content.
Sounds technical?
Let's simplify it a little.
Have you ever signed up for a platform and they gave you a walkthrough of how to use it?
This user onboarding software does just that.
It allows you to automate or semi-automate the guided walkthroughs. This way your new clients can learn your product step-by-step without your interference.
To promote learning by doing you can also embed interactive elements into the process.
Implement this platform into your onboarding process right after the welcome email.

Create and distribute surveys for your users. In a fun way.
There are templates that you can personalize or you can create your own online form just the way you like it.
Typeform cuts the time you need to spend on surveys. It delivers user-friendly designs to your new clients for the ease of filling up the survey and improves the number of results coming back to you.
Use this software throughout your onboarding process to gather data and feedback about the process.

This is a help desk with shared mailboxes and integrated live chat.
HelpScout helps you create a knowledge base and gives you reports on how your team is performing. This way your users can find the answers to their questions without the need to contact you directly.
You can also stay on track of conversions, the number of customers you helped, and client happiness with the reports.
Introduce this software after presenting the new client with all your features. This will ensure they have all their additional questions answered.
Read more: Top 10 Help Scout Alternatives [Ratings 2023]

Support customers during their onboarding flow.
Zendesk allows your clients to connect with you from a multitude of platforms. They can contact you in a way that's convenient for them whenever they require assistance.
And you can see reports about your team's performance in the areas important to you.
Integrate this client onboarding software after the walkthrough of your product. If your clients have any specific questions, they can easily find you and the answers.
Customer onboarding best practices to use for better results
In case you might be asking yourself what practices to use for a successful onboarding—
We have some tips to keep in the back of your mind when designing your onboarding process.
Assign a team to focus on user onboarding
These teams can consist of product delivery specialists, sales employees, and support representatives. You can even employ a customer onboarding specialist to coordinate the team to ensure client satisfaction.
Whoever you choose to become a part of this team, make sure they are aligned by the same goal.
Simply put:
They won't be able to work as a team and deliver the best customer onboarding experience if they all strive towards a different objective.
Improve your communication with customers
Start by using a language that is clear and understandable for them. No more jargon and industry talk. Use the words they know in a way that makes sense.
Next, introduce your product step-by-step. Start from the most important and end with additional knowledge so customers can follow along.
And remember—
Don't skip anything just because it's obvious to you. Almost guaranteed that it's not obvious to a first-time user.
And once your new user becomes a happy customer, keep them informed about any changes or new features that you're implementing. They'll be grateful and feel more involved with your brand.
Understand customer needs to provide desirable, feasible innovations that sell
Think about it—
What's the best way to have a clear understanding of what to prioritize when explaining your product to the client?
Knowing customer's needs.
You can ensure this understanding by creating customer satisfaction surveys and asking users for feedback. This way, you'll stay on top of what they currently care about and what you could improve.
Check out this chapter from "The Handbook of Technology and Innovation Management" by Scott Shane for further understanding of customer needs.
Personalize the experience
This includes keeping your buyer persona close by so you can focus your efforts on your ideal customer.
But personalization also means simple actions when communicating with clients, such as remembering their names.
A person's name is to that person the sweetest and most important sound in any language.
So don't underestimate the value a person puts on their name. And always double-check if you're completely sure that you're addressing the right person.
Set goals and measure results
This one will help your team and your company.
Your onboarding team will work better when they know the goal and your expectations. Because it's much easier to strive towards something you know than to take a shot in the dark.
Agree? Good!
And by measuring results you'll be able to keep on track with your goals and objectives. It will show if your efforts are working or if anything needs tweaking.
Numbers and surveys are the best way to grow a company. If you don't like them yet, then it's time to learn to enjoy all these graphs and tables. It will pay off in the future.
Client onboarding: basic job information
Finally, if you're considering a career as part of an onboarding team, or want to recruit onboarding specialists for your company, here's some handy information.
A typical client onboarding job description looks will look like this:
X is looking for a client onboarding specialist to join our team. You will educate new users, help solve problems, and ensure the smooth adoption of our products and services.
The ideal candidate is passionate about helping customers, has previous experience in client onboarding and excels in communication via phone and email. We're looking for a hard worker with a pleasant, business-oriented personality. They must also be relationship-oriented and work well in a team environment.
Responsibilities:
Become an expert in our products and stay up to date with industry trends
Act as the first point of contact for clients to train them on how to use and implement our products
Provide support to clients related to our products
Understand overall customer satisfaction
Work with customer success manager to develop and execute plans to improve client satisfaction and their experience
Assist in developing training materials to create an easy implementation process for users
Requirements:
Prior experience in new client onboarding
Passion for helping customers
Ability to adapt quickly and learn ins and outs of the product
Ability to use data for result's analysis and data-driven decisions
Strong communication skills
Bachelor's degree preferred
The job offer nicely summarizes various customer service skills necessary to excel in this position.
Client onboarding salary to expect
The client onboarding salary depends on the level of seniority.
That's understandable.
So how much does each position make yearly?
Well—
Let's starts with the associates and specialists:
According to Payscale, client onboarding specialists make on average $53,328/year
Glassdoor on the other hand states that the yearly salary of customer onboarding specialists is $56,087
And salary.com claims that user onboarding associate makes between $50,650 and $71,110 per year, with the average falling on $58,950/year
Then come customer onboarding senior associates—
Their average salary is $77,450/year. The pay for this position falls between $64,970 and $94,460 per year, according to salary.com.
Lastly, the client onboarding manager's salary:
According to Payscale, user onboarding managers make on average $64,992/year
Ziprecruiter states a similar number of $63,810/year with salaries falling between $26,000 and $108,500 per year
But when we look at Glassdoor, the average is a little larger, at $85,062/year
Check out this article for skills to look out for in a customer onboarding specialist, writing job postings, and advice on interview questions.
Key takeaways
So, that's it for the introduction to the new customer onboarding process. You know why it is important, how it can help you, and what strategies you can implement to fit your consumer base.
The key points you should keep in mind are:
Customers leave if they don't understand how to use your product (85% delete the app, 55% return the product). Customer onboarding can prevent that from happening, increase the retention rates and profit you get from each customer.
Customer onboarding process flow starts when your customer discovers you. Make the signup effortless, send them a welcome email, and introduce them to your product fully.
Match your new customer onboarding strategies with your buyer persona and their needs.
It is in your best interest to make sure your customer finds the most value in the product you provide and achieves customer success. Because if they don't know how to use it, they will go to your competitor and spend their money there instead of spending it in your business.