Zendesk is well known for its customizable interface and collection of apps and integrations. This highly usable customer service platform can definitely meet a range of business needs.
However, Zendesk comes with a relatively high price, even for their most basic packages.
While Zendesk is great, it's understandable that it's not the right choice for every business. Fortunately, the marketplace for cloud-based customer relationship management (CRM) platforms is both diverse and competitive. That's why we've done the research and found 10 excellent Zendesk alternatives.
In this article, we will:
Go over the list of the best Zendesk alternatives
Compare what each CRM has to offer relative to Zendesk
Offer some guidance on how to choose the right Zendesk alternative
If you're interested in CRM platforms, you can also check out:
The best Zendesk alternatives are:
Zendesk overview
Zendesk produces software solutions to help businesses with their support, sales, and overall customer engagement. To do so, they offer two types of help desk software products:
Zendesk Support—a customer support ticketing system
Zendesk Support Suite —the same system, but enhanced with omnichannel functionality
Zendesk was started in Denmark in 2007 by three friends co-founding the company. Since then, it has become a well-known product in the SaaS industry.
As of 2021, Zendesk Chat had 11.28% of the live chat technology market share, as well as a 15.5% market share in the broader customer service management industry. Zendesk still currently supports over 85,000 companies worldwide, including some brand names like Lonely Planet.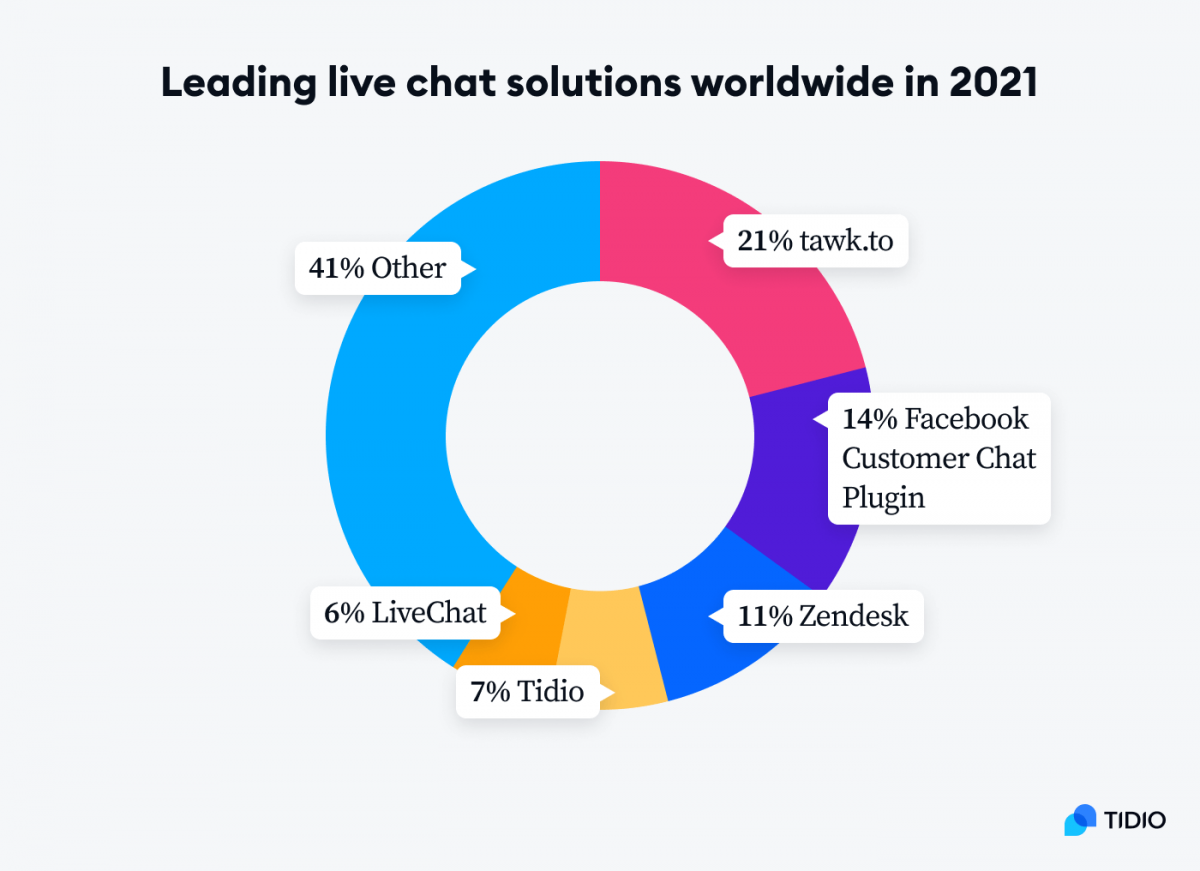 Despite all of this, each business must determine how customer service software can fit into their existing frameworks. If Zendesk just isn't what you're looking for, we have some good news—let's see which Zendesk competitors shine in one way or another.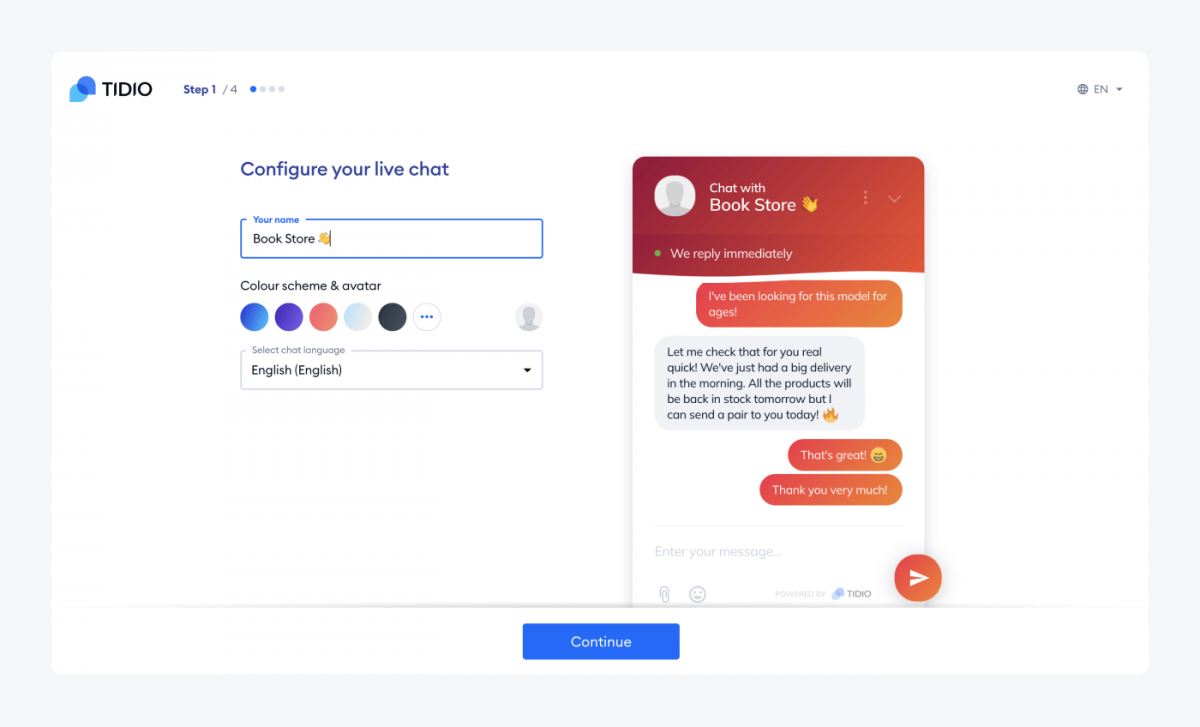 Ratings: 4.7/5 ⭐ (948+ reviews) on G2
Tidio is a live chat tool that companies use on their websites for real-time conversations with their customers. Its service is known for its simplicity, but it provides much more than a simple web chat feature. Tidio also offers self-service chatbots, a shared inbox, and customer metrics analytics, making it a fully-fledged customer support software.
The features it offers make it ideal for resolving customer requests and collecting customer data. This can help you increase customer satisfaction and improve customer communication overall.
What Tidio ultimately offers is a less costly alternative to Zendesk and other competitors. If you're curious about how Tidio can help your business, you can install Tidio on your website in a few minutes, for free.
Key features
Simple, free setup
24/7 multilanguage chatbot customer service
Extensive knowledge base
Integrations with social media platforms (Facebook and Instagram)
Android and iOS apps
Pricing
Free plan with unlimited chats for customer messaging for two operators
Starter ($39/month/3 operators). Same offerings as free plan plus customer conversations with unlimited visitors, live typing, live website visitors overview and notifications about customers
Team ($79/month/5 operators). Same offerings as starter plan plus quick responses templates, note-taking, and ability to see pages your visitors viewed
Scale ($399/month/unlimited operators). All features from the Team plan plus dedicated onboarding provided by Tidio support team, custom roles, and a dedicated chat support consultant
14-day free trial period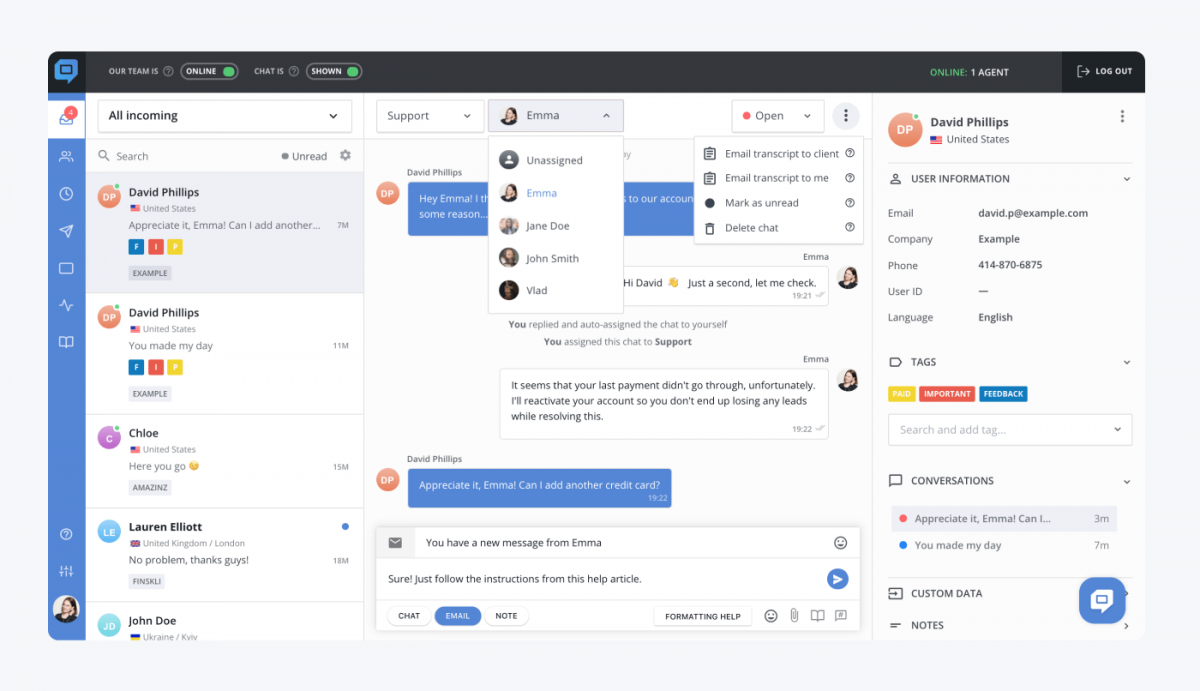 Ratings: 4.7/5 ⭐ (165+ reviews) on G2
HelpCrunch is another highly-rated Zendesk alternative with a focus on marketing and sales. This help desk solution focuses on the ways you can solve customer issues and improve your conversions using a CRM. But it also provides more conventional features you'd expect, including live chat and messaging.
HelpCrunch stands apart from much of its competition for its focus on modern online marketing practices. On top of that, the product includes automatic messaging, email marketing, and customer engagement tools.
Pros
A wide range of marketing tools
Help desk management tool
Service level agreement management (SLA)
Multiple channel support
Extensive FAQs
Cons
No free version (just a short free trial)
Users complain that the mobile app can be slow
Pricing
Basic ($12/month/operator). Provides widgets, popups, help desk, and educational resources, plus basic automation
Pro ($20/month/operator). All the features from the basic plan, plus unlimited messages, advanced automation, and customization
Enterprise (must contact them to receive a quote). Personal onboarding assistance, and a customized package to meet the needs of large customer support teams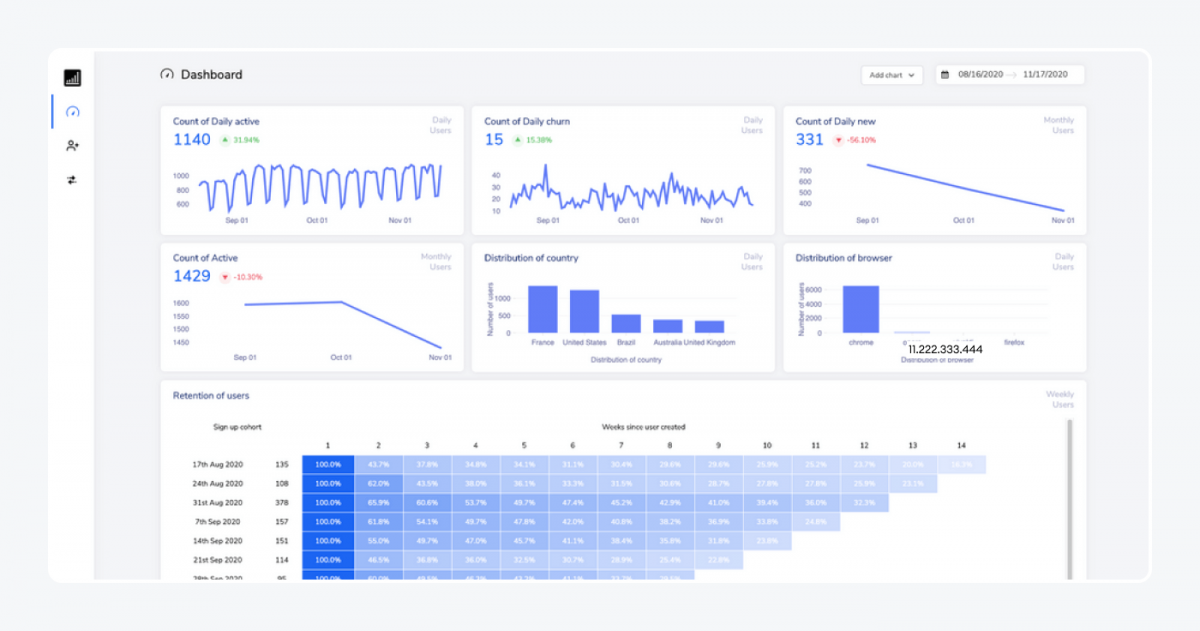 Ratings: 4.4/5 ⭐ (2,112+ reviews) on G2
Intercom is another free Zendesk alternative. Its packages are fairly simple and straightforward. But some features, like their custom bots, offer unique functionality.
One way Intercom stands apart is by adding rules to your funnel, contributing to workflow automation. For example, you can manually set the rules for chatbot builders and automatically sort visitors into categories, which can help streamline communication in the future.
While these features are more difficult to apply than with the other Intercom alternatives, Intercom offers a lot of customization and flexibility.
Pros
Trusted by significant platforms like Udemy, Loom, and Zeplin
Highly customizable
Available in dozens of European and Asian languages
Includes ticket management feature
Collision detection for support requests
Multiple integrations (Slack, Gmail, and more)
Cons
On the more expensive side, not ideal for small businesses or startups
Steep learning curve
Pricing
Intercom has no set price ranges. The cheapest product is their WhatsApp messaging service. Otherwise, the cheapest option for business is the "Starter" package, which starts at $69 per month when billed annually. The more comprehensive your needs are, the higher the price will be.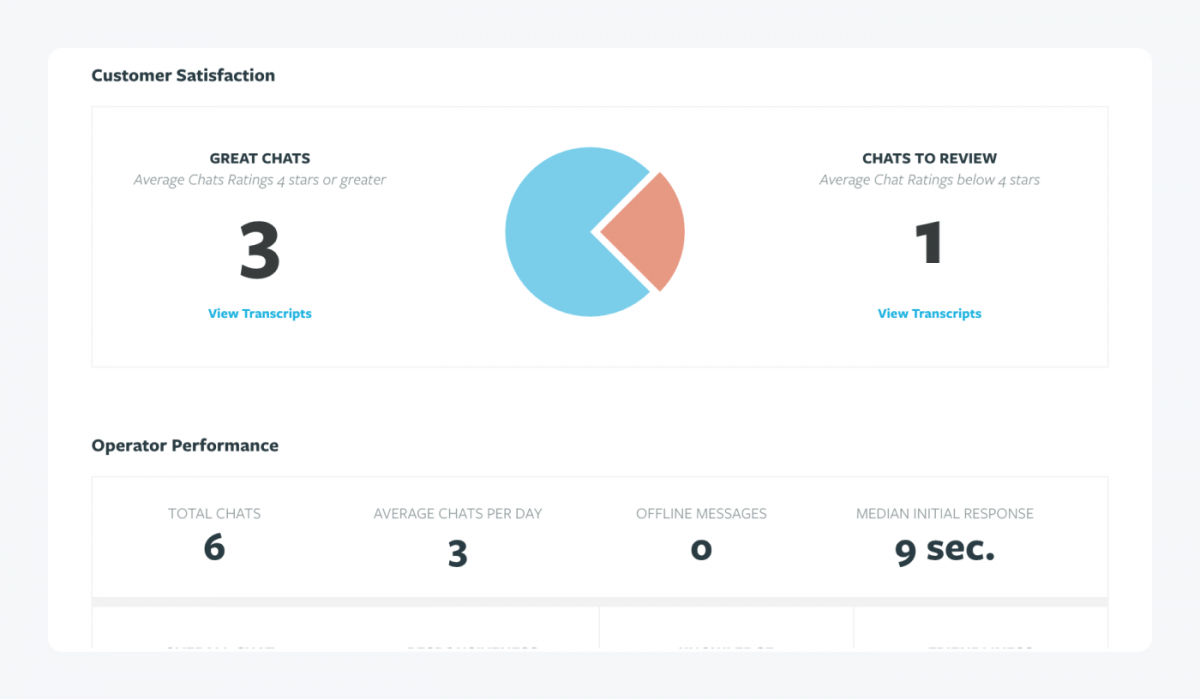 Ratings: 4.3/5 ⭐ (220+ reviews) on G2
Olark is another Zendesk alternative that focuses on direct solutions to problems as they pop up. This customer support tool is among the most popular when it comes to live chat, and they claim to serve over 12,000 businesses worldwide.
In terms of service, Olark offers a lot of customization. They focus on the small touches that make their interfaces more relatable to your customers. Their human-centered approach seems to have resonated well, with most review platforms giving them 4.5 to 5-star reviews.
Pros
Relatively low price
Great for small (and very small) businesses
Chat routing for support agents
Extremely intuitive customer portal
Multiple add-ons and integrations
Cons
Not as feature-rich as most alternatives
Pricing
14-day free trial. No freemium plan
Basic ($29/month/operator). Standard features without AI bots
Pro version (individual pricing). Includes support automation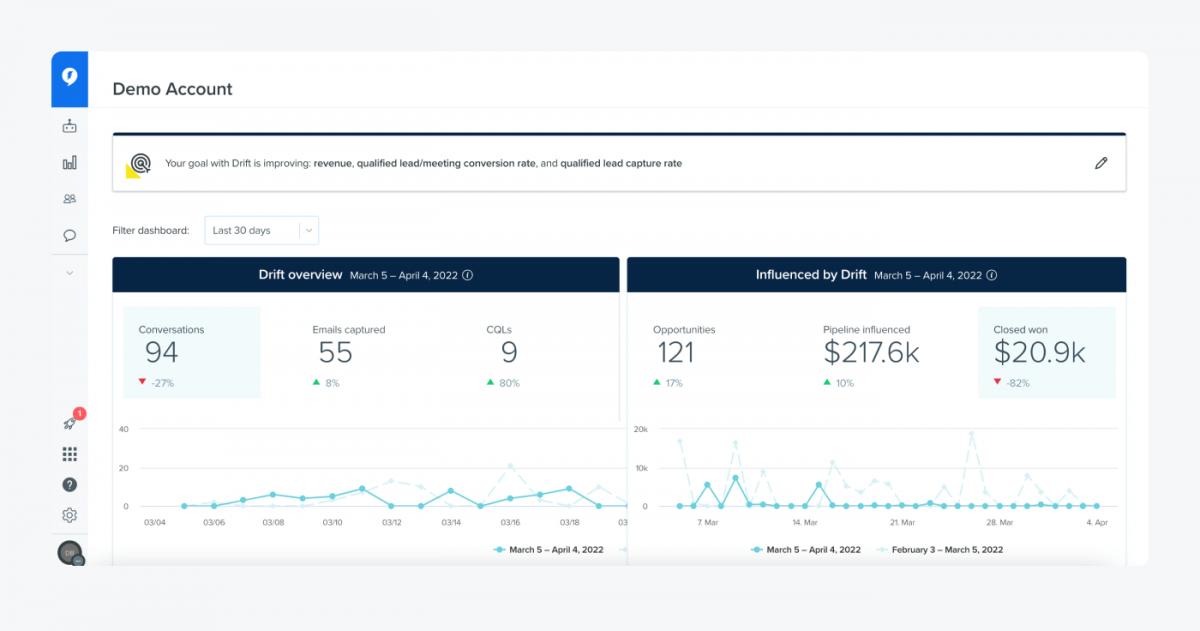 Ratings: 4.4/5 ⭐ (559+ reviews) on G2
Drift is a cloud-based solution that helps automate sales processes in much the same way as most of its alternatives, like Zendesk. But Drift stands out for its customer loyalty focus and some small touches that save its customers from several typical frustrations.
Drift offers a chatbot and a few features like an offline self-service portal and geotargeting, which makes the sales process more seamless.
Pros
Highly customizable
Marketing reporting features
Integrations with Google Analytics (and much more)
Multiple insider forums
Cons
Only available in English
Expensive premium packages
Pricing
Forever free. Some of the premium chatbot features are available during the free trial
Pro (individual pricing). Paid plans include custom chatbots, lead qualification, and chat support routing features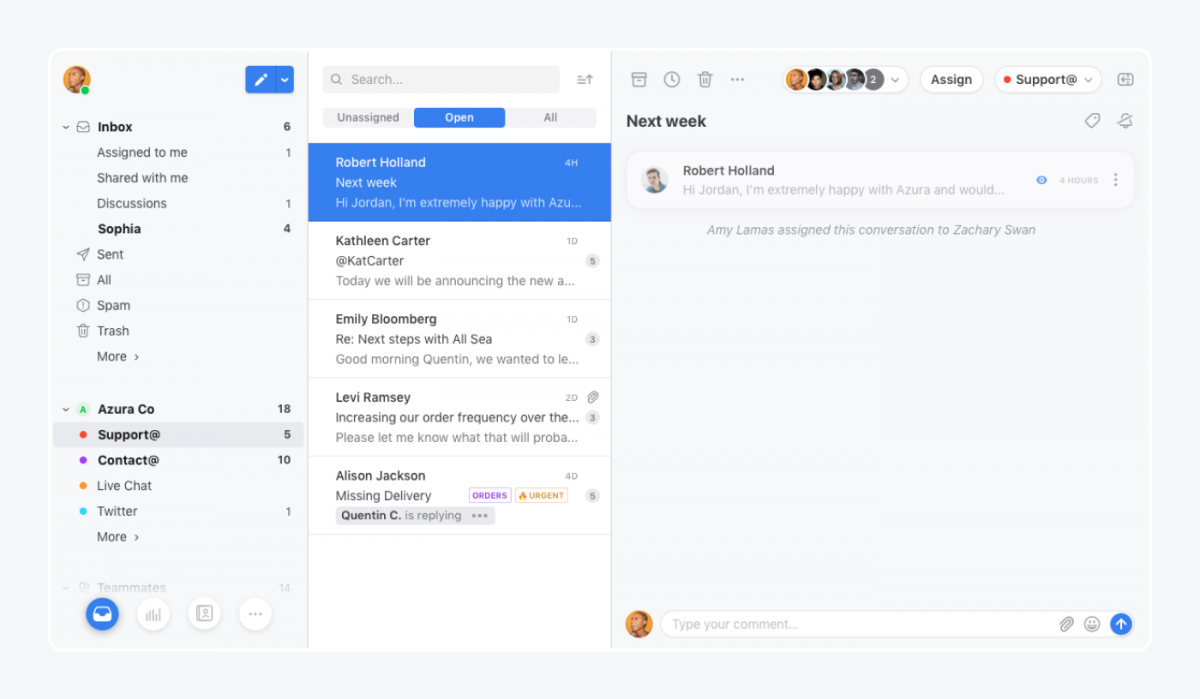 Ratings: 4.6/5 ⭐ (1,190+ reviews) on G2
Front employs conventional ticketing software and makes greater use of email. The purpose of this is a more personal touch for your customers and a shorter response time.
Front is a more user-friendly alternative to Zendesk. The platform can be used via mobile or desktop app and includes the CRM features you're accustomed to. However, they place a much higher emphasis on email than their competition.
Pros
Ease of use
Email-centered
Extensive training resources
Remote team collaboration
API customization
Cons
Customer support is not easily accessible
Technical issues with their Android app
Pricing
Starter ($19/month). Supports 10 members or fewer, but provides unlimited email and SMS, and most integrations are unlocked
Prime ($49/month). All integrations, workflow templates, and advanced analytical tools are available
Enterprise (prices vary). You must contact their sales team and discuss your specific needs to receive a quote for your tailored package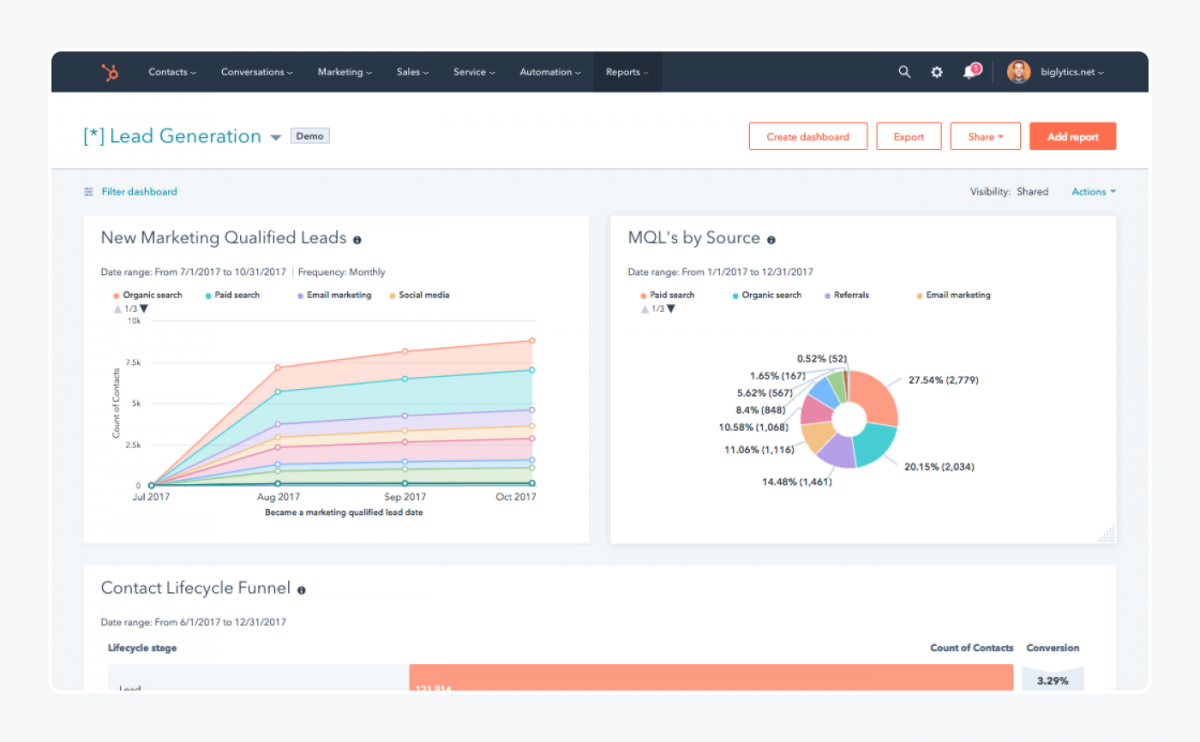 Ratings: 4.5/5 ⭐ (1,218+ reviews) on G2
HubSpot is well known for its collection of inbound marketing and sales tools. But it's also a simple yet comprehensive powerhouse in the industry. The company is famous for its forever-freemium plan.
As an alternative to Zendesk, it is highly feature-rich. They offer a massive array of over 300 integrations. On top of that, their free and paid plans are very diverse, making them a good option for businesses of any size.
Pros
Consolidates sales, marketing, and customer service on a simple interface
Generous free package
Hundreds of third-party integrations (including call center software and digital asset management)
Simple, easy-to-use interfaces
User permissions for team members
Cons
Paid plans are relatively expensive
Decent customer support with the free plan is lacking
Pricing
Free. Includes most basic features, analytics, email marketing, ticketing, and live chat. It's ideal for small and growing businesses
Starter ($45/month). Offers higher limits (up to 1,000) for marketing contacts and provides more advanced features
Professional ($360/month). Some of the advanced features are unlocked
Enterprise ($1,200/month). All features are unlocked and customers receive priority support and advanced automation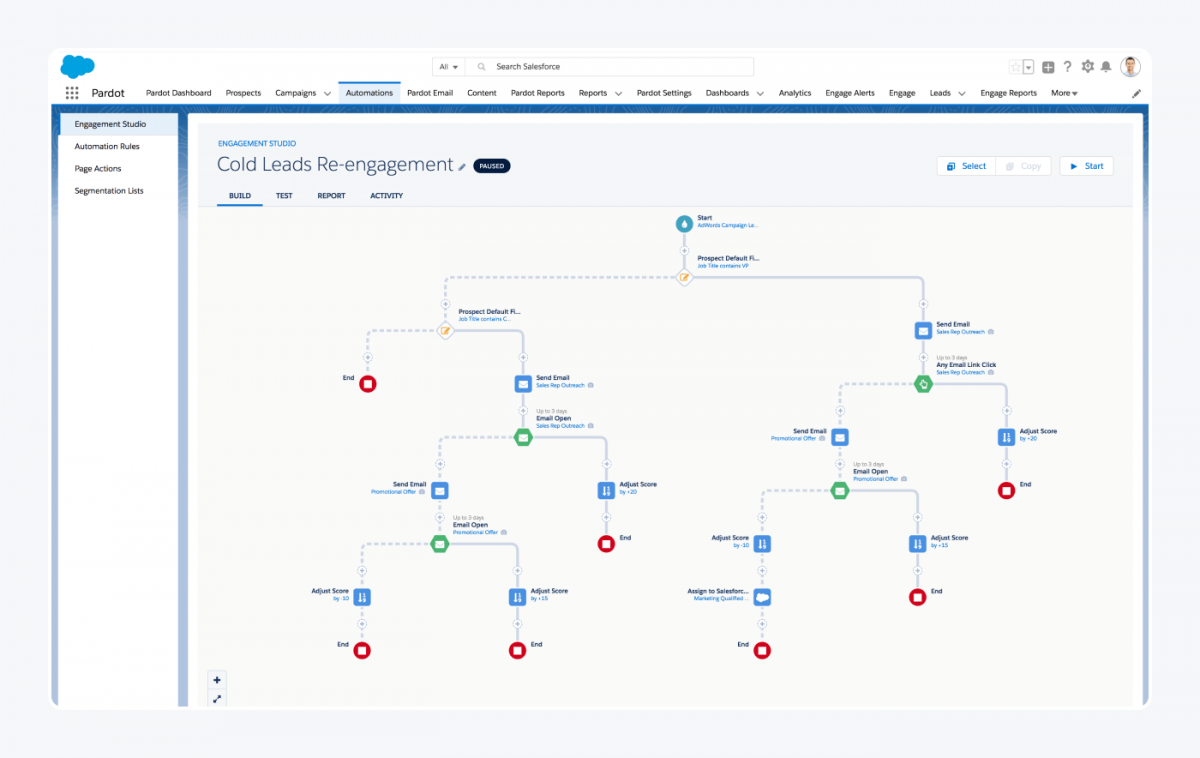 Ratings: 3.9/5 ⭐ (1,858+ reviews) on G2
Unlike most of the Zendesk alternatives we've covered, Pardot focuses specifically on the needs of B2B businesses.
It offers many of the same features as Zendesk but is more intuitive. However, as a B2B CRM, it's a particularly comprehensive and expensive option.
Pros
Lead nurturing and qualification
Personal scoring system for agents
A/B testing of templates and emails
Long list of integrations
Advanced analytical tools for most functions
Cons
The best features require expensive subscriptions
No built-in CMS
Only feasible for large businesses
Pricing
Salesforce Engage ($50/month/operator). Offers Salesforce Engage with sales and service management
Engagement History Dashboards ($300/month/operator). All features from Salesforce Engage plan plus enhanced service and analytics insights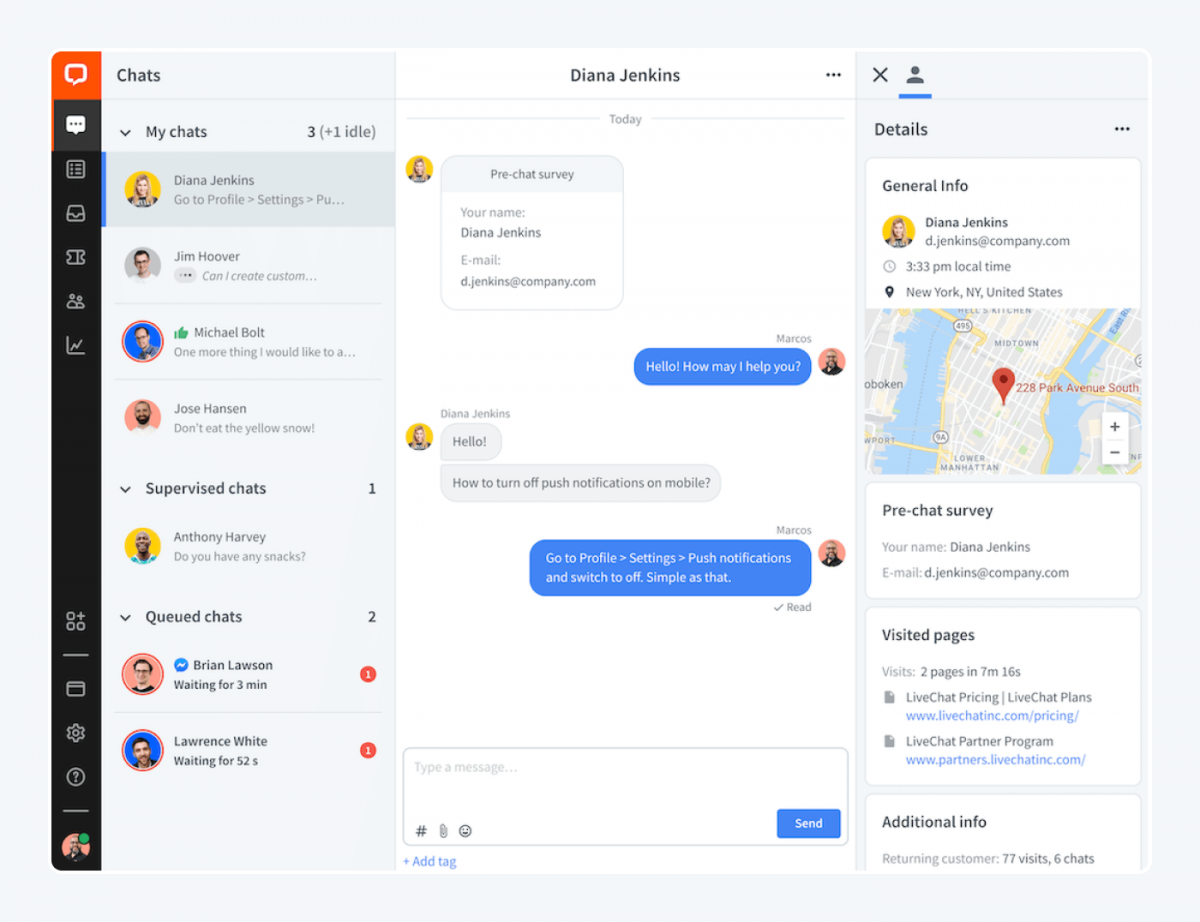 Ratings: 4.5/5 ⭐ (729+ reviews) on G2
LiveChat has the most self-explanatory name of any software products we've covered so far. They offer a live chat service that's integrated into your website, aimed at improving the overall customer experience.
As a Zendesk alternative, LiveChat is worth considering for small to medium-sized businesses. Typical features include alerts for escalation, geotargeting, live chat, and email response control. Where LiveChat stands out is in its many third-party integrations, filtering, proactive chat software, and rerouting capacities.
Pros
Dedicated customer portal
Built-in call center
Dedicated plugins for WordPress, Shopify, Weebly, and more
Over 200 integrations (Zoho Desk, Zapier, Facebook Messenger)
Time tracking feature for performance measurement
Cons
A bit pricey even for the simple services offered
Some customers complain about ineffective spam filters
Pricing
Starter ($16/month). Provides limited chat history, a basic ticketing system, and its customization
Team ($33/month). Offers unlimited chat history, basic reporting, and expanded features
Business ($50/month). Unlocks advanced reporting and work scheduling
Enterprise (contact company for a quote). Customized to your needs. You must contact the company for a quote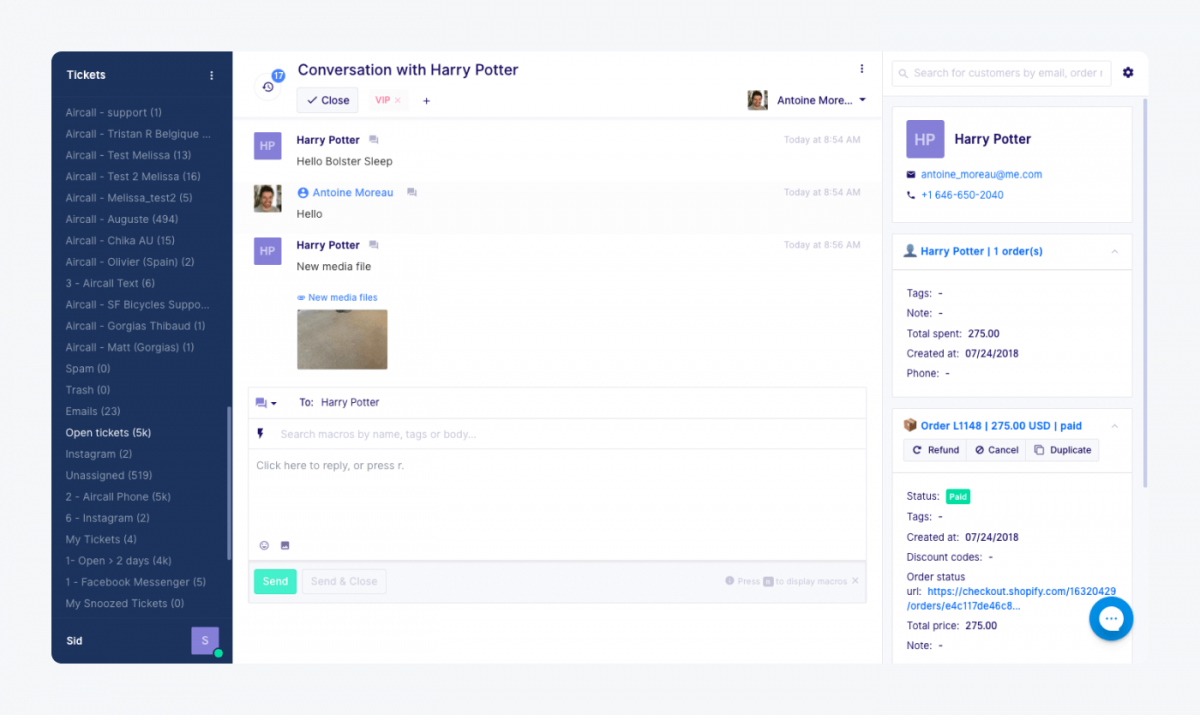 Ratings: 4.7/5 ⭐ (69+ reviews) on G2
Gorgias is a Zendesk alternative that has given itself a rather focused mission: supporting ecommerce businesses. They specialize in this one area of customer relationship management, and what's important to underline—they excel at it.
Gorgias is rated as one of the best Shopify live chat apps, which also integrates well with BigCommerce and Magento. Other typical features include multichannel communication, loyalty plans, and customer reports based on user sentiment analysis.
Pros
Cloud-based, convenient service
Minimalistic interface
Special dedication to ecommerce
Multiple integrations
Multichannel communication
Cons
Some customers complain about ticketing system glitches
High minimum costs
Pricing
7-day free trial. No freemium plan available
The Basic Plan (starts at $60). Includes basic tools and support 350 tickets
Advanced ($1,130/month). same as the Pro plan but with a dedicated Success Manager
All plans include unlimited users, making Gorgias a better option for large ecommerce companies.
Read more: Discover the the best CRM software.
Conclusions: how to choose the best Zendesk alternative
All the Zendesk alternatives we've covered are widely used and trusted companies. They aren't all equal, but they all have unique value propositions. A CRM that's great for one company may prove less effective for another.
We recommend you give some of these companies an online visit. But to make your search easier here's a breakdown of what each company is better at.
Best for small businesses:
Best for ecommerce:
Best for medium-to-large businesses: