The ka-ching sound you hear in your head when you sell a product to a new customer doesn't mean your job's done. To the contrary—
It's only the very beginning.
Keeping your new customers for as long as possible is an ongoing process. And it's not an easy one. So instead of wild guessing which retention tactics work, you should use customer retention software to guide you through the process.
Fortunately, the market is full of retention systems—you'll find tools that identify buying trends and predict who is likely to churn, to platforms that discover patterns in previous customer behavior.
In this article:
List of top customer retention software tools and their alternatives
What each of these solutions can help you with
Why you should even bother about quantifying retention
Here's the list of customer retention software we're taking a close look at:
If that doesn't solve your query, check these articles:
What is customer retention software?
Customer retention software collects the main insights about customers' pain points, so you can take action to address them. The software tracks customer data and customer satisfaction metrics. It lets you discover what tactics work well to provide a great customer experience and make customers want to come back.
Numerous studies and reports conclude that the majority of customers would not think twice about abandoning your brand after a bad experience. But we don't really need research to know it's true—
Haven't we all ditched a shopping cart just because the business took too long to reply to a question about the product? Or switched to a competitor because of the rep's attitude?
Read our Guide to Customer Retention if you'd like to start with the basics.
You've worked too hard to attract those visitors and leads to let go of them easily. You can try to implement strategies to keep clients for longer, but it is customer retention management software that helps you transform siloed efforts into one, cross-organizational effort.
How so?
By gathering consumer data at every touchpoint in the customer journey.
You can use the data collected by the retention software to optimize your brand's interactions with different types of customers and their experience. It informs you how to personalize emails, how to tailor offers, and when to send rewards.
But it also helps you see the bigger picture—understand what triggers customer dissatisfaction and act on it before it's too late. So in the long run, the data can help companies rethink and improve their internal processes.
Customer retention software is gaining importance, especially in subscription-based businesses. SaaS companies don't just sell products and move on—the higher customer lifetime value, the better return on their investment. Their livelihood depends on building strong relationships with customers and reducing their churn.
But don't be mistaken into thinking that retention tools are useless in other industries—
Every business that uses the Internet to interact with customers can use this technology to gather insights, train customer service, and support teams, increase customer loyalty, and ultimately ensure sustainable growth.
So what retention tools are there?
In recent years, the market for retention technology grew exponentially to answer the demand from companies that realize even a 5% increase in retention can boost profits by 95%. Retention software tools on the list below address all the main issues that cause churn in eCommerce and SaaS.
1. Zendesk for customer relationship management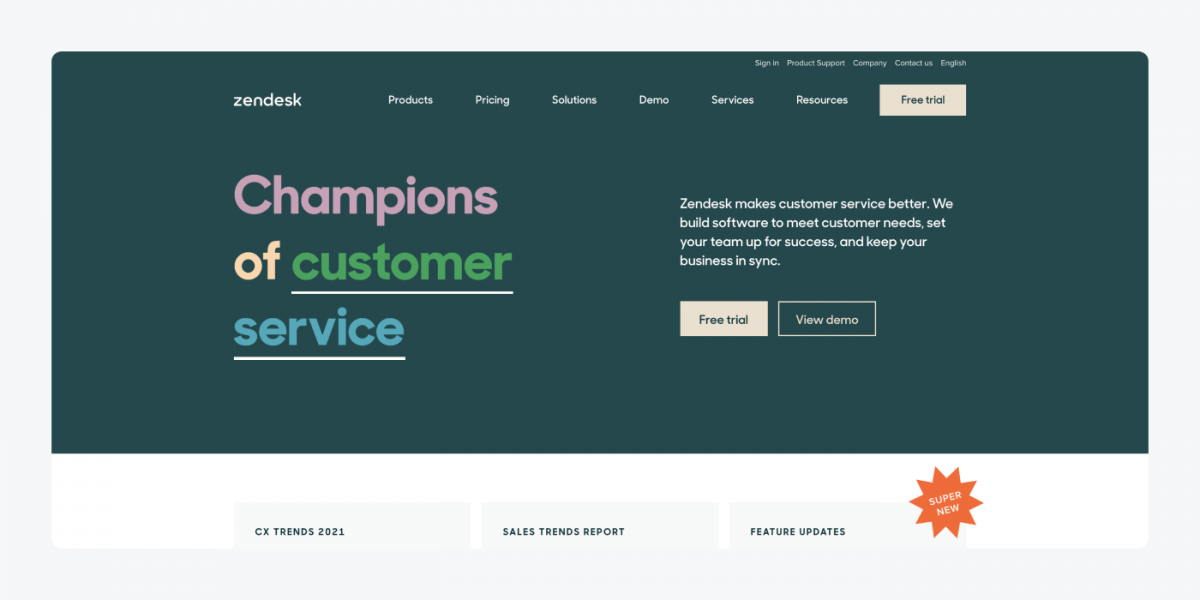 Customer relationship management (CRM) is one of the most useful customer retention systems. It manages every interaction your customers and potential customers have with your business. Without it, it'd be difficult to provide a personalized experience for your customers—assuming you have more than a couple of clients.
According to a Salesforce report, companies that implement CRM see a 27% boost in retention.
If you're wondering how come, listen to this—
As many as 91% of consumers are more likely to shop with brands that provide offers and recommendations that are relevant to them
Up to 72% of consumers say they only engage with personalized messaging
Personal experiences have more of an impact on 65% of American customers than advertising
Zendesk Sell is a sales CRM that can help you execute your customer retention strategies and close more deals. This customer retention platform can:
Store data—CRM creates customers profiles based on data collected from multiple sources, like landing pages or social media. You can use the stored information to send personalized emails or identify the best customers.
Analyze data—Once the customer data is organized, you can analyze it to get insights into your customers' needs and preferences. You can recreate a customer journey or test different CTAs to see which ones have a better click-through rate.
Customize campaigns—Once you have a better understanding of customer behavior, you can tailor your campaigns, from customer acquisition to summer sale offer for VIP clients
Zendesk's customer management system scored 4.3 out of 5 on Capterra. Users recommend it for its simplicity and automation. Just take a look at Zendesk's dashboard to see what it can do for you:
Embed Zendesk Sell: Introduction Demo
Alternative customer management software:
Find out more:
2. Tidio live chat to improve customer service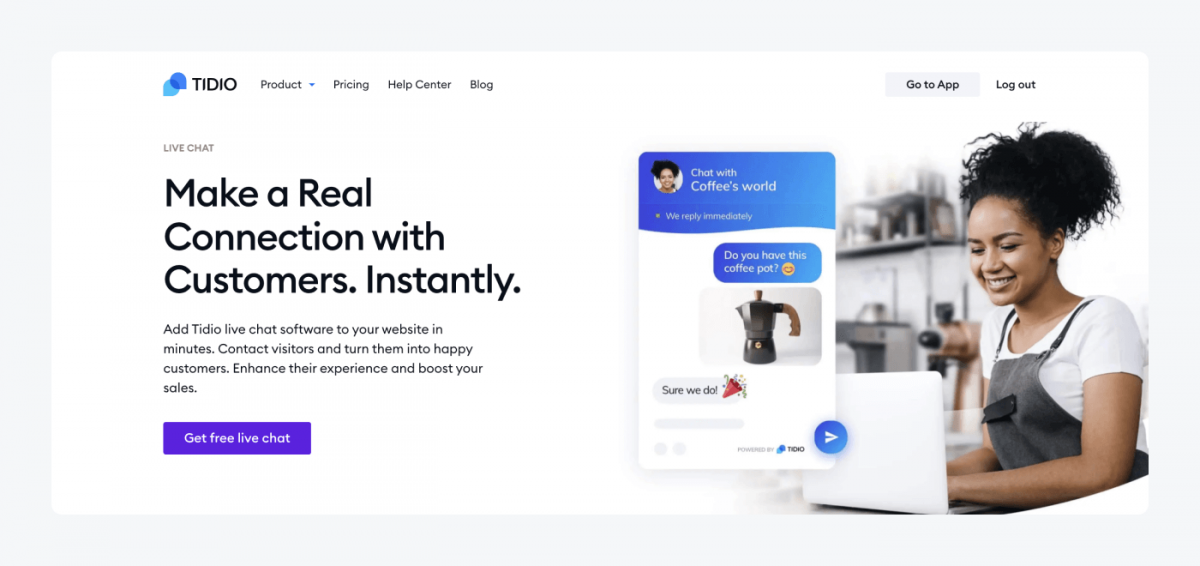 Customers hate to wait. So much so that a recent survey reported that wait-related issues are the number-one cause of losing customers in retail. Queuing in line negatively affects customers' purchasing behavior. And the problem doesn't go away in virtual queues—
As many as 29% of respondents in the Arise Consumer Study said that waiting more than two minutes is too long. And 15% of them won't even call for customer service because they think it will take too long for a rep to answer.
That's why installing a live chat for instant messaging is a must, not an option, if you want to retain customers. The average response time via live chat is just two minutes, and customers love it. The current satisfaction rate after a live chat interaction is up to 89% (depending on the industry)—according to the Live Chat Benchmark 2020 report.
It also lets you proactively communicate with customers thanks to push notifications. You can reach out to new visitors or those who are about to leave your website in real-time. For example, you can offer an incentive on a checkout page to prevent them from abandoning the cart. Or ask if they need any help when they navigate to the FAQ section.
Tidio live chat is a forever-free yet effective customer retention tool that can significantly improve customer experience with your brand. Tidio's easy to install on your webpage and you can reflect your brand better when you customize the Tidio chat widget.
Alternative customer retention software:
Find out more:
3. Tidio chatbots to boost customer engagement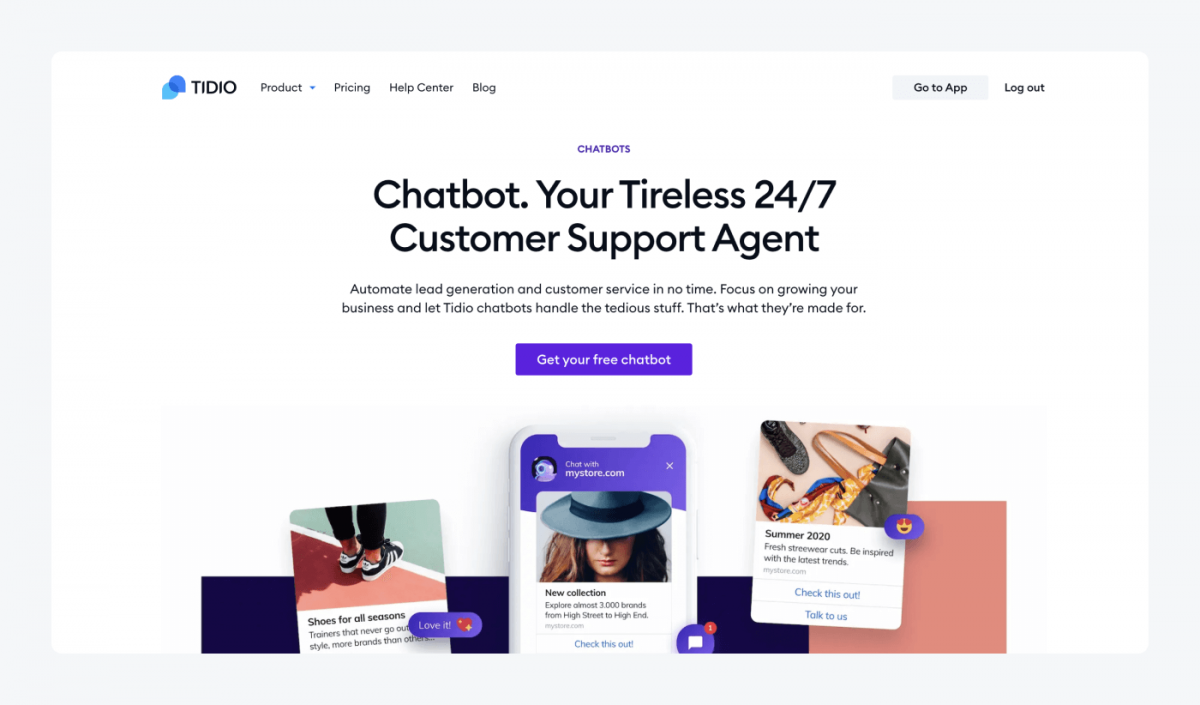 Live chatting and proactive communication are one thing, but knowing when to automate is a whole different level of engaging customers. Chatbots are designed to do exactly that. A digital transformation consultancy, bPol, managed to slash their bounce rate by half and generate more new leads in a couple of months of using Tidio chatbots.
They provide fast solutions 24/7 outside your business hours and answer up to 80% of routine customer service questions. And if the bot-customer interaction gets too complicated, they can transfer customers to a human agent.
Chatbots are machines that can process data in the blink of an eye. They can recognize returning customers, collect their details and history from your CRM and provide personalized responses relevant to customers' previous interactions, e.g., past orders.
How do customers feel about chatbots? As many as 71% of customers want to use messaging apps because they value fast and easy resolution of their issues. And what frustrates them most is having to repeat themselves.
Tidio offers ready-to-use conversation bot templates that can be used to answer simple to moderately complex questions about order status, product availability, or generate leads. Tidio chatbots integrate with popular CRMs, email marketing tools, and major eCommerce platforms.
Alternative retention tools:
Find out more:
4. Open Loyalty to increase customer loyalty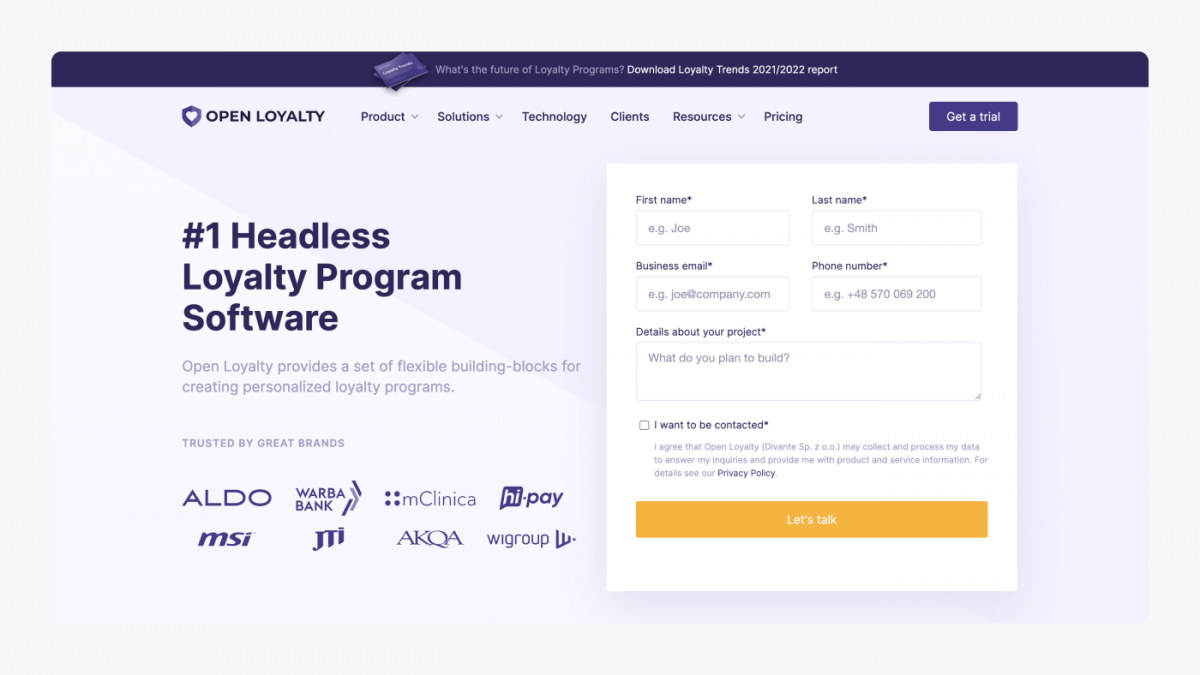 To keep your customers coming back, you need to find a way to win their loyalty. Building customer loyalty is a step further than retention. Brand loyalty turns repeat customers into long-term ones because it means consumers connect with your business on an emotional level.
And the payoff is great—
As many as 85% of customers who connect emotionally with a brand will continue to do business with that company. So what customer retention technology can you use to make that happen?
The answer is—don't treat customers like strangers. Create a customer loyalty program based on the data you have about your customer base. According to the 2021 Bond Brand Loyalty Report, 80% of consumers are more likely to stay with a brand that has a reward program. Not to mention additional benefits, like better average order value and higher referrals.
OpenLoyalty is the type of client retention software you can use to deliver personalized loyalty experiences. It doesn't have many reviews on Capterra yet but all are favorable. It lets you create loyalty programs based on points, tiers, and rewards based on your own rules. The product has a referral tool and its own CRM to profile customers.
Most importantly, OpenLoyalty has a digital wallet functionality that lets customers mix payment with loyalty rewards at checkout. The latest Loyalty Program Trends report reveals that in the next 2-3 years, boundaries between payment and loyalty will be blurred. For many companies, co-promotions with partners are one of the priorities in 2021.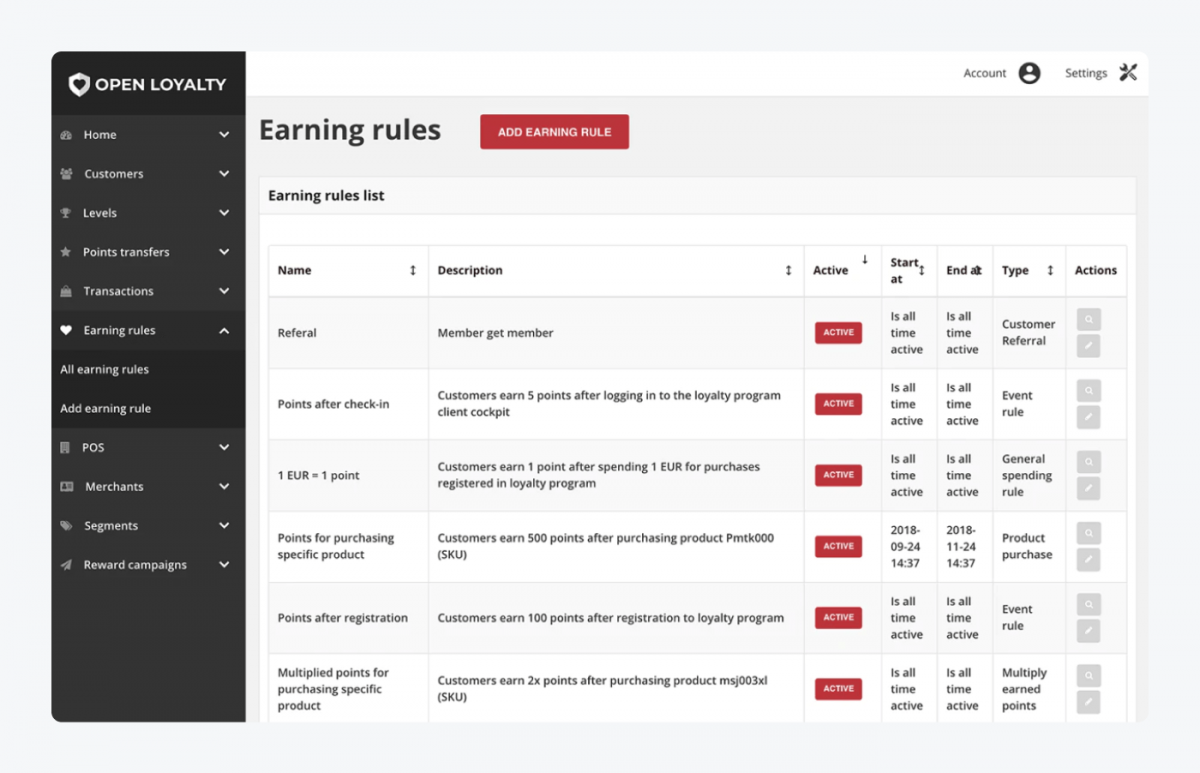 Alternative retention technology:
Find out more:
5. Qualaroo to collect customer feedback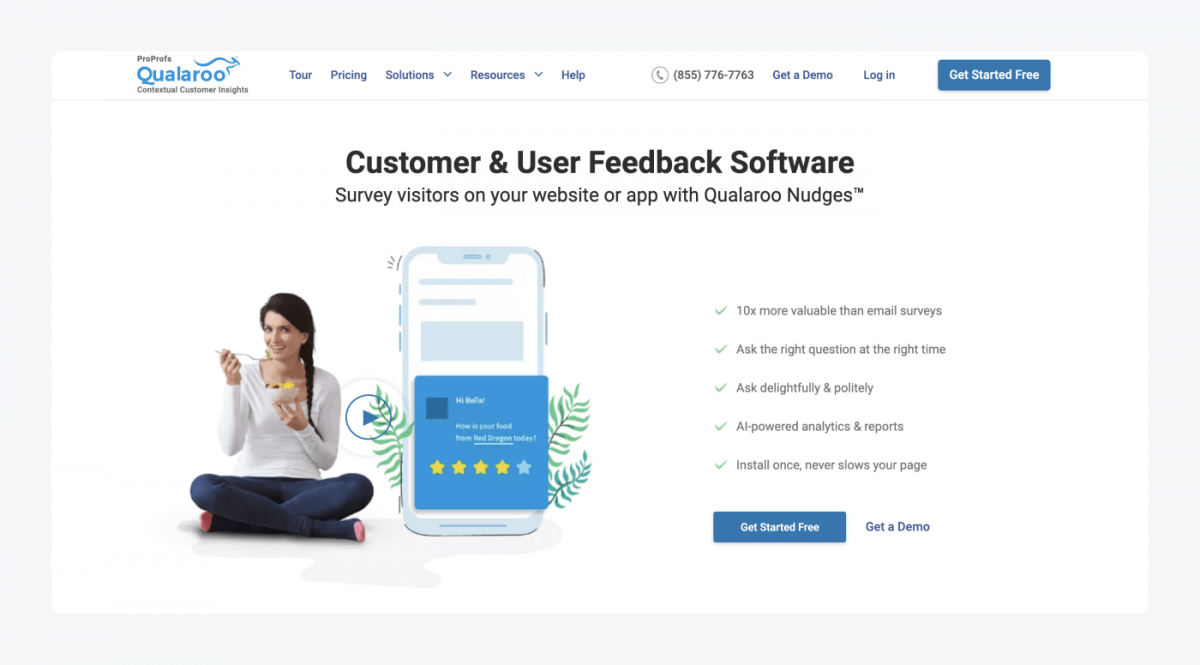 Gathering customer feedback with the right tool is the best way to gauge whether your product or service satisfies your customers. Some companies address the challenge with what they think is the gold standard of customer satisfaction—an NPS survey. But it shouldn't be the only metric you track if you'd like to keep your customers happy.
Polling customers, even with a simple NPS question, does make customers feel important and involved. But you can use a variety of voice of customer techniques as customer retention software. it for actionable measures that improve your workflows or products and services to retain customers.
For example, you can find out why customers churned in the last quarter and tailor your offer to meet their expectations in the next. You can even use negative feedback to increase retention rates. It's your chance to fix bugs, adjust your offer, or send an apology letter to win back your customers' love.
Qualaroo is an all-in-one feedback software with feature-rich, customizable templates, and a 4.7/5 score on Capterra. It's AI-powered so that you can target the right customer at the right time—e.g., about pricing when someone is looking at the pricing page.
Qualaroo lets you find out what people think about your website and get more detailed product insights. You can also run exit surveys to see why customers aren't converting and get feedback about their experience at any stage of UX design—in-app, mobile, and website.
All the data is then presented on neat dashboards.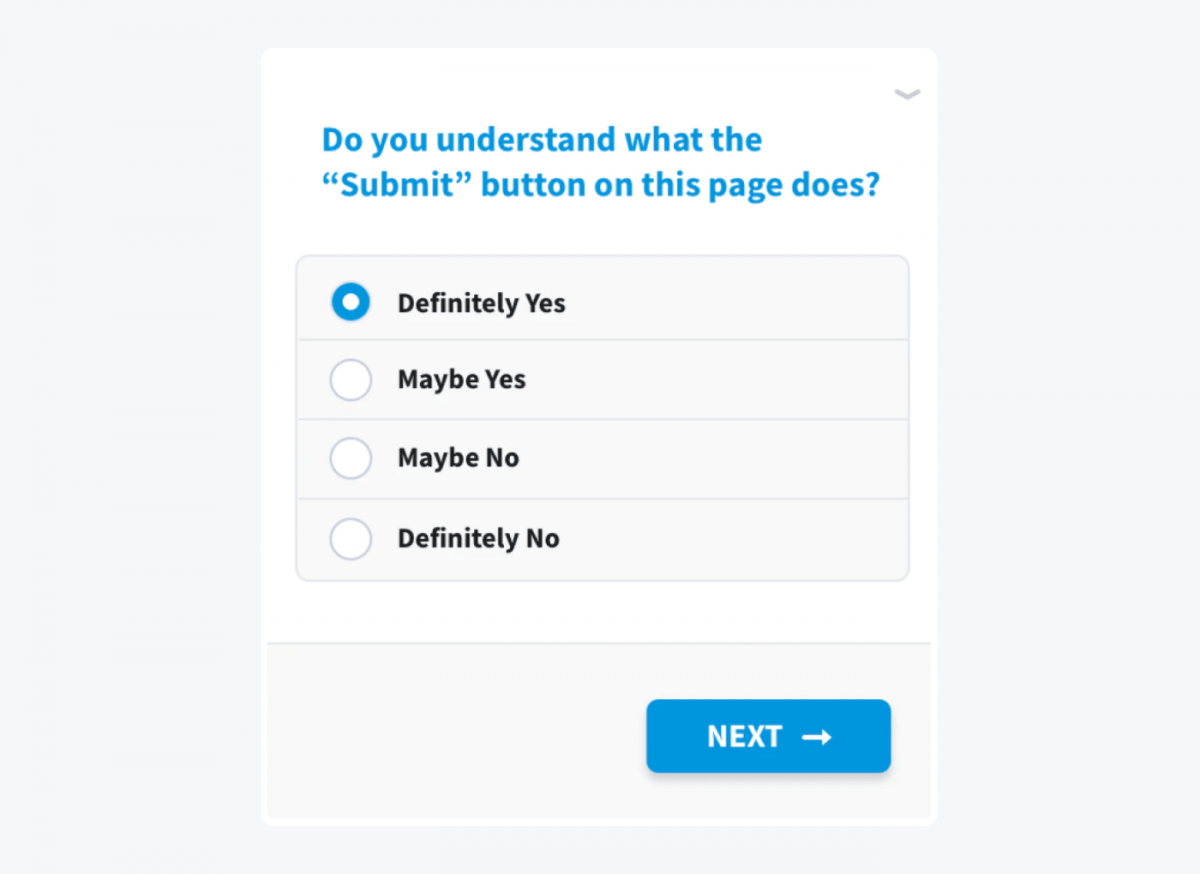 Alternative customer retention systems:
Find out more:
6. ProfitWell to help recover failed payments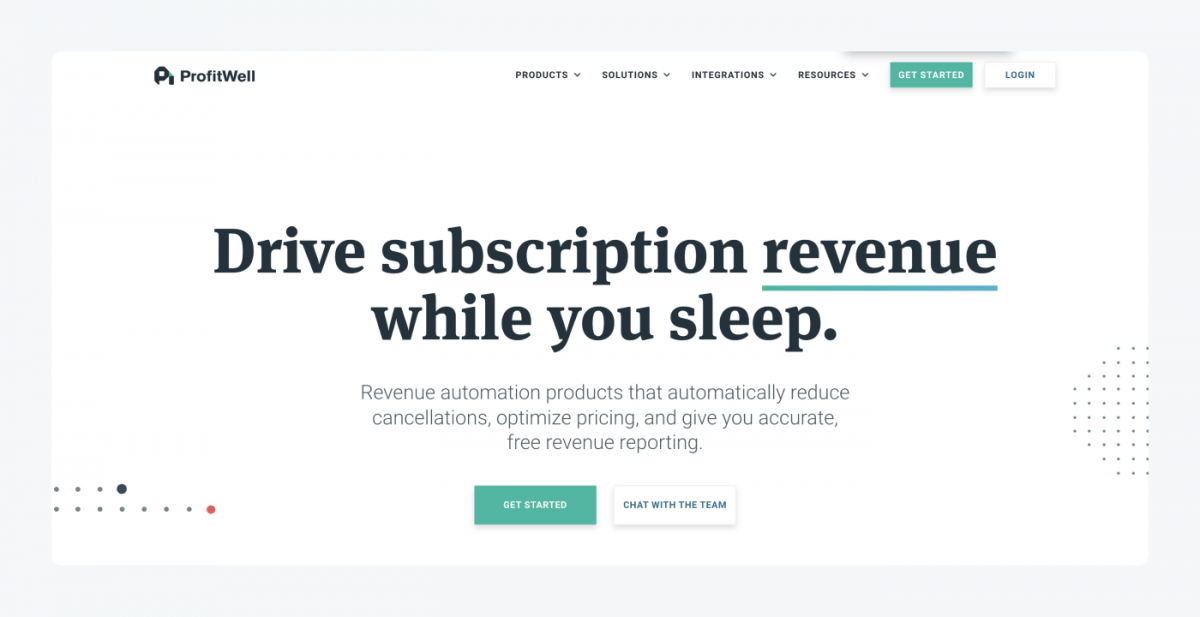 Failed payments are the biggest cause of involuntary churn. According to Visa and Mastercard, an average of 15% of recurring payments fail. And for B2C, these numbers can climb even higher, especially with less loyal business models.
If you keep losing that many customers to credit card failures, it will be difficult to scale your business. Fortunately, ProfitWell is a churn software that can automatically recover declined payments. It uses algorithms to leverage data points collected from all the companies that they serve to push recovery rates up. And scores 4.7/5 on Capterra.
ProfitWell also captures metadata from your existing customers to retry payments tactically. This powerful customer retention platform can also design custom churn reduction strategies to win back your customers.
Alternative customer retention software:
Find out more:
7. KissMetrics to target the right prospects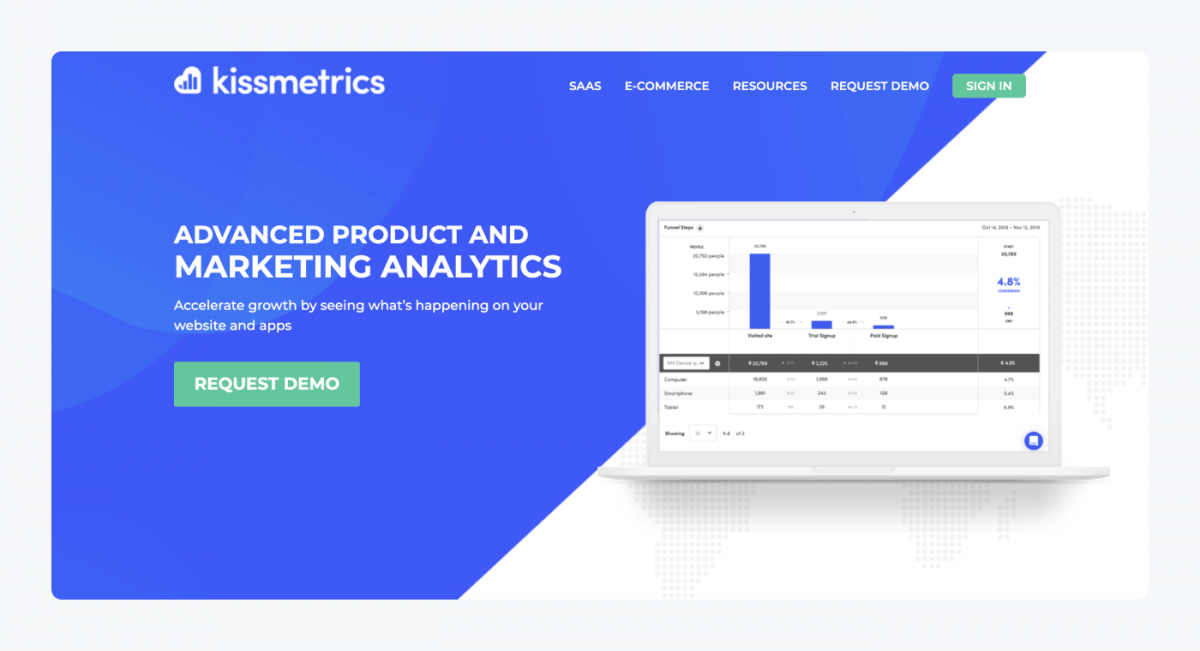 Sometimes you'll see low retention rates because you don't attract the right audience. Some users may register for a product without knowing whether that product answers their needs. When they find it doesn't—they churn.
That's why a user behavior tracking tool, like KissMetrics, is great for gathering insights on the customer journey. This customer retention technology interprets the data to help you understand how to create a better website experience. KissMetrics has a 4.5/5 score on Capterra.
You may discover people have trouble with navigating to a sales page and fix the interface to create a more user-friendly experience. Or you may find that people don't spend enough time on a particular page, and adjust its content to retain people's attention.
In eCommerce, you can compare pages with a long average time spent with those with high bounce rates, to see what's making people leave.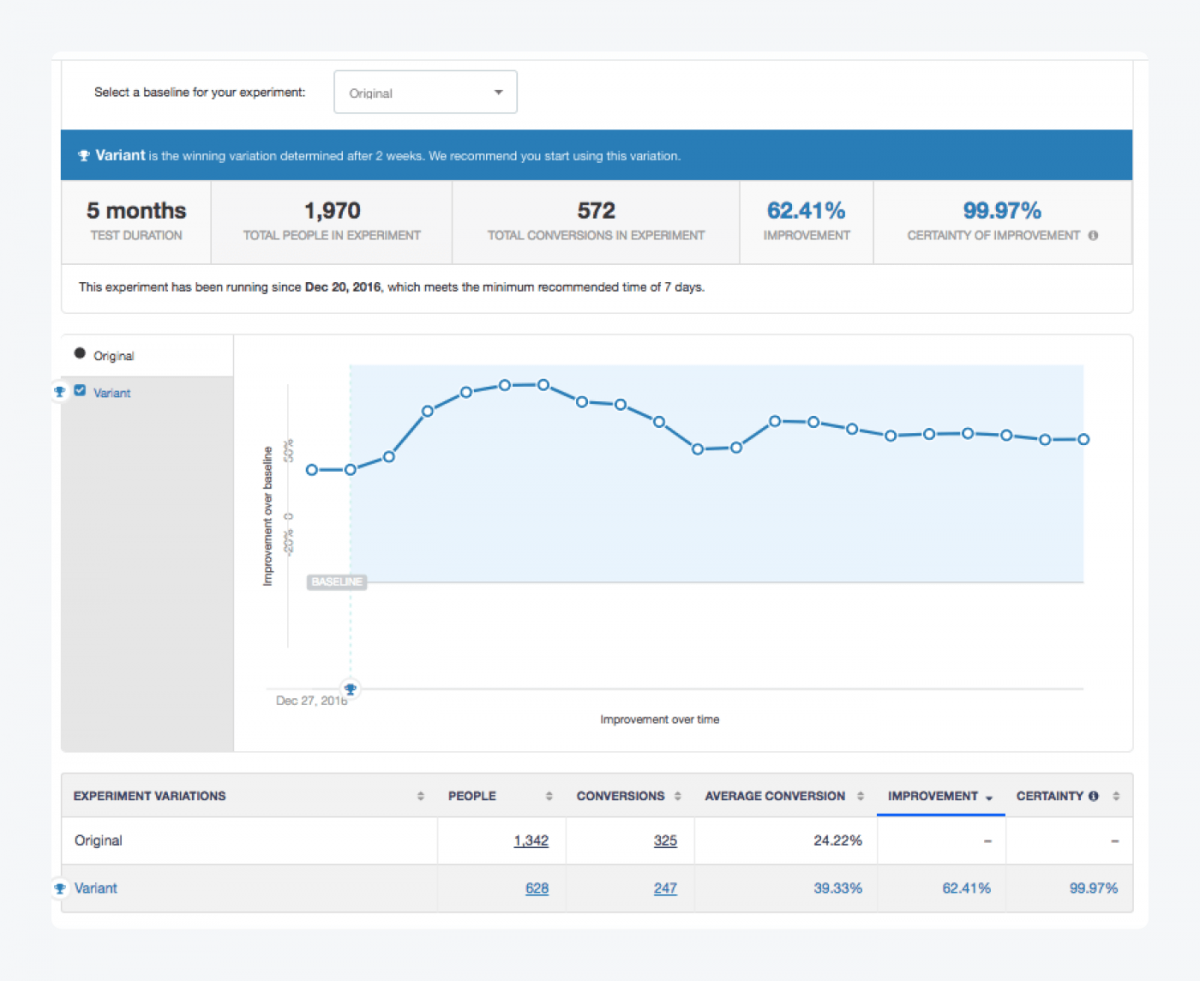 Alternative retention tool:
Find out more:
Customer retention software in a nutshell
Here's what you should know after reading this article:
The purpose of retention systems is to manage the flow of customers out of your business
Customer retention software isn't usually free. But you can rip the benefits of using it in a short period of time
Customer relationship management is a must-have tool that manages all client interactions and can help you improve customer satisfaction
Live chat is a cheap and effective way to enhance your customer service and support your clients, while chatbots can successfully fill in for customer service reps
Loyal clients are easier to retain—mixing payments with rewards programs will become a trend in loyalty programs in the upcoming years
You can benefit from customer retention platforms that capture and analyze users' feedback about your products and services
SaaS companies can benefit from a payment management platform to decrease involuntary churn rates
Use retention platforms analyzing user behavior to target the right audience and reduce their churn from the start