Wondering how to boost your sales fast?
Promo codes are your best bet.
No matter if it's the Black Friday/Cyber Monday season or just a regular February slowness, you can use coupons to push visitors down the sales funnel.
But how to write and use them?
We're here to help.
So, if you don't have any discount code ideas, stick around—we'll show you 15 effective examples with tips and real-life use cases.
Let's get into it.
In this article, we'll go through the following promo code ideas:
If you want to find out more about how to boost your sales, check out these articles:
But first—
What is a promo code?
A promo code, also known as a discount or coupon code, is a sequence of numbers, letters, or both that customers can enter during checkout to receive a special offer. The codes are a popular marketing tool that helps businesses attract and retain shoppers, increase conversion rates, and boost sales.
Here's how a message with a discount code could look like:
And here's how it works on the checkout page: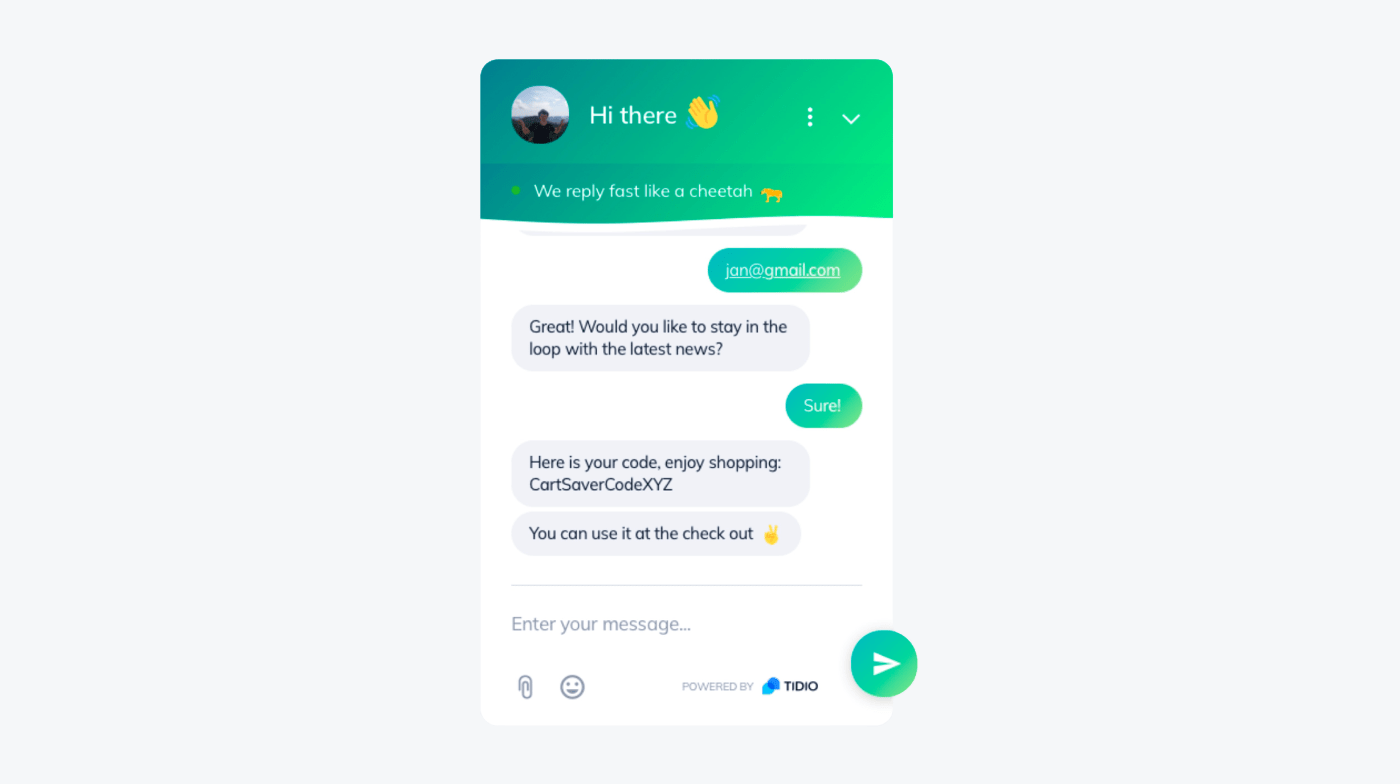 Brands can use them to offer exclusive deals and customize promotions based on customer preferences and behavior. You can distribute voucher codes through your website, email, social media, and other communication channels. There is a number of coupons available out there.
Some of the most common promo code types are: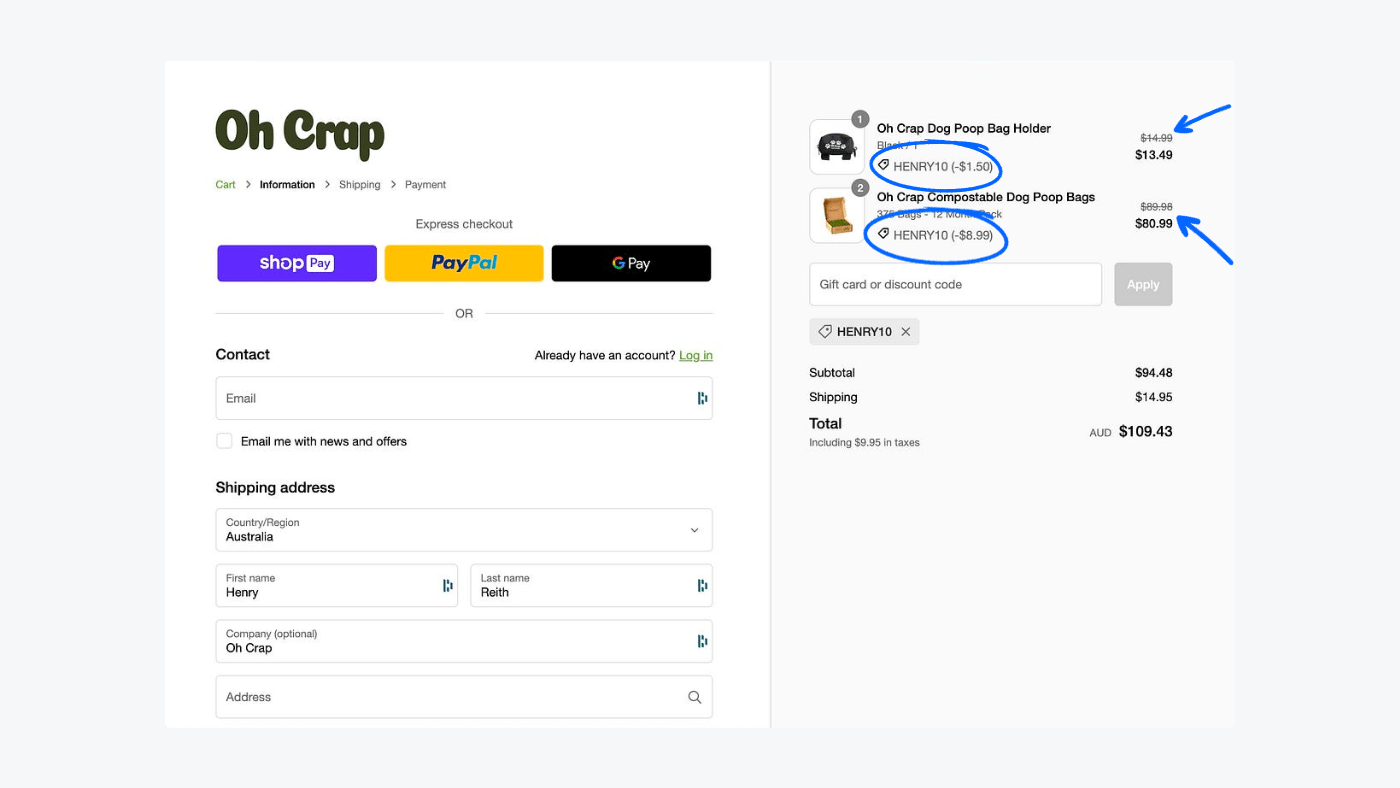 Percentage-based discounts—offering customers a percentage off the total purchase price
Dollar-based discounts—offering customers a fixed dollar amount off their purchase
Free shipping—providing free shipping of the order
Buy One, Get One (BOGO)—customers can buy one product and get another for free or at a reduced price
Bundle discounts—bundling products or services together at a discounted price
Limited-time offers—providing customers with a discount that is only available for a specific period of time
Referral discounts— offering a discount or reward when a new customer makes a purchase through their referral
Exclusive loyalty discount—rewarding loyal customers with exclusive discounts
So—
Now that you know what discount coupons are, let's learn about their benefits.
How do discount codes help sales?
Discount code ideas are useful for a wide range of benefits they provide for businesses and customers. From increasing sales to enhancing brand visibility, promo codes are a powerful marketing tool that can drive growth and success for businesses. By utilizing them strategically and creatively, companies can attract new customers, reward loyal ones, and generate buzz around their brand.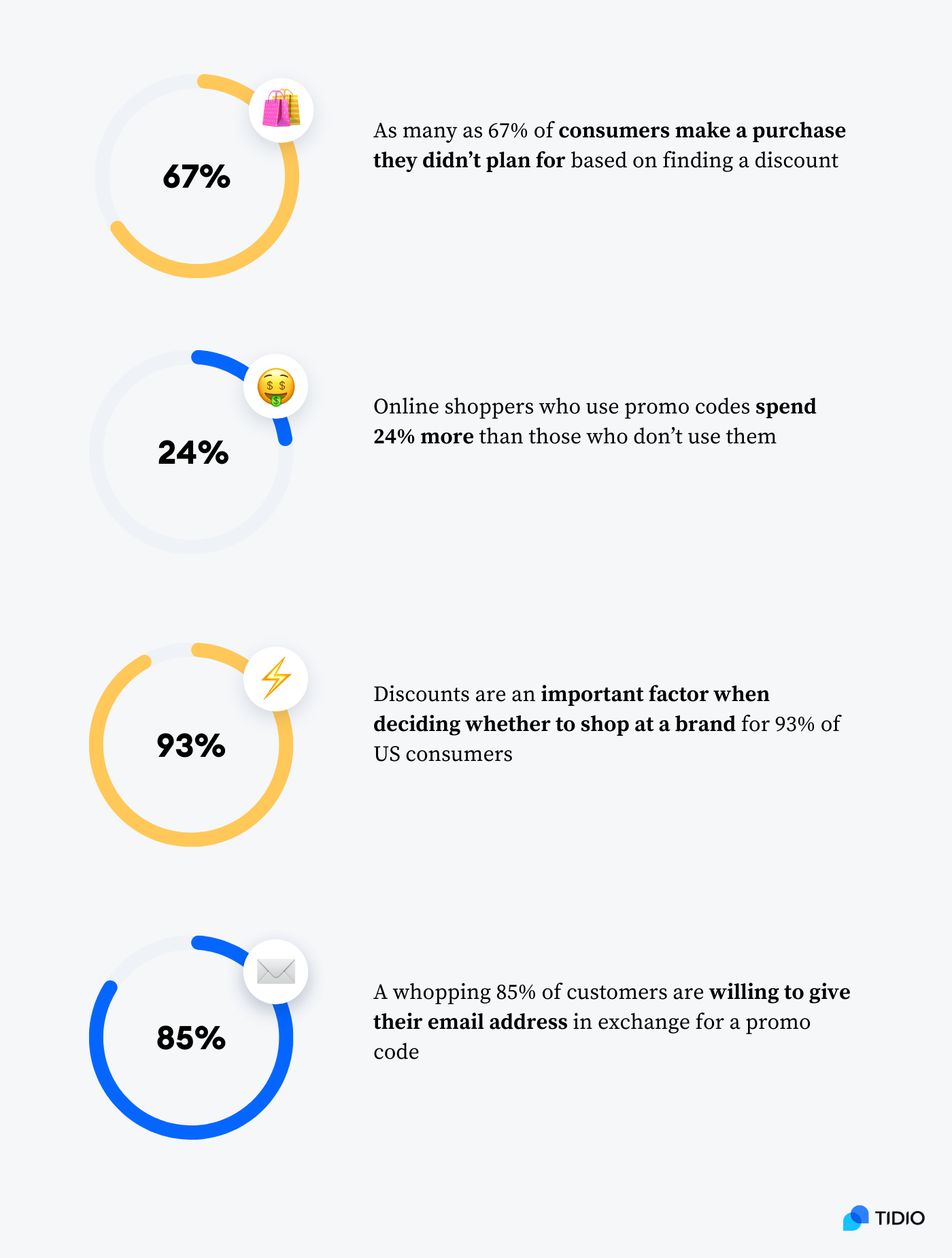 Here are the main benefits of promo codes:
By offering exclusive deals and discounts, businesses can entice customers to complete a purchase. And research shows that about 67% of shoppers purchased a product they didn't plan to get purely because they found a coupon or a discount. On top of that, people who use discount codes spend over 24% more than shoppers who don't use them.
Boost in customer acquisition
When using special promotions and discounts, businesses can encourage potential customers to try their products or services. This can be particularly effective for first-time visitors who may otherwise be hesitant to become a customer.
Coupon codes are a great way to reward loyal customers and encourage repeat purchases. In fact, a study shows that discounts and offers are an important purchasing factor for 93% of US customers that can determine whether they shop with the brand.
Providing promo codes is an excellent marketing strategy to increase brand visibility and awareness. And promoting discount codes through various channels can generate buzz around the brand and gain more customers.
Data collection and analytics
When customers use discount codes, businesses can gather valuable data and insights about their customers' purchasing behaviors. And it's good to point out that more than 85% of shoppers are willing to provide their email addresses in exchange for promo discount codes.
Now, let's jump to the main reason you came to this article—
Discount code ideas
You might not have ideas on how to write discount codes or when to send them out. That's why, we gathered some examples to make it easier for you.
Here are the 15 best discount code ideas your business can use:
Launch coupon codes
Discount codes for online shopping
Referral codes
Holiday-specific codes
Abandoned cart coupon codes
Bundle discounts
First purchase discounts
Loyalty program deals
Minimum purchase discount code
Exclusive social offers
Influencer discounts
Newsletter signup offer
Offers for purchasing online
Flash sale discount codes
Free shipping codes
Now, let's go through them one by one.
1. Launch coupon code
Launching a new product or service is an exciting time for any owner, especially when you're still a small business. It's a chance to showcase your innovative ideas and provide value to your customers. One effective way to generate buzz and drive initial sales is by offering a launch coupon code.
Launch coupon codes can be used to encourage prospective customers to make a purchase and try out your offering. Here are a few promo codes to try for this occasion:
NEWINTOWN23
HELLO10
LAUNCH023
Remember, the key to a successful launch coupon code is to create a sense of urgency, exclusivity, and value for your customers. By offering a discount or incentive, you are not only driving sales, but also building brand loyalty and trust. So, ensure to plan ahead, promote your code effectively, and track the results to measure the success of your launch campaign.
Tips:
Utilize social media to create a buzz
Use the FOMO effect in your campaigns
Do thorough market research
Here's a real-life example from Project FBA for inspiration: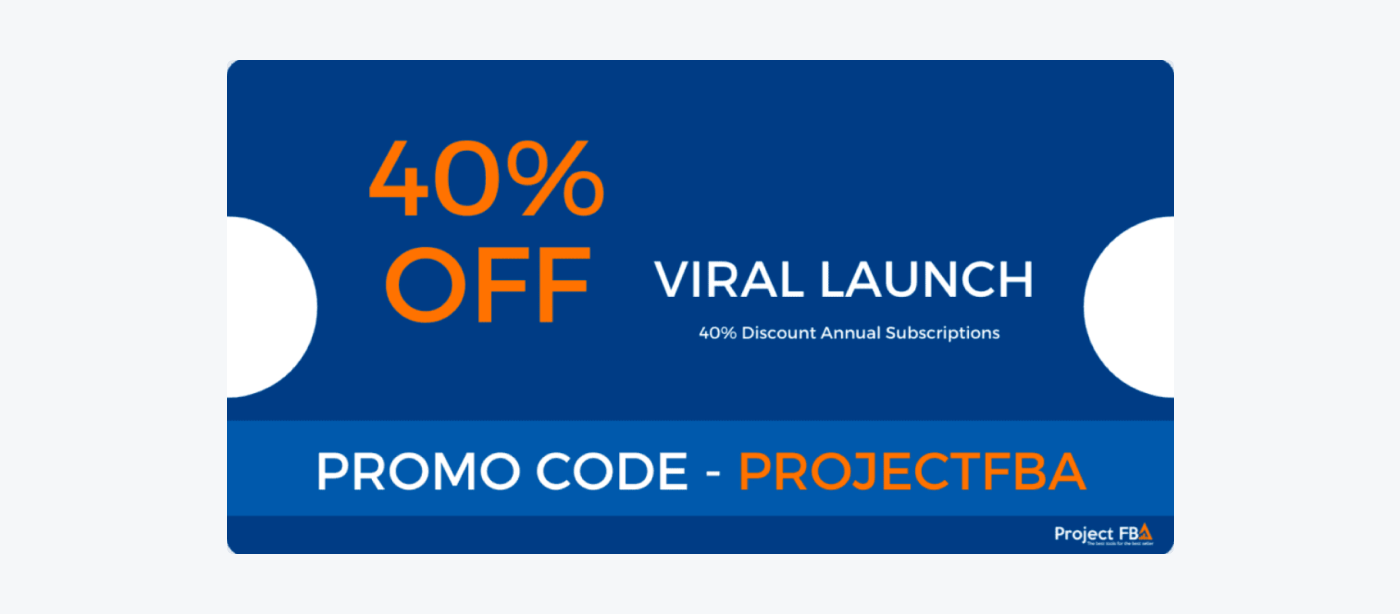 2. Discount code for an app
In today's digital age, online and in-app shopping has become the norm for many. With just a few clicks, you can have your favorite products delivered right to your doorstep. And what's better than the convenience of in-app shopping? Getting a catchy discount code for your purchase, of course! You can now enjoy the best of both worlds when using a shopping app—a seamless customer experience and incredible savings with discount codes.
Here are some of the most common promo codes:
Remember, discount codes are not only a great way for customers to save money but also a powerful marketing tool for online businesses. Leveraging discount codes through an app can help increase customer loyalty, boost conversion rates, and drive more traffic.
Tips:
Entice people to download the app
Make the app user-friendly
Ensure the sign-up process is quick and easy
Here's one of the coupon examples for online shopping from Net-a-porter: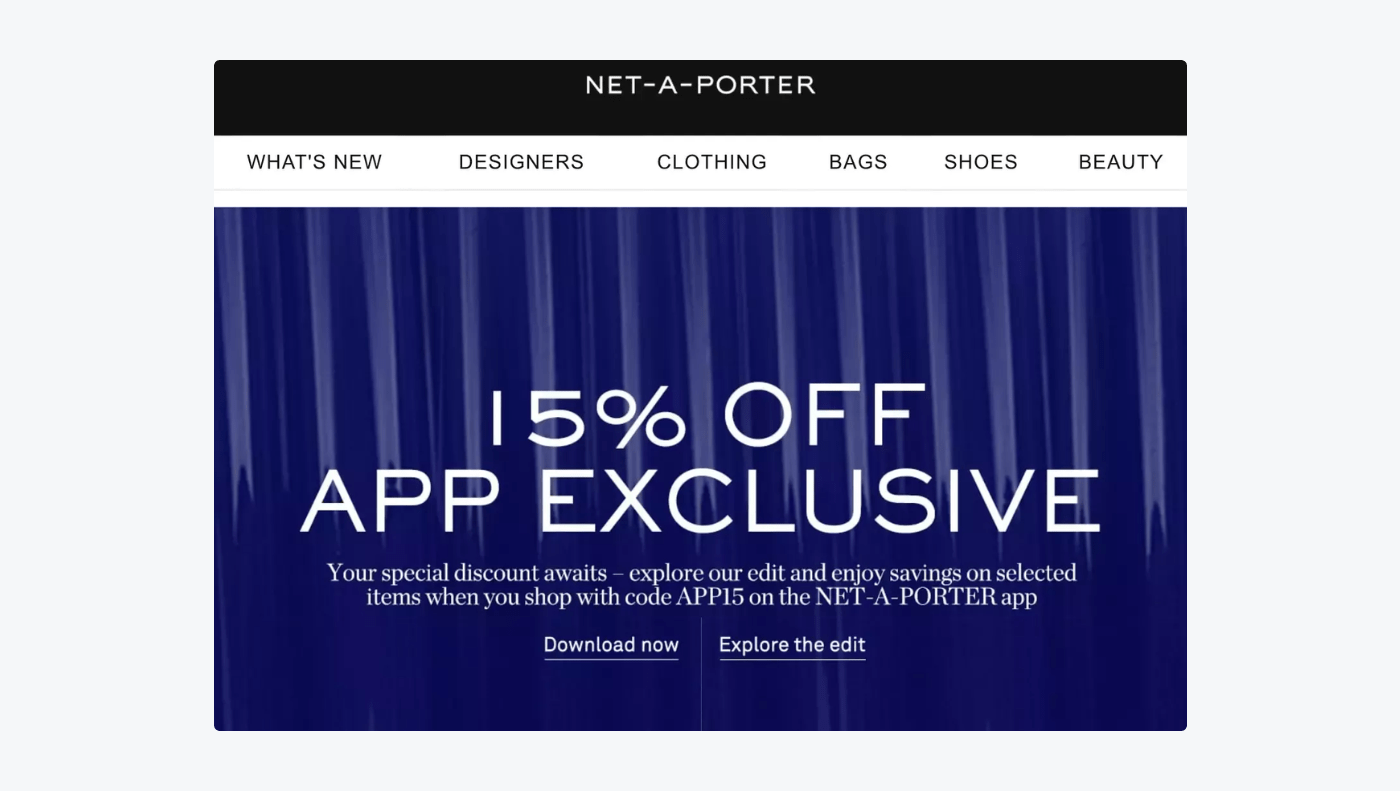 3. Referral codes
In today's digital age where word-of-mouth recommendations hold immense power, referral codes have emerged as a winning strategy for businesses and customers alike. These discount codes represent unique and personalized promos that customers can share with others to receive exclusive benefits and earn rewards.
Here are some promo code examples for your referral program:
REFER023
FRIENDS241
CONNECT10
Referral codes not only enhance the shopping experience but also allow you to share the joy of savings with friends and family. They can also act as a powerful marketing tool for businesses because they use the vast network of connections that existing customers have in order to attract new shoppers.
Tips:
Use your newsletters to spread the word about your deal
Ensure you send out offers for special occasions
Provide an advantage for everyone involved
Here's a referral coupon sample: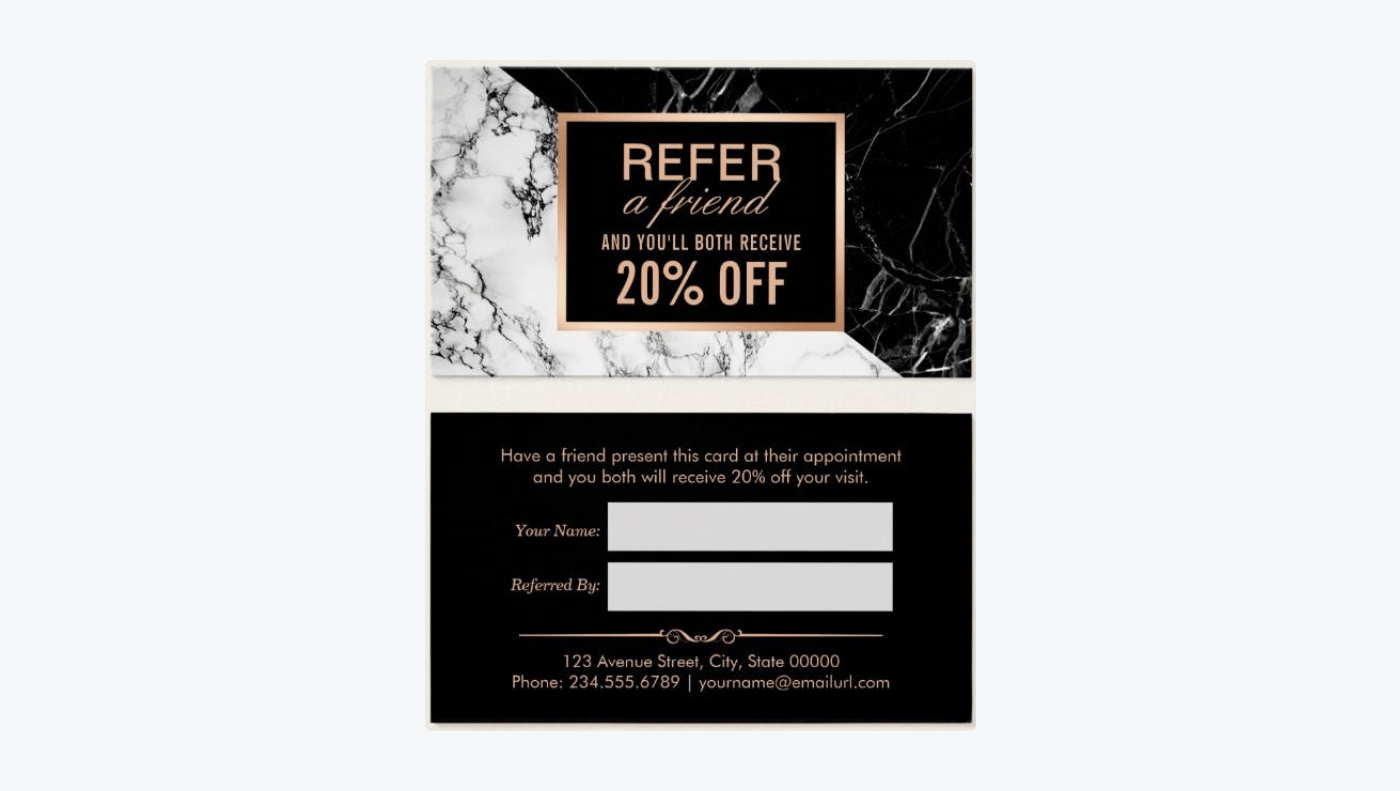 4. Holiday codes
The holiday season is a time of joy, celebration, and, of course, incredible savings. Holiday codes come in various forms and can be found for a wide range of products and services. One popular type of holiday code is the 12 Days of Christmas promotion. This type of code offers a different deal each day for 12 consecutive days leading up to Christmas. It's an exciting way to discover new products and enjoy exclusive discounts on items you've been eyeing all year.
Here are a few of the best promo codes for Holidays:
XMAS23
HOLIDAY12
JOLLYTIME
BFCM23
Holiday codes are not only beneficial for shoppers but also for businesses. They provide an excellent opportunity for business owners to attract new customers and boost sales during the hectic holiday season. By offering exclusive discounts and promotions, you can entice both loyal and potential customers to choose your products or services over competitors.
Tips:
Use newsletters to spread the word about your promos
Write captivating and cute code names that match the season and the holidays
Send the coupons out in advance
Have a look at this real-life coupon example from Brownell's: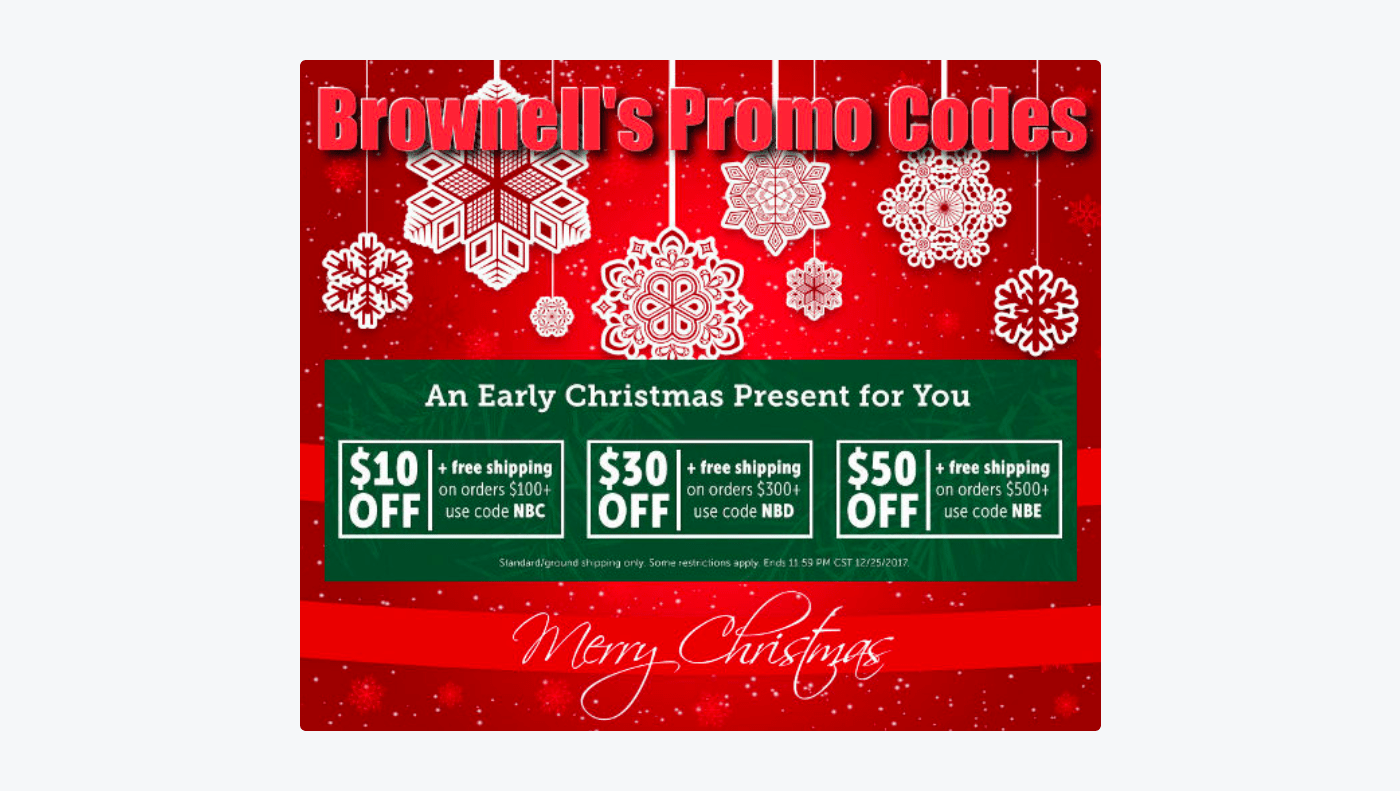 Read more: Discover effective Black Friday marketing strategies to boost your sales during this shopping season.
5. Abandoned cart coupon code
All businesses struggle with shopping cart abandonment. In fact, about 80% of customers don't complete their purchase. This means that for every $200 a retailer earns, they lose $800 due to cart abandonment. But discount vouchers can help to lower this number and entice more clients to checkout.
Here are a few voucher code ideas you can use:
DONTGO
JUSTFORYOU
TAKE1CHANCE
This is one of the most common discount codes used out there. Because it works. Imagine your potential customer being unsure about whether they can afford the products they put into their basket and planning to leave your site to look for a cheaper price. But before they click the back button, you give them a promo that puts the product in their price range. This pushes them to the checkout, which means you just gained yourself a sale.
Tips:
Use chatbots on your website to catch the shopper before they leave with exit-intent triggers
Show the discount reflected on their shopping cart
Write catchy promo code names to get the person's attention
Here's how Kate Spade uses this technique: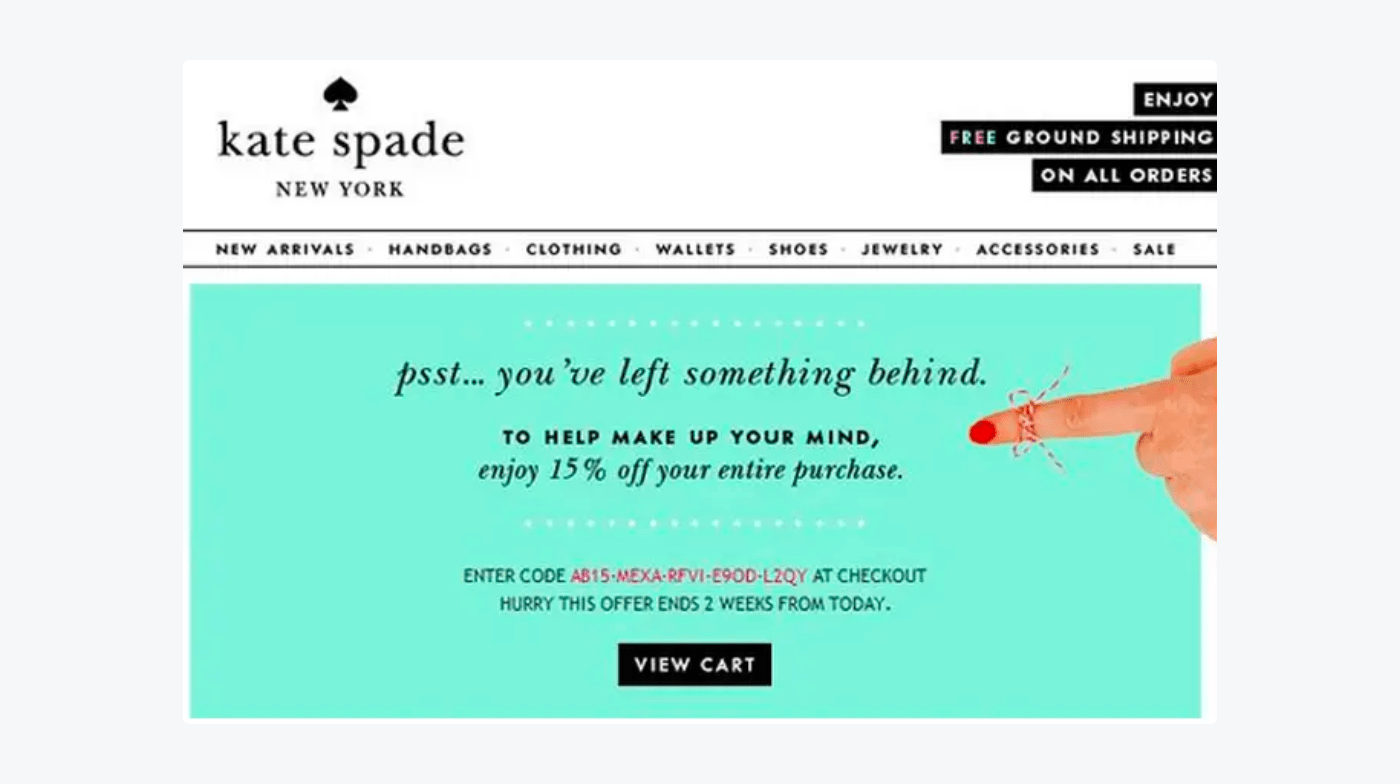 6. Bundle discounts
Bundle discounts involve offering customers a deal on multiple products when purchased together. This strategy not only encourages customers to buy more items at once, but also enhances the overall shopping experience. By bundling products, businesses can showcase complementary items, create value for their customers, and increase the average order value.
Here are some coupon code ideas for bundled solutions:
Bundle discounts are an effective marketing strategy that can make businesses stand out from their competition. By providing customers with an attractive deal, businesses can increase sales and conversions, clear inventory, and foster customer loyalty.
Tips:
Use chatbots to upsell items related to each other as a bundle
Connect complementary products and services together
Let customers mix and match your products
Here's a real-life example from Made for mermaids: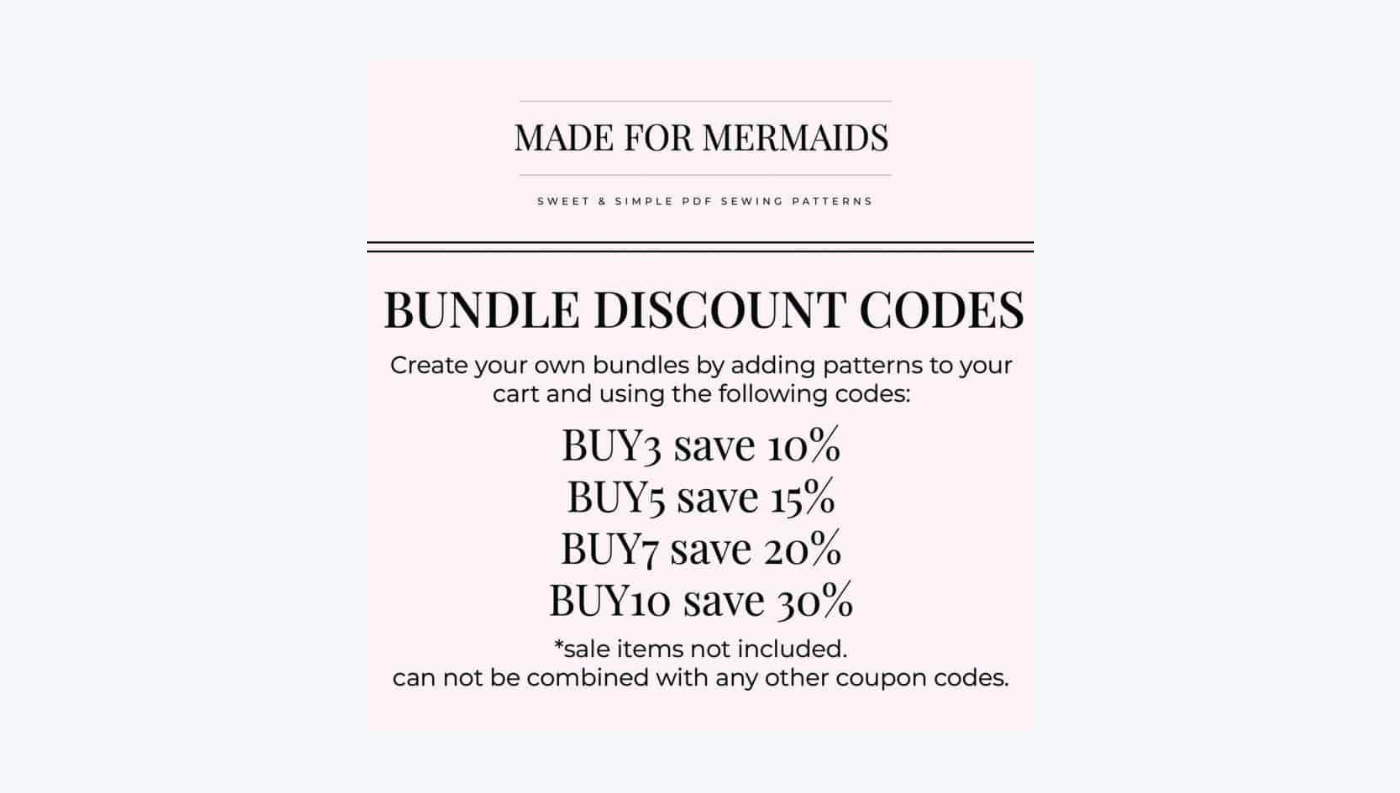 7. First purchase discount
First order discount or a welcome coupon is a special offer that businesses provide to potential customers in order to encourage them to make the first purchase. This strategy helps build a positive first impression and potentially turn shoppers into loyal customers in the long run. It also assists your business in increasing conversion rates while convincing the buyer that you're giving them a better deal than your competitors.
Some common discount codes for first-time shoppers are:
Sometimes clients need that extra push to decide that they want to make a purchase with you. And even a small promo code can act as that push. You can also try to get the buyer's contact information to send them the discount and grow your email list at the same time.
Tips:
Provide a gift to shoppers
Present yourself as the best option on the market
Ask for contact information
Here's a real-life promo code example from UGMonk: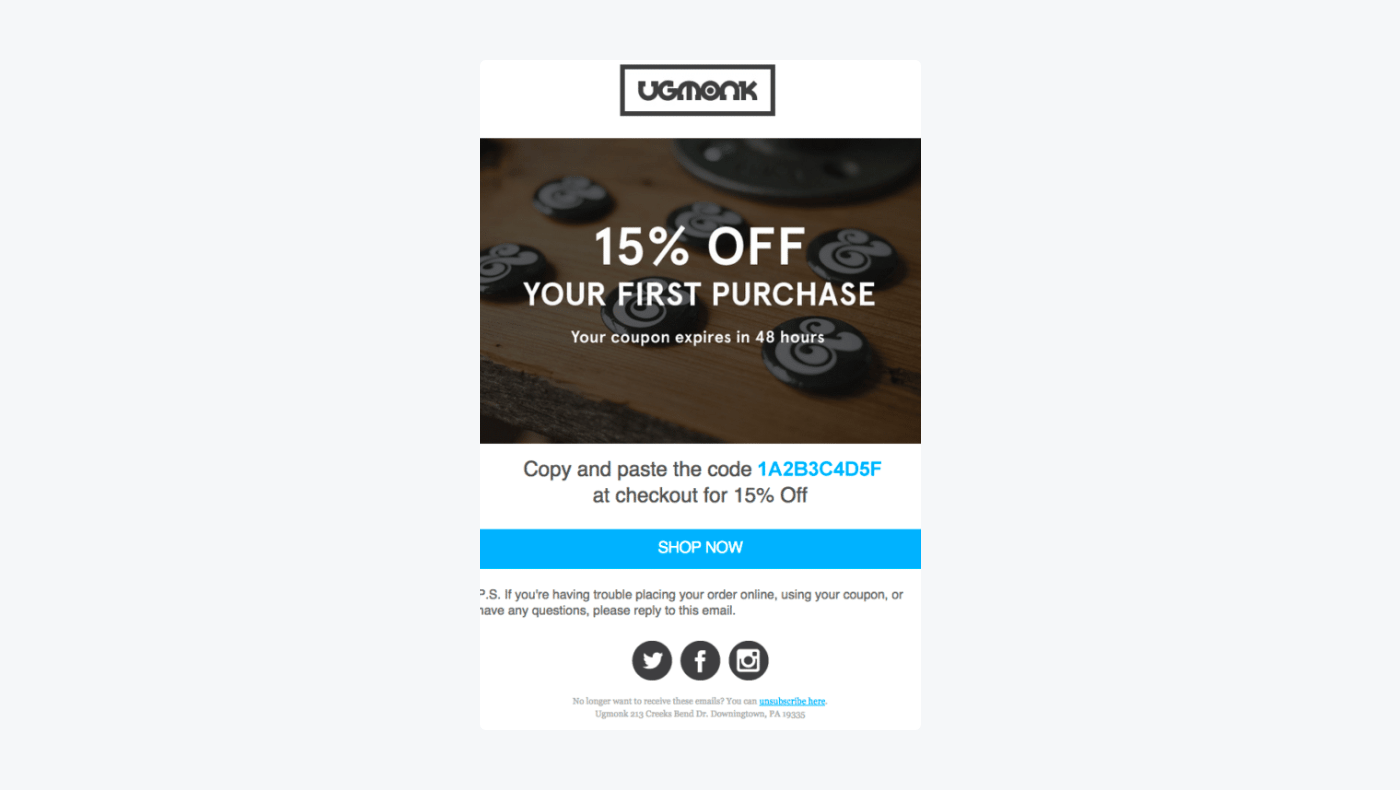 Read more: Learn how to write a great welcome message to your new customers.
8. Loyalty program
Reward your repeat customers and they'll repay you for it. Literally. You can offer promotional discounts and loyalty programs to returning customers. This will show that you appreciate them and encourage them to stay with your brand. The underlying goal is to reinforce the customer-business relationship and encourage repeat purchases.
Here are some coupon code ideas for your loyal customers:
GRATITUDE10
20LOYAL
THANKYOU23
Incorporating loyalty discounts into your marketing strategy can do wonders for building and maintaining strong customer relationships. These discounts not only show appreciation to loyal customers but also encourage repeat purchases and increase customer lifetime value. By offering exclusive benefits and rewards, businesses can foster a true sense of loyalty, turning satisfied customers into dedicated brand advocates.
Tips:
Offer early access to sales
Give promo codes for birthdays and special occasions
Encourage customers to collect points for rewards
Here's an example of a coupon for loyal clients by Mitchell and Ness: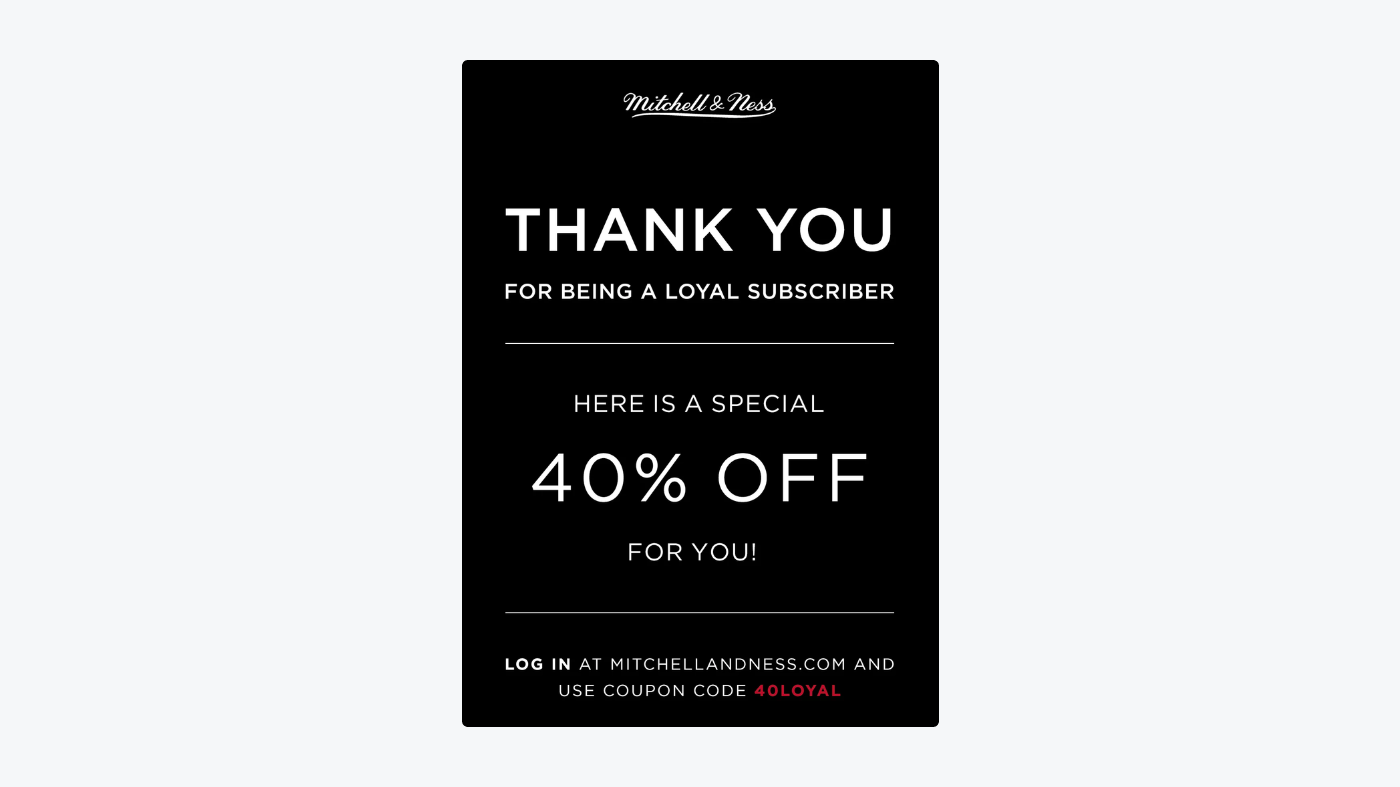 9. Minimum purchase discount
Minimum purchase promos are a type of code that businesses offer to incentivize customers to spend a certain amount of money in order to qualify for the discount. This strategy can be highly effective in increasing average order value, driving sales, and encouraging customers to explore other products or services offered by the business.
Here are a few promo code ideas for this strategy:
10FOR50
GETMORE10
FORYOU20
The concept of a minimum purchase discount is fairly simple. For example, a business may offer a 10% discount on any purchase over $50. This means that customers must spend at least $50 before they can apply the discount code and receive the discounted price. This strategy creates a win-win situation for both the business and the customer. The business increases its revenue, while the customer gets a discount and potentially discovers more products they may be interested in.
Tips:
Add a free gift or an additional incentive for the next purchase
Match the discount with the purchase value
Offer discounts for a variety of occasions, like back to school, Halloween, and summer vacation
Here's one of the discount code examples from Valerie:

10. Exclusive social offers
This specialized promo code idea is best for businesses with a large social media presence and a good number of followers. It will be most effective if you advertise it as an exclusive deal for your followers and have a specific timeframe for the discount.
Here are some of the most common coupon codes for social media:
SOCIALGIRL
SOCIALMONTH
INSTA20STYLE
Social offers can help you increase the number of followers, reach new customers, and make the existing clients feel like they're a part of a community. You can also create a game out of it. Provide a number of steps people need to follow in order to get your special coupon discount code.
Tips:
Provide additional benefits for your followers
Advertise through social media
Run a contest for your followers
Here's an example of how Stylevana used this creative coupon code idea: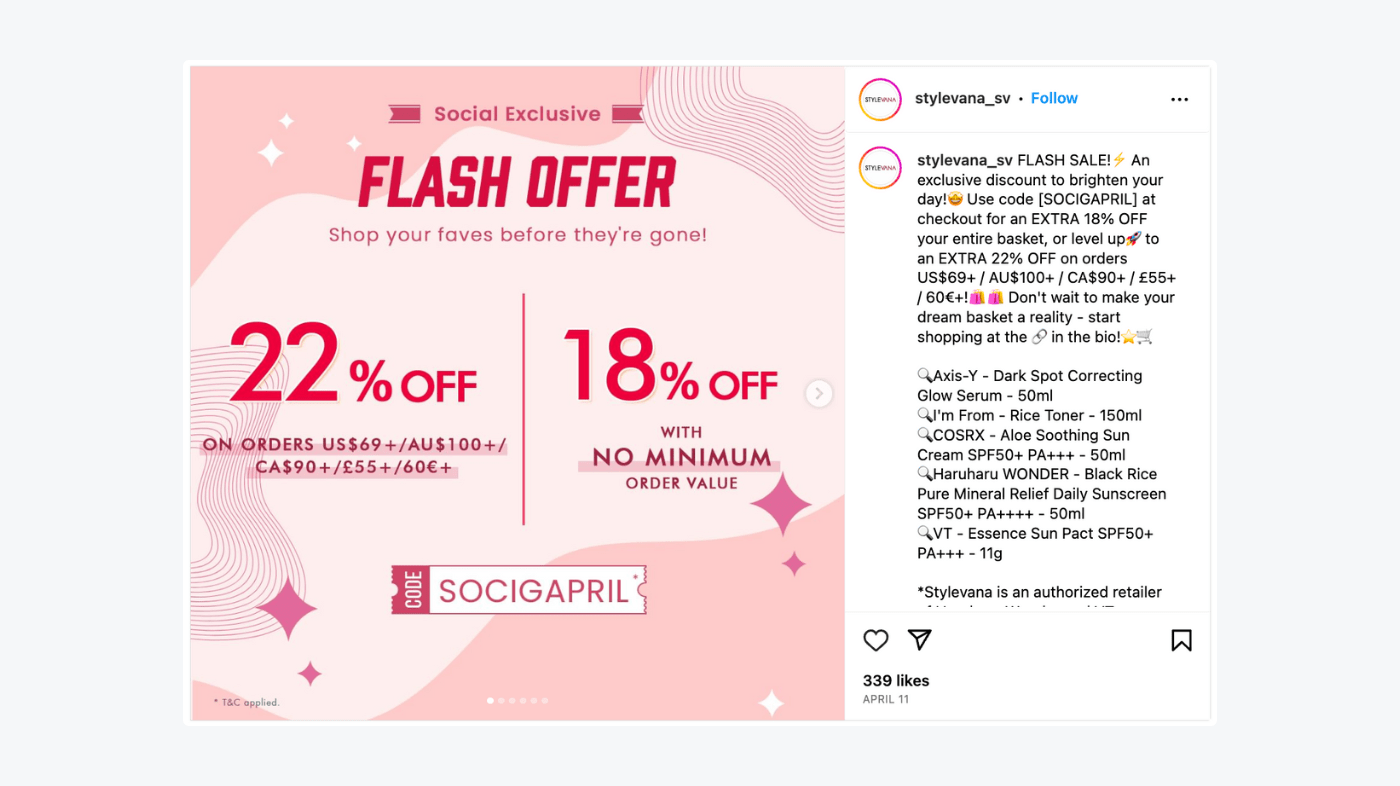 Read more: Learn all about Instagram chatbots and how to use them.
11. Influencer discount
One powerful tool your business can utilize in influencer marketing campaigns is the influencer discount code. By creating exclusive discount codes for your influencer partners, you can incentivize their followers to purchase your products or services while also rewarding the influencers for their efforts. This win-win situation not only generates immediate sales but also strengthens the connection between your brand, the influencers, and their loyal fan base.
Some common codes for coupons for this strategy are:
INSTA23
SPECIALFORYOU
20TIKTOK
Remember that the success of influencer discount codes lies not only in the offers themselves but also in the influencers' ability to effectively promote them. Ensure to communicate your brand's guidelines clearly to the influencers, providing them with engaging content and creative ways to share the discount codes with their audience.
Tips:
Use limited-time promotions
Make exclusive offers
Create collaboration products with the influencer
Here's a collaboration of Abiwebb with Stronger: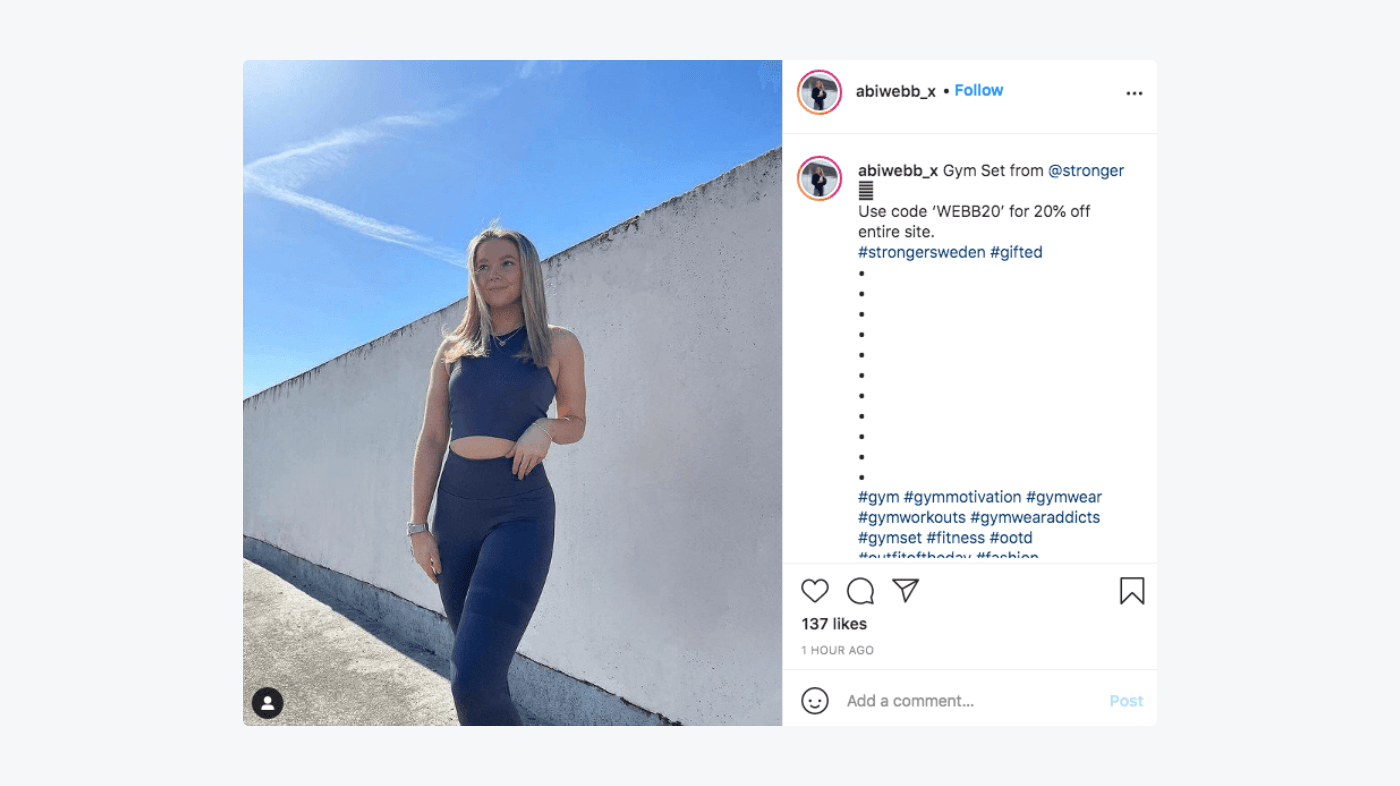 12. Newsletter signup offer
A newsletter signup offer serves as a powerful tool to entice visitors to provide their email addresses and opt-in to receive regular updates and promotions from your business. By offering something of value in return for the shopper's email, you can increase the chances of conversion. On top of that, you'll also establish a direct line of communication to nurture relationships with your audience.
Here are some specialized coupon code ideas for newsletter signups:
EMAIL23
SIGNUP15
EMAIL20OFFER
Remember that offering a compelling incentive is only part of the equation. To maximize the effectiveness of your newsletter signup offer, ensure to optimize the user experience, place the sign-up forms strategically on your website, and highlight the benefits of subscribing. Additionally, regularly provide valuable and engaging content in your newsletters to keep subscribers interested and foster long-term relationships.
Tips:
Offer valuable educational content
Give early access to new products or services
Run contests and giveaway entries
Here's how Barnes&Noble uses this discount example: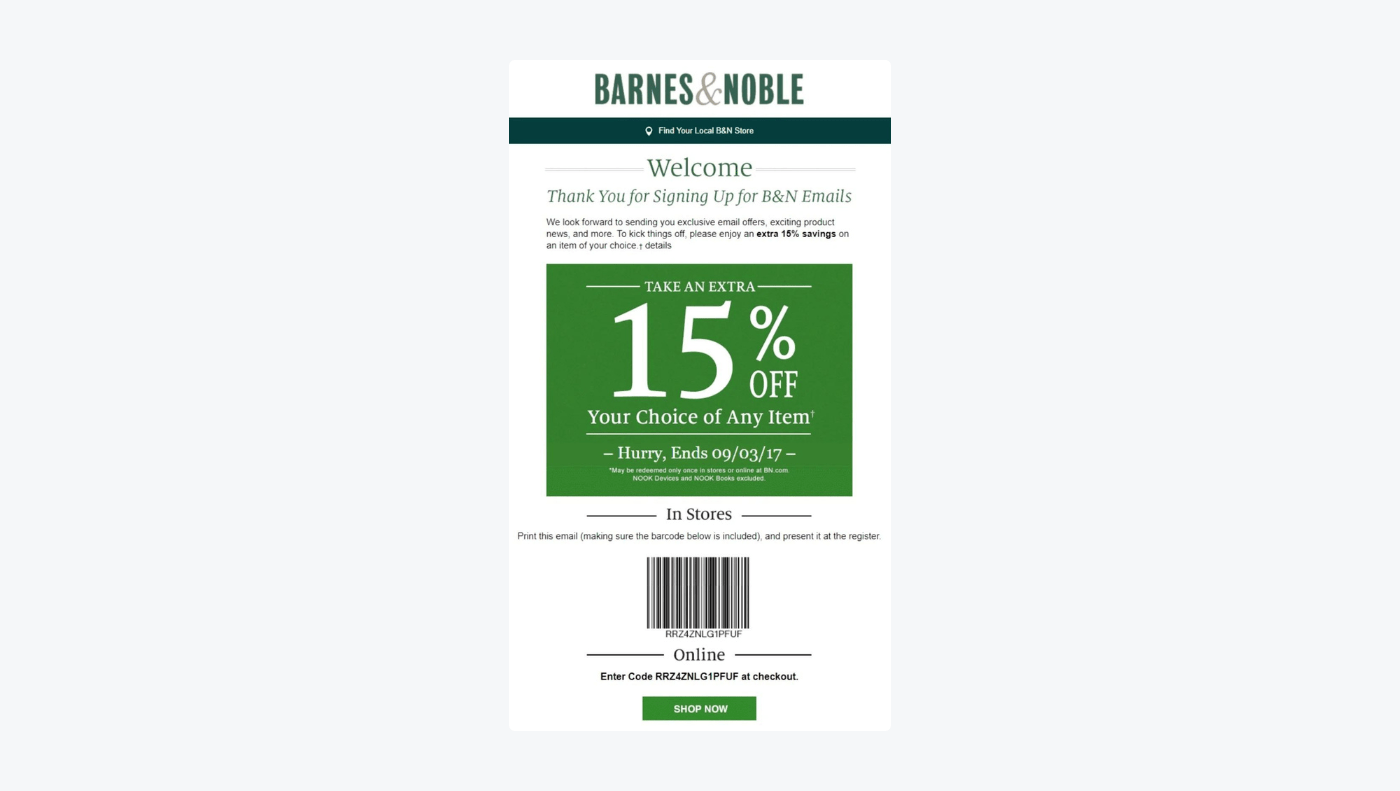 13. Offers for purchasing online
If you have both a physical and an online store, that's a perfect opportunity to grow your sales. For example, you can give discount codes for the customers buying at your brick and mortar shop to use in your ecommerce store. This will entice buyers to check out your website and purchase more products from your brand.
Here are a few discount codes to try:
ONLINE23
WEBBUY20
10SHOPONLINE23
Offering special discounts and offers for purchasing online is a proven marketing strategy for increasing customer acquisition and retention. By implementing various types of offers, such as discount codes, flash sales, and first-time visitor deals, businesses can attract new customers, reward existing ones, and ultimately boost their online sales.
Tips:
Provide codes for online checkout
Personalize the codes to the visitor
Promote the discounts through all communication channels
Here's how O'Neills uses this discount promo code idea: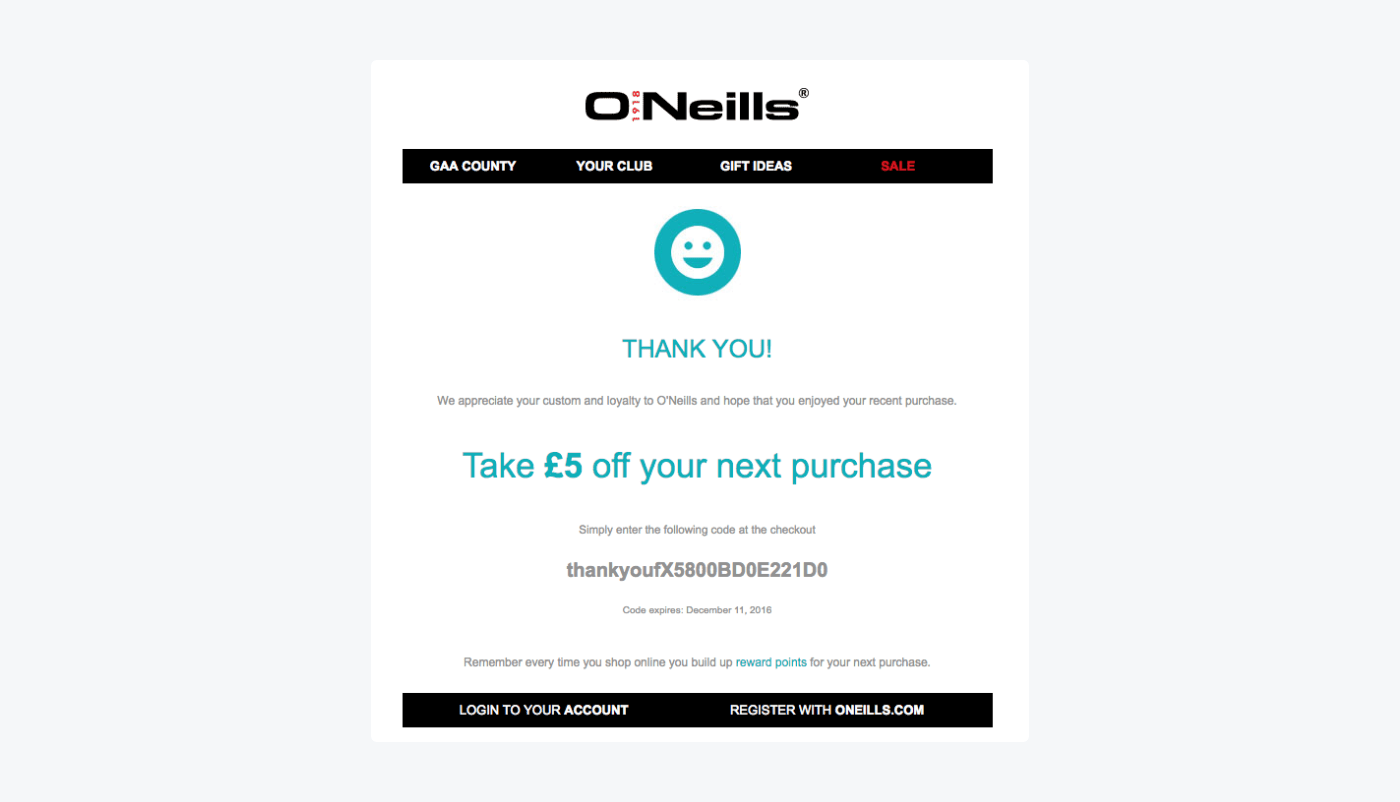 14. Flash sale
Flash sales are a popular marketing strategy used by online businesses to create a sense of urgency and drive immediate sales. These limited-time offers provide customers with the opportunity to snag amazing deals on products or services for a short period of time, typically lasting anywhere from a few hours to a couple of days.
Here are catchy discount codes to try:
FLASHSALE
ONLY1HOUR
DONTMISSOUT50
The allure of flash sales lies in the fact that they offer significant discounts that are hard to resist. Customers are often drawn to the thrill of finding a great deal and the fear of missing out if they don't act quickly. This sense of urgency prompts them to make impulsive buying decisions, resulting in a boost in conversion rates and revenue for businesses.
Tips:
Enable automation to send out alerts about your sale
Use a specific time frame and stick to it
Utilize a countdown timer for your communication
Here's one of the coupon code examples offered by Old Navy: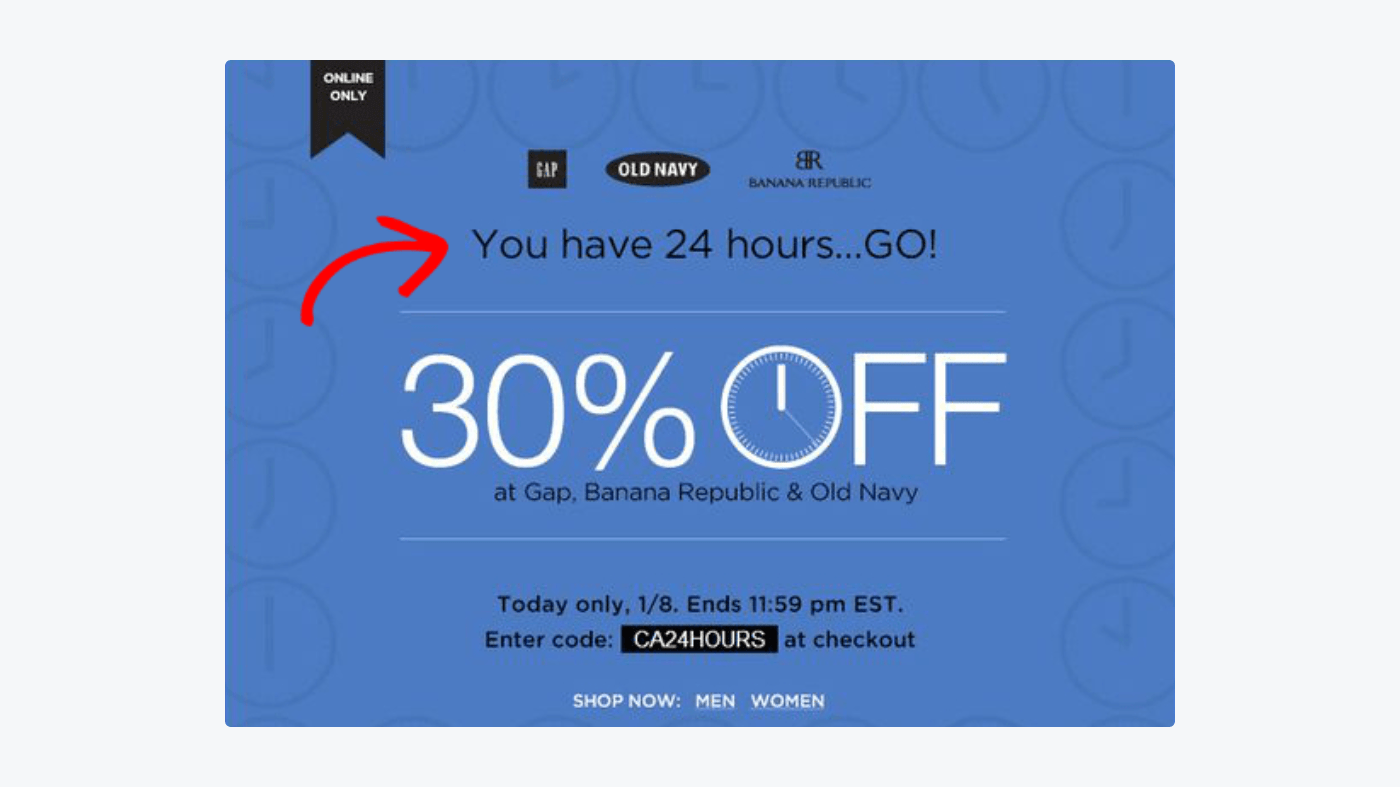 15. Free shipping
Who doesn't like free shipping? We all know that paying for shipping is one of the things that drive customers away from the business. So, why not offer free shipping when a client spends a specific amount on their purchase? It can be a great incentive for them to complete their order and even add more products to their cart in order to avoid paying for delivery.
Here are some popular promo codes for free shipping:
FREESHIP50
DELIVERFREE23
GETHERE20
Offering free shipping can greatly benefit online businesses by attracting new customers, increasing conversion rates, and boosting customer satisfaction. By strategically implementing free shipping offers and effectively communicating them to the target audience, your business can enjoy a competitive advantage and drive sustainable growth.
Tips:
Use pop-up banners to announce your offer
Include the information on the checkout page
Set a minimum purchase amount for the discount
Here's the great promo code from Hasbro offering free shipping and a percentage discount: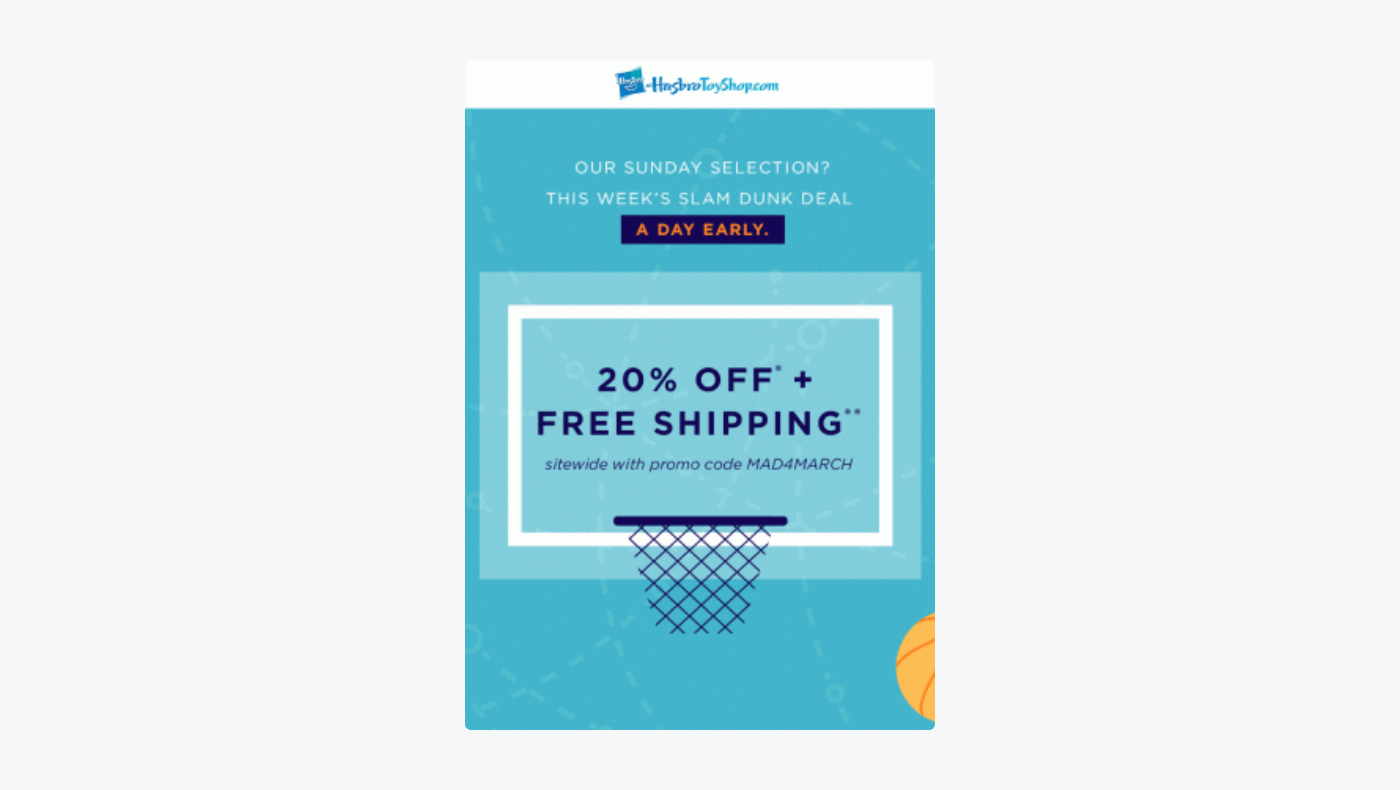 It's time to put these ideas to practice. So, here are some tips on how to get the most out of the promo codes and coupons that your business offers.
Discount code ideas: best practices
Whether in-store or online, people love to feel like they're saving money. When you offer coupons and sales promotions, you can make sure the buyers are getting a great deal while you're increasing your revenue. So, here are some of the best practices for providing unique codes offering discounts on your products, services, and even gift cards.
Create an email list for promotions
Building an email list for promotions is a powerful marketing strategy that can significantly boost your business. So, gather contact information from your website visitors using newsletter signup forms, chatbots, and pop-up ads. Then, segment your audience and create engaging email content for each group.
Incorporate chatbots
AI chatbots can help you automate the distribution of your discount codes and match them to the person. They can give out various promo codes for different visitors, for example, one for new visitors, another one for saving carts, and a different code for loyal clients. This can decrease the workload of your team and improve shoppers' satisfaction.
Here's how to use Tidio for distributing coupon codes: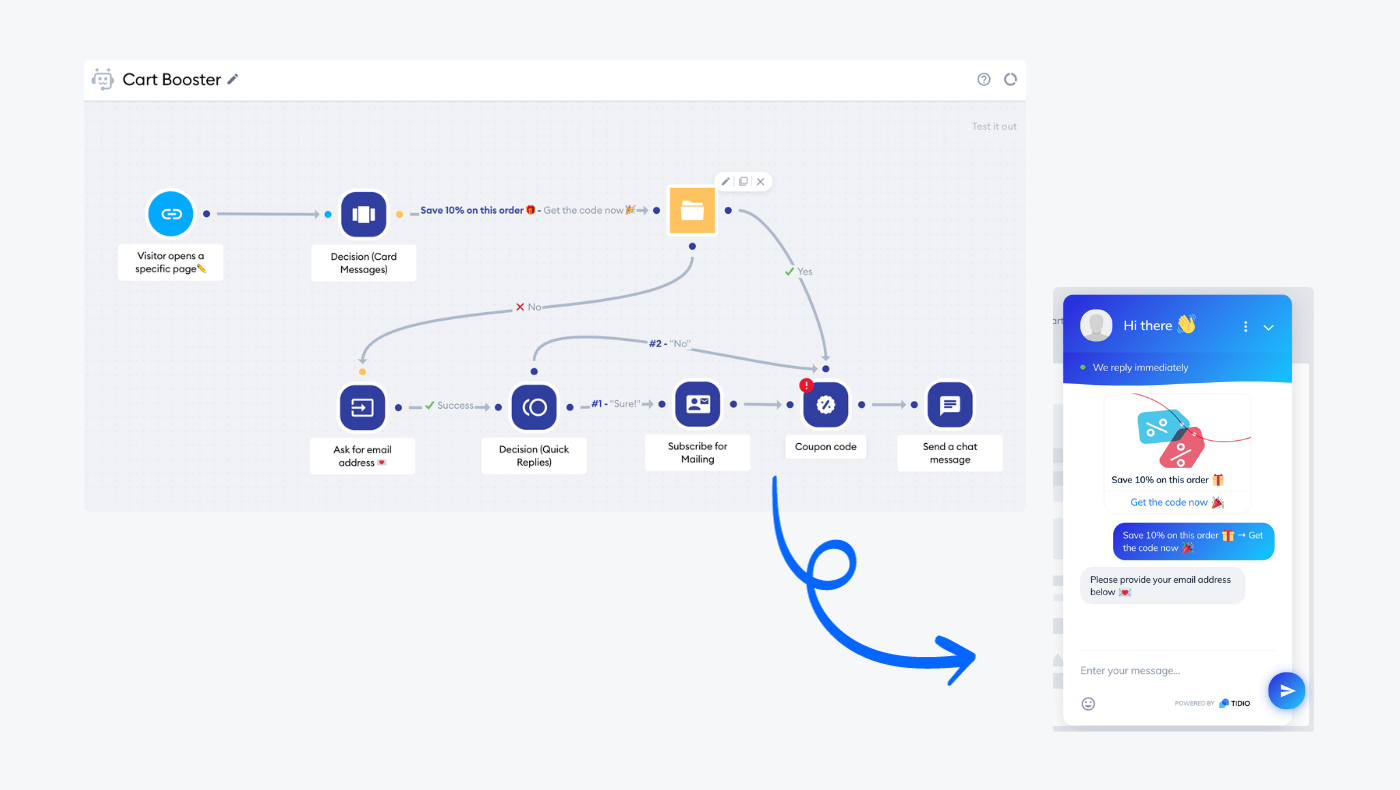 Read more: Learn how Tidio's support team used Lyro, conversational AI, to automate the customer service processes. Also, discover how to enable Lyro on your website.
Upsell and cross-sell products
You can use discount codes to upsell and cross-sell your products or services. Try doing a Buy One Get One method, providing promo codes for bundles, or using these discounts only on orders over a specific value. This will help you increase sales and keep your customers happy as they're getting a great deal.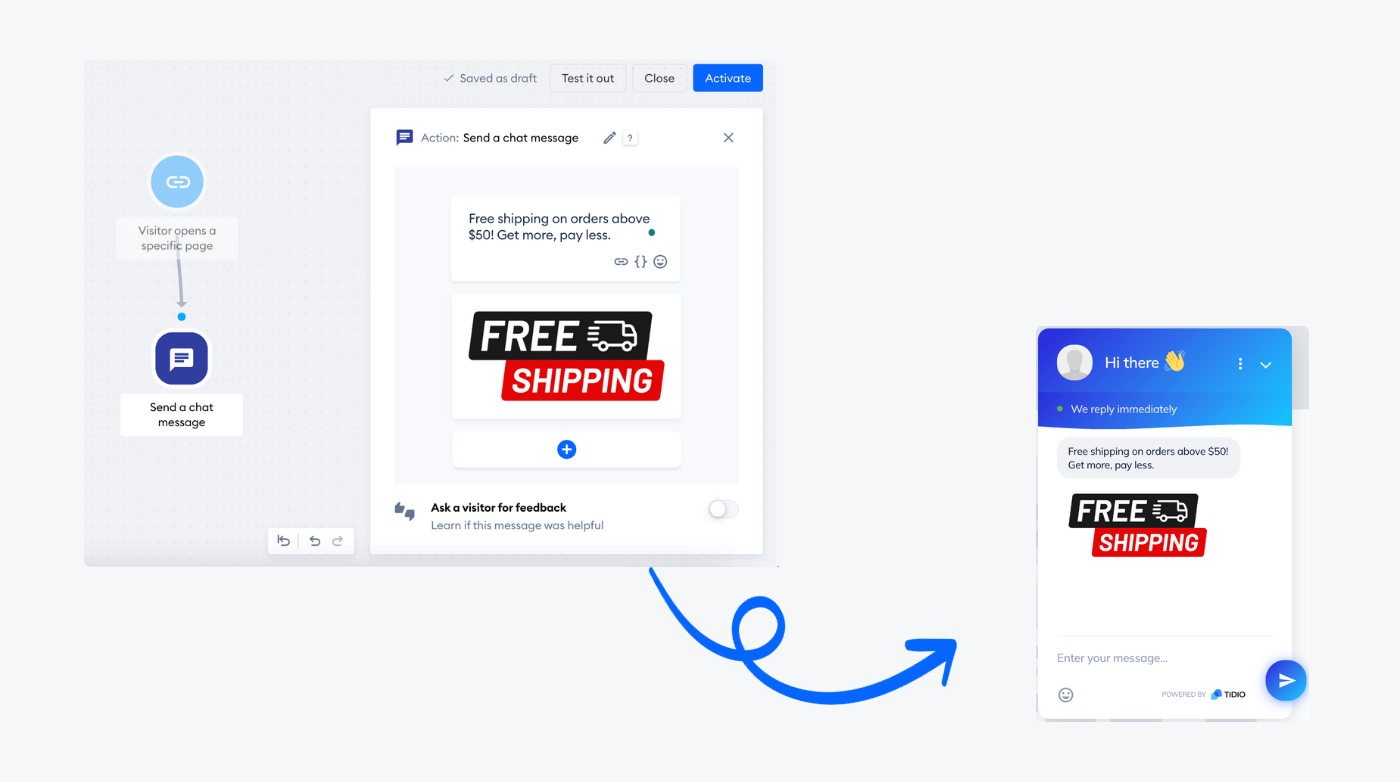 Target specific customer segments
By analyzing customer data, businesses can identify groups of customers who are more likely to respond to discounts, such as first-time visitors or customers who haven't made a purchase in a while. Offering them personalized discounts can be an effective way to re-engage these customers and turn them into loyal ones.
Here's how you can filter contacts and find the right customers to send your promo codes to: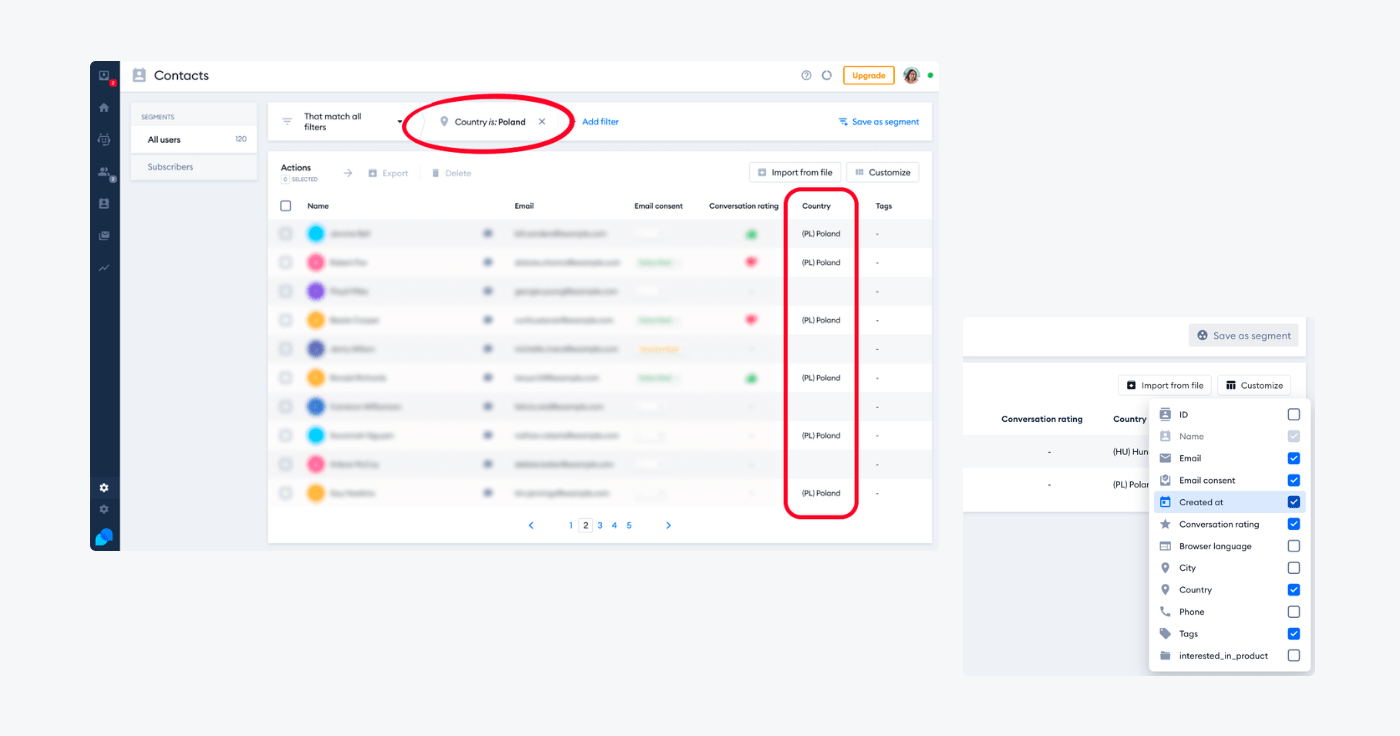 Create a sense of urgency and exclusivity
Limited-time offers and flash sales can create a sense of urgency among customers, encouraging them to make a purchase before the discount expires. Additionally, offering exclusive discount codes to loyal customers or email subscribers can make them feel valued and increase their loyalty to the brand.
Discount code ideas: key takeaway
A promo code is a series of numbers and letters that customers can enter during their checkout to obtain a discount on their purchase. These codes can help you increase sales, attract new customers, and boost your lead generation.
Some of the best coupon codes to try include:
Launch coupon codes
Discount codes for online shopping
Referral codes
Holiday-specific codes
Abandoned cart coupon codes
Bundle discounts
First purchase discount
Loyalty program deals
Minimum purchase discount code
Exclusive social offers
Influencer discounts
Newsletter signup offer
Offers for purchasing online
Flash sale discount codes
Free shipping code
Remember to use chatbots, create segmented email lists for your promos, and use the sense of urgency or exclusivity. These will help you get the most out of your simple coupon codes and promotions.