No matter if you want to turn a visitor into a newsletter subscriber or have them sign up for a trial, you need to optimize your website for conversions first.
This is something you can do by using good old pop-up advertising.
Now—
To make this tactic work, you should ensure that your pop-ups deliver relevant value and enhance the user experience of your visitors.
But how do you do all that?
Stay tuned as we explore the best pop-up ad strategies you can use to boost your conversion rate and generate revenue.
In this article:
Interested in other strategies that can help you boost conversions and drive sales? Check out these articles:
Before we jump into the specifics, let's first clarify—
What is a pop-up ad?
In a nutshell, pop-up ads are windows that show up on a website screen. The main goal of these elements is to get your visitors to convert. A well-designed pop-up with a compelling offer can help push users to subscribe to a newsletter, apply to a webinar, and buy a product or service.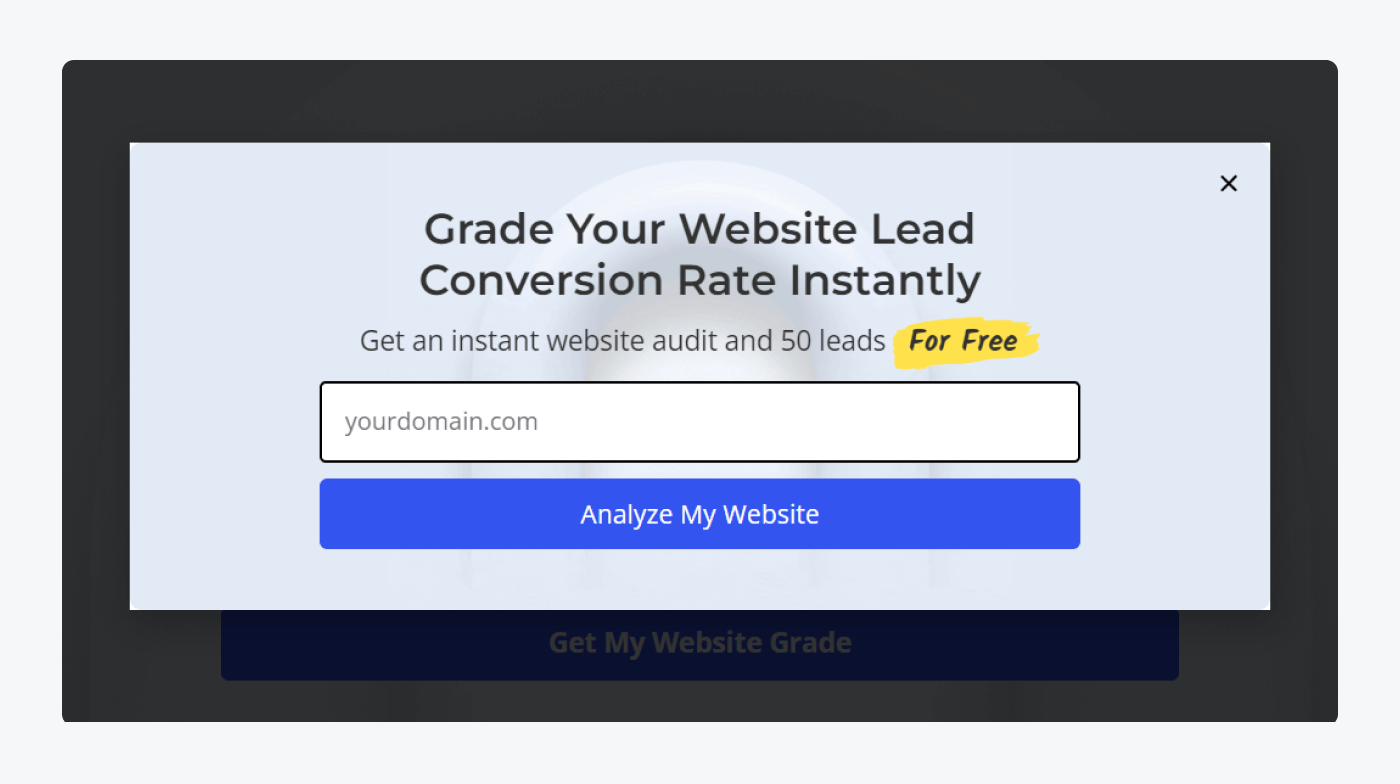 Pop-ups are usually triggered by different user behavior and context. They can show up once a visitor first enters a web page or just before they leave to recapture their interest. You can also make them appear on the screen right after a user performs a more specific action, like scrolling down the page or hovering over a menu item.
For example, if you want an online visitor to subscribe to your newsletter, you can get a dedicated pop-up window to appear right after they finish reading one of your blog posts.
In general, there are four types of pop-up ads:
Exit-intent pop-ups that show up when someone tries to leave your website
Time-based pop-ups that get triggered after a certain amount of time
Click-triggered pop-ups appear when someone clicks on a specific link, button, or page
Scroll-triggered pop-ups that activate when a user scrolls to a particular part of a page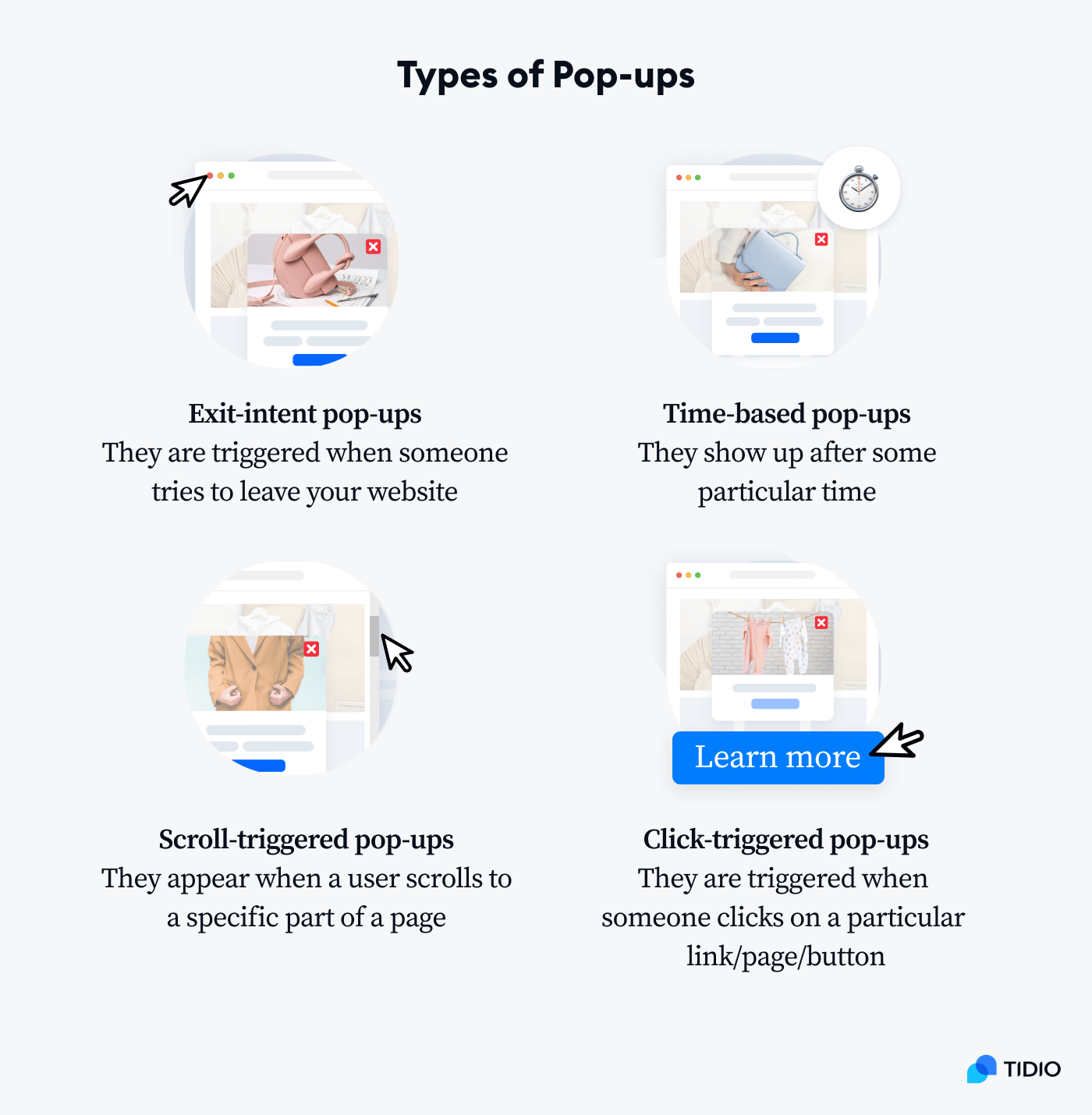 With that out of the way, let's address the pressing question—
Are pop-up ads really effective?
Reasons to use pop-up ads
When done well, pop-up advertising can only help you boost conversion rate and increase sales. According to research done by Sumo, the average conversion rate for all pop-ups stands at over 3%, with high-performing ones having a rate of over 9%.
To put things in perspective, say that you have 100,000 site visitors a month. An average 3% conversion rate would mean having over 3,000 monthly conversions.
That's not a bad number at all.
So, it's safe to say that pop-up ads are among the most effective conversion tools you can use on your website, right next to live chat and chatbots—with increased conversion rates by 4% and 10% respectively.
Read more: Explore all live chat trends and chatbot statistics.
Now, let's dive even further and explain why using pop-up advertising on your site can be quite valuable for your marketing efforts.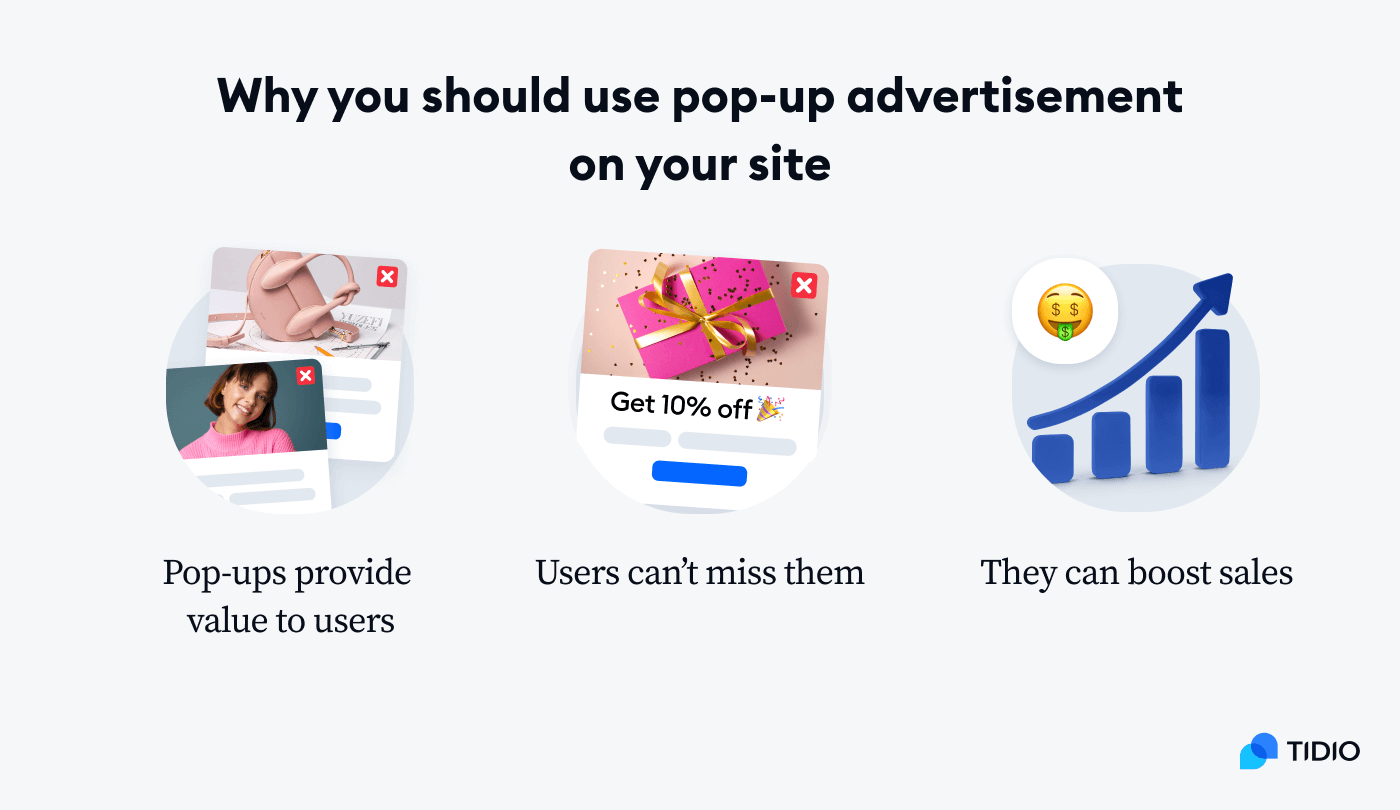 Pop-ups provide value to users
While your main goal of using them is to get users to convert, pop-up ads actually benefit the visitors themselves. That's because they usually include a unique value proposition, which often drives people to convert in the first place. This can be an invitation to get exclusive content, try a discount, sign up for a free demo, and so on.
Pop-up ads can't be missed
Their name says it all—pop-ups display where users can't help but see them. And while they can ignore them by dismissing the browser window using a close button, they would at least get their message.
According to Optinmonk, their top 10% of highest-performing pop-ups had an average conversion rate of over 42%. That means almost half the users who saw these pop-ups converted, which is solid proof of their impact.
They appear when visitors are engaged the most
Well-timed pop-ups show up exactly when visitors are most likely to take a desired action. Take, for example, an ad with a discount on a similar product. If it appears right after a user adds an item to the cart, there's a high chance they will proceed to click on it. So, pop-ups have the potential to boost customer engagement and increase sales in the process.
Read more: Check out actionable tips that will help you create a flawless chatbot design in no time.
Okay—
Now you know what pop-ups are and the reason why you should consider adding them to your site.
Let's see what are some of the best ways to use them in the first place.
6 effective pop-up ad strategies
So, it's safe to conclude that a good pop-up ad is well-timed, appears in the context of users' behavior, and offers a great value proposition.
But how do you create a pop-up advertising plan that actually works?
Here are the best strategies you can implement to create engagement and get visitors to convert. You will also find practical and effective examples of pop-up ads on websites for inspiration.
1. Introduce exit-intent pop-ups
Exit-intent pop-ups get triggered just before a user leaves your website. This usually occurs once visitors move their cursor from your page or try to switch to another tab. Due to their well-timed appearance, exit-intent pop-ups are great for boosting conversions and recovering abandoned carts.
You can use them to introduce a "last chance" offer or a discount, to get a person to sign up for a newsletter, etc.
A good example of a smartly placed exit-intent pop-up can be found on Zendesk's website: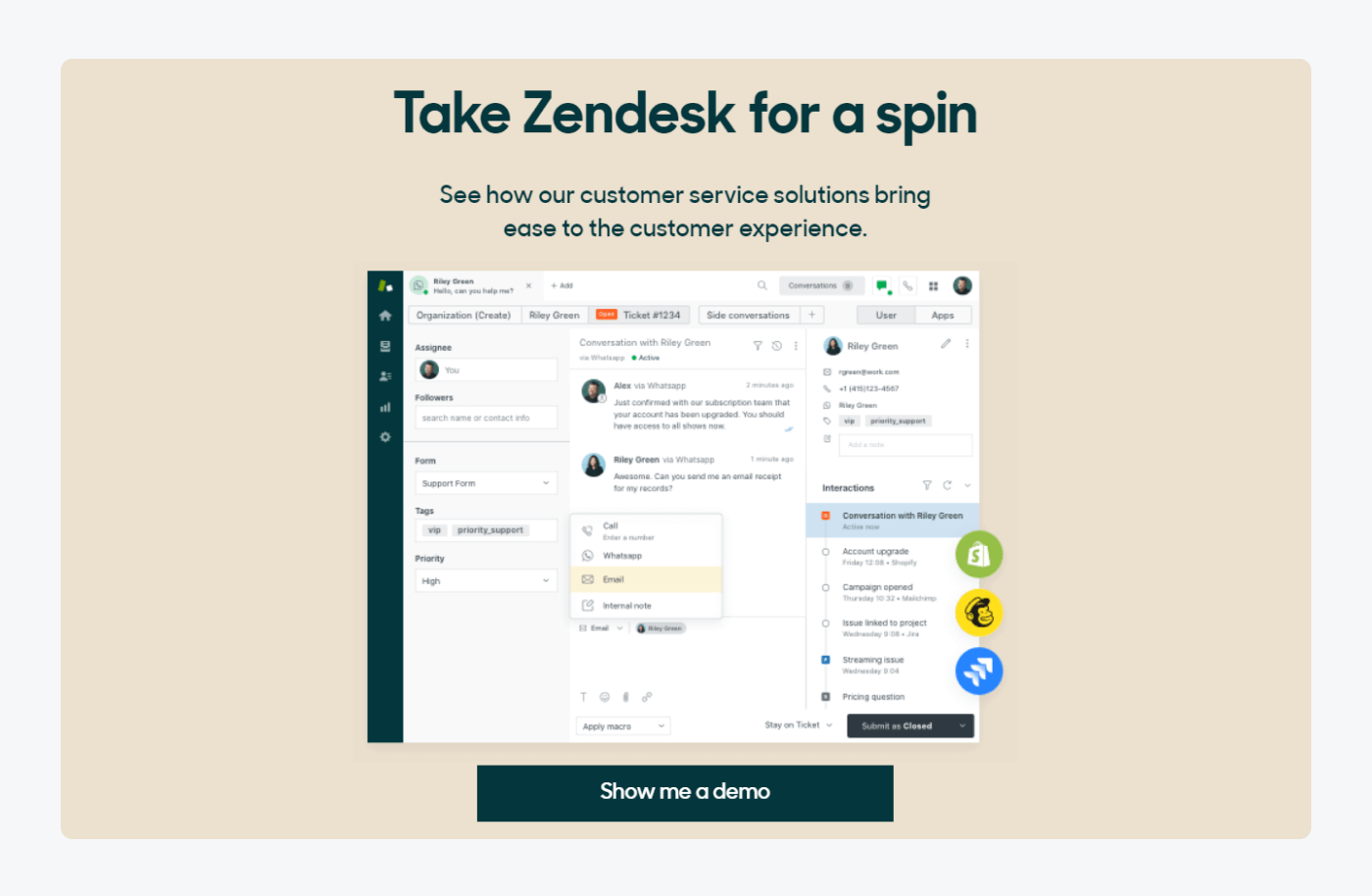 After a user checks out their pricing page, a new window with a pop-up appears, preventing them from abandoning a page and urging them to try out a free product demo instead. There's also a solid value proposition in their copy.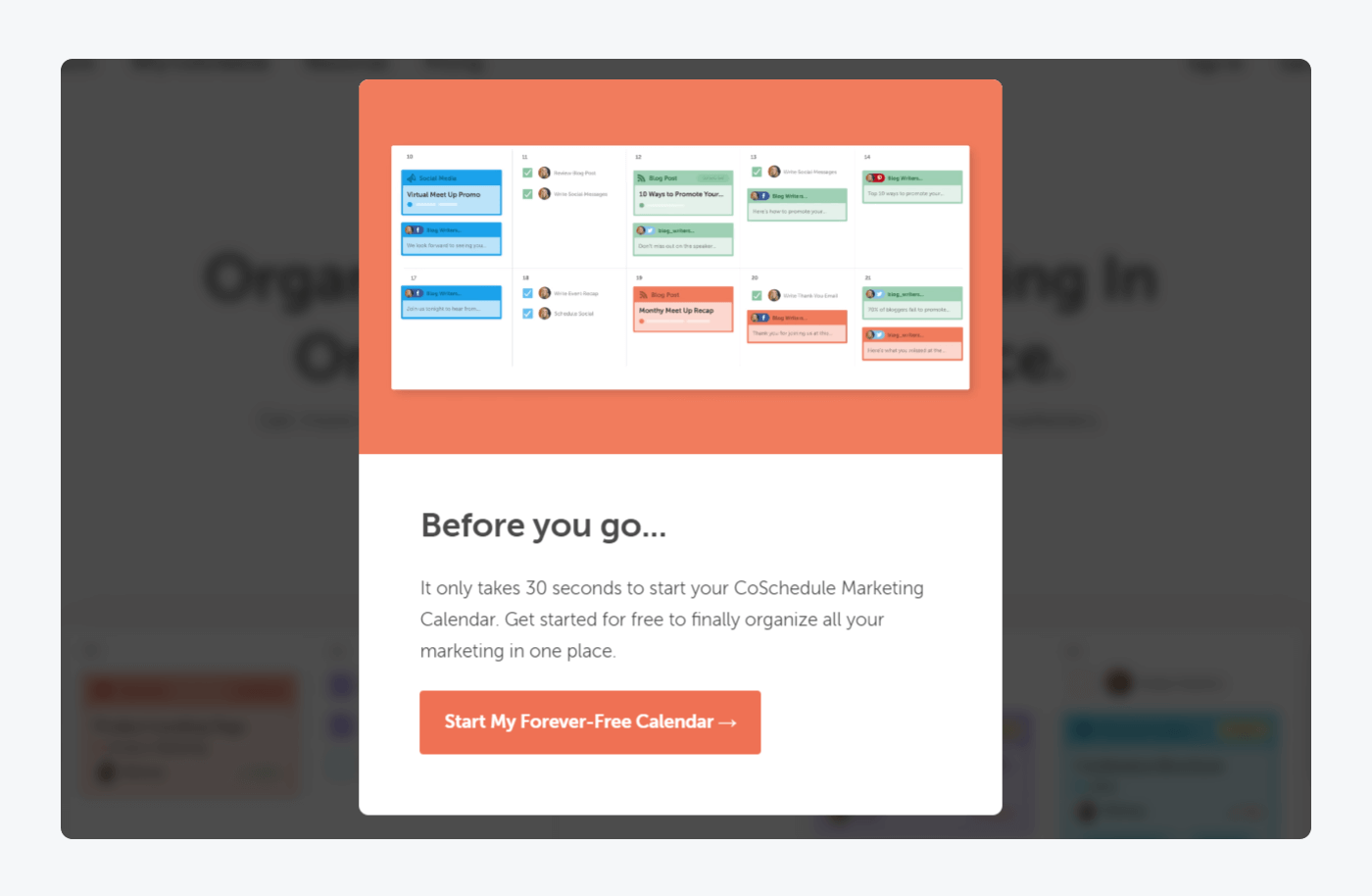 Similarly, once a visitor plans to abandon the CoSchedule's page, a website pop-up urges them to try out their free plan before they go. They play on the fact that their calendar can be used entirely for free in their copy.
Read more: Check out the best tactics you can use to build a solid inbound marketing strategy.
2. Add limited-time offers
You've probably heard of the infamous FOMO effect. This abbreviation stands for the fear of missing out and, according to statistics, it's more than real. In fact, nearly 69% of millennials experience FOMO at one point or another.
Pop-ups with limited-time offers can only intensify the fear of missing out as they have the potential to create a sense of urgency in users. So, their huge potential to increase sales and conversions shouldn't be overlooked.
If you own an ecommerce website or sell any kind of product or service online, you should try including phrases like "only X items left" or "limited-time deal" in your pop-up offer. Moreover, you can even add a countdown clock that displays the number of days, hours, or minutes left until the offer expires, for that extra sense of urgency.
This is how Wisepops did it: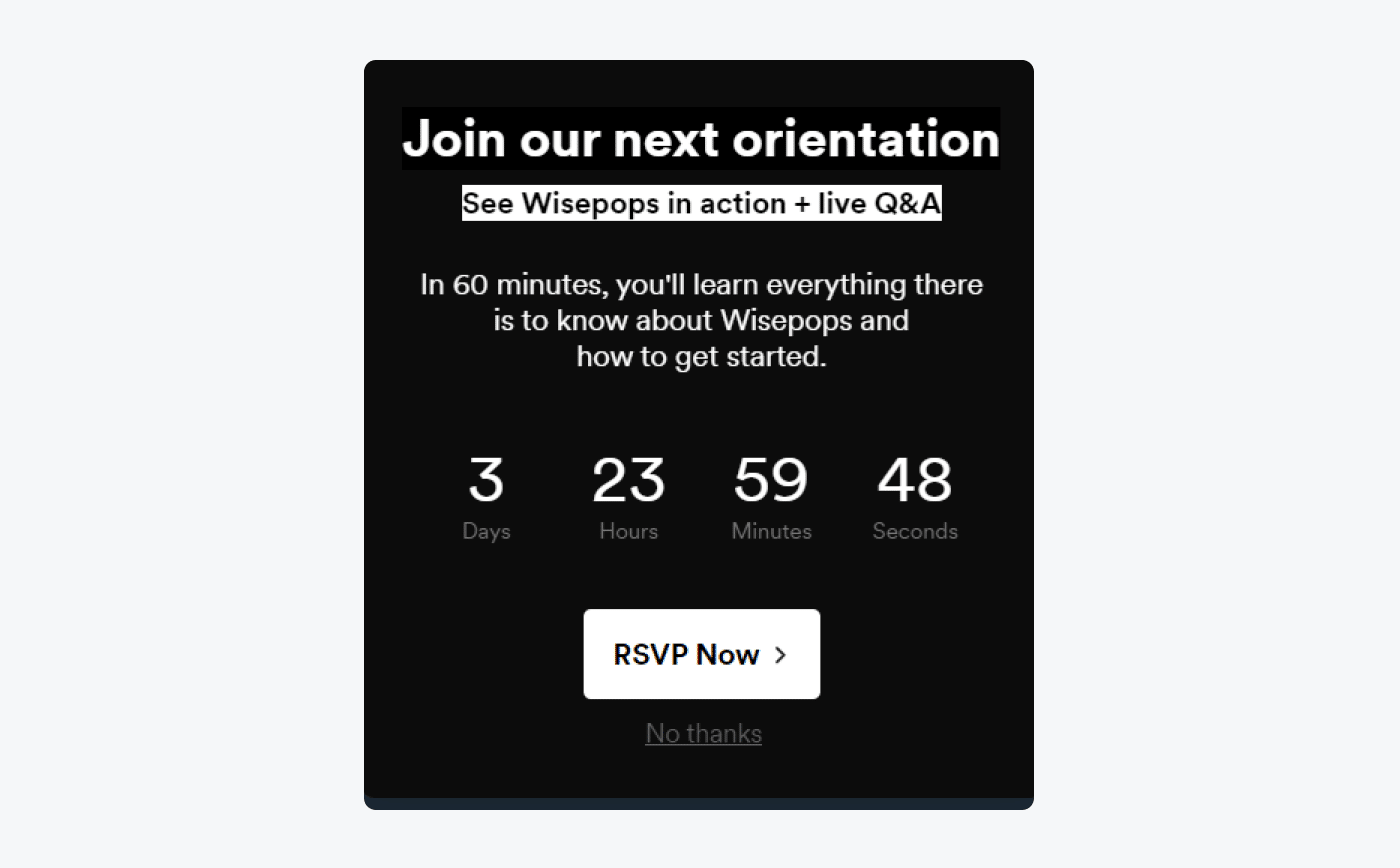 They used a prominent black-and-white pop-up window with a countdown timer, urging users to waste no time applying to their live orientation event.
Of course, you should go with the design that best corresponds with your brand or that fits the occasion, which is what OptinMonster did with their spring sale pop-up: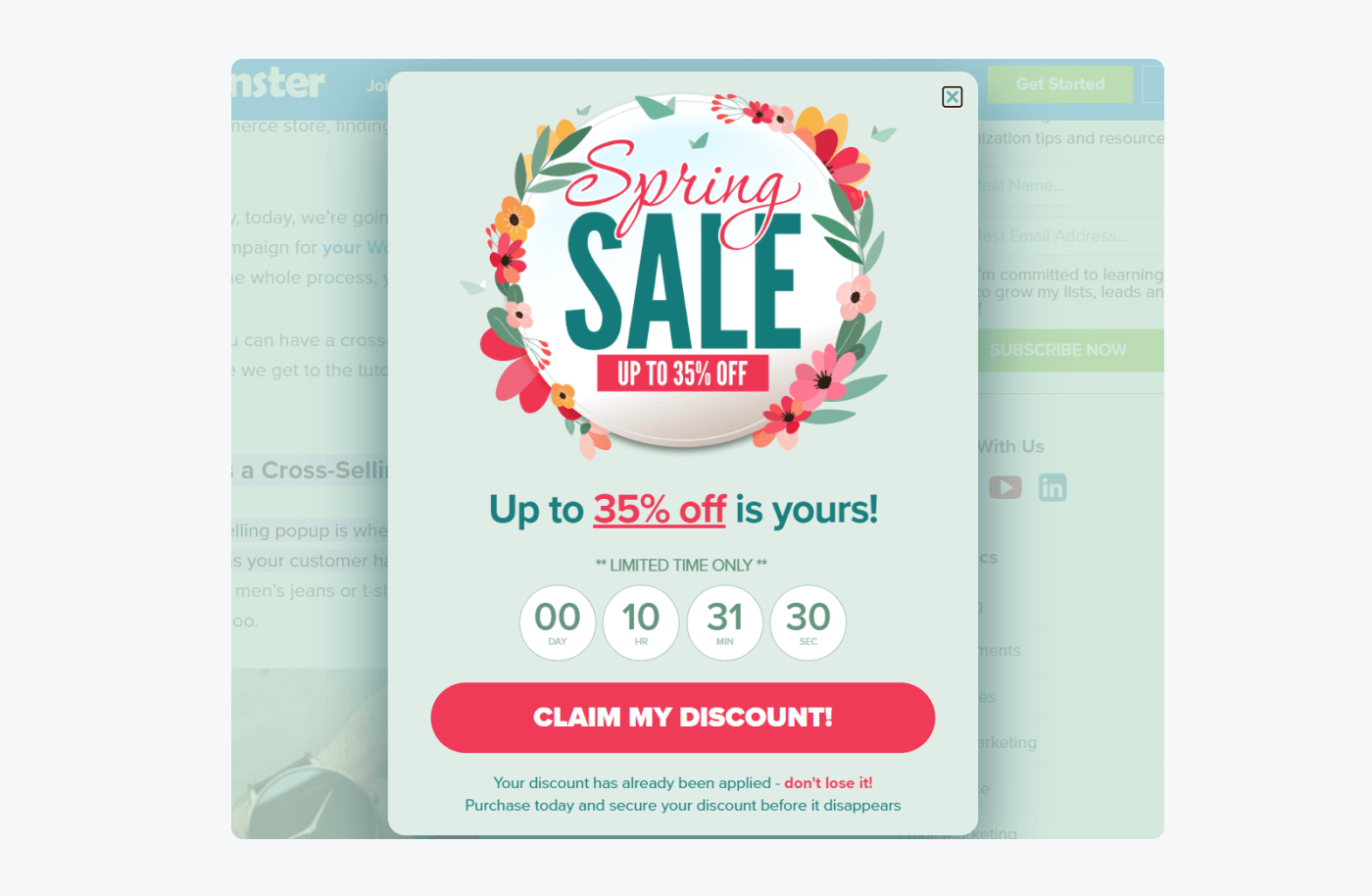 Their ad window is decorated with lively, spring-like colors. There are multiple areas in their offer that create a sense of urgency, like a countdown clock, a "limited-time only" phrase, and the message not to lose a discount that has already been applied.
Plus, it's a 35% off discount, which is quite a bargain on its own.
And speaking of deals—
3. Give a discount to first-time visitors
Research by Hawk Incentives indicates that a whopping 92% of shoppers look for a deal before buying products online. This is quite a big number and a nice selling opportunity that you shouldn't miss.
So, you can try using a discount pop-up that will display once a user first visits your website. Just make sure to give them a strong incentive that will get them to make a purchase.
For example, a weak offer like a 5% discount simply isn't good enough. Instead, aim for a discount that gets them to save at least 15% off their purchase.
Also, be sure to get the timing right. Annoying your visitors with a pop-up that appears the moment they enter the page won't cut it. Instead, give them at least 10 to 15 seconds to explore your site before making your offer appear.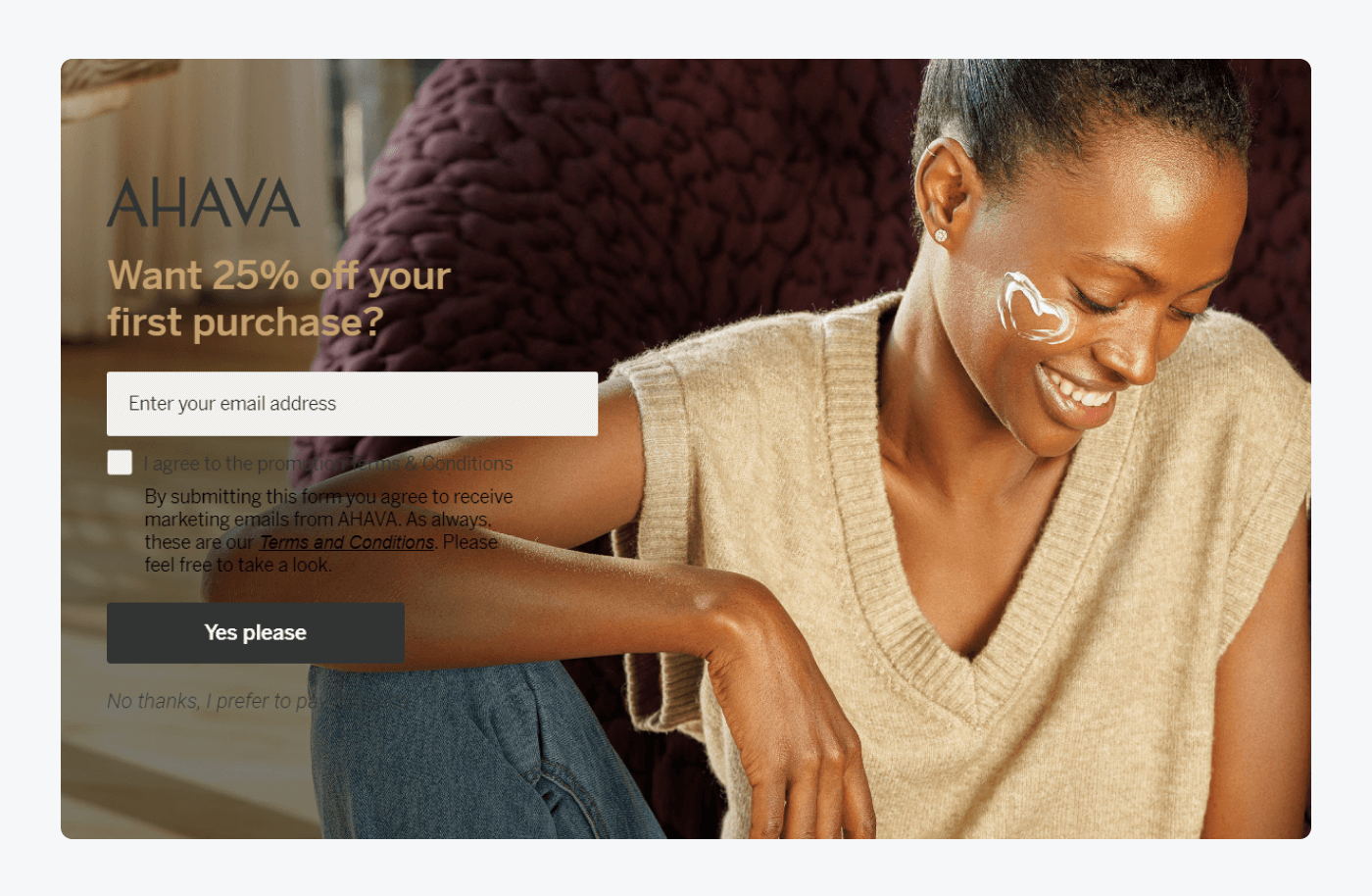 Ahava offers a 25% off discount to first-time shoppers in exchange for their email addresses. The pop-up advertising banner that shows up looks beautiful and corresponds to the brand's elegant style.
Read more: Learn how to easily add coupon codes using Tidio.
4. Give a surprise gift to subscribers
Everyone loves surprises, and people who shop online are no exception. In fact, a study shows that 94% of customers who got a surprise gift felt more positive about the company.
Therefore, adding the element of mystery to your pop-up ads can be the determining factor that drives a conversion.
Try adding phrases like "mystery discount" or "win a surprise gift" in your ad copy to motivate a visitor to take action.
This is exactly what The US supplement brand 1 Body did in a pop-up that appears on their homepage: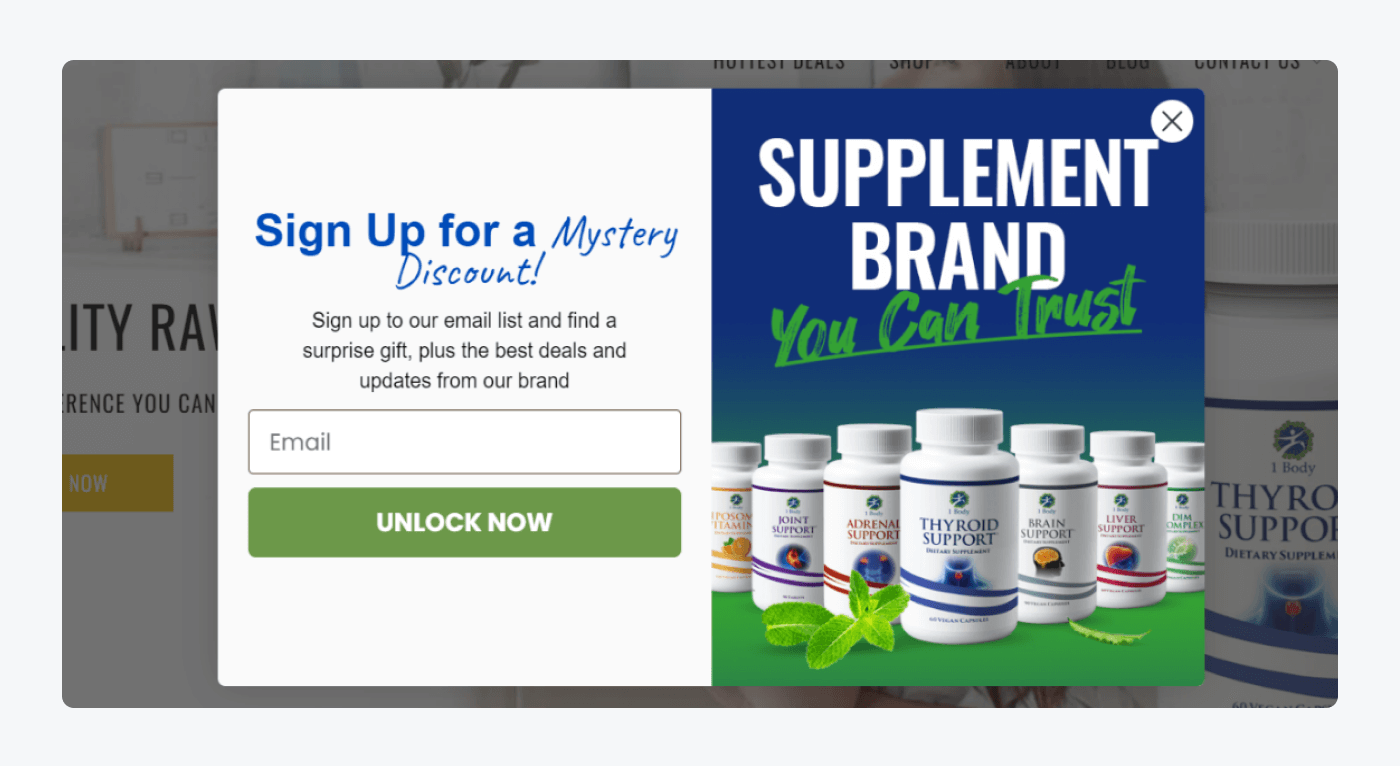 By signing up for their mailing list, you get the best deals and brand updates, as well as a mystery gift. Talk about getting two birds with one stone!
Read more: Check out the top email design practices and templates that will help you boost your click-through rates.
5. Offer exclusive content
Sometimes, a well-timed, relevant offer is all it takes to get a visitor to convert.
Say that a user is in the middle of reading a blog post on your site. Having a pop-up that urges them to buy your product or service at a time like this will annoy them more than anything.
However, if you choose this moment to display an ad that invites them to subscribe to read exclusive but related content, chances are you'll get new subscriptions.
Here's one of the more straightforward website pop-up examples used by ConvertFlow: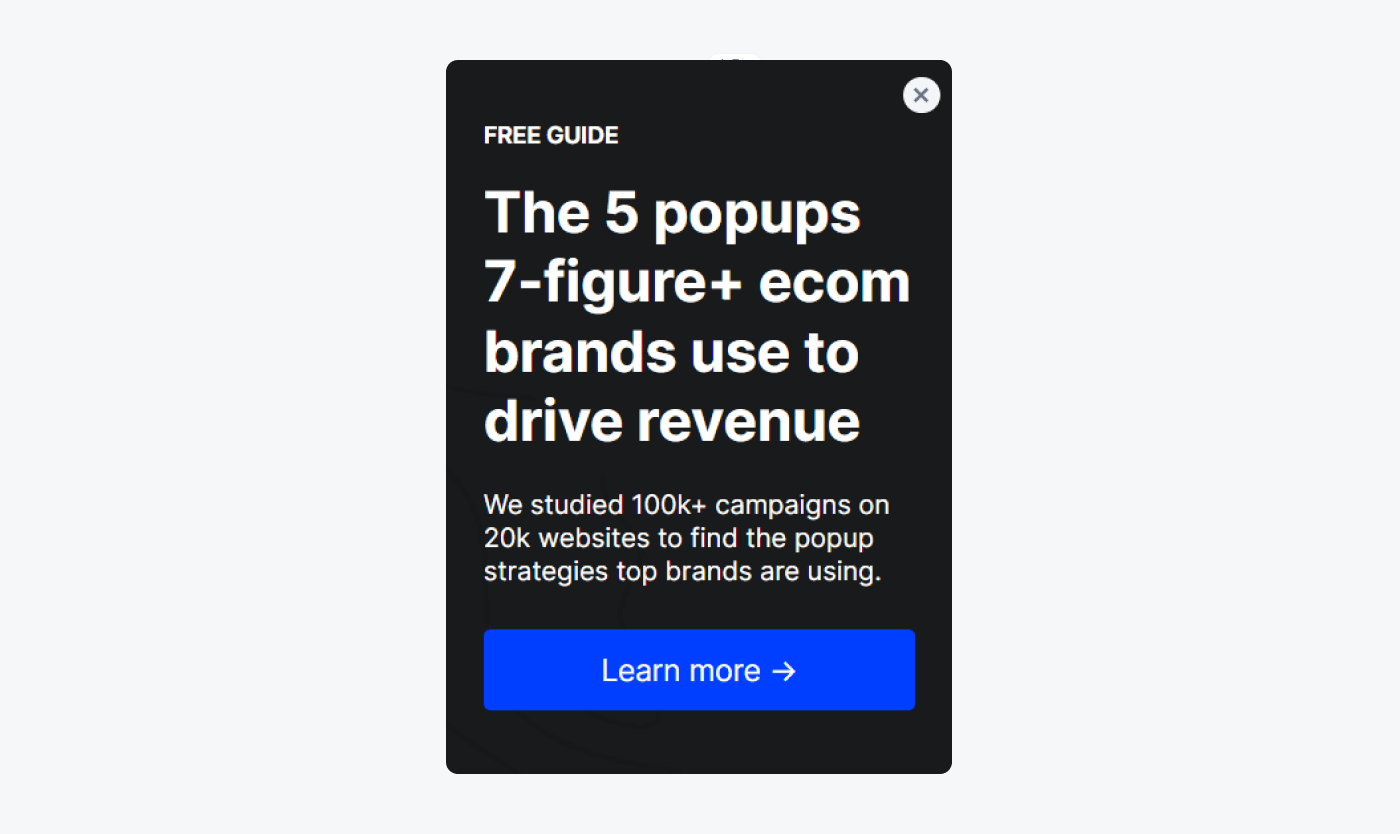 It's a simple pop-up window that activates once someone views their content. They included an actionable CTA button that leads to their free guide's landing page. In addition, they used the power of numbers to make their ad more enticing.
Read more: Check out a case study to find out how this Italian fashion atelier boosted conversions using Tidio live chat.
6. Offer related products or services using cross-selling pop-ups
One of the best ways to push users down the sales funnel is to introduce them to a cross-selling opportunity. So, you can create an ad with a product recommendation that will complement the item your visitor is already interested in buying.
For example, if a customer added a necklace to their cart, it would make sense to display a pop-up with matching earrings as well.
The key here is to add well-timed pop-up ads. In other words, they should appear once a user is already halfway through making their purchase. That way, you reduce the risk of shopping cart abandonment while boosting the chance of conversion and increasing profit all at once.
Nectar Sleep's cross-selling pop-up is a good example of this online advertising strategy: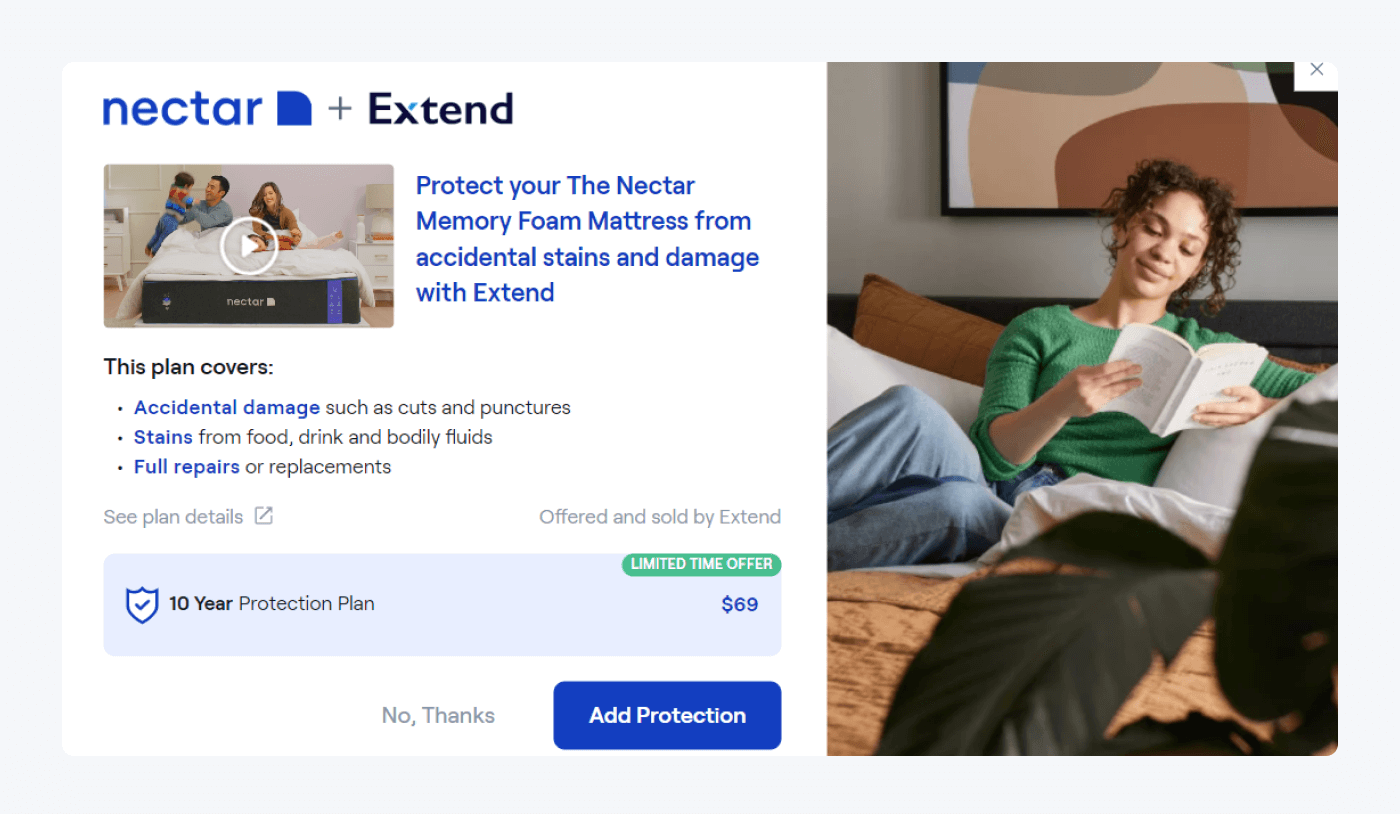 Their pop-up appears once you add the product to the cart, offering an item that goes well with the one that's already selected. There is also a detailed value proposition along with a "Limited time offer" sign for that extra FOMO effect.
Read more: Explore essential shopping cart abandonment statistics and figure out how to increase conversions.
Pop-up advertising: key takeaway
And there you have it—six effective ways to use pop-ups, with practical examples from other websites.
The types of pop-up strategies you should use include:
Incorporating exit-intent pop-ups
Introducing limited-time offers
Offering discount ads for first-time visitors
Giving a surprise gift to subscribers
Providing exclusive content
Using cross-selling pop-up ads
And remember—when planning to make the most out of this marketing strategy, you should:
Customize the pop-up design to fit your brand's style
Offer a clear and actionable value proposition
Get your timing right
If you follow these rules, you'll be able to create high-converting pop-up ads that will skyrocket your sales.
And one final tip before you go—
If you are afraid that pop-ups may be too intrusive, you can always try using chatbots instead. A chatbot is just like a little pop-up ad in the sense that it can send custom messages to your website visitors and display relevant visuals. It usually appears in the bottom right or left corner of your website. This is an elegant and user-friendly way to drive the attention of potential customers, so consider giving it a try.