So you have traffic on your site, but you don't have conversions?
Whether we're talking about the visitor turning into a newsletter subscriber signing up for a trial, optimizing your website for conversions is a must if you want to get your business off the ground and start generating revenue.
Truth is, there are countless CRO techniques you can use to improve your overall conversion rate – but one of the best-performing methods is using pop-up advertising.
In this article, we're going to cover different aspects and best practices of installing pop-ups on your website to drive better conversion rates.
As the end result, after reading this article, you will be able to use our actionable tips straight away and watch your numbers grow.
Let's get started.
Table of Contents
What Is a Pop-up Ad
In a nutshell, pop-ups are large modals or windows that are covering the entire screen (in most cases) of your website Pop-ups are pretty aggressive website elements that have a goal to convert your website visitors into subscribers, users, webinar attendees, and so on.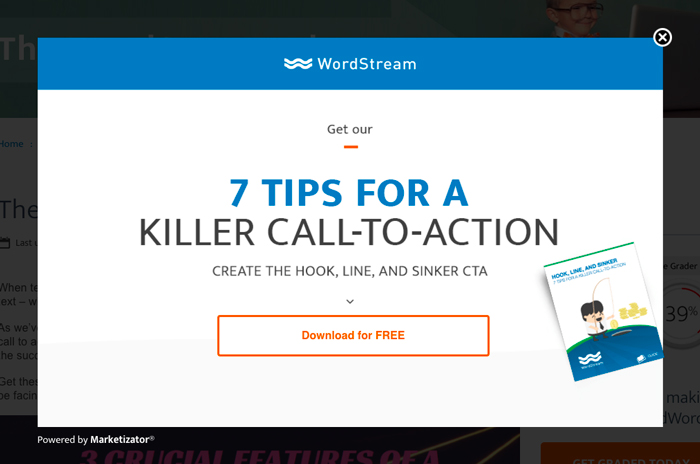 But, what's so special about pop-ups? Why are they effective?
If implemented correctly (and we will see how to implement it in the right way further in the article), pop-ups are actually triggered by different users' behaviors and context.
So for example – if you want someone to subscribe to your newsletter – it doesn't make sense to show "Join our newsletter" pop-up if someone is reading your landing page. Right?
In this case – it would be smart to show your newsletter pop-up ad when someone finishes reading one of your blog posts.
If you are afraid that pop-ups may be too intrusive, try chatbots. A chatbot is just like a little pop-up ad. It can send custom messages to your website visitors or display small visuals 👇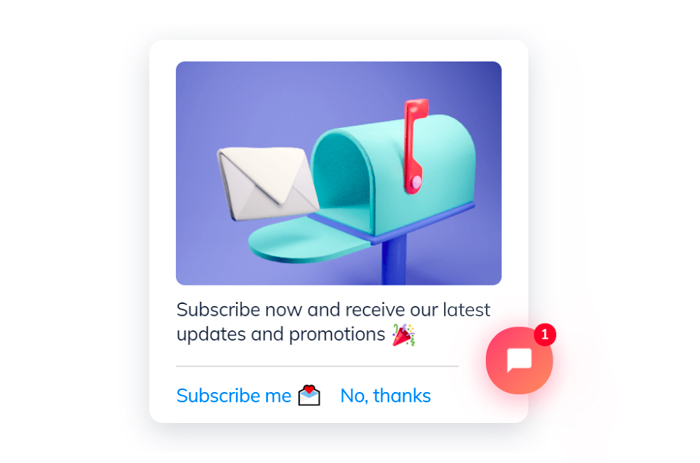 A chatbot message that pops up in the bottom right (or left) corner of your website is elegant and user-friendly. It can be an interesting alternative to traditional pop-up ads and it is easier to set up.
Why Is Pop-up Advertising Great for Online Marketing?
Like already mentioned – there are various ways of improving your conversion rate – such as making strong and eye-catching CTAs or using a human element such as human faces) on your website.
So why are pop-up ads such a powerful tool for sparking a desire to take action among your website's visitors?
What is pop-up advertisement in online marketing?
It is the ability to use your pop-ups to generate leads and increase sales. Pop-up ads are among the most effective tools you can use on your website, right next to live chat and chatbots.
The reason for it lies in only one word: Context.
Unlike any other strategy, pop-ups are context-driven. This means that they're triggered by various user behaviors.
In other words, pop-up ads provide you with an opportunity to make personalized offers in a chosen moment during your customers' journey through your website.
Let me show you what I mean. Let's say that you're the owner of one shoe brand.
Now, do you think it would be better to advertise to someone who has brand new shoes, or to someone who's wearing old and dirty ones?
I think that the right answer to this question is pretty logical.
The same rule applies to as well. Your website will be visited by various types of people. Some of them will be ready to buy immediately, some of them will need a little bit of nurturing, while others will probably never buy your product or subscribe to your service.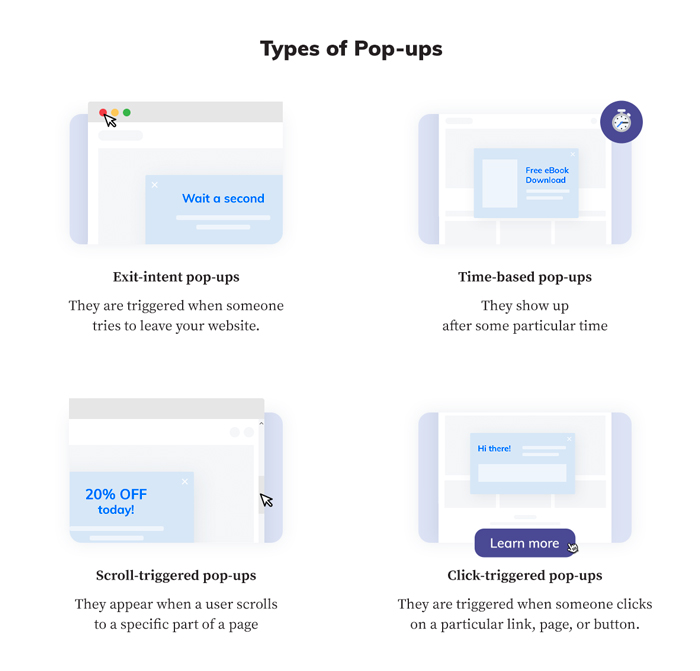 That's the reason why context matters so much when it comes to the CRO.
Now when we understand why pop-up ads have such a potential to increase your CRO and why they are delivering amazing results, let's see some of the best practices on how to use them in practice.
How to Create Pop-up Ads?
Now when we've covered the best practices of creating great chatbots, let's see how we can create converting and engaging pop-ups that can improve your conversion rate by 5 – 15% on average.
But first – let's check out the different types of pop-ups you can use and their purpose.
Different Types of Pop-up Ads You Can Use
Based on users' intent and behavior, there are different types of pop-ups you can use.
Among many, here are the most popular ones:
Exit-intent pop-up – an exit-intent pop-up is triggered when someone tries to leave your website – great for showcasing different offers or converting people who are ready to leave your website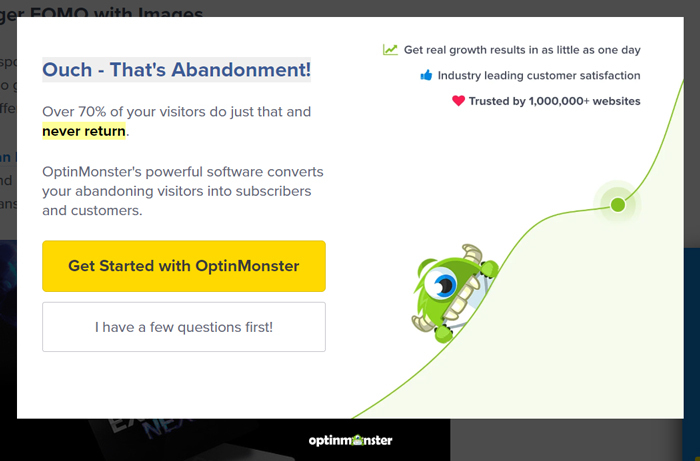 Time-based pop-up – a pop-up that's triggered after some particular time – if someone's stay on your website for more than 2 – 3 minutes, it usually means that they're "into" your product, offer or an article. It's a perfect opportunity to subscribe to your newsletter or sell something.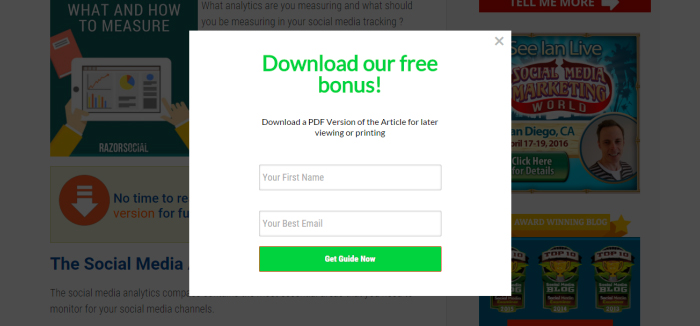 Scroll-triggered pop-ups – Pop-ups that are triggered when someone scrolls some particular percentage of your page – such as 80% for example. The use case is pretty much similar to time-based pop-ups.
Click-triggered pop-ups – Pop-ups that are triggered whenever someone clicks on some particular link, page, or button. They're less disruptive and frictionless. Perfect for showcasing some offer to someone who's already interested in it.
Different pop-up types have different purposes. Hence – choosing the right type of pop-up for the right offer/context is essential for its success.
Now let's see the key elements of successful pop-ups.
4 Key Elements of Successful Pop-up Advertising
As we already saw – pop-ups can be pretty effective.
But if not implemented right, they will be useless.
So, here're the 4 things you need to pay attention to when creating pop-ups:
Design – design is of crucial importance. No one likes bad looking pop-ups – right? Hence, the best performing pop-ups usually have an eye-catching design.
Context – When creating pop-ups – it's important to keep in mind users' context. Does it have an effect to show "newsletter" pop-up to someone who visited your website for the first time? Of course not!
Offer – is your offer compelling enough? Will it prompt someone to subscribe to your newsletter or buy from you?
Copywriting – How well do you communicate your offer to your potential customer? Is it understanding? Does he see the benefits of it?
All of these 4 key elements are crucial for the pop-ups' success.
You can use various Sumo alternatives to create your pop-up ads – but pay attention to these 4 key principles.
Now when we saw the crucial elements of pop-ups – let's see some great pop-up advertising examples.
Each example we mention below will be evaluated based on these 4 key elements with a rate from 1 – 5.
Example with the best score wins, ok?
Examples of Good Pop-up Ads
Here are two examples of awesome pop-up advertising.
Userpilot's "Hey there!" Pop-up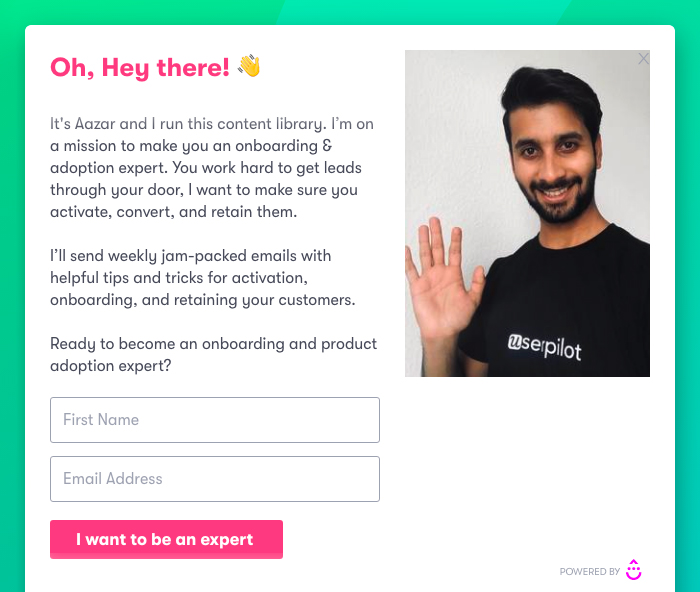 This is probably one of the best pop-ups I've ever seen. It was hosted on Userpilot's blog and in order to be triggered – you would need to read at least 80% of some blog posts.
The goal of this pop-up was to collect newsletter subscribers. According to Aazar – author of this pop-up, he had a conversion rate on average of 8 – 10% with this model. Pretty good!
Now, let's evaluate it:
Design – 5 – To be honest – design is nothing special – but what I really like here is the Aazar's smiling face waving at you. It's a great example of using human elements to communicate with your website visitors. In this era of robots and automation, we easily forget that people behind some websites are humans as well as we are. So high 5 for this one!
Context – 5 – As already mentioned, this pop-up is triggered when someone reads 80% of an article. So, as the end result, we can say that context is really great.
Offer – 5 – Aazar is promising weekly tips on improving activation rate and onboarding for SaaS businesses. Pretty helpful, right?
Copywriting – 4 – Although the communication of this pop-up with website visitors is great and it really has a great offer, the text is a little bit longer. According to my opinion – it should be shorter but it's still convertible.
Total score: 4,75/5
Neil Patel's "Oh Shit" Pop-up
A lot of people know Neil Patel – he's probably one of the best SEO gurus out there. And, you know what? His pop-ups are amazing as well.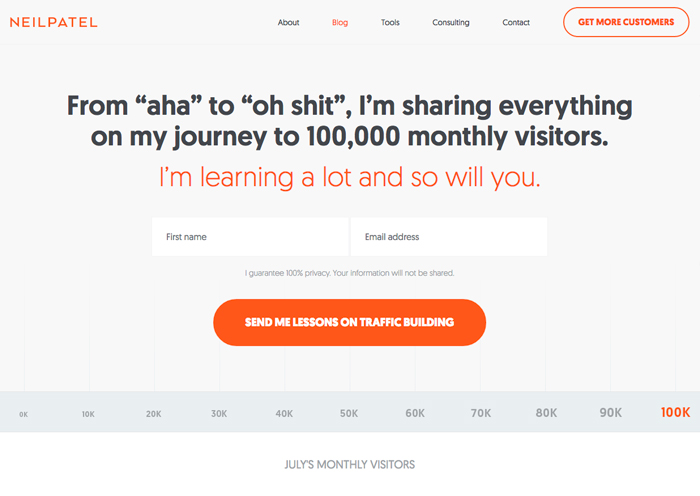 Let's evaluate it:
Design – 4 – Design is great. The text is visible and readable – but the background is almost the same as the background of the website as well. The first time I saw it, I almost missed it. I thought it's some part of the "blog post" content.
Context – 4 – This pop-up is triggered immediately when someone visits the website. Although I already knew who Neil Patel is – perhaps someone didn't – so someone who visits this website for the first time – might not believe in his words and reputation. I think that it would be better to show this pop-up after some particular time. But again – I'm assured this pop-up delivered great results – that's the reason why I gave it 4 instead of 3.
Offer – 5 – Personal experiences from one of the best SEO experts out there? Why not!
Copywriting – 5 – Text is clear, short, understandable, relevant, and readable. I especially like the "oh shit" part. At least for me, reading that word was a triggering moment when I decided to download his lead magnet. On the other hand, if someone accidentally missed it, the CTA is triggering and prompting as well.
Total score: 4,5/5
3 Most Common Pop-Up Mistakes People Make
There're a couple of mistakes I would intentionally like to point out.
The worst thing is – these mistakes are very common – and – they're killing your conversion rate.
So here's what most people will need to change when it comes to their pop-ups.
1. Bad Offer and Copywriting
What's better:
Get exclusive access to our newsletter!
Or this:
Join 10.000+ marketers and learn new marketing strategies from the best!
I think that you see the difference.
When it comes to the offer and pop-up copywriting – everything is about common sense. What are the main goals of your target audience? What would prompt them most to subscribe?
Don't get me wrong – I'm not saying that you should hire a professional copywriter to write one sentence on a pop-up ad.
Just ask yourself these questions and you will be able to improve your pop-up conversions and craft compelling sentences.
2. Bad Design
Design can't just be eye-catchy. Everyone can make an eye-catchy design your visitors just can't miss.
But design also needs to look pretty, natural, and compelling.
For example, take a look at this pop-up from Mashable: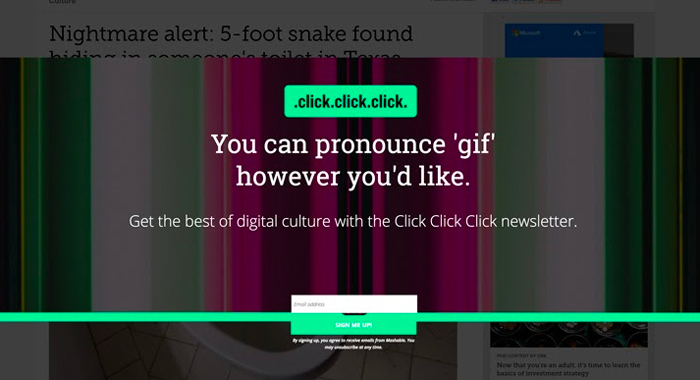 It's definitely eye-catching, but does it look attractive to you?
Definitely not.
When designing a pop-up ad – make sure that your colors are aligned, pictures are carefully chosen. Make sure that your text is big enough to be memorable, but not too big. Make sure that your CTA is clear and actionable.
3. Bad Context
As already mentioned at the beginning – context is one of the most important things when it comes to creating your pop-ups.
Once you decide the goal of your pop-up – it's time to think about the users' context.
Put yourself into their shoes. If you want them to sign-up for your product – what would be the perfect place and time to showcase your pop-up?
Is it a blog? Nope.
Is it a landing page? Probably not.
When it comes to signing up – one of the best places to showcase your pop-up is your pricing page. That's the right time to show them an offer they can't resist.
If you want to get more newsletter subscribers, should you showcase your pop-up on pricing?
Definitely not.
But where else?
In this case – your blog would be the perfect option for that. But not anytime on the blog.
If you show your pop-up immediately after someone visits your blog, they certainly won't sign-up. Especially because they still don't know if their content is valuable enough.
But if they read one of your blog posts or if they visit a couple of them – you can certainly catch their attention and convert them into newsletter subscribers.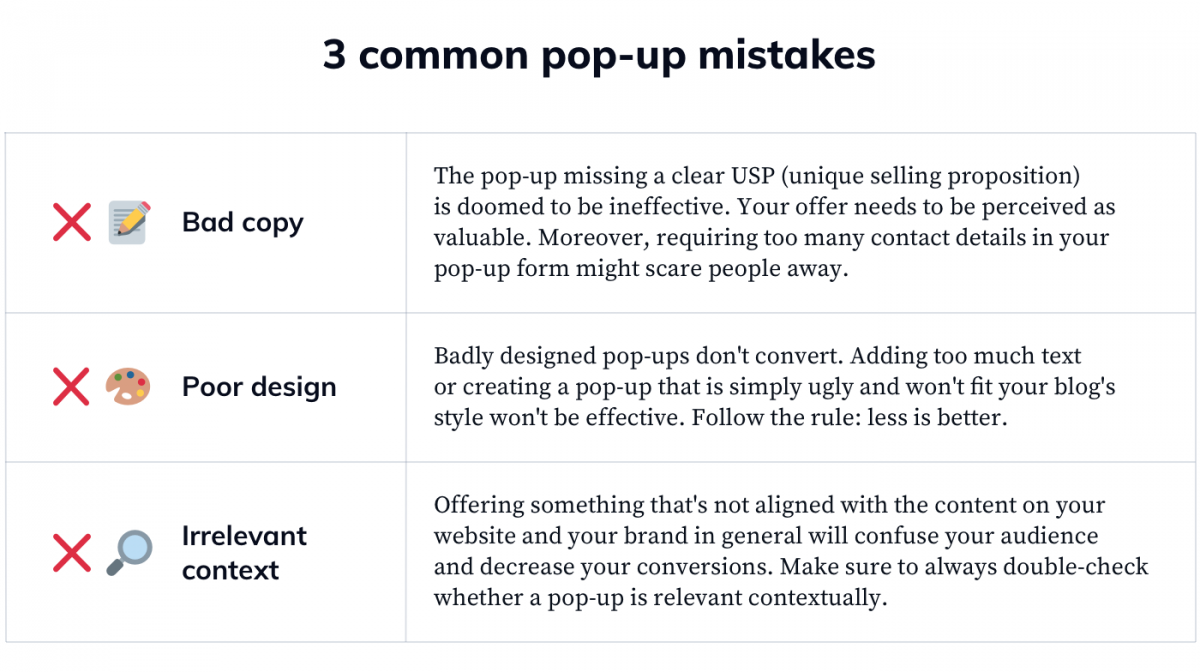 Key Takeaways
We just went through an amazing journey of different chatbots and pop-up examples. As mentioned at the beginning of the article – now you're able to create successful and high-converting chatbots and pop-ups that will skyrocket your sales and overall conversion rate.
So, for one last time, here's what you need to keep in your mind when it comes to creating engaging and converting pop-ups.
Follow the key takeaways of converting pop-ups – Design, offer, context, and copywriting are the crucial elements of every successful pop-up.
Make sure that the timing and place of your pop-up are relevant to users' context and behavior.
Heave clear, compelling, and eye-catchy design, but don't overdo it.
Your offer and copywriting are of crucial importance. Make sure that you provide your website visitors with an offer they can't resist.