The coronavirus pandemic has dramatically changed the Black Friday trends in retail by turning it into one long Cyber Monday.
Two looming questions for retailers this Black Friday are:
Will customers spend as much as usual?
Will the tried and tested sales tactics work this time around?
We decided to take a closer look at customer expectations about this hot period in the retail sector and how businesses can prepare. So, we surveyed 1,000+ US consumers to learn what they thought.
Here's what we learned and how the findings translate into actionable tips that retailers can use to win over customers this holiday season.
2021 Black Friday facts and statistics:
Retailers must intensify their efforts to build their ecommerce presence and invest in social media ads. As many as 64% of customers intend to shop online this season, and 35% of them will look for deals on social media.
Retailers should not underestimate physical store visitors. As many as 66% of brick-and-mortar customers want to spend more money than last year. Compared to 46% of online customers.
Even though more people are going to shop online this year, consumers still value the social aspect of Black Friday traditions. About 56% of consumers are eager to line up outside malls for an in-store experience.
Apart from savings, fast and free delivery are top considerations for online consumers. It's advisable to prepare delivery systems for the increased demand, e.g., by making sure you hire enough staff to dispatch orders or stocking up on your bestsellers.
The increased number of customers doesn't excuse retailers from providing the best service. About 23% of consumers definitely won't shop with a business ever again after a bad experience on Black Friday this year.
Customers are getting wary of Black Friday and Cyber Monday deals. They are willing to spend extra time comparing deals (89% of respondents) and inspect product quality (88% of respondents) before purchasing.
Retail stores should take extra measures to minimize health risks. As many as 75% of respondents in the survey would skip in-store shopping when they feel their or workers' health is being compromised.
As many as 58% of customers are interested in booking an appointment online to shop in-store and avoid crowds (the number increases to 71% among customers who intend to shop offline).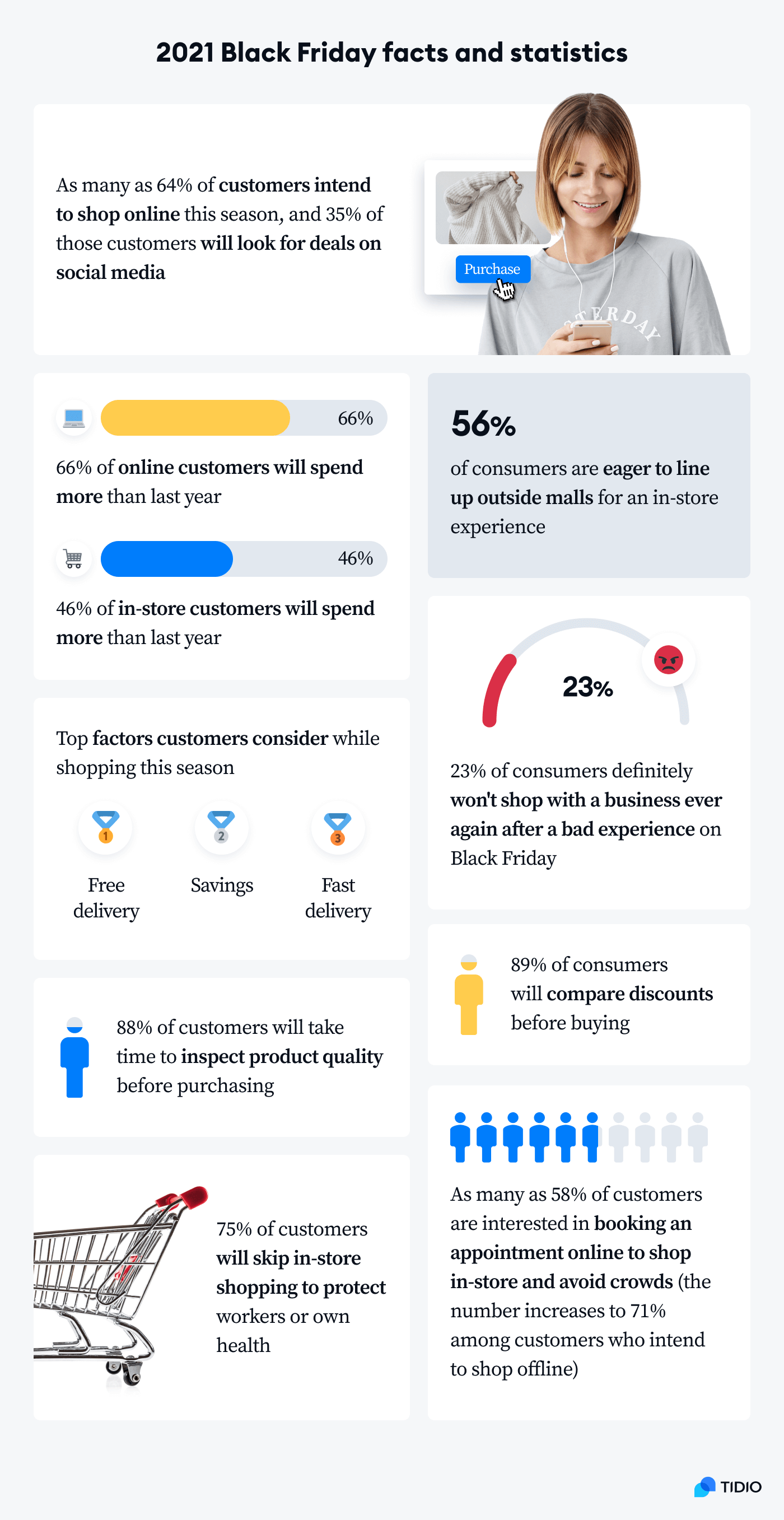 Black Friday and Cyber Monday shopping behaviors in 2021
The National Retail Federation estimated that 186.4 million unique customers shopped in-store and online during the 2020 Thanksgiving weekend, and on average, they spent $312 each. While the figures indicate a drop when compared to 2019, they are still higher than in 2018.
Each year the numbers are huge—
So, even subtle changes in the consumer behavior can have a massive impact on spending patterns. Detecting these variations can help businesses satisfy their customers by better understanding their expectations for 2021.
How much are people going to spend on Black Friday 2021?
According to our survey, 75% of customers saved money on Black Friday last year because they didn't visit stores due to the pandemic lockdowns. And 17% of respondents spent the same amount. This year, however, they aren't holding back.
About 59% of those who tightened their belts last year are going to spend more money on 2021 Black Friday deals
Those whose spending was consistent in previous years will have the same (61%) or increased (34%) budgets this year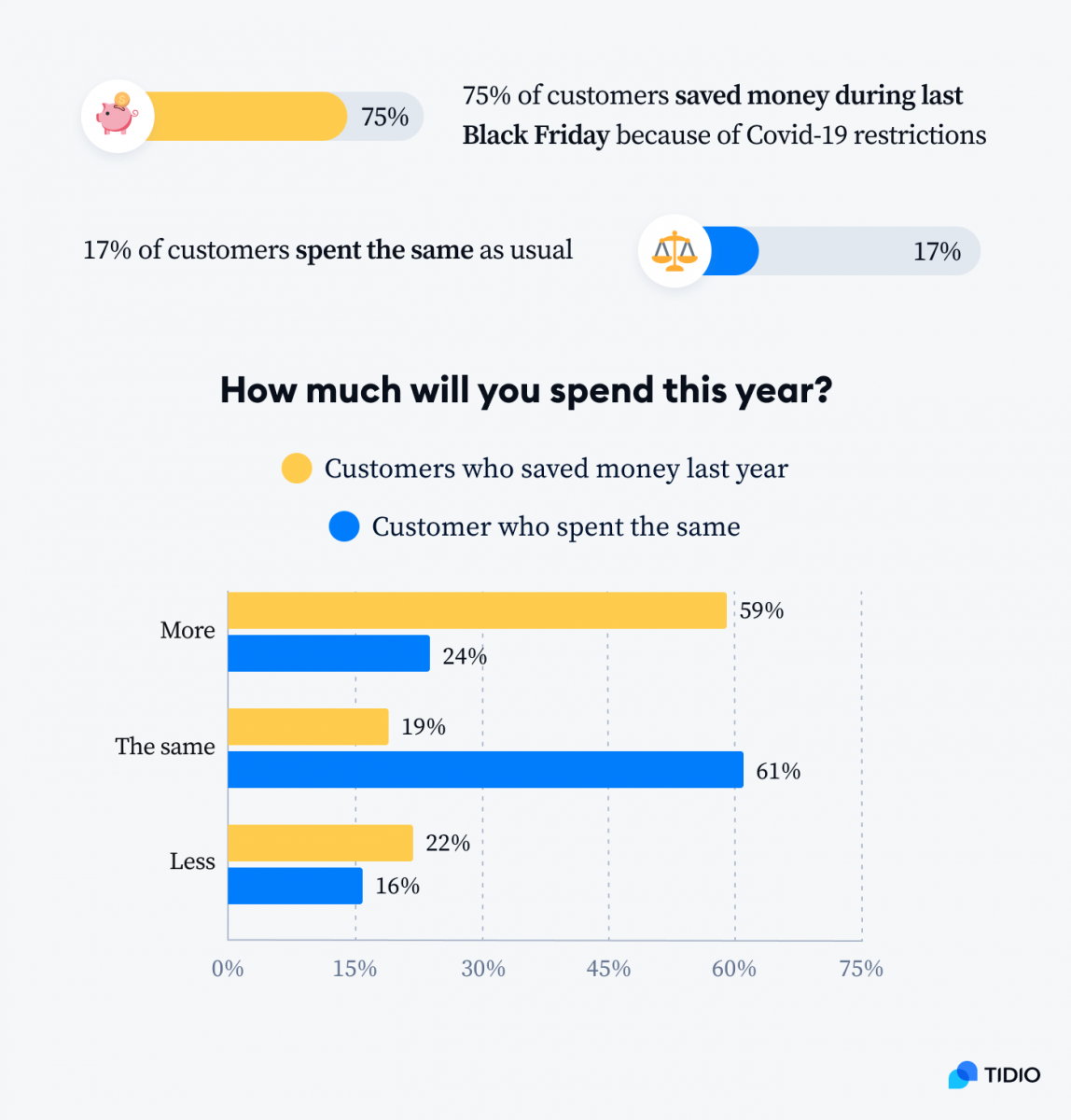 It looks like after months of denying themselves small pleasures, such as eating out and family meetings, many consumers are ready to indulge themselves this Black Friday.
Where?
In 2021, about 65% of customers are going to shop online, and 32% of respondents are looking for an in-store experience
The online shopping trend has continued since last year when in-store spending dropped by 30% year over year. People preferred to stay at home and visit stores only when necessary to comply with the pandemic-related policies.
But even though holiday shoppers who will visit stores this year constitute a smaller proportion (32%), they may leave more money in the cash registers than those who plan to shop online. As many as 66% of those planning to shop in stores want to spend more than last year. And only 46% of online customers are going to splash out more money than last year.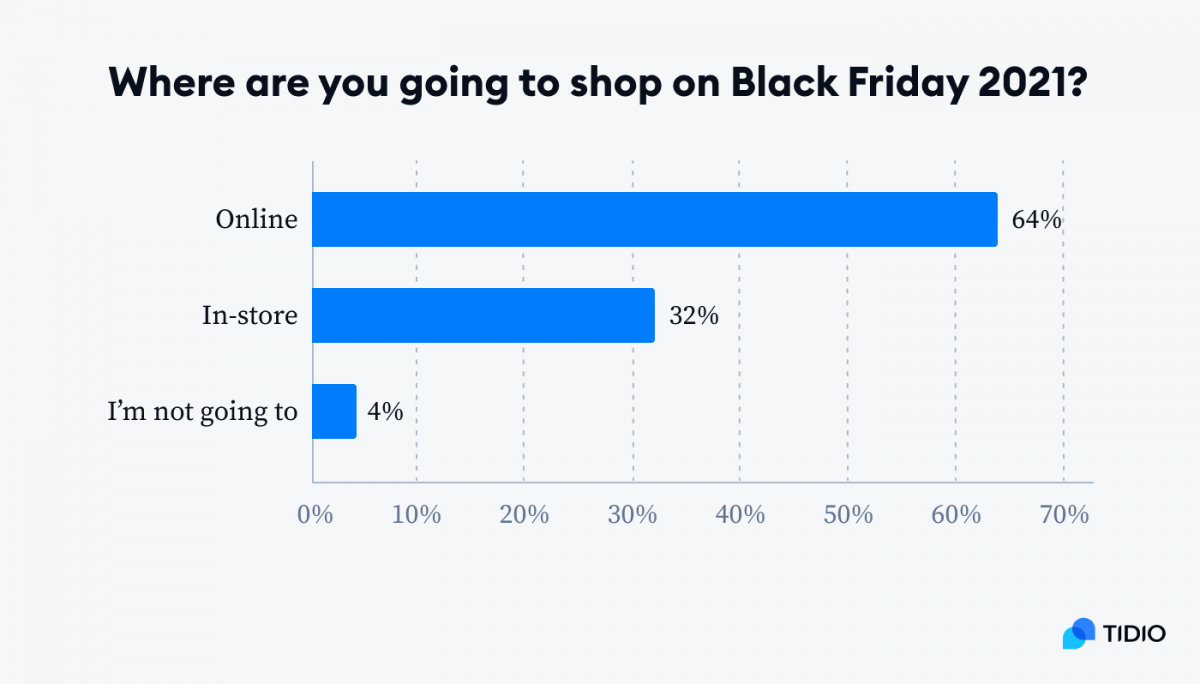 This season, consumers find shopping via an app (50%) more appealing than filtering products on a website (34%). Online retailers can use AI to help shoppers find the best deals as more customers are willing to get instant recommendations from a chatbot than via an email newsletter.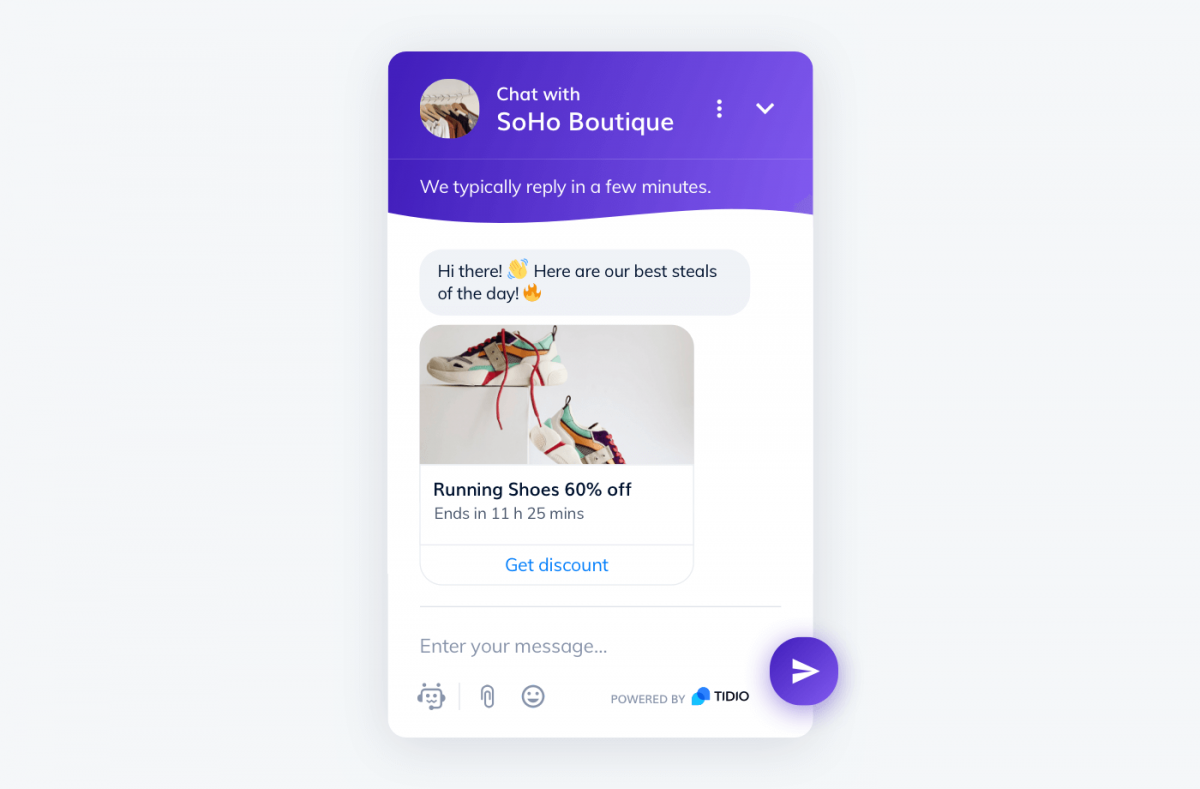 And what about people who refuse to shop on Black Friday 2021?
Only 4% of consumers declare that they are not taking part in the 2021 BFCM extravaganza
Nearly half of the respondents ignoring Black Friday deals (45%) said pursuing the deals was not worth it ("Black Friday is a retail sales gimmick").
Others mentioned financial reasons (26%) ("not having enough money by Black Friday").
Only 16% of them said they were worried about public health ("If there was no pandemic, I might go shopping on Black Friday").
This year, the Covid-19 concerns are not the main reason for not taking part in Black Friday. So, does this mean consumers don't mind Covid-19 anymore?
Absolutely not—
About 75% of respondents would skip in-store shopping to protect workers and their own health
There's no denying that Covid-19 still has an impact on consumer shopping. However, some Black Friday traditions are going strong regardless—
Up to 56% of customers are willing to line up outside shopping malls for this year's main event. Behavioral scientists explain that the Black Friday tradition itself is sometimes more valuable to some customers than the deals. And any disruptions to it can be disorientating for people.

Despite social distancing advice, the Black Friday weekend is still seen as a social activity where people bond. Interviews with Black Friday shoppers in previous years reveal they tend to strategize and plan every detail of the shopping trip. Not surprisingly, shopping with friends and family is mentioned as one of the top factors consumers consider when choosing where to shop.
The best thing retailers can do is to ensure that staff and shoppers' health and safety come first.
How?
Some of the obvious ways to facilitate safe shopping tested last year are:
Moving brick-and-mortar stores online
Enforcing strict Covid-19 protocols
Curbside service
To satisfy customers' need to connect with other humans, retail stores may consider organizing private Black Friday shopping events by invitation only—
6 in 10 shoppers would book an appointment online to shop in store to avoid crowds
Starting BFCM promotions early is another trend that is becoming a norm in recent years. Even though Black Friday 2021 is on November 26, retailers have already kicked off their sales that will run through Thanksgiving holiday.
However, our survey reveals that the preferred time for the beginning of Black Friday sales is up to a week before Thanksgiving day.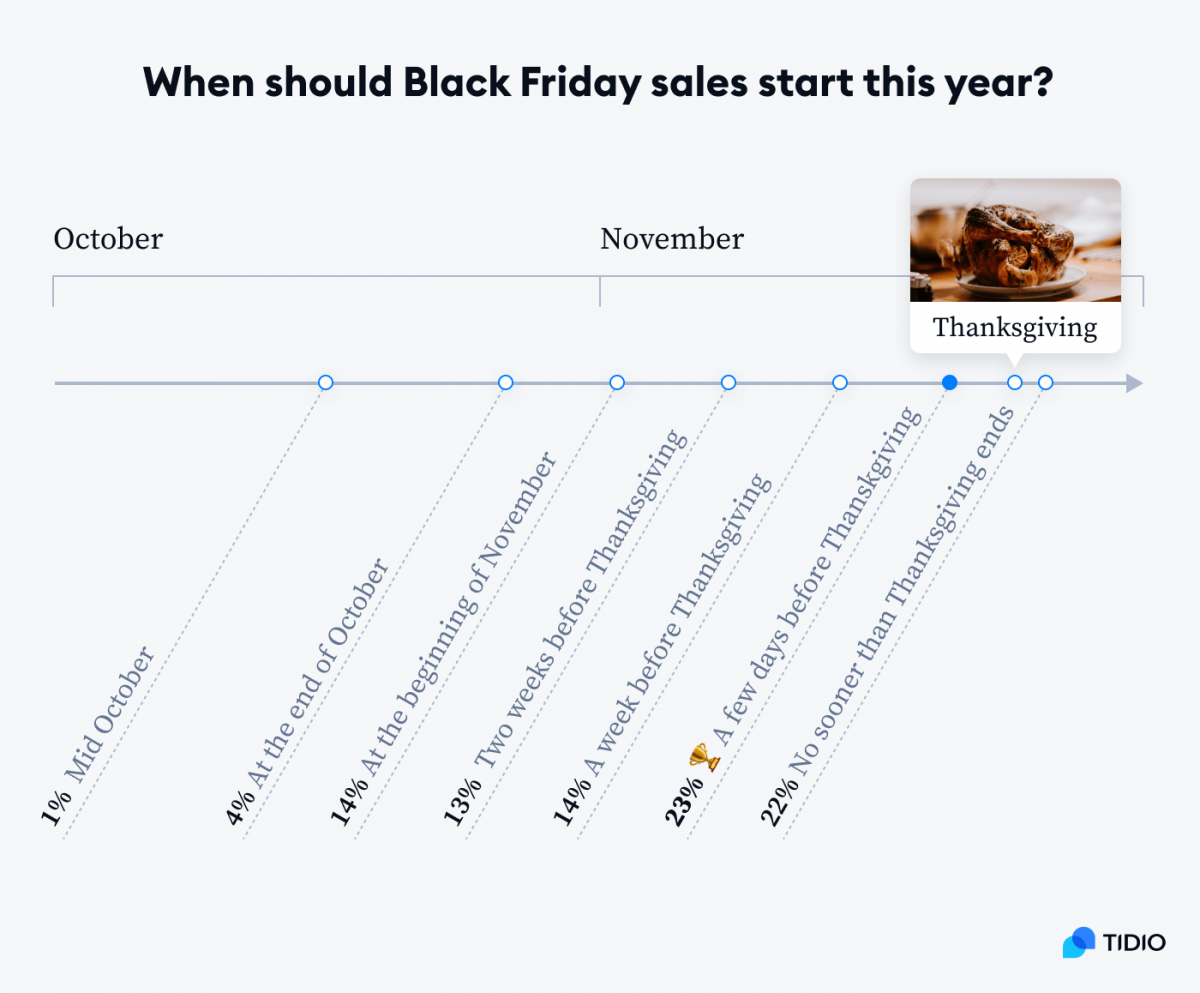 Prolonged sales periods might suggest customers can get a little tired of an event that's dragging on for weeks. And it may explain why 30% of those surveyed think BFCM deals aren't better than other seasonal sales.
A week of sales seems like an optimal time to compare deals and make sure they are the best available, which 89% of shoppers find important.
Who will spend the most on Black Friday 2021?
Customers who intend to spend more money on BFCM bargains in 2021 can be characterized by a methodological approach to shopping.
9 in 10 saved money for this occasion
About 75% will buy products they've been eyeing for some time
They are more likely to buy new products from new brands
They will look for online sales and analyze them
They are looking for quality items and will check customer reviews before purchasing
What about customers who are strapped for cash this Black Friday?
This year's Black Friday shopping statistics in our study suggest that 24% of customers don't have savings to take full advantage of BFCM deals. But retailers shouldn't snub at this type of shopper because they are the most valuable customers—the loyal ones.
They won't start Black Friday shopping until after Thanksgiving or a few days before it. Most of them will shop online to visit companies' websites directly. They know what they want and there's little chance they will try new products.
How much they can save is the most important consideration for them. In their case the bigger the Black Friday discount percentage the better. They will also respond to email campaigns if sent at the right time.
The remaining 76% of consumers who put aside money for BFCM deals are Millennials who usually care about free delivery or shopping locally for convenience.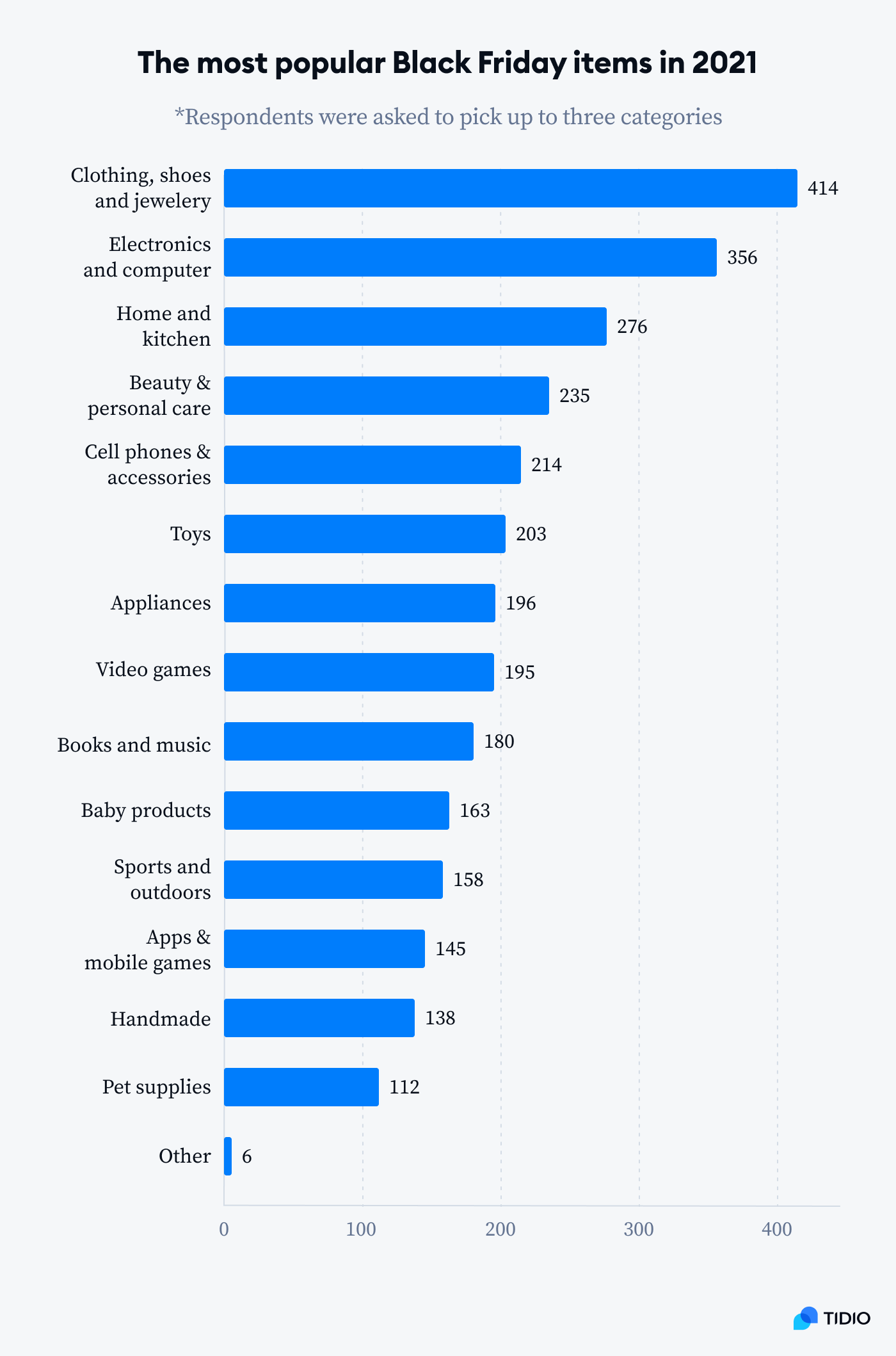 56% of customers feel that they can get the best discounts online and half as many think the best deals are in store
Interestingly, online shoppers are likely to give in to marketing techniques, like creating urgency and scarcity. As many as 52% of them would prefer a limited-time but larger discount, rather than smaller incentives available for a longer time.
On the other hand, in-store shoppers prefer a smaller discount but without time pressure (55%). They are also less likely to splash out money without researching BFCM deals (2%) than online buyers (7%).
How much discount on Black Friday is enough?
Significant discounts don't always encourage people to make instant purchases. Our survey revealed different demographics prefer different types of promotions:
About 62% of Gen Z would rather take a 15% discount on a gift card to use anytime
In contrast, 58% of people aged 40 and over prefer a 30% off promo code valid for 24 hours
On average, customers are going to spend 2 hours looking for the best deals this season
In 2021, 35% of respondents in the survey said they would take advantage of bargains from major retailers like Walmart or Best Buy. However, supporting small businesses and minority-owned businesses matters to 29% and 5% of consumers respectively. And 18% of respondents said they are going to shop locally.
Our study on Black Friday trends revealed the best place to advertise Cyber Monday sales is via social media. Up to 36% of those surveyed are going to check their feeds for bargains. It can turn out to be an effective marketing strategy for retailers of all sizes.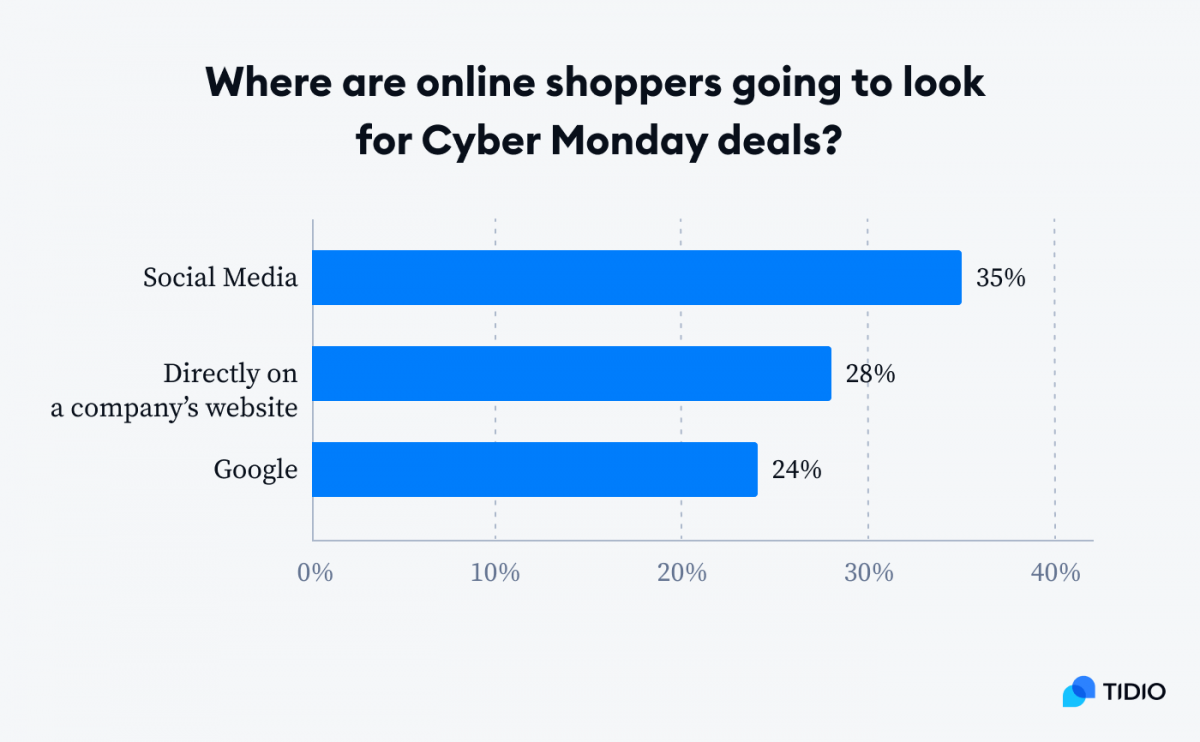 Researchers linked the fear of missing out, known colloquially as FOMO, to social media usage in a recent study published in Motivations and Emotions. Essentially, FOMO in the Black Friday context means that people choose to interact with businesses because they think they will miss out on something valuable.
6% of customers feel BFCM deals are designed to trick people
Even though 80% of Americans say they generally have a positive shopping experience during the holiday shopping season, 88% of them want to check the product's quality before buying. Customers' expectations remain high. Businesses can lose nearly a quarter of customers (23%) if their shopping experience isn't second to none during the BFCM period.
2021 Black Friday statistics in brief
Black Friday continues to be the biggest shopping day of the year in the United States. The Covid-19 pandemic still has a considerable influence on buyers' behaviors and holiday sales—shifting most of spending online.
But at the same time, consumers are eager to experience the social side of seasonal sales and even uphold traditions, like queuing outside shops to get the best deals.
The retailers can minimize the pandemic effect by moving their businesses online, extending seasonal sales, and digitizing their incentives, e.g., on social media. They can also reduce health risks in-store by decreasing the number of store visitors at a given time, e.g., by offering customers to book time slots for a less crowded shopping experience.
Black Friday 2021 is a particularly good occasion for local and small retailers as well as minority-owned businesses. Many people are willing to support those and try new products from unknown brands at lower prices.
While a small proportion of customers believe BFCM deals are designed to trick people into buying more, most customers want to take advantage of seasonal sales. They tend to put aside money for this particular occasion and usually buy products they had planned.
Customers feel they can get the best discounts online. And companies can improve their experience by developing a shopping app or a chatbot to recommend the best deals.
Sources:
Methodology:
For this study about 2021 Black Friday trends, we collected answers from 1,052 respondents. We used Amazon's Mechanical Turk.
Respondents were 51% males and 49% females. Over half of the participants were aged 25-40 (60%), 26% of them were aged 41-56, 6% of them were aged 57-65, 5% of them were aged 18-24, and 3% of them were aged over 65 years old. Considering such age and gender makeup, the study's findings could be extrapolated to the general US population.
Respondents had to answer about 25 questions—the majority of which were scale-based or multiple choice. The survey had an attention check question.
Fair Use Statement:
Has our research helped you learn more about Black Friday predictions? Feel free to share Black Friday statistics from this study. Just remember to mention the source and include a link to this page. Thank you!