Black Friday isn't just a day for shoppers—it's also a golden opportunity for businesses to thrive.
From skyrocketing your sales and fostering customer loyalty, this season marks a great opportunity to get your brand to shine.
But how do you achieve all that? And what are the best things you can do to stand out among your competition?
If you want to learn some of the best sales tactics and practical Black Friday marketing ideas, you are in the right place.
Get ready to elevate your business to new heights!
In this article, we'll go through the following strategies:
Want to learn more about the best marketing strategies you can use to boost sales and increase the success of your ecommerce business? Check out these articles:
First things first—
What is Black Friday?
Black Friday is an annual shopping event that originated in the United States and traditionally takes place the day after Thanksgiving, which falls on the fourth Thursday of November. It marks the unofficial start of the holiday shopping season. During this period, retailers offer significant discounts and promotions on a wide range of products, both in-store and online.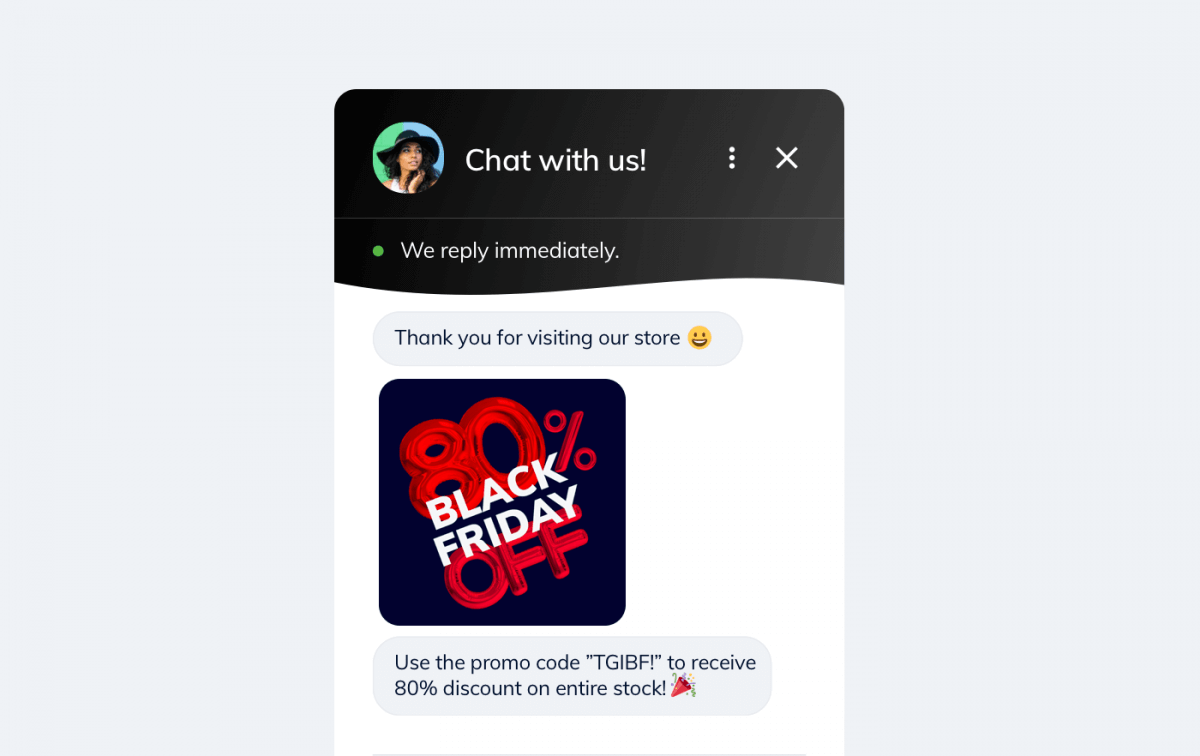 The Black Friday shopping season has since evolved into a major phenomenon, with consumers flocking to physical stores and websites alike to take advantage of the deep discounts. These usually involve sales on everything from electronics and clothing to home goods and digital products.
In a way, this event has become a cultural tradition. And the fact that over 196 million American consumers shopped on Black Friday in 2022 alone is only further proof of that.
Having all this in mind, Black Friday marketing refers to all the strategies and tactics that offline and online retailers employ to promote their products or services and drive sales. Overall, it's all about creating a buzz, offering compelling deals, and using marketing channels to connect with customers during this high-demand shopping period.
Now, here comes another question—
When is the best time to start Black Friday marketing strategies?
According to our study on Black Friday trends, 18% of consumers think that Black Friday flash sales should start a few days before Thanksgiving. Still, many people think the sooner, the better—and they don't mind if the BF promos start at the beginning of November.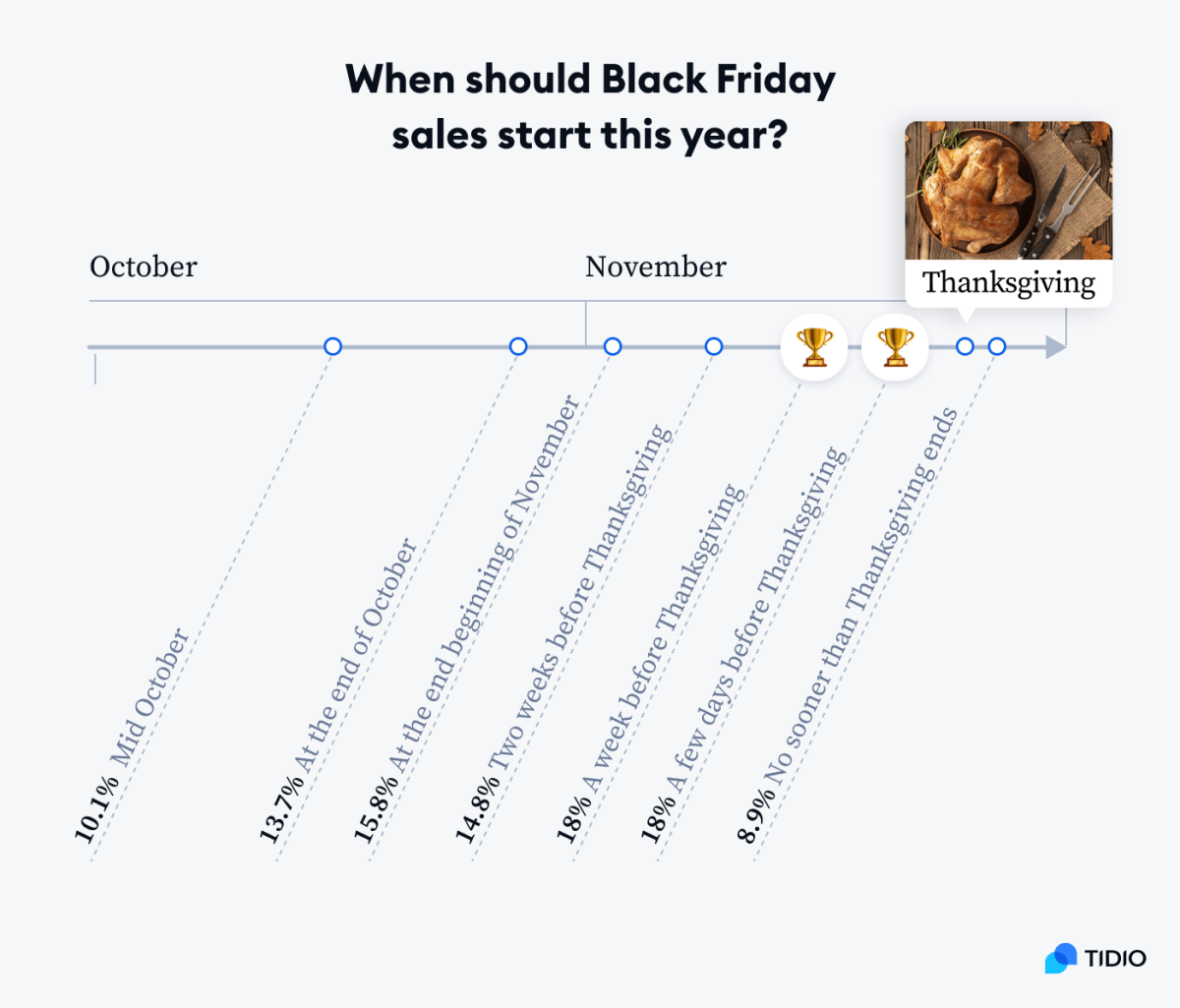 So, the best time to start your Black Friday marketing strategy largely depends on the nature of your business and your target audience. That being said, a general timeline to consider is any time between early November and one to two weeks before Black Friday itself.
For example, the beginning of November is a good time to offer special discounts and exclusive sneak peeks to early bird shoppers and loyal clients. On the other hand, mid to late November could be reserved for teasing your Black Friday deals and promotions through various channels, including emails, social media, and website.
Remember that every business is unique, so you should adjust this timeline based on your specific circumstances.
A list of best Black Friday marketing strategies
Now you know what Black Friday season stands for and when's the best time to start promoting your deals. Let's take a look at the list of 16 effective Black Friday ideas and strategies for ecommerce businesses:
1. Add a chatbot to recommend products and offer discounts
Chatbots provide a direct and interactive way to engage with your customers. They also offer information and drive sales, which is why you should definitely consider using them during this busy shopping season.
Tidio makes it easy to create and personalize a chatbot for Black Friday purposes. You can set up custom conditions and circumstances using chat triggers to get a chatbot to activate and send a message to a specific user at a set time.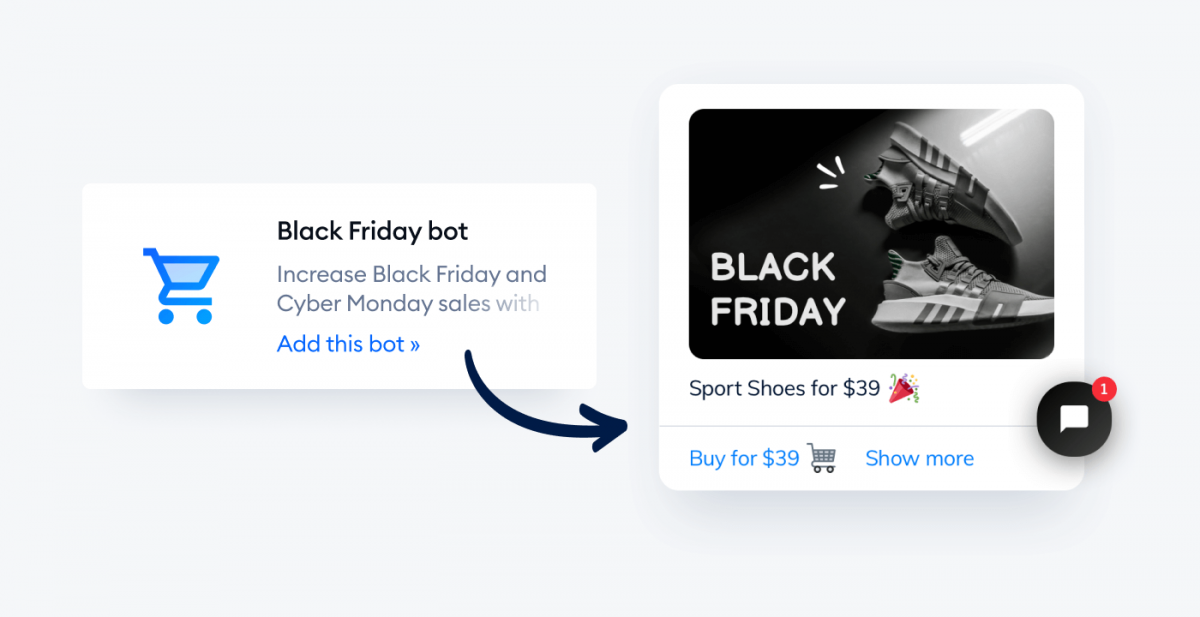 You can also use ecommerce chatbots to cross-sell or up-sell your new products as well as old ones. For example, if someone adds a pair of shoes, your chatbot can automatically recommend a personalized selection of matching socks right before the checkout. Or right after the product has been added to the shopping cart. It's up to you and the possibilities are endless.
On top of that, you can create a chatbot that sends discounts for Black Friday and make them appear on your website a bit after new customers enter your website.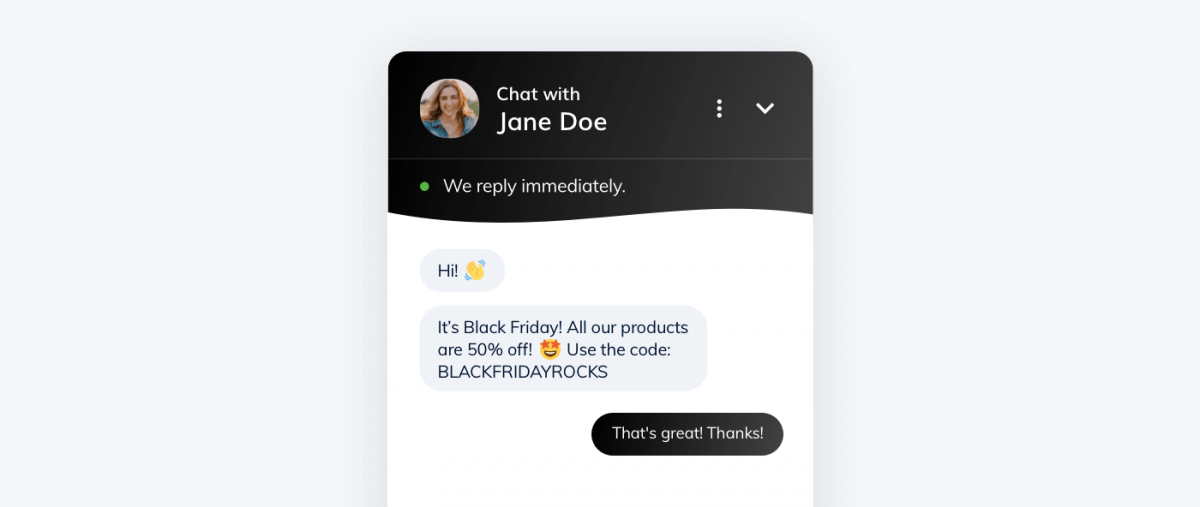 Chatbots are one of the most popular types of marketing automation for online stores. Unlike pop-up advertising, virtual assistants boost customer experience and improve client satisfaction by offering "conversational experiences." It's a fancy way of saying that they're fun.
Read more: Learn all about what chatbots are and the benefits of using them for your business.
2. Send a Black Friday email marketing campaign
If you already have a customer base, sending a Black Friday campaign is a piece of cake. However, those of you who don't have too many contacts should start collecting them immediately and continue to grow your email list throughout the year.
Popular email marketing platforms offer a variety of free templates for Black Friday and other holidays. These templates are easy to set up and will allow you to create a full-blown BF campaign.

Tidio is a great example of a platform that provides a range of Black Friday templates aimed at different industries which can help you boost sales, offer discounts, etc.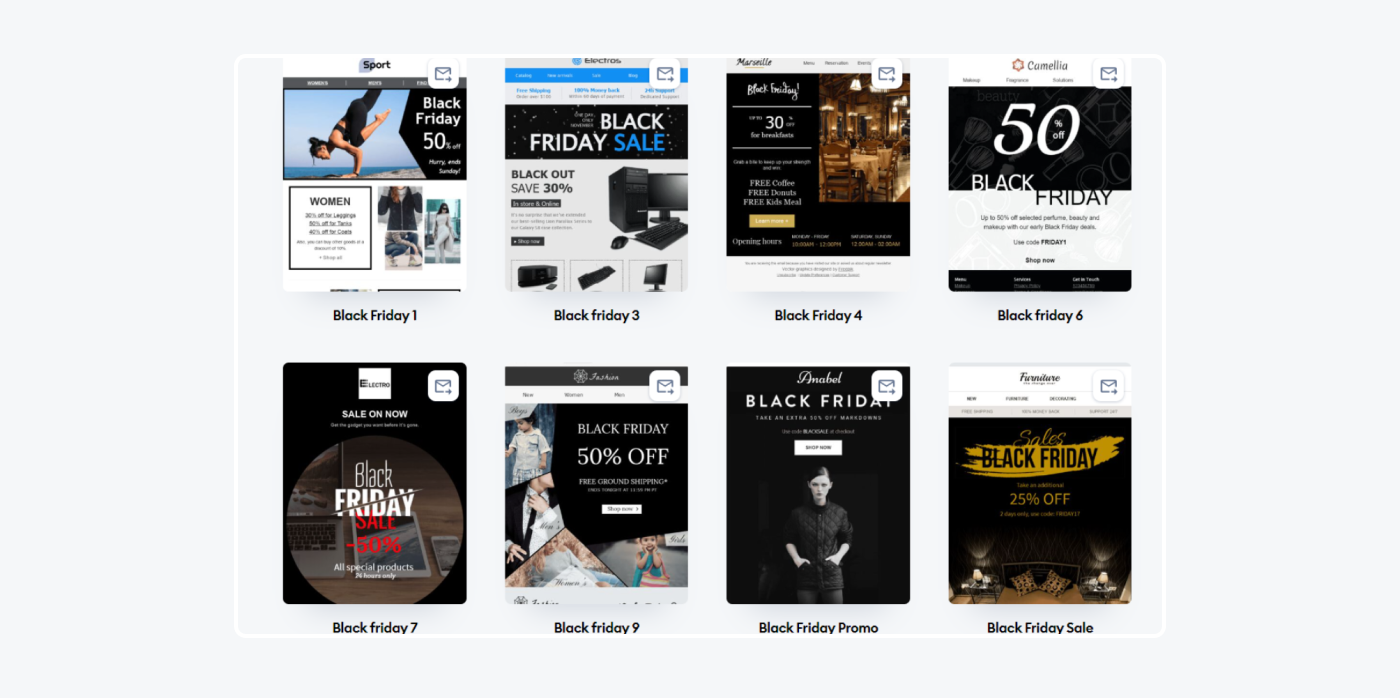 All you have to do is pick your favorite design and start rolling. Once you select a template that resonates with what you have to offer, you can create a name for your campaign, assign an email subject, and then pick an audience you wish to send it to.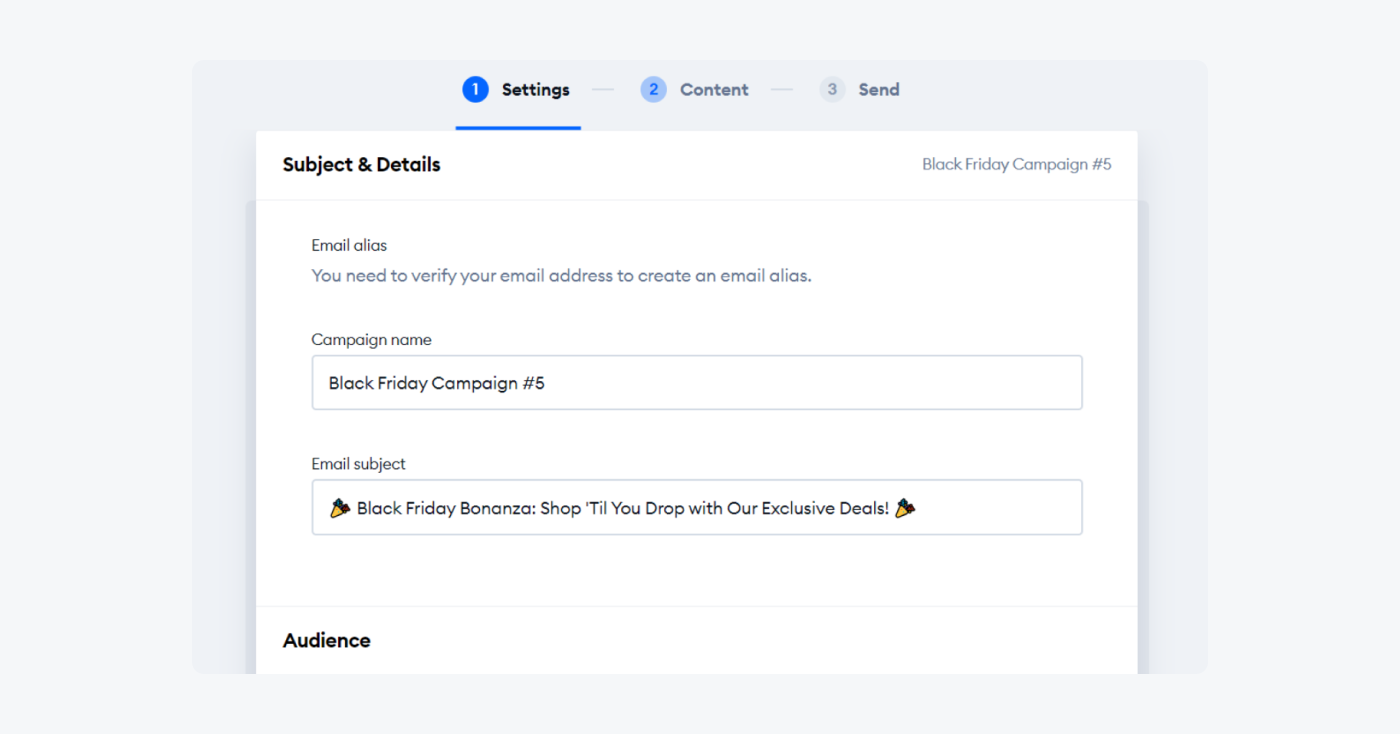 If you'd like, you can also edit all of the elements, replace photos, or add and remove interactive elements using the intuitive Content tab.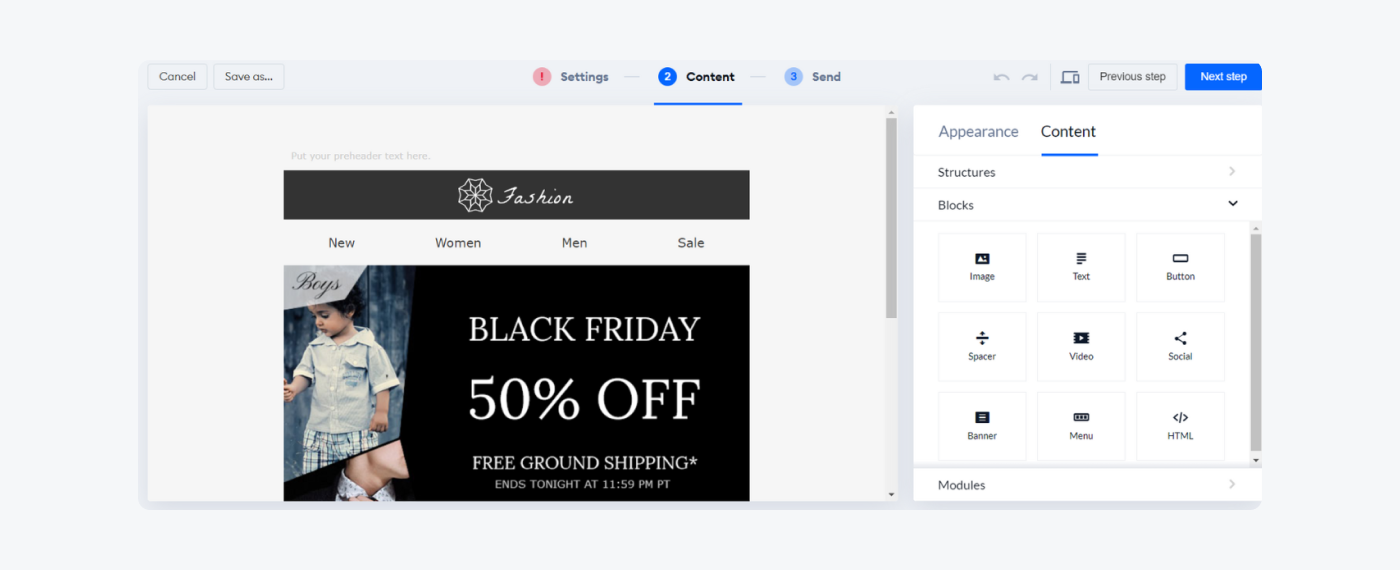 Campaigns can be scheduled and automated or sent right away to contacts and customer segments of your choice.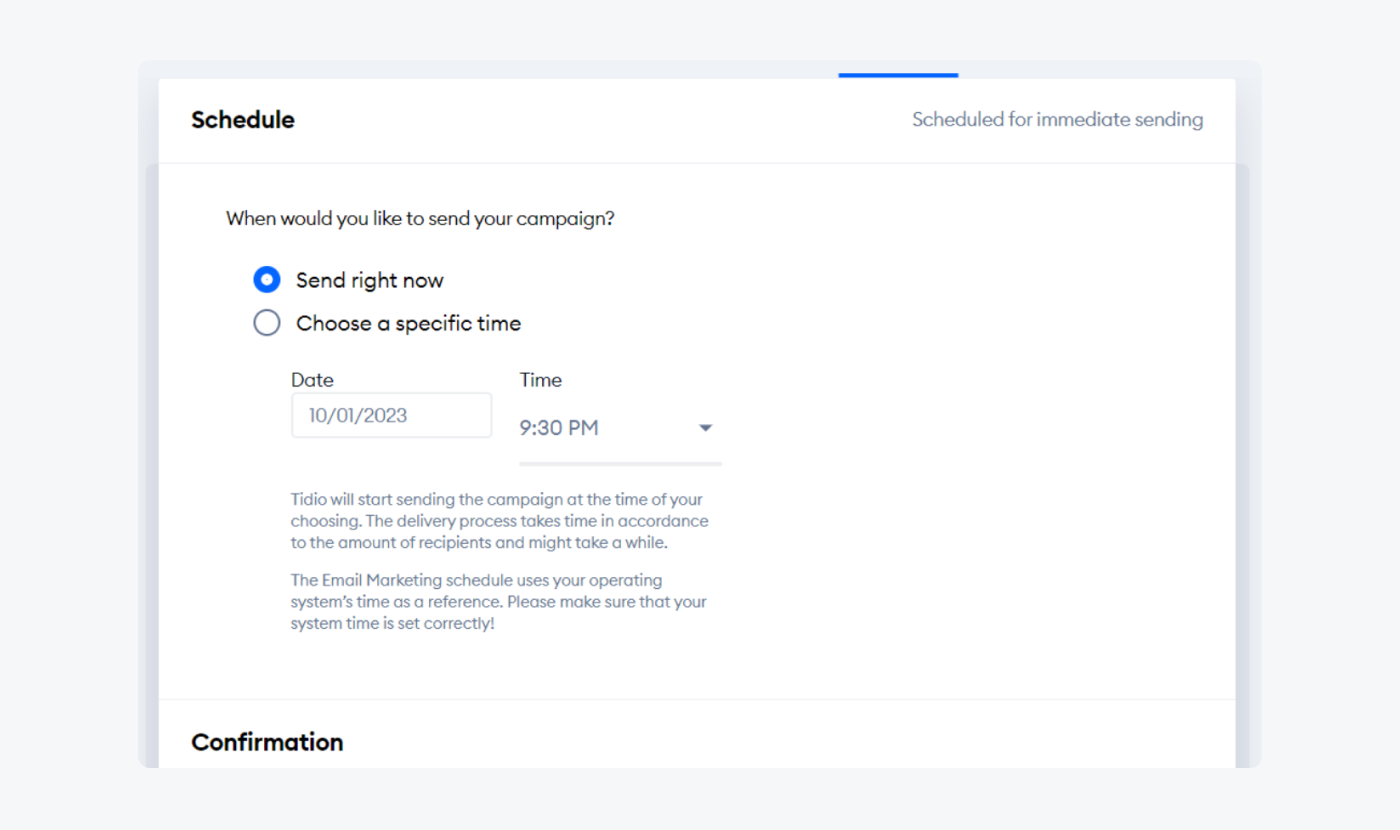 Of course, the time of sending your first Black Friday campaign is up to you, but if you ask us, sending it five days before BF is ideal. Then, you can easily schedule another email reminding your audience about your promotion in the next few days.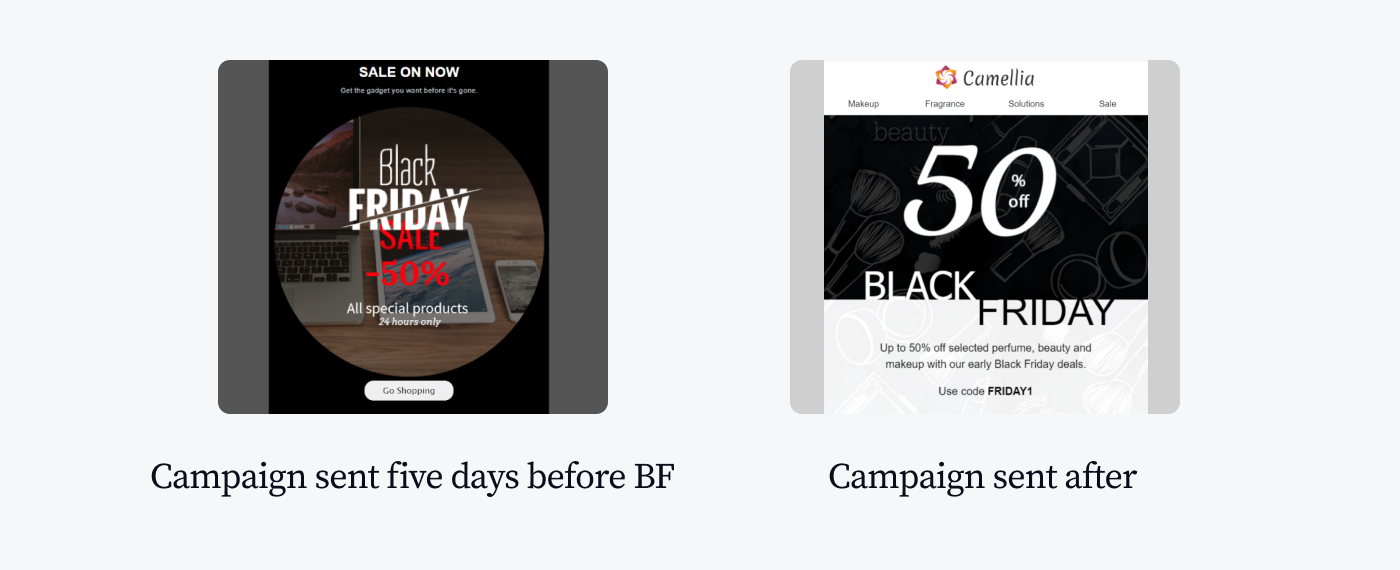 Read more: If you want to get the most out of your Black Friday marketing campaign ideas, try to reverse-engineer the best email subject line examples. Also, learn the best time to send emails to improve your open rate.
Use Tidio Black Friday email templates and create a successful campaign
Get Tidio🎯
3. Create a Black Friday email list
If you don't have many customer contacts yet, don't worry. We have a recipe just for you. You can run a Facebook ad that encourages people to sign up for your mailing list. The deal should sound exclusive and time-limited. For example, you can tempt your future email newsletter subscribers with higher discounts or early access.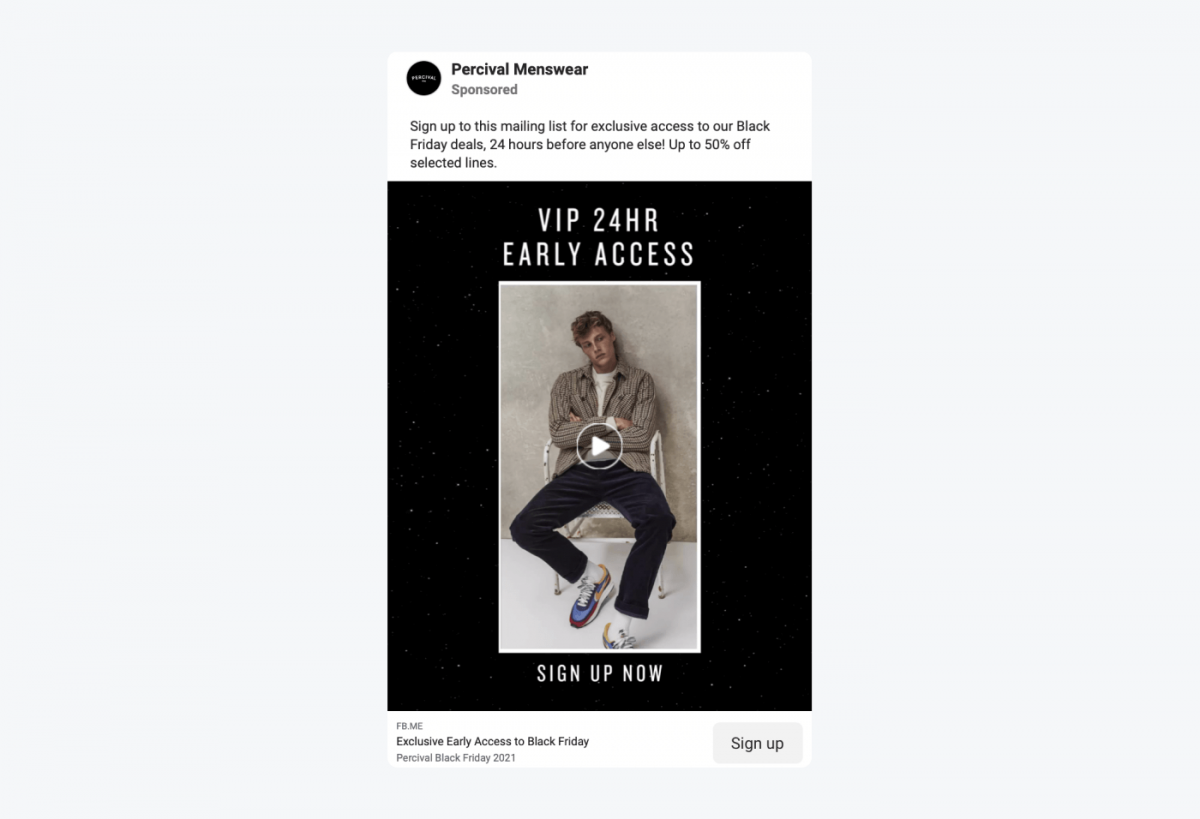 They are more likely to join your mailing list if you can give them something for free or before anyone else. Black Friday customers know that time is of the essence and that they can miss the opportunity to buy what they are looking for if they hesitate.
4. Provide live chat support
So, your ecommerce business is gearing up for Black Friday. You're promoting your deals and discounts extensively, and the traffic to your website is surging as the Black Friday event begins. Shoppers are eager to make purchases, but they have questions and concerns about product availability, sizing, shipping options, and return policies. This is where ecommerce live chat functionality comes into play.
Implementing live chat on your website can help you provide frictionless customer service and support, which is a great way to push conversions during the Black Friday event. Offer real-time assistance to shoppers who have questions or encounter issues while browsing or making purchases. Live chat can help resolve concerns in real time and increase confidence in your brand, ultimately boosting conversion rates and preventing cart abandonment.
Live chat solutions like Tidio offer neat features such as the live visitors preview. This allows an agent to have an overview of visitors browsing your site at the current moment. It shows where they're from and which page they're on, which opens a whole new set of promo opportunities.
Say that during Black Friday, a customer visits your online clothing store and enters the product page that offers a winter coat. Thanks to this live visitors feature, you can easily start chatting with the customer asking them if they need any assistance or information about the product, further pushing them down the sales funnel.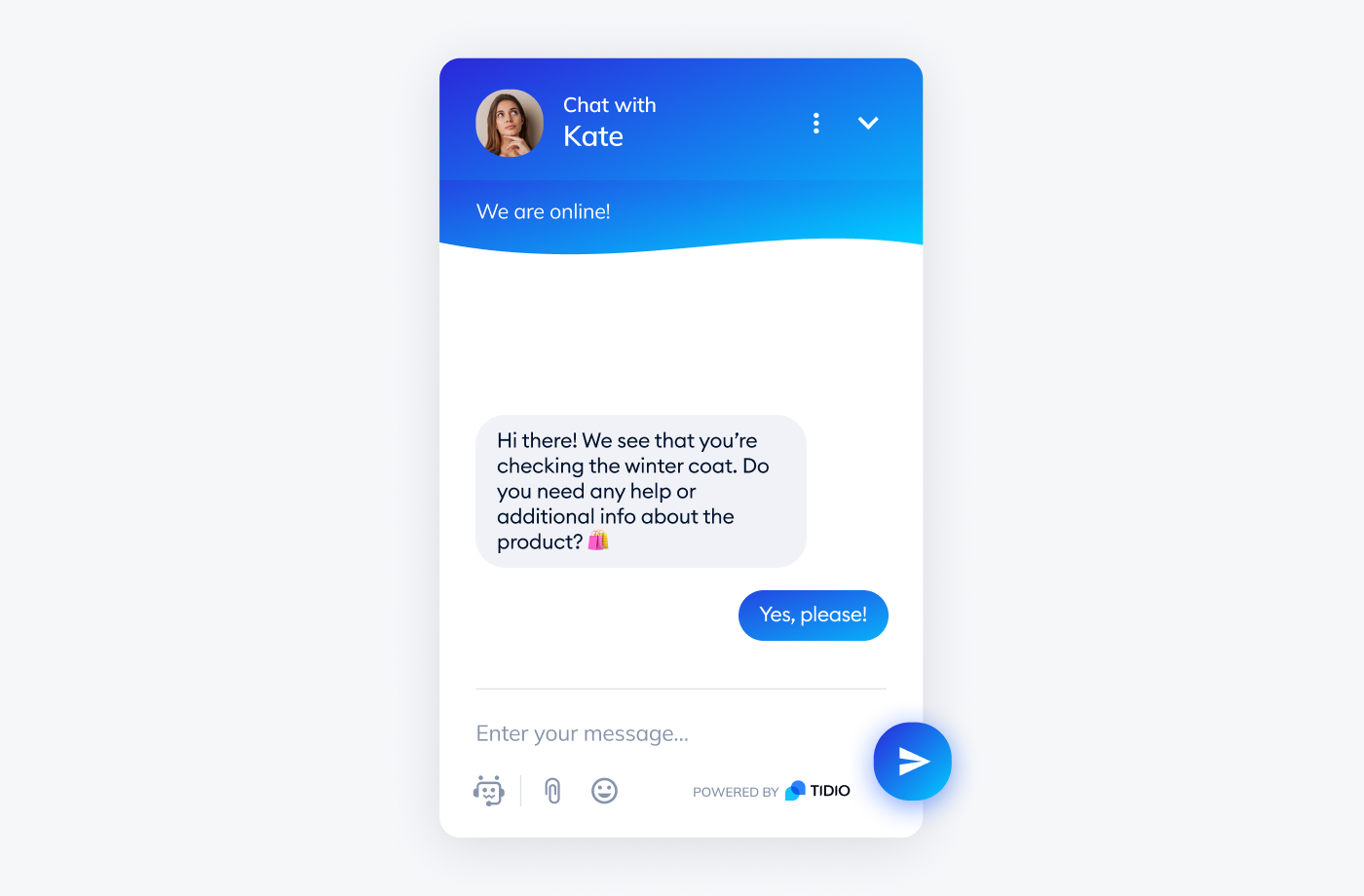 Read more: Check out this case study to learn how Italian fashion atelier business boosted their conversions using Tidio live chat.
5. Create bundle deals
What you can also do during Black Friday is create enticing bundles of complementary products and offer discounts for them. Then, highlight the cost savings customers can enjoy by purchasing these bundles instead of individual items.
This Black Friday strategy not only increases the average order value but also encourages customers to explore complementary products they might not have considered otherwise.
Say that you offer skincare products to customers. You can create a bundle deal for shoppers who may be interested in achieving a complete skincare routine. The bundle can include a cleanser, a moisturizer, and a sunscreen, all of which are top-selling products on your website.
For example, the regular price of cleanser is $20, while moisturizer and sunscreen are $25 and $15. However, for Black Friday, you can offer the bundle at a special price of $45, which is a $15 discount compared to buying each product separately. A tempting offer, isn't it?
To market this bundle deal, you can feature it on your website's homepage with eye-catching visuals and persuasive copy that emphasizes the savings. You can also send out email campaigns and share the deal on your social media platforms.
Here's how Eyeko presented their bundled discounts this season: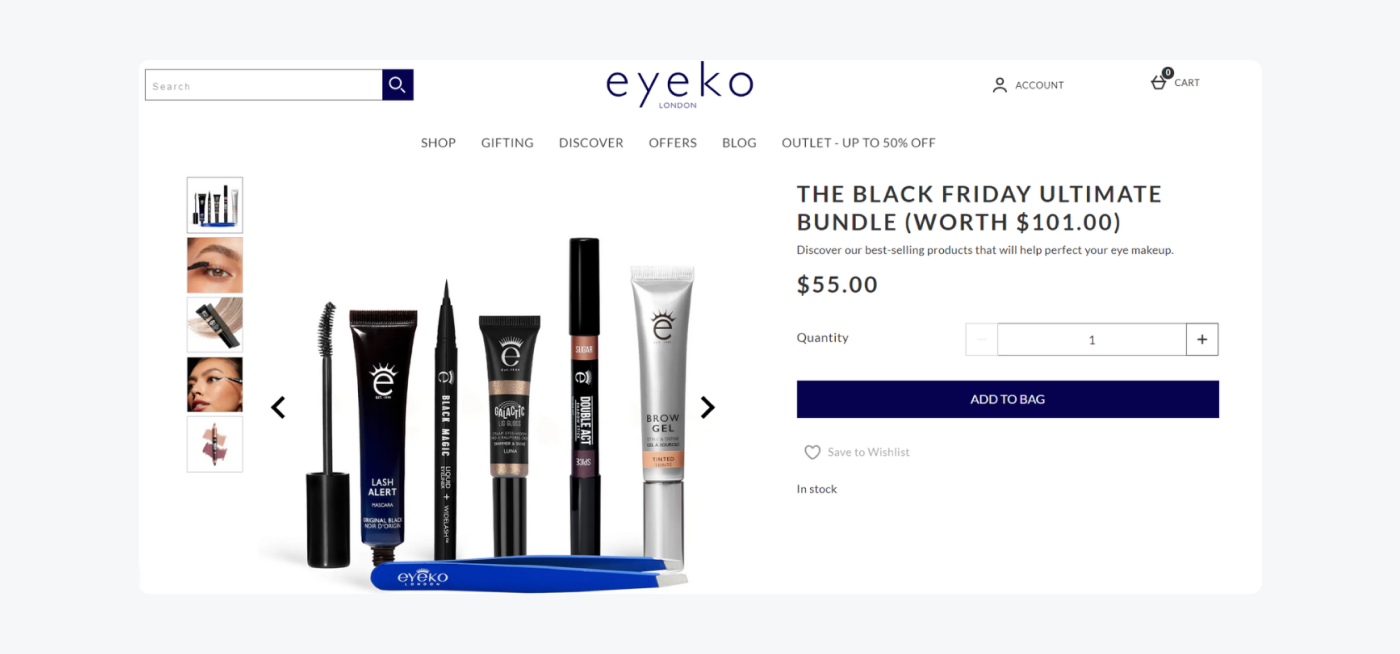 6. Run flash sales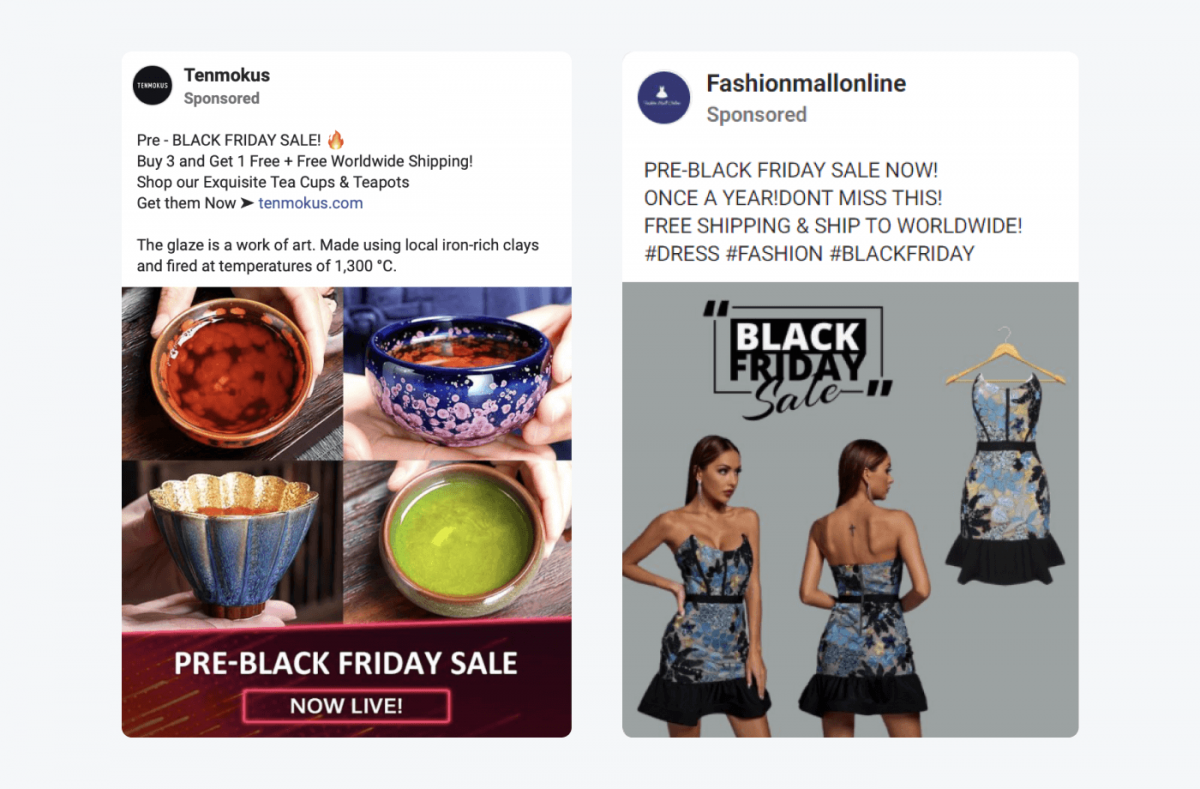 Flash sales can drive immediate traffic and boost conversions during specific time windows, helping you make the most of the shopping frenzy.
On Black Friday, you can plan a series of limited-time flash sales to run at different times throughout the day, each lasting for two hours. Here's how you could structure them:
Flash Sale 1 (8:00 AM – 10:00 AM):

Category: Dresses
Discount: 40% off all dresses
Promotion: Send out an email to your subscriber list a day in advance, notifying them of the upcoming dress flash sale. On Black Friday morning, create a prominent banner on your website's homepage with a countdown timer and use social media marketing to promote the sale on your channels. Use engaging visuals of various dresses to capture attention.
Flash Sale 2 (12:00 PM – 2:00 PM):

Category: Footwear
Discount: Buy one pair of shoes, get the second pair 50% off
Promotion: Announce this flash sale on your website and social media platforms an hour before it starts. Emphasize the savings and the opportunity to mix and match shoe styles.
Flash Sale 3 (4:00 PM – 6:00 PM):

Category: Outerwear
Discount: 30% off all jackets and coats
Promotion: Send a push notification to your mobile app users a few minutes before the sale begins. Feature high-quality images of models wearing various outerwear items on your website and social media to showcase the styles available.
You get the idea.
7. Use countdown timers
Do you remember that scene in your favorite action movie when the main characters are trying to disarm a ticking bomb? It's a total cliché, but it works. Nothing adds a sense of urgency like a ticking clock. And it also happens to be one of the most powerful marketing tactics.
Whether it's counting down to the start of the sale or the expiration of a particular deal, timers can drive action and prompt recipients to act quickly.

Ecommerce stores love to add countdown timers on their landing pages and embed them in their emails. After all, it's very easy to do. You just have to pick the right email template and set the deadline.

For example, in Tidio, you just need to add a parameter to one of the email building blocks (deadline=YYYY-MM-DDTHH:HH:HH) and you are good to go.
Read more: Check out our knowledge base and learn all about how to use Tidio's email marketing editor.
8. Prevent abandoned carts
The global cart abandonment rate in 2022 on Black Friday itself was lower than average, at almost 78%. This indicates a perfect opportunity to further prevent abandoned carts during this period.
You can do this by implementing an abandoned cart recovery email sequence with special Black Friday incentives. When a customer leaves items in their cart without completing the purchase, send them a reminder email highlighting the Black Friday discounts on those items. Include persuasive copy and compelling visuals to encourage them to return and finalize their purchase. This tactic recaptures potentially lost sales and leverages the Black Friday excitement to nudge hesitant buyers toward conversion.
In addition, you can use the power of chatbots for this exact purpose.
Say that a customer visits your online electronics store and adds a high-end smartphone to their cart. They browse for a while, but eventually prepare to leave the website without completing the purchase.
With Tidio on your site, a cart booster chatbot can pop up with a discount code to prevent them from leaving. To sweeten the deal and encourage the purchase, the chatbot can also offer a time-sensitive promotion.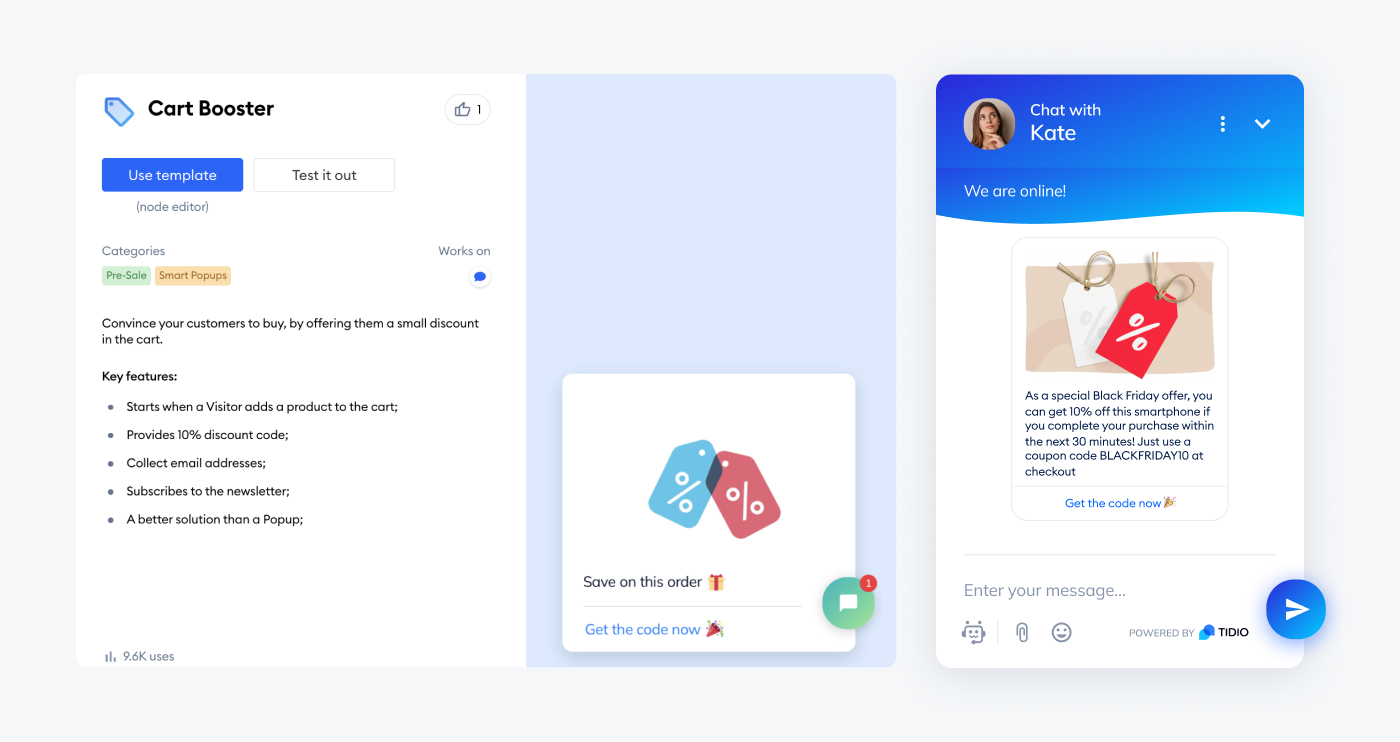 Or, you can program your chatbot to directly address cart abandonment.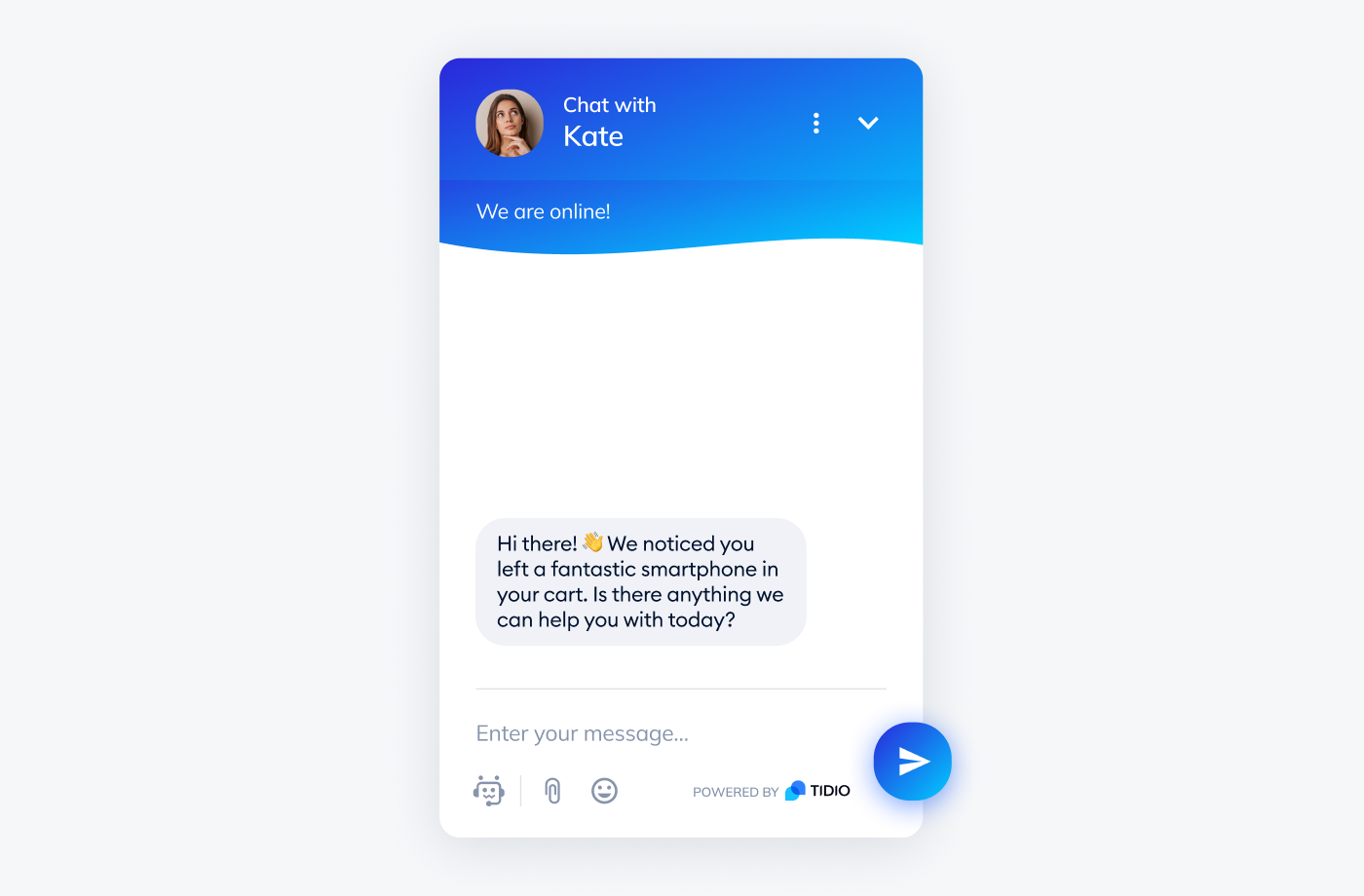 Then, once the customer responds with any questions about the phone's features and warranty, the chatbot can provide detailed information, addressing their concerns. Feeling reassured, the customer can return to their cart and proceed to complete the purchase, applying the provided discount code during checkout.
As you can see, chatbots can play a crucial role in preventing cart abandonment by providing real-time assistance, answering questions, and offering an incentive. This proactive approach not only saves a potential sale but also contributes to the overall success of your Black Friday strategy by converting hesitant shoppers into paying customers.
Read more: Check out the essential shopping cart abandonment statistics and trends.
9. Run Black Friday sales ads on Facebook and other social media
You should advertise through communication channels that your customers use. And chances are they are on Facebook or Instagram. You can experiment with hashtags and try to reach your organic audience.
But—
Do you know what the most effective Black Friday social media campaigns are?
The ones you pay for.
Facebook ads are very similar to regular posts, but you can instantly reach thousands of potential customers. You can apply filters and target specific demographics. It all comes down to your budget.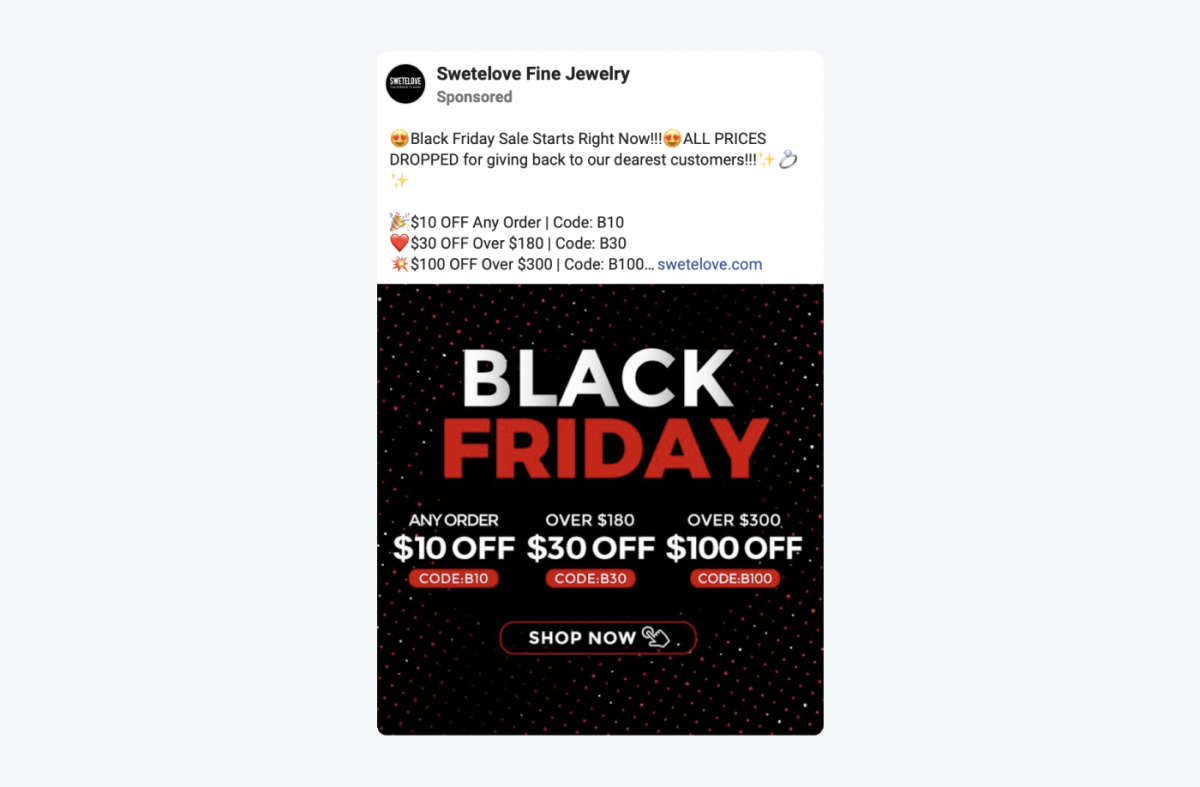 You can also try to collaborate with social media influencers. A local TikToker who happens to be a popular personality in your niche could help you spread the word about your Black Friday campaign.
In addition, you can engage your audience through social media contests or giveaways designed to create buzz around your Black Friday deals. Encourage users to share, like, or comment on your posts for a chance to win exclusive discounts or products. User-generated content from these contests can be valuable for marketing purposes. Just make sure to use popular and relevant hashtags to increase visibility and participation.
Did you know that…
You can send automatic messages about your Black Friday promotions with Facebook Messenger bots. They can be far more effective than traditional emails.
10. Revamp your product descriptions and try catchy slogans
Good copywriting can have a huge impact on your sales. The better your email opening lines, the higher your open and click-through rates. And more inciting descriptions on your product pages mean higher conversion rates. All in all, a good copy can increase both the number of visitors and your chances that they will make a purchase.
Copywriting can also reflect your brand voice. It can help you tell a story or provoke. Here's an extreme example from GFDA.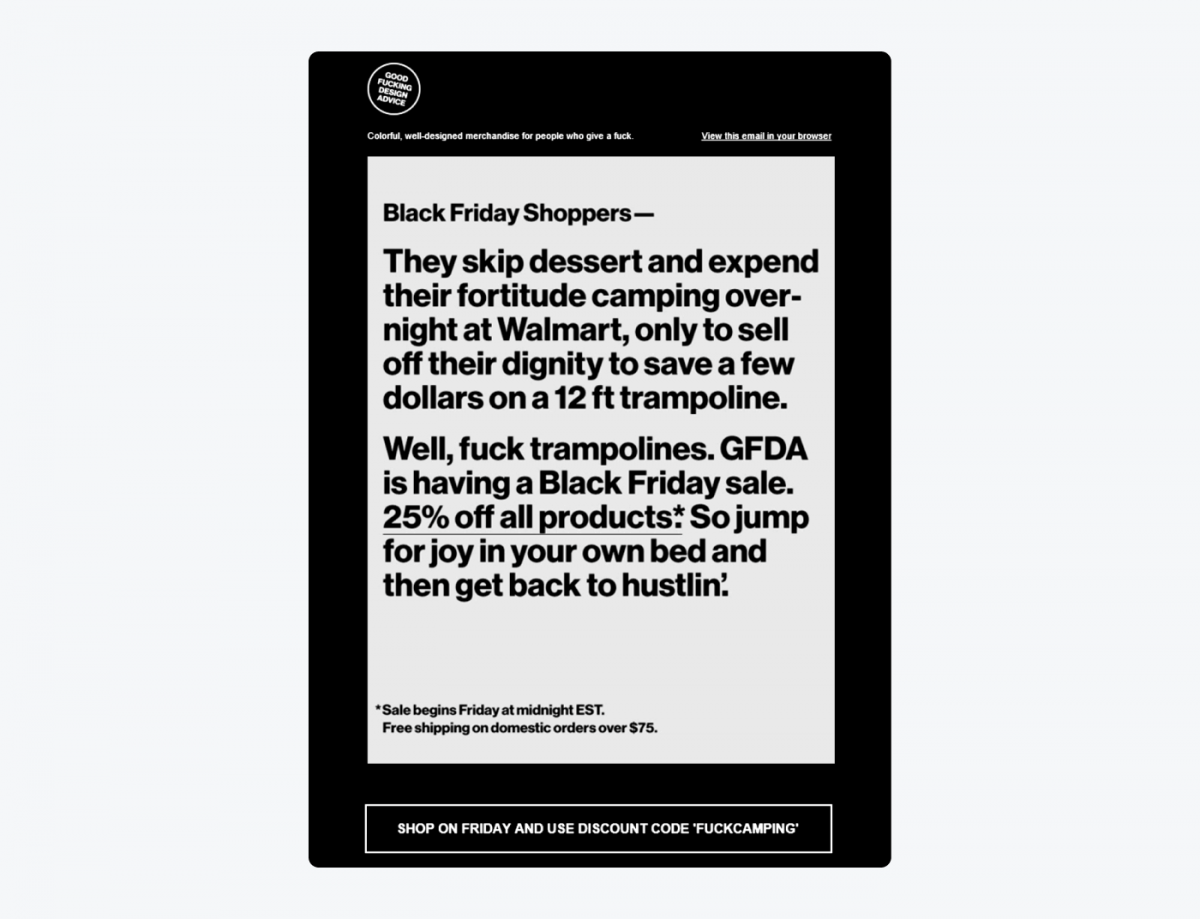 This type of language can attract their laid-back target audience. But naturally, it won't work for every industry or product.
Copywriting doesn't have to be shocking. It can build trust, evoke different emotions, or make you laugh.
Read more: Check out over 100 Black Friday phrases and find inspiration for your copy.
11. Recycle your Black Friday promotions and use them again as Cyber Monday deals
According to data, consumer activity in the US increases by 512% on Cyber Monday. That's an indicator right there that you should effectively promote the deals during this period as well.
To do this, you can always use dedicated premade Cyber Monday email templates—like the ones from Tidio: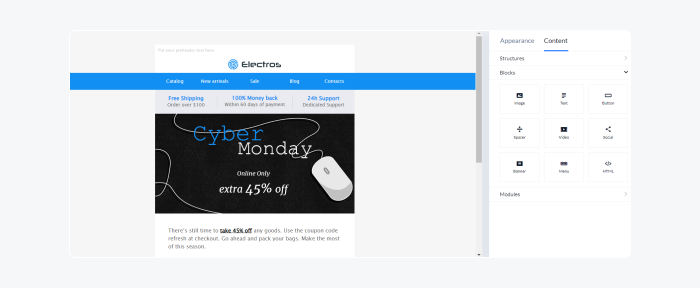 That being said, Cyber Monday sales don't have to be radically different from your Black Friday deals. You can simply redesign your Black Friday promo campaigns and use the same flows again after the Black Friday weekend. All you need to do is slightly adjust the copy, your visuals, and discount codes.
You can try to sell the same products again and there is nothing wrong with it. The majority of your customers won't even notice. They will feel lucky that they didn't miss their chance. Just make sure to mention that your Cyber Monday offer is the final opportunity—and that this time, you really mean it.
12. Offer BOGO deals
"Buy One, Get One Free" (BOGO) is among the most effective Black Friday sale ideas as it can help attract customers, increase the average order value, and clear any excess inventory. This strategy encourages customers to buy more than they initially intended.
For instance, if you offer a "Buy Two Smartphones, Get One Free" deal, a customer who originally planned to buy two phones may decide to purchase three due to the compelling offer. If you have older or excess inventory, a BOGO deal can help you clear out these products quickly. Customers are often willing to take advantage of these offers to get a free or heavily discounted item.
On Black Friday, you can promote a BOGO deal on your website for specific smartphone models that you're looking to clear from your inventory. The deal is simple: "Buy Two Smartphones, Get One Free". For example, if the regular price of one smartphone is $499, customers will perceive it as a substantial saving.
To market this deal effectively, you create eye-catching banners on your website's homepage, announce it through email campaigns, and share it on your social media channels with engaging visuals. You should also use persuasive language in your marketing copy, such as "Double the Value, Double the Savings!" and "Limited Stock Available".
Last but not least, you can use a product recommendation chatbot and have it send a message with your special offer whenever a new user enters a specific page on your site.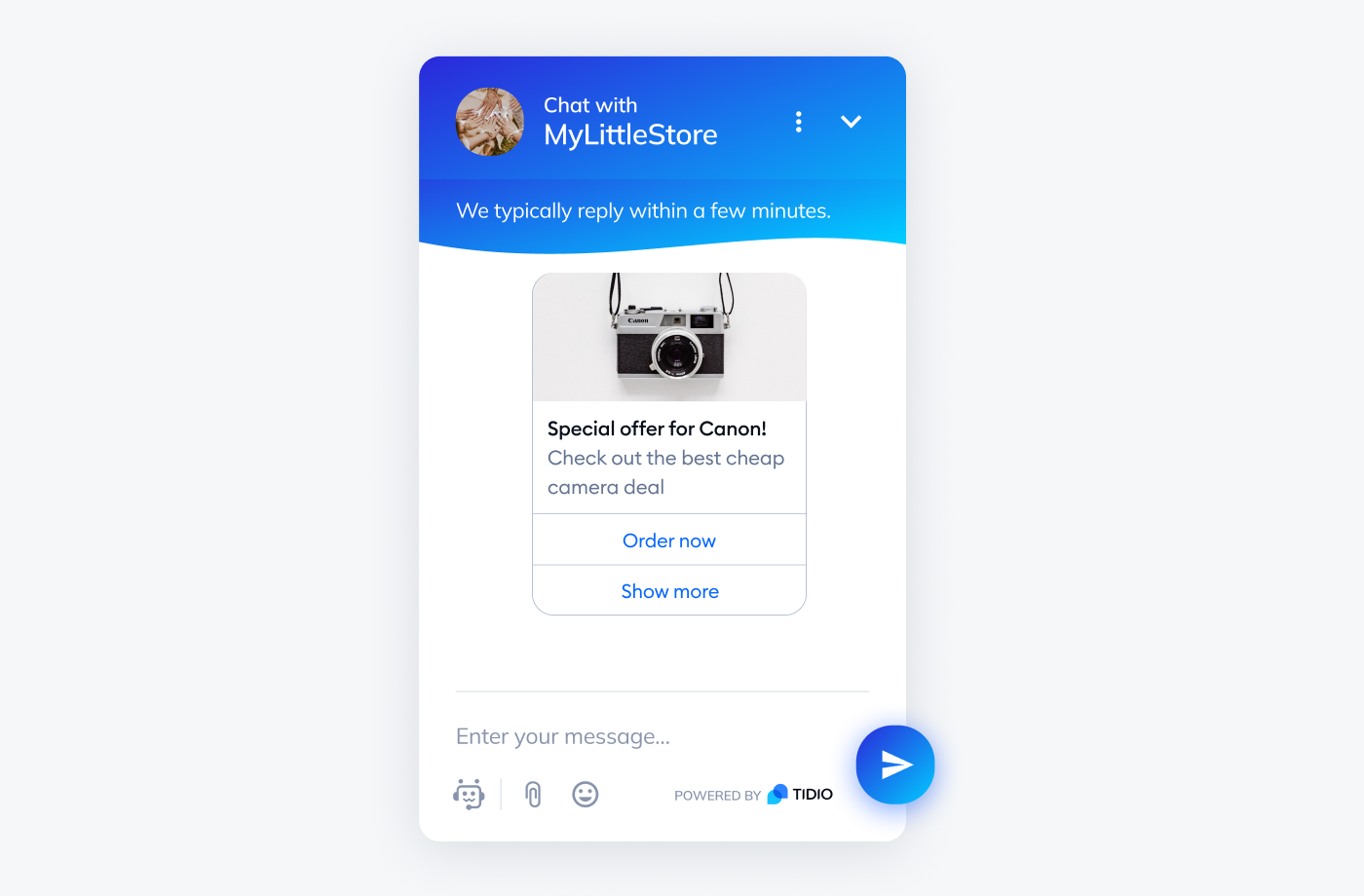 13. Offer free shipping and returns
Many shoppers value the perks of free shipping. In fact, they may be more inclined to make a purchase if they know they won't incur additional costs for shipping or face challenges in returning items.
You can have all orders placed during the Black Friday weekend (from Friday to Sunday) qualify for free standard shipping, regardless of the order value. Just make sure to clearly communicate this on your website's homepage, product pages, and in your email campaigns. Or, you can even get them to sign in for free shipping like Sephora did: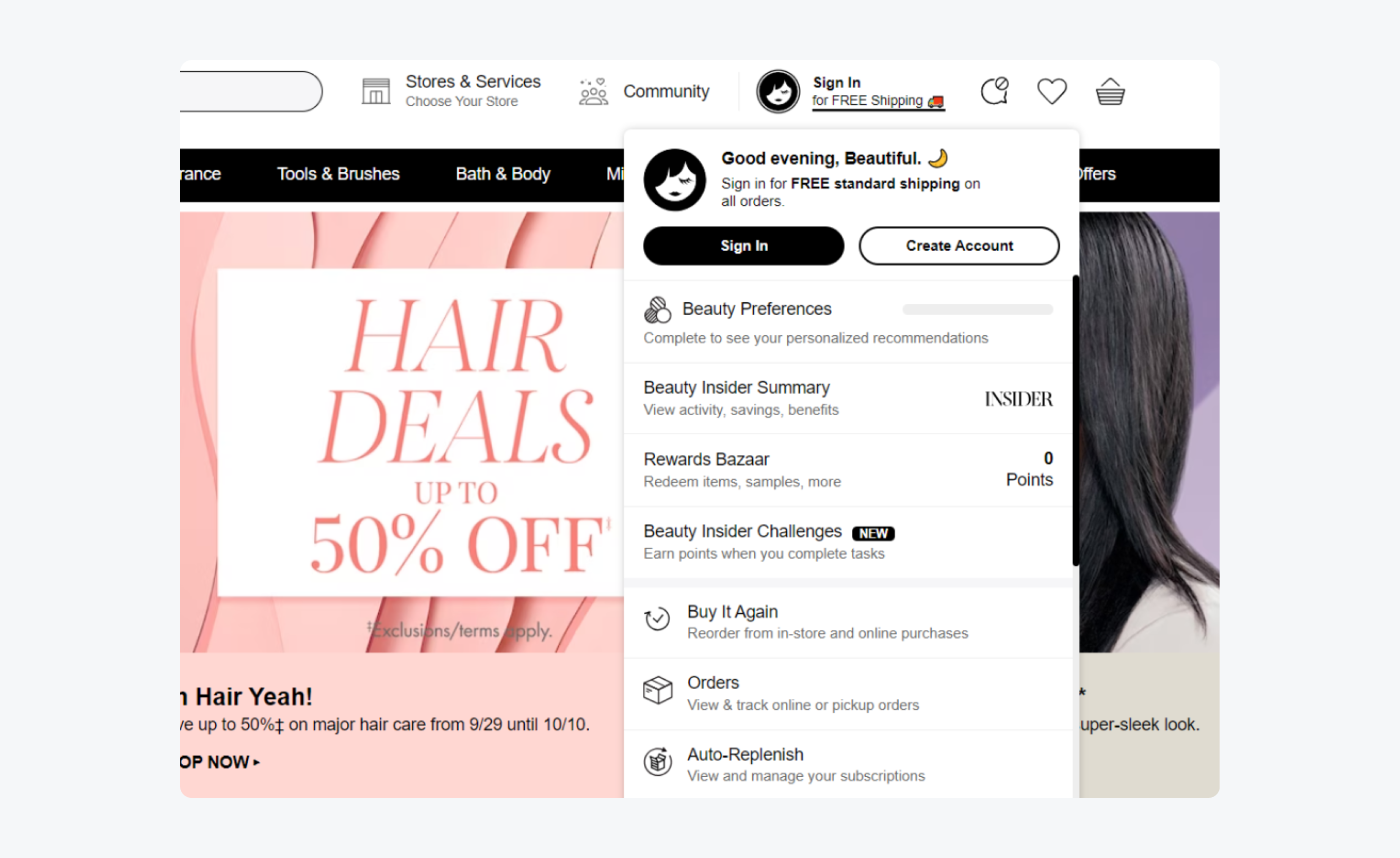 Additionally, a hassle-free return policy builds trust and reduces purchase barriers, increasing overall conversion rates.
For example, you can assure customers that they can return any items they bought during the Black Friday sale with ease. If they're not satisfied with their purchase, they can initiate a return within 30 days, and you'll provide a prepaid return label. You can also include a dedicated returns page on your website with step-by-step instructions.
14. Offer exclusive access for loyal customers
Allowing early access to your Black Friday deals for loyal customers or subscribers is always a good idea. Loyalty rewards not only encourage repeat purchases but also strengthen the connection between your brand and your most dedicated customers. Reward your loyal customers with exclusive discounts, early access, or bonus points.
You can do this by creating a dedicated landing page where they can enter their email addresses to receive a unique access code. This enhances customer loyalty and encourages consumers to shop with you.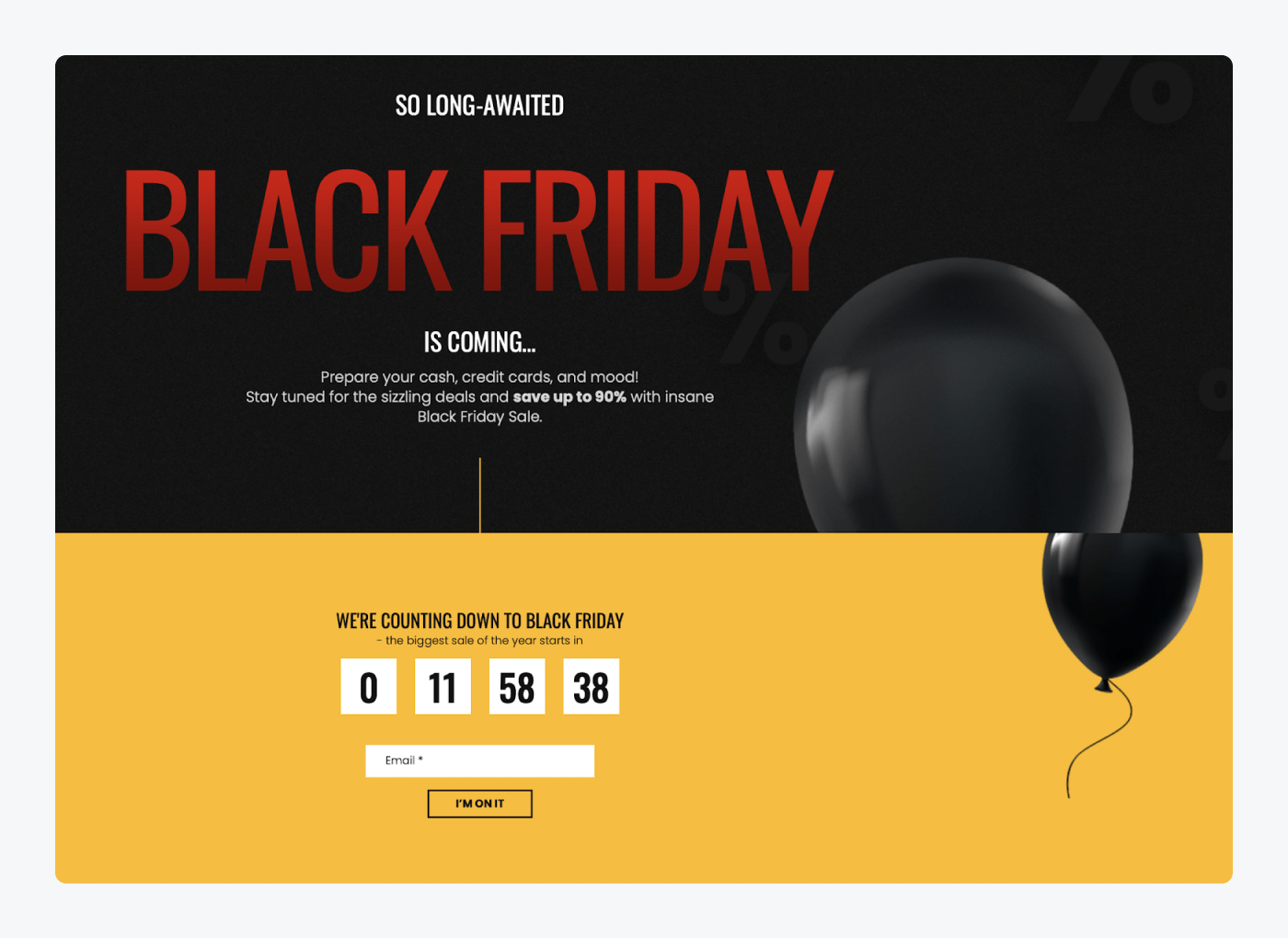 For example, you can provide a 24-hour early access window for customers who have made a purchase within the last six months. Send them an email with their access code and a link to the early access landing page.
Read more: If you need inspiration for designing your ecommerce landing pages, you can explore our selection of the best Shopify stores.
15. Sell BF gift cards to avoid supply bottlenecks
Gift cards have many advantages.
First of all, the purchase is delayed. This means that instead of a massive avalanche of customers you can expect that purchases will be spread out evenly over a longer period of time. Second of all, you can sell cards that can be redeemed, for example, only after Christmas. This is a great trick to help you avoid supply or delivery issues during the holiday sales rush.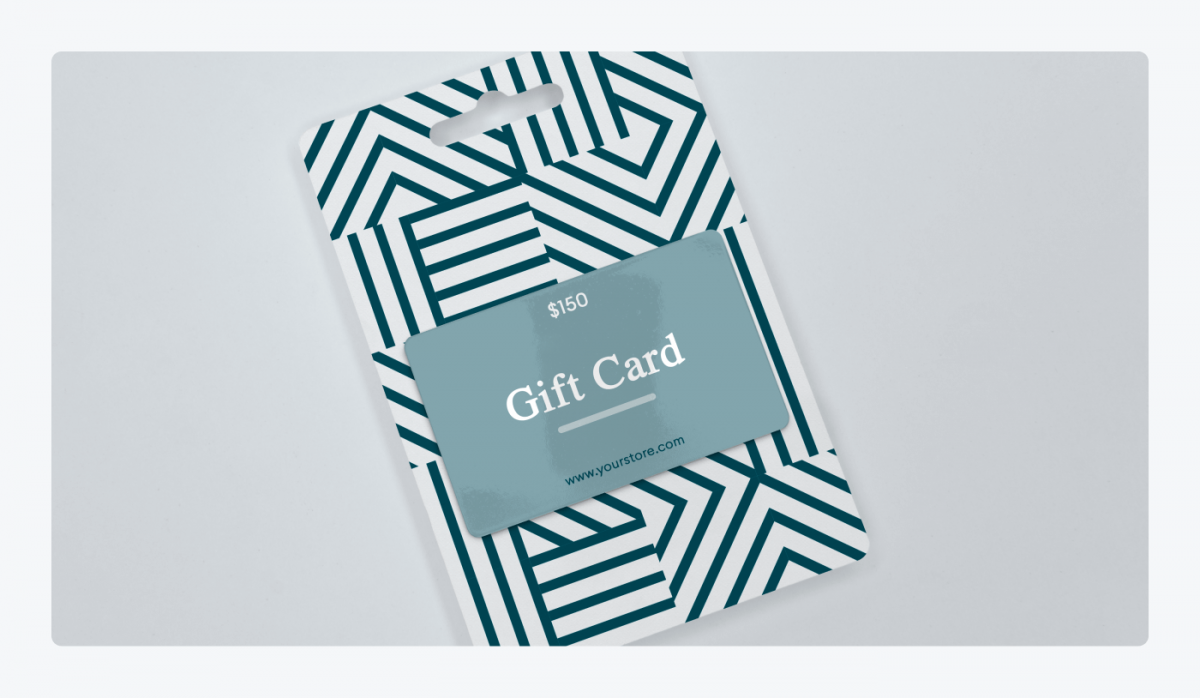 You can design attractive gift card packages with varying denominations that align with your Black Friday discounts. For example, offer $25, $50, and $100 gift cards.
Also, consider bundling gift cards with a bonus, such as offering a free $10 gift card for every $50 gift card purchased. This incentivizes customers to spend more.
You can start promoting your Black Friday gift cards in advance, ideally a few weeks before the event. Also, you should use email marketing, social media, and site banners to create awareness. Make sure to highlight the benefits, such as flexibility, easy gifting, and the opportunity to lock in Black Friday discounts.
Last but not least, you can create a registration flow that requires the new gift card owners to join your newsletter or loyalty program. They will be less hesitant to join than regular customers. Their primary focus will be on using their free gift cards.
16. Inform about BF deals in your WhatsApp and Instagram greeting messages
Leveraging WhatsApp and Instagram chatbots can be a highly effective strategy to enhance your Black Friday marketing efforts. That's because it allows you to engage with customers on popular social media platforms and through messaging apps.
Instagram and WhatsApp chatbots are easy to use and they are like an extra pair of hands. They can inform about new sales, answer frequent questions, or engage with customers when they perform specific actions.
There is a whole range of triggers that you can use to make your chatbot do exactly what you want: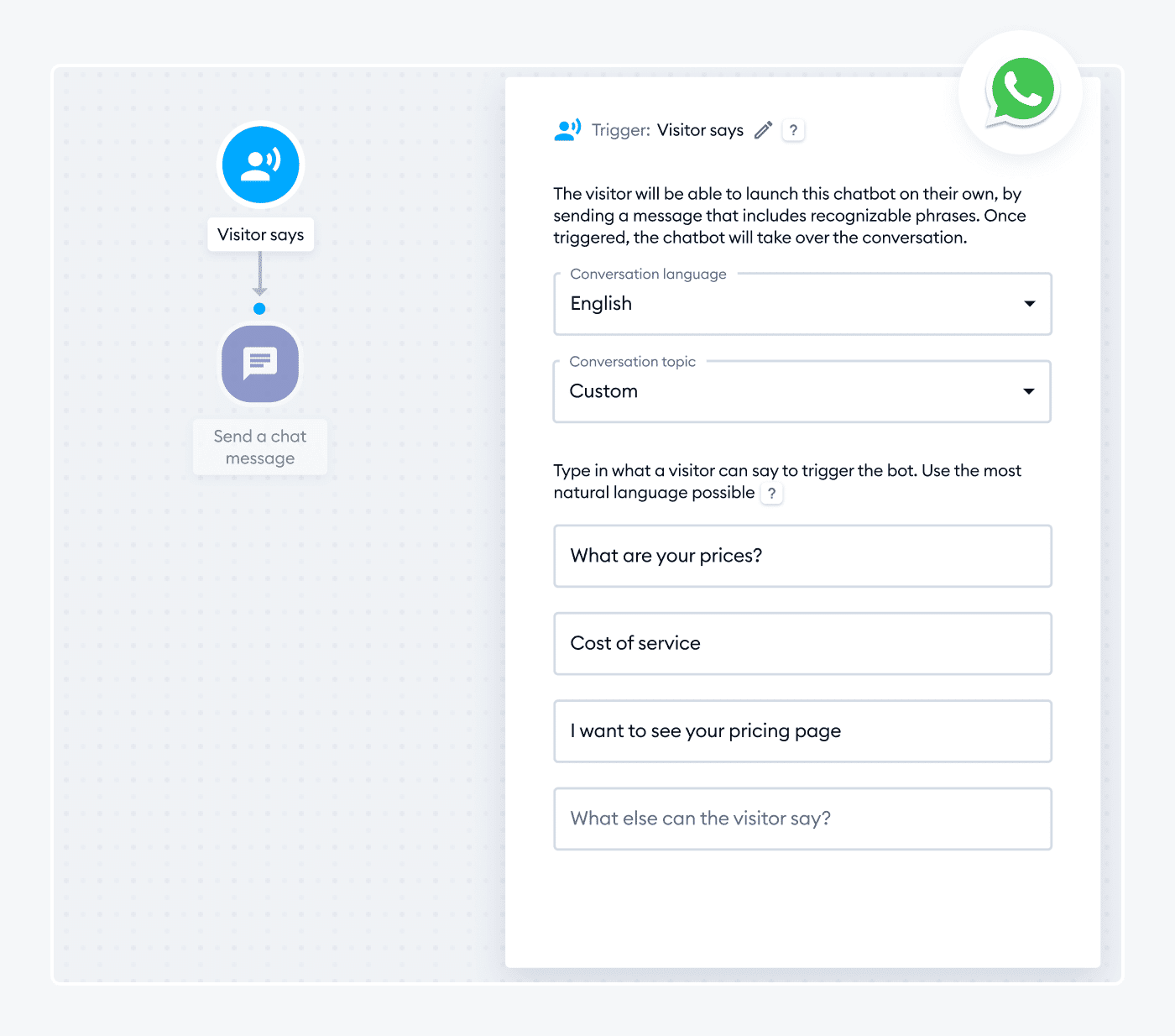 But, just like with many other things, the first impression is the most important. That's why you should start with chatbots that send a greeting message. Sneaking the info about your new Black Friday sale will seem just like a bonus.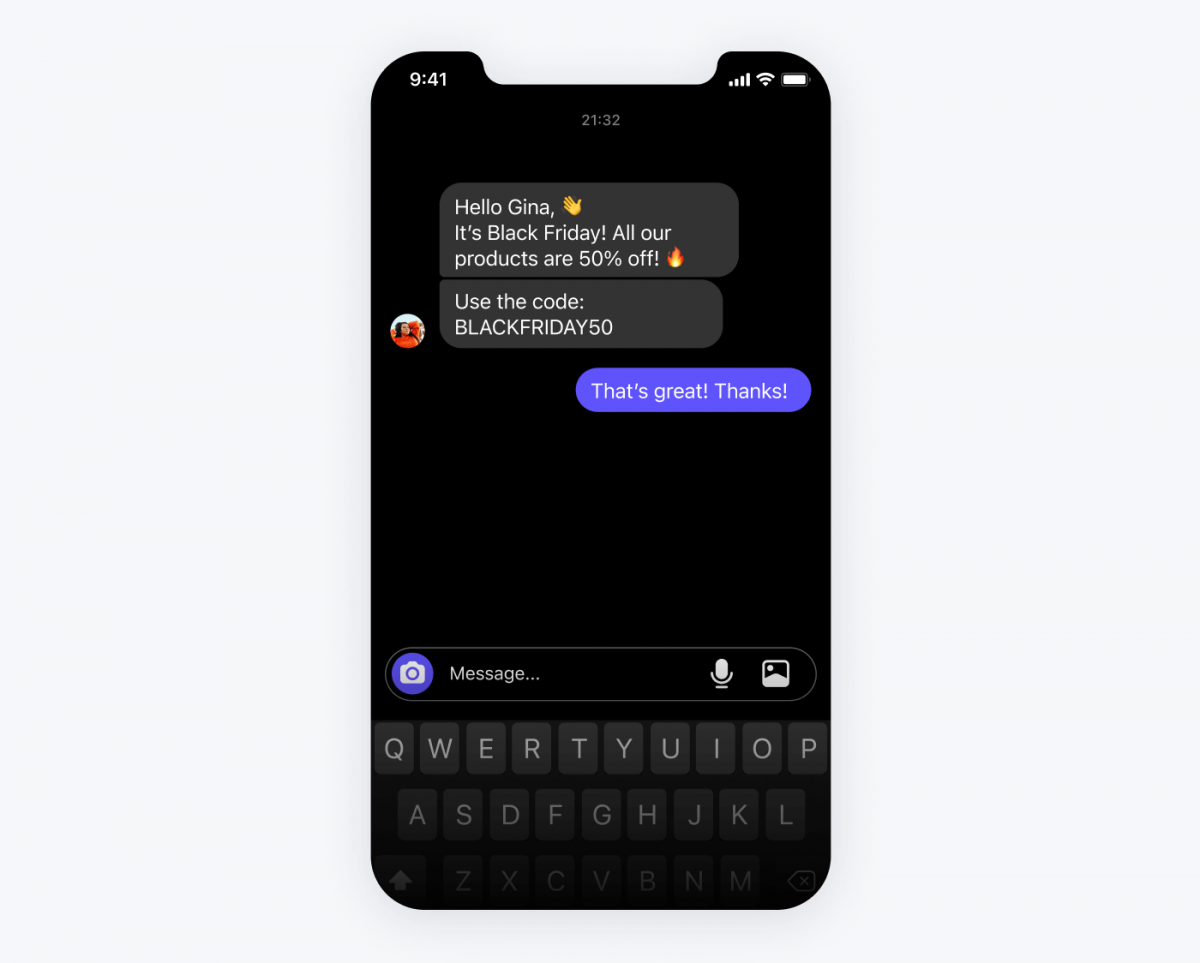 Black Friday campaign ideas: key takeaway
Some businesses can generate more than half of their annual revenue during just a few days surrounding Thanksgiving. If running an online business is like a competitive sport, then Black Friday is the ultimate showdown. You should do everything you can to be fully prepared for this day.
Here are Black Friday marketing tips you can use during this BFCM season:
Use the power of chatbots to automate your sales
Send compelling email marketing campaigns
Create a mailing list
Support your customers using live chat
Create enticing bundle deals
Run flash sales
Use countdown timers
Prevent shopping cart abandonment
Run Black Friday ads on Facebook
Add compelling product descriptions
Reuse your promotion ideas on Cyber Monday
Include BOGO or "buy 2, get 1 free" deals
Offer free shipping and returns
Offer exclusive access to loyal customers
Sell Black Friday gift cards
Promote your deals with WhatsApp and Instagram
You can start using many of these strategies by trying out Tidio, an all-in-one customer service solution for ecommerce businesses. Register for free and begin your Black Friday marketing campaign as soon as today!