The holiday shopping season starts around Halloween. But—unless you sell costumes or horror books—Black Friday sales are the most important ones for ecommerce businesses.
Can you hear an army of Black Friday shoppers gathering at the imaginary gates of your store already?
The big day is coming soon.
It is probably the best time of year to update your product descriptions or finally add this long-overdue pop-up on your website. If you want to learn some of the best sales tactics and easy Black Friday marketing campaign ideas, you are in the right place.
In this article:
How to revamp your ecommerce site for Black Friday
A selection of the best BF/CM tactics to boost sales
Holiday season sales ideas for small businesses
If you are interested in more general guides to online marketing and ecommerce, you can also read:
Now—
Let's start by figuring out why Black Friday and Cyber Monday promotions are so critical for online retailers.
What is Black Friday marketing?
Black Friday marketing involves time-limited deal offers, discount codes, social media advertisements, and email campaigns. Online businesses should include them in their Black Friday ecommerce strategy. It is one of the biggest annual shopping events, both online and offline.
Black Friday marks the beginning of the holiday shopping season. Traditionally, it is on the day after Thanksgiving. This year it is on the 26th of November. Black Friday sales, however, can begin as early as late October.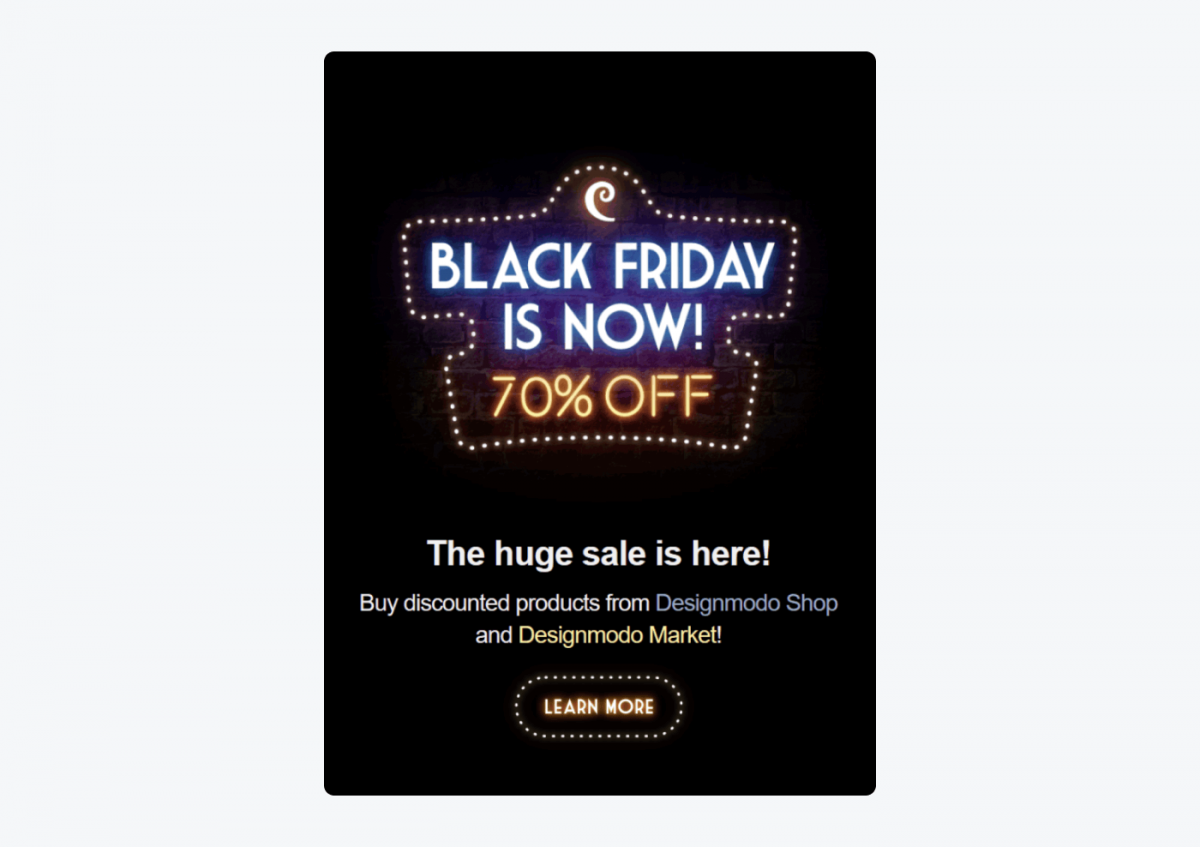 Source: DesignModo
Last year, business was a little bit slow because of the pandemic. The Wall Street Journal reports that the Black Friday sales revenue has dropped by about 30% and the number of customers who visit brick-and-mortar stores decreased by half.
Still, it is a major shopping event, and limited-time offers are a perfect strategy for ecommerce business owners. The number of Black Friday shoppers may have dropped, but more customers declare that they are going to search for holiday season deals online.
But how to create unforgettable online shopping experiences for your customers? Here are some tips.
How to prepare your website for Black Friday
According to current trends, the shopping season is getting longer and it starts earlier. Still, the period right around Thanksgiving can be overwhelming.
Black Friday tips for online stores:
Add a live chat widget on your website. You can use it to set up automatic messages that will handle additional visitors and customer queries.
Display your BF deals on the homepage. Your homepage is the most important element of your online store. If you want to announce a sale, it is the right place to start.
Make sure that your ecommerce website is mobile-friendly. The number of mobile shoppers grows exponentially and you shouldn't ignore their needs. If your website looks great on desktop devices but is not very responsive on mobile devices, half of your efforts will go to waste.
Integrate your customer database software with an email marketing tool. Email marketing was basically made for time-limited offers such as Black Friday.
Double-check if your hosting platform can handle extra traffic. If you are using a platform like Shopify, you should be fine. But basic plans of some hosting services have a limited monthly visitor capacity.
OK—
You are probably curious about Black Friday marketing ideas.
Our big question today: What are the most common marketing strategies to attract customers on Black Friday?
Roll up your sleeves and let's go through the best of them one by one.
Best Black Friday marketing strategies for ecommerce
You can improve the performance of your Black Friday and Cyber Monday campaigns by adding extra functionalities—such as bots or timers—or by offering unique deals.
Black Friday marketing strategy examples:
It may seem like a lot. That's why you don't have to try them all at once. However, these ideas can be combined together without any problems.
Read on to find more details about selected strategies.
1. Add a chatbot to recommend products and offer discounts
You can cross-sell or up-sell with ecommerce chatbots. Set up custom conditions and circumstances to trigger different chatbot designs. If someone adds a pair of shoes, your chatbot can automatically recommend a personalized selection of matching socks right before the checkout. Or right after the product has been added to the shopping cart. It's up to you and the possibilities are endless.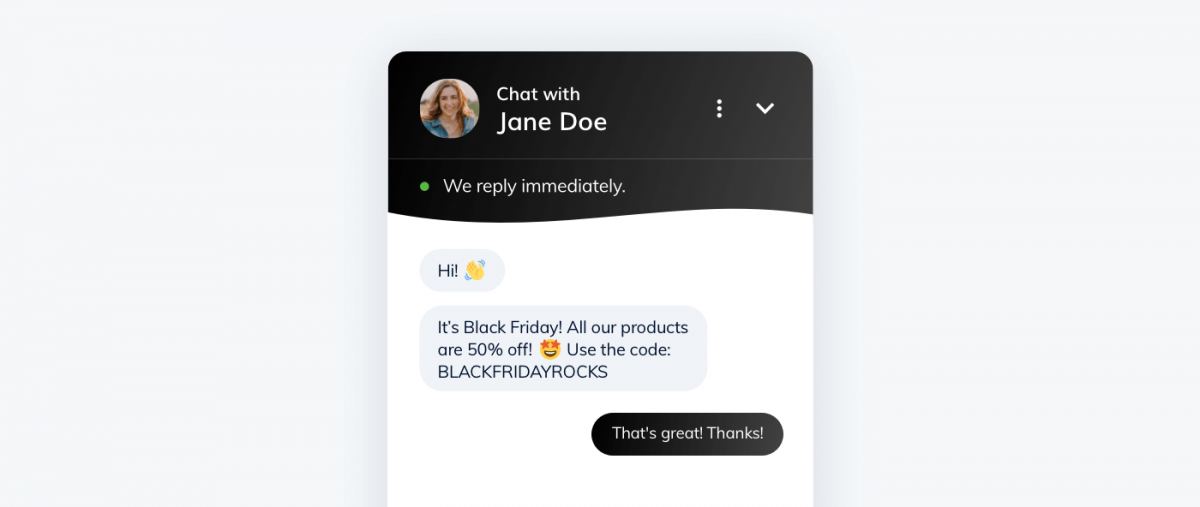 You can create a chatbot that sends discount codes and make them appear on your website in minutes. Chatbots are one of the most popular types of marketing automation for online stores. Unlike pop-ups, virtual assistants improve customer satisfaction by offering "conversational experiences." It is a fancy way of saying that they are fun.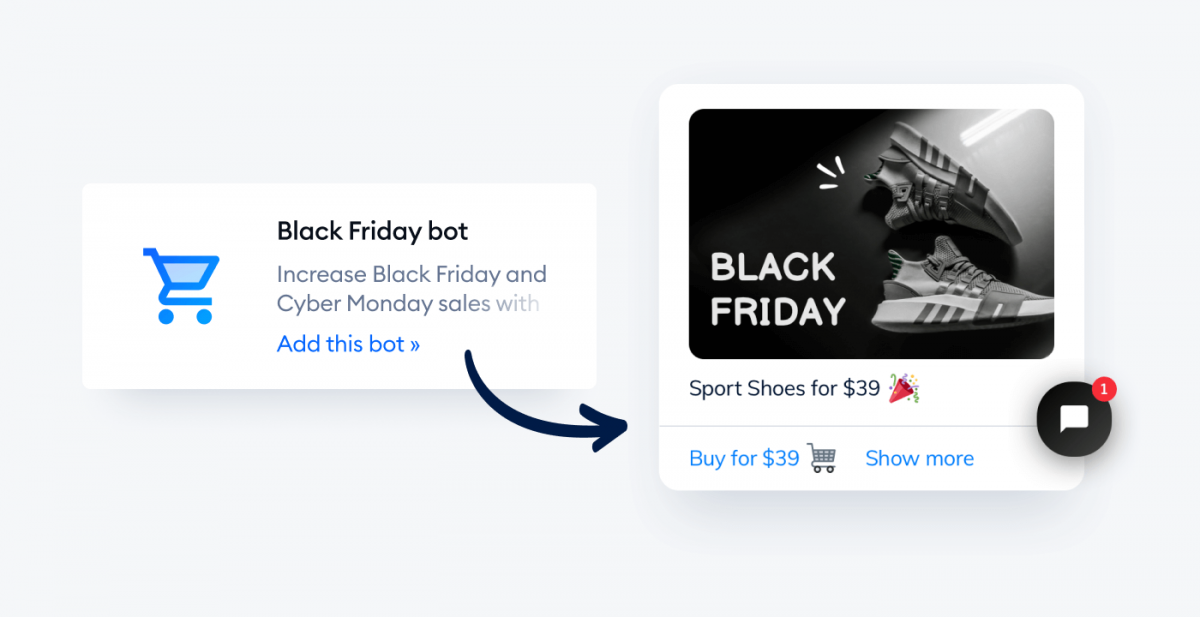 Find out more: What Are Chatbots? [Chatbot Definition & Benefits]
2. Send a Black Friday email marketing campaign
If you already have a customer base, sending a Black Friday campaign is a piece of cake. However, those of you who don't have too many contacts should start collecting them immediately. You should be doing this all year round!
Popular email marketing platforms offer free email marketing templates for Black Friday and other holidays.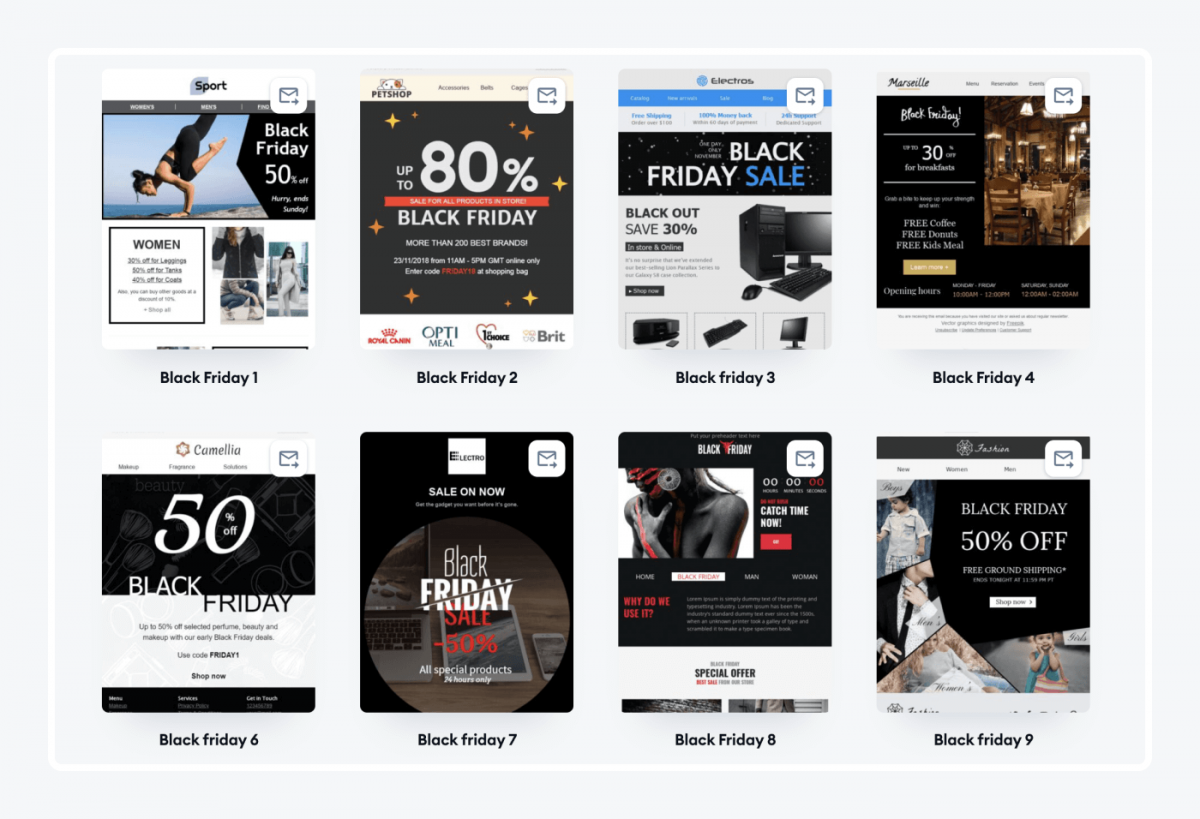 All you have to do is pick your favorite design. You can edit any element, replace photos, or add and remove interactive elements. Campaigns can be scheduled or sent right away to contacts and customer segments of your choice.
If you want to boost your email open rates, try to reverse-engineer the best email subject line examples.
3. Start ahead of time with promotions for early birds
Black Friday is on the day after Thanksgiving. But what is the best time to start a Black Friday sale? According to our study on Black Friday trends, 23% of consumers think that Black Friday flash sales should start several days before Thanksgiving. Still, many people think the sooner the better and they don't mind if the BF promos start at the beginning of November.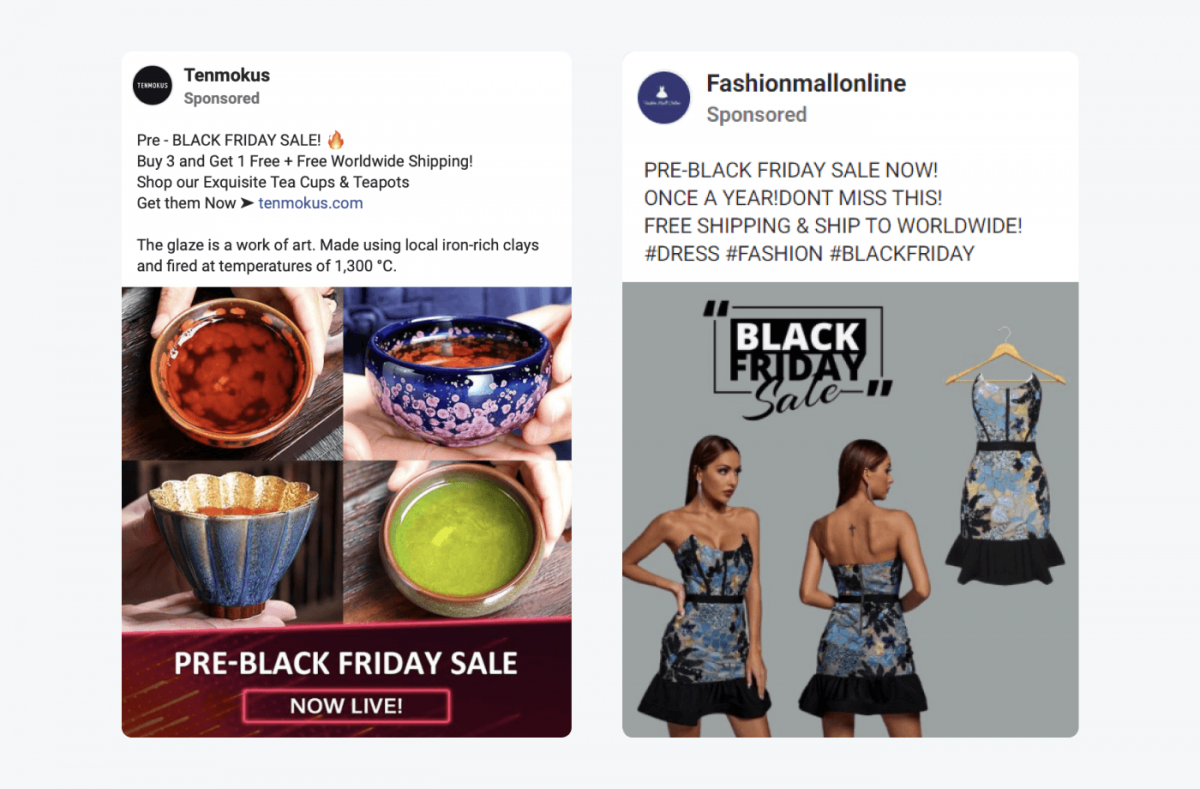 The date when you should start isn't set in stone. And you can use it to your advantage. Who says that you cannot have several iterations of your Black Friday campaign? If you want, you can start with a Black Friday pre-sale several weeks before. There is no Secret Marketing Tactics Police Squad that would arrest you for it.
You can play around with different Black Friday email strategies.
The most common option is to send early-bird notifications one week before, then advertise on Monday, Wednesday, Friday. Afterward, you can extend your sale or announce your Cyber Monday deals.
It is perfectly OK to send a series of about 5-10 mass emails in a row across the shopping season. The majority of your customers will open only some of them anyway. By increasing the number of sale reminders and Black Friday offers, you increase your chances of landing a sale.
Read more: What Is The Best Time To Send Emails?
4. Create a Black Friday mailing list
If you don't have many customer contacts yet, don't worry. It may take some time but you will get there eventually. We have a recipe just for you. You can run a Facebook ad that encourages people to sign up for your mailing list. The deal should sound exclusive and time-limited. For example, you can tempt your future email newsletter subscribers with higher discounts.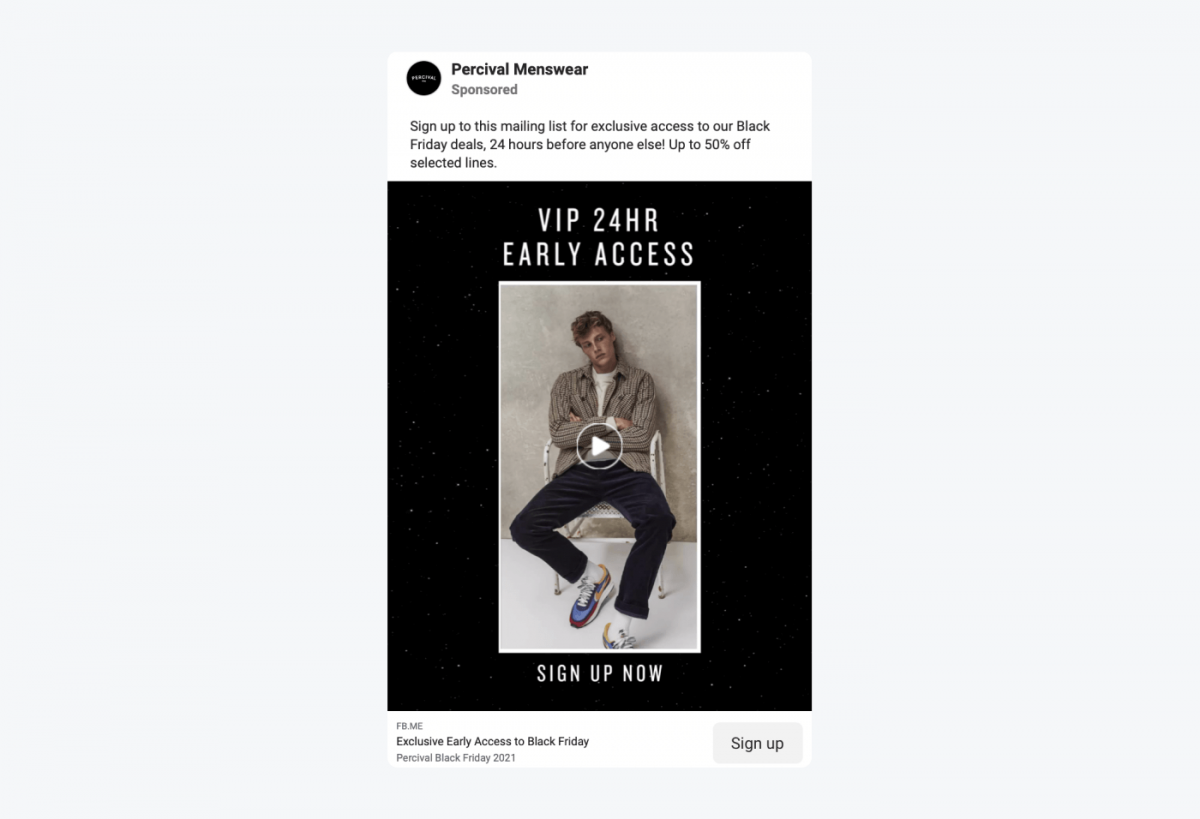 They are more likely to join your mailing list if you can give them something for free or "before anyone else." Black Friday customers know that time is of the essence. And that they can miss the opportunity to buy what they are looking for if they hesitate.
5. Offer free shipping, gifts, or "buy 2 get 1 free" deals
According to a recent report from the National Retail Federation, the average order value during the holiday shopping season is still above $300. When the pandemic is over we can expect it to rise back to almost $400.
Holiday shoppers are in a real frenzy and it is easier to convince them to buy more products than they originally intended. And nothing beats the good old "buy 2 get one free" offers.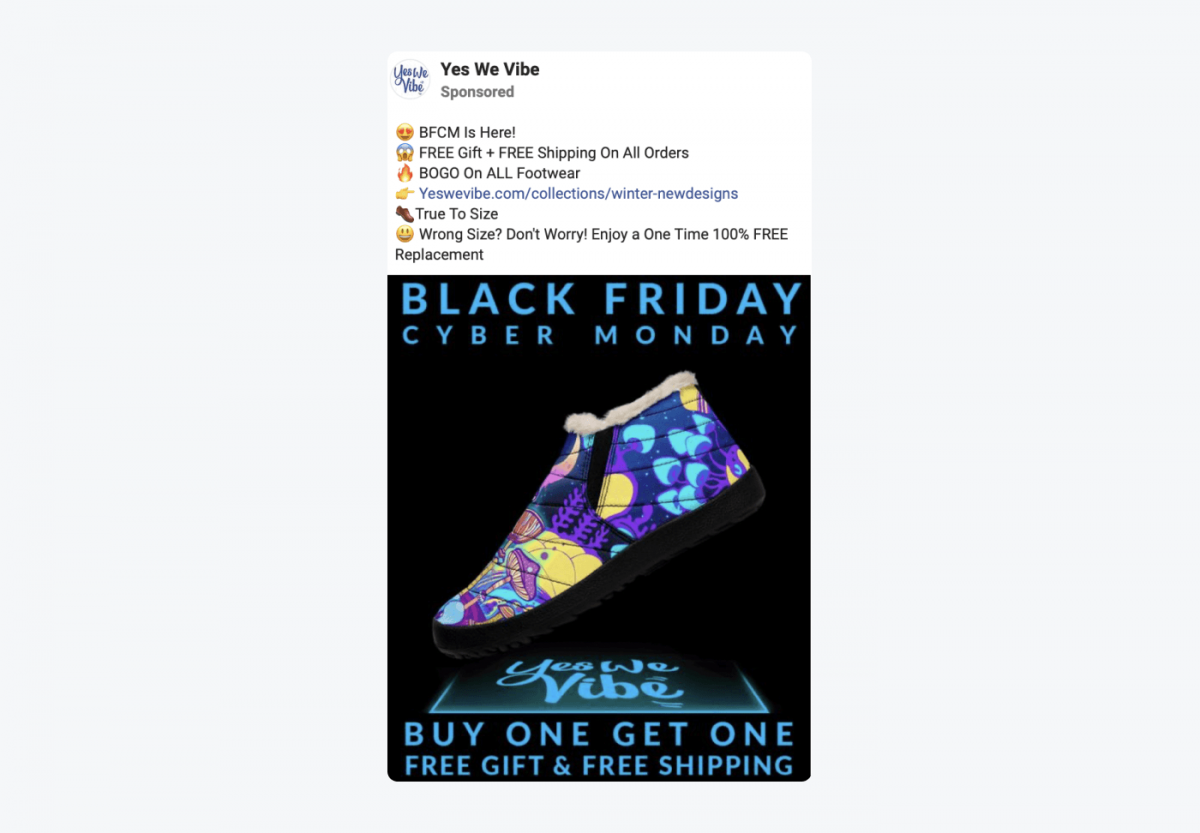 Black Friday "Deal" Tip:
Get and free are the two most important magic words of marketing. Obviously, there ain't no such thing as a free lunch. And the same goes for getting free gifts and free shipping options. The costs should be included in the price of the product itself.
6. Create a dedicated landing page with good deals or a signup form
It is extremely difficult to display everything on your offer in a single email or Facebook post. If customers have to search for discounted products on your website on their own, that's not the ideal option either.
Consider designing a dedicated landing page for Black Friday shoppers, like the one below.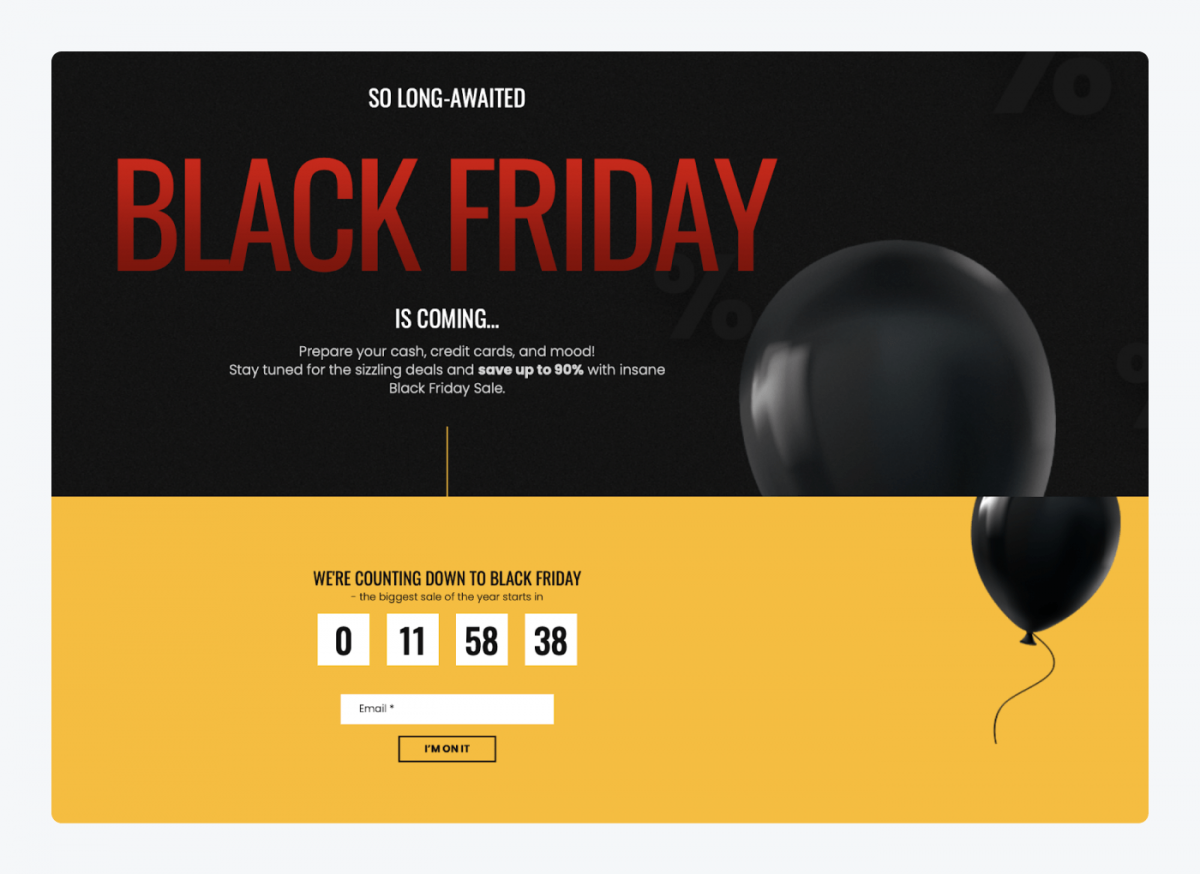 You can test this template here. It even has a Black Friday pop-up! Landing pages can use colorful designs or high-resolution photos. Consider adding some reviews or comments from your real customers—social proof is extremely important for building trust in ecommerce.
If you need inspiration for designing your ecommerce landing pages, you can explore our selection of the best Shopify stores.
7. Use SEO tools to find sale ideas
A nice landing page design is a cool thing to have. But do you know what is even cooler? A page that is optimized for search engines too. Some search phrases related to Black Friday have massive search volumes.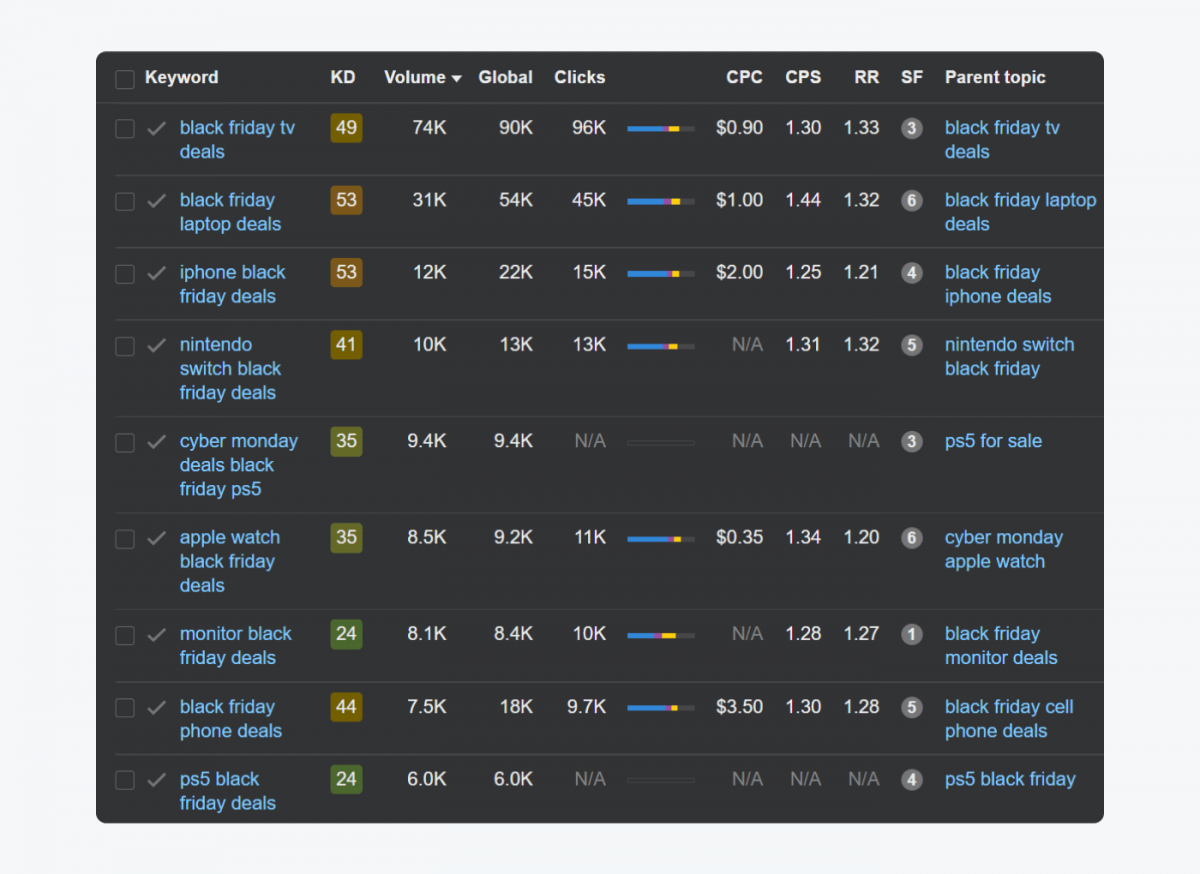 Did you know that Black Friday deals on Nintendo Switch amount to 10K monthly searches in the United States alone? Advanced SEO tools can be difficult to use but you can find useful information even on Google Trends.
Read more: Best Products to Sell Online in 2021 [The Ultimate Guide to Trending Products]
8. Show a countdown timer right next to your CTAs
Do you remember that scene in your favorite action movie when the central characters are trying to disarm a ticking bomb? It is a total cliché but it works. Nothing adds a sense of urgency like a ticking clock. And it also happens to be a powerful digital marketing technique.
Ecommerce stores love to add countdown timers on their landing pages and embed them in their emails. It is very easy. You just pick the right email template and set the deadline.

For example, in Tidio you just need to add a parameter to one of the email building blocks (deadline=YYYY-MM-DDTHH:HH:HH) and you are good to go.
Read more: How to Use Tidio Mailing Editor
9. Run Black Friday ads on Facebook and other social media
You should advertise through communication channels that your customers use. And chances are they are on Facebook or Instagram. You can experiment with hashtags and try to reach your organic audience.
But—
Do you know what the most effective Black Friday social media campaigns are?
The ones you pay for.
Facebook ads are very similar to regular posts but you can instantly reach thousands of potential customers. You can apply filters and target specific demographics. It all comes down to your budget.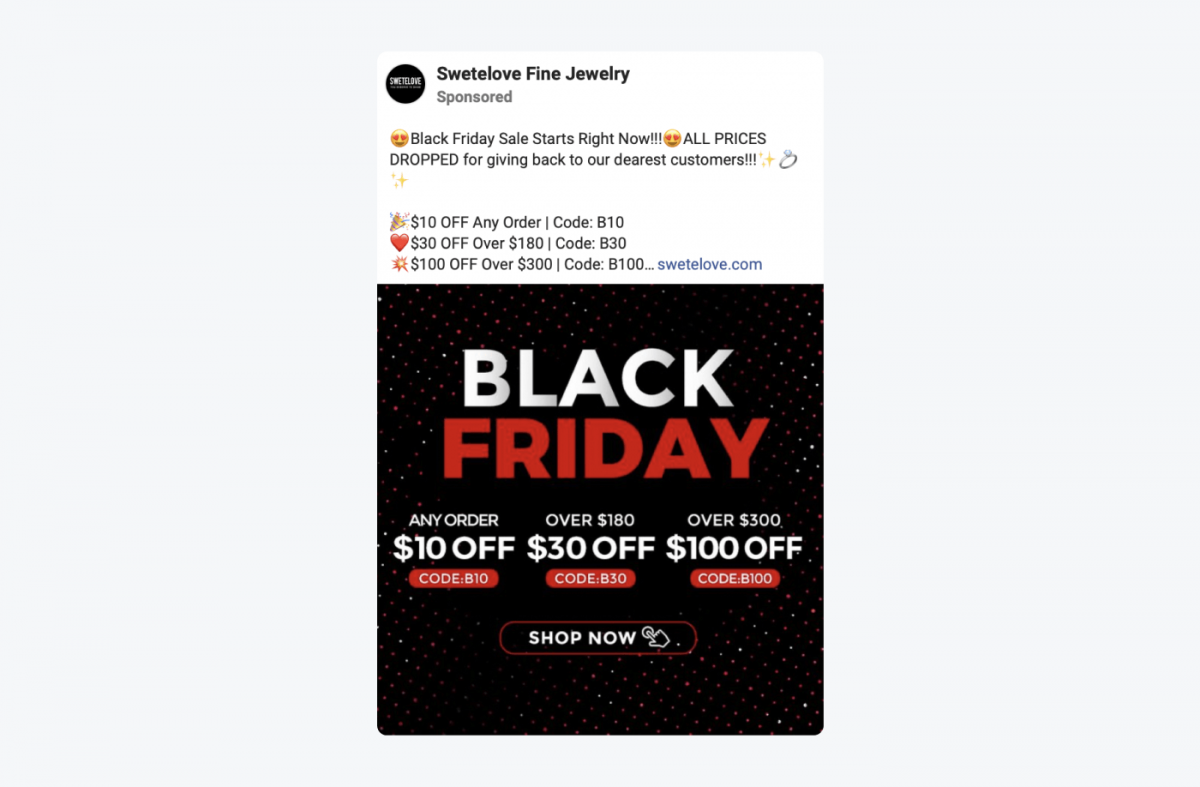 You can also try to collaborate with social media influencers. A local TikToker who happens to be a popular personality in your niche could help you spread the word about your Black Friday campaign.
Social media chatbots
You can send automatic messages about your Black Friday promotions with Facebook Messenger bots. They can be far more effective than traditional emails.
10. Revamp your product descriptions and try catchy slogans
Good copywriting can have a huge impact on your sales. The better your email opening lines, the higher your open and click-through rates. And more inciting descriptions on your product pages mean higher conversion rates. All in all, a good copy can increase both the number of visitors and your chances that they will make a purchase.
Copywriting can also reflect your brand voice. It can help you tell a story or provoke. Here is an extreme example from GFDA.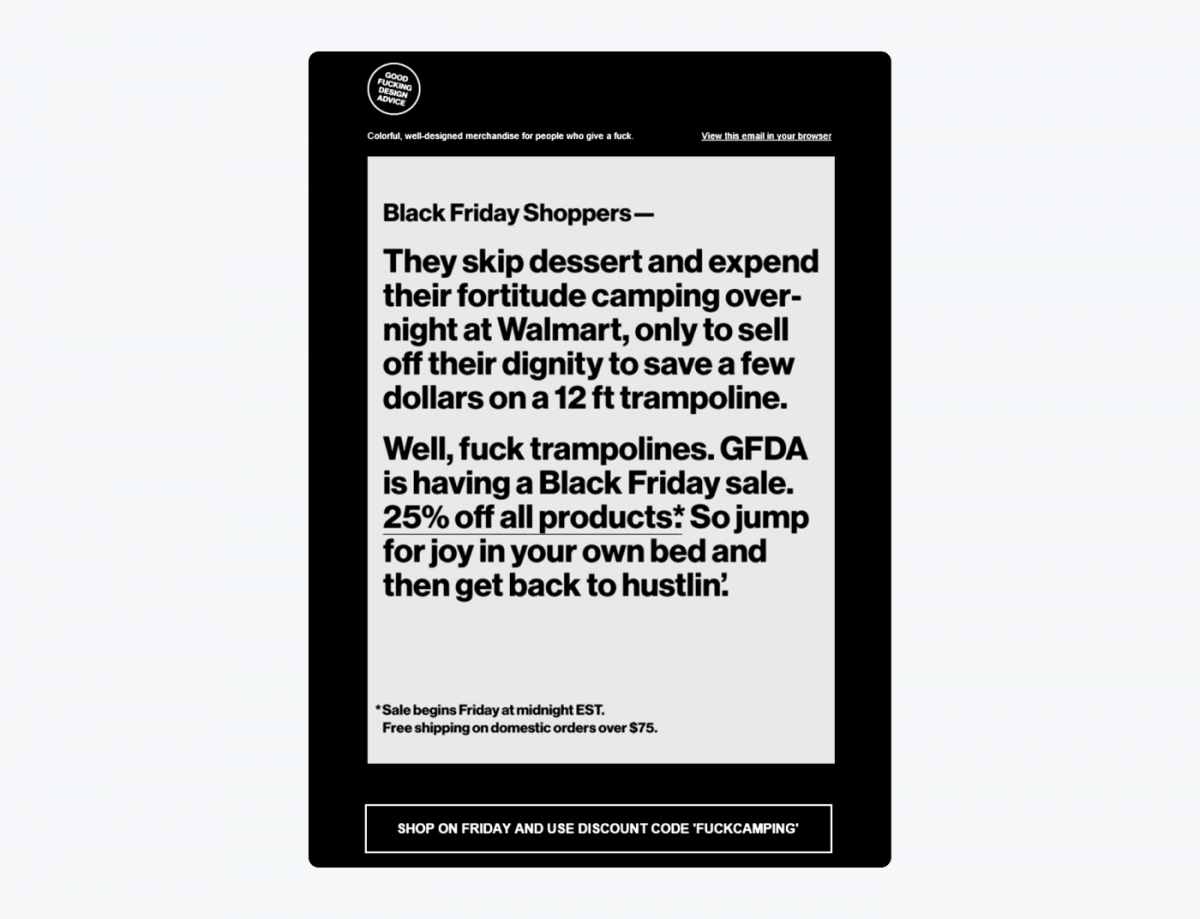 This type of language can attract their laid-back target audience. But naturally, it won't work for every industry or product.
Copywriting doesn't have to be shocking. It can build trust, evoke different emotions, or make you laugh.
You can find inspiration for your copy here: 100+ Black Friday Slogans and Captions
11. Recycle your Black Friday promotions and use them again as Cyber Monday deals
According to some studies, people enjoy Black Friday more but actually find shopping on Cyber Monday more convenient. Customers find Cyber Mondays less stressful and the deals are comparable. This brings us to our next point—you can redesign your Black Friday promo campaigns and use the same flows again after the Black Friday weekend. All you need to do is slightly adjust the copy, your visuals, and discount codes.
Just take a look at this Cyber Monday email campaign: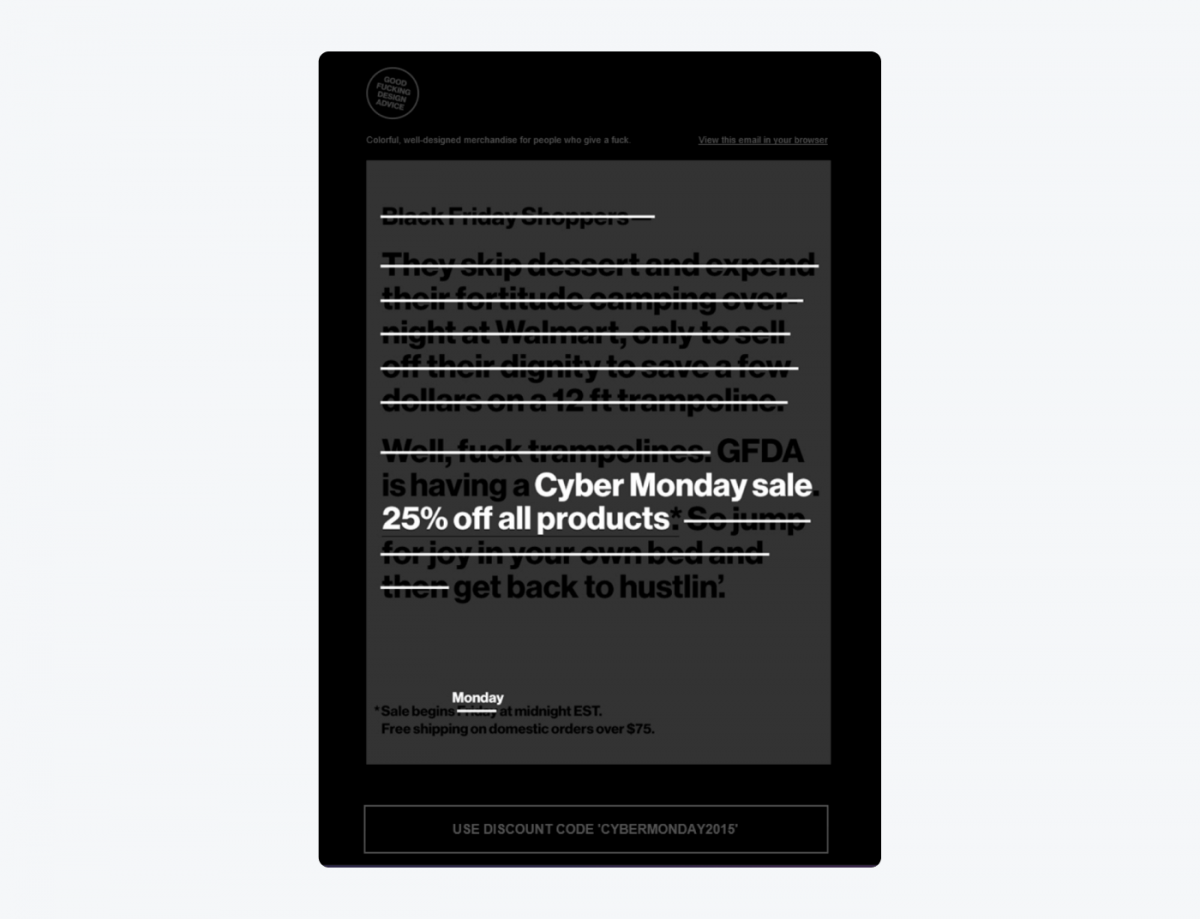 They are not even trying to hide it! Cyber Monday sales don't have to be radically different from your Black Friday deals. You can try to sell the same products again and there is nothing wrong with it. The majority of your customers won't notice it. They will feel lucky that they didn't miss their chance. Just make sure to mention that your Cyber Monday offer is the final opportunity—and this time you really mean it.
Creative Black Friday ideas for small businesses
If some of the ideas mentioned above are out of your reach, here are some Black Friday sale ideas for small businesses.
12. Sell BF gift cards to avoid supply bottlenecks
Gift cards have many advantages.
First of all, the purchase is delayed. This means that instead of a massive avalanche of customers you can expect that purchases will be spread out evenly over a longer period of time. And some of them may even forget that they have received a gift card altogether!
Second of all, you can sell cards that can be redeemed, for example, only after Christmas. This is a great trick to help you avoid supply or delivery issues during the holiday rush.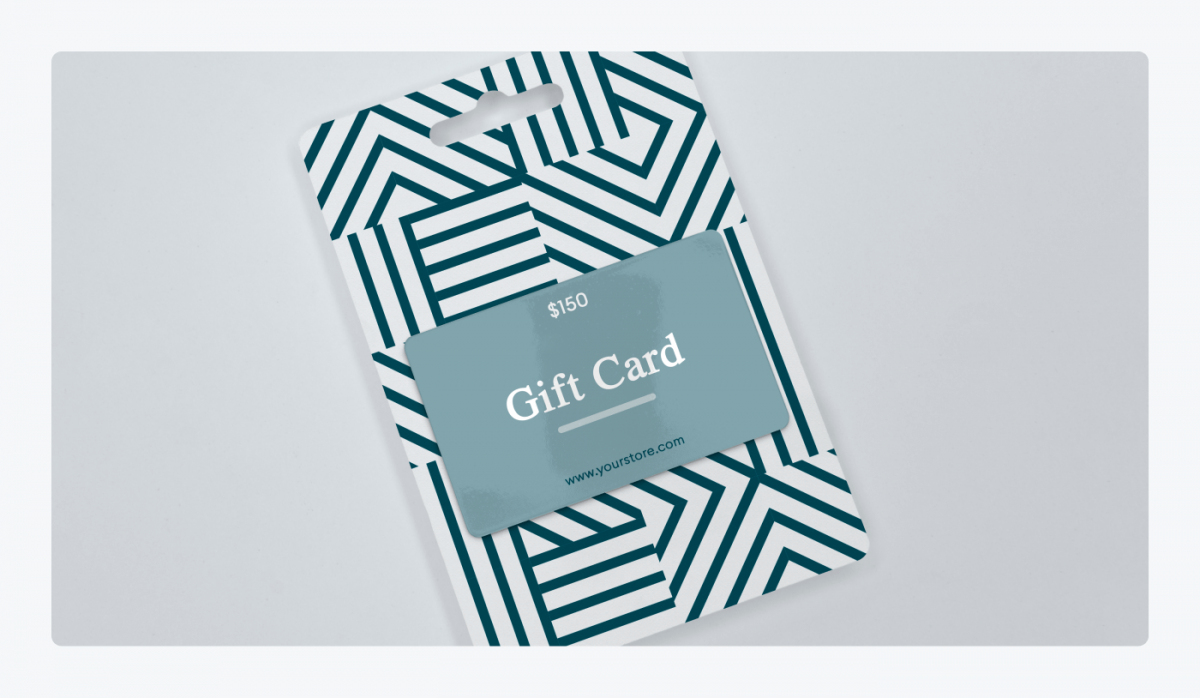 Last but not least, you can create a registration flow that requires the new gift card owners to join your newsletter or loyalty program. They will be less hesitant to join than regular customers. Their primary focus will be on using their free gift cards. Here are some of the best Christmas marketing campaign ideas that will help you boost sales during the holidays.
13. Inform about BF deals in your WhatsApp and Instagram greeting messages
Instagram and WhatsApp chatbots are easy to use and they are like an extra pair of hands. They can inform about new sales, answer frequent questions, or intervene when customers perform specific actions.
There is a whole range of triggers that you can use to make a chatbot do exactly what you want: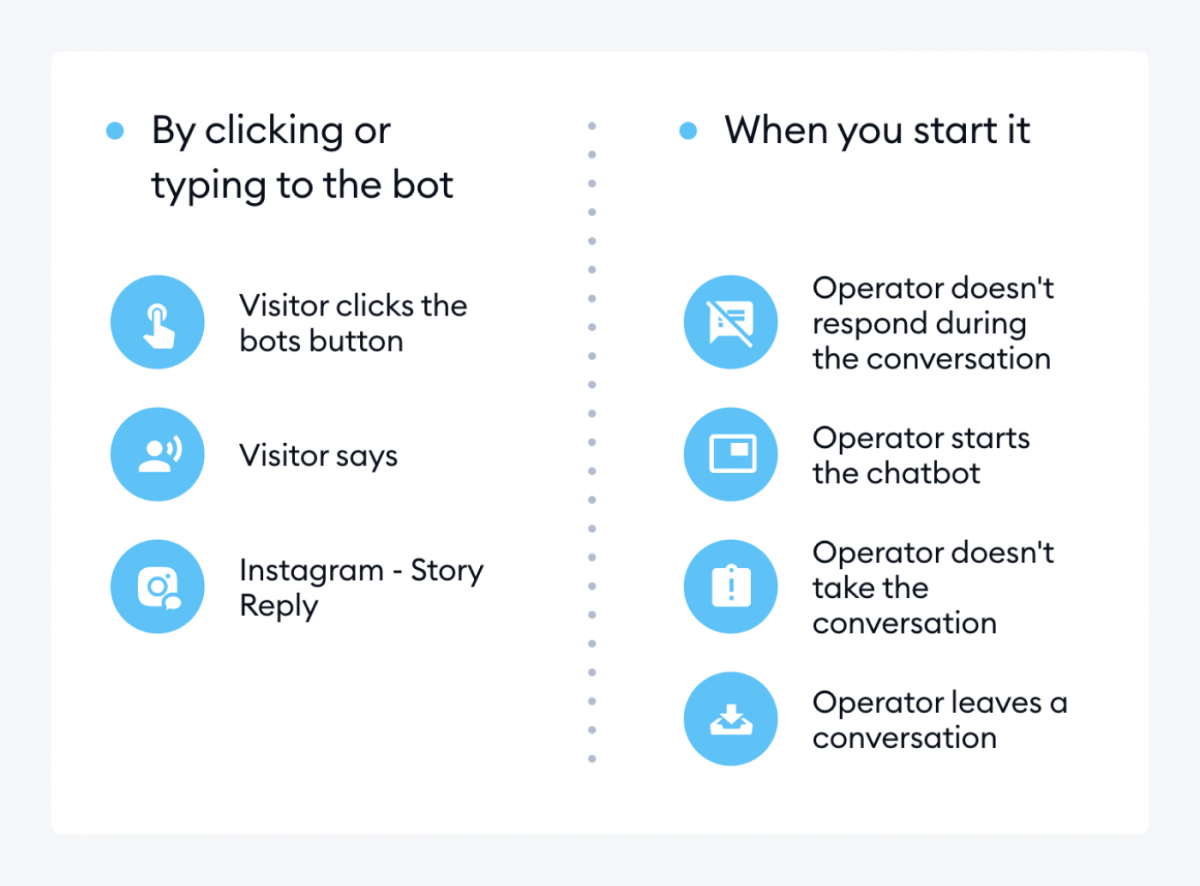 But, just like with many other things, the first impression is the most important. That's why you should start with chatbots that send a greeting message. Sneaking the info about your new Black Friday sale will seem just like a bonus.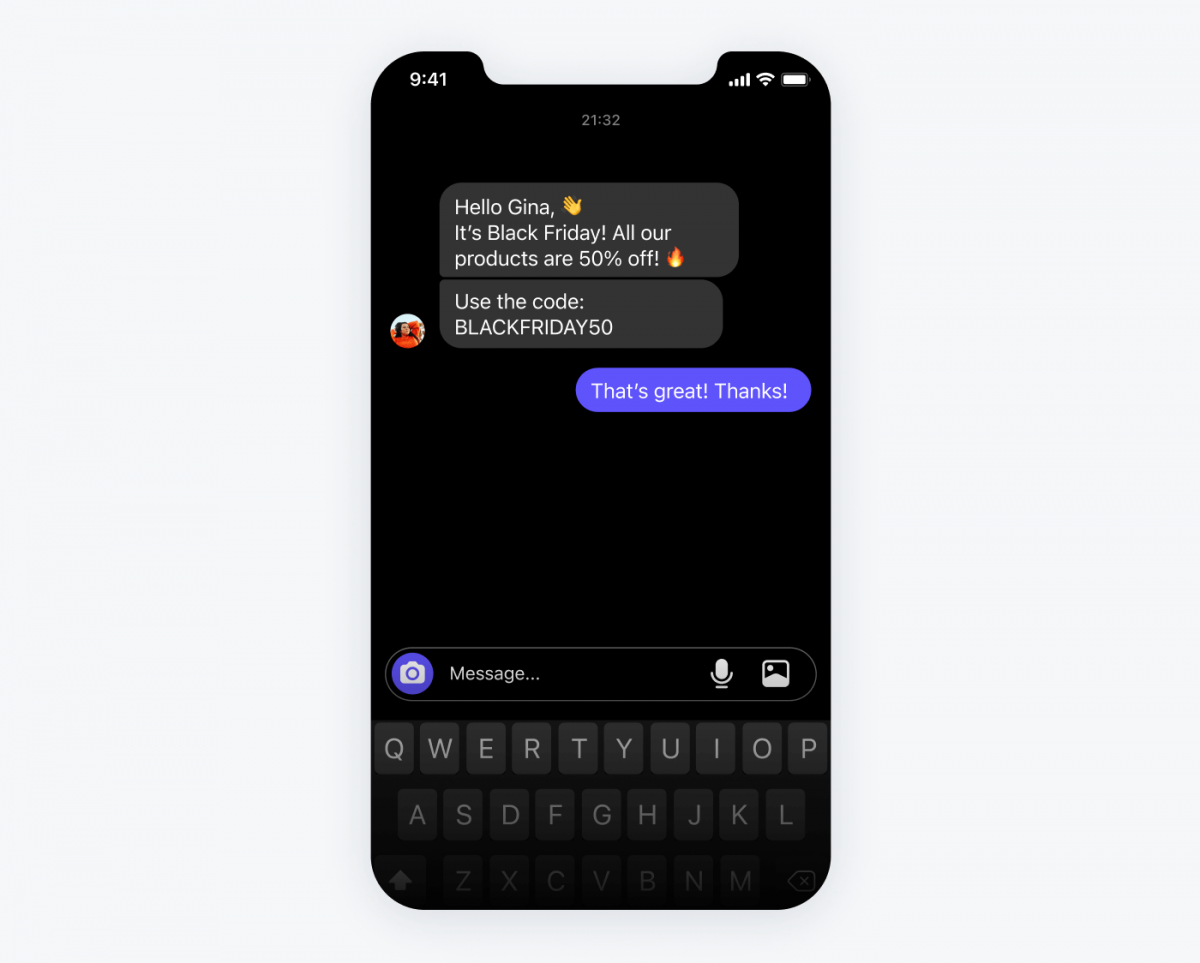 Here are some more examples that you can use: Best Welcome Messages for Customers
14. Start building your email list for the next year
Sales are seasonal but lead generation should be one of your ongoing processes. You can create a good newsletter signup in a matter of minutes and start collecting emails right from day one.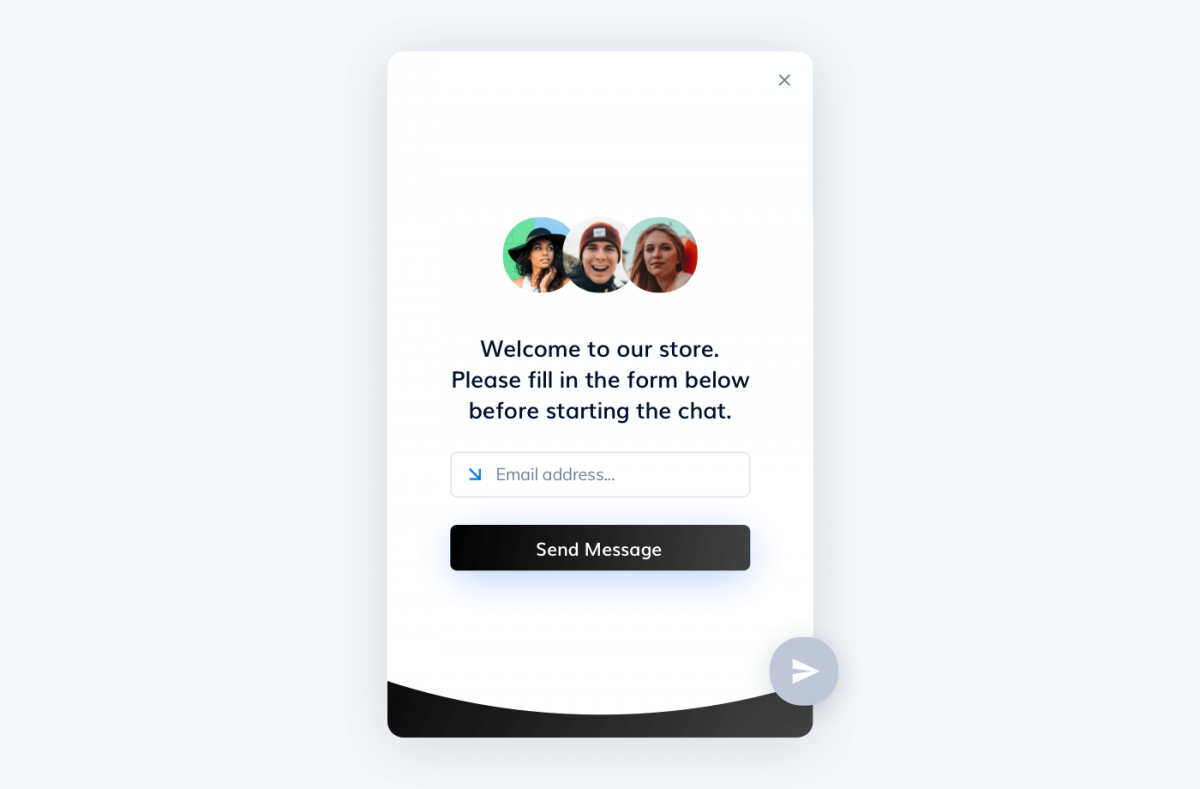 Apart from email addresses, you can even collect phone numbers for your SMS marketing campaigns. Retargeting your visitors with a series of text messages is a powerful way to make them revisit your site and reconsider your offer.
15. Prevent shopping cart abandonment by personally engaging visitors
According to online shopping statistics, 80% of shopping carts are abandoned. Luckily, there are many abandoned cart recovery techniques for ecommerce. One of the least-known is starting live chats with your most hesitant customers. You can ask direct questions or give them assistance. It won't always save the sale but it will help you identify what went wrong in the first place.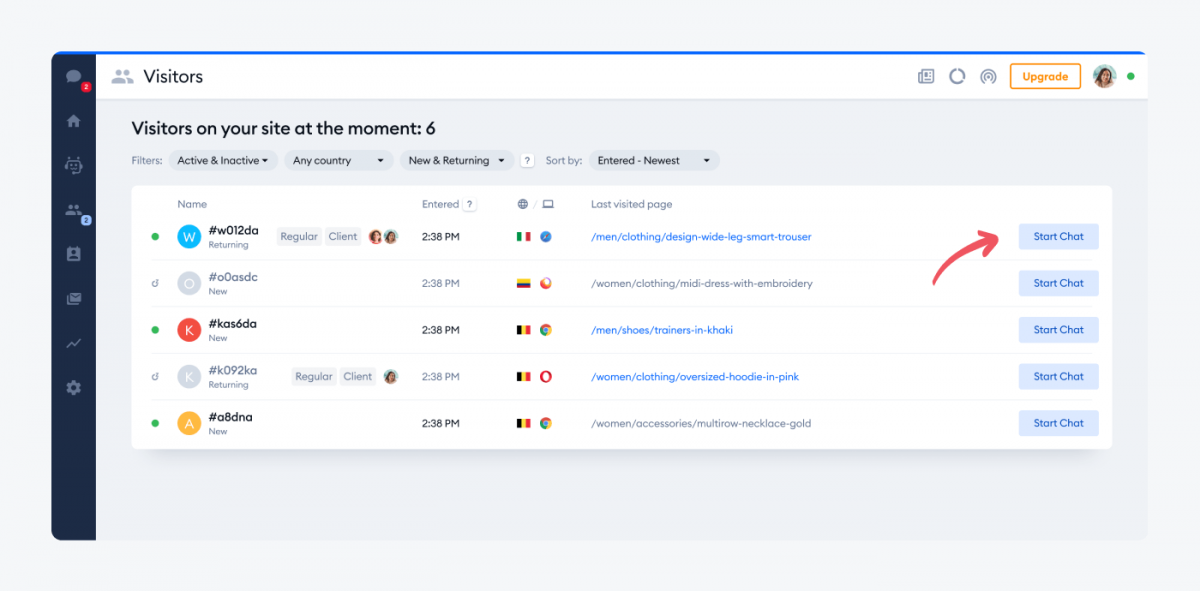 There are many free live chats that you can integrate with Shopify, WordPress, and other platforms.
16. Add a personal note to build customer loyalty
Holiday sales are a great opportunity for building customer relationships. You can get new customers by offering good Black Friday deals and discounts—that's true. But if you are interested in long-term business opportunities, you really need to turn them into loyal customers.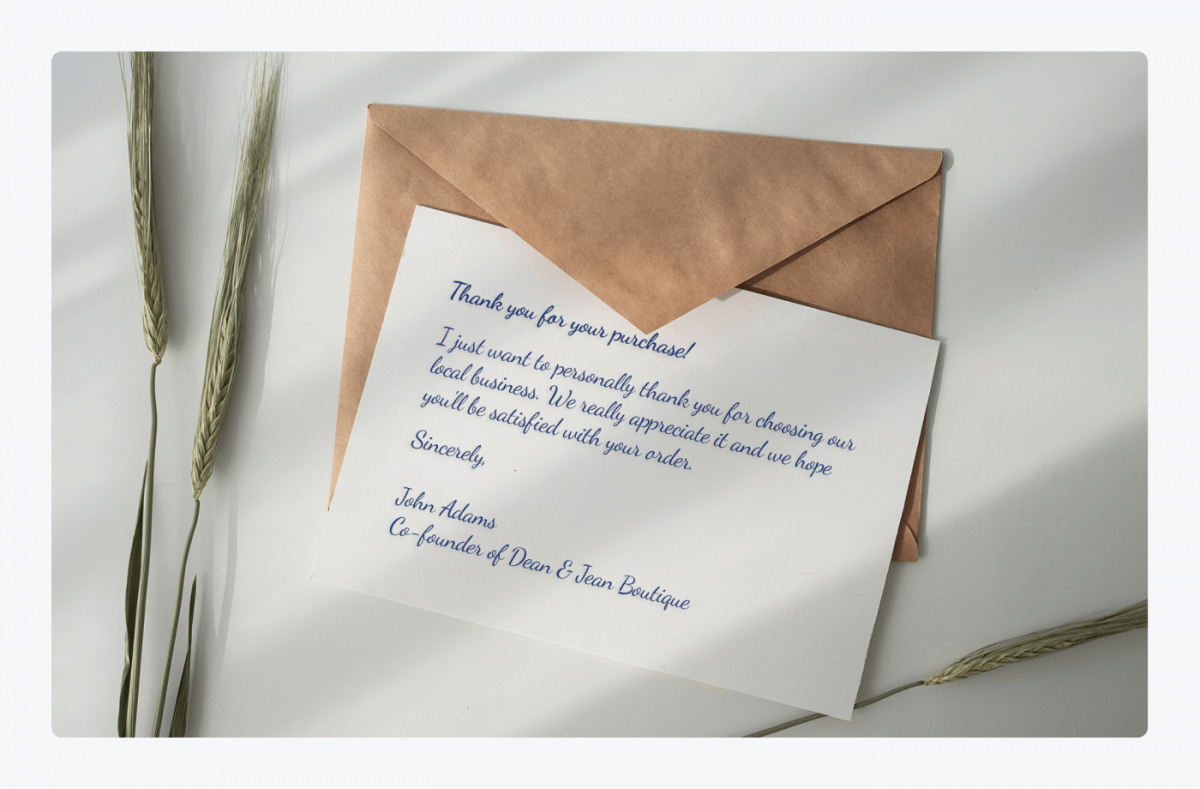 If you want to make your business stand out from the competition you should go with something personalized. Showing your effort and dedication to good customer service will pay off eventually.
Read more: Thank You for Your Purchase [Template Messages]
Black Friday campaign ideas: key takeaway
Some businesses can generate more than half of their annual revenue during just a few days surrounding Thanksgiving. If running an online business is like a competitive sport then Black Friday is the ultimate showdown. You should do everything you can to be fully prepared for this day.
If you want to get the most out of your Black Friday and Cyber Monday campaigns:
Start with a presale before the actual Black Friday
Encourage customers to join your early access mailing list
Announce your deals on your homepage
Prepare a Black Friday landing page
Send a sequence of Black Friday and Cyber Monday emails
Offer discounts and automate customer service with chatbots
Design additional paid campaigns for social media
Use proven product discount tactics such as "buy 2 get 1 free"
Carry out an online research to find popular Black Friday products
Use countdown timers to make your deal seem like "now or never" opportunities
Get some of your previous year marketing materials and update them instead of creating everything from scratch
You can tick off some of the most essential points by trying out one of the most advanced customer service solutions for small ecommerce businesses.