Tips & Tutorials
Is Your Chatbot Black Friday Ready? Black Friday Images, Phrases, Quotes & Tips
Black Friday is an event no retailer should miss. Gear up your chatbot with ready-made catchy Black Friday phrases or find out how to write them on your own.
Have you started your preparations for Black Friday yet?
To get the most out of this amazing opportunity, e-commerce business owners should plan ahead.
Whether you run a physical or an online store, you want your website visitors to know what deals you have prepared for them before they even start browsing.
Luckily, you can communicate the deals in many ways, such as ads (banners) on your website, email campaigns, or pop-up ads.
But there is also another way: chatbots.
If you are wondering how you can start building them, here's the solution: Try Tidio chatbots. They are free, easy and cost-efficient solution to use — worth giving a try, especially during Black Friday!
Build Chatbots for Free
Table of Contents
In this article, you will find a list of catchy Black Friday phrases and quotes to use as chatbot messages to attract your customer's attention and convince them to shop with you.
And — a Black Friday bonus for you 🙂
We included a few fancy Black Friday backgrounds that you can download and use in chatbot messages. You will find them in the Black Friday images section.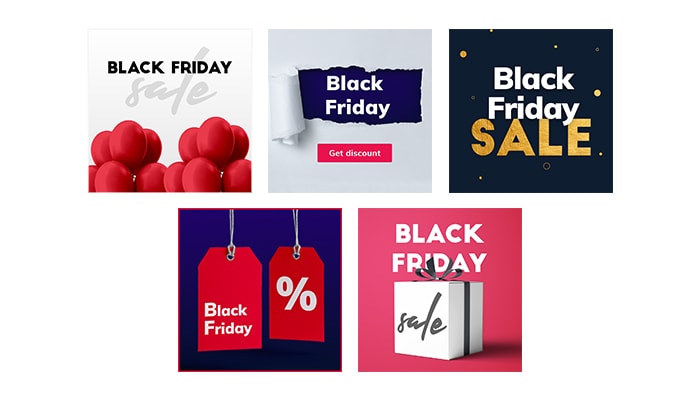 Using Chatbots During Black Friday
Are you wondering what chatbots can do during Black Friday? They can be really amazing helpers.
They can not only welcome your visitors and make announcements about your deals or show the most popular products but also aid your customer service agents by answering common questions about shipping, product, discounts, etc.
In other words, you can use them as conversational ads and customer support agents.
How To: Catchy Black Friday Phrases
There is only one Black Friday per year and you will be competing with other stores trying to come up with the best deals and marketing campaigns.
Your goal is to pack a lot of information into short messages to attract attention while not overwhelming your customers with too many details.
So, in essence, the chatbot messages serve a similar role to email subject lines – they inform and attract potential customers.
How do subject lines manage to do that? Or in other words, what are the words that catch the customer's attention the most?
Email Subject Lines vs Chatbot Messages
Email subject lines carry a lot on their shoulders. They must be interesting enough to stand out in the crowd of other emails that land in the customer's inbox.
Subject lines are the deciding factor in whether an email will be opened (and clicked) or not.
Pro Tip:

If the message your chatbot sends is too long, cut it into 2 or 3 shorter ones. This will improve clarity and reading experience. Don't forget to add Delays when appropriate.
Omnisend identified 11 words and signs that were most commonly used during the past year's campaigns. All of them are related to the idea of a "discount" and "saving".

Although the analysis of the campaigns concerned email subject lines, there is no reason why you couldn't apply these findings to chatbot messages as well.
The first 5 entries on the list scored the highest open (13.6%-12.0%) and click (2.5%-2.0%) rates:
"Deals"
"Black Friday"
"Sale"
"Free"
"Cyber Monday"
"%" (the sign)
"OFF"
"Now"
"Save"
"Free shipping"
"Get"
What's different when we compare email subject lines to chatbot messages?
The length. And chatbots have an advantage here.
While email subject lines are very limited in terms of the number of characters permitted (especially when we consider that a large number of emails are viewed on mobile devices), chatbot messages are not subject to these constraints that much.
Black Friday: Short Text Lines Examples
Now that we know what words are worth including in Black Friday messages, let's create some examples:
"Black Friday shoes sale. Buy one get second 50% OFF!"
"Black Friday hot deals inside! Starting at -30%!"
"[store name] amazing Black Friday deals. Grab them now!"
"Hurry! [store or brand name] hot deals starting at -25%!"
"Pardon our Black Friday craziness. 50% off on ENTIRE STOCK!"
"Happy Black Fri-yay! Let's celebrate with amazing deals & more"
"TGI(Black)F! Get your best deals on [products]. FREE shipping!"
"Get our premium backpacks on a 15% discount. Valid only today"
"Black Friday Sale – 20% OFF EVERYTHING 'til Midnight!"
"50% Off Black Friday Sale + FREE Shipping"
"Black Friday Alert! The deals you have been waiting for are finally here!"
"Black Friday SALE is now ON. Save Up to 80%."
Pro Tip:

Humorous and witty lines are always priceless. But do not, just DO NOT, use multiple exclamation marks (!!!!) or dollar signs ($$$$$)! It's spammy and unprofessional.
Black Friday Messages: Welcome First And Then Inform
The examples of short messages given above are fine but don't forget that we are talking about chatbots, i.e conversational agents – it means you can build them to be more than just sale-slogan-senders.
Looking for a fast way to set up your chatbot to send welcome messages? Get a free "Welcome New Visitors" chatbot template.
And while we are talking about a conversation, let's start with a simple greeting:
"Hello and welcome to [store name]!"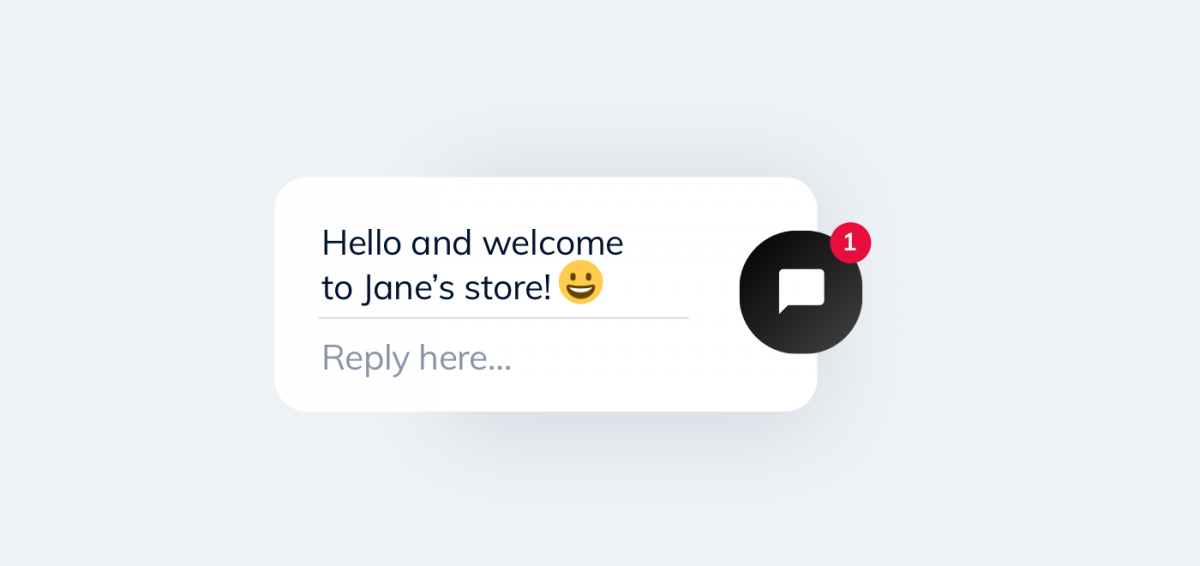 Now your chatbot can get to the point and inform the visitors about the Black Friday promotions you prepared for them:
"Looking for a perfect start to the Christmas period? Get your presents today with a 50% discount!"
"Spend $60 on [product(s)] and get 500 cents of discount on [other product or service]"
"Black Friday deals only today. Grab your items while the price is low"
"Take a look at our Black Friday deals. You've got plenty of time… A whole Friday"
"No matter what you're planning to get today, it will be worth 40% more again tomorrow. So hurry up and grab the best deals today!"
"Can't wait until Christmas to receive some presents? Treat yourself today with our Black Friday sale"
"We believe that giving makes people happy. So we're giving you 25% OFF on our entire [product] collection + FREE shipping. Valid only today until 12 pm!"
"Don't miss out on this special discount. Check our special offer on sportswear! [link or card message]"
Make sure that there is no friction in the flow between the greeting and sales message, otherwise, the overall chatbot message will sound artificial and off.
Black Friday can be very demanding for your support agents, so do highlight the fact that, apart from the hot deals, you offer immediate customer service as well.
"Black Friday. Big Savings, No Waiting! If you have any questions about our products, deals, or shipping options – I'm here to help!"
Pro Tip:

Include links in your chatbot messages of the product(s) or service(s) that you have on sale. Better yet, add Decision (Card Messages) action nodes – let the images and words speak together!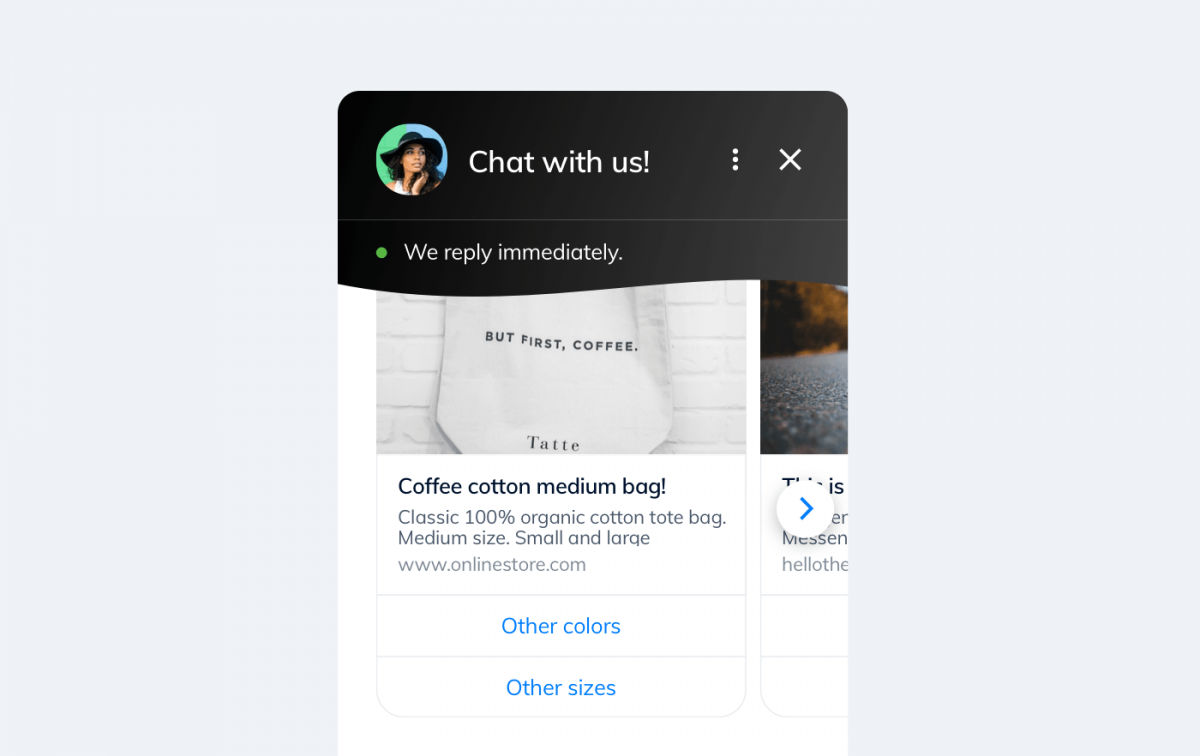 Card Messages show a photo of the product, direct links, and description. They push selected products or services to the forefront of your store.
What's more, you can also add buttons to the product/service to give the visitor the opportunity to engage with the offer better and allow the chatbot to flawlessly deliver the information the visitor requested.
Black Friday Chatbot Messages: Images
Images and words work great together. We got that already covered.
But this time we do not mean the image of the product but of the deal itself.
By adding graphic elements to the chatbot messages you add some life to them – messages become more appealing and memorable.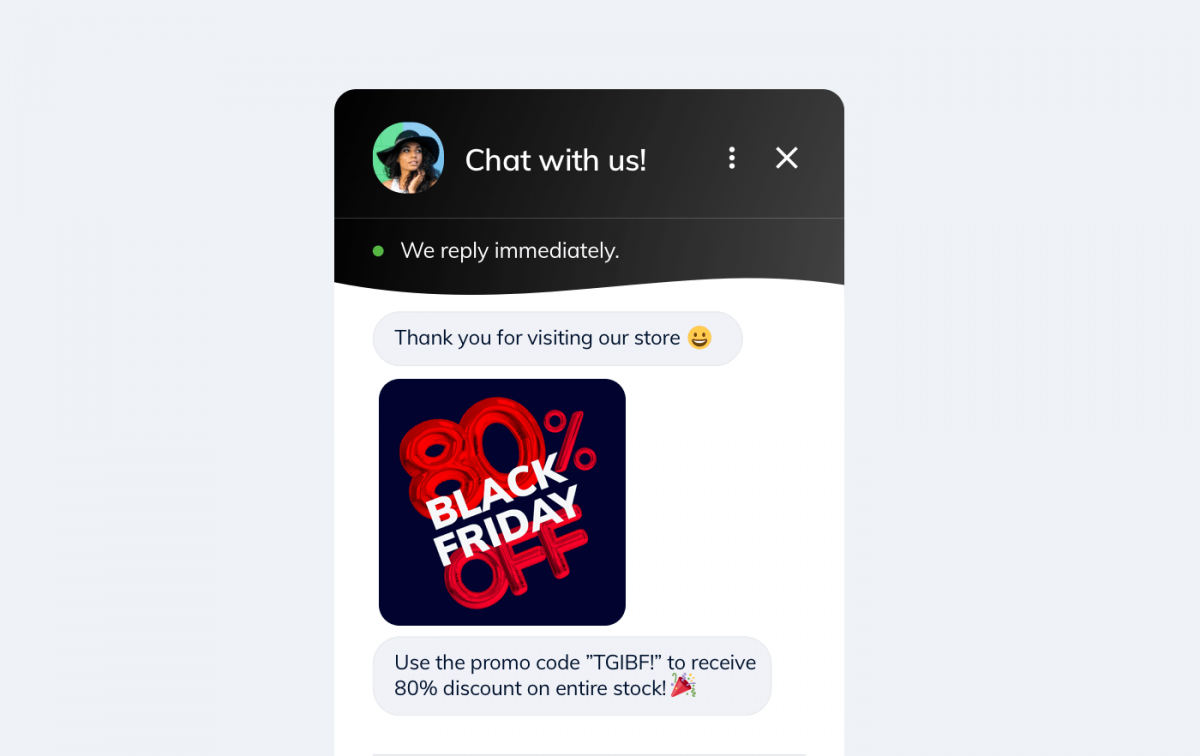 Be mindful of the size and details though.
The promo image should not be too large in size or contain too many or too tiny details. Emails are often viewed on mobile devices, so the image should scale nicely.
The conclusion? Less is more.
Visualize the gist and let the chatbot tell the rest.
Ready to use Black Friday Image Examples
You can adjust the short Black Friday lines from this article and use them as sales slogans for the images you want your chatbot to send.
Black Friday Chatbot Messages: Funny Quotes
How else can your chatbot start the Black Friday conversation in an interesting way? Using funny quotes for example.
Quotes are an excellent opener in many cases. With a quote, you can start an article, a book or chapter (it's so-called "epigraph"), a speech, presentation, lecture, etc.
They give a hint about what is to follow, emphasize an authoritative source, inspire, or amuse.
The original quote "Keep Calm and Carry On" comes from the 1939 British poster and has soon become extremely popular in pop-culture – numerous imitations, parodies, and memes have flooded the Internet.
As a consequence, the phrase "Keep calm and…" has begun to be perceived as overused, unoriginal, or even cliché.
Nonetheless, the idea of incorporating famous quotes or pop-culture statements in sale slogans is still worth exploring, you just need to be careful with the choice of your quote/phrase.
So how about including some quotes inside the chatbot messages? Sure, let's try it out!
First, let's compile a list of quotes for Black Friday shopping:
"Whoever said that money can't buy happiness… Simply hasn't didn't know where to go shopping visited our store yet" (paraphrased; Bo Derek)
"What do Black Friday shoppers and the Thanksgiving turkey have in common? They know what it's like to be jammed into a small place and stuffed" (Humoropedia)
"Shopping is my cardio" (Carrie Bradshaw, Sex and the City)
"You can always find something you want" (Sophie Kinsella, Confessions of a Shopaholic)
"I hate last-minute shopping, it's always unsuccessful" (Cat Deeley)
"I've been shopping all my life and still have nothing to wear" (Sally Poplin)
"I went window shopping today! I bought four windows" (Tommy Cooper)
Next, we're going to pick one and think about how we could use it as part of the sale slogan for your chatbot.
Let's start with a TV series quote that says "Shopping is my cardio." When you think about this opening line, what comes to your mind?
My first thought when I found it was about fitness and sport and that it could be useful to someone who runs a store with sport/fitness-related goods.
To make the whole job easier, the quote will be paraphrased a bit and then further messages will be added.
"Hi! Is shopping your cardio? No? Don't worry, some actually prefer real workouts. If you are looking for sportswear, supplements or equipment then you are in the right place! Save 40% off across the entire site with free shipping and returns."
The message came out long so it's a good idea to split it into smaller ones:
"Hi! Is shopping your cardio?"
"No? Don't worry, some actually prefer real workouts."
"If you are looking for sportswear, supplements or equipment then you are in the right place!"
"Save 40% off across the entire site with free shipping and returns."
The whole message is now divided into 4 shorter and easier to read messages (don't forget to add delays!).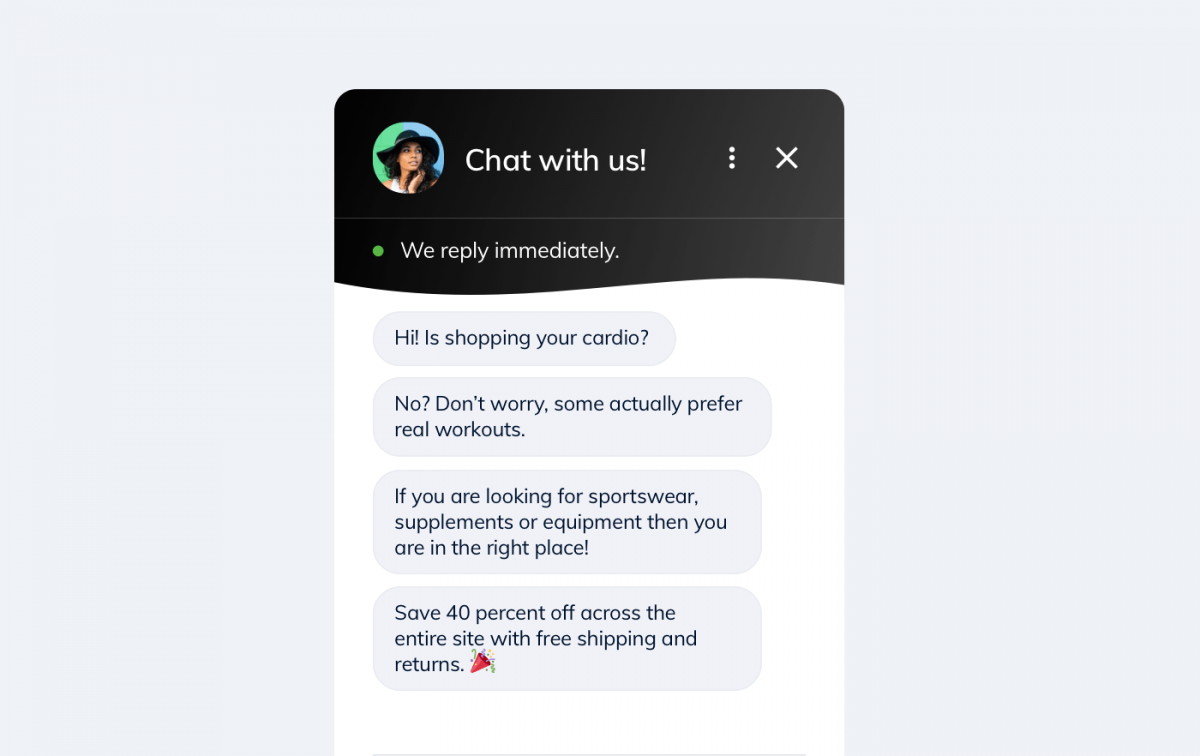 What's next? It's all up to you. Your chatbot may prompt quick responses, send a direct link, a product card or another message.
The idea was to show you another source of inspiration for writing Black Friday messages and that you can find a link between the quotes and your business.
Catchy Black Friday Phrases Summary
Black Friday is one of the largest selling and buying days in the US. During that day, sales are extremely attractive to potential buyers due to massive discounts and supplementary offers.
It is the shopping period when every retailer will be fighting for the customers' attention.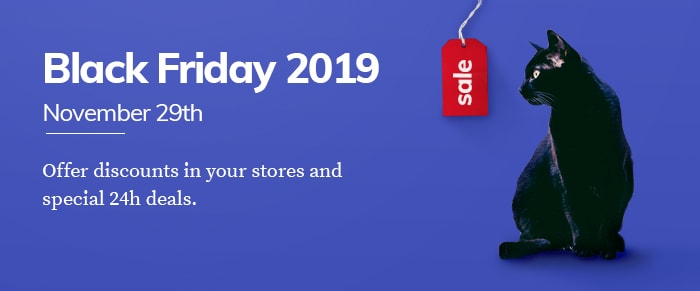 Words (slogans) and images are one of the many effective ways to draw attention to certain events, products or services. Their role is to direct the customers' focus on the benefits of your offer and convince them to place their orders.
Slogans, apart from being present in ads or email subject lines, can work equally well when incorporated in chatbot messages.
What's more, chatbots can also send links for faster website navigation, as well as images that will make the overall message more attractive.
When thinking about your chatbot's catchy Black Friday phrases (messages), seek inspiration in quotes or pop-culture sayings.
Keep in mind that there are also several well-performing words worth considering in this year's Black Friday campaign.
Try Chatbots For Free