"Ho!~Ho!~Ho! Merry Chr…"
Argh! Scratch that—Wrong event…
This article is actually about Black Friday quotes and catchy phrases, and how to use them to attract prospects and close more sales.
All right, so let's get into it!
Here's what we've prepared for you:
Black Friday quotes, catchy Black Friday phrases, and email subject lines
Ideas on how you can creatively fiddle with them, so they fit your business
A how-to guide on using them in your blast emails and chatbot messages
A hand-picked gallery of free Black Friday images for your BFCM chatbots
Let's kick off with Black Friday quotes and phrases. This way, we'll have plenty of cool short texts to play with and use whilst building chatbots and creating email subject lines.
Black Friday Quotes and Shopping Sayings
Black Friday is an annual event when shoppers can grab a bargain and sellers increase their sales. It's also a time when some people camp outside the shop, push and trample each other, or fight for the $20 crockpot.
To avoid such situations, many bargain-hunters have switched to online shopping.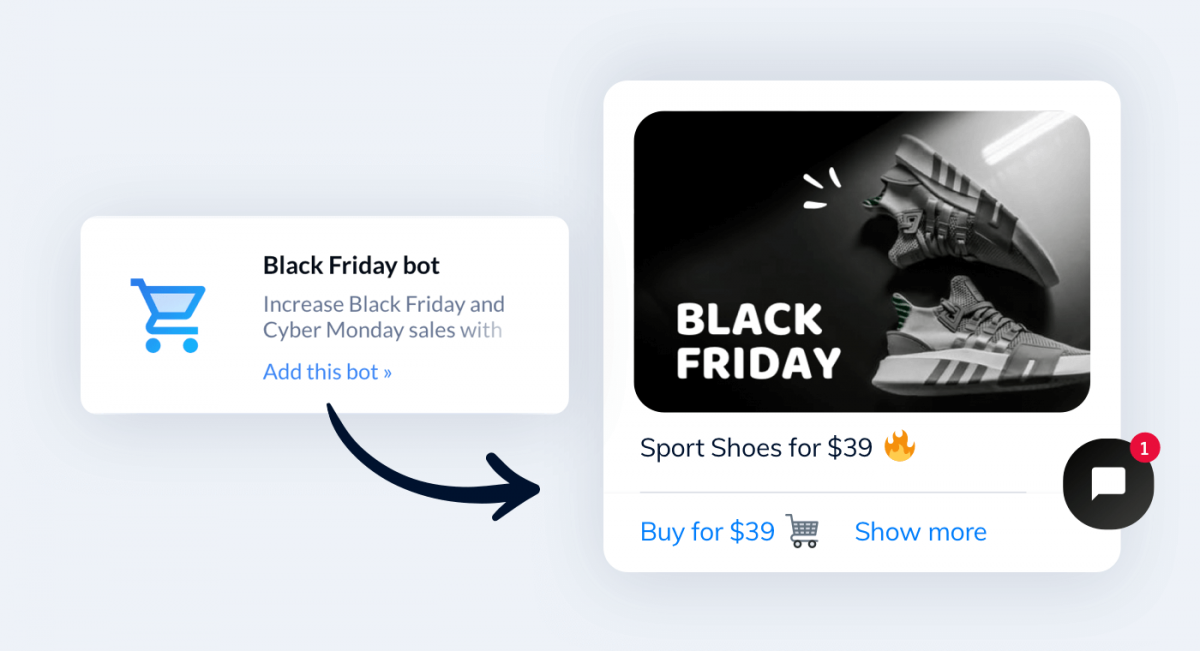 When you go through the Black Friday quotes, you'll notice that some of them hint at offline sales craziness and suggest going online instead.

But, hey!
You're an online merchant, so why not use these quotes to your advantage? You can leverage them to amuse and hook potential buyers. How? Read on! But first—enjoy this hilarious Black Friday quotes selection!
Black Friday Funny Quotes
"Whoever said that money can't buy happiness simply didn't know where to go shopping" (Bo Derek).
"What do Black Friday shoppers and the Thanksgiving turkey have in common? They know what it's like to be jammed into a small place and stuffed."
"Shopping is my cardio" (Carrie Bradshaw, Sex and the City).
"I like my money where I can see it… Hanging in my closet (Carrie Bradshaw, Sex and the City).
"You can always find something you want." (Sophie Kinsella, Confessions of a Shopaholic)
"I hate last-minute shopping, it's always unsuccessful" (Cat Deeley).
"I've been shopping all my life and still have nothing to wear" (Sally Poplin).
"I went window shopping today! I bought four windows" (Tommy Cooper).
"Treat yo' self" (Tom and Donna, Parks and Recreation).
"Happiness is not in money, but in shopping" (Marilyn Monroe).
"If shopping doesn't make you happy, then you're in the wrong shop."
"If men liked shopping, they'd call it research" (Cynthia Nelms, Consumer Behavior: Women and Shopping).
"Cinderella is a proof that a new pair of shoes can change your life."
"Nothing haunts us like the things we didn't buy…"
"Crying is for plain women. Pretty women go shopping (Oscar Wilde).
"I could give up shopping, but I'm not a quitter!"
"Life is short. Buy new shoes."
"You can never have enough socks…"
"Grab it now! Tomorrow might be gone forever…"
"If you love it—buy it. Otherwise, someone else will."
"I approximated the Black Friday experience at home by hurling myself into a wall a number of times and then ordering online" (Kumail Nanjiani).
"I love ordering things online because when they arrive it's like a present for me, from me."
"Best online experience? Online shopping. Because it's frowned upon to be in a store with no bra, sweatpants, and with a glass of wine."
"Just let me shop and no one gets hurt."
"I love shopping. There is a little bit of magic found in buying something new" (Rebecca Bloom, Girl Anatomy: A Novel).
"You kids better like what mommy got you for Christmas because she had to do unspeakable things on Black Friday to get it."
"Let's watch the BF death toll on the news while we shop online."
"I'm only a morning person on Black Friday."
"Is it just me or coffee tastes better on Black Friday morning?"
"Shopping ethically can empower others, change lives, and impact the world on a greater scale" (Molly Stillman).
"When women are depressed, they eat or go shopping. Men invade another country. It's a whole different way of thinking" (Elayne Boosler).
Black Friday Quotes: How-To
First things first—
To make the most of Black Friday quotes, you'll need to think strategically.
Some of the Friday quotes became more popular than others. But high popularity is not always a good thing. Take a look at the example below.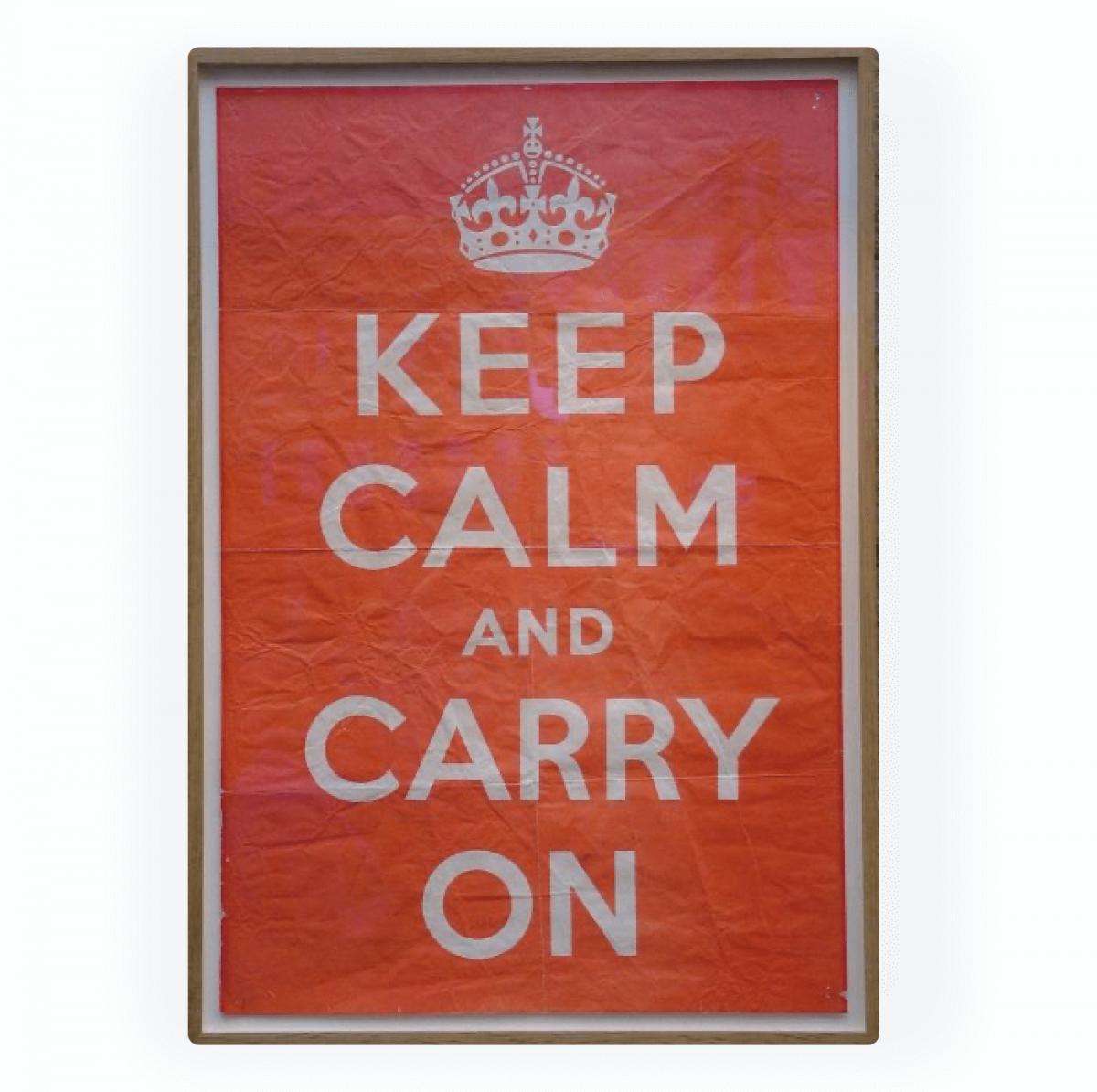 The original quote, "Keep Calm and Carry On," comes from the 1939 British poster and has soon become extremely popular in pop-culture; numerous imitations, parodies, and memes have flooded the Internet.
Consequently, the phrase "Keep calm and…" has begun to be perceived as overused, unoriginal, or even cliché.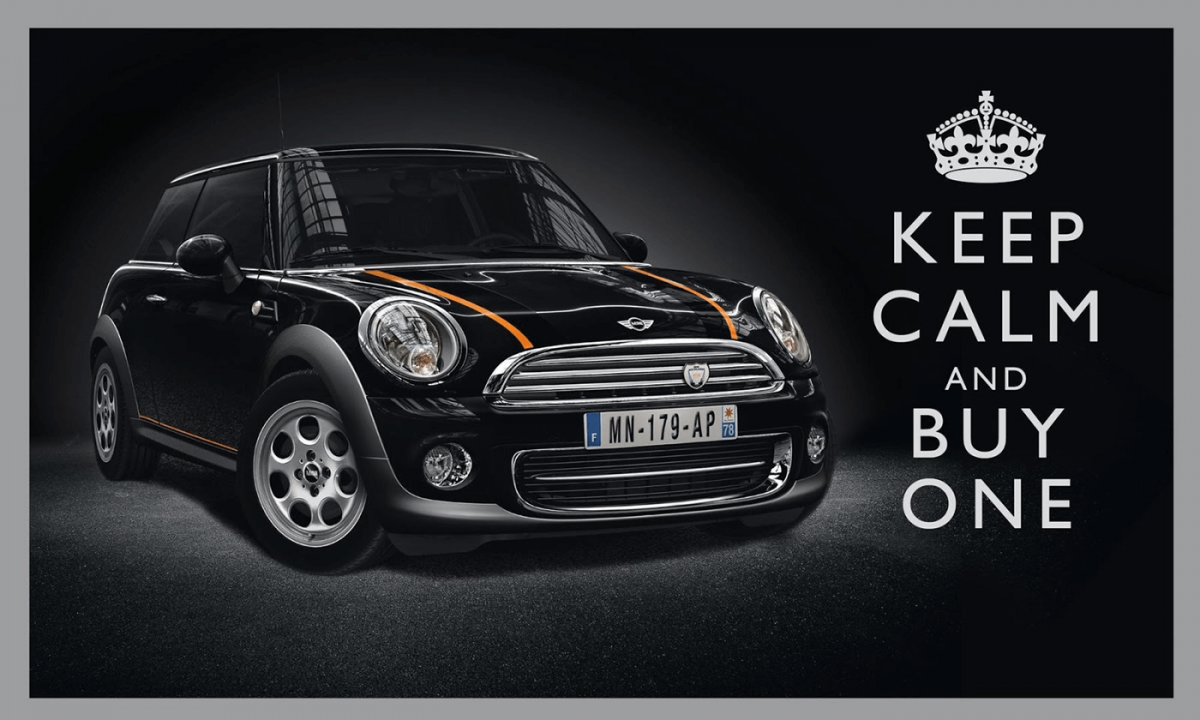 Second, think of Black Friday quotes as the fundamentals for your messages. Not all of them are quite ready to work as they are. You'll need to fiddle with them a bit to make them part of a coherent online communication with your visitors and customers.
Let us explain the idea based on an example—a TV series quote saying "Shopping is my cardio."
Think about it for a moment. How can you use it in your marketing? What eCommerce stores would benefit from it the most?
We first thought about fitness and sport. Similarly, this Black Friday quote could be useful to someone running a store with sport/fitness-related goods.
So the next step would be to paraphrase it. How about something like that?
Hi! Is shopping your cardio? No? Don't worry, some actually prefer real workouts. If you are looking for sportswear, supplements, or equipment, then you are in the right place! Save 40% off across the entire site with free shipping and returns.


Just a simple quote but looks really neat when "said" by a chatbot.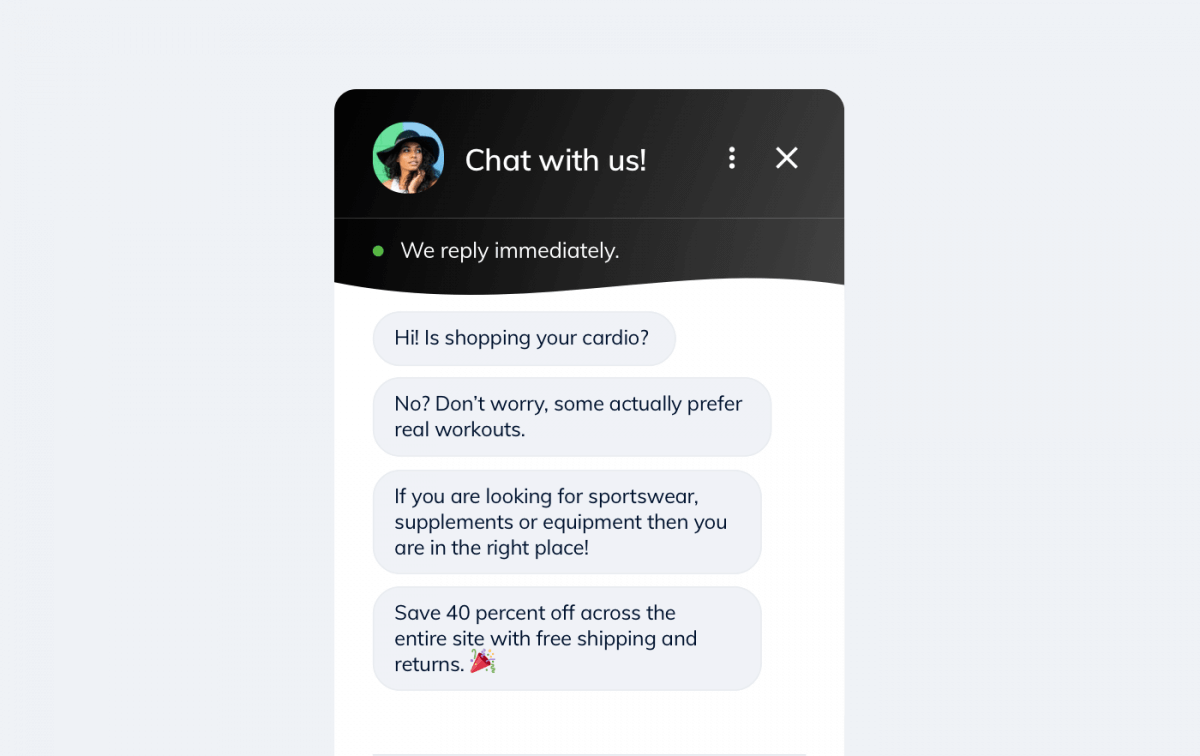 You can similarly customize other Black Friday quotes.
For example, "Whoever said that money can't buy happiness, simply didn't know where to go shopping" could be paraphrased to "Whoever said that money can't buy happiness, simply hasn't visited our store yet 🙃."
So as you can see, with a bit of creativity, you can incorporate any quote into your Black Friday marketing. If you enjoyed this mini exercise, you can go one step further, and shorten them to fit email subject lines. (If not—don't worry! We cover Black Friday email subject lines in this article, too.) Need help with paraphrasing a sentence? No problem! You can use a paraphrasing tool to spin any text in your own words.
What's next? The next step would be putting these quotes to work. But before we do that, let's talk about BF phrases.
Catchy Black Friday Phrases and Slogans
Black Friday phrases are another good source of ideas for creating cool messages for your chatbot. Just like the quotes, you can make them work as email subject lines.
And here's the kicker—
You can use catchy Black Friday phrases, quotes, or lines almost interchangeably. Why almost?
Because email subject lines have a character limit, whereas chatbot messages do not. If a particular phrase works well as a subject line, you can tweak it (if needed) and use it as a chatbot message.
Pro-tip:
Although chatbot messages do not have a character limit, they too should be short and sweet. Their goal is to attract attention, so try not to overwhelm your customers with long messages or too many details.
Black Friday Catchy Phrases: How-To
First, let's talk about Black Friday catchy phrases anatomy.
Omnisend identified eleven words and signs that were most common during last year's email campaigns. All of them are related to the idea of a "discount" and "saving."
The first five entries on the list scored the highest open rates (13.6-12.0 percent) and click rates (2.5-2.0 percent):
"Deals"
"Black Friday"
"Sale"
"Free"
"Cyber Monday"
"%" (the sign)
"OFF"
"Now"
"Save"
"Free shipping"
"Get"
Although the analysis of the campaigns concerned email subject lines, there is no reason why you couldn't apply these findings to chatbot messages or ads. They are also valuable channels for communicating your offer with your prospects.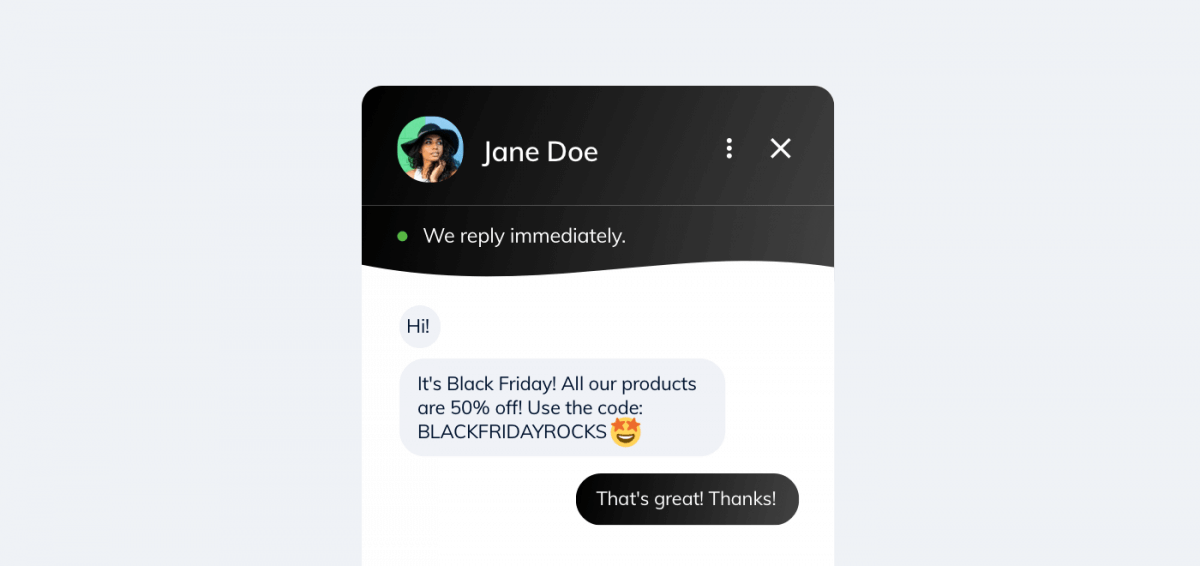 Second, a few words about customer service.
Remember that Black Friday isn't just about shopping but also about the speed of customer service. So highlight the fact that apart from the hot deals, you offer immediate customer service as well.
(Hint: Check out live chat features)
Catchy lines attract attention, but the personal approach helps to close the sale and understand customers better. Read the story of Camille from the Lilly of the Valley and find out how she increased her sales with chatbots.
So if you intend to use chatbots for something more than just crude slogan-sending, then emphasize the fact that your visitors can expect immediate support from you.
Send a warm welcome message and encourage them to ask for your help should they have any questions or doubts.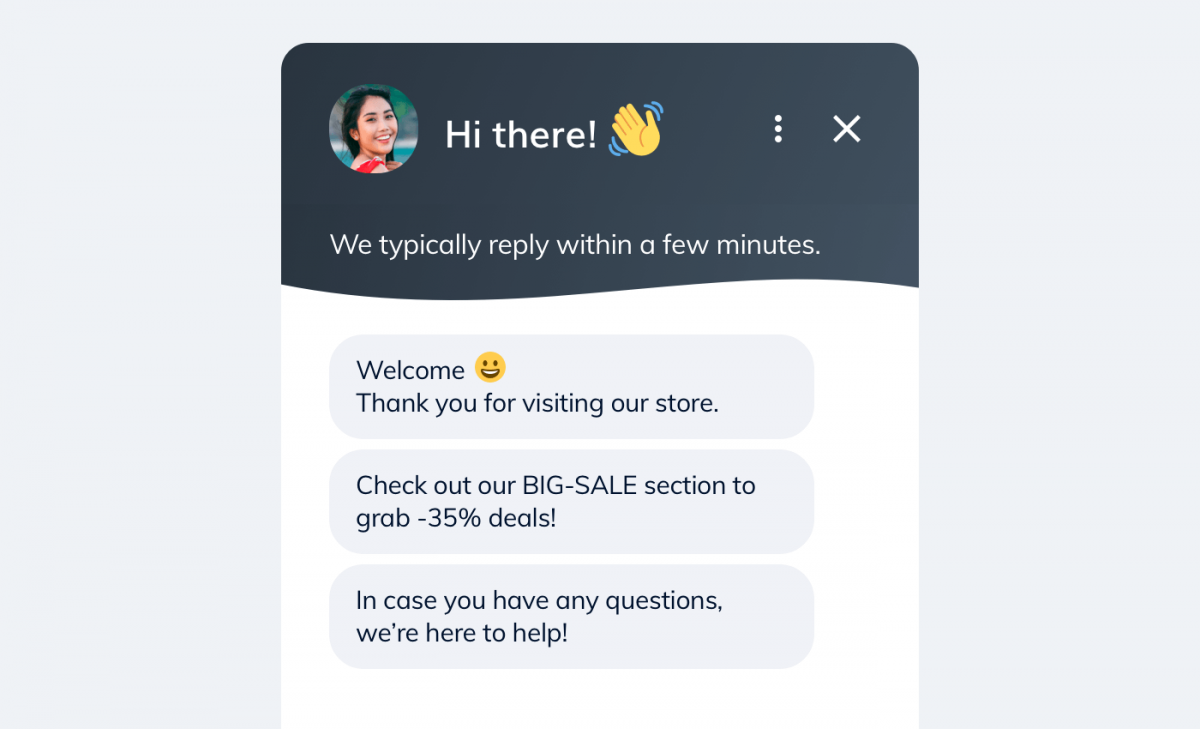 Catchy Black Friday Phrases and Slogans
Now that we know what words are worth including in Black Friday messages, let's create some examples:

"Black Friday shoe sale. Buy one pair, get 50% OFF the second!"
"Cyber Monday hot deals inside! Starting at -30%!"
"[store name] amazing Black Friday deals. Grab them now!"
"Hurry! [store or brand name] hot deals starting at -25%!"
"Pardon our Black Friday craziness. 50% off on ENTIRE STOCK!"

"Happy Black Fri-yay! Let's celebrate with amazing deals & more."
"TGI(Black)F! Get your best deals on [products]. FREE shipping!"
"Get our premium backpacks on a 15% discount. Valid only today."
"Black Friday Sale—20% OFF EVERYTHING 'til Midnight!"
"50% Off Black Friday Sale + FREE Shipping."
"Black Friday Alert! The deals you have been waiting for are finally here!"
"Black Friday SALE is now ON. Save Up to 70%."
"Black Friday Deals—ϞϞ(๑⚈ ․̫ ⚈๑)∩—Gotta catch 'em all."
"Are you ready for our pre-Black Friday sale?"
"Do you also prefer your Fridays black?"
"Black Friday = still Friday, just better."
"Don't get stuck in offline Black Friday lines. Check our offer and shipping options."
"No stress, no heavy bags. Ship your Black Friday stuff with us."
"Black Friday discounts… Your best part of the Christmas season is about to begin!"
"Not a Black Friday doorbuster? Check out our stuff from the comfort of your couch."
"Black Friday countdown starts today."
Rise and shine… I mean, shop. 45% OFF only this week."
"25% off storewide.* Happy Thanksgiving!"
"This Friday is Black but roses are still red, we've got some deals, and here's what you can get."
"Roses are red, violets are blue, if you're looking for watches, we've got something for you."
"Why pay full price when everything is available at discounted rates?"
"Black Friday deals for those who love [dogs/fashion/good food/*things you sell]."
"Grab today's offers before the sale ends."
"🚨 Black Friday Alert 🚨. 40% OFF everything."
"After Roasted Turkey, it's time to grab Hot Deals!"
"Black Friday warriors—Get ready for the weekend sale…"
"Hate being trampled by the doorbusters? So do we. Safely browse and order with us at a 40% discount."
"35% off & Free Shipping—Black Friday made us do this…"
"Holy Black Friday! Is it me or is everything on sale !?…"
"Santa couldn't reach everyone. Now he fulfills kids' and adults' wishes at our store."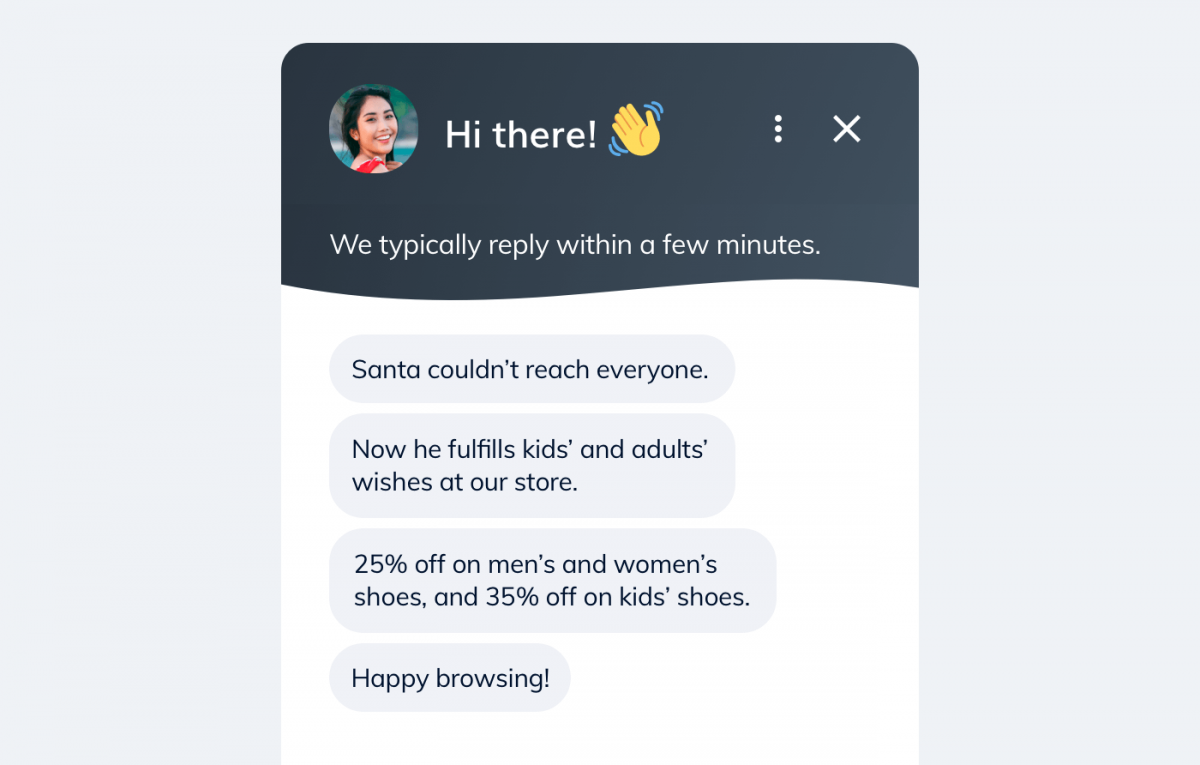 "Attention all shoppers! 🚨 It's sales week! Enter "BFCM" at the checkout to claim 20% off."
"Give Thanks (and get an extra 30% OFF!)"
"Yes, they're officially here: Our newest arrivals and massive Black Friday discounts!"
"Been naughty or not, get your early Christmas presents with our BF deals. Only three days!"
"Looking for a perfect start to the Christmas period? Get your presents today with a 50% discount!"
"Spend $60 on [product(s)] and get 500 cents of discount on [other product or service]."
"Black Friday deals only today. Grab your items while the price is low."
"Take a look at our Black Friday deals. You've got plenty of time… A whole Friday…"
"No matter what you're planning to get today, it will be worth 40% more again tomorrow. So hurry up and grab the best deals today!"
"Can't wait until Christmas to receive some presents? Treat yourself today with our BFCM sale."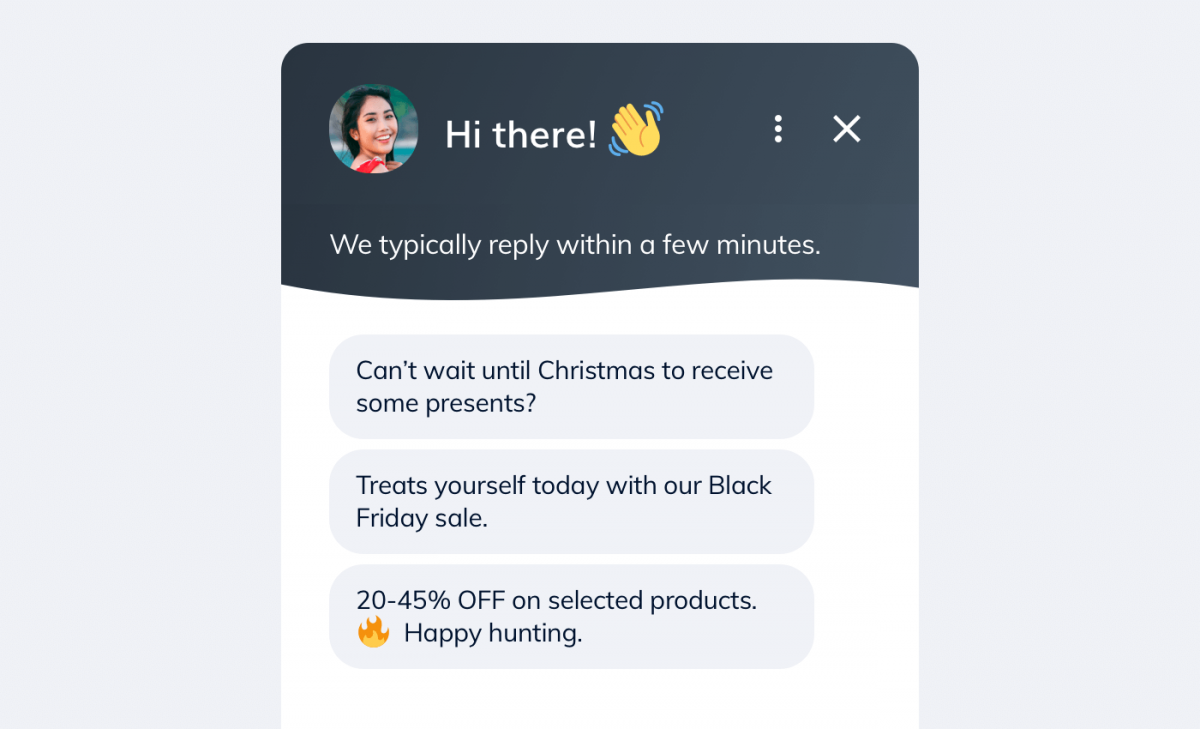 "We believe that giving makes people happy. So we're giving you 25% OFF on our entire [product] collection + FREE shipping. Valid only today until midnight!"
"Don't miss out on this special discount. Check our special offer on [product name/category]!"
"40% Off!? Free Shipping!? It Must Be Black Friday!"
"The Doorbusters Season is ending soon. Grab your deals while they're hot."
"Friday is just the beginning… New goods and deals on Cyber Monday."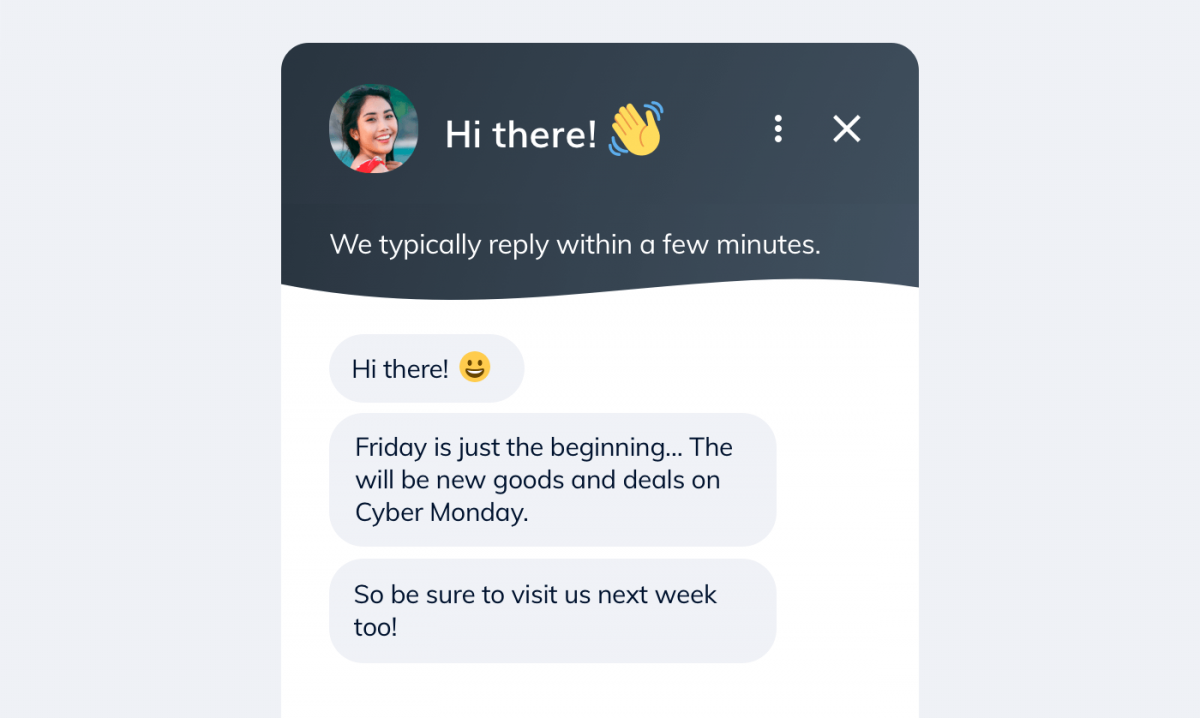 Black Friday Email Subject Lines
Email campaigns are a great way to activate your prospects and drive them to your store. You can also launch your campaign weeks before Black Friday to announce your sale (or offer Early Birdy deals).
No matter what your Black Friday email strategy is, you will need to muster some creativity. Good content and email design are one thing, and good subject lines are something else.
And we will help you with both.
A free account with Tidio gives you access to live chat, chatbots, and email marketing software. You can build and send free email campaigns in minutes—from scratch or with beautiful Black Friday email templates.
Just pick your favorite template, personalize the copy, and you're almost good to go—You still need Black Friday subject lines.
Black Friday Email Subject Lines: How-To
In the previous section, we've listed eleven words you might want to include in your marketing communication. But there are a few more rules you might want to keep in mind while thinking about your email subject lines.

#1. Don't try to wow your subscribers with flowery language. Make it simple. If you're running a sale, then say that you've got a sale. The less your recipients have to think about, the better.

#2. "Get down to business" approach works with every email campaign. With all those crazy BFCM deals happening, your subscribers will not have much time to read everything.

#3. There is no better way to motivate customers to buy something than to apply action words. Strong verbs always work. Try not to sound bossy, though! Try words like: take, buy, get, find, claim, order.

#4. Show your big numbers. If you can afford to offer decent discounts, then brag about it. Again, be specific and explicit about your sales and tell them exactly what kind of deal they will get.

#5. Questions will help you ignite interest and provoke some action. They will also steal your subscribers' attention at least for a moment. Try starting your subject lines with words like ready, want.

Humorous and witty lines are always priceless. But do not just DO NOT, use multiple exclamation marks (!!!!) or dollar signs ($$$$$)! It's spammy and unprofessional.
Email Subject Lines for Black Friday Campaigns
Ok, it's time to apply theory to practice:
"Early Black Friday Sale Starts Tomorrow. Save Up to 70%."
"Black Friday Preview Event—Buy More Save More!"
"Crazy Black Friday sale is waiting for you. See you at the store!"
"3-Day Black Friday and 20–80% discounts!"
"BFCM starts today: 35% OFF site-wide!"
"35% Off. Free Shipping. Only [number] days."
"SALE Starts NOW! 50% Off!"
"Ready for a big sale? Your 70% inside this email."
"Find the best BFCM deals at [store name]."
"BIG discounts end tonight. Order today."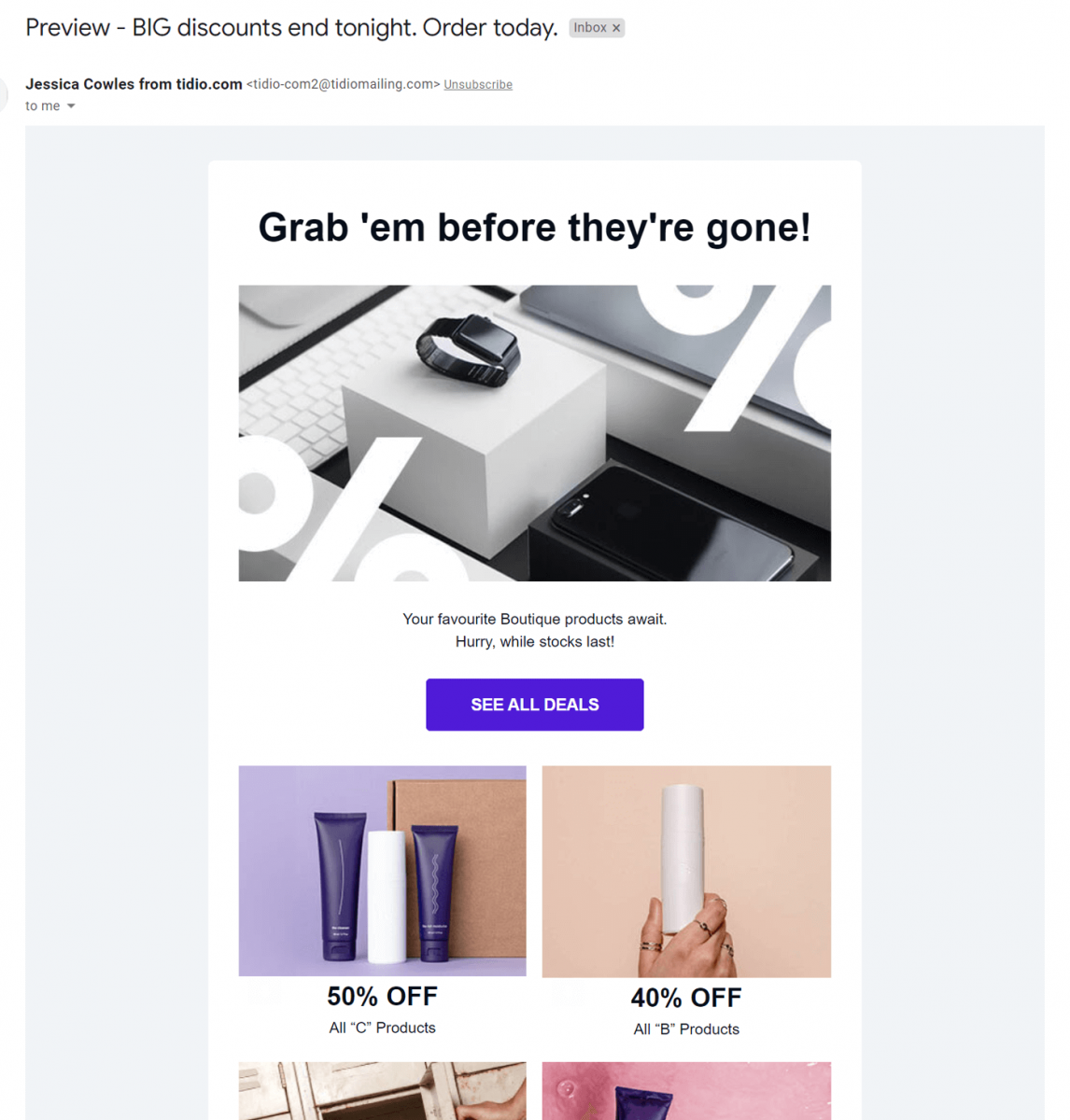 "Ready for a Black Friday Sale? Big discounts inside."
"Want to get the best deals this year?"
"It's now or never… Ready?"
"Pssst! Open and get your 30% OFF this Black Friday."
"You won't find better deals anywhere…"
"Last day! 40% discount. ⏰ Hurry up!"
"3-2-1… The BF sale has begun! 25% OFF."
"Our stock is almost sold out. Grab your deals now!"
"Only 1 day left. Order fast 💨."
"Exclusive BFCM deals. 30-50% off."
We've just hit 100+ different Black Friday quotes and phrases.
But that's not over yet! Roll up your sleeves—We're about to build some chatbots to promote your store 24/7.
Black Friday Chatbots: Engage, Hook & Convert Your Visitors
Chatbots are a piece of software that aims to automate a variety of tasks you face every day. They can welcome new and returning visitors, answer their routine questions, save abandoned carts, generate leads, announce hot deals, offer discounts, and much (much) more.
All these actions increase the level of your customer happiness and, in turn, your conversion rate.
But since we're in a Black Friday mood, let's build a couple of bots specifically for that event and see how their magic works. You may also take a look at our case studies and read real success stories of Tidio users.
The first bot will welcome new visitors and offer them a discount (let's call him BlakeOne). The second one will showcase the items on sale and encourage the visitors to inquire about the offer (BlakeTwo).
Are you new to chatbots? Then take a look at our guide: how to create a chatbot in 15 minutes (or less).
Chatbot to Engage with Visitors and Increase Sales
To begin, log into your admin panel and go to the Chatbots section. There, click the "Add from scratch" button.
You're in the chatbot editor. It's time for the fun part.
We want Blake One to welcome new visitors, so we'll begin with the "First visit on-site" trigger.


Next, we want it to send a welcome message, followed by a discount offer. To do this, choose the "Send a chat message" action node, click it, and type in your greeting.
For example: "Hi, I'm Blake. Nice to see you."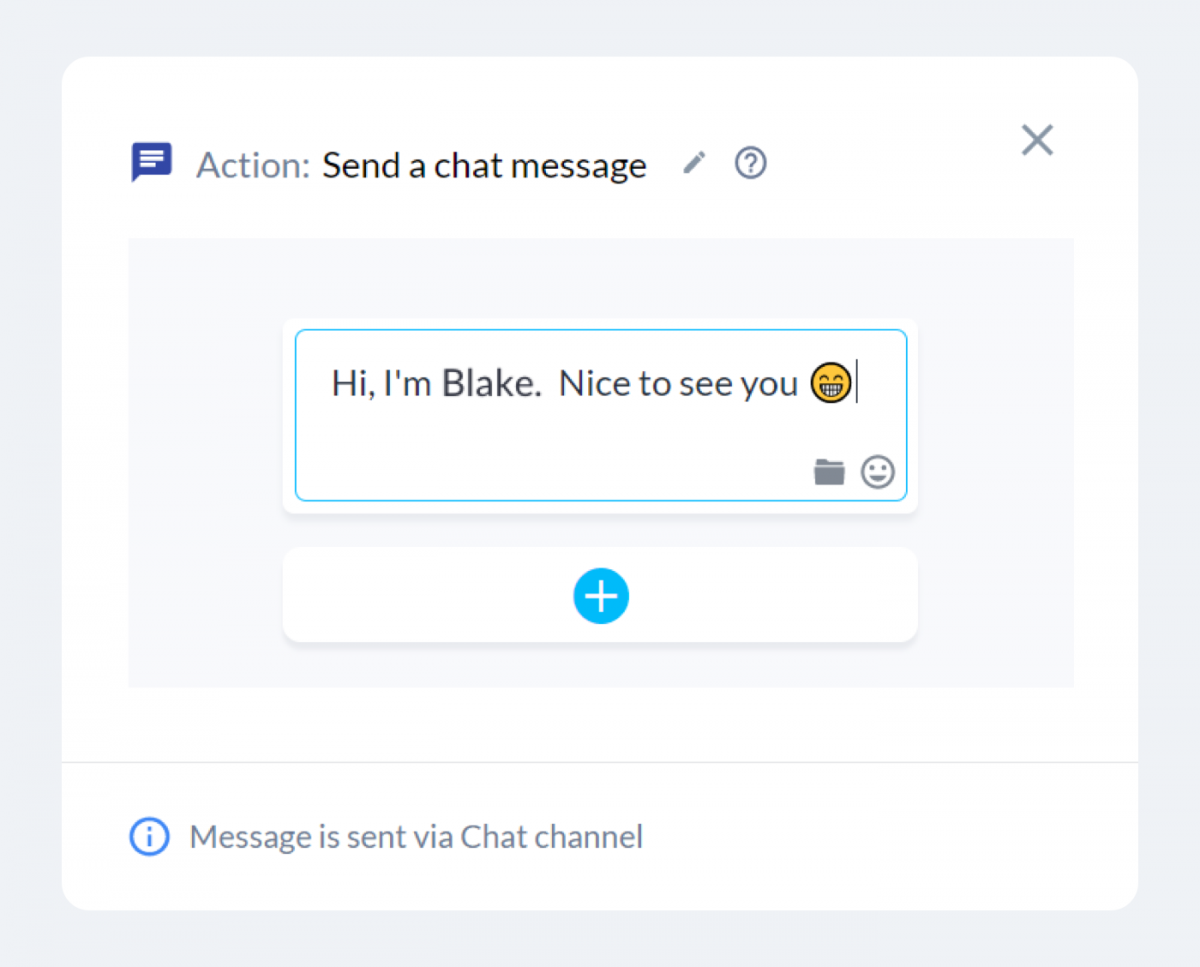 Now, add another "Send a chat message" action. Click it and type in your discount message.
For example: "We treat all our new visitors with a special 35% discount. To claim it, enter 'ILoveBF2020' at the checkout! Enjoy your shopping!"
You may add 2–3 seconds of a "delay" between those two messages. It will help your visitors read each message at a natural pace.
That's it! A super simple bot that will not miss even a single new visitor. Of course, you are welcome to tweak it the way you want.
In the video below, you'll see the final structure of BlakeOne in action.
Would you like to use a chatbot to send just a flash announcement in a pop-up style? No problem. Such a bot will have only one "Send a chat message" node. For example:

Chatbot to Showcase Your Products and Boost Engagement
The second bot will showcase your best deals during Black Friday. Let's say that this time we want it to engage new and returning visitors.
That's why we're going to start building the bot with the "First visit on site" and "Visitor returns to the site" triggers.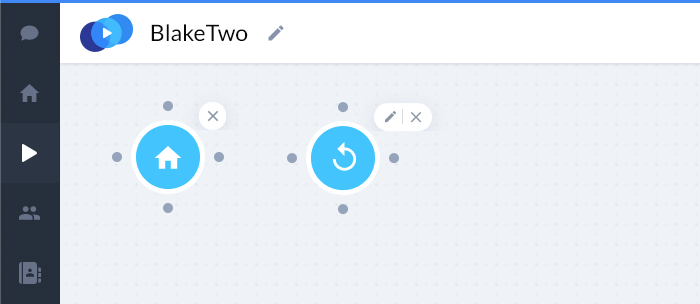 Since Blake is a well-mannered bot, it will first greet the visitors before it invites them to take a look at your offer. So add "Send a chat message," click it, and type your message. E.g., "Hello! It's Black Friday, and I've got some special deals prepared for you."
Add an action node called "Decision (Card Messages)." Click it. We'll need to populate it with a product image, product name, a short product description, a product URL, and buttons (these will be the actions your visitors can select).
For the sake of this guide, we will make Blake showcase only one item—an Apple Watch. You can add more product cards by clicking the "plus" sign (see the picture below).
The options you see at the bottom will require you to cover two separate conversation flows. Here, we will cover only one to show you the general idea behind it.
Let's say that your visitors would like to learn more details about this watch before they place an order. So they click the first button ("More details"). Blake must have some answer ready to that query, and that's what we're going to do now.
As a next action, add another "Send a chat message" and type in some short information about this product. Alternatively, you can send a link to the product page on your website.
E.g.:
"Please visit our product page for more details, as well as shipping options:
www.clocksandwatches.com/apple-watch-series6"
Connect the chat message node with the "More details" button. Here's what we've got:
The second button ("Buy 30% off") could, for example, prompt a chatbot to send a message with a discount code or send a link that would take the visitor directly to the checkout page.
You can build your chatbot even faster with chatbot templates. Check out our free chatbot templates library.
Chatbots + Black Friday Quotes and Phrases: How-to
Two more tips before you release your bot-minions to awe your visitors:

#1. If you would like the chatbot to send a longer piece of text, then divide it into smaller chunks, like 2-4 short messages.

#2. Remember about adding delays between individual messages. 2-3 seconds will do. If the messages are longer, guesstimate how long it would normally take to read it and adjust the delay.

Here's an example to show you these two tips in practice. Let's say you sell coffee-related goods and would like to use the "Is it just me or does coffee taste better on Black Friday morning?" quote.

It's short but as it is now—pretty meaningless. We will need to add a few more lines to make it nicely flow (and thus, the final message will grow longer). Here's an idea:

Hi, there!
Is it just me or does coffee taste better on Black Friday morning?
Well, the truth is—our coffee always tastes great~! Whether you like to have it black, with milk, sugar…Or just your way 😀.

Take a look at our finest selection of Arabica. It's currently on -15% sale until Nov 30.
Phew! Ok, that's better but pretty long now. Let's divide it:
"Hi, there! Is it just me or does coffee taste better on Black Friday morning?"
"Well, the truth is—our coffee always tastes great~!" (+2s delay)
"Whether you like to have it black, with milk, sugar…Or just your way 😀." (+2s delay)
"Take a look at our finest selection of Arabica. It's currently on -15% sale until Nov 30."
Done. Four short messages that flow naturally.
There's one more thing you can do to make your sale announcements or welcome messages more appealing—add colorful visuals.
Black Friday Images
Images and words work great together. But this time, we do not mean the image of the product but of the deal itself.
By adding graphic elements to the chatbot messages, you add some life to them. The messages become more appealing and vivid.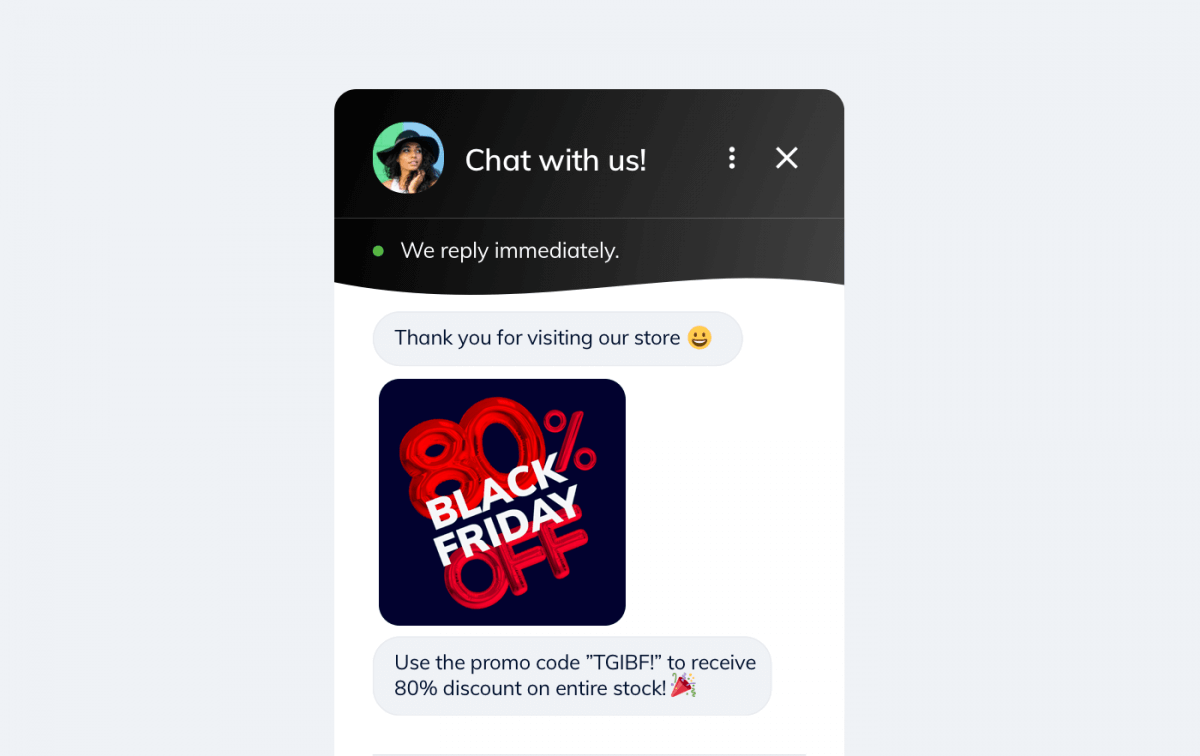 You can replace some parts or the whole message with just an image. Whichever you believe will work best.
Be mindful of the size and details, though.
The promo image should not be too large or contain too many or too tiny details. Consumers often browse the Internet on mobile devices, so the image should scale nicely.
The conclusion? Less is more. Visualize the gist and let the chatbot tell the rest.
Black Friday Free Images
You're welcome to use any of these high-quality images for your own Black Friday marketing purposes.
Catchy Black Friday Phrases and Quotes: Summary
Black Friday is one of the most massive selling and buying days in the US. It is the shopping period when every retailer will be fighting for the customers' attention.
Words plus images are one of the most effective ways to draw attention to specific events, products, or services. Their role is to direct the customers' focus on your offer's benefits and convince them to place their orders.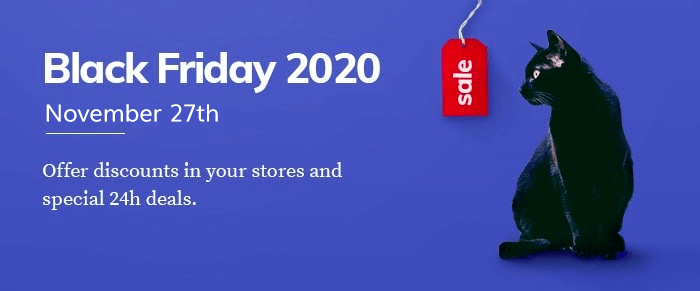 Catchy Black Friday phrases, apart from being present in ads or email subject lines, can work equally well when incorporated into chatbot messages. Chatbots can also send links for faster website navigation and images to make the overall message more attractive.
When thinking about your chatbot's catchy Black Friday phrases (messages), seek inspiration in quotes or pop-culture sayings. Keep also in mind that several well-performing words are worth considering in this year's Black Friday campaign.