Words matter.
They're like an instrument that, when used properly, evoke a positive emotional response and allow for effective communication. But, sometimes, when put in the wrong context, they can change the meaning, misinterpret intentions and cause a sender-recipient conflict.
This is why we've compiled a list of the most commonly used support phrases so that support representatives, no matter what communication channel they operate in, can avoid and dismiss potential miscommunication problems with ease.
Table of Contents:
Support Phrases for All Types of Customer Service
Since the business-client interactions usually happen virtually, hospitality words and phrases are the major factor in connecting with the interlocutor. Every situation, however, demands a different response basket.
Let's consider them one by one.
Support Phrases for Phone and On-site Customer Service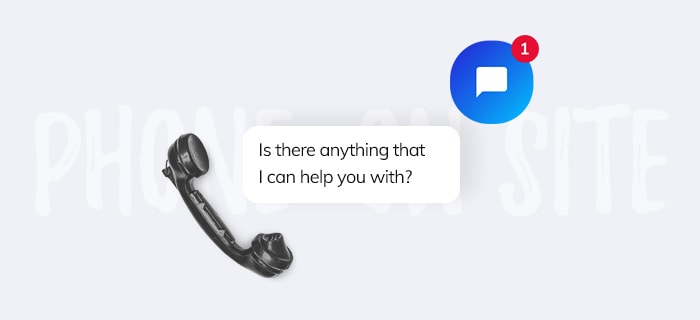 No.1 "Thank you for bringing this to our attention"
Customers are every company's biggest asset when it comes to developing and enhancing the quality of products. Thus, getting a fair heads-up about quality defects in products gives brand owners enough time to repair the malfunction.
In this sense, collecting and analyzing feedback is of great importance if you want to improve customer shopping journey and the overall user experience.

What does customer service mean to you
If, however, you're busy handling multiple conversations at once, hand over the daunting task of gathering feedback to chatbots. Build your own FREE chatbot with Tidio to gather crucial information from customers. In this way, you'll devote your full attention to more time-sensitive queries.
No.2 "I understand how frustrating it must have been for you. Let me see what I can do for you"
Show you care, show you sympathize, show you understand. There is nothing worse than indifference towards customer needs. It, in fact, is the primary reason why 86% of the world's population leans towards competition despite their higher prices.
No.3 "I apologize for the mistake. I'll fix it right away"
Making mistakes is what makes us humans, so when an unexpected mishap occurs, simply apologize and get back to work. In fact, 76% of consumers prioritize speed to resolution, a statistic has shown.
Customers are at a premium. So, don't try to hide behind the failure and win them back, e.g. with a 20% discount coupon. Use Tidio's discount chatbot templates for free and show customers how much you care about them.
No.4 "Is there anything more I can help you with?"
Even if it might be just a rhetorical question that can potentially go unheeded, it's always better to notify customers that your part has been done and a further course of action will depend on their decision.
No.5 "Thank you"
The more you say it, the more appreciated and loyal the interlocutors will remain to your business. A study has shown that companies expressing gratitude and appreciation towards their clients are more likely to build long-lasting relationships with them that bring the benefit of increased sales and higher annual revenue.
No.6 "Could you please tell me more about…"
To get to the bottom of the problem, you need to know exactly what happened. Asking for further explanation in a polite manner will make customers more understanding and thorough to provide the support representatives with the needed details.
No.7 "Pleasure is mine"
How to make customers feel appreciated? By using positive words that evoke far more pleasant connotations than the standard "you're welcome".
No.8 "I would recommend to…"
Recommend, suggest, propose as many ideas as you can think of. The more options are laid on the table, the bigger the chance of finding the longed-for solution.
No.9 "All you need to do is…"
Dialing a phone number and waiting on hold is discouraging enough for some people to pursue the need for assistance. This is why it's important to signal that the call resolution won't take longer than 4 minutes.
No.10 "Yes"
No one who calls the customer support of one's own volition wants to be welcomed with the "That's not my problem" kind of comment. In fact, buyers are willing to pay extra (up to 14%) to those who deliver excellent customer service and believe it or not, positive language plays the main role here.
Support Phrases for Email Customer Service
If you're thinking about good customer service and what phrases to include in an email marketing campaign, you need to make sure the content matches the occasion. We've collected five ready-to-use email templates that will help in gathering as many leads as necessary to grow your business.
An Email to Welcome New Customers
Sending an email with a welcome message is the first step in the onboarding process which creates a good opportunity to describe the brand in greater detail.
Hello, [customer's name]!

Welcome aboard! We're very happy to have you on our team.

Quickly about [company name]. We're a company that specializes in
[xxx] and our mission is to provide clients with [xxx].

Every day, we work hard to deliver fast solutions and best quality products to our community members and make their lives easier.

We'd love to stay in touch with you, so go ahead and follow our blog
[link] and social media [link].

Have a wonderful day!
[Company name]
An Appreciation Email to Thank Customers
Every loyal customer is at a premium and especially those who stick around for at least 10 years. Sending them a thank you message, then, is a gesture of appreciation.
Hello, [customer's name]!

We just wanted to say thank you for your contribution to
[company name].

In return, we want to offer you a little something as a thank you
gift – a $20 gift card.

Looking forward to further cooperation,
[Company name]
An Email to Invite Customers to Fill Out a Survey
Improving products is one of the aspects that contributes to the company's well-being, which means sending feedback surveys and measuring customer satisfaction is an integral part of business growth.
Hello [customer's name]!

Thanks for using [company/product/service name]!

As we're constantly looking for new solutions, we've prepared a short satisfaction survey that will help us improve our service for you
and future customers.

Thank you for your time!
[Company name]
An Apology Email Responding To Customers Complaints
Dissatisfied clients won't share their negative experience with the brand's representatives, but they will surely mention it to fifteen other friends (White House Office of Consumer Affairs). Losing potential customers is not the price every eCommerce can pay, however sending an apology email is not something out of their reach.
Hello [customer's name],

We're sorry for the inconvenience.

Please accept our apologies for [the issue name] and a 15% discount.

Should you need further information, do not hesitate to contact us.

Have a good day,
[Company name]
An Email Following Up a Need of Technical Assistance
Damaged goods or missing packages are usually the reason why customers contact customer service. But, even if you don't have answers to hand, at least inform them that necessary steps have been taken.
Hello [Customer's name]!

We've received your request which is now being processed.
We'll get back to you with an update soon.

Please, don't hesitate to reach out when additional doubts
or concerns appear.

Have a good day,
[Company's name]
Support Phrases for Social Media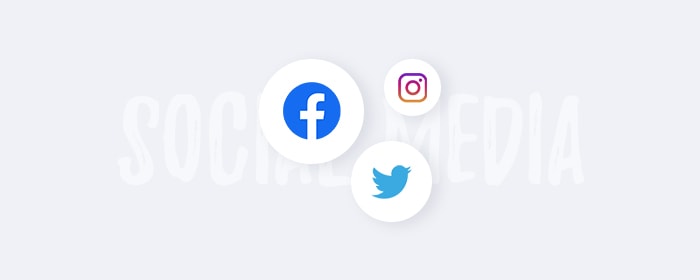 Contrary to other communication channels, social media isn't the medium that uses canned responses. Instead, it works with and focuses on the language so that it's compatible and suits the brand image well.
Define Your Corporate Language
Since every brand has its own unique manner of communication, the decision whether customers inquiries should be responded in formal or informal language should be made individually.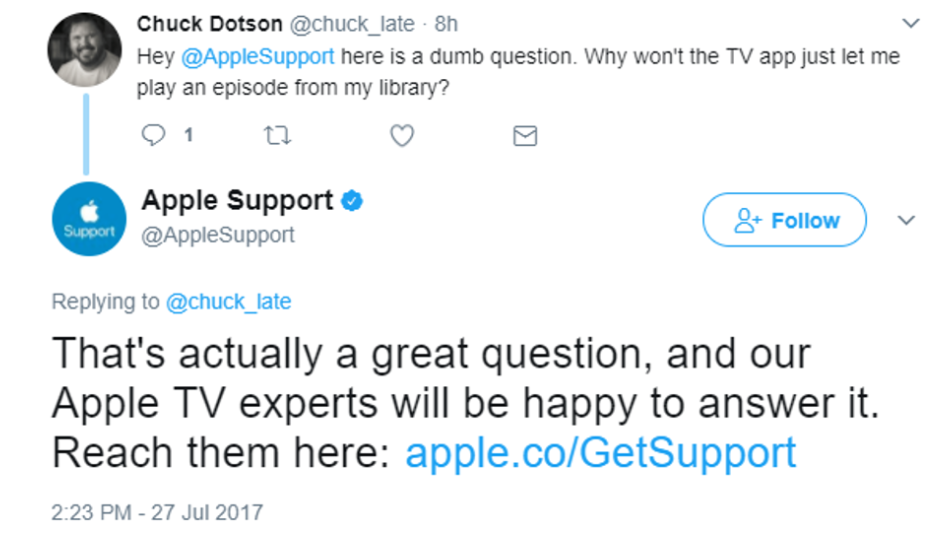 Send Private Messages
At times, issues shouldn't be handled openly in the public eye especially when sensitive information, like personal data, is needed for further customer identification.
In those moments, it's better to move the conversation to a more quiet place and continue, most preferably, in a direct channel, like e.g. through sending DMs (Direct Messages).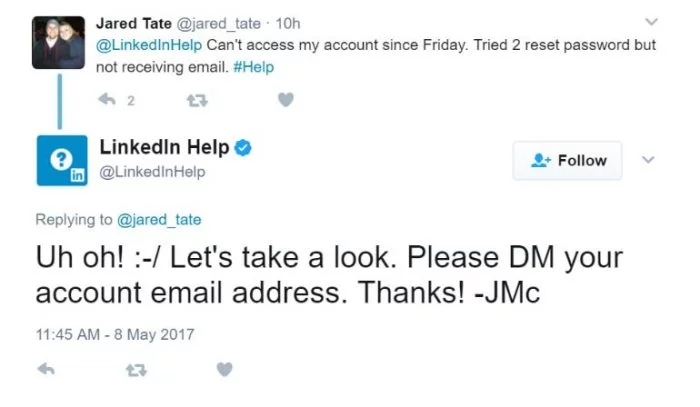 Monitor Mentions and Gather Feedback
Social media monitoring is a great tool to interact with those users who engage on your social media site (e.g. through sharing, liking, tagging) on a daily basis.

A high volume of mentions is a real goldmine of information that for one, provides brands with feedback, and for two, gives a lot of publicity. If answers to customer's inquiries were delivered in a quick and satisfactory manner, companies could expect public praise in front of several million audience members.


Consequently, sharing positive word-of-mouth about well-delivered assistance will make every company's customers its best advocates. But, what about the negative comments, then?
Well, it's always better to show interest in customer dissatisfaction and try to break the tension by including some positive phrases for customer service:
Sorry to hear about [the issue]. Please, do contact us at [email address, telephone],
I'm sorry for the inconvenience we have caused you. This won't happen again!
My apologies [name], we're looking into this right away.
Support Phrases for Live Chat Customer Support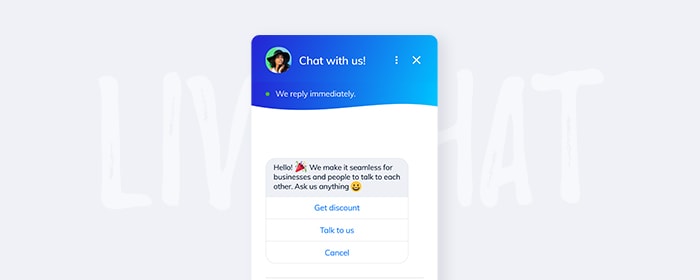 Customers of the live chat support channel value it for its efficiency (46%), more detailed information (26%) and most importantly speed (79%). This is why live chat operators often resort to using predetermined answers to frequently asked questions (so-called canned responses) to save customer's valuable time and deliver them with lightning-fast responses.
#1 Is there anything that I can help you with?
It's good to show that you're up-for-the-task no matter how complex the inquiry can be and time-consuming its resolution can last. The more willing you're to help, the more powerful last impression you'll leave. An impression that won't make customers think twice whether or not to contact the support next time.
#2 I need to forward your issue for further evaluation.
Complex product inquiries that must be forwarded to other team members or, worse, other departments always give customers shivers. A study has shown that 51% of buyers appreciate solving their cases without being routed to someone else. This means that the switching process should be carried out painstakingly and the first step to achieve it is by clearly communicating one's intentions.
#3 Please, hold on a moment – I'm currently busy assisting numerous customers.
There will be time that several customers will want to get in touch with the CS team. And as much as live chat gives you the opportunity to handle them simultaneously, sometimes too many inquiries can become overwhelming for just one person.

Quality outweighs quantity, at least in this particular case, and quality assistance, like devoting full attention to customers' needs, is the main rule of live chat etiquette.
If you haven't implemented a live chat solution on your WordPress site yet, head straight to our article on the best WordPress live chat plugin in 2020.
Support Phrases for FAQ Customer Service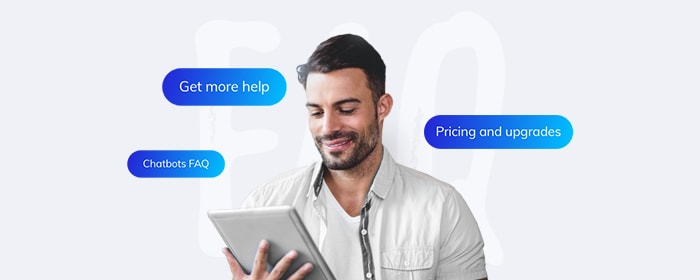 An FAQ is a great compilation of the most commonly asked questions that supplement customer's basic need for knowledge. There are, however, a few questions that are similar from company to company.
About a Company
Start from the basics. Introduce your company to a client and, more importantly, tell them why they should choose your brand over the competition.
What is so special about [company name]?
What makes [company name] unique?
Why should you choose [company name]?
About the Company's Vision and Mission
Then, it's worth mentioning the brand's vision and mission statements to inspire potential customers and arouse excitement around your e-business. 

Why do we [activity name, e.g. offer a live chat solution]?
What is [company name]'s mission?
The next section of a FAQ page should include standard answers to these questions that receive the highest search volume. These usually comprise queries about pricing, shipment, returns, and order status.
About the Price
What is the price of [product name]?
How can I get a discount?
Is the discount already included in the final price?
About the Shipment and Delivery
What is the average shipping time?
Who pays the shipping costs in case of a return?
What are the shipping costs for internal and foreign packages?
Is the delivery free?
How can I change my shipping address?
What happens if there has been a delivery mishap to my order?
How long does it take to receive my delivery after making a payment?
About the Payment
Do I have to pay at the checkout?
What are the payment methods available?
Do you accept international credit cards?
Do you honor gift cards?
Do you charge a sales tax?
About Returns
How long does it take to process my return order?
How much time do I have for product return or exchange?
How will I get my money back?
About the Order Status
Where can I find the status of my order?
What if my package was lost?
What if I didn't receive my package and the deadline had passed?
What if I wanted to resign from the package after having had paid the fee?
About the Account
Do I have to create an account to make a purchase?
What are the benefits of creating an account?
How do I resign from my account?
Is my data safe?
How do I update my information profile?
General Questions
How can I write a review on your site?
How do I recover my shopping cart items?
How can I contact your support?
How do I subscribe/unsubscribe the newsletter?
General questions can also include those specific to your eCommerce business operation area. Tidio's FAQ, for instance, focuses solely on live chat and chatbot inquiries, in which the product programming, operation, and design are explained.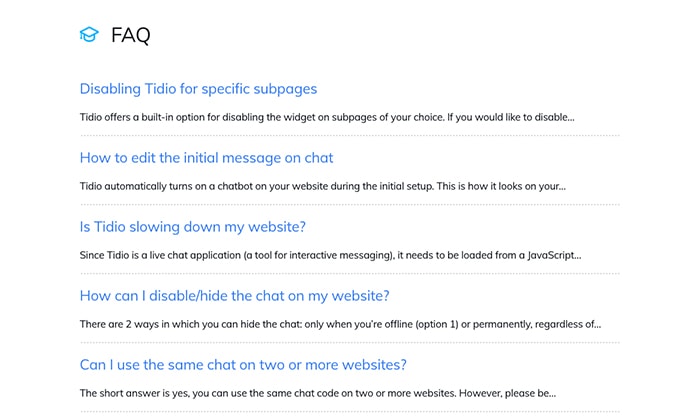 Customer Support Quotes
Everyone likes quotes. Right? They evoke a great deal of enthusiasm and bring motivation to pursue long-carried dreams and longed-for success, especially when they come from those who started their brands in the garage and ended up on Wall Street.
Nonetheless, we've gathered a few inspirational support quotes to discern the ingredients of great customer service skills, the ways of providing it and the benefits of increasing customer loyalty.
How Do You Determine the Value of a Customer?
No company is able to maintain a high market position if they've little or no website visitors to continue doing business with. Customers, then, tip the balance between the organization's prosperity and bankruptcy.
A customer is the most important visitor on our premises. He is not dependent on us. We are dependent on him.

Mahatma Gandhi
Indian politician and writer
How Do You Achieve Customer Satisfaction?
A company satisfies its clients if it prioritizes good assistance, high-quality products and customer experience over their revenue. It's worth remembering that businesses don't exist without clients and those who invest in good customer care are likely to increase their ROI by 17%.
Don't go into business with the sole objective of making a lot of money. If you put service, quality, and customer satisfaction first-the money will follow.

Paul Clitheroe
Director of ipac Securities
What Are the Consequences of Bad Customer Service?
Just one poor customer service experience can have disastrous effects on the prosperity in business. These include:
damaged reputation as a consequence of negative online comments,
losing clients to competition that satisfies their needs more (50%),
lost revenue (even 1.6 trillion dollars).
One hundred minus one can't be ninety-nine in the hotel business. If one employee out of one hundred gives a bad impression to our customers, it will be one hundred percent damage for our hotel image for that customer.

Ichito Inumanu
Japanese industrialist
The Final Word
All types of customer service require a different set of responses, which on the one hand should supply customers with knowledge and on the other, create a loose atmosphere between reps and clients. Because speed and efficiency are two elements that decide about good customer service, the CS team should resort to using ready-to-go support phrases.