Bad customer service happens.
And when it does, it turns into memes, copypastas, and enriches online laughing stock.
But here's the question:
How would you feel if it happened to you? Ashamed—as a business owner? Frustrated—as a customer?
You see, bad customer service may give you a laugh… when it happens to others.
Good news?
It's happened so many times already that you can learn how to avoid it and deal with it.
And this is what we'll cover in this article:
If this is not exactly what you were looking for, check out these articles:
What is bad customer service?
Bad customer service occurs when a business fails to meet the customer's needs and expectations. Customers are mainly frustrated by long times on hold, rude behavior, or being repeatedly asked the same questions, among others.
Here's what the numbers look like, according to a study by Consumer Reports:
Rude customer service reps irritate 75% of shoppers.
A long time on hold is frustrating for 66% of consumers.
About 66% of clients get frustrated when repeatedly asked for the same information.
Clueless representatives make 70% of consumers miserable, while unhelpful reps frustrate 65%.
About 64% of consumers get frustrated when their problems fail to be acknowledged.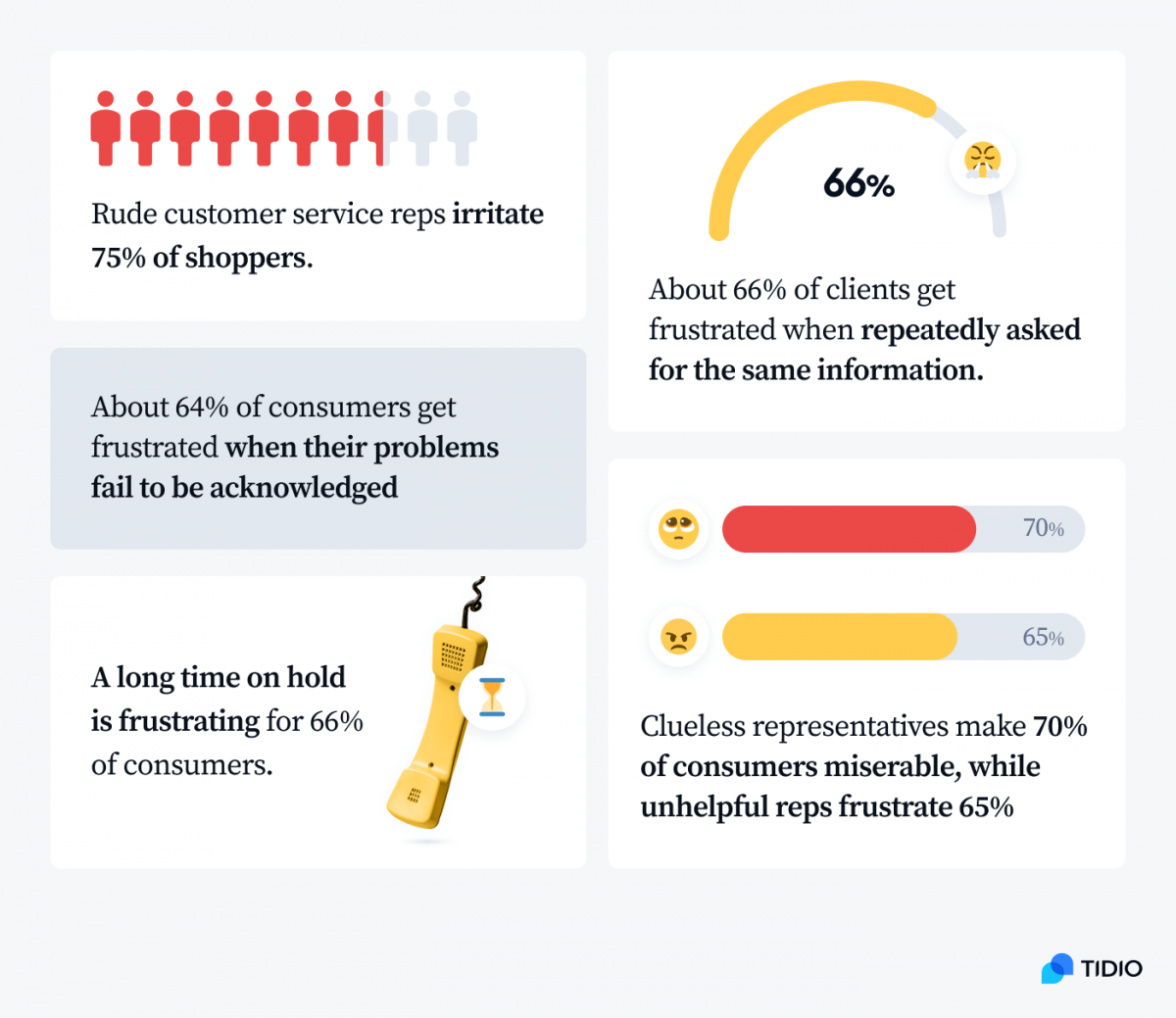 What are the consequences?
Well, if you happen to serve your customers poorly, you'll not only ruin your reputation but also risk losing about 60% of shoppers and a significant portion of your income along with them.
So, don't give your customers the slightest reason to feel bad. All the more so as the general trend for customers feeling unhappy is on the rise—
In recent years, buyers experiencing customer service difficulties increased from 42% in 2013 to 66% in 2020.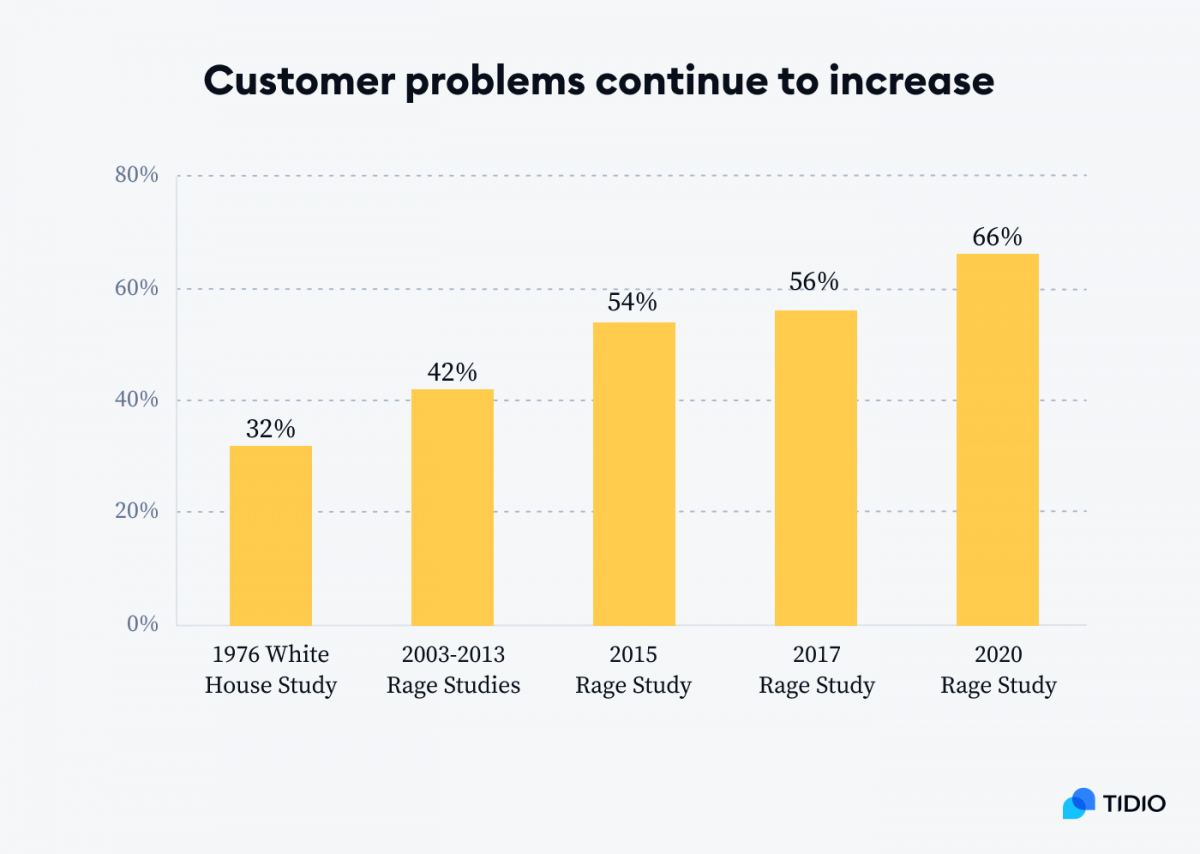 But there's hope.
Since you already know what the most common customer headaches are, you can learn how to deal with them once they happen, how not to deal with them based on examples from the past, and—
Do your best to prevent them from happening in the first place.
And this is precisely what we'll be looking at in the bad customer service examples below.
1. Rude customer service representatives
Let's start with the type of bad customer service that people hate the most—
Rude behavior.
We've probably all experienced this, whether in a shop or while contacting support agents.
In all honesty, everyone can have a bad day. That's human. But it doesn't change the fact that customers should be treated with respect.
So, how bad can things go?
Here's a real-life story:
There's this couple who go out for lunch. Their dining misadventure starts with a 10-minute wait to be seated… in an empty restaurant. When they do get seated, the waiter "practically throws" the drinks and entrée at them. When the lady complains about her chicken being raw, the waiter rolls his eyes and replies: "It's rare. You want me to microwave it for you?" The couple leaves and never goes back to any other restaurant from that chain.
Did that make you cringe?
Good. It means you know the limits, both as a customer and business owner.
Here's what you can do to avoid situations like this:
Collect customer feedback and give them a way to report their negative experience. This will help you discover an issue and do something about it before your client leaves you for good.
Create a customer satisfaction survey and collect data to evaluate how effective your team's efforts are in helping clients. The advantage of this type of reporting is that buyers feel acknowledged and more connected with you. You can add this survey at the end of your interactions to get a timely response from your clients.

And—
Be present where the action is so you can help to stop the spread of a bad reputation. Join social media and keep an eye on your online reviews.
About 55% of consumers have a more favorable view of brands that respond to customer service questions and complaints on social media. You can be one step ahead of your competitors when you're active on online platforms.
2. Unhelpful customer service representatives
Another poor customer service example is when the support agents aren't helpful with the consumer's query.
You would think that the retailer's reps are there to help the shoppers. But sometimes the client can end up just as confused after the conversation as they were before it.
Now—
Many people wonder why Comcast's customer service is so bad.
Here's a story that may give you a clue:
A customer named Ryan called Comcast to disconnect his service. Just like every customer, he wanted it to be a quick and easy process.
But that's not what he got.
Ryan answered all the questions from the representative hoping for this to solve his issue. But the agent had a different idea, and the "interrogation" continued with the same questions for 10 minutes.
Ryan started to record the pointless conversation which went on for another 10 minutes. Finally, when he refused to answer the questions any further, the displeased rep agreed to cancel his service.
The full audio version is available on Soundcloud if you want to have a listen.
What does this example of bad customer service show?
You shouldn't test your client's patience whenever they call your support.
Train your customer support team well and be clear about what you expect of them. A few strategies to consider before training your employees are:
Make sure you examine the service your company provides. Record the bad customer service reports, negative reviews, and complaints.
Identify what the points of failure were and what are the repeated issues.
Once you understand where and why the problems occur, you can train your employees to avoid similar scenarios.
Training and preparation will improve the experience and increase customer satisfaction. This in turn can help you win back clients and prevent losing any future leads. Learn from your mistakes and let your business grow stronger day by day.
3. Not acknowledging the customer's problem
The customer wants to know that their problem is in fact a problem.
If it's actually a problem.
And sometimes, such mundane things as… toilet paper can unfold in truly unexpected and rather expensive ways.
Just like an incident that happened to a lady from Georgia, United States.
She bought three boxes of toilet paper on Amazon and was charged nearly $7,500.
Can you imagine looking at your bank account and seeing this amount of money gone? On toilet paper.
Well—
Initially, the lady wasn't worried. She thought it would be an easy fix because Amazon must see it as a mistake and fix it right away.
But that's not exactly what happened.
She contacted customer service several times, but her attempts failed. She even wrote a letter to Jeff Bezos himself, but that too ended up nowhere.
The lady finally went to her local television station to air her story. This helped. The story went viral, and she finally got her refund for the shipping.
Why do reps fail to acknowledge customer problems?
Usually, it's because they're afraid to make unpopular decisions. Instead, they'll try to deflect the problem, which leads to the client's frustration.
But there is a way to solve this issue before it blows up.
Start with employing the right people, train them well, and give them flexibility in making decisions.
First, make sure the representatives you're employing are empathetic and put the customer's needs first.
Then, give them business training and customer service training. This will improve their knowledge about your products, services, and how to help the consumers best.
Lastly, empower your employees to make decisions on their own. This can also improve your employees' happiness at work. About 89% of reps who get a chance to lead are happy at work, compared to only 50% when their company doesn't give them this power.
When it comes down to helping shoppers with their problems, your staff should explore all the possibilities of what they can do for the client. Make sure they are empowered to lead and decide to solve the buyer's problem as effectively as possible.
Check out these customer service skills that your clients love and what you should look for in your reps.
4. Long time on hold
Believe it or not but this is the most recurring bad customer service example. Your clients don't want to wait for hours to get in touch with you. You need to be there for them when they need you.
Luckily, many companies provide horrible customer service experiences when it comes to time on hold.
Why luckily?
Because you'll know what not to do.
Read through one of the bad customer service reviews about Walmart spotted on Twitter not too long ago: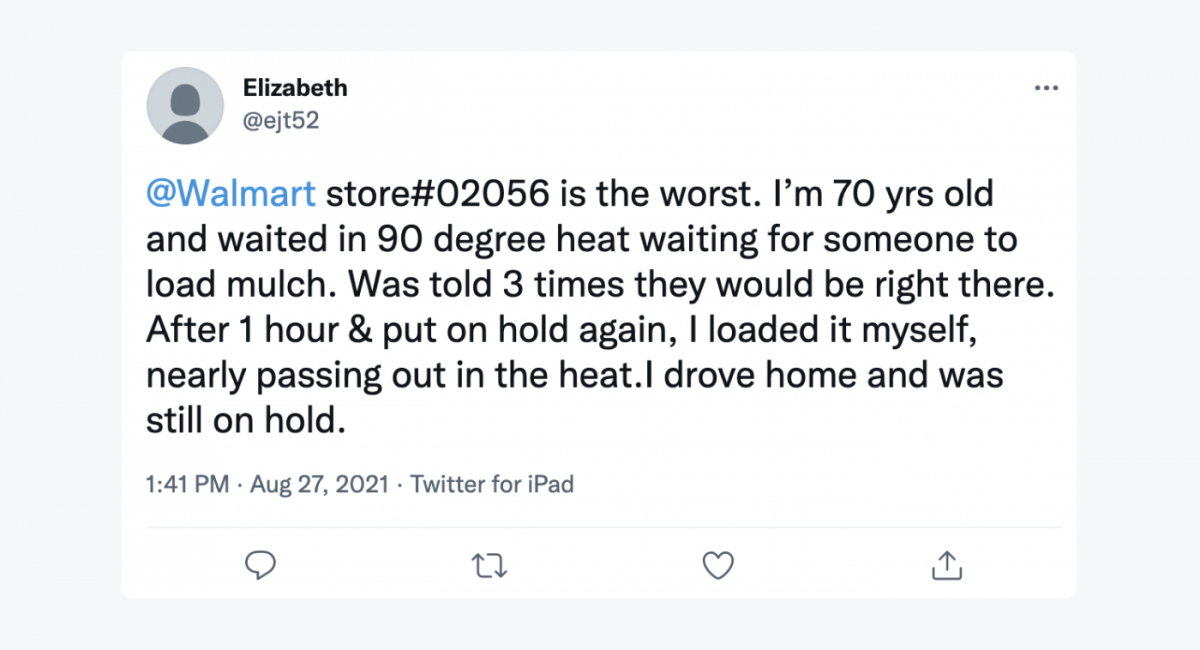 You can easily avoid getting into a similar situation through empathy and efficient cross-team communication. So make sure your internal communication channels work smoothly and don't resemble a game of Chinese whispers.
Now—
In the example above, the situation required physical assistance. When that's not the case, you can avoid the frustration of waiting on hold by offering the option to call back. Just make sure that you do call them back!
No matter how much training you provide to your customer service team, it's unlikely that they will always manage to answer the phone call right away in peak times. And even if they do, they may not be able to treat every consumer with enough care and attention. So it seems like it's a lose-lose situation.
Not necessarily.
Most people understand that you are busy, and they don't expect you to answer the phone immediately. What they really don't like is… waiting itself.
With the option to phone back, you can decrease the line, and your client avoids the long wait times. Your team can promptly take care of each shopper's inquiry, and your clients won't need to sit on their phones all day long.
Check out this article if you want to learn how to handle customer complaints.
Or watch this video and start handling complaints like a boss:
5. Having to repeat the same information multiple times
Whenever your representatives transfer the client to someone else, the shopper may need to repeat the same information.
They end up frustrated, and your brand loses credibility.
There's this AT&T bad customer service example that shows exactly what it can look like—
It all began when police officers arrived at the client's home in response to a distress call… that had never happened.
Long story short, after multiple police visits, spending hours on the phone, and being put through to an average of 4 representatives per phone call, a loyal customer cancels his 20+ years AT&T subscription.
Just because of bad customer service.
The moral of the story?
Don't lose customers by making them spend way too much time seeking a solution to their problem which they have to retell over and over again.
Solution?
Keep a record of your interactions with customers.
The simplest way to do so is to use a live chat feature on your website. For example, Tidio keeps the history of all your interactions. Whenever a customer contacts a representative, your employee will know what they struggled with in the past, where they looked on your website, their details, etc.
This way, the support rep goes into the conversation with a client prepared, and they can be more efficient in solving the shopper's inquiries. The issue can be resolved before it turns into a customer service nightmare story.)
If you like the idea, check out our list of 17 live chat software solutions and choose the right one for yourself.
Reporting bad customer service in the right way
OK, we've covered the most common instances of poor customer service.
Now—
Let's look at how to report bad customer service when it happens to you:
1. Provide feedback
Many companies want to improve their support and provide questions at the end of the interactions. If you're not happy with the service you received, you should describe it in that form first. But this won't solve the issue since the feedback form is often anonymous. You might need to contact the brand individually to ensure your complaint is being handled.
2. Send a complaint email
This is the most straightforward way to let a business know that you're not happy with the service they provided. Send an email detailing why it was a bad customer service experience, what you're not satisfied with, and how you wish they make things better.
The company should send you an email confirming they received your complaint and the time it should take for them to respond. If you don't get an answer within two weeks, don't hesitate to write a follow-up email to them.
Want to know how to write a complaint letter about bad customer service? Check out these tips on writing an effective complaint letter.
3. Use social media
You might be surprised how effective social media can be in reporting bad customer service and getting a solution quickly.
Companies tend to watch what the public says about them on their social media pages since it affects their public image. Use it and make sure you choose the right platform. Posting a message on the brand's Twitter account is usually more effective than their Facebook page. Give this article a read to find out more about solving a customer service problem through Twitter and Facebook.
You can see the power of social media in this man's story. He posted a Twitter complaint about British Airways and was contacted quickly, with his issue resolved within a day. No calls, no waiting on hold, just typing in his message on the brand's Twitter, reaching a big audience.
4. File a complaint
When the above methods don't work, and the business still hasn't solved the problem, start looking into filing a complaint to the right agencies.
One of the places where you can file a complaint is Better Business Bureau. They will evaluate it and give you an answer within two working days. If they accept your complaint, they'll send it to the business and give them 14 days to respond. To give yourself the best chances of resolving the problem, include as much detail as possible in your complaint.
Another agency that will investigate your complaint is the Federal Trade Commission. When reporting bad customer service, you don't have to include a lot of personal information. But it helps. The more they know about your case, the more they can do to help you. So when filling your complaint, ensure you mention and describe your problem in as much detail as you're comfortable with.
Those are just the two most popular agencies. You can find more information on where to file a complaint about online purchases on this government's website.
Recommended reading:
How tacke bad customer service in your company to improve your customers' experience?
Let's see how a company can deal with customer service issues.
But first—
You may want to have a look at the difference between poor and excellent customer service:
Here's what you can do to get rid of bad customer service in your company:
1. Choose the right people for the job
When employing customer service agents, make sure they have the right personality and skills for the job. The most important skills you should prioritize are communication and active listening. You can teach a person the company's rules, good customer service etiquette, and product knowledge. You cannot teach them soft skills like empathy or patience. So make sure these skills are already in their nature.
2. Train your employees
Provide product training and customer service training for your employees to become better at helping your clients. This should be part of your employee onboarding process and then repeated once in a while during the representative's career. This way, you can make sure your employees are trained and prepared to help your clients in the best way possible.
3. Incorporate a live chat and a chatbot into your website
This solution is for businesses with their own websites and an established online presence. Automation takes a bit of weight off your reps' shoulders and ensures quick answers for your shoppers. Chatbots can answer up to 87% of buyers' queries. As for the remaining 13%, live chat is convenient to contact a business right from the website when a buyer encounters an issue. You also get a history of your interaction with shoppers for improvements and a more personal experience.
4. Empower your employees to take the measures needed
You'll increase the number of happy shoppers and issues solved by giving your representatives the power to best deal with the client's problems. Trust your employees enough to make independent decisions as to what's best for the buyer, whether it is an explanation with an apology or issuing a refund. This way, they can be more helpful without going to management for approval, and your company's image will improve in the client's eyes.
5. Stay on top of shoppers' reviews and feedback
What are they saying about you and your service online and on surveys? Look at the online reviews and social media posts about your brand as one of your daily tasks. Catch anything your shoppers are not happy with and do your best to eliminate pain points. This will help you improve and grow your business.
6. Acknowledge and apologize for the bad customer service
If a client comes to you complaining about poor customer service they received, understand where the issue arose and apologize for it. About 27% of consumers want an apology after a bad customer experience, and an additional 31% expect an explanation of why the issue occurred. You can address both in your apology to the client.
But how to apologize to an unhappy customer for bad service? Check out this article on dealing with customer complaints and some examples of apology letters to customers.
And here are several tips for customer service representatives:
Be in the moment for your client. Don't think about the past or the future. Right here and right now is what matters. In this way, you'll be able to entirely focus on understanding consumers' issues and finding the best way to help them.
Active listening is an essential skill for a representative. You need to be able to stay quiet, listen, and understand what the shopper struggles with. Once you know their problem and frustration, repeat it back to them in different words, so they know you fully understand them.
What's the best way to find out exactly what the client struggles with and what they need from you? Ask them questions and listen intently to the answers. The rule is that it's better to ask more questions than not enough. Because sometimes, a client won't think to mention details that could be essential for you to understand and solve their issue.
When speaking to a consumer, make sure you let them know that you understand how they feel. You can do this by saying "If I understand correctly" and rephrasing what the shopper issue is. You can also insert phrases such as: "I would feel the same if I were in your position" and "I'm sorry you had to deal with that" into your interaction.
Focus on the bright side. Try to stay optimistic and use positive phrases instead of negative language. Use positive words such as: wonderful and absolutely, as well as phrases such as: "I'm excited to tell you we have … for you." Read more about the use of positive communication in this article.
Do your best to help and meet the customer expectations
The thing is: they're not contacting you for fun. They need help with resolving their problem. So make sure you do your best to support them and solve the issue. Check all the available resources and contact your senior staff if you need additional help. But ensure that the client is happy by the end of the interaction and their problem was resolved. Check out these types of customer expectations to gain a better understanding of consumers.
Watch this video on five steps to better customer service for more information:
Summary
This is what you must remember about bad customer service:
Customers get annoyed by long waiting times and bad behavior from the customer service representatives.
The consequences of bad customer service for your company include increased customer churn and bad reputation, which leads to the loss of profit.
The best ways to overcome it is to keep the response time low, show empathy, understanding, and use positive language.
For business owners, it's best to nip it in the bud and look for the right kind of people to do the good work.
If you're a customer service representative who happened to have a bad day and provided lousy customer service, start with putting yourself in the customer's shoes. Would you like to be treated this way?
We hope you'll never get to experience terrible customer service either as a customer or a business owner who needs to address the issue within their team. But if the worst comes to worst, you'll know how to tackle the problem.