Ecommerce competition is tough. Optimizing every aspect of your online store is a way to stand out among other businesses. One of the things that you can take care of is increasing your abandoned shopping cart recovery rate.
Shopping cart abandonment can be painful to e-commerce owners, but you can easily fix the most common issues with chatbots.
Provide 24/7 customer service even when you sleep.
Create unlimited chatbots for your website without coding to engage more visitors.
Learn About Chatbots
Why chatbots? Because they are versatile in their use. They can help your business in many ways and dealing with abandoned carts is just one of their benefits.
What Is Shopping Cart Abandonment?
Ecommerce shopping cart abandonment occurs when potential customers add items to their shopping carts but leave without buying. While people rarely abandon their supermarket carts and baskets in the real world, abandoned carts are exceedingly common in online stores.
The virtual shopping cart abandonment rate and the abandoned cart recovery rate are two indicators you should definitely keep an eye on.
Recovering as many abandoned carts as possible should be your high priority. Doing so will allow you to maximize your conversion rate and sales.
Some of the abandoned cart problems can be solved with, among many other solutions, a well-designed chatbot.
If you want to find the best cart recovery bots try our detailed comparison: 7 Best Chatbot Platforms for eCommerce & Free Chatbots for Your Website.
How Often Do Customers Abandon Carts?
According to SalesCycle 2018 Report, the worldwide shopping cart abandonment rate is as high as 75%! Imagine how much money could you make if you could convince at least some of these customers to buy from you. With chatbots, it is possible to reduce cart abandonment to 20-30%.
Why Online Customers Abandon Their Shopping Cart
There are six main reasons for e-commerce shopping cart abandonment:
Customers are unaware of shipping costs
Customers are only researching, and they don't intend to buy yet
Shipping options are too slow
The checkout process is too complicated
The website is hard to navigate
Customers are hesitant about completing their purchase
Some of these issues are strictly related to business processes or on-site optimization. Nevertheless, but some of them can be quickly solved with chatbots (if you don't know what they are, check out our article on "what is a chatbot").
The Top 6 Cart Abandonment Solutions That Really Work
The most common reasons for shopping cart abandonment are listed below along with quick fixes, tricks, and chatbot solutions. You can also download a complete infographic with problems and solutions by clicking on the button below:
Now, let's go by the potential problems you can address one by one.
Cart Abandonment Due to Expensive Shipping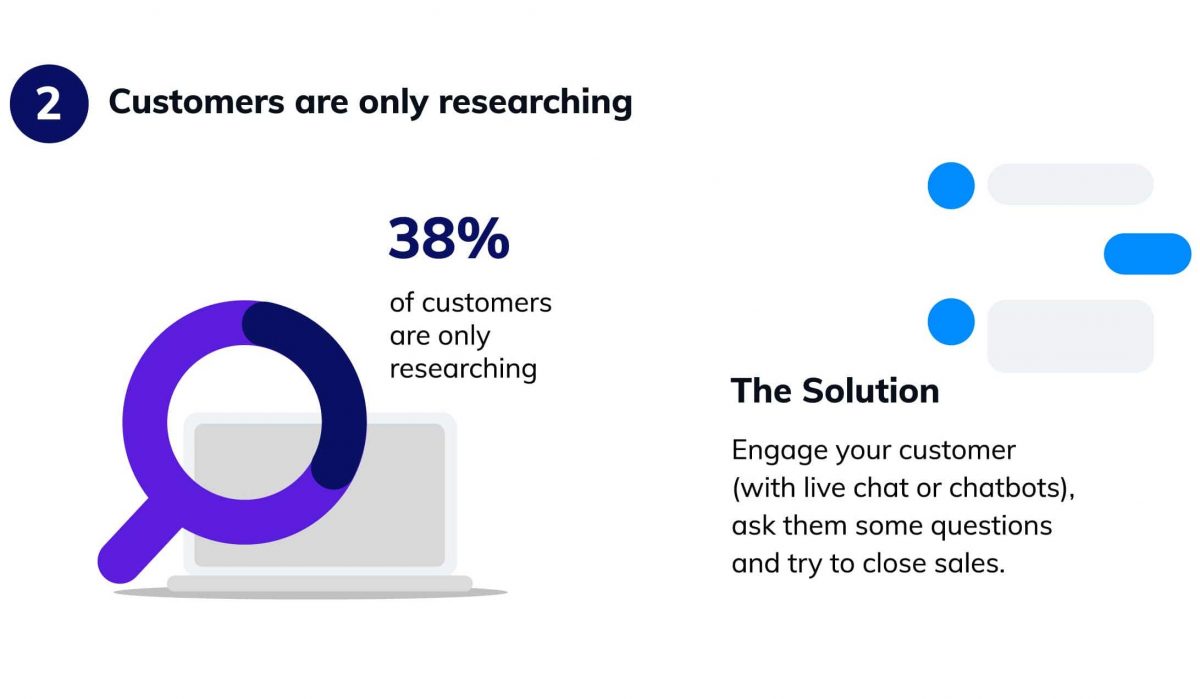 Statista report suggests that as much as 54% percent of customers abandoned their carts due to high shipping prices. Additionally, 39% of clients did the same because there was no free shipping option.
Well, no one likes to be surprised with a big cost of shipping (or even worse – hidden) before checking out. The best thing to do is to keep shipping costs low (or even better – offer free shipping).
Expensive shipping solution:
Offer a discount or a free shipping coupon. A chatbot can send a coupon of your choosing to convince a customer to make a purchase. Thanks to that solution, you can keep the price of shipping at the same level, lowering it only in case when a customer tries to abandon their cart.
Customers Are Only Browsing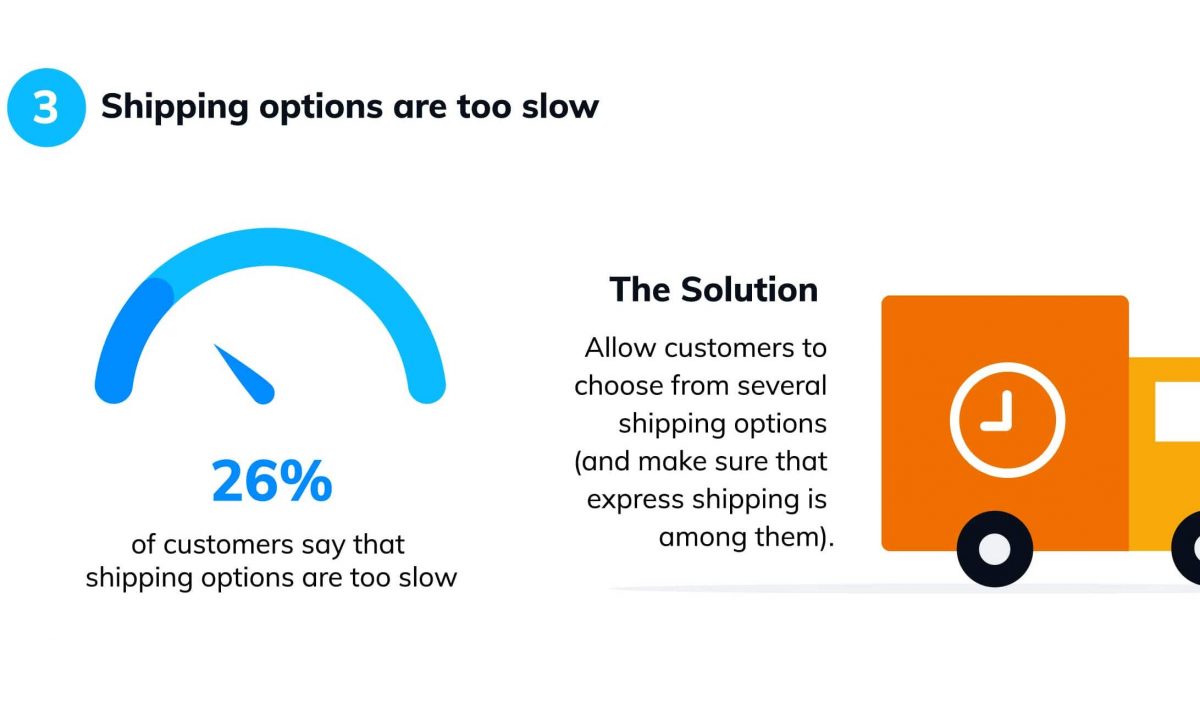 Some of your potential customers will add products to the shopping cart only because they're still in the research phase.
That means they're looking for the best option to buy. And possibly – they're looking for the best price as well.
Only browsing customers solution:
Engage your customers. When they try to abandon their cart, a chatbot can start a conversation asking them predefined questions. After getting answers, customer can be switched to your live chat operator. At best – you'll convince the customer to buy a product, at worst – you'll get valuable feedback.
Note: Apart from chatbots, live chats offer lots of opportunities for you to engage your website visitors. Have a look at our best live chat software comparison to see what you can gain.
Carts Abandoned Due to Long Shipping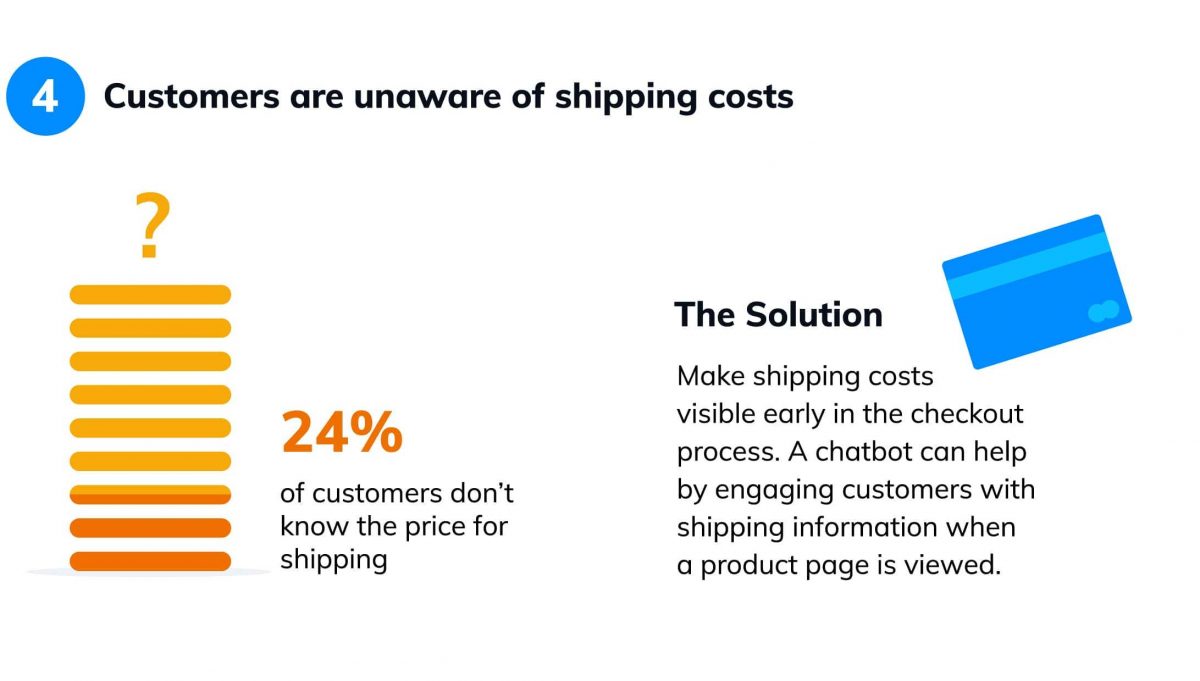 Imagine that you're ordering online a long-awaited title for PS4 or Xbox One, but the delivery time is… 5 days. It pains me to even think about it. And what do you do? Of course, you look for another store.
Not-fast-enough shipping is another critical reason for abandoned carts – 26% of customers decide not to buy because the delivery takes too long.
Long shipping solution:
Make sure you have different shipping options to select from and let your customers decide what's best for them. There's not much that chatbots can do to help with the slow shipment. Still, you can try to compensate for the lack of express shipping by sending a discount via chatbot. It might just hit the spot, and there's nothing to lose.
Carts Abandoned Due to Hidden Shipping Costs
It is very irritating when you buy a product online and don't know what the shipping cost is until the very last step of the checkout process. 24% of customers pointed out that the hidden cost of shipping is why they abandon shopping carts.
Hidden shipping cost solution:
Set up a chatbot to provide the customer with shipping information whenever they visit the product page. By doing so, you make sure that the customer has been engaged and knows the shipping cost! You can also tweak your product prices and offer "free" shipping.
Remember that it is important that you provide a clear shipping policy, and the costs are visible early in the checkout process.
The Cart Checkout Process Is Too Complicated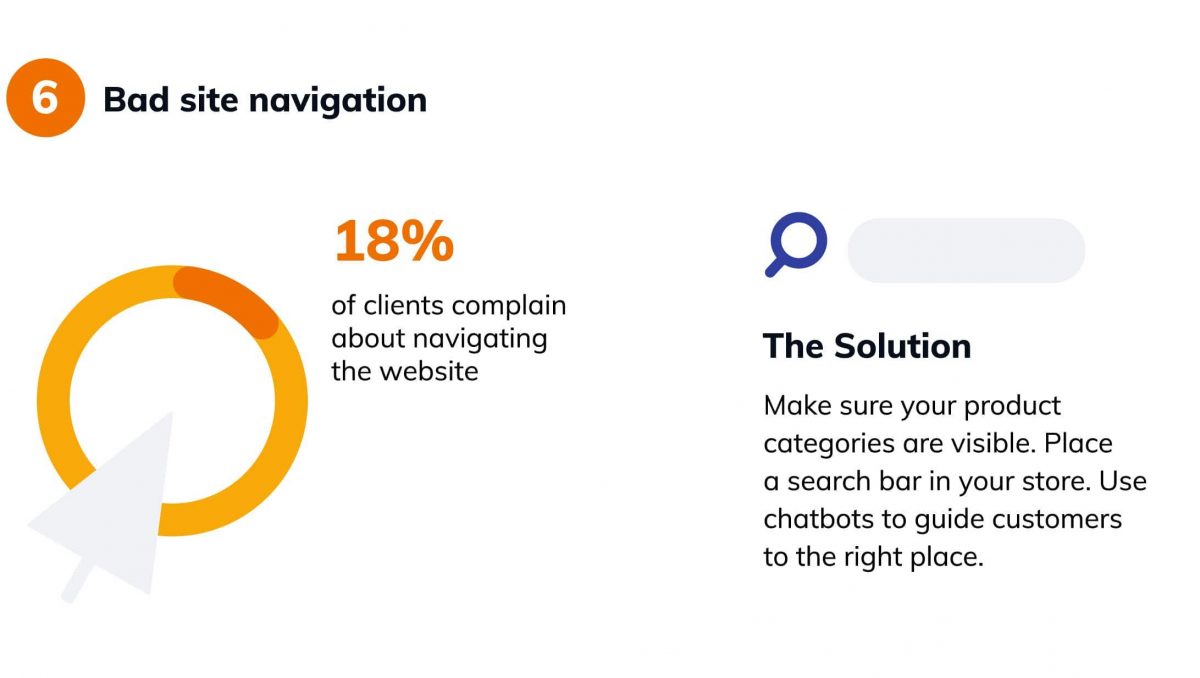 A long checkout process can be annoying. You can't purchase what you need quickly because of all those unnecessary steps – 21% of customers abandoned their cart in that case.
Complicated checkout process solution:
Try to keep things simple. Allow your customers to buy without registering an account. And don't ask for unnecessary information.
Carts Abandoned Due to Bad Site Navigation
A store where you can't find what you're looking for is no good. 16% of customers left an online store because they had got lost when browsing an online store.
73% of customers state that customer experience is an important factor in their purchasing decisions (and good site navigation is one of the main elements). So you have to stand out to maximize your profit.
Improving your site navigation is a matter of optimizing your store. However, chatbots can still help you to guide your customers to the right place. Shopify store owners, for example, use a Shopify chatbot to ask customers questions and redirect them to store categories. Cool, isn't it?

Bad site navigation solution:
Make sure that your store has got clear navigation. Set up the products in the proper categories, and make sure they're visible. Remember also to place a search bar within your store – that'll help your customers to find what they're looking for QUICKLY.
How to Reduce an Abandoned Cart with Chatbot Messages?
There are many tricks you can use to prevent online shoppers from abandoning carts. Shopping cart abandonment is actually available as one of Tidio's chatbot templates. When users don't complete their purchase, a chatbot can send an email or a live chat automatic message.
Writing good abandoned cart emails and messages can significantly improve your abandonment rate. They can appeal to different emotions and convenience customers to take action.
You can find some abandoned cart messages and email examples below and use them as templates.
Top Abandoned Cart Chatbot Messages:
Remind your customers that they can finalize their purchase any time they want
By sending this chatbot message, you signal to your customers that you've done them a small favor. They don't have to repeat the browsing process and put items in their carts all over again. Sometimes it is easier for customers to complete their purchase later on. Putting products in the cart is a series of low-commitment actions while finalizing the purchase is one high-commitment action customers sometimes need to sleep on.
Example of chatbot message:
Hi, your shopping cart has been saved by us. You can still complete your purchase.
Remind your customers that they have products in their virtual shopping cart
Some of your customers can be absent-minded. If they revisit your online store after some time, remind them about the products they put in their virtual carts.
Example of chatbot message:
There are items in your cart. Do you want to finish your purchase?
Create a sense of urgency
It might be a good idea to create some sense of urgency. Make your customers realize that the clock is ticking and that someone else can buy the desired products right out from under their noses.
Examples of Chatbot Messages:
There is a low volume of one of the products from your cart in stock. Would you like to complete your purchase right now?
Your discount code will expire at 0:00. Complete your purchase today to save money.
Appeal to your customers' emotions
People feel guilty and bad about abandoning someone or something. It doesn't have to be a big-eyed kitten.
You can tap into those feelings and make them feel sorry for the items they left behind. The image of an anthropomorphic shopping cart with eyes full of tears could be a little bit too much, but you can think about other images and phrases which match your brand and industry.
Example of chatbot message:
Your shopping cart is sad and lonely without you. Would you like to take care of it?
Make customers realize the effort they've already put into the shopping
Shopping can be stressful and requires a lot of patience. Customers have to make many decisions before they buy a product, and it can be truly exhausting. You should remind them that they've already put so much effort, that it would be a waste to not complete the purchase in the end.
Example of chatbot message:
Your shopping cart is filled with many fine choice products. There is only one step to go before you enjoy them. Revisit your cart and complete the purchase.
Want to see how easy it is to set up your own bot? Read our article on how to make a bot for a website.
How to Prevent Shopping Cart Abandonment?
Shopping cart abandonment is impossible to eliminate completely. You cannot save each and every abandoned cart. But it's not the point. The point is to recover as many abandoned carts as possible.
You can achieve it by understanding why customers abandon their carts and then – optimizing the process.
And our Tidio Chatbots can help you with that, by making sure that every customer gets engaged and you boost the conversion up to the maximum.
Provide 24/7 customer service even when you sleep.
Create unlimited chatbots for your website without coding to engage more visitors.
Learn About Chatbots