Do you have a Wix site and want to improve conversion rates and capture more leads? You might have heard that chatbots can help you with that, and your source would be right.
But which one to choose and how to add a Wix chatbot to your website?
That's where we come in.
Let's discover the best chatbots for a Wix website with pros, cons, pricing, and how to easily add one to your site.
In this article:
Do you want to learn more about chatbots? Check out these:
First of all: What are some of the benefits of adding a chatbot to your Wix website?
Well—
Chatbots are a great way to improve customer experience and give a helping hand to your customer support team:
Check out our research report for more chatbot statistics and trends to keep an eye on.
As you can see, there are many benefits that come with the use of chatbots, but this still doesn't answer the question of which chatbot Wix users should choose. Let's get on that, shall we?
Wix chatbots comparison table
Now it's time for more in-depth reviews of Wix bots with pros, cons, and pricing. So, what is the best chatbot platform for Wix?
Here are the top six chatbots for a Wix website:
1. Tidio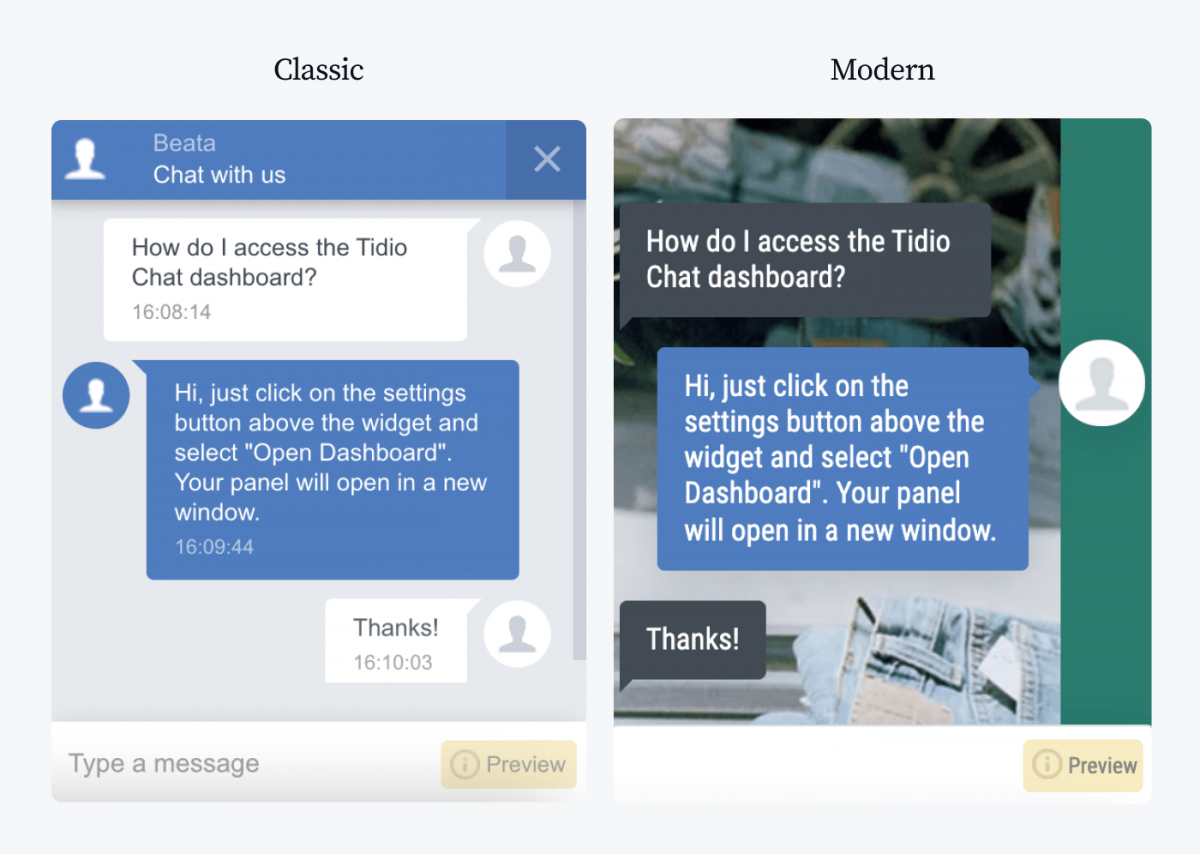 Ratings: 4.5/5 (495 ratings)
Tidio offers one platform for all your customer communication, so you'll never miss a message or a sales opportunity ever again. It also provides AI chatbots that use NLP (Natural Language Processing) to recognize messages and send automatic replies based on the queries.
This chatbot for Wix offers a live view of your site's visitors, a live typing preview, a mobile app, and a number of different bot triggers. These features can help you capture leads more effectively and provide an overall better customer experience.
You can check out Tidio reviews and test our product for free to see the quality for yourself.
Main features:
Bot templates & drag-and-drop builder
Easy installation with an official Wix marketplace app
NLP (Natural Language Processing) technology
AI chatbots available
Multiple languages available
Variety of integrations (MailChimp, Zapier, etc.)
16 different triggers for bots
Pricing:
Free plan available
Chatbots premium plan $49/mo
Learn how to install Tidio on Wix websites in a few easy steps.
2. Wix Chat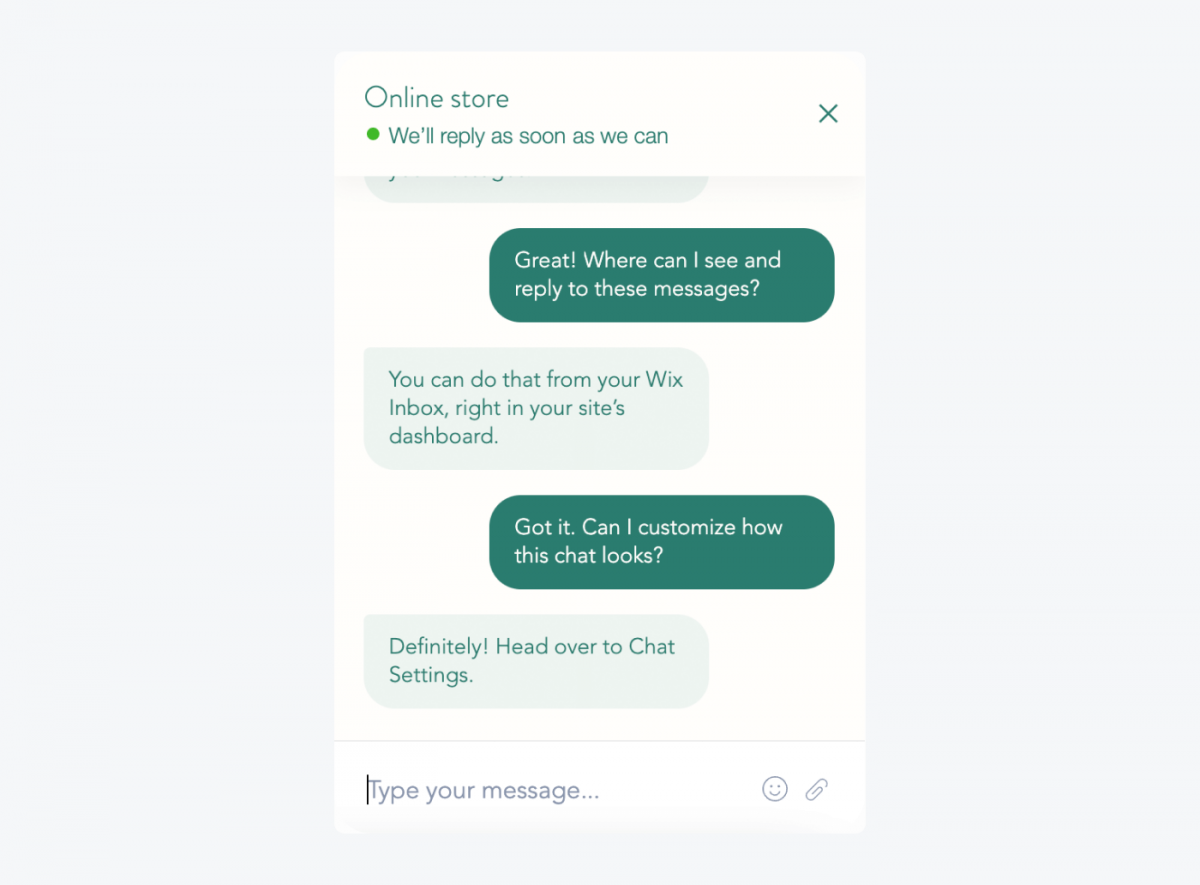 Ratings: 4/5 (3,332 ratings)
This chatbot for Wix is a simple chat tool solution, and it integrates with your site seamlessly. You get real-time notifications for messages, sales, and visitors to keep an eye on everything that's happening on your ecommerce store.
Wix Chat has features that let you automate the greeting of website visitors, send them a welcome message, and answer clients' FAQs. It also helps you capture leads with custom forms and instant messaging. You can customize the widget to your needs and save previous replies to maximize the efficiency of the workflow.
Pros:
Notifications for messages, sales, and visitors
Seamless integration with Wix sites
Lead capture forms available
Cons:
Some reviewers say that it's a page speed killer
Customers sometimes don't get notified of incoming messages
Some reviewers had problems with opening the app on desktop
Pricing:
Free plan available
Ascend basic plan $12/mo
Ascend professional plan $29/mo
Ascend unlimited plan $59/mo
3. Tolstoy Interactive Video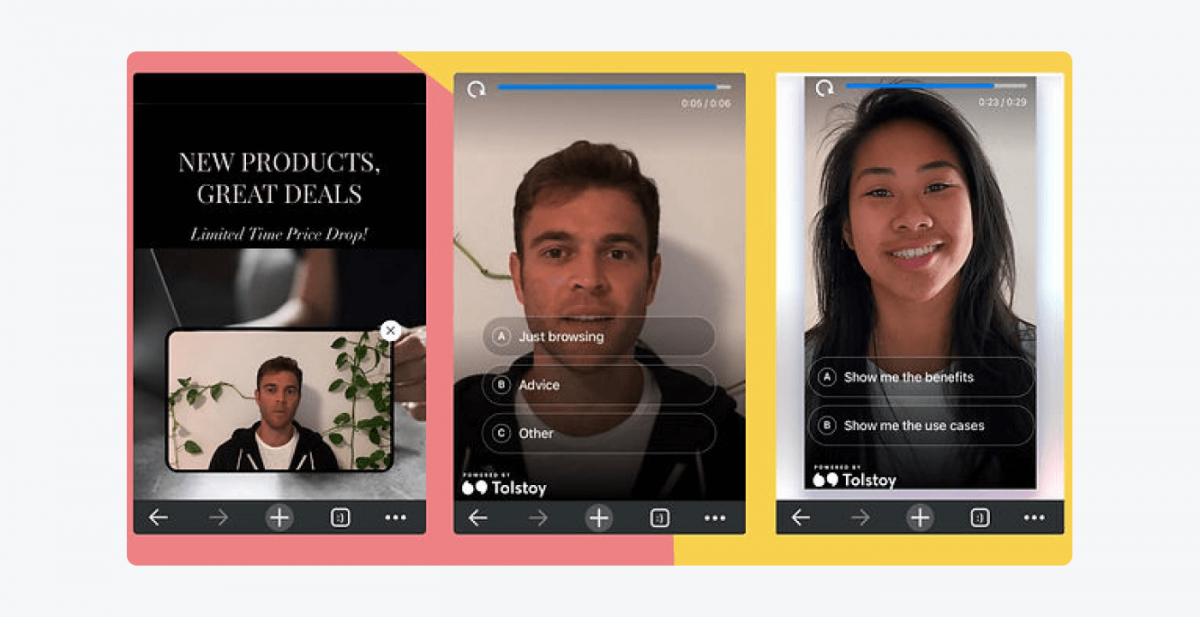 Ratings: 5/5 (28 ratings)
Tolstoy is a great alternative to traditional AI chatbots on Wix that lets you personalize the shopping experience for your clients and build relationships with them. It is also responsive so your customers can use the chatbot on a computer, as well as, on an iOS and Android devices.
Instead of sending text messages, you will communicate with customers by recording videos to welcome them, answer questions, and introduce products. Anything you like! Tolstoy is also a free chatbot for Wix users that you can put in the chat widget, on the page, use them as pop-ups, or share them on your Facebook page.
Pros:
Interactive video tools
Zapier, Salesforce, and Klaviyo integrations
Drag and drop builder for videos
Cons:
Need a plan for how to record the videos and deliver the interactive messages
Difficult to use at first
No text input available for visitors
Pricing:
Free plan available
Contact sales for enterprise-level plans
Tolstoy is only available for paid Wix users so if you're on a free version, you won't be able to add it to your site.
4. ChatBot for Lead Generation by VirtualSpirits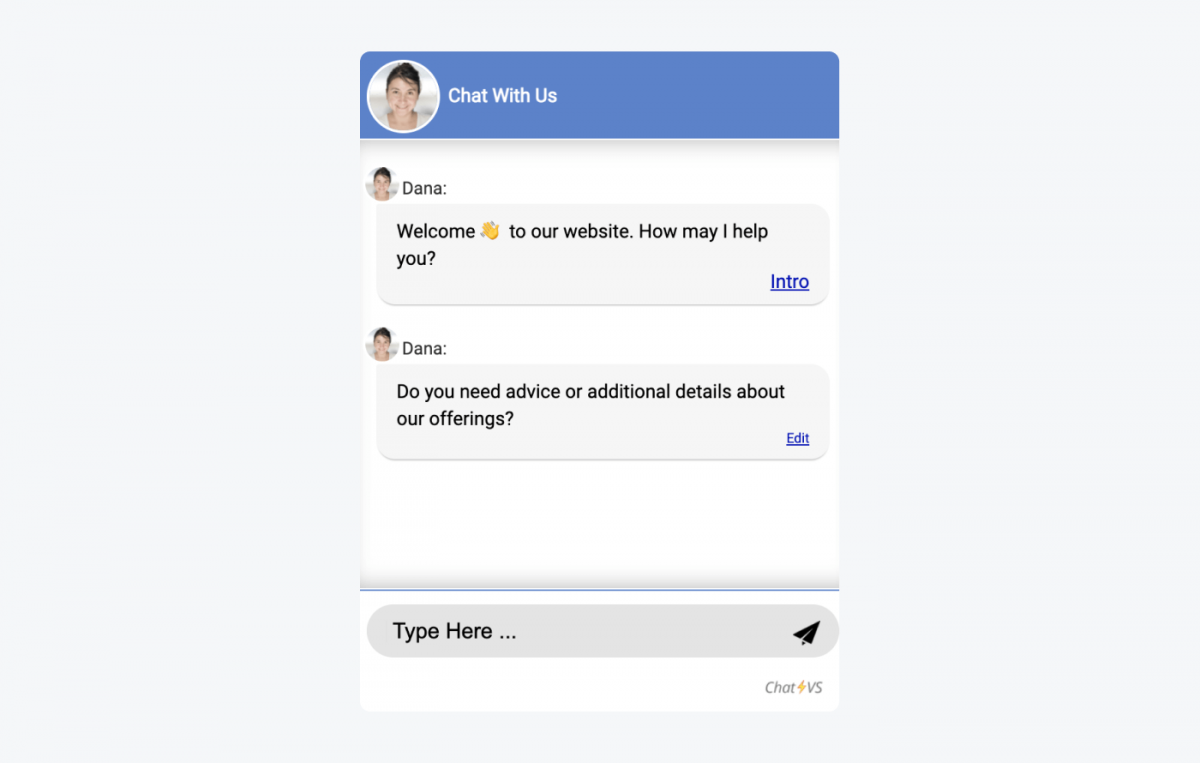 Ratings: 3.9/5 (73 ratings)
This Wix chatbot app gets "smarter" by learning from chats and visitors' input, so the more it's used, the better it gets. It automates repetitive tasks and answers questions 24/7, so your brand will always be there for the clients, even if you're asleep or busy.
ChatBot by VirtualSpirits is easy to set up without the need for any HTML code knowledge. You can start using it even within a few minutes. It can help you collect leads and send them to your CRM or directly to your email. You can also use conversion tracking for Google Ads, Analytics, and Pixel to measure your performance.
Pros:
Simple setup
Chatbot reports and chat performance insights available
Sales leads sent directly to your email or CRM
Cons:
Doesn't work well on Wix mobile view
Poor interface
Difficult to use and customize
Pricing:
Free version available
Professional plan $9.99/mo
5. EasyChat by Nser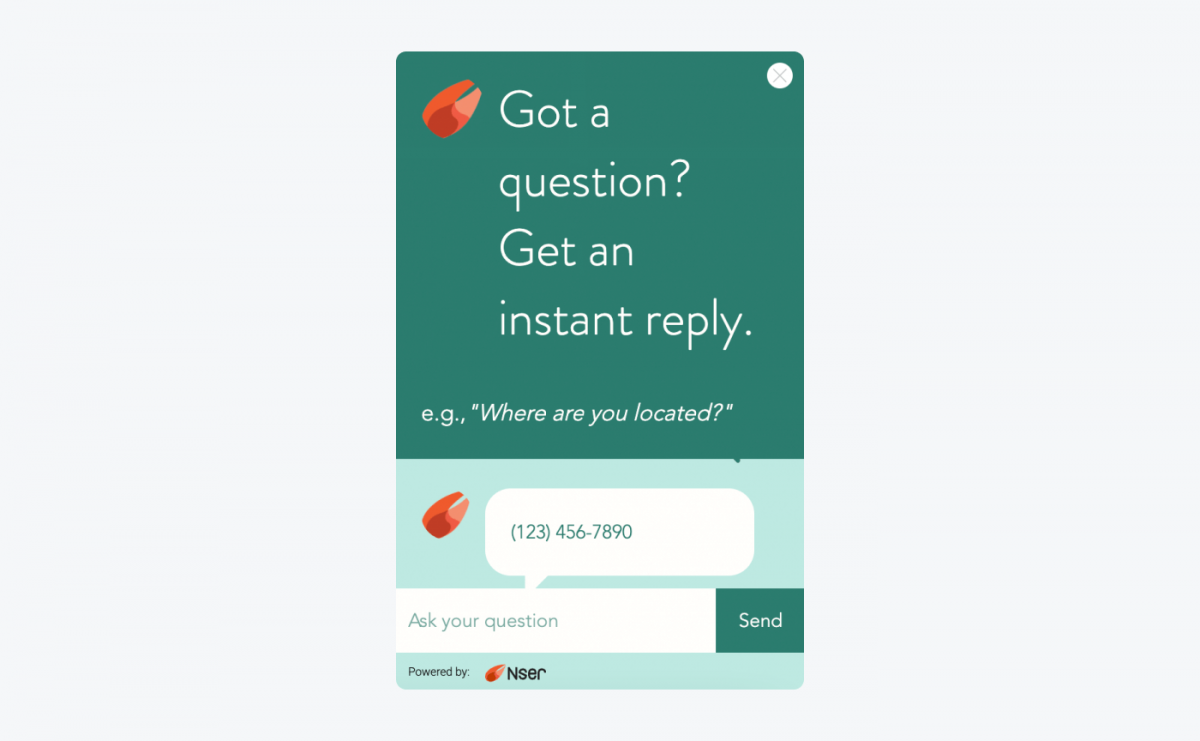 Ratings: 3/5 (19 ratings)
This is one of the best chatbots for Wix websites offering AI technology for a better conversation flow and to aid your customer service team. It works alongside your Wix live chat and sends more complex messages to your email, so the queries don't get lost before your live chat support agent gets a chance to resolve them efficiently. And your website visitors can choose whether they'd like to receive the answer by email or push notifications.
You can analyze visitors' questions and refine your answers for a better customer experience. Other analytics reports can help you track customer success metrics and improve the bot's efficiency in answering queries. You can also build a database of users to keep all your leads in one place for the marketing efforts.
Pros:
Chat analytics available
Ability to build a database of users
A choice of push notifications or email for more complex questions
Cons:
Difficult to use at first
Not possible to change the position of the chatbot widget
Some reviews say there's poor customer support
Pricing:
Free version available
Premium plan $3.99/mo
6. POWR Facebook Chat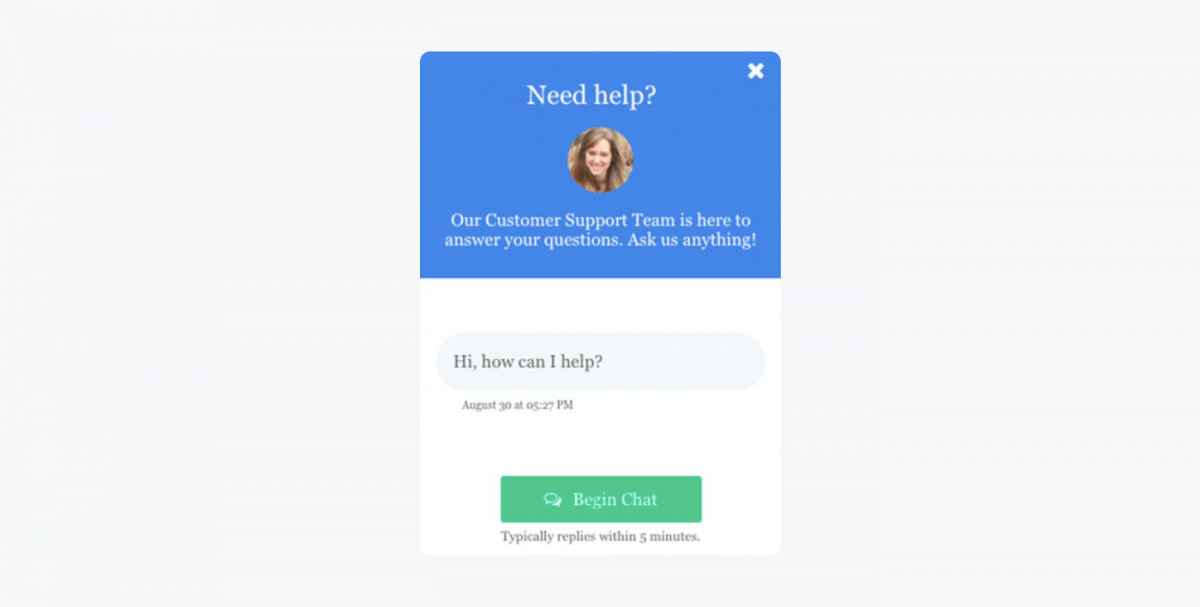 Ratings: 2.7/5 (22 ratings)
POWR enables you to provide customer support and generate leads through the Facebook Messenger widget on your Wix site. The platform lets you customize the welcome message and your avatar. You can also select button text, colors, fonts, and everything around the bot to match your site perfectly.
You can also choose from a number of triggers to decide who gets the message and when. These can be returning subscribers, new visitors, or just everyone. This chatbot, with the help of Facebook bots, supports text in any language, so you can chat with your international customers with more ease.
Pros:
Personal automated welcome message
Fully customizable
Supports text in any language
Cons:
Doesn't work correctly on a mobile version
Branding change don't work
Some users say it's difficult to connect to Facebook from the app
Pricing:
Free plan available
Started $4.99/mo
Pro $11.99/mo
Business $79/99/mo
Discover more of the best chatbot platforms you can add to your site and find out what are the top AI chatbots for your business site.
Since you know what the best Wix chatbots are, let's see how to add one to your site.
How to add a chatbot to a Wix website?
First of all—Can you add a chatbot to Wix by yourself?
Of course, you can!
And it's quite easy to do actually! Follow the steps below to embed a bot on your Wix site:
Let's go through the steps more in-depth.
1. Search for "chatbot" on Wix App Market
Log in to your Wix account. On the left-hand side, open the menu bar. Choose the fourth icon (Add Apps) and search for "chatbot" in the Search Apps bar.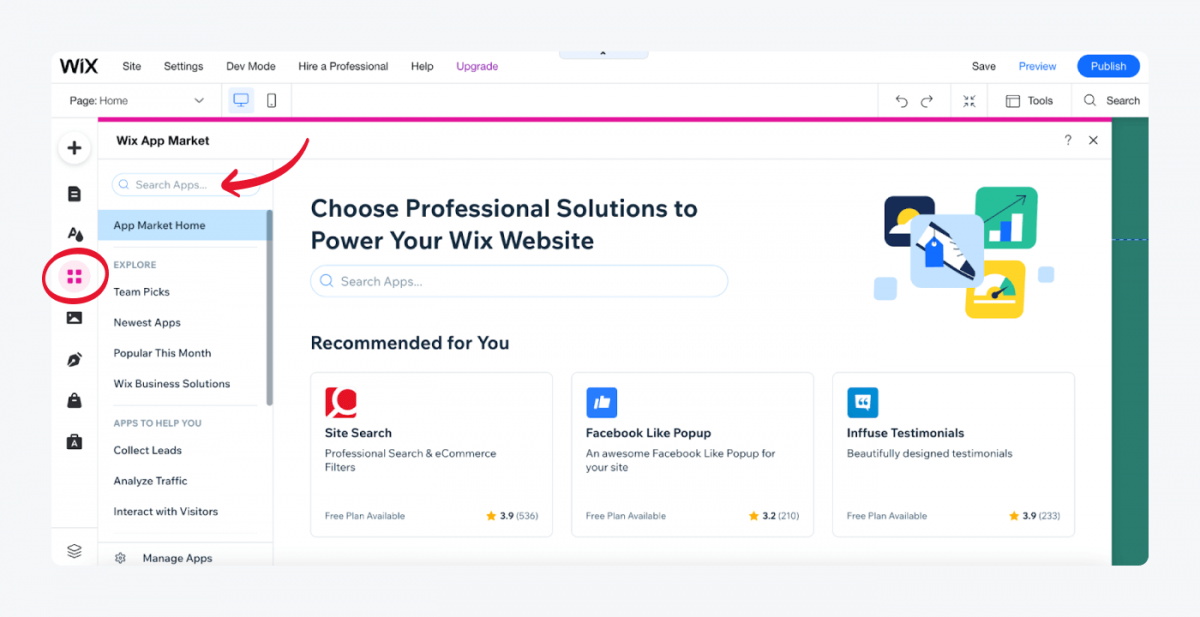 2. Select the bot provider
We discussed all of the available apps earlier in the article, so if you're still not sure, you can go back to the reviews higher up.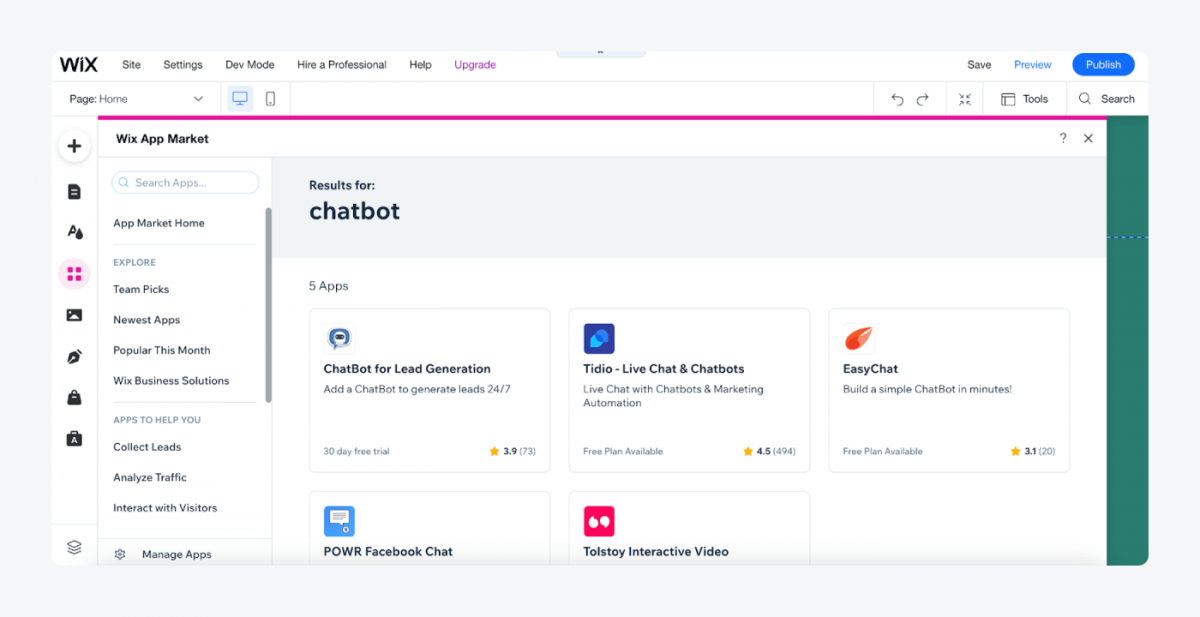 3. Add the plugin to your site
Once you select which chatbot platform you want to use, click on the "Add to Site" button. There will be an automatic pop-up asking if you're sure about installing the plugin. Click "Add to Site" again to finish the installation.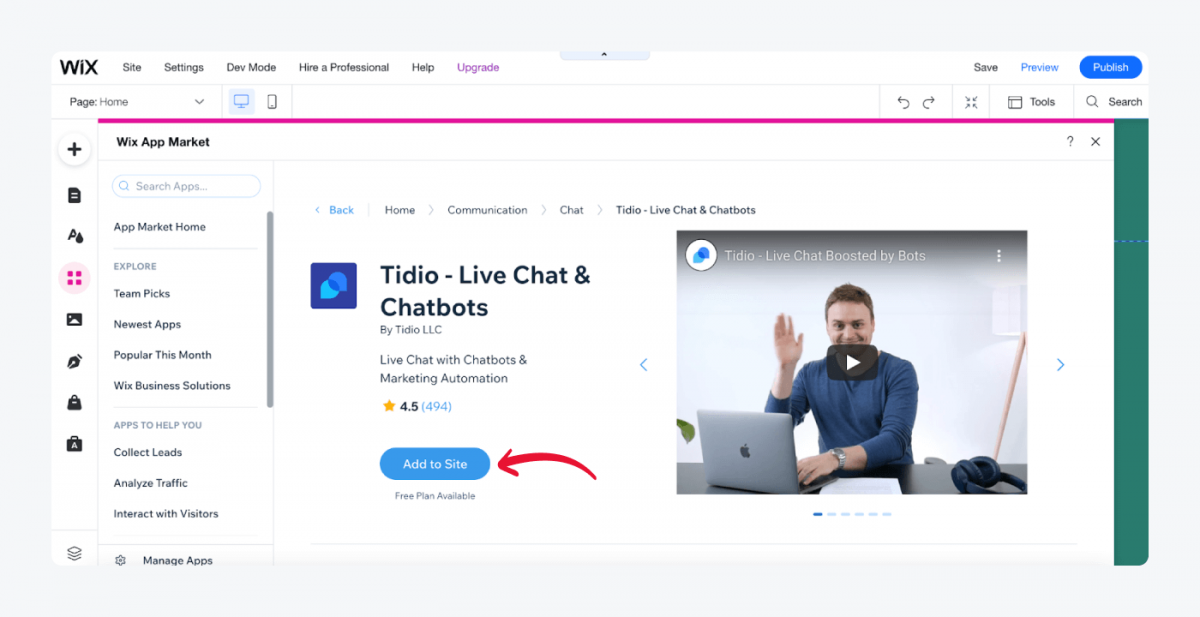 4. Create an account
When you install the app, the chatbot plugin will automatically appear at your screen's bottom right. To start using the bot fully, you need to create an account with the chatbot provider.
Select the "Settings" button that is just above the chat widget. Click "Open Dashboard," and you'll be redirected to log in or register to an account.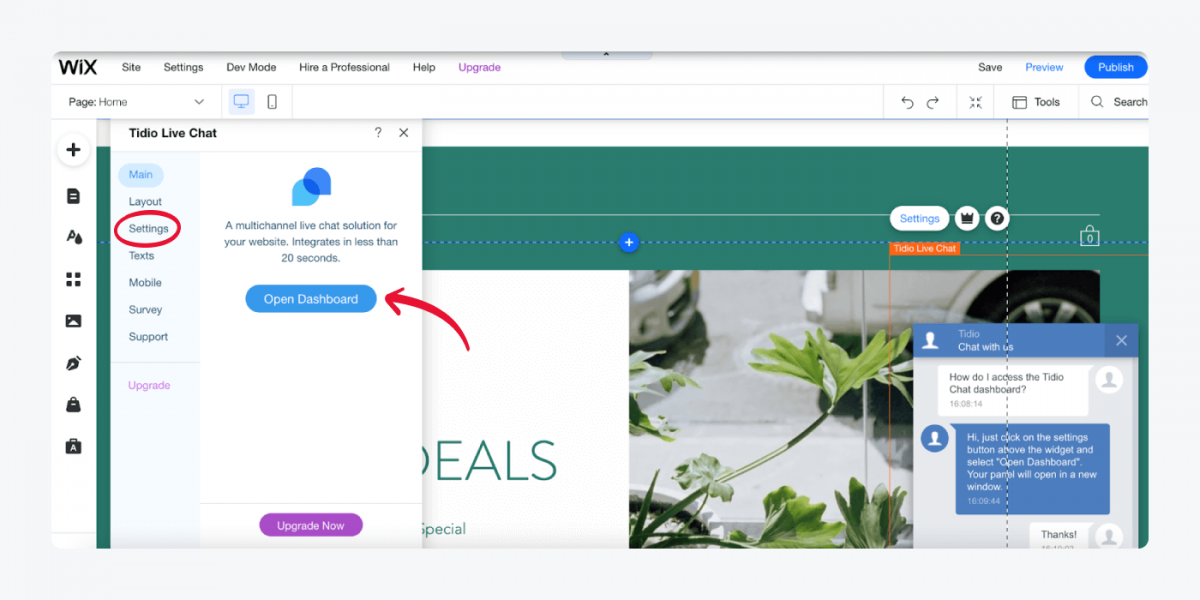 5. Configure and customize your chatbot
On this panel, you can finish creating your account and start customizing your chatbot. You can create and activate your first bot, add triggers and personalize messages during the tour.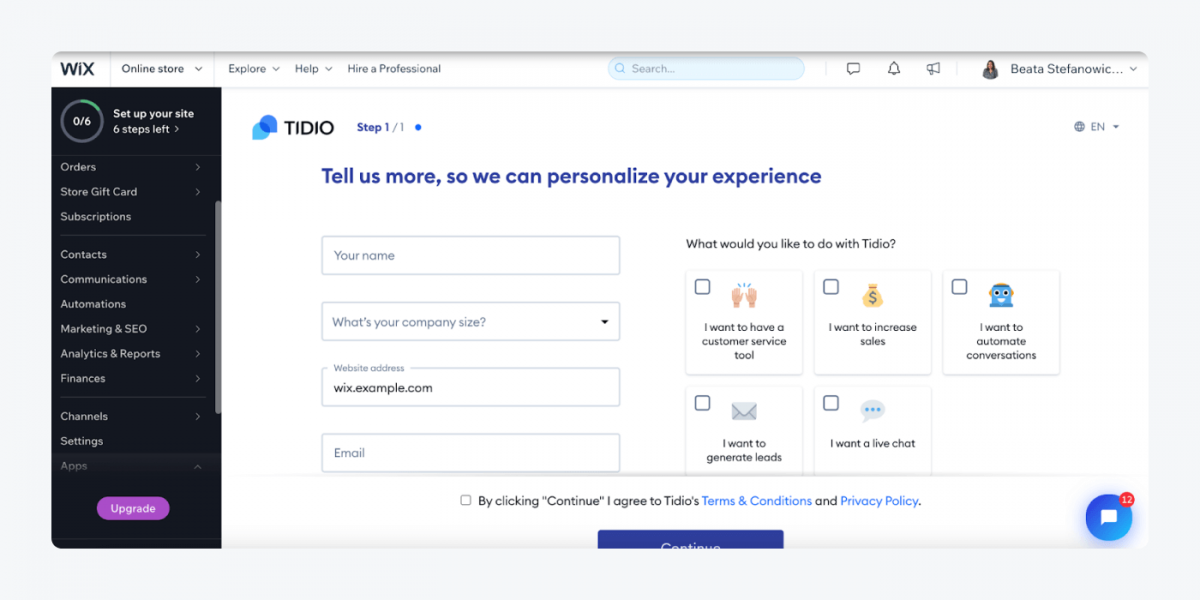 Learn how to create a new Tidio chatbot in a few easy steps and start building your customer service bots.
Check out this great visual step-by-step guide to installing a Wix chatbot on your site:
Wix chatbots: Summary
So, let's review what we've learned:
Chatbots are effective in solving most of the customer service issues, and customers are generally satisfied using them.
The six best Wix chatbots are Tidio, Wix Chat, Tolstoy, ChatBot by VisualSpirits EasyChat, and POWR Facebook Chat.
You can add a chatbot to your Wix website in under 5-minutes by installing the app from the App Market and setting up an account.
Now—
Define the features that are most important to your business and look for them in the Wix chatbots' reviews above to find your perfect match.
All the apps mentioned in this article either offer a free plan or a 30-day free trial, so you can test them out before deciding on the one.