There are so many different chatbot providers out there. They all say how great their features are and seem to be all bells and whistles…
But are they the best choice if you work in the financial industry?
We asked ourselves the same question.
And It took about 30 hours to find the answer and the best finance chatbots out there. Since you have better things to do than spend tens of hours browsing the web looking for bots, we're bringing our findings to you.
Let's go through the top financial chatbots with their pros, cons, and pricing compared.
In this article:
If you would like to know more about chatbots, check out these articles:
Okay—some basics for the start.
Are finance chatbots and financial bots the same thing?
First things first—what are fintech chatbots?
Finance chatbots are bots used by the financial services industry. They communicate with clients providing 24/7 support 365 days a year. They can answer commonly asked questions, check the customer's account balance, and offer financial advice amongst other functionalities. Financial chatbots can also handle multiple requests coming from a variety of channels, at the same time.
So, what are financial bots?
Finance bots are computer programs that can automate some of the finance tasks via coded commands. Users can set these bots to send them notifications. Financial bots can send credit card payments' reminders, transaction notifications, and other reminders that the user needs.
In simple words: finance chatbots can answer questions and make account analysis. Whereas, financial bots perform coded tasks, such as sending set reminders and notifications.
Now—
What can you use finance chatbots for?
Use cases for chatbots in finance
You can use finance chatbots for your customer service, client support, account analysis, and even for detecting suspicious activities. These are just a few examples of hundreds of tasks that chatbots can help you with.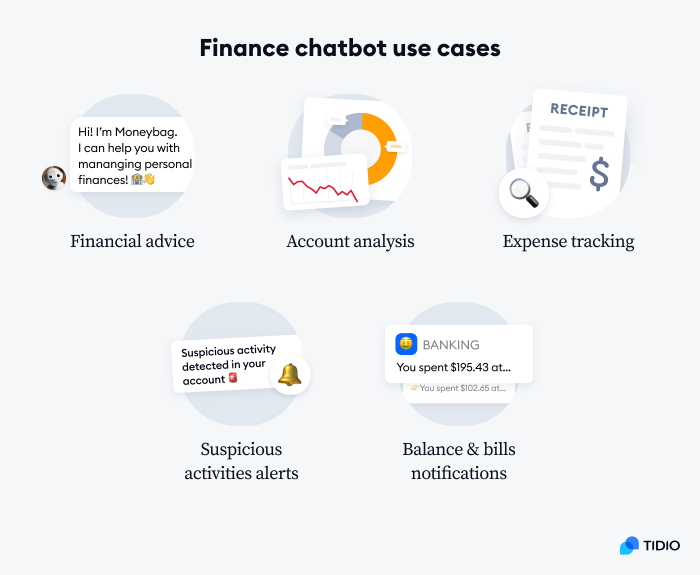 Here are five of the most common use cases for chatbots in finance industries:
You can set your chatbot to give financial advice to your clients. But only for the common questions and things that you can control. Whenever the questions go beyond that, the chatbot will send your client to one of your representatives for their expertise and to avoid mistakes. Chatbots can answer questions related to the customer's account, their bills, and most of the commonly asked questions.
An example of this use case is Buffet, Talkbank's bot is named after Warren Buffett.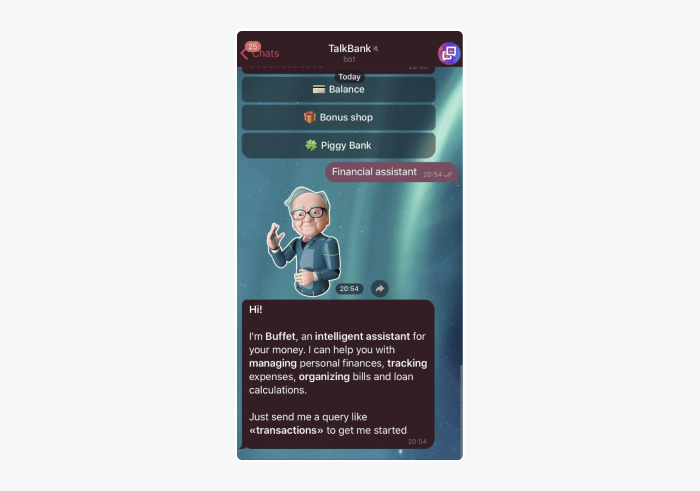 You might be wondering how personal finance chatbots could help you get your spending under control? Simple! By tracking your costs and notifying your client of any spendings.
You can now track your expenses and see reports of them without having to contact the bank each time you need this information. Chatbots in financial services help users create expense reports, submit any missing expenses, and add transactions to their reports. This helps the users with tracking their spendings more accurately and saves your agents some time.
This helps your finance institution be transparent and for your clients to stay on top of their finances. In fact, most banking consumers (61%) interact weekly with their bank on digital channels. And finance chatbots can help you transform the banking experience for the users. Bots can also simplify the financial operations and deliver great value to your clients by performing activities, such as balance checks and funds transfers.
An example of how this finance bot looks: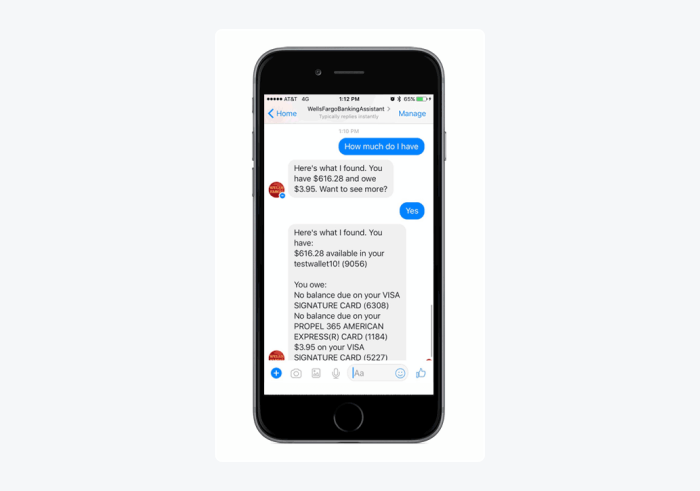 Balance notifications and bill reminders
Your clients will never miss out on their payments or go over their budget again. This is because finance bots will send them reminders for bills and notifications for the balance. The users can also use this feature to set credit card payment reminders and build their score easier. Bots in finance help to improve spending habits for your customers and some awkward conversations about missing payments for your reps.
Suspicious activities alerts
One of the biggest concerns in the financial services industry is the data privacy. But finance chatbots can help you and your clients with that. You can set bots to flag up any suspicious activity and stop the damage before it happens. They monitor the customer's account and identify any warning signs of fraudulent activity. If bots identify a problem, they alert the bank as well as the client of the suspicious activity.
An example of this is: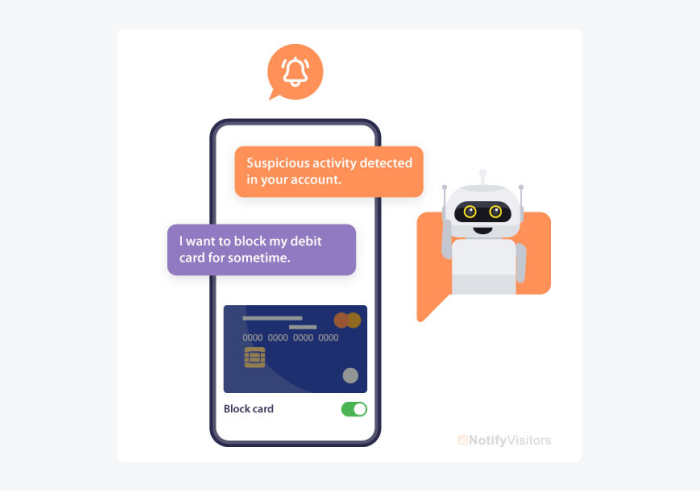 These are the top five most common use cases for finance chatbots. Other usages for them include automating customer onboarding, generating quote, providing customer service, and offering educational material to your clients.
By using a chatbot, you can easily generate quotes for busy traders who want to quickly get an estimate for a financial investment
But do these use cases even work? What financial benefits can they bring for your business?
Here are five of the biggest chatbot benefits related to finances.
Financial benefits of chatbots
Chatbots have many benefits, starting from saving time, through improving lead generation, to improving customer satisfaction. In the long run, all of these also bring financial benefits to your business. But, what are some of the chatbot benefits that are directly related to finances?
Some of the most common benefits of financial services chatbots include:
Chatbot pricing varies depending on the service provider and what you need them to do. If you just want to provide an omnichannel customer experience, the cost will be quite low. However, when you need the bot to perform complicated transactions or decrease the human error in money transfers, then the price will increase.
That being said, messaging clients via financial chatbots can help your business slash customer service costs. This is because the organizations can use bots for fast resolution of issues without the need for support agents' involvement. And a bonus with chatbots is that they don't take any days off or get sick.
Improved proactive engagement
Your financial industry can benefit from implementing chatbots that upsell and cross-sell your financial products based on previous transaction history. Finance chatbots also break down bank updates and financial advice to clients as they browse through the bank's website.
What's more, chatbots for banks and financial services offer engagement and build strong relationships with customers. In fact, over 43% of customers in the USA use chatbots when dealing with their banking problems instead of going to a branch.

Better customer feedback collection
Some clients are hesitant when it comes to giving feedback to their bank due to privacy concerns or feeling that it won't make a difference anyway. The fact that feedback collection is not a part of the transaction process makes it even more difficult.
Therefore, chatbots with feedback gathering capabilities help to convince customers to provide their honest opinion. This works because people prefer a conversational approach when it comes to giving feedback rather than filling up a questionnaire. A bot can also convince the client that the bank will protect their information to lower concerns related to privacy issues.
Chatbot efficiency in banking boils down to their speed and capacity. Because financial chatbots can handle hundreds of transactions and inquiries at any given time. In comparison, a human agent can only concentrate on one request at a time. While bots take over the simple service queries, they take some weight off your agents' shoulders. And the best part is, you won't lose on customer satisfaction as bots can deliver personalized service to your customers. And, research shows that the average satisfaction of chatbots is over 87%.
No wonder chatbots are used more and more in the banking industry nowadays. In fact, the global market for chatbots in banking, financial services, and insurance was valued at about $586 million in 2019. And it is expected to reach $7 billion by 2030.
Read more:
Financial chatbots
We won't pretend like there are hundreds of options for finance chatbots out there. There aren't. Not many chatbot platforms focus on the finance industry. So, which chatbot providers are suitable for the financial sector? We gathered the top nine options for you.
Here is a comparison table of the top finance chatbots:
Let's discover more about each of the top chatbots for banks and financial services out there—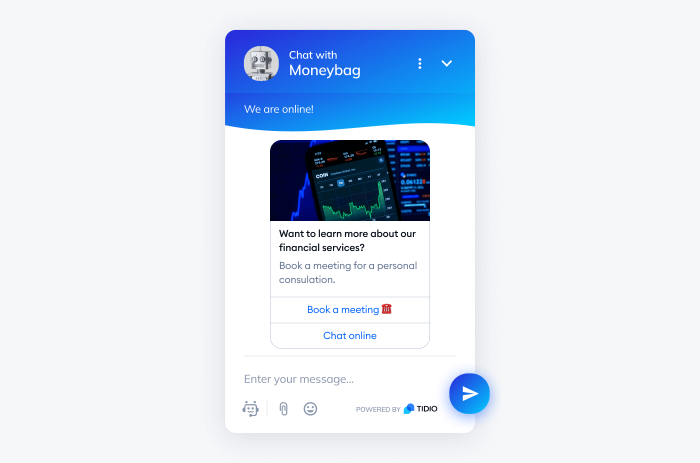 Rating: 4.7/5 ⭐️ (1,115+ reviews)
Tidio is an all-in-one customer service platform that helps financial institutions generate more sales and improve customer support. It offers AI-powered chatbots that improve customer engagement in real-time and delight customers for higher satisfaction with your business. You can collect client information, and create task-specific chatbots using a variety of templates. For example, you can use the "Schedule a meeting" template to let your website visitors book in a meeting with one of your financial advisors.
But we're not going to brag about how great our software is. This blog article is not the right place for that, don't you think? If you want to find out more about Tidio, check out our reviews on G2. Also, you can try our finance chatbots free of charge and without any risks involved.
Main features:
Artificial Intelligence (AI) chatbots
35+ pre-designed templates
NLP (Natural Language Processing) technology
Drag-and-drop visual chatbot builder
16 different triggers for bots
Mobile phone app available
Customizable chatbot UI elements
Integrations with ecommerce platforms available (Shopify, Wix, WooCommerce, etc.) and social media (Facebook Messenger and Instagram)
Free plan available
Communicator ($19/mo/operator)
Chatbots ($49/mo)
Read more: Learn how to install Tidio on your website in under 5 minutes.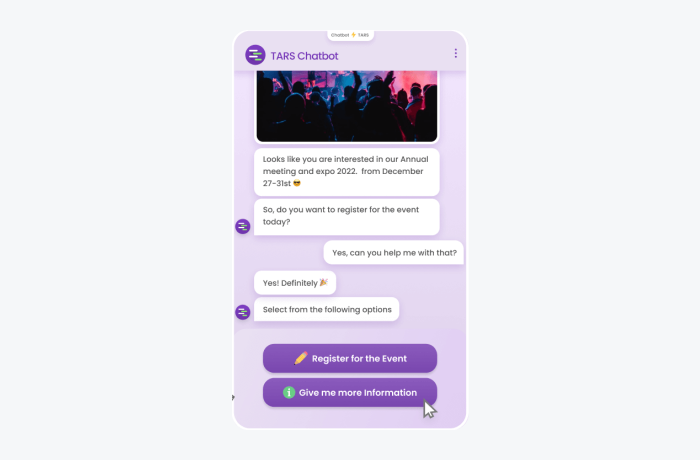 Rating: 4.7/5 ⭐️ (145+ reviews)
Tars can help you optimize your conversion funnels, improve customer experience, and automate some of the customer service interactions. Your online bank visitors will be greeted and asked if they need help. This will make the experience more human-like and personal.
This finance chatbot was designed to not be overwhelming and to only give relevant information about your services to the customers. It also offers over 1,000 different chatbot templates that you can choose from. These include over 320 finance and banking-specific templates. You can choose to publish your chatbot as a chat widget on your pages, as a standalone page on your website, or on WhatsApp.
Pros:
Chatbot templates for finance and banking
Simple configuration
Features for geolocation data collection and personalized experience for prospects
Cons:
Some users had issues with connecting TARS to Google Analytics
Limited customization
Business → request demo for price
Premium → request demo for price
Enterprise → contact sales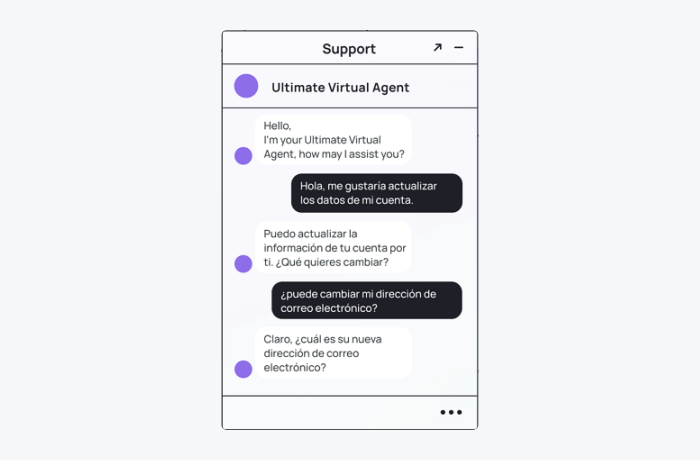 Rating: 4.7/5 ⭐️ (90+ reviews)
Ultimate is a virtual agent platform that helps businesses worldwide scale their customer service with the use of AI. It can help you automate time-consuming queries and improve self-service for your clients to reduce the response time to each of the clients' queries.
This finance chatbot provides a fast CRM authorization and is a partner of many CRM platforms, including Salesforce, Zendesk, Freshworks, and Genesys. It includes features like card activation and unblocking card within chat to make the process easier for your customers. Ultimate also offers a multilingual virtual agent that you can train on your historical support data and create chats using a chatbot builder.
Pros:
Weekly health reviews of the chatbot's performance with analytics
Full customization enabled
Multilingual support with over a hundred different languages
Cons:
Occasional service disruption
Some reviewers state that the user interfaces for building dialogues is not very user-friendly
Contact sales for pricing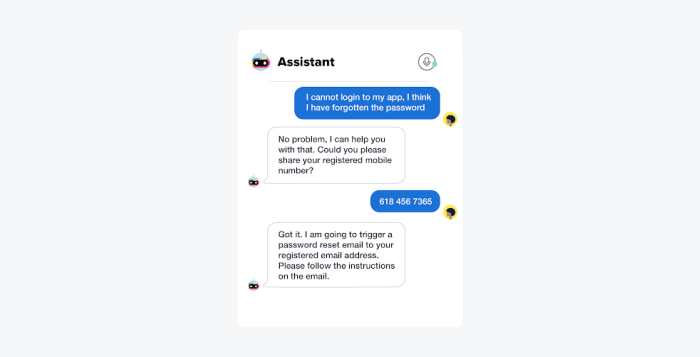 Rating: 4.5/5 ⭐️ (85+ reviews)
Haptik helps businesses to power the entire customer lifecycle, from interest through purchase to support with virtual assistants. This will improve operational efficiency and boost revenue for your company. It's designed to keep the customer experience and consumer needs in mind when making business decisions.
You can use this finance bot to recreate the face-to-face experience for your customers. It lets you give personalized recommendations for clients, offer buying guidance, and share reviews from your current customers. This can help you wow the potential customer and increase the likelihood that they choose your financial services over the competitor.
Pros:
Extensive analytics platform
Fast and knowledgeable customer support team
Pre-defined processes to take customers through common issues and questions
Cons:
Limited guidance on how to use Smart Agent Chat
No real time issue reports
Contact sales for Starter, Growth or Advanced plan pricing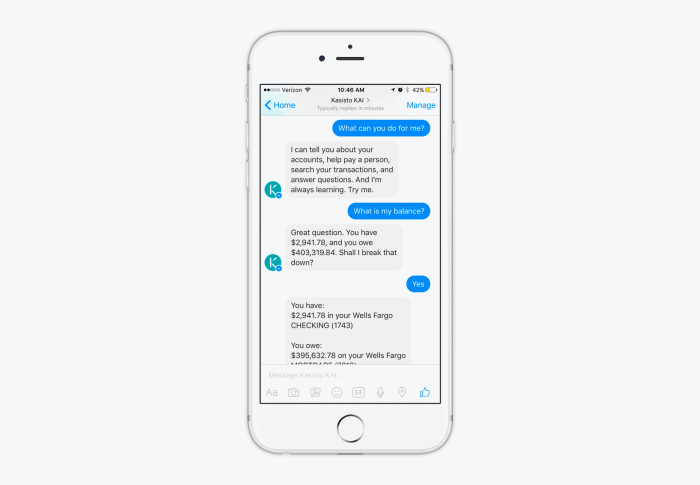 Rating: N/A
This is one of the best chatbots in financial services out there that is designed specifically for financial institutions. Nowadays, banking customers expect to be able to engage digitally and for you to understand their needs. That's why you need to get the digital experience right if you want to meet your customers' expectations and attract get more new accounts.
You can use this financial bot to deliver on-demand customer service that meets your clients' needs. Kasisto uses deep conversational AI and financial expertise to analyze account activity and generate insights to provide recommendations and resolve common service requests. It also offers a multichannel experience and proactively delivers insights you can use for future improvements.
Pros:
Intent builder including responses, entities, segments, and webhooks
AI training and analysis
Multi-modal (text, touch, and voice)
Cons:
Some users report bugs in the system
Contact sales for individual demos and pricing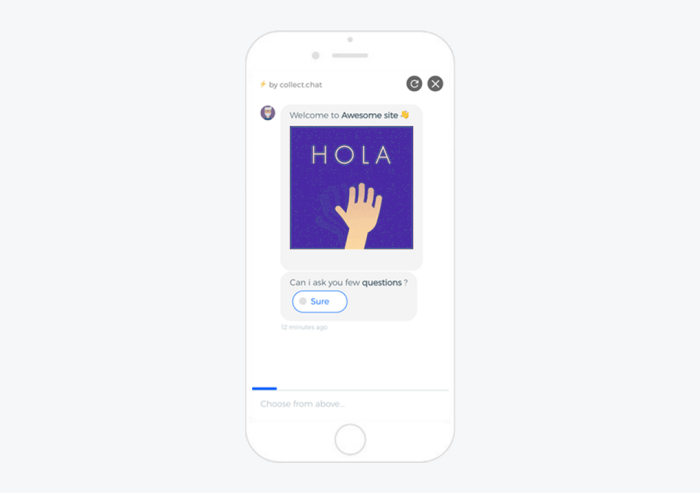 Rating: 4.7/5 ⭐️ (13+ reviews)
Collect.chat is a platform to build your finance bots with simple drag and drop templates. It only takes a few hours to be up and running with your virtual assistants. All you need to do is add questions and customize the pre-designed templates to match your business. You can then use the chatbots for finance to collect visitors' data by asking them pre-designed questions.
This financial chatbot collects insights and data for you to be able to make better business decisions in the future. It also sources for leads and gives you more time to focus on achieving your goals. Collect.chat is focused on collecting data through personalized chats and increasing conversions.
Pros:
Variety of useful templates
Multiple integrations with Salesforce, Mailchimp, Slack, and Zendesk
Automatic meeting scheduling
Cons:
No AI chatbots
Some reviewers say it's not very intuitive to use
Free plan available
Lite ($24/mo)
Standard ($49/mo)
Plus ($99/mo)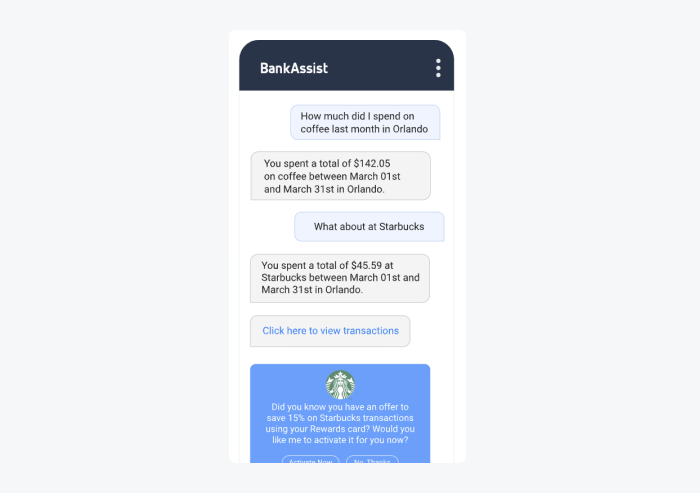 Rating: 4.3/5 ⭐️ (12+ reviews)
Kore.ai was named a leader in the 2023 Gartner Magic Quadrant for enterprise conversational AI platforms. It can help you improve your finance and accounting efficiency by removing repetitive tasks with the use of finance bots. The system can help you streamline important tasks related to procurement and obtaining any goods your company needs for operations.
This is one of the best banking chatbots that offers automated accounting and finance processes. It also provides invoice processing and expense tracking with reporting, which can help improve money management for your clients. Kore.ai also acts as a conversational AI bank agent that helps customers keep track of their money with balance notifications and bill reminders.
Pros:
Visual builder with drag-and-drop interface
Three NLP (Natural Language Processing) engines: fundamental meaning (FM), machine learning (ML), knowledge graph (KG)
Can be integrated with 30+ platforms, including WhatsApp, Telegram, Facebook, and Twilio
Cons:
Limited reports and statistics
Some users state that chat and session management need improvements
Free plan available
Request demo for pricing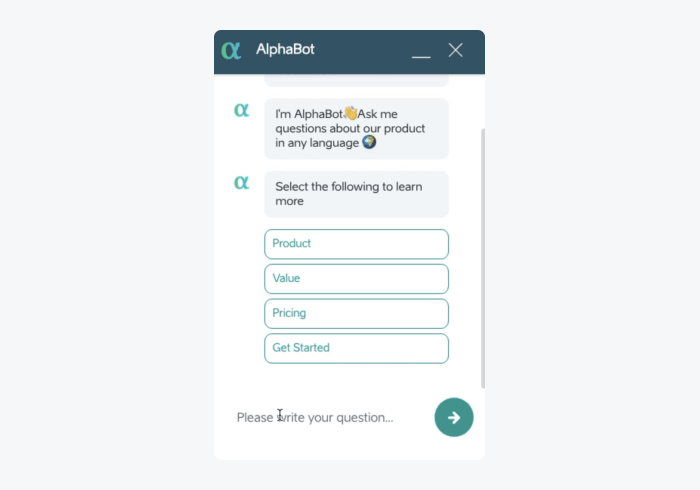 Rating: 4.8/5 ⭐️ (4+ reviews)
AlphaChat is a conversational AI platform with bots and a virtual assistant using natural language processing for human-like interactions. It reduces your agents' workload by taking over FAQs and putting other repetitive tasks on autopilot. This platform offers templates for different industries and provides a multilingual bot for international finance organizations.
You can use the intent detection and cross-reference chat resolution data to increase the efficiency of your customer service. This finance chatbot offers SSO, APIs, and lets you add custom codes for more flexibility in the usage of the software. It's also possible to deploy the finance bots on multiple channels, including WhatsApp, Messenger, and Apple Business Chat.
Pros:
Thousands of bot conversation topics available for better organization
Easy to use visual editor for chatbot answers
Extensive reports and analytics
Cons:
Limited functions for intents (scheduling and hiding not possible)
There is no visual flow of the customer's chat journey
Standard $399/mo
Enterprise → contact sales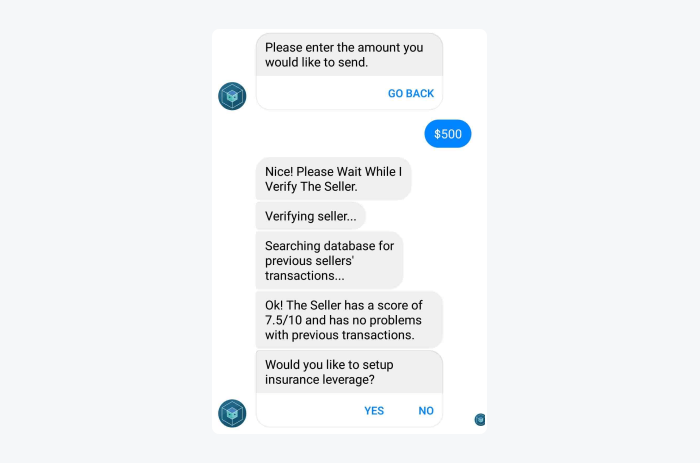 Rating: N/A
This finance chatbot platform focus on providing services for the financial, banking, and insurance industry, so your organization will be in good hands. It offers AI predictions on non-paying clients that apply for loans and reports of customers with a bad credit score. You can also automate some of the processes and workflows, like loan applications or enabling staking.
Growthbotics also provides automatic customer onboarding with an AI sentiment assistant for your clients to learn your systems quickly and easily. You can use AI recognition and tokenization for opening and locking doors to ensure higher security. This is one of the chatbots for banks and financial services that can help you with raising funds and getting investors for your clients.
Pros:
Cons:
Complicated to set up and get used to
Limited customization
Demo and custom pricing upon request
Summary
That's all for our list of the best financial bots available on the internet. Let's have a quick look back at them one more time. The best finance chatbots include:
Tidio
TARS
Ultimate.ai
Haptik
Kasisto
Collect.chat
Kore.ai
AlphaChat
Growthbotics
Go through our list and pick between one and three chatbot providers that you think will work best for your needs. Try them out in the free plan or during a free trial to make sure the interface and functionality fit your business. Check the user reviews to see if the customer support is responsive and knowledgeable, in case you need help setting up and building the bots.
And remember to check if the platform has the right features and matches your budget.
Good luck!