Shopify
Shopify Pricing Plans in 2021: What You're Really Going to Pay
Are you checking out Shopify plans for a full-time eCommerce business or just a side-gig? In this article you'll find out which Shopify plan best serves your needs.
It takes only a few clicks to set up a Shopify store, but it's the Shopify pricing that people lose sleep over.
To save you the hassle, we're analyzing Shopify prices, features, and differences between plans.
So whether you're planning a full-time eCommerce business or just a side-gig, we'll help you find a plan to suit your needs. And you won't be taken aback when you get your first bill.
So let's get straight to the point and see how much Shopify costs.
In this article, we will:
Looking for something else about Shopify?
Shopify Pricing at a Glance
Shopify offers three monthly subscription options for using their eCommerce platform:
Basic Shopify: $29 per month
Shopify (standard): $79 per month
Advanced Shopify: $299 per month
At first glance, it looks like Shopify costs 29, 79, or 299 bucks a month. That's wrong.
Shopify charges extra transactional fees on top of the monthly cost.
The extra Shopify fees depend on what payment provider you choose. And, mark my words, it's cheaper to choose Shopify's own payment gateway, called Shopify Payments.
Let's see what numbers we're looking at.
Shopify Fees Applicable Per Transaction
If you want to know what Shopify will charge you at the end of each billing cycle, add the monthly cost of Shopify's subscription plan to:
Credit card rates per transaction (when using Shopify Payments as a payment provider)
Or
Transactional fee at the end of the billing cycle (if not using Shopify Payments)
Credit Card Rates
Credit card rates are fees charged for processing card payments. Shopify charges them for allowing you to use Shopify Payments (their own payment gateway). It means you can accept debit and credit card purchases, both in your offline store (POS) and online store.
Here's an example:
Say, you picked a Basic Shopify plan and sold a hundred $10 items in your online shop.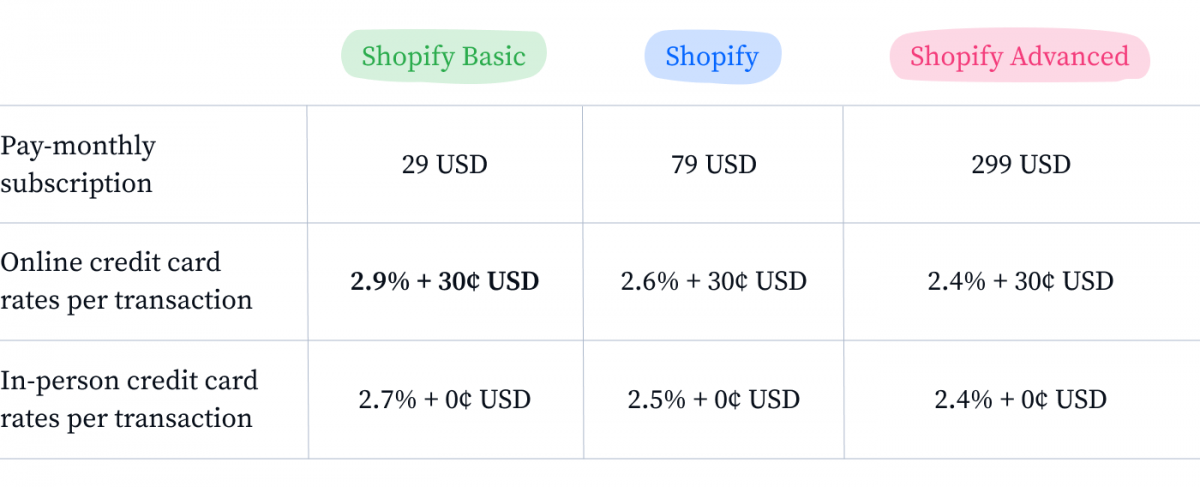 At the end of the month, Shopify will charge you $88.
Here's why:
Credit card rates per transaction will cost you $0.59.
($10 x 2.9 / 100) + $0.30 = $0.29 + $0.30 = $0.59
A hundred transactions costs $59.
$0.59 x 100= $59
Monthly subscription price is $29.
So altogether, you'll pay Shopify $88.
$29 + $59 = $88
With the same sales on the standard Shopify plan, you'll pay $135, and with Advanced Shopify, $353.
Note, it's cheaper with in-person transactions.
Tip! You can use Shopify Fee Calculator.
Transaction Fees
Transaction fees don't apply:
If you activate Shopify's own payment provider (Shopify Payments)
For manual payment methods (e.g., cash on delivery, checks)
If your business isn't eligible for either of those:
You'll have to pay Shopify's transaction fees
And
You'll be changed processing fees by the payment provider you choose
Remember when I said it's cheaper to choose Shopify's own payment gateway?
Other payment providers (e.g., PayPal) will charge you their own processing fees, while Shopify will take a share of your sales, too.
Shopify's formula to calculate transaction fees for a 30-day period is the following:
[(cost of products – discounts) + tax + shipping charges] x rate

Shopify Payments is available in the United States and 16 other countries. If you're based elsewhere, check a list of third-party payment gateways approved by Shopify.
Annual plan savings
The good news is, Shopify offers discounts for committing to using their plans. You can choose to be billed monthly or pay upfront annually and bi-annually to save 10% to 20% on subscription cost.

What's Included in Each Shopify Plan?
Now we've established how much Shopify costs, let's see what Shopify has to offer.
The Shopify subscription payment covers various features. Some of them are available in every plan, while others are exclusive for standard Shopify and Advanced Shopify.
Tip! Before deciding which plan suits you best, use Shopify's free trial for two weeks to test features.
Features All Plans Have in Common
Features on all plans include:
Online store
Unlimited products
24/7 customer support
Abandoned cart recovery
App ecosystem with 4000+ apps
Print shipping labels
Online sales channels (sell on social media and online marketplaces)
Fast and reliable checkout
Free SSL certificate
Over 100 currencies for your online store
Discount codes
Shopify POS Lite
Unlimited bandwidth and online storage
Gift cards
Fraud analysis
Manual order creation
Staff accounts
Overview dashboard
Basic finance reports
Tip! Gift cards are temporarily available on all Shopify plans to ease the effect of Covid-19 on businesses.
The differences between Shopify plans seem more interesting, though. So let's see what justifies Shopify tier pricing.
Differences Between Shopify Plans
Monthly Shopify pricing isn't the only aspect you should consider when comparing plans. These three important features can influence your decision:
Number of staff accounts
Number of locations
Access to Shopify shipping
Staff accounts
You get more staff accounts as the price of your plan goes up—Duh.
But what are they for?

It's helpful to have multiple staff accounts if your eCommerce business is growing. Staff accounts can have different levels of access to your store, and you can manage them from your owner's account.
You can manage your staffs' permissions depending on their individual roles and your needs. For example, you can limit your staff with POS PINs from viewing orders made at other locations.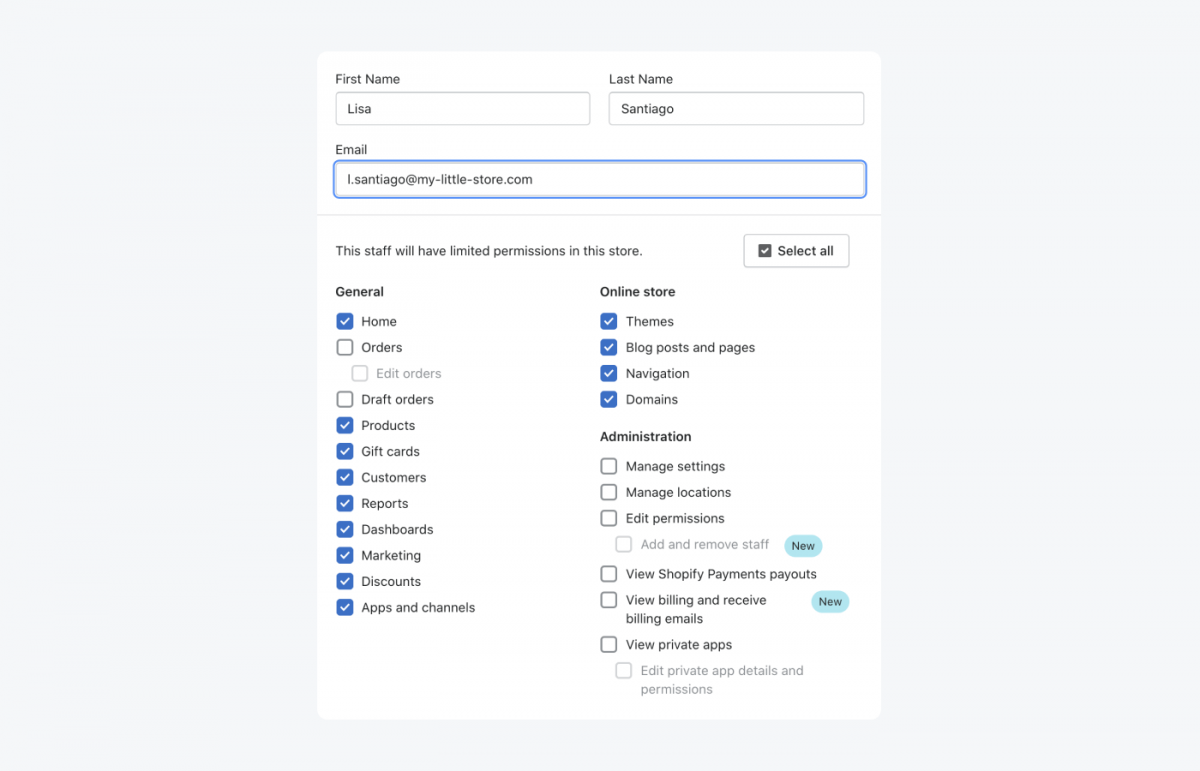 Tip! Consider how many employees are going to need access to your shop.
Locations
Similarly, the more you pay for Shopify, the more locations you can use.

Your locations can be any place where you manage or stock inventory, e.g., retail stores, warehouses, pop-ups, or dropshippers. It can be a physical place or an app.
Here's what it looks like on an app.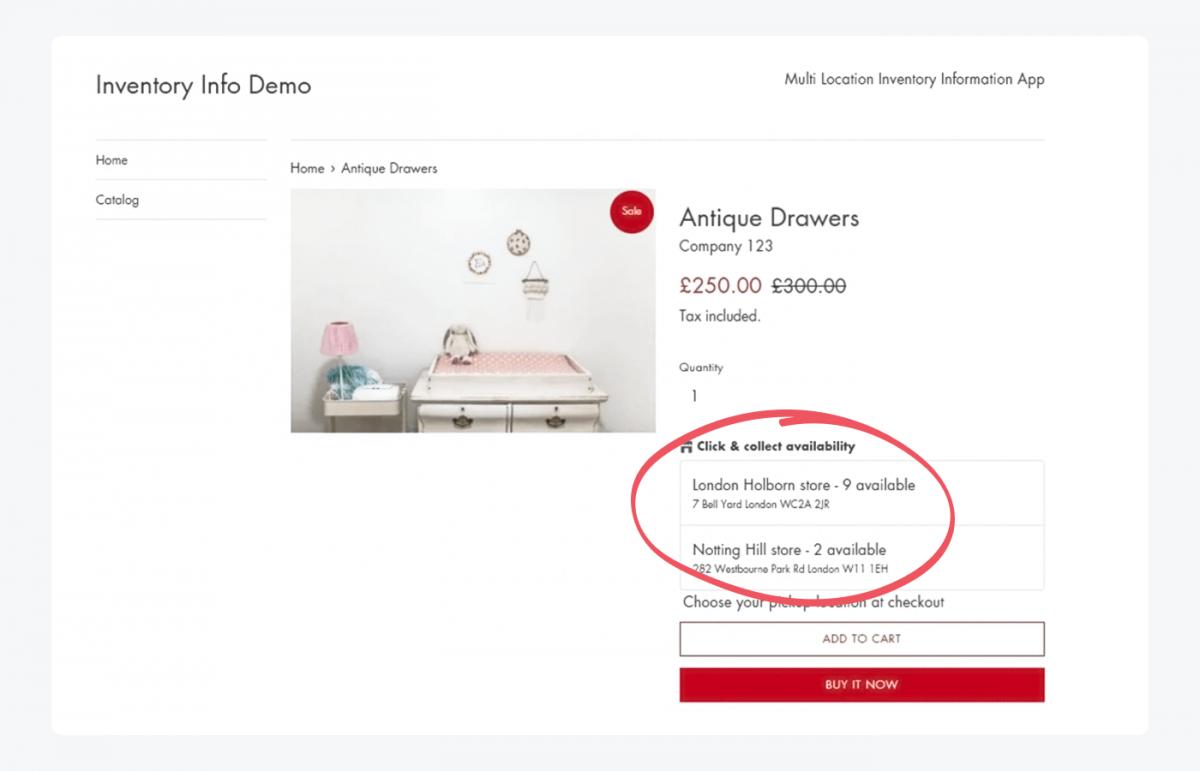 Tip! Check out the best Shopify apps to boost your sales.
Shopify Shipping
Shopify shipping is available on all plans but there's a catch. You can use it only for orders shipped from the United States, Canada, and Australia.
So if your fulfillment center is based somewhere else, you won't be able to use discounted rates at all. If that's the case, skip this section and go straight to exclusive features on Shopify and Shopify Advanced Plans.
Shipping Discount
Shipping rates decrease the higher your tier goes.

The table above is simplified, though, and presents the maximum discounts you can get.
In fact, discounts vary based on package type, weight, destination, and origin.
Here's a table showing detailed Shopify shipping discounts by carrier.
You can view and compare calculated shipping rates for individual orders before printing the label. And then choose a carrier offering the best price.
Here's an example of the discount you can get with USPS for shipping a 30 oz package on the Shopify plan.

You can check which carrier is the best option for your new business with this Shopify's built-in shipping calculator.
Tip! Consider the type of goods you're selling (their size and weight) and your target market—whether local or international.
Cubic Pricing with USPS Priority Mail
This service is available only on Shopify and Advanced plans.

Priority Mail Cubic estimates shipping costs based on a package's outer dimension, not weight. If you can take advantage of Priority Mail Cubic, you'll pay less for shipping than with standard shipping methods.
Tip! It's the cheapest and fastest way to send small and heavy parcels (under 20 pounds), such as weights or coffee beans.
Exclusive For Shopify and Shopify Advanced Plans
Some advanced features can only be accessed with higher plans.
For example, if you'd like to create professional reports or calculate shipping costs for third-party carriers, you'll need to pay extra.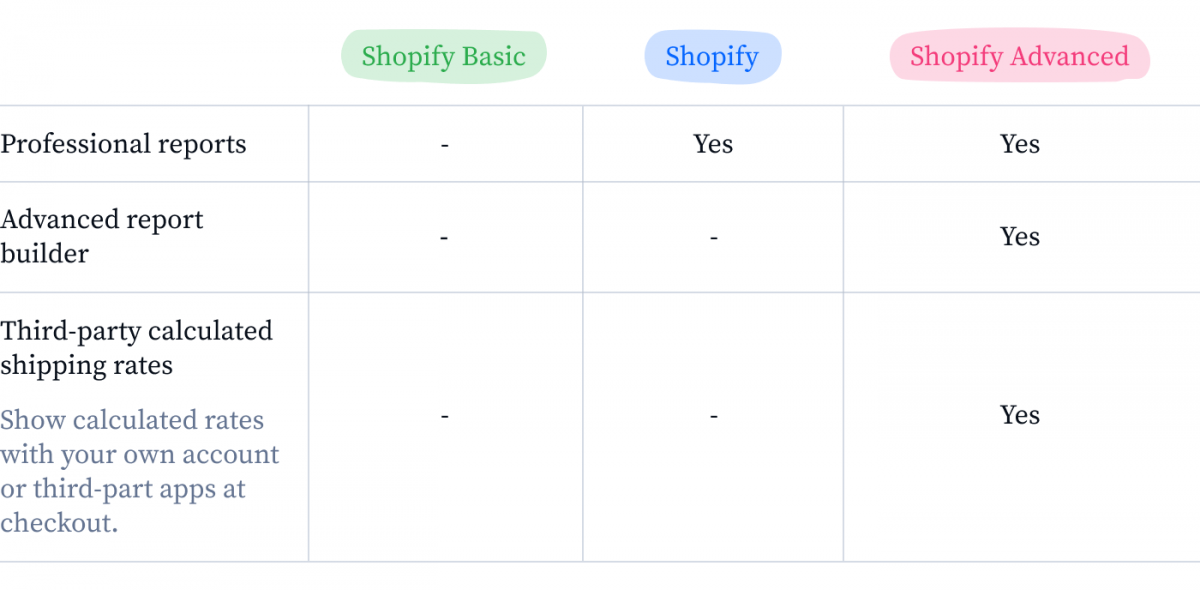 Global Selling
If you think big and need tools for global eCommerce websites, the Basic Shopify plan may not be enough for you. To unlock international domains and customize international pricing, you'll need Shopify or even Advanced Shopify plan.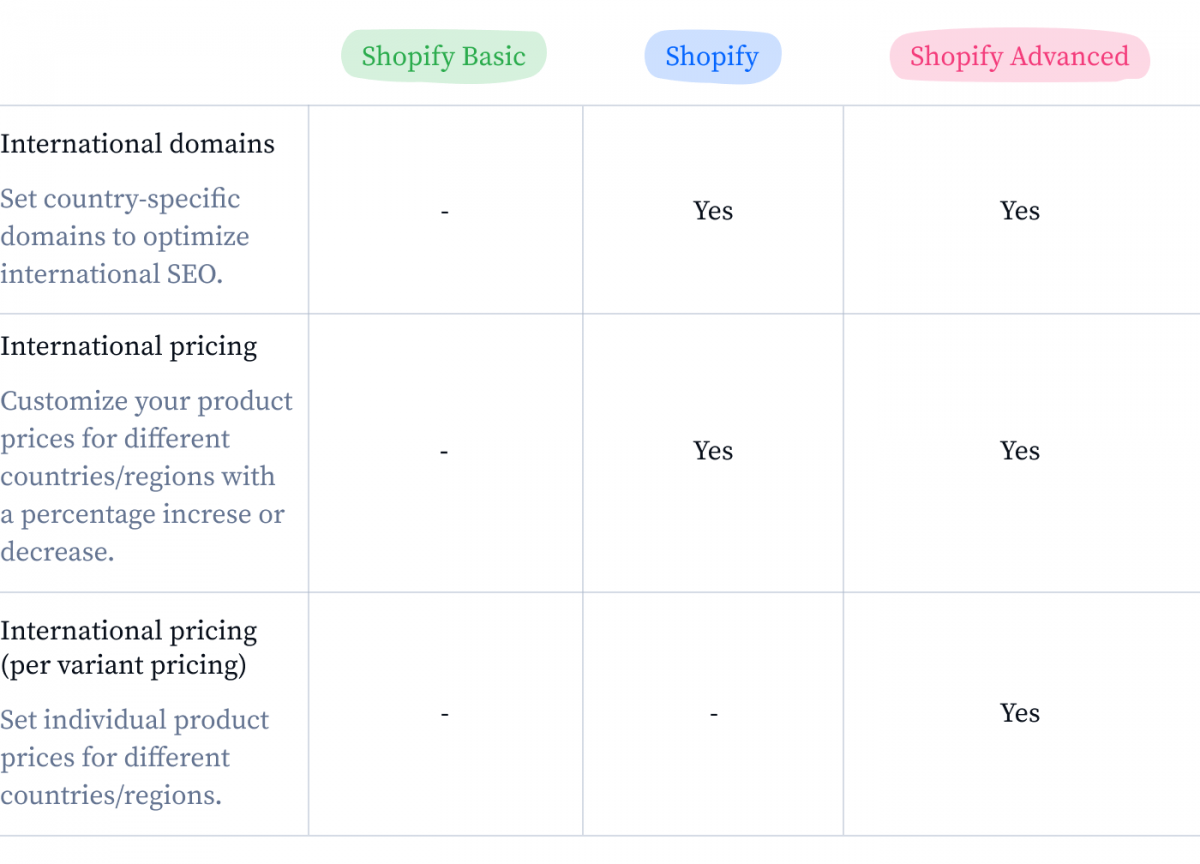 Special Shopify Plans
Shopify's prepared two tailored offers to meet the needs of micro-companies and enterprises.
Shopify Lite Plan
Shopify Lite Plan is the cheapest entry solution for only $9 a month, but you'll also be charged the same transaction fees as in the Basic Shopify plan.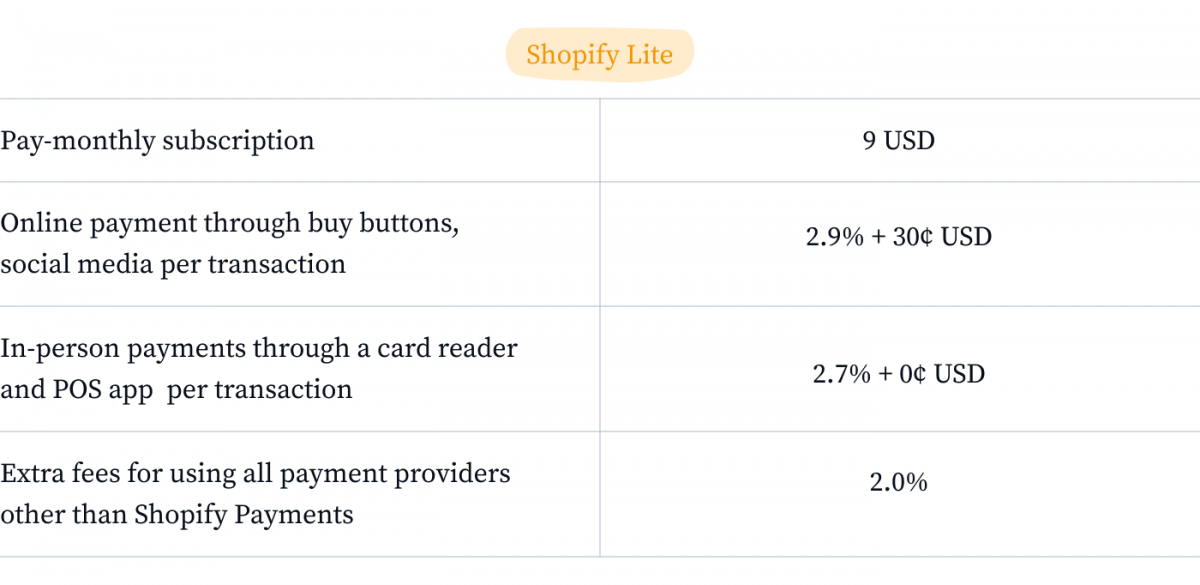 It's perfect for vendors who want to sell products on a non-Shopify website without creating an online store and are looking to use Shopify as a back-end system online and offline.
With Shopify Lite you can:
Add a Buy Button to your own non-Shopify website, a WordPress blog, or social media that takes customers straight to checkout.
Take payments in-person, e.g., at a market or a pop-up store, by adding the Shopify point of sale app.
Tip! With Shopify Lite you can't build an online store.
Shopify Plus Plan
Shopify Plus Plan is the most expensive solution and is priced individually.
It's for enterprise-level companies that can't fulfill their needs with the Advanced Shopify plan. It costs at least $2,000 a month. The significant cost covers many bespoke additional features that give back-end and dedicated account management more freedom.
You can find a full list of what features it includes here.
Shopify Seller Type Quiz
Shopify pricing can seem complicated at first, especially when you're just starting out. But, it doesn't have to!
Thanks to this Shopify Seller Type Quiz, you'll find out which Shopify plan is best for your eCommerce store.
Do you want to build an online store?

Yes—Go for any plan other than Shopify Lite
No—Consider Shopify Lite
What volume of sales do you expect?

Less than $100—Shopify Lite
Less than $300—Basic Shopify
Less than $1000—Shopify
Less than $3000—Advanced Shopify
Sky's the limit—Shopify Plus
How many store locations (physical and apps) do you need?

Three's more than enough—Shopify Lite
Up to four—Basic Shopify
Five—Shopify
Up to eight—Advanced Shopify
I lost track of my locations, but 20 should be enough—Shopify Plus
How many staff do you need?

It's just me—Lite or Basic Shopify
For me and my buddy—Basic Shopify
For a few helpers—Shopify
More than five to fill in all the locations—Shopify Advanced
Is there a limit?—Shopify Plus
Do you need customizable international pricing?

Yes—You'll need Advanced Shopify
No—See if Basic Shopify and standard Shopify satisfy your needs
Do you need fully automated workflows?

Of course!—Go to Shopify Plus
No thanks—Consider all the other options
BONUS QUESTION
Is Shopify Shipping available in your country?

Yes—Check out credit card rates
No—Check out Shopify transaction fees and third-party payment providers
Which Shopify Seller Are You?
Now, count your answers and see which type you are.
Shopify Lite
Sellers who want to use eCommerce functionality on their existing websites. Process payments on marketplace platforms and physical locations (gigs, farmer's markets, events).
Basic Shopify
New businesses with fairly limited budgets that want to use a fully functional, easy to create online store with templates. They want access to a blog but don't need advanced selling or reporting.
Shopify
Small businesses that have a high volume of sales and benefit from professional reporting. The lower transaction and credit card fees offset higher monthly pricing. Can benefit from USPS Priority Mail Cubic pricing (limited to the US).
Advanced Shopify
Businesses that need advanced report building to tweak their sales operations and need real-time shipping quotations from carriers not included in Shopify Shipping. Significantly lower fees per transaction offset the monthly charge.
Shopify Plus
Businesses with extremely high sales volumes and ample budget that need Advanced Shopify functionalities plus automated workflows, extra security features, APIs and fulfilment.
Did I get it right?
Shopify FAQ
Do I need to enter my card details to use the Shopify free trial?
No. You can try Shopify for free for 14 days without providing your payment details. You'll have to do it at the end of your trial if you decide to open your eCommerce store or when you pick a plan.
Can I change or cancel a Shopify subscription?
You can upgrade or downgrade your plan anytime. If you decide to close your store, you can cancel your Shopify plan if you settle any outstanding charges.
How much is a Shopify domain?
If you buy a domain through Shopify, you're looking at a yearly cost of $11. The exact pricing depends on which top-level domain (TLD) extension you choose. To check the price and availability of your domain, use Shopify's domain name generator.
Will I need paid Shopify apps?
Shopify comes with all the essential apps to run a store. There are other tools and apps that can help you make more sales. Most third-party developer apps come with a monthly fee but you can install our Tidio Chat in your Shopify store and use it for free.