Tips & Tutorials
19 Best Shopify Apps that will Increase Your Sales in 2021 [FREE]
Shopify apps are powerful tools you can use to ease your everyday tasks and increase revenue. We present 19 apps worth adding to your online merchant's toolbox.
The fact that you're still searching for the best Shopify apps means one thing.
The apps you've tried before didn't work for your business.
Indeed, many Shopify business owners are having a hard time finding the right apps for their stores. Reason? Most of them are still geared toward mid-sized and larger retailers.
This is why in this post, we're sharing a carefully handpicked list of the best Shopify apps for small businesses.
Wondering where to start? We would go with providing excellent customer service and boosting your sales, of course.
Want to turn your website visitors into delighted customers? Set up the Tidio live chat app in 5 minutes and watch your sales grow by 300%! Talk to users in real-time and deliver exceptional customer service.
Try Free Live Chat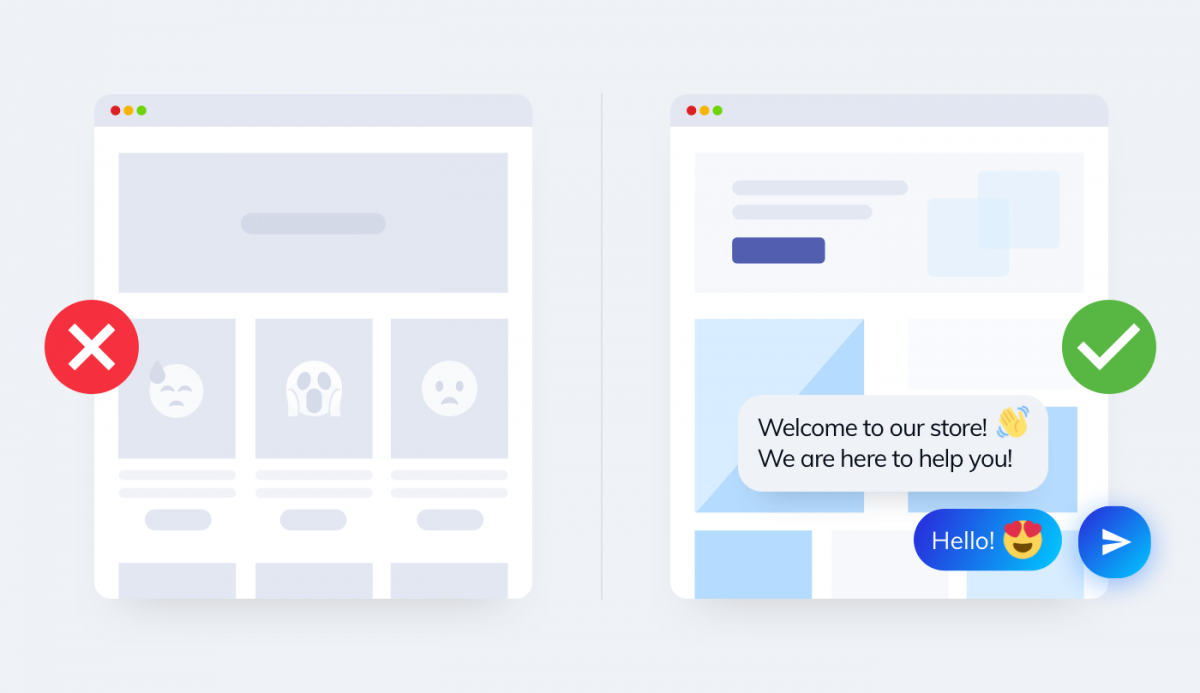 Sample use cases—See how people use live chat on their websites here.
One of our users, Vivian, had this to say:
One of the best business decisions I have made. Many customers complete purchases right after we answer their inquiries via live chat.
Browse the categories below to get more options for increasing your sales.
Best Live Chat App for Shopify
Contact forms are the thing of the past. It's the era of online chats. Live chat apps enable businesses to respond to customers faster and in real time. They are like messaging apps but made for customer and business interactions. Chat with your visitors to add some personal touch to your service to convert more customers.
Tidio Live Chat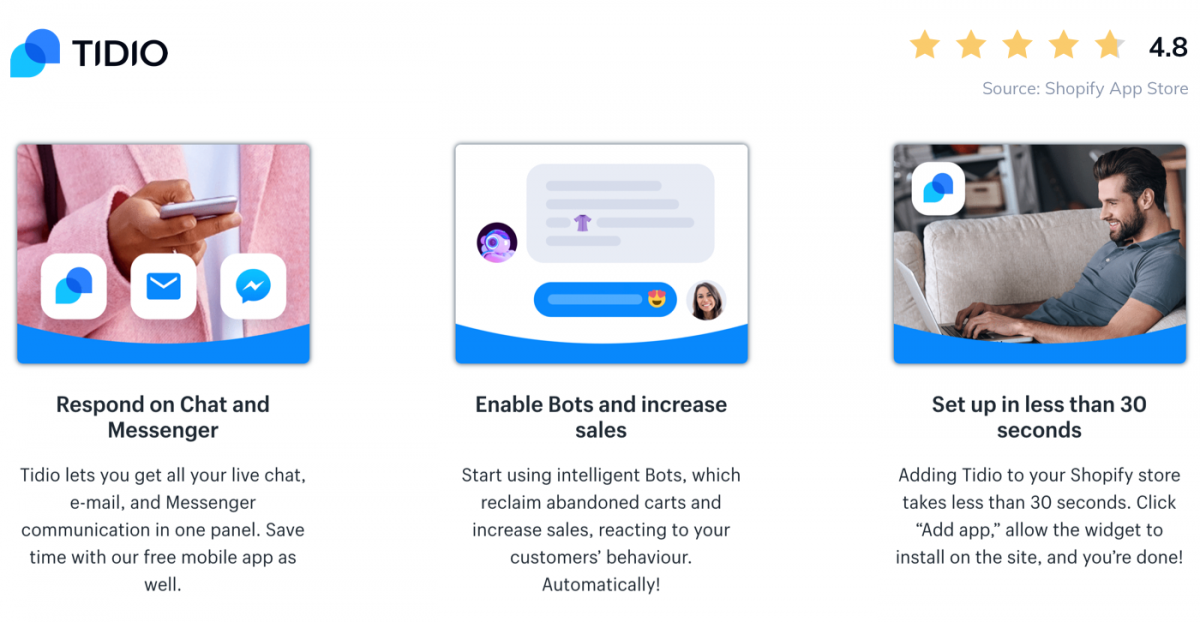 Tidio is one of the best live chat apps available in the store. It's an excellent choice for merchants who care about customer service and retention.
It has everything you need to troubleshoot your customers' problems in no time. With Tidio, you can:
Send canned responses or watch live what the customer is typing when chatting with you.
Respond to live chat, Messenger, and email messages from one admin panel.
Boost your live chat with a Shopify bot that will assist your customers 24/7.
Never miss any customer query – stay up to date with notifications and respond on the go with a mobile app.
Generate leads through pre-chat survey and automatic messages.
Nurture your leads with Tidio Mailing.
You can try all Tidio live chat features and tools for free for 7 days. When the trial expires, you can upgrade to any premium plan (starting at $18/mo) or downgrade to a forever Free plan. Custom plan available.
Sounds interesting? See how easy it is to add Shopify online chat to your store
Best Review Apps for Shopify
Reviews are important pieces of text that build your store credibility. And various studies show that consumers read reviews before they make a decision. So by adding social proof apps to your store you can encourage sales by a lot.
Loox ‑ Photo Reviews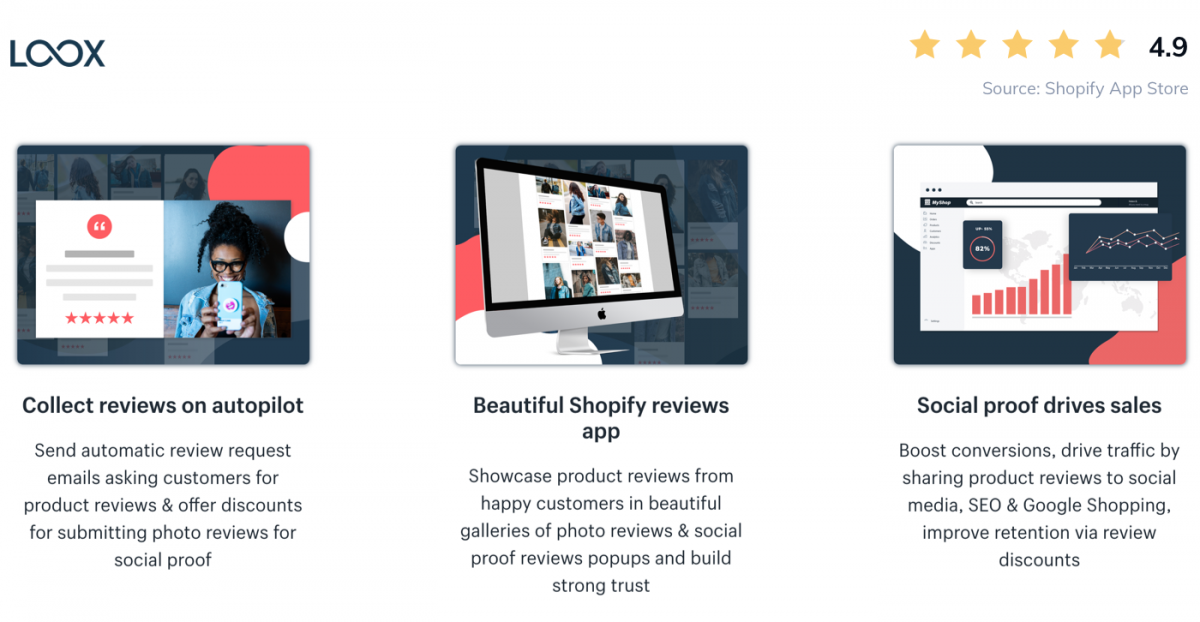 Loox Photo Reviews is a product review app that focuses on photo reviews. It lets your customers upload a picture of the product they bought. This, coupled with a review, is way more credible than the text and photos you included on your site.
Loox lets you build customers' trust in many ways. With this Shopify app, you can:
Send automatic review requests to your customers.
Offer discounts to those who leave their review.
Add reviews carousel to your homepage to showcase your best reviews.
Create a dedicated review page to display all your store's reviews.
Display product reviews & ratings on search results with Rich Snippets
This app is not free, but you can try it for 14 days. Paid plans start at $9.99/mo.
Stamped.io Product Reviews UGC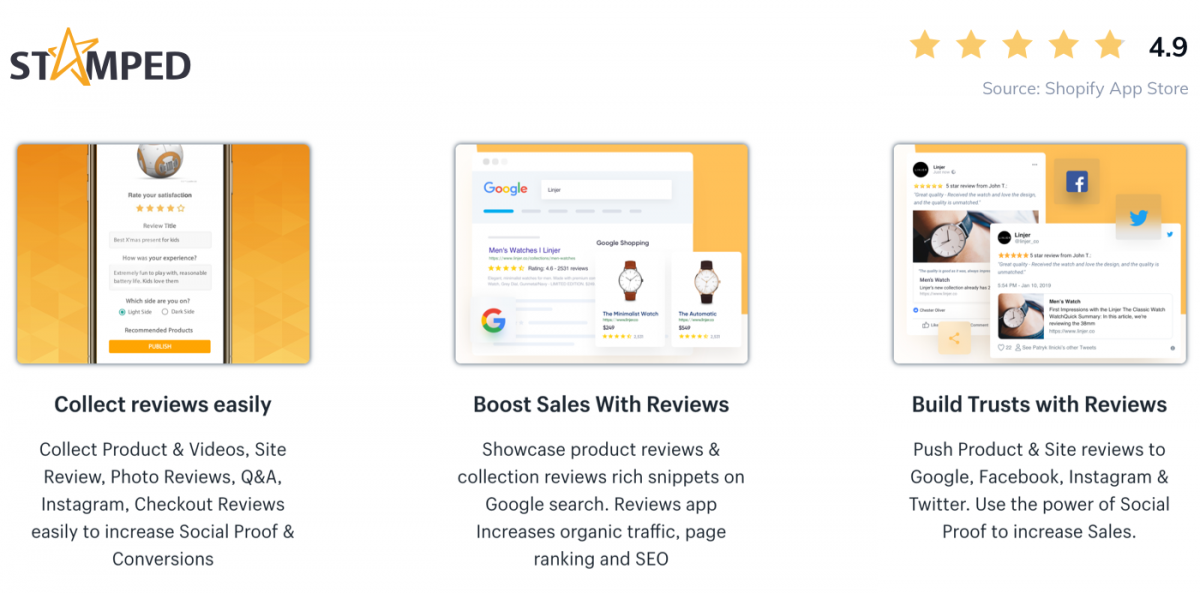 Stamped.io not only lets you collect reviews online but also through emails. In-email review is very convenient for the customers as they only need to reply to the email to leave the review. You can also request a review from your buyer via an SMS.
Apart from adding photos, your customers can also include videos in their reviews.
What else can you do with it? You can, for instance:
Create Facebook & Instagram Ads with your reviews.
Showcase your reviews with over 10 different on-site display widgets.
Reward your customers with discounts to encourage reviews.
Import AliExpress reviews into Stamped.io.
Let your customers add public or private comments on your reviews.
There is no trial for this app but you can use it for free. Paid plans start at $15/mo.
Best WordPress Shopify Plugin
Shopify and WordPress together? Yes, that's possible! What you get is a store out of this world. A store that combines a powerful eCommerce platform with a powerful CMS. It's like having Shopify as a backend and WP as a frontend.
WP Shopify
WP Shopify allows you to sync your Shopify products and collections with your WP site. You will see your products and collections as WordPress posts.
WP Shopify comes with a built-in cart experience. When the user is ready to pay, they're taken to the default Shopify checkout page to finish the process.
Important: You will not find this plugin in the Shopify App Store. Look for it on the WordPress Plugins site.
WP Shopify plugin enables you to:
Use templates, actions, and filters to customize your store looks and functions.
Display your products using custom pages and shortcodes.
Sync your products and collections as native WordPress posts.
Save your Shopify store data in custom WordPress database tables.
Optimize your store for search engines (SEO).
You can get this app for free. Paid plans start at $79.99/yr.
Best Shopify Urgency Apps
The longer someone thinks about buying something, the less likely they'll do it. That's what urgency apps are for. They make people feel as if they're about to miss out on or lose a great opportunity. It's a powerful way to drive conversions and sales in your store.
Fera.ai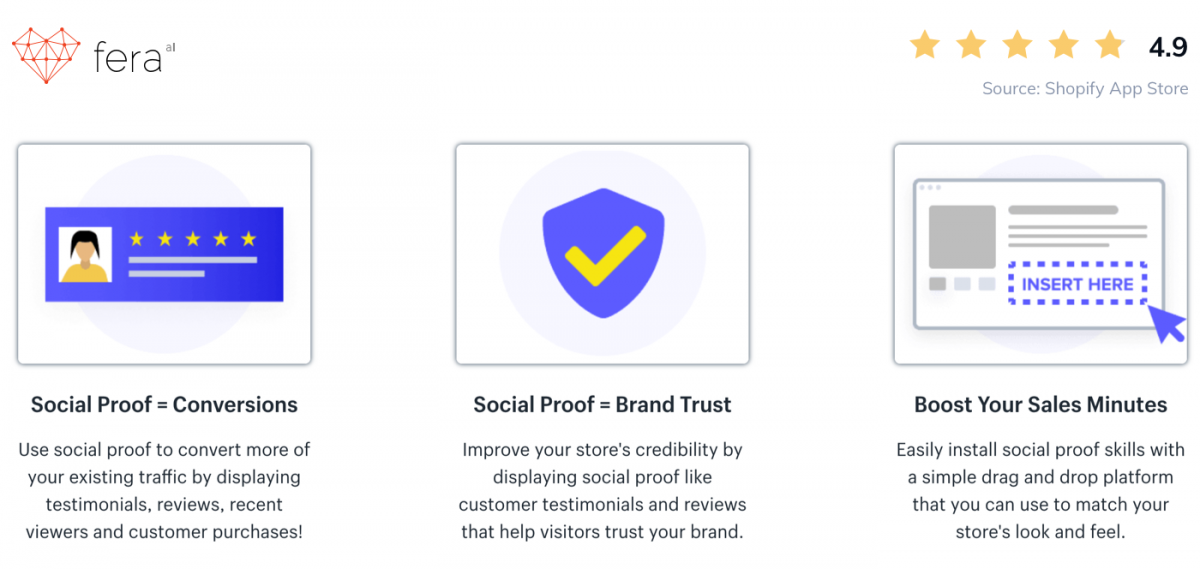 Fera.ai is a very customizable app that you can use to create scarcity and urgency on your products. It has many capabilities that you'll feel like you've installed several applications at once. Apart from timers & countdowns, it also offers cart upsells, social proof feeds, and promo bars.
Pre-built timer & countdown templates include:
Seasonal promo countdown bars
Flash sale countdown timers
Get It By timers
Cart and checkout timers
Product List counter
Product Details counter
You can try Fera.ai for 30 days (no free plan). Paid plans start at $29/mo.
Best Email Marketing Apps for Shopify
Email marketing is one of the most effective ways to market businesses online. Existing customers order not only more but also more often (compared to new customers). To save potential revenue, you can also use emails to recover abandoned carts.
🚀 Find out more: Free Email Newsletter Templates
Tidio Email Marketing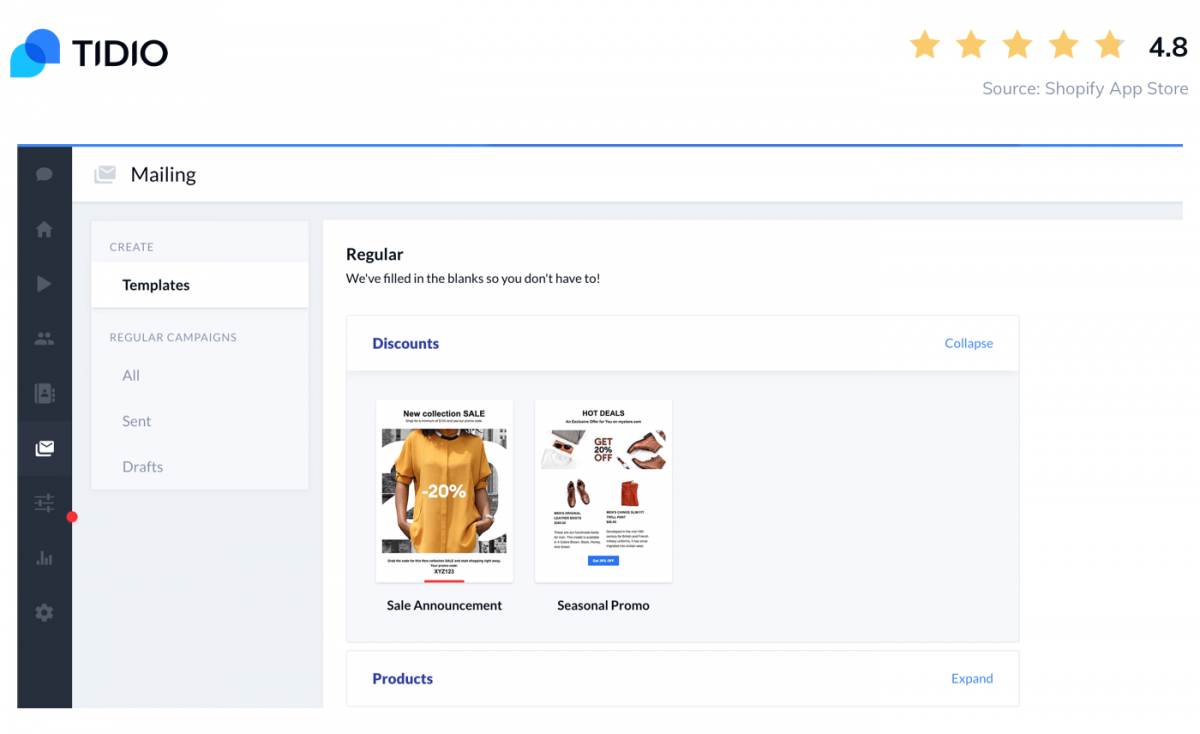 Many Shopify marketing apps only do the work of one aspect. But Tidio is different. It does the work of several apps. It includes lots of functions outside of email, including live chat and chatbots.
So what you get is a powerful 3-in-1 platform for customer service and marketing. You can generate leads through online chats and automated messages. Then, nurture and convert them through emails.
Tidio Email Marketing tool's main features include:
Unlimited contacts
Contacts import
Email address verification
Email templates
Visual email builder
Contacts segmentation
No daily limits
You can try all Tidio live chat features and tools for free for 7 days. When the trial expires, you can upgrade to any premium plan (starting at $10/mo) or downgrade to a forever Free plan. Custom plan available.
Omnisend: Email Marketing
Omnisend is a multi-channel email marketing platform. It allows you to add SMS messages to your automated workflows. You can then follow-up by syncing your subscriber segments to Google and Facebook ads.
This app offers dynamic gamification elements, interactive signup forms, and landing pages. Other marketing features include:
sales reports from campaigns
click maps and reports for email campaigns
abandoned cart recovery
order, shipment, and cancellation confirmations
customer segmentation
You can try all Omnisend features for 14 days. Then upgrade to the paid plan (starts at $16/mo) or downgrade to Free.
Top Shopify Dropshipping Stores/Apps
Dropshipping is a partnership between merchants and "dropshippers" (or suppliers). Suppliers create and store products. When you make a sale, they ship the product out to your customers.
The dropshipping process has three stages. First, customers pay you for the product from your store. Next, you pay the supplier to fulfill the order for you. And finally, the supplier handles the order all by themselves. Their job is to package, label, and ship the order. Yours is to make sales.
🚀 More about dropshipping: How to Start a Dropshipping Business
Oberlo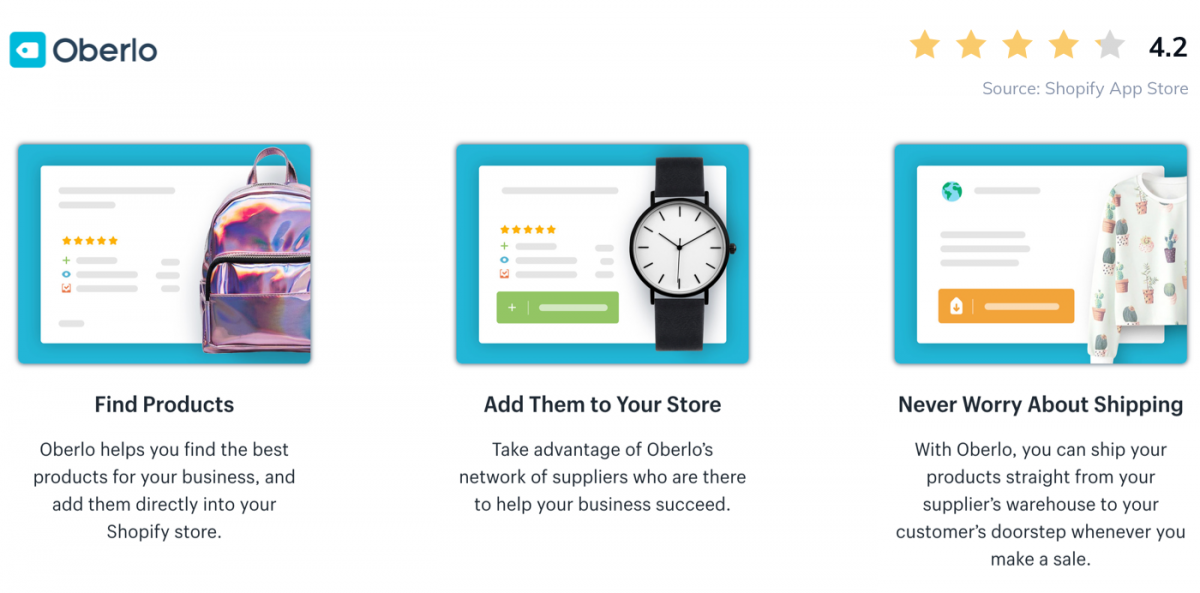 Oberlo is a Shopify-exclusive dropshipping app. It helps you upload products from AliExpress and Oberlo Marketplace to your store. To make it easier, Oberlo made a dedicated Chrome extension. All you need to do is to find the right products, add them to your Shopify store, and start selling.
For a convenient dropshipping process, Oberlo lets you:
track orders
keep an eye on your sales and trending products with Sales Dashboards
customize the product page
automate bulk orders
search for products from many suppliers
keep products availability up-to-date
Oberlo offers a forever Free plan. Paid plans start at $29.90/mo.
Printful: Print-on-Demand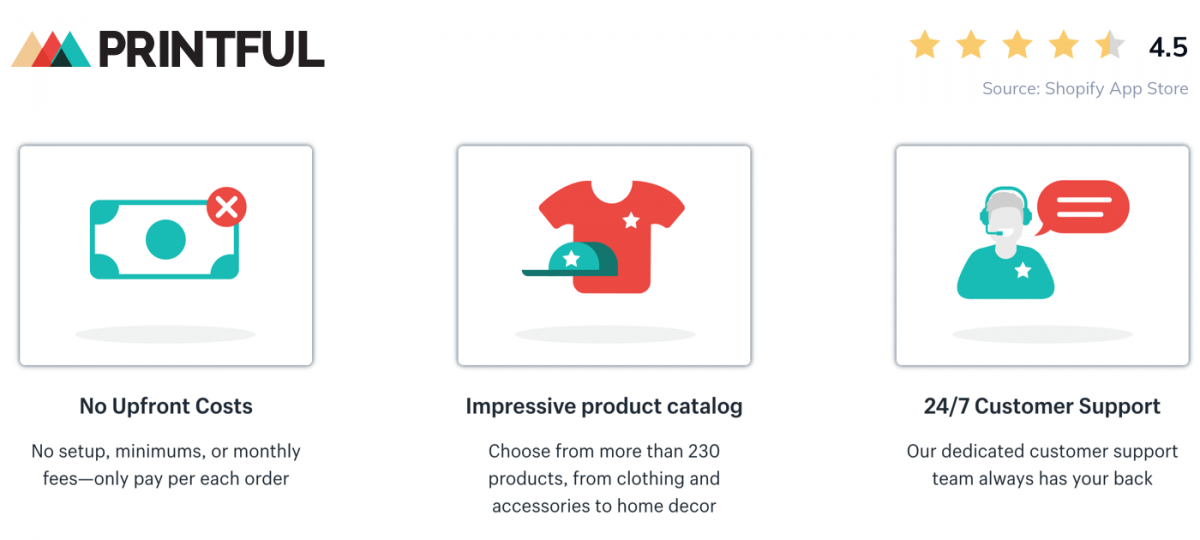 Printful is an on-demand printing and dropshipping service. It has everything you need to start with selling products designed by you.
This app comes with the mockup generator to put your designs on everything you want. E.g., pillows, phone cases, posters, hats, t-shirts, etc. What's more, you don't need to worry about holding any inventory – Printful holds it for you.
If you are new to dropshipping or on-demand printing, Printful has prepared videos to guide you through everything you need to know.
With Printful, you get:
control over your profit
free design templates
designs that your customers can customize on your store
Printful app is free to use.
Spocket ‑ US & EU Dropshipping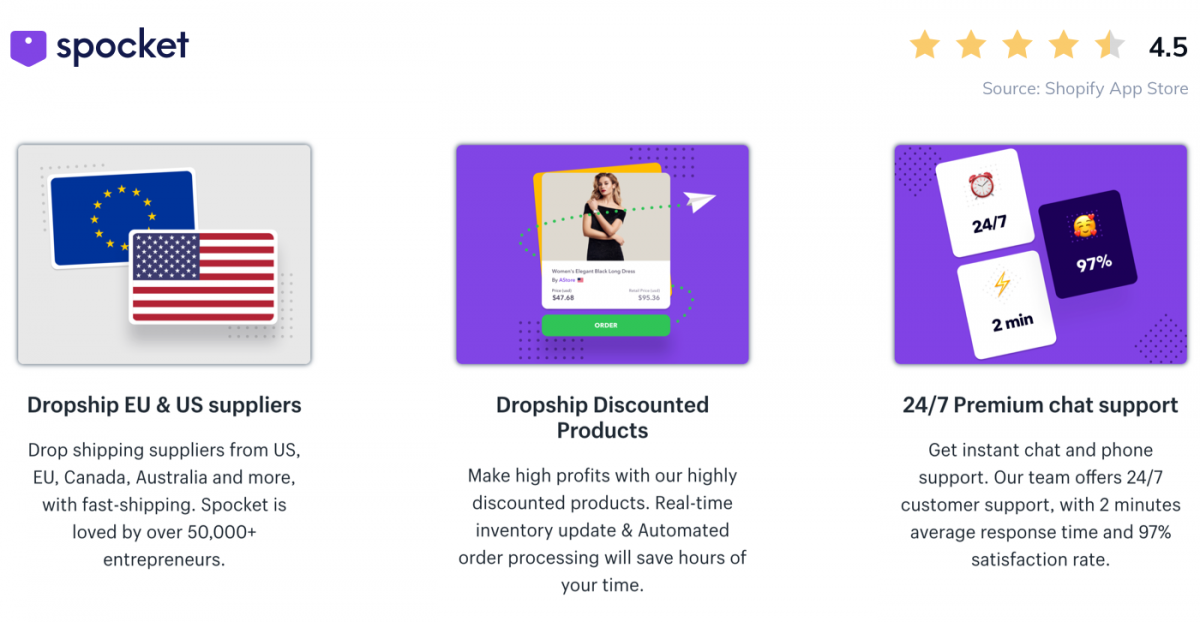 Most of the dropshipping apps focus on products sourced from Aliexpress. What makes Spocket different is that you can sell products from suppliers located in the US, UK, and the EU. You may also find a few ones based in New Zealand and Australia.
What's more, Spocket has a massive marketplace with different goods. You'll find print-on-demand goods, as well. This gives you high chances to find the suppliers with the products your customers need.
Other notable features include:
Spocket works with Oberlo, Printful, Privy, Loox, Dropified, Recart, Dsers, Eprolo, Kit, and Shogun.
All products on Spocket have a 30-60% discount on retail price.
Spocket will handle inventory updates for all your products.
Orders process with one click.
Real-time order tracking.
Branded Invoicing.
You can use Spocket's very basic functionalities for Free. Paid plans start at $19/mo.
Best Shopify Marketing & Sales Apps
There's that question that has crossed the minds of every Shopify store owner: "How can I get more sales?" By setting up a good foundation through ads, new leads, social media, content, etc.
You can automate all these tasks with various apps to generate sales – forever.
Abandoned Cart Chatbot (by Tidio)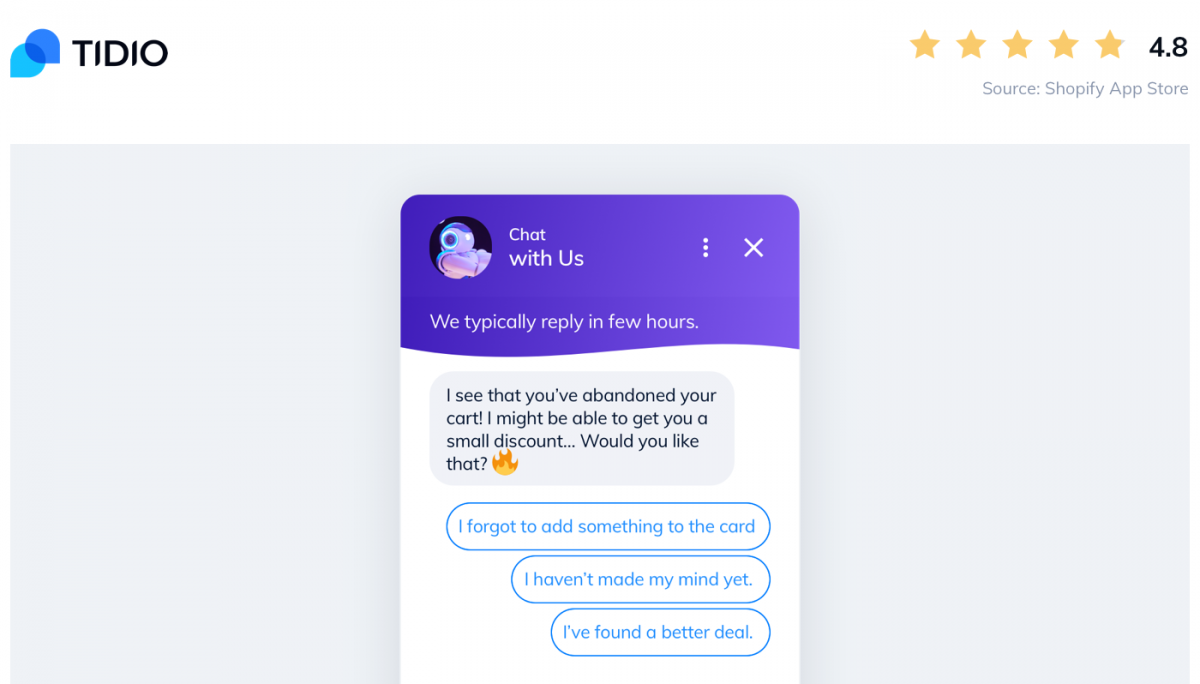 Saving a Shopify abandoned cart is one of the many methods for increasing revenue. Unlike some other apps, Tidio chatbot attempts to save carts while the customer is still in your store. It first detects those Shopify customers who have left the checkout process. Then, it activates to persuade them to place their orders.
The default bot offers discounts to the cart abandoners but you can edit it to do much more. For example:
collect feedback (i.e., reason for abandoning the cart)
send personalized messages in different languages
send you a notification so you can talk to such customer in person
tag and segment customers to convert them later
Tidio Abandoned Cart chatbot is a template. You will find it inside the chatbot template library that comes with Tidio app. You can access all bot templates for free. If you need to activate more bots or talk to more visitors, you can upgrade to a paid plan that starts at $18/mo.
PushOwl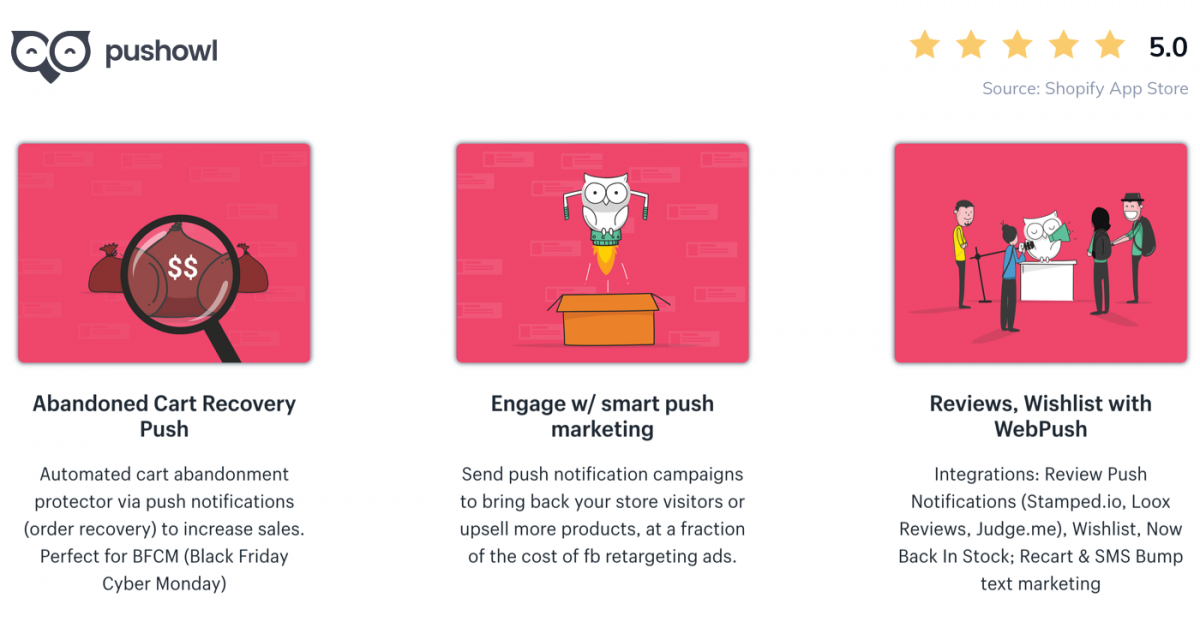 Web push notifications are a great way for boosting traffic. First, your visitors do not need to give any personal details to become a subscriber. Second, these notifications show up straight on the subscriber's desktop or mobile device. Even if your recipients have their browser closed.
With PushOwl, you send push notifications to re-engage your visitors and bring them back to your store. You can do it in several ways:
to remind your visitors that they left some items in their carts
to announce your deals and promotions
to let your customers know when a certain item is back in stock
to inform them about the price drop
to welcome your visitors
You can install and use PushOwl for free. Or, upgrade to a paid plan (starts at $19/mo).
Quick View (by Secomapp)

Quick View app gives your shoppers quick access to product preview without leaving the catalog navigation. This makes shopping faster and more convenient. Which, in turn, will help increase your conversion rates. When your shoppers find what they like, they can add an item to the cart from a popup box.
There are more features to help you with conversions:
promotional bars
guarantee labels
sale icons with total save percentage
integration with Google Analytics
You can try Quick View for 14 days. Then use it for free or switch to the paid plan starting at $3.99/mo.
Shop Instagram Feed & UGC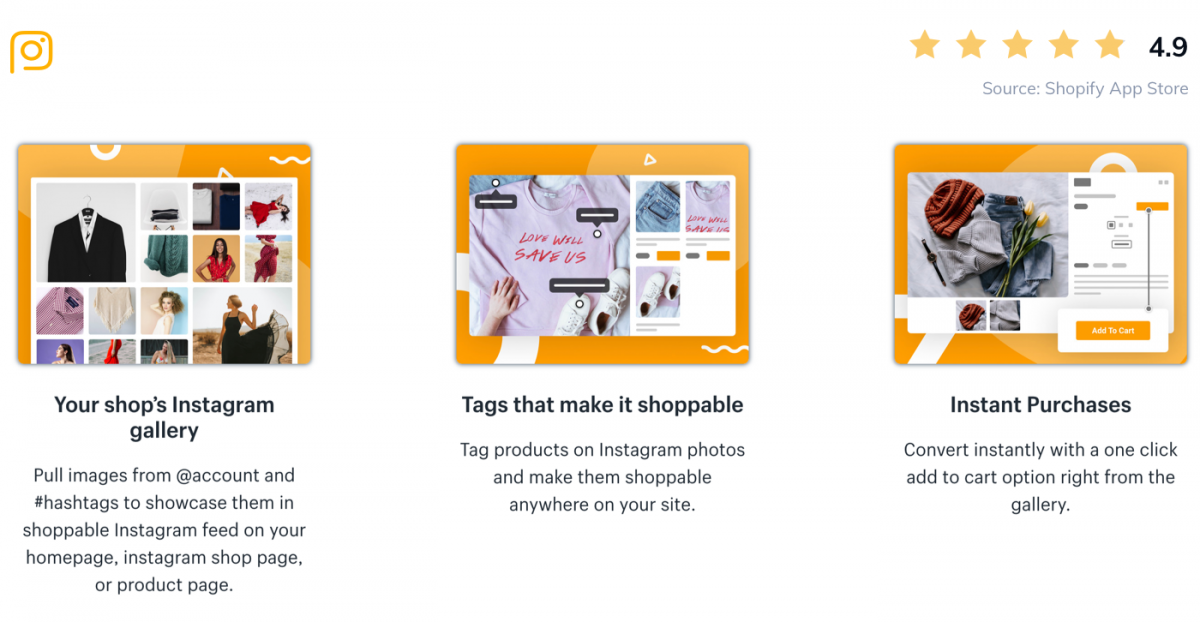 Shop Instagram will inspire your visitors with amazing photos. It lets you add a carousel on your homepage, product page, or the Shop Instagram page. The best part – all Instagram photos are shoppable.
UGC (User-Generated Content) does not only showcase the photos. It helps you earn your Shopify store visitors' trust.
What else can you with this app? For example:
Pull images to your Shopify store from Instagram accounts and hashtags.
Choose which photos you want to show in your Instagram feed on your site.
Tag products on your photos.
Display a product-specific feed on each product page.
Let your users view all photos and information on pop-ups.
You can try Shop Instagram for free for 14 days. Then, downgrade to the Free plan or pick a paid one (prices start at $49/mo).
Rise: Gift Cards & Loyalty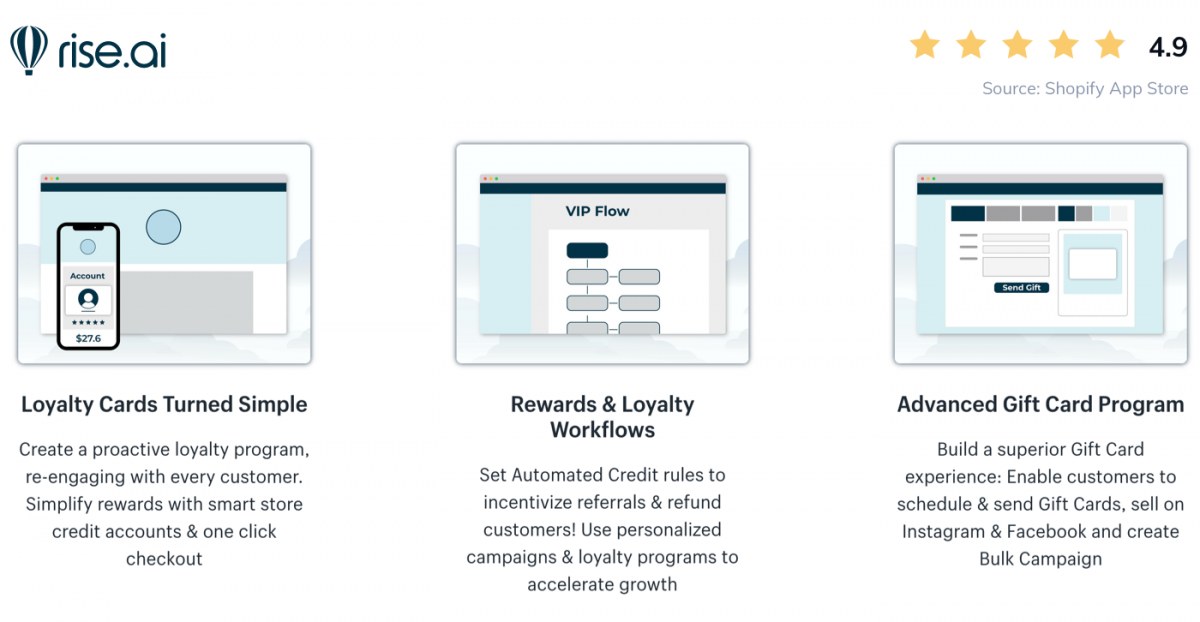 Rise.ai helps you establish an effective customer loyalty program. One of its strengths lies in simplicity. With Rise.ai you can forget about complicated point-based systems. Instead, this app enables you to offer rewards in your store currency.
Any customer participating in the program receives a stored-value digital loyalty card. They can top their cards up and use them for shopping. While you can use the cards to reward your customers through automated rules & workflows.
Rise.ai offers, among many others:
many ways of setting up the rules
integration with the affiliate & referral program to reward customers who refer a friend
Gift Card refunds in case of returns
automated bulk Gift Card & gift voucher based on triggers
This app offers a 7-day trial. No free plan available. Paid plans start at $19.99/mo.
Metrilo Growth Platform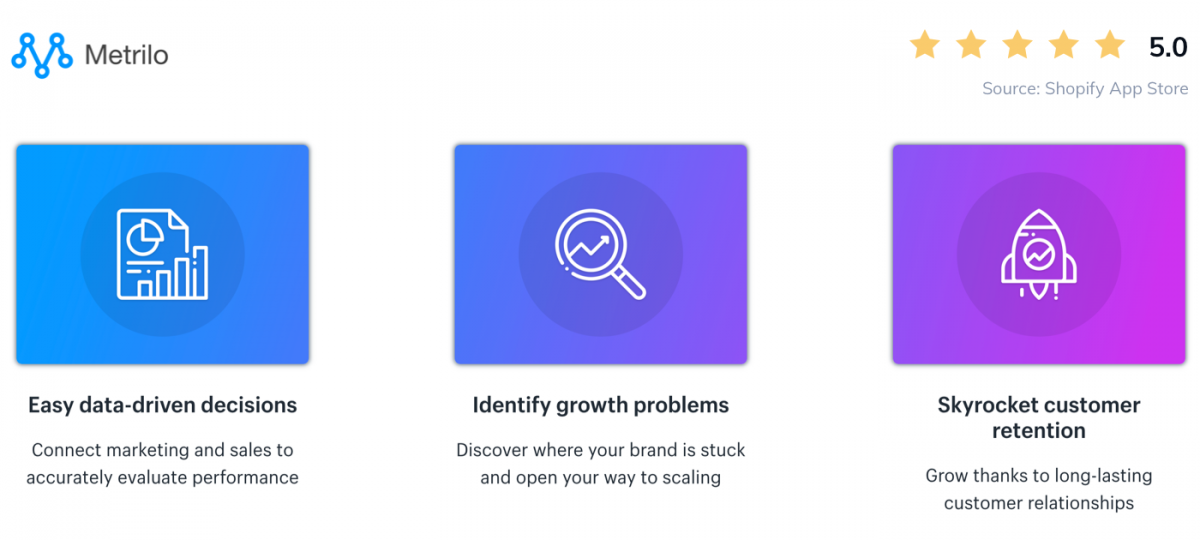 Metrilo is a growth marketing platform for modern consumer brands. It measures your business performance and gives you insights for strategic decisions. It includes everything you need to get a better grasp on the direction your store is heading.
It combines analytics, customer database, and integrated email marketing. All of these will help you optimize your marketing and boost repeat sales.
What's so great about Metrilo?
The analytics show your marketing performance in real time.
The customer database gives you a full view of the customer journey and experience.
The integrated email uses all aggregated data for tailored and timely campaigns.
14-day trial available. The paid plans start at $119/mo.
Best Pop Up App for Shopify
To keep a steady stream of leads, business owners use many tools. And that includes popups. You may love them or hate them, but they're still one of the best lead-generating tools. You can use them to collect emails, feedback, or to offer exclusive deals on your shop.
Spin Wheel Pop ups Email Popup (by WooHoo)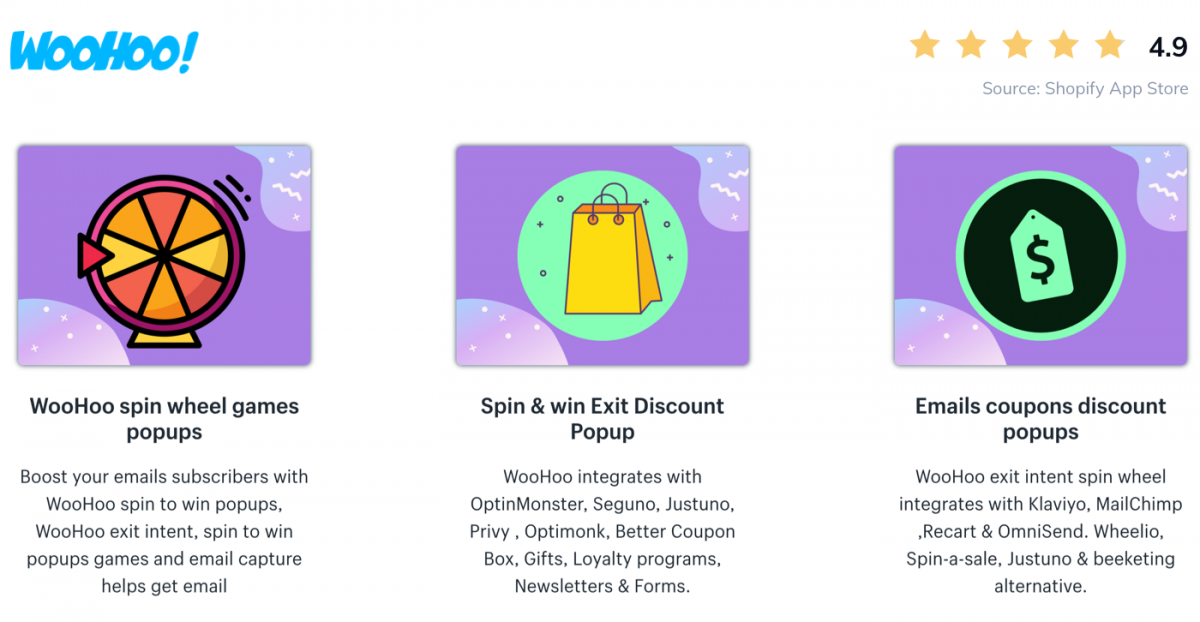 What's interactive and pretty addictive? Games. They engage visitors, create a great experience, and keep them coming back.
And that's what Woohoo realized, too. Spin Wheel app helps online merchants to increase revenue with gamification popups. Games work great for lead generation and conversion.
Some games your guests can play on popups (in exchange for their email) include:
pick a gift
card dance
wheel of coupons
reel of coupons
There are many triggers you can use to set the popup to come up. For instance, popup could trigger on visitor's exit or after a certain period of time on site.
WooHoo selected highlights:
unique codes
integration with various email marketing apps
real-time statistics
downloadable reports
custom images you can add to popups and countdown timers
This app offers a 14-day trial. There is no free plan. Paid plans start at $4.95/mo.
WisePops Ecommerce Popups

WisePops comes with powerful functionalities to help you maximize your marketing efforts. Instead of relying on templates, with this app, you can create your own popups.
The drag and drop editor is easy and pleasant to use. You can customize everything from the size to the colors to the position and the effects. If you are familiar with CSS, you can personalize your popups even more.
You can add to popups anything your business needs:
videos
CTAs
images
iFrames
texts
What else can you do?
Select which visitor segment should see your campaign.
Choose how often your users will see your popup.
Use your own user attributes or variables to adapt your targeting.
Track displays, clicks, emails, and conversions in real-time.
A/B test your efforts.
WisePops offer a 14-day trial. No free plan available. Paid plans start at $49/mo.
Tidio Chatbots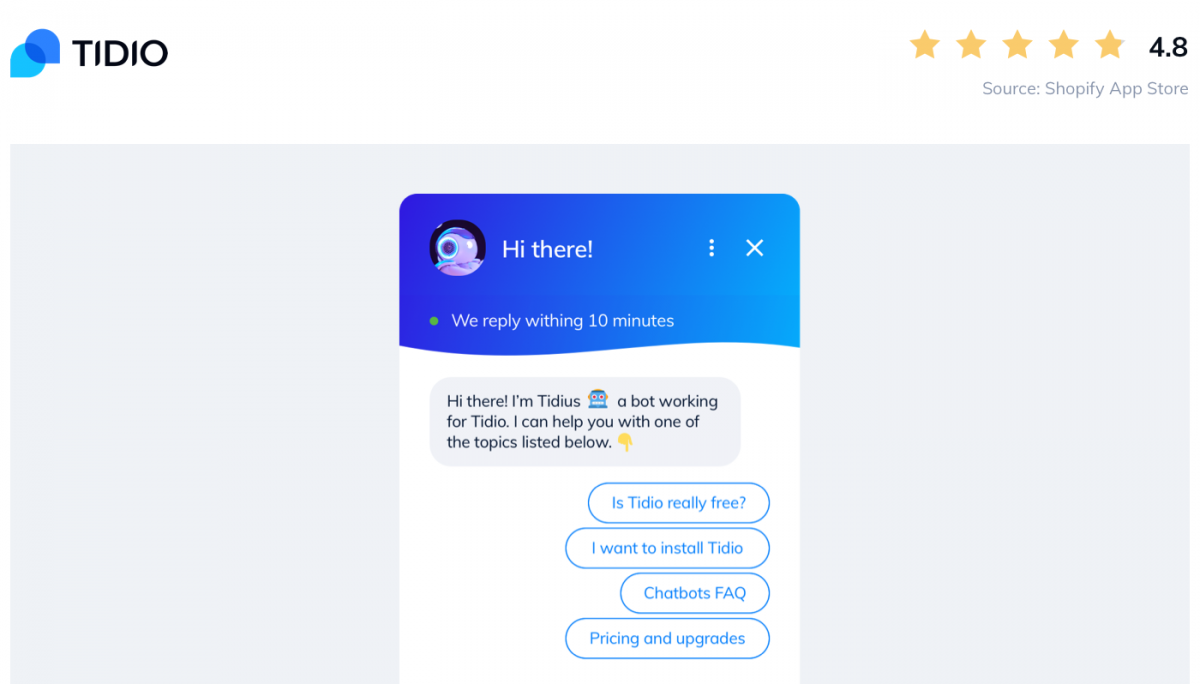 Tidio Chatbots is one of the three tools that Tidio app offers (other being live chat and email). Bots are a great alternative to popups. They are less intrusive and engage the visitors in a conversational way.
There are many advantages that speak for using chatbots instead of popups.
Chatbots can hook your visitors with funny and smart engaging messages.
They can trigger based on several conditions that you choose.
They can send messages with text, images, or links.
They combine different goals together. E.g., your popup bot, apart from collecting leads, could also answer frequent questions.
You can try chatbot visual builder (and all chatbot features) for 7 days. Then, you either downgrade to the Free plan or upgrade to the paid one (starting at $18/mo).
Best Shopify Plugins & Apps in 2021: Summary
As an online merchant, you can choose different ways to optimize your shop.
The Shopify plugins we mentioned here can improve many aspects of your store. Some are best in one specific task while others can do assist you in various tasks.
If you look for a versatile and affordable (or even free!) app, try Tidio platform. It will improve your customer service, boost lead generation, and automate marketing. It's a 3-in-1 platform which means you get all three different tools upfront. So you can use all three at once or focus only on one.
It's time to do some smart work and give your store some serious upgrade. Try live chat, chatbots, AND email marketing for free.
Get Free Live Chat & Chatbots