Choosing Shopify apps sometimes feels like choosing a business partner.
Does an app have a good reputation? Can it really help run my Shopify business? Can it bring new customers? With thousands of Shopify apps out there, answering these questions might take some time.
No worries. We found the best business partners for you (the best Shopify apps, that is). Choose among these essential apps for Shopify and grow your business.
In this guide, we have reviewed the best Shopify apps for:
Top Shopify Dropshipping Apps
The dropping industry is booming. The North American market, for one, is predicted to grow by 17% annually.
The best way to join and start a dropshipping business on Shopify is to use an app. You'll be able to find the best suppliers and products your customers want, in a few clicks.
1. Oberlo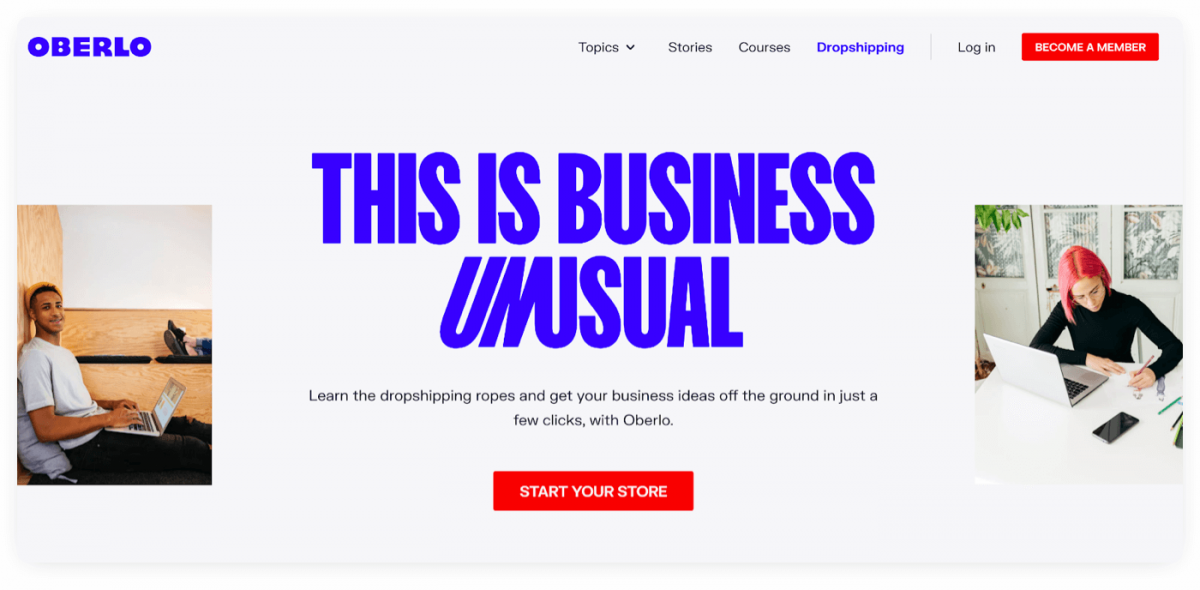 Just getting started with dropshipping? Try Oberlo—one of the best Shopify apps to get you up and running quickly. You'll be able to get products from suppliers easily and build your expertise with courses on dropshipping and online business. Most importantly, though: this Shopify dropshipping app gives you a key to a virtual warehouse packed with millions of products.
You can choose among hundreds of product categories, add items to your store in seconds, customize descriptions, and start selling. There are categories for your convenience, like high-potential products and "rising stars," so you can try proven items or experiment and test your entrepreneurial skills.
Key Features:
Easy product search from AliExpress and other suppliers
Customizable product view in your store
Order tracking and analytics
Pricing:
Free—Explorer plan (Product limit: 500)
$7.90/month—Grad plan (500 products + courses, coaching, and trade reports)
$29.90/month—Boss (30,000 products + unlimited courses and all premium features).
Do you know which products are the best for dropshipping this year? Check out Trending Products to Sell Online [Popular & Niche Ideas for 2021] for the best ideas.
2. Printful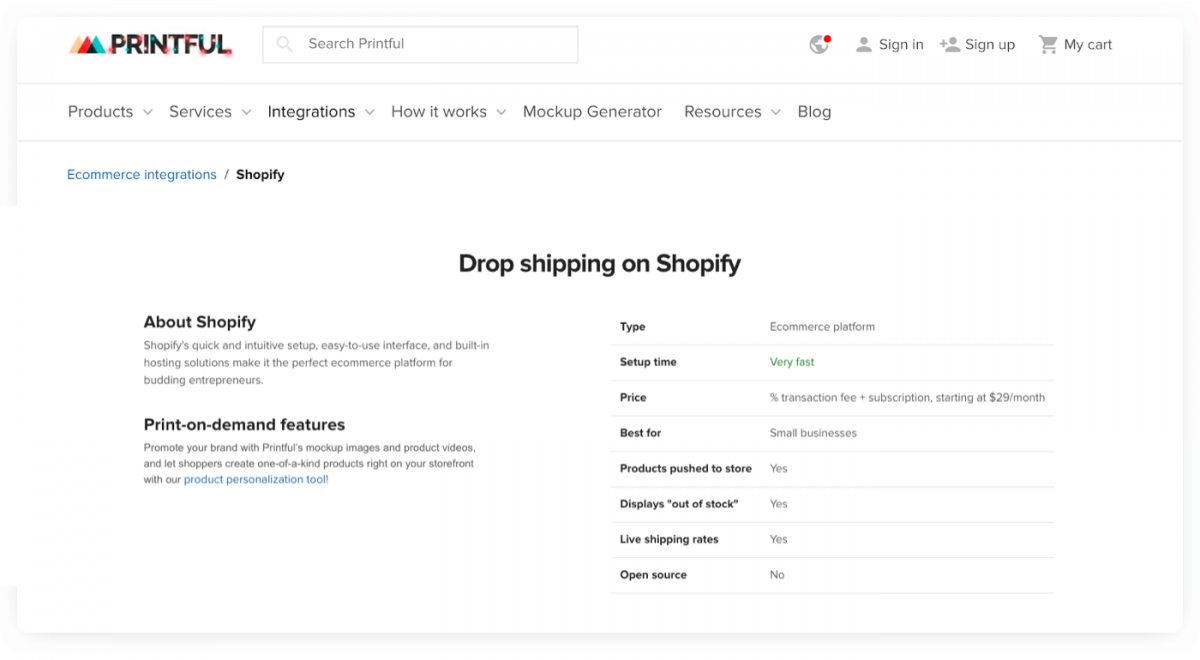 Printful is one of the best Shopify apps for selling branded apparel like t-shirts, accessories, and homeware. You don't have to store or manage inventory, as Printful creates, packs, and sends original products to your customers. All you have to do is send them the order info.
No experience with creating products with Shopify print on demand apps? No worries. Printful is among our top Shopify apps for a reason. With its mock-up generator, you can easily create product mock-ups. There are no monthly fees and minimum orders, so you pay only when customers pay.
Key Features:
Personalized product & package branding (logo, colors, graphics)
Easy-to-use extra tools for product design and brand logo creation
The complete order fulfillment process
Pricing:
Free, users pay a commission for fulfilled orders.
3. Spocket (US & EU Dropshipping)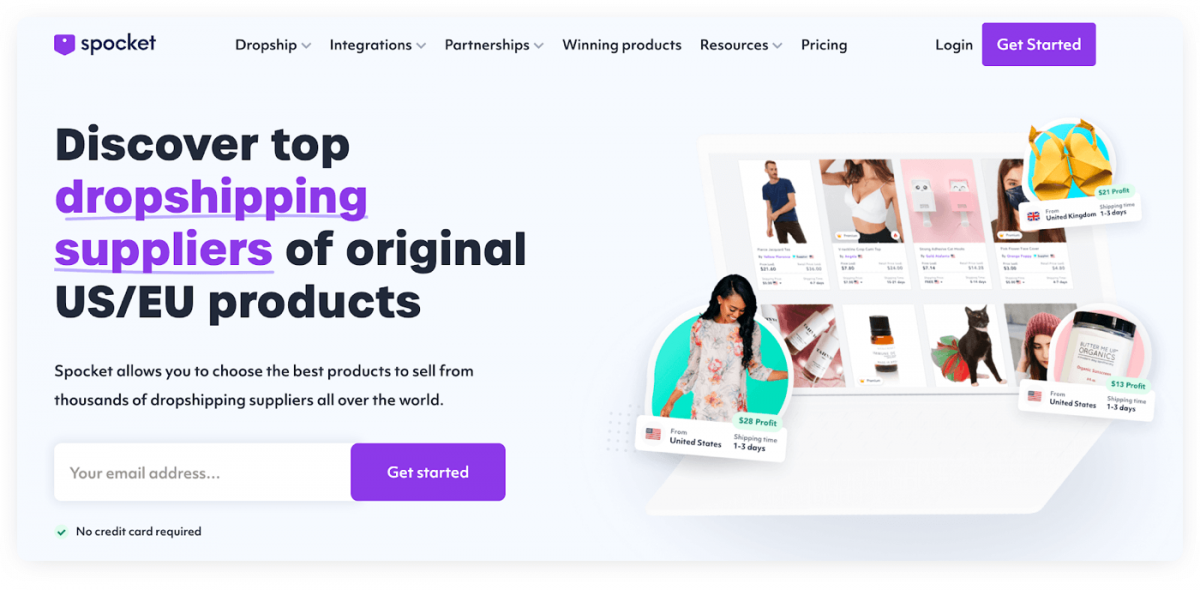 Tired of AliExpress dropshipping? Find US and EU-based, top-rated suppliers and products with Spocket, one of the best Shopify apps for dropshipping. You'll get access to suppliers from the US, EU, Canada, Australia, and choose one that gets you the fastest shipping.
Easy product search, import, and customization are other reasons why dropshippers recommend Spocket as one of the essential Shopify apps. Plus, the company promises a 30–60% discount on retail price, too, allowing merchants to get higher margins.
Key Features:
Over 50% of Spocket suppliers are US and EU-based
Real-time inventory update, and fast, auto order processing
One-click order fulfillment
Pricing:
Free—Limited to viewing product catalogs and getting familiar with the platform
Starter—$24/month. Enough features to get started: import of 25 products, access to unlimited products, and order tracking
Pro—$49/month. Unlimited orders, access to premium products, real-time product updates, and branded invoicing
Empire—$99/month. Unlimited premium products and orders, live chat support.
Learn more about dropshipping: How to Grow a Dropshipping Store with Live Chat and Chatbots [Case Study]
Best Review Apps for Shopify
The numbers don't lie: 94% of online shoppers say positive online reviews make them more likely to buy from a business.
Use a Shopify review app to get more social proof and use its power to generate some word-of-mouth and increase sales. Here are three top apps for Shopify sellers.
4. Loox Photo Reviews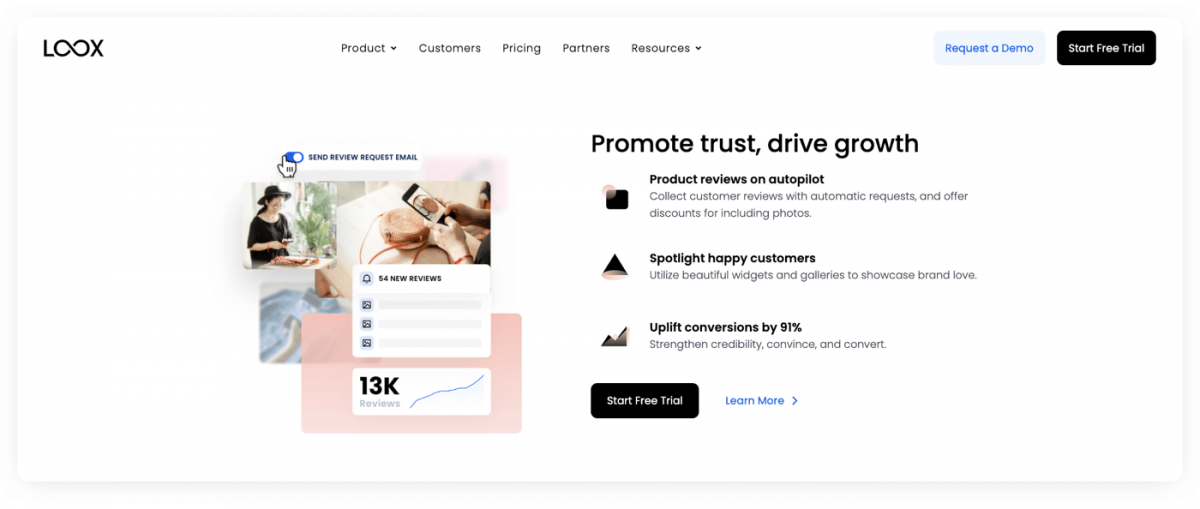 Displaying customer reviews can increase the conversion rate by up to 270%, says Spiegel Research Center. If you're looking for the best review app for Shopify, see Loox. The app collects photo reviews with emails—so no one would question their authenticity.
You can also showcase your Shopify store's reviews to encourage buying. It's one of Shopify's best apps as it lets you create a dedicated web or social media page with reviews or a website widget. By doing so, you can reduce customer hesitation.
Key Features:
Automatic review request emails
Custom photo review pages and widgets for Shopify and social media
Discount codes for photo product reviews and referrals
Pricing:
Basic—$9.99/month. Review discounts, widgets, and 100 review request emails
Advanced—$29.99/month. More customization options + 500 100 review request emails
Pro—$59.99/month. Facebook integration + 1,500 review request emails
Unlimited—$99.99/month. Customer onboarding, private manager + unlimited review request emails.
5. Stamped.io Product Reviews UGC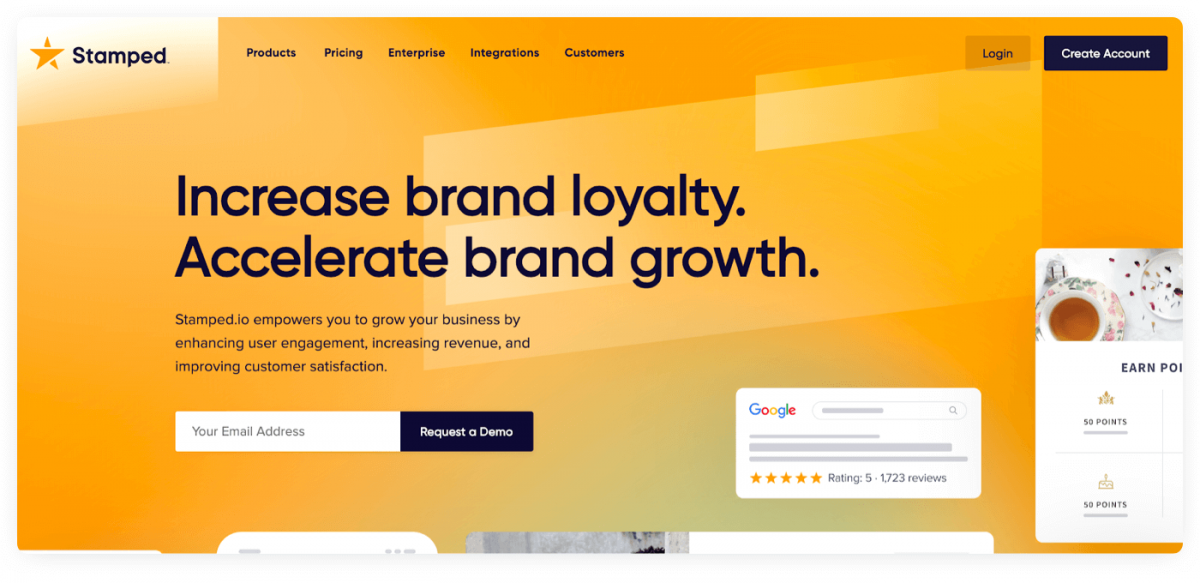 A BrightLocal study found that 72% of customers wrote online reviews after businesses asked them to. Otherwise, they wouldn't have done so.
Stamped.io is one of the best free Shopify apps for encouraging your customers to write reviews. You can request customer reviews via emails, SMS messages, and Facebook chatbots—automatically.
Also, you can use this Shopify review app to showcase the reviews. Dedicated pages, carousel widgets, product page star rating widgets, and more—at your disposal.
Key Features:
Automatic customer review requests via email, SMS, and Facebook
10+ types of website review widgets
Photo, checkout, Facebook reviews
Pricing:
Free—Review & rating widgets + 50 orders per month
Basic—$23/month. Photo and checkout reviews, SMS review requests + 200 orders per month
Premium—$49/month. Social media reviews, upsell features + 500 orders per month.
Business—$119/month. Google shopping and video reviews, Q&A + 1,500 orders per month.
6. Yotpo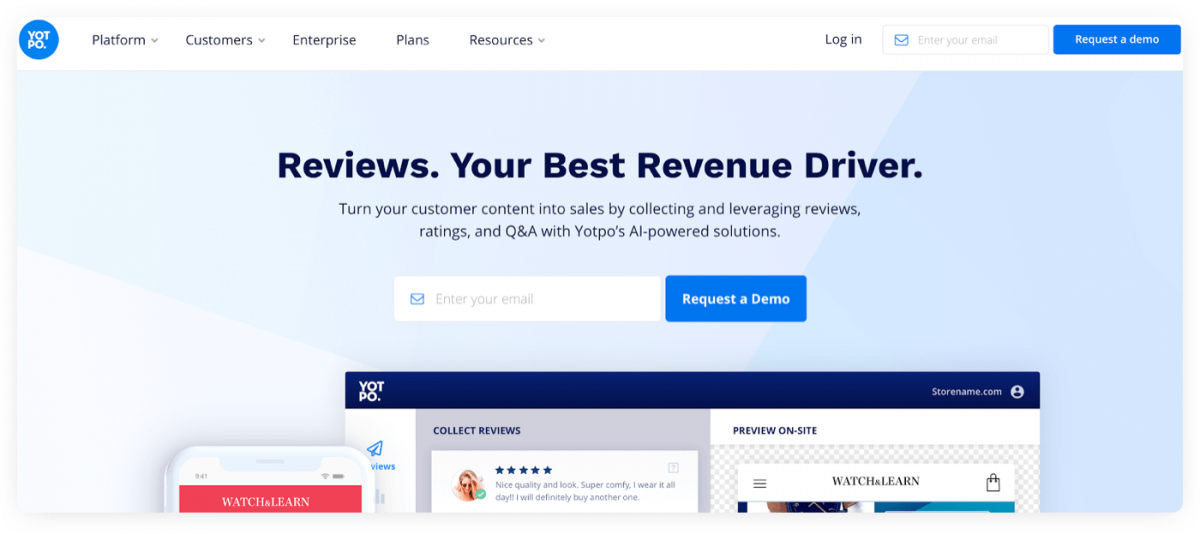 Why is Yotpo one of the best review apps for Shopify? It's extremely simple to use and has all the features for easy review management. You can collect customer reviews, ratings, site, and photo reviews automatically, through your store and emails.
Have reviews on third-party websites like Trustpilot? No problem. Yotpo is one of the top Shopify apps because you can seamlessly integrate it with popular review platforms and import reviews in a few clicks.
Key Features:
Automatic email customer review requests
On-site review widgets to share positive reviews with visitors
Sentiment analysis and analytics to analyze customer feedback
Pricing:
Free—50 orders/month. On-site widgets, and review request emails
Growth 50—$19/month. 50 orders/month, photo reviews, review carousel
Growth 75—$29/month. Growth 50 + 75 monthly orders
Growth 100—$49/month. Growth 75 + 100 monthly orders.
7. Growave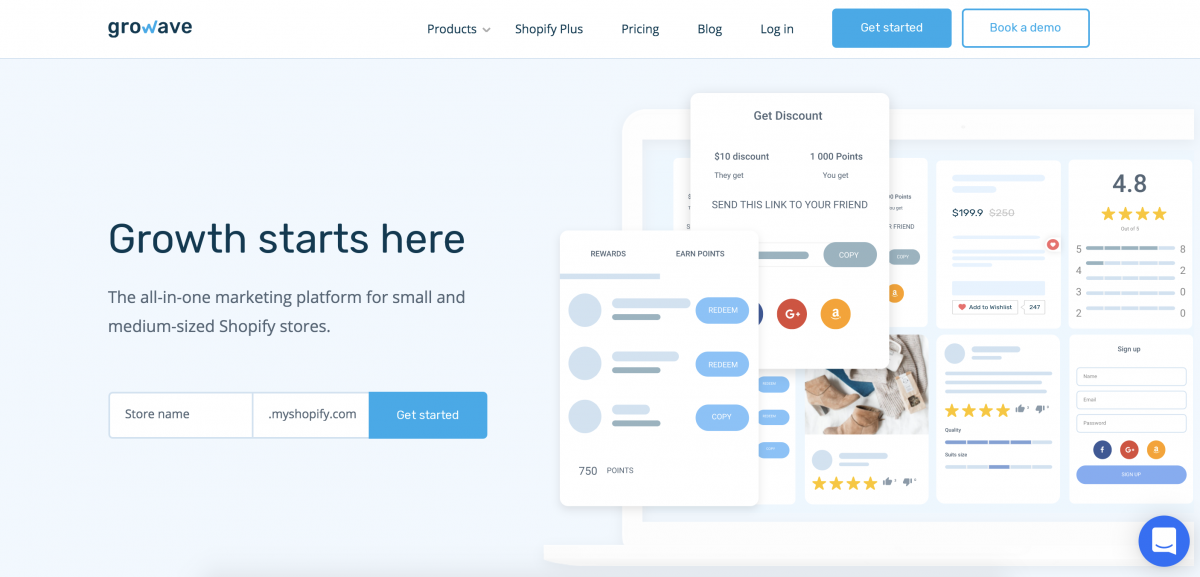 Growave is an all-in-one marketing application that seamlessly boosts your conversion rates. It allows you to create loyalty reward programs, create wishlists, and leverage trust with user-generated content.
With Growave, you can create a point-based loyalty program and reward customers with attractive discounts, in-store cash and provide free products. On the other hand, you can acquire new shoppers by creating referral programs.
Key features:
Rewarding shoppers for every dollar they spend
Loyalty program with automated nudges and point expiration reminders to your customers. Gift cards & birthday gifts for shoppers' special day
Product reviews on autopilot to build trust for your brand.
Targeted emails when the products in the wishlist are on sale, running out of stock, etc.
Pricing:
Starter – $19/month. All features + 100 orders
Small – $29/month. All features + 250 orders
Medium – $49/month. All features + 500 orders
Growth – $99/month up. All features + 1000 orders
Large – $199/month up. All features + 2000 orders
Enterprise – $299/month up. All features, Klaviyo/Omnisend integration + 3500 orders
Best Shopify SEO Apps
Research shows that organic search brought the most leads and customers for 66% of marketers. This makes SEO one of the most effective sales channels.
Choose the best Shopify SEO app to improve your Google ranking, get more visitors, and stay open for business 24/7.
8. Plug In SEO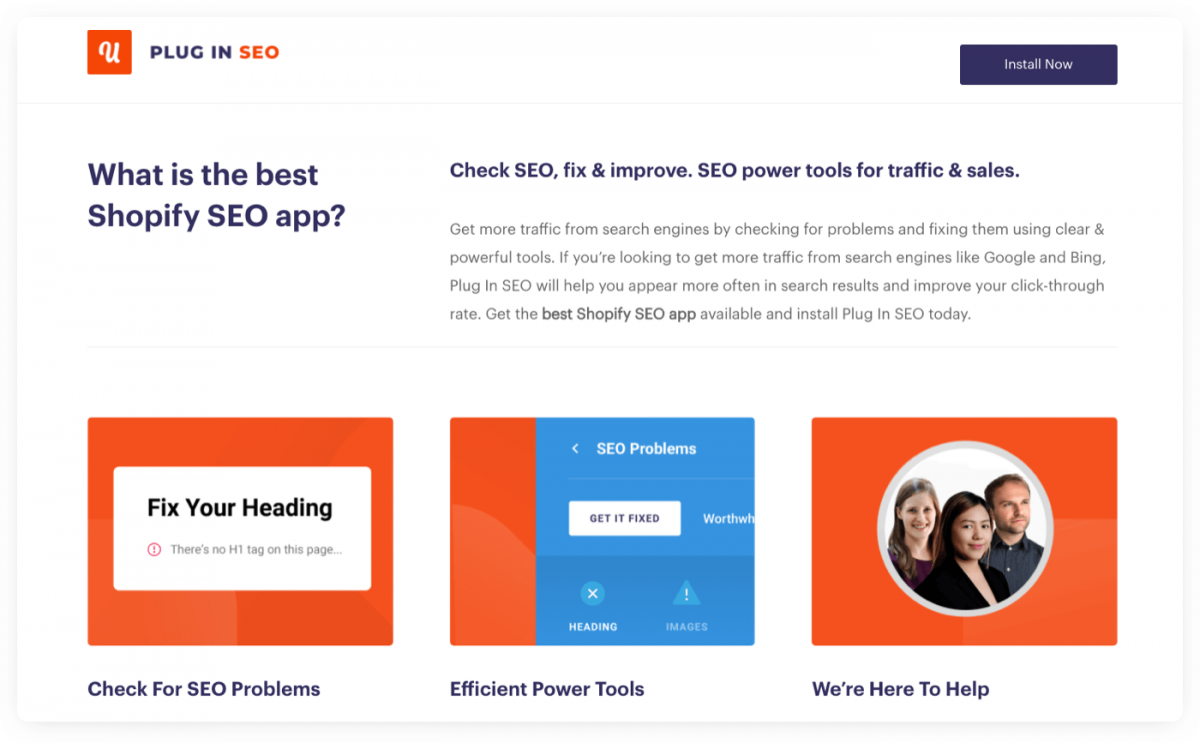 Plug In SEO is a gem if you're looking for the best SEO app for Shopify. There are two versions—the free one is good enough for new stores. The premium one is well-suited for growing businesses.
Why is it one of the best free apps for Shopify? You can check your store for SEO errors without any limits. Should any issue happen, Plug In SEO will send an email to let you know. That's a budget-friendly option for new stores.
Consider the premium version for faster SEO optimization of your Shopify store. It helps take care of all SEO aspects and gets you premium support to fix issues fast.
Key Features:
Checks for uptime, SEO, and speed problems
Detailed fix instructions for beginners
Automatic SEO fixes
Email alerts with SEO issues
Pricing:
Free—Unlimited SEO checks, email alerts, and fix instructions
Plug in SEO Plus—$20/month. Automatic SEO fixes, training videos, premium support.
Low traffic on your store? Keep checking the best SEO apps, but here's How to Sell Online with a Low-Traffic Website and make profits in the meantime.
9. AVADA SEO Image Optimizer FREE

A 5-second web page load time can make 90% of visitors leave without taking action. Heavy product images are a major reason why an eCommerce store's loading speed might slow down.
That's why AVADA is here. Add this Shopify SEO app, and it'll find issues within minutes. It will generate a report with improvements and fixing instructions.
AVADA looks at multiple SEO speed factors (sitemaps, 404 pages, meta tags, etc.) but it's the images where it really shines. One of the best free Shopify apps, it checks all images and suggests compression for those affecting a store's speed.
Key Features:
Image optimization (alt tags, size)
Sitemap generation for higher ranking
Detailed SEO analysis of every Shopify store page
Pricing:
Want to rank in Google's top five results? These 6 Simple SEO Tips for Small Businesses to get started as a beginner.
10. SEO Optimizer: All‑In‑One SEO

Looking for a free but decent Shopify SEO app? SEO Optimizer is worth a look because it handles the basic optimization tasks in the free version. You can check every page on your Shopify store and get an SEO score as an evaluation.
Looking for SEO apps for Shopify that make improvements automatically? SEO Optimizer's Pro plan does exactly this. It constantly monitors and optimizes your Shopify store, so you can focus on sales.
Key Features:
Autopilot SEO: set SEO rules and have the app maintain them automatically
Automatic sitemap creation
Weekly SEO health reports
Pricing:
Free—alt text and image optimization
Plus—$29.88/month. Automatic SEO checks and fixes (images, broken links, metadata, image compression, reports).
Best Shopify Referral Apps
Here are the best Shopify referral apps to create a referral or a loyalty program. Choose one, and you'll be able to get more loyal customers automatically.
11. ReferralCandy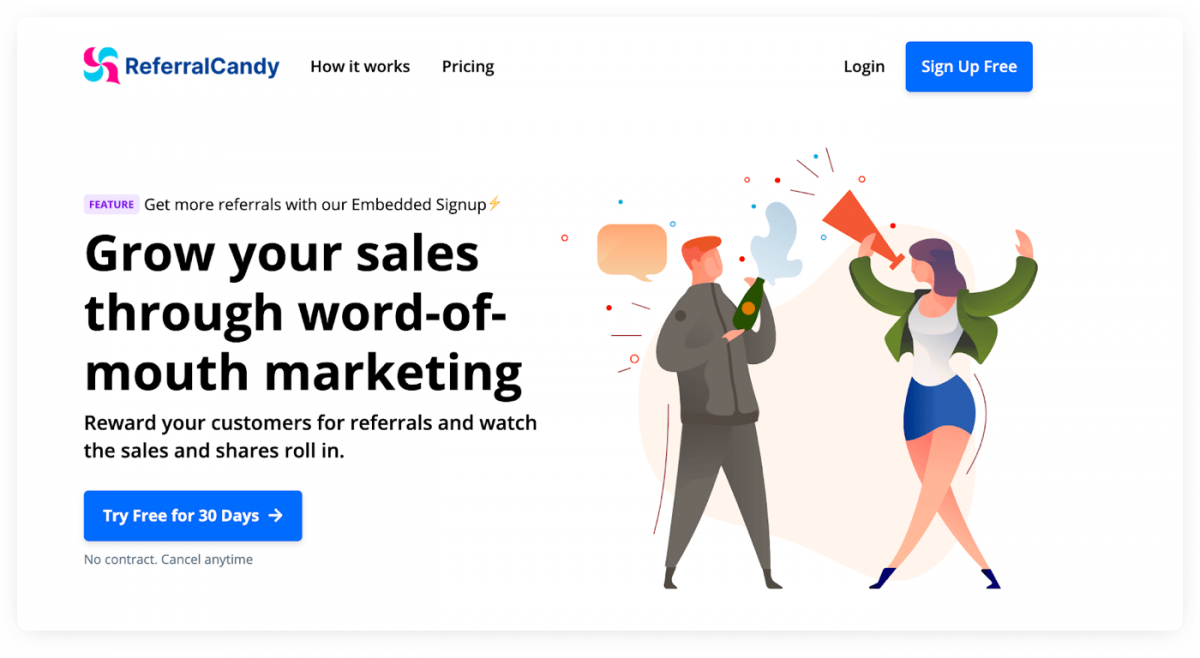 ReferralCandy is a household name in referral marketing, and its Shopify app lives up to its reputation. Having Referral Candy means monitoring all referral marketing-related activities in one place: sales, referrals, rewards, and more.
Why did we decide to put it on our list of the best Shopify apps? It lets you offer rewards like gift cards, discounts, and coupon codes to encourage customers to spread the word about your brand. You can automate everything—choose the reward, send it out, and monitor the progress in an insightful dashboard.
Key Features:
Full control over custom reward and loyalty programs, in one place
Stats on referral sales, clicks, and traffic
Automatic referral rewards
Pricing:
$49/month—unlimited customers, referral program analytics, automatic protection against fraud.
Referral programs are an effective way to grow for small businesses, as 39% of customers refer a brand for a discount or a gift card. Here's How Referral Programs Can Help Your Small eCommerce Business
12. Smile.io
Why do 40,000 stores rely on Smile.io? This Shopify referral app makes it easy to create personalized customer loyalty, reward, and even VIP programs with both free and paid plans. These three strategies are perfect for the entire sales cycle.
Smile.io is one of the best apps for Shopify to attract new customers with a point-based reward system and increase retention with coupons and other perks. The VIP program will be a way to encourage long-term business with better perks and special statuses.
Key Features:
Sales and reviews with exclusive discounts, perks, and bonuses
Rewards for the best customers in the VIP program
Points for actions like creating an account, placing an order, and leaving a review
Pricing:
Free—10+ ways to reward customers + points & referral programs
Starter—$49/month. Free features + customization of design to match your branding
Growth—$199/month. On-site pop-ups, analytical dashboard, points expiry.
A VIP program isn't the only way to encourage long-term business. Here are 7 Ways to Build Strong Relationships With Customers
13. Rise: Gift Cards & Loyalty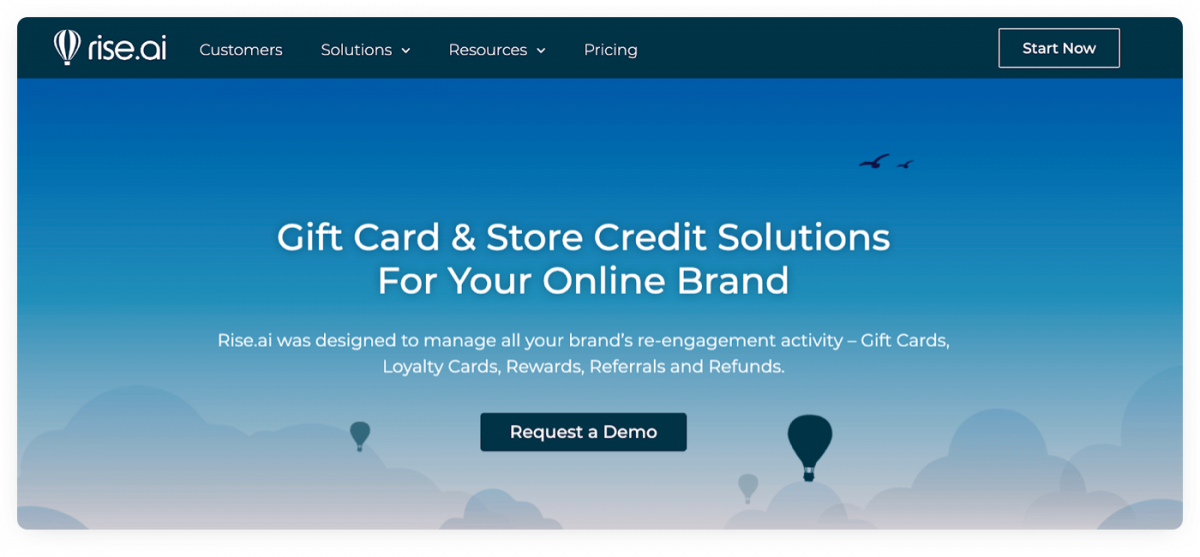 Rise is one of the best Shopify apps for those looking to speed up business growth. This Shopify referral app offers a program based on store credit, rewards, and referrals. This strategy has been working well for many, as Rise enjoys a 4.9 rating on the Shopify App Store.
Rise makes the creation of custom referral and loyalty programs easy thanks to a simple dashboard. You can manage all loyalty and referrals programs, customer profiles, and reward distribution from one place.
Key Features:
Credit and loyalty points for customers storage
Affiliate and referral programs including automatic bulk gift card and voucher features based on custom triggers ("buy three times, receive a gift," etc.)
Personalized digital gift cards that can be shared via emails
Pricing:
Starter—$19.99/month. Perfect for small businesses; includes 100 monthly orders and the gift card program
Small Business—$59.99/month. With a 400 monthly orders limit, this plan is suited for growing Shopify stores
Pro—$191.99/month. Use rewards for 2,000 orders per month; includes bulk gift card creation and credit store feature.
Best Live Chat Apps for Shopify
About 85% of customers using live chat say that it makes communicating with businesses easier. Besides, a live chat for Shopify allows you to reach more customers and send personalized messages to encourage buying.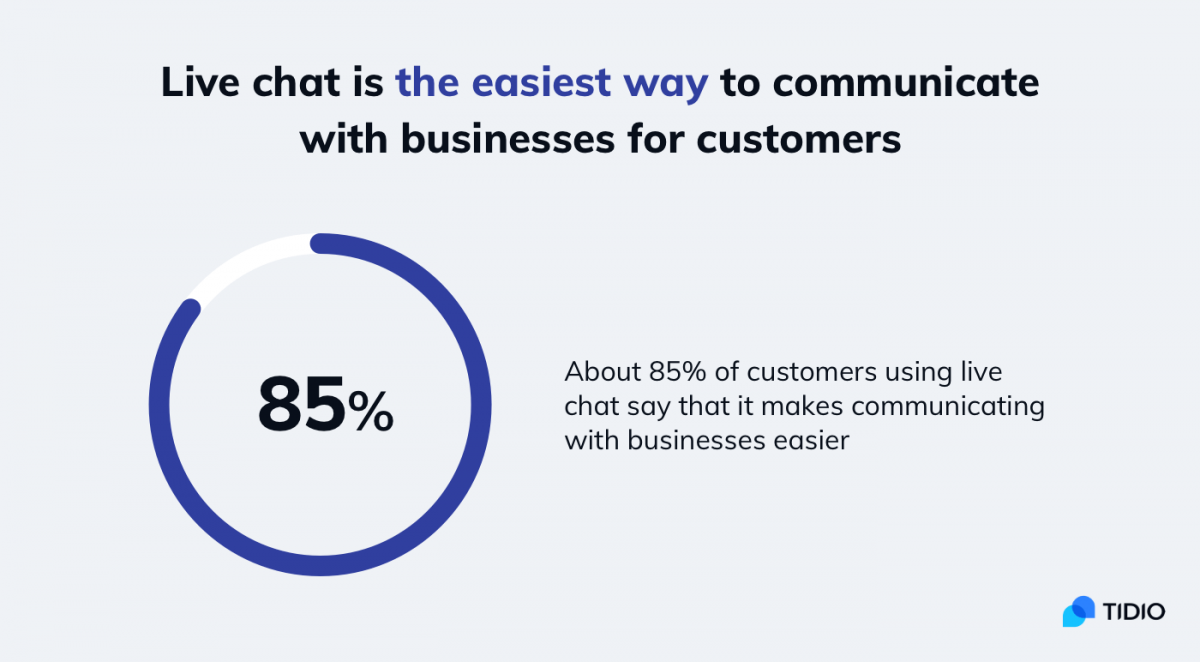 Find the best Shopify live chat app for your store in this section.
14. Tidio Live Chat
Tidio Shopify chat app is lightweight, visually attractive, and is simply customized to match the look of your Shopify store. It's very easy to configure within minutes without any knowledge of live chat apps.
But let's stop here.
We won't be promoting our own app—you can install it for free, see how much you like it, and decide whether we've deserved high user ratings.
Enjoy!
Key Features:
Add a live chat to your store and have it up and running in minutes
Visitor list: see visitors browsing your store
Live typing preview: see what your customers are typing and get extra time to prepare an answer
Android and iOS app to chat with customers on the go
Chatbots to reply to customers 24/7 and connect them to customer support agents
Pricing:
Basic plan—free. Live chat for three users, integration with Messenger and email + chatbots
Communicator—$18/month. See website pages your customers are visiting and preview their messages in real time
Chatbots—$18/month. Live chat and chatbots to create maximum sales opportunities by communicating with customers directly.
Want to know how to sell more with live chat? These strategies apply to all online stores: 8 Ways to Increase Your eCommerce Conversion Rate with Live Chat
Turn your website visitors into delighted customers.
Set up the Tidio live chat app in 5 minutes and watch your sales grow.
Learn About Live Chat
15. Reamaze Live Chat & Helpdesk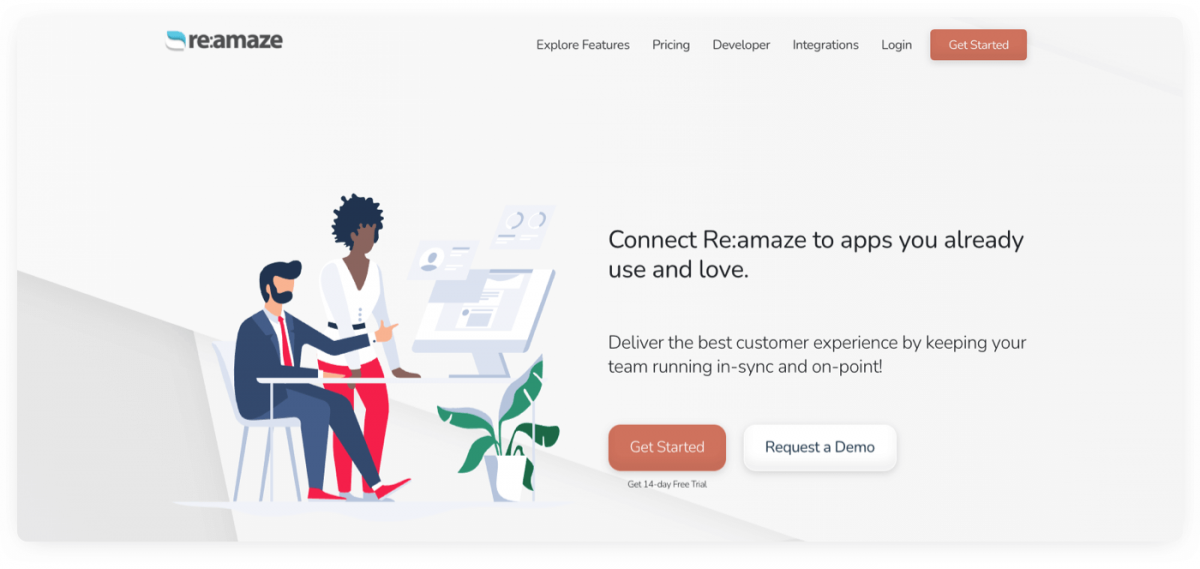 Reamaze is one of the best apps for Shopify for managing multiple Shopify stores. It combines live chat, ticketing, FAQ center, emails, social media, and chatbots to help large online stores manage customer support.
Reamaze is also one of the best Shopify apps to increase sales. It offers web push notifications, email marketing campaigns, SMS messages, and chatbots to share promotions.
Key Features:
Live chat, email, web push notifications, SMS, and social media support
Live chat support dashboard with analytics
Visitor browsing activity and co-browsing to support customers
Pricing:
Basic—$29/month. Live chat, chatbots, emails, and web push notifications
Pro—$49/month. SMS and VOIP, live visitor list, and multi-store functionality
Plus—$69/month. Customer agent reports and shifts, co-browsing, customer satisfaction surveys.
16. Live Chat with Help Desk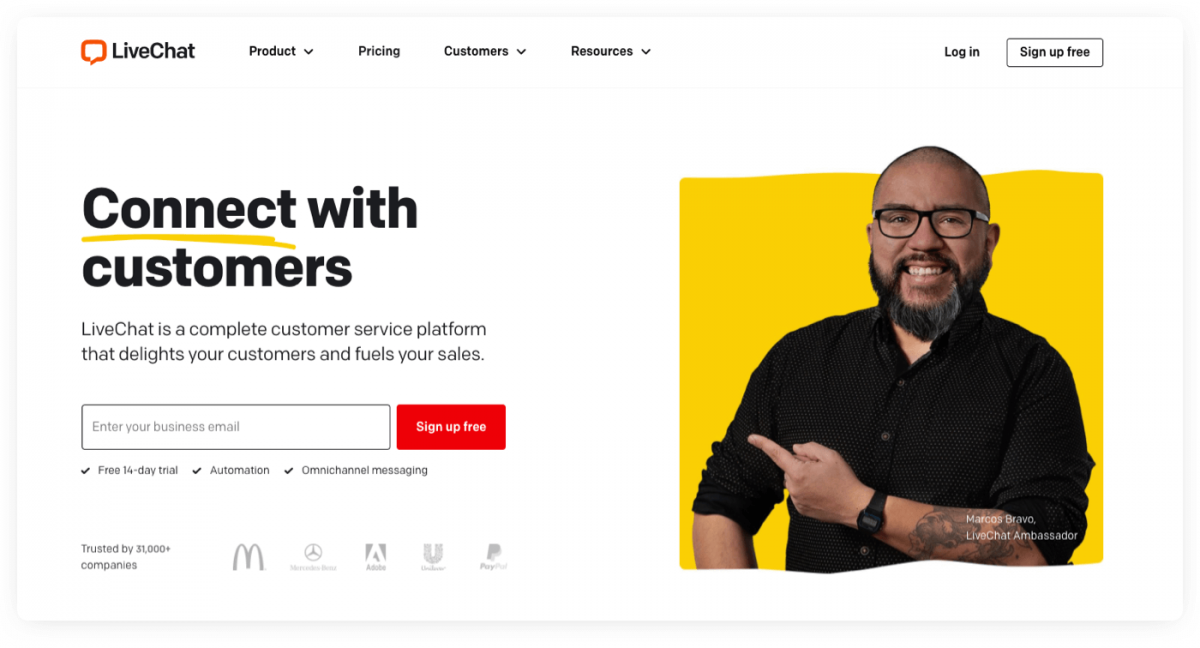 Live Chat with Help Desk stands out as one of the top Shopify apps for medium and large eCommerce stores. Apart from live chat, it allows you to communicate with customers via Facebook Messenger, SMS, and emails.
Shopify Plus stores that handle thousands of orders per month should benefit from this Shopify live chat app most. It already serves large brands such as Leon's and Gymshark.
Key Features:
Complete customer information inside the live chat app (delivery statuses, visited pages, etc.)
Preview of the contents of a customer's shopping cart
Product recommendations delivery directly to customers via the live chat widget
Pricing:
Starter—$19/month
Team—$39/month.
Business—$59/month.
The Best Upsell Apps for Shopify
The top Shopify apps can help personalize your approach to upselling and increase the average order value. Studies say that 85% of customers expect a personalized experience, so having the best upsell app for Shopify is a must.
17. Bold Upsell

Bold Upsell is one of the essential Shopify apps: easy to set up and has basic upsell and cross-sell features. Customers who added a product to a shopping cart will get notified about upsell offers or similar or related products.
Bold Upsell makes this list of the best Shopify upsell apps because it's a quick, easy, and affordable option.
Key Features:
Automatic upsell and cross-sell triggers with product upgrades and complementary products
Upsell performance tracking with analytics
Bold Brain: a feature that finds products for upsell offers based on customer browsing and purchase history
Pricing:
Starter—$9.99/month. Upsell and cross-sell and reporting (200 upsell views/monthly)
Plus—$19.99/month. All features + 1000 upsell views per month
Premium—$39.99/month. All features + 2000 upsell views per month
Pro—$59.99/month. All features + 5000 upsell views per month.
18. ReConvert Upsell & Cross Sell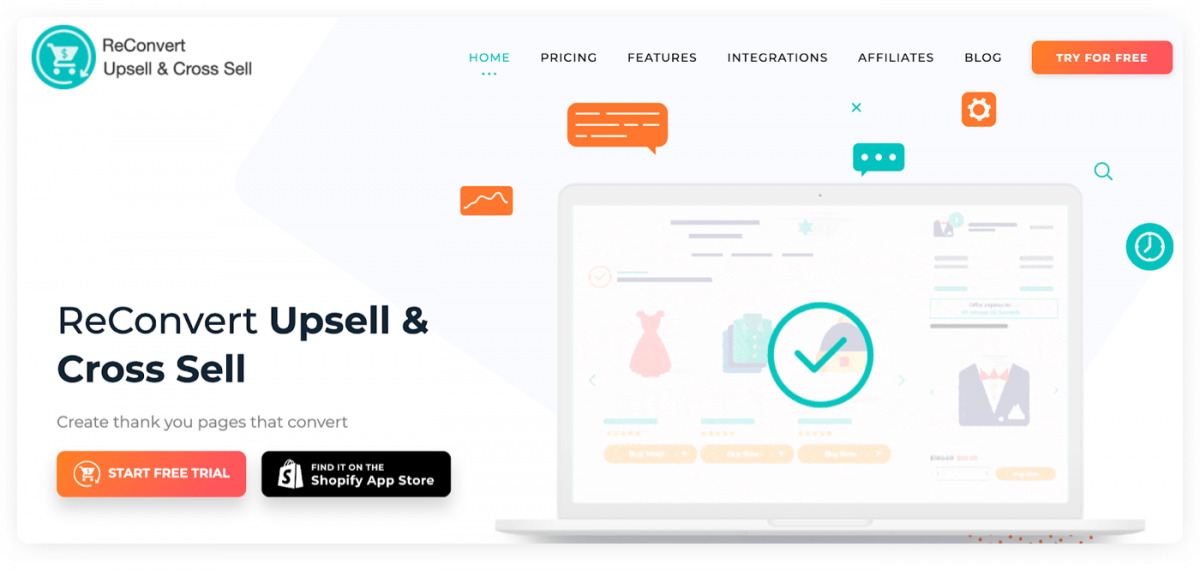 ReConvert boasts a 5-star rating based on 2,000+ reviews, making it the best upsell app for Shopify. Why is ReConvert so well-received? For one, it's very straightforward and easy to use, which makes it a good option for beginners.
Also, ReConvert offers a unique upsell strategy: thank-you pages (order confirmation pages). A customer gets redirected there after making a purchase, so you can encourage them to shop some more. For example, you can add similar products, discounts, or other perks.
Key Features:
Custom thank-you pages for Shopify
Discount pop-ups with countdown timers
Birthday SMS and email offers
Pricing:
Free. Upsells, post-purchase surveys, and reorder button–limited to 50 orders/month
Pro—$7.99/month. Free features for 100 monthly orders
MVP—$14.99/month. All features for 200 monthly orders
VIP—$29.99/month. All features for 500 monthly orders
19. Upsell Recommendations by Innonic

If you're looking for the best Shopify upsell app which is 100% free, Upsell Recommendations is what you need. Install in one click, no coding required, and it's really free (no commission or monthly fees).
Here's why we put it on the best apps for Shopify list: it generates upsell recommendations automatically based on customers' browsing habits. So, there's no need for manual work. The recommendations appear as similar and related products on product and checkout pages.
Key Features:
Automatic product recommendations based on customer's browsing history
Unlimited upsell offer displays for customers
Mobile-friendly
Pricing:
Best Email Marketing Apps for Shopify
About 78% of marketers say that email marketing is vital to their company's success. If you want to add emails to your strategy, choose the best email marketing app for Shopify in this section.
20. Tidio Email Marketing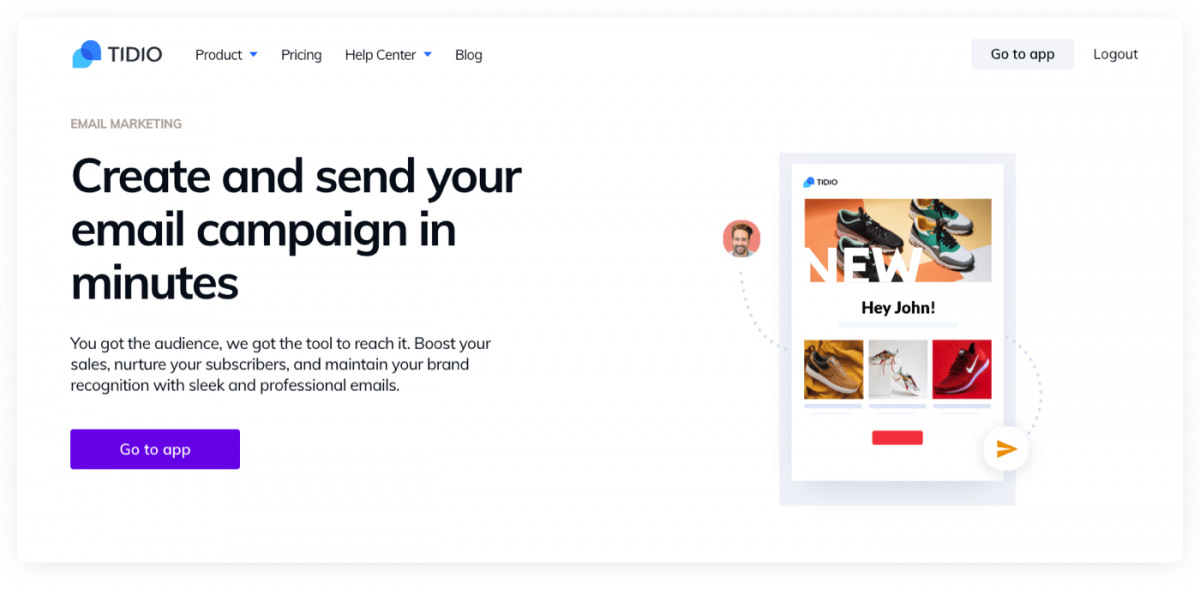 It's not a mistake—Tidio is more than a live chat app.
Tidio Email Marketing has hundreds of free email templates, a visual email builder, and customer segmentation to personalize marketing offers. There's also 500 free emails and a lack of sending limits—new Shopify stores will appreciate that.
But again, we don't want to review our own product.
Feel free to take it for a test drive. For free.
Key Features:
Custom emails with the visual email editor
Email address validation
Email contact segmentation for targeted marketing
Automated and scheduled email campaigns.
Pricing:
Free—Visual email editor + 500 monthly emails
Premium—$10. Free features + unlimited contacts, automated campaigns, and email validation.
Email marketing is a major source of revenue for Shopify businesses. Check out 20+ Email Campaign Ideas and Examples to boost sales.
21. Omnisend: Email Marketing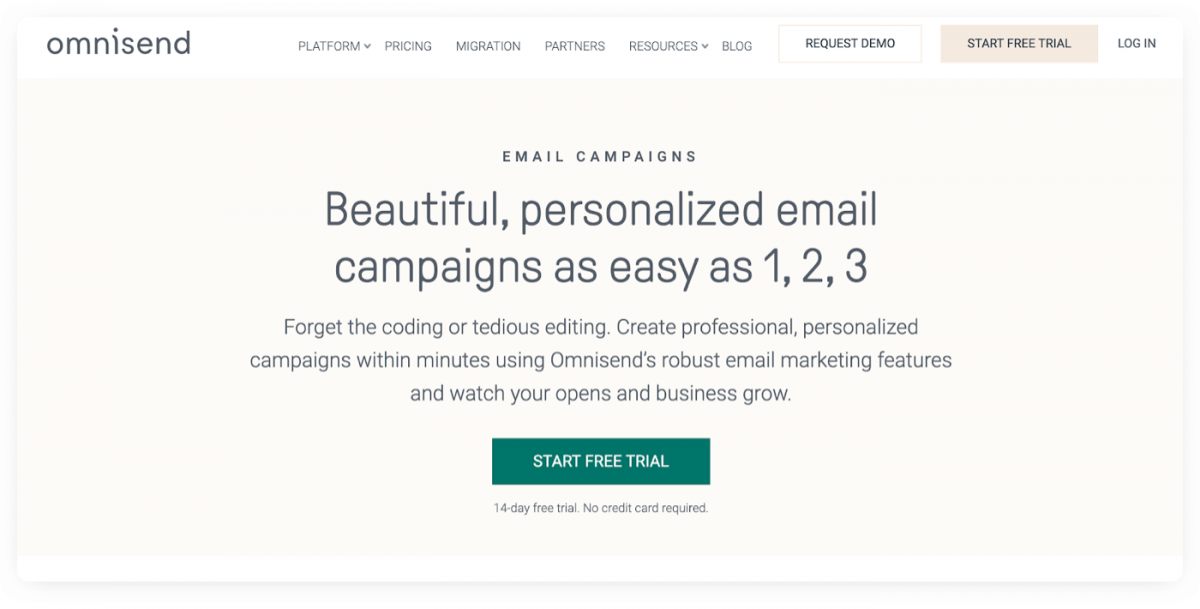 Omnisend's features are good enough for businesses of all sizes. There's an editor, numerous templates, customer segmentation, and campaign automation—everything to sell with emails.
Key Features:
Drag and drop email content editor
Library of templates for different types of campaigns
Customer segmentation based on shopping history.
Pricing (for 1,000 email contacts);
Free—Limited to 15,000 emails per month
Standard—$20/month. Email campaign automation, customer segmentation + 15,000 emails per month
Pro—$99/month. 15,000 emails per month, advanced email campaign analytics, and SMS
Enterprise—custom pricing. For businesses that send 15,000+ emails per month.
22. Klaviyo: Email Marketing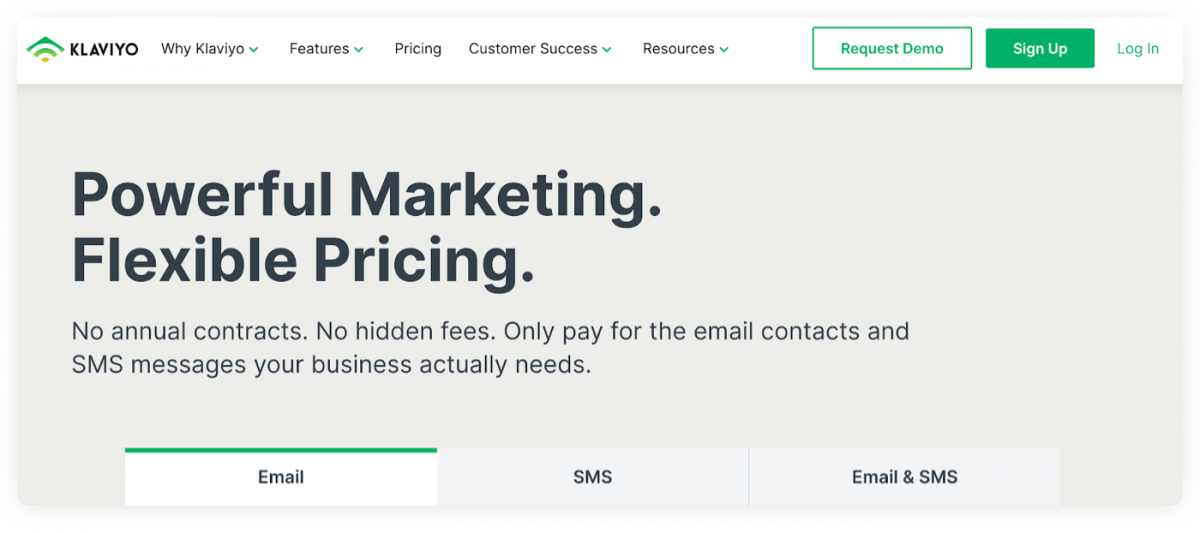 Klaviyo stands out from other Shopify email marketing apps with the pricing strategy. There's a free plan for 250 email contacts, and you get access to many features. The price rises as you collect more email contacts and build a customer base.
That's why Klaviyo is a good app for those starting with email marketing. It's easily one of the best Shopify apps to help you send personalized email campaigns as it offers automation, scheduling, and templates.
Key Features:
Customer segmentation options
Campaign flow builder for automation
Analytics and reporting on campaign performance
Pricing (based on the number of contacts):
Free for 250 contacts
500 contacts: $20
1,000 emails: $30.
Best Shopify Marketing Apps
The best apps for Shopify marketing apps are all-in-one marketing platform tools for sharing offers on multiple communication channels.
23. Tidio Chatbots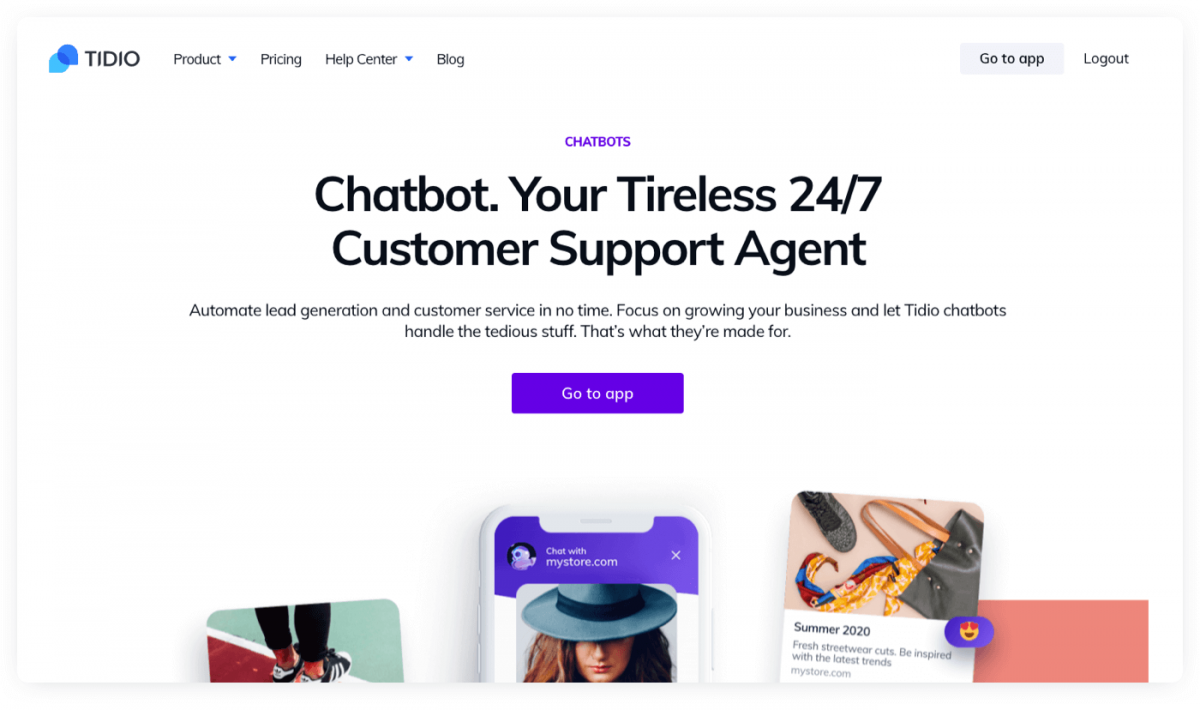 That's the third time Tidio's appeared on this list. But for a good reason.
The reason is: Tidio Chatbots.
And no, we're not going to tell you how easy it is to create a chatbot using our visual builder. Nor are we going to try and convince you how transformative chatbots can be for businesses.
Instead, you can read some of the most compelling success stories of our customers:
And…
Test them the chatbots for free to see if the 930+ Shopify stores that have rated them 5 stars are right.
Key Features:
Ready-made chatbots for marketing, lead generation, and abandoned shopping cart recovery
A drag and drop editor for creation of custom chatbots
Customer profiles to personalize communication.
Pricing:
Free plan—Use chatbots for marketing and shopping cart recovery
Chatbots—$18/month. Unlimited chatbots, build chatbots for unique needs.
Want to know more about how chatbots help entrepreneurs like you? Visit The Ultimate Guide to Chatbots 2021
24. Sumo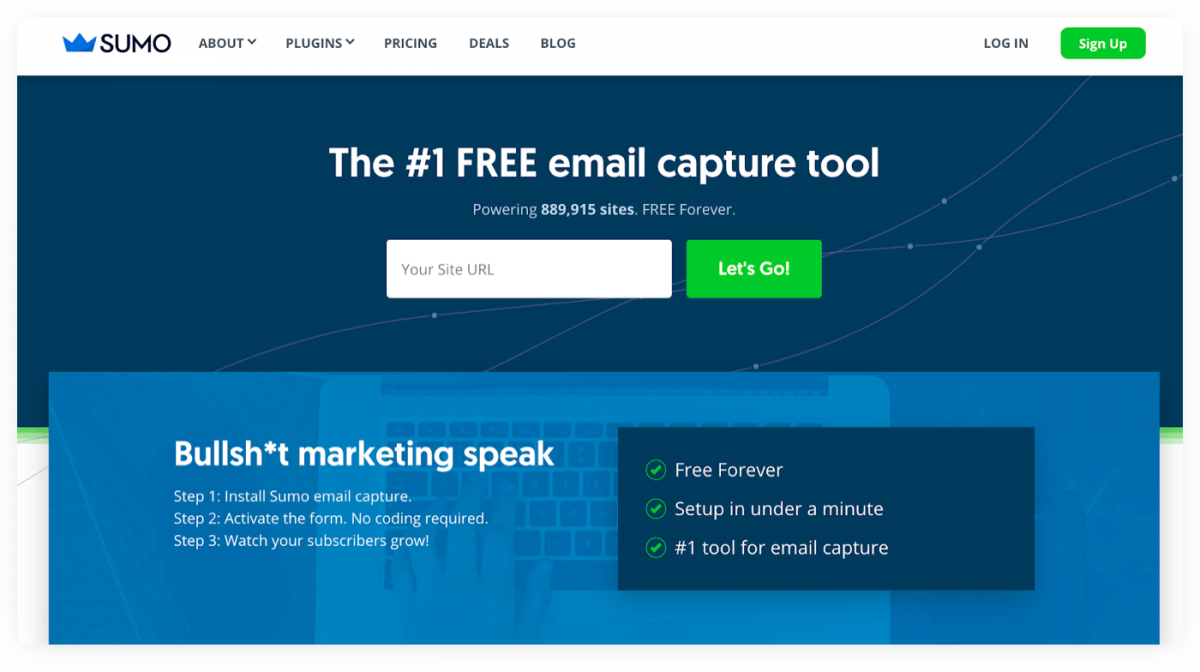 Sumo is one of the must-have Shopify apps for building a list of leads. How? For one, Sumo has email capture windows with attractive offers like discounts. You can create a special offer for new customers and get their emails to nurture them later.
The app also makes discount and coupon management easier thanks to the flawless integration with Shopify. This means it generates unique codes to share them with potential customers via email campaigns.
Key Features:
Different forms to capture emails of visitors
Forms with discounts and other perks to prevent shopping cart abandonment
Follow-up emails to customers who left without buying
Pricing:
Free (up to $500 Sumo-driven revenue). Use and customize email capture forms without limits
Pro—$49/month. Unlimited emails, targeting options, and 1-on-1 customer onboarding.
Share marketing messages once you build a decent email list. Check out 20+ Best Email Campaigns and Ideas to see how others generate sales.
25. Kit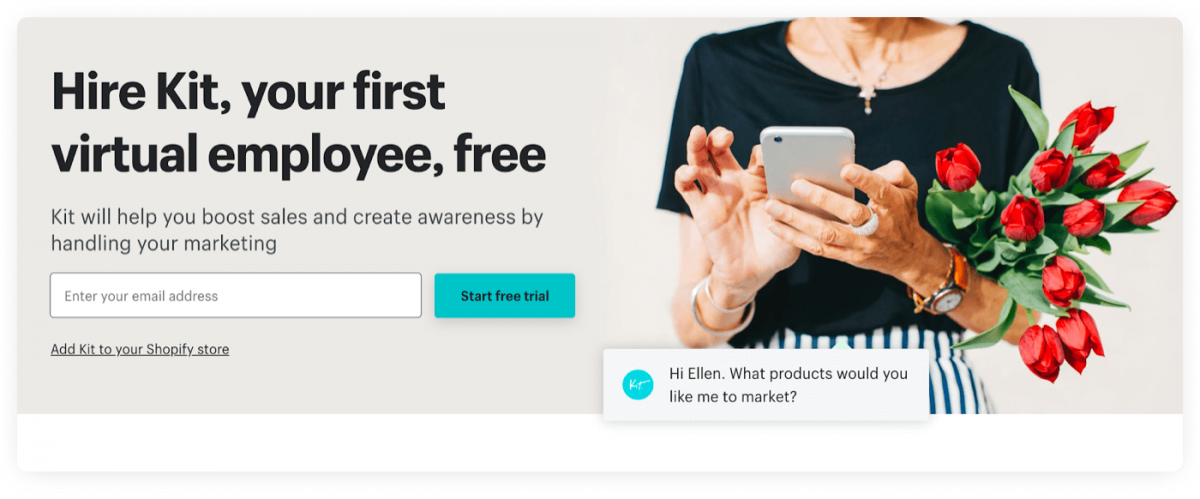 Edit: As of March 15, 2021, Kit is no longer available via Shopify Store. Kit may come pre-installed as part of Shopify Ping.
Kit is your digital marketing assistant that helps with marketing Shopify stores. It can send promotional emails, create and publish social media ads, and write social media posts.
A very cool thing is marketing recommendations. Kit keeps track of analytics and generates expert advice such as running a retargeting campaign for new subscribers. And it's free. Yep, it appears on our best Shopify apps list for a reason.
Key Features:
Creation and publication of Facebook and Instagram ads
Email marketing campaigns
Personalized expert marketing recommendations
Pricing:
Free. Pay only for Facebook ads.
Best Shopify Shipping Apps
Shipping is an essential part of an online shopping experience that impacts sales. Studies show that 79% of customers are more likely to buy if offered free shipping.
Choosing the best shipping app for Shopify means to have fast delivery, display accurate shipping rates and manage shopping-related promotions with ease.
26. Aftership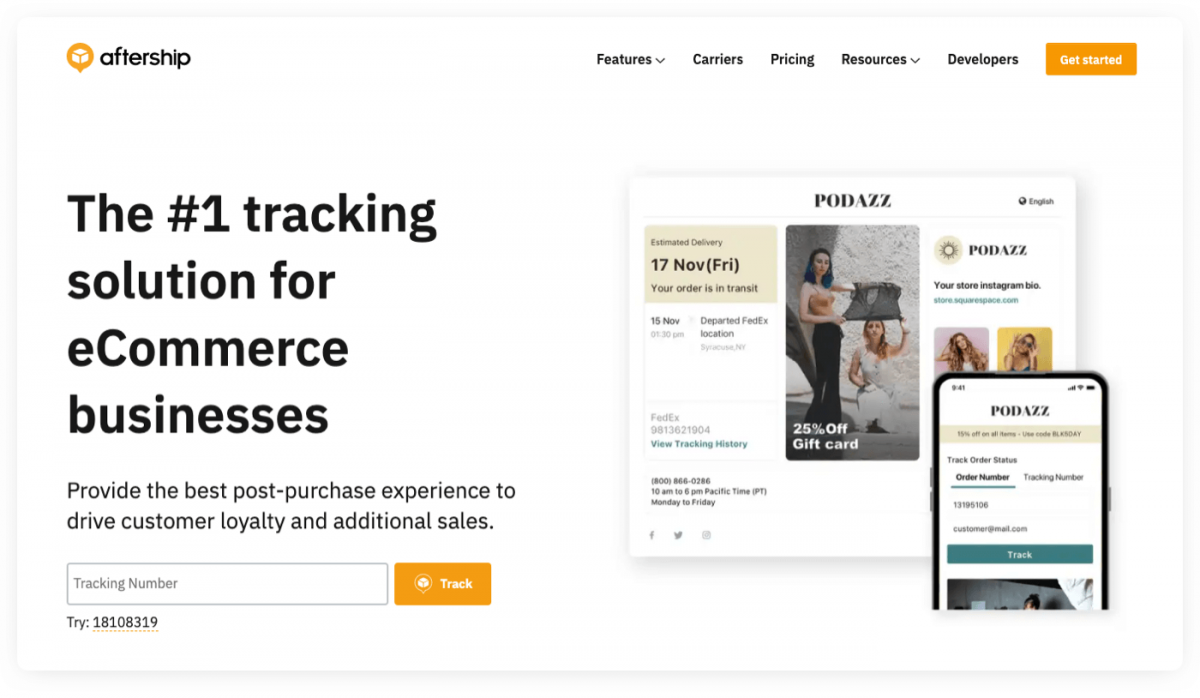 Aftership has a well-managed list of 750+ quality suppliers from all around the world. You'll be able to track all shipments in one dashboard and generate all documents automatically. Having all data in one place makes shipment management easier.
Even the free version comes with a dashboard where you can track 50 shipments. So, if you're looking for the best Shopify shipping app with the basics for free, Aftership might be the one.
Key Features:
Branded tracking pages for custom customer experience (available in multiple languages)
Dashboard with all information and statuses of shipments
Email and SMS notifications for customers
Pricing:
Free. Access to all carriers + 50 shipments per month
Essentials—$9/month. Email and SMS notifications, shipment analytics + 100 shipments per month (each extra one costs $0.08)
Pro—$199/month. Best for mid-sized companies: the plan has dynamically updated tracking pages in multiple languages + 5,000 monthly shipments.
27. Easyship—All-In-One Shipping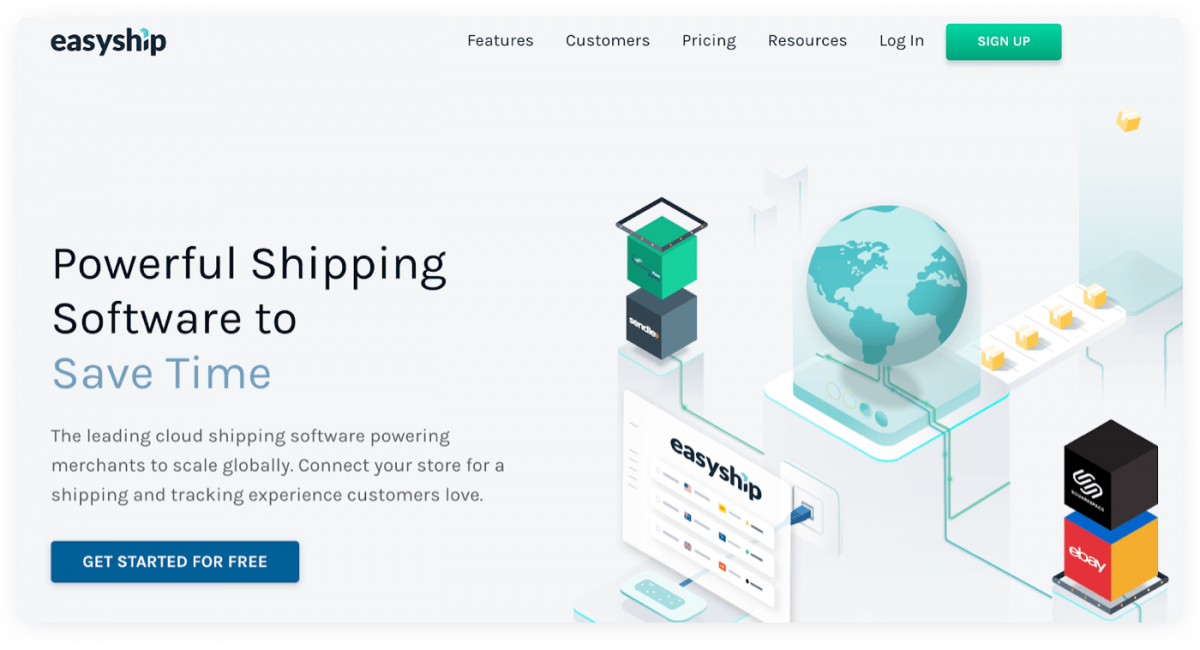 Easyship offers 250+ shipping options for Shopify merchants from all over the world. If this selection isn't enough, the company offers custom delivery solutions for every country. So you'll definitely find a shipping service for your Shopify store.
Another reason why we think Easyship is one of the best Shopify apps is its ease of use. Connecting your store to the app is done within minutes. All you have to do is sync the orders and generate pre-filled shipping labels.
Key Features:
Access to 250+ shipping providers from all over the world
Accurate shipping costs with delivery and tax
Automatically generate shipping documents
Download invoices, receipts, transactional statements, and other financial documents
Pricing:
Free to install. Users pay rates depending on the delivery destination and shipping provider charges.
28. Trackr Order Tracking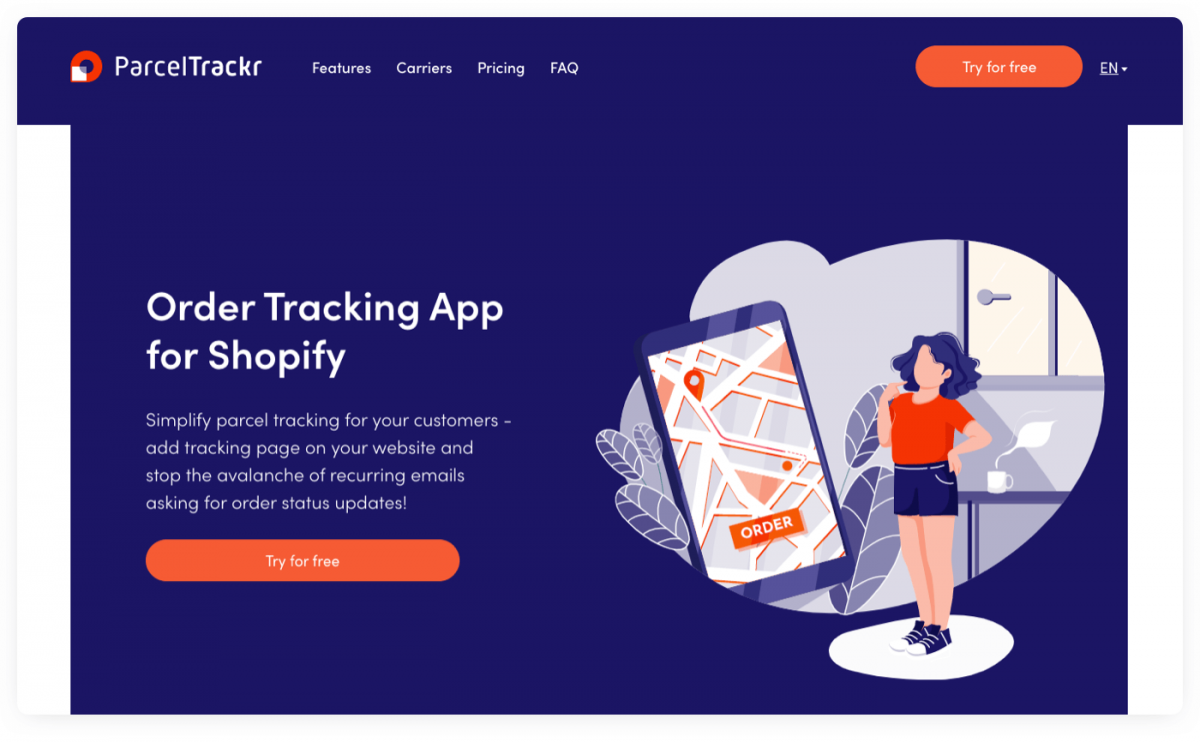 Trackr gives you access to 900+ couriers—the most among the Shopify shipping apps. Simply choose a carrier and start selling—Trackr will give you a branded tracking page where customers could get updates.
The best part: Trackr updates the data on order delivery in real-time—something your customers will love. Which is another reason why it made our list of the best Shopify apps.
Key Features:
Database of 900+ couriers
Custom shipping tracking pages for Shopify stores
Real-time order shipping updates
Automatic translation into Spanish and French
Pricing:
Monthly subscription—$9. Email notifications + 200 free trackings
Annual subscription—$4/month. Email notifications + 2,800 tracking requests.
Best Shopify Plugins & Apps in 2021: Summary
No need to search for the best Shopify apps to find your new "business partners." Check the reviews, read about the experiences of fellow entrepreneurs, and make a choice.
Here's your complete list of the best Shopify to grow your business:
Oberlo
Printful
Spocket (US & EU Dropshipping)
Loox Photo Reviews
Stamped.io Product Reviews UGC
Yotpo
Growave
Plugin in SEO
AVADA SEO Image Optimizer free
SEO Optimizer: All‑in‑one SEO
Referral Candy
Smile.io
Rise: Gift Cards & Loyalty
Tidio Live Chat
Reamaze Live Chat & Helpdesk
LiveChat with Helpdesk
Bold Upsell
ReConvert Upsell & Cross Sell
Upsell Recommendations by Innonic
Tidio Email Marketing
Omnisend: Email Marketing
Klaviyo: Email Marketing
Tidio Chatbots
Sumo
Kit
Aftership
Easyship—All in one Shipping
Tracktor Order Tracking