Tips & Tutorials
11 Best Shopify Apps to Boost Your Sales in 2020
There are thousands of Shopify apps and all of them have one goal: to help you with your online business. We hand-picked 11 apps for you to try in 2020.
The Shopify App Store features over 3400 apps. Which ones are the best for your eCommerce store? With so many options out there, it can be challenging to choose the right ones, especially when you're just starting. It's worth to take some effort on this, because thanks to the right apps, promoting your store and boosting your sales will become a lot easier.
That's why we've done some research on the best Shopify apps to boost your sales in 2020, and we're sharing that list with you!
Let's roll!
1. Tidio Live Chat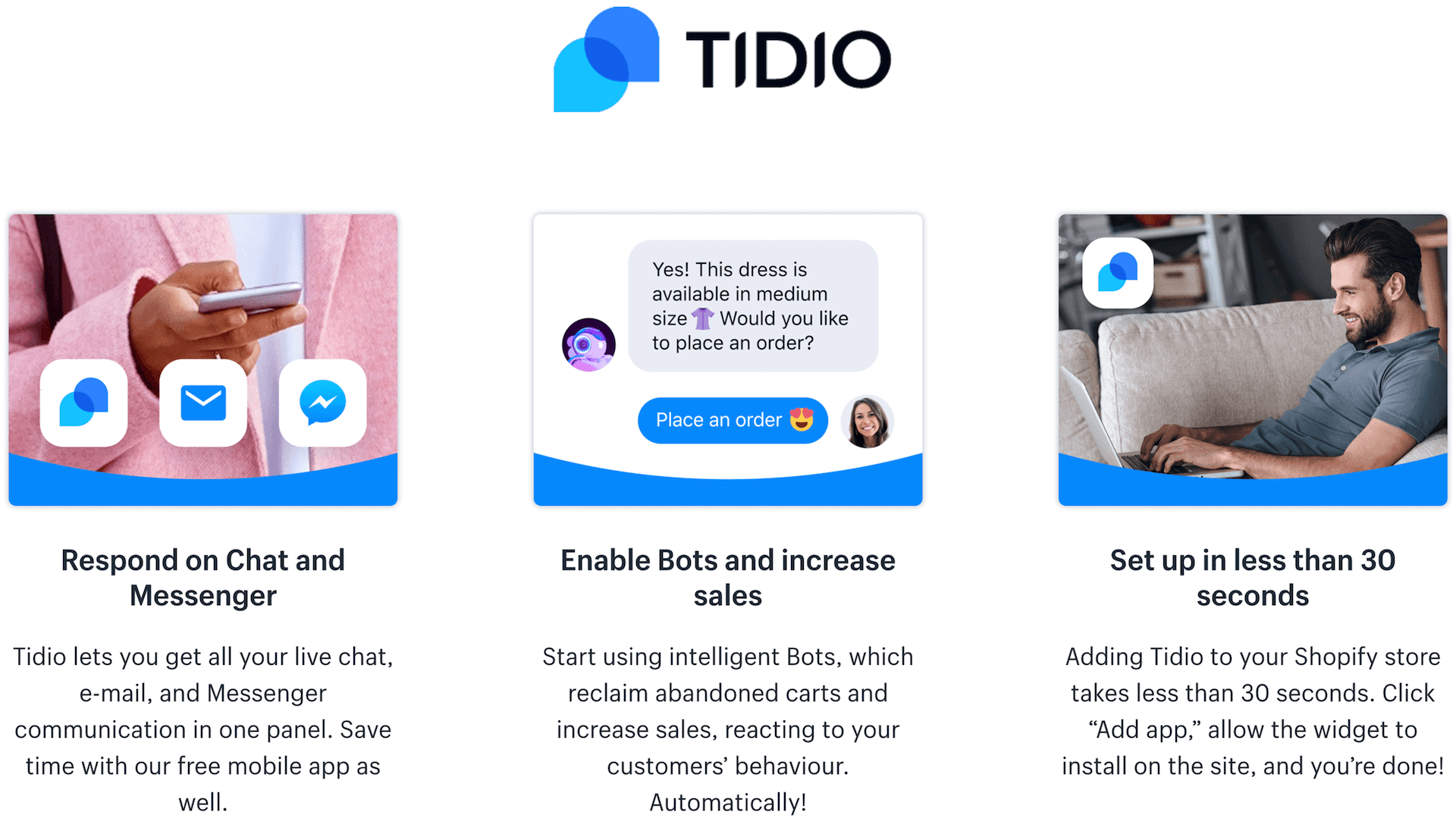 Tidio Live Chat is one of the best Shopify apps in the "customer support" category, and it has got an excellent scoring 4.8/5 with 848 customers reviews:
Why is it worth to try out (if you still haven't done that)?
Because your customers don't want to wait, and they demand instant responses. As much as 80% of customers see speed and efficiency as a critical customer service factor.
Install Free Live Chat App
And with the help of our chatbots, you can boost your conversion rate by up to 25%.
We've got all the features to skyrocket your Shopify sales:
Communicate with your customers easily – Tidio blends live chat, e-mail, and Messenger within a single platform.
React to your customers behavior – use chatbots to engage your customers with greeting messages or discount coupons.
Recover abandoned carts – chatbots are one of the best cart abandonment solutions, and they work automatically.
Stay in touch wherever you are – with our mobile app, you're always there for your customers.
Set-up in less than 30 seconds – simply add live chat and chatbots to your Shopify store with a few clicks, no coding skills required.
If you'd like to try it, here's a guide on how to set it up in your Shopify store with a few clicks.
Our app offers a forever free plan with a possibility to expand to a premium account (starting at $15/month).
Where to get it?
Shopify Store
2. Omnisend: Email Marketing
If you're running an online business, you probably know that a day has got only 24 hours, and sometimes you just can't carry out all the planned tasks, no matter how hard you try.
That's why you have to automate as many tasks as possible, and marketing is one of them.
Omnisend: Email marketing is one of the best Shopify apps in the category of email marketing automation. With its help, you can easily:
Target your campaigns – send highly targeted campaigns based on customer data, campaign engagement, and shopping behavior.
Grow your subscriber list with various sign-up forms – sign-up boxes, pop-ups, Wheel of Fortune, and landing pages.
Quick set-up – make your campaign ready in a few minutes, thanks to single-click Shopify integration and ready-to-go email templates, no coding required.
Integrate with other apps – multiple channels integrated within a single platform: Facebook Messenger, WhatsApp, Google Retargeting Ads, Facebook custom audiences, SMS messaging, web push notifications, and more.
24/7 Support – get support whenever you need it.
Omnisend allows using all of its features with a free 14-days trial. After that, you can decide whether you want to use a forever free plan or move to a paid account to keep all of the advanced features (pricing starts at $16/month).
Where to get it?
Shopify Store
3. Urgency, Social Proof & Timers (by Fera.ai)

Nothing works better to push a customer towards conversion than creating a fear of missing out on a great deal.
Urgency, Social Proof & Timers is an easy-to-use, real-time personalisation and conversion optimisation app for Shopify users. With this app, you can:
Create urgency to buy – push your visitors towards conversion with countdown timers, low stock warning, and recent shopper activity.
Use promo bars to draw attention – display specials, sales, promotions, free shipping as a banner with a countdown timer.
Display social proof – show Recent Buyers and Add To Carts modules to make your products more reliable.
Customize – fully customizable design, templates, CSS, advanced customization and integration with API.
Urgency, Social Proof & Timers is free to install and use for 12 months (for stores under $10,000 monthly revenue).
Premium plans with various advanced features start from $9/month (stores up to $5,000 revenue/month), and the pricing goes up to $99/month (up to $200,000 monthly revenue). The company offers custom pricing for stores with monthly revenues above $200,000.
Where to get it?
Shopify Store
4. Loox ‑ Photo Reviews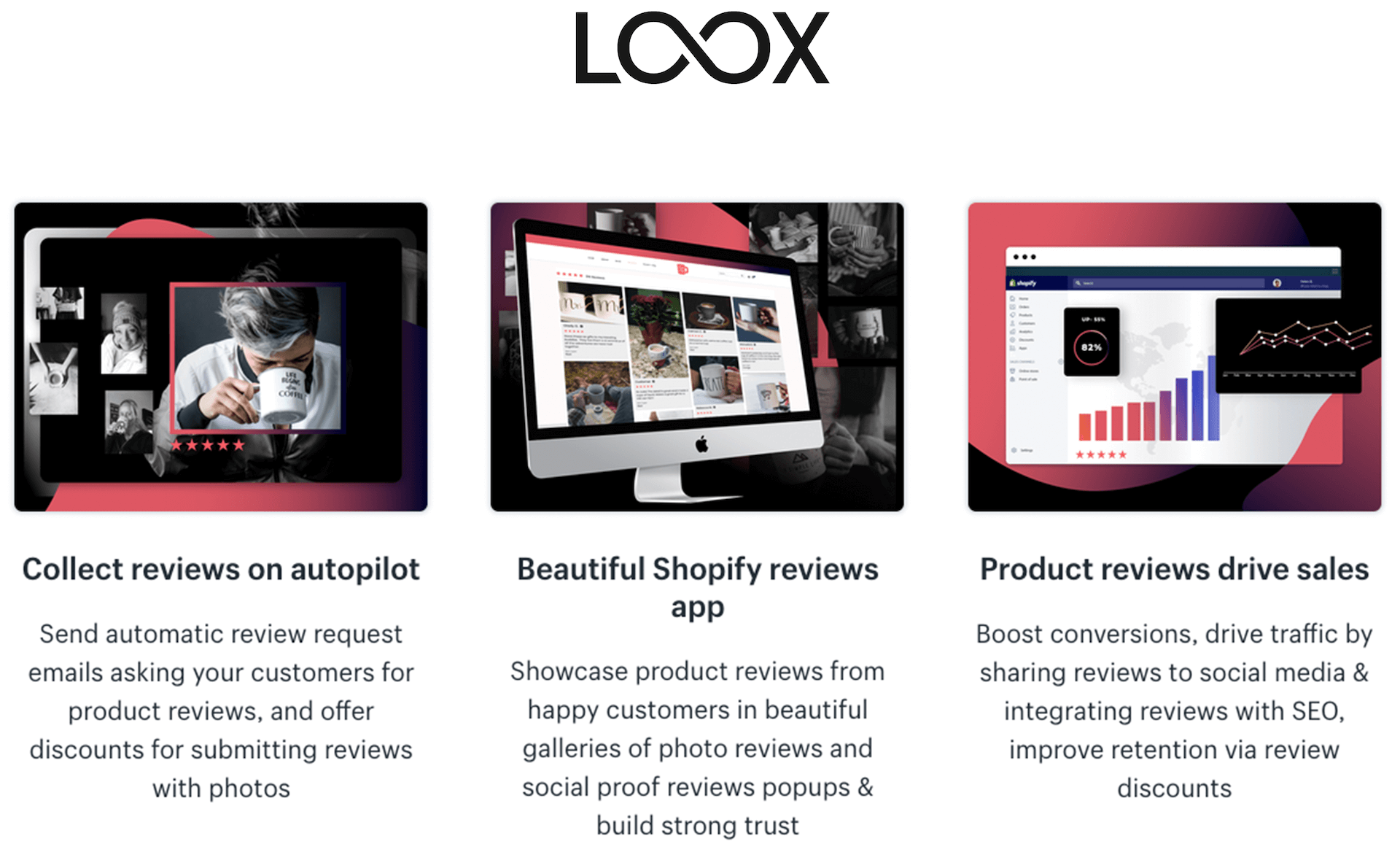 Would you ever buy from someone you don't know (or worse – that you don't trust)?
Probably not, and this is how most of the customers think as well.
That's why you should make sure to build social proof, and the easiest way to do it is by getting customers' reviews.
Loox ‑ Photo Reviews is a photo reviews app that allows you to collect tons of visual reviews from customers and create elegant online stores shoppers can trust:
Collect reviews on autopilot – ask your customers for reviews with automatic review requests, and offer discounts for submitting reviews with photos.
Display reviews on any page – convert visitors into buyers with review galleries that are showcased to your customers.
Happy Customers Page – create a dedicated reviews page to display all of your store's reviews.
Homepage Carousel – display selected reviews in a carousel widget anywhere on your homepage.
Loox.io offers a free 14-day trial. After that, you can upgrade to premium, and the pricing starts at $9.99 (it depends on the number of monthly review requests send to customers).
Where to get it?
Shopify Store
5. PushOwl Web Push Notifications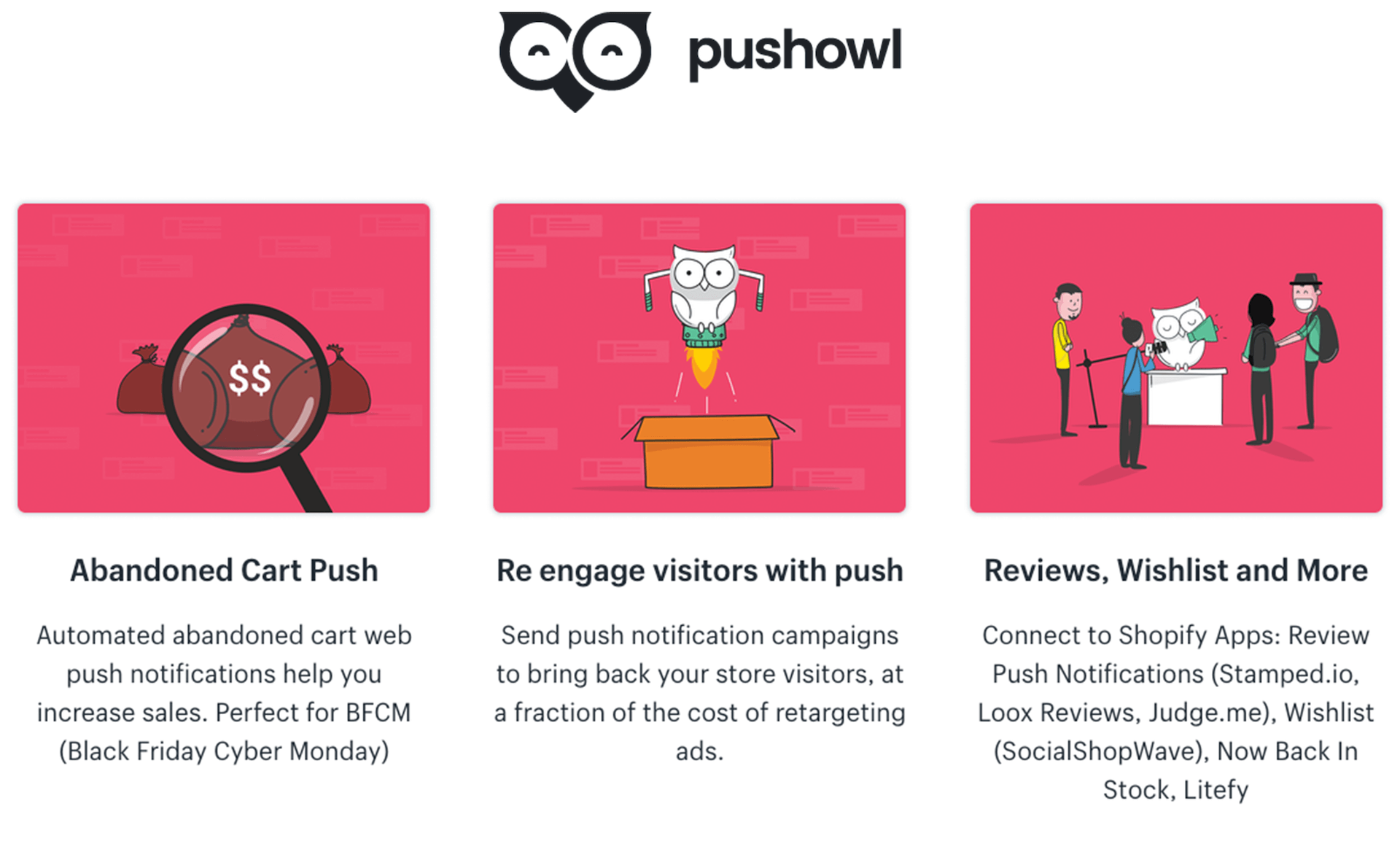 Why sending push notifications to your customers is a great idea for boosting traffic?
Because they don't require the visitor to provide any personal details to become a subscriber. And these notifications show up straight on your subscriber's desktop/mobile device, even if the browser is closed.
PushOwl helps Shopify stores send push notifications to re-engage their visitors and drive sales:
Recover abandoned carts – deal with one of the biggest problems of eCommerce owners with a sequence of 3 automated push notifications to recover your orders (pssst, our Tidio Chatbots can recover abandoned carts as well – check out how).
Automate your marketing and sales – engage your customers with automated push notifications and features like Price Drop Push, Back In Stock Push and Shipping Push Notifications.
Integrate with the best Shopify apps from other categories – Review Push Notifications (Stamped.io, Loox Reviews, Judge.me), Wishlist (SocialShopWave), Now Back In Stock, Litefy.
Set up in a few minutes – no coding required.
PushOwl starts with a free basic plan (up to 500 impressions). If you're aiming for advanced features (and more impressions), premium plans start at 19$/month per 10,000 impressions.
Where to get it?
Shopify Store
6. Quick View (by Secomapp)

We love everything that makes shopping faster & easier, and so do customers!
That's why we included Quick View by Secomapp in this ranking. Thanks to this app, you can:
Show a quick preview of any product – allow your customers to preview the product information and add the item to the cart with one click.
Reduce shopping time – make your customers buy faster with features like One Click To Checkout.
Customise the design of pop-ups and buttons – no HTML/CSS knowledge required.
Add labels – use labels like Promotional Bar, Guarantee, Sales Icon With Total Save percent to boost your conversion further.
Integrate with Google Analytics – track clicks on Quick View button and Add To Cart button.
Quick View pricing starts with a basic free plan. If you're looking for more advanced features, you can upgrade to premium plans between $16.99 and $49.99/month.
Where to get it?
Shopify Store
7. Shop Instagram & UGC (by SocialShopWave)

Have you ever thought about how to convert Instagram surfers into real customers?
Shop Instagram & UGC app may be the answer.
With this simple app, you can:
Showcase Instagram galleries anywhere in the shop – let your visitors buy items from liked images.
Tag your products on Instagram photos – customers can click on a tagged item on Instagram to get redirected to your store.
Set up flexible galleries by combining @usernames and #hashtags.
Choose your favourite gallery design (4 layouts are available).
Shop Instagram & UGC is free to use with 1 gallery, and up to 5 products tagged. Premium plans prices range from $9 to $49 per month – they're perfect if you'd like to set up more galleries within your store, and/or tag more products.
Where to get it?
Shopify Store
8. Gift Cards, Loyalty & Rewards (by GiftWizard)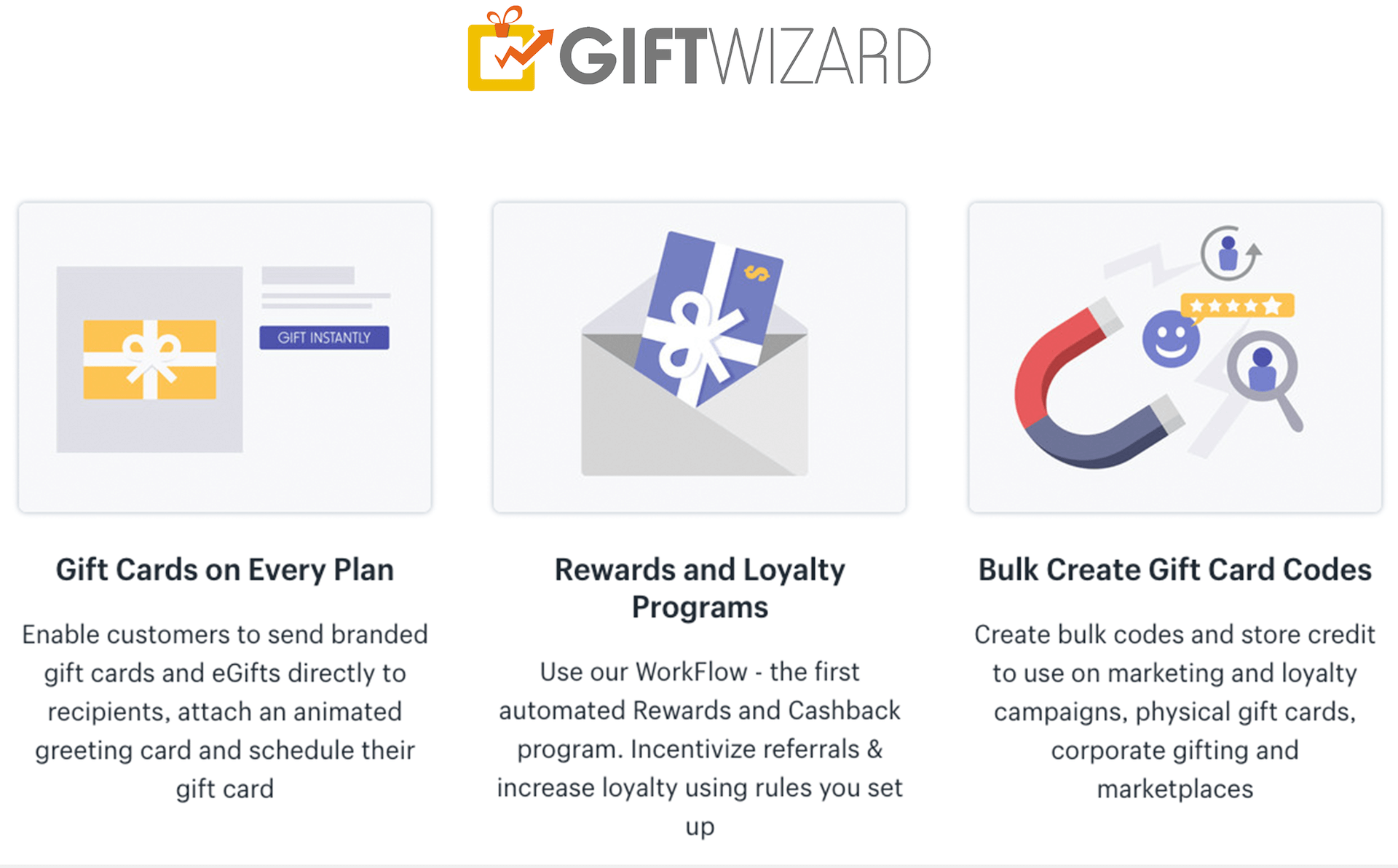 We love receiving gifts, especially when they're free…

Gift Cards, Loyalty & Rewards app by GiftWizard provides your online store with everything you need to manage the distribution of gift and loyalty cards:
Allow customers to send gift cards directly to recipients – gift cards include greeting cards to enhance the gift recipient's experience and provide user data.
Cashback and loyalty program – generate gift cards/store credit based on specific rules (cart value, customer tags, the specific product sold, and many more).
Manage easily with a single dashboard – GiftWizard comes with a management dashboard to give you complete control over active store credit. See the full list of gift card codes with the information on the time of usage, products bought, etc.
Check Balance – set up a check balance page where customers can check their remaining credit/gift card balance. Clients are also able to view their store credit on their account page where they can manage it.
Gift Cards, Loyalty & Rewards app offers a 7-day free trial, after that, you can upgrade to premium starting at $19, with plans up to $499/month.
Where to get it?
Shopify Store
9. Metrilo Growth Platform

How to grow your ecommerce brand without spending a fortune on ads? With data and selling more to your existing customers. This is where Metrilo can help.
Metrilo combines analytics, customer database and integrated email to help you optimize your marketing, drive relevant engagement and repeat sales.
The analytics show your marketing performance in real time so you can optimize marketing channels and spend, conversion funnels, product offers, and more. All reports are pre-set, ready to give you insights as soon as you plug Metrilo to your store.
The customer database gives you a full view of the customer journey and experience, opening new opportunities for increasing revenue. It measures you efforts on customer retention and repeat purchases, and lets you identify very specific customer segments to target.
The integrated email uses all aggregated data for highly tailored and timely campaigns. Automation enables you to create unique customer journeys based on behavior. The focus on driving repeat sales is very suitable for eCommerce brands with niche products, smaller markets and a general lack of acquisition budget.
Metrilo's users love it for:
5-minute seamless integration with Shopify
Accessibility of historical data
Automatic event tracking and ready-to-read reports
Unlimited team members, list size and emails
To see the power of your data for growth, Metrilo offers a 14-day free trial. Plans afterward start at $119, depending on the feature package chosen.
Why dropshipping is a great idea whether you're a new entrepreneur or have an existing eCommerce store.
Because you don't need to hold inventory in order to sell online. On top of that, all Spocket suppliers are carefully vetted to ensure fast shipping, consistency and quality products.
Where to get it?
Shopify Store
10. Risk-Free Selling by Spocket

Spocket helps you start selling or increase your SKUs risk-free.
Offer branded invoicing – have your custom invoice attached to every order that is sent so your brand stays on point.
24/7 support – Spocket offers world-class support for whatever you may need help with.
Trusted suppliers – no one wants to work hard to make a sale only to be let down by the supplier. Spocket's marketplace is for the best.
Fast shipping – select local suppliers so your customers can receive their orders fast. No more waiting for weeks and months.
Spocket has a free 7-day trial with each plan. Choose from the Starter $12/mo, Pro $49/mo or Empire $99/mo plans depending on what you need.
Where to get it?
Shopify Store
11. WisePops Popups
Popups can convert up to 20% of your visitors into subscribers. They also help collect feedback, reduce cart abandonment or even, upsell your visitors.
But to achieve it all, you need a reliable platform to launch, manage and optimize popups your visitors will love.
WisePops is a Shopify pop up plugin that helps you share targeted messages that will help you grow your Shopify store. With WisePops, you can:
Create beautiful popups – no designer required, it takes just a few clicks.
Sync your leads automatically – send your email leads to your ESP or to your Shopify directly.
Create contextual messages – display popups based on your visitors' behavior (add to cart, cart value, etc.)
Test and learn – create A/B tests in two clicks. Activate Google Analytics integration to get even more insights.
WisePops offers a 14-day free trial after which you can upgrade to one of their paid plans, starting at $49/month
Where to get it?
Shopify Store
And that's it!
We hope that our list of the best Shopify apps for 2019 will help you grow your business and sales like never before!
Good luck!
Let's grow your business together!
Try Live Chat For Free