All the other guides will tell you how easy it is to start an online clothing store. And that's actually true, it is rather simple.
But—
They won't tell you that about 8 in 10 online stores fail.
Ouch.
Not to worry. In this guide, we'll show you:
How to open an online clothing store that's better than 9 out of 10.
What to pay special attention to before starting an online boutique.
Examples of successful online clothing stores to get you inspired.
If you want to open an online clothing store but have no clothes to sell or haven't conducted a competitor analysis yet, have a look at this guide first:
How to Start an Online Clothing Store—Step by Step
In the past, starting your own boutique was quite a hassle.
Times have changed, though.
You can start an online store from the comfort of your own home by following the seven steps we've outlined below.
1. Choose an Online Store Builder
With these two platforms, you can start a boutique from home with no previous experience.
Shopify is mostly chosen by those with limited online store management experience. This clothing website builder takes care of hosting, etc. so you could focus on store management and sales.
Cost: $29 per month for a basic plan
WooCommerce is fast to set up and easy to use. But, you'll need to take care of website maintenance and manually update the plugins and theme. WooCommerce offers more customization options for your clothing store.
Cost: $30+ per month for premium plugins, hosting, and a theme
Now—
About 30 dollars a month may not sound like a fortune. But multiply it by 12 and you could get an Apple Watch.
So, is there a way to start an online clothing store with no money?
Yes! Try WooCommerce.
But remember—
Even though the platform itself, many plugins, and themes are free, you'll still need to pay about $20 for the domain and hosting services. That's life.
2. Pick a Fashion & Clothing Store Theme
How to make your own online clothing store quickly? Use a theme from a store builder. A theme allows you to create a beautiful online boutique in minutes. Choose one, customize it, and apply to your online boutique—you don't need coding skills.
Shopify has a "Clothing & Fashion" category with 58 theme options. Check it out and see which theme catches your eye.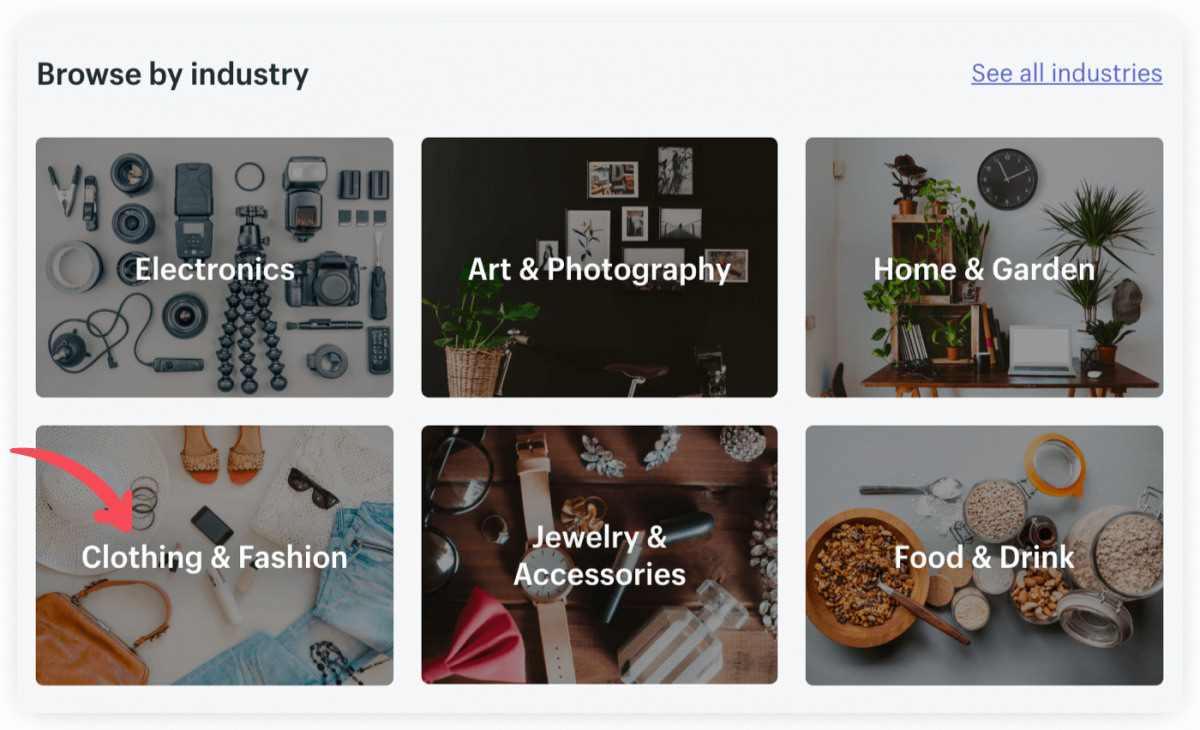 WooCommerce isn't as easy as Shopify when it comes to browsing because the store doesn't have categories. Still, while on the WooCommerce store, you'll notice that many themes have been designed specifically for online boutiques.
How to find such themes?
Look at the descriptions. As easy as this.
Just like the one below, which says the theme is "perfect for fashion and design stores."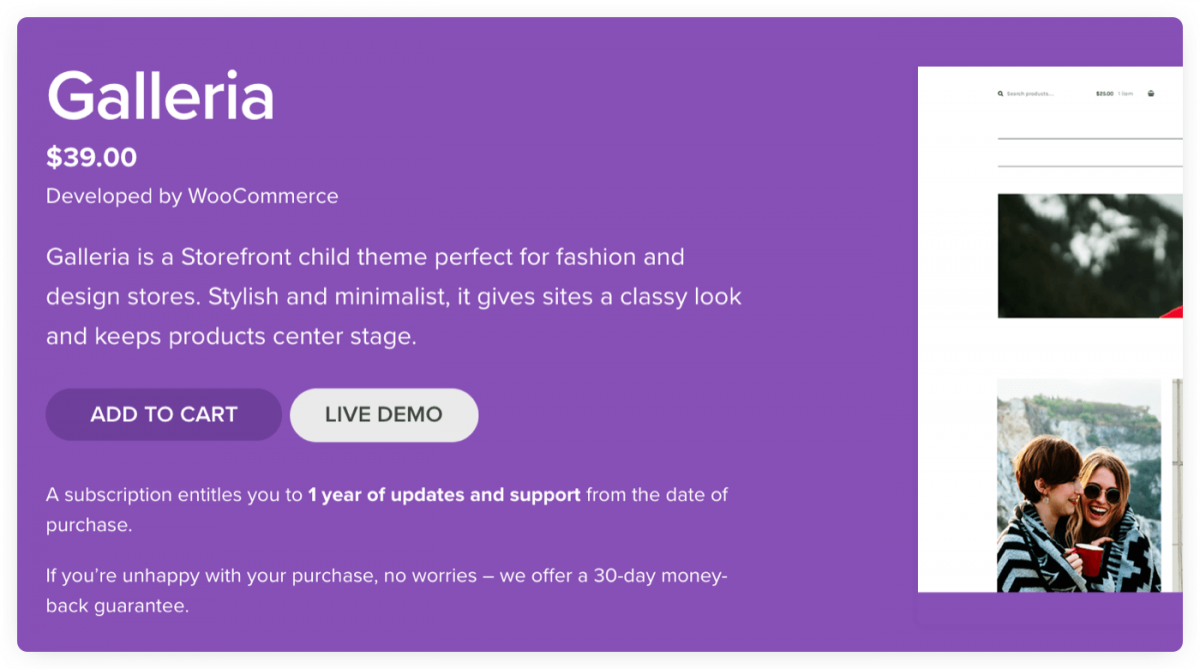 A theme description from the WooCommerce Themes store.
Be careful with choosing a theme—it will determine the look of your fashion store. Always preview the theme before buying/using it to open a clothing boutique.
Remember there are other WooCommerce theme sources (e.g. ThemeForest, etc).
So, if you're looking for more customization options, WordPress might turn out a better choice than Shopify. On the other hand, Shopify trumps WooCommerce in terms of user-friendliness and simplicity to use.
3. Customize the Chosen Theme
Here's the thing—
Once you start customizing your online boutique, you'll quickly notice that the number of things to customize is overwhelming, and it can quickly get out of control.
For your convenience, we've put together a handy checklist to help you focus on the most important things first: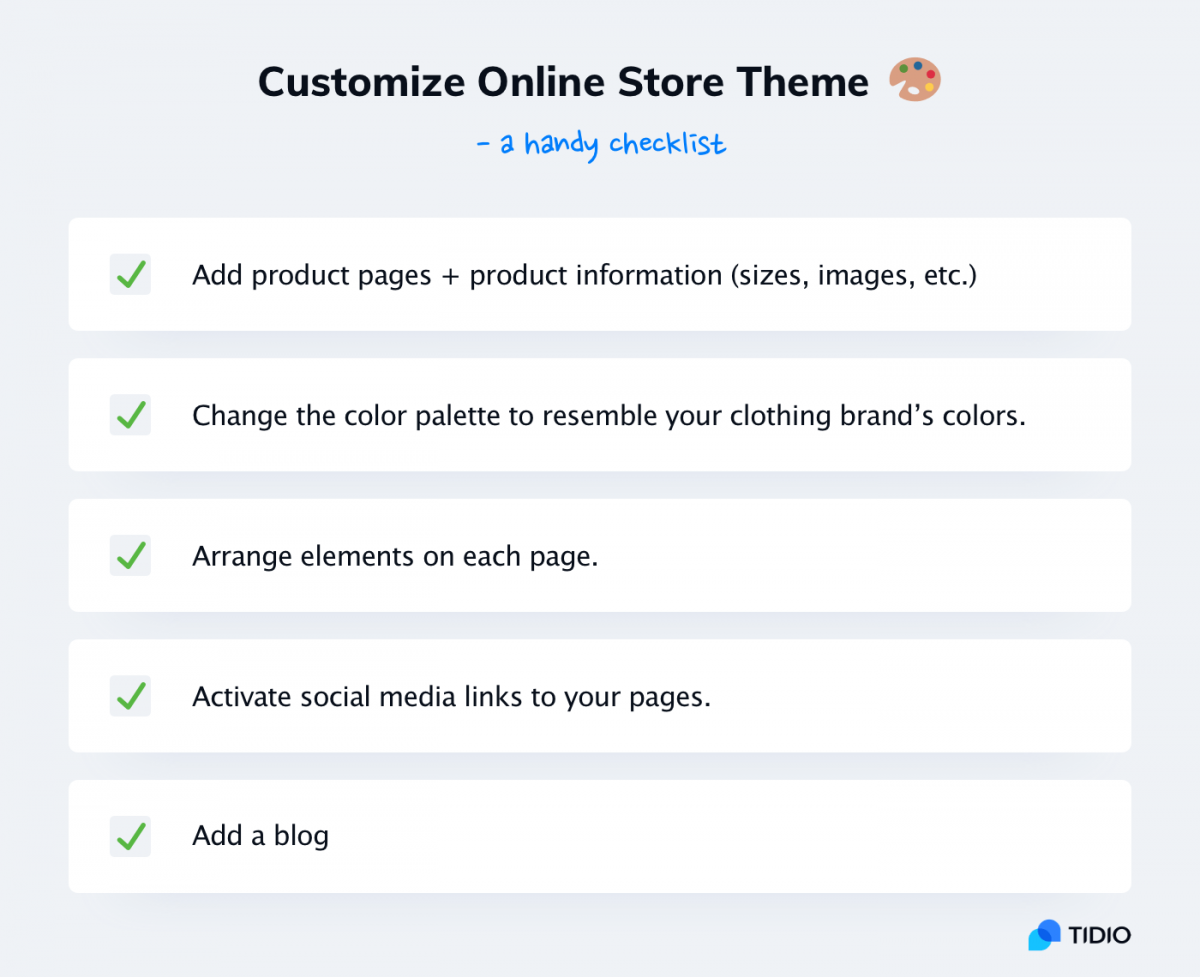 Once you get these in order, you can change the theme to make your fashion store more unique. Play around with page elements and colors to find the look that matches your brand.
4. Set up Payment Gateways
To put it simply, your customers must be able to pay and you must be able to receive these payments.
That's how an online boutique business works, isn't it?
Add your payment details to start accepting card payments.
Shopify has Shopify Payments, a default gateway connected with Stripe. Activate it, add your bank details, and you're all set. This option is best for online clothing businesses based in North America to avoid transaction fees.
WooCommerce has 100+ payment gateways for those starting an online clothing business—PayPal, Authorize.net, Stripe, and its own WooCommerce Payments. Pick one, install in your new clothing store, and add your bank details.
Payment methods, coupons, analytics, customer reviews… See these best WooCommerce plugins that can help with store management. Top free options included.
5. Add Store Policies
Not the sexiest thing to do but a crucial part of starting an online boutique. In fact, one of the most common reasons why online shops fail is the lack of relevant policies.
So, make sure to add these ecommerce store policies to your clothing store:
Shipping policy
Refund policy
Legal notice
Terms of service
You can use policy templates or create them using an online tool, like Shopify's return policy generator. The final versions, however, must be unique and reflect your brand's capabilities.
In other words, never fully rely on auto-generated documents when opening a boutique—one-size-fits-all policies don't exist.
6. Set up Customer Service
Just like not including crucial store policies, the lack of customer support is something that dooms online boutiques to failure.
This is why your new clothing boutique needs:
Customer service information. Provide exact information such as phone numbers, emails, and business hours on your online boutique's About Us page.
Apps to optimize customer service. There are apps for streamlining communication with customers, tracking orders, contact forms, etc.
App ideas?
Consider a live chat when opening a clothing boutique.
It recreates the experience of having a shopping assistant nearby, which in the context of online fashion stores may prove helpful to your customers.
Plus, over 45% of website visitors prefer this way to communicate with businesses.
7. Promote Your Clothing Store
Seth Godin once said:
"Marketing is no longer about the stuff that you make, but about the stories you tell."
So make sure your customers hear your stories through a variety of channels.
Promote your online boutique right from the start with website chatbots, social media posts, blogging, and email marketing.
Website Chatbot
I bet you've seen those big sales posters and shopping assistants welcoming you and showing you the articles of clothing on offer. That's how brick-and-mortar fashion stores promote themselves.
And that's what chatbots can help you within an online boutique.
You can use them to display sales announcements, welcome messages, as well as collect emails, answer FAQs, and encourage buying with discounts.
Can you imagine every new visitor to your online clothing store seeing this message? Some won't resist a discount, for sure.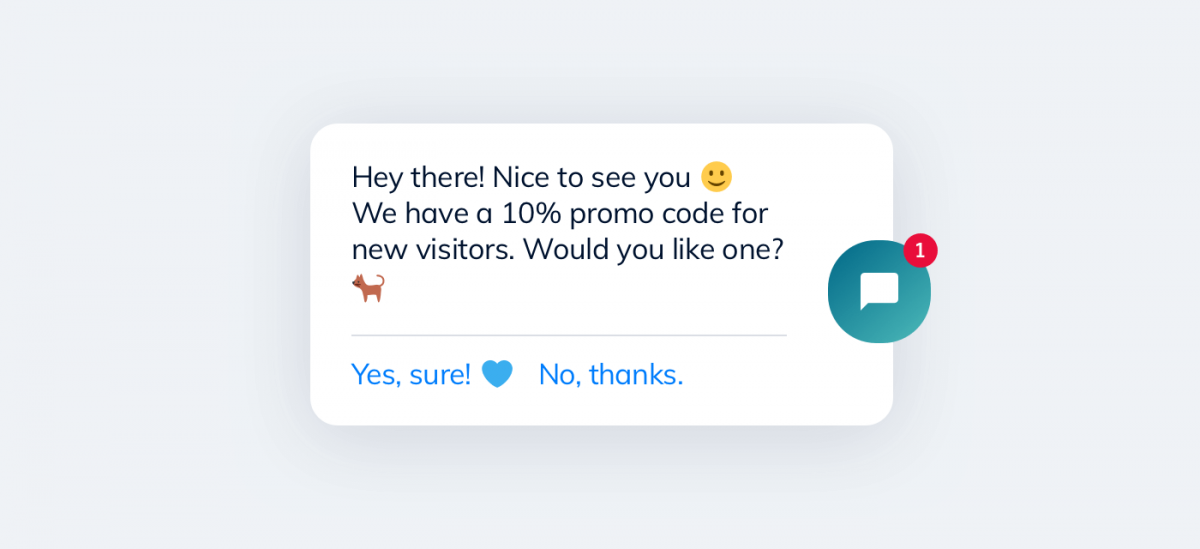 Chatbot statistics say 50% of businesses don't know how to use chatbots.
You do now! And you get a head start that half of your competitors don't get.
If you're wondering how to start a boutique and get ahead quickly, a chatbot could be "the tool."
Social Media
Spreading your offers on social media is a must for online boutiques.
Why?
Because you can specifically target people with particular interests, in a certain age group, or geography to name but a few.
Good news: both Shopify and WooCommerce have social media integrations. Instagram apps in particular are a must for online clothing stores. With them, you can create shoppable Instagram feeds for your account.
Why does this even matter?
Studies show that over 30% of Instagram users bought an item of clothing they saw on Instagram.
By the way, both platforms allow displaying posts on your clothing store website as below.

Blog
After you're done setting up an online boutique, it's time to attract traffic with a blog. A whopping 87% of online shoppers research products online. Attract some of them to your fashion blog by publishing product updates, buying guides, and videos.
Both Shopify and WooCommerce provide blog functionality.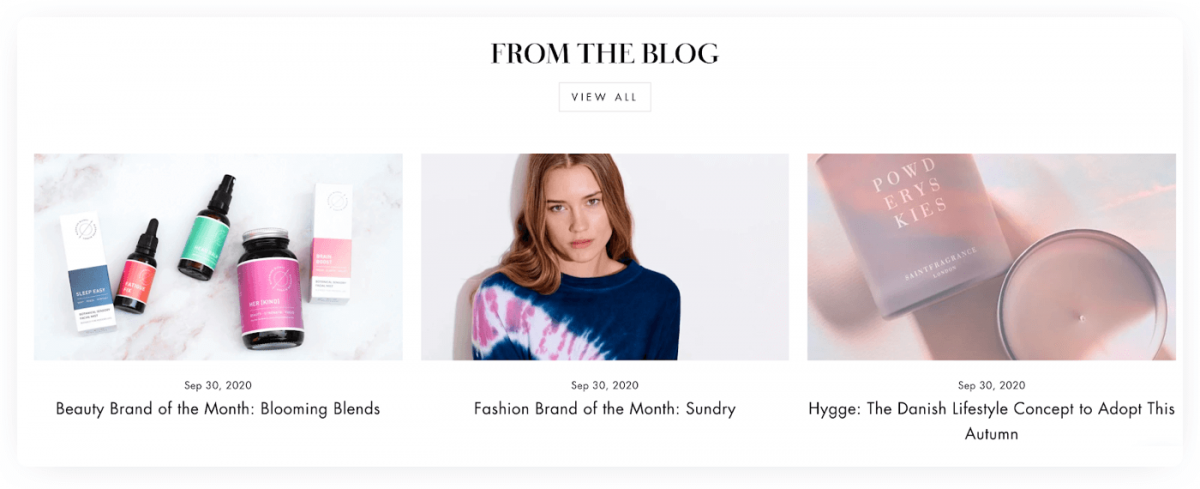 Email Marketing
Opening an online boutique is just the beginning—at a certain point, you will want to actively share offers with your customers.
How to do this most efficiently?
Send emails to your subscribers—share more deals, coupons, and drive traffic to your store. An email below, for example, welcomes a new subscriber with a 15% discount.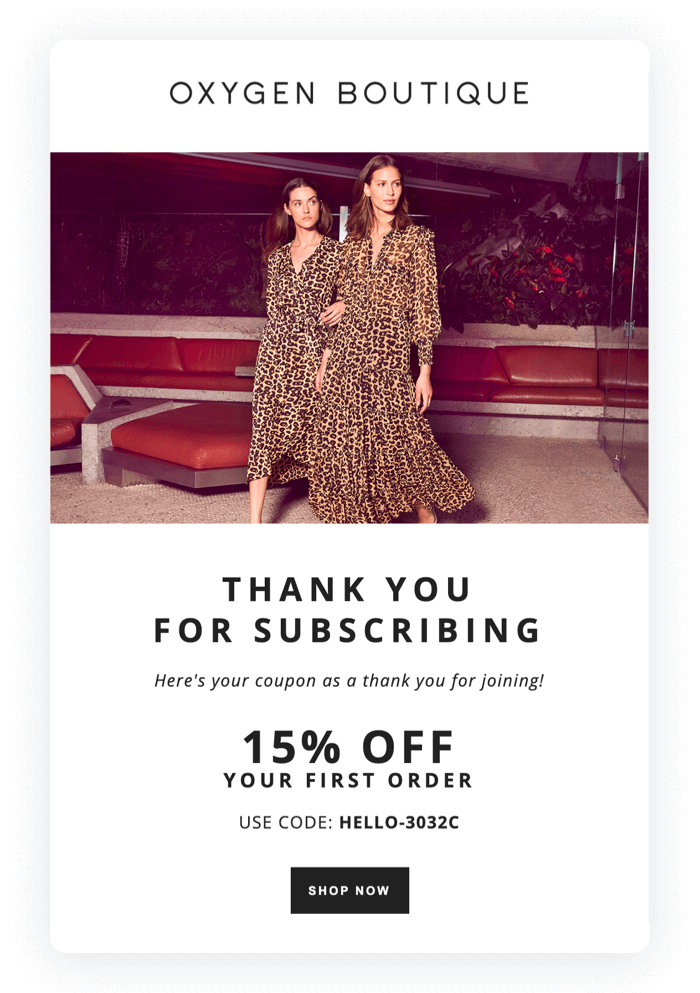 Want your customers to actually read the emails you send them? Make sure you write email subject lines that attract clicks!
Best Online Clothing Stores for Inspiration
People learn best from their own mistakes and from examples. We hope this article will save you from making (too many) of the former.
As to the latter—
We've compiled a list of unique online clothing store examples to inspire you.
Oxygen Boutique is an online fashion store with an elegant design. It's an example of how Shopify helps to present products neatly, which is in line with the brand's style.
Platform: Shopify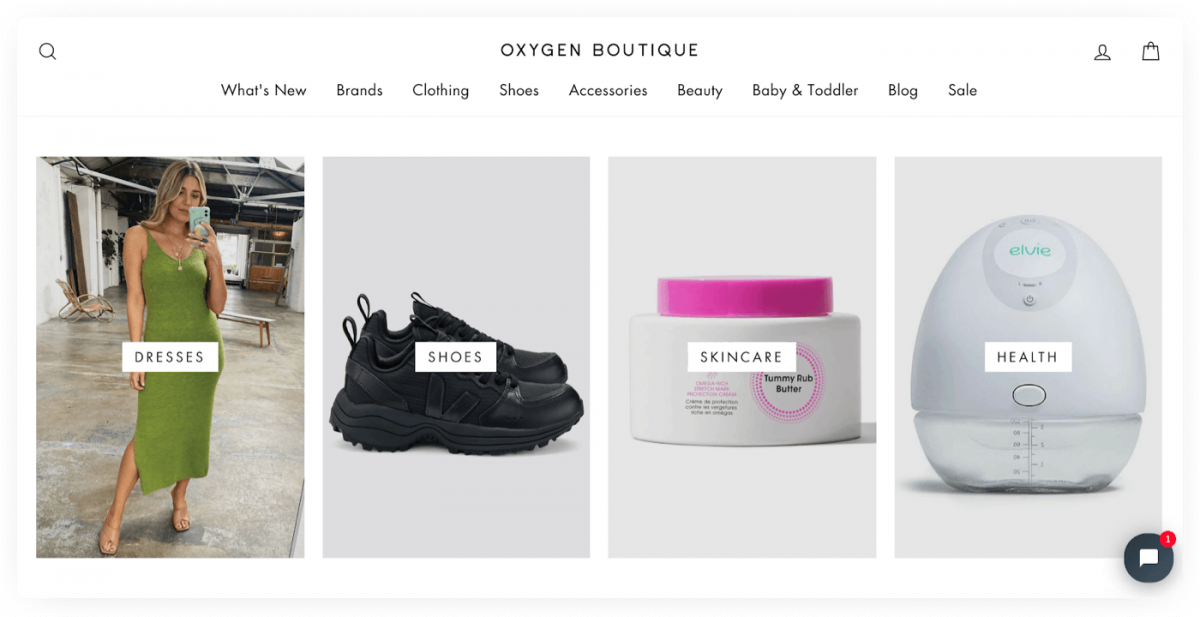 Oxygen Store is a fashion and beauty boutique selling clothes, accessories, and wellness products. It's a good example of a boutique selling numerous product categories.
Note a live chat widget in the bottom right corner. The live chat functionality will help provide fast customer service.
Over is a clothes boutique website that has a "lookbook-like" feel to it. This shows why people choose WordPress to open a clothing store—you get an abundance of original themes for fashion businesses.
Platform: WooCommerce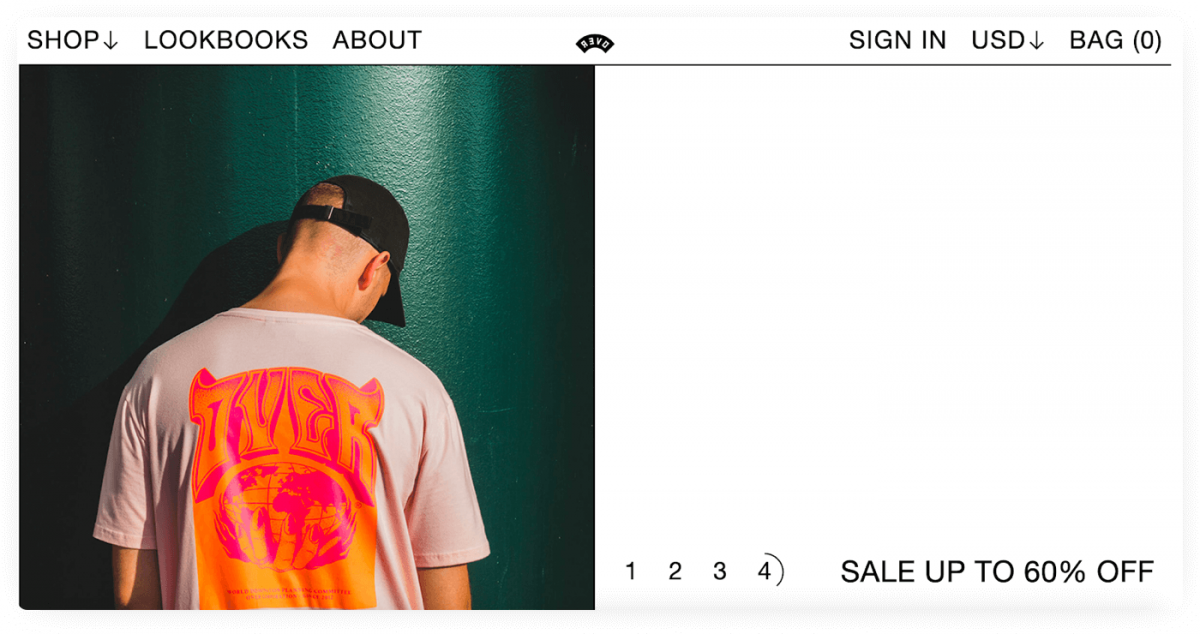 Although this clothing store seems to have a back & white theme, images are brought to life with animations and colors if you hover over them. The overall design is quite unique, youthful, and unconventional, which fits the brand's image.
This fashion store sells handmade shoes with a modern, minimalist flavor. The overall design is clean, with a strong focus on products right from the homepage.
Platform: WooCommerce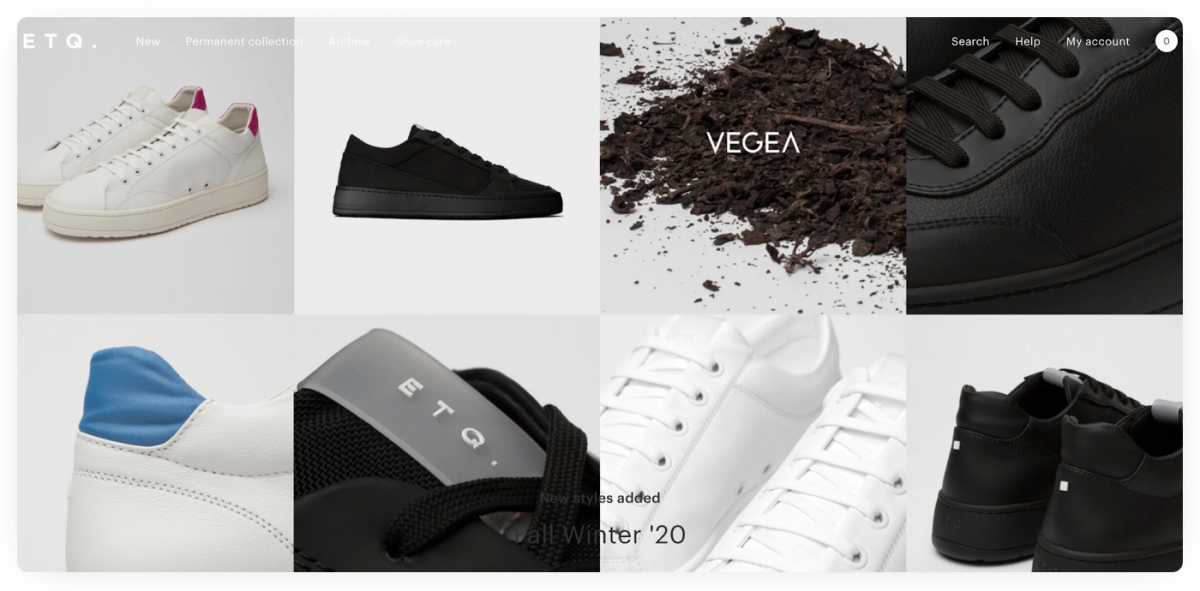 A visitor can quickly go to an exact product thanks to a simple menu. Product pages offer a great shopping experience. You can view shoes from different angles, and see size guides and lots of other info without leaving the page.
A simple yet elegant clothing store, with easy navigation and stunning product images that feel premium.
Platform: Shopify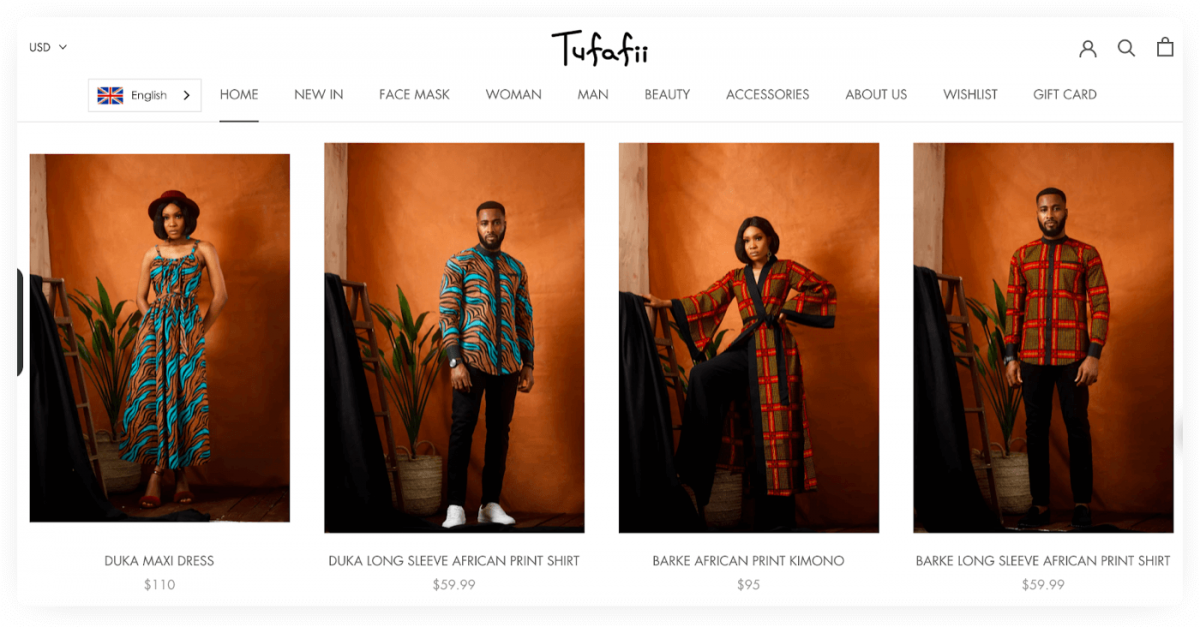 Tufafii is quite a unique online clothing store that offers a modern take on African fashion. Their high-quality product images and simple Shopify navigation help create an unconventional feel for the boutique store and products.
An online boutique whose design is as beautiful as the fashionable luxury sneakers it sells. If you're thinking of starting an online boutique to sell shoes, get inspired by this fashion store.
Platform: Shopify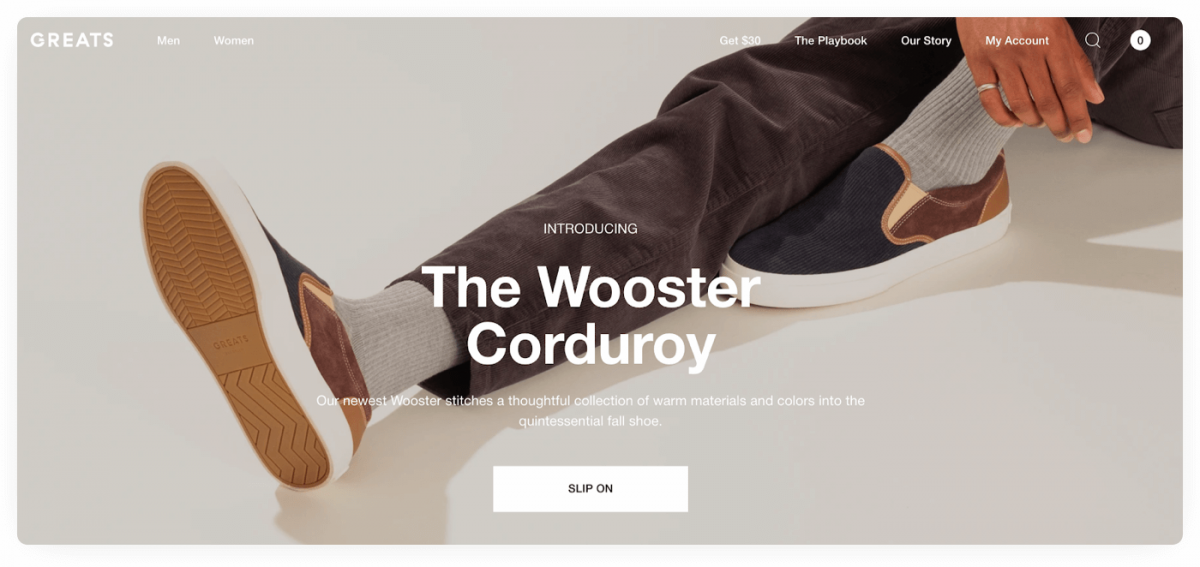 The home page stands out because of a large, high-quality product photo. It's a great idea if you're starting your own online boutique with a limited range and want to highlight the main product.
Product pages also feature stunning photos and size, fit, and other info. The design focuses on simplicity, quality, and a high-end shopping experience.
Key Takeaway
Setting up an online store isn't complicated. But it doesn't mean you can do it hastily and without paying attention to details. Take one step at a time and you'll have a good-looking online shop quickly, even without a major budget.
Here's how to start an online boutique, step by step:
Pick a website builder
Choose a clothing store theme
Customize the chosen theme
Add payment options
Create store policies
Set up customer service
Promote your boutique
No matter if you're looking for tips on how to start a clothing company or a small t-shirt store—these steps will help to get there.