Are you dreaming of running your own business from the comfort of your couch? So do hundreds of thousands of other people… Brace yourself for fierce competition! Other store owners will do all they can to make their business thrive better than yours.
Good news? We'll show you how to start a Shopify store that leaves others in the dust. All this in three simple steps.
There are three stages of success. First, you build grounds for your business. Second, you set up and customize your Shopify store. Third, you work on what you have built. That means getting new customers and taking care of the existing ones.
And this is what we're going to cover in this article. We'll go through each stage and give you some tips on what you should focus on. All this to help you and your store to have a great start and a bright future.
Part 1: How to Start a Successful Shopify Store
Choosing the right platform to sell on is essential. But there are also many other things to consider before you jump into setting up a Shopify store. These will be the fundamentals of your future online business.
In this section, we'll start by briefly covering the basics of starting an eCommerce business. Then, we'll move on to the important elements of the setting-up of a Shopify store.
1. Find a Product to Sell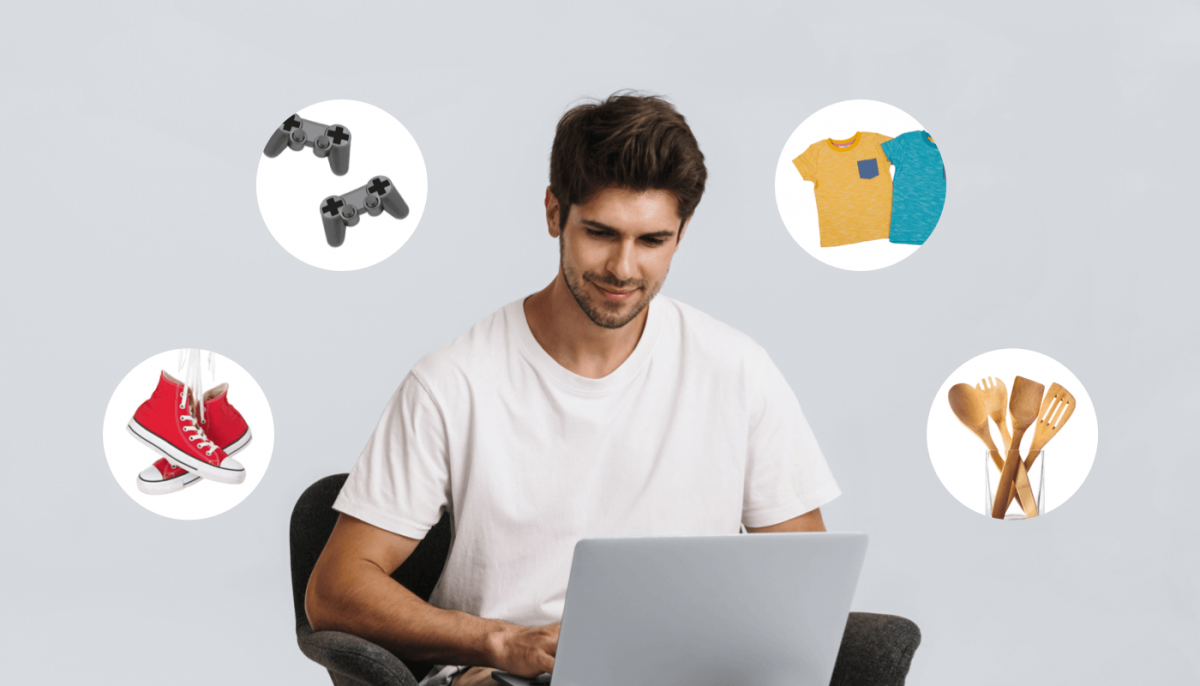 The first step to building an eCommerce business is knowing what products you want to sell. It is often the most challenging part of starting a new Shopify store. You can either:
Come up with a unique and original product
Sell products that are already on the market
Another option would be to choose a product from a niche market. However, do check whether the niche product of your choice is in demand. It might turn out that few companies offer it because there's little interest in it.
Whatever you decide to sell, it has to offer some value to the customer. Your business is supposed to solve some problems for the customers. Or, to make them feel better in some ways.
🚀 Read more: The Best Things to Sell Online [Trending Products]
What to Sell on Shopify?
You can sell all sorts of products and services. For example:
Physical products
Digital products
Services and consultations
Memberships
Ticketed experiences and travels
Classes and lessons
Rentals
According to chatbot statistics, the most popular products sold online are physical products, with the top one being clothing.
2. Specify Your Target Buyers

You will not get many customers if you don't know who your product is for and who those customers are. That's because people have different needs and expectations. So your product must specifically address those buyers who will benefit from your product.
Think about your customers as personas. What are these?
Personas are fictional characters that you create based on your customer behavior research. The goal is to identify different customer types that might use your service, product, site, or brand in a similar way. Personas will help you to understand your customers' needs, expectations, behaviors, and goals.
So do as much research about them as you can. Find out who they are: their main pain points, age, gender, socio-economic status, etc.
Bottom line: Your product and the buyer persona's needs must match perfectly.
3. Decide on How to Source Your Product

When you have a clear idea of what you're going to sell, it's time to think about how you will source it. You have the following options:
Manufacture your goods by yourself.
Find someone else, either domestically or overseas, who can make the products for you.
Buy someone else's products (wholesale).
Partner with a dropshipper. Here, you buy products from another company as orders come in and let them handle labeling, packaging, and shipping.
🚀 Read: Top Shopify Apps
4. Register Your Business and Brand Name

Choose a business name and register your company with the respective legal body in your country. Next, pick your store name. It can be the same as your company name if you want to. Try to come up with something short but catchy.
The name will stick with you for a long time, so don't invent anything at the last minute.
5. Create Logo and Visual Identity

First, learn how to make a logo that will be easy to recognize and remember. You can use free dedicated software to design it yourself (e.g.: FreeLogoDesign) or hire a professional designer (it doesn't need to be full-time. You can hire a freelancer just for a logo project).
Second, think about the colors you want your brand to be associated with. The same goes for fonts and images. The visual identity will help you:
Distinguish your brand from others
Identify with the target audience (e.g., girly pastel colors may not be the best choice if your persona is a middle-aged business person)
The Shopify platform offers a vast collection of free themes, so you are very likely to find the perfect one for your store.
If you get stuck somewhere along the way, try Shopify Business Tools to generate a name for your business, create a logo, and more.
6. Create a Business Plan

A business plan is a roadmap that outlines your business goals. It also specifies how you plan to achieve them. The most crucial aspect of any business is the budget. You need to plan your expected revenue and foreseeable expenses, e.g.:
Staff
Logistics
Sourcing
Marketing
Additional apps (e.g.: Shopify plugins)
To start earning, you will need to invest some money. How much it is going to be will depend on your company size and goals.
Part 2: How to Set Up a Shopify Store
It's about time to get started with setting up your Shopify store. We'll guide you step-by-step through this task so that by the end of this article, your shop will be ready to launch.
How to Set Up a Shopify Store? Things to Remember
The technical setup process is straightforward. You'll find many excellent tutorials or videos showing you how to do it. But the devil is in the details.
Here are some useful tips to help you build a perfect online store.
1. Add Necessary Plugins
Shopify gives you a lot of out-of-the-box. But each eCommerce business is different and has different needs. That's why there's a plugin store with tons of extensions so you can create the online store of your dreams. You won't need all of them, but there are several essential eCommerce plugins you'll need anyway:
Live chat. This app allows you to communicate in real-time with your visitors and customers. Excellent customer service is super-crucial to success, so don't overlook that.
Chatbots. Sometimes they're called virtual assistants. Shopify bots can automate many customer service processes, track your visitors' behavior, collect leads, and many more.
Email marketing. An email automation tool allows you to build, schedule, and launch email marketing campaigns. To keep your store thriving, you need to collect new leads and nurture your existing customers continually.
Now, if you think you need a separate plugin for each of these, you're wrong. How's this possible? Simple. We've made sure that our Tidio plugin caters to all your live chat, and chatbot needs.
Dive deeper:
14 Best Shopify Apps to Get More Customers in 2022
How to Add Live Chat App for Shopify in 5 Minutes
2. Add High-Quality Photos
In online stores, customers cannot physically inspect the products. They cannot try them, touch them, look inside, or anything like that. So they rely heavily on visuals. Quality photos help your customers make a purchase decision. If you happen to have some videos (e.g.: 360°)—even better!


3. Use Descriptive Images Names and Alts
Do you have image files named "IMG_99c01.jpg?" Rename them to something more meaningful before you upload them to your Shopify store. E.g., "Levis-ladies-black-denim-jacket-small."
Secondly, do take some time and add proper "Alt" (alternative) descriptions to the images. The Alt text is one of the many accessibility elements. It describes your photos to people who cannot see them.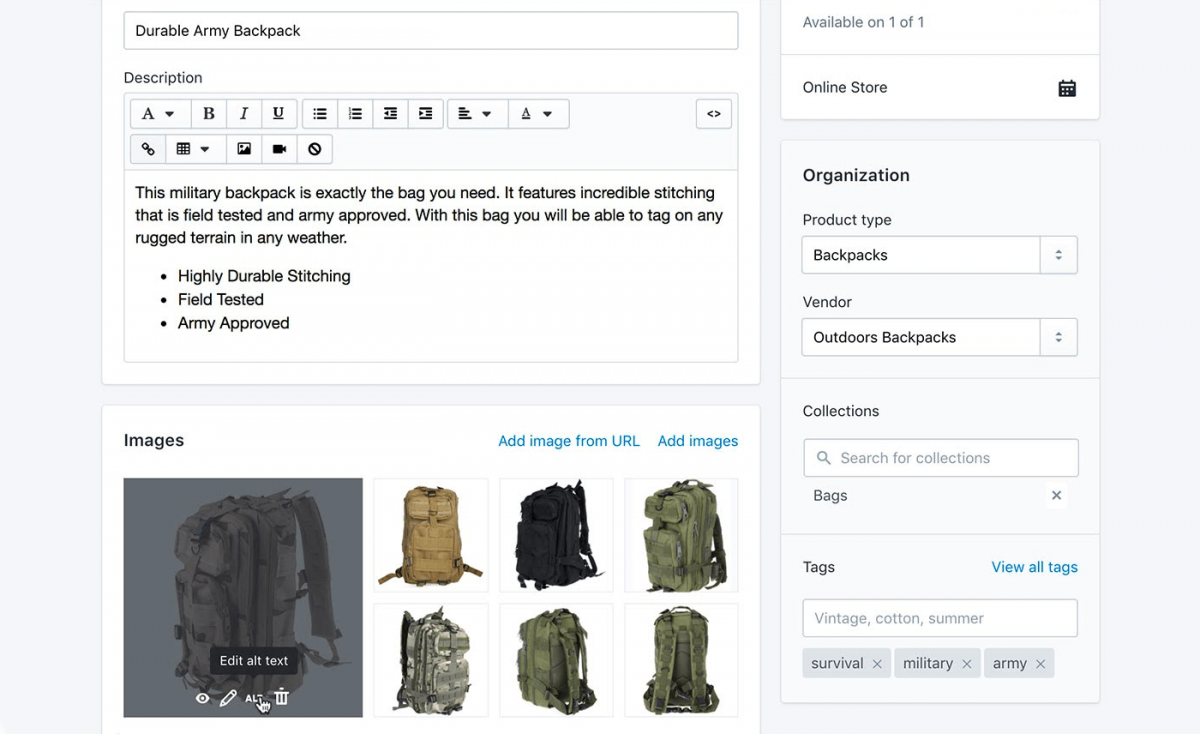 In both cases, you can insert keywords that customers use when they search for a given product. File name and alt description, will improve your SEO and bring in customers via organic traffic.
Tip:
Are you new to SEO? Check those 6 Simple SEO Tips for Small Businesses to Generate More Traffic.
4. Write Good Product Titles and Descriptions
Product pages are where customers read about your products and decide about adding them to their basket or not.
Again, customers cannot touch or try the items you sell. So give them enough information to make them feel confident that this is just the thing they're looking for.
Highlight benefits. Customers look for what you're selling for a reason. Explain what the product is for and how it will help them solve their problem.
Mention extra benefits. Do you offer free shipping? Are your products sustainably sourced? Different things matter to different customers—one additional line of text can make them buy or leave.
Don't skip important details. Do you sell perishable goods? Then add the expiry date; if toys—mention that they're safe and non-toxic. State what the product is made of or where it comes from. Try to anticipate questions that the customer might ask and include it in the description.
The product title should clearly say to the customer what this product is. Keep it short.
Headlines and descriptions are also an excellent opportunity to insert a keyword or a few to attract more organic traffic.
Tip:
You can't possibly fit all the information into a few small paragraphs, so allow your customers to get in touch with you via a live chat. A support agent can answer all the questions on the spot. This will make your customers feel more comfortable and convinced to buy from you.
5. Pick a Theme
Visit a Shopify Theme Store to choose the perfect design. There are different designs for different businesses.
One-page designs for stores with services or offering a small line of products
Themes for stores offering multiple categories of products
Each theme consists of several sections that you can add, remove, or hide. You can also change their order, customize the colors, and fonts.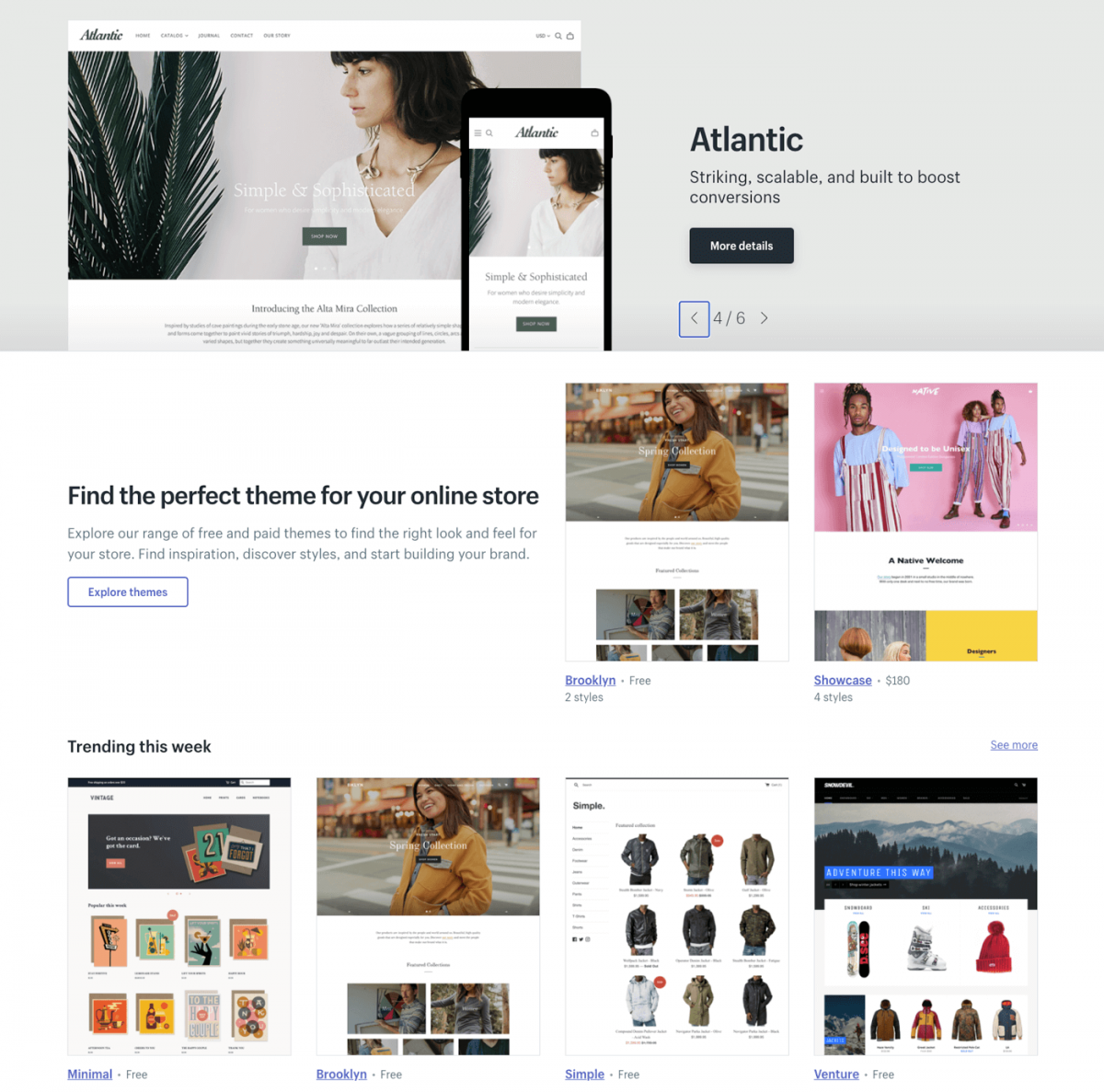 As you can see, Shopify is very flexible. It gives you the tools, and it's up to you how you will use them to build an outstanding and original store.
6. Add a Custom Domain
A custom domain is a fully branded URL that replaces the default URL. You can buy the "store.com" domain to replace "store.myshopify.com."
If you already have a domain, you can transfer and connect it with Shopify. It's an extra cost, but it will make your store look more professional.
7. Set Up Payments
We highly recommend using Shopify Payments. This option allows your customers to pay via various forms of payment, such as:
Credit cards
Google Pay
Shopify Pay
To sign up for Shopify Payments, you will need to provide your business and personal details, product information, and bank account number.


You can also add the PayPal payment method. It's a good alternative for customers who cannot pay with your local currency.
7. Customize the Checkout
Generally speaking, people hate setting up accounts. They can't be sure if they will ever return to your site. Or they will have to go through the password recovery process when they come back after a long while.
As someone who is just starting an online store, you may want to make life easier for everyone and set customer accounts as an option. This way, they'll be able to buy as guests.
The easier, the better. And less cart abandonment.
8. Set Shipping Rates
Shipping rates involve quite a lot of juggling. Product packaging, heights, weights, shipping zones, regions, carrier rates, etc.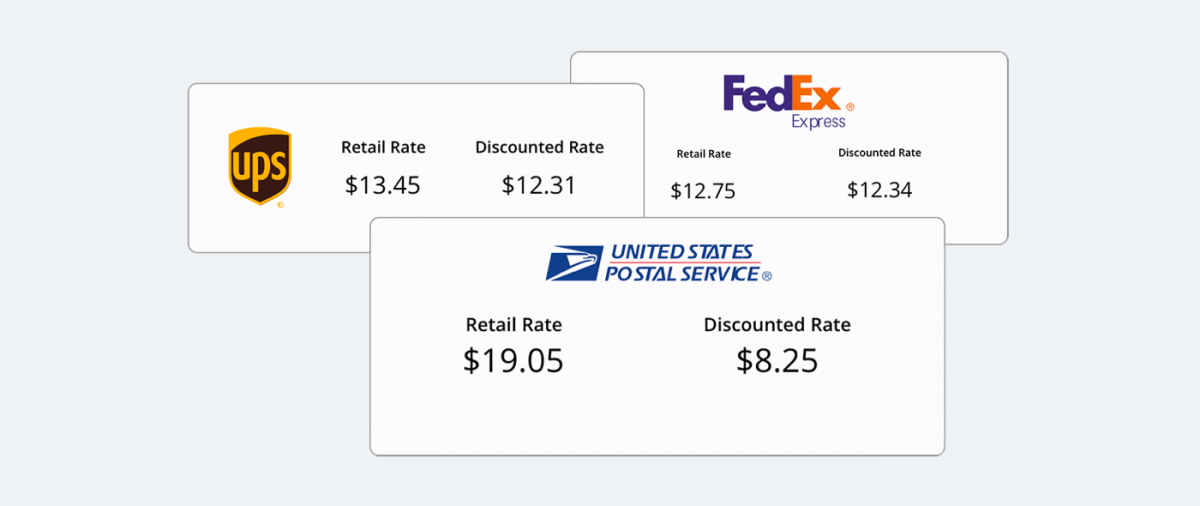 So here are a few strategies to help you face that challenge:

Offer free shipping. If you can afford it, apply free shipping to some products or order amounts. It will work great as an incentive for your customers.
Charge accurate carrier rates. Give your customers exact prices and let them choose the carrier.
State shipping rates upfront. Hidden shipping costs are one of the main reasons for customers to abandon their carts.
Get dedicated apps. There are several plugins in the Shopify Store that will keep your shipping rates across multiple carriers up-to-date.
And that's it. You can launch your store!
Note: You can expand the functionality of your Shopify store by installing add-ons. For example, a Shopify abandoned cart app is something you may want to consider as one of your first extensions.
Part 3: Launching a Shopify Store and Beyond
Your store went live and it's ready for the first orders. But there's a job still to be done. Your new business will not start generating profit just like that. Running it and keeping it profitable is the hardest task. You'll need to become a marketer and analyst to keep your store afloat.
Let's look at a few tactics you can use to drive traffic to your new online store.
1. Build Your Email List
Email marketing remains a very popular marketing channel among B2C and B2B businesses. Email campaigns are affordable, fast, do not require too much effort to execute, and can bring you a very decent ROI.
A recent study found that for every $1 you spend on email marketing, you may get an average ROI (Return on Investment) of $42. Moreover, 49 percent of consumers declared that they expect to hear from their favorite brands every week.
Conclusion? Email marketing is worth your time and investment. So try to collect as many email addresses as you can. Be it from customers or potential buyers.
When you launch your store, you can email them so they know that your store is live and operational. You can later use those addresses to nurture the customers, and convert leads.
🚀 Read: How to Build an Email List From Scratch
Tip:
Use live chat and chatbots to automatically acquire new leads.
2. Be Present on Social Media
Nowadays, digital engagement is crucial. And that engagement usually happens on social media platforms. You can use social media in two ways: for selling and promotion.
79 percent of adults in the US use social media. That's a large pool of potential buyers so be present where they are. Post frequently, write engaging content and use rich visual media (images and videos). This will not only boost engagement but will also encourage sharing.
Remember that, just like your products, you create your online marketing content for your core audience. So don't try to target every user of social media.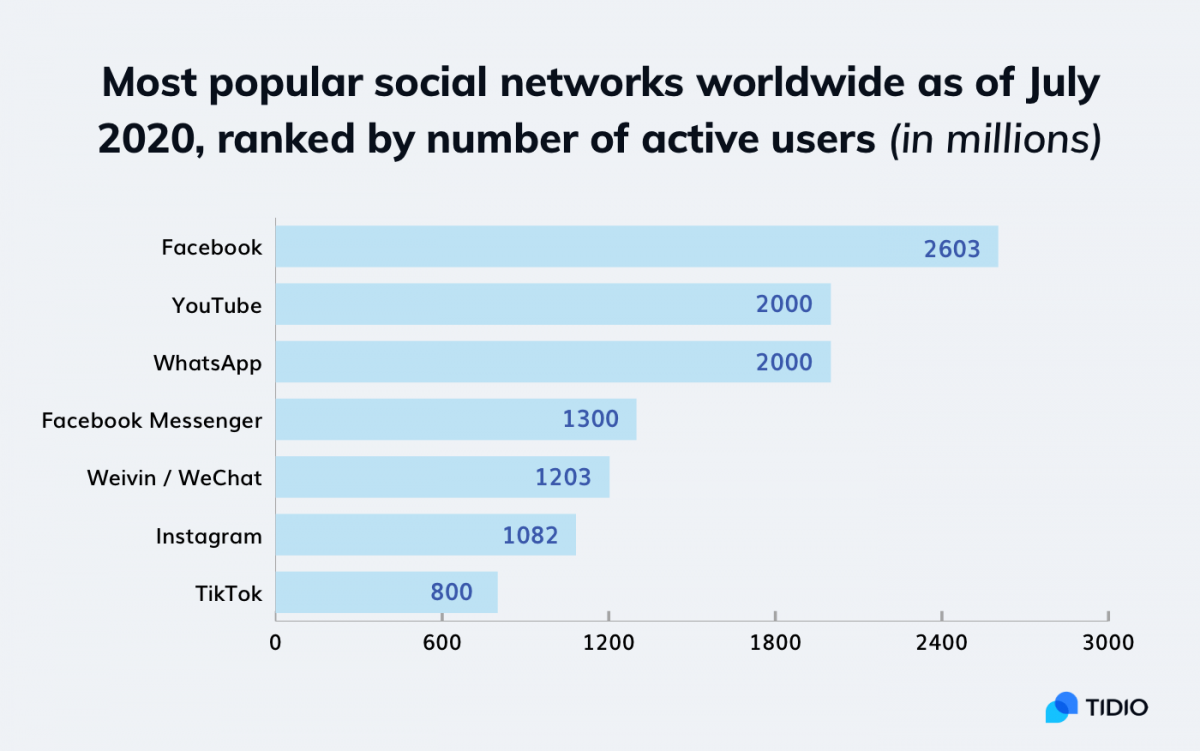 As far as selling is concerned, almost half of the internet users in the US prefer to shop on social media, whereas 15 percent of them buy via Facebook. But social media is not only Facebook. You can also use Instagram Shopping to drive traffic from your Instagram feed to your store.
3. Try Google Ads
Google Ads allow you to bid on specific keywords so that your store can rank as first on SERP (Search Engine Result Pages). They also increase the likelihood of purchase.
Potential buyers coming to your store from ads are 50 percent more likely to buy. Not to mention that you can increase your brand awareness by 80 percent.
The results that you get from your ads campaign are in real-time. So you can adjust your ad content and strategy as you go.
You may also create dedicated landing pages for the products or events advertised in your ad campaigns. They will help you boost conversions and engagement.
4. Optimize Your Store for SEO
About 39% of the global eCommerce search comes from search. Customers are looking for products or services they're interested in through search engines like Google or Bing. Organic traffic via Google cannot be underestimated and one of the ways to benefit from it is SEO.
Images names, Alt descriptions, product names, and descriptions. These are all great places to start with when you want to optimize your content. But there are others you can look at.
Meta titles of your pages also matter. They help search engines to figure out what each page of your store is about. That's why each page of your store should have a unique title tag.
Meta descriptions are short summaries of each page. When your site shows up on a SERP, users will see your title tag and meta description before anything else.
A blog is another way to improve SEO. It also has other benefits. By posting valuable content, you build your authority, trust, and drive relevant audiences.

5. Offer Excellent Online Support
Your customers are the lifeblood of your business. They will judge the quality and level of personalization of your service and based on that, decide whether to do business with you or not.
You'll need to keep them assured that you will support them anytime they need help, whether before or after the purchase.
Such an approach will significantly boost your conversion and retention.
The best solution for online support is a live chat powered by chatbots. It works 24/7 – your customers will be able to send you a message anytime. And when you're not around, chatbots will continue the support for you.
🚀 Read: 10 Customer Service Chat Handling Skills for Agents
6. Track, Analyse, and Repat
You can't improve your growth if you don't track your progress. One of the best tools for tracking is Google Analytics. This app will give you clear metrics about your store (i.e., the percentage of product sales, the number of site page visits, and the number of abandoned shopping carts).
You can customize your reports, create customer segments, and many more. The tool is free to use.
Starting a Shopify Store: Summary
Registering and setting up a store on Shopify is just one of the many steps. There are many factors that will influence your success.
First, you need to prepare solid grounds for your future business. Second, dedicate some time to set up the store for the best customer experience. And finally, continually reach out to and acquire new customers.
The Shopify platform along with excellent third-party apps are just tools in your hands. No matter how you decide to use them, always keep your customers in mind. So choose only the best tools for the best results.
To always deliver the best customer service, allow your customers to get in touch with you in an easy way. Add a Shopify live chat to your website in minutes and start building relationships with your customers and keep them coming back.
Choose a successful online store. Choose Tidio.