Shopify
How to Start Selling On Shopify: Beginner's Guide to Building a Shopify Store from Scratch
Do you have a desire to start selling on Shopify? Take a look at our step-by-step tutorial in which you'll learn how to build a Shopify store from the beginning to the end.
If we wanted to present Shopify in numbers, this would be the outcome:
Shopify = 800 000 stores = 1 000 000 merchants = 1 000 000 000 000 sales = $ 1 555 000 000 000 (revenue for 2019)
Impressive, isn't it?
No wonder that more and more young entrepreneurs want to become a part of Shopify and savor the taste of success. But now, so can you…
With this very simple step-by-step tutorial (supplemented with many pictures), we'll walk you through the process of setting up an online store on Shopify.
It will take a moment's time, but the truth to be told, it can be a milestone in your journey of becoming an owner of a well-prospering business.
So, shall we begin?
Table of contents
What Is Shopify
Shopify is the third leading eCommerce platform designed for businesses of all sizes to build an online store for marketing and sales purposes. Last year alone, the overall number of merchants operating on the platform surpassed one million in 175 countries and the overall number of active stores is as high as 800K.
To what does Shopify own its success?
Benefits of Selling on Shopify
no considerable resources are necessary to open up a store
installation process takes up to an hour
over 100 customizable templates for eCommerce website design
2400+ free and paid apps in Shopify store
24/7 support via many communication channels (email, live chat, and phone)
How Much Does Shopify Cost (Shopify Pricing)
Shopify offers a 14-day free trial and three subscription plans varying in the number of built-in features, shipping costs, and the costs of payment.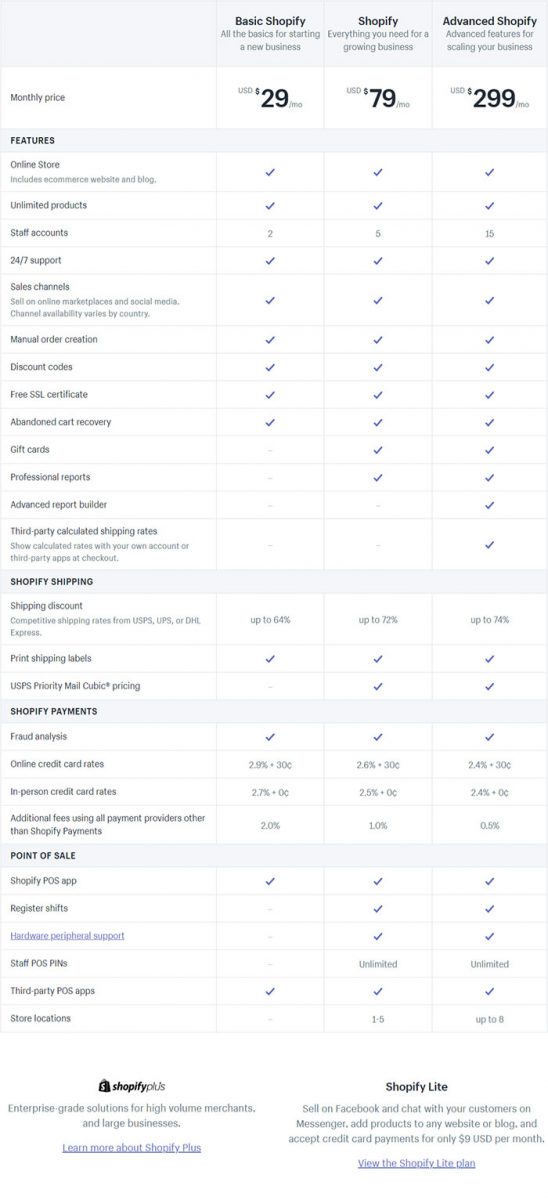 The list of Shopify features is impressive and it's only natural that you feel the pressure of choosing the right plan that would be the right fit for you in terms of the size of your company, budget, and overall expectations.
So, then, the question arises:
Which Shopify Pricing Is Best for My Business?
Here is the answer:
Basic Shopify is a solution for small businesses looking to launch a fully-functioning website with basic features. Basic Shopify is good for a start.
Shopify is the most popular plan which is usually adopted by companies that have been operating on the market for a while and need more advanced features to take better care of their potential and regular clients, be it with e.g. gift cards.
Advanced Shopify is the most expensive variant to start selling on Shopify. But, at great cost come great extensions that deliver high-end solutions necessary to run a lucrative business. Some of them include custom reports, calculated carrier shipping, etc.
Tip: If you're still struggling and all of the aforementioned Shopify plans go beyond your financial capabilities, try Shopify Lite. Although it offers a third-party integration with Facebook and a physical store instead of a standalone website, Shopify Lite is a worthwhile idea for only $9/mo.
How to Start Selling on Shopify: Step-By-Step Guide
And now, the long-awaited part – the actual Shopify guide, in which you'll learn the tricks on how to set up a Shopify store.
In the guide included below, you'll find out how to:
Create an account on Shopify
Add products to a Shopify store
Enter and customize the domain address
Select a template for a store
Install apps for better functionality
Run final tests to start selling on Shopify
Let's consider all the actions one by one.
1. Sign up with Shopify
To start using the platform, sign up to Shopify. Enter your email address and hit the "Start free trial" button.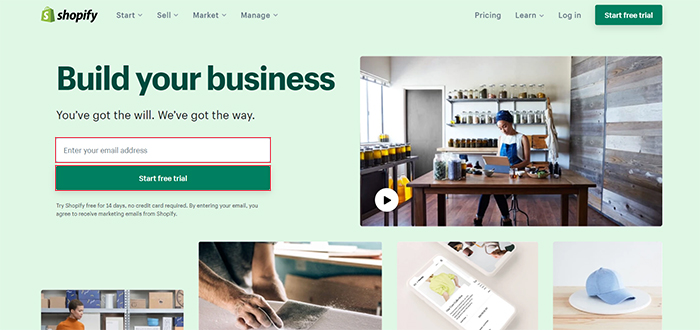 Then, you'll be redirected to another page to finish the login process by creating a password and name for your business. Use Shopify tool to generate one, if you haven't come up with a name yet, and remember that it should make your business stand out from Shopify's 500K other stores.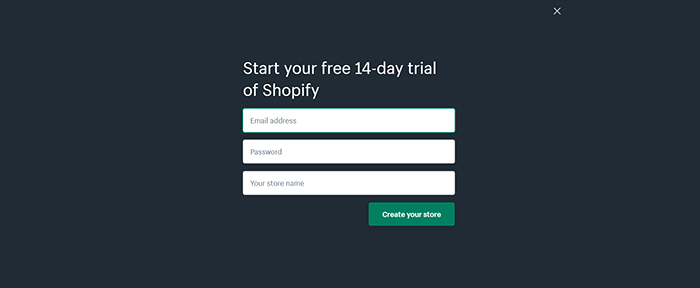 Provide more details regarding your sales experience and current revenue, and you're almost settled.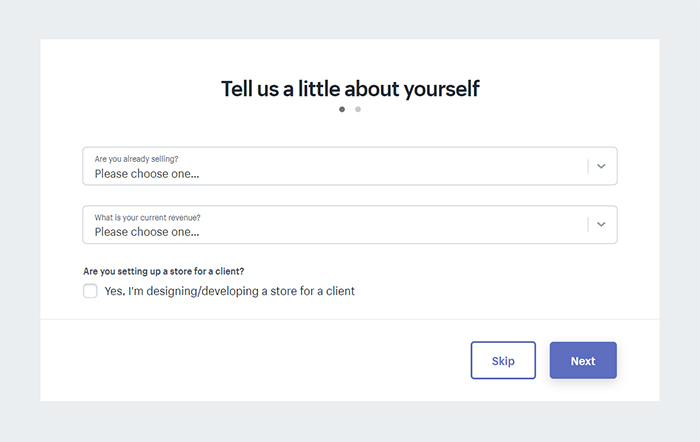 Then, add contact details for easier communication with customers and you're done.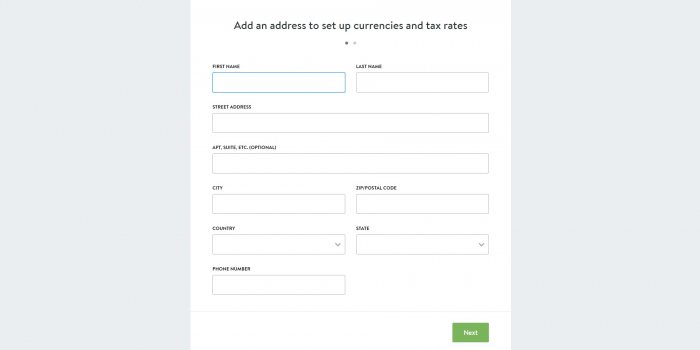 Now, you can finally focus on customizing your store by adding products, a website domain, and templates.

2. Add, describe and organize products
Adding and managing products is the most labor-intensive task but necessary to carry out. Go ahead and consider all the steps one by one:
In the "Title" section, you want to name and describe your products for a more convenient search of items for customers.
With "Product availability" and "Organization," you can categorize products according to platforms on which they will be distributed (online store, Facebook, Shopify POS) or according to "Product types," "Vendor," "Collections" or "Tags."
Click "Upload image" and select photos you want to include in the product page. Remember that high-resolution graphics are the key factor to influence customers' positive purchase behavior.

"Inventory policy" disables selling goods that you don't have in inventory, informs about the demand for the next product supply and keeps track of the number of products in stock.

If you sell physical products, enter their exact weight that will be the basis for further calculation of shipping rates.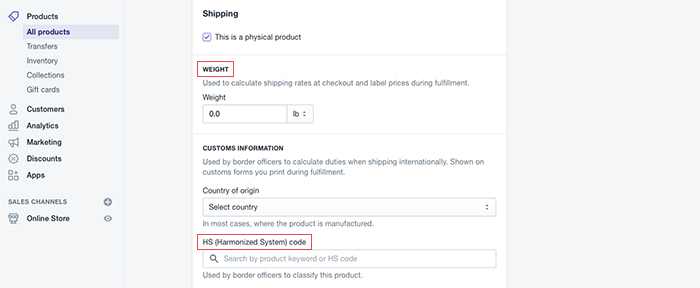 For products to be sent abroad, you need to provide the Harmonized System (HS) code. The HS is an international system of classifying goods to make trading procedures between countries faster and easier. Find the whole list of codes here.
Choose "Variants" if your products vary in size and color. Then, enter the options (color, size, price, etc.) and tag them with names (e.g. small, large, green, blue)

In the "Search engine listing preview" you'll see the draft of the copy that will appear in Google's search engine upon adding the product. Click "Edit website SEO" to make changes to the draft.

If you, however, are an online retailer selling hundreds of products, adding and describing all of them one by one would be pointless. If you already have a product list in a CSV file, you can upload the spreadsheet and let Shopify fill in the rest of the information.
3. Enter domain address
Shopify's primary domain is the website address that customers will see when they visit your store. By default, your primary domain is "myshopify" (name-of-your-store.myshopify.com). Changing the name of the primary domain is only possible if you replace it with a custom domain.
A custom domain allows you to create a website address that is compatible with your store's name. With Shopify name generator, you can see whether the domain address is available and if it is, how much it costs.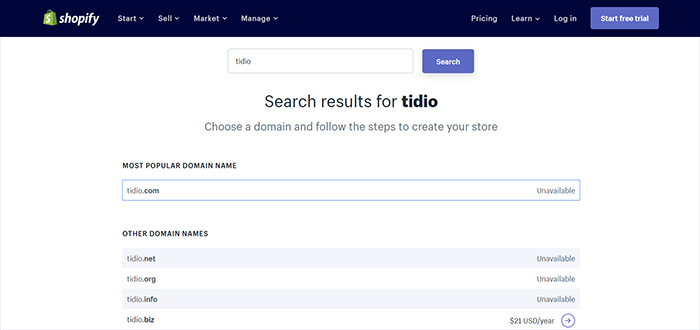 The price of custom domains on Shopify starts at $11 a year and can be renewed after this period. Also, you can have exclusive access to the domain address even if you decide to leave the platform.
In case you already own a third-party domain, you can simply transfer it to Shopify and manage from the Shopify admin panel, or connect it to the platform and continue to do the management on the website.
4. Select a Shopify theme
The next step to learn how to start selling on Shopify is to customize the appearance of a store. First, select your favorite theme variant from the "Themes" tab on the left side of the website. There, you can either choose a basic Shopify theme, or you can go to Shopify Theme Store and select a more fancy one.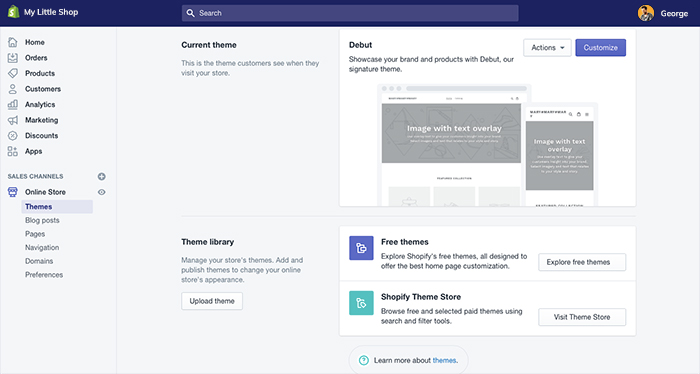 The basic Shopify templates are available in three color versions and they comprise a different set of features (some include product recommendation section, hero video, slideshow, customer testimonials, promotional banners, etc.).
If, however, you're more keen on investing more money into premium themes, you can go to Shopify Theme Store and look for the perfect one. Shopify store offers 100+ paid and free website templates that are categorized by the price, industry or style that you can test out before purchasing. According to the Shopifiers, Porto and Ella are the leading ones based on how many times they've been downloaded.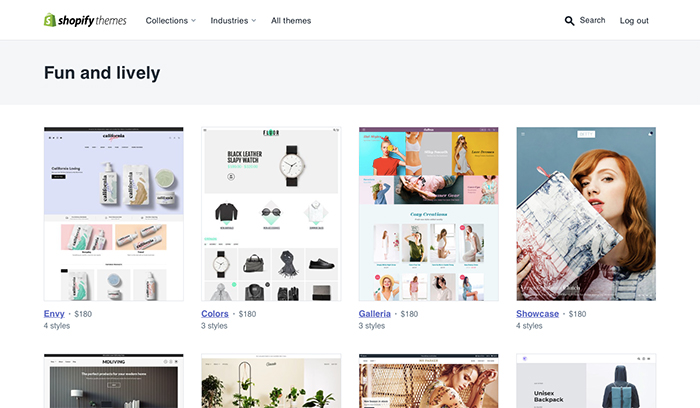 After purchasing a template, you'll be moved to the Shopify theme editor where you can add product images, descriptions, testimonials, etc. In a word, you'll be able to start customizing the look of your store.
5. Install and manage apps
To run a successful business, you need to remember that at some point of your journey, you'll need tools (apps) that will help you unleash the full potential of your store. They will especially come in handy if you're a single-handler just warming up to the idea of running a lucrative company.
At this time, what you'll need is a Shopify App store – a platform with over a thousand free and paid apps to make your store even better. All the apps are grouped into different categories, such as marketing, customer support, finances and more.
Some of the tools you'll find in Shopify store include: email service providers to fight the problem of cart abandonment, chatbots sending a welcome message to new visitors, or live chat allowing for a real-time conversation with customers.
There is one tool, however, that can address all of these pain points – it can stop customers from leaving the store empty-handed, onboard new users and chat with them even when you're away. Add Tidio to your Shopify account and let chatbots do the hard work for you.
To add Tidio to your Shopify store, you'll need to:
Log in into your Shopify account, enter the Shopify app store, find "Tidio," and click "Add app."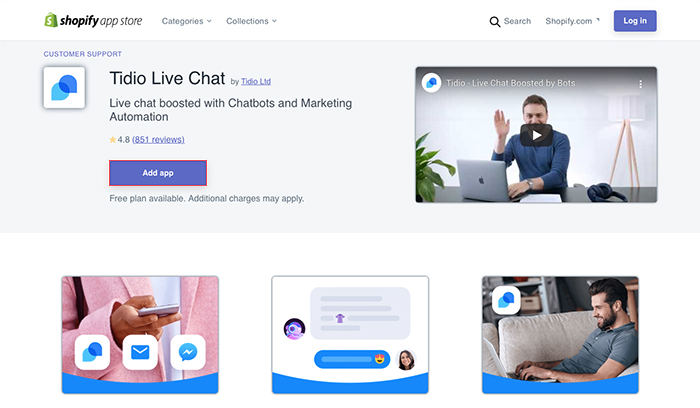 Then, you'll be redirected to your Shopify store where you'll have to confirm that you're still interested in installing the app. If you're, some configurations will have to be made.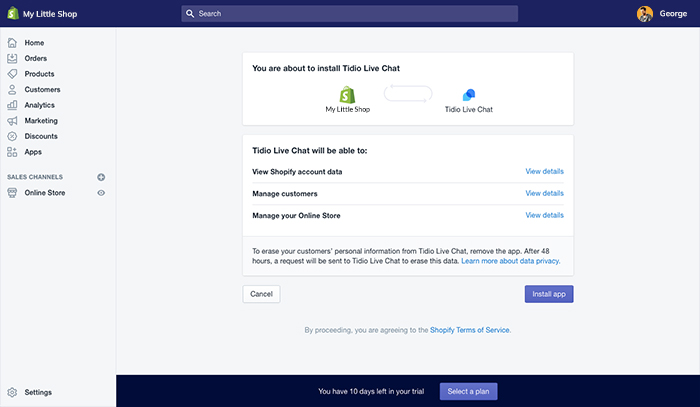 6. Run the final test and start selling on Shopify
As you conduct various operations on the platform, the Shopify account is password protected. So, you don't have to worry about some unexpected guests to pop in.
Take your time and put yourself into your customers' shoes, go through the buying process again and again, and introduce final changes if needed. Remember that the sooner you find shortcomings, the more professional your website will eventually look like.
After you're entirely satisfied with your store, you can publish it and keep track of its overall performance. Depending on the plan you've subscribed to, you'll have access to key financial reports including those on the number of customer conversions, the performance of marketing campaigns, and many more.
Selling on Shopify: Conclusions
Congratulations! You've come a long way but you finally made it! You can be proud of yourself for going through this daunting task of setting up and starting a shop on Shopify.
However, don't you think that a little booster would come in useful? Like more advertisements, more publicity, more everything?
By now, you've learned how to start selling on Shopify. But, how about a follow-up? How about we tell you how to master the art of selling so that your store becomes the best-selling store on Shopify?
You're in, or not?