Times, they are a-changin', and this year improvisations and innovations keep on chasing business owners all over the world.
The more suitable eCommerce platform you choose the more value you get from your online store.
Now—
In the eCommerce space, there are two major players: WooCommerce and Shopify. But even though both solutions seem great, only one of them may be best suited for your specific needs.
Not to worry.
We've compared the two platforms to help you make an informed decision.
In this article, you'll learn:
Basic differences between WooCommerce vs Shopify.
Feature comparison of the two eCommerce giants.
Shopify or WooCommerce: who should use which.
Pros and Cons of WooCommerce vs Shopify
Turn your website visitors into delighted customers.
Set up the Tidio live chat app in 5 minutes and watch your sales grow.
Learn About Live Chat
Getting to Know Shopify and WooCommerce
Shopify is an eCommerce platform for creating both online and offline shops (via a Shopify POS) and it's suitable for beginners and experts alike. If you want to give it a test drive, there's a free 14-day trial period during which you can create your own online store, test out free apps, and—if you're doing a good job—even make your first sale.
WooCommerce is a free plugin for WordPress which adds eCommerce functionality to any WordPress site with just a few clicks. Upon its launch in 2011, this WordPress plugin became a major solution for users looking to launch their own online businesses fast. The plugin is especially friendly to new online merchants because it's easy to use and flexible.
WooCommerce vs Shopify—Feature Comparison
Even though both Shopify and WooCommerce serve the same purpose, there are quite a number of differences between the two.
In this section, we cover some of the most vital ones.
Ease of Use
Ease of use plays a crucial role. A lot of users who are starting an online store are not web developers or designers. And even those familiar with these concepts prefer an easy-to-use and intuitive platform.
WooCommerce: It's not a hosted platform, so you have to install it, keep backups, manage updates and ensure that the site is secure. Has numerous plugins that could automate most of the tasks for you. When it comes to customization, it's super flexible and gives you full control over the entire platform.
Shopify: Shopify handles the majority of the technical aspects of your eCommerce store operation. It has your brand covered, from domain name and hosting to any SSL or security certificates. Extremely easy to use and helps non-tech users create a wonderful online shop.
Key differentiators: WooCommerce has a steeper learning curve. It needs some legwork, such as sourcing your own security and web hosting. Shopify is extremely easy to use, and built to help non-tech users create an online shop quickly.
Summary: When it comes to the ease of use, Shopify comes out as the winner. With WooCommerce, you need a certain knowledge level, or a willingness to spend time on it. Shopify in contrast is accessible by everybody, and you need not have any knowledge code to get the most of it.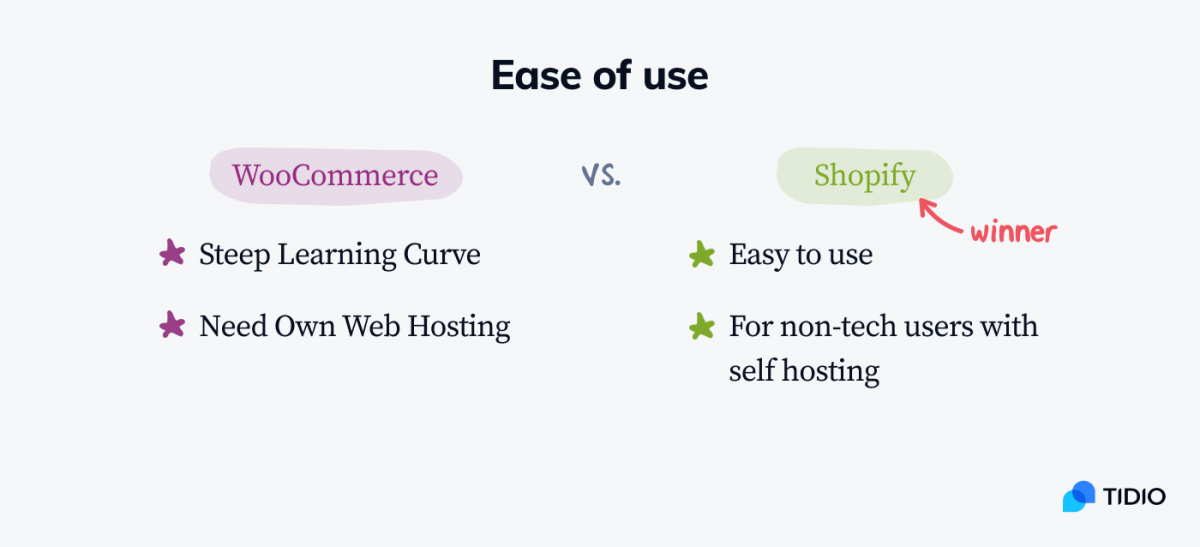 Costs
The cost of starting an eCommerce store is quite subjective. Still, it's a big determining factor as to what eCommerce platform to choose for your brand.
WooCommerce: Free, but with some extra costs, like hosting, domain name, and security.
Shopify: Has fixed pricing, which ranges from $29 to $299 a month. More advanced features are unlocked when you upgrade, which include professional reports.
Summary: WooCommerce is a cheaper option to start with.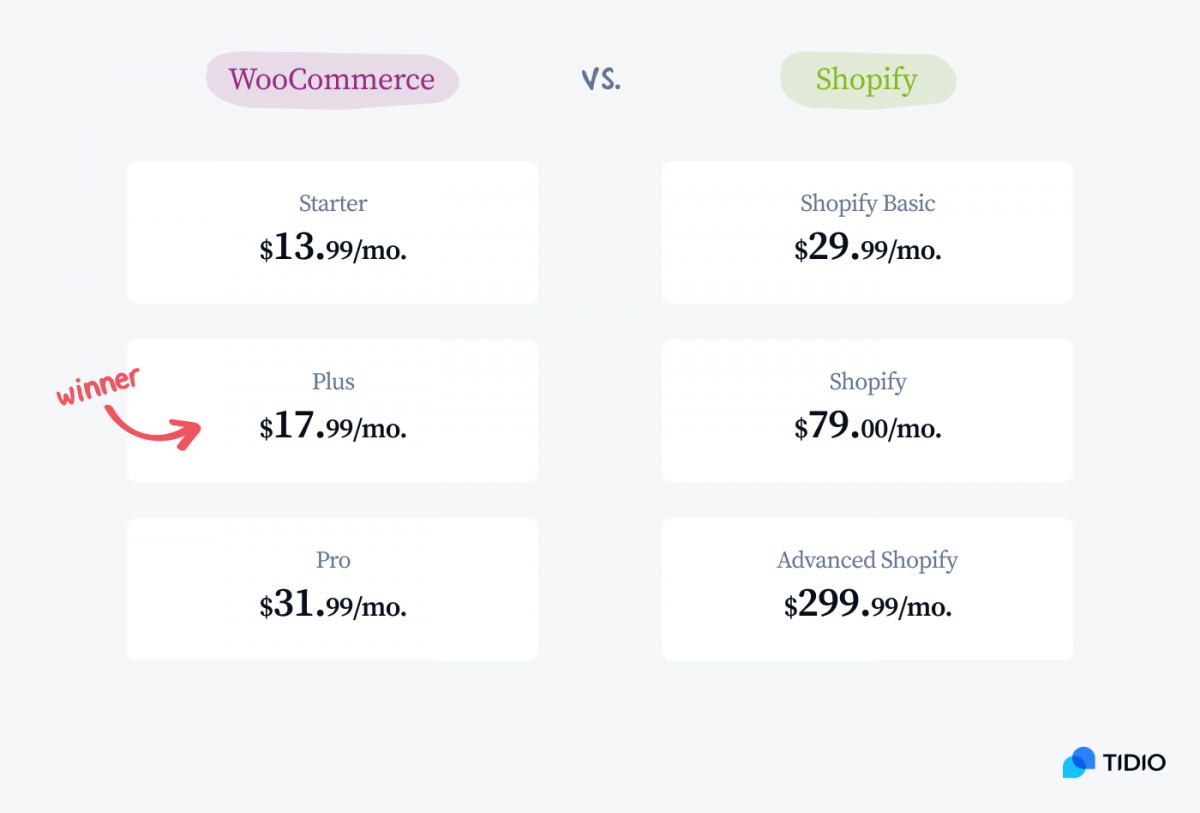 Marketing Tools
Every business needs to grow to succeed. Marketing tools could help your business connect your brand with new customers.
WooCommerce: Relies on plugins, offering Tidio integration that helps send personalized email campaigns seamlessly. Your shop could be integrated for a fee of $79 with Instagram, Amazon, and eBay, but you could advertise it for free on FB.
Shopify: You can run numerous email campaigns with Shopify using applications like Constant Contact or Seguno. With the multichannel selling feature, Shopify lets you integrate with Pinterest, eBay, and Facebook, and advertise on them too—allowing your business to open to an entirely new online audience for free.
Key differentiators: Since WooCommerce relies on plugins, it can be integrated for a fee with Amazon and others. Shopify on the other hand comes with no cost.
Summary: The winner is Shopify, with its impressive array of marketing features, like multichannel selling or exposing your business to millions of social media users.

Security
Your eCommerce website requires high-level security. Why? Without the right protocols, you put your brand and customers at risk.
WooCommerce: WooCommerce works with WordPress and is therefore self-hosted. The actual plugin has no in-built security features, so this has to be handled by you or your hosting provider.
Shopify: All security-related issues are taken care of for you by the platform. Shopify has an SSL built-in, which you can identify by the tiny icon padlock icon next to the URL.
Key differentiators: The PCI-DSS Compliance, or the Payment Card Industry Data Security Standard means that your site is set up to accept payments via credit cards in line with legal regulations. Shopify, once again, is fully PCI-DSS compliant. WooCommerce is not PCI-DSS compliant automatically.
Summary: It's an easy win for Shopify.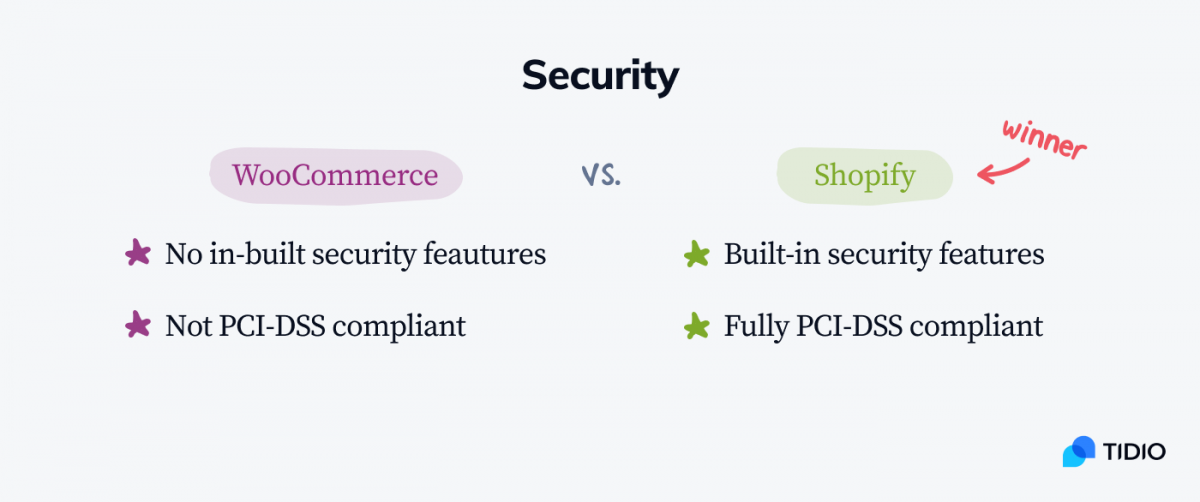 Customer Support
Customer support helps customers navigate through your online store and achieve their goals. It also helps you create satisfied and loyal customers.
WooCommerce: Powered by Bluehost, WooCommerce gives you access to fantastic customer support (incl. live chat support, 24/7 phone, and a knowledge center full of useful information.)
Shopify: Offers live chat, email, and 24/7 support options. Plus, a community forum, library of guides, and a setup wizard.
Key differentiators: Bluehost that powers WooCommerce has brilliant 24/7 support, as well as alarge library of guides. Even though Shopify does provide terrific support, it's not up to par with the offerings of WooCommerce and Bluehost.
Summary: This round goes to WooCommerce, which is Bluehost-powered.
SEO
SEO can boost the sales and revenue of your eCommerce website, and make you a market leader in the industry.
WooCommerce: WooCommerce is built with code that's SEO-optimized, integrated with WordPress, along with a range of SEO plugins. The SEO WordPress plugin—Yoast—is very simple to use.
Shopify: Provides integrations and apps that boost your brand. Has an array of SEO plugins in the App Store and offers a free SEO Booster, which scans your store and identifies issues that could impact the performance of your website.
Key differentiators: With Woo, you get to access a range of excellent SEO plugins with helpful SEO guides and prompts. Shopify on the other hand doesn't have as much SEO apps to offer, which could be restrictive in the future.
Summary: In terms of Shopify vs WooCommerce SEO capabilities, the latter has a narrow win.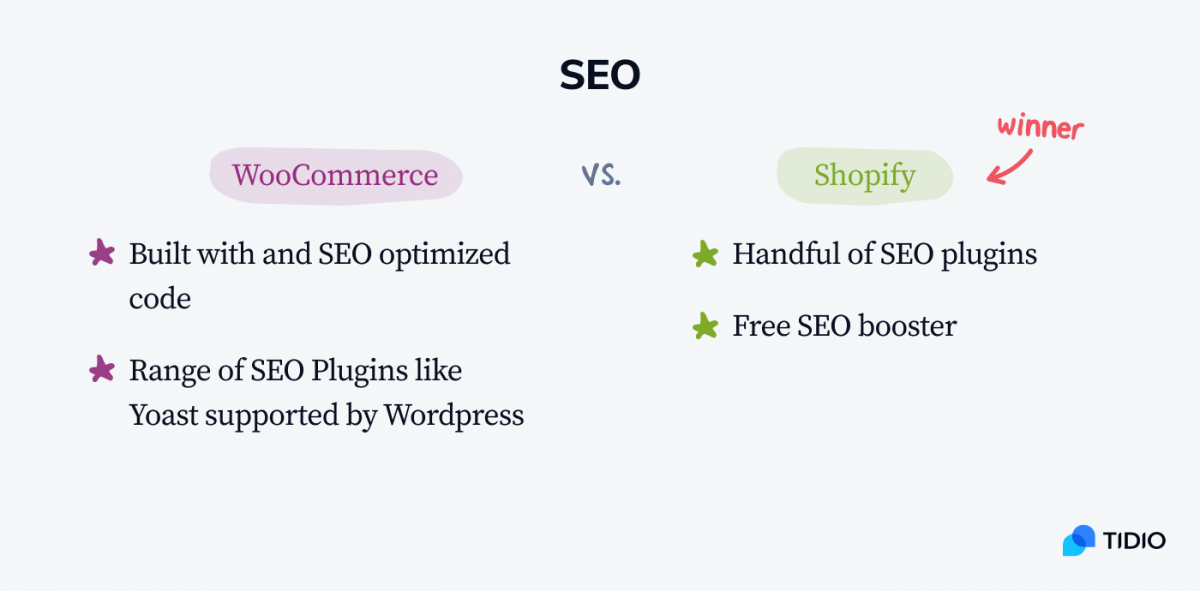 Payment Options
When selling online, you have to make it possible for customers to pay. Both platforms offer a wide choice of payment gateways.
WooCommerce: Offers PayPal and Stripe payment options by default. Also, it supports other popular payment gateways and providers via add-ons. Never charges you a fee on your shop transactions, which is a huge plus.
Shopify: Has a lot of payment options. It has its own Stripe-powered payment solution called Shopify Payments as well as popular third-party payment solutions. However, it charges 2 percent fee on every transaction via third-party payment gateways.
Key differentiators: When using third-party payment solutions, WooCommerce does not charge any fee at all. Shopify on the other hand charges a fee for every transaction.
Summary: With no translation fees, WooCommece is the winner.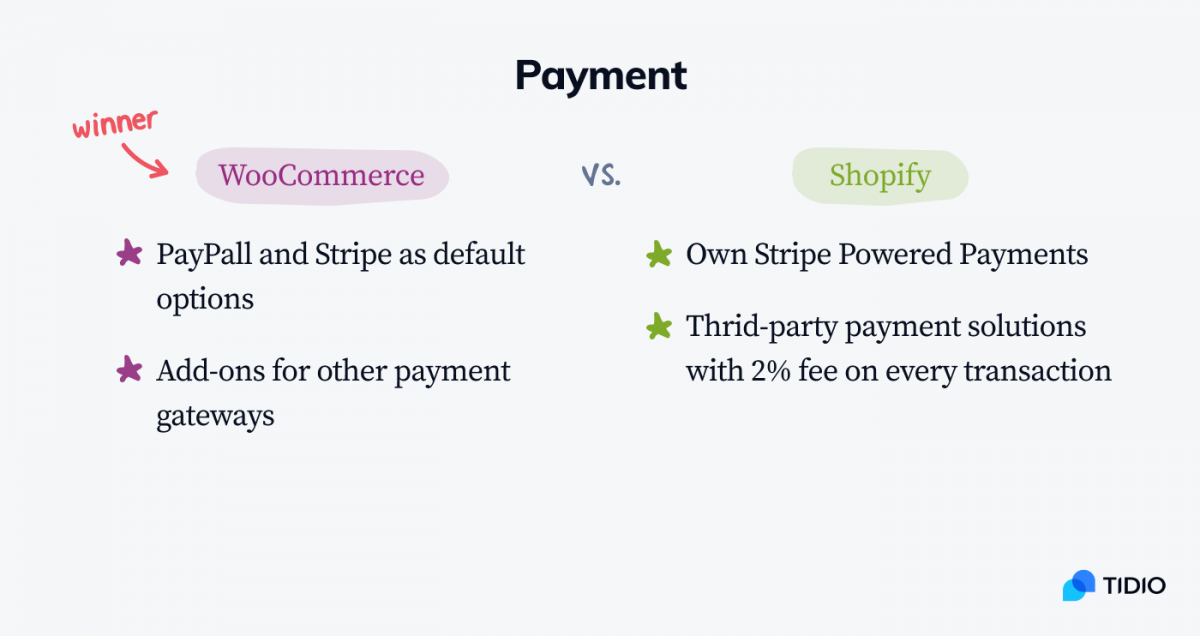 Themes and Design
Stylish themes give a professional look and feel to your store. Plus, the design and themes you use could give your brand image a big boost.
WooCommerce: The basic theme for WooCommerce, Storefront, is fully responsive and has a fresh and clean layout
Shopify: The theme store has more than 70 free and paid themes to choose from. The themes are all polished and optimized for eCommerce purposes.
Key differentiators: Shopify has a one-time premium fee that starts at $140, which you should consider an investment. For a tighter budget, you could start with free themes. In WooCommerce, the look of your store depends on how many hours you're willing to invest working on it, and on your technical know-how as well.
Summary: When it comes to the themes and design, Shopify wins. It has sleeker and more polished templates designed specifically for online businesses.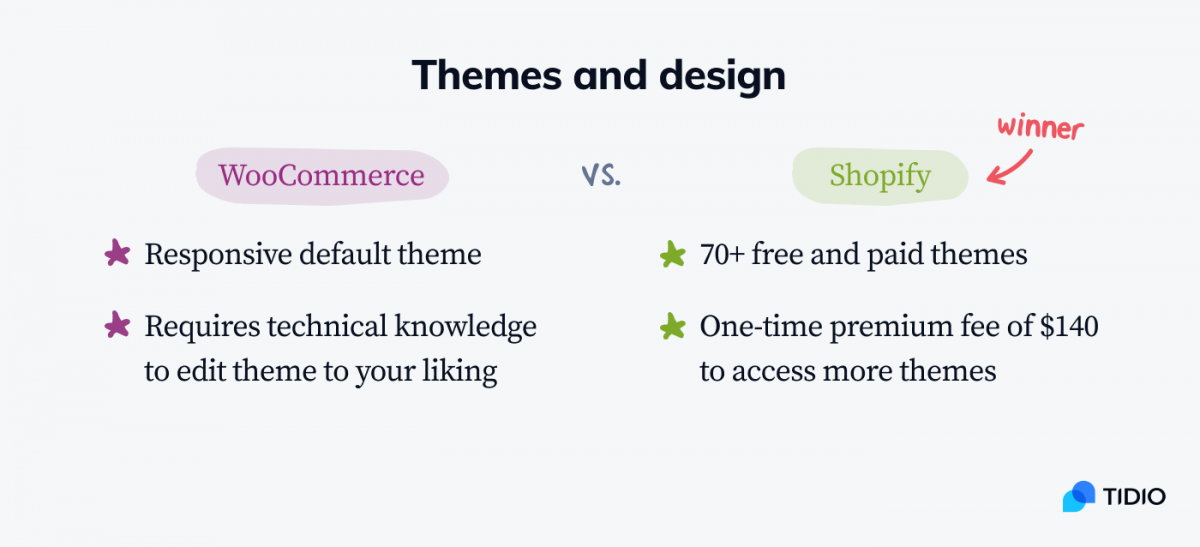 Shopify vs WooCommerce—Who Should Use What?
Shopify is a simple solution for anybody with basic internet and computers skills. And with the help of Shopify development companies like eTatvasoft, you can build a seamless and highly effective online store.
Shopify will be a good choice for you, if
You've got no website but want to have an online store up and running quickly with minimal effort.
You're not keen on the eCommerce platform's tech side, and you simply want it to look great and to work well.
You opt for a turnkey approach in which all you need to do is sign up and follow a few simple instructions.
You don't feel comfortable setting up WordPress and don't like the idea of paying someone else to set up your online store for you.
You have no problems paying for all features, even if not all of them would be used by you.
You think that you would heavily depend on customer support.
In terms of online commerce functionalities, WooCommerce and Shopify are very similar. But WooCommerce may turn out to be a better option for you, if you:
Want to enhance your online shop with thousands of plugins and designs.
Require full control of each and every aspect of your online store.
Prefer to do everything on your own, and know how to get your site up and running
Already have a WordPress website and want to build your store on it to avoid additional expenses
Could survive having no customer support 24/7.
Shopify vs WooCommerce—Pros and Cons List
Finally, here's a handy list of all pros and cons that puts together everything we've covered so far.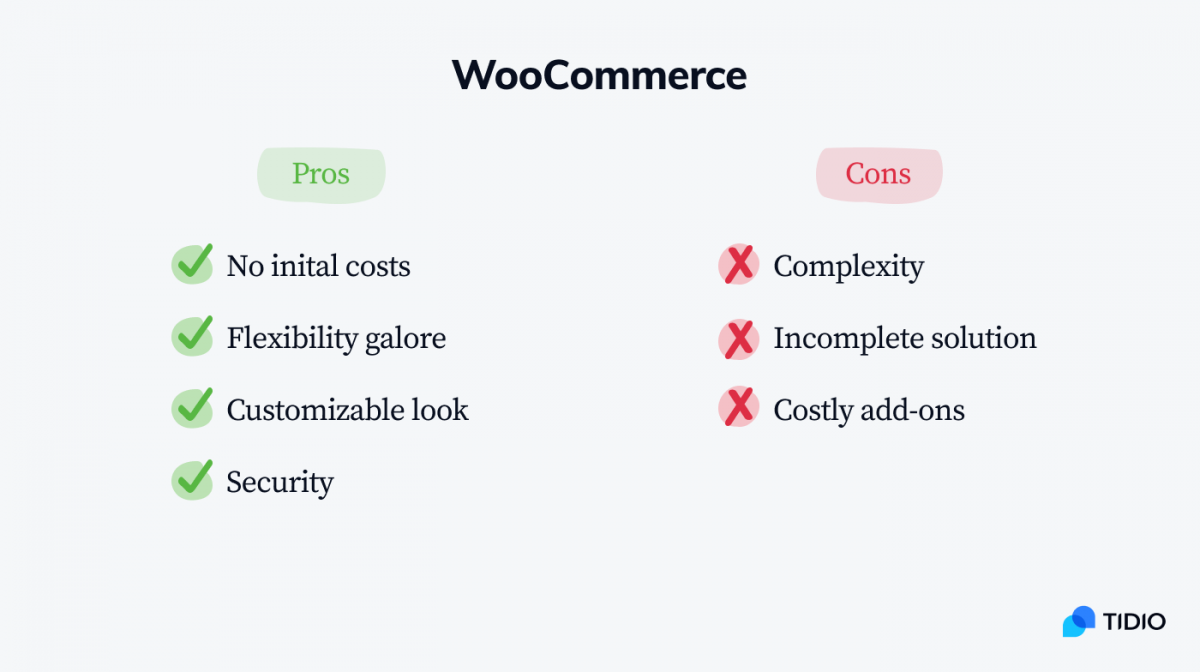 Shopify Pros
Here are the top advantages of Shopify over WooCommerce:
1. Ease of Use
Shopify helps you manage the technical aspects of your store.
2. World-Class Website Performance
A website that loads too long could make people click out, meaning you would lose potential customers. Shopify stores work fast and load quickly.
3. Plenty of Payment Options
Shopify has built-in payment services, such as PayPal, Apple Pay, and Amazon, which lets you accept credit card payments.
4. Various Designs and Themes
A successful website needs to look great and offer great functionalities. Shopify offers numerous themes that could potentially boost the number of page visits.
5. Built-in Features for Boosting Sales
Shopify offers a number of built-in features to activate your customers or add reminders and pop-ups for customers to go back to the cart and finish their purchases.
Shopify Cons
Some drawbacks of Shopify include:
1. No Email Hosting
In short, you will not get an email with your shop name.
2. Hard-To-Customize Themes
Even though there are many Shopify themes to choose from, customizing them requires some coding knowledge. If your coding skills are limited, you may need help from professional Shopify developers.
3. Pricing
Shopify has plenty of free features. However, if you want a full-fledged ecommerce website, it comes with a price. The cheapest plan starts at $29 and could go up to $299.
WooCommerce Pros
The biggest pros of WooCommerce are:
1. No Initial Costs
WooCommerce comes for free. However, additional features may require you to spend some money.
2. Flexibility Galore
WoooCommerce offers numerous themes and allows website owners to customize or personalize the CRM as they wish.
3. Customizable Look
Your online store can be customized and adapted for your specific business needs.
4. Security
WooCommerce features a secure shopping cart. It is updated regularly to remove all security issues and bugs.
WooCommerce Cons
Still, if you want to opt for WooCommerce you have to consider the following issues:
1. Complexity
To make the most out of WooCommerce, you need to understand how WordPress works. In some cases, you may require help from professional programmers.
2. Incomplete Solution
Since it's a WordPress plugin, WooCommerce is not a complete solution and only works with websites that use the WordPress CMS.
3. Costly Add-Ons
Although the base program is free, the extended add-ons could be quite expensive for small businesses.
Tidio Third-Party Integration
Regardless of which platform you choose, WooCommerce or Shopify, you can integrate third-party apps into your online store. One of such apps is our own live chat that enables you to provide quick answers to queries about your products, as well as ensures your customers that you are there when they need you.
Key Takeaways
Here's a quick recap of the WooCommerce vs Shopify comparison:
Use Shopify if:
You need support 24/7, and things such as security are taken care of for you
You want sleeker easy-to-customize templates
You require a website up live in a short time with limited tech knowledge
With Shopify, creating a brilliant online shop in no time is possible.
Use WooCommerce if:
You want to set up a passion project that needs a lot of personalization
You're technically competent and want greater control on the hosting and design of your website
You want to create a big-scale online brand selling in many regions
Powered by Bluehost, WooCommerce lets you build bespoke, beautiful online shops.