Selling online is a big deal.
No wonder that you're looking for the best ecommerce solution. So, let me guess—
You've heard wonderful success stories from Shopify store owners, but you're not entirely sure if this solution won't be overkill.
Or you already have a website, but you're not convinced if Ecwid will cut it?
If that's right, our Ecwid vs. Shopify comparison will dispel your doubts.
In this article, you'll find:
Informal winner in each category
If this isn't what you're looking for, explore the following articles:
Ecwid to Shopify—how do they compare?
Ecwid and Shopify are two well-known ecommerce platforms that let you sell online. The core difference between them is:
Ecwid is a plugin that changes an existing site (e.g., WordPress and its alternatives) into an ecommerce business
Shopify is a website builder that lets you create a fully-hosted ecommerce site from the ground up
In a nutshell, if you own a website and are happy with it, the Ecwid app might be a better choice. If not, Shopify may be the way to go.
Ecwid stands for "ecommerce widget," which means the purpose of this solution is to turn your existing website into an online store. Alternatively, you can create the so-called Instant Site—a fuss-free one-page website with a built-in Ecwid store.
Whereas Shopify will let you build an online store from the ground up. You get tons of professional-looking templates to work on and even access to HTML and CSS. It has a massive app market to extend your store's functionality.
But let's not jump to conclusions about which solution is for whom before exploring Ecwid vs. Shopify differences in greater detail. The least you can do is to check out the comparison table below.
Shopify vs. Ecwid: Feature Comparison Table
Features
Ecwid
Shopify
Free plan
✅
❌
Free trial
❌
14-day
Discounts for non-profit organizations
✅
✅
Paid plans
Standard ($29/mo)
Essentials ($49/mo)
Unlimited ($99)
Basic Shopify ($29/mo)
Shopify ($79/mo)
Advanced Shopify ($299/mo)
Shopify Plus ($2,000+/mo)
Shopify Lite ($9/mo)
Transaction fees
❌
0.5%-2% of your monthly worth of sales if not using Shopify's proprietary payment gateway
Ecommerce features
Suitable for social ecommerce and marketplaces
Will support growth over time
PCI DSS compliance and SSL
✅
✅
Automatically calculated shipping rates
❌
✅
Number of products
2,500 unless you pay for Unlimited plan
Unlimited
Digital products upload size
25 GB
5 GB
Inventory tracking
✅
✅
Sell on marketplaces
(Amazon and eBay)
✅
✅
Sell on social media
(Facebook and Instagram)
✅
✅
POS
Through apps
Built-in POS Lite and advanced features in $89 POS Pro
Dropshipping
✅
✅
Design
Simplistic 'instant site'
80 themes
Customer support
Limited in the cheapest plan
Omnichannel support
Ease of use
✅
✅
If you compare Shopify vs. Ecwid customer reviews on G2, a business software and services review website, you'll see Ecwid is rated slightly higher than Shopify (4.8 vs. 4.3). However, Shopify's user base is disproportionately larger—Ecwid's score is based on 270 user opinions while Shopify's on over 3.7 thousand.
Pricing
The winner is Ecwid, for offering a free plan to launch a one-page website with a built-in online store.
Both Ecwid and Shopify are based on a subscription model. Let's start with Ecwid's plans.
Ecwid pricing plans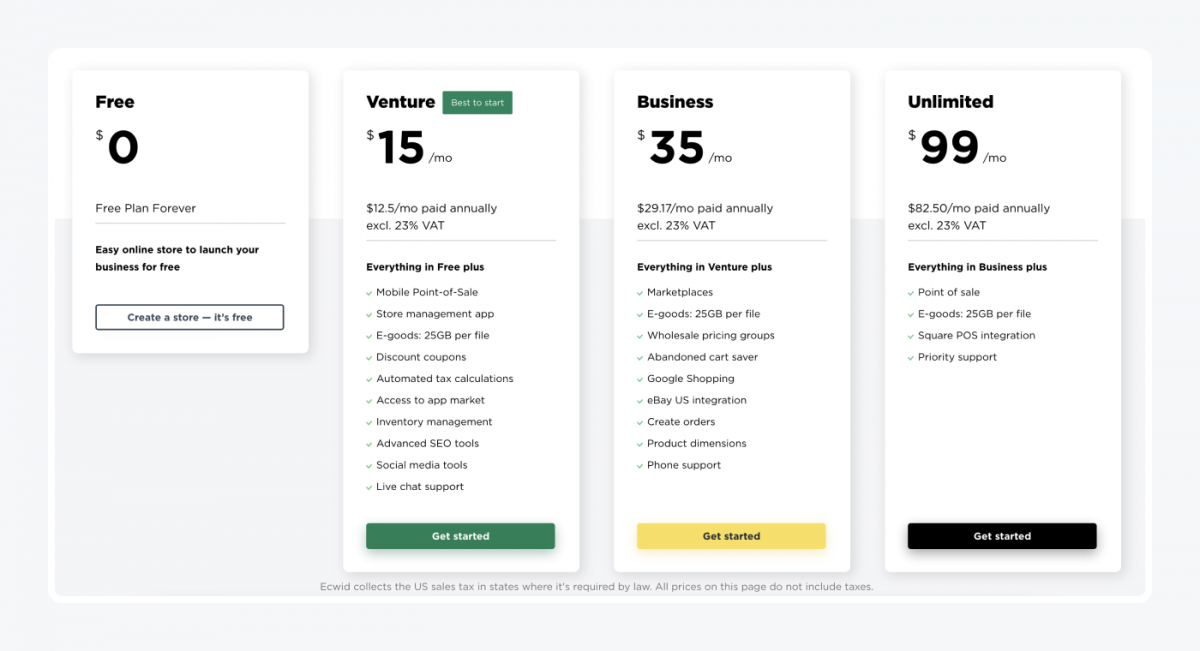 There are four pricing plans in Ecwid's offer, and none of them covers hosting or domain.
Ecwid offers a free plan, which makes it really stand out. It includes a generous limit of 2,500 products and unlimited bandwidth.
Ecwid's paid plans cover multi-channel sales and promotional features:
Standard ($29/mo)
Essentials ($49/mo)
Unlimited ($99)
If you opt to be billed annually instead of monthly, you'll get a 17% discount on each plan—it's equivalent to two monthly payments.
Ecwid used to offer different pricing plans (Free, Venture Plan, Business Plan, and Unlimited Plan). The new structure has updated prices per month but also features covered by them. It's best to visit their website directly to find out details because some sources have not updated their information.
Shopify plans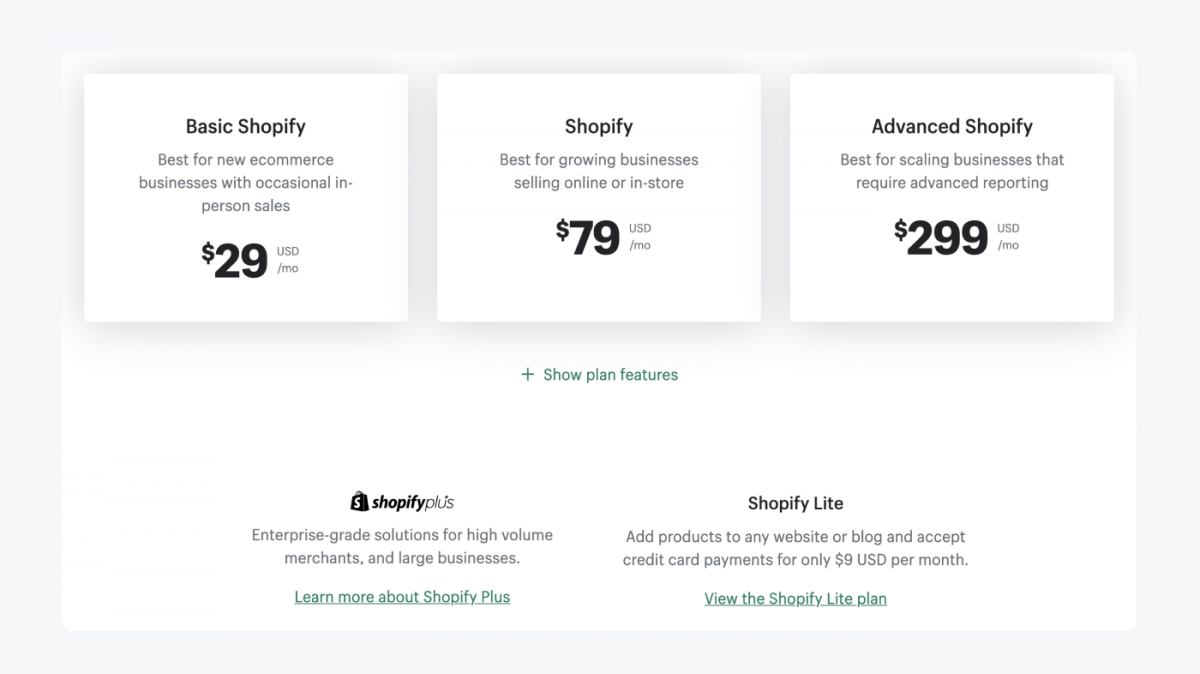 Shopify has five plans, and each is tailored to different business needs. Three of them include templates to build your online store, secure hosting, and a free domain:
Basic Shopify ($29/mo)
Shopify ($79/mo)
Advanced Shopify ($299/mo)
One plan includes features that appeal to large enterprises (pricing available upon request):
Shopify Plus (starting at around $2,000/mo)
Shopify also has a plan dedicated for micro-entrepreneurs that lets you integrate a simple buy button on a WordPress page:
You can knock off 10% of the Shopify subscription if you pay upfront for a year, or save 20% on biennial plans.
Unlike Ecwid, Shopify offers only paid plans. But you can try it out for 14 days for free before making the final decision.
To find out how much Shopify costs month to month, read the guide to Shopify pricing and fees.
If you'd like to compare Shopify vs. Ecwid store examples, check out the best Shopify stores and visit Ecwid's blog. Both providers showcase their best examples to inspire entrepreneurs.
Transaction fees
There's a catch if you decide to use Shopify instead of Ecwid. Shopify charges between 0.5% and 2% of your monthly worth of sales (depending on a plan) if you're not using its proprietary payment gateway. It's the so-called transaction fee.
In contrast, Ecwid doesn't charge transaction fees no matter what online payment options you use.
Ecommerce features
The winner is Shopify, thanks to tools that support your online business's growth in the long term.
Shopify has everything to scale your business. You can start as a side-gig and end up as an enterprise without ever leaving Shopify's platform. As such, Shopify proves to be a more comprehensive and flexible solution than Ecwid.
Let's dive into Ecwid vs. Shopify ecommerce tools.
Payment gateways
Shopify offers 100 payment gateways, including their own integrated processor, called Shopify Payments. In comparison, Ecwid integrates with 70 providers. The bigger the choice in this department, the better the customer experience at the checkout. Ensuring a wider selection of payment options contributes to an increased abandoned cart recovery.
No matter what provider you choose, you'll still have to factor in the cost of credit card processing fees.
Security
Both Ecwid and Shopify comply with the highest international Payment Card Industry Data Security Standard (PCI DSS). This is the highest international standard for secure data exchanges for online stores and payment systems. Both solutions also protect your customer data with an SSL certificate and HTTPS protocol.
Number of products
Shopify lets you host unlimited products in their cheapest Basic Shopify plan. Whereas in Ecwid you have a 2,500 items cap—unless you pay $99/mo for the Unlimited plan.
Product details
Setting up product details in the backend matters because the choices you make (and have) there affect how your products are displayed. Ecwid offers a basic setup of product customization options and their variations.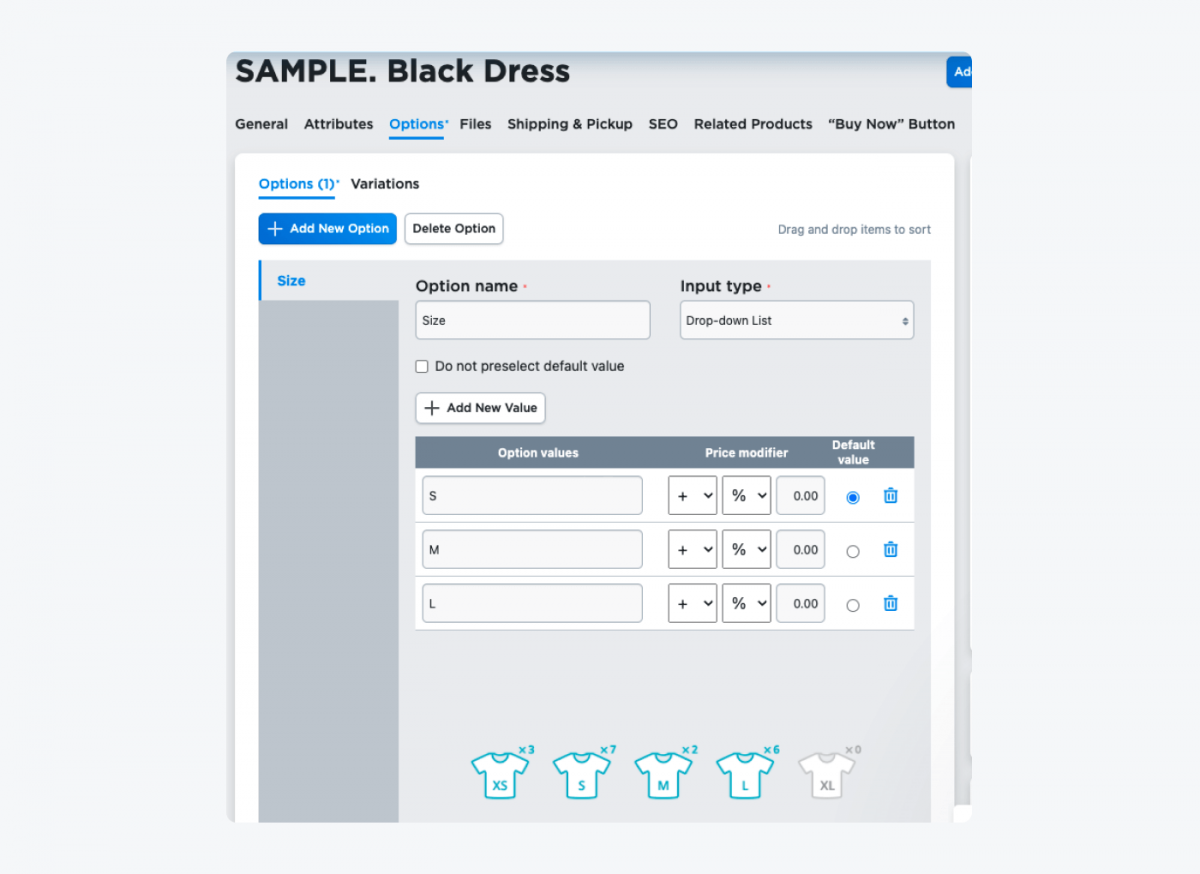 In comparison, on Shopify, there are plenty of advanced options. For example, you can add custom fields to your product pages with specialized information or files, like product expiration date or burn time for candles.
Product categories
Assigning products to categories is pretty straightforward on Shopify and Ecwid stores. You can do this manually by searching product SKUs or their names. However, Shopify makes it a little easier to manage many products at once. You can create automated collections by using up to 60 conditions to include matching products automatically.
Inventory management
Both Shopify and Ecwid ecommerce solutions allow online store owners to manage sales and their inventory on the go (both solutions have apps for iOS and Android). It is important to keep an eye on your inventory stock to avoid selling more products than you actually have. This way you won't have to deal with angry customers.
When you integrate Ecwid's online store into social platforms or marketplaces, your online sales will automatically sync across all channels (eBay, Amazon, Facebook, Instagram, etc.). On top of that, you can set up low-stock alerts or display stock status and quantity on the storefront.
Ecwid's inventory management is good enough, but Shopify's is better. It has all Ecwid's functionalities and unique, advanced ecommerce options. For example, exporting inventory to a CSV file, transferring products between locations, or products' inventory history.
Digital products
Ecwid lets you sell downloadable items such as e-books, photos, music, or video tutorials. Digital products added to your store will be delivered to customers automatically via unique links. Every file can be up to 25 GB and you can add as many of them per product as you need.
In this case, Ecwid is better than Shopify—the maximum file size you can upload on Shopify is 5 GB and you have to use an app for that.
Analytics and reporting
Both Ecwid and Shopify provide sales and customer data tracking tools to review your store's activity. Even Ecwid's free plan contains vital store metrics. Both solutions, let you extend the analytics functionally by adding apps or by customizing reports via API.
Shipping
Thanks to Shopify Shipping you can connect your Shopify account with Shopify's shipping carrier accounts. It lets you display calculated shipping rates (instead of flat rates) at checkout and get discounts on shipping labels. Shopify Shipping is available on all plans but only for orders shipped from the United States, Canada, and Australia.
On the other hand, Ecwid doesn't calculate shipping costs for you. It does let you set up shipping options, like live rates, flat fees, free shipping, or custom tables based on subtotals or weights.
Ecwid vs. Shopify Lite
If you're only looking to embed a cart and checkout functionality on your existing website or sell on marketplaces and social media, you'll be better off with Ecwid. Ecwid's Standard cart ($29) offers you more value for money than Shopify's Lite plan ($9).
Ecwid plugin provides a product catalog, gift cards, Facebook pixel, SEO tools, and more. Shopify Lite has only the "Buy Button" functionality.
Shopify POS vs. Ecwid POS
The winner is Shopify thanks to providing POS out of the box.
Thanks to point-of-sale functionality (POS), you can sell products in physical locations. It is a pretty close Ecwid vs. Shopify race because both solutions provide this feature.
All Shopify plans come with Shopify POS Lite (basic). It lets you accept payments at pop-ups, markets, fairs, and other physical locations. The upgraded version of Shopify's POS system is available at an extra cost of $89/mo. The POS Pro has faster workflows, advanced inventory tools, and lets you manage staff permissions.
On the other hand, Ecwid's POS requires integrating with third-party apps, like Square and Clover.
Dropshipping
The winner is Shopify, for seamless integration with AliExpress and many options to reach out to other dropshippers.
Shopify and Ecwid ecommerce solutions let you develop different types of business models, for example, dropshipping. Dropshipping refers to selling products without stocking and handling them. It's possible when you integrate your online store with third-party suppliers who fulfill your orders.
It's a great business model if you're on a budget, or you just want to focus on optimizing your ecommerce website. Neither of the solutions provides this functionality out of the box, but they provide the means to access it.
In fact, Shopify has a first-party app, Oberlo, in their marketplace so you can connect with thousands of product suppliers on AliExpress right away. Alternatively, you can reach others via different apps or dropshipping directories.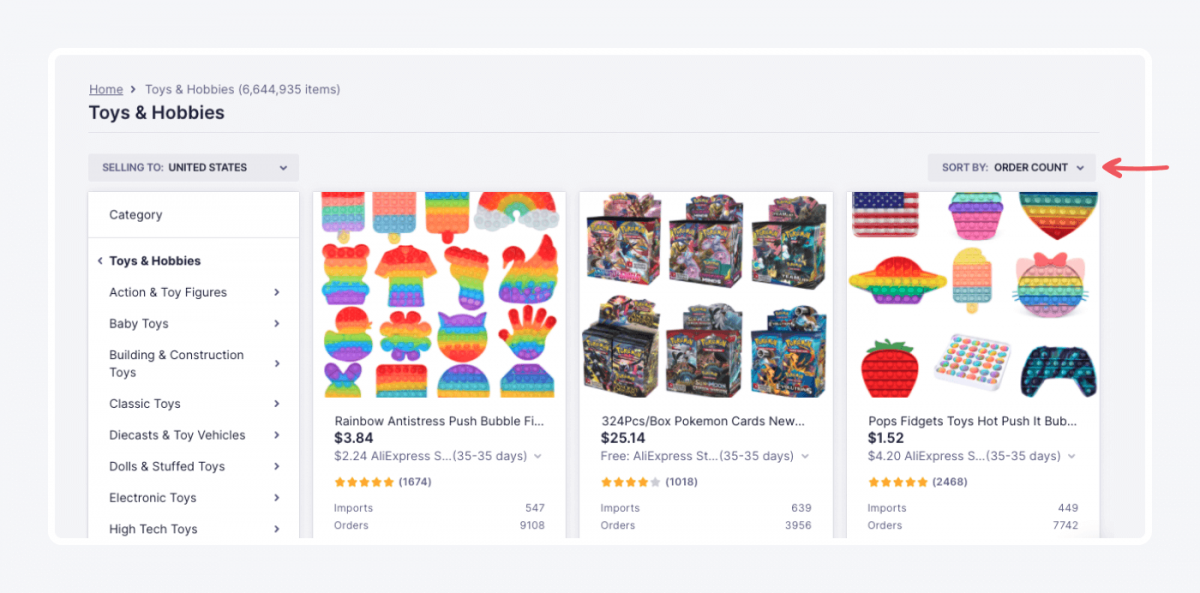 Have a look at our dedicated guide to how Shopify dropshipping works.
On the other hand, setting up a dropshipping business on Ecwid requires more manual work. You can still connect your website to suppliers (e.g., via Alibaba or Wholse2B) and migrate products via third-party extensions. But it has a poorer selection of integrations than Shopify, or any other dropshipping platforms, for that matter.
Design and flexibility
The winner is Shopify for greater customization options and peace of mind that the themes you choose are updated with the current version of Shopify
When designing your store, Shopify and Ecwid are hard to compare because we're not comparing apples to apples.
Building an ecommerce store on Shopify starts with choosing a template and a theme. You can then customize the storefront to your liking by uploading your own text and images in a drag-and-drop editor. You can choose from 10 free themes and 70 paid ones.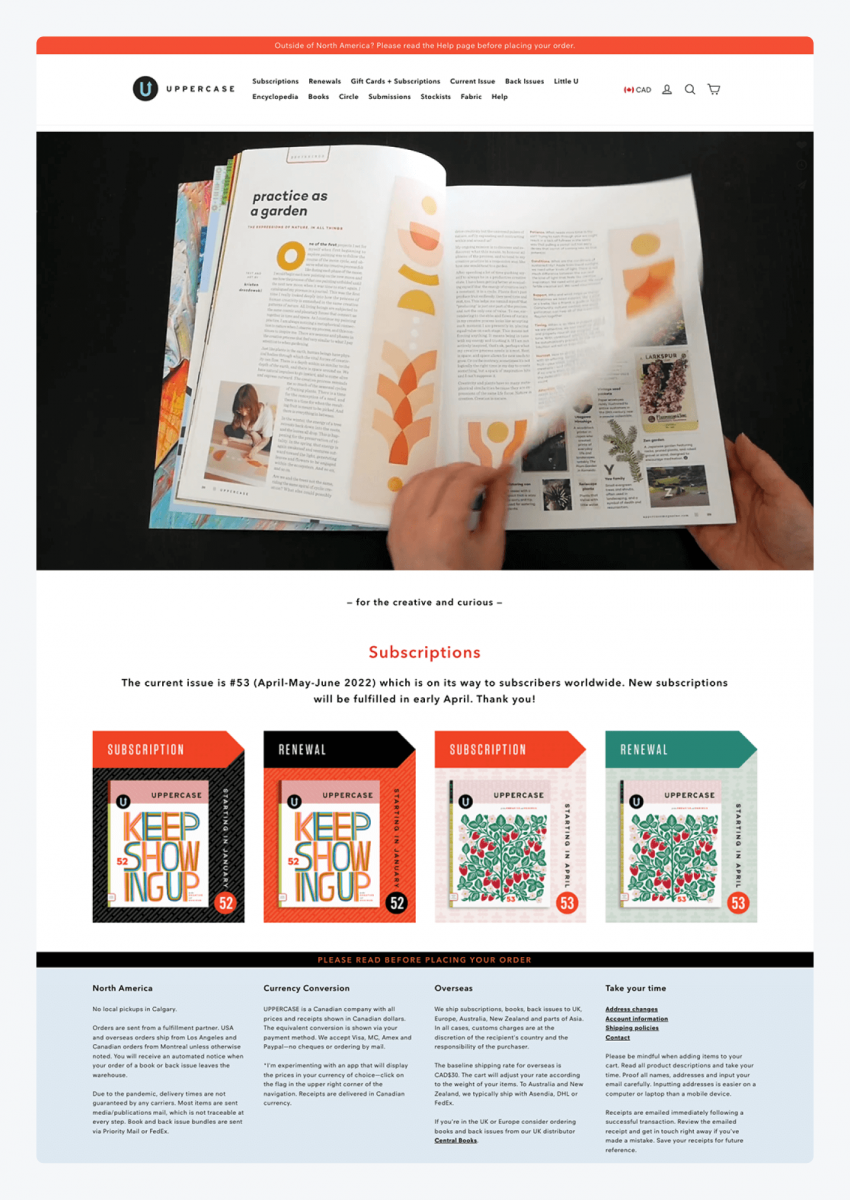 In the case of Ecwid, things look differently. Ecwid's widget isn't a store builder. It only comes with a theme Starter Site, or so-called "free instant site." It's a webpage that has limited customization options. What Ecwid calls "themes" is a simple interface that includes banners or cover images, and a few more sections, like customer reviews, or company mission.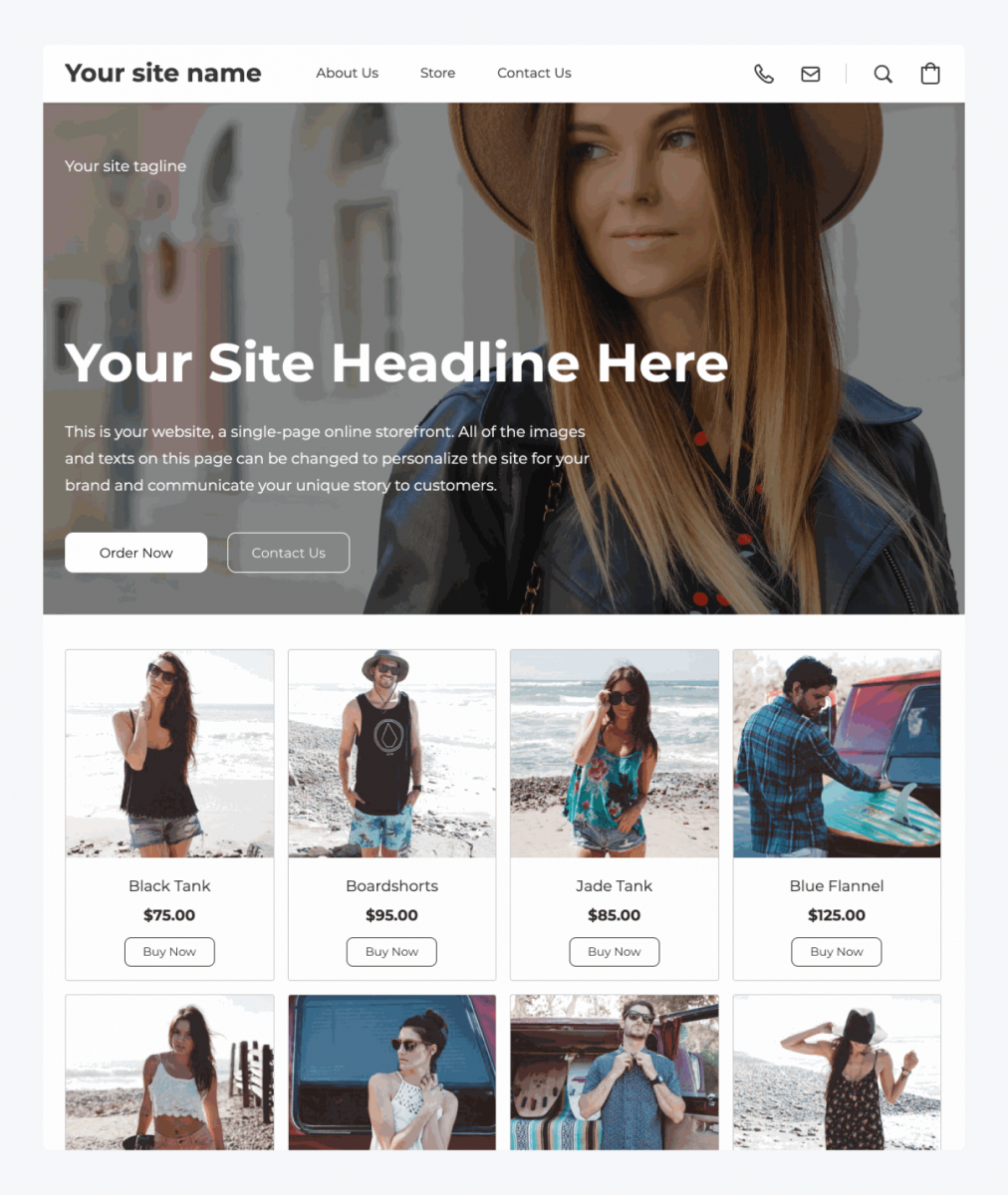 If you add Ecwid's ecommerce plugin to your website built on WordPress, Drupal, or Joomla, your store design will depend on your chosen platform. You need to bear in mind that finding themes compatible with Ecwid can be tricky (depending on whether they are consistently updated on not).
Check out the list of free minimalist WordPress themes or the best free WordPress themes for blogs.
Customer support
The winner is Shopify for providing help on all types of customer service and a rich selection of self-help materials, including video tutorials on all plans
Ecwid's support options are limited and depend on your plan.

For instance, Ecwid's cheapest plan only allows you to contact the customer support team via web chat. You can phone support if there's an issue on both higher-tier plans. Interestingly, Ecwid's annual Essentials and Unlimited plans include a free customization consultation that lasts 2 or 12 hours, respectively. But once you exceed the time, you'll pay an hourly rate for the development time.
Unfortunately, Ecwid's free program has no live customer support, but you can use their blog and ask other users for tips on how to use their plugin.
Shopify's customer service, on the other hand, is enviable. You can get near-instant solutions to your issues 24/7. You can also send an email if you prefer it that way.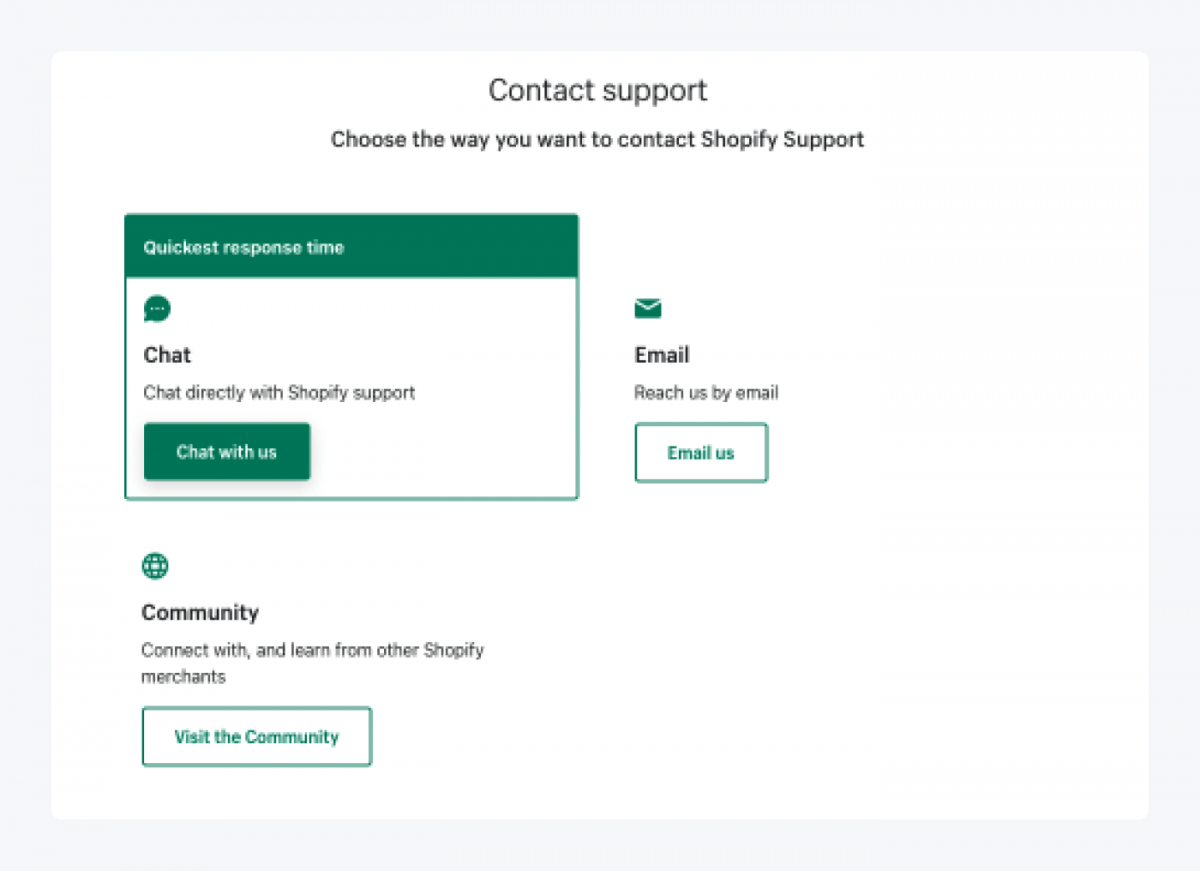 On top of that, The Shopify Help Center helps you learn about using the platform. It contains videos and manuals on every possible topic.
In this department, Shopify support leaves Ecwid in the dust.
Ease of use
Draw. There's no clear winner in this Ecwid vs. Shopify battle because both ecommerce solutions offer intuitive functionality and design.
Ecwid's control panel is user-friendly and well-designed, so you won't have to click through multiple options to find something. It offers various settings to adjust your store's design to your needs.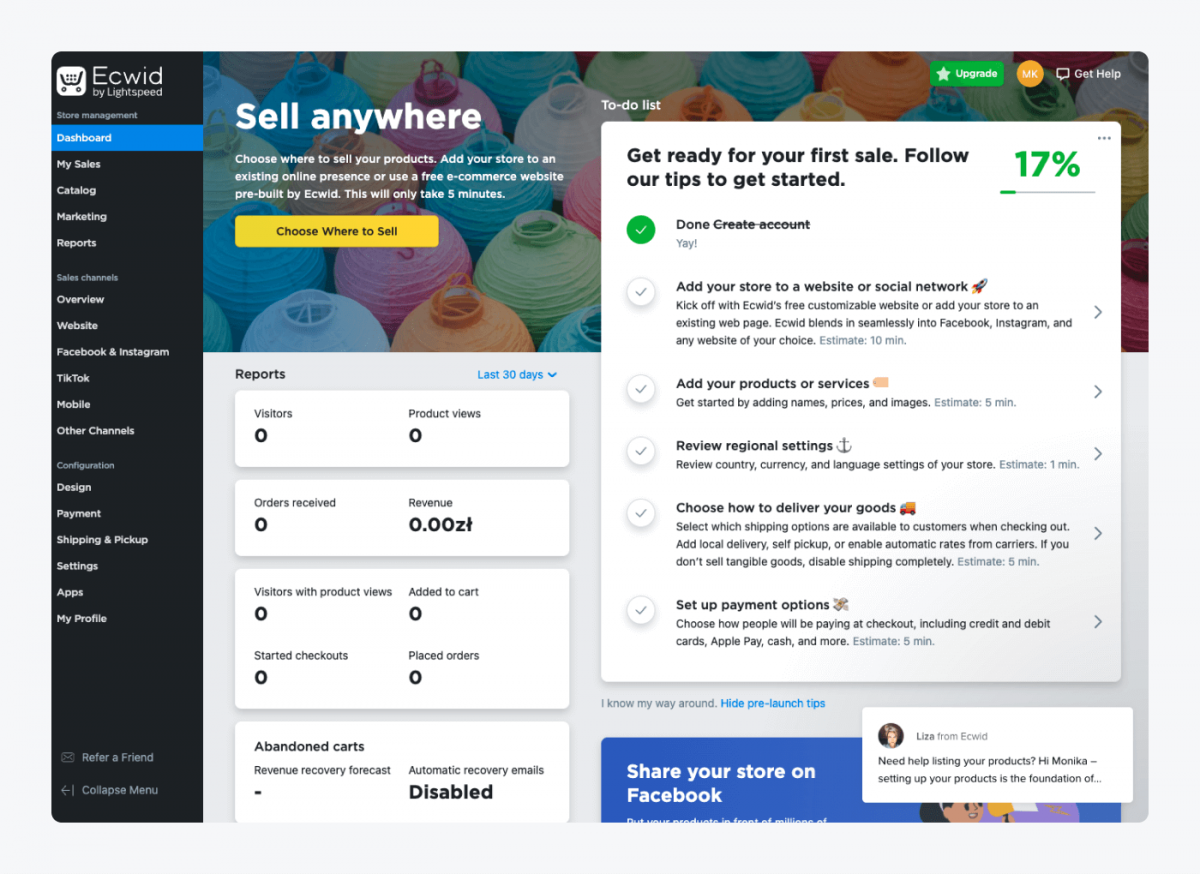 Ecwid took care of the customer onboarding process from day one by including the setup wizard's instructions right in the dashboard. Ecwid's integration with your website is seamless. Simply installing Ecwid's widget on your site's backend means you don't have to learn how to use a new system. You just continue to use Weebly, Wix, Squarespace, GoDaddy, WordPress, etc.
In contrast, Shopify's dashboard also includes a drag-and-drop website builder. Despite having more customization options and a more complicated structure than Ecwid, Shopify is easy to use.
Shopify will suit beginners as well as meet professional designer needs. That's because the platform invests a lot of effort into making its software visually appealing and practical to use.
Shopify's selling point is that there's no need to deal with coding, hosting, security or updates because everything is handled for you. You select a theme, add products, and extend your online store's functionality by installing add-ons from the app store.
Check out the list of the best Shopify apps to boost your sales and enhance your store's backend.
Summary: is Ecwid better than Shopify, or the other way round?
The truth is both solutions offer entirely different experiences to small businesses. An Ecwid online store can look and function just as well as one built with Shopify.
Ecwid is more suitable for hobbyists or those who want to run a low-maintenance and low-cost online store.
Ecwid's limited options in some areas can turn out to be advantageous for some users.
Shopify is a better choice for those who want to spend time customizing and improving their online business, thanks to multiple features and various apps.
Shopify comes at a higher price tag than Ecwid in the long run.
The ultimate choice between Ecwid vs. Shopify depends on a list of your business priorities. You should also consider your business's size, product range, budget, and the time you want to spend on growing your online store.
FAQ
Is Ecwid cheaper than Shopify?
Ecwid comes in as more affordable than Shopify because of its free plan. However, Shopify's paid plans provide better value for money.
Is Ecwid a good ecommerce solution?
Ecwid is a good ecommerce option for small businesses, because of its ease of use, its good range of sales features, and its reasonable pricing.
Does Ecwid integrate with Shopify?
You can automatically connect Ecwid with Shopify without coding via extensions, like LitExtension. The process lets you transfer all the products, customers, orders, blogs, etc.
Which is better: WooCommerce, Ecwid, or Shopify?
WooCommerce has an unlimited number of products and basic features for free. But it can turn out to be an expensive option. To get unlimited products on Ecwid you need to pay $99 a month. Shopify is better if you're looking to build your website from the ground up.
What is the difference between Shopify, Wix, and Ecwid?
Ecwid is a plugin designed to be integrated into an existing website while Wix and Shopify are drag-and-drop website builders. You can add Ecwid to any CMS while Wix and Shopify offer to create hosted websites.