Why even consider WordPress alternatives? Well, just look at what dissatisfied users say about WordPress:
"Tragic really."
"It's like they hate the user."
"Some of the code is ancient history."
"Nightmare to modify, expand, scale, or even maintain."
If you find the comments relatable, check out the list of WordPress alternatives in this article. I'm sure you'll find the best solution to meet your needs.
In this article, you'll find out about:
An overview of alternatives to WordPress
Detailed descriptions of WordPress competitors
Areas in which they beat WordPress
In case you're looking for a different platforms' comparison, check out these:
Here's the list of top WordPress competitors:
What are the best WordPress alternatives?
WordPress websites account for 43% of all sites using CMS technologies. They are scalable, search engines love them, and customization options are limitless. No wonder it's a popular CMS among major players, such as Zoom.us, Salesforce.com, or Grammarly.com.
In comparison, WordPress competitors, like hosted Wix and open source Joomla have only 10% and 2% of the market share, respectively. The numbers show WordPress isn't going to be dethroned any time soon.
But let's get real—
WordPress isn't the best fit for everyone. And there are plenty of arguments for that. For starters:
You'll have a hard time using it without coding skills or a budget to hire a developer
It has the highest number of hacks among CMS platforms, and 90% of vulnerabilities are linked to plugins
Frequent updates hinder its functionality
The list could go on and on, but to cut a long story short—
There are a couple of alternatives to WordPress you should explore to see which platform meets your needs.
Check out the comparison table below. It gives you a brief overview of the areas to pay attention to when choosing a CMS.
Scroll down to learn more and see detailed reviews of all the WordPress alternatives we've included in the table.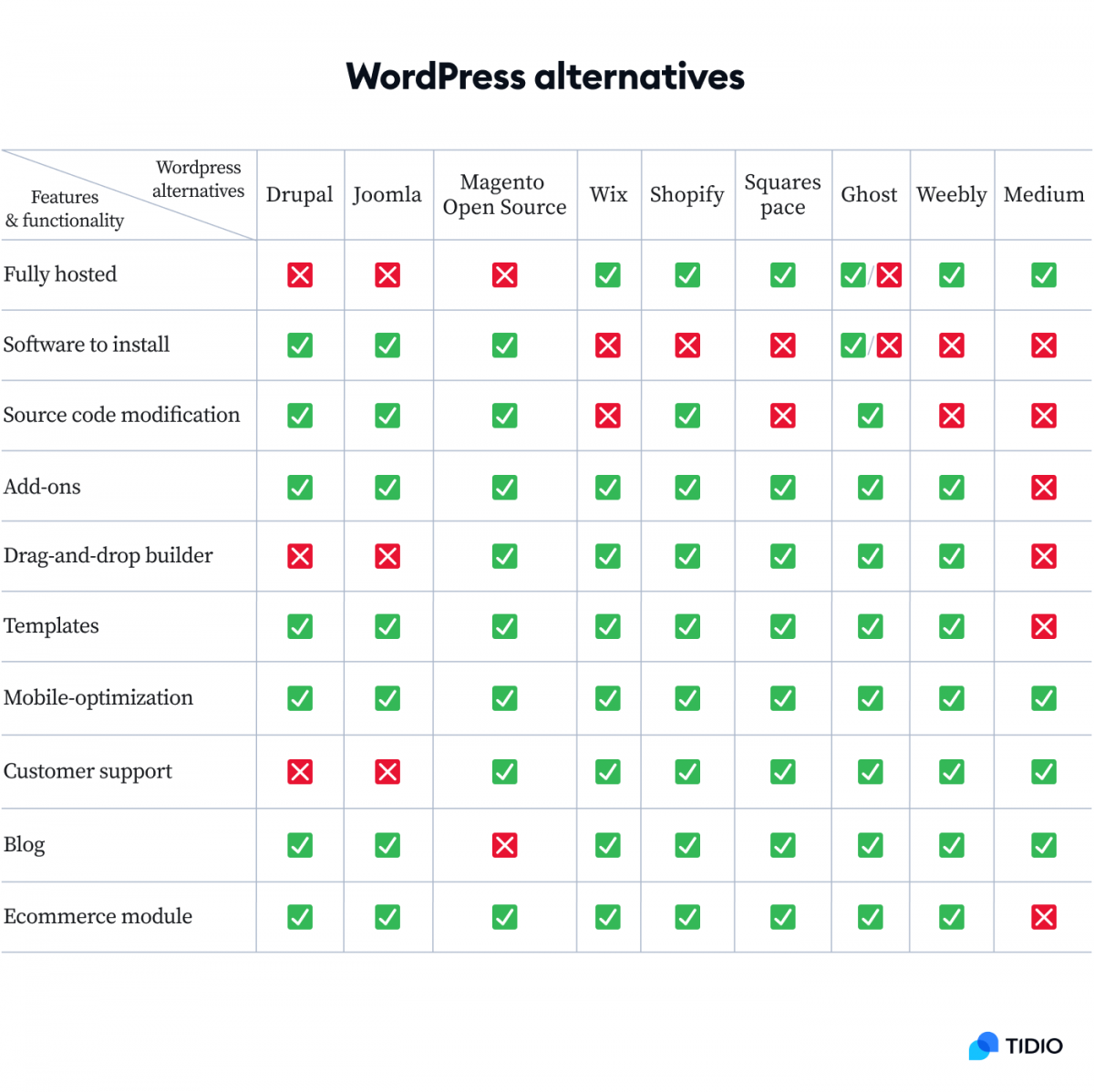 Drupal is probably the most powerful CMS platform. Many developers will find it the best alternative to WordPress. It's used by diverse brands, agencies, news outlets, and institutions that can afford an in-house team of developers.
Drupal website example
Drupal is designed for developers with advanced knowledge of HTML, CSS, and PHP. Even though it has fewer themes and modules than WordPress, it's still highly customizable and flexible. Due to its technical configuration options, it will take time to complete a project.
You don't have to reinvent the wheel when it comes to coding on Drupal websites. If you want to add a new feature to Drupal's site, "there's a module for that." Modules are sets of PHP, JavaScript, and/or CSS files and there are about 48,000 of them in the Drupal library.
However, its themes library and the third-party market aren't as big as WordPress's.
Why is it one of the best WordPress alternatives?
Can handle complex security issues with less effort than WordPress (e.g., PCI compliance, database encryption)
Can handle high-traffic websites and process loads of data
Nearly limitless content management functionality with modular design
Downsides
Source tweaking is time-consuming and has a bigger learning curve than WordPress
Its technicality will be an overkill for standard websites and blogs
Costs:
Free to use platform
Domain & hosting costs
Development team's salary
You can test the CMS before installing it with the public Drupal demo for free. You just have to follow a link and put a provided user name and password.
Or you can just watch the video below.
Joomla is another open-source platform CMS and a free WordPress alternative. It's similar to WordPress in terms of ease of use and as configurable as Drupal. That's why Joomla and Drupal make great WordPress alternatives for news sites, university and government websites, and corporations.
Joomla website example
Visit IKEA's and Harvard University's websites to see a full range of Joomla capabilities. They use several Joomla extensions to make them accessible, responsive, and multilingual.
Joomla's been around nearly as long as WordPress. It still remains one of the most popular content management systems around the world. It provides a robust and complex platform that can produce any type of website. For additional features, you can use nearly 6,000 apps.
When comparing WordPress vs. Joomla in terms of their backends, Joomla has more out-of-the-box features, like non-standard content types, user management, multilingual support, and templates.
What makes it a great WordPress alternative?
Built-in multilingual support to aid global businesses
Banner management tool to create ad campaigns and track them
More default types of media files and an option to determine which ones are uploadable
Downsides
It might have been the main WordPress competitor in the past but since Drupal and other CMS WordPress alternatives, it's hard to find something differentiating about it
Site structure modification, content creation, and maintenance requires expert coding know-how
Cost
Joomla is an open-source platform that is free to use
You have to pay for registering a domain and a hosting provider
There may be extra costs for web development and maintenance
You can use a shared demo installation of Joomla to have a feel about its main and admin pages.
Alternatively, there's a great tutorial video showing beginners how this CMS works.
Magento Open Source is a self-hosted, highly configurable platform which makes it a serious WordPress competitor. Go for it if you've outgrown the WooCommerce plugin and need an advanced ecommerce website to manage thousands of SKUs and a large volume of visitors.
Magento website example
Magento 2 helps Land Rover display multiple stocks (clothing, accessories, travel, etc.) and easily navigate within the categories. Everything from layout to carousel pictures help them define their brand voice.
Magento software is free, but you'll have to pay for hosting and Magento extensions. It can get pricey because it needs a lot of server space to run smoothly.
Magento's powerful dashboard lets you manage multiple stores, use several worldwide shipping providers, and make transactions in multiple countries, languages, currencies. It will easily scale to support large ecommerce stores.
You need at least intermediate web development skills to design your store yourself and it can take time to get used to all Magento's out-of-the-box features and extensions. Some Magento 2 extensions offer functionalities that can be achieved through a settings configuration. So if you lack experience and download unnecessary apps, it will only add extra weight to your store.
Magento has a hosted version of the software, called Adobe Commerce. It has more advanced features (even a drag-and-drop builder) and a higher price tag. It's suitable for enterprises rather than SMBs.
Why is Magento a great WordPress alternative?
More versatile and secure than WordPress and can support your growth over time
It has robust inventory and order management features thanks to unlimited product attributes
Great for multi-channel businesses—you can create separate product catalogs for each channel and bulk-upload them
Downsides
Magento software has a steep learning curve
Like Shopify, it's not well optimized for purposes other than ecommerce
Cost
Magento Open Source platform is free to use
You need to cover hosting and domain name costs
There are paid add-ons and themes
Developers fees can be pricey
Why don't you test-drive this CMS on a Magento installation demo? It's public and everyone can access it.
Or you can just watch a video of how others use it. Great for beginners.
It's an ideal WordPress alternative for bloggers, personal projects (e.g., portfolios), and creative agencies. Go for it if adding video backgrounds, scroll effects, and animations to your pages are on top of your list.
Wix website example
Check out all the scrolling and visual effects on Mariela Mezquita's portfolio website.
Wix's users are all about its drag-and-drop editor and 500+ ready-designed templates that let them quickly build a website. You also get access to a setup wizard—a unique artificial design intelligence called Wix ADI.
Wix also lets you skip templates and use HTML and CSS to design your page from scratch. And if you get stuck, you get a dedicated customer support team to help you along the way.
What makes Wix a good WordPress alternative?
Excellent all-in-one site builder with free reliable web hosting, domain, and SSL security protocols
Easy to use for beginners and first-time website owners
SEO tools include Wix SEO Wiz—a step-by-step guide to help you improve site visibility
Downsides
Wix has limited control of your site
More expensive than WordPress in the long run
Cost
Limited free plan available
Website Plans from $4.50/mo to $24.50/mo
Business and ecommerce plans from $17/mo to $35/mo
If you're not familiar with website builders, you can check out the video below and go from a complete beginner to a pro.
If that's too long, check out the pictures below to see what's under Wix's hood.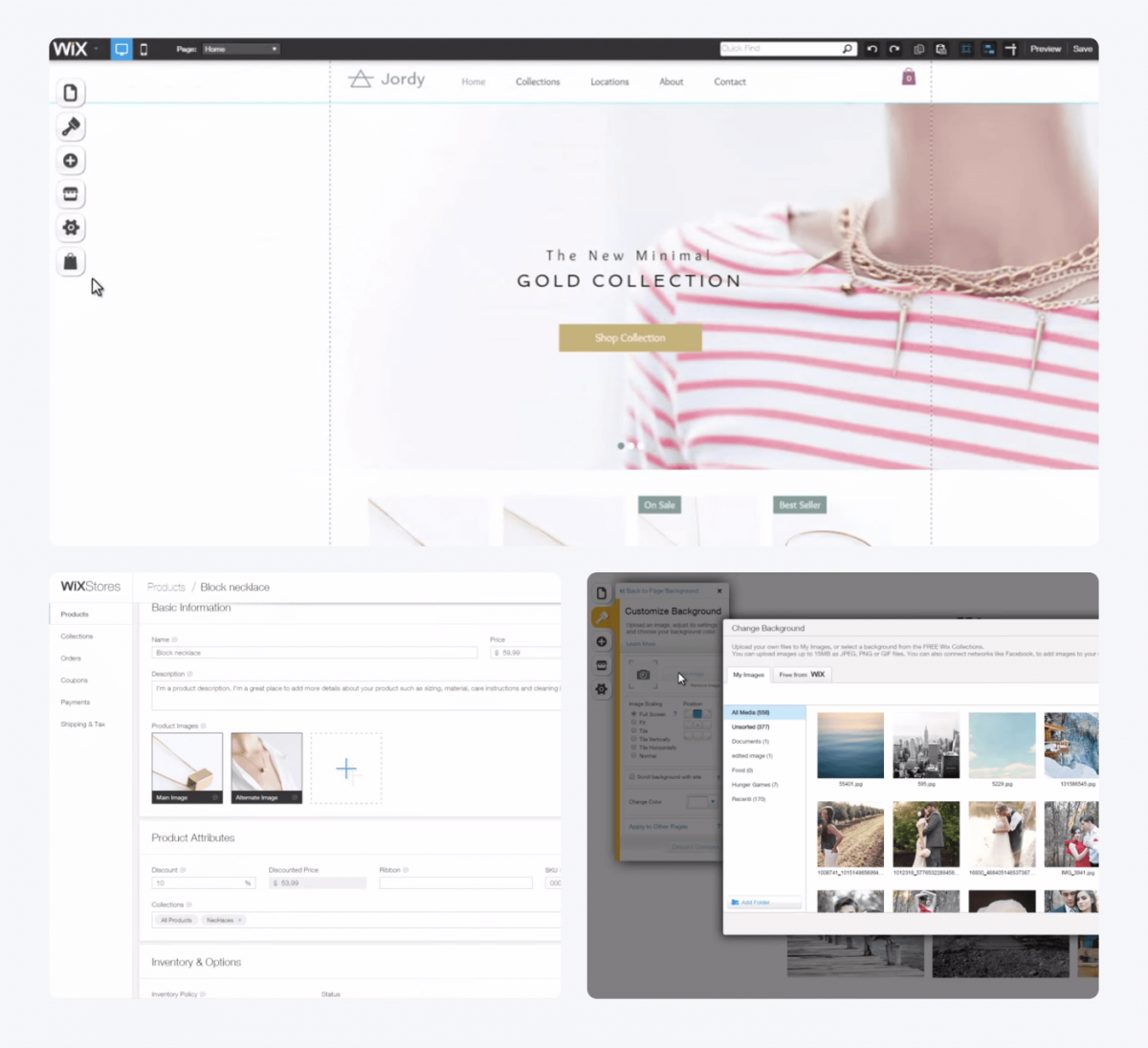 Shopify isn't an obvious WordPress competitor unless you want to start an ecommerce business online. Shopify platform will suit small business owners and larger retailers who don't have much technical know-how.
Shopify website example
Shopify is an adaptable website builder. For example, you may be surprised that the Wicklewood website was built by two people without a degree in web design. You can find out more about their journey and how they manage to stay competitive in the market.
The setup and management of an entire store on the Shopify platform is fairly easy. All you need to do is to set up an account and choose one of the 80 ecommerce themes to build posts and pages. Shopify lets you drag and drop different website elements to customize your page.
Unlike the WooCommerce plugin, you don't have to worry about security issues, manual backups to your website, because Shopify makes sure payments are safe and the software is up to date.
Shopify has a first-party Point of Sale module to let you integrate Shopify tools with your storefront. There are also plenty of third-party apps for Shopify, like Tidio live chat, to extend your shop's functionality and improve user experience.
Find out more about WooCommerce vs. Shopify comparison if you're deciding between those two.
Where does Shopify beat WordPress?
Hosted ecommerce platform with everything you need under one roof to save you time on backups and maintenance
Advanced marketing and ecommerce features, like reports or abandoned cart recovery
PCI compliant and fully secure for credit card payment processing
Downsides
Not the best for other purposes than ecommerce
Extra transaction fees for not using Shopify Payments
Cost
Three plans at $29/mo, $79/mo, and $299/mo for building a website
Shopify Lite at $9/mo for in-person sales and Buy Button
Shopify Plus for enterprises with custom pricing
Check out the article about Shopify pricing to see how much it costs on a monthly basis.
If you've not heard of Shopify before, this video will explain all you need to know in under an hour.
If that's too long, just take a look at the images below and see if this is something you can work with.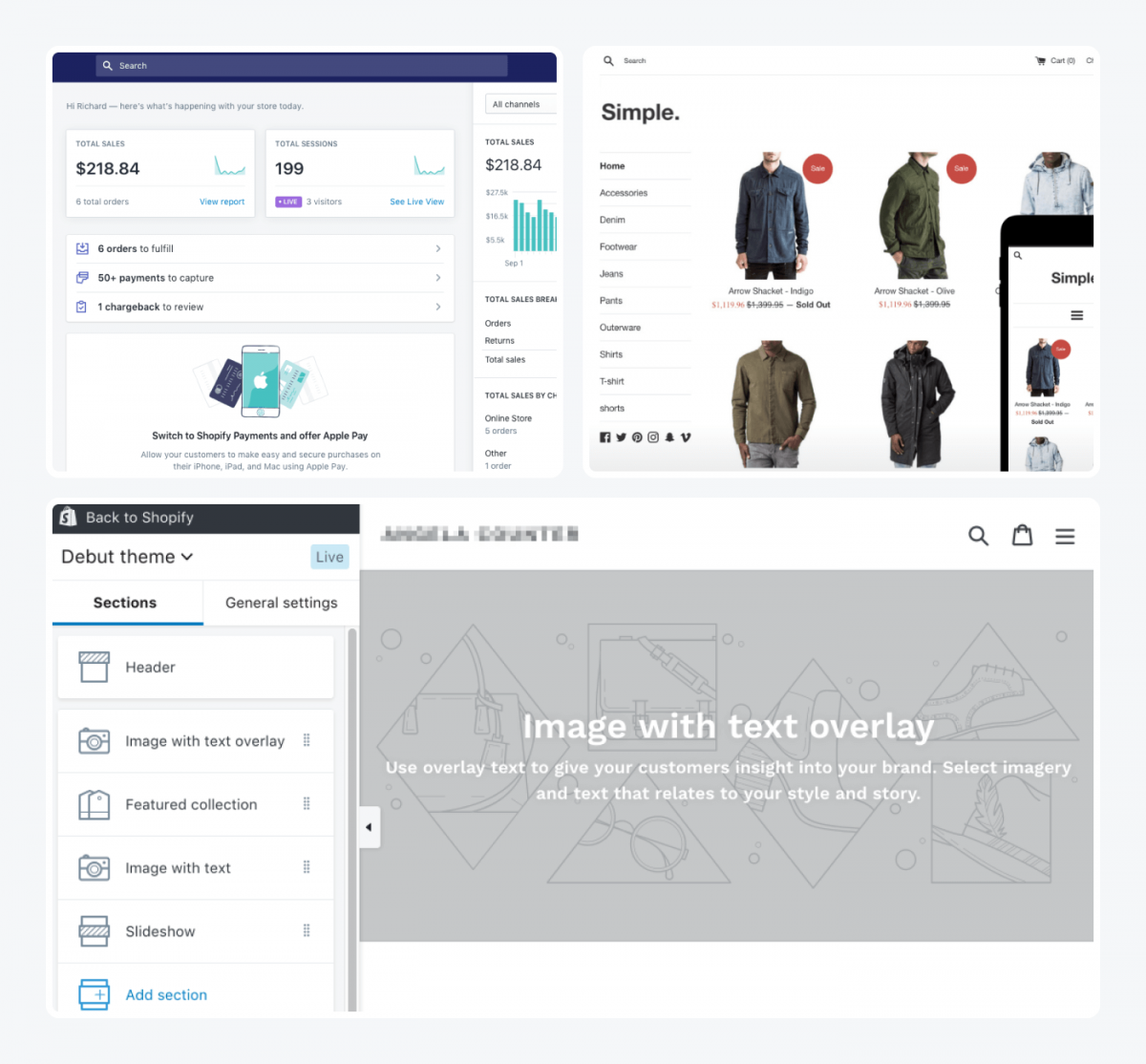 Squarespace is one of the best WordPress alternatives for beginners. It's a drag-and-drop website builder similar to Wix. But it has a few unique features that would appeal to local business owners and beginner bloggers.
Squarespace website example
Check out Blue Dog bar's beautiful minimal design which helps focus on content and is easy to navigate.
Squarespace has over 100 templates optimized for mobile and user-friendly customization options to build your business website quickly. In comparison with WordPress, it's much simpler to use. For example, it only has essential SEO tools and little flexibility in terms of web design.
It has a built-in scheduling feature that lets site visitors see your available slots and book appointments. Other features include podcast streaming, newsletter signup templates, and social media sharing options.
In the case of Squarespace, some of its advantages can turn into disadvantages. To make it so intuitive to use, Squarespace got rid of some features like auto-save or a module for inserting a table. You may not notice they are missing until you need them.
WordPress vs. Squarespace advantages
No coding is needed thanks to the WYSIWYG (what you see is what you get) editor with pre-built sections to visualize the results immediately
Powerful fully-hosted solution with domain name registration, hosting, and support
Award-winning Squarespace templates to create portfolios, online stores, blogs, event planning, restaurants, and more
Downsides
Limited plugins or additional modules to extend Squarespace's functionality
Difficult to build a complex website because Squarespace only supports a single sub-level of menu options
Cost
Four pricing plans ranging from $16 to $54/mo
A custom domain name from $20 to $70/year
Save up to 30% on annual plans
Check out how Squarespaces' editor works in this short tutorial.
Or if you're in a hurry, you can just preview images below to decide if this WordPress alternative is right for you.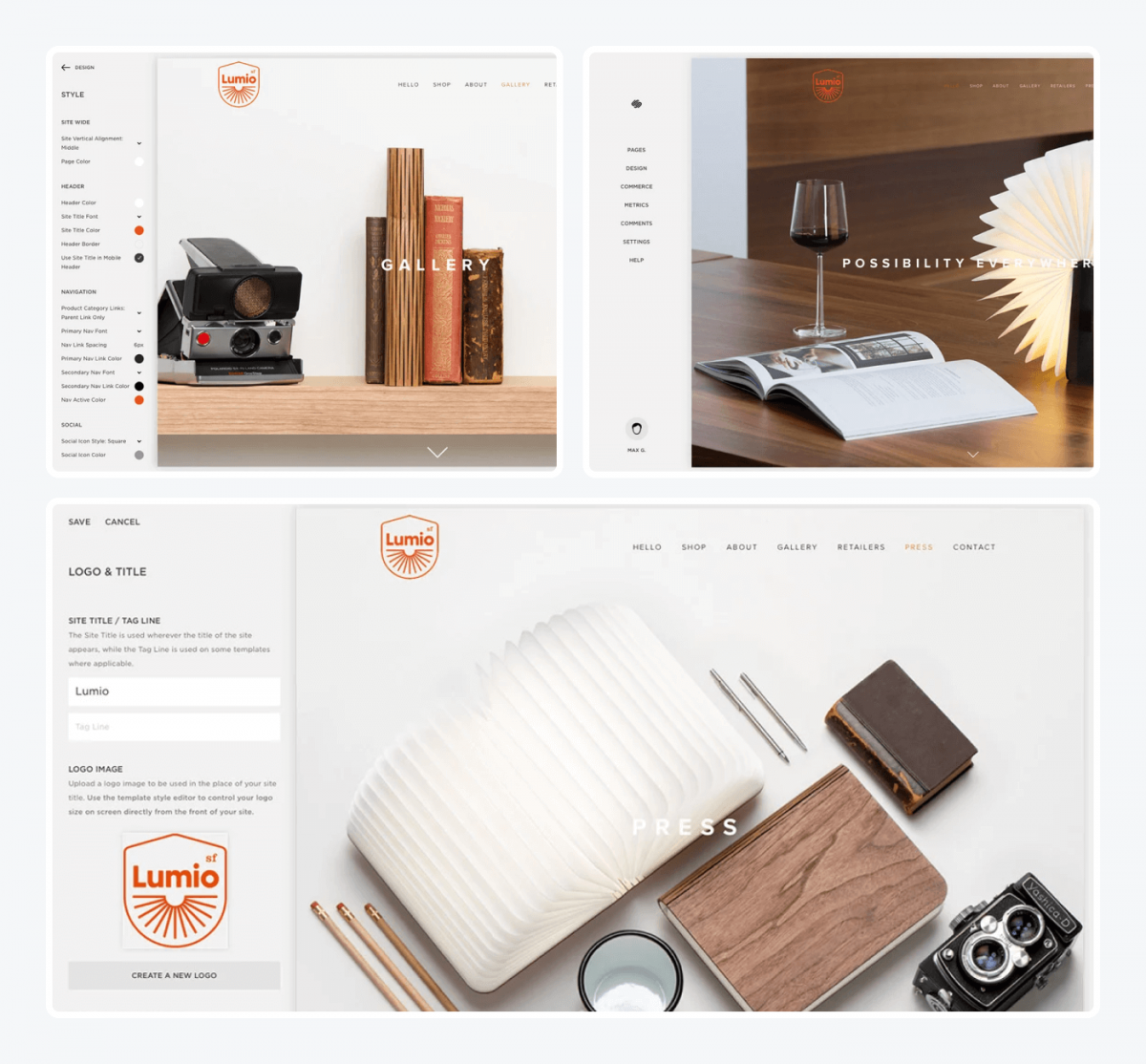 If you're looking for a blogging platform, you can choose Ghost instead of WordPress. Ghost is a free WordPress alternative designed to simplify online publishing for individual bloggers and online publications.
Ghost website example
Check out the subscription options on The Browser that aim to monetize the content on the blog.
Ghost is Node.js supported and open-source. You can build a blog website similar to WordPress, but you won't be hindered by its excessive web development features. It's tailor-made for new-media creators to publish and share their content. It comes with tools to build a website, send newsletters, and offer paid subscriptions to members.
In comparison with WordPress, Ghost is a cheap, simple, and lightweight CMS. But this simplicity means giving up on most of the flexibility that comes with WordPress. You can self-host Ghost on your own server, computer, or Raspberry Pi to have full control over your production environment.
Why is Ghost a great WordPress alternative for a blog?
Specialized solution that provides a straightforward blogging experience
User-friendly interface with all the necessary publishing tools
Quick media files uploading
Downsides
Ghost focuses only on content creation and editing
Not all web hosts will allow you to run it
Cost
Free version available
Fully hosted version with four plans (varied number of staff users and features)
Monthly subscription fee calculated based on users signed up for your site
Check out how to get started with Ghost in this no-fluff video.
If that's not of interest to you, take a peek at the images of Ghosts' admin panel.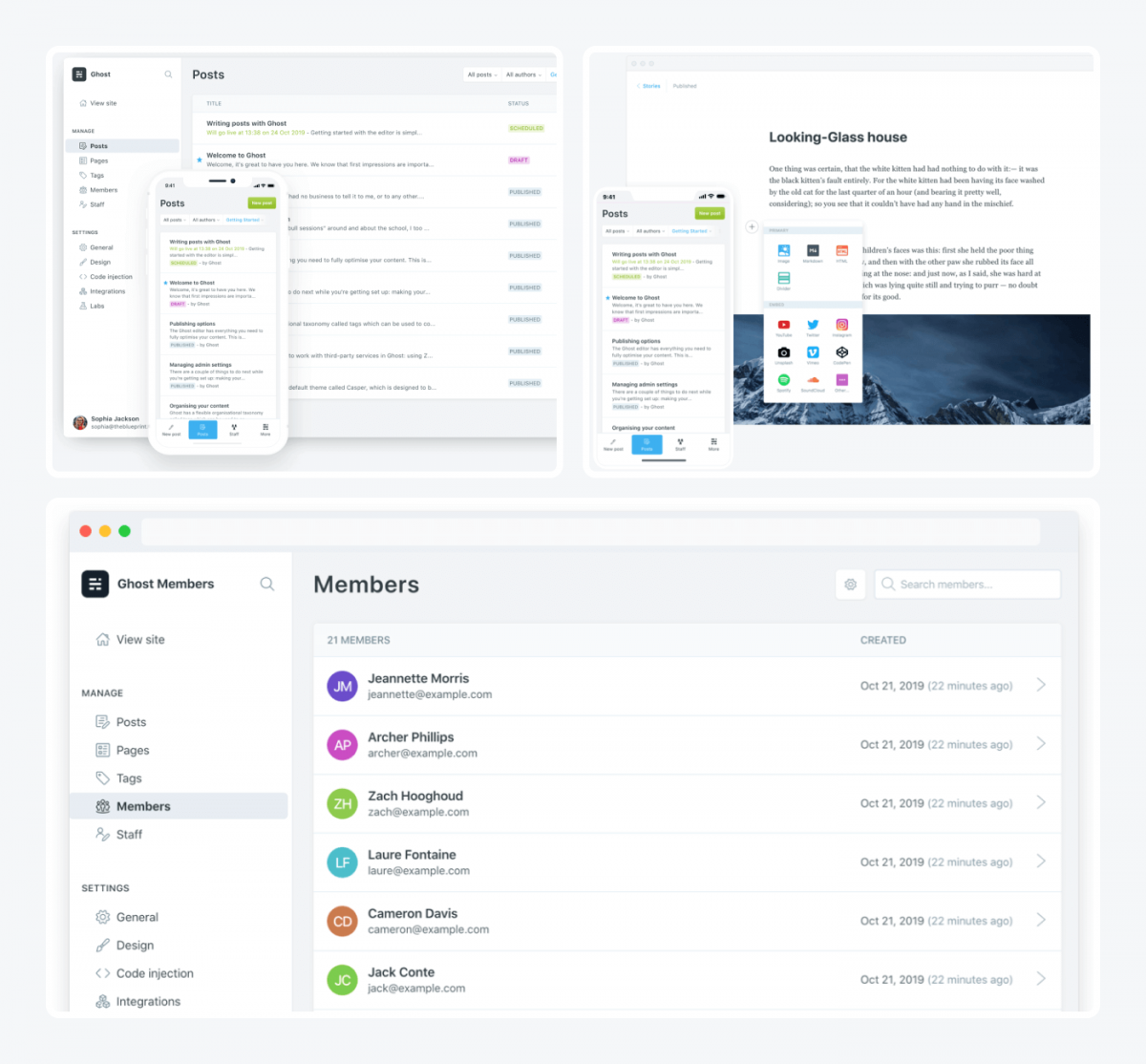 Weebly is another hosted solution on our WordPress alternatives list. It takes care of all technical aspects of housing your site. You can build a fully functional website in a day without any coding skills.
Weebly example website
Check out DOUK SNOW's online store to appreciate its rich visual content and rather simple functionality.
Weebly lets you tell a story by adding dynamic visual elements to your blog. You can add lead capture forms, image slideshows, embed clips, and even customize fonts. Even a beginner can create beautifully customized portfolios and online stores with Weebly's templates and drag-and-drop editor. Just like with Wix's.
But this website-building tool is better suited for sites with more content than Wix. That's because it allows for deeper (unlimited) sub-level navigation and unlimited storage.
All Weebly templates are designed to work on mobile devices. That means you don't have to rearrange elements on the page once you finish designing the desktop version. It can prove very useful if your website has dozens of pages.
Why is Weebly a good WordPress alternative?
All templates are mobile-optimized out-of-the-box
Free custom domain on the $12/mo plan ($20 value)
In-build ecommerce and business solutions for hassle-free management
Downsides
Poor backups—you can download the whole site into a zip file but it can't be uploaded back into the Weebly site or any other service provider
It's unavailable in some countries. The exact list is secret but users frequently mention Russia, Ukraine, Turkey, certain regions in the Middle East, West and Central Africa
Cost
Free ad-supported version
Three premium plans for websites from $5 to $25
Three plans for online stores from $12 to $38
Why don't you see how to build an online store with Weebly step-by-step in this video.
Or quickly preview its dashboard and functionality in the images below.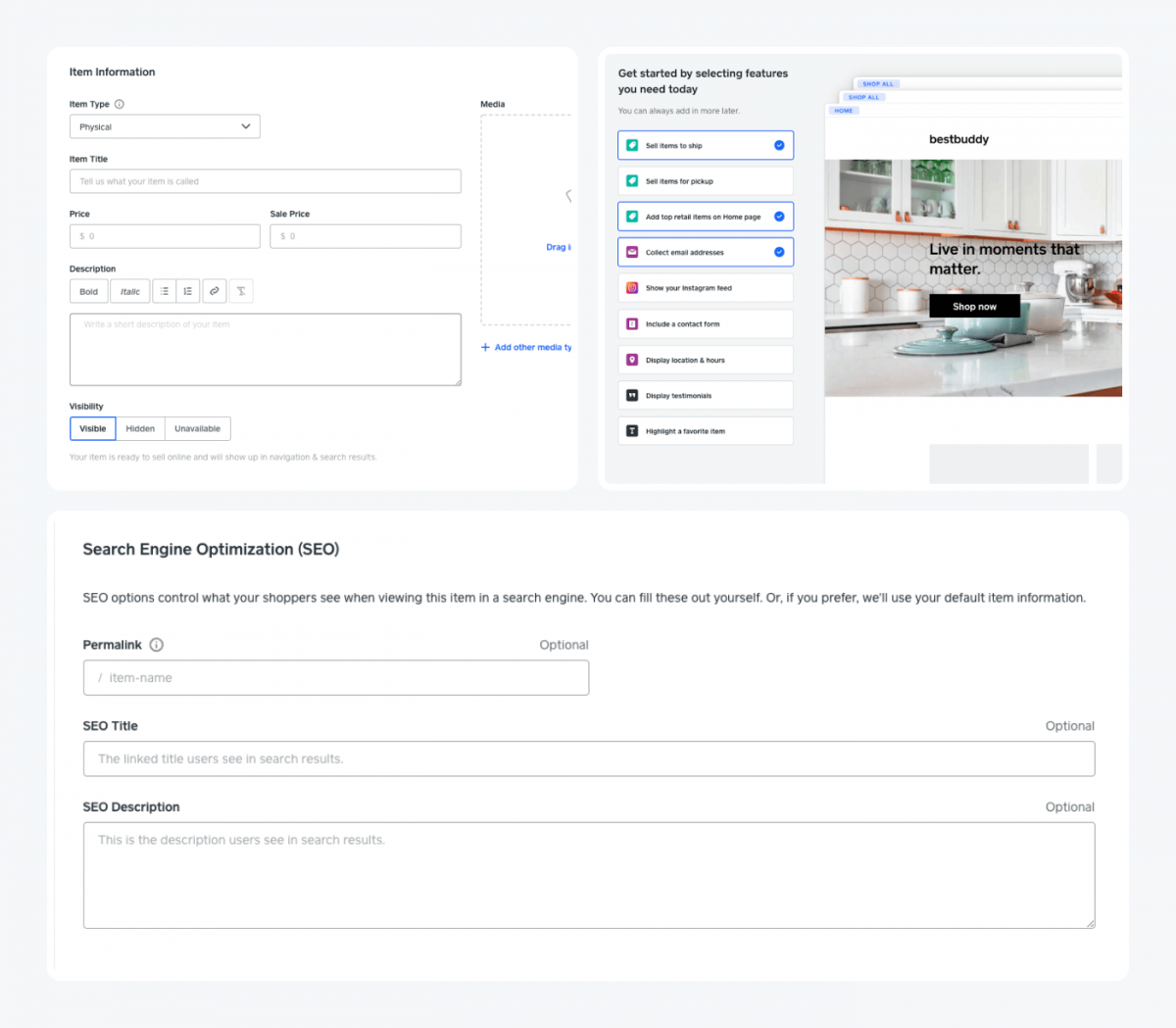 It's definitely not one of the traditional WordPress alternatives. But it will appeal to bloggers and writers who want to promote their stories and posts among the existing Medium user-base.
Medium example website
Check out how The Economist uses Medium to share its longform and multimedia journalism, alongside their news site and print copy. Medium's look and navigation suit the purpose really well.
Medium is more of a publishing platform than a website-building tool. It can compete with WordPress sites in terms of blogging and building a social network around your content. There's no software to download and no drag-and-drop builder.
Instead, you can publish your articles on Medium.com. It has a high domain authority and nearly 100 million monthly active users. Readers can follow you and bookmark, share or comment on articles. You can check basic content performance metrics without leaving Medium.
Every blog post has a similar layout: a cover photo, a profile photo, a brief bio, and a list of posts.
But there are no themes or many visual effects to build your personal brand identity. You'll only get a personalized URL such as "medium.com/user_name" for free and a custom domain if you're a Medium member.
How is it a great alternative to WordPress?
Cheaper and easier to use than WordPress.org and even WordPress.com
Easier to promote content which beginner authors will appreciate
Quick start and no coding skills needed
Downsides
The main focus is writing so you won't find advanced layout customization options
Not suitable for online retailers or business blogs due to lack of search engine optimization options or add-ons
Cost
Free for writers (no hosting or domain costs)
Optional: Medium Membership to unlock reading articles for $50/year or $5/mo
Partner Program lets writers earn money (based on reading time of Medium members)
If you're new to Medium, you can find out how it works and how to make money writing from the video below.
Alternatively, you can get a glimpse of Medium's admin panel in the screenshots below. You can see how simple it is to start publishing.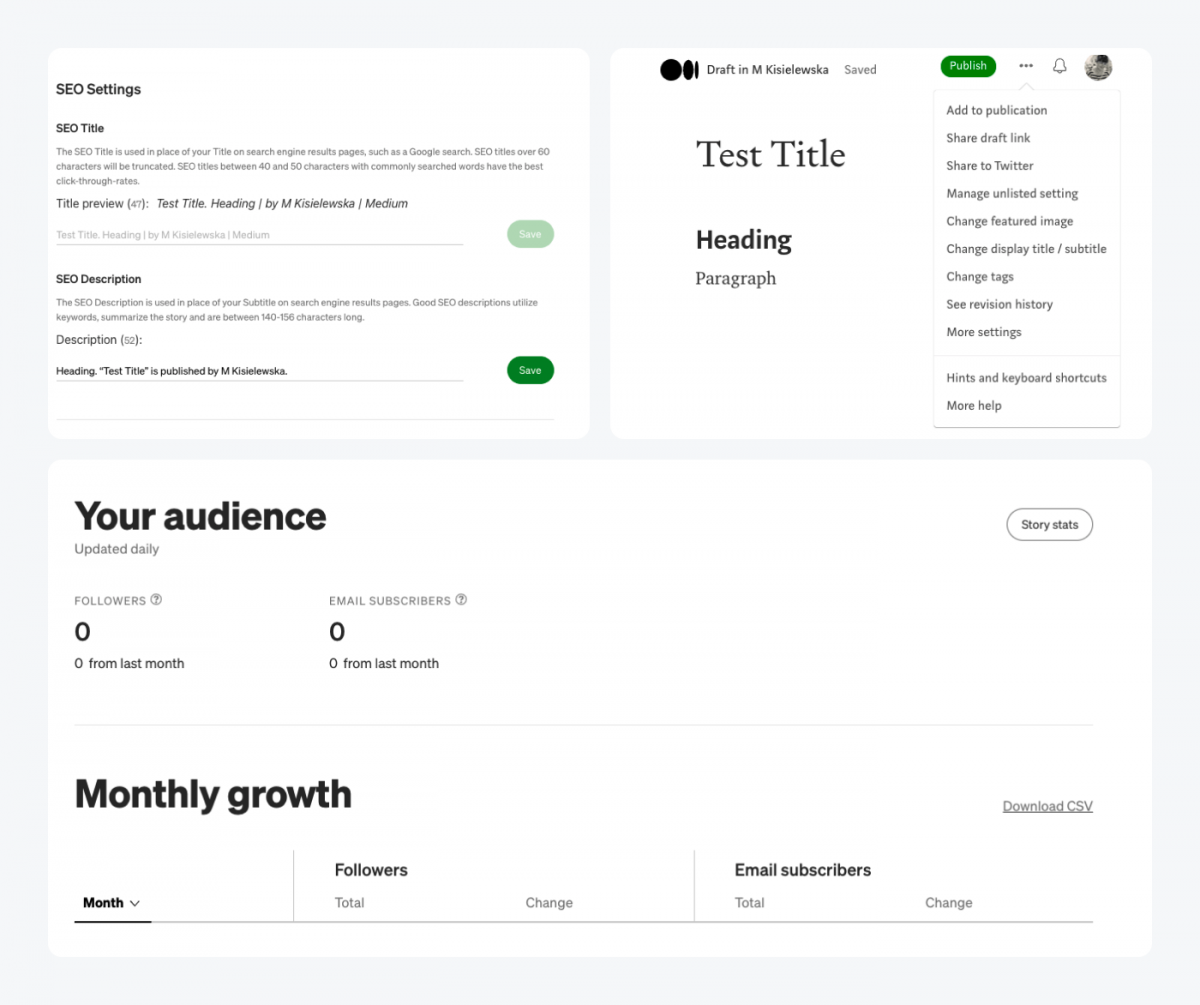 But if you still decide to go with WordPress then check out this guide on how to use WordPress to build a website.
Key takeaway: what's better than WordPress?
Hopefully, after reading this comparison of WordPress alternatives, you have picked a couple of favorites to start or replace a project. Here's what you should remember:
You can hardly find any free alternatives to WordPress. Even if you decide to use open source software, you will have to stomach some costs, like hosting services.
If you don't need a complex website with unique functionality, the WordPress site will be overkill.
There are plenty of hosted ecommerce solutions available on the market that let you set up an online store without any coding skills.
If you're researching WordPress alternatives for developers, there are more secure solutions and better suited for large ecommerce sites than WordPress.
As a blogger, you can explore less obvious alternatives with functionality similar to WordPresss but requiring less hassle to manage.
There are plenty of options to build your online presence and before you decide which one to use, you should figure out what your goals are.