How would you describe a perfect business for students? Let me guess—
Low barrier to entry, little upfront investment, and fast return?
Well, I've just described a lemonade stand.
But if you're looking for a more sustainable source of income than lemonade cash and are willing to put in some effort into your business, you've come to the right place.
We've brainstormed and researched tens of small business ideas for college students. We picked the ones that you can easily do from home, are low cost, and have the potential to be profitable.
In this article, you'll find:
If this isn't what you're looking for, get inspired with these stories:
Business ideas for college students like you
To help you get started, here is a list of college business ideas that go beyond babysitting and cleaning services:
The suggestions are adaptable so you can use your own skills and interests to make them work.
Hopefully, you'll walk away with a small business idea you can start at home and scale up when you're ready.
1. Become an influencer on social networks
Why is influencer marketing on top of the list of entrepreneurship ideas for college students?
The short answer is—users trust influencers, brands allocate their budgets to influencer marketing, and you can really make money doing it, even if you're a micro or nano influencer. All these factors make it the best business for students at home.
But making money from influencing others to buy the stuff you advertise takes building authority, trust, and connections. So, it doesn't happen overnight.
The key is to choose a niche you feel comfortable in. You have to understand your target audience's needs and likes so that you can deliver engaging content to them.
As far as technicalities, optimize your profile on social media platforms—engaging bio and profile photos are a must. If you switch to a business account, you'll have access to a lot more options.
Now, you can let brands you're open to collab.
Rather than waiting for them to find you, start reaching out and contacting potential businesses. You can create a pitch template and tell them what you have to offer. But don't forget to personalize it—include a name of the brand and a sentence or two about what you like about it.
The downside? You're exposing yourself to criticism.
Users may follow your content for different reasons. You need to find an effective way to appeal to your audience. For example, Anh started her Instagram page (@medicalmyanne) to show her journey as a medical student. She shares her medical experience and everyday life. Her posts include relatable memes, self-care tips as well as sponsored content.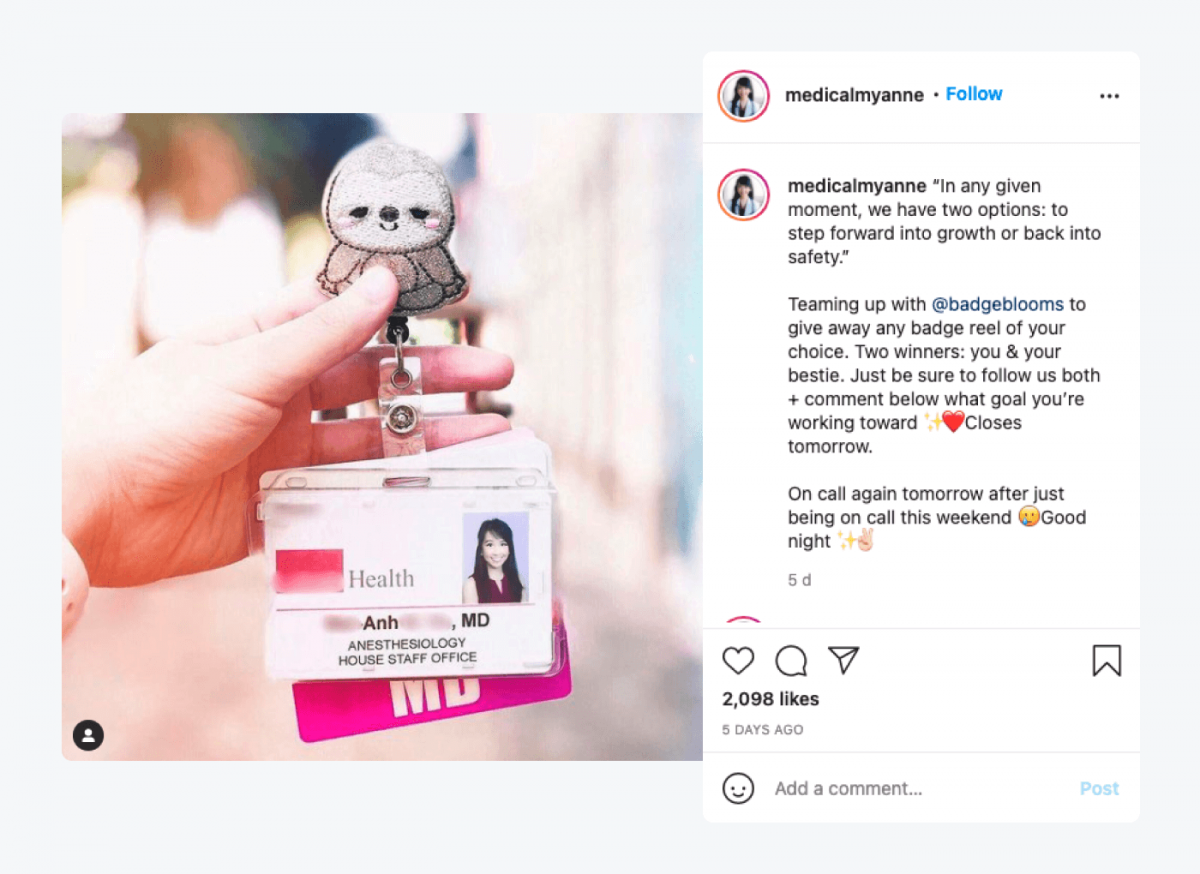 2. Pet business
Influencers are all very nice, but pets can easily upstage them.
The pet industry is steadily growing, year by year. It's forecasted to reach almost 110 billion U.S. dollars in 2021. Not surprisingly, there are many significant branches, from food and treats to accessories to services like pet insurance, pet sitting, walking, grooming, or poop scooping.
Whichever branch you choose, consider 2021 pet industry trends. The most important ones are:
31% of pet industry customers are Millennials, and 69% of them opt for natural and organic products
40% of dog owners and 25% of cat owners bought clothing for their pet in 2020
43% of dog owners and 41% of cat owners buy premium pet food
73% of Gen Zers and 68% of Millennials are willing to spend more on sustainable pet products
What does it mean for your business?
Millennials like to use technology to buy products and services, so you can develop an app that scratches their itch. Or you can incorporate technology to satisfy their needs. For example, if you have a website, you can install a chatbot that can book your services.
Jano and Josue exactly knew how to take advantage of the trends. They founded a company called Whisker Bag that sells high-end cat travel bags and used live chat and chatbots to ramp up their revenue to $100k a year.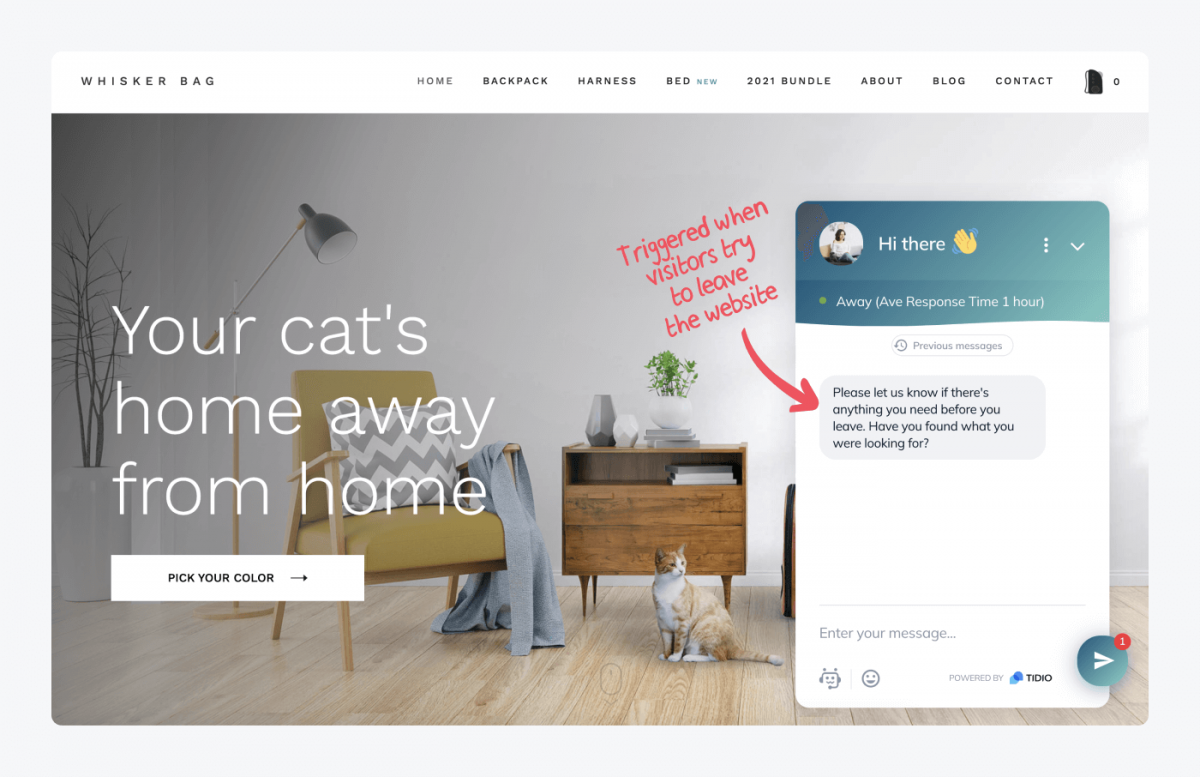 If you're looking for a relatively small capital business for students, you can set up a dropshipping business (we'll go through it in detail later). You could sell pet costumes, clothing, and accessories and cash in on important holidays—over a half of pet owners like to buy gifts for their companions.
Last but not least, remember that the owners care about their pets' health but also want to contribute to saving the environment. If you're thinking about grooming services, natural or organic care products can be your company's USP.
Looking for more out-there college entrepreneur ideas?
Why don't you develop a U.S. version of sustainable insect-based pet food? It's healthy for animals and reduces carbon pawprint.
3. Side business for students specifically
If you only have time for a side-gig, why don't you use the resources that you already have? By that, I mean your own notes.
There are a couple of small business ideas for students in university who want to earn money by sharing their notes. Just listen—
You can upload your lecture notes and study guides on online platforms and get paid when someone else downloads them. This includes handwritten materials and drawings. And if you're really good at it, take your note-taking art to Instagram and become an influencer.
You can also offer note transcription and note digitization services.
There's also traditional tutoring, where you pass on your valuable knowledge during one-on one-sessions. You can take it to the next level, though, and create a YouTube or a TikTok channel, podcasts, webinars, or online tutorials in your field of expertise.
Swetha Tandri came up with a YouTube channel Melodies for Math when she was in high school. It explains various math concepts through songs. At first, she wasn't getting anywhere but she wasn't going to give up on the idea so easily. She says:
The most important thing when starting a creative venture is to be consistent through thick and thin and to be open to trying new things.
That's why she decided to try new channels and it worked! Through posting daily on TikTok, Swetha amassed more than 64K followers on the @melodiesformath and has now 500 Discord server members, 1.68K YouTube subscribers, and even found her first tutoring clients. You can also use popular TikTok trends to reach new audiences.
Remember that using online resources comes naturally to most students. The Covid-19 pandemic has accelerated the introduction of digital learning among younger students. To me, it's a pretty good indicator of what drives learning these days.
4. Flipping items
The core of this business is to find used items and invest your own time and skills to resell the items for a profit. It's for those who like garage sales, flea markets, or the thrill of bidding on auctions and online marketplaces.
For example, you can source cheap items on the Facebook marketplace and sell through the Amazon FBA program. There are also dedicated apps for the best items to flip:
And if you want to take your college business to a next level, you can build your own online store on an eCommerce platform.
In the "buy low, sell high" business model the time is key—sometimes searching for a perfect flip can take a considerable amount of time, then there is restoration and marketing of the item.
It's a perfect side hustle you can do at your own pace at weekends. It often doesn't require a lot of investment. You can find some flips on a dumpster because owners don't know the value or don't bother to go through stuff they want to get rid of.
Beware though—
Not everything sells fast. And some items take up a lot of space. So you may need to rent storage space and pay extra to ship large items. But don't let that discourage you—
There's a lot more competition to sell small items. So if you're willing to handle large goods, you have a better chance to get a good deal. My advice is to build good relationships with freight companies and use an open marketplace uShip.com to find carriers.
5. Flipping websites
The list of items you can flip isn't limited to physical items. You can also flip digital products. It means websites, blogs, eCommerce stores, subscription services, domains, and so on. The process is similar to other forms of flipping.
You go to a website flipping marketplace, like the pioneer Flippa, do your research, and buy an existing website. Do a background check before sealing the deal, though. For example, you ask the seller to access their Google Analytics account to check traffic and assess the business profitability.
It can be a good part-time business for students in college, as long as you can invest some money upfront (anything from a four to five-digit number) and wait for the results. It can take at least half a year to increase the value of the website.
Alternatively, you can build a website from scratch, optimize it to generate traffic and then sell it.
There are lots of ways in which you can improve your website. You can learn them by doing, but you'll see better results if you already have experience growing websites.
Some domain names can be very lucrative, too. And it can be less challenging and risky to buy a whole website. There are a couple of business ideas for college students you can try:
Develop a website based on your interests and list it for sale
Create content for the website, put Google Ads on it, and make money whenever people visit your site or click on it
Keep the domain and flip it when it becomes popular
6. Affiliate marketing
Starting an affiliation is another example of a good business for college students. It's a great way of getting a passive income to get you through uni because you don't have to be engaged full-time to make money.
Assuming you have a blog that already has 1,000+ visitors every month and the potential to attract more, it's a good start for affiliation. You can also check Google Trends to check the traffic for your niche. The concept is simple—
You refer your website visitors to other businesses' websites to buy their products or services. Every time someone buys something through your affiliate link with a unique code, you earn a small commission. You can also add affiliate links to your YouTube videos.
But it starts to add up at a scale—
The average global conversion rate in eCommerce is 2-3%. If you can match it, for every 100 visitors, two or three will convert.
The most popular program is probably Amazon Associates despite relatively low commission (roughly 1-10%). Not all affiliate websites look like a blog. Take This Is Why I'm Broke website for example—
It's a pretty simple design with large check-it-out buttons.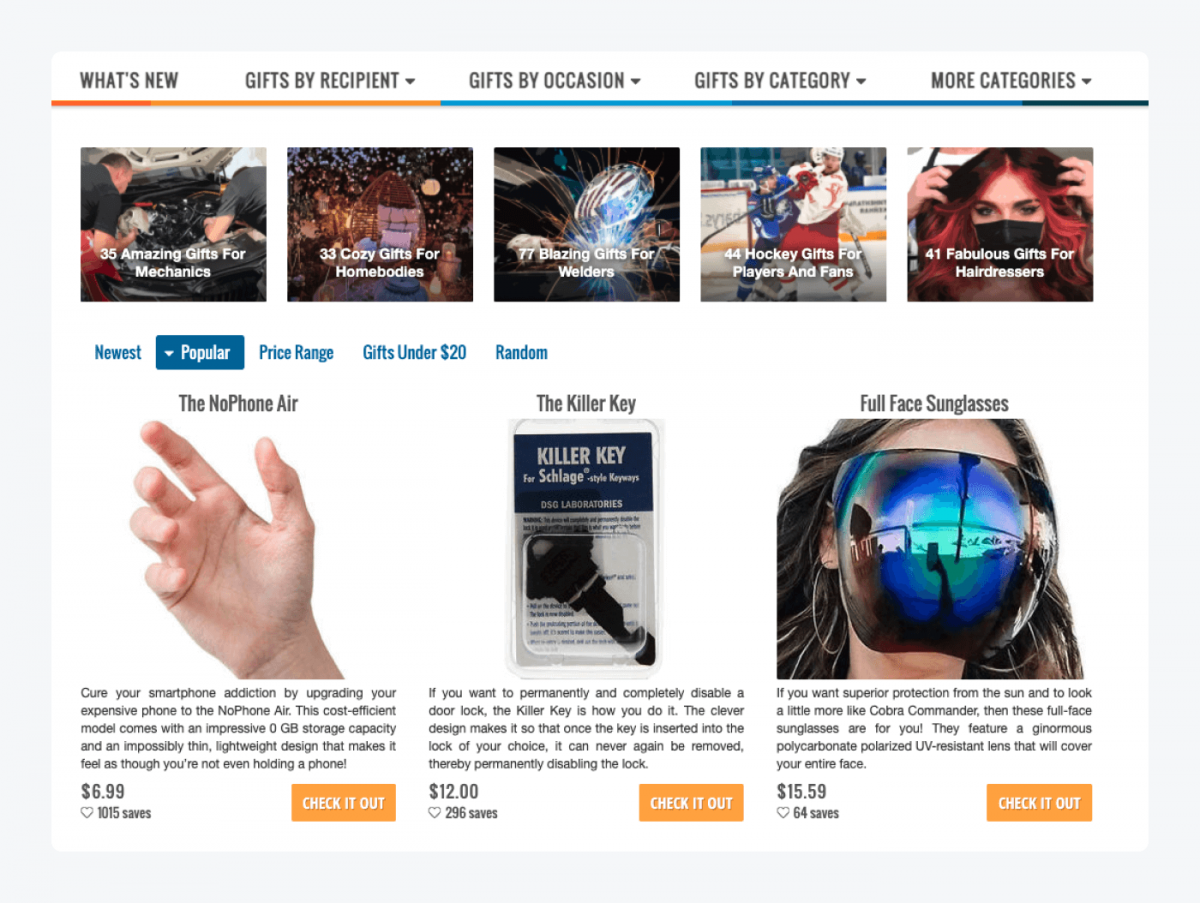 There are plenty of other programs you can try with a higher commission. It's impossible to list all of them here but a simple google search in your niche should give you the idea.
For example, AdamEnfroy.com started out as a review site for online business software. It's his full-time project. He's found dozens of affiliate programs and, according to his first income report, they generated $2,906 of revenue after 5 months from launching the website.
7. Advertising
Another type of online business for students is selling advertising space. Banner ads are probably a more common way of monetizing your website than affiliation.
If you have a website that was your passion project in high school, you can start looking at it from a different perspective and turn it into a college business idea. You may not like the way the banners look on your website, but once you monitor the income, you may change your mind.
You can go about advertising in two ways:
Find and work with the advertisers directly
Work with a middleman (so-called network) who brings advertisers to your website in return for a cut
Setting up network adverts using Google Adsense, InfoLinks or Media.net is dead easy. Just copy-paste a code into your site to create ads relevant to a visitor's recent internet search.
Some networks require a traffic threshold and they will only accept you after your website is established and getting regular traffic. You earn extra cash every time visitors click on the advert (CPC) or per 1,000 impressions (CPM).
Most of them, including Google, limit the number of the network's ads per page (usually three). They will also disable accounts that send invalid traffic, so for example when you click your own ads or send bots.
In most cases, you can run multiple ad networks on your site without violating the terms of service. But read the rules of each network before doing so. You'll probably want to avoid inserting too many ads per site, anyway. If readers can't find the content they are looking for, your traffic will drop, and consequently, you'll earn less on the ads.
There was one notable exception to the rule, though—
The site was started by a UK student in 2005 and became a phenomenon. The idea was to make $1m by selling advertising space that consists of a million pixels. Businesses could buy the pixels and link them to their websites.
Back then the idea was praised for its novelty. The site took off and raised a total of $1,037,100. The last 1,000 pixels were auctioned off for $38,100 on eBay. Now, it exemplifies link rot—links that used to work now point to dead pages.
When you're blogging you can combine different ways of monetizing your site for better income.
8. Dropshipping
Starting dropshipping on Shopify might be one of the best online business ideas for students with entrepreneurship skills. It lets you sell goods in an online store without directly handling or stocking them. It's easy to set up, you don't need a lot of initial investment, and you can see quick results.
All you have to do is to build a website on Shopify and connect it to products on AliExpress via the app Oberlo. Once your website visitor places an order, the order details are automatically sent to the supplier who fulfills it. The process is fully automated and takes a few clicks.
Shopify's an easy eCommerce platform for beginners who don't necessarily have web design skills. To succeed, you'll need to know how to optimize your website to attract organic traffic and how to use Google Merchant Center via Shopify's Google channel.
You can start this type of business with literally $0.00 if you combine free trials and starter plans.
But if you really want it to kick off, you'll need to absorb some extra costs.
You can find out more about how Shopify dropshipping works and Shopify pricing before deciding if this is something you'd like to do.
Starting a business in college: how to succeed?
Finding an idea that works for you is the first step to becoming a successful entrepreneur. But if you'd like to succeed in any type of business, it's good to follow tried and tested steps that make a student's life less hectic.
1. Find a problem
As many as 42% of startup businesses fail because customers don't need the product or service they offer. So finding a pain point is an essential ingredient to starting any successful business.
True, but how?
Start with yourself and your daily life—
What do you like and dislike? What bothers you? What needs changing? Often, it won't be a big deal—just a nuance. But there are always new challenges waiting for your business idea.
Sometimes the great business opportunity will come to you unexpectedly—
When Austin Gappelberg was a university student, he noticed that losing dorm keys and cards was a serious problem among his fellow students. The replacement for the key cost $150.
That's how he developed a minimum viable product (MVP) of a key holder. It goes in the back of a phone and prevents people from losing their keys.
It's brilliant in its simplicity!
2. Find a solution
Once you come up with a solution that scratches the itch, test the idea with your friends. Talk to the community to see if they would use it, and ask how much they would pay for using it.
Tyler Kennedy is a developer and founder of Dont Text, an iOS app for blocking spam texts. He says the best way to start out is to start. He says—
Do not wait to start, or you never will. And once you start, tell everyone about what you're working on. I promise you, no one is going to steal your idea, so you do not need to keep it a secret. You have to tell people and get feedback. Learn what people want or how to improve what you're doing.
In his experience, it's also a good way of finding customers, even before you have anything to sell them.
Don't be afraid to use the "I'm a student" card. Reach out to local business owners, professors, and even random strangers who might potentially use your product or service. A lot of them will cheer you on and be happy to help.
When they want to use your business, you might be onto something.
You're going to need a strong professional network in every stage of building your business. Check out any networking events, meetups, workshops, and societies that focus on how to be an entrepreneur in college. It's a great place to meet and connect with like-minded students.
3. Take the idea to the next level
Now, that you've run your business for a couple of months, and you're committed to expanding it—Congratulations! You can get ready for the next challenges.
Elizabeth Hay is an entrepreneur and a business consultant for the Penn State Small Business Development Center. If you asked for her expert advice at this point, here's what you'd hear:
If an entrepreneur is looking to scale, they really need to understand their unique value proposition and how they can grow their customer base without incurring a ton of costs. This is not as easy as it sounds, but the entrepreneurs who figure it out are very successful!
Here's a thought—
Can you maintain the same quality of service/product when your customer base grows? Is the infrastructure you created enough to accommodate growth? Finally, can you handle everything on your own or do you need a team to help you out?
In short, when it gets difficult to keep your head above the water, it's time to think about how to scale your business. It means setting the scene to enable growth.
When things get busy, talk to your professors. See if you can use your business in place of classroom assignments.
4. Evaluate your business
When student entrepreneurs come to Elizabeth Hay, they usually start out the consultation with a Business Model Canvas. This is a single-page worksheet with nine building blocks that contribute to a strong business model. It's a quick way to do and assess a new business plan.
Once you work through the Business Model Canvas, you can think up the next steps you should take. This will vary for each unique business.
Now—
Imagine your sales tripled overnight.
In that case, would you be able to handle the increased orders and customers? How would it impact your profit and loss statement? What would need to change for your business to succeed?
If you want to be prepared, think up a sales growth forecast. Include the number of new customers, orders, and revenue you'd like to generate—the more specific, the better.
Do the same with the expense forecast. Expenses will go up for sure, and your job is to anticipate where and how. You can include the cost of new technology, hiring staff, implementing new systems to handle sales.
5. Get funding
To ensure the growth of your business, you need money to invest. There are many advocates of bootstrapping. It means funding it independently and spending money only on things you really need. If you can pull it off without outside investment, the reward may be huge.
But as with anything, there are pros and cons of bootstrapping—
On the one hand, you have 100% of ownership and control of your business. You can stick to your vision and get bigger revenue when you succeed. Aside from that, you get a sense of undeniable achievement.
It's a good option for students who intend to keep the business after college. And it works well if you manage to produce a positive cash flow and profits from day one.
On the other hand, bootstrapping can lead to your business failure if you can't ensure a steady cash flow. For many entrepreneurs, the outside capital can make or break the business. External financing gives you an extra boost to your marketing, service, or manufacturing that allows growth.
Bootstrapping means a lot of hard work and long hours without the help of seasoned shareholders or influencers. It's also less budget for hiring talented staff.
So, how can you finance your college business?
You can find funding for your business in a number of ways. As a student, you can enter college competitions and grant programs that are unavailable to other entrepreneurs.
Check if your college hosts any startup competitions. They can be pitch competitions, business model competitions, or new venture competitions, where the winners get cash prizes or other similar awards.
ProTip! If your founding team is from different universities, you can qualify for grants in each of them.
Then, aim even higher. Search for regions and global grants and awards, like The Global Student Entrepreneur Awards (GSEA), that can really accelerate your business.
6. Prepare your pitch
If at some point in running your business you decide to get external funding, you'd better beef up your story-telling skills.
You'll need a pitch presentation to convince investors—professors, local business owners, and industry leaders—that your idea is great. Fortunately, you can use pitch deck templates, like the one created by the first angel investor in Facebook, Peter Thiel, or the one that secured funding to an Uber competitor, Cabify.
Emily Ennis pitched and won multiple pitching events to raise seed funding when she was a student at Florida Gulf Coast University. She started her business Safe Driving Toolkit after she was involved in an accident herself. Her pitch depends on the audience she is pitching for, but that everyone loves hearing a good, impactful story. You can establish authority if you add a few facts and statistics.
Here's what happens next—
Then I get into the money raised thus far and what we have done with it. Investors like to know that their money is going to good use, and it really helps to be able to show them that. If you have any prototypes or demonstrations to show or involve them in, it's wonderful and they love being able to visualize that even further. Lastly, I go over what I'm asking for and why. I show them the total, and then break it down on the slide.
Emily says it's normal to fail to secure the funding at one competition or another. What if she wasn't able to raise external funding at all?
I would have raised the money elsewhere, though it may have taken considerably longer and changed my idea a bit.
If you're inspired and want to try presenting your idea at a pitching event, here's how to create a pitch deck by a fundraising expert, Alejandro Cremades.
7. Invest in automation
The main idea behind automation is to simplify processes and make your work more efficient. Not having to deal with routine, repetitive tasks every day saves you a lot of time that you can spend on more complex issues instead.
What areas of your business can you automate?
You can use technology to automate marketing efforts, social media communication, and customer support. One of the leading trends in automation is using chatbots. They can handle up to 80% of standard questions, and their accuracy is constantly improving.
Even if you don't need as much technology when you start a business in college, it will change as you grow. Most businesses don't run off a single system. They use a dozen or more systems.
So it's vital to ensure that the ones you invest in first integrate with other automation tools. Otherwise, you risk communication and management problems in the future.
It's never too late to evaluate what automation products are available on the market. See if the time you can potentially save justifies the expense?
8. Hire staff and outsource tasks
While the technology gives you the much-needed leverage, it's employees that are your most valuable asset. On the one hand, you'll need management that has bench strength—that is, skilled people who can easily take on new responsibilities.
Family and college businesses often overlook the importance of bench strength. They usually make do with what, or who, they have to solve day-to-day urgencies. So why don't you fill in new roles in a more systematic and thoughtful way?
On the other hand, you need employees to deal with customer service, deliveries, manufacturing, and so on. Determining how many of them you need can be tricky. Then you have to figure out the benefits and payrolls.
Scaling definitely requires recruiting and hiring. Sometimes you may find it easier and cheaper to find a reliable partner and outsource the work instead of hiring internally.
Read more: What Is the Most Common Industry for Small Businesses
Key takeaway
Whether you're a freshman or senior in college, you may be considering starting your own business to make extra money, pay off your student loan, or gain real-life experience. Here's what to remember about businesses for students:
The best college business ideas materialize when you find a problem bothering people and come up with a solution.
Profitable businesses are built on solid research and analysis, such as Business Model Canvas.
If you're not sure how to start a business in college, talk to your professors, go to meetups, and join societies to discover more about entrepreneurial ideas for college students.
There are many unique and easy businesses to start in college. It's best if you do what you love and don't give up after you fail.
If you fail in setting up a college business, see it as a process that leads you to a successful venture.