Business Growth
The Ultimate Guide to Chatbots for 2021
Don't you think I might be the right time to "botify" your online business? Find out how chatbots can automate marketing, lead acquisition, sales, and customer support.
Are you intrigued by the idea of chatbots?
Wondering how could a machine – that's what a chatbot is, after all – engage us, humans, and assist us as we shop online? And most importantly, do you want to know how a chatbot can help an eCommerce store like yours to sell more?
You're about to find out. Or, if you prefer doing something rather than just reading about it, you can try chatbots right away.
Want to generate leads and provide 24/7 customer service even when you sleep? Create unlimited chatbots for your website without coding to engage more visitors or recover abandoned carts.
Try Chatbots Here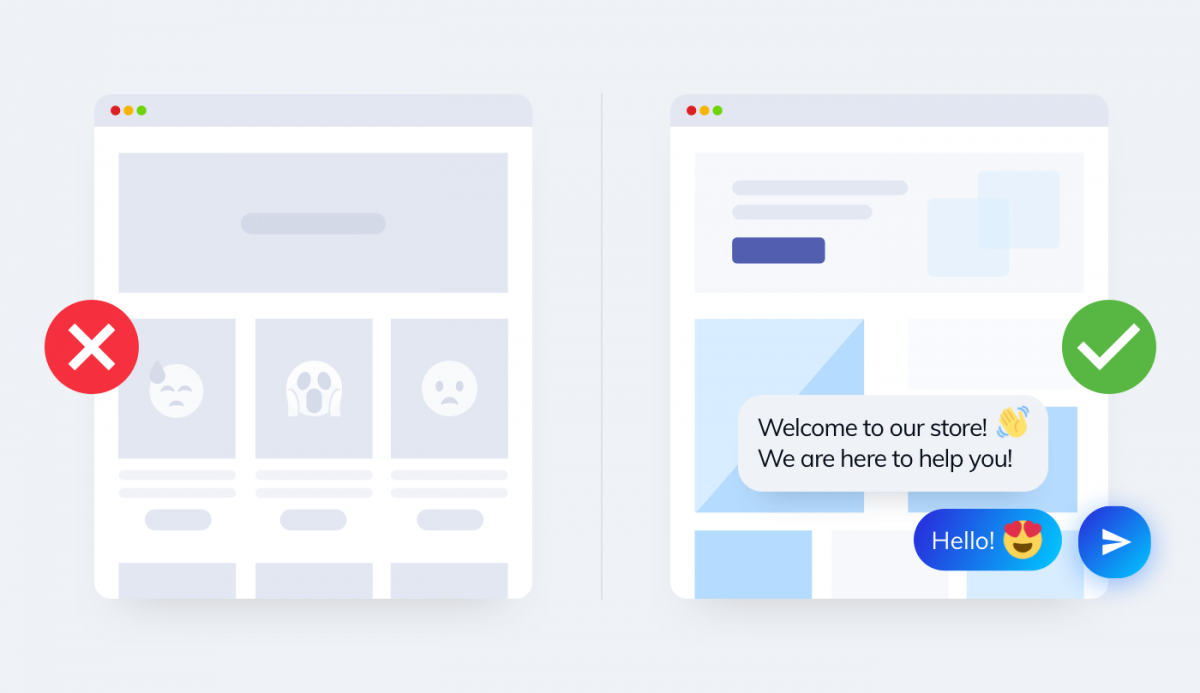 Explore chatbots now—Test the easiest visual chatbot builder for free.
One of our users, Michael, had this to say:
We could set up a simple chatbot in minutes because the drag-and-drop bot builder was really easy to use. Also, the support team was very helpful and answered all our questions
On this page, you'll discover how chatbots can help boost your customer engagement, answer common questions that bog down your support teams, and enhance the customer experience online.
Table of Contents:
What Are Chatbots?
Terms like chatbots, virtual assistants or natural language processing have entered the marketing speak already. They are, most likely, confusing, I admit. However, these are also the things we, business owners, talk and obsess about, and for a reason.
Much of the data we have suggests that the rise of chatbot marketing will only continue.
According to Gartner, for example, within just a year, chatbots will handle up to 85% of customer service interactions. People are gradually getting accustomed to using chatbot online support.
Convince and Convert reports that 15% of American adults have used a chatbot last year. Another 37 would see themselves using one to get a quick answer in an emergency. And 27% of customers consider a chatbot as a great channel to buy a basic item, while 13% would interact with it to buy an expensive product.
But what are chatbots, really?
Chatbots are apps created to engage with users automatically. A chatbot can respond proactively to messages containing specific words or phrases by offering a predefined response. We call this type of a bot a decision-tree chatbot.
Or it could use natural language processing and machine learning to analyze and understand an incoming message and simulate a conversation. We refer to those programs as AI chatbots.
You might have also come across names like WordPress chatbot or Shopify chatbot. These mean that a chatbot was designed to work on a chosen website platform.
We use the decision tree chatbot on our site, for example. Notice how it engages a visitor by providing predefined options to choose from – each of them comes with a relevant response.
Options: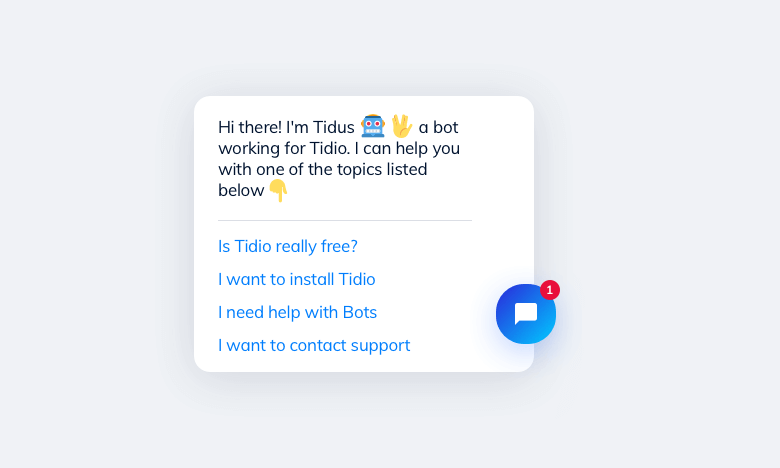 The response: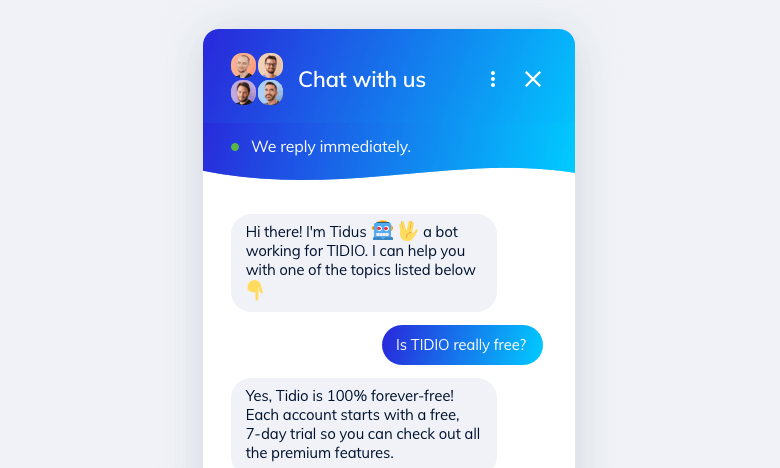 In most cases, chatbots work within the live chat window, much like in the example above. However, more advanced platforms, like Tidio, allow you to use chatbots to engage customers on social media with Facebook Messenger bots, for example. You can build them with ease and test your chatbot ideas in the app.
How Do Chatbots Work?
Every interaction with a chatbot focuses on two core activities:
Analysis of the user's request, in which the computer program breaks down an incoming message to identify user intent and match it with relevant information.
Returning the response – delivery of the identified messages to satisfy the user intent or request.
Depending on the type of the chatbot – the decision-tree or the AI-driven program – the above process can include:
Processing a predefined set of inputs, similarly to the example above, in which a chatbot provides a visitor with specific options to choose from. In this instance, you, as the ecommerce owner, decide what these are and define ideal responses for them. Those responses can take the form of:
A static text,
Information retrieved from a knowledge base or other resource,
Link or reference to a page where a person could learn more,
A result of an action that a chatbot performed to complete the request (i.e., signing a person to a newsletter list, for example.)
Acting on a choice-based input. A chatbot could also include pre-defined logic allowing it to provide a different response, depending on a customer's action. For example, this chatbot gives visitor two choices.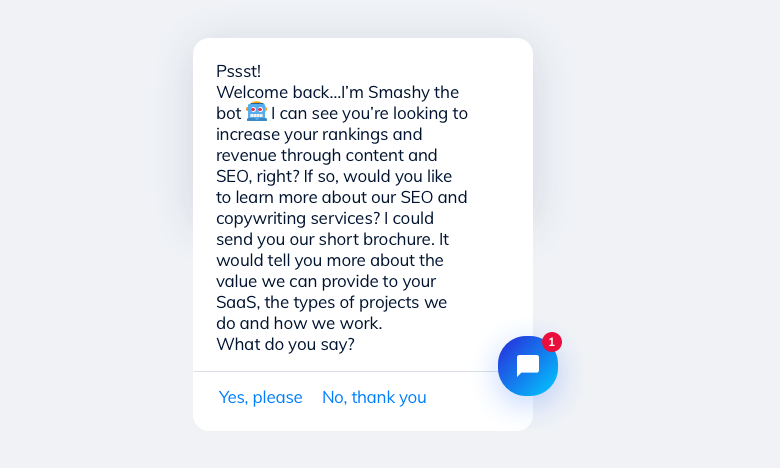 Based on the visitor's choice, it either asks for more information – the person's email – or displays a thank you message.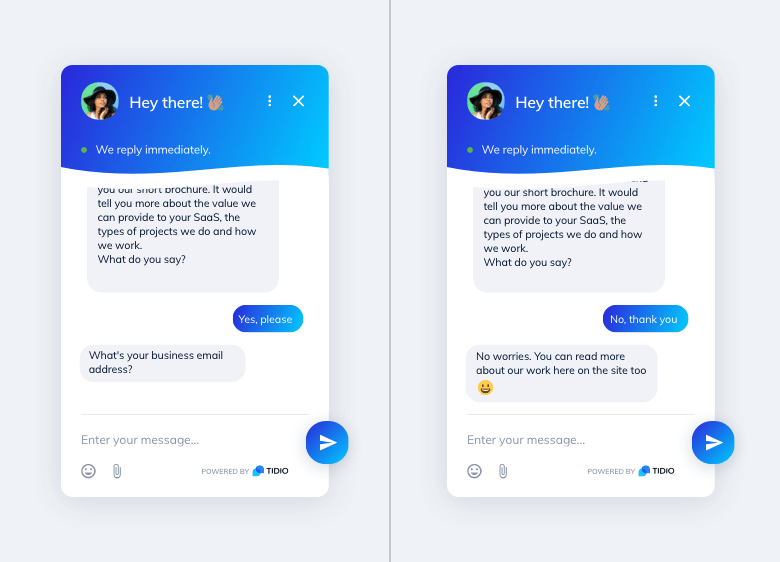 Using natural language processing to understand unique input and provide a relevant answer. The most advanced chatbots use artificial intelligence and machine learning to imitate a real conversation. With many, a visitor might not even realize that they are talking to a machine.
Ecommerce Chatbots – Why Implement a Chatbot in an Online Store?
I can give you three reasons, right away.
Because chatbots increase online sales.
When used in e-commerce, chatbots can also help retain more visitors.
They assist in building customer loyalty.
But let's start at the beginning and discuss how customers perceive engaging with automated bots on ecommerce sites?
As it turns out, 60% of them prefer using self-serve tools – chatbots, apps, self-help sections, etc. – to resolve simple inquiries.
Many customers, particularly younger shoppers and millennials, prefer live chat (incl. bots) because of the speed and convenience to get their issues resolved. Many other shoppers admit that thanks to the live chat, they no longer have to wait so long to speak to a service rep or customer support.
Why is this so important? For one, because the majority of customers (83%, to be exact) need help with completing the purchase. Another reason – 75% of customers demand what McKinsey report, called "Customer experience: Creating value through transforming customer journeys" calls the "now" service – Being helped within 5 minutes of the online contact.
Let's get more precise, though. What does the above mean to you, an online store owner, specifically?
The Benefits of Chatbots for Ecommerce
Chatbots help you scale customer service with fewer employees. As more customers turn to online retail for purchases, the complexity and volume of customer inquiries are increasing constantly. Chatbots help process basic inquiries without involving employees, leaving them free to deal with more complex issues.
Bots increase conversions too. This happens partially by providing assistance when customers need it, and by answering the most common pre-sales questions, such as shipping inquiries and so on.
They can help overcome shopping cart abandonment. For example, a bot could message customers who have abandoned their purchase automatically.
Chatbots work 24/7. They can process customer inquiries during offline hours, assist shoppers from time zones different than yours or when you're out of the office, simply.
When integrated with Facebook Messenger, they provide an insane open rate. Although data diverge here a little, most marketers admit to receiving around 80% to 90% open rate on Messenger vs. about 20% on email. In short, Messenger offers a far superior reach than any other channel. Advanced chatbot platforms, like Tidio, offer Messenger integration to help you avail of the opportunity.
Finally, by using chatbots, you increase customer satisfaction. You process their inquiries much faster, after all. Customers don't have to wait for a response but can progress with the purchase easily while being helped along the way.
Chatbot Use Cases – How to Use Chatbots in Ecommerce?
We've covered a lot in this guide already. You know what is a chatbot and why you should use it. If you've read carefully, you know the benefits chatbot marketing offers to your online store too.
But I bet you're wondering – How do I use it, actually? What actions should a bot help me streamline and automate?
Well, then, let's go through those chatbot types right now.
#1. Streamlining Customer Service
Every day, your customers ask questions about your products, service and more. They inquire with support reps about shipping and delivery, for example. Some buyers want to know the shipping cost and time frames. Others ask about their order status as they wait – impatiently – for their products to arrive.
To free up the team, use a chatbot that can provide both potential and existing customers with the information they seek. For the former, it could point them to relevant help documents or other content about shipping and delivery. For current customers, it would fetch their account data and display order status.
(Don't worry, if this sounds intimidating. Soon, I'll show you how to build such a chatbot with ease.)
Other customer service use cases include processing returns, help with placing an order and more.
#2. Communicate with Customers to Increase Order Value
Chatbots can suggest products, notify visitors about discounts and other incentives to buy. They can also provide additional information that will help a visitor make a well-informed buying decision.
And you can target each of those objectives and more.
How?
By launching dedicated sales-focused bots!
Tidio, for example, lets you build as many chatbots as you need. You can create different bots to engage with visitors on category pages, product pages and so on. These programs could suggest other product options, add-ons to enrich a person's experience with a product and more. In short, they could act as a salesperson, offering guidance and suggestions to shoppers in the store.
#3. Prevent the Shopping Cart Abandonment
Shopping cart abandonment continues to plague online stores and grows at an increasing rate. In fact, as recent studies report, today's cart abandonment rates oscillate between a staggering 73% – 85%, depending on the device used.
Chatbots can't help eliminate the problem entirely, of course. They can, however, help ease it and retain some of those potentially lost sales.
Here are just some of the ways to use chatbots to eliminate shopping cart abandonment:
Offer assistance when a visitor decides to abandon signing up for an account during the purchase process.
Provide help when a customer is about to leave the page, checkout or the cart.
Send a reminder email to visitors to have left items in their cart or offer a discount code to entice them to complete the purchase.
#4. Encourage returning visitors to buy
Most customers purchase on their first visit rarely. For many of them, an online purchase requires often lengthy process of consideration and research.
You can speed it up, however.
How?
By offering returning visitors incentives – discount codes, for example – to encourage them to buy.
A chatbot designed to engage anyone visiting your site again can automate that process for you.
#5. Personalize Communications
Online shopping has gotten more personal over the years. In the past, while buying online, a customer had to interact with the website and its content alone. Today, thanks to eCommerce chatbots as well, the process has become more personalized. Online stores use bots to greet new visitors, provide assistance, help overcome common problems when buying, answer common customer inquiries and more.
They can even take over when your customer service team is busy helping other clients!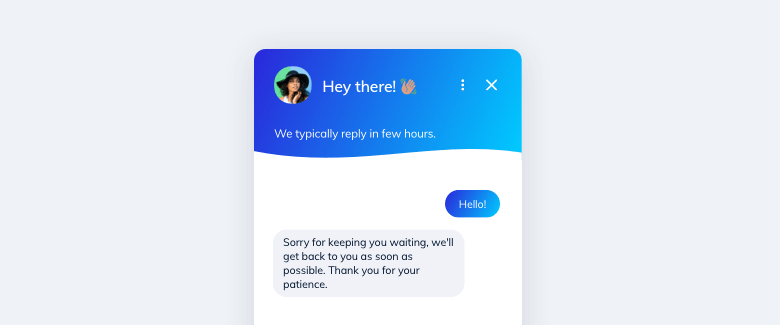 Needless to say, all of the above results in a far superior shopping experience for customers and more sales and revenue for your store.
Examples of Chatbots
Let's look at some chatbot examples, starting with well-known brands. But don't worry, we'll discuss Ecommerce bots as well shortly.
Nike Stylebot
Nike's Facebook Messenger bot touts itself as the "bold new chatbot" helping users "style outfits or create magic." In practice, it helps users choose a sneaker from available styles or create a custom one, an option that adds a sparkle of fun to the bot.
For the available outfits, the bot suggests relevant information on Nike's site. When creating a custom sneaker, users can upload their favorite style and use a color theme from a 24-color spectrum. Finally, after all the fun's done, they can place the order.
eBay Shopbot
This is another Facebook chatbot whose role is to provide assistance to eBay buyers. Shopbot can interact with a person directly, ask what items they're looking for, analyze and understand their intent and then, scout eBay's millions of listing to suggest the best deals.
Intrigued by the above?
Here's how you can build a chatbot for your store too. It's easy!
How to Build a Chatbot – Must-have Chatbot Features to Help You Use Chatbots Now
Advanced chatbot platforms, Tidio included, offer two ways of chatbot development:
Use a wide range of pre-defined chatbot scenarios that you can customize to your needs.
Build a chatbot from scratch.
The first option – sufficient for most use cases we've covered in this guide – involves selecting the right template and tweaking it to match your stores brand or tone.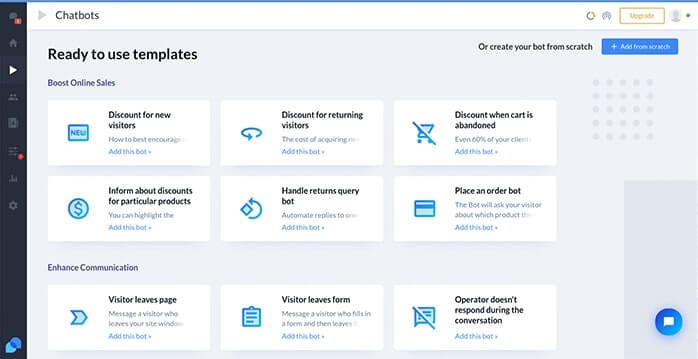 But I want to show you how easy it is to create a chatbot from scratch too. Let's go through the process step-by-step.
Step 1. Defining the Goal for a Chatbot
Before you begin building a chatbot, decide what you want it to do. Some example tasks include:
Greeting new visitors to offer help or point them to specific products, discounts, etc.
Overcoming shopping cart abandonment,
Helping to process support inquiries,
React to specific user behavior (i.e., the exit intent), and so on.
For the purpose of this walkthrough, let's assume that we want to engage first-time visitors of a sports gear store. Also, we want to learn more about them and assist them in browsing the site.
Step 2. Outline the Chain of Events that Take Place on the Visitor's Side
Next, after defining the goal, we need to decide what will trigger the automation.
In our example – a first-time visit – we should assume that:
A person has never heard of our site before,
As a result, her trust in our brand may be low,
She has landed on our site because she believes we can provide her with the products she needs or wants.
We also know that our goal is to engage her but also, ease the anxiety she might experience when visiting a new store for the first time.
You'll have to make different assumptions for other chatbot use cases, of course. For example, when targeting shopping cart abandonment, you might consider why a person has decided to abandon the purchase. Is it because they've found a better deal elsewhere, they're still browsing for products or maybe they haven't made up their mind yet? As a result, you can target each of those reasons with different messages.
Going back to our example, though. We know what happens in the visitor's mind. We also know what we want to achieve from interacting with her. Let's build a bot to help us achieve it.
To do so, we'll use three options – triggers, conditions, and actions.
A trigger is something that gets the bot to work. In our case, it's a first-time visitor landing on the site. Other triggers include:

Visitor clicking on the chat window,
Opening a specific page,
Visitor returning to the site, and much more.

The action is what actually happens when the trigger activates the bot. Some common actions performed by the chatbot include:

Displaying a message
Sending an email
Waiting (you can tell the bot to do nothing for a specific time after the trigger event has occurred.)
Asking a visitor a question, and so on

Condition, however, provides additional information to deliver a more relevant response. A good example is a country where the visitor is right now. If the bot provides shipping information, such a criterion will help deliver relevant, rather than a generic response.
Step 3. Building the Chatbot
Let's put all the above information together and build the bot.
Start by selecting a trigger. In our case, we want to activate the bot when a first-time visitor lands on the site. Luckily, Tidio offers a predefined trigger, designed for that purpose.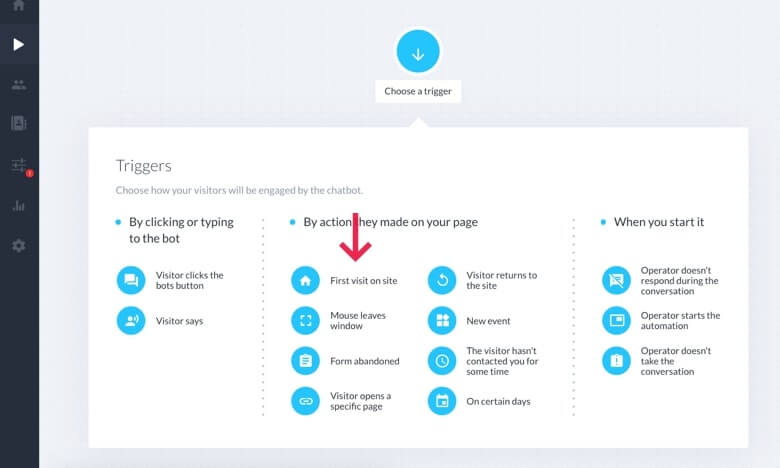 Next, add the bot's first action. Since we know that a visitor might feel a bit of anxiety about being on a new store, let's give her a couple of seconds to browse and familiarize herself with it.
To do that, choose the Delay action and specify a time interval (let's say, 5 seconds.)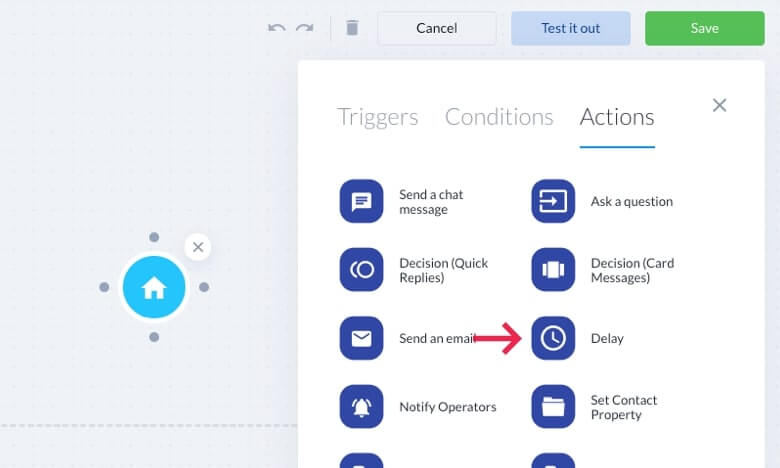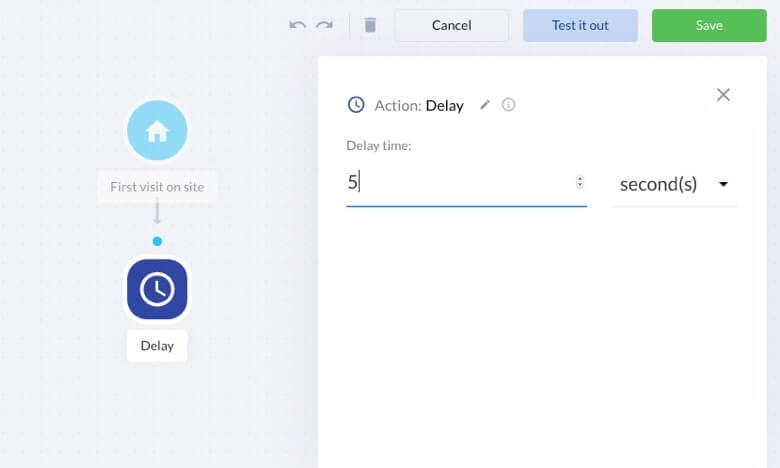 Once 5 seconds pass, we'll display a welcome message to greet our visitor. But instead of just saying hello, we'll also try to learn something about her. Remember, our goal is to engage and assist. For that, we'll use a Decision (Quick Replies) action.
Here's where it is in Tidio's chatbot builder.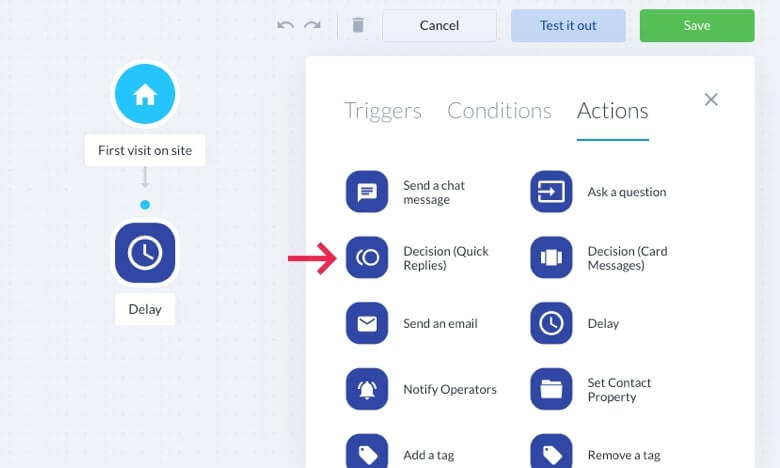 And this is how you customize it. Notice that I have the option to specify the message and suggest responses for the visitor.
Now, this is where building chatbots gets really fun. We can specify different interactions based on the visitor's replies.
In our example, I provided the visitor with three options:
"I'm looking to buy new running shoes"
"I want to pick up running"
"Just browsing"
For each option, I can specify a different response.
I can point her to our new arrivals in the running shoe category
I can suggest a guide to jogging I published on the blog
I can gently back off but suggest that help's available here, should she need any.
I can do each by sending her a simple chat message.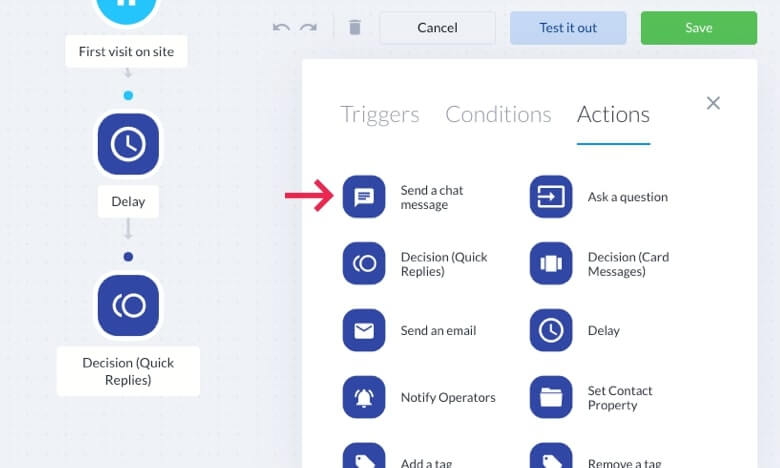 What's more, every time I drag and drop a new action, Tidio will ask me, which option I want to trigger it.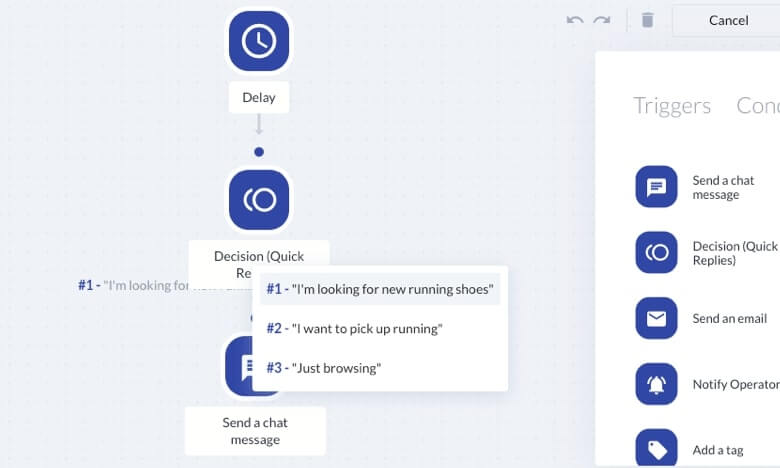 And then, I can specify the message:
It's that simple!
Of course, I could take this automation even further. For example, I could add a delay after each message to let the person act on my suggestions. Then, I could ask her if she would like to be notified of any new arrivals in the store (perhaps in exchange for a discount.) If she agreed, I could ask for her email address and add her to my mailing list.
Here's how this part of the automation would look like.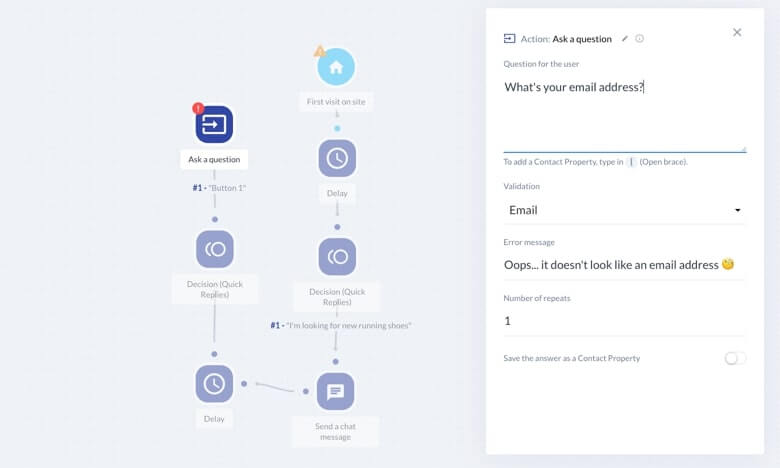 You can do even more. You could send the person an email with a discount code, for example. Or add tags to their data in the CRM. The possibilities are truly endless.
The above is what I'd consider chatbots' greatest strength.
Note: If you need more information, check out our dedicated guide on how to build a chatbot for a website.
Pro-Tip:
With conversational chatbots, you can control the entire conversation. In turn, you can bring visitors closer and closer to your goal – enticing them to buy, engaging or anything else, really – all without human involvement whatsoever.
Conversational Marketing: from Traffic to Sales
What You Should Take Away from This Guide:
Chatbots are computer programs designed to engage with website visitors automatically.
Bots can help you achieve a whole range of business objectives. The key ones include increasing sales, streamlining customer service and support or overcoming the shopping cart abandonment.
Chatbot platforms like Tidio make it incredibly easy to launch conversational marketing on an online store. They offer templates and predefined chatbot automations to help you get started within minutes.
Want to test chatbots on your store? Demo Tidio – the simplest to use yet incredibly powerful chatbot and live chat platform now.
Try Chatbots For Free