They say curiosity killed the cat. But—
Wouldn't you like to learn some creative ways to increase your sales? Or how to reduce cart abandonment and order cancellations? Or receive more 5-star customer reviews?
In this article, we'll share some of the best tips for:
Designing an outstanding customer experience 🤩
Automating your business in (almost) 100% 🛠️
Making a fortune living anywhere in the world 💰
"Heck, why promise something that sounds too good to be true?"
Because I know someone who did it…
And is willing to let the cat out of the bag, too!
(Oh, plus share a kick-ass free chatbot template that you can implement on your website in a few minutes).
Here's what we'll cover in detail:
Ready? First, have a look at this timeline: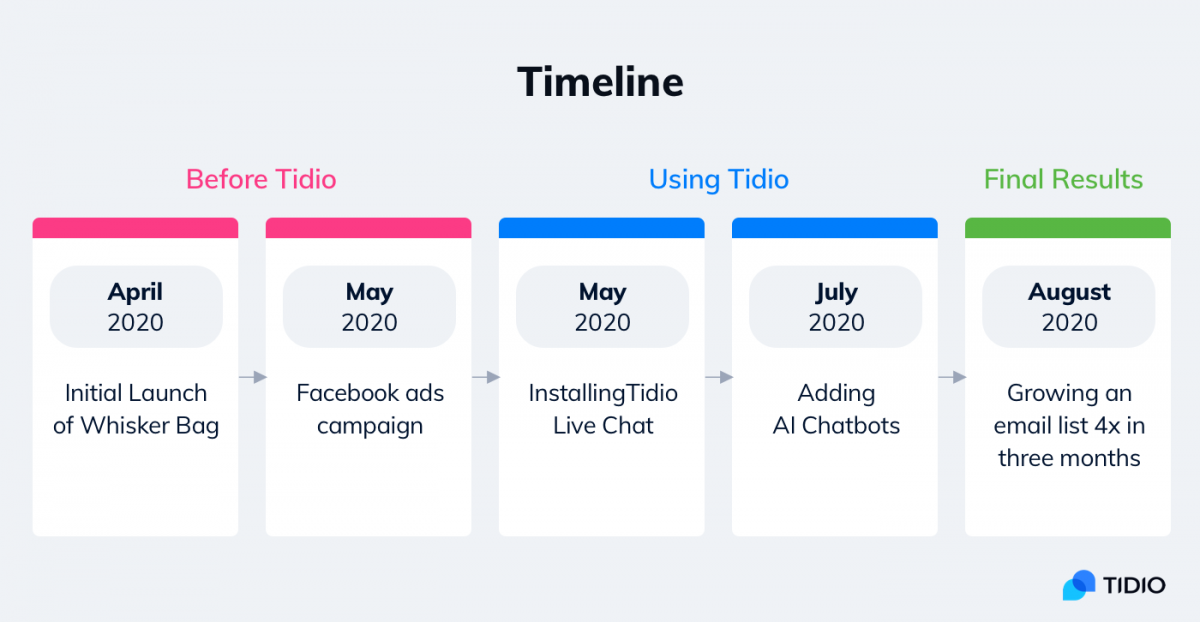 1. The Idea for Custom Made Travel Cat Bags
I want to start by sharing a short background story of Jano le Roux, the co-founder of Whisker Bag—a booming online business selling cat travel bags.
Feel free to take a look at his beautiful website and say Hi! using a chatbot in the bottom right corner.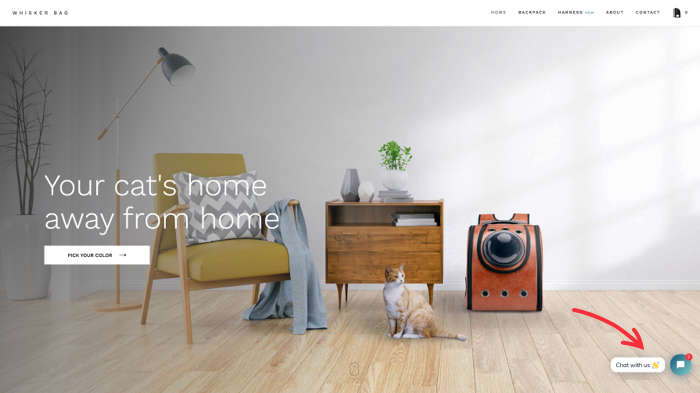 Explore Free Chatbots
Jano comes from Pretoria, South Africa, and describes himself as a marketer by education, a musician by passion, and an entrepreneur by choice.
He launched Whisker Bag along with his fiancé—Josue Torres. Needless to add, they are both huge cat lovers!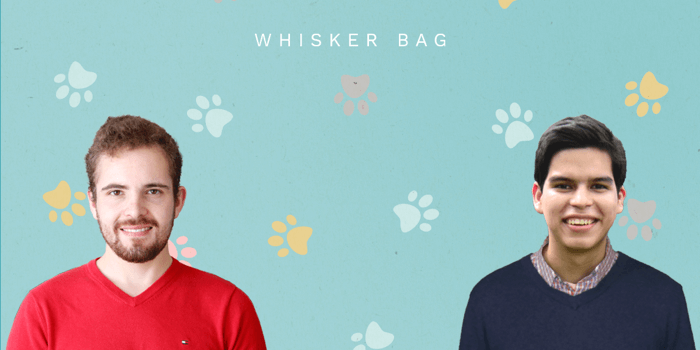 When asked what inspired them to launch Whisker Bag, the founders passionately told me: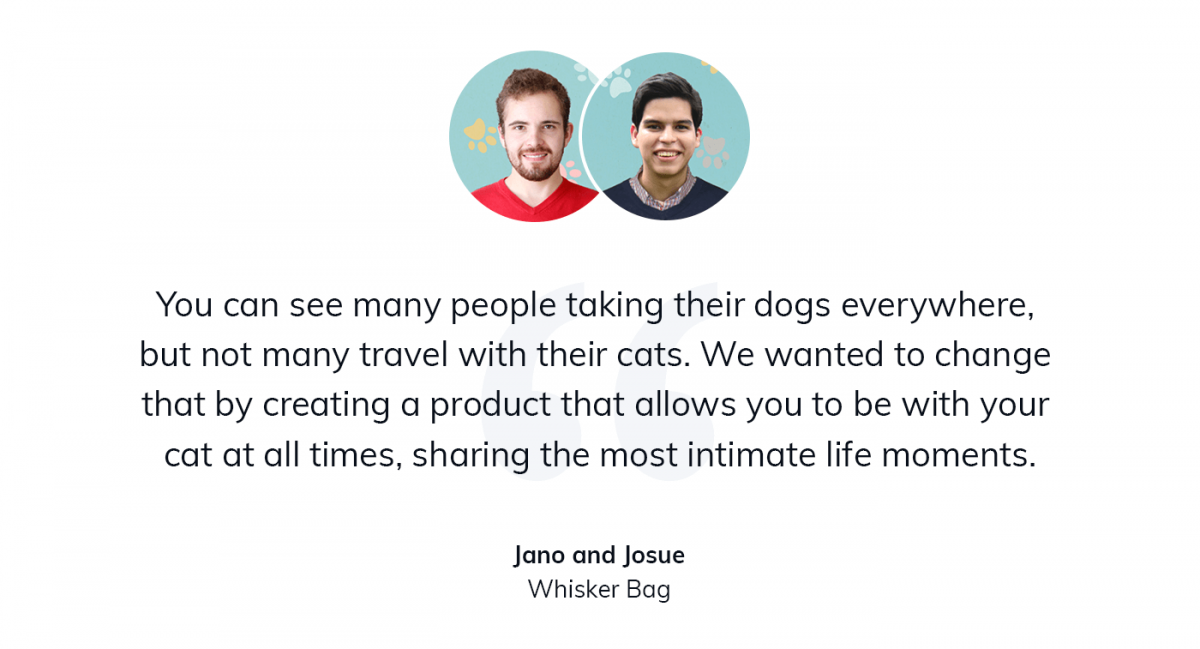 So, Jano and Josue rolled up their sleeves, researched the market, and turned the idea of a Whisker Bag into a reality in May 2020.
2. Starting a Business in the Midst of COVID-19 (Threats vs Opportunities)
Jano's marketing background pushed him to take over the majority of marketing operations. He was also the one who shared with me the details of Whisker Bag's success.
You see, initially, Jano wanted to position their cat backpacks as high-end products—they were designed to be made of quality materials, and had a strong futuristic feel to them.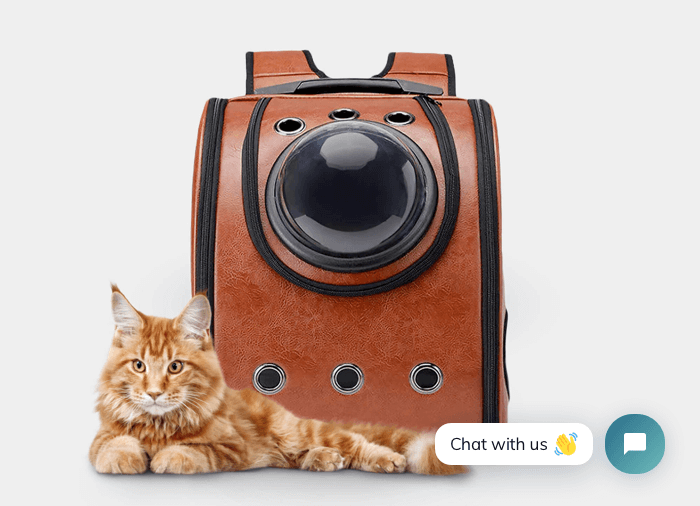 Was it a risky idea to start a luxury product business in the face of the global COVID-19 crisis?
Perhaps.
But Jano knew there were also plenty of opportunities on the other side of the spectrum.
💡 Pro Tip: Thinking of launching a dropshipping business? Here's a great resource to get your started: How to Start a Dropshipping Business [Ultimate Guide + Examples]
"What kind of opportunity?"—you might wonder.
Well, with companies from the tourism industry cutting down their advertising budgets, the online ad space—especially on Facebook, has become less crowded and, therefore, cheaper.
With $500 dedicated to marketing, Jano could easily test (with Facebook ads) whether his idea could turn into a money-making venture.
He said: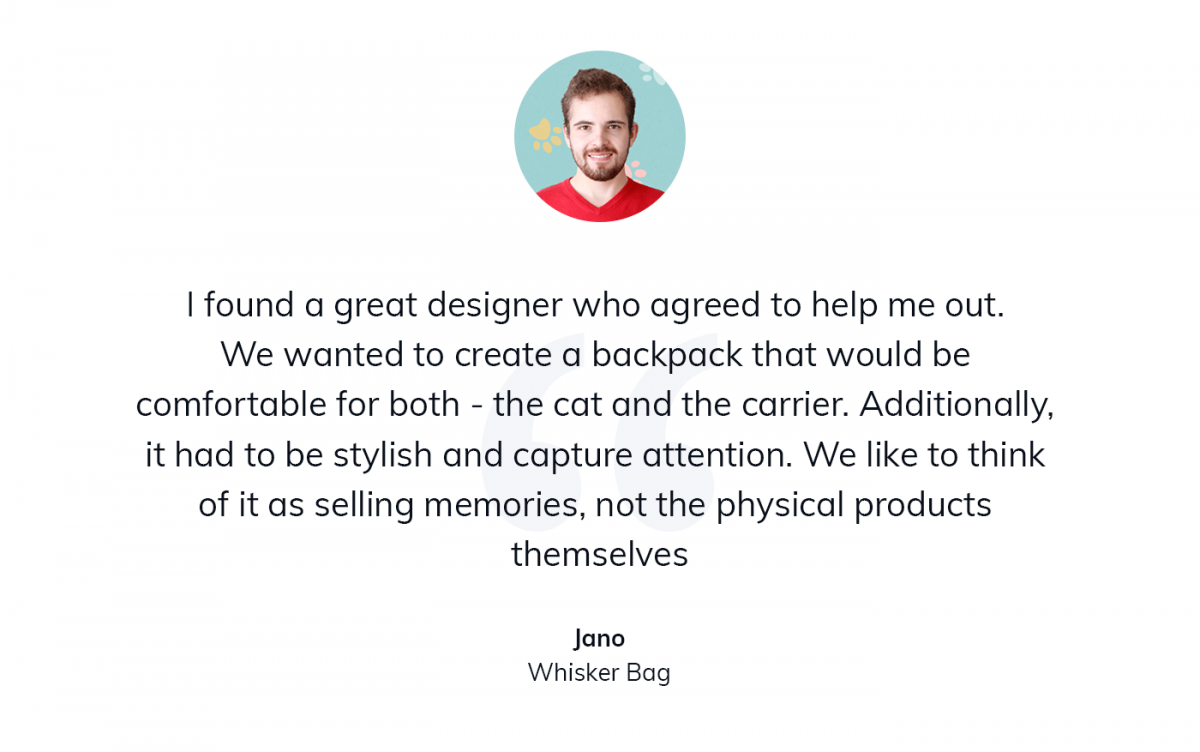 Within days it was clear that Facebook ads worked like magic and the unique cat travel bags picked up a lot of interest.
But you see, Whisker Bag's immediate success was quite surprising, too.
🛑 Editor's note: If you'd like to access more entrepreneurial stories like this one, check out: Business Case Studies
After all, the backpacks were for people who liked to travel—and coronavirus restrictions made it quite difficult, with many national borders closed.
But that's where another opportunity presented itself—more people opted for short term trips, and activities such as hiking gained popularity. For many cat owners, this was a great way to test what it's like to travel with their pet, and Whisker Bag came in quite handy.

Jano and Josue set up their company in the US in May 2020, and moved to Ecuador where they reside now.
They narrowed down their audience to the following group of people.
Target market: Cat owners who are obsessed with their kittens and spend up to $10,000 every year on their meowing friends.
Was it all downhill from there?
Not quite.
Whisker Bag had a great concept, and the initial traction looked promising. However, there were a few issues they had to face.
3. Challenges of Running an Online Business Selling Cat Travel Carriers
You see, starting a business in the midst of COVID-19 had its challenges.
The Whisker Bag team uses DHL as their reliable shipping partner, yet the shipping delays caused some of their customers to cancel their orders.
This has become an issue that the company was determined to resolve. And do it quickly, too. They asked themselves this question.
Challenge: How to prevent order cancellations by improving customer experience while fully automating the business?
It was clear that people who'd already received their order were happy with their purchase. In fact, they were thrilled with the whole shopping experience.
And that's because Whisker Bag set out on a mission to take customer experience to another level—the team took care of every single moment on the buyer's journey.
💡 Pro Tip: Did you know that you can track the behaviour of your site visitors using chatbots? Just add a free chatbot to your website and start monitoring and segmenting your customers on an autopilot.
From sending personalized, hand-written "thank you" notes, through adding complementary cat toys, to writing a sequence of educational emails, Whisker Bag has become a real customer-centric business.
On top of that, being a perfectionist by nature, Jano set a clear goal for Whisker Bag that could accelerate their growth tenfold!
Goal: Provide exceptional customer experience and automate business operations using AI chatbot technology.
And here's how he did it.
4. How We Used Tidio to Fully Automate Customer Service and Sales
From the beginning, Jano knew that the key to success was exceptional customer experience.
That meant building close and personal relationships with each of his customers. Jano knew that adding a live chat could solve his issues.
He spent time researching various solutions and eventually stumbled upon Tidio.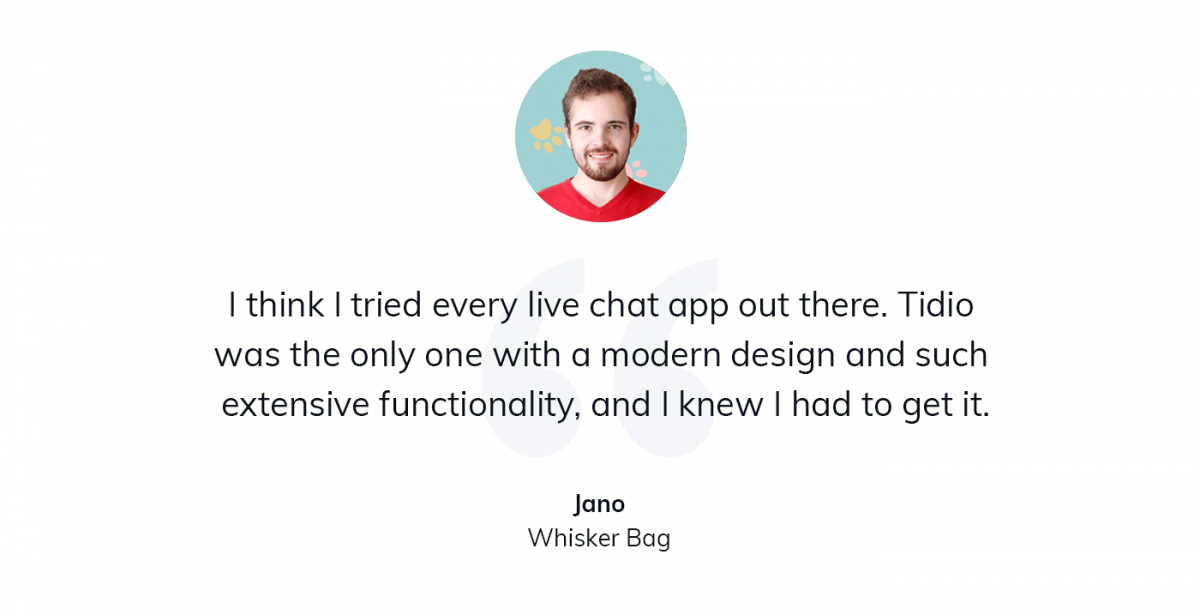 So he did.
Installing live chat
Tidio live chat helped Whisker Bag's team to get closer to their customers. Chatting with the website's visitors allowed them to collect data about their needs and expectations.
Replacing slow email support with immediate live chat response improved customer satisfaction and boosted sales. He said: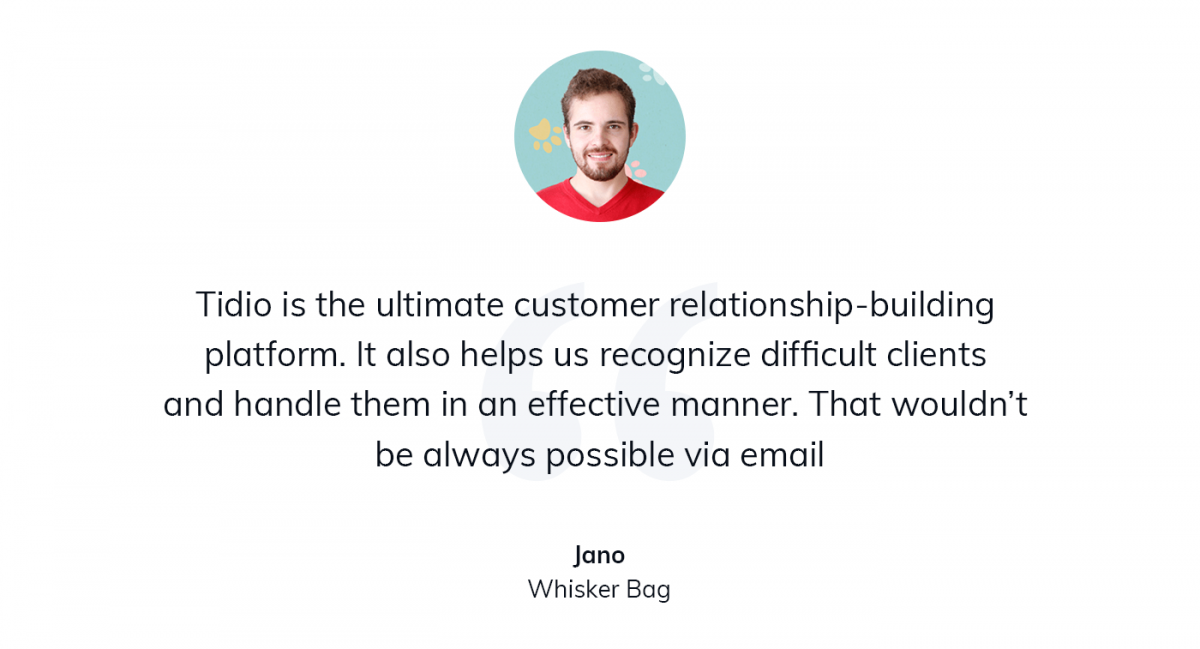 Tidio live chat has also helped Whisker Bag build a foundation for 100% of automation in the weeks that followed.
💡 Pro Tip: 98% of your website visitors leave without buying. Fix it by adding a free live chat to your site and engage them before they go.
Curious to learn how Jano and Josue used AI bots to automate their business? Read on!
Adding chatbots
Let's start with the fact that Whisker Bag's team collected the most frequent customers' requests (asked in various ways) and put them together in a spreadsheet.
Pretty neat idea—if you ask me.
Then, they decided to set up multiple AI chatbots based on those questions and design automated flows answering them in a personalized way.
Here's the example of a question set they used when it comes to different sizes of cats: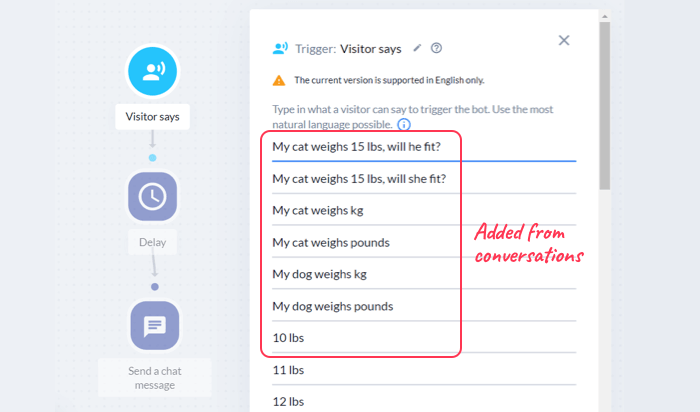 For starters, take a look at how the welcome bot engages visitors, acting like a subtle pop-up.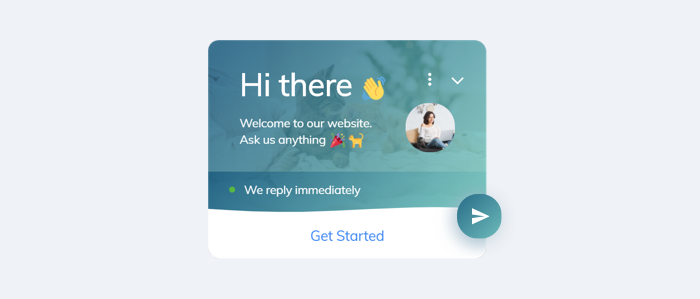 After clicking "Get Started," the bot offers options of either answering FAQ questions or connecting directly to a human agent.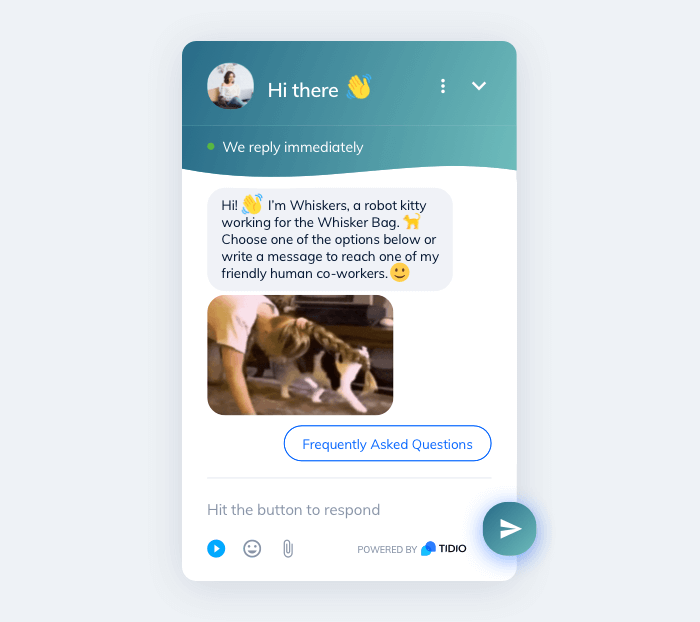 Add This Chatbot Now
All FAQ questions bots are AI-based and provide answers to questions asked in multiple ways. This simple process enabled Whisker Bag to (almost) fully automate customer service.
Impressive!
There are other chatbot examples operating on the site, which helped Whisker Bag to:
Slash down the response time to seconds
Create multiple customer segments
Collect customer data (and leads)
Improve satisfaction and boost sales
All the above, with a minimum effort required by Whisker Bag's team to set up chatbots in the right way.
🛑 Editor's note: If you'd like to play around with bots, you can simply check out 20+ free chatbot templates and save time on developing one from scratch.
But, I was curious and couldn't help but ask Jano—what's the number one secret to Whisker Bag's success?
He said that it's simple (but not easy!) and comes down to this equation.

That's it.
Jano knows that knowledge is power, so he collects and uses data that Tidio provides to give each customer a highly personalized experience. From start to end.
Now, let's take a look at the results that Whisker Bag achieved in the last few months.
5. Results
"Tidio changed everything about the way we collect leads"—said Jano when asked about Tidio's impact on Whisker Bag's results.
Wow. I was eager to learn more, so I asked for details.
Jano continued: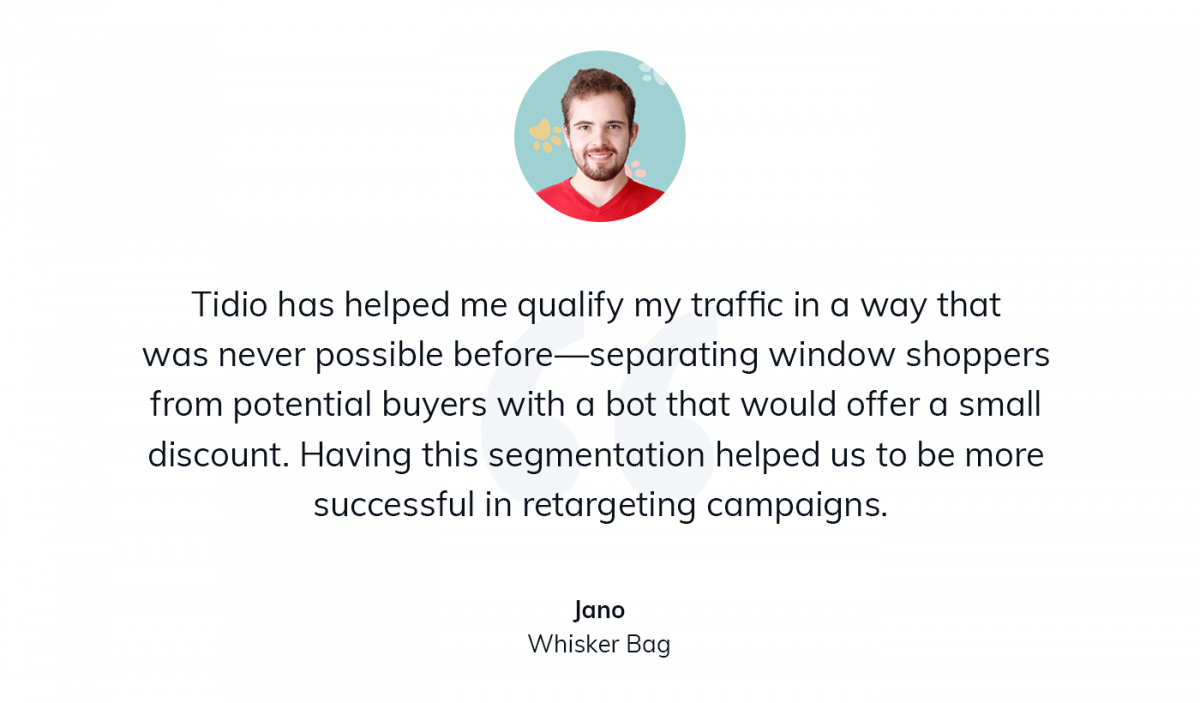 As you can see, a simple discount bot can account for huge changes in terms of boosting your bottom line performance.
Here's a look at the results that Whisker Bag has observed using live chat and chatbots—a fast-growing number of new leads acquired virtually on an autopilot.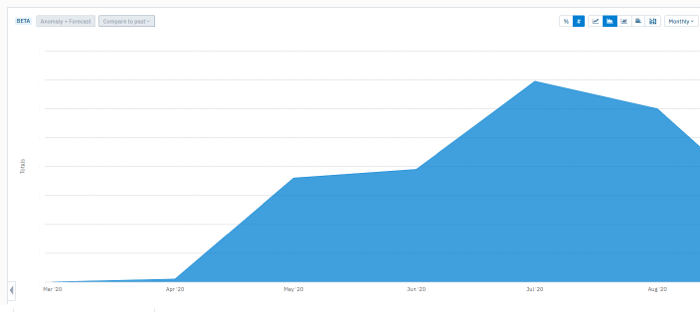 Oh, let's not forget about the most important aspect of any successful business—satisfied customers who share their positive experience online.

Whisker Bag continuously receives 5-star reviews from delighted customers who aren't shy to share their opinion with others.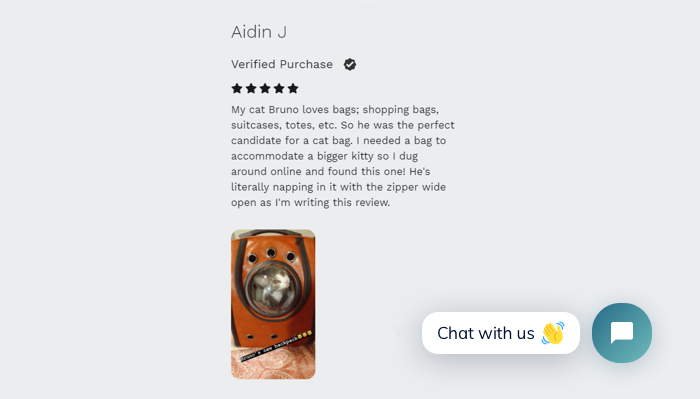 Key Takeaways
Finally, here is a short summary of lessons you can learn from Whisker's Bag success:
Look for business opportunities where others see threats.
Test your ideas with a small budget, build MVP.
Use storytelling to build a brand that people like and remember
Put customer experience first—use tools like live chat and chatbots to connect with your potential customers
Outsource and automate as much as possible—use chatbots to handle repetitive tasks.
Build an email list to own customer's data and use it for remarketing
Now, let's move to the juicy part and learn how to build chatbots that 4x the number of email subscribers on Whisker Bag's list.
Bonus Tutorial
Do you track the average session duration of your users?
If yes, then you probably already know they can be surprisingly short. But the longer your customers stay, the better your chance for a sale.
One of Jano's bots is the chatbot that stops visitors from leaving the website.
Truth is, there are many impressive things and advanced tweaks that Jano did with Tidio. But some of his most essential chatbots remain in use without any modifications.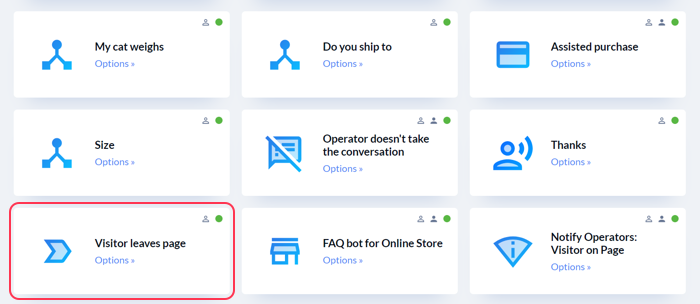 This chatbot pops up when somebody moves the mouse cursor outside of the website window.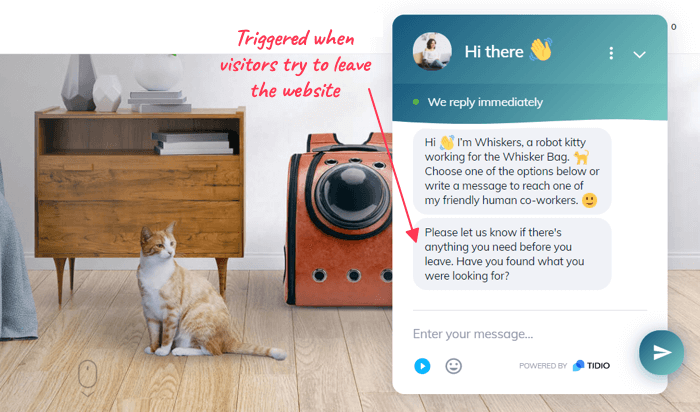 You can add this chatbot by going to the Chatbots section in your Tidio panel. It is in the Enhance Communication category.
Or you can click here to add it right now.
Add This Chatbot Now
Setting it up and activating it takes less than 1 minute if you keep the original message (that's what worked for Whisker Bag).
It is very good for boosting user engagement and collecting feedback.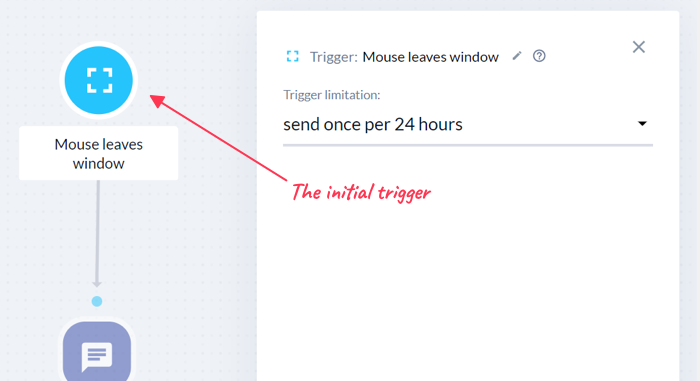 You can edit the chatbot later if you want to change how frequently the chatbot should send its message.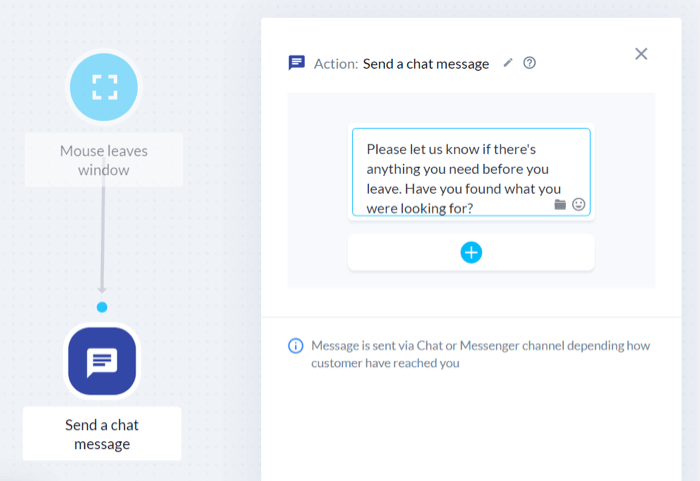 You can also adjust the text if you think you can come up with something more suitable for your business.
Try it out and see how it will improve your business metrics!