You have a Shopify store but want to add more features to it and enhance its functionality.
But which ones to choose for the best results?
Going through thousands of add-ons on Shopify can be tricky and take a long time that you could spend to build your business instead.
So, we did the digging for you.
We'll present the best Shopify plugins for different online store needs with add-ons' main features, ratings, and pricing.
In this article:
Want to find out more about Shopify add-ons? Check out these articles:
First of all—
What are Shopify plugins?
Shopify plugins are software add-ons that you can install on your Shopify website. These add-ons let users expand their online store with additional features and functionalities. Shopify extensions can help store owners improve customer satisfaction, increase sales, collect more leads, and much more.
Shopify App Store has over 7360 different plugins available, so it might be very difficult to find the best ones for your business. You should think about what do you want the add-on to help you with. Also, consider what features it provides and check what other users think of it to pick the best plugins for this ecommerce platform.
Wait a second. Are Shopify plugins and add-ons the same thing?
A short answer would be—yes. Plugins and add-ons are simply extensions to your platform. They could be made by third-party companies, software developers, or individuals. It's up to the maker how they call the extension, but the bottom line is—they point to the same functionality and can be used interchangeably.
So, straight to the point now—
Here's a Shopify plugins list for a quick view:
Let's discover the in-depth reviews of the top plugins for Shopify—
1. Tidio: Shopify chat plugin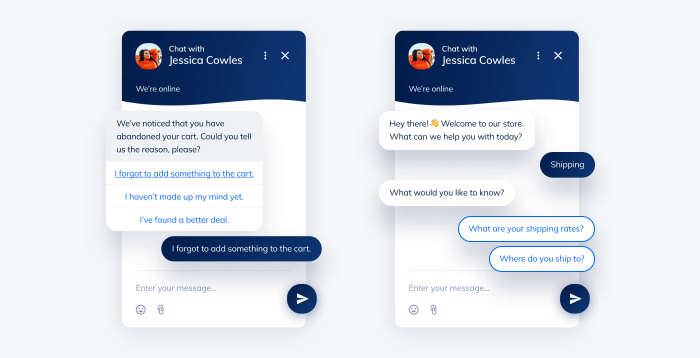 Rating: 4.8/5 ⭐️ (1,485+ ratings)
We know what you're thinking and yes, this is our product. This blog article is not the best place to advertise ourselves, so let's keep it short and sweet.
This Shopify plugin helps you save abandoned carts, increase sales, and improve customer communication. It offers live chat software with AI chatbots to make your customer service faster and more efficient. So, delight your customers, build your mailing list, offer discounts, and segment your website visitors—all with one chat plugin for your website.
Check the reviews on G2 and try out Tidio for yourself free of charge and let us know if we deserve this spot on the list.
Main features:
AI chatbots with 16 different triggers
Live visitors' list
iOS/Android mobile app
An option to see what the visitor is typing
Multichannel communication (live chat, Messenger, Instagram)
CTA with a buy button on the chat
Free plan available
Communicator ($19/month/operator)
Chatbots ($49/month)
Read more: Learn how to install Tidio on your Shopify store in less than a minute.
2. Growave: Shopify wishlist plugin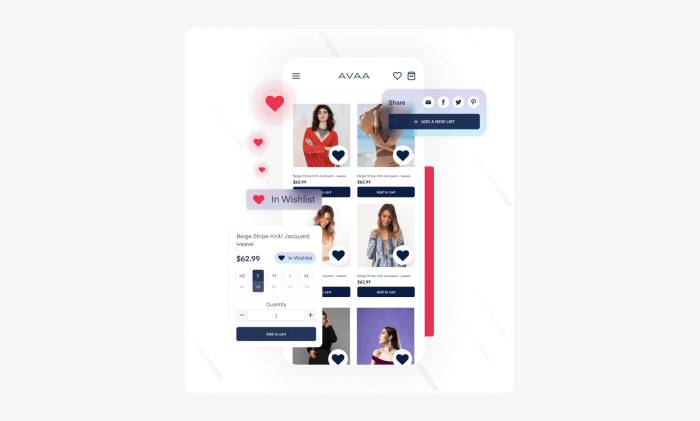 Rating: 4.9/5 ⭐️ (1,720+ ratings)
This Shopify plugin lets you add a Wishlist to your store to enable website visitors to save products they like before purchasing them. This can increase your sales and slash your cart abandonment rates. You can also reward your potential clients for sharing their wishlists with their friends on social media.
Growave offers 24/7 support, so you're never left scratching your head with an issue. It's also multilingual with languages including Spanish, Chinese, Korean, and French. This Shopify add-on improves shopping experience on your site, lets you send personalized emails to clients with wishlists, and grow your referral program with rewards.
Main features:
Automatic targeted emails
Wishlist rewards for customers
Customizable Add to Wishlist button
Sharable on social media
Dashboards for a variety of occasions
Basic ($9/month)
Starter ($19/month)
Medium ($49/month)
Growth ($99/month)
Enterprise ($299/month)
Did you know that…
About 40% of customers say their shopping experience would improve if online stores offered wishlists to save items the buyers are interested in.
3. Recharge: Shopify subscription plugin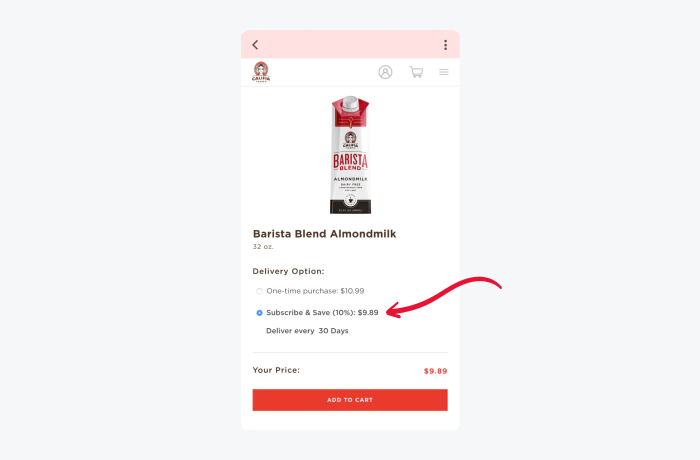 Rating: 4.8/5 ⭐️ (1,235+ ratings)
Recharge lets you set subscription programs on your checkout page that connect to your customers' favorite payment methods. It offers a customer portal, so they can manage their subscription on their own. You can also customize this add-on to your liking with powerful APIs to create custom checkout flows and your own workflows.
This Shopify plugin gives you actionable insights to help you meet the needs of your customers. You can use it to track product performance and understand your shoppers better. It also improves the subscription experience and lets you highlight the discounts to temp the potential client to land more sales.
Main features:
Powerful APIs for custom checkout flows and workflows
RechargeSMS feature for customers to update their order via a text message
Skip and Reschedule deliveries options
Comprehensive analytics
Supports the major payment processors, including Stripe, Braintree, and Authorize.net
Standard (1% + $0.10/transaction)
Pro ($300/month + 1% + $0.19/transaction)
Enterprise → Custom pricing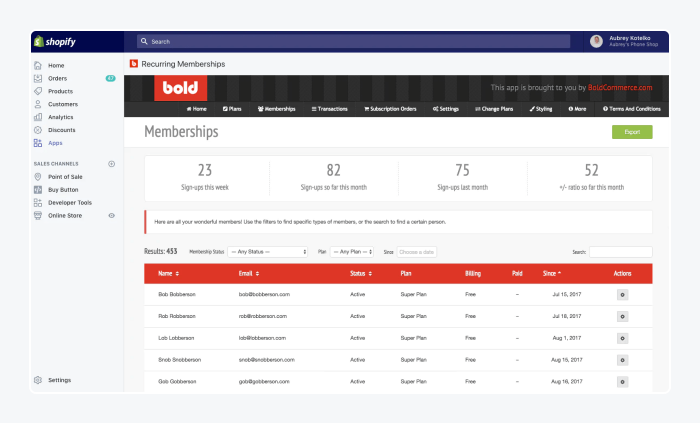 Rating: 4/5 ⭐️ (275+ reviews)
This Shopify ecommerce plugin lets you show or hide content, products, prices, or anything else you like. It will all depend on the membership type of the website visitor. You can also build separate pages for members and non-members from liquid templates. This way, they get a completely different view when members visit your site.
It provides built-in payments, so you can charge for memberships and offline services in a recurring manner. But you don't have to! You can just tag customers and change restrictions for each one of them without them having to pay for it. This way, you can give access to special offers and products exclusively to your best customers. And you can do this all from a single, easy-to-use backend admin dashboard.
Main features:
Manage memberships from your dashboard
Create different member tiers
Charger for recurring memberships
Memberships for offline services available
Liquid templates for members and non-members
Basic ($9.99-$299.99 based on the number of members)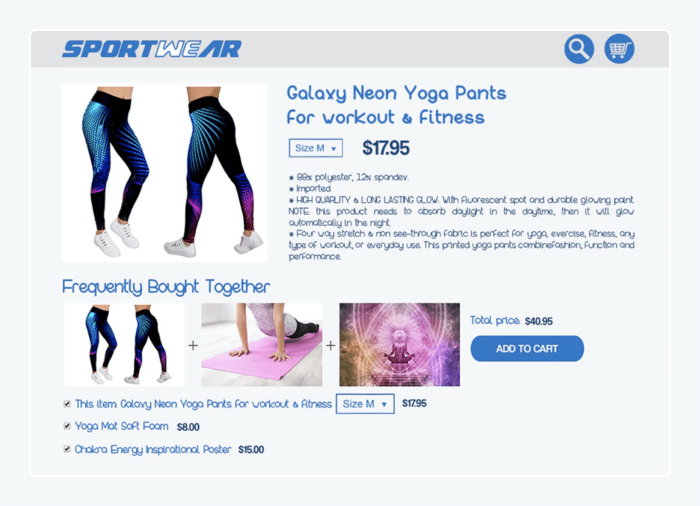 Rating: 4.9/5⭐️(2,055+ ratings)
If you've used Amazon then you know how good their product recommendation engine is. This is because the recommendations are relevant to what you're buying. This plugin is a Shopify version of this feature. It lets you add Recommended Products to your ecommerce website and uses AI to create bundles that help you increase your sales even further. In turn, it can help you increase your average order value and take your business to the next level.
This add-on provides AI analysis of the previous purchases through data mining and produces memory graphs with frequently bought together items for better results. This is also one of the plugins for Shopify that help you engage your shoppers and sell more of your products or services. It offers multiple recommendation algorithms to match your business.
Main features:
AI algorithms for recommended products
Automatic discounts for bundles (types of discounts include: percentage discount, fixed amount, free shipping, and other)
Bundles of products
Customizable user interface
Manual recommendation to fine-tune the suggestions for products
Free plan available
Pro ($9.99/month)
Did you know that…
Amazon's Frequently Bought Together drives over 35% of the sales done on the platform.
6. Tipo: Shopify booking plugin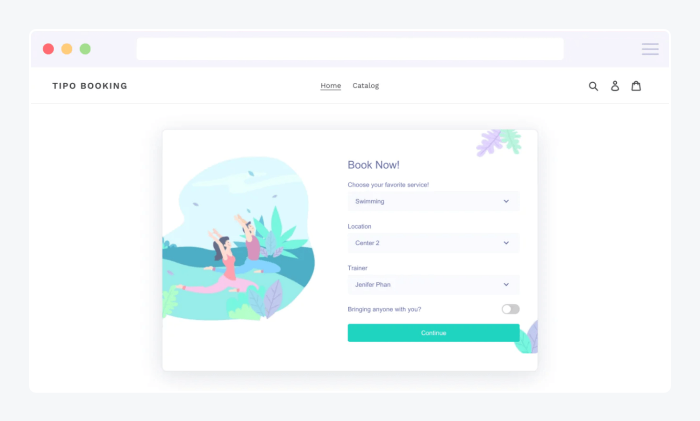 Rating: 4.5/5 ⭐️ (320+ ratings)
Tipo lets you automate your booking processes and enables a 24/7 availability for scheduling an appointment for individuals and groups. This can significantly reduce the workforce you need to make bookings and increase the number of clients walking through your virtual doors. It also syncs with your Google and Apple Calendar to facilitate customers' and employees' schedules.
You can send automatic email reminders for appointments and track booking information, like date, time, and status. You can also filter views by month, location, and the different representatives for easier management. This is one of the top Shopify plugins that brings a smooth experience for your existing and new customers and lets them set appointments on their own.
Main features:
Booking management
Appointment tracking with detailed booking information
Google Calendar synchronization
Automatic email notifications
Multiple products, employees, and locations to add
Free version available
Basic ($8.90/month)
Pro ($14.90/month)
7. Klaviyo: best Shopify marketing plugin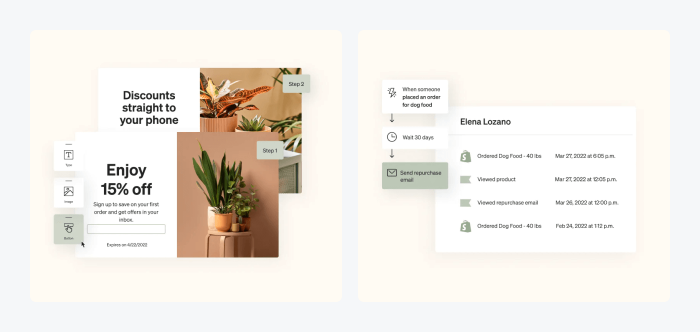 Rating: 4.2/5 ⭐️ (1,575+ ratings)
Klaviyo is a unified customer platform that offers specific segmentations for SMS and email marketing campaigns. It gives your business full ownership of the consumer data and interactions to increase the personalization of customer communication. It also offers a variety of built-in automation for cart reminders, price drop alerts, and welcome messages.
This Shopify plugin gives you real-time benchmarks from the data collected from brands in your industry, so you know how you compare to other businesses. This will also let you know what to improve and give your reports about your results. You can also sync all of your historical and real-time data, so you can stay on top of every interaction with your website visitors.
Main features:
Advanced customer segmentation
Seamless integration with your database
Real-life benchmarks for your industry
Pre-built reports for marketing questions
Variety of customizable automations such as welcome emails, price drop alerts
Free version available
Pro → custom pricing
Read more: Check out the best Shopify apps to recover abandoned carts and get more sales.
8. UpPromote: Shopify affiliate plugin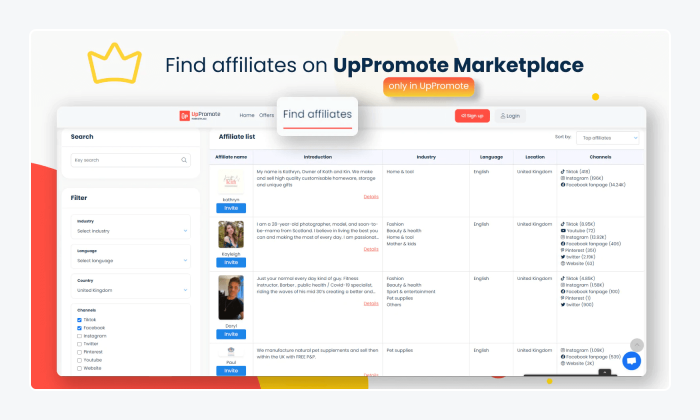 Rating: 4.9/5 ⭐️ (1,675+ reviews)
This is one of the best Shopify plugins for ecommerce businesses that are interested in doing affiliate marketing. It provides diverse commission offers, so you can test what works for your business. It also lets you create and assign affiliate links and coupons to people. And once you do, you can track their performance and see reports including sales, orders, and clicks collected by each affiliate.
UpPromote gives you access to their marketplace where you can find potential ambassadors who are bloggers, influencers, and content creators. This will make it easier for you to expand the network of your affiliates and start collaborating with them. It also offers automatic discounts to visitors and potential customers who are using the affiliate links to further encourage them to complete a sale with you.
Main features:
Referral and loyalty program builder
Tracking and reports about affiliates' performance, such as clicks, sales, and orders
Variety of integrations, including MailChimp, PayPal, and Oberlo
Marketplace with influencers, bloggers, and content creators
Coupons generated for referrals
Free version available
Growth ($21.99/month)
Professional ($69.99/month)
Enterprise ($139.99/month)
9. Booster: SEO plugin for Shopify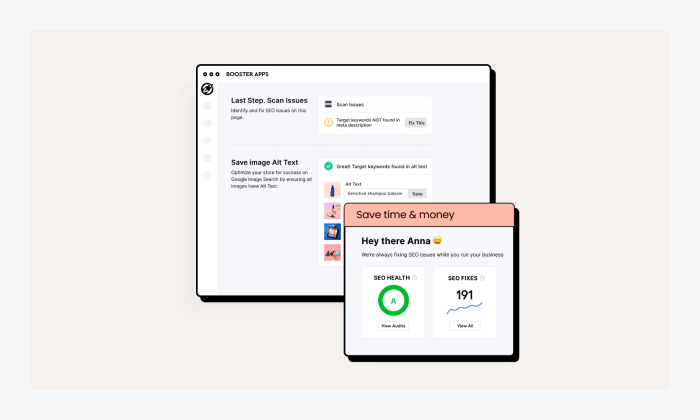 Rating: 4.8/5 ⭐️ (3,230+ ratings)
This is one of the best Shopify SEO (Search Engine Optimization) plugins that will ensure your website is set for on-page technical SEO success. It monitors and automatically optimizes your ecommerce website to ensure you're meeting the current best practices set by Google. It also builds, maintains, and submits your sitemap to Google to make sure every page is indexed and crawled correctly.
Booster is built exclusively for Shopify and lets you optimize your meta tags, alt text, and linked data to improve your ranking on Google search results. It also provides an image compression engine to decrease the load times of your pages and lets you track results with weekly SEO health reports. And if you come across any trouble, this is one of the Shopify add-ons that offers 24/7 live chat support.
Main features:
Optimizes image alt tags, meta tags, and URLs
Weekly SEO health reports
Automatically builds, maintains, and submits sitemaps to Google
Image compressor
Customizable rules for fixing SEO issues
Free plan available
Pro ($34/month)
Premium ($64/month)
Did you know that…
According to about 61% of B2B marketers, SEO generates more leads than any other marketing method.
10. Instafeed: Shopify Instagram plugin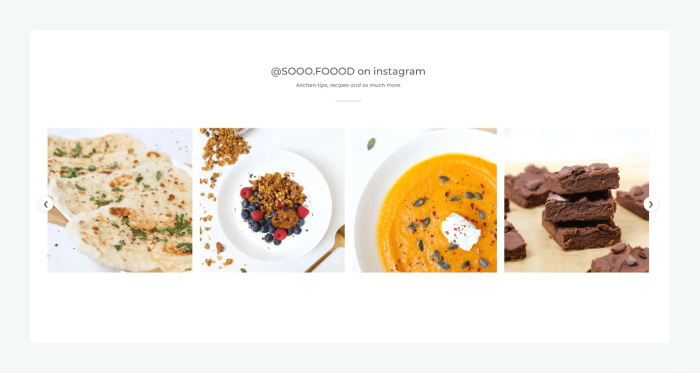 Rating: 4.9/5 ⭐️ (1,140+ ratings)
Ever wanted to showcase your social media feed on your website, but didn't know how? Well—this Shopify plugin is designed just for that. You can exhibit your Instagram content and create social proof to convert more of your website visitors into buyers and followers. Also, this will help your online store get discovered and expand your Instagram reach.
This Shopify Instagram plugin keeps your store content fresh by automatically updating your social media feed on your website. It eliminates distraction and presents your feed in a minimal and elegant way to focus on the customer and increase conversion rates. It's also fully customizable, so you can make your Instagram content blend in with your online store seamlessly.
Main features:
Grid and slider layout for your posts
Number of likes presented
Fully customizable (configure feed title, size of spaces, and layout)
Filters for posts including hashtag filters
Shoppable Instagram feeds
Free plan available
Pro ($4.99/month)
Plus ($19.99/month)
Read more: Check out this case study about a social entertainment business that boosted its ticket sales using chat on Facebook.
11. Judge.me: Shopify review plugin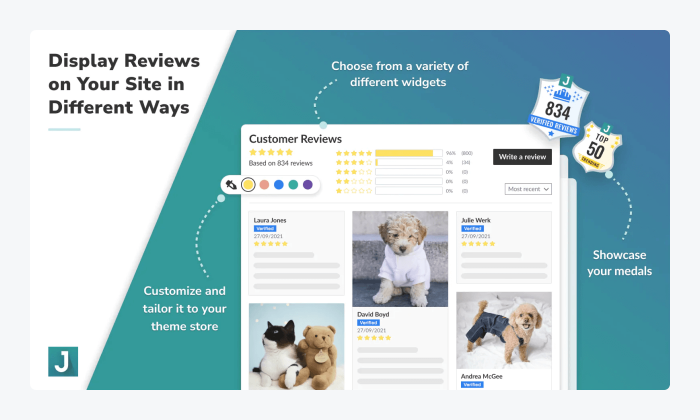 Rating: 5/5 ⭐️ (9,695+ ratings)
Judge.me enables your buyers to review your products and services directly inside their email. It also helps you display your customer reviews on site. This review plugin for Shopify offers a widget, SMS, and push notifications to encourage website visitors to rate your services. It also provides discount coupons to motivate people to share their opinions in honest feedback.
On top of that, this Shopify reviews plugin helps you show your review stars in Google Search rich snippets and Google Shopping to encourage more clicks to your website. It also lets your shoppers provide text, photo, and video content in their product reviews to present their full experience with your business.
Main features:
Review submission inside the email
Discount coupons for submitted reviews
Review stars in Google Search rich snippets
Text, photo, and video content
Email, website pop-up, and widget
Free plan available
Awesome ($15/month)
Did you know that…
Online reviews influence the purchasing decisions of about 93% of shoppers.
12. GemPages: Shopify blog plugin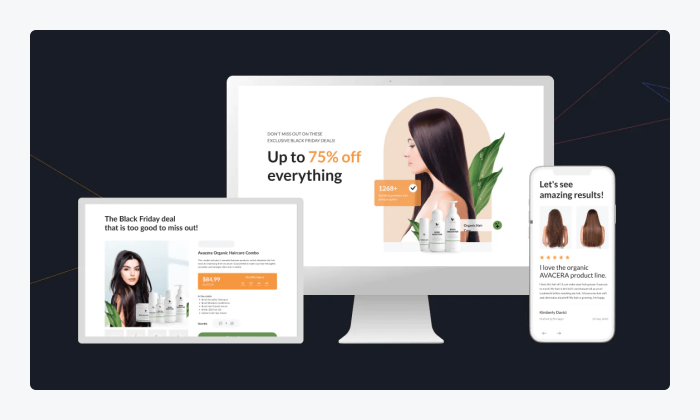 Rating: 4.9/5 ⭐️ (2,725+ ratings)
This is one of the best Shopify plugins for building custom pages for your ecommerce website, such as blogs, landing pages, etc. It provides a drag-and-drop page editor and a variety of templates for quick and easy creation of pages. You can also use lazy loading to ensure a fast loading speed of your website.
You can use GemPages to improve customer engagement on your website and increase online sales. It helps you drive sales with on-site elements, such as stock levels, countdowns, pop-ups, and reviews. This Shopify add-on also lets you track your page performance with Google Analytics and A/B testing.
Main features:
Drag-and-drop page builder
Video background available
65+ elements and 60+ templates
Sales booster elements, such as countdowns, social sharing, and pop-ups
Lazy-loading and pre-load resources
Starter ($15/month)
Business ($29/month)
Advanced ($59/month)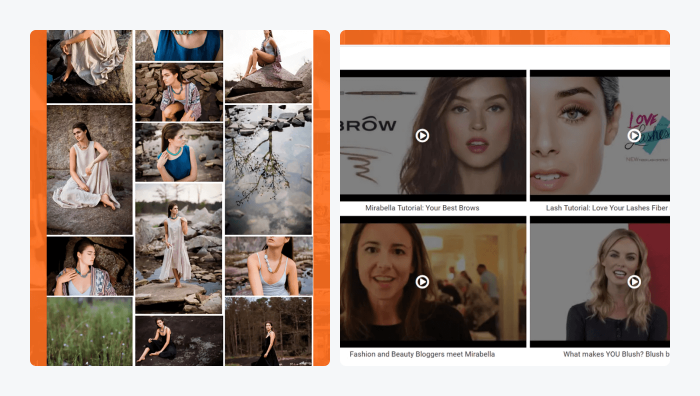 Rating: 4.9/5 ⭐️ (410+ ratings)
You can create an unlimited image and video galleries using your photos and videos as well as those from YouTube and Vimeo. The galleries are fully customizable with a variety of layouts to choose from to enhance the experience on your site. You can also create the main layout with some child galleries linking to it. This will improve organization and navigation between your galleries.
This Shopify extension helps you build photo and video albums that grab the visitors' attention and encourage them to check out more. It also enables you to protect your photos and videos with a disabled right-button functionality. You can also add custom thumbnails for videos on your video page, as well as add titles and alt tags for your images.
Main features:
Unlimited image and video galleries
Variety of layouts including list, square, and masonry layout
Disable right click available
Add links, titles, alt tags, and captions to images
Image gallery tool to build photo and video albums
Free plan available
Basic ($1.99/month)
Premium ($4.99/month)
Advanced ($9.99/month)
14. SendOwl: Shopify podcast plugin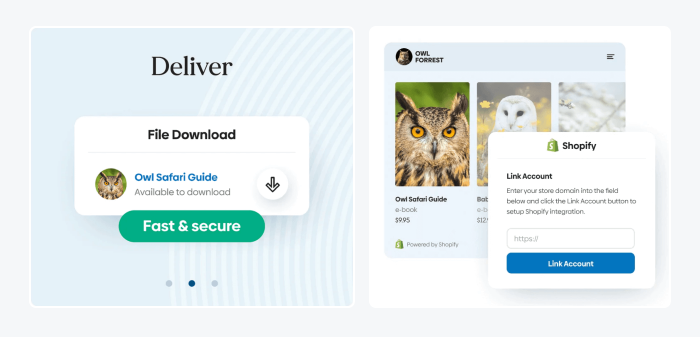 Rating: 4.4/5 ⭐️ (150+ ratings)
Are you selling digital content such as podcasts, ebooks, videos, or audio? This Shopify plugin is the perfect addition to your website and your product pages. You can also use it to deliver your digital content on a variety of platforms, such as Linkpop, Shopify POS, and social media. And if you come across any problems, their customer support consists of people who developed the system and have wide knowledge about it.
On top of that, this Shopify plugin works with the in-built fraud system and a variety of 3rd party fraud apps to increase the safety of your content. It also offers custom purchase buttons, a shopping cart, and delivery capacity to sell your products with ease. And the best part is that your customers can download their purchase instantly from the order completion page, via the order email.
Main features:
Time-limited download links
Custom checkout and email templates
Automatic delivery of digital products, memberships, drip content, and more
Optional self-hosting of files
Video player matched to your company for streaming
Basics ($9/month)
Standard ($15/month)
Premium ($24/month)
Business ($39/ month)
15. Packlink Pro: Shopify shipping plugin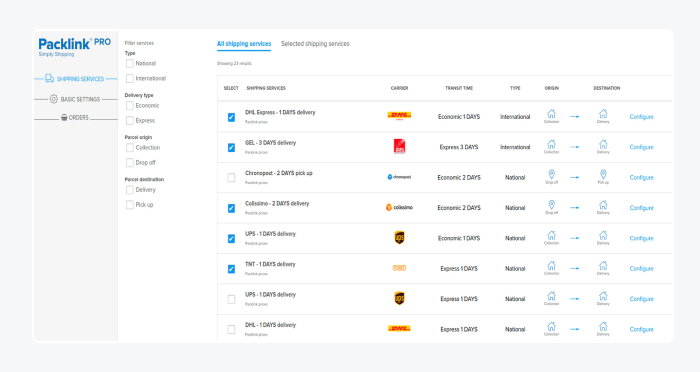 Rating: 4.7/5 ⭐️ (800+ ratings)
This is one of the free Shopify plugins that helps you with shipping your products and offers over 350 carrier services to choose from. You can optimize your shipping process from importing orders, through printing shipping labels, to packing and shipping the products. It offers shipping via domestic as well as international carriers to enable you to expand to different countries.
Packlink doesn't require any commitments or fees, you just pay for the services you use. This Shopify add-on syncs seamlessly with your Shopify account, saves order processing times, and automatically tracks information. It also lets you configure pricing rules and offers automation tools for bulk printing to ease the process for you and match your brand.
Main features:
Wide selection of shipping services
Shipping labels ready for printing
Package tracking
Configurable pricing rules for shipping
Automation tools including bulk printing and pricing rules
16. DSers: Shopify Aliexpress plugin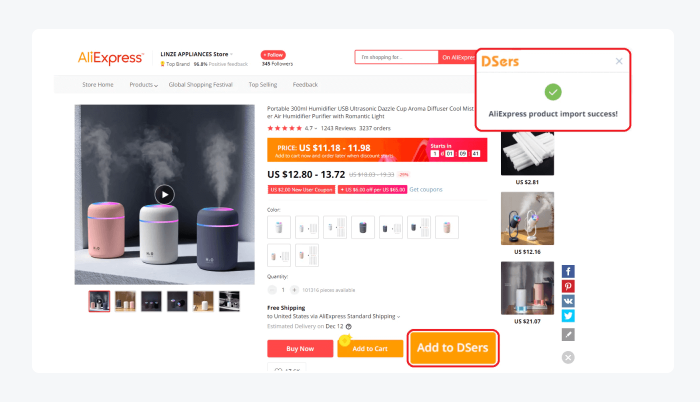 Rating: 4.9/5 ⭐️ (7,885+ ratings)
DSers is a Shopify extension that helps you find the best suppliers on Aliexpress and place your orders with them. It lets you place hundreds of orders at once and import products easily to increase your efficiency. You can also connect multiple online stores to your account and manage dropshipping for all of them from one dashboard.
This is one of the best dropshipping plugins for Shopify to create bundles and BOGO (buy one, get one) offers straight with the supplier. The orders will get synced with your Shopify store, and you'll get a tracking number for your customers' orders. It also sends notifications to keep you up to date with any changes in price or stock for your products.
Main features:
Tracking number synced to Shopify
Reliable and qualified suppliers selected
Onboarding tutorial available
Reports available
Bundles and BOGO offers
Free version available
Advanced ($19.9/month)
Pro ($49.9/month)
Enterprise ($499/month)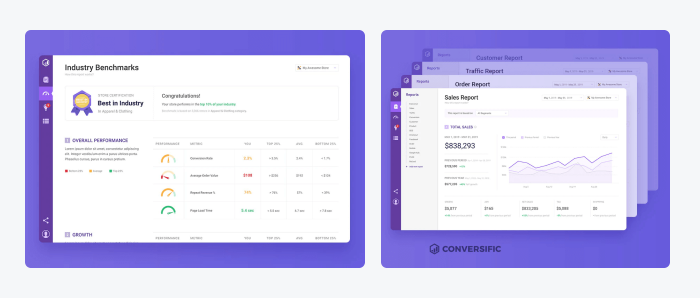 Rating: 4.9/5 ⭐️ (145+ reviews)
This Shopify plugin shows you a complete picture of the customer, marketing, and product analytics that include their ROIs (return on investment.) It provides daily reports on your most important metrics, such as sales, profit, and whatever else you decide. And you can say goodbye to spreadsheets, as this Shopify extension will present all the data for you in a single dashboard.
You can segment your customers based on their engagement, lifetime value, and order metrics. Additionally, this Shopify add-on analyzes buying patterns, so you can create accurate customer profiles and understand your audience better. It also provides reports on your products to see which ones are performing best and how to manage your inventory as well as decide on pricing to get more sales.
Main features:
Product, customer, and marketing analytics
Integrates with Google Analytics, Google Search Console, Facebook ads, Google Ads
Industry benchmarks available
Automated daily reports of the most important metrics
Actionable next steps personalized to your online store
Free version available
Business ($29/month)
Growth ($79/month)
Scale ($199/month)
Shopify plugins: summary
So, for a quick recap—
The best Shopify plugins are:
Tidio—customer communication
Growave—wishlists
Recharge—subscriptions
Bold Memberships—memberships
Frequently Bought Together—upsells
Tipo—bookings
Klaviyo—marketing
UpPromote—affiliate
Booster—SEO
Instafeed—Instagram
Judge.me—reviews
GemPages—blog
Image Gallery+Video—gallery
SendOwl—podcast & digital products
Packlink Pro—shipping
DSers—Aliexpress dropshipping
Profit Analytics & Benchmarks—analytics
Just remember to check if the add-on has the features you require and look through user reviews before you decide to purchase the plugin. It's also good to calculate your budget beforehand to see if the Shopify extension won't cost you more than your business is prepared to pay for it.
Good luck!