Business Growth
5 Best BigCommerce Apps to Drive Your Sales
Five must-have BigCommerce apps that will help you take your online store to the next level.
Are you running a BigCommerce store and looking into adding a few apps?
Then you're in a good place to start.
To save you endless scrolling and comparisons, we've reviewed five amazing BigCommerce apps. They will improve your customer service and marketing, save your store data, and help you with shipment journey, pricing, and getting more sales.
Don't like having too many apps and looking for all-in-one solutions? With the Tidio app, you get a full stack of must-have tools for your shop – a live chat, chatbots, and mailing. Talk to visitors, automate sales, and send beautiful email campaigns with just one tool. For free.
Step 1: Add a chat plugin to your website to connect with your visitors.
Step 2: Chat with them in real-time.
Step 3: Collect new leads and nurture them with emails.
Try Free Tidio App
In this article. we will talk about the following BigCommerce apps:
Best Communication Channel to Increase Customer Satisfaction

Best BigCommerce app for live and automated communication.
Customers are the lifeblood of your business. They say, that the happy customer is the returning customer (who may also recommend your business to others). For you, happy customers mean conversion and retention.
To keep them happy, your customer service should be impeccable, swift, and accessible. Throw in 24/7 availability, too.
But hey! You are a small business, a one-man army. How can you do all of these at once on your own? You need to choose the tools that will enable you to meet those expectations.
This is where Tidio live chat (and chatbots) comes into play.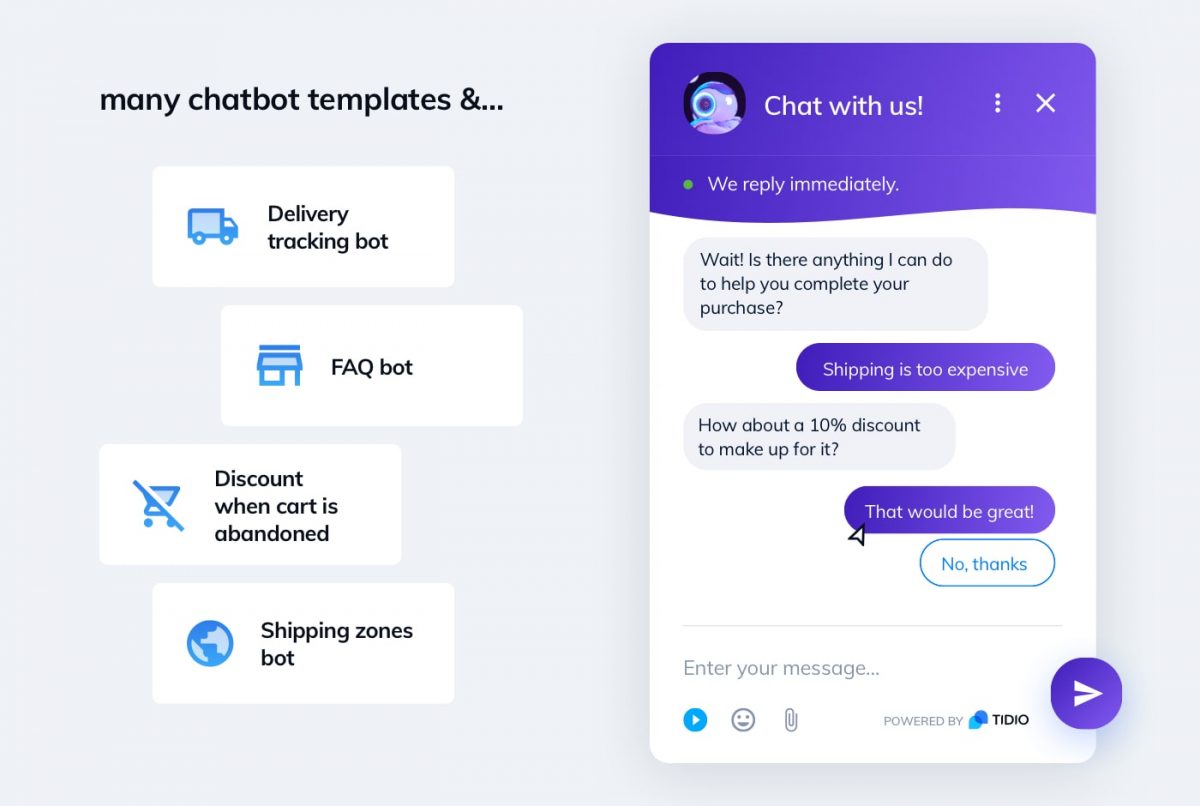 Why do forty-one percent of consumers indicate live chat as their preferred channel of communication with the customer service team?
Because live chat was made for fast and effective communication. Each year the number of live chat widgets installed on online stores and websites grows as online entrepreneurs understand that excellent customer experience is one of the key indicators whether their store will succeed or not.
Let's address the customers' expectations we mentioned earlier. Let's start with response times and availability.
First of all, Tidio allows you to multitask. If you have more conversations than you can handle, the incoming conversations can be freely re-assigned between chat operators. In case there's no one around to answer the query, the chatbot can help the customer for you (24/7/all year-round).
Secondly, each operator can set up their own pre-defined quick responses and even see what the customers are typing before they even send their message. If you are on the go and do not want to solely rely on a chatbot, then Tidio has a mobile version for Android and iOS users so you are still on the ball with your customers' queries.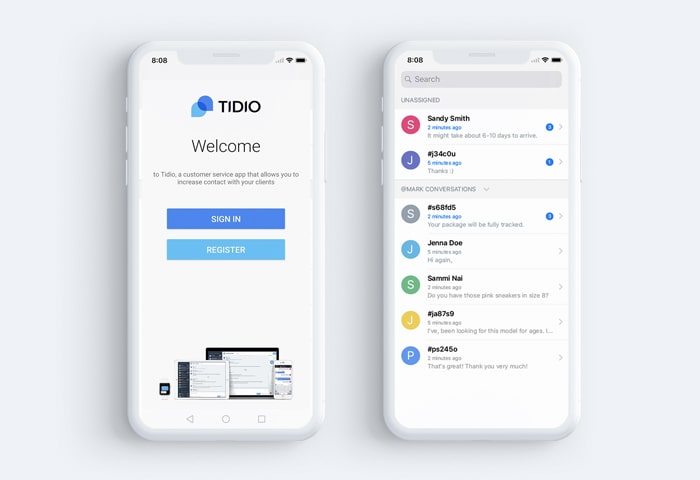 As far as accessibility is concerned, Tidio is accessible to local and international customers. Since the live chat widget is installed only by you (the seller), the customers do not need to worry about having anything installed on their device.
Moreover, live chat is an internet-based service so the customers who would prefer to avoid international phone call costs can send you a message and receive a prompt reply (considering that you offer phone customer service in the first place).
And finally, there are many customers who prefer messages to direct phone conversation (they may be too introvert or not able to speak your language well enough to communicate with you confidently).
What other value live chat holds to online entrepreneurs? Online chatting is like a conversation so you can easily personalize it to the individual customer (and customers love that!). Conversation builds confidence and relationships.
Also, you can customize the widget to make it match your store. This way you add some human touch to it.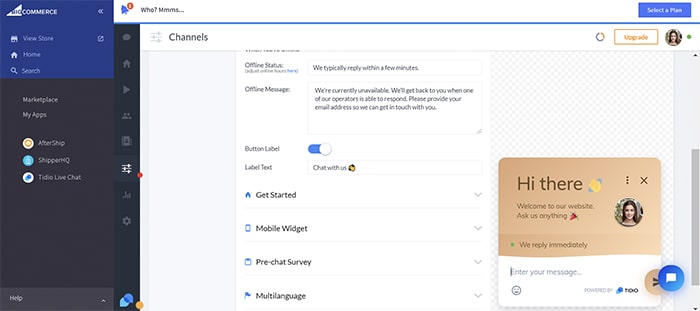 What about lead generation? Live chat can help you with lead generation, too. Observe who is on the website and offer your help before the customers decide to leave.
And in case you are having issues with abandoned carts, put a chatbot on guard to engage each customer who did not make it past the checkout. The chatbot will collect valuable feedback and try to convert the cart-abandoners before they leave your store.
What else will make you fall in love with Tidio live chat? It was built with small businesses in mind, so you can expect all the powerful features to be reasonably priced: $15 per month for the Communicator Plan or Chatbots Package.
You can try this app for 7 days for free. A free plan is also available.
Get Tidio Live Chat
Get Accurate and Real-Time Shipping Quotes

Best BigCommerce app for shipping rates.
Believe it or not, but unexpected shipping cost is the top reason for customers to abandon their carts. And no wonder. Spending some time doing online shopping only to find out that the shipping cost is too much to actually finalize the order is frustrating.
So what happens next? They leave their carts and your store altogether. You lose customers who are unlikely to complete their orders and unlikely to return.
The key to customers' happiness here is to keep them informed. When you are transparent about the final order price, the cart abandonment due to the shipping rates will go down. There are two ways you can go about it.
How can you manage all the shipping rates so you and your customers know exactly what the cost would be?
There's an app for that.

ShipperHQ gives BigCommerce merchants a lot of flexibility. You can set up your own carrier rules, add an In-Store pickup, show estimated delivery times, provide LTL rates for bulk orders, and much more.
What's more, your customer gets accurate shipping rates based on the box size, packaging weight, or which items and how many are allowed to go in one package. You set up the rules, ShipperHQ does the math.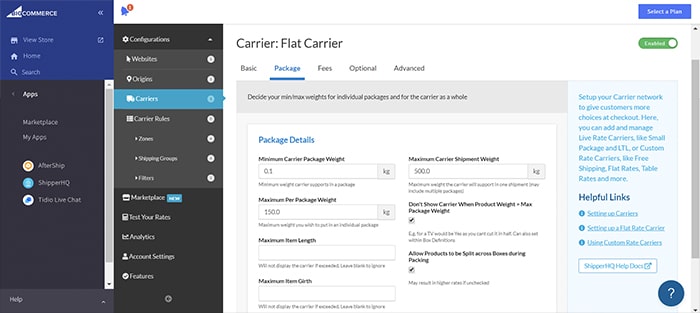 ShipperHQ supports data coming from major international carriers whose live-rates are pulled directly from their websites. This ensures accurate and up-to-date rates. If a carriers' system is down, ShipperHQ will turn to the backup carrier and continue displaying the rates. This way, your customers do not get frustrated with unknown shipping costs.
Tip:
Looking for another way of informing your customers about the shipping rates? Set up a chatbot that will answer shipping-related queries in a conversational way. This little guy can respond to an unlimited number of queries 24/7 and, contrary to belief, it's not difficult to create.
Create Your Chatbot
You can try this app for 30 days for free. The premium plan starts at $50/mo and includes all the core features and most of the advanced ones.
Keep Your Finger on the Pulse of Your Sent Shipments

Best BigCommerce app for shipment tracking.
The ability to track packages in real-time is important for sellers and customers.
The customers who aren't getting enough tracking information will lose their trust in you and will be less likely to shop with you again. So it's in your best interest to keep them posted about their order, and this is especially crucial for customers ordering from abroad.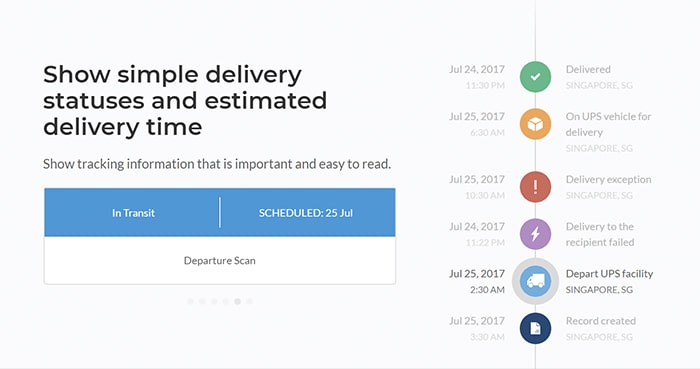 AfterShip takes care of keeping the customer up-to-date with the status of their order delivery. In other words, this app monitors what happens after the shipment is already en route.
This BigCommerce app supports over 600 carriers worldwide. So regardless of whether your customer is local or orders with you internationally, they will be able to track the journey of their package.
AfterShip makes tracking simple and effortless. It recognizes the carrier based on the tracking number format so the entire process is reduced to a single-click action. What's more, the customer can easily submit a request for a return without the need for contacting your customer service team.
Thanks to AfterShip, you can act immediately after an issue with delivery was detected. The performance analytics tool built into this app allows for fast filtering of all active deliveries so you know which deliveries are having some trouble with reaching the recipient.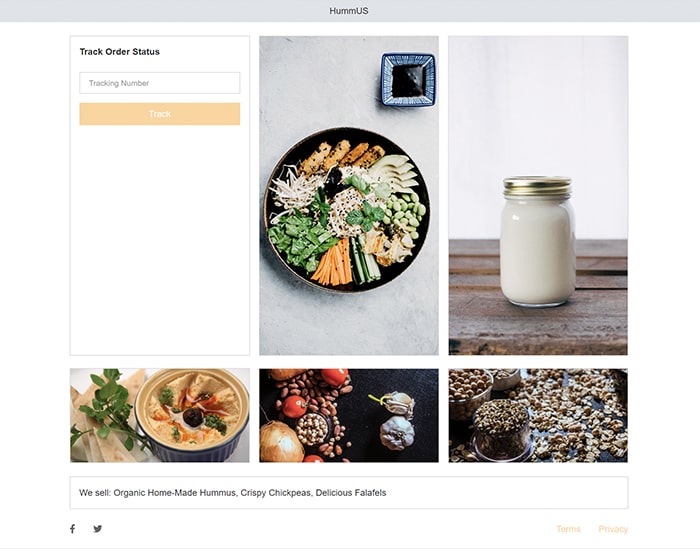 Customer retention and engagement are important and AfterShip knows that, too. This BigCommerce app allows you to brand the tracking pages of the individual shipments. You can insert your company logo, your store URL, Instagram feed, as well as Facebook and Twitter pages. Display the products of your choice to encourage the customers to click the images and continue exploring your offer while they await their package.
You can try this app for 14 days for free. The premium plan starts at $9/mo. Free plan available.
Segment and Reach out to Your Customers at the Right Time

Best BigCommerce app for targeted retention marketing.
Acquiring a new customer can cost five times more than retaining an existing one. So if you're thinking about more sales, tap into the pool of customers you've already acquired. It's cheaper and can yield better results than cold emails.
The trick is, however, that no customer is the same. They come, stay, and leave you at different stages of their shopping lifecycle. What it means is that the one-suits-all approach will not work if you are planning on turning them into loyal (repeating) customers. You need to talk to them on a more personal level (as you surely have noticed, this principle is universal and applies to not only live chat conversations).
Personalization plays a huge role in customer satisfaction and retention. Customers don't want to be just another order number, to receive offers from a store they made some business with ages ago (and they already forgot about it), or to receive a generic email that offers very little or irrelevant value to them. Sending loyalty rewards to no-buyers or cart-abandoners doesn't make much sense either.
How can you make your marketing personalized (and thus, more effective)? You need to segment your customers into their respective categories.
Got tens, hundreds, or even more customers in your database to sort out? Let Marsello help you with that.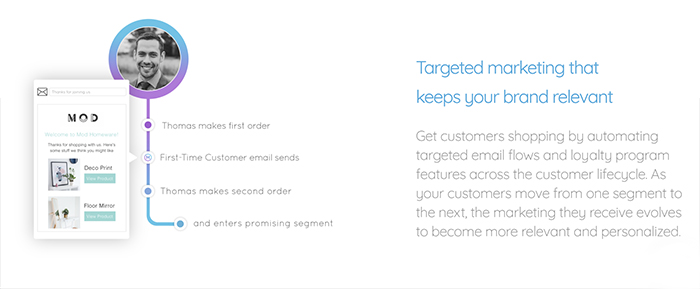 Effective customer retention begins with proper customer segmentation.
Marsello app segments your customers on the basis of the so-called "RFM analysis" (Recency, Frequency, Monetary). But if you see that there are some customers who would fit better into a different category than any of the default ones, you can add your own custom segment.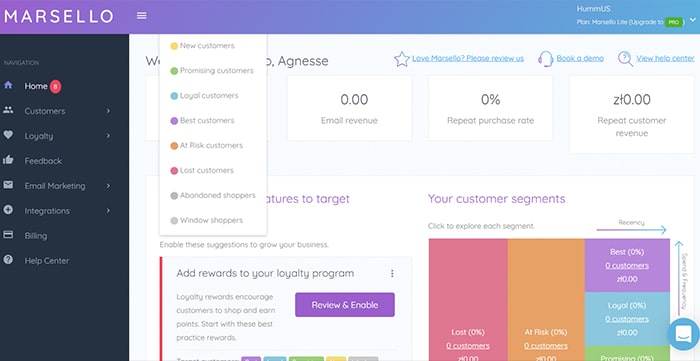 What does loyalty targeting look like? Marsello comes with pre-defined email flows that you can adjust to fit your business profile and needs. The email flows will affect all customers across all customer lifecycles and thus, all segments.
Furthermore, the customers will fall into a new flow as they move from one segment to another. For instance, if you have a group of customers who made their first purchase, you definitely want to nurture them so they come back to shop with you again. So you send them a series of emails in an attempt to bring them back to your store. Some of them do and place more orders. As a result, they are no longer new customers but the ones who can potentially become repeating customers.
As you can realize, at this stage, a new flow is initiated in an attempt to keep them coming again and again. Additionally, Marsello offers a loyalty program. This program rewards repeat customers with points to encourage them to stay with you longer, become more engaged, and promote your store to others.
You can try this app for 14 days for free. The premium plan starts at $49/mo. Free plan available.
Data Loss Happens. Don't Let it Happen to You

Best BigCommerce app for backing up your store data.
What would you do if suddenly all the store data you have collected was lost? Customers' data – gone. Orders and shipments – gone. Product images and details – gone. Data acquired through analytics tools – gone.
Lost data means store downtime. Store downtime means lost sales (not to mention the harm of your brand reputation). And the lost sales mean "to be, or not to be" to your business. To avoid such unpleasant situations, plan for the worst and back up your data frequently and regularly.
Or better yet, let an app do it for you, automatically.

Rewind Backups app saves your data, and by doing that, it saves your business. As soon as you install this BigCommerce app, it begins backing up your data. The consecutive backups will happen automatically on a daily basis. You can also perform an on-demand backup.
Rewind Backups protects you from human errors. Even if you or any of your staff happen to delete some important pieces of data (e.g. products and their descriptions) by mistake, you can recover it with just a few clicks.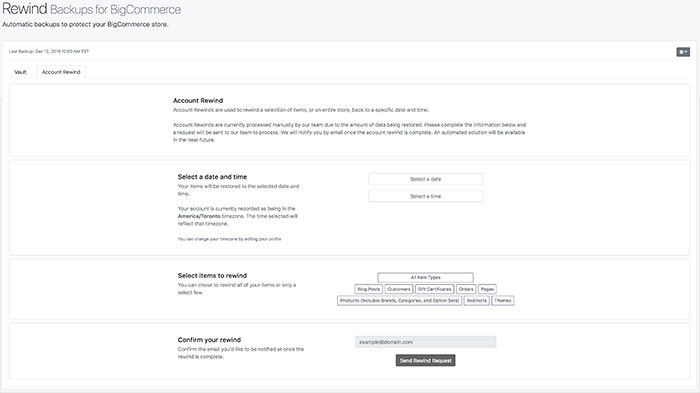 You can try this app for 7 days for free. The premium plan starts at $3/mo.
Wrapping It Up
Setting up a successful eCommerce business takes time and work. But it doesn't mean you cannot work smarter, rather than just harder. Work smart and play strategically, and above all, never neglect your customer.
Need an extra hand to take care of your customers but got no other employees than yourself? There's a range of outstanding BigCommerce apps that can not only automate a lot of daily processes for you but also help you keep the customers happy.
When you want to deliver fast and accessible customer service, then choose a live chat app. Do your customers need round-the-clock service? Add a few chatbots to make it happen.
Get Your Live Chat
For shipping costs transparency and shipment tracking, choose dedicated apps that pull all the necessary data directly from the carriers. This will reduce cart abandonment and customers' frustration.
Once you manage to add some customers to your database, segment them and keep in touch with them. Sending timed and relevant emails will boost their retention. Add loyalty programs to increase the customers' engagement and make them come back for more.
The apps we have recommended here are the best BigCommerce apps to have, but it doesn't mean you should not try to look for the combination that works best for your store. Find your "perfect blend" and turn your store into a full-blown business.
Before you go…
A short FAQ about BigCommerce apps:
What Is the Top Live Chat App to Use With Bigcommerce?
Tidio is the best live chat choice for BigCommerce merchants. It not only has all the powerful features you would expect from a live chat but also offers most of them for free.
How to Get Bigcommerce App?
Go to BigCommerce Apps Marketplace and type in the name of an app you are searching for inside the search bar. 
To browse apps based on their respective categories, click "All Categories" to open a drop-down menu with a list of categories available.
How to Install App in Bigcommerce?
When you find an app you would like to add to your store, click the "Get this app" button. Next, click "Log in" to log into your BigCommerce account. Inside the BigCommerce panel, click the "Install" button to finish the process.

What other BigCommerce apps do you use or recommend to try? Share them in the comments section below!