So you want to enhance your BigCommerce store, but you're not sure which plugins to choose?
It's no surprise—there are over a thousand options on BigCommerce Apps Marketplace.
How are you supposed to know which ones are the best choices for your business?
We've got your back.
We searched through the BigCommerce app store, read all the reviews, and went through the websites to fish out 22 of the best choices out there. 
Scroll down and discover the pros, cons, and pricing of each of our picks.
In this article:
Check out these articles to learn more tricks on how to grow your business:
What is a BigCommerce app?
BigCommerce platform allows you to manage your ecommerce store. BigCommerce apps, on the other hand, provide additional features and functionality to the store. Third-party developers build the apps and put them on BigCommerce Marketplace, where store owners can easily find and install the plugins.
In this article, we will focus on all the most useful apps that you can add to your BigCommerce store. These include apps for:
There are many choices on the BigCommerce Marketplace, so we decided to hand-pick 22 of the best plugins to save you time on doing the research.
Comparison table of the best BigCommerce apps
| BigCommerce App | Ratings | Free plan/trial | Best for |
| --- | --- | --- | --- |
| Tidio | 3.5/5 ⭐️(20+ reviews) | ✅ | Connecting with customers online and offline |
| Live Chat | 4.5/5 ⭐️(21+ reviews) | Free trial | Customer tracking |
| Active Campaign | 3.5/5 ⭐️(24+ reviews) | Free trial | Customer segmentation |
| Aftership | 4.5/5 ⭐️(341+ reviews) | ✅ | Shipping carriers choices |
| Shipstation | 4.0/5 ⭐️(183+ reviews) | Free trial | Multichannel platform |
| ShipperHQ | 4.0/5 ⭐(61+ reviews) | Free trial | Accuracy with delivery dates and costs for a variety of sizes/weights of products |
| QuickBooks | 4.0/5 ⭐️(76+ reviews) | ✅ | Bookkeeping on mobile |
| JMango 360 | 5/5 ⭐️(12+ reviews) | ❌ | Creating mobile apps |
| Klaviyo | 4.0/5 ⭐️(14+ reviews) | ✅ | SMS marketing |
| Stamped | 5/5 ⭐️(200+ reviews) | ✅ | Search and filter features for reviews |
| Yotpo | 4.5/5 ⭐️(323+ reviews) | ✅ | In-mail forms |
| Trustpilot | 4.0/5 ⭐️(19+ reviews) | ✅ | Image generator for ad creative |
| FavSEO | 5/5 ⭐️(153+ reviews) | Free trial | Advanced SEO audits |
| SEOKart | 5/5 ⭐️(76+ reviews) | ✅ | Advanced reporting |
| SEO Rich Snippets | 5/5 ⭐️(18+ reviews) | Free trial | Creating rich snippets |
| Rebillia Platform | 4.5/5 ⭐️(49+ reviews) | ✅ | Custom subscriptions |
| Recurring Payment | 4.0/5 ⭐️(13+ reviews) | ✅ | Invoicing tools |
| Subscrimia | 3.0/5 ⭐️(10+ reviews) | ❌ | Shipment scheduling |
| MailChimp | 3.5/5 ⭐️(144+ reviews) | ✅ | A/B testing for emails |
| Justuno | 4.0/5 ⭐️(55+ reviews) | ✅ | Pop-ups for lead generation |
| Omnisend | 4.5/5 ⭐️(139+ reviews) | ✅ | Cart abandonment recovery emails |
Let's look at each of these apps more in-depth, starting from BigCommerce plugins you can use to communicate with your visitors.
BigCommerce customer service apps
From live chat to email communication, ecommerce customer service comes in many different forms. It's important to connect to your shoppers and minimize the response time. So, what are some of the best BigCommerce apps you can use to improve your customer service?
Let's find out!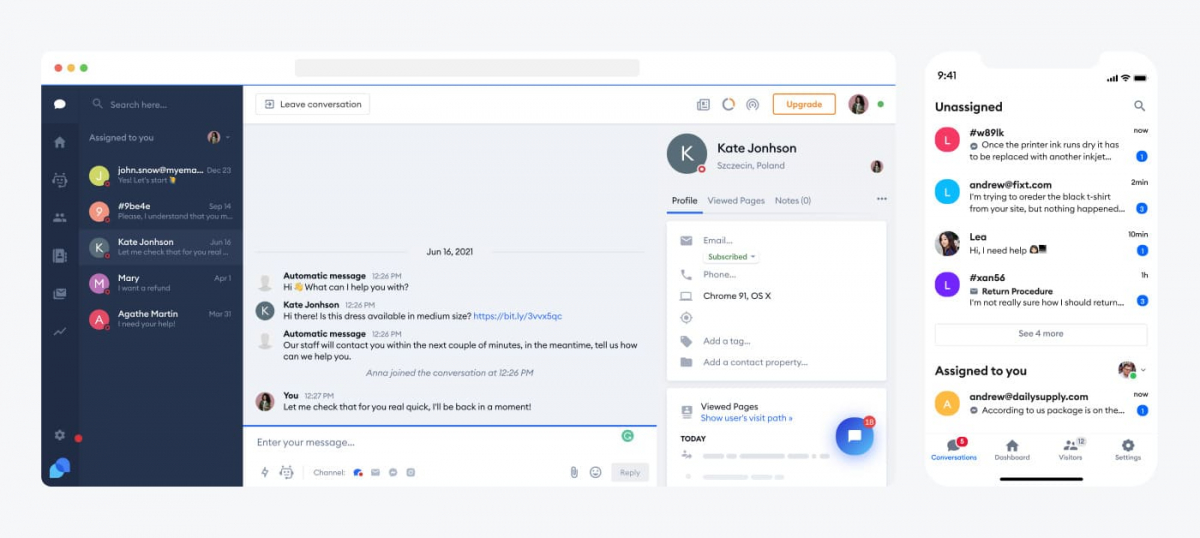 Ratings: 3.5/5 ⭐️ (20+ reviews on BigCommerce marketplace)
Don't worry, this is not a sales pitch for our platform. Let's just simply introduce ourselves and you can decide if we deserve this spot on the list by looking at our customers' reviews on G2 and trying our software for free.
So, in short, Tidio offers live chat and chatbots to enhance customer communication and automate most of your customer service to free up your agents' time. You can customize the live chat icon to match your BigCommerce site and set triggers to start the chat window. You can also view what product pages your customers visit to learn their interests and target them better.
Main features:
Live typing to see what your visitor is writing in their message before they click Send
AI chatbots for a 24/7 availability
Push notifications
16 different triggers available
Free version available
Communicator ($19/month)
Chatbots ($49/month)
Learn how to install Tidio on BigCommerce in just a few easy steps.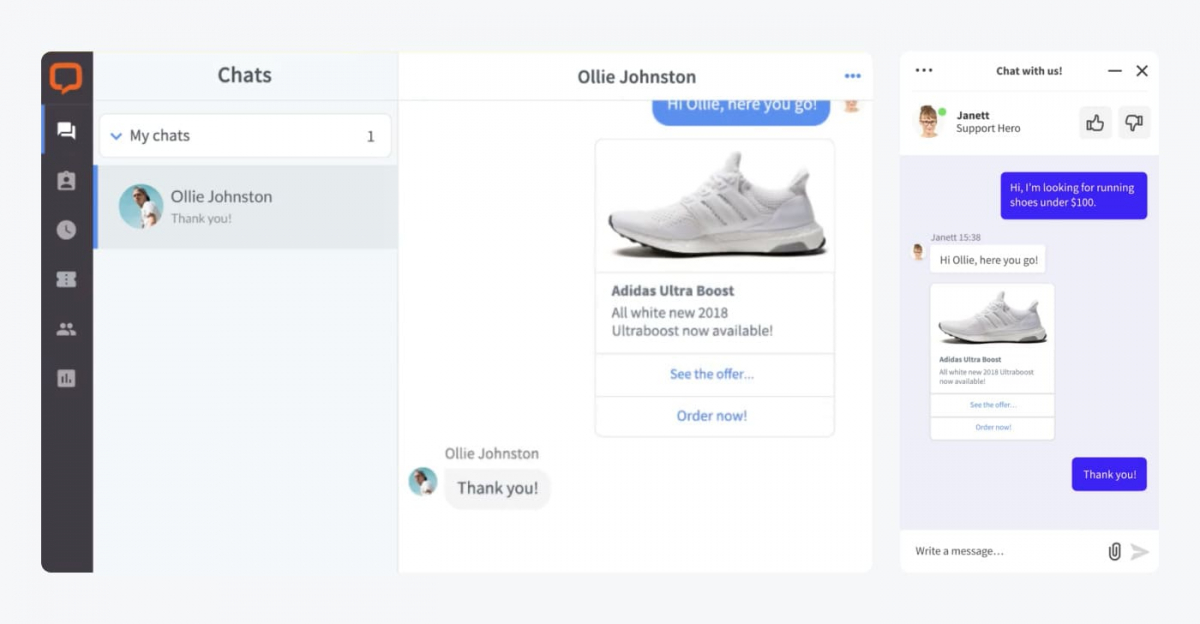 Ratings: 4.5/5 ⭐️ (21+ reviews on BigCommerce marketplace)
This BigCommerce chat add-on can help you answer incoming sales and support questions, minimize the waiting times, and recommend products for your website visitors. It can also help you with customer engagement and customer satisfaction with your brand.
Live chat works by embedding a chat widget on your site so that visitors can click on it and chat with you. This can minimize the time needed to contact your current or potential client. You will also know where your potential clients are and if they placed anything in their cart. All straight from the platform.
Pros:
Ticketing system for when your agents are offline
Ability to see customers' cart contents
Contact forms available for lead generation
Cons:
Reviewers state that there are extra charges applied to their bill, like additional pay for Google integration
No chatbots for automation
14-day free trial
Starter ($16/month)
Team ($33/month)
Business ($50/month)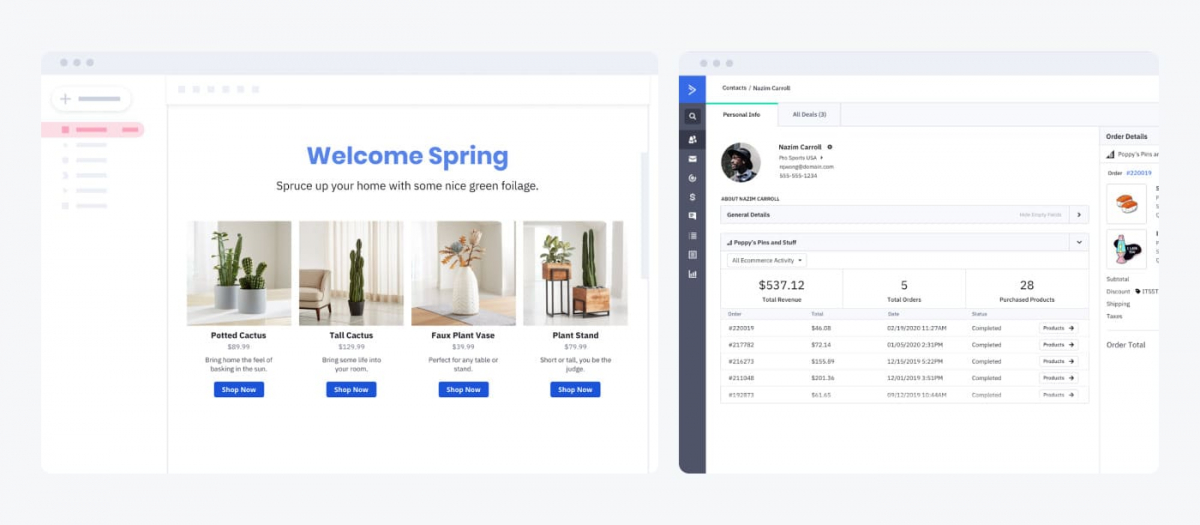 Ratings: 3.5/5 ⭐️ (24+ reviews on BigCommerce marketplace)
Active Campaign is a customer experience automation platform that helps you meaningfully engage with your consumers. It provides many pre-built automations that combine email marketing, marketing automation, and customer relationship management (CRM).
This is one of the BigCommerce plugins that uses machine learning for visitor segmentation and enables you to personalize the buyer's experience across different channels. You can also automate the personalized services across all the customer touchpoints, such as social media, text, and website chat.
Pros:
Buyer tracking of preferences, behaviors and other attributes for deeper segmentation
Client data collected and stored throughout the entire customer lifecycle
Full control over email marketing automation and CRM features to create customized messages to the clients
Cons:
Issues with the integration as contacts and orders sometimes don't appear on Active Campaign view
Reviewers say there's lack of communication from the support team
Outdated and not intuitive email editor
14-day free trial
Lite ($9/month)
Plus ($49/month)
Professional ($149/month)
BigCommerce shipping apps
Order tracking on an ecommerce platform is a major part of the positive customer experience. That's why online stores must be able to track orders and communicate their status to the client at any time. And doing so contributes to the reputation of a trustworthy and dependable company.
Let's look at some of the reliable add-ons for this task.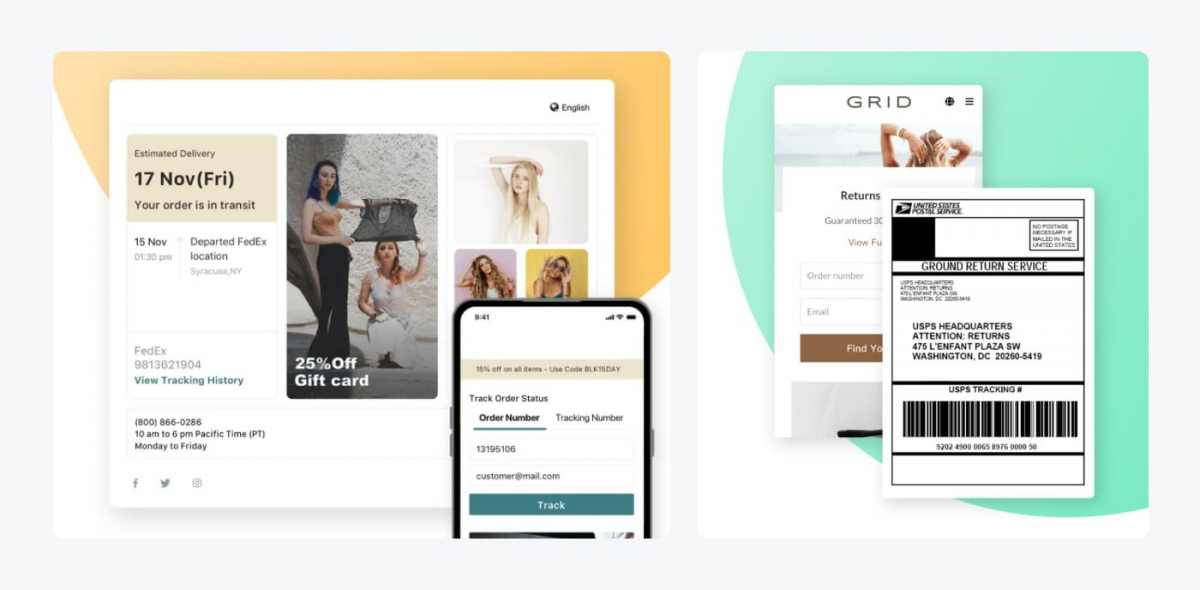 Ratings: 4.5/5 ⭐️ (341+ reviews on BigCommerce marketplace)
This BigCommerce shipping app makes tracking orders seamless. You can customize all of your tracking pages and there is a single dashboard where you can quickly see all of the delivery statuses. It automatically retrieves the orders and sends notifications to clients about any shipment issues or delays.
Aftership also provides a portal for self-service returns. It allows consumers to submit their return requests in a few clicks. No need for back-and-forth emails anymore. This can help you build trust and customer loyalty, which can increase the number of returning clients in the future.
Pros:
Shipment tracking of 900+ carriers supported, including UPS, FedEx, USPS, DHL
Self-service return portal available
Customizable tracking pages to add your logo, Instagram pictures, or other elements
Cons:
Some reviewers report there is poor customer support
Extra charges put on users for extra features like reports
A lot of information on the dashboard that can be overwhelming and seem clustered
Free version available
Essential ($9-$49/month) ← depending on the number of shipments
Pro ($99 – $999/month) ← depending on the number of shipments
Give this case study a read to find out how Wish optimized their post-purchase experience using Aftership.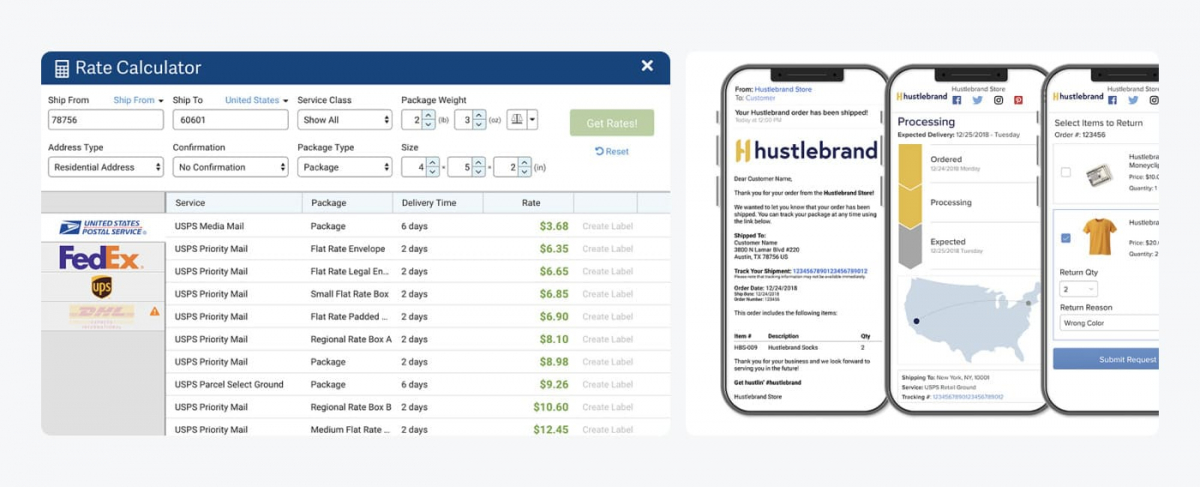 Ratings: 4/5 ⭐️ (183+ reviews on BigCommerce marketplace)
ShipStation allows you to import or create orders, apply actions, and add carriers to your website. You can also use the automation rules to save some time. These include setting up a default international shipping settings that will apply to app the shipping and order fulfillment processes across the border.
This BigCommerce add-on has a branded return portal that is completely customizable and easy to use. It also provides a multichannel portal thanks to over 200 integrations with selling channels. It also lets you customize the packing slips, tracking pages, and thank you for your order messages.
Pros:
Mobile app available
Easy to use and intuitive
Up-to-date shipping prices
Cons:
No built-in API for 3PL
Difficult to reach live chat support
Printing labels from PayPal will sometimes duplicate orders in the ShipStation account
60-day free trial
Starter ($9/month)
Bronze ($29/month)
Silver ($49/month)
Gold ($69/month)
Platinum ($99/month)
Enterprise ($159/month)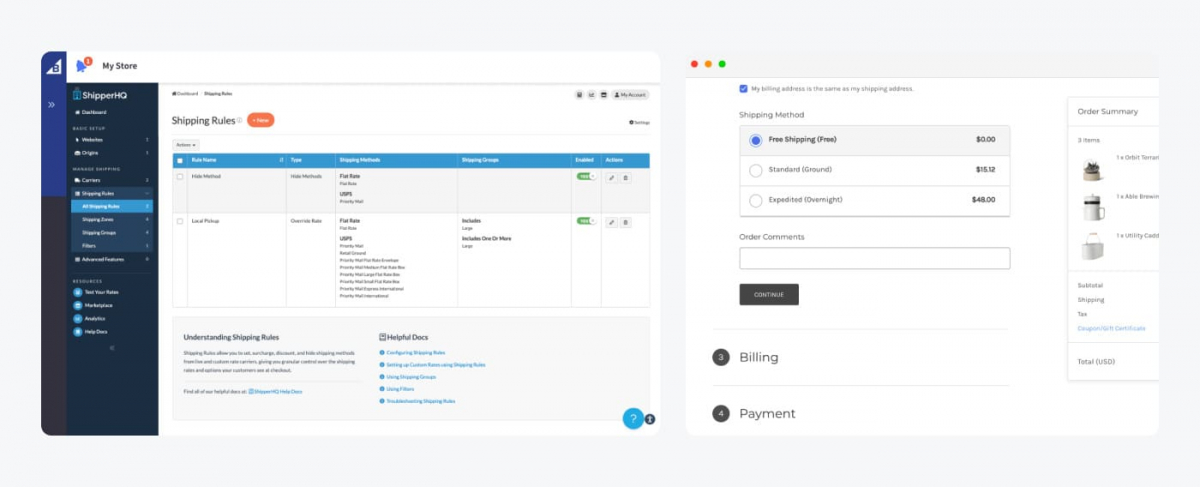 Ratings: 4/5 ⭐️ (61+ reviews on BigCommerce marketplace)
This is one of the best BigCommerce plugins for building a custom shipping strategy with accurate tracking and cost calculations. You can improve the buying experience by providing clear shipping expectations. This includes accurate delivery dates that factor in the blackout dates, cutoff times, and other potential delays.
ShipperHQ has dimensional weight-based rates and nuanced packing rules to choose from, so you can decide which items should be shipped together and separately. You can also create shipping rules and restrictions based on certain zip codes, countries or P.O. boxes.
Pros:
Helpful and knowledgeable support team
Accurate rates and shipment tracking provided for wide variety of products
Different delivery options available, such as curbside pickup, local delivery, and in-store pickup
Cons:
Difficult to set up accurate shipment tracking and calculate rates
Not able to add pallet weight for LTL freight quotes
Not possible to set countries, like Northern Ireland, as a separate delivery option
15-day free trial
Essential ($46/month) ← free with BigCommerce Enterprise plan
Basic ($92/month)
Standard ($230/month)
Advanced ($370/month)
BigCommerce mobile apps
Over 54% of all website visits come from mobile devices. Therefore, your site needs to provide a great user experience for your potential clients on any device they browse from, especially mobile phones. So, to improve your customer satisfaction you need good software for creating apps, SMS marketing, and other tasks.
Here are some of the best of them.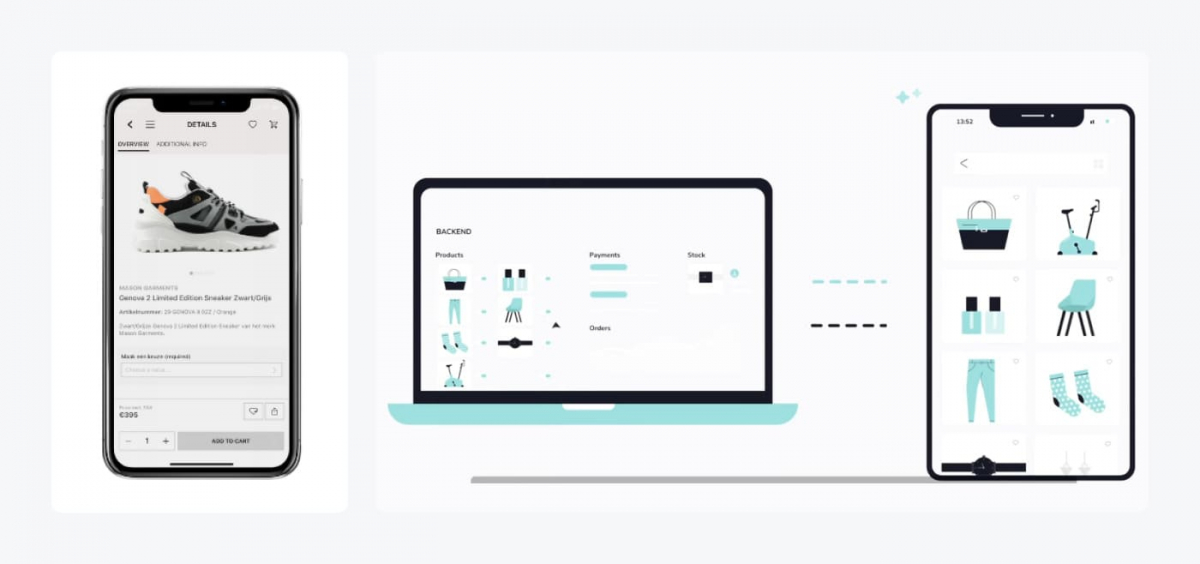 Ratings: 5/5 ⭐️(12+ reviews on BigCommerce marketplace)
This BigCommerce app lets you build a mobile shopping app for your ecommerce store. It gives your customers an application that they can easily use to shop from you on the go. What you'll gain from it is more buyers and higher sales.
JMango360 syncs unlimited products, preferred payments, and shipping methods, so the client gets an omnichannel experience from your brand. It also allows you to reach your visitors by sending out segmented push notifications. They help you inform clients about promotions, new products, and save some of the abandoned shopping carts they left without checking out.
Pros:
Seamless integration with BigCommerce backend
Unlimited segment push notifications
Drag and drop tool for creating a shopping app
Cons:
We couldn't find any negative reviews or cons for this app
Read more: Check out these mcommerce statistics and learn about the importance of optimizing your web store for mobile shopping.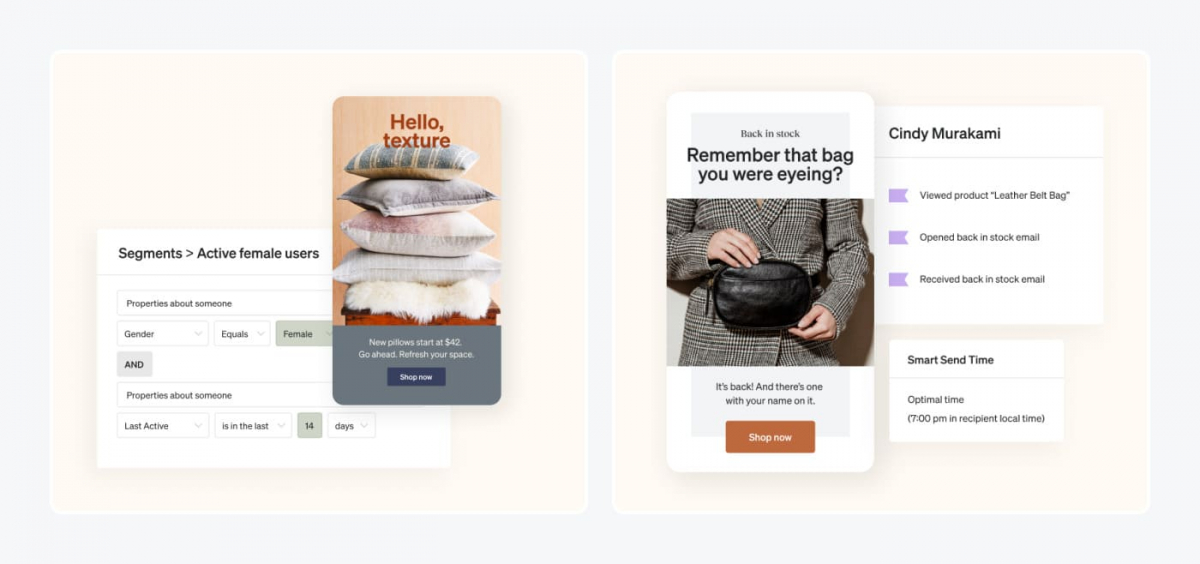 Ratings: 4/5 ⭐️ (14+ reviews on BigCommerce marketplace)
Klaviyo is an email and SMS marketing platform to communicate with clients on a more personal level. It offers predictive analytics of churn risk and customer lifetime value dashboards, so you can focus on business growth.
This is one of the BigCommerce add-ons that helps you automate personalized email and SMS communications. It can help you with customer engagement and increasing sales. The platform collects insights about visitors and lets you target the right audience based on events, metrics, location or date.
Pros:
Campaign design modules for creating email marketing templates
Great onboarding experience
100+ pre-built integrations with shipping solutions, reward programs, and others
Cons:
No automation for showing sale prices in the emails
Back in stock notifications sometimes don't work properly
Some say it's not user-friendly
Free version available
Pricing dependent on the number of contacts
Personalization of the customer experience on your ecommerce website is important. Especially, as 71% of shoppers get frustrated by the impersonal shopping experience and 44% of customers will likely buy from you again if you provided a personalized buying experience.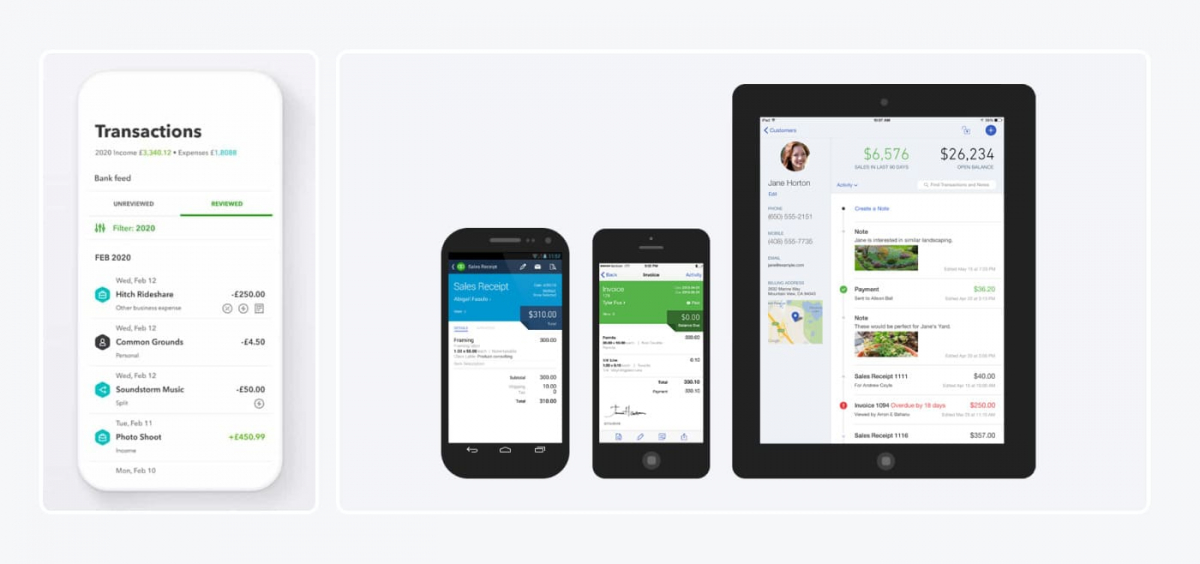 Ratings: 4/5 ⭐️ (76+ reviews on BigCommerce marketplace)
This BigCommerce integration with QuickBooks automatically creates sales receipts in your QuickBooks account, so you can spend more time growing your business. It will transfer your data quickly and accurately, so you don't need to spend hours on bookkeeping anymore.
QuickBooks has a mobile app for Android and iOS devices, so you can keep your books with you at all times. It automatically syncs your orders, products, contacts, taxes, and other data for the accurate recording and storage. You can schedule your data to sync on an hourly basis. And the setup is straightforward and only requires a few clicks.
Pros:
Orders from BigCommerce automatically created as receipts in QuickBooks Online
Automatic syncing on a schedule
Sales income, tax, refunds, discounts, and shipping automatically recorded
Cons:
Some reviewers report issues with sending receipts to QuickBooks Online
Need an external QuickBooks account to use this integration
Some transactions don't get transferred to the QuickBooks account from BigCommerce
Free version available
Self-Employed ($15/month)
Simple Start ($25/month)
Essentials ($50/month)
Plus ($80/month)
Advanced ($180/month)
BigCommerce reviews app
To succeed as an online business, you need positive reviews. This is essential as about 76% of clients trust online reviews. To add BigCommerce customer reviews to your store, you need a dedicated app.
Here are the best options just for that.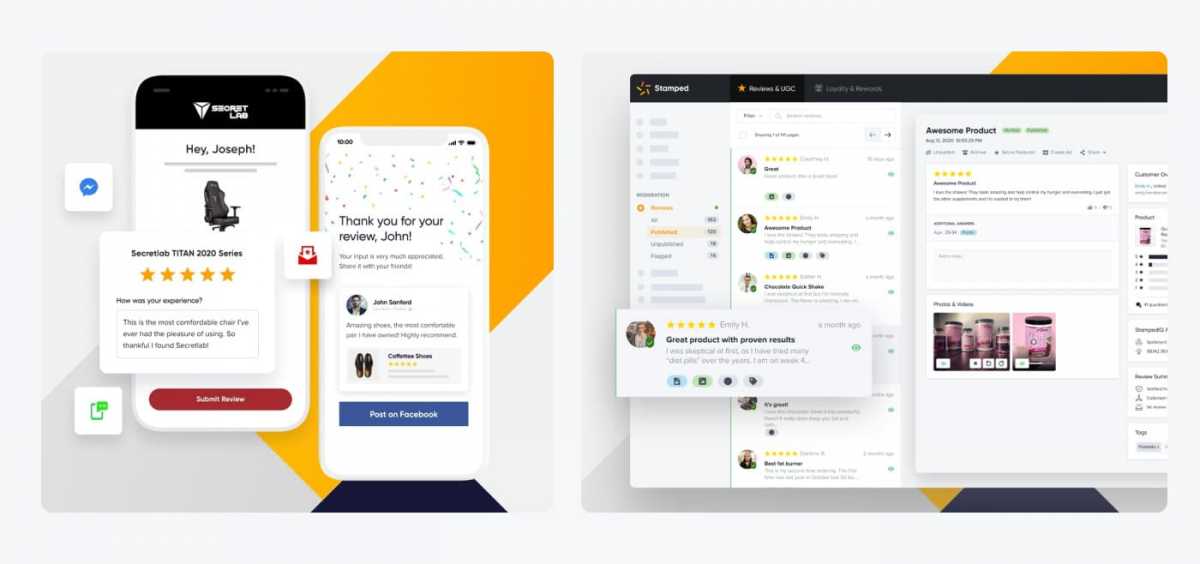 Ratings: 5/5 ⭐️ (200+ reviews on BigCommerce marketplace)
This BigCommerce reviews app lets you send emails, SMS, and social media requests that remind your visitors to review your store. This can increase the number of user-generated content on your site and improve your brand image by providing social proof.
Stamped lets you edit the logo, colors, fonts, and layout. It also gives you a choice of different widgets, such as a carousel, side drawer, Instagram feed, and others. You can choose which reviews get published straight from the plugin and share the positive feedback on social media.
Pros:
Search and filter features for your customers to find reviews of their interest
Optimized for mobile phones
Video and photo reviews enabled
Cons:
No checkout reviews available
Reviews get blocked by Google Merchant center if you migrate your store to a new domain
Reviewers report problems with the app when using it on multiple stores
Free version available
Basic ($19/month)
Premium ($39/month)
Business ($99/month)
Professional ($249/month)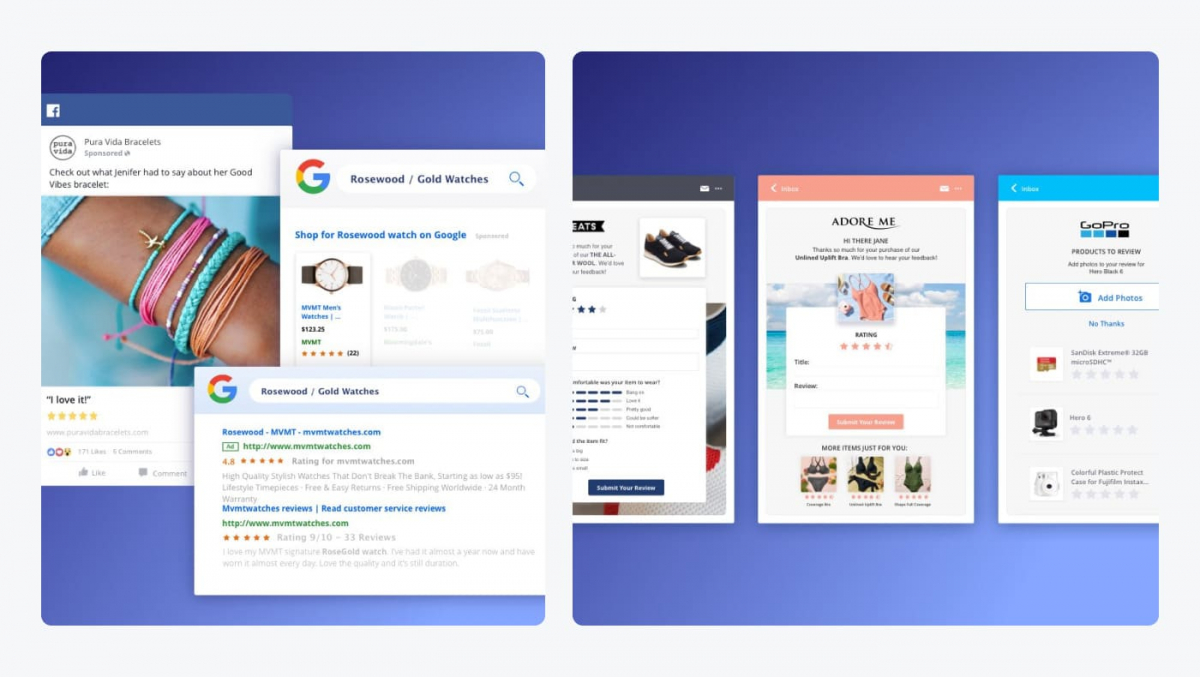 Ratings: 4.5/5 ⭐️ (323+ reviews on BigCommerce marketplace)
Yotpo helps to generate product and site reviews via email. It has official partnerships with Google, Facebook, and Instagram for a better synchronization and to seamlessly display your reviews across different channels.
You can use this BigCommerce integration to drive qualified traffic to your website, increase conversion rates and boost sales. It lets you collect and showcase customer photos alongside text reviews to use for visual marketing. It also offers rich snippets, Google seller ratings, and product listing ads for an increased click-through rate from Google.
Pros:
In-mail form to let buyers leave product reviews from within the body of the email
Mobile-friendly, customers can leave reviews on their email app
Many integrations, including AdRoll, HubSpot, and Zendesk
Cons:
Limited customization
Difficult to set up
Reviews sometimes don't display as Google rich snippets
Free version available
Growth ($15/month)
Prime ($119/month)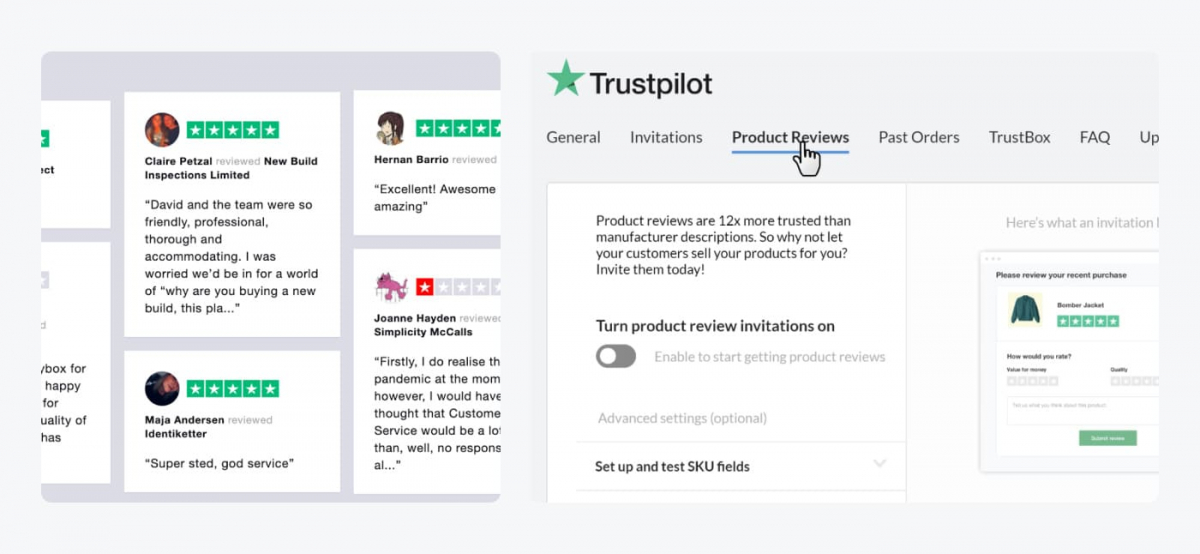 Ratings: 4/5 ⭐️ (19+ reviews on BigCommerce marketplace)
Trustpilot lets you automatically invite clients to review your products and services. You can drag and drop the TrustBox into any section on your pages for a better conversion rate. This can help you prove that you take customer feedback seriously and turn first time buyers into returning customers.
This is one of the BigCommerce integrations that helps to increase your SEO ranking and provides social proof for potential customers. You can share reviews on any channel throughout the buyer journey to provide more confidence to consumers who purchase your products.
Pros:
Content Integrity Team that investigates and combats fake reviews
Image generator to showcase reviews in ad creative
Drag and drop TrustBox tool at the key conversion points on your website
Cons:
Reviewers report security flaws
Many useful features, such as Product feedback widget, only available in the paid version
Removing reviews requires permission
Free plan available
Standard ($200/month)
BigCommerce SEO plugins
Google accounts for nearly 92% of search engine marketshare worldwide. On top of that, improving a website's SEO can decrease your customer acquisition costs by up to 87%. So, focusing your efforts on improving your SEO according to Google's standards can prove very profitable.
And why not use a helping hand of an app dedicated for that task?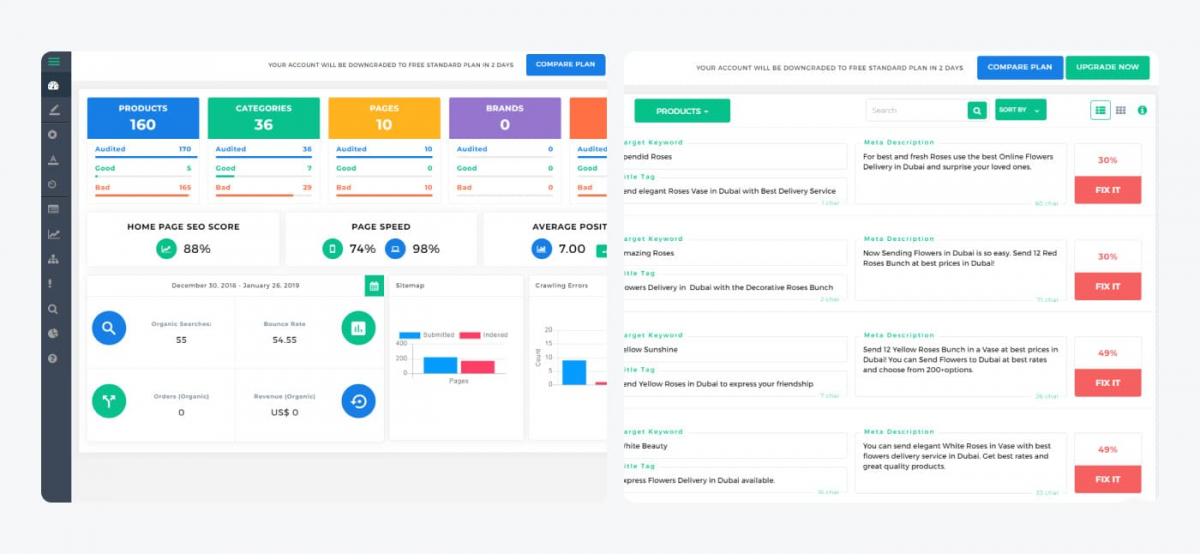 Ratings: 5/5 ⭐️ (153+ reviews on BigCommerce marketplace)
This BigCommerce app for SEO automates tasks, such as sitemap optimization and bulk meta title and description editing. It also helps you keep track of your store's performance with generated reports. On top of that, this plugin does store SEO audit and rank tracking, so you have a better understanding of how your website is ranking and what you can improve on.
You receive keyword and optimization suggestions from the software, which you can use to improve your site's rankings. The editor is user-friendly, and the processes are easy to manage, so you don't need to have previous experience with SEO to be able to enhance your website.
Pros:
Bulk title and meta description editor
Advanced SEO audits
Keyword suggestion tools
Cons:
Cannot do bulk edits on empty tags only
The app doesn't improve your SEO, only suggests changes to your site that might help
Reviewers report that it's difficult to cancel the subscription after the app was installed
10-day free trial
Standard ($799/month)
Business ($1299/month)
Ratings: 5/5 ⭐️ (76+ reviews on BigCommerce marketplace)
This BigCommerce SEO plugin helps you fix the basic SEO of your ecommerce site. You can edit and redirect URLs, optimize images, and get rich snippets for your products and your blog. These features can improve your site's ranking on Google and increase the click-through rate.
SEOKart provides many reports, so you can make informed business decisions. You can also receive reports about your keyword position on Google via email. The plugin also tracks Alexa ranking and your competitors' rankings. This provides a clearer picture of your performance on a dashboard. Additionally, you can integrate it with Google Analytics for easy-to-understand graphs.
Pros:
Weekly/monthly reports for keywords' position tracked on Google
Rank tracking of competitors
Bulk image optimization of up to 200 images
Cons:
Reviewers report unexpected changes caused by the app
Difficult to unsubscribe once the app is installed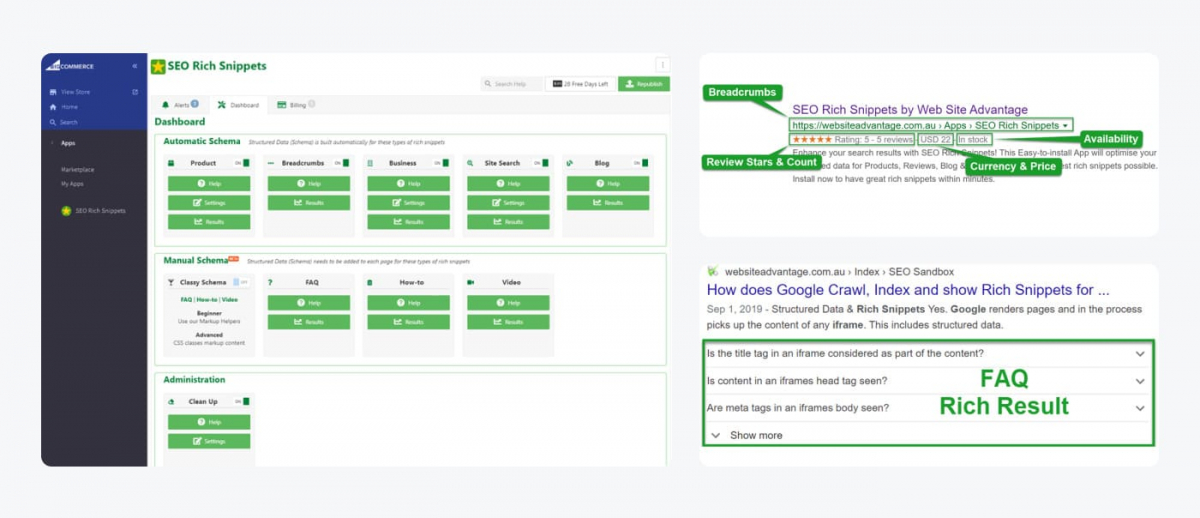 Ratings: 5/5 ⭐️ (18+ reviews on BigCommerce marketplace)
If you ever tried to get Google's Rich Snippets, you know how much work goes into it. But this BigCommerce plugin can help you with that. It will aid you to display features on your search results and improve the visual appearance and usefulness of the result.
This app for BigCommerce stores implements schema markup to your pages and helps you receive rich snippets, such as review stars, product price, and availability. You can also utilize this add-on to fight for other snippets like FAQ, How to, and Video Snippets.
Pros:
Frequent updates to stay aligned with Google updates
Full suite of Google's product-related rich snippets
Additional customization offered to get the most out of Google Rich Snippets
Cons:
Only works on Stencil themes
Doesn't do any other SEO optimization except for rich snippets
30-day free trial
Standard ($22/month)
BigCommerce subscription apps
Subscription apps provide subscriptions on individual products or entire recurring purchases. This is a good way to increase ecommerce sales, which, combined with loyalty-based discounts, encourages customer loyalty.
Let's have a look at apps that make it easy.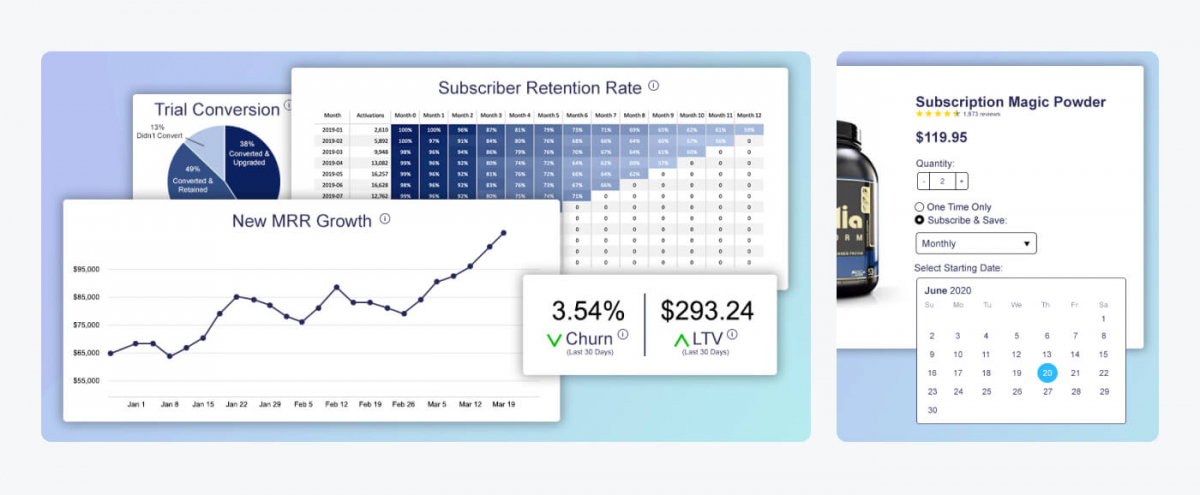 Ratings: 4.5/5 ⭐️ (49+ reviews on BigCommerce marketplace)
This BigCommerce add-on offers custom-made subscription plans based on your business' needs. It helps you automate the checkout experience for visitors and create recurring orders for buyers to encourage their subscriptions.
Rebillia Platform also enables you to make loyalty programs that can increase your sales with cycle-based discounts for clients. It lets you give out loyalty-based discounts and bonuses. On top of it, this add-on allows customers to save, manage, and use their credit cards securely.
Pros:
Creates custom subscriptions based on the company's needs
PCI-DSS Level 1 Service Provider & GDPR Compliant
Robust analytics with cohort analysis, weekly sales goals, retention rates, and other metrics
Cons:
Some reviews claim there's poor customer service
Expensive in comparison to competitors
Some reviewers experienced problems with Stripe integration and customers receiving receipts
Free plan available
Custom pricing
Ratings: 4/5 ⭐️ (13+ reviews on BigCommerce marketplace)
This BigCommerce subscription app helps you create subscription, offer payment plans, and pre-order options. You can also use automatic invoicing to save yourself time. There is a Buy Button widget available to embed on your site and encourage users to make more sales with you.
PayWhirl allows your customers to create and manage their custom subscription plans, save payment methods and edit their data. They can log in, see their billing history, and make any changes to their account. These changes include adding and removing payment plans, updating card information, and editing multiple addresses, all without having to contact you.
Pros:
Invoicing tools
Embeddable widgets available
Build-a-box feature for customers to create their own subscription
Cons:
Reviewers report problems with logins from the customer's side
Not possible to customize the design
No separate development platform from the live-production platform
Free version available
Business Pro ($49/month)
Business Plus ($149/month)
Business Ultimate ($249/month)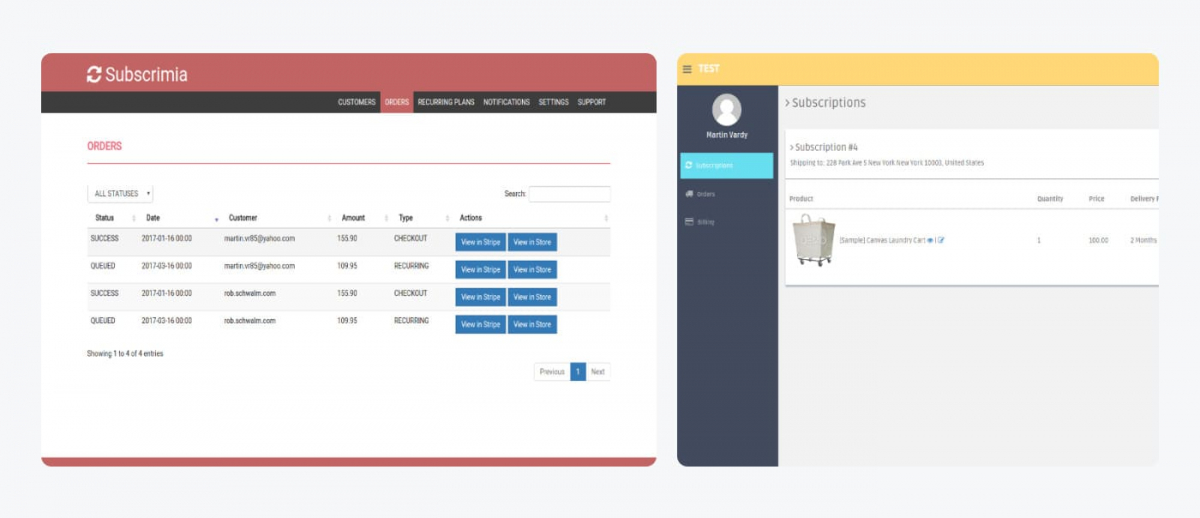 Ratings: 3/5 ⭐️ (10+ reviews on BigCommerce marketplace)
Subscrimia processes the payments automatically for you and provides order management for the recurring subscriptions. You can then view them on your BigCommerce dashboard. You don't need to transfer any of the data like taxes, shipping or recurring orders as the app gets this information from your current store configuration.
This is one of the best BigCommerce apps for creating subscription plans, scheduling payments, and shipments. It will automatically schedule and charge recurring payments based on the customer's subscription period selected by them in the checkout. Your customers can also manage all their information and data from their responsive portal.
Pros:
Shipment scheduling
Easy to use
Subscriptions chosen by the customer based on time periods chosen by them
Cons:
Confusing descriptions of plans/options/services
Slow and not helpful customer service
Problems with subscription plans changing for all items simultaneously
Pay-as-you-go (1% per subscription transaction)
BigCommerce email marketing apps
Email marketing is a major source of revenue for BigCommerce stores. To sell more with emails, you need an app that automates this process. For example, when customers leave your store without finishing the checkout, an app can send an abandonment cart email automatically. You can also send newsletters and product updates to re-engage customers.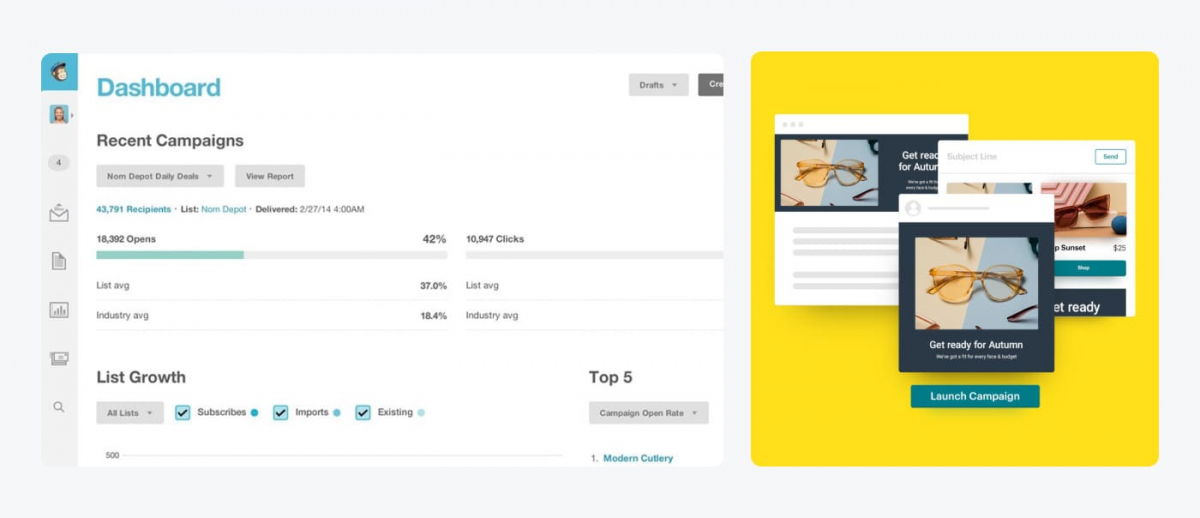 Ratings: 3.5/5 ⭐️ (143+ reviews on BigCommerce marketplace)
This BigCommerce MailChimp integration allows you to build relationships with customers by organizing your audience into segments for a better targeted communication. It also provides a Journey Builder tool that automates the customer's journey and delivers relevant content based on their behavior and interactions.
MalChimp offers sending a variety of email for marketing efforts. These include product recommendations, post-purchase emails, and retargeting emails among others. You can also use the retargeting ads on Facebook and Instagram to remind your site visitors about your products they were interested in while they check their social media.
Pros:
Retargeting ads available
A/B testing and multivariate testing available
Variety of email automations, including abandoned cart, welcome emails, etc.
Cons:
Not possible to send any test emails if you import a large number of customers into the platform because the free version is only available for under 2,000 contacts
Reviewers report that you can only market to customers who opted in to MailChimp's subscription service
Support team only available for paid clients
Free version available
Essentials ($11/month)
Standard ($17/month)
Premium ($299/month)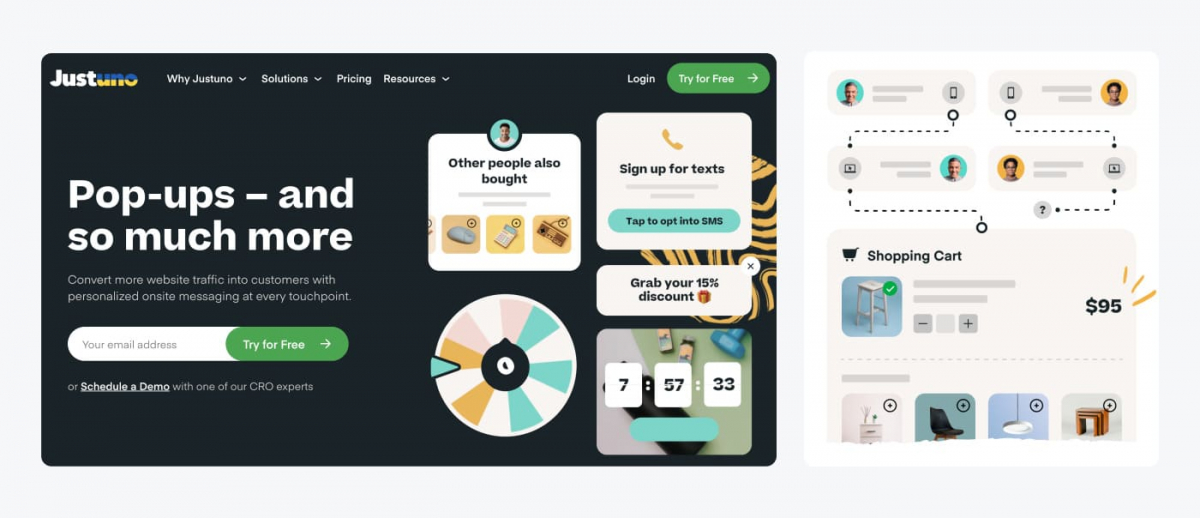 Ratings: 4/5 ⭐️ (55+ reviews on BigCommerce marketplace)
This BigCommerce plugin allows you to embed lead generation pop-ups on your store. You can use many designs for these pop-ups, such as countdown timer, full screen, spin-to-win, and many more. It can help you convert visitors into shoppers and subscribers for your marketing campaigns.
Justuno captures email addresses and adds them to your email list on MailChimp, HubSpot, Klaviyo, or Bronto. You can also add other conversion pop-ups to encourage the visitor to make a purchase. And if you want to test your designs, offers and marketing copy, then this BigCommerce app offers you A/B testing to help you optimize your conversion funnel.
Pros:
Drag-and-drop design for pop-ups
Single-use and bulk coupon codes available
Variety of targeting options including geolocation, visit frequency, referral site, and many more
Cons:
Not possible to send emails
Does not work on Firefox
Limited templates with the free version
Free version available
Essential ($25-$583/month) ← depending on the monthly visitors
Plus ($399/month)
Ratings: 4.5/5 ⭐️ (139+ reviews on BigCommerce marketplace)
Omnisend is an email and SMS marketing automation platform tailored for ecommerce businesses. It offers a variety of email templates for your brand's different needs. These include welcome emails, confirmation emails, follow-ups, and reactivation emails. You can also create a custom workflow and put the marketing on autopilot.
This BigCommerce app lets you target visitors who browsed specific pages or specific products for better results. You can also recover carts across different devices when a visitor added product to their cart but didn't proceed to checkout.
Pros:
SMS campaigns
Live view of your website visitors
Incentives to take actions including scratch cards and gift box elements
Cons:
Imported email addresses sometimes don't get mapped correctly
Some reviewers had issues with connecting their store
Dividing emails into segments sometimes needs to be done manually
Free version available
Standard ($16/month)
Pro ($59/month)
Ratings: 4.4/5 ⭐️ (25+ reviews on G2)
Want to level up your subscription game? You're in luck! Ordergroove is the go-to subscription solution for fast-growing and established brands alike, including Good Ranchers, Sheet's Laundry Club, and Door County Coffee. Ordergroove's out-of-the-box capabilities and flexibility enable brands to build long-term relationships while driving recurring revenue – all while delivering unmatched convenience for customers.
And guess what? Ordergroove is the only fully-integrated BigCommerce subscription platform, so you can manage everything from one dashboard. The subscription solution also offers advanced analytics to monitor the success of your subscriptions and spot trends.
Pros:
Easy to set up and manage.
Extremely flexible
Robust analytics to track subscription metrics.
Excellent customer support.
Cons:
Customization options may require some coding and development skills.
Pricing:
How to choose the best BigCommerce apps?
You go onto the BigCommerce Marketplace, and what do you see?
Over 1,1000 different apps!
How are you supposed to choose the right one for your business when there are so many options? Well — it's good to first make a list of what you need the app to do, check the reviews, compare the prices, and use the free trial before you settle for one of the BigCommerce apps.
Let's look at each of these tasks more in-depth.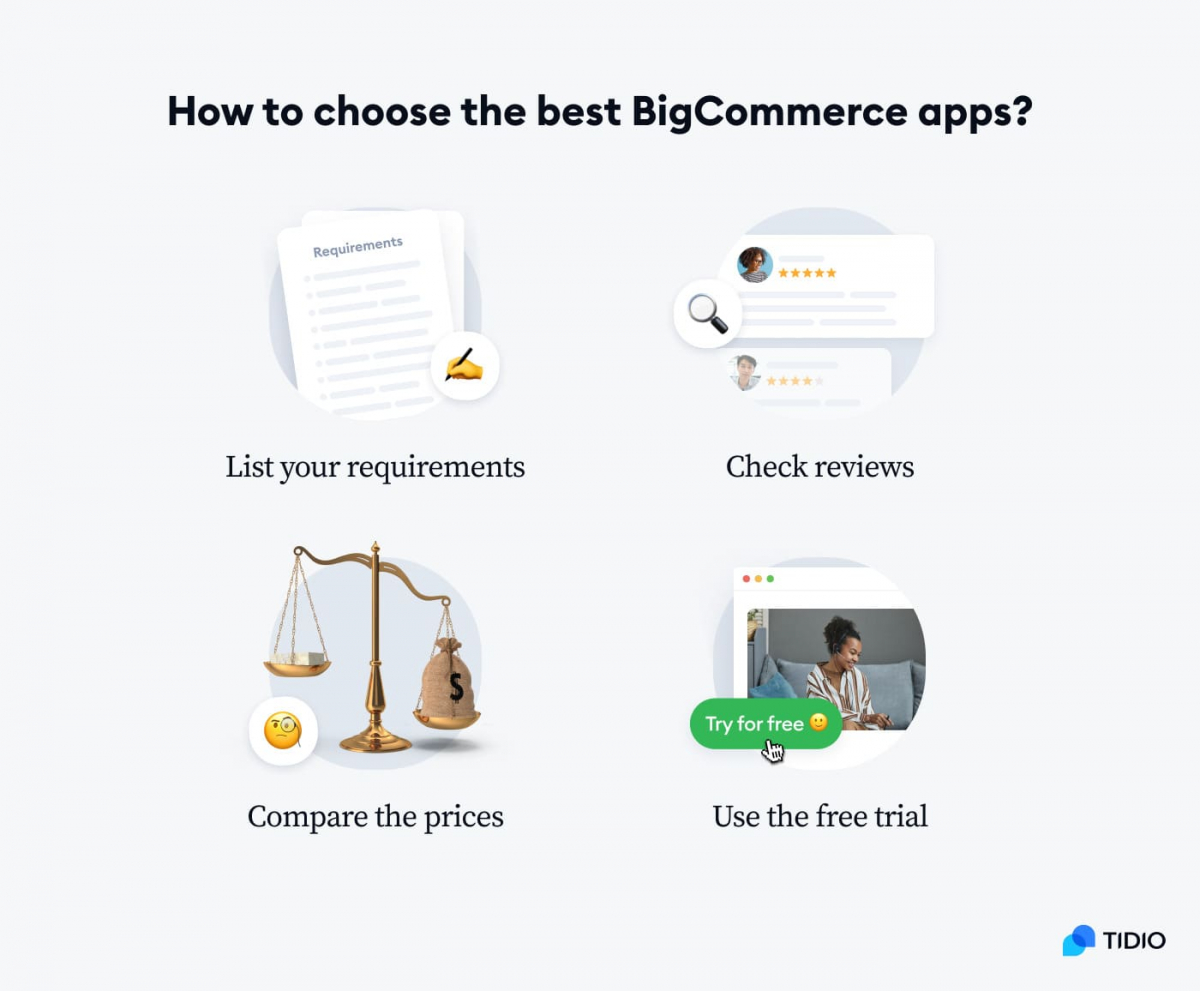 Make a list of what you need the app to do
Build a list of features and functionalities you need before looking at the apps. Think about which tasks you want the plugin to perform. This checklist will help you narrow down the choices.
Check the reviews of the app
Reading reviews of other app users can help you understand what to expect and can flag up any warnings about the software. Reviews can also help you understand what is the platform's customer support like. Make sure you choose an app with a helpful support team as you might need their help during the installation process and when using the app.
Compare the prices of different apps
Look at your budget and determine how much can you spend on the apps for specific functionalities. Then, when you're looking through the choices available with the features you need, pay attention to their prices. Sometimes two apps can offer the same functionality, but one will charge you double the amount of money.
Use the free trial to check the app's functionalities
Make sure you take advantage of the free trial that the app offers. This gives you the opportunity to play with the app and discover if it matches your business. You can play with multiple apps before deciding to settle for one. Test them out and cancel the ones you don't want to use anymore and stick with the one that fits you best.
Key takeaways
These are all the hand-picked apps for BigCommerce stores to improve your business performance. All of them are taken straight from the marketplace, so you can easily find and install them from there.
When choosing your BigCommerce apps, remember to:
Make a specification list of your requirements
Check reviews
Compare prices
Test the app on the free trial
And remember to not overwhelm your ecommerce website with too many apps. It can slow it down and worsen the user experience as a result. So, install only the plugins that are essential for your store and the ones you know you'll use frequently.
FAQs
Who uses BigCommerce?
Merchants and online businesses use BigCommerce. It is used by start-ups, mid-sized businesses up to large enterprises. It helps ecommerce businesses to create a website, sell their products, and grow their brand. 
What does BigCommerce integrate with?
BigCommerce integrates with over 1,000 apps. These include Google Ads, Zapier, as well as connectors for eBay, Etsy, and Amazon.
How do I add apps to BigCommerce?
You can add apps to BigCommerce in a few simple steps:

1. Open BigCommerce Marketplace
2. From the drop-down menu, choose a category you're interested in or search the apps by typing a keyword or the name of a specific app
3. When you decide which app you want to install, click on the app banner 
4. Press the Get This App button
5. Choose the store you want the app to be installed on
6. After you log in, you'll be taken back to the app installation page, click Install 
7. Press Confirm to finalize the installation 
How do I remove apps off of BigCommerce?
To remove apps off of BigCommerce follow these steps:

1. Go to Apps
2. Choose My Apps
3. Click Uninstall button under the app you want to remove from your e-commerce

This way, the app will disappear from your apps section and your control panel.
Does BigCommerce have a mobile app?
Yes. BigCommerce has a mobile app that is free to download from Google Play Store and Apple App Store. You can use it to manage orders, update customer data, and check your performance.