Mobile ecommerce, or mcommerce, allows for making purchases on your smartphone or a tablet, wherever and whenever you want.
It's super convenient—
So, it's no surprise that mobile shopping is getting more and more popular.
Want proof?
Let's have a look at the top mobile commerce statistics that will show you why it's important to optimize your online store for shopping on mobile devices.
In this article:
…and more.
Mobile commerce trends are not what you are looking for? Check these articles instead:
Before we start digging in, here are the most important mcommerce shopping statistics in a handy, TL;DR version: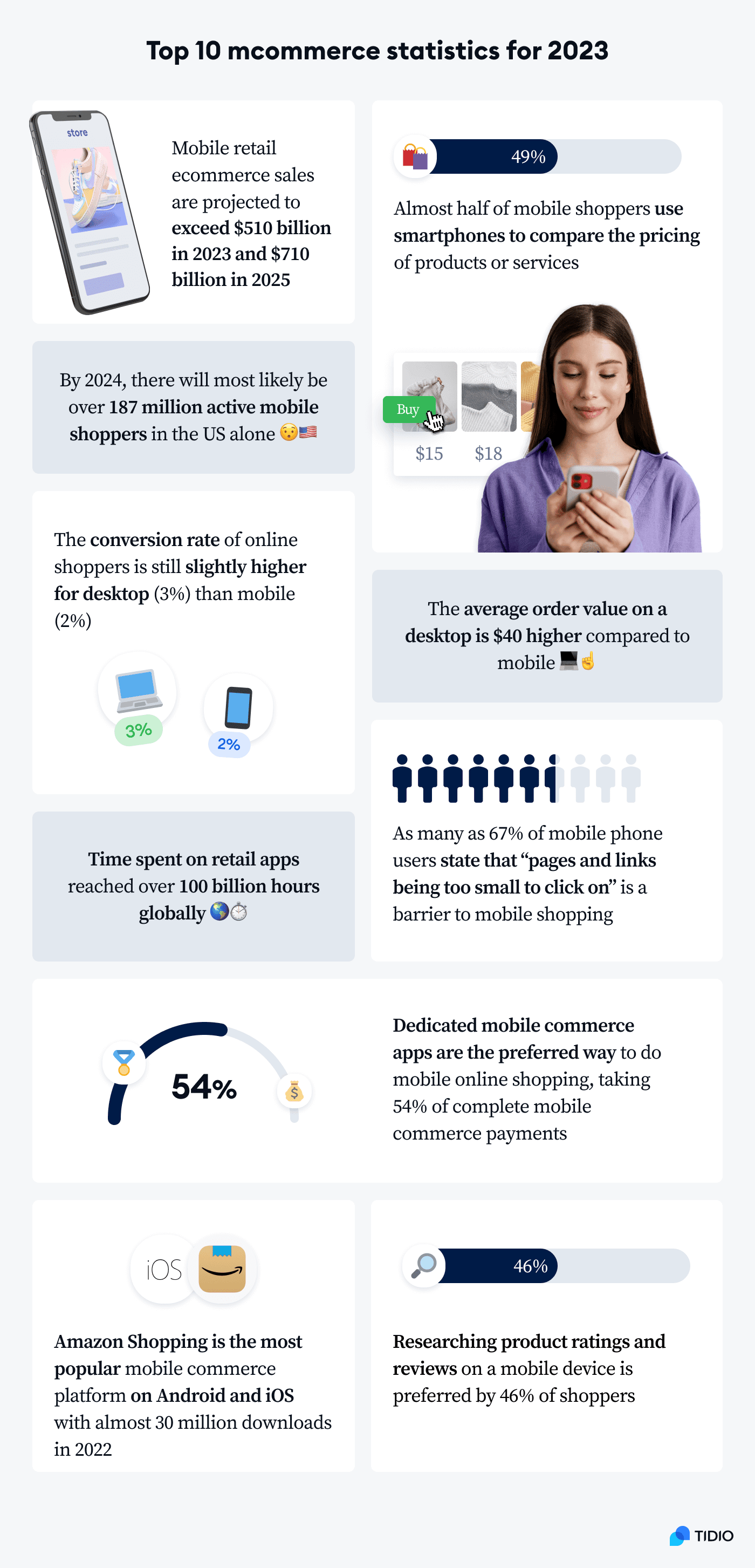 Now, let's have a look at the most important mcommerce statistics in depth.
Mcommerce sales are projected to exceed $510 billion in 2023 and $710 billion in 2025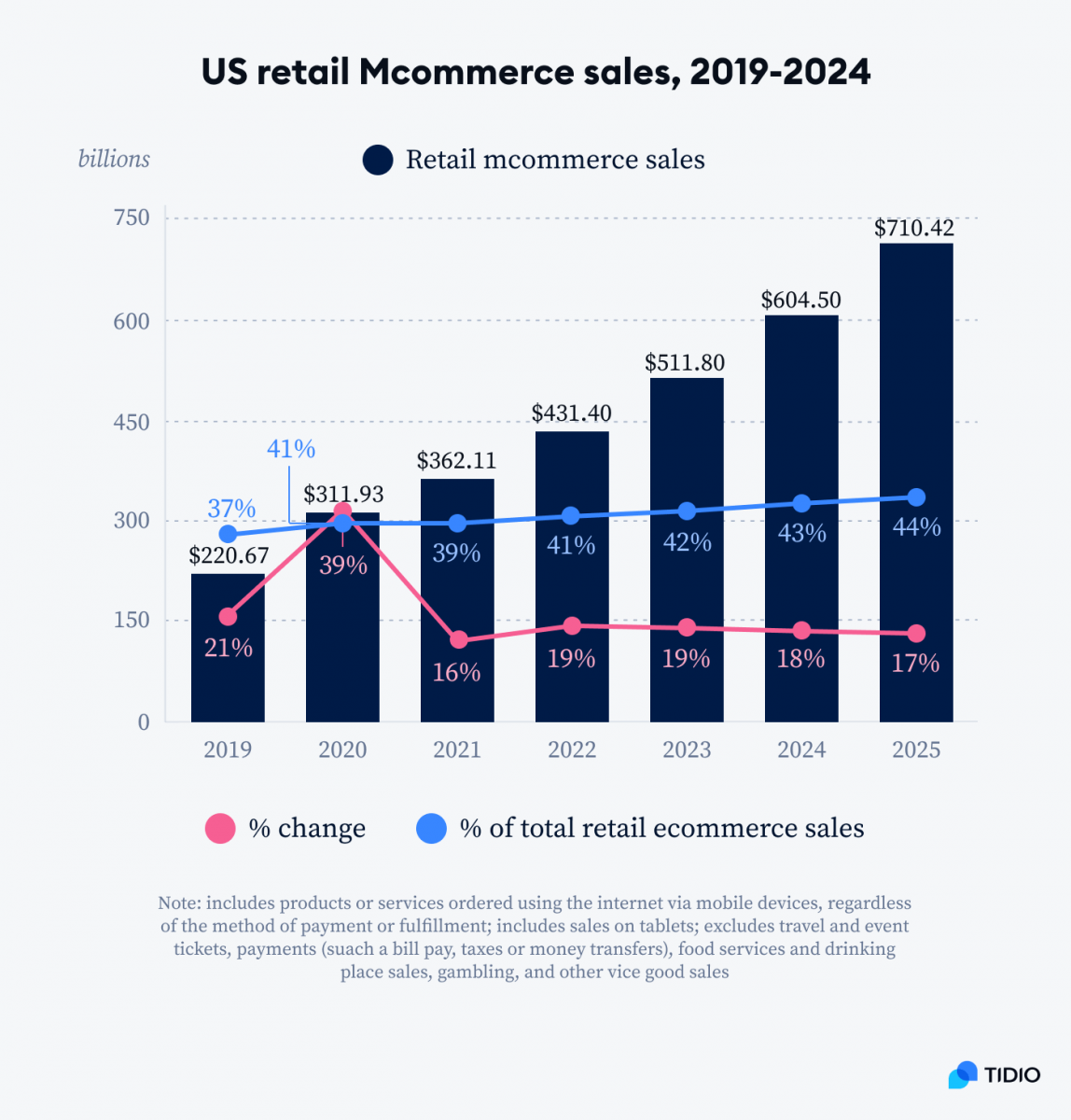 Mobile commerce sales really boomed during 2020, growing by 18% from the previous year, which can be attributed to COVID-19 and more people shopping online.
However, the effects of the pandemic definitely influenced long-term mobile ecommerce trends, as the retail mcommerce sales were projected to hit $415 billion in 2022.
It looks like the constant growth is certain. According to the estimates, this number will grow nearly double, amounting to approximately $710 billion by 2025.
So, what percentage of online retailers have mcommerce websites? The mobile ecommerce market in the US amounted to almost 42% of total ecommerce sales in 2022. When it comes to 2023, retail mcommerce sales are expected to account for more than 43% of total sales in 2023, and 44% by 2025, slowly equaling out the mobile commerce vs ecommerce ratio.
Also, according to an Insider intelligence report, the mcommerce retail share will keep growing in 2023, reaching nearly 9% by 2026.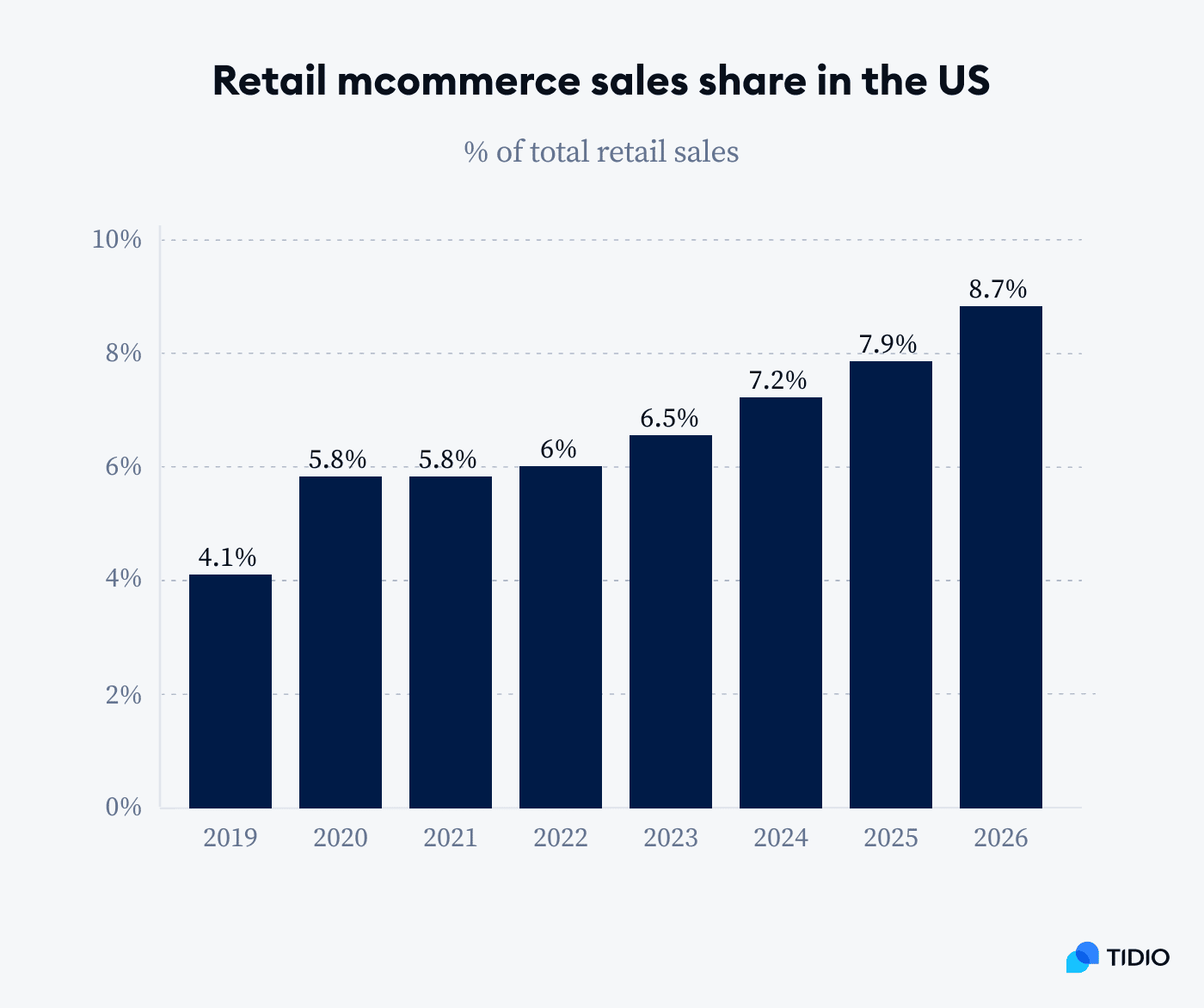 What's the difference between mobile commerce vs ecommerce?
Ecommerce is a broader term, referring to selling and buying online, on all devices. Mobile commerce, or mcommerce, focuses on buying and selling goods via mobile devices such as smartphones and tablets.
By 2024, there will most likely be over 187 million active mobile shoppers in the US alone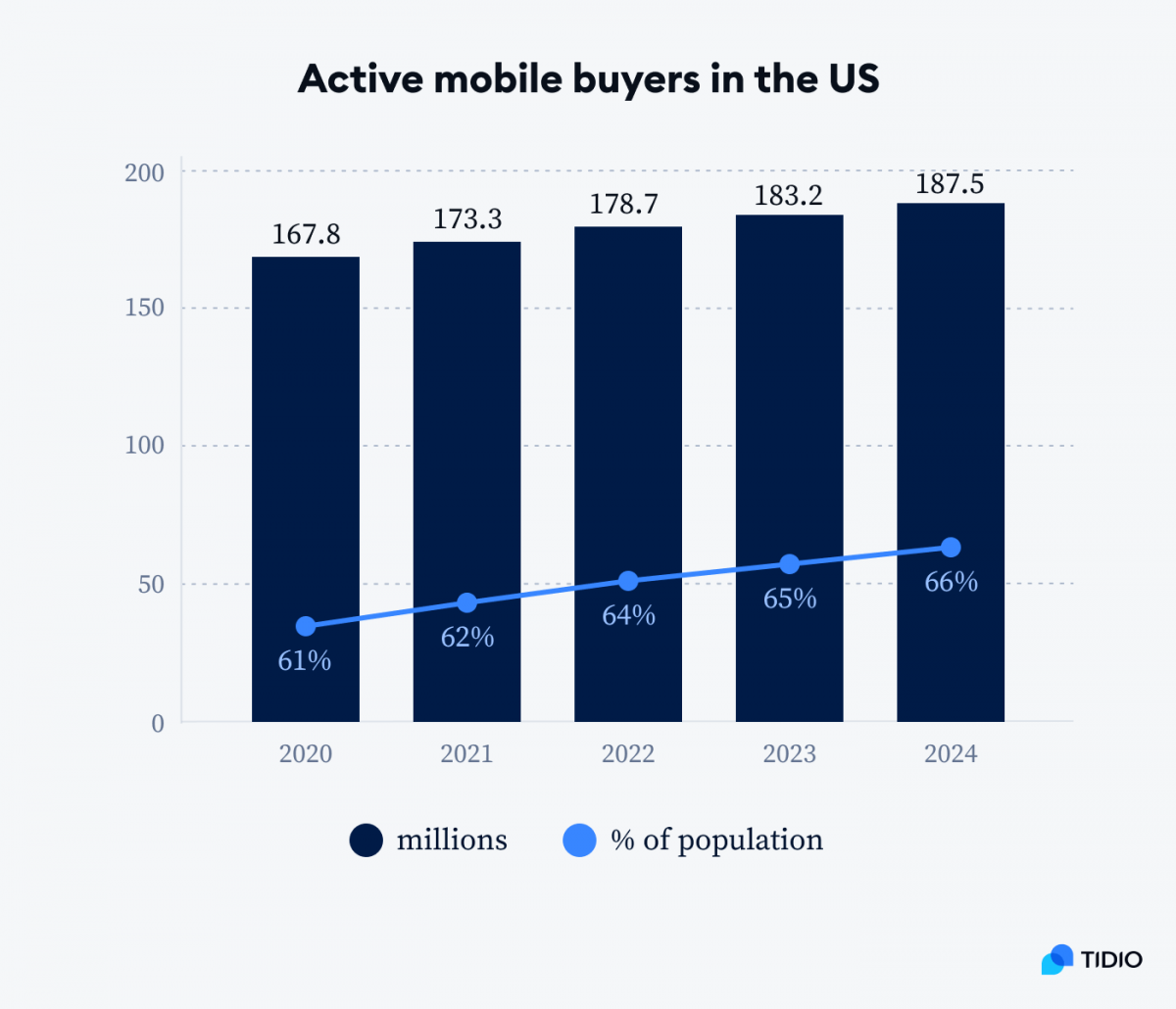 In 2019, the average time people spent using smartphones in the US reached 3 hours and 45 minutes. This number increased to 4 hours and 16 minutes in 2020. Finally, it grew 2.5% year-over-year (YoY), reaching over 4.5 hours per day in 2022.
That's a lot of time spent on a phone, wouldn't you agree?
And it's safe to say that some of that time is used for making online purchases on mobile. Namely, around 187.5 million users are forecasted to be active mobile shoppers in 2024, as compared to 167 million users in 2020.
This means that in 2024, people who will account for a whopping 66% of the American population will have made at least one purchase on their mobile device.
Almost half (49%) of mobile users compare the pricing of products or services on their smartphones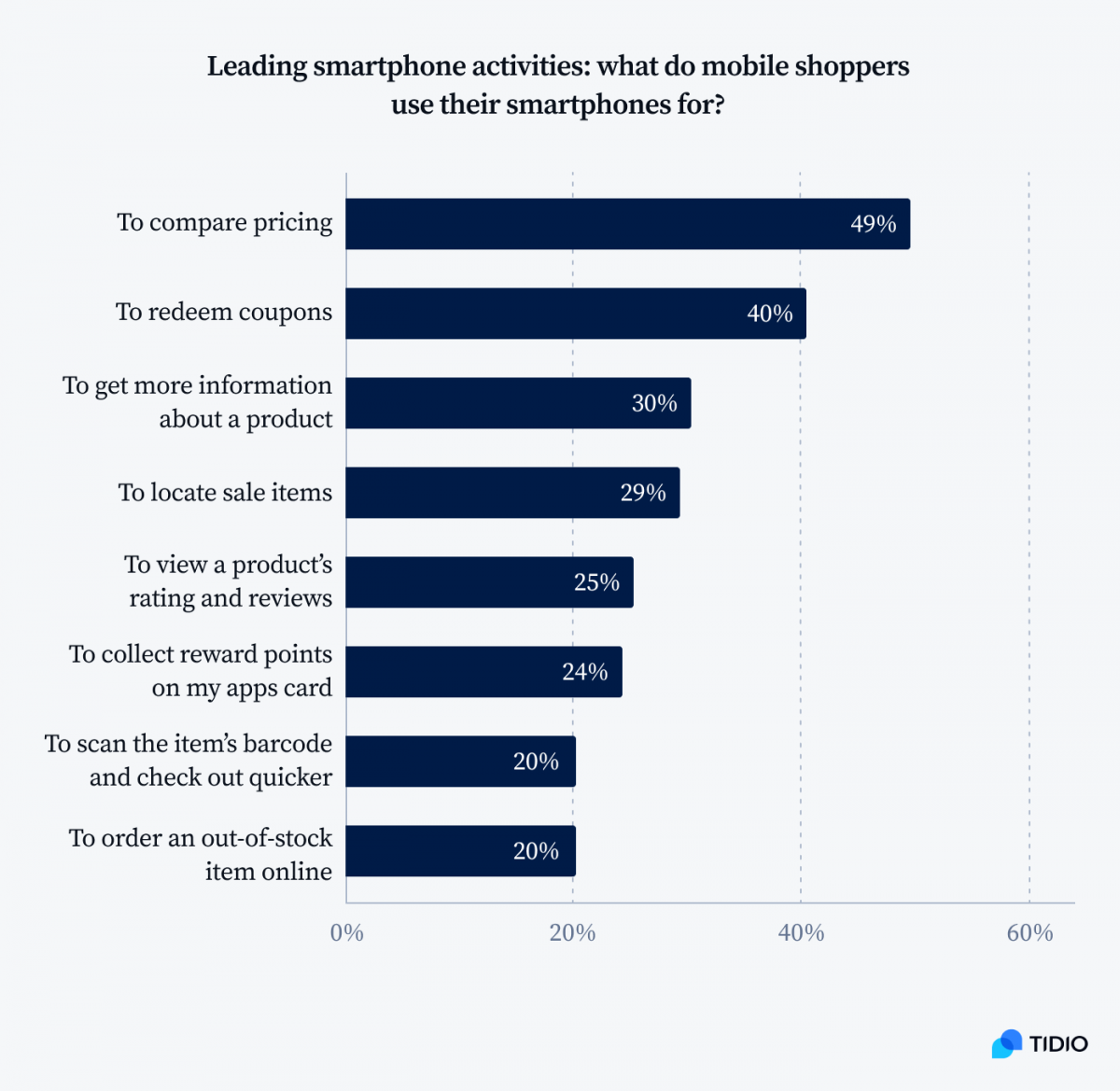 Research has shown that mobile shoppers use their devices mainly to compare the pricing of products and services (49% of answers), redeem the mobile coupons they have been offered (40% of answers), and find out more about a product they are interested in (30% of answers).
This means that often, the first time a prospective customer enters your ecommerce site is on a smartphone. Will it be a good first impression of your business, if the load time of your mobile website is slow and the photos of the products hide the descriptions? We'll risk saying that it'd probably be the first and last step with you on their customer journey.
Bottom line—
Store owners have to provide a great customer experience on all devices.
Read more: Find out how to reduce customer churn with customer retention software.
The conversion rate of online shoppers is still higher for desktop (3%) than mobile (2%)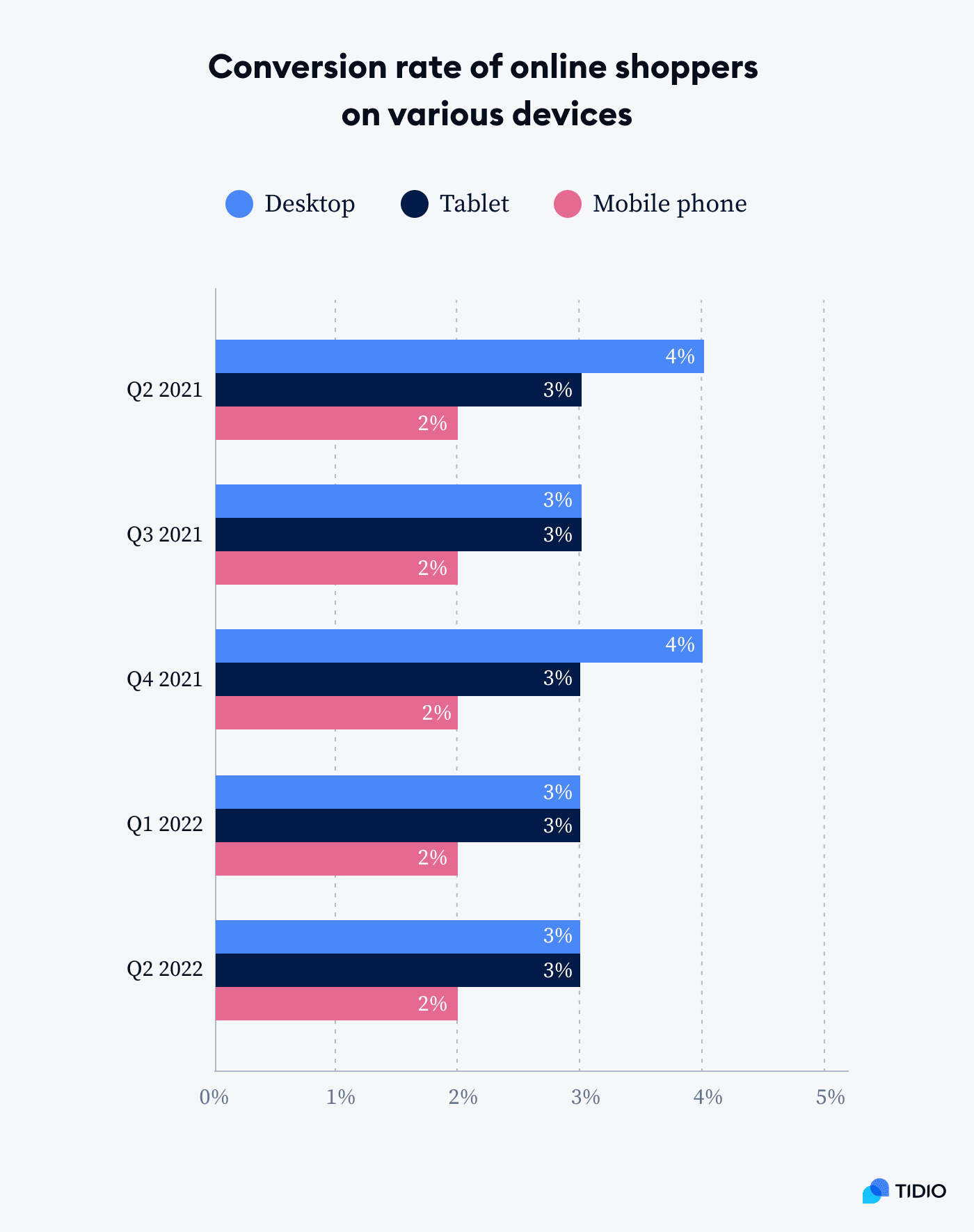 The convenience factor is definitely included in the mobile commerce definition of success. However, it turns out that online shoppers still prefer completing purchases on their computers. But even though the conversion rate for mobiles is 1% lower, we already know that the conversion path usually starts on a smartphone.
Think about it—
People might want to browse the internet using their phone in the search of a product—whether they are commuting, waiting for an appointment at the doctor's office, or at a restaurant table. And a Facebook IQ study further attests to this, stating that 46% of shoppers prefer to research product ratings and reviews on a mobile device.
But then, they might prefer to complete their purchase on their laptop.
So, on paper, it's the desktop that "wins", but the first, arguably the most important step, was made on mobile.
These conversion rate percentages might also even out sometime in the future. According to research, 31% of smartphone users are more likely to complete a purchase when their mobile device has a larger screen. With smartphones getting bigger and bigger, the conversion rate on mobile is more likely to grow, too.
Read more: See how to easily increase the conversion rate on your ecommerce site.
The average order value on a desktop is $40 higher compared to mobile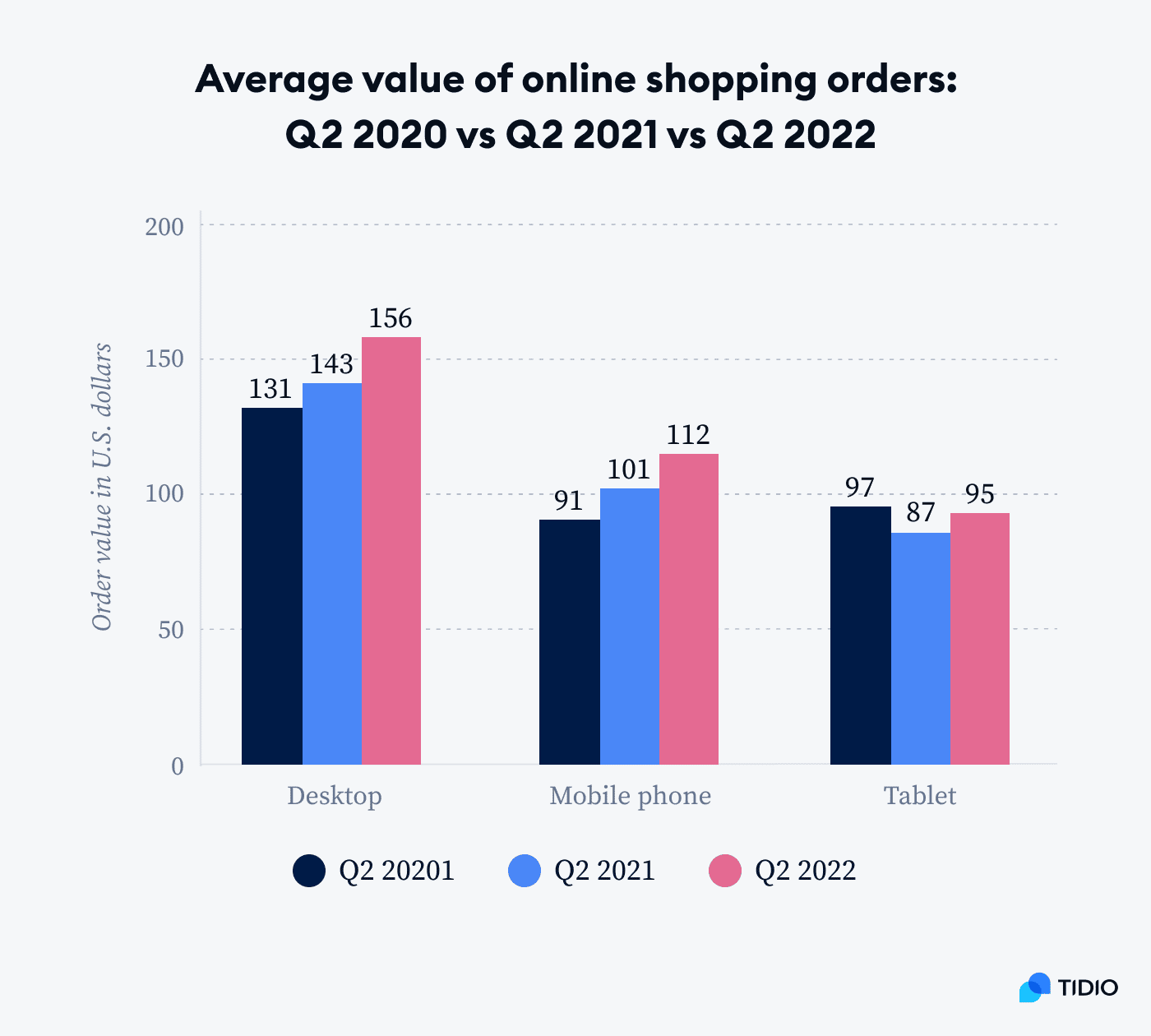 Based on the research of customer sessions across retailer brands, the average order value increased by $20 from 2020 to 2022. However, one trend hasn't changed: online shoppers are willing to spend more on orders they place on desktops ($155) compared to mobiles ($112).
It can be connected to the fact that shopping on a desktop might feel like an overall more convenient user experience. Especially if we consider that almost 24% of the top million most popular websites in the world are not mobile-friendly. Looking at the mcommerce sales growth rate, it's pretty surprising.
Read more: Check out what makes your website trustworthy and credible.
As many as 67% of mobile users state that "pages and links being too small to click on" is a barrier to mobile shopping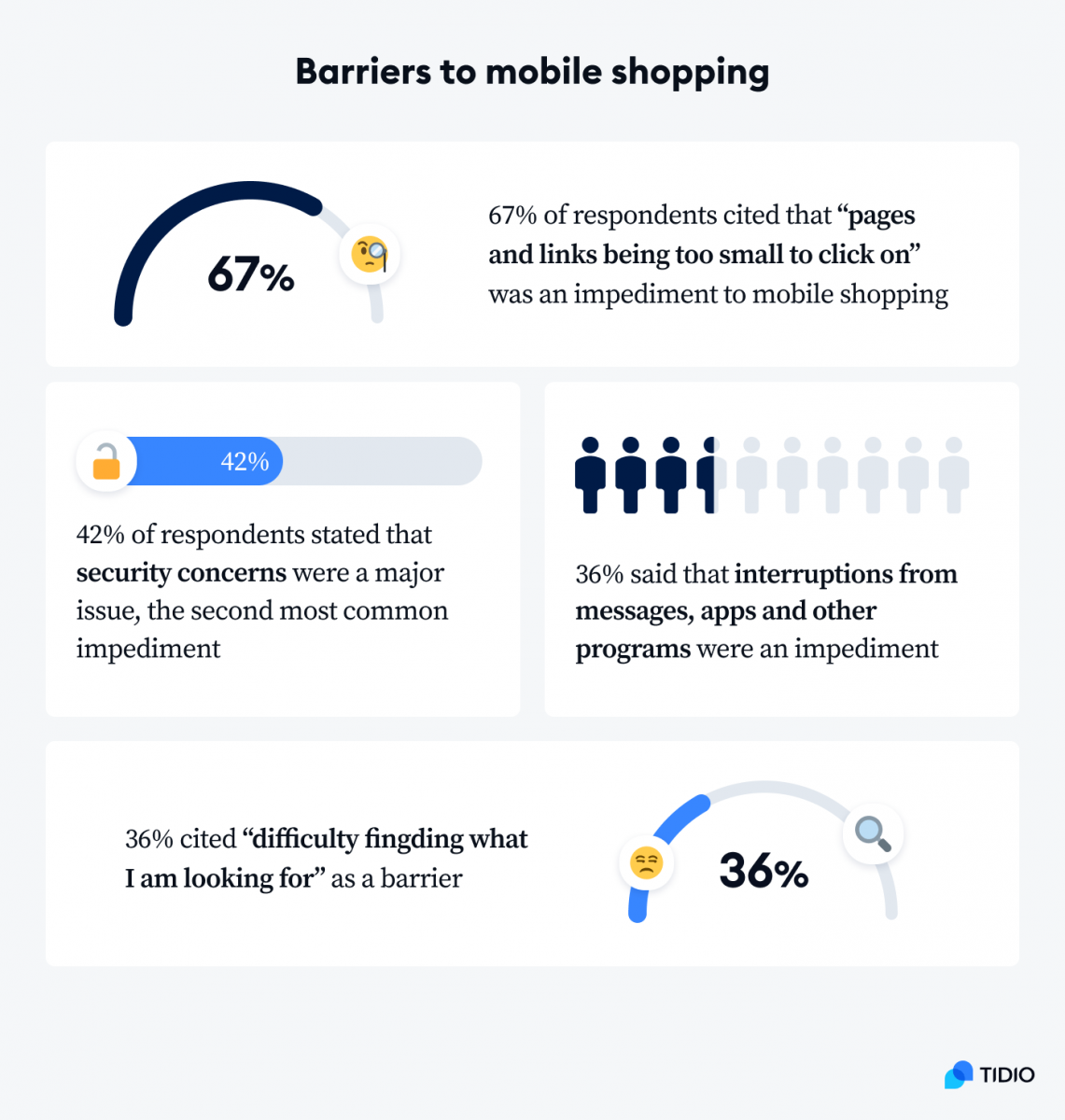 Sometimes, nothing irritates more than the perversity of inanimate objects. Respondents of a research survey confirmed that claim, with 67% of them stating that page elements too small to click on are the biggest barrier to having a good mobile shopping experience. On the other hand, 36% pointed to the interruptions from other mobile apps as the main obstacle to mobile shopping.
It's no surprise—if you want to buy an item, online shopping must be a comfortable and pleasant experience. This stands in line with a study stating that 51% of mobile users prefer to shop on a desktop because it's easier.
The second most mentioned barrier to mobile shopping is the security of mobile payments and data (42% of answers).
Read more: Learn different ways to reduce shopping cart abandonment on your site.
Time in shopping apps reached over 100 billion hours spent globally in 2021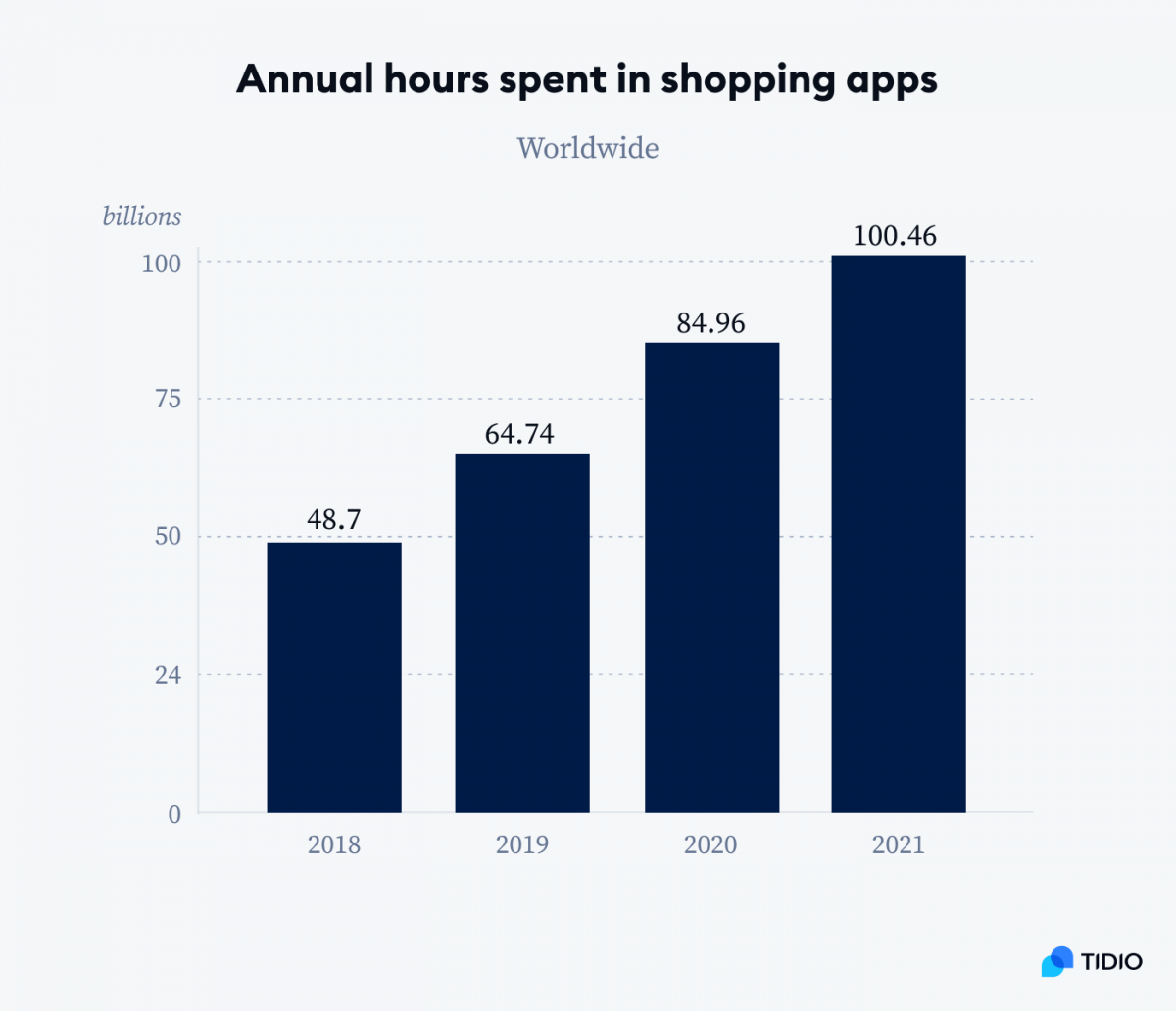 It seems that the mobile shopping habits that we formed during the peak of COVID-19 are here to stay. According to research, the time we spend on shopping apps has been rising at a steady, 18% growth year over year.
In 2021, all global mcommerce users spent 100 billion (!) hours on shopping apps. The most popular app categories were fast fashion and social media shopping.
The survey conducted by Newstore in 2022 only confirms this rising trend. According to their findings, 31% of consumers prefer to do their shopping in-app to in-store shopping. A whopping 60% of consumers prefer mobile shopping apps over mobile sites because of better user experience, while 88% of consumers have at least one shopping app on their phone.
It's also worth noting that using mobile shopping apps is the most popular method of buying products online among millennials and Gen Z.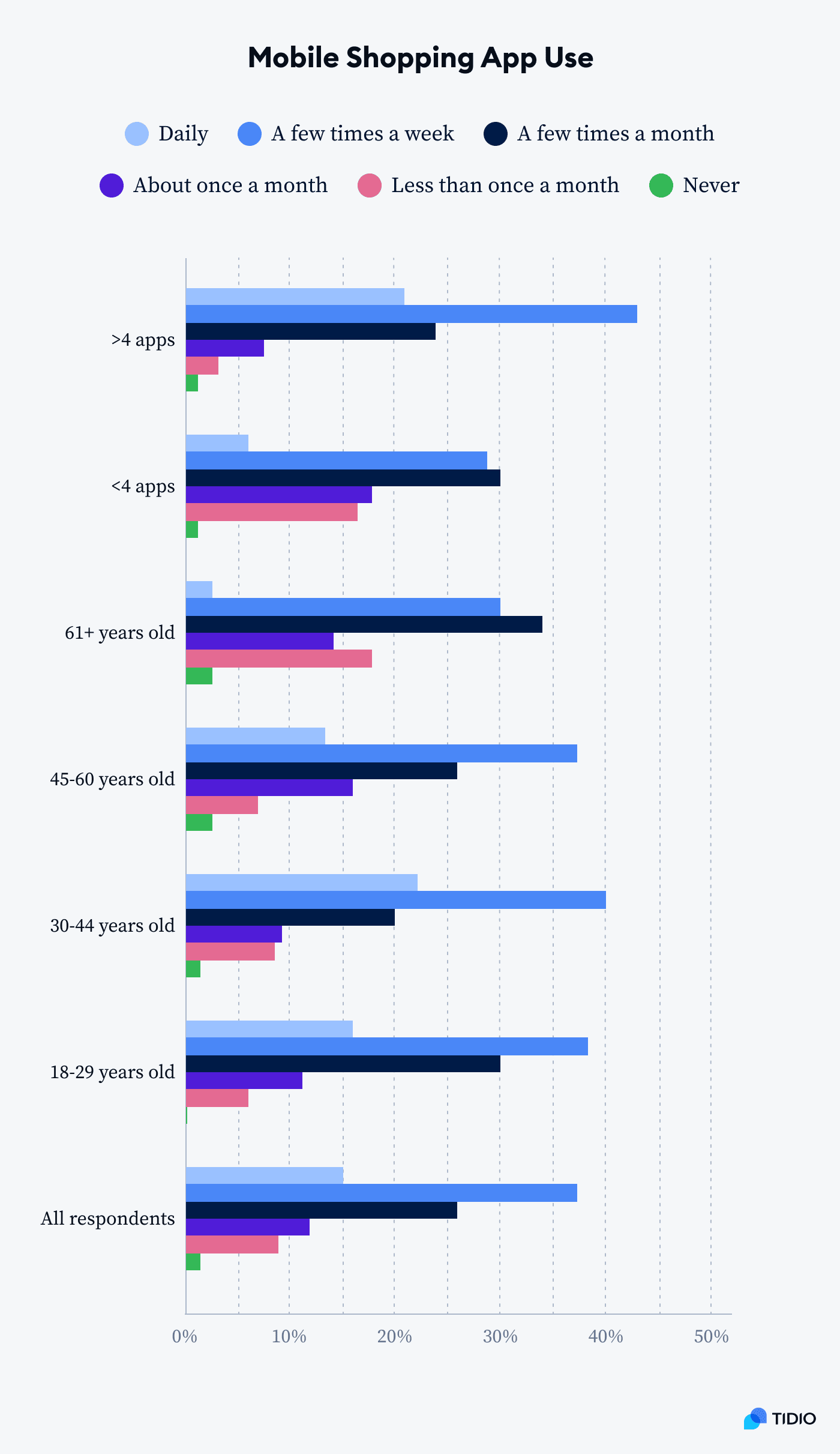 Read more: Find out about ecommerce demographics and other cool statistics in our ecommerce report.
Dedicated mcommerce apps are the preferred way to do mobile online shopping, taking 54% of complete mobile commerce payments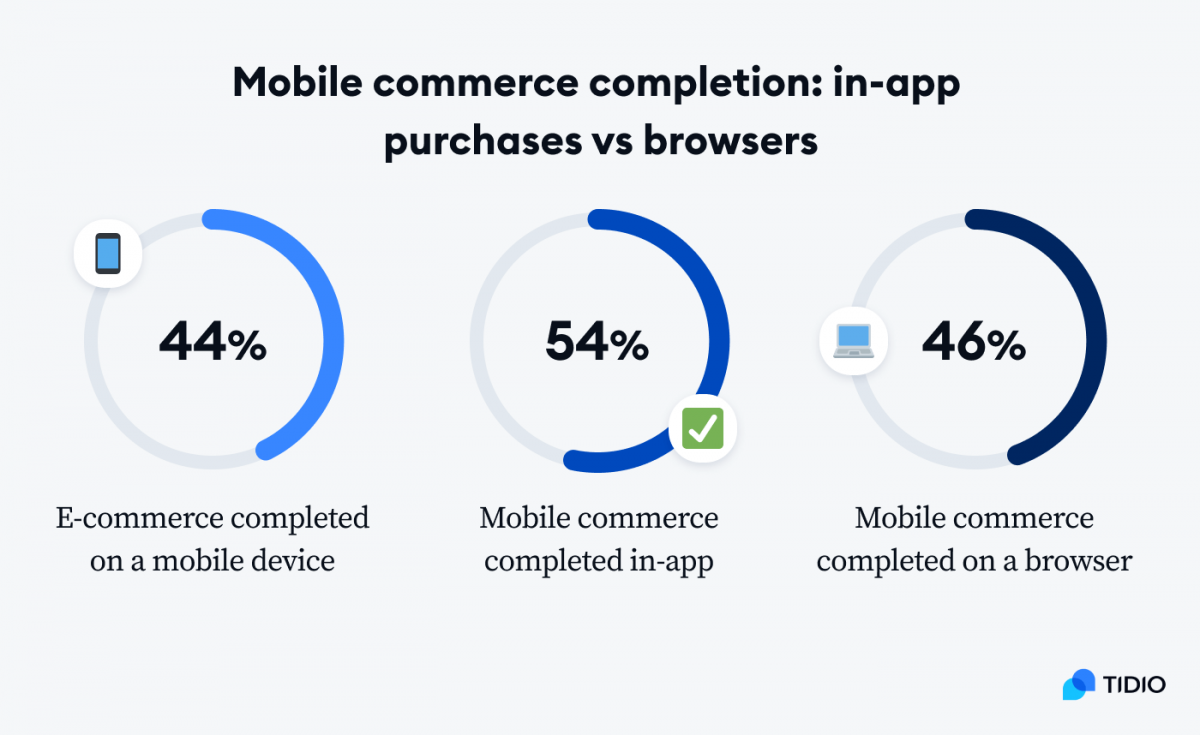 Even though the ratio is almost even, the in-app payments take the first spot in this battle. They consist of 54% of all mcommerce completed payments, while 46% of them were done using a mobile browser.
The browsers shouldn't be disregarded, but the big online retailers can definitely gain from investing in an app, which may inspire more customer trust.
Top 10 mobile commerce apps
A positive in-app shopping experience can also result in increased customer loyalty and consequently, sales. Which stores already know it, and what are the most-used mcommerce shopping apps out there?
Here's a list of the leading shopping apps in the US in 2022:
Amazon Shopping
SHEIN
Walmart
Fetch
Temu
Nike
Etsy
Upside
eBay
Target
Amazon Shopping is the most popular mobile commerce platform on iOS with 20.8 million daily active users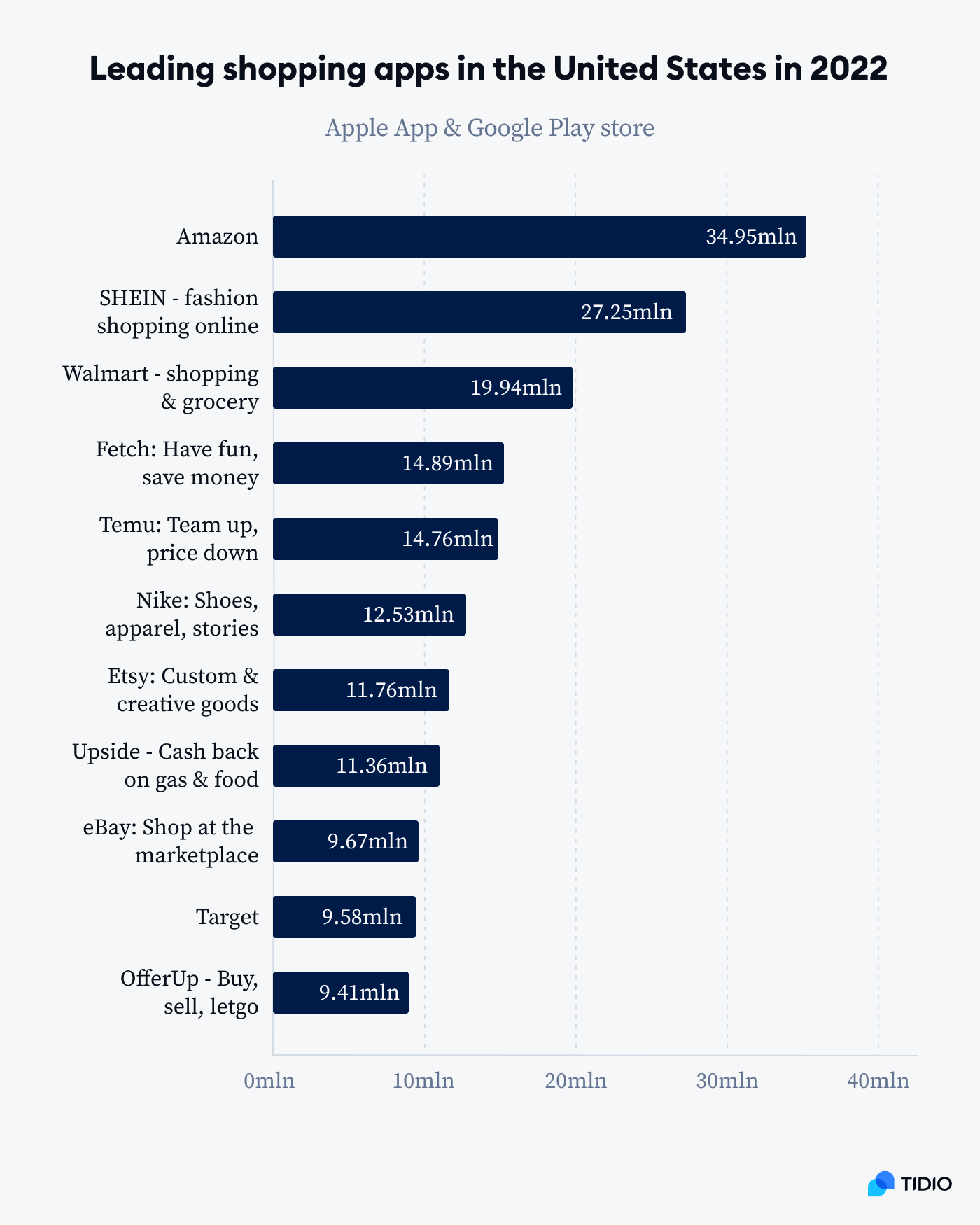 In 2022, Amazon was by far the most commonly used app on both platforms, with almost 35 million downloads that year. SHEIN's app was the second most popular one, with over 27 million downloads, while Walmart came in third, accumulating nearly 20 million downloads on mobile.
What makes Amazon's app so successful amongst mobile shoppers?
Amazon's app currently has 4,4 out of 5 stars on Google Play with almost 3.3 million reviews! Some users stated it provides a more streamlined checkout process, compared to its competitors. The other two advantages are easier search for the desired products and more information about the features and quality of the products.
Read more: Learn all about the best things to sell online and which products to avoid.
Mobile commerce examples
As ecommerce on mobile grows, multiple app providers offer the option to exchange traditional credit cards for mobile wallets. A digital wallet enables you to add an electronic version of your card to an app inventory or account, so you can make purchases easily. Thanks to this feature, you can swiftly go from app mobile search to purchase in seconds.
Unsurprisingly, it's seen as one of the payment options of the future, providing customers with a new standard of connectivity.
Based on a survey done by Business Wire, 56% of consumers used digital wallets in 2022. It is believed that these payment methods can give better insights into consumers' behavior while offering simplicity and speed.

But what are your options?
Let's have a look.
Apple Pay allows the making of payments in person, in iOS apps, and on the web using Safari. To set it up, customers have to add a credit, debit, or prepaid card to the Wallet app on their iPhone, Apple Watch, iPad, or Mac.
Google Pay enables users to add cards to their account and make payments online and in stores with Android devices.
Amazon Pay allows using virtual cards for online shopping on their platform as well as on external websites. With Amazon Pay, you can even make payments with Alexa, as the system uses voice recognition.
Samsung Pay enables Samsung device owners to easily create a digital wallet and add cards by taking a picture of them. On top of that, it offers a cashback program to get extra rewards for purchases.
PayPal uses connected mobile banking tools to store cards and bank accounts in a digital wallet, manage household bills, and even buy, sell, and hold cryptocurrencies.
Mobile ecommerce statistics: summary
That's all! Now you know the most crucial mcommerce stats and trends. Here's a quick summary of everything we covered:
Mcommerce experiences steady growth, with sales projected to exceed $710 billion in 2025 and 187 million active mobile shoppers by 2024 in the US alone
The first step towards any purchase usually happens on mobile, as users compare pricing and get more information about a product
Online shoppers are more likely to buy products and spend more on them on a desktop, mainly because it's easier and is seen as safer
People spend more time and money on dedicated shopping apps
Amazon Shopping and SHEIN are the most popular mobile commerce apps
Apple Pay, Google Pay, Amazon Pay, Samsung Pay, and PayPal are some of the examples of mobile commerce
Sources: