If you don't exist on social media, do you exist at all?
And—
If your business is not present on social media, do you even have a business?
Let's unpack this.
Companies have always used social media for multiple purposes, and a big recent trend is social commerce.
Gone are the days of only using socials for ads. Now, the stakes are big, and your social media is as much a marketplace as your website.
Is social shopping really worth the hype?
Let's learn about the top social commerce statistics in this study.
In this article we explore:
Find out more about online shopping and ecommerce trends with these pieces:
Let's start from the basics—
What is social commerce?
Essentially, social commerce means selling products and services through social media. It's a mix of ecommerce and social media management that helps you increase revenue while staying connected to your followers.
The entire customer journey from product discovery to payment happens on social channels. Ecommerce businesses get extra reach and offer their customers another convenient way to shop.
The examples of networks with a built-in social commerce platform include TikTok, Instagram, Facebook, and Pinterest. Just imagine browsing Instagram, seeing a perfect pair of shoes, immediately adding them to cart, and buying them with your preferred payment method… All without leaving the app!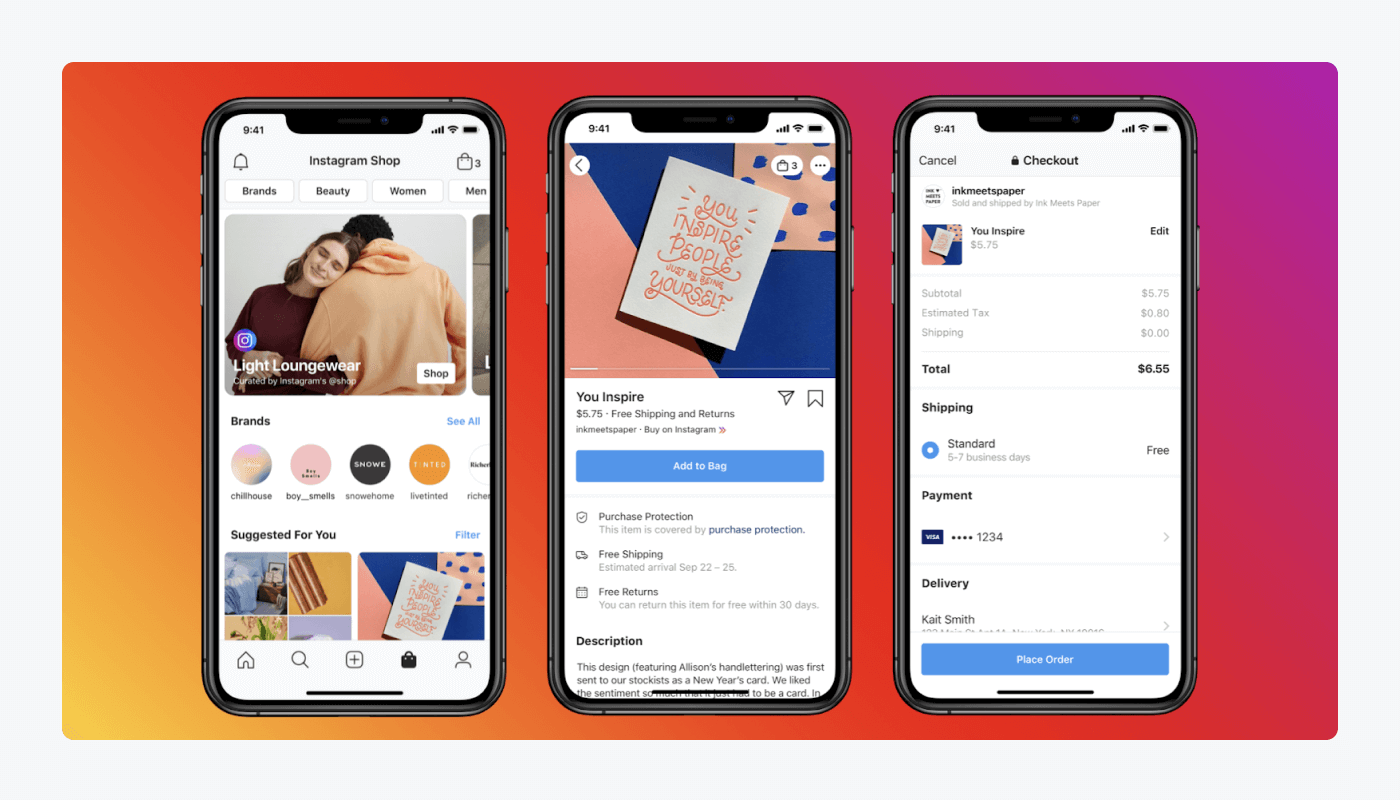 How cool is that?
In fact, very, and a lot of businesses have realized it. The stats we gathered here will help you get the overview of the current situation with social commerce. Spoiler: it's quite promising.
Social commerce stats: overview
Social commerce is relatively new, but it's made a lot of noise in the world of digital shopping. This type of ecommerce might have failed to create a revolution, and traditional ecommerce is still more popular than social media shopping. However, it did bring a lot of opportunities and solved a lot of challenges for both businesses and consumers.
What's the situation with social commerce now?
We've gone on a quest for the newest social commerce data, and here are our most interesting findings:

1. The social commerce market size will reach almost $1.3 trillion in 2023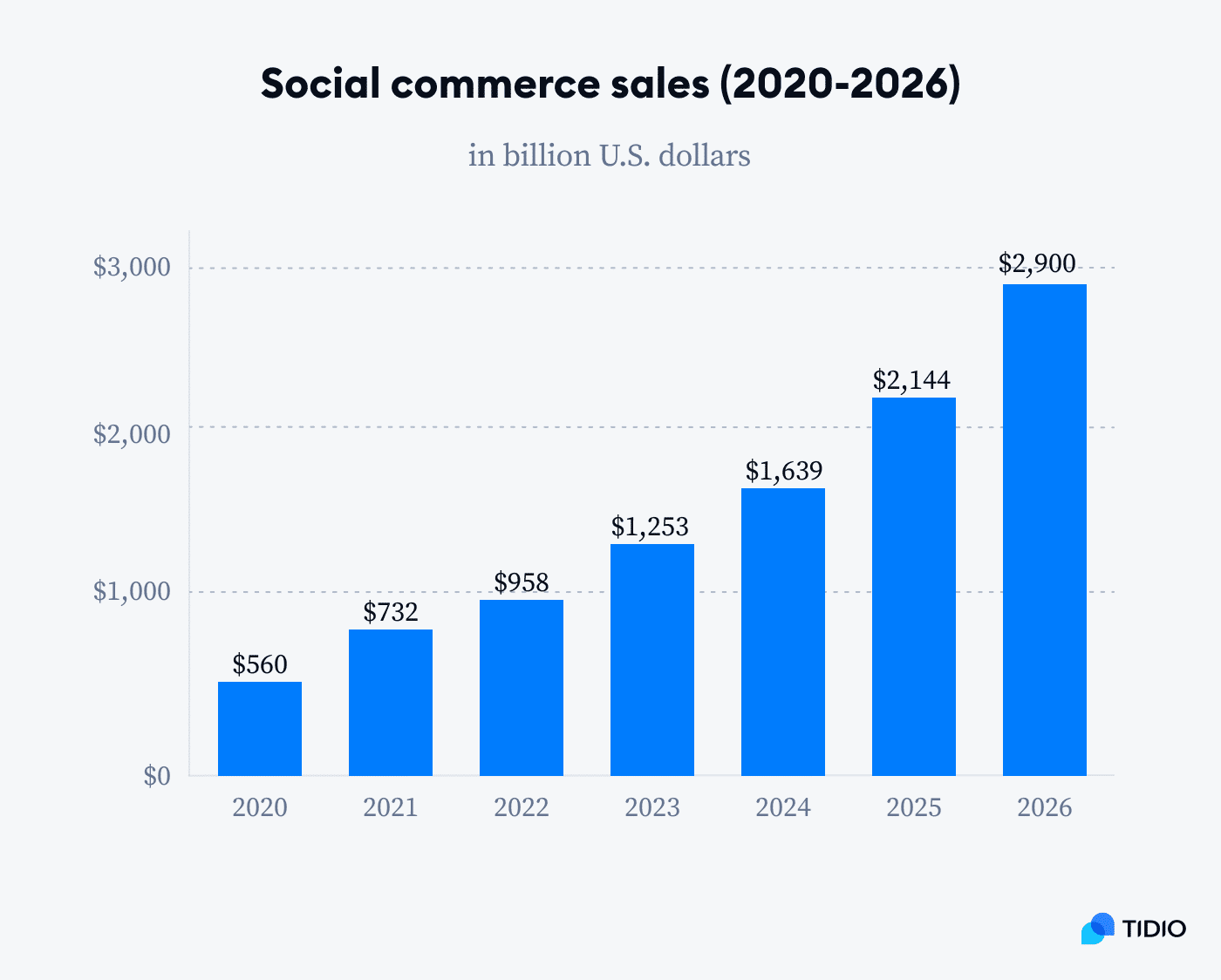 How big is the social commerce industry? The social commerce market size is expected to reach $1.3 trillion in 2023. This is huge. For the first time ever, the social commerce market will exceed the $1 trillion mark. In 2022, the sales amounted to $958 billion, which means that the annual increase is at 31%.
Such growth is very impressive and, undoubtedly, fast. Just three years ago in 2020 the market size amounted to $560 billion, which gives us a whopping 132% increase. And let's keep in mind that 2020 was quite a good year for ecommerce and social media.
Interestingly, such immense growth is mostly thanks to the Chinese customers. Shopping on social media has been very popular there for a while, and businesses gladly follow the trend.
According to statistics, in 2022, around 84% of Chinese consumers shopped on social media. The largest social commerce platform in China is called Pinduoduo.
2. By 2030, social commerce revenue is expected to reach $6.2 trillion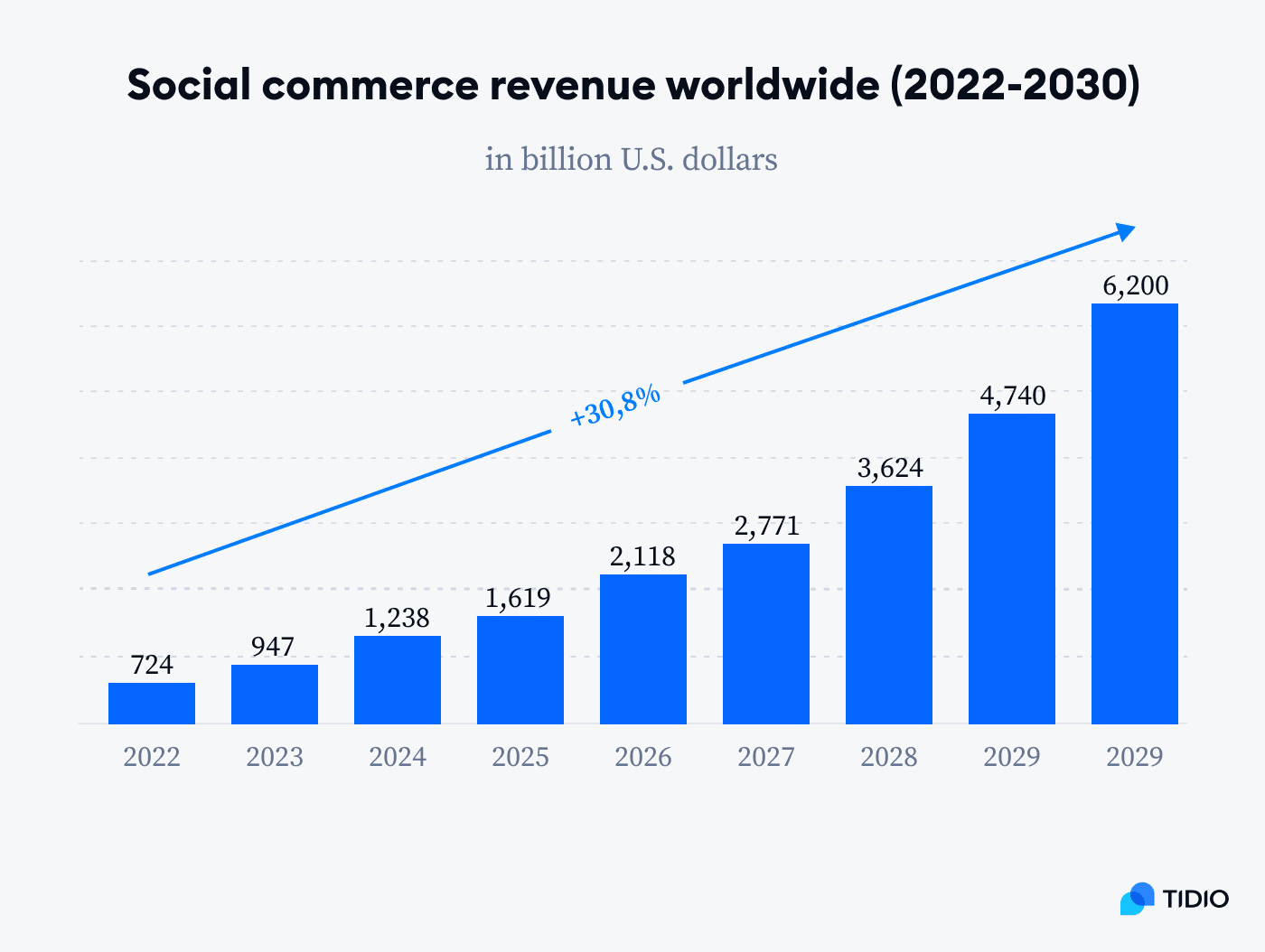 If you weren't impressed already, now it's probably the right time to be. Social media retail has a compound growth rate of 32% from 2023 to 2030, which explains why the numbers are so high. And by high we mean social commerce sales reaching $6.2 trillion by 2030.
Slowing down in growth after the initial boom and increase in sales is natural for any market. However, this is not the case with social commerce. While right now it's growing at a 31% rate, it's expected to be even higher, reaching 35.3% by 2026.
These numbers don't lie. If you already have an ecommerce business or planning to set one up, think about the opportunities social commerce offers and bring your products to where your customers are.
3. The highest numbers of social commerce buyers come from Thailand (88%), India (86%), UAE (86%), and China (84%)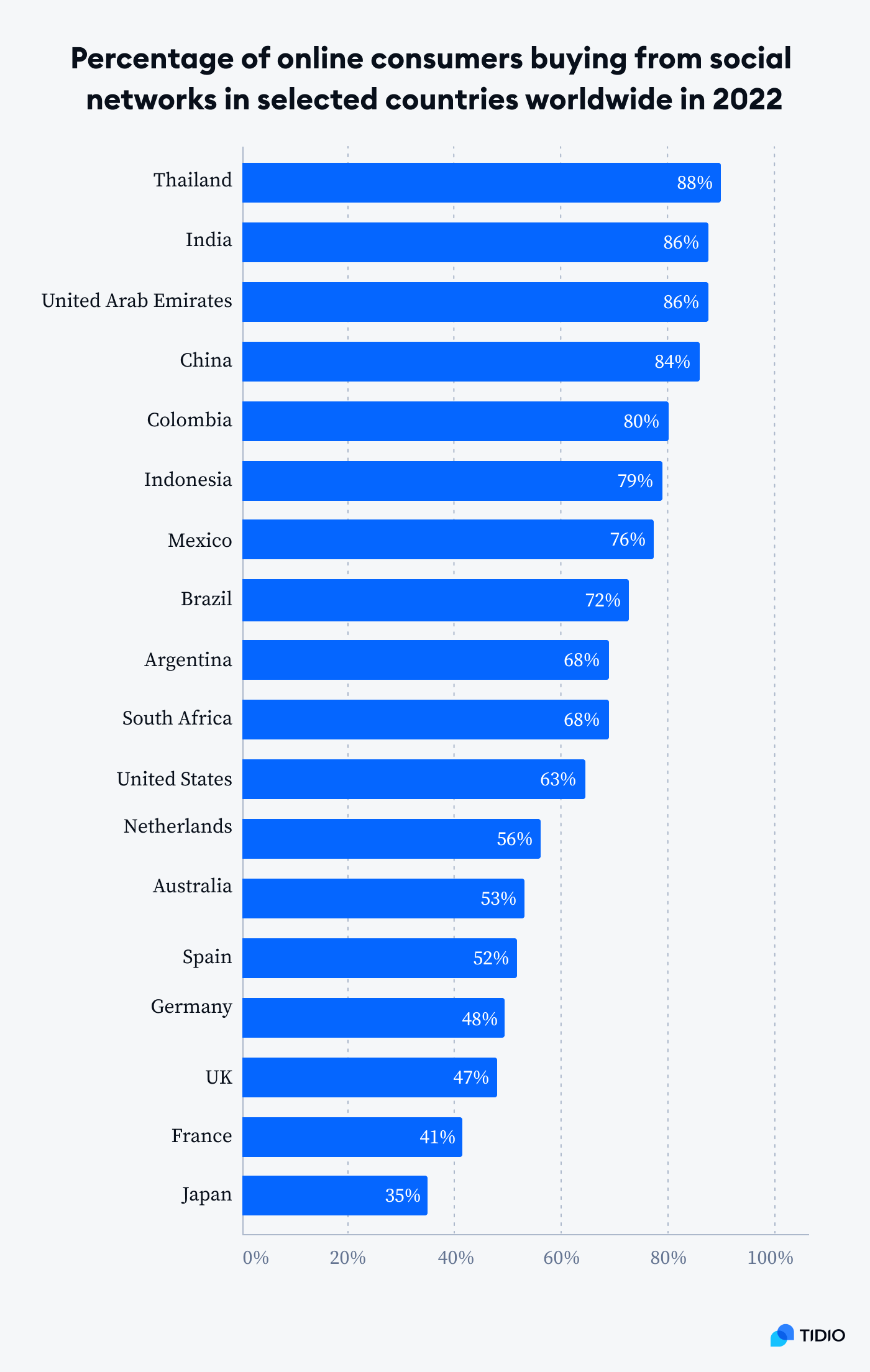 Currently, Thailand online shoppers are the leaders in social commerce adoption. Nearly 9 out of 10 Thai people bought products on social media in 2022. Thailand is followed by India (86%), United Arab Emirates (86%), and China (84%).
Social commerce in China definitely deserves a deeper look. Chinese brands have a whopping 30% conversion rate on social media thanks to things like live-stream shopping, extremely popular social influencers, and purchasing new products through social media auctions. Shockingly, it is around 10 times higher than conversions in regular ecommerce stores like Alibaba.
Interestingly, the United States is in the 11th spot with 63% of social commerce shoppers. To be fair, this is still a huge number that is growing day by day. Social commerce revenue in the US will surpass $30 billion in the US, and by 2025, this figure is expected to reach $80 billion. US consumers love shopping with their smartphones, so online retail on social media is a very attractive option.
In Europe, the Netherlands is the leader, taking the 12th spot globally. Around 56% of Dutch shoppers had at least one social commerce transaction in 2022, and social commerce in the country is growing by around 20% on an annual basis.
4. Around one million Facebook users buy things on the platform every month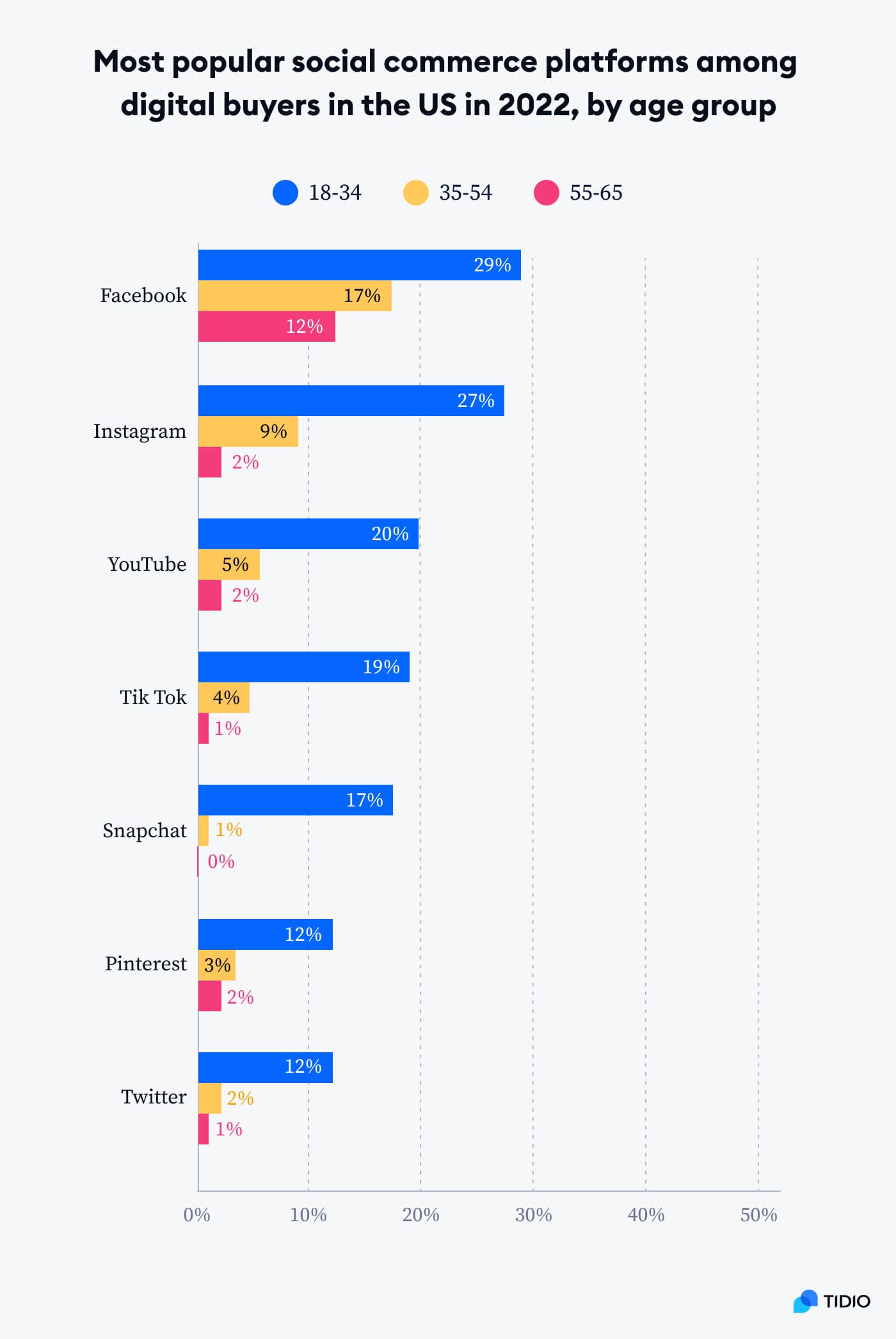 Facebook is definitely the most popular social platform in the Western world. Facebook Shops were launched in 2020 with the purpose and functionality to help small businesses recover from the shock of the pandemic by selling on social media. It was, and still is, a huge success.
What's interesting is that people of all ages regularly shop on Facebook, even though younger generations are the leaders of social media adoption worldwide. It's estimated that approximately 63.5 million people bought something through Facebook in 2022. And by 2025, Facebook is expected to reach 80 million shoppers.
According to social media usage statistics, Instagram is used by 12% of all digital buyers in the US, YouTube by 9%, and TikTok by 8%. While Facebook is predicted to remain the social media commerce leader with the highest market share, other platforms are not so far behind and will continue to grow, too.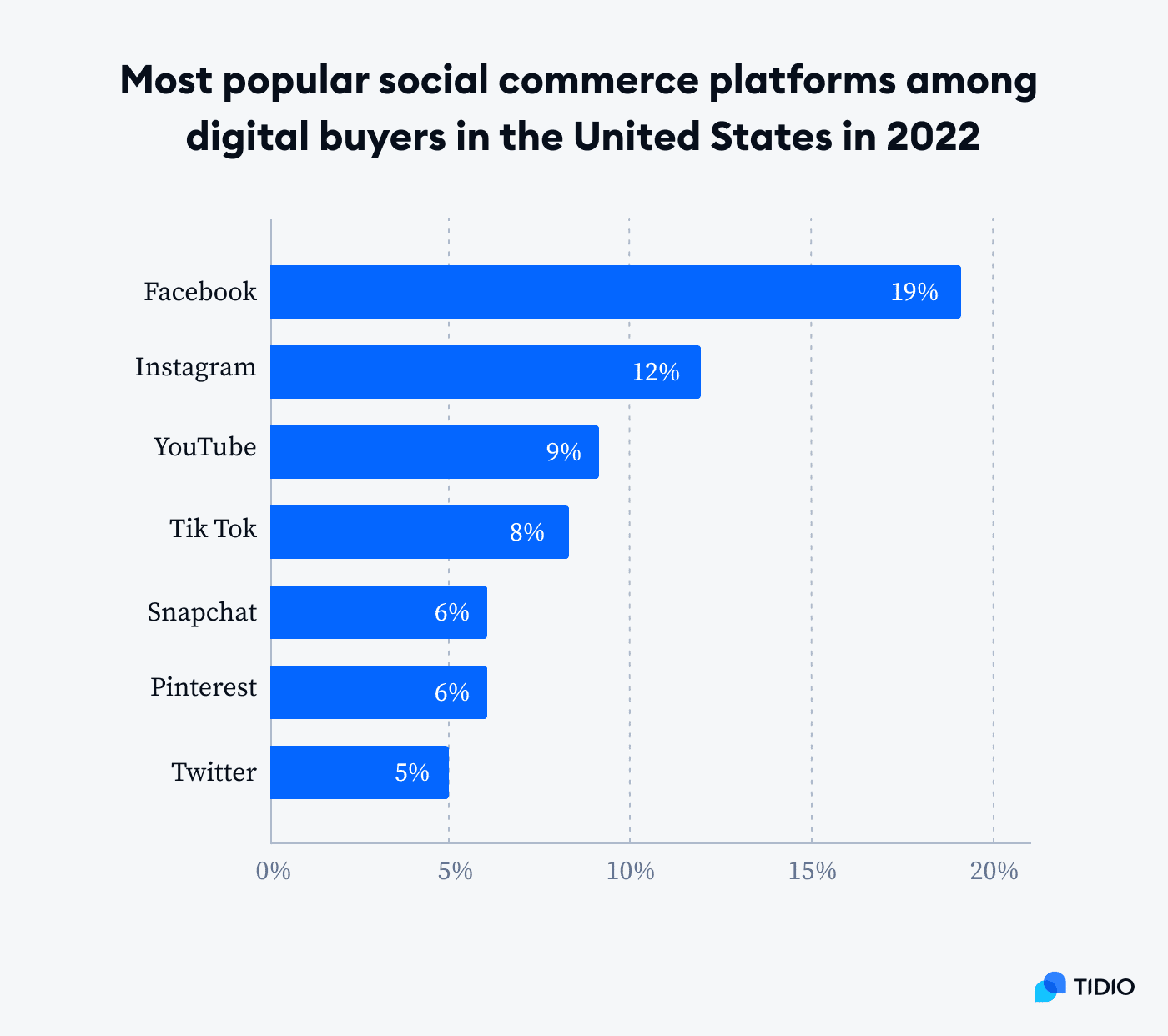 5. Micro-influencers, AI, and frictionless customer experience are the trends that will shape social commerce in 2023
Social media and trends have always gone hand in hand. Internet users are easily influenced, but only by something or someone they consider to be cool, modern, and big at the moment. The trends change fast, and it's crucial for businesses to be on top of them.
For instance, big celebrities with millions of followers are hard to afford for most brands, and their audience is too diverse to achieve maximum benefits.
That's why, in 2023, collaborating with micro-influencers is as relevant as ever. The bloggers who share the same values with the business attract a very specific audience who enjoy and believe in similar things. Micro-influencers have a big impact on driving conversions in social commerce and can greatly influence people's purchasing decisions, even when the brand is on a tight budget.

AI has also had a huge impact on social media, just like on every other sphere of the digital world. It's part of practically all recent social media trends. Digital avatars, AI-generated influencers, virtual try-on rooms without leaving the app, etc. These things are rising in popularity, and are definitely the future of social commerce. What's more, AI gives businesses more flexibility and more room to experiment, so it's a great idea to take advantage of it.
Another important trend is the need for a stellar customer experience with social commerce. Just like with traditional ecommerce, potential customers appreciate personalization, and exceptional customer support. They are ready to choose the brand that offers great experience over the one with a cheaper price. This says a lot, and this trend should definitely not be overlooked by companies.
How to offer stellar customer experience with social commerce? Use support plugins (for instance, install a Messenger live chat), optimize your checkout process, diversify your payment options, and, of course, always put your customer first.
6. Millennials will remain the most active social commerce customers, making 33% of all purchases by 2025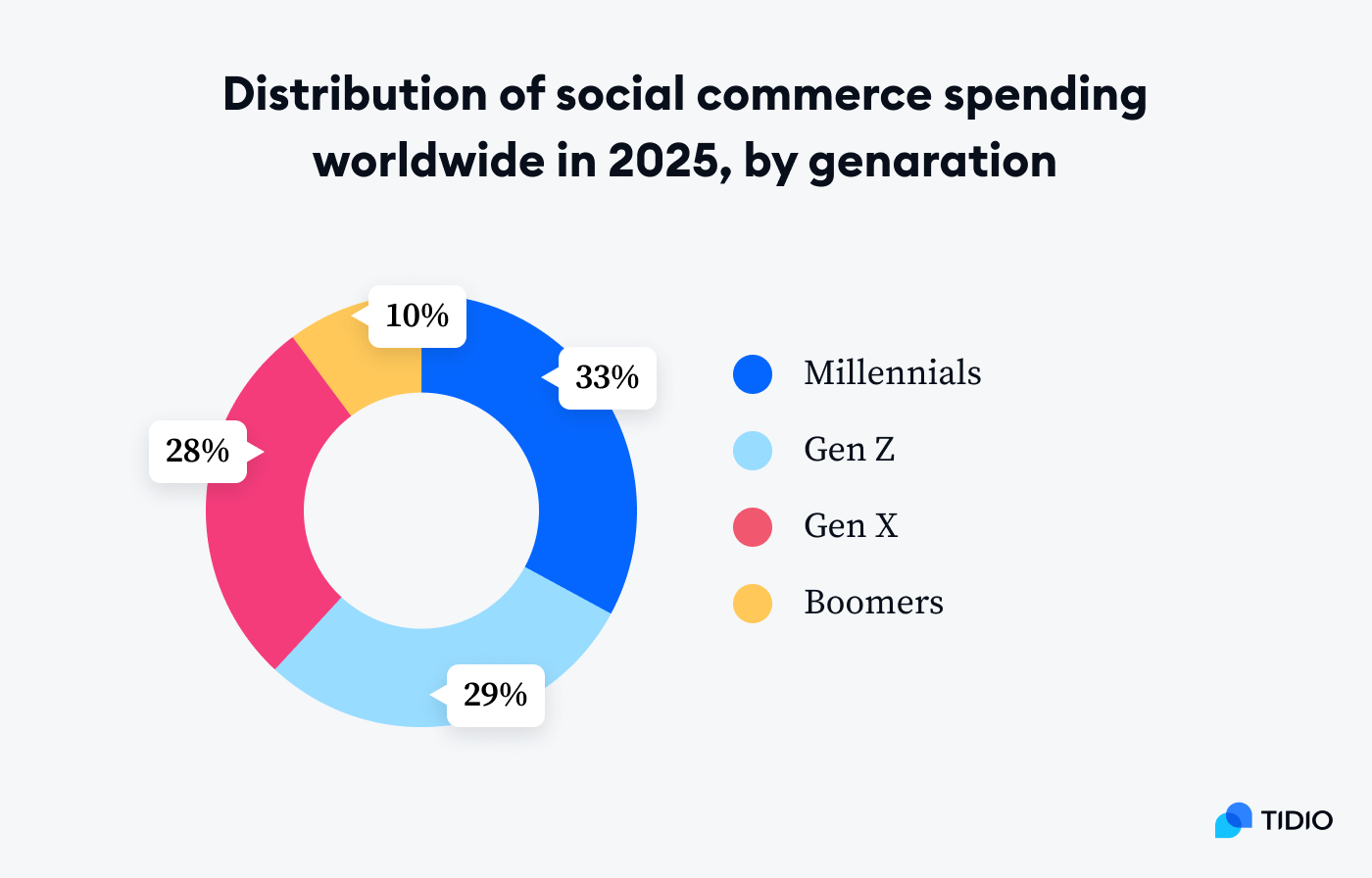 According to predictions by Accenture, a third of the global social media shopping spend in 2025 will be attributed to millennial consumers. They are closely followed by Gen Z with 29% and Gen X with 28%.
Baby Boomers will remain the generation using social commerce the least. This can be explained by the difficulty to adopt new technologies as people age. Still, Boomers are well-represented on social media: 82% of them have an account in at least one social media, and 78% are registered on Facebook. So, though their social commerce activity is lower than other generations, it's still growing.
7. Around 34% of Instagram users will make a purchase on the platform in 2023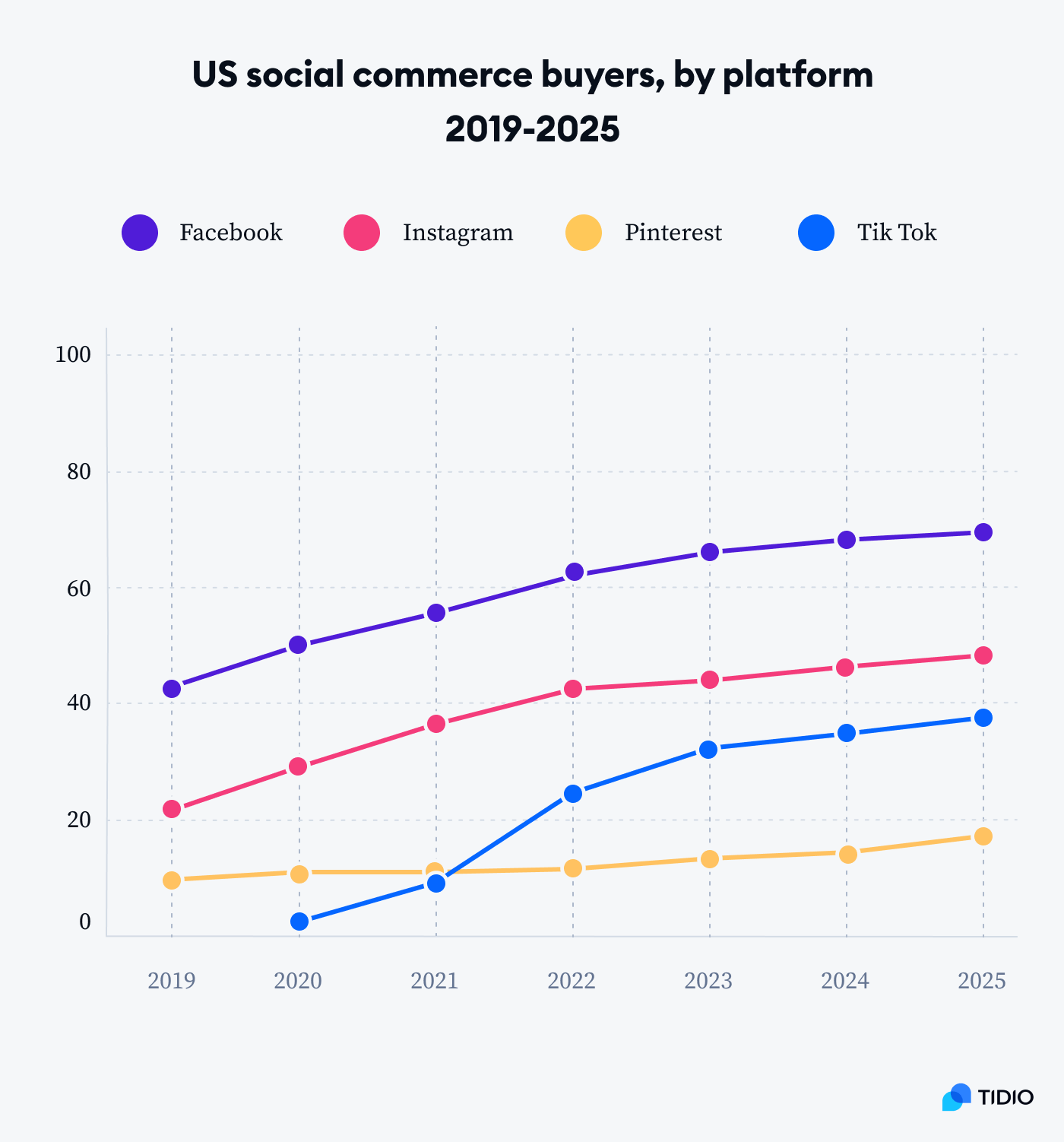 Instagram is nothing but huge. It's the fourth most used social platform in the world with an estimated 2.35 billion monthly active users. And around a third of them use it for social shopping—what an amazing opportunity for businesses.
Of course, this number varies depending on many factors. Instagram is not everyone's go-to social retail platform. It is definitely one for Gen Z with 22% of them buying on Instagram. In fact, according to Hootsuite, in total, 15% of US digital buyers start their online shopping searches on Instagram.
For a business, Instagram is also a great place to connect with your audience. According to the Global Media Consumer Research Study, Instagram is the #1 social media platform for people to connect with brands. People go on Instagram to follow their favorite brands, as a result, an average Instagram business account grows its followers by nearly 1% monthly.
8. There are more than 250 million Facebook Shops worldwide
Facebook, being another giant platform, has plenty of features designed for businesses, which makes it an attractive social commerce channel. And even though it's slowly losing a big share of its Gen Z and Millennial social network users, it's still extremely popular—81% of adults in the US have a Facebook account. The platform has 2.96 billion monthly active users, which makes it bigger than Instagram.
What's more, with 11.2 billion visits, 1.5 billion unique visitors, and an average visit time of 31 minutes, Facebook is the third most visited website in the world.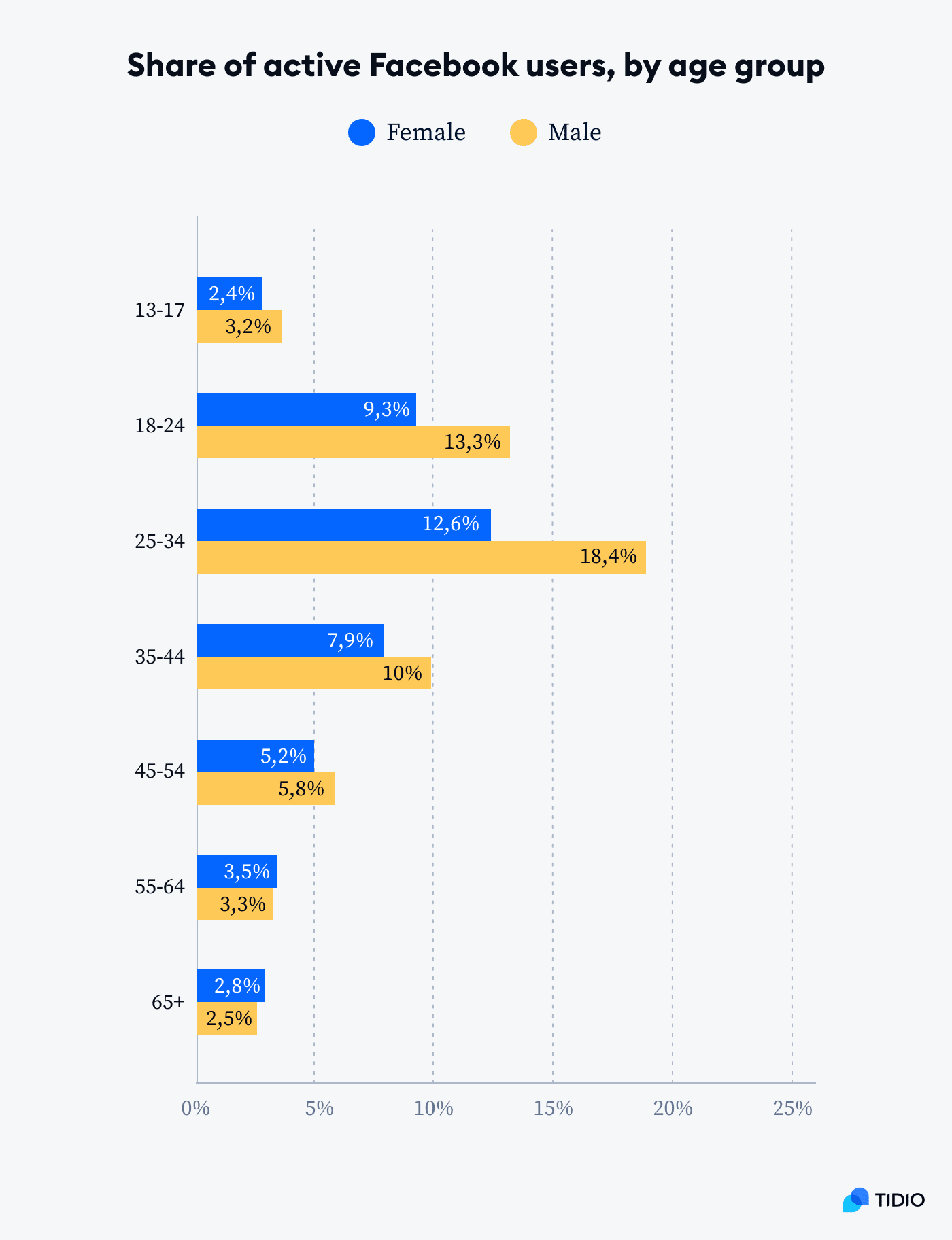 Recently, Facebook has started to offer more and more opportunities for businesses. Around 87% of marketers in the United States use Facebook, and more than 200 million businesses use Facebook's applications and free tools. Moreover, Facebook Shops, that are the center of the company's social commerce, have around 1 billion monthly active users, and there are more than 250 million shops globally.
Interestingly, customers who engage in a live chat or chatbot interaction with the brand on Facebook are 53% more likely to make a purchase from a business. It once again proves the importance of accessible and efficient customer service, be that on Facebook, on your website, or anywhere else.
Read more: In need of a Facebook bot? Check out our list of the best tools for customer support on Facebook, and learn how to make your own. Also, check out how to sell your products on Facebook marketplace.
9. Consumer spending on TikTok has exceeded $2.5 billion globally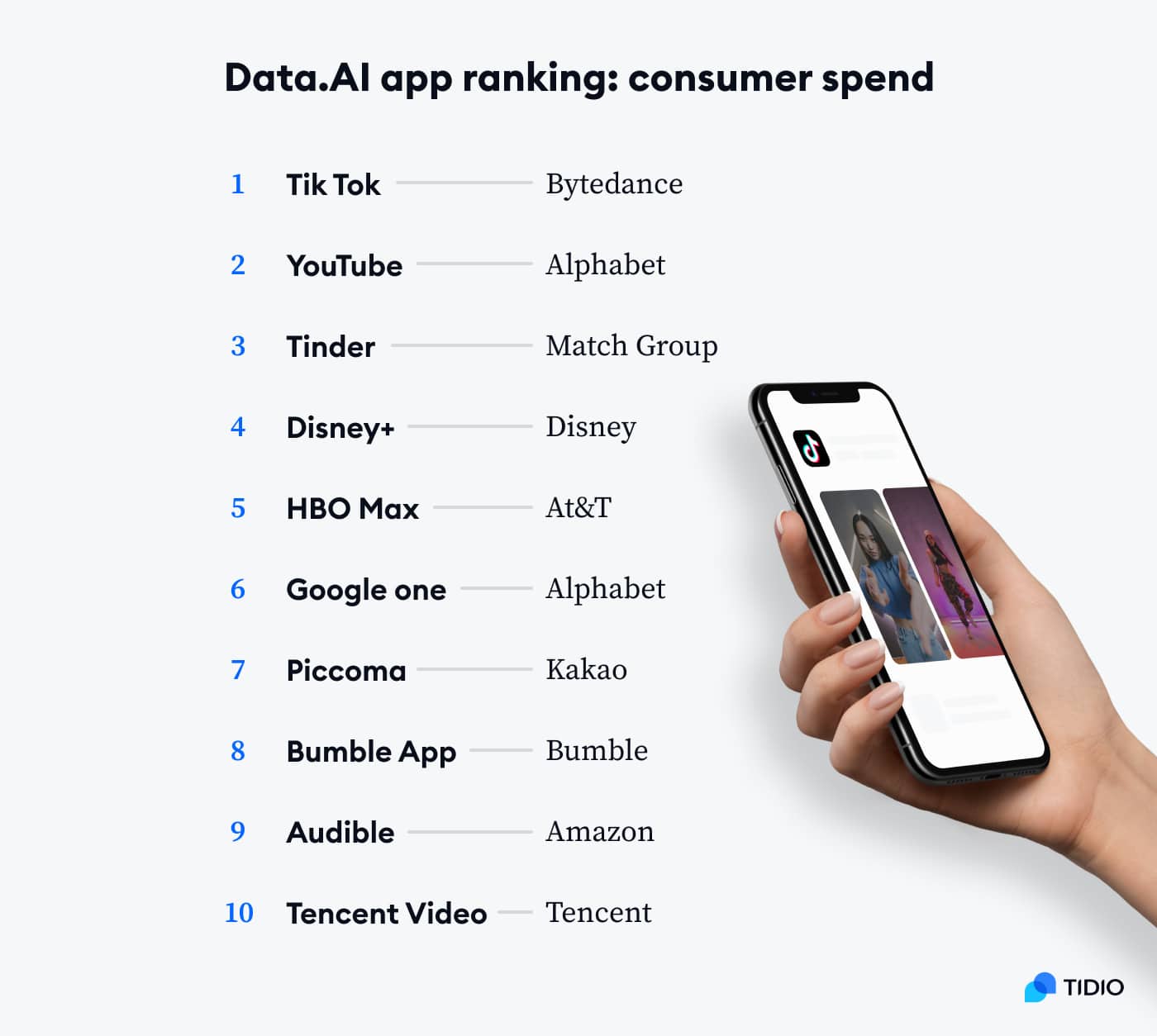 TikTok is definitely one of the ultimate social media channels to reach younger generations who already have an impressive purchasing power. The platform grabs our attention, influences us, imposes new trends, gives rise to new influencers, spikes privacy debates, and more.
Globally, there are 834.3 million monthly active users on TikTok, and their number is expected to reach 955.3 by 2025. All in all, TikTok's definitely the center of digital attention, both for social media users and businesses.
No wonder social spending on the platform keeps increasing. Recently, it has surpassed $250 million. There are around 24 million TikTok buyers in the US alone, and the number keeps growing.
Even though TikTok is primarily used by Gen Z and Millennials, older generations are present on the platform, too. In fact, over 30% of TikTok's advertising audience is aged 35 and up, with 5.5% in the 55+ category.
TikTok might not be the #1 platform by the number of users, but it's definitely one of the most effective social commerce channels for businesses. In 2022, the platform took the first spot for social commerce app usage, surpassing even YouTube.
The numbers don't lie—about 92% of TikTok users got inspired to take action, like making a purchase, after watching an ad on the platform. No wonder the hashtag #tiktokmademebuyit has 31.8 billion lifetime views.
So, choosing TikTok as your social commerce platform definitely pays off. Follow the trends, team up with TikTok creators, and reach your audience in their preferred way. It's worth it, as it can help you gain over 26% more brand favorability on the platform.
Read more: Check out the essential TikTok statistics to learn more about the app.
10. About 37% of social commerce buyers say they lack trust in the security of their payment information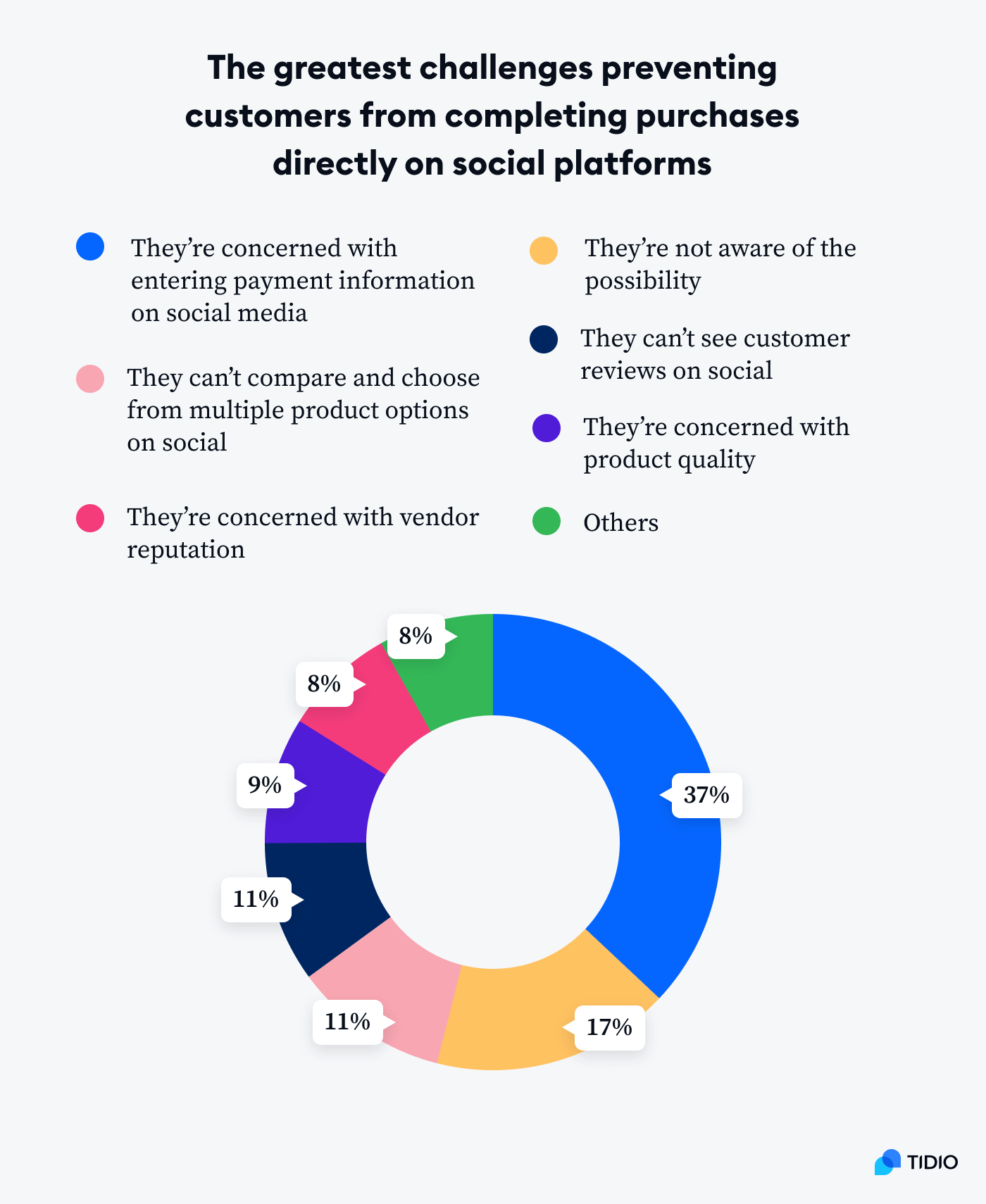 Even though social commerce is getting more popular, many people are still suspicious about buying things from social media sites. This is understandable, since with traditional ecommerce, customers buy directly from the company's website.
However, when it comes to purchasing on Facebook, Instagram, or any other social media channels, it means sharing your data with those tech giants rather than with one online store.
Luckily, so far, social commerce online purchases have proved to be safe. At least, the same level of safety as using social media as a regular user is. And with the right education and engagement, businesses can win even more customers to shop from them on social media. In fact, 35% of people say they would be ready to try social commerce if they were sure their data was kept secure.
A good strategy to overcome this trust factor is to make things as transparent as possible. You should offer easy returns and refunds, show detailed ratings and reviews, and keep buyers in the loop on their purchase status at all times. If brands approach providing testimonials and showcasing the security of their transactions seriously, the trust levels are sure to rise.
Read more: Find out more about ecommerce trust levels in our study and learn how to build it.
11. The main social commerce challenges are inventory issues, returns and refunds, and poor experience
Just like any other industry that is growing fast, social commerce comes with its own challenges. For example, many social commerce customers struggle with finding returns and refunds information. In fact, only 15% of buyers know how to return items purchased through social media. Moreover, around 98% of people have experienced availability issues at some point when shopping on social media, and 81% complained of poor customer experience with social commerce.
Quality customer support and transparency with guidelines regarding delivery, refunds, and returns is crucial. It's extremely important for businesses to be engaged in the conversation with their customers, listen to their needs, try new communication formats, and offer them quality customer support.
Read more: Check out our customer experience study for more data and statistics on the importance of excellent customer service and experience.
Social commerce strategy: recommendations for businesses
Social commerce is a very promising channel that attracts a lot of customers from different demographics and, ultimately, brings revenue to businesses. If done right, it can be an amazing opportunity and a great addition to your ecommerce business.
Here are some tips on how to do it right:
1. Start with the basics
Even though social commerce might seem like an unconventional way to sell, it still requires the basics of a traditional ecommerce business. Creating a trusted shopping experience is integral to your success, especially when it comes to selling on social platforms.
Be transparent about your processes like refunds and returns, be open to reviews and ratings, and prioritize simple things, like, a variety of payment options.
Read more: Check our case study on how creating a trustworthy shopping experience and implementing a support live chat helped boost conversions for Ad Hoc Atelier, a fashion ecommerce.
2. Use instant messaging to communicate with your customers
Just like on your regular ecommerce website, your social commerce customers will have plenty of questions and requests. Hence, your support has to be omnichannel. Being there for your customers helps to recover abandoned carts, provide personalized offers, and help to track deliveries.
It also helps your customers convert fast and smoothly. There are plenty of Instagram chatbots, Facebook bots, and AI-powered virtual assistants that can take your support to the next level.
Read more: Check out how to connect Tidio with your Facebook Messenger channel. Also, learn how to recover abandoned carts with effective strategies.
3. Partner with social media influencers
Come rain or shine, social media influencers are a big deal and a huge part of the social media marketing industry. The influencer marketing industry is set to grow to approximately $21.1 billion in 2023. The audience of influencers' social media content is usually loyal and puts a lot of trust in what the influencer recommends.
Hence, for a business, it's a perfect opportunity to not only drive ecommerce sales and increase engagement, but also allow people to hear your brand voice and understand your values.
Social commerce is here to stay—it might not make a revolution any time soon, but it will definitely grow, slowly but steadily.
Now—
Let's sum up what we learned from the data in this piece.
Social commerce stats: conclusions
The impact of social commerce on the ecommerce industry is undeniable. It's not growing as rapidly as some predicted, but it's definitely here to stay, and businesses have to take advantage of it if they want to expand. Moreover, there will be more emerging social media platforms in the future, offering more opportunities for businesses.
If you're contemplating adding a social commerce channel to your ecommerce business or want to set up a totally new store, you've made a wise decision. Social commerce is a great channel to grow your business and bring you plenty of loyal customers.
Of course, with social media, it's vital to always stay up to date on the trends and hot topics currently circling around the internet. Building a business is hard, and setting up a business trying to follow what's hot is even more difficult. However, if done right, it's certainly rewarding.
If you want to explore more social commerce and social media statistics, check out the original sources below.
Sources: