Many claim that ecommerce is continuously on the rise.
Well—it's not a false statement.
After the initial boom during the pandemic, the trend for choosing online businesses hasn't disappeared. On the contrary, it became even bigger.
However—
Change is the only constant.
While online stores are consistently getting more popular, they're also characterized by different trends dominating the field. And the real key to a successful ecommerce business is being aware of these trends and always adapting to them.
Let's take a closer look at the recent ecommerce statistics, trends, and research-based data.
In this article:
Learn more about ecommerce with these studies and guides:
Let's jump straight into the state of ecommerce.
Essential global ecommerce statistics
The word ecommerce has been engraved in our minds since 2020. Ecommerce this, ecommerce that… People have been hearing about it so much they might have lost the gist of the term.
So, let's get the definition straightened up.
Essentially, ecommerce is the process of buying and selling goods online—as simply as that. There are a few types of ecommerce businesses, like B2B (business-to-business), B2C (business-to-consumer), or even C2C (consumer-to-consumer, like eBay).
Ecommerce has undoubtedly made our lives easier. From the very first ecommerce transaction made in 1994 (a man selling a Sting CD to his friend online), things have moved fast. Now, ecommerce is growing significantly year by year.
What's the current state of ecommerce?
We've gone on a hunt for the newest ecommerce data and here are our coolest findings:

It's visible from the statistics that ecommerce growth is in no way slowing down. And if you want to catch the wave and win the world of ecommerce, you should keep an eye on research-based data.
So—
Let's dive deep into that.
1. Ecommerce will account for about 22% of total global retail sales in 2023, with expected sales value of more than $6 trillion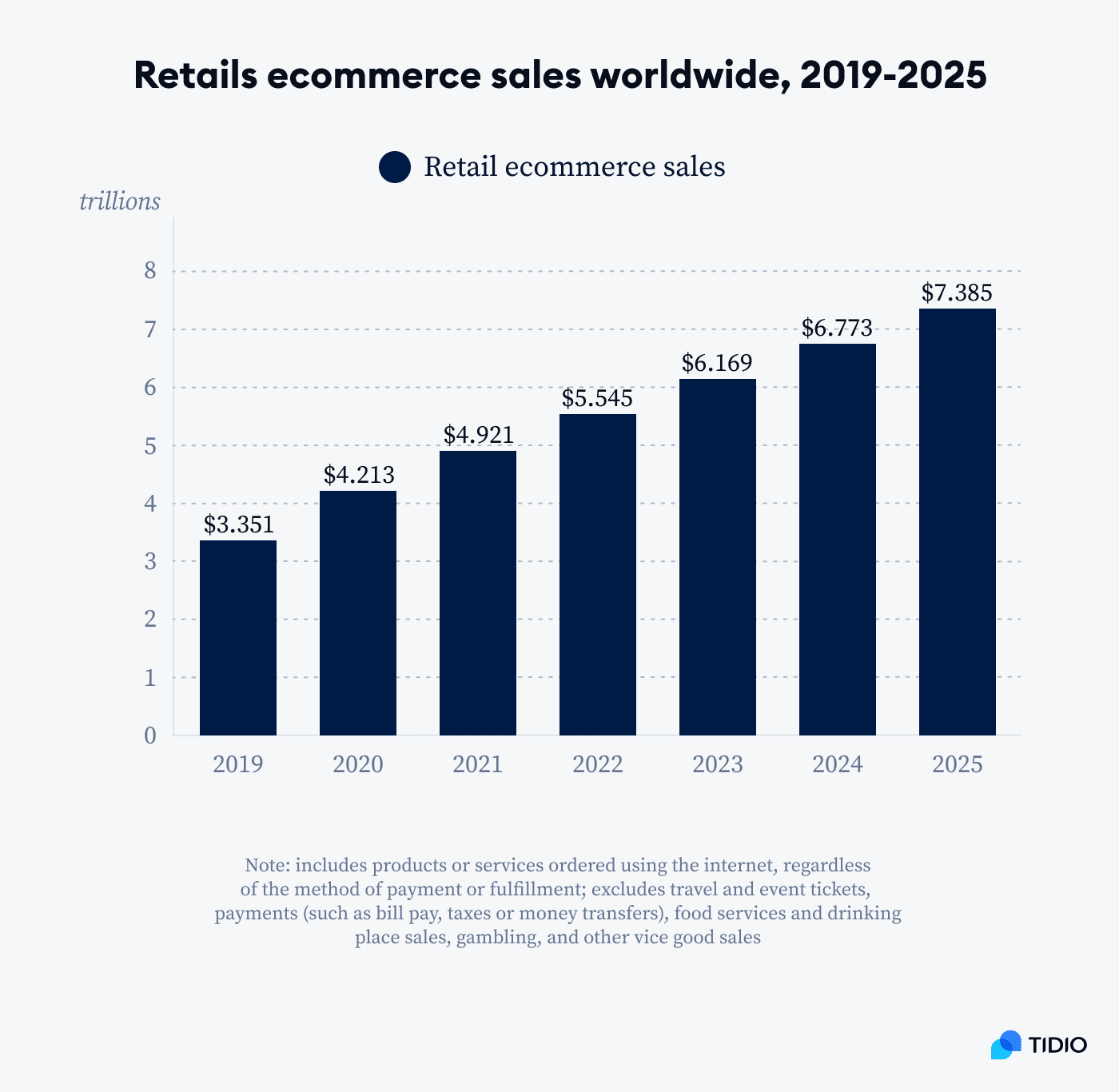 Global ecommerce is growing exponentially with the numbers of online sales and market share getting higher every year. While the position of ecommerce is already impressive, accounting for more than 22% of sales worldwide with the revenue of over $6 trillion, this is not the end. By 2026, ecommerce revenue is predicted to reach $7.3 trillion and make up 25% of global retail sales.
This is huge.
Of course, not every country is the same when it comes to online stores' popularity. In 2022, the biggest ecommerce sales share was noted in China (56%). Next came South Korea (32%), the UK (29%), Denmark (20%), and Norway (18%). Interestingly, the US came 6th, with the total retail ecommerce sales share of 16%.
2. The highest global ecommerce sales growth is noted for media (78%), toys and hobby goods (59%), office supplies (54%), and electronics (54%)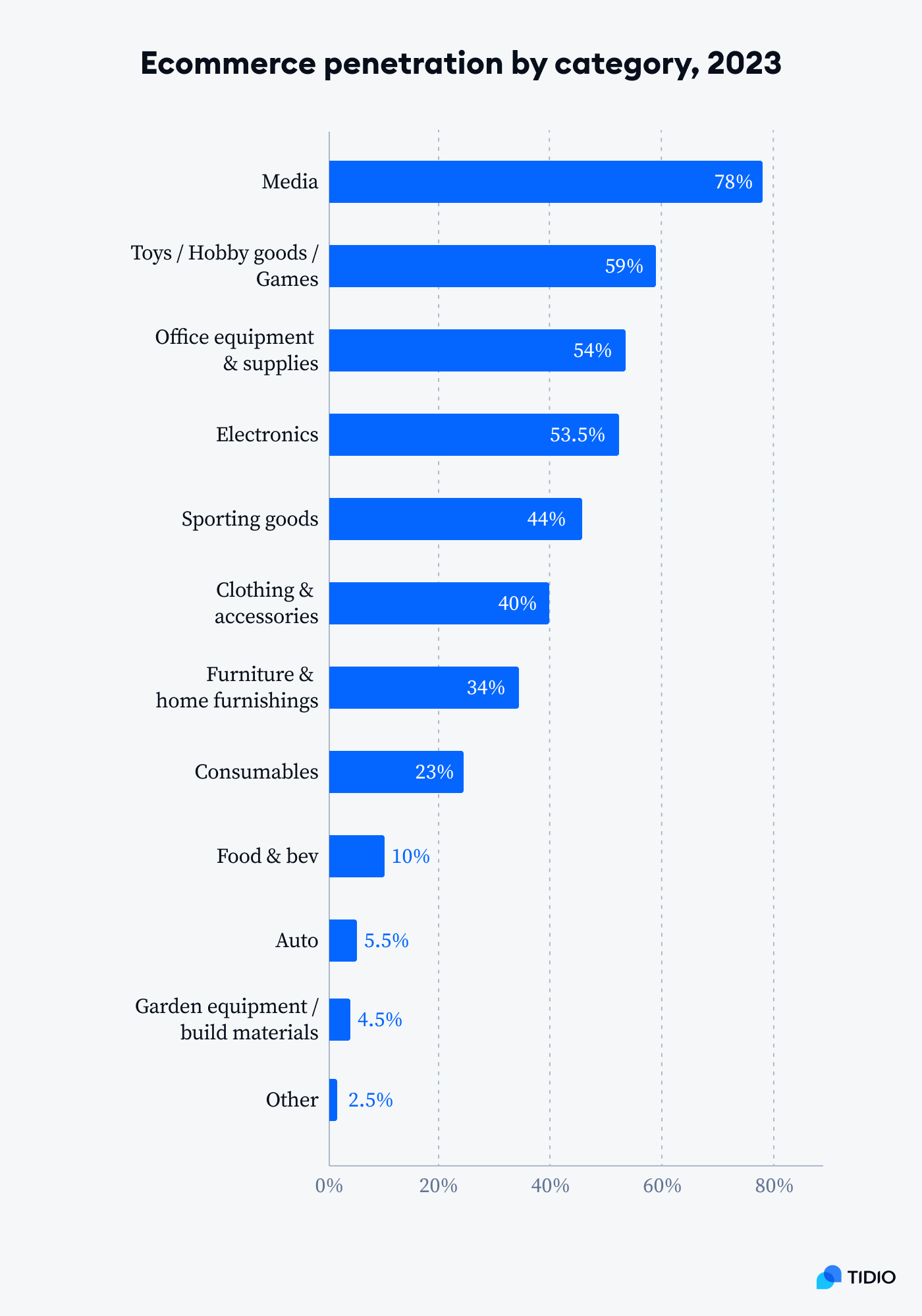 Not every ecommerce category is successful. Some come and go, some remain steadily popular through the years, and some show consistent growth over the years.
Likewise, ecommerce sales by category differ. In 2023, the most successful categories were media (78%), toys and hobby goods (58%), office supplies (54%), and electronics (53%).
This makes sense. Today, three out of four video games are bought online. It's expected that by 2027, the percentage of media bought online will reach 83%. And the same can be said for each of those categories—they will continue growing.
As for the US ecommerce growth statistics, the hottest ecommerce industries in the United States in 2023 are food and beverages (24% growth), beauty and personal care (18%), and office equipment (9%). The general number of ecommerce businesses in the US is growing, as well as the number of Americans who shop online.
3. Average conversion rates for ecommerce in 2023 are expected to be 3.3%, in comparison to 2.1% in 2022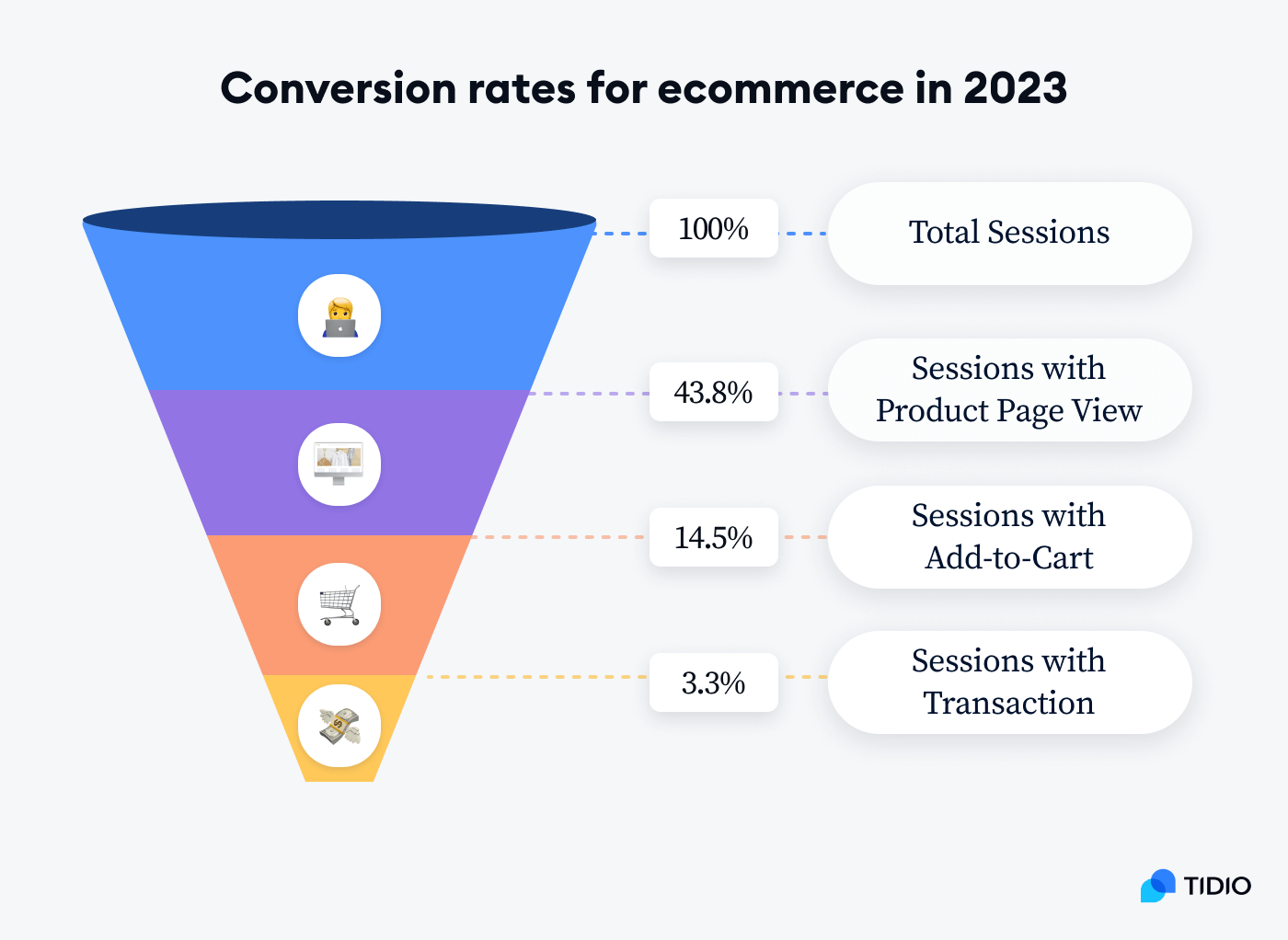 Of course, the more people turn to ecommerce for shopping, the more sessions end with a transaction. The general growing interest in ecommerce explains why average conversion rates are growing.
But not every industry has the same rates. The highest conversion rates can be observed in the home & furniture sector (6%), followed by food & beverages (5%), and consumer goods (4%). The lowest ecommerce conversion rates are in the luxury & jewelry category (around 1%). Interestingly, the home & furniture sector also has the highest cart abandonment rates (80%).
Another problem every online store faces is shopping cart abandonment. Around 80% of shopping carts are abandoned across the industry, which drastically influences conversions on ecommerce sites. The number of abandoned carts in ecommerce is growing, so even more people turn to online stores, it doesn't necessarily mean that more sessions end in a transaction.
But businesses can fight this issue by introducing measures like AI chatbots, live chat solutions, multiple payment methods, and optimized checkout processes on their business website. These are extra costs, but they'll help your business grow in the long run.
In general, it's crucial to track the conversion rates for each ecommerce business. While one can have a general idea of their ecommerce potential performance from industry statistics, those numbers are just average and come from all over the globe. If you have a business in, supposedly, a low-conversion industry, do not get discouraged. There are multiple ways to increase conversions and reduce cart abandonment rates.
4. In 2022, ecommerce sales grew by around 27%, while brick and mortar showed only 8% growth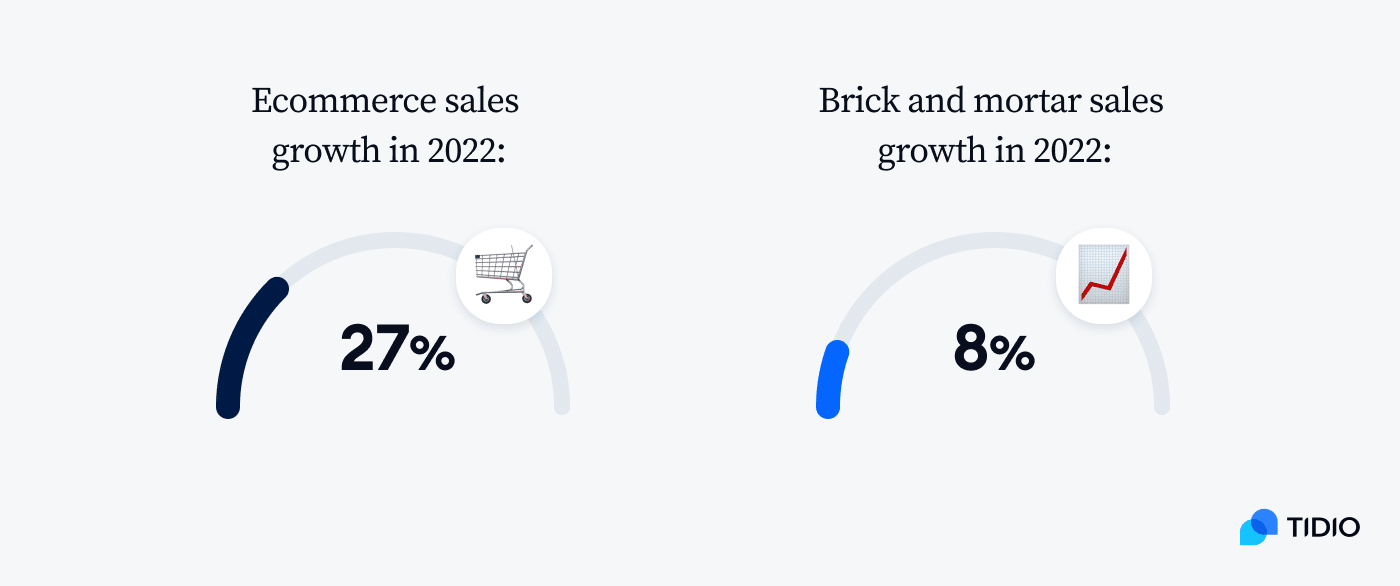 It's true that people started to head back to physical stores after the pandemic restrictions eased up. Brick and mortars continue opening, e.g., in 2022, the US retailers opened double the number of physical stores than those that were shut down.
During the pandemic, it was widely thought that in-store shopping came to its end and that no one would want to come back to it. However, today, many people still do enjoy the in-store shopping experience—94% of consumers head back to brick-and mortar stores.
Younger generations are the driving force behind online shopping, and the ecommerce sales forecast is very positive. Millennials and Gen Z prefer ecommerce over physical stores. As younger generations grow up, become internet users, and gain purchasing power, this trend will only continue to gain shape.
Read more: Find out how a fashion ecommerce store Ad Hoc Atelier grew conversions by over 250% using Tidio in our case study. Also, discover how to recreate in store experience online using chatbots.
5. Currently, the most popular ecommerce platform is Shopify (25%), followed by WooCommerce (20%), and Wix (13%)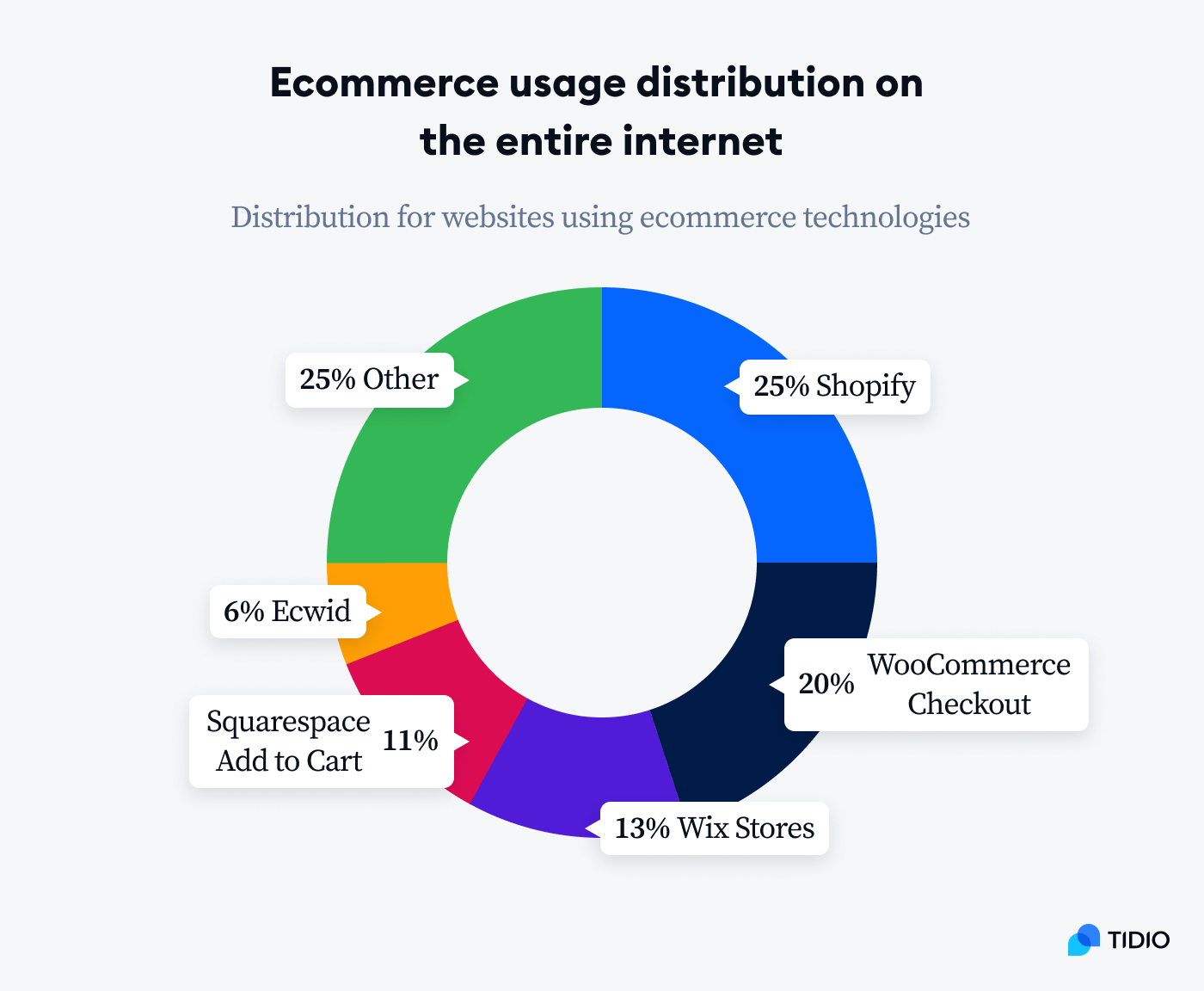 Shopify is the global leader when it comes to ecommerce platforms. In fact, the platform's name is the first association many people hear when they think about ecommerce.
It's no surprise—
Last year, Shopify processed almost $80 billion in order value. It's expected that in 2023 around 700 million people will be buying from Shopify merchants. With plenty of features, chat plugins, and flexible conditions, Shopify success rate of 81% profitability of its merchants is understandable.
Read more: Find out about the best Shopify competitors and alternatives, and learn how to easily install Tidio on Shopify.
WooCommerce powers around 6.5 million websites globally, and there are more than 350 active Wix domains. While the platforms' functionality and unique features might differ, one thing is for sure: there is plenty of choice and room for personalization when setting up an ecommerce business.
6. Ecommerce products whose global sales grew the most in 2022 are power tool accessories (global order growth 23%) and dog toys (13%)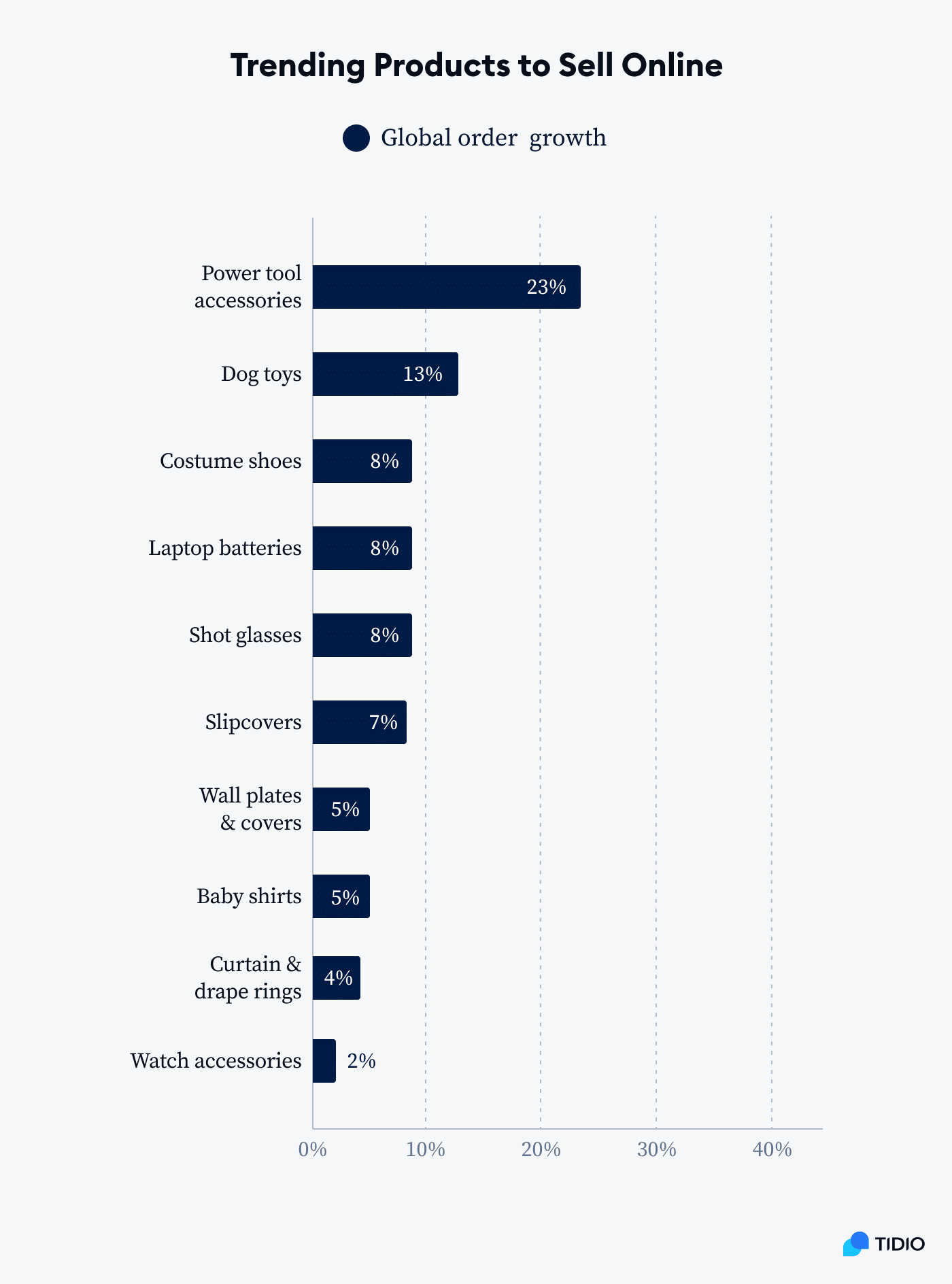 Selling a high-demand product on your ecommerce website is one of the recipes for success. Coming up with something that is both trending and interesting for you can be a challenge. However, it's a good idea to stay updated on what's hot at the moment.
There are certainly some things people will always need. Dog toys sales are growing now (13%), and it seems like a trend that will stay.
Same goes for power tool accessories (26%)—things break all the time. You have the tool to fix something and can deliver it fast? Your store is in for success. It's a similar case with baby clothes, car parts, electronics, and many other items.
Of course, there are many things equally important as your product. Prices, quality customer service, fast delivery, good sales tactics, and a well-optimized checkout process are the things you have to consider when working on your ecommerce business. Still, choosing a product in high-demand is a wonderful first step that will matter throughout the whole period of time that you're running a business.
Read more: Check trending products to sell online.
7. In 2023, the value of ecommerce losses due to online payment fraud is expected to reach $48 billion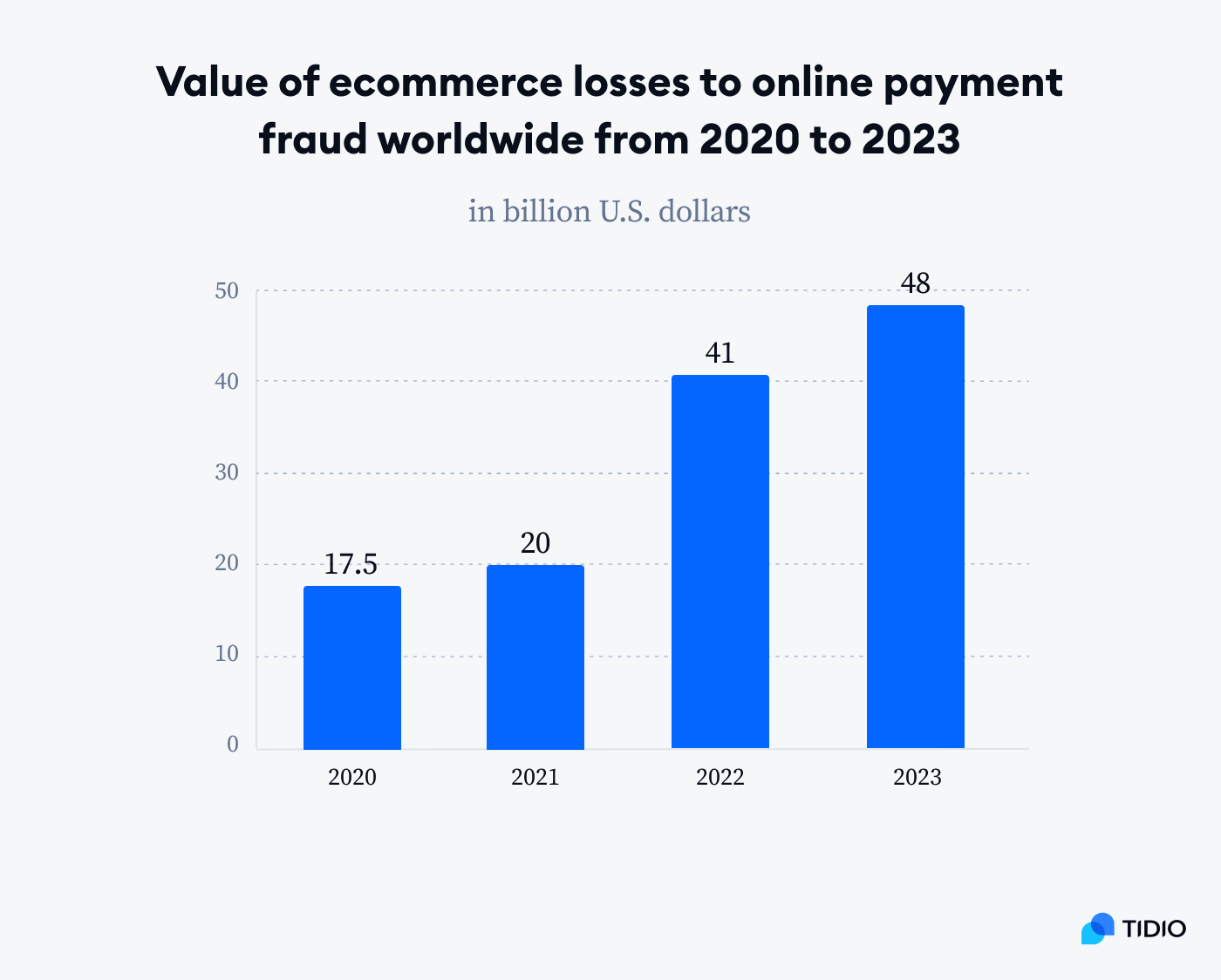 Unfortunately, just like in most businesses, there are fraud cases in ecommerce. In fact, since 2011, global payments fraud has tripled to be $32 billion in 2020. And by 2027, it is expected to reach $40 billion.
While it's not exactly good news to see the number of fraud attacks rising, it's understandable why it's happening. The more transactions there are, the more opportunities for crimes arise. And the number of ecommerce transactions is undoubtedly on the rise, with around 2 billion people shopping online at least once in 2023.
On average, online retailers deal with about 200,000 attacks on their stores monthly. However, ecommerce owners can definitely take some steps to minimize the risks for themselves.
Conducting regular security checks, monitoring any suspicious activity, using address verification tools, verifying cards, and not collecting too much customer information are some of the ways to ensure you will not be dealing with endless fraud attacks.
Read more: Learn to identify and avoid fraud in our study on what makes a website trustworthy.
8. In 2023, the ecommerce return volume is expected to reach around $627 billion, which equals to 8.5% of total yearly sales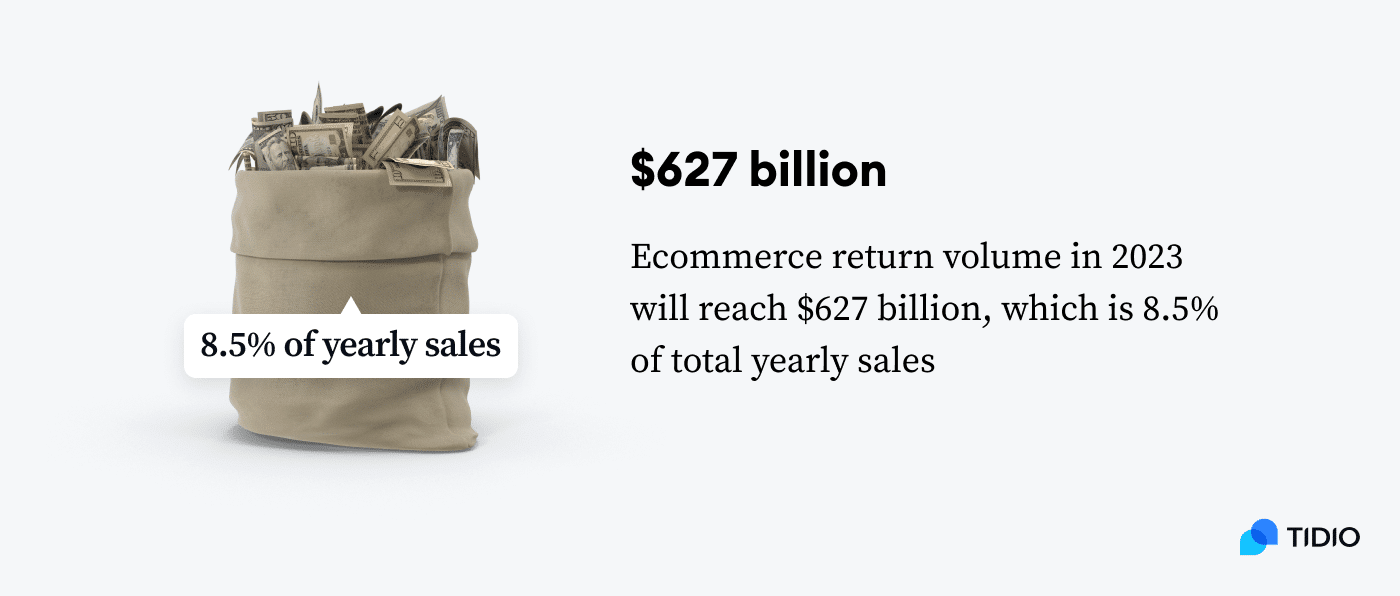 Just like with fraud cases, the number of returns is growing along with the number of successful transactions. The good news is that return rates are pretty steady and predictable. There have been some sharp spikes during the pandemic since items were bought online in extremely large quantities. However, at the moment, returns being at 8.5% of the total sales are expected to remain steady through 2026.
There can be several reasons for such stable rates. First, people actively shop in offline stores, too. During the pandemic, there was no such opportunity, hence increased returns.
Second, many merchants are implementing stricter return policies and using AI to avoid massive returns (e.g., putting restrictions on how many different sizes one can buy).
In terms of specific items, clothes and accessories are definitely the segment with the highest return rates. Their return volume reaches $78 billion in 2022. However, as merchants are actively battling it with policies and technology, the number is not expected to grow much in the coming years.
Read more: Discover how to write an effective ecommerce return policy for your online store.
9. Amazon is the largest ecommerce company in the world, hitting around $514 billion in revenue in 2022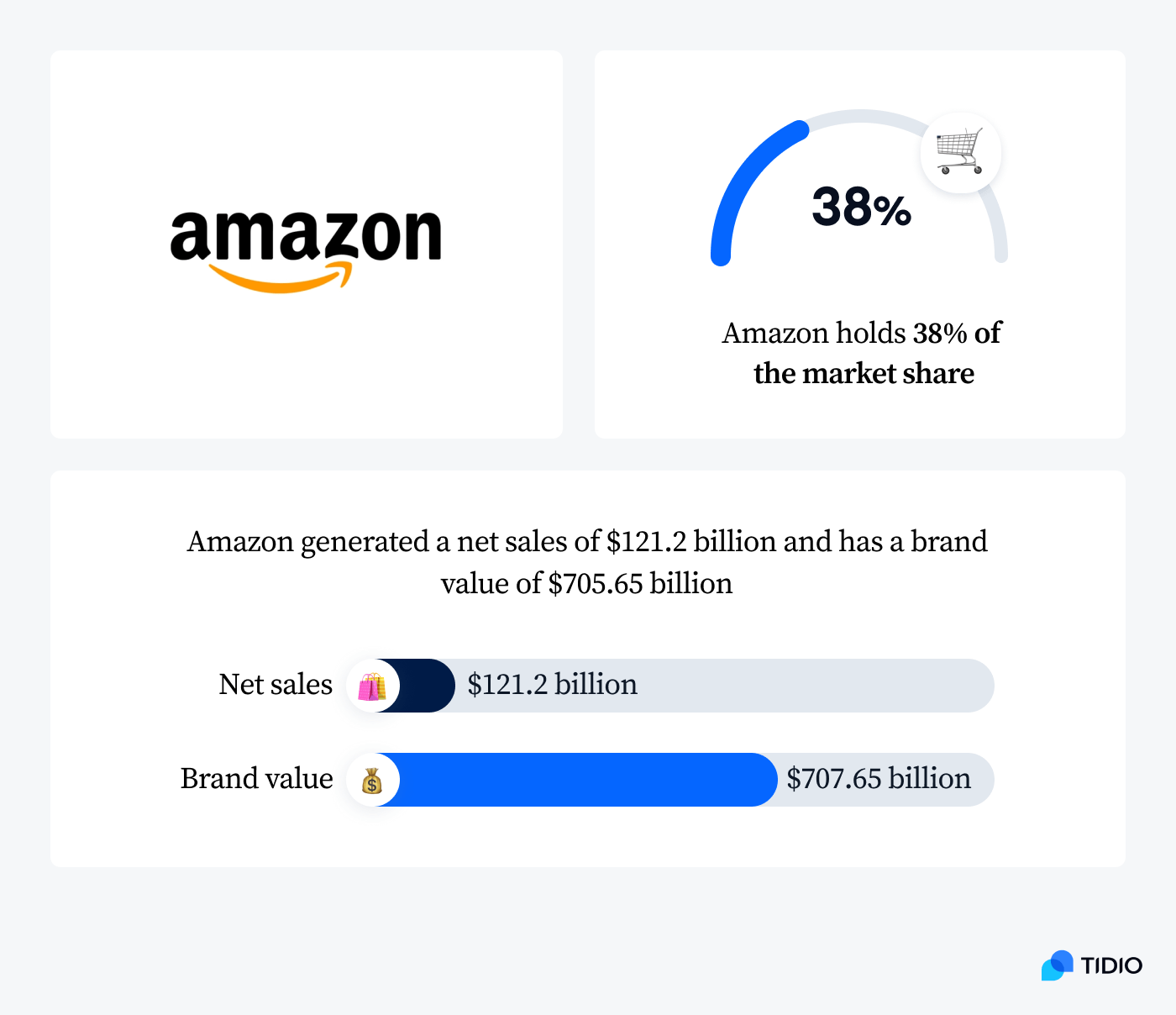 What percent of ecommerce is Amazon?
Well, Amazon is the ultimate leader of the ecommerce industry. With yearly revenue of $514 billion in 2022, it holds nearly 38% of ecommerce market share. Many people associate ecommerce with Amazon, which will probably long remain the industry leader.
The ecommerce giant has more than 300 million active online shoppers globally, and covers more than 100 countries and regions. In addition, it's the most visited ecommerce website in the US, with more than 2.4 billion monthly visits.
So far, small ecommerce businesses have managed to coexist with such a giant like Amazon. While it will continue to grow, it doesn't mean that people will stop buying from other ecommerce merchants—the demand for alternatives to huge marketplaces is still very high.
Read more: Find out more about digital commerce and ecommerce statistics by country in our online shopping statistics.
10. Almost one third (27%) of American small businesses don't have a website yet, but 86% of them want to build one in the coming years

Even though the ecommerce industry is showing incredible growth, not many SMBs are rushing to make full use of it. This is a big loss—with the ever-growing demand for online presence, these businesses risk losing potential customers to ecommerce competitors.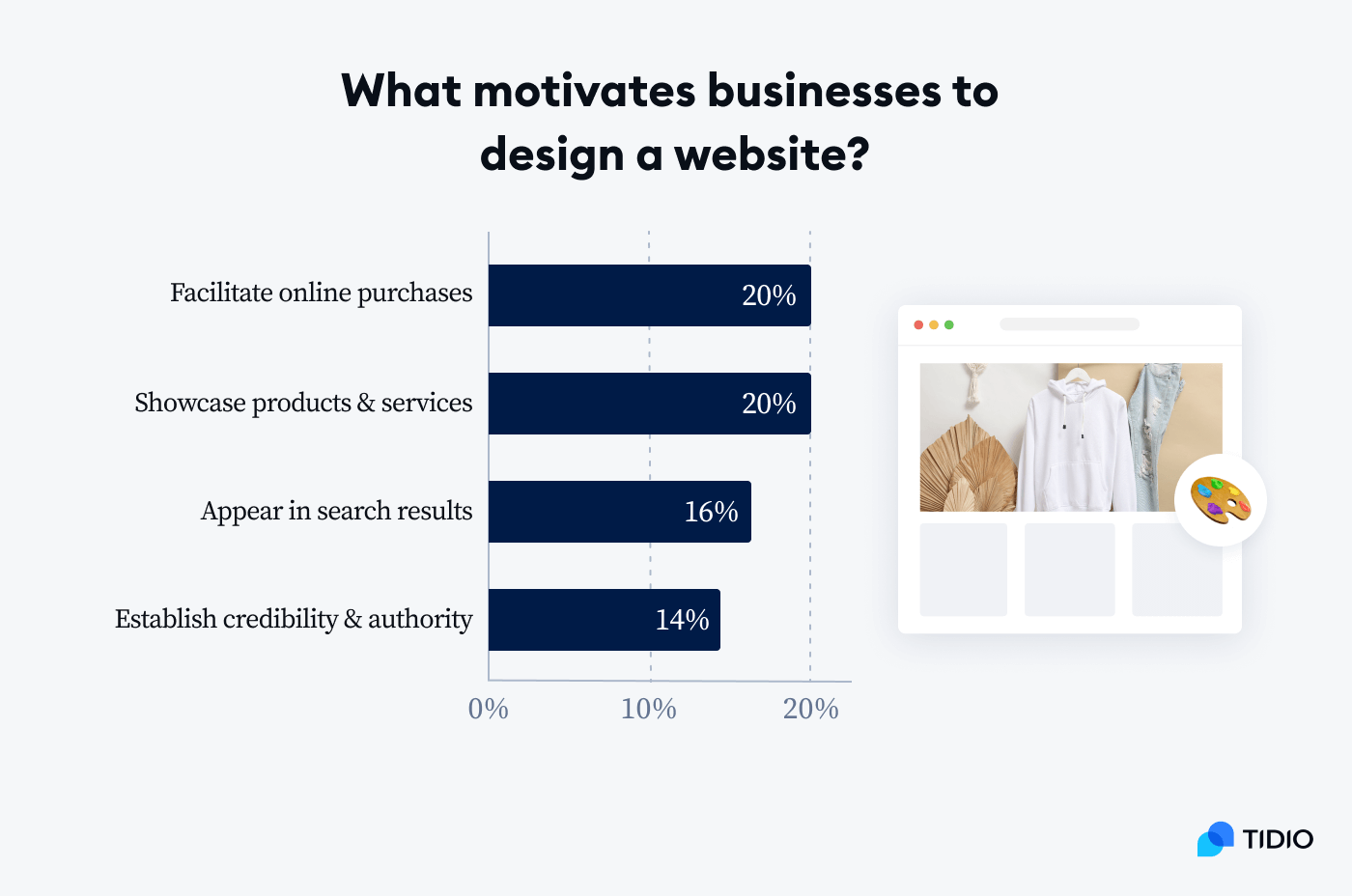 Even when people don't order products online, they still want to visit the business's website. In fact, even when shopping offline, as many as 28% of US consumers use their phones to browse discounts, compare prices, and read reviews online.
The good news is that 86% of businesses without online presence are planning to build a website in the near future. What motivates them the most is the facilitation of online purchases (20%), showcasing their products (20%), and appearing in search results (16%), as well as establishing credibility and authority (14%).
11. As many as 40% of users who have a negative experience on a company's mobile website will go to its competitor

Once again, this highlights the utmost importance of offering a stellar customer experience on both the desktop and mobile devices. When it comes to mobile shopping, digital buyers will quickly close your website and go to a competitor if they're unsatisfied with how your website's mobile version performs on their smartphones. Thus, prioritizing mcommerce is an essential step in making your ecommerce site a success.
The world of shopping is constantly changing, and even the relatively new ecommerce craze is undergoing transformations. Mobile and social media commerce (shopping on social networks) are rising in popularity at a very fast pace, and businesses have no choice but to keep adapting.
Read more: Want to learn more about online shopping on smartphones? Check our mobile commerce statistics to find out about all of the current trends.
Bonus: Ecommerce demographics—who shops online the most?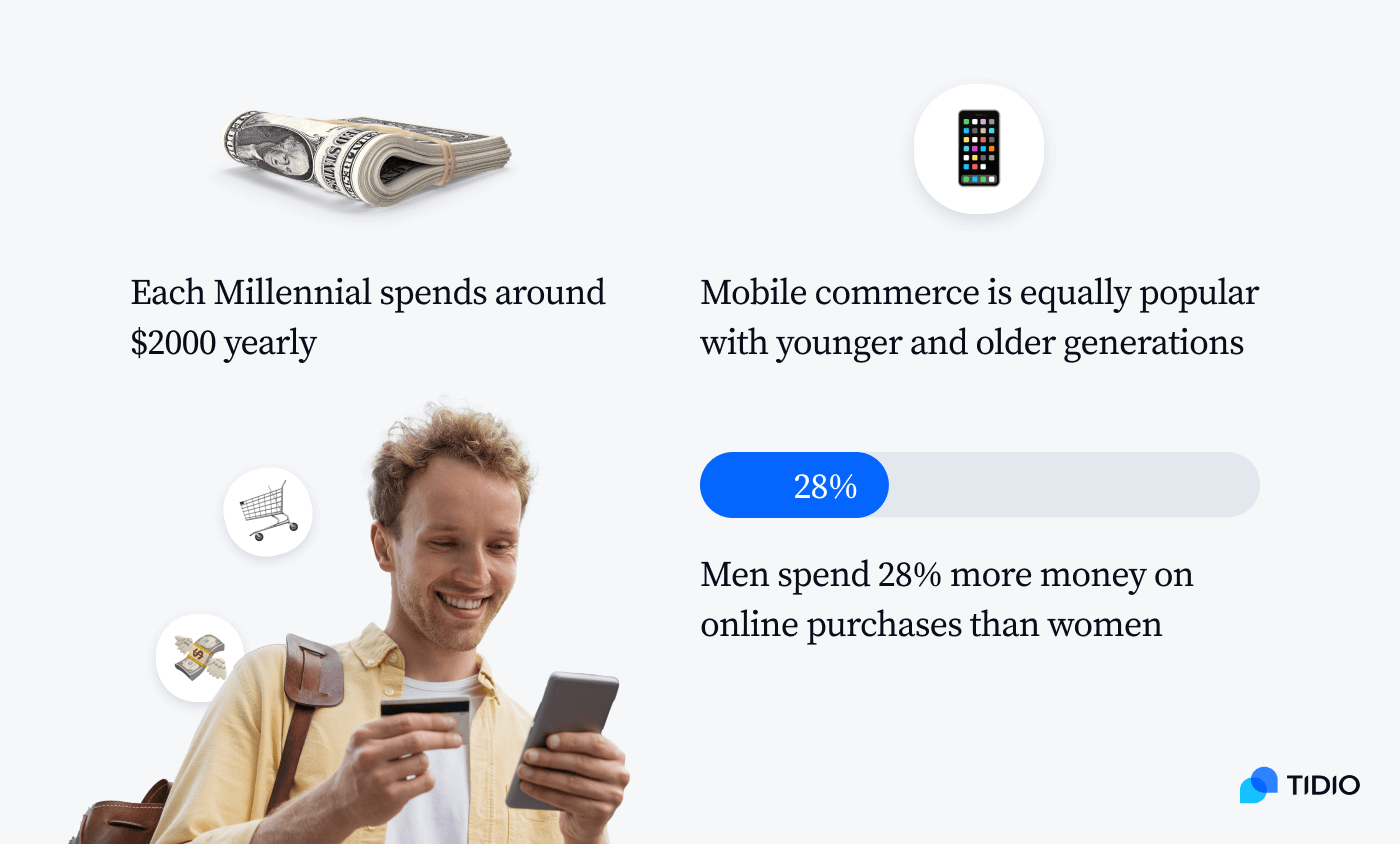 An average ecommerce shopper is a Millennial man between the ages of 27 and 40. He's most probably white, and uses mobile apps to shop.
When it comes to gender, contrary to the popular stereotype, men are much more active online shoppers than women. They spend 28% more money than women when shopping online. This might be connected to the fact that globally, females are still earning unequally smaller amounts of money.
Still, so many diverse people form the backbone of ecommerce. In fact, Generation Z, which is composed of people in the 18-25 age group, spend the majority of their income online. However, Generation Z has a lower purchasing power than older generations, particularly Gen X representatives. They're active shoppers both online and offline, spending about $1.930 online every year.
Surprisingly, Baby Boomers are also very active users of ecommerce, and they shop on mobile devices in particular. Every fourth mobile commerce customer is older than 55.
However, all in all, everyone shops online these days. Whoever your buyer persona might be, chances are, they use their laptop or mobile phone to browse online stores and order from them. It only proves one more time how powerful ecommerce is these days.
Ecommerce statistics: key takeaways
It's quite visible that ecommerce keeps shaking the world of business. It's growing fast, and shows no signs of slowing down in the near future.
Whether you're thinking of setting up an ecommerce store or already have one—you've made the right choice. It's a great business that is loved by millions of people all over the globe.
However, to succeed in ecommerce, you can never stop improving and adapting your website to the newest shifts and styles. It's also crucial to make data-driven decisions and stay updated on the trends.
In case you want more ecommerce statistics, feel free to check the original studies below.
Sources: