It feels like the term AI is a buzzword that is simply everywhere.
Just think about it—
Everyone has heard about this concept multiple times. Yes, probably even your grandma.
However, for many of us, it might be hard to visualize the precise impact AI has.
What does it mean for businesses? What's the current state of AI? How can we measure the impact artificial intelligence has on the world?
To answer these questions, we decided to search every nook and cranny of the Internet to prepare a compilation of all AI statistics you need to know.
In this article:
If you're interested in other AI-related content, check out these articles:
Now—
Let's jump right into the main AI stats for 2023.
Top AI statistics
Artificial intelligence, robots, machine learning… These are not the things of the future anymore. We are surrounded by everything AI, and while some might be suspicious of it, it does help humanity in incredible ways.
While being a hot topic for businesses and regular people, AI definitely still has to undergo a lot of improvement. It's a great idea to use data in order to better prepare for what's coming next.
We searched far and wide for AI stats, and here are our most eye-opening findings:
One third of organizations are applying AI across several business units
The global AI market will reach a size of half a trillion US dollars in 2023
About 28% of people fully trust AI, while 42% claim to generally accept it
A whopping 83% of companies consider using AI in their strategy to be a high priority
The number of businesses using artificial intelligence grew by 300% in 5 years
Almost 100 million people will work in the AI space by 2025
AI algorithms increase leads by as much as 50%
More than 80% of employees say AI improves their productivity
As many as 54% of companies are already using conversational AI
About 62% of consumers are willing to submit data to AI to improve their experience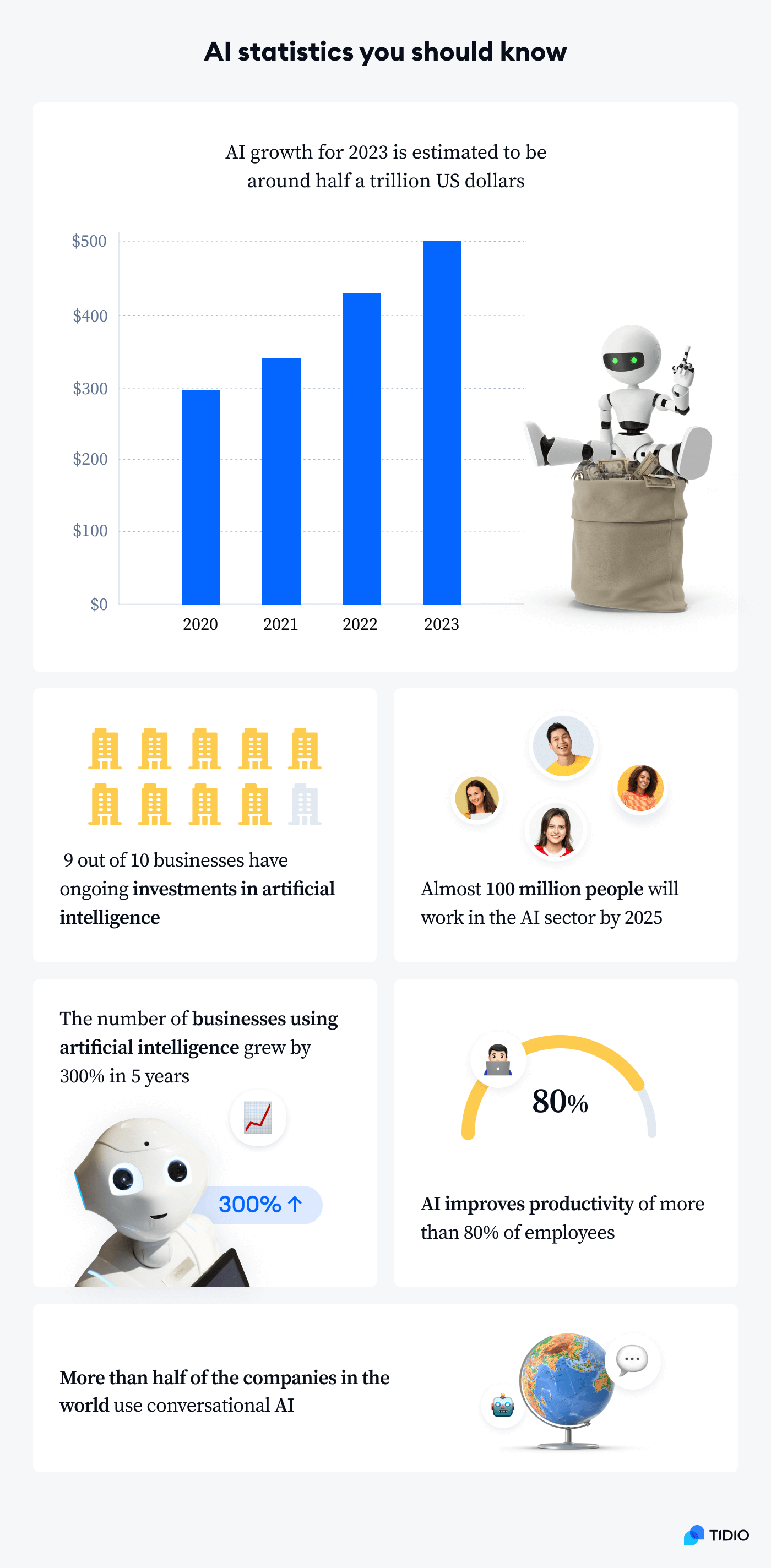 The statistics on artificial intelligence don't lie—it's truly winning over the world. Let's take a closer look at each of those stats in order to get a bigger picture of the AI impact on businesses and individuals.
1. One third of organizations are applying AI across several business units

Where is AI used?
Currently, AI is used across all spheres and fields. It's deeply embedded in tons of business processes. Essentially, many executives cannot imagine any business growth and organization development without artificial intelligence.
How embedded is AI in the world of work and business?
Well, according to Gartner, 80% of executives are sure that AI-powered automation can be applied to all business operations. It might sound scary. However, with efficient implementation and strategic use of artificial intelligence, AI becomes a great helper. From chatbots in the retail industry and ecommerce to AI detecting diseased crops in agriculture, the technology is changing the world at an incredibly fast pace.
The most impactful industries using AI include energy, healthcare, aerospace, supply chain, and construction. Those are critical sectors where the use of AI and big data can prove to be a game-changer.
2. The global AI market will reach a size of half a trillion US dollars in 2023
The artificial intelligence market value is growing exponentially. It's estimated that the global AI market will reach half a trillion dollars in 2023.
As more and more businesses are adopting AI solutions, it's not surprising that the market is growing so fast. One of the driving forces behind such growth rates is the immense adoption of cloud-based services, AI virtual assistants, and conversational AI.
The importance of exceptional customer service is also ever-growing. According to research, customer service is an important factor when choosing a brand loyalty for 96% of customers. Hence, an increasing popularity of AI solutions for customer interactions.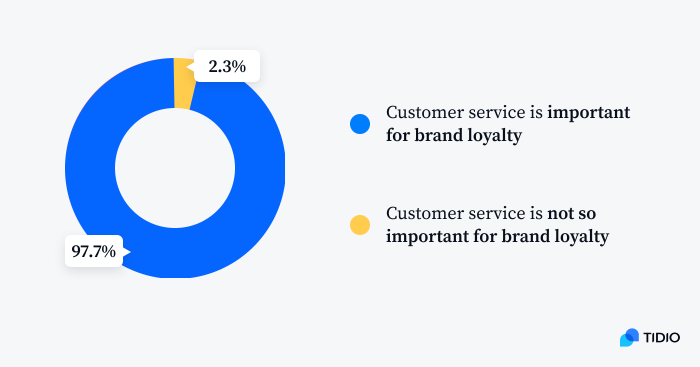 It doesn't look like the growth of AI market share will stop in the future. It continually opens new opportunities to create value and offer new solutions to numerous pain points.
3. About 28% of people fully trust AI, while 42% claim to generally accept it

For many people, AI still seems to be something from a science-fiction movie. However, there is a trend towards more acceptance and trust in artificial intelligence, across all countries. Currently, around a third of people state that they have trust in AI, less than a half accept AI, and only around 10% reject it.
Looking at younger generations and their attitude towards AI, we can expect these numbers to change in the upcoming years. For example, 27% of Millennials in the US think that the positives of AI outweigh the negatives, in contrast to only 10% of Baby Boomers.
Read more: Want to discover the latest AI trends? Check out our latest research on AI fears, trends, and trust levels.
4. As many as 83% of companies consider using AI in their strategy to be a high priority
Today, more and more businesses are realizing that without AI, there is little chance to grow. The truth is: the world is moving extremely fast. And in order to keep up with it, businesses employ automation of different sorts. With a vast availability of AI-powered tools like voice assistants (e.g., Amazon's Alexa, Google Assistant, or Siri), chatbot platforms, email automation services, visual AI, and more, companies have a possibility to find tools that work perfectly for them.
No doubt, the adoption of AI systems will continue to grow in numbers. Already now, 9 out of 10 businesses have ongoing investments in artificial intelligence, and they will only be increasing their investments as the time passes. It's probably the best moment to join them.
5. The number of businesses using artificial intelligence grew by 300% in 5 years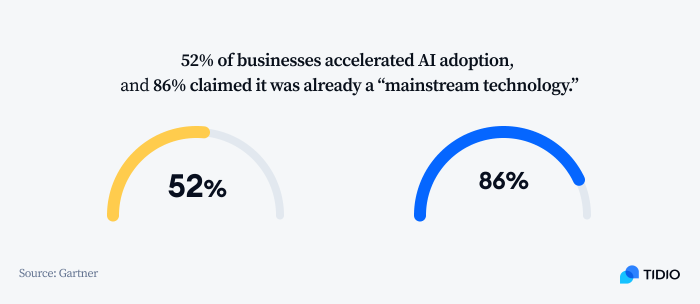 The growth of AI has been immense in the last few years, especially following the onset of COVID-19 pandemic. In fact, when the world went into lockdown, 52% of businesses accelerated AI adoption, and 86% claimed it was already a "mainstream technology."
Today, companies view AI not just as an experiment, but as something with a significant impact on their decision-making process, strategy, revenue, and growth. AI adoption brings tangible benefits that businesses cannot afford to miss, whether it's the everyday artificial intelligence software or highly advanced AI systems.
6. Almost 100 million people will work in the AI field by 2025
Recent AI developments speak for themselves.
The Metaverse, machine learning growth, natural language processing, deep learning, and other technologies are sure to provide more and more workspaces soon. Shortly, the demand will be so high that around 100 million people will fill new jobs in AI sectors.
Does it sound scary? In fact, there is nothing to be afraid of. In the most likely scenario, humans will work both in real-life spaces and AI-powered ones. All in good company of robots helping them, contributing to the global economy on another level.
7. AI algorithms increase leads by as much as 50%
The truth is—you cannot be wrong using AI for marketing and sales. It helps businesses generate more leads, reduce customer call times, and bring down the costs. AI capabilities are extremely broad today.
The good news is that you do not have to use the smartest AI in the world or the most expensive solutions of the market. The selection of tools today is so abundant that you can be sure to find something for your needs and your budget. In fact, in 2022, only 25% of companies reported experiencing the lack of AI tools or platforms to use for their business needs. Keep in mind that every investment in artificial intelligence will be worth it in the long run.
Read more: Interested in real-life AI success stories? Read a case study on how virtual assistants helped bring down cart abandonment rate by 25%.
8. More than 80% of employees say AI improves their productivity
While some are scared of the AI, others use it to their advantage in order to do their work more efficiently.
Basically, as it is the case with AI for customer service, HR, financial services, or marketing, AI can take over boring and repetitive tasks, allowing humans to focus on more important and challenging issues. This can affect our productivity in a positive way.

9. More than half (54%) companies on the market are already using conversational AI

Conversational AI is one of the most popular technological investments for businesses. This is not surprising, since exceptional customer service is what makes businesses grow these days. And companies using artificial intelligence are realizing this more and more. In fact, more than half of the businesses are already utilizing some form of conversational AI in their work, and this number will only continue to grow.
AI-powered chatbots can become game-changers for any business. They provide stellar customer support 24/7, in any language, from anywhere in the world. As a result, your human support agents can take care of complicated requests and highly important cases while chatbots greet your visitors, offer them discounts, save abandoned carts, and gather feedback.
Moreover, according to our study on chatbots, 69% of customers are fully satisfied with their interactions with a chatbot. As the current AI technology keeps improving, these numbers will also continue to grow.
Read more: Learn everything you want to know and more about Tidio chatbots and how they can take your business to another level.
10. As many as 62% of consumers are willing to submit data to AI to improve their experience

On top of businesses having more trust in AI, modern-day consumers are much less suspicious of new technologies. Also, most of them are ready to share their data with AI for the sake of a better and more personalized user experience.
At the same time, it adds more responsibility for businesses. They will have to be transparent and openly communicate how they are using this data if they want to keep the same level of trust from their customers. Transparency, technology, and constant improvement will definitely improve customer loyalty and help businesses scale much faster.
Read more: Want to know more about building trust with your customers? Check out this guide on how to make a website trustworthy.
Still not fully convinced AI is a good idea?
Here are some extra stats that might change your mind.
Artificial intelligence stats: bonus points
As mentioned before, AI is leaving its footprint in every sector, field, and department. Here are some more examples of the impact of AI in customer service, marketing, and HR.
AI in customer service statistics:
As many as 57% of businesses use AI with the purpose of improving their customer service
A whopping 73% of global consumers say they are open to businesses using AI if it makes communication more efficient
About 43% of Millennials would pay money for a premium hybrid human-bot customer service channel
AI in marketing statistics:
Top-performing companies are more than twice as likely as others to use AI for marketing (28% vs. 12%)
Around 31% of marketers say AI is most helpful in understanding the customer
Marketer's AI use soared between 2018 and 2020, jumping from 29% to 84%
AI in HR statistics:
As many as 66% of CEOs are convinced that AI can bring incredible value in recruitment
Nearly half of all companies globally are already using some form of AI in their HR operations
A whopping 80% of HR employees see that AI technologies in HR improve employees' attitudes towards the company
Read more: Want to discover more interesting facts about artificial intelligence and HR? Read our study on AI in recruitment and the future of HR.
Artificial intelligence statistics: Main takeaways
As you can see—AI is changing everything. In the coming years, we have to observe the processes and adapt to go with the flow of using AI technologies.
AI aids businesses in all possible ways. It improves speed and accuracy of all business processes, enhances customer experience, helps marketers get to know their customers, and allows businesses to scale more efficiently.
While the world of technology and business is moving extremely fast, one thing is certain at this point—artificial intelligence is here to stay. The future of AI is bright, so it's a great time to make good use of it.
Sources: