All customers want to be served quickly, efficiently, and, if possible, with a personal touch.
Impossible?
Not with live chat scripts.
They're handy, customizable message templates you can use and adapt for any situation in a matter of seconds.
They're a game-changer for any support agent and a delight for all customers.
So, check out the best templates to make the most out of your customer service efforts.
In this article, you'll find live chat scripts for the following situations:
If you're looking for other articles on live chat, check out these:
First off, let's answer the biggest question—
What are live chat scripts?
Live chat scripts are pre-written conversation starters. These are messages agents can send via live chat in most common customer service situations. As such, they can help agents quickly respond to clients and ensure a consistent customer experience in all interactions.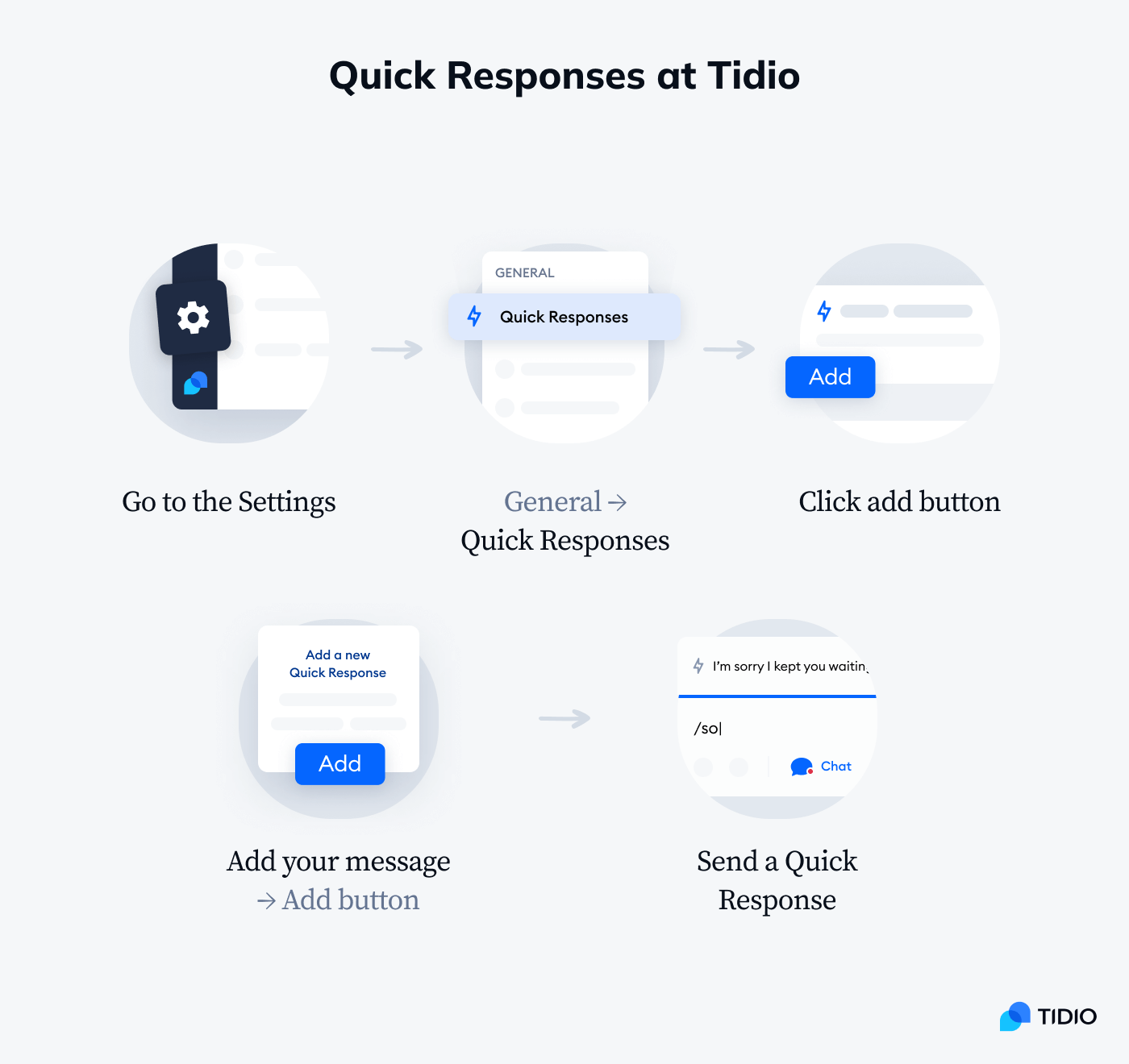 A live chatting script can help customer support teams improve productivity and tackle burnout among agents. That's because they don't have to write down the same opening lines manually over and over again. Chat prompts also help representatives remain professional and de-escalate conflicts while dealing with all types of customers, even the difficult ones.
Having ready-to-use chatting templates equips beginner agents with solutions to different customers' issues. In addition, chat scripts help to avoid bad customer service reviews on social media and strengthen the brand's voice.
If delivering the best customer service is your number one priority, you should definitely use chat scripts. In fact, 73% of consumers say that valuing their time is the most important thing companies can do for them.
That's in theory. Let's move on to the practical part—
Customer service chat scripts for copy-pasting.
Remember though—even if the chat templates are meant to be universal, you'll have to customize them to your brand.
Look out for information in square brackets, you'll have to edit it.
Scripts for greeting visitors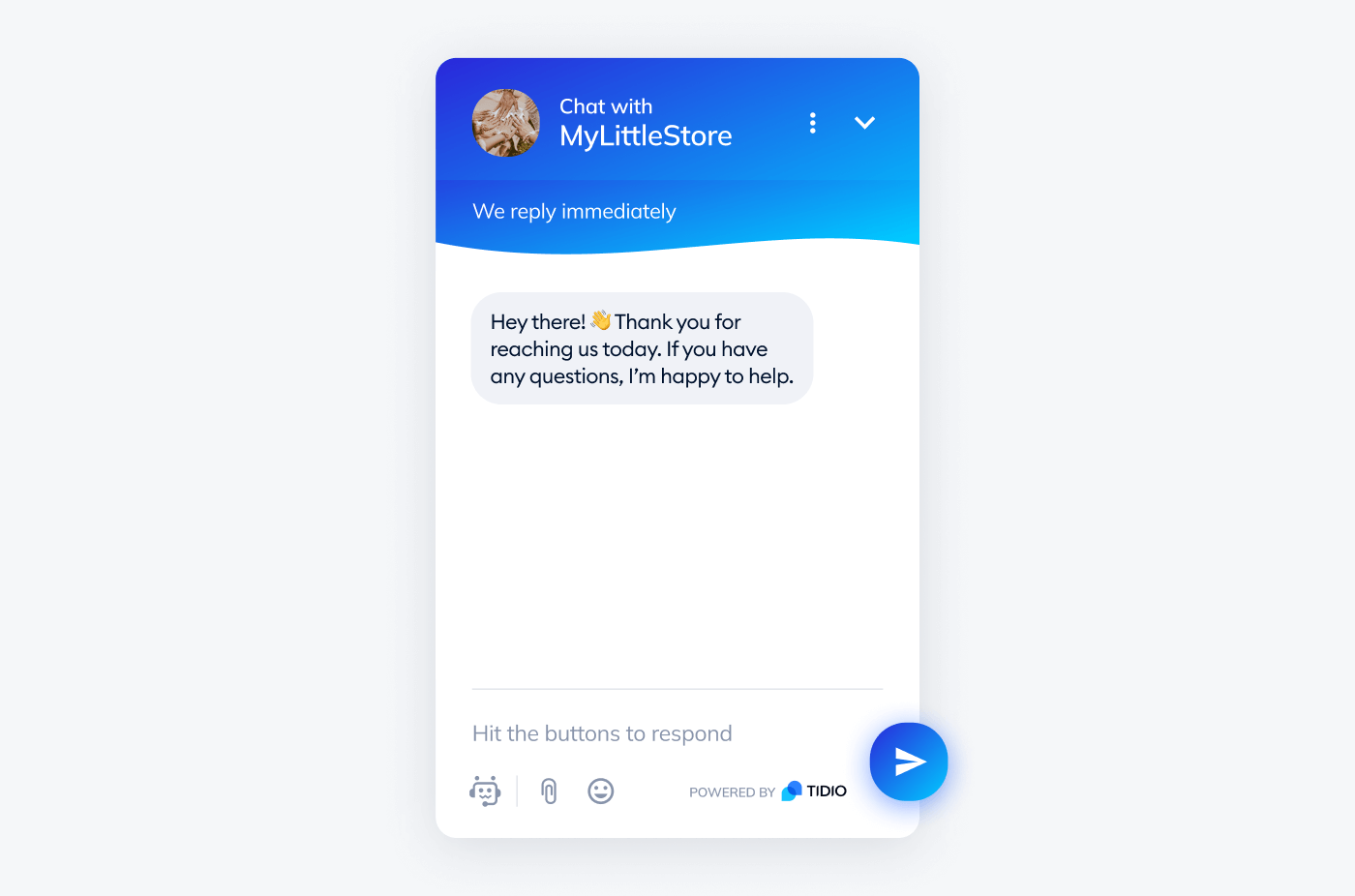 Making a great first impression should be your priority when chatting with website visitors. Also, you should make sure that you recognize the returning customers and always have a relevant answer ready.
Chatting scripts for general greetings
Hi there [customer name]! I'm [your name] from [your department name]. I'm here to help if you need anything.
Hello! Welcome to [your company website]. Just drop me a line if you have any questions about [your product/service].
Hi! Thank you for reaching us today. If you have any questions about [company name] and our [products/services], I'm happy to help.

Live chat scripts for repeat visitors
Hi [customer name]! Great to see you again. How can I assist you today?
Welcome back at [name of your website/your business name]! Let me know if you want to add anything.
Hi! Long time no see. Feel free to let me know if you need assistance today.
Chat scripts for picking up where you left off
Welcome back, [customer name]! Did you want to pick up where you left off last time?
Hello again! I just wanted to follow up and check if you experienced any problems with [your previous issue]?
Hi there! Did you face any problems with the [earlier issue] again? I'm here to help.
Read more: Find out more about different types of welcome messages and how they can benefit your business.
Sending proactive messages
Proactive customer service is part of a customer-oriented approach. It focuses on identifying pain points to resolve issues faster. Not surprisingly, as many as 87% of US consumers want companies to be proactive in customer service.
Scripts to send when a customer is on a pricing page
Hello, I noticed you're here for a while. Would you like me to go through our pricing plans?
Hi there! Do you want to learn more info about our pricing?
Live chat scripts for shoppers on a home page
Hi! Are you looking for something specific or just browsing? Let me know if I can help you with anything.
Scripts for a checkout page
Hi, I noticed you struggle to finalize your purchase. Can I explain our current offer?
Scripts for product or category pages
Hi there, if you need assistance choosing [category/range of products], I'm here to help.
Hi! Just to let you know—if you have trouble finding something you need, I'm here to help.
Read more: Find out all about the benefits of proactive customer service to your business. Also, learn how you can use proactive live chat to increase customer satisfaction.
Sending promotional information and discounts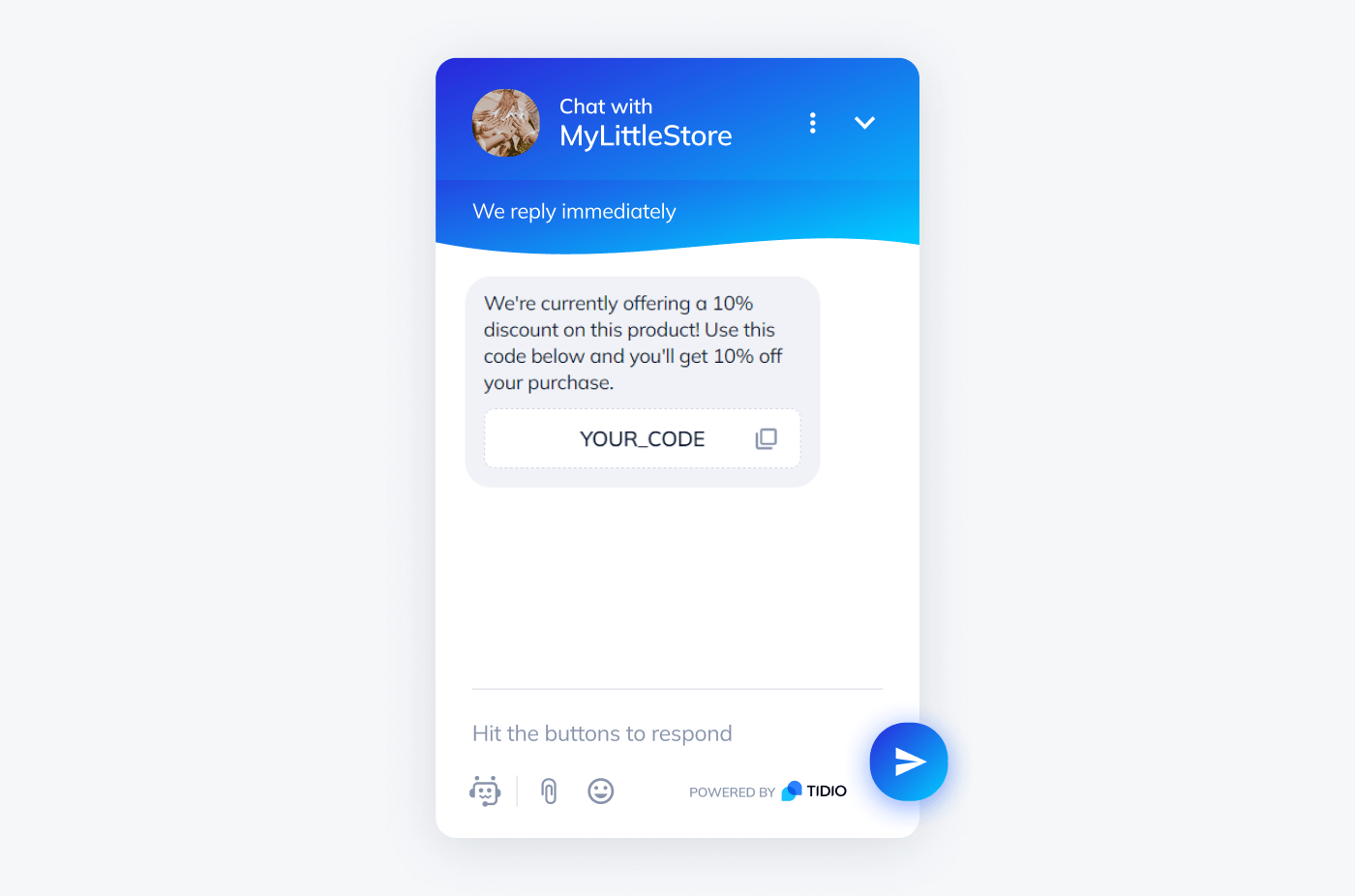 Live chat software is great when you want to increase customer engagement and slash the cart abandonment rate. And in the long run, to increase your bottom line. The trick is to use it strategically.
Scripts for promoting a product
Hi! It looks like you've unlocked [an offer eg. 10% off]! Get it with the [promo code] on this purchase.
Hi! I just wanted to let you know [product name or service] has a discounted price. If you'd like to take advantage of it, follow this link [insert a link].
Hey, just to let you know—we have a sale coming on [date]. Save the date and shop all your favorites.
Promo scripts to use on a checkout page
Hi! Your order is almost complete! Here's a discount code to go with your purchase.
Pssst! Feel free to use this [eg. 10%] discount code during checkout.
Read more: Check out how adding Tidio to their online platform helped Ad Hoc atelier boost conversions.
Cross-selling and upselling scripts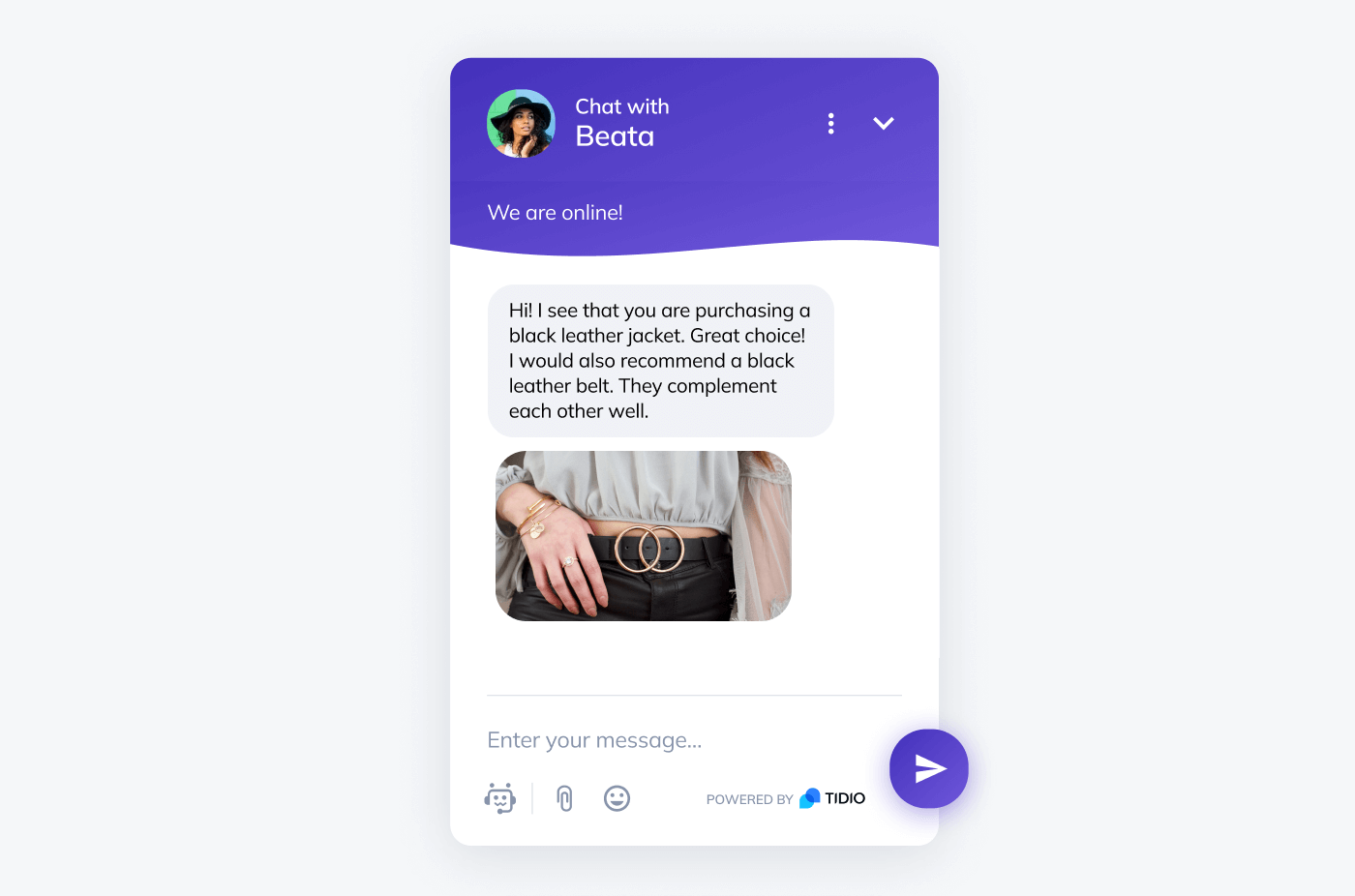 Upselling and cross-selling your products are some of the techniques used in inbound marketing. It's not only about increasing sales, but also about strengthening relationships with customers.
Chatting with customers in real-time is a natural opportunity for both, provided you're not too pushy and can take no for an answer!
Here are a few cross-selling scripts you can use:
Hey there, I noticed you are about to buy [product]. Maybe [product name] could be of interest to you, too? Our customers frequently order both items together.
Hi! I see that you are purchasing [product]. Great choice! I would also recommend [product name]. They complement each other well.
Hi! Since you're ordering [product name], why don't you take a look at [another product]? They go so well together.
Thanking the customer for waiting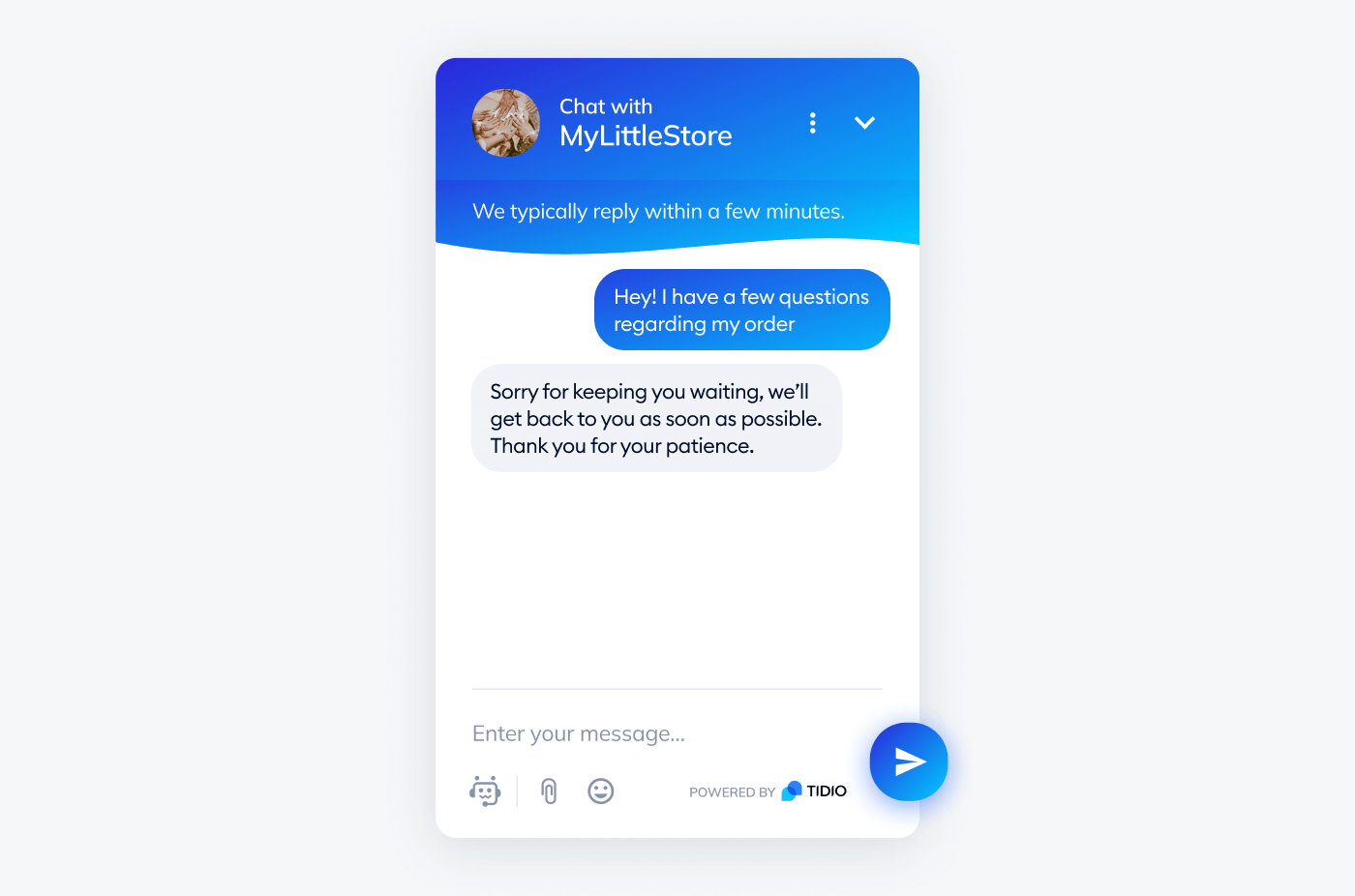 The average wait time for live chat support requests is 2 minutes and 40 seconds. In case it takes you longer to respond, it's best to have a few live chat scripts in your arsenal. That way, you'll indicate that you value your customers' time.
Scripts to thank users for their patience
I'm sorry I kept you waiting. Thank you for your patience. How can I assist you today?
Thank you for waiting. I really appreciate your patience. We're unusually busy at this time of [year/day]. How may I help you?
Thanks for waiting, and apologies for the wait time. I'm now available to assist you.
Scripts for customers with urgent queries
We're sorry for keeping you on hold. We understand that your request is urgent, so we'll do our best to assist you as soon as one of our agents is available.
We apologize that you had to wait and thank you for your patience. One of our agents will be on the case straight away.
Putting customers on hold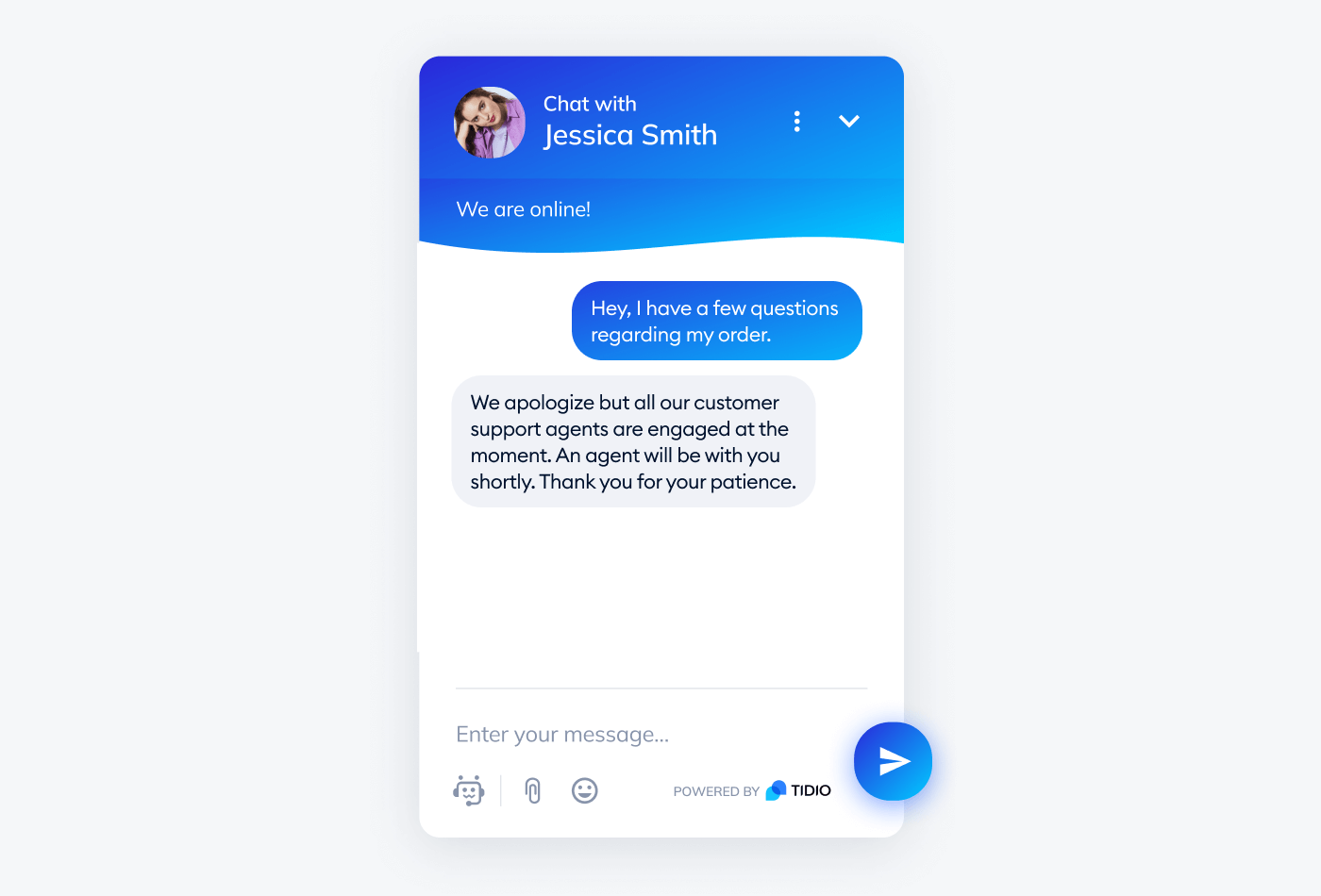 Similarly, you should let customers know if you're currently unavailable to support them. It reduces their anxiety and sets the right expectations.
On-hold message scripts
We are sorry, but all our agents are busy helping other customers right now. Please hold for a few minutes and our next available agent will be in touch with you shortly.
We apologize, but all our customer support agents are engaged at the moment. An agent will be with you shortly. Thank you for your patience.

Asking customers for more time
I'm going to have to double-check this with my supervisor. Can you please wait a moment while I do so?
May I please take a moment to find out?
Let me check this for you. It will take a minute or two. Please hold on.
Chat scripts for apologizing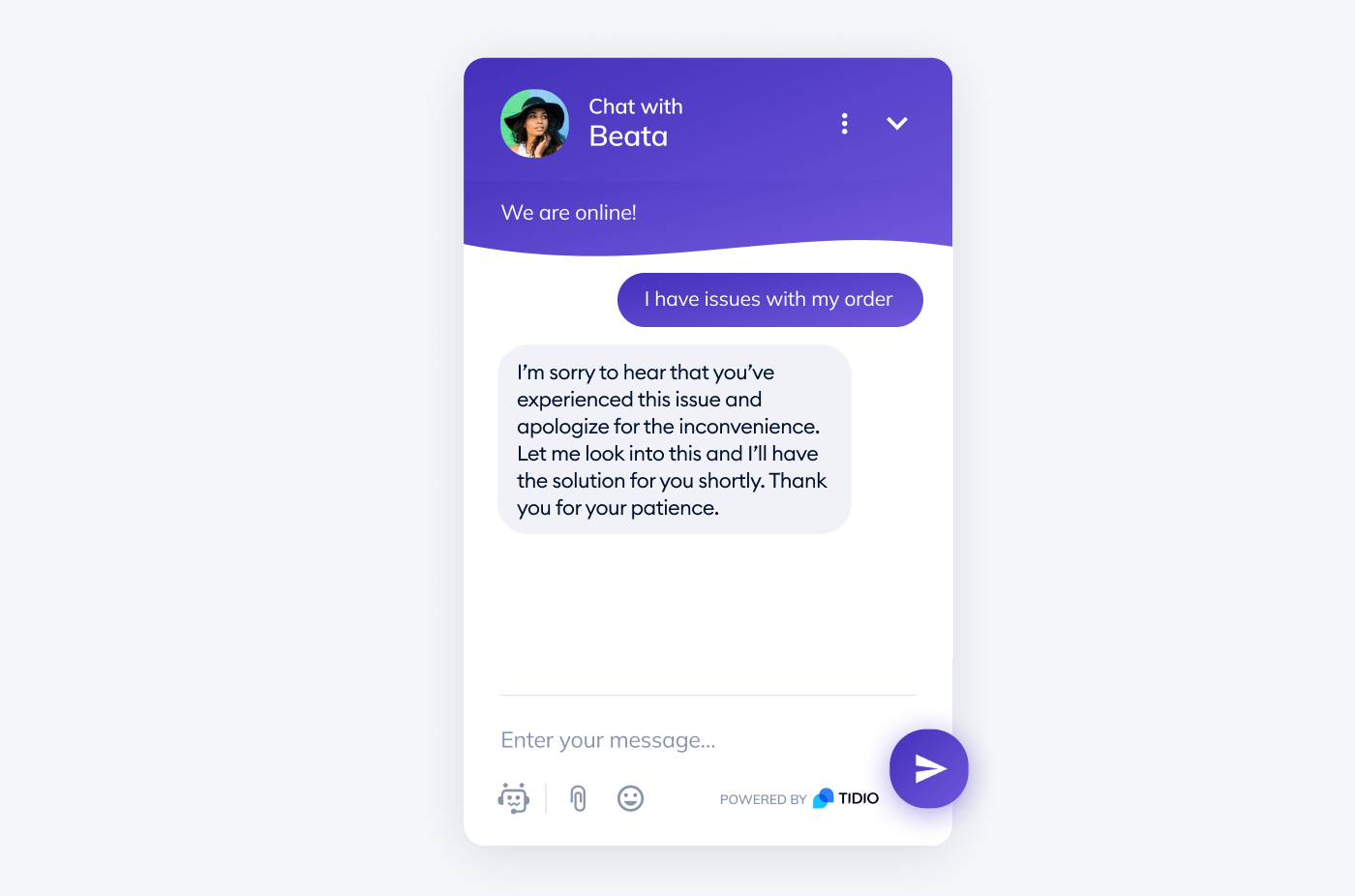 Only 1 out of 26 unhappy clients actually make complaints—the rest of them just turn to the competitor. So when customers complain, it's actually a good sign. That's because if you manage to apologize in a timely manner, you can save the relationship you have with them.
Web chat apology scripts for an error
[Customer name], I apologize for the error on our end. I'm going to look into this for you right away. Thank you for your patience.
Thank you for letting us know about the issue, [Customer name]. I am very sorry it's happened to you. Please, give me a minute to make things right for you.
We've had some technical issues. It's our bad, and we're extremely sorry this affected you. Our technical team is on the case and should resolve the problem within [time frame].
I'm sorry to hear that you've experienced this issue and apologize for the inconvenience it's caused. Let me look into this and I'll have the solution for you shortly. Thank you for your patience.
Read more: Discover how to effectively apologize to your customers and learn how to write an apology letter.
Apology script for not meeting a customer request
Thanks for sharing your ideas. Unfortunately, your request is beyond the scope of what we can do. Is there anything else I can help you with?
I wish I could help you out here, but we are unable to fulfill your request at the moment. If we decide to roll out [the requested feature], I'll personally let you know.
I'm sorry our product doesn't have [the feature] that meets your needs right now. In my experience, [the requested feature] may not be feasible because of [e.g., complications down the road, a security breach, etc.].
I'm afraid we can't implement your idea at the moment. But I assure you our product team is working on an exciting [new feature] now. [Describe how it may benefit the user].
Read more: If you need more practice in dealing with customers in real-time, check out the most common customer service scenarios for role plays.
Scripts for transferring chat conversation
No one should expect you to know everything all the time. When you're in a pickle, you may have to transfer the chat to another agent in the right department. In that case, you can use the ready-made transfer chat scripts below.
Scripts for transferring the chat to another colleague
Is this OK if I transfer you to my colleague [name of the colleague] who specializes in [the area of expertise]? He/she/they will be able to quickly help you with your query/request.
My colleague [agent's name] is the one who will be able to best handle your issue. Do you mind if I transfer the chat to him/her/them?
Transferring chat to a colleague who has dealt with the issue before
I'd like to transfer you to my colleague [name of the colleague] from [name of the department] who has your file on hand. Don't worry, you won't have to repeat the issue to them.
I see. It sounds like an issue my colleague has dealt with before. May I transfer you to him/her/them?
Read more: Learn how to easily reassign the chat to another operator using Tidio.
Responding to the demo request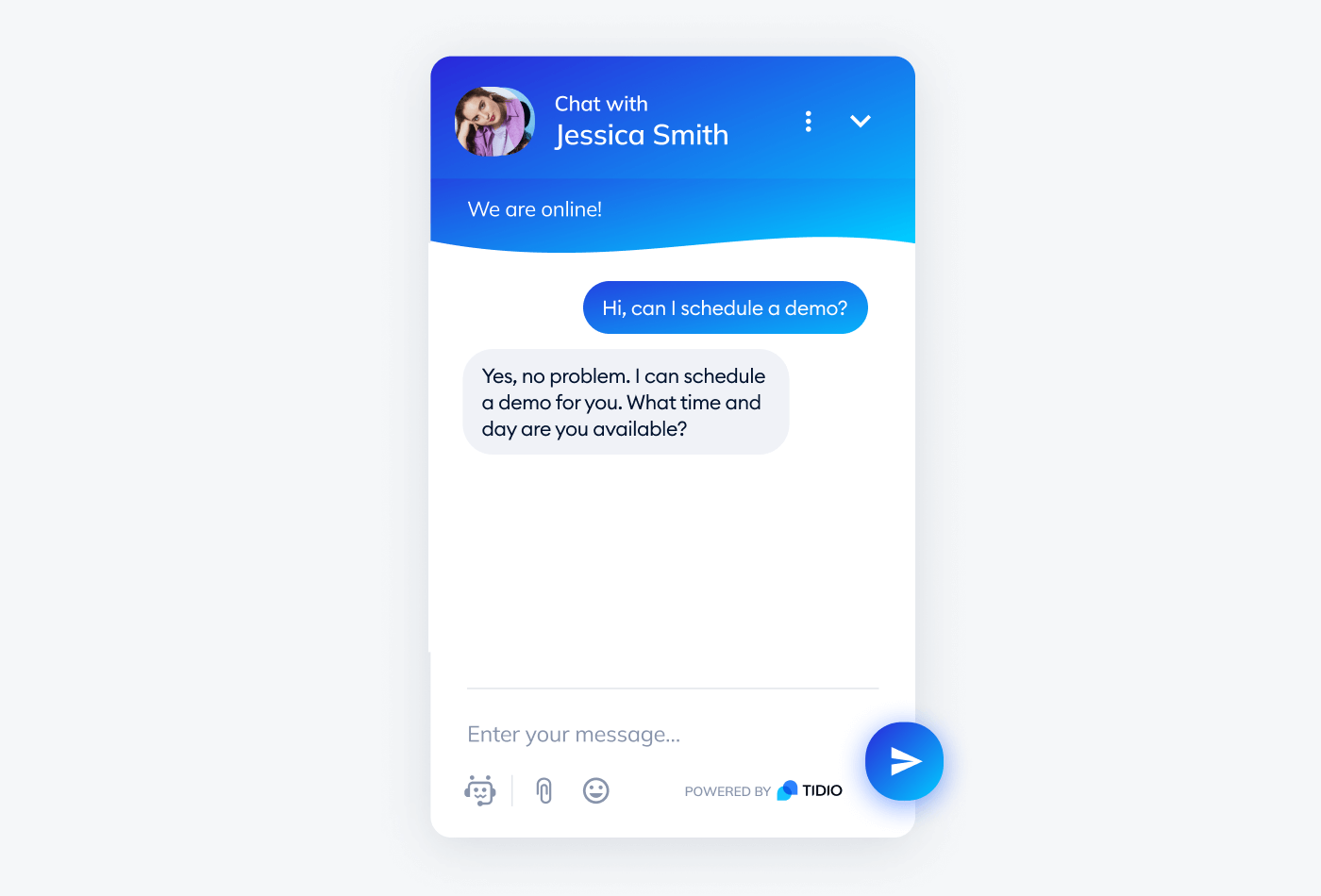 When you reply to a customer who requests a demo of your product, make sure that you showcase your best customer service skills. It's easier when you have ready-to-use chatting scripts at hand.
Asking about the best time to schedule the demo
Yes, no problem. I can schedule a demo for you. What time and day are you available?
Can we schedule a quick call to discuss your requirements and how our product can help solve your needs best?
Hi [client's name]! I can see that you requested a demo for [product] on [date]. What is your availability on [date]?
Asking to schedule a call
Can we schedule a quick call to discuss your requirements and how our product can help solve your needs best?
Would you like us to schedule a call to figure out what works best for you?
Dealing with an angry customer
Not every customer is a delight. But luckily, this is exactly where customer service scripts templates can come in handy. They can aid support chat agents in maintaining customer communication on a professional level. Here are some examples that will surely help you tame the Kraken!
Letting the customer know you understand their feelings
I hear you. I'm terribly sorry for the frustration and inconvenience this has caused. I'll be sharing your feedback with [name of the department e.g., finance team, warehouse].
I understand why you feel upset. I appreciate you bringing this to our attention. So, you have problems with [product] and now you can't [repeat what the customer said], is that correct?
Asking an upset customer to describe their issue better
I know it's frustrating when you receive a faulty product. Could you describe exactly what's wrong?
I understand why you're upset. Can you please tell me a little bit more about the problem?
Read more: Learn all about how to deal with angry customers in five easy steps.
Chatting scripts for out-of-stock items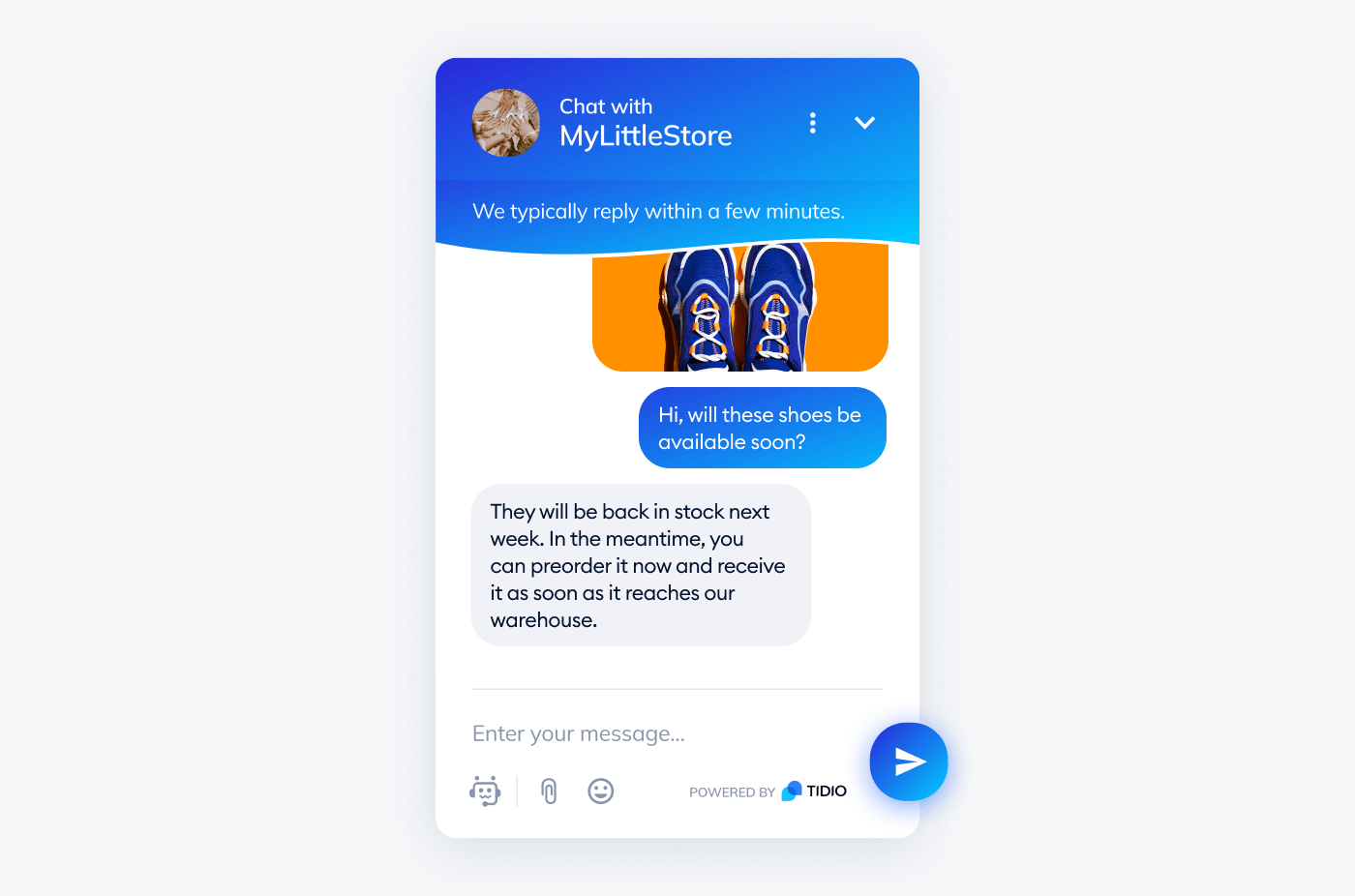 When a product is unavailable, you don't have to go into detail to explain why. So, once a customer asks about it, use positive language. Here are a couple of examples of what you can use in a conversation with clients.
Scripts for stating that the item will be back in stock soon
It will be back in stock [enter when]. In the meantime, you can preorder it now and receive it as soon as it reaches our warehouse.
The item will be delivered any time soon. I can send you an email when it reaches our warehouse. What is your email address?
Scripts to indicate the item is discontinued
Unfortunately, we discontinued this product some time ago. But I know why you like it. Here's a link to a similar item that many of our customers recommend instead [insert a link].
We appreciate your interest in [item in question], but unfortunately, it has been discontinued. Would you be interested in checking out a similar item instead?
Suggesting an alternative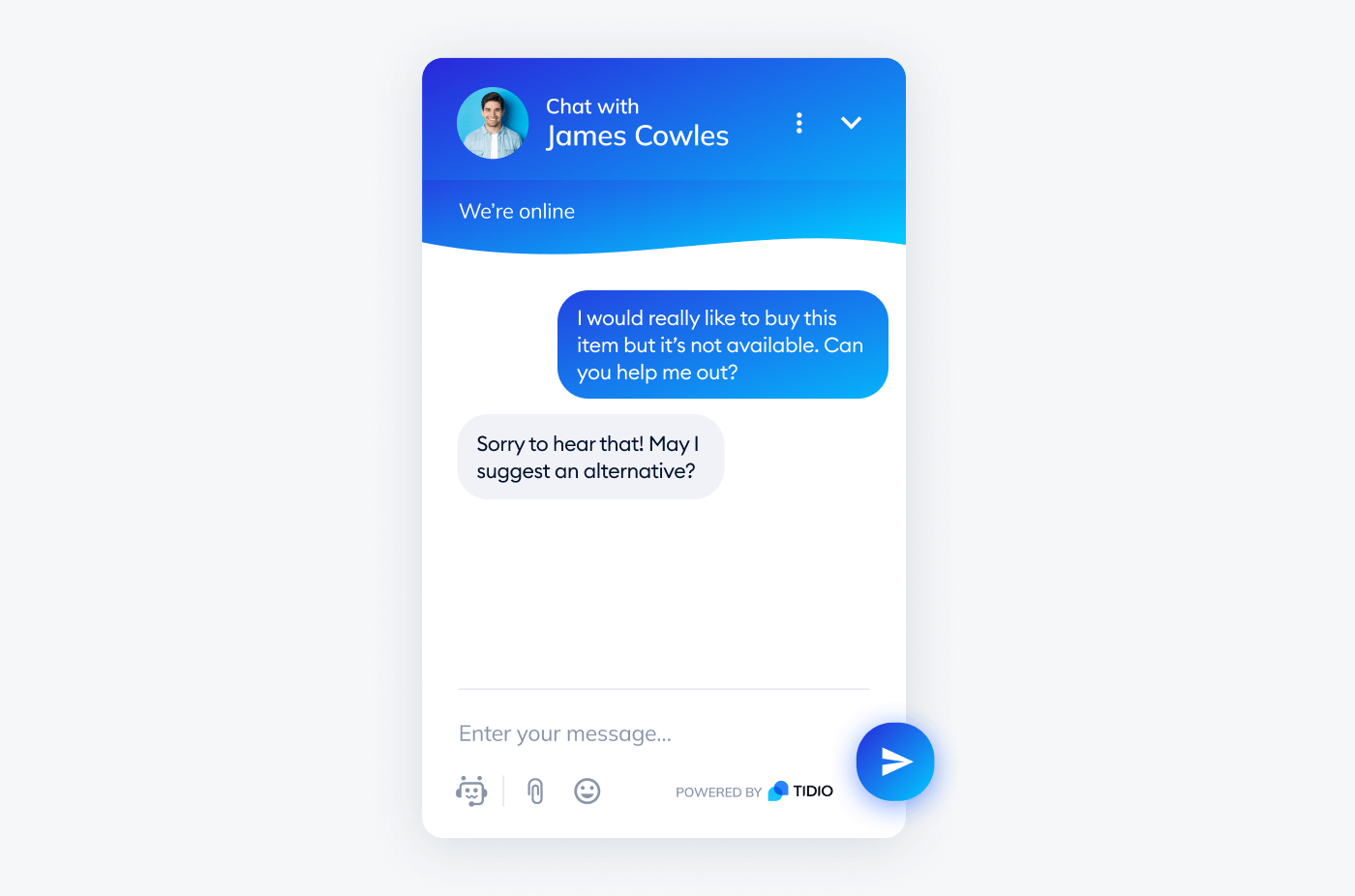 When you work in customer service, the number one rule is to avoid saying no to a customer. How? Providing alternative solutions is just one way of staying on the safe side.
Sorry to hear that! May I suggest an alternative?
I get it. I would be disappointed, too. Let me share an alternative solution with you. [Describe the solution]
I'm sorry for the inconvenience. Do you think [insert an alternative] would work for you?
I know what you mean! Here's [an alternative] that should fit your bill. Let me know your thoughts.
Asking for additional information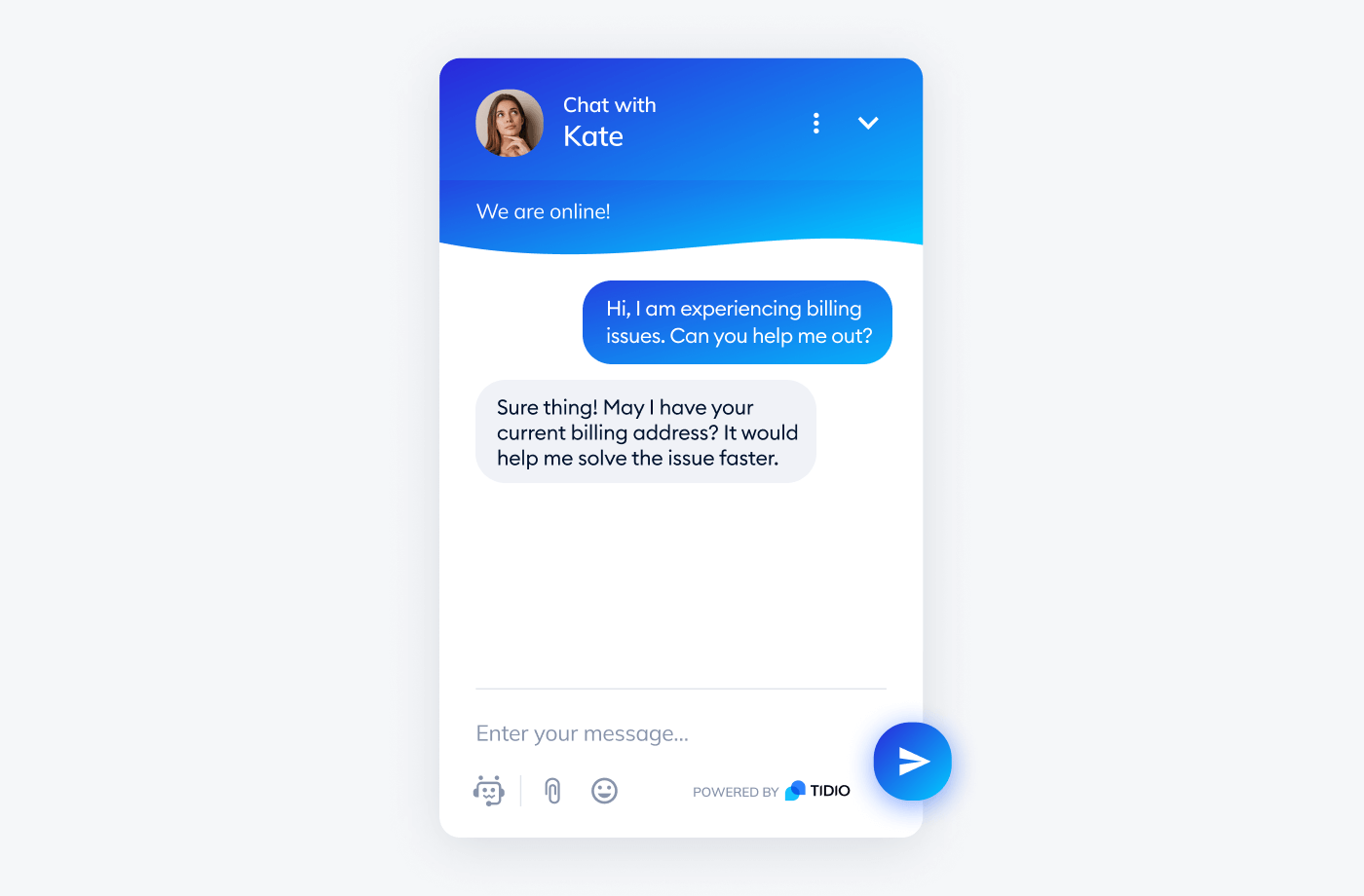 Here's Martin Iwaszko's, our Product Trainer, advice on asking customers for extra information:
In my experience, asking probing questions is the most effective questioning technique. Probing questions are usually open-ended to encourage customers to check their answers before replying to agents' questions. For example, if I ask a customer: Did you use email@domain.com to register?, the answer usually is: Yes. Instead, it's better to ask: What email did you use to register?
Our pre-arranged chat scripts take this tip into account.
Pre-written replies for general information
I need some extra information to proceed to ensure I'm talking with the right person. Could you please share [the required information]?
Would you mind sharing the exact email address you used during the process?
Pre-written replies for personal information
Can you confirm the account number listed on your last generated bill?
Can you confirm your date of birth before we continue? The additional information will help me find your account.
Scripts for billing information
Could you please confirm your credit card number for me? It will help me identify the issue.
May I have your current billing address? It would help me solve the issue faster.
Replies for address/phone number information
Can I ask you to verify your current residence address?
May I ask you to provide the zip code of the current address?
Can you provide your phone number?
Ending the chat conversation scripts

Wrapping up a chat session is as important as its beginning. The key here is to make sure that the customer is happy with the care you provided before you disconnect. In fact, as many as 58% of consumers said being happy is essential for staying loyal to the business.
Scripts for unresponsive customers
I've noticed you're away for quite some time, so I'm closing our chat session now. But my colleagues and I are here should you have any further questions. Have a great day!
Hey [customer's name]! I haven't heard from you for a while. Don't hesitate to drop me a line if you need my help in the future.
Thanks for stopping by! If you have any other questions, please, let me know.
Thank you messages
Thanks for taking an interest in our brand! Have a nice day and hope to see you soon.
No worries. I'm always happy to assist you. Don't hesitate to drop me a line if you need my help in the future.
We appreciate your opinion and look forward to seeing you soon.
Thanks for contacting our support team! I'm glad I could help. Is there anything else I can help you with?
Thank you for chatting with us. I'm always happy to help.
Read more: Find out how to write the best thank you for your order messages to win over your customers.
Customer satisfaction survey request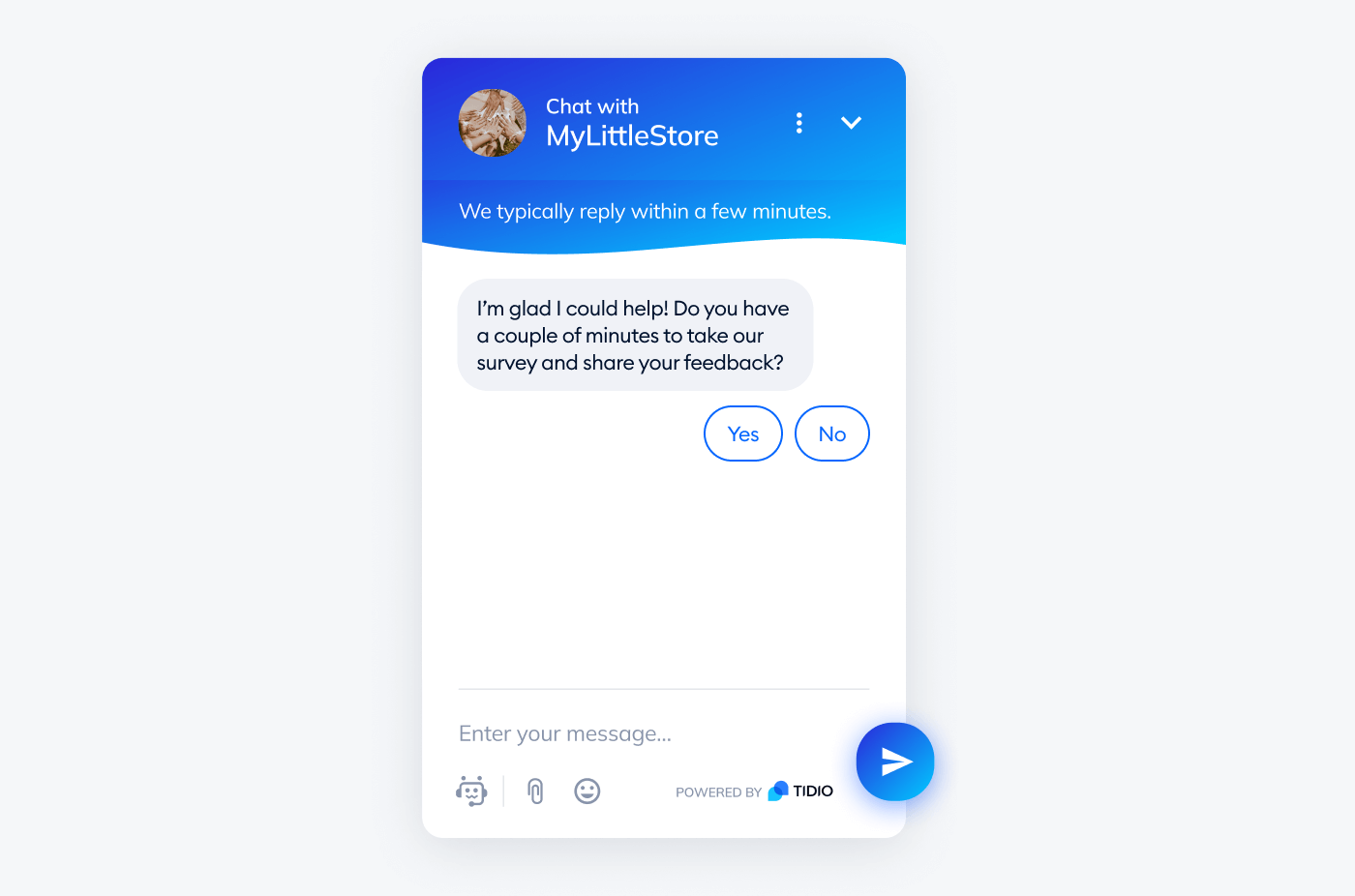 Customer satisfaction in the digital world is ever so important. The end of a chat conversation is a perfect moment to collect feedback from your customers as the situation is still fresh in their memory.
Use simple feedback chat scripts below.
Thanks for using our live chat service. Would you mind leaving us a quick review on [insert a link]?
I'm glad I could help. Do you have a couple of minutes to take our survey and share your feedback?
Read more: Check out over a hundred sample questions you can use in a customer satisfaction survey.
Live chat scripts: key things to remember
Ecommerce these days is gaining popularity and businesses are expected to provide excellent customer service with a consistent brand voice.
Pre-made live chat scripts are a quick win for sales and support team members. They help live chat agents respond faster and deliver a consistent brand experience while remaining professional in various situations.
Don't hesitate to use scripts from this article for your own benefit.