Business Growth
What Is Live Chat? a Must-Have Online Business Tool for Your Website
Nowadays, customers demand an instant response – you have to be there for them no matter what. Clients with no answer to their questions or issues leave and never look back. According to a pwc.com audit, 80% of customers see speed and efficiency as the most valued assets of customer service. And this is where live chat comes in.
So, what is live chat to an online business? It's a tool for providing fast, efficient, and convenient customer service, as well as a way to boost your conversion rate and gather valuable marketing data.
Let us show you how to benefit from using this great tool.
What Is Live Chat, Exactly? Do I Really Need It?
Live chat is a customer service application that's set up on your website (or an online store) to hold real-time conversations with customers.
How Does Live Chat Work?
A customer visits your website and they see a chat widget in one of the site's corners. When the customer has a question, they click on the widget to start a conversation with an operator (called a live agent or a customer service agent). Simple, isn't it?
Is It Difficult to Set up a Live Chat Widget on a Website?
Not at all.
The first step is to register with a live chat platform (such as Tidio Live Chat). After setting up your account, it's time to embed live chat on your website. This can be easily done by adding an HTML code to your website's source code, or through Google Tag Manager. You don't need to have any coding skills to do it (but you can still ask your friendly neighborhood developer to do it).
And that's all – from now on, you can speak with your customers in real time!
Do Customers like Using Live Chat?
According to the American Marketing Association, customers who chat are three times more likely to buy! Other research says that live chat has the highest satisfaction rate (73%) of all the customer service channels. So, yeah, customers love to use live chat. Why? Because it's super fast and convenient.
There's more to live chat, however – it's not just about customer service. It can be used as a sales and analytics tool as well. How?
What Is Live Chat? It's More Than a Customer Service Tool
Live chat can be a great tool to generate more sales and boost your analytics. According to the American Marketing Association, ROI from chat sales is 305%! How does this work in practice?
In terms of sales, you get a direct sale and lead-generation tool. When your customer starts a conversation, you can assume they're already interested. You can make sure that all questions are answered and there are no obstacles standing between the customer and the product.
There's more – features such as real-time tracking allow you to see what page your visitor is currently on and, in the process, take over the sales initiative. Example?
You've noticed that one of the visitors is browsing your product pages. Maybe they have some additional questions or issues regarding a purchase? Engage that customer by starting a conversation – ask them questions, overcome doubts, and close the sale.
What happens if you're offline? That's not a big problem. The customer can use your offline live chat form to leave their personal information for later contact – and, even better, you can use a chatbot to do the work for you. Chatbots can answer the most common recurring questions (e.g. about shipping or product availability), collect leads, or offer a discount to visitors who abandon their carts.

Live chat can also help you in terms of analytics. Using tools such as surveys can give you a lot of information about your customers – e.g. regarding customer service satisfaction or product quality. Using conversation tagging can help you group related content, which leads to knowing your customers better. These tools provide a lot of valuable information that can later be used to improve customer service and marketing strategies, and, consequently, grow your business.
As you can see, live chat shouldn't only be considered a customer service tool – it should be seen as something that helps you improve all areas of your business.
Benefits of Live Chat Usage for Business
What is live chat? Was a simple question; now it's time for a more complex one. How exactly can your business (and customers) benefit from using live chat? Here are the answers:
How can your business benefit from using live chat?
Easy access

Live chat is a convenient way of getting in touch with a business, and this is something that customers love (and demand). Don't be surprised. Imagine that you have a simple issue regarding a product (just a single question) and you have to spend several minutes on the phone or several hours waiting for an e-mail reply. Isn't it irritating? Well, not with live chat, as you can engage a company instantly on their website, while still doing your work in the meantime.


Fast response, more sales, more conversion, more everything

Customers are on your website right now and they want to buy right now – why should they have to wait? The American Marketing Association found out that companies that use live chat get an average conversion boost of 20%!
Live chat is much faster (in most cases) than conventional channels such as phone or e-mail. If the customer has a question regarding a product or service, it's a sales opportunity for you and it needs to be taken immediately.


Easy to manage and set up

Most live chat platforms work with every website, and they are quick to set up (you don't need to code to install them on your site). App management is even simpler, as you can use it on your desktop or mobile device to answer your customers wherever you are.


Menage several customers at the same time

Business owners love multitasking. Unfortunately, you can't speak on the phone with several customers at once (unless you want to look like the guy below).

However, you can certainly speak with a few customers using live chat (and it's totally acceptable). In addition to that, you can use canned responses to respond even faster.

Increase customer loyalty

Accessibility is an important loyalty factor to your customers. According to Hubspot research, 80% of consumers stopped doing business with a company because of poor customer experience. Providing accessible customer service (along with great quality) makes customers love you like nothing else.


Be available 24/7 with chatbots

What is a chatbot? It's a tool that adds even more functionality – it can respond to your customers' queries around the clock, answer the most repetitive questions, and offer discounts when customers abandon their carts. Everything happens without your participation, all you need to do is turn this feature on!


Save a lot of time and money

A good live chat agent can have a conversation with six (or more) customers at the same time, with no loss in customer service quality. Can a phone agent do the same? Which one of them would be more efficient?

Get a lot of useful data

Live chat offers great tools for gathering data. You get clear information about a visitor's city, country, browser, and device type. When the customer types in their phone number or e-mail address, live chat automatically collects that data. Maybe you'd like to do customer surveys for additional feedback? This can be done as well.
Understanding the benefits of live chat usage is one thing; the other thing is taking into consideration best live chat practices to run things smoothly.
Best Live Chat Practices
So, you've installed live chat on your website, but how do you provide an amazing customer experience? There are a few things worth mentioning regarding the best practices. Here's a quick to-do list:
1. Respond ASAP. Well, this is why you set up live chat in the first place! Respond to your customers' queries as fast as you can – they'll appreciate it, that's a guarantee.
2. Use canned responses. Live chat agents can use them for greeting a customer or responding to the most popular queries (because why would they type the same text every time?).
3. Integrate your live chat with e-mail and Messenger. Keep your messages in one place to speed up your communication process and respond even faster.
4. Train your live chat agents. Set up rules, such as how to greet customers on chat, when to transition to other channels, or what issues you can resolve through particular channels – it'll help keep the work going.
5. Use a friendly tone and be positive. It can be hard to show emotions online. Personalise your greetings, be sensitive to customers' issues, and put yourself in their shoes – it'll help you build a personal connection, and this is something that we all love.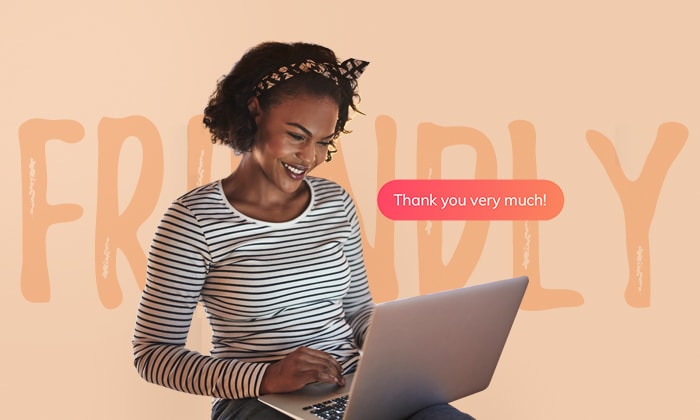 6. Implement a chatbot. Chatbots are a great addition to live chat on your website. It's there 24/7 to answer your customer queries or offer a discount to somebody who abandons their cart. Sounds interesting? Check out our article on "What is a chatbot?"
Conclusion: What is live chat?
Live chat is a great tool to help grow an online business, and, at the moment, it's customers' favourite way to contact companies: 73% of clients say that live chat gave them the best customer experience of all available channels.
Why?
Because it's fast, convenient, and efficient.
And it's not just about easy communication; live chat is a great way to boost your sales and gather business-intelligence data.
So, if you want your business to grow, live chat is definitely worth checking out.
Let's grow your business together!