Live chat is an online communication system that allows businesses to engage with visitors on their website or social media platforms in real-time. It's implemented through a code or added as a plugin to a website and other communication channels.
Online chat is a great alternative to phone calls or emails. All your visitors need to do is type the message inside the chatbox and send it.
The chat can help you recreate the in-store experience online and proactively message visitors to increase their engagement.
Want to learn more?
Let's dive in.
In this article:
Check out these articles if you want to find out more about live chat technology:
Let's get straight to the point—
How does live chat work?
From the back end, the live chat solution is normally embedded within the website's code. You can choose which pages to display the widget on, what your live chat icon looks like, and personalize the chat window. This software can be integrated into your website, social media, and other platforms. 
Here's a live chat example: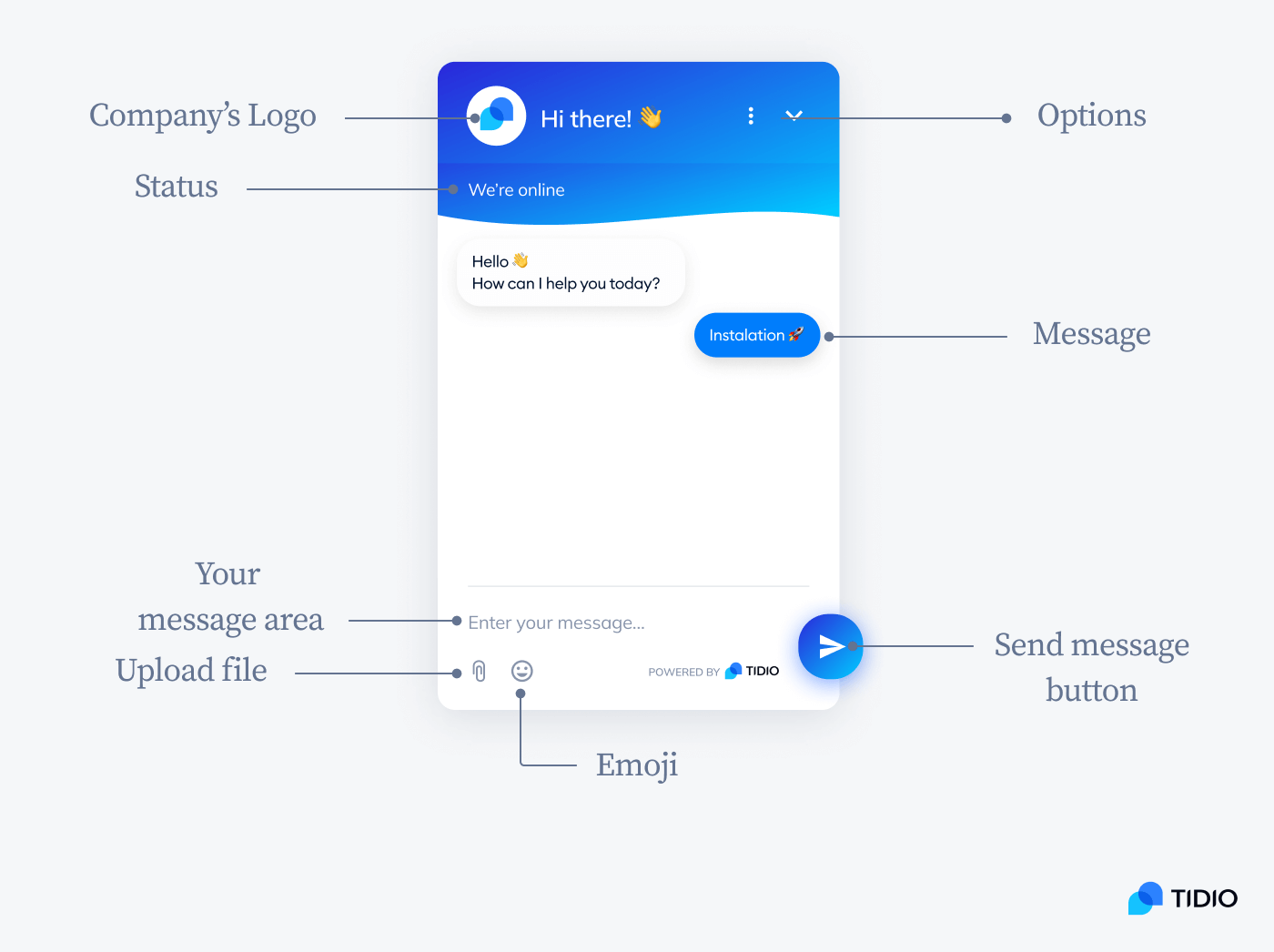 To communicate with your business, the shopper doesn't need to install anything on their device, sign up to any service, or download anything. They can just go to your online store, see that you have a chat widget in the bottom right corner of the page, and click it to chat with the support team.
That's when a chat window appears. Visitors can type their question and wait for the representative's reply. The message delivery is usually very quick, and the user can get their answers within 2-3 minutes.
Here's how does live chat work in real-life:
Step 1: Your visitor types in their query using the live chat on your website.
Step 2: You receive the message and type your response.
Step 3: Your visitor receives the message.
Try it out
Did you know that…
Over 43% of shoppers prefer real-time customer service via live chat over other communication channels.
Keep in mind that you and your visitors have different views of the live chat app. How? Let's look at both for comparison.
Visitor's view
Customers have a more limited view of the chat than support agents do. So, what can they see and do in the chat window? 
Visitors can:
See the messages they typed and the ones that the operator sent
View attachments, images, links, etc.
Type text, attach files, images, and more
Send links and emojis
Okay, so what about the operators? What can they see that's different compared to the customers?
Live chat operator's view
Live chat agents have a wider spectrum of functionality when it comes to the software. Here's what your support team reps can see and do that your visitors can't:
Access different analytics dashboards
Track visitors and customers to see what they browse and for how long
Create canned responses to reply faster
View what your visitors are typing in real time
Assign operators to individual chats and re-assign them whenever needed
Ban visitors when necessary
Download chat transcripts and view chats history
Ask for feedback and rating
Remember that every interaction is an opportunity to gain a loyal customer or a valuable lead. So, use all features available to get the most out of every conversation. And the more you chat with your visitors, the more opportunities you get to generate leads. Sooner or later, you will have a decent amount of contacts in your database for future marketing campaigns.
Read more: Check out the live chat typing speed test to learn more about your average typing speed.
So—
What are the main functionalities of live chat you should look out for?
Main live chat features
Not every platform offers the same features, just like not every fashion store offers the same products. Live website chat has many functionalities you can tap into for your service needs. But, some are more important than others.
Let's see which ones you should keep an eye out for.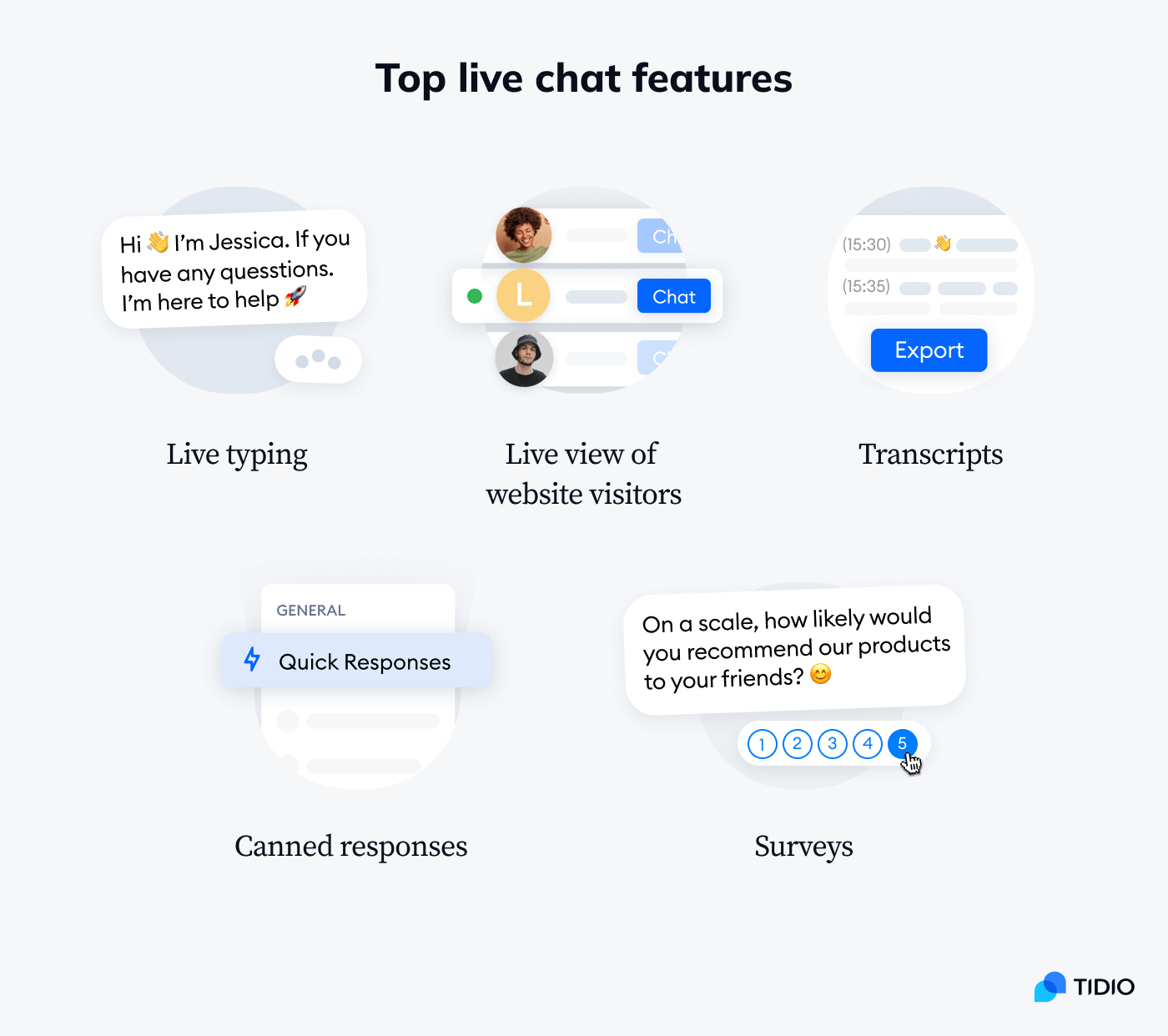 Some of the main live chat features offered by Tidio are:
This feature lets you see what a customer is typing before they hit the Send button. This can help the support agents prepare a reply straight away and speed up the response time.
And when a client is not sure how to phrase a question, your reps can help out by simplifying the area that the shopper wants to ask about.
Live view of website visitors
By seeing your visitors and the web pages they view, you can reach out to the right shoppers at just the right moment.
Let's say a client is on a specific product page, but then goes back to the product list instead of checking out. It's worth reaching out. Maybe they need the item in a different color, and all it will take for them to go through with the purchase is a little assistance.
You can collect customer information with a pre-chat survey and their feedback with post-chat forms. This feature is useful for gathering leads and getting to know your shoppers better.
Also, you can quickly detect any issues with your website or service to be able to fix them before they become a problem.
To speed up your support team's replies, you can use canned responses. These are pre-written replies you can type and save in the system. When a client asks a common question, you can simply pick the right answer and send it to them instead of typing the whole message.
Don't you wish you could go back to one of those conversations you had with a client and look at their specific requests one more time? That's exactly the case with live chat customer service. Each interaction is recorded, and you have transcripts of them in your app. This way, you can always go back and double-check it in case you missed something.
This software sounds a lot like instant messaging. So, is live chat synonymous with it?
Well, not exactly.
Instant messaging vs live chat
Online live chat and instant messaging both allow sending quick messages between two or more people. That's why, sometimes, the terms are used interchangeably. However, they are not the same.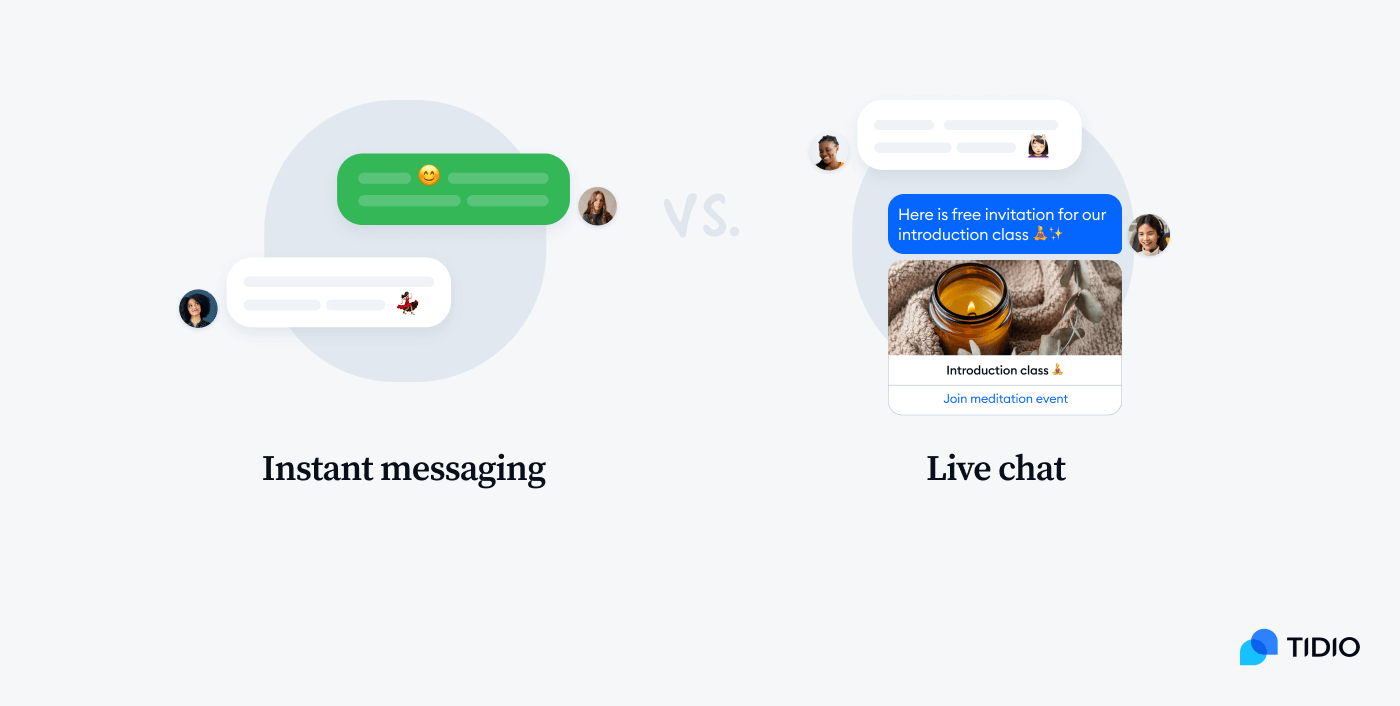 The main difference between the two is the purpose they serve. But let's look into them a little more closely.
Instant messaging is a type of online chat designed for personal, one-on-one communication. Apps that use this kind of technology usually include a list of your contacts and the ability to see who's online. However, live messages have limited functionality when it comes to business chats. Think of the Facebook Messenger app when we're talking about instant messaging, as it's the perfect example.
Live chat, on the other hand, is best suited for customer service and conversations with businesses. This software is usually added to a company's website or an ecommerce store. Some features provided by vendors can include pre-chat forms, templates, canned responses, and a live view of the visitors.
Here's a comparison table for a quick view of the differences between the two:
Instant Messaging
Live chat
– Designed for personal communication
– Limited automations to "I'm busy" reply
– Options for businesses don't allow to start conversations
– Only accessible in a dedicated app
– No monitoring options
– No website integration No customization options
– Designed for customer service Integrates with websites and different apps
– Allows to reach out to all visitors proactively Includes quick replies
– Allows to monitor visitors' behavior on a website – Customizable
In short, instant messaging is best for personal use and communicating with your close ones via an app. On the other hand, live chat is the better choice for ecommerce businesses to interact with their clients.
Read more: Discover the best ecommerce live chat for online stores and decide which one is the right choice for your business.
What about chatbots?
They're the hot thing now with ChatGPT and AI technology. And many companies that offer live chat software features also include chatbots.
So, what's the deal there?
Chatbot vs live chat
In short, chatbots and live chat work great together. When combined, they can help businesses grow sales, increase engagement, and improve relationships with shoppers.
But how do they differ?
Live chat enables you to create relationships with shoppers through real-time messaging between the client and the representative. It gives customer service interactions a human touch and the agents can handle even very complex inquiries.
On the flip side, chatbots operate without your agents' input. They can take care of visitors' requests, answer common questions, and perform various simple tasks. This software reduces the number of queries for your customer support team and lightens their workload.
Here's a comparison table for live chat vs chatbots.
Live Chat
Chatbots
– Instant connection with a human agent – Personalized assistance
– Human-to-human interactions
– Agents can only chat with one person at a time
– Mimics human conversations using AI and NLP technologies
– 24/7 support with no human involvement
– Can handle large volumes of requests on autopilot
– Limited functionality
Best for: Solving complex inquiries and building relationships with customers
Best for: Boosting engagement, answering common questions, and generating leads
All in all, a combination of both is the best choice for a business. Chatbots can be a great alternative to an FAQ page, while live chat offers an opportunity to solve complex user inquiries. Combined, these solutions can help you improve the customer experience and increase sales.
Read more: Check out the complete chatbot vs live chat comparison with all the differences explained.
With live chat definition out of the way, let's go ahead and explore its functionality a bit more in-depth.
Live chat examples
Live chat conversations are used by thousands, if not millions of websites online. You most likely experienced the software yourself numerous times while shopping on ecommerce websites. Do you recall any of these instances?
Well—here are some real-life examples of live chat software used on websites.
This company sells accessories for our four-legged friends. It offers bandanas, snoods, collars, leads, and much, much more. This online store also uses live chat to communicate with its shoppers in real time.
Don't you love how personalized it is? The chat window matches the brand perfectly, which helps keep the same feel across the whole buying journey.
Read more: Check out this case study to discover how Pooch Bandana's doubled sales in a week using chatbots.
This home decor business uses live chat to give design advice to its website visitors. This helps the clients purchase the right product for their home and the company to increase sales.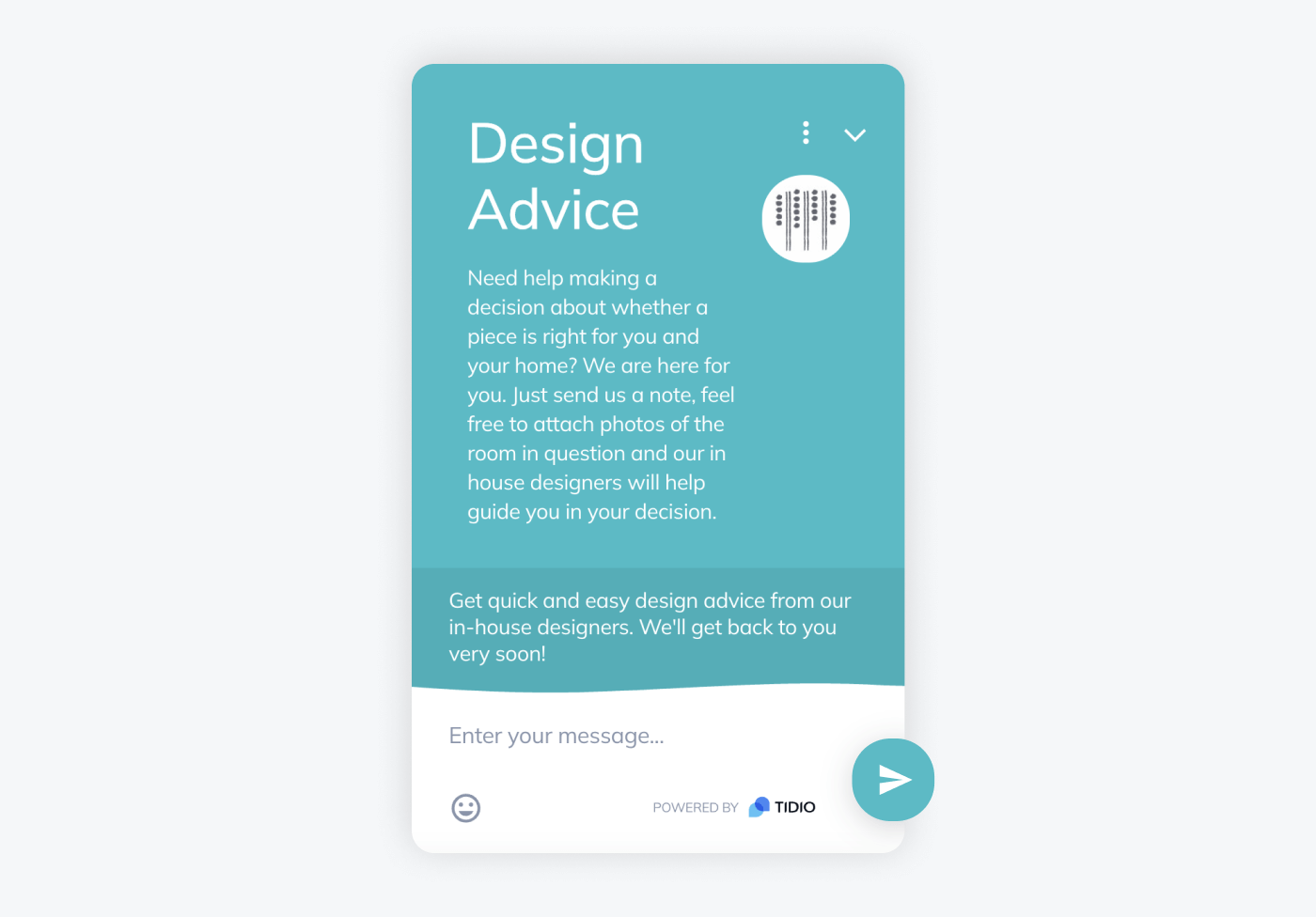 We don't all have a great eye for house design. In this case, a little help goes a long way. That's because the company gets to speak to the customer, match them with a perfect product, and gain a loyal client as a result. All because of the embedded chat on their ecommerce website.
Read more: Learn how Wicklewood increased lead generation using Tidio software for their customer communications.
A fashion ecommerce website with a touch of personalization. Broadleys uses the live chat platform to proactively reach out to their visitors and ask if they need any assistance.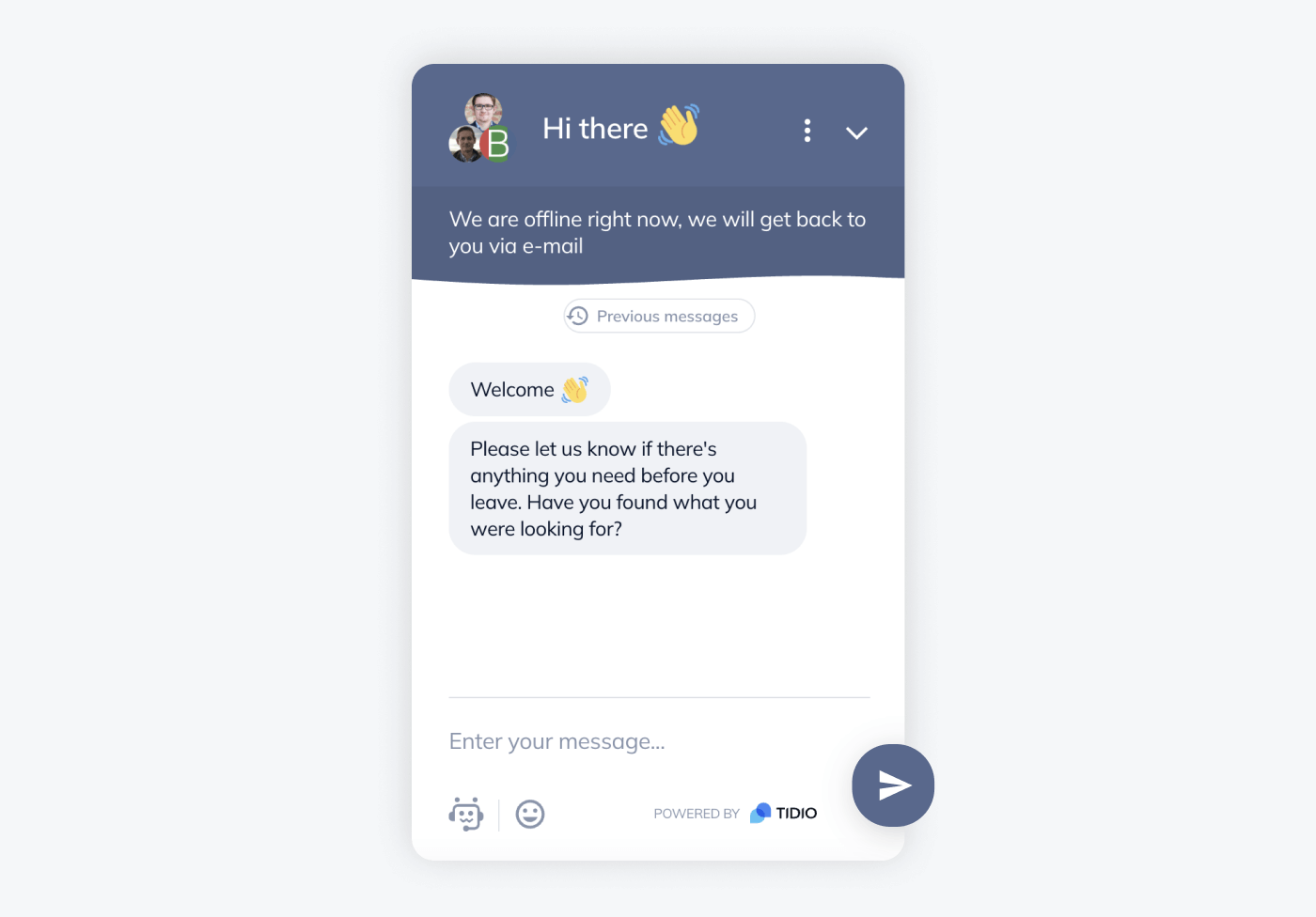 This is a great example of a company that uses chat as a virtual shopping assistant for their potential clients. It helps them improve customer experience, boost sales, and gain more repeat clients.
Now—
Let's discover some tips and best practices when it comes to using live website chat.
How to use live chat: best practices
Fundamentally, live chat is a tool for communication. But businesses can achieve much more with it if they use it wisely.
For example, it can help you build relationships, boost conversations, increase retention, and more. All thanks to the instantaneous response time and the personalized approach that customers love.
But, what is online chat used for exactly?
Here are some of the best practices and tips you can use for live chatting with clients.
Offer proactive service
To get the most out of your live chat system, you should use it for proactive customer service. But what's the difference between proactive and reactive support?
Well—
A reactive approach means that you answer questions only when customers initiate contact with your business.
On the contrary, using a proactive chat approach you offer assistance and enhance customer experience just like in a regular brick-and-mortar store.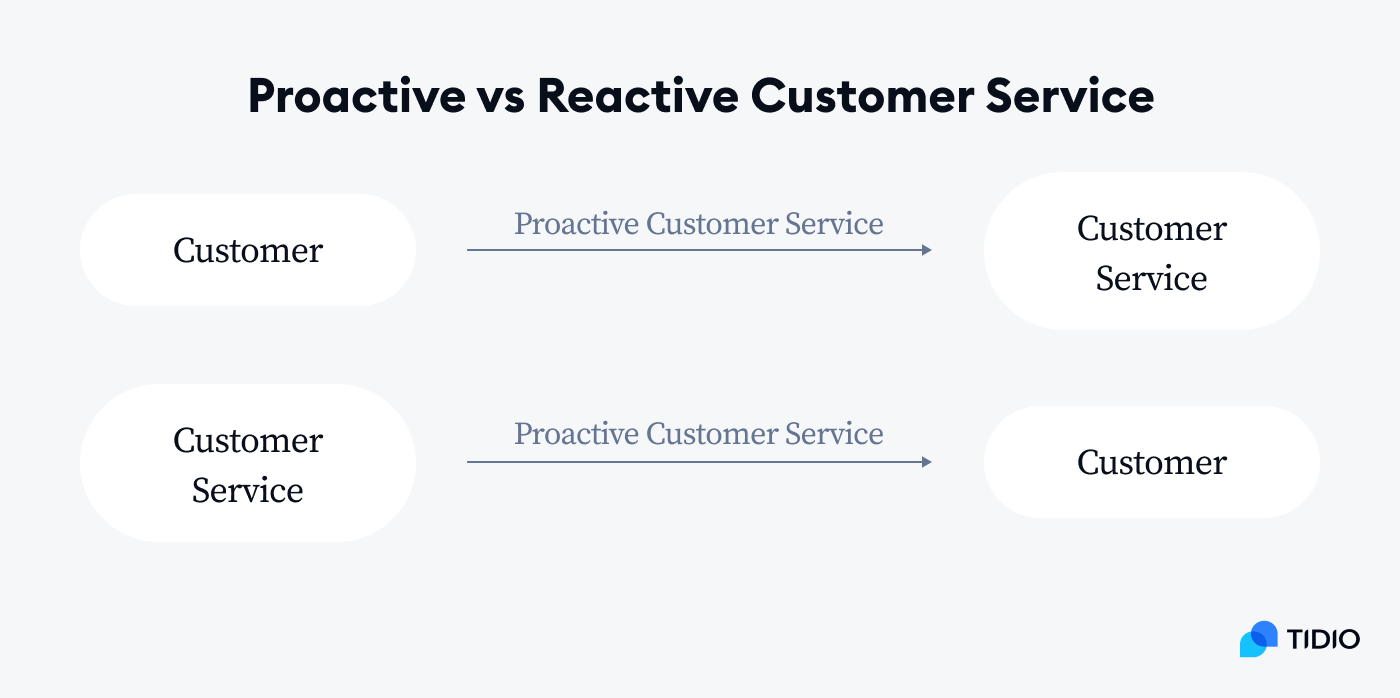 As an example, let's say a client is unhappy about your checkout process but won't tell you about it. They just leave your online store and go to a competitor. But you can prevent that from happening by proactively reaching out to shoppers to check if everything is in order and understand their needs better.
This approach can save abandoned carts, increase sales, and generate more leads. It can also help you spot any issues with your pages before they become a problem.
Read more: Discover what proactive live chat is with real-life use cases and tips to get the most out of it.
Provide fast customer support
This area is where live chat platforms shine.
The users can send detailed messages with links, images, and files to describe their problem. This will help your support team understand their issue better and help them more efficiently.
Your team can also use features like canned responses, live typing, chat assignments, and chat transfers to organize the work better and answer requests quicker.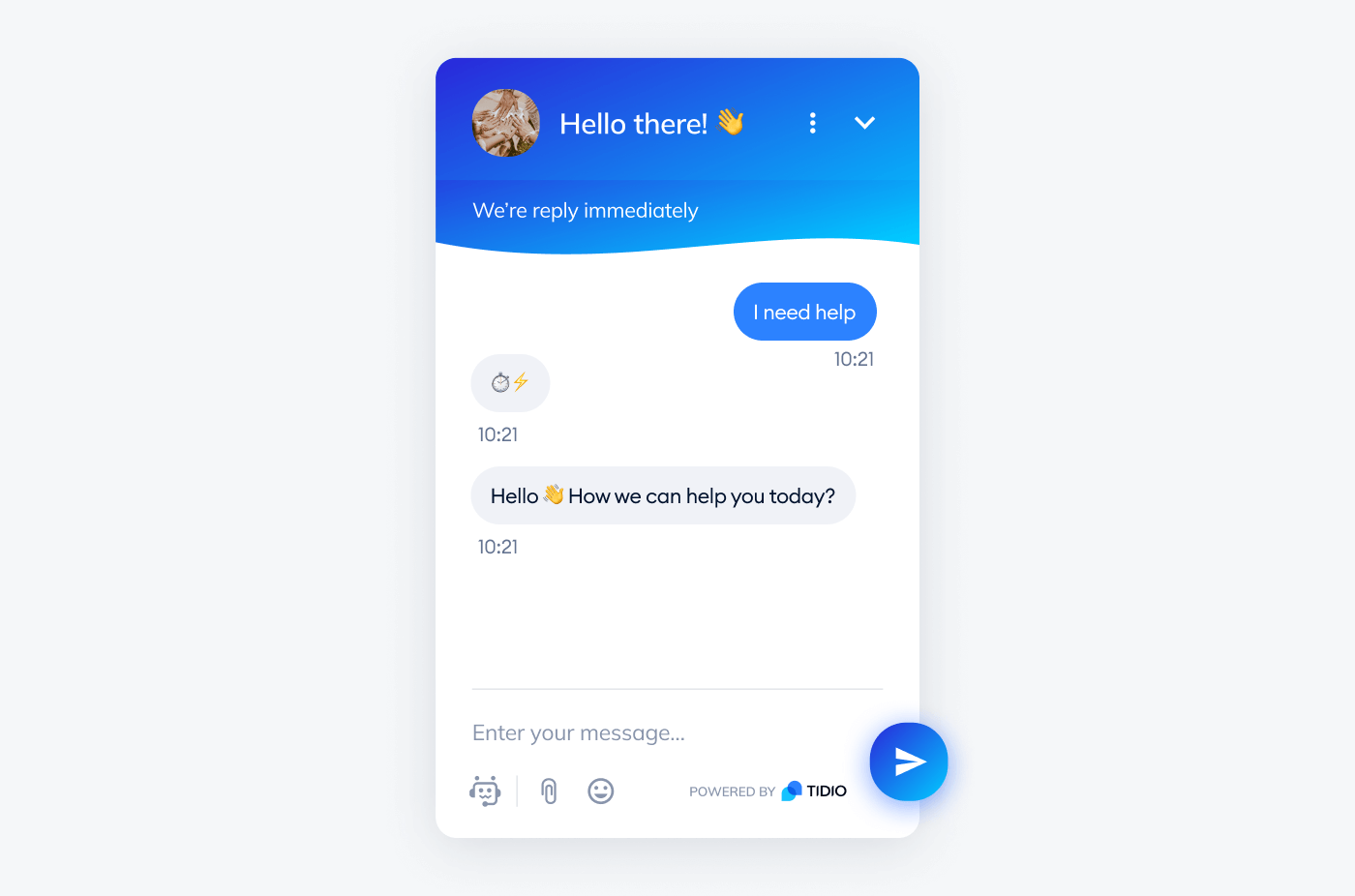 Prompt replies are essential for the success of your customer service nowadays, and shoppers expect it.
Clients love live chat customer service for the speed of the replies and the personalized service they receive. Both of these help to improve customer retention by building strong relationships with clients.
Initiate proactive sales
You can initiate chats on the premium products or service pages to push your prospects down the sales funnel.
With a live view of your customers, you can see who's browsing your site and which pages they're interested in.
For instance, a person could be visiting your high-end product and move onto the pricing page, but then go back to your homepage. By messaging a potential client, you can discover their concerns and answer questions to earn a sale. But even if you don't manage to close a deal, you might just get a valuable lead.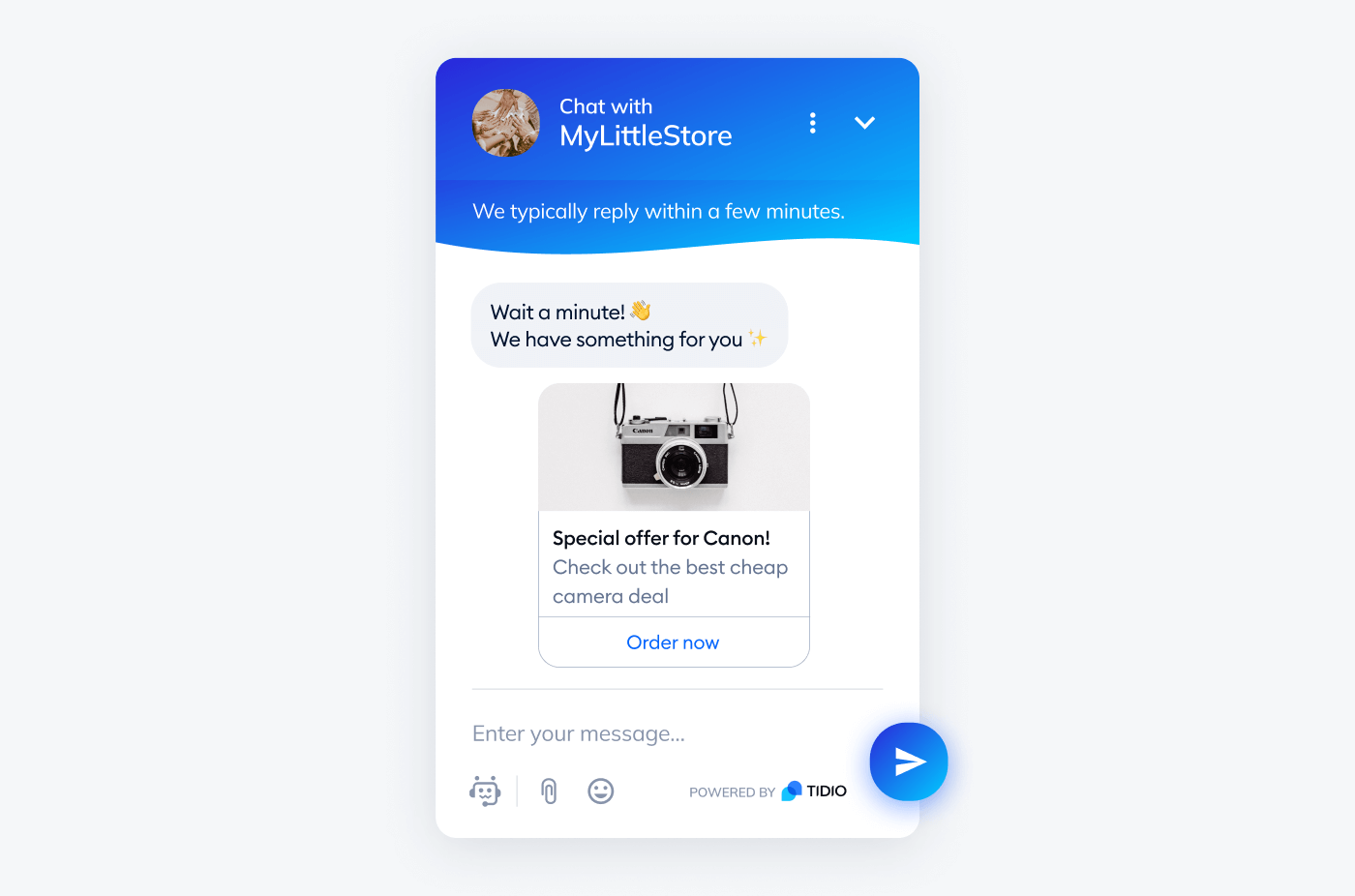 You can also use chatbots to notify you when a visitor is on a specific page. Chatbots are quicker than humans and can constantly look out for set signals. This can greatly help you never miss a lead again or lose a sale just because you're having a quick coffee break.
Collect feedback
Customer feedback is a valuable insight, helping you measure satisfaction and stay on top of your KPIs. Think of it as an opportunity to improve your business.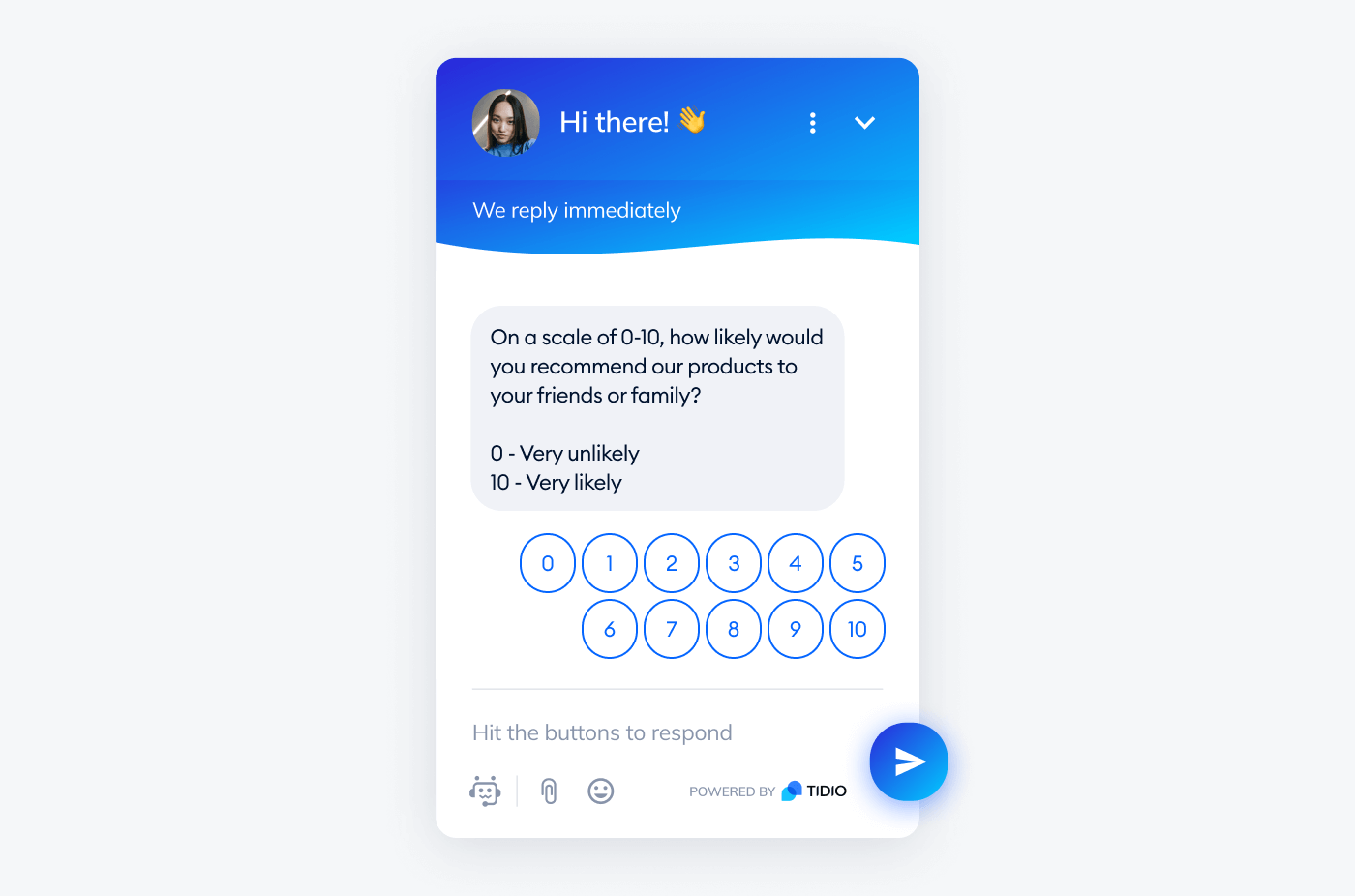 The best part about feedback through a live chat platform is that you can ask your customers to review the service right after the chat has ended. Such feedback is most accurate since it's given while the memory is still fresh.
If you follow these tips, you're sure to get some impressive results in terms of revenue and customer satisfaction with your support services.
Read more: Learn the essential performance metrics for customer service and measure your results effectively.
With that out of the way, let's proceed with some of the top benefits of live chat functionality for websites.
Benefits of live chat on a website
Why is live chat communication important?
In short, it increases customer engagement, gathers data, and boosts sales. You can casually chat with visitors, send follow-ups, and provide personalized recommendations to your shoppers. This all leads to getting to know your customers better and adjusting your website to their needs.
For example, you can spot a trend of clients asking about your physical store's location or about your shipping. This suggests that you should redesign your site in order for these pages to be found easier. That's just one example that is easy to fix but can be costing your business some big sales.
So—
Here's a quick summary of the live chat benefits for your business and your clients.
Benefits of live chat for your business
Live chat helps your business grow and your support services to be more effective. Because of real-time communication, you get a big advantage over your competitors when it comes to the service quality. Let's have a look at some of the other benefits of a live chat system.
People like to get their questions answered there and then. Because if they're unsure about a product or service and can't get clarification from a business, they'll just go to a competitor instead. And you don't want that to happen.
A Microsoft report states that customer service is an important factor in the choice of and loyalty to a brand for about 96% of shoppers. On top of that, a Forrester study found that customers who chat with a business before making a purchase convert 40% more. Their average order value is also about 10% higher than those who don't use the online chat to speak to the business.
Stronger relationships with customers
People feel more connected to your business when they can casually chat with your help desk in real time than if they have to send you an email and wait for days to get a reply. It makes sense, doesn't it?
And research confirms that. Over 79% of companies that use live chat report that it has positively impacted their sales and customer relations.
Improved customer satisfaction
Not only do live support chats help you build better relationships with consumers, but they also improve buyer satisfaction. And satisfied clients stay with your brand for longer and purchase more. This is a win-win situation for you and your shoppers.
As many as 83% of customers are satisfied with the live chat experience. This is one of the highest numbers for any customer support channel.
Pop-ups can be quite annoying for website visitors. And floating bars can get lost on the page. On the other hand, a chat box asking for a visitor's details in exchange for a discount code can be an engaging way of collecting leads.
In fact, over 42% of customers say that live chat app is their preferred way of leaving contact details. This makes it one of the most effective lead generation tools out there.
Live chat benefits for customers
Your business gains advantages from live chat because your customers do as well. These factors are closely interlinked because when customers are happier with your services, they purchase more and come back to do business with you again. Back to the point, though. Here are the main live chat benefits for shoppers.
The average response time for live chat is about 2 minutes. Whereas for email, that number goes up to 12 hours and 10 minutes. Big difference, isn't it?
And with 90% of customers saying that an immediate response for a support question is important to them, you should make sure that you reply quickly to their queries. Your clients will surely appreciate it.
Reporting problems without leaving the website
All the communication happens straight on your web pages. That means the shopper doesn't need to leave your site to report any issues they come across. Isn't that convenient?
Of course, it is! And what's more, the visitor can also include images and videos to present the issue better. This will help them get a useful reply and solve the problem in no time.
Better shopping experience
With a virtual shopping assistant asking if your customers need any help, the buying experience will be more interactive and engaging.
You don't need to do much. Just sending a quick welcome message and letting the client know you're there for them is enough to improve their overall experience. But, if you want to go the extra mile, then add marketing chatbots with spinning wheels, recommending products, and discount codes.
No more repeating themselves
Customers don't like to explain the issue they're struggling with numerous times. Think about the last time you phoned a call center with a problem that you had. You were most likely put on hold multiple times and each time you spoke to a different person, you had to repeat the exact same information. Frustrating, isn't it?
But your clients won't have to go through that. With live chat on your website, the representative will have all the information about the client and their issue at any time. So, your shoppers will never have to repeat themselves and will even get a personalized service to their needs.
So, in short, does live chat really work? Is it effective?
Yes.
Thousands of small and medium companies use live chat apps and their customers appreciate the fast, personal responses. They also like the fact that live chat is part of the website, which is very convenient for shoppers.
You can also store their data in your CRM software and look it up whenever you need it. Data includes conversation history, tags, or visited pages. This will help you ensure that clients don't have to repeat themselves and get personalized service every time.
Now—what is the best live chat software?
Live chat service providers
There are over 480 live chat tools listed on G2 alone, and you need the best one for your business. But, going through them all would take away the time you should be spending on growing your company.
So, we did the research for you.
Here are some of the most popular choices when it comes to live chat platforms:
Let's look into them in more detail.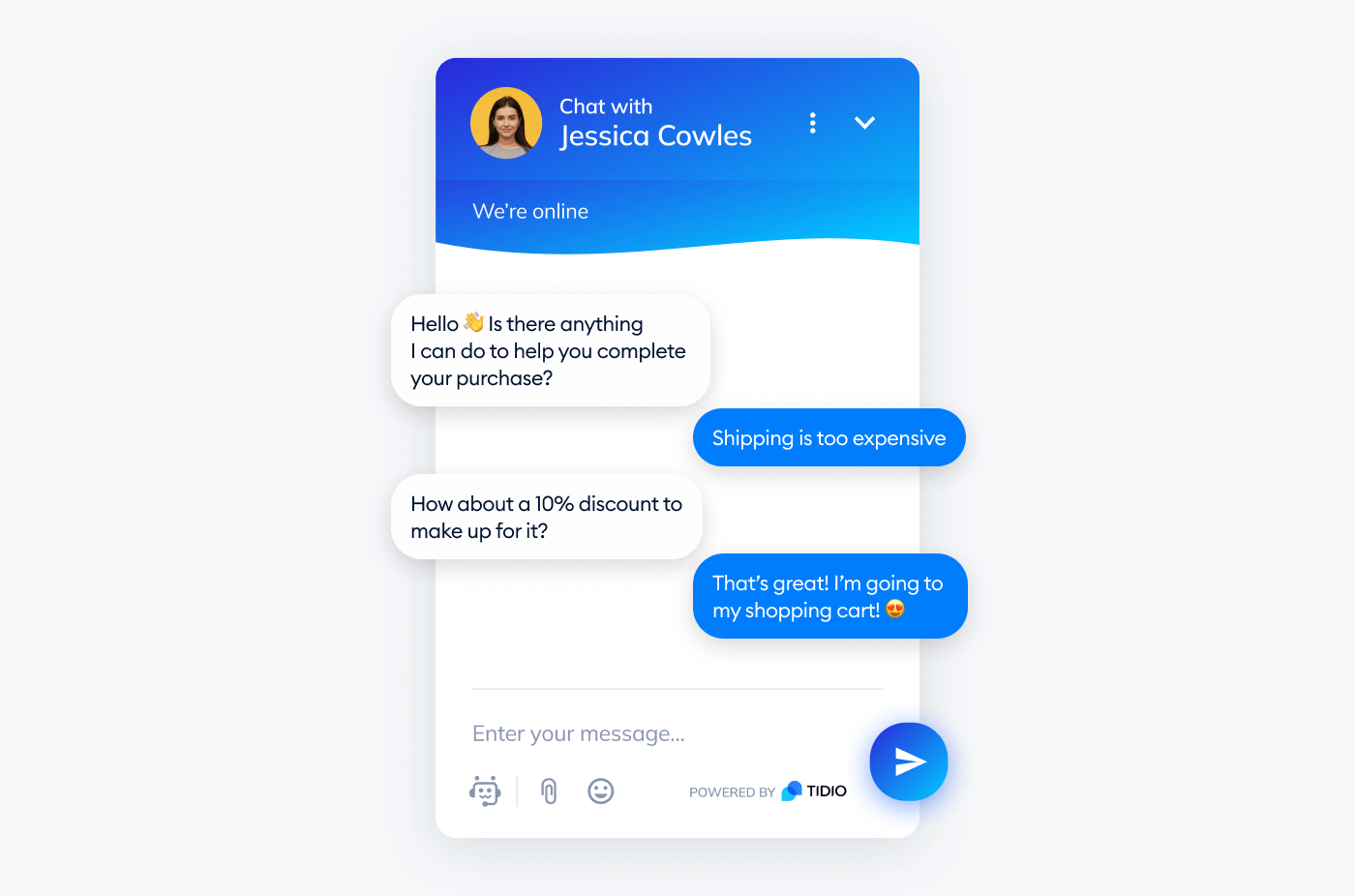 Rating: 4.7/5⭐️ (1,315+ reviews)
Tidio offers a complete customer service platform that centers around engaging the shoppers and offering real-time support. It includes a mobile app, so you can stay connected with your clients even on the go. This is also one of the live chat platforms that offer chatbots for self-service and workflow automation.
You can integrate a variety of channels, such as Facebook Messenger, MailChimp, and Zapier. Moreover, it keeps the messages in a single, shared inbox for better organization of your interactions.
Check out for yourself if we deserve this spot on the list by trying the software free of charge.
Main features:
Customer insights with their data, location, and browsing history
Live visitor view
Real-time typing preview
Ecommerce integrations with Shopify, WooCommerce, and other platforms
Ticketing system with chat routing
Shared inbox
App for Android, iOS, and desktop
Reports and analytics
Free version available
Communicator ($19/mo/operator)
Chatbots ($39/mo)
Tidio+ (from $289/mo)
Read more: Interested in more free chat options? Spoiler alert—three other best choices include Hubspot, Zendesk, and LiveAgent. Discover detailed reviews of the best free live chat software on the market.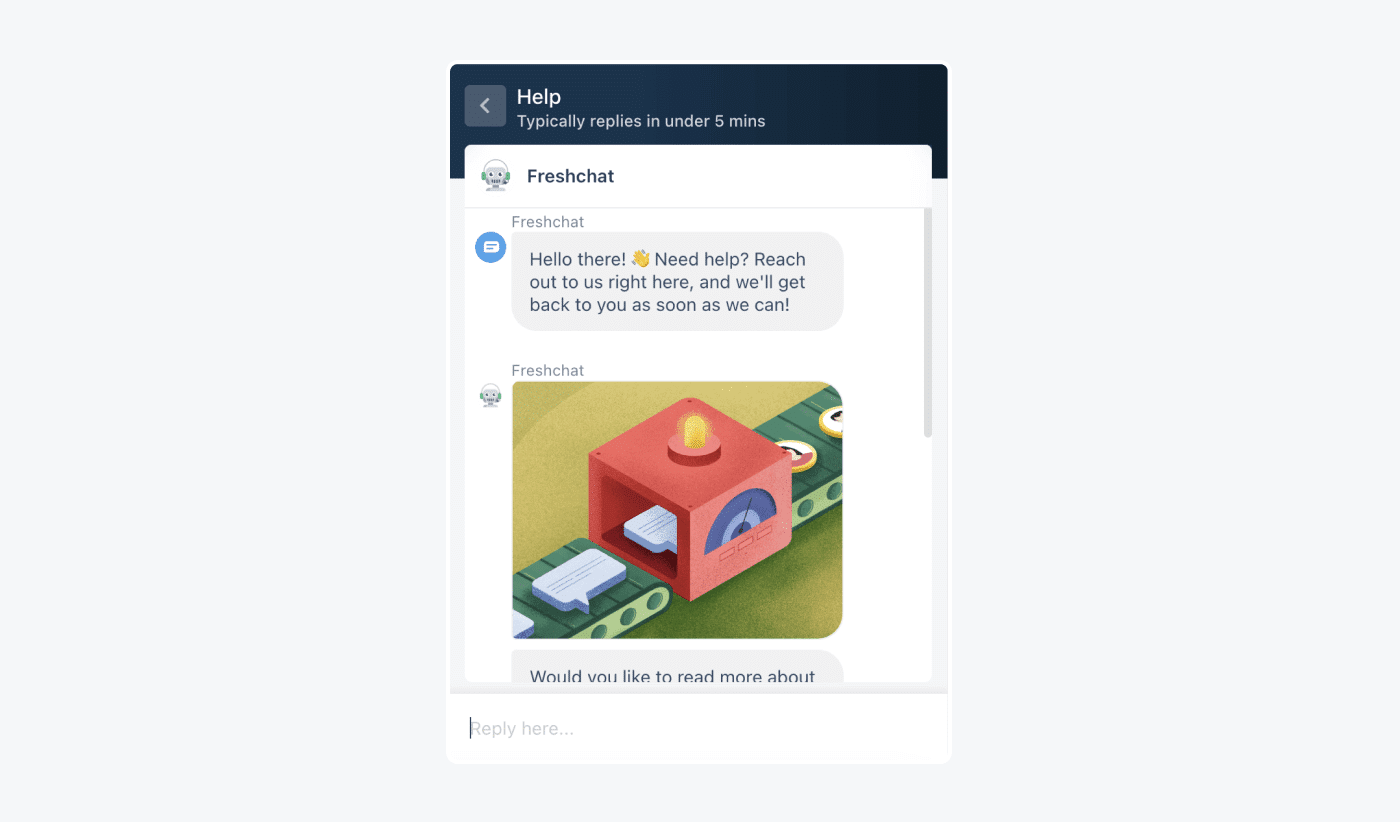 Rating: 4.5/5⭐️ (6,530+ reviews)
This live chat platform is a part of Freshworks, a customer software suite for a CRM, marketing automation, and a cloud-based phone system. It offers a multichannel experience for your shoppers with integrations, such as WhatsApp, Facebook Messenger, Apple Business Chat, and many more.
Freshchat focuses on lead conversion features and helps businesses increase client satisfaction and engagement. It also provides an easy-to-use system with a beautiful user interface (UI).
Pros:
Highly customizable
Visitor's databases and event timelines
Extensive knowledge base
Cons:
Reviewers say that the support team is hard to reach on lower plans
Issues with data synchronization can appear
Free plan available
Growth ($18/agent/month
Pro ($47/agent/month)
Enterprise ($83/agent/month)
Read more: What is secure live chat? Check out this full guide on live chat security and what to watch out for.
Rating: 4.4/5⭐️ (825+ reviews)
Drift is a cloud-based solution for large-sized companies focusing on omnichannel chat sales and marketing. It offers versatile features that can help businesses with account-based marketing and sales processes.
This live chat provider focuses on building customer loyalty. It offers automations for workflows, offline self-service features, and geotargeting to make the sales-related tasks more seamless for the business and the client.
Pros
Reporting features for marketing
User and customer segmentation
Scheduling tool for calls and online communication
Cons
The backend UI can be confusing
Expensive compared to competitors
Premium (from $2,500/month)
Advanced and Enterprise plans → contact sales team
Read more: For more in-depth reviews of each of the live chat platforms, check out our article on the best live chat software available on the market.
How to add live chat to your website?
Now you know the live chat meaning, its benefits, best practices, and top providers. The last step is to discover how to add one to your pages. So, let's dive into that.
To integrate live chat into a website, follow these steps:
1. Choose the best live chat provider for your website
There are many options out there. We listed three of the best platforms above, but you can dive deeper to ensure the software has all the functionality you need.
2. Sign up for a free account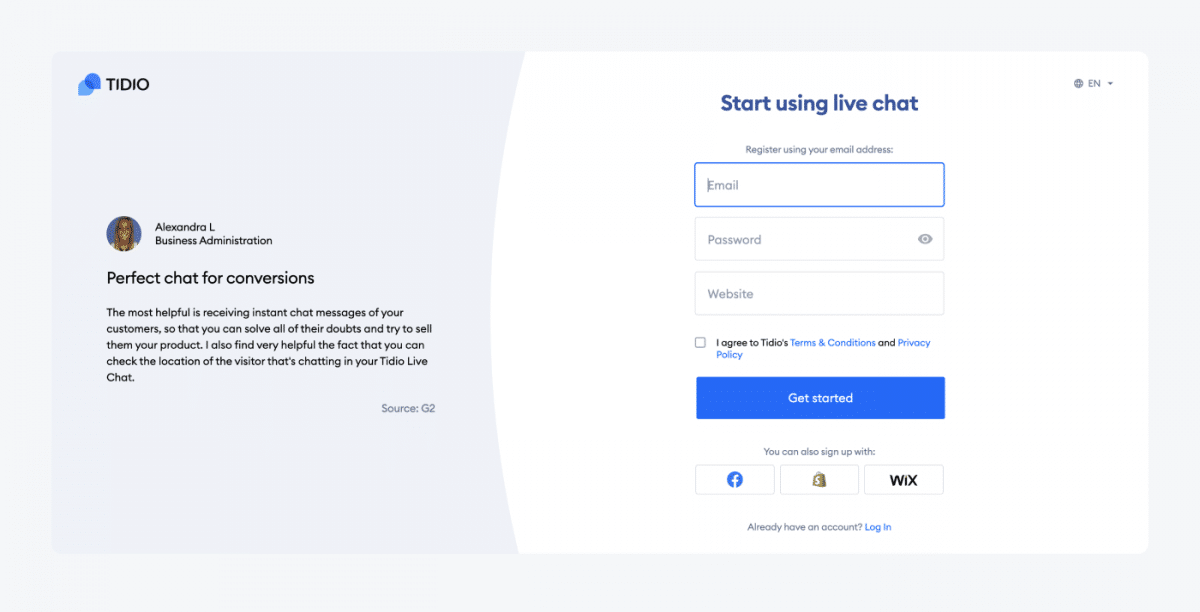 And if the provider you chose doesn't offer a free plan, make sure to use a free trial period. This will let you discover if the software is the right one for your business needs.
3. Customize the widget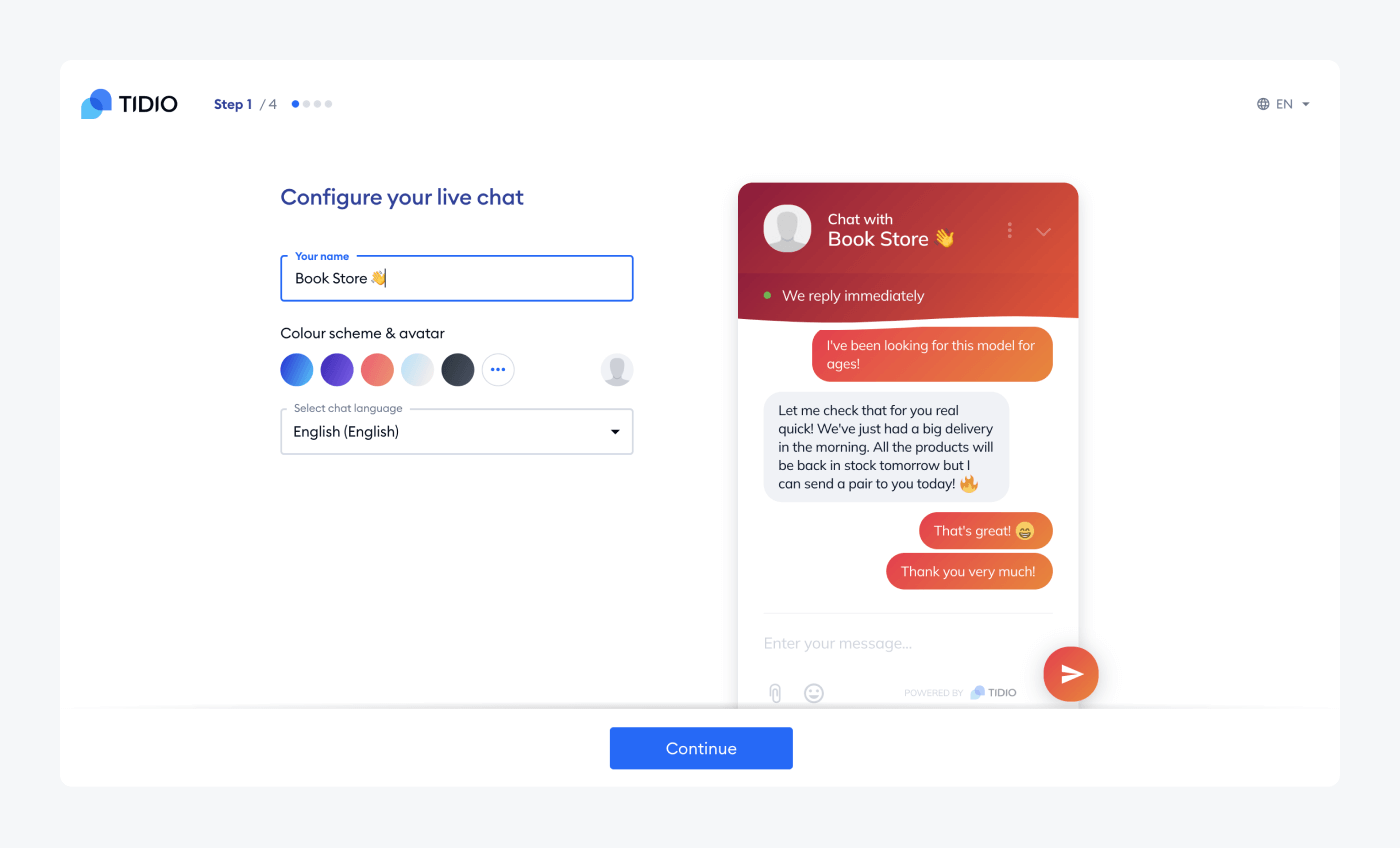 Change the color, the look, and the greeting. Make the live chat widget your own and ensure that it matches your site's appearance.
4. Install chat on your site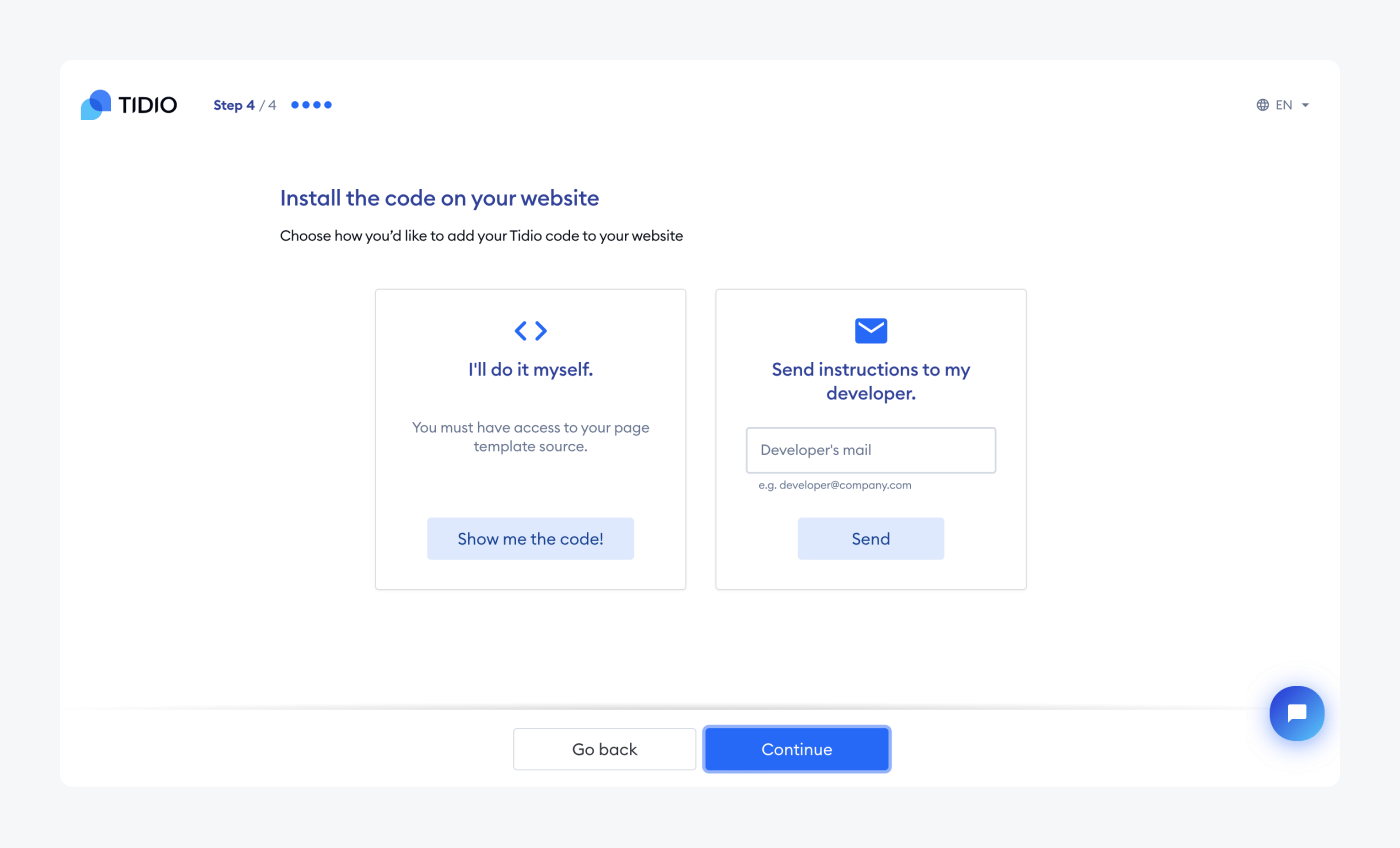 Once you're happy with the look of your chat widget, you can install it on your website. This will let you start interacting with your visitors straight away.
5. Import existing contacts
If you already have some contacts in your database, you should import the list into your tool. This way, you'll be able to organize your customer database better and keep all of your customer communications in one place.
But we only scratched the surface here.
Read more: Learn how to add chat to a website in more detail. Also, check out how to install Tidio on a variety of platforms.
What is live chat software: key takeaways
That's all for today! Let's do a short recap of the most important areas we went through.
First of all, what is live chat support?
Live chat is a communication software you can use to chat with customers in real time on multiple channels. The platform keeps all the communication in one place, lets you see a live view of website visitors, and helps to collect shoppers' data.
How do live chats work?
The chat window pops up with a click on the widget. The visitor types a message to the agent, clicks send, and gets a reply within a minute or two. That's because the representative can see the live list of shoppers and gets the chat instantaneously, making communication quicker.
Some of the best practices include using live chat for proactive service, sales, and collecting feedback. These actions can help you improve relationships with shoppers and, ultimately, boost sales.
But remember to track reports and keep an eye on Google Analytics to stay on top of the results you're getting from this software. This can help you spot any issues before they become a real problem.
Top platforms you should consider include:
Make sure the provider you choose has all the features your business requires, and make use of the free trial to test out the software. This will ensure you're making the right choice, and it will save you time and money in the long run.