Phone calls do not work for customers from different time zones. Emails take too long to respond. Self-service options lack personalization and are unable to cover all possible scenarios.
What's the alternative? Live chat apps.
They help to address all customers' needs. First, they are convenient and easy to use. Second, online communication happens in real-time. And finally, the problem troubleshooting is fast and personal.
Those three factors made live chats the most popular way for customers and companies to communicate with each other.
There's more. As many as 63 % of customers who chatted online with the business are more likely to return.
To explore Tidio's features and benefits, head straight to our dedicated live chat page.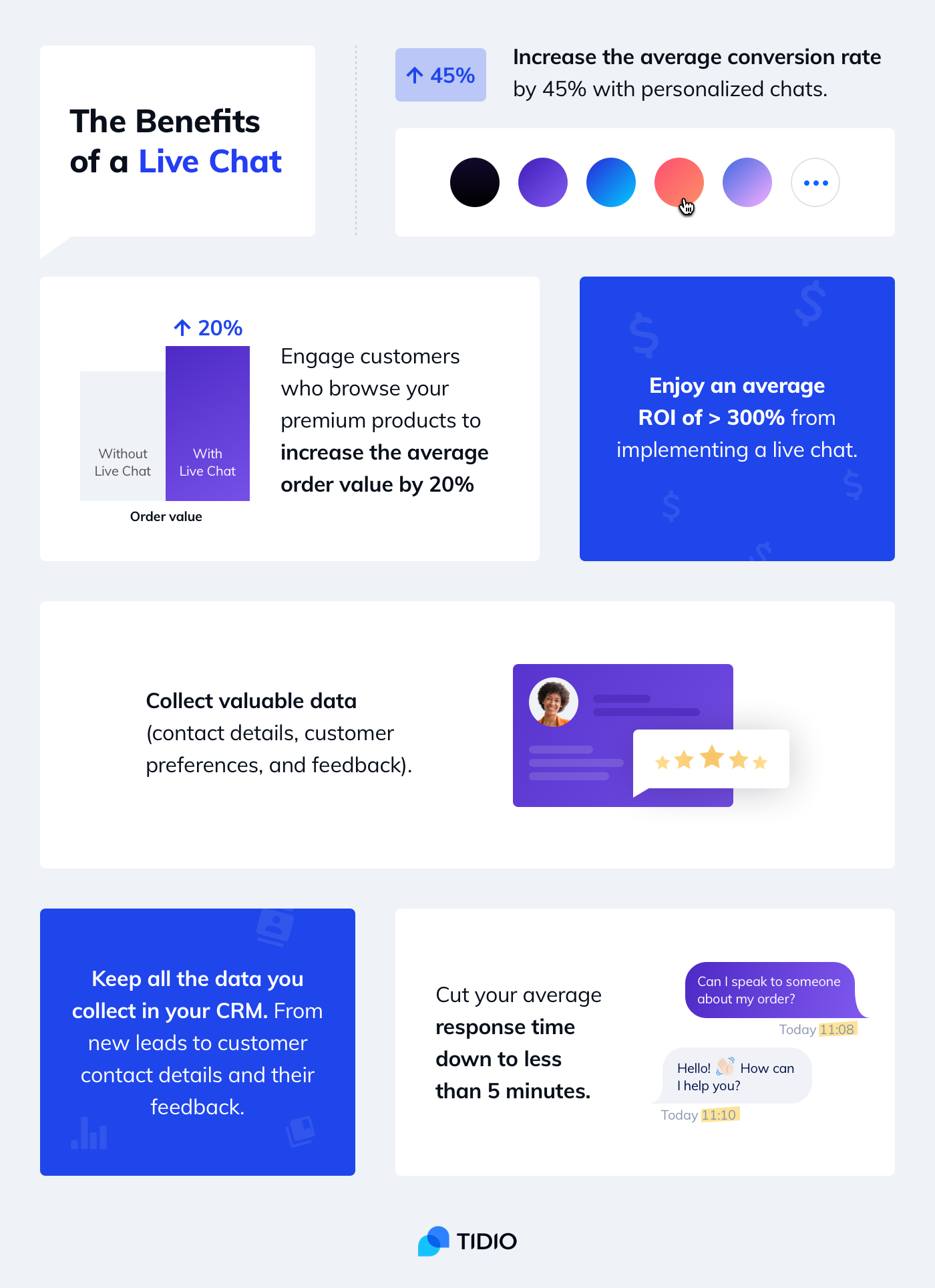 After reading this article, you'll know everything about different ways live chat can help your business. But first, let's explain what a live chat is, how it works, and how you can use it.
If you need more information on the live chat functionality, have a look at our other guides:
What is live chat?
Live chat is an online communication app that enables you and your website visitors to chat in real-time.
Online chat is a great alternative to phone calls or emails. All you or your visitors need to do is to type the message inside the chatbox and send it.
Nowadays, 79 % of customers prefer live chat to any other communication medium.
Ok, enough of theory. Let's see it in action.
Step 1: Your visitor types in their query using the live chat on your website.
Step 2: You receive the message and type your response.
Step 3: Your visitor receives the message.
Try it out
How does live chat work?
Online chats take place inside a chat box that is part of the live chat app.
What is quite important is that your visitors do not need to install anything on their devices. To chat with you, they do not need to sign up to any service, either.
So how will your visitors know that you offer live chat support? They will see a chat widget in the lower corner of your website.

When they click it, a chat box will appear. Note that you and your visitors will have different views of the live chat. Take a look at the two images below.
Visitor's view:
1. This a chat box that your visitors see when they click the widget.
2. Inside the chat box, visitors can type some text and attach a file.
3. They can also send images, emojis, and links.
Live chat operator's view:
1. This is the Conversation section that the live chat operator sees.
2. Here, you type and send your responses to chat, Messenger, and email messages.
3. You can see all the incoming chats on the left.
You and your live chat operators have more "powers". Here's what you can do that your visitors can't:
Access to different analytics dashboards.
Track your visitors and customers to see what they browse and for how long.
Create canned responses to respond faster.
See what your visitors are typing.
Integrate your live chat with many apps and platforms for a more efficient workflow.
Assign operators to individual chats and re-assign them whenever needed.
Ban visitors, ask for feedback and rating, and much more.
Download chat transcripts and view chats history.
Use a mobile app to chat with your customers on the go.
The more you chat with your visitors, the more opportunities you get to collect some leads. Sooner or later, you will have a decent amount of contacts in your database.
You can convert leads and nurture the existing customers by using Tidio mailing. Together with chatbots, it comes as part of the service when you register your account. All three tools, live chat, chatbots, and mailing are free.
Why is live chat important? You don't know what you don't know until your customers tell you about it. For example, there could be a problem with your checkout process. As a result, many customers abandon their carts without telling you the reason. With live chat, you give them a super convenient and fast way to share their experience. The easier it is for them to get in touch with you, the more probable they will let you know about any issues.
Note: There's a number of live chats available online. If you're looking for the best solution for your business, read our in-depth comparison of the best online chat software. If your website is WordPress-based, have a look at our best chat plugin for WordPress comparison.
How to use live chat
Live chat is a tool for communication. And that's a very fundamental approach. But a sheer chat can help you achieve a lot.
So before we move to the benefits, let's talk a bit about the different ways you can use live chat.
Customer Support
Customer service is where live chat shines. It has everything you and your customers need to reach their goals.
Customers can send images, links, and files to help you understand the problem better. You, as the person whose task is to solve the problem, have live chat features at your disposal to make short work of it. These, among others, include:
Live Typing
chat transfer to another agent
chat assignment
Nowadays, customers expect prompt replies. And this is the main reason why they love live chat support. The other reason is that live chat allows for personalized service. The personal approach builds relationships which, in turn, improve customer retention.
Busy with helping customers and could use an extra pair of hands? Add chatbots to your live chat to automate your support and reduce the customer wait time.
Proactive sales – initiate chats on premium product or service pages
We've mentioned that customers can be unhappy about something, but they won't tell you that. They will just leave your store or website.
Fortunately, you can do something about it. Because chats do not work only one way. Businesses can (and should) be active as well. They can ask their customers first if everything is in order.
| | |
| --- | --- |
| Reactive: Answer questions only when customers initiate contact with your business. | Proactive: Offer assistance and enhance customer experience just like in a regular brick-and-mortar store. |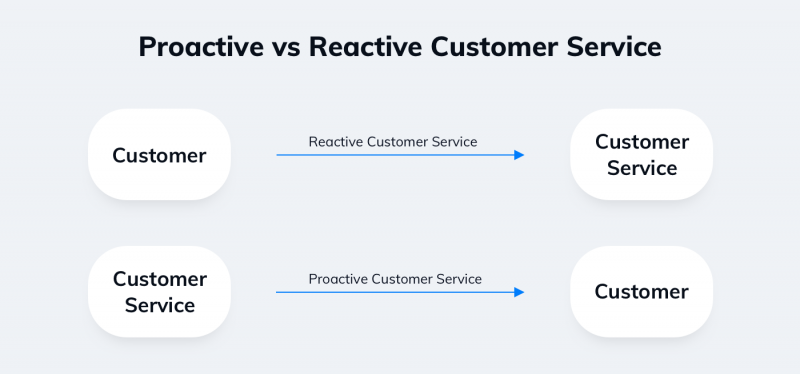 That's what being proactive means. Proactive customer service can save potential sales. It can also help you learn about shortcomings related to your business.
With live chat, you can also observe if there's anyone browsing the pages you care about the most. For instance, these could be a page with a price list, or high-end products or services. By starting a proactive chat you increase your chances that someone will place an order on what you sell.
Live Visitors List, a premium live chat feature, will show you all the visitors on your website. You will also see what pages your visitors currently browse so you can start a chat with them. Even if you do not manage to close a sale, you can get a valuable lead!
Chatbots are faster than humans. They can notify you if there's a visitor on any specific page so you can immediately start a chat. And if you happen to be away from your desktop, get a mobile app to reply to your customers on the go.
Collect feedback with live chat
Customer feedback is a valuable insight helping you measure customer satisfaction. Think of it as an opportunity to improve your business.
The best part is that you can ask your customers to review the service right after the chat has ended. Such feedback is most accurate since it's given while the memory is still fresh.
Benefits of live chat on website
Live chat is not just another communication channel. It's not just about giving your customers the tool they want. It's also about you – how live chat can impact your business. In a good way.
The benefits of live chat software are far-reaching. And it would be hard to talk about them all in a single blog article. So, here's a quick summary.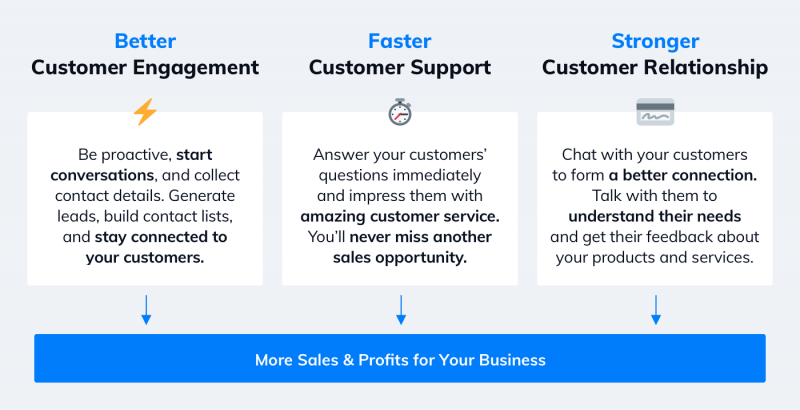 Note: Do you have a WordPress website? Head straight to our in-depth reviews, and find the best WordPress chat plugin for your needs.
Live chat benefits for customers
Another great thing about live chat? Business owners are not the only ones that can benefit from using it. Live chat is an excellent solution for customers, too.
They can report their problems without using external communication channels such as email.
They don't have to wait for hours to receive a reply.
Their shopping experience is more pleasant and satisfying.
They don't need to provide their details over and over again. You can store their data in your CRM and look it up whenever you need it. Data includes conversation history, tags, or visited pages.
Live chat effectiveness
Does live chat really work? Yes.
Thousands of small and medium companies use live chat apps. Their customers appreciate the personal approach and fast responses. They also like the fact that live chat is part of the website, which is very convenient for them.
Users who chose Tidio, report:
higher conversions
increased sales
stronger relationships with their customers
higher customer satisfaction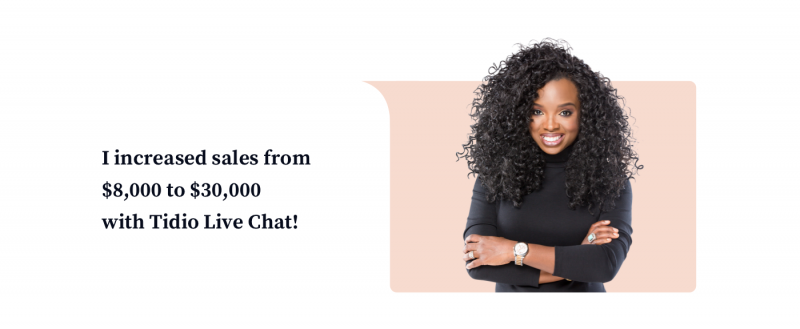 Live chat service providers
There are quite a few live chat options available on the market. Here are some of the most popular choices.
(If you would like to read a full review of individual apps, please check out our ranking of the best live chat software).
Live chat services for small businesses
Live chat is a great option for any online business. Even the small ones. If you run a small business, pay attention to prices and features included. And if you are completely new to live chat technology, do check whether a given brand offers trials.
Live chat apps to consider:
Live chat services for medium businesses
As a medium business, you may need some premium plan flexibility to suit your needs. You may also want to use live chat for something more than customer service. For instance, to automate some tasks or to run marketing campaigns.
Live chat apps to consider:
Live chat services for enterprise
As an enterprise-level company, you may need custom solutions tailored to your needs. Look for flexible and custom plans, but also a flexible product as well. You will need live chat to do more than just customer service. Compare the features of the individual apps to choose the most suitable one.
There are many professional live chat solutions for enterprise-level companies. Check this detailed comparison to find the best ones available today: Best Intercom Alternatives [Tidio vs Drift vs Intercom vs Zendesk].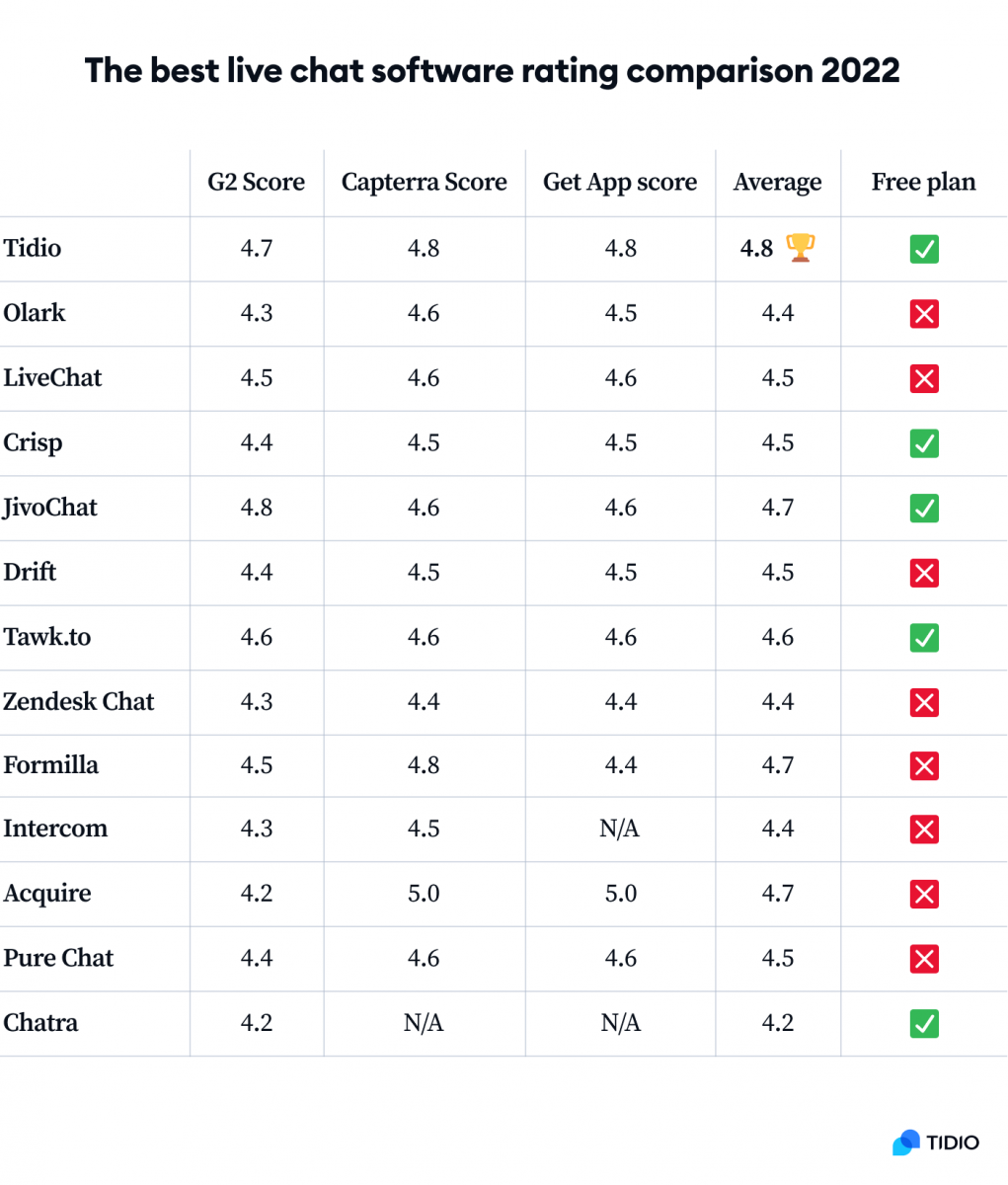 Read more: Check out the best free live chat software for your business website.
Instant messaging vs live chat
Instant messaging and live chat are two popular technologies for online communication. It may seem that both mean the same thing because they allow sending quick messages. But they are quite different.
Live chat is more geared towards businesses while instant messaging is used for communication between individuals.
To be able to communicate via instant messaging technology, every user needs to install an app on their device.
Live chat apps like Tidio are different from instant messaging apps like Messenger because they are added to a website like an online store.
Visitors can click on it to connect with the company's agents and ask questions about products or request support. So, there's no need for them to install the app on their device.
Live chat also offers more functionality.
Tidio, for example, has features like pre-chat survey (a requirement to submit the name and an email address before chatting), pre-written answers to respond to queries faster, and even shows the list of visitors browsing the website.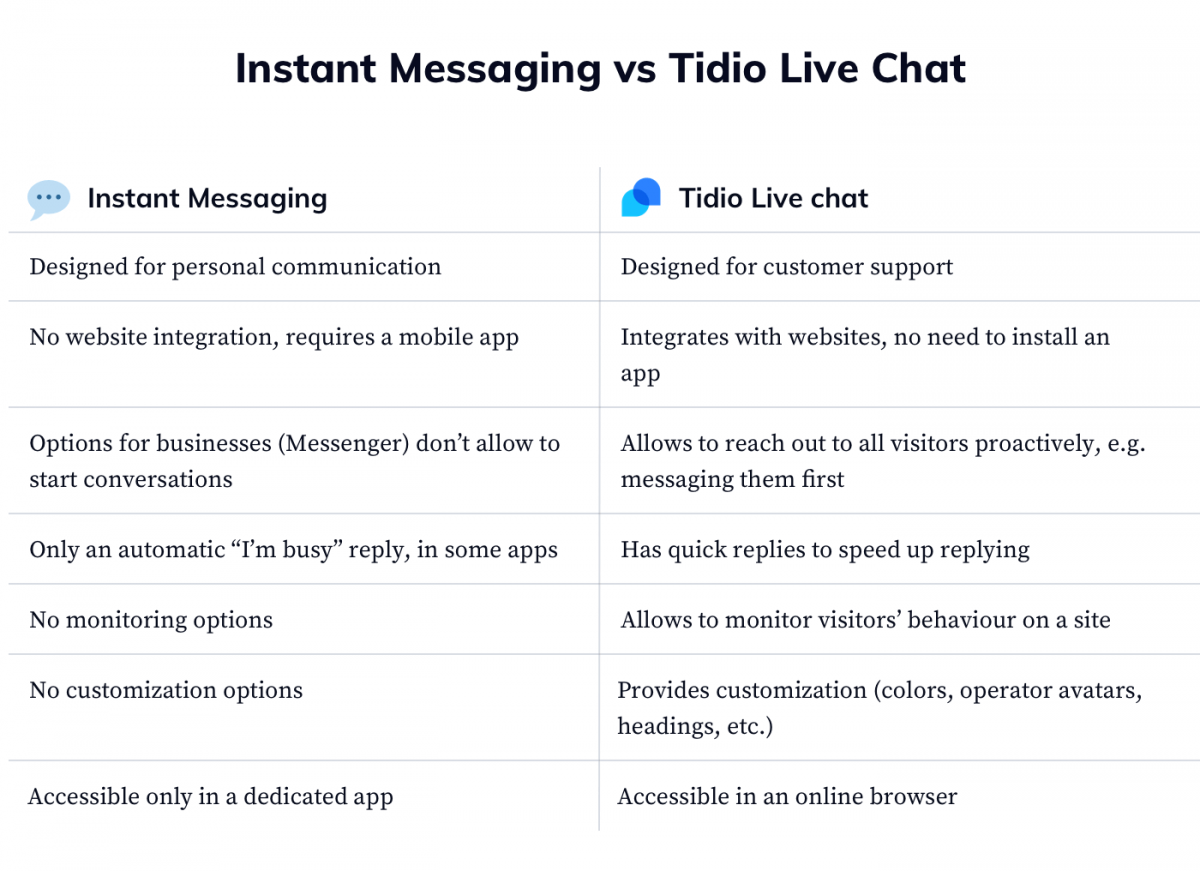 With that said, live chat and instant messaging serve different purposes.
Instant messaging apps like Messenger are more suited for one-on-one conversations between individuals. Live chat like Tidio, on the other hand, is created customer support. It comes with pre-chat forms, templates for automatic responses, and other features to serve online customers better.
Undoubtedly, live chat and instant messaging apps are beneficial. So how about combining the best of these two worlds together? That's totally possible!
You can integrate Tidio with Facebook Messenger. The integration process alone is very intuitive and takes only a few minutes.
When you're done, you will be able to reply to live chat and Messenger chats from Tidio admin panel.
In case you need a step-by-step guide, visit the article linked below.
🚀 Read more: How to Integrate Tidio Live Chat With Facebook Messenger
How to have live chat on your website
Ready to try a live chat? If not, here's a subtle nudge: you don't risk anything. During the trial you can test-drive all the features. And if you like the app, you can upgrade to a premium plan or stay on freemium. No strings attached.
Here's how to get started:
You can start using live chat app (as well as chatbots and mailing) in minutes. And you will enjoy the benefits for the years to come.