Live Chat
What Is A Live Chat and Why Is It Important For Your Business?
Live chat creates a seamless connection between businesses and customers. What is it exactly, how does it work, and what are the benefits of this communication solution?
Progress affects almost every single aspect of our life, including our daily habits and needs. We are now widely used to instant food, instant video, instant music, instant connection.
Similarly, we often expect instant responses and 24/7 availability from consumer goods or service providers.
Businesses nowadays, perhaps even more than ever due to the ever-increasing competition, to stay afloat, need to take these expectations into consideration and focus on their customers.
To achieve that, businesses have been establishing their presence using multiple online channels, and a prime example of such a channel is a live chat.
What you're going to learn:
Live chat customer service, alongside other customer service types, helps businesses to communicate with their customers promptly and in a convenient way.
But convenience and speed are not the only benefits you can expect from live chat.
Before we start talking about the benefits of live chat, let's spend some time explaining what a live chat is in the first place, and then, how you can add one to your website.
Few Words About A Live Chat
What Is A Live Chat?
Live chat is a program (an app) that acts as a medium between you/your support staff and the customers. With live chat, you can initiate conversations with new visitors, support your current customers, and interact with returning customers – all in real-time.
How Do I Know There Is a Live Chat On A Website?
Live chat presence is symbolized by the so-called widget (a small live chat icon located in the lower corner of the website). Visitors can initiate the conversation (a chat) by clicking on the website widget and typing in their message.

The great thing about live chat is that your customers do not need to install any software to chat with you – it is enough that the live chat is added to your website.
How Does Live Chat App Work?
Every live chat app has two points of view: one view is for a live chat operator (support agent) and the other one for the visitor/customer. Understandingly, live chat operators' view (called Admin Panel or Dashboard, depending on the app) is different from the customers' view, but that is essentially because both parties have different goals to achieve when it comes to chats.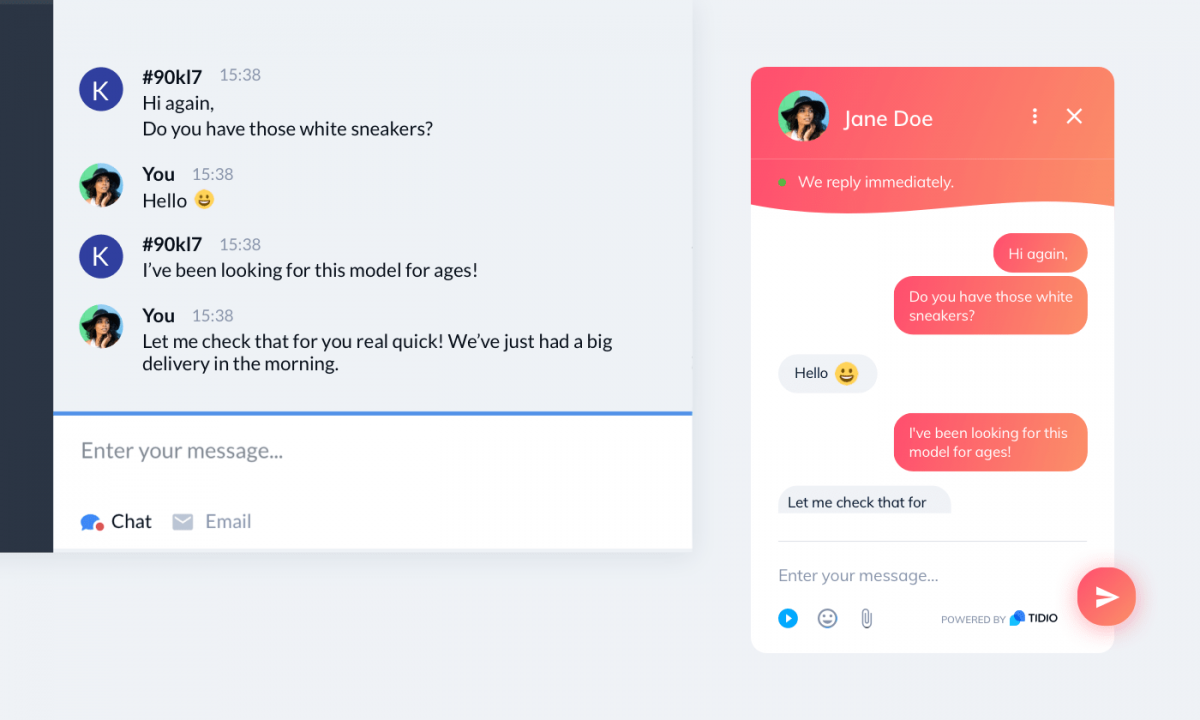 In non-technical terms, live chat works in a very similar fashion to SMS-es or instant messaging: two parties type in their messages (questions or responses) to achieve a certain goal – the customers want their issues resolved, and the support agents want to help their customers.
And since live chat apps blend characteristics of a phone conversation (real-time activity) and e-mail (typed messages and attachments), live chats can be as dynamic and concise or elaborated as you make them.
How To Add A Live Chat To Your Website?
Normally, live chat apps can be added to the website in a few ways.
Let's take Tidio as an example. Our live chat can be installed in the following ways:
By embedding a piece of code directly into the website
Try Live Chat For Free
There is also a third option: a chat page. Although it does not require an installation process per se, it is a useful option for having a live chat without adding any plugins or code snippets.
The chat page is a live chat located under a specific URL address that can be added as a link on your website or email footnote. Another difference is that the chat page does not have a widget.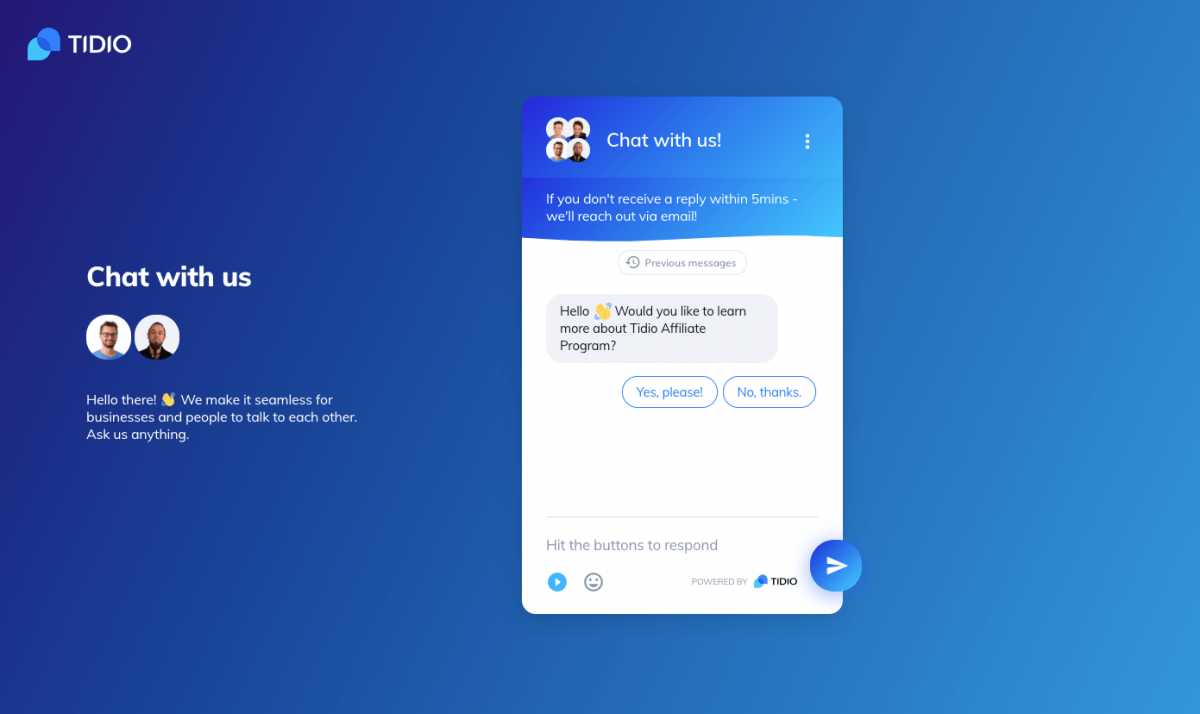 To learn more about installing Tidio on different e-commerce platforms (or how to integrate Live Chat with various applications), take a look at our Knowledge Base.
Online Chat For Business: Why Do You Need Live Chat?
According to FurstPerson, 77% of customers won't make a purchase on a website if there's no live chat option available.
The real-time chat is a great way to bring visitors back to your website, too. Emarketer found that 63% of customers were more likely to return to a website that offers live chat support.
So what are the benefits of live chat for business, exactly? With a live chat on your website, you can:
Deliver Accessible, Convenient, And Fast Support Via Live Chat
If you strive to deliver excellent support to customers from different countries, live chat is a way to go:
Unlike phone calls that can incur some costs (especially to international callers), live chat is free to use
Customers can connect instantly to your support agent – they just send a message and wait on average of 48s to receive a response
The live chat is conveniently there – customers do not need to switch to an email app or phone to contact the support
International customers, who are unable to get in touch with you during your office hours, can talk to a chatbot that is available 24/7
No notorious transfers to another operator and re-telling the same story again and again – live chat operators can join any chat, even the one that is being already handled by their colleague (without the customer even knowing it) and help with the issue
Live chat is reported to score an impressive 82% consumer satisfaction rate, while 79% of customers prefer a live chat as the communication medium since they can expect nearly an immediate answer.
Live Chat Boosts Your Conversion
Does live chat increase sales? Yes!
Real-time chatting with a customer service agent can be a real game-changer when it comes to customer satisfaction and conversion. Just a sheer conversation with support staff can boost the likelihood of turning a visitor into a customer by 82%!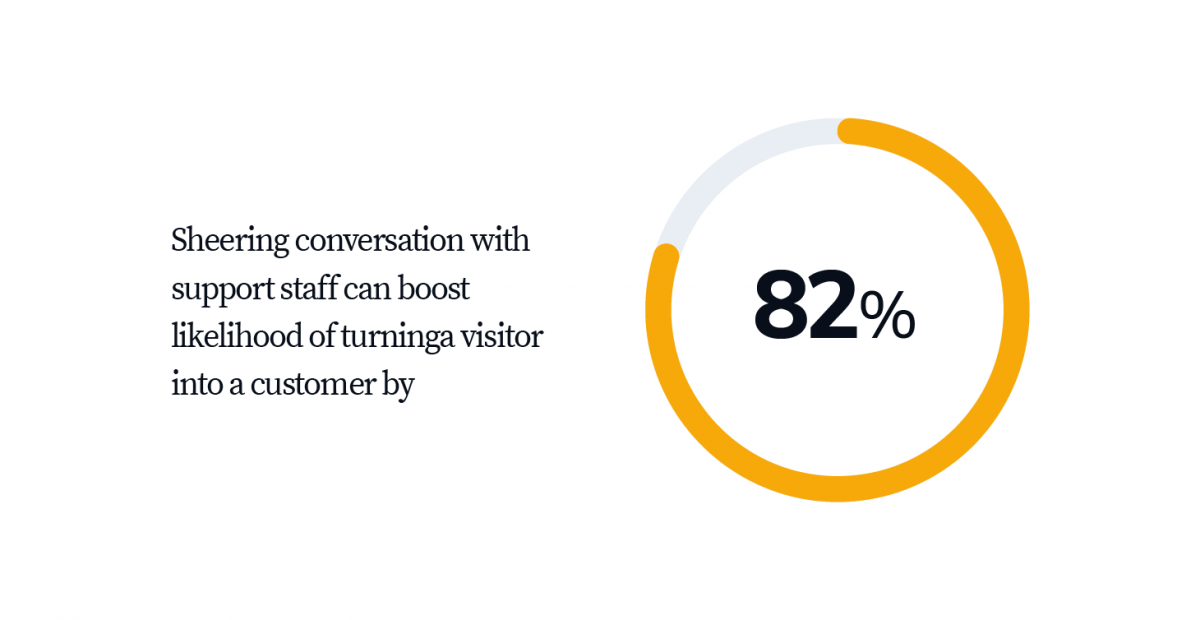 After all, discussing own doubts with another human can really boost confidence in us about the product or service that was under consideration.
Customers often need assistance when it comes to numerous aspects of their shopping journey:
They would like to know more about the product they are interested in
They have trouble finding specific products or information on your website
They would like to compare the product with a similar one(s)
They would like to ask about the terms and conditions of the service
They would like to inquire about the shipping costs or any other costs associated with the product or service
And many more. If you can respond to those issues in a professional manner and without an unnecessary delay, your chat agents can generate more sales.
Live Chat Increases Your Customers' Loyalty
People don't care how much you know until they know how much you care

Theodore Roosevelt
President of the United States
Customers who you manage to build a good relationship with are less likely to turn to the competitor. Moreover, they tend to be less sensitive about price increases if they know that they will receive rock-solid customer care.
People need to be confident that whatever the problem they face while interacting with your company and products/services, their issues will be heard. 80% of U.S. consumers would pay more for a product or service to ensure superior customer experience.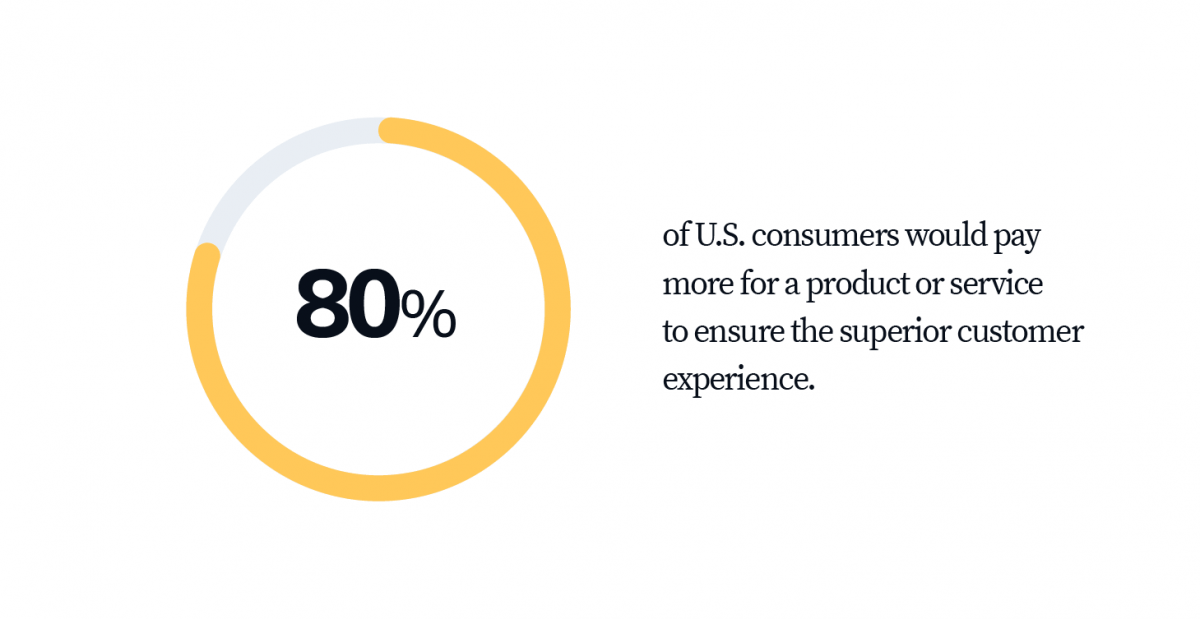 And what if you can deliver the outstanding service through the convenient tool with reduced wait-time on the customers' side? Even better!
A side note: You can increase customer loyalty with chatbots, too!
Live Chat Saves Money
Life chat is a cost-effective tool. Statistics show that it is 17%-30% cheaper when compared to a phone call.
Here's why Live Chat can save your money :
Live chat agents can handle a few conversations at the time – This live chat benefit saves companies a significant amount of money as fewer agents are needed to serve the same amount of customers (especially, when compared to the number of staff needed for phone support).
Live chat agents increase average order value – Average order value concerns answering the customers' queries in real-time about the product – the better you can dispel customers' doubts and offer valuable advice, the less likely you will experience complaints and product returns.
Live Chat Collects Useful Data About Your Customers & Support Team
Track and collect data about your customers and your website chat operators to analyze shopping behavior or spot customer service weak points with:
Conversation history – A history of the conversation carried through the live chat is saved and can be fully exported for further analysis or quality check
Viewed Pages – Tidio feature called "Visited Pages" collects the visitor's/customer's browsing history
Product analysis – analyze the products that person was interested in and offer matching products
Website analysis – the analysis may also reveal potential issues with website navigation
Customer support statistics – you can also check your support team performance – the total number of sent messages and concluded chats during a given period of time are displayed
Visitor's tracking – live chat can also track certain moves made by the visitor on your website (e.g. customer registered an account) so you can react accordingly
Troubleshoot Faster And Better Via A Live Chat
Imagine you have a customer on the line, trying to explain their issue in words. Wouldn't it be much more convenient if they could provide a screenshot of their long-sought item or nasty error that popped up on their screens?
After all, "A picture is worth a thousand words."
Similarly to an email, customers and operators can send not only messages but also attachments. This improves communication clarity and faster troubleshooting.
Secondly, when walking the customers through certain processes (e.g. password retrieval) you can enrich messages with direct links to ensure that they indeed land on the page they are supposed to.
This is something phone support agents cannot offer, while the email support, in this case, is just slower.
Live Chat Delivers Personalized Customer Experience
Live chat is one of the best tools that can offer a human touch to your customer support as the customers get instantly connected with a human agent.
How can a live chat deliver a better customer experience?
It is a conversational tool through which live chat support agents can deliver interactive and meaningful help
Live interactions that involve screen co-browsing (the support agent, with the permission of the customer, views and interacts with that customer's web browser) show customer satisfaction rate at 89.3%.
It has personalized touch – similarly to a phone conversation, live chat operators can greet each customer with a welcoming message, introduce themselves and use customer's information to build trust and confidence.
Live Chat Reaches More Customers
Live chat, being a live interaction tool, unlike emails, does not allow support agents to act proactively toward the customers.
What is proactive customer service? It basically means that it is the support agent who initiates the interaction first, not the other way round. It's pretty much the same experience you get when you shop in traditional stores – usually, when you wander around for a short while, a store staff member shows up to ask if you need any help.
So what happens next? If you need help, the staff tries their best to assist you with your matter. Finally, in case you found what you came for, you leave the store with the purchased goods.
As a result, the store has not only increased its daily sales but also let out another happy customer who is likely to come back for more in the future.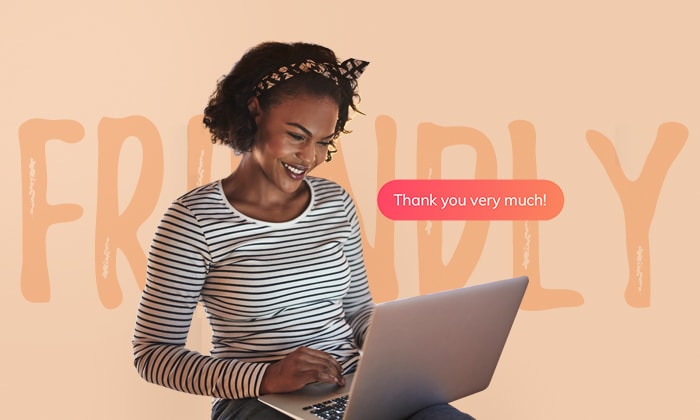 And this something that live chat operators can also deliver to increase the customer experience, and increase sales.
Many live chats have the feature that allows the operators to see how many visitors are currently browsing your website and what page they are on. In Tidio it's called "Visitors List". All you need to do is to select the customer you want to reach out and start chatting.
Collect Instant Feedback About Your Business
The feedback you receive can help you to identify the gaps between your customers and your businesses:
It leads to the improvement of the quality of products and services
It helps to measure the satisfaction rate
It helps you strengthen the communication with the customer
Use the customer service rating option to ask for feedback, and ideally, ask for it immediately after a live chat session has ended.
Live Chat Automates Customer Service
Does your customer service team spend too much of their time on repetitive tasks? Then it's time for automation.
By using a live chat + chatbots combination, your team can take care of the complex queries and chatbots can handle the routine tasks.
Try Live Chat + Chatbots
Moreover, being less burdened by simple queries, your team can respond to the queries faster which in turn, results in higher customer satisfaction rates.
Grow Your Business With Live Chat
Live chat is a modern and cost-effective online tool for business that can not only greatly influence your income and reduce customer support costs, but also boost customer satisfaction rate and loyalty.
If you know any other benefits of using live chat then share them in the comments section below!
Let's grow your business together!
Try Live Chat For Free