Marketing is no longer just about advertising products. It's about building meaningful relationships with your customers. And the best way to make it happen is to have a conversation.
That's why you're hearing more and more about conversational marketing. Everything seems to be "conversational" these days—interfaces, applications, and advertising campaigns.
But what does it actually mean?
We will help you find out what conversational marketing is and provide some examples of how it can be used to improve your business.
In this article:
If you are curious about other topics related to marketing or chatbots, you should also read:
What is conversational marketing?
Conversational marketing is a term that describes the process of communicating with potential and current customers through conversational channels such as chatbots, live chat, social media, and messaging apps. It's a great way to connect with customers on a more personal level and create relationships that can lead to conversions and sales.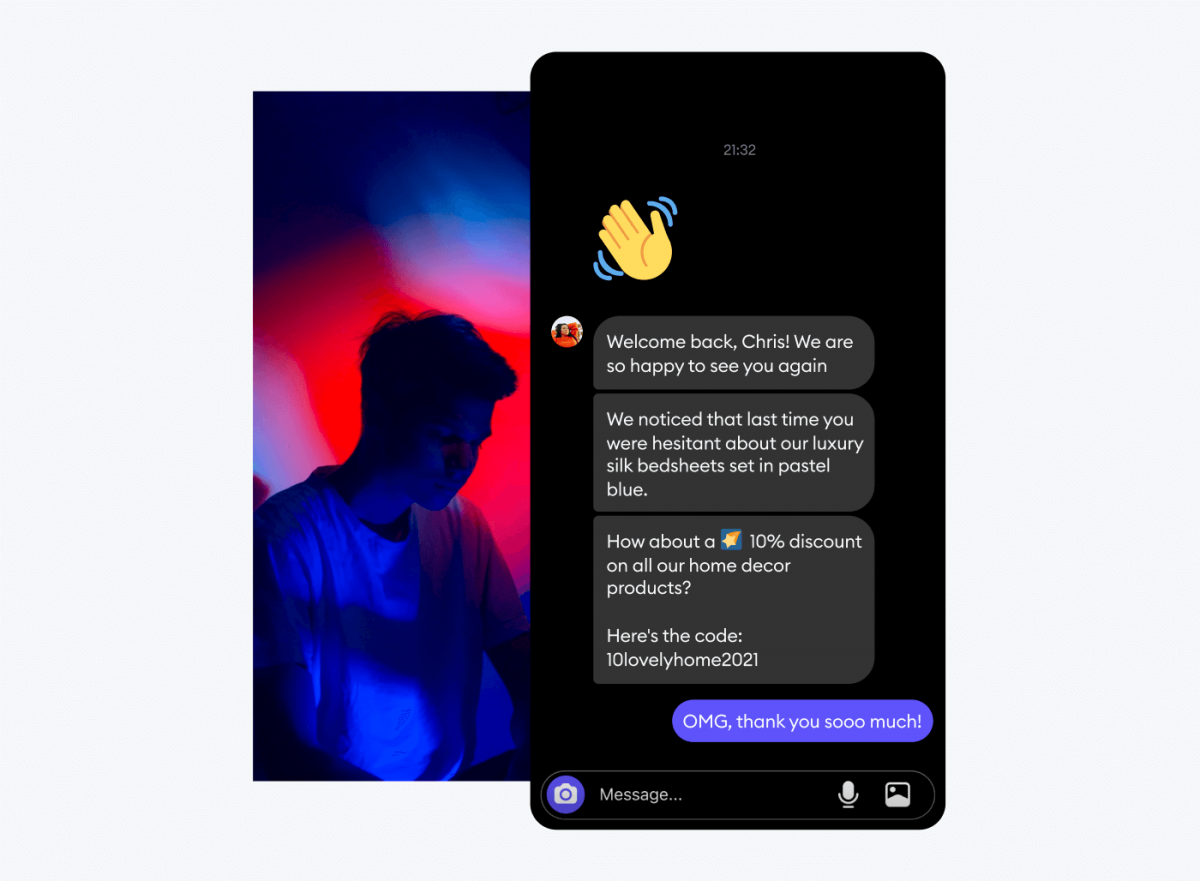 Conversational marketing is intended to create a two-way conversation between a business and its customers, with the goal of building trust and loyalty.
The benefits of using a conversational approach to marketing:
Higher engagement level. After exchanging messages, customers are more likely to return to your site, read your content, and buy your products or services
Increased sales conversions. Real-time conversations can ensure that customers are getting the information they need in order to make a purchase decision
Good return on investment rate. Conversational marketing is cost-effective—it allows businesses to target specific customers instead of spending money on broad advertising campaigns
Better brand awareness. Interacting with customers through messages makes your business more memorable and will increase familiarity with your brand
Better customer experience. Interacting with customers through conversations is more effective than sending tens of follow-up emails.
Increased customer loyalty. Chatbots and live chat can increase customer loyalty by providing a valuable service that helps customers solve their problems.
More customer feedback. Engaging customers through direct conversations can help you learn more about them
OK—
But what exactly makes bots, conversational AI assistants, and instant messaging suitable for marketing?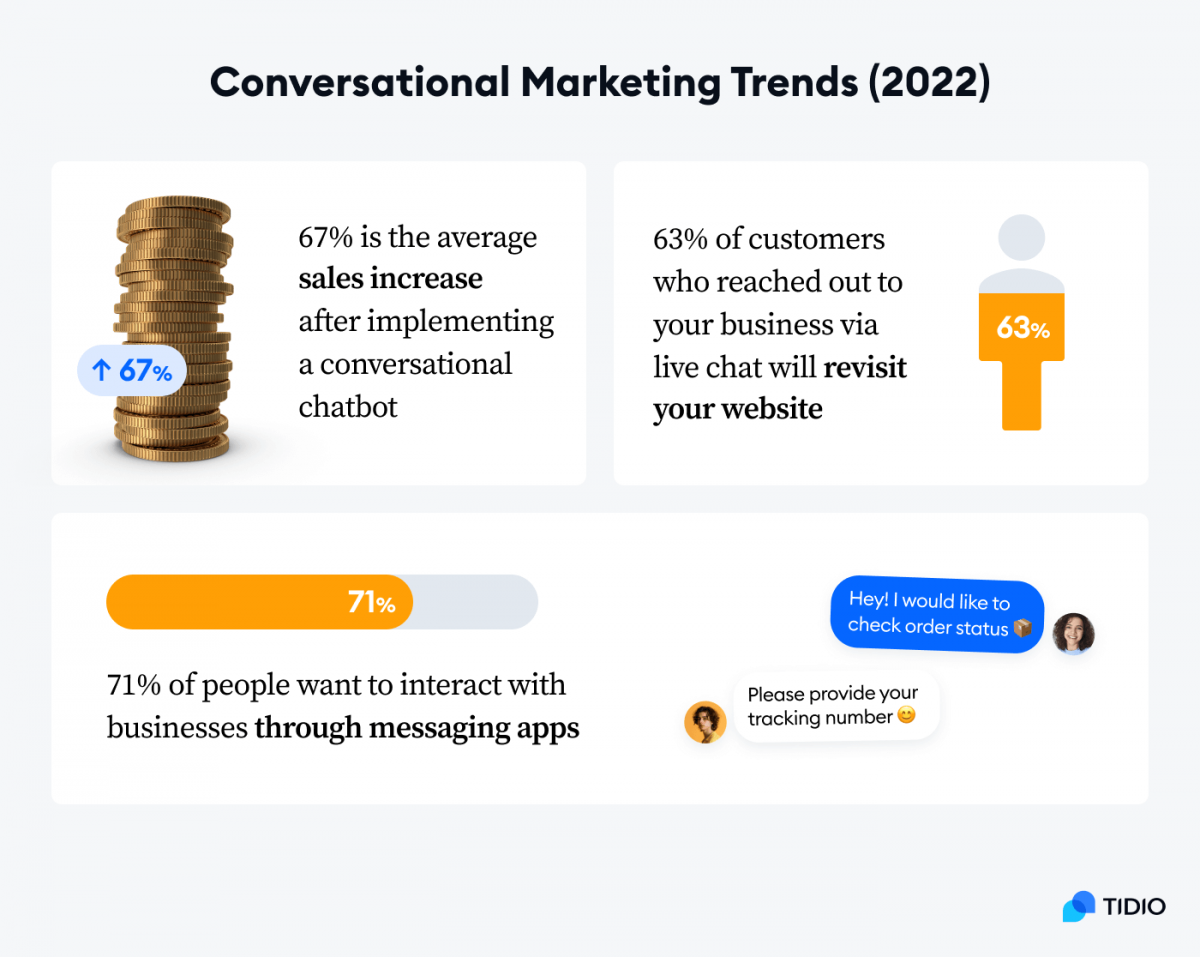 Why conversational marketing is so effective
In the world of B2C communication and sales, conversation-based marketing is a relatively new digital trend. Conversational marketing is connected with inbound marketing—the process of attracting customers through content and interactions that are relevant and helpful. Conversations happen to be the most direct and powerful of all customer interactions.
So, why are conversations important in an inbound strategy?
They allow you to:
Leverage powerful customer psychology principles that will help drive more leads into your pipeline with less effort
Offer personalized experiences to their customers, build trust, and loyalty
Learn more about customers, and improve the products and services of your business
Some companies increased their lead generation conversion rates from 3% to almost 10% by using conversational chatbots.
Read more: You may be wondering how conversational marketing can work for various industries. If you are interested in specific conversion rate numbers, you can read our report about chatbot trends and benchmarks.
Implementing your conversational marketing strategy
Meaningful conversations—with sales reps or chatbots—can turn website visitors into potential customers faster than traditional marketing approaches. In fact, about 63% of customers are likely to return to your website after a live chat conversation.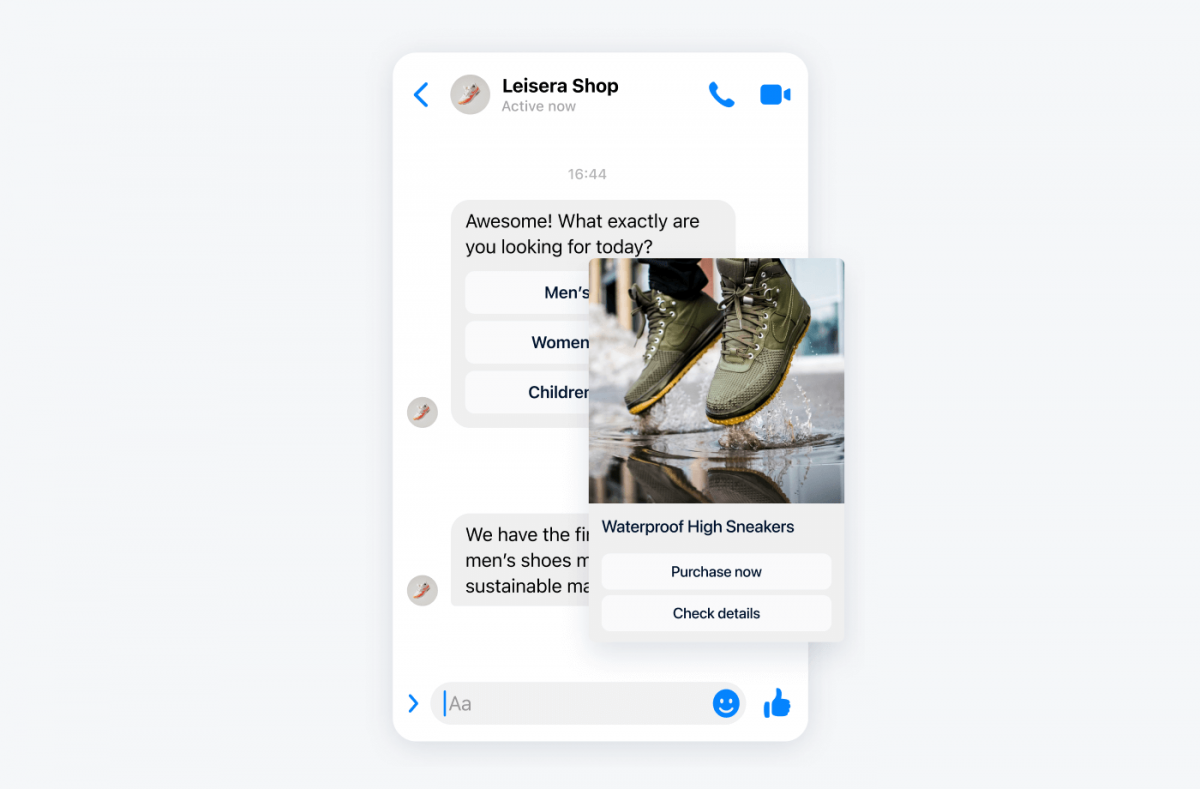 But integrating conversational marketing with your customer journey and sales processes can be challenging.
In order to use conversational technologies effectively, companies need to shift their focus from pushing products to providing a good user experience. This means that customer service and marketing efforts need to become more relationship-oriented, and sales teams need to learn how to engage customers in conversations.
Here is a step-by-step guide to making your digital marketing more conversational:
Let's take a closer look at each of them.
1. Define your business goals and metrics that you'll use
Before you decide to implement your conversational marketing strategy, it's a good idea to determine what you want to achieve. Do you want to increase your sales through social media by sending product recommendations via Facebook Messenger chatbots? Or maybe you are interested in improving customer satisfaction, and you care most about your conversation ratings?
Some of the common metrics to measure the effectiveness of your conversational marketing efforts include:
Leads and sales metrics. The number of leads generated, ecommerce conversion rate, or average order value
Engagement metrics. Response rate, average interaction time, or number of messages sent/received
Awareness metrics. Reach, impressions, or click-through rate
Loyalty and customer satisfaction metrics. Customer retention rate, average customer lifetime value, CSAT, or NPS
Some tools offer integrated features to track how chats translate into sales. For example, in Tidio you can track how many additional sales were generated after a conversation.
2. Identify key message points that you want to communicate
Conversational marketing is based on communication, and good communication must have a clear and straightforward message. Try to put yourself in the customer's shoes and think about what message will grab your attention the most. A promotional offer for a new product and a discount code? An invitation to access free content in exchange for an email address?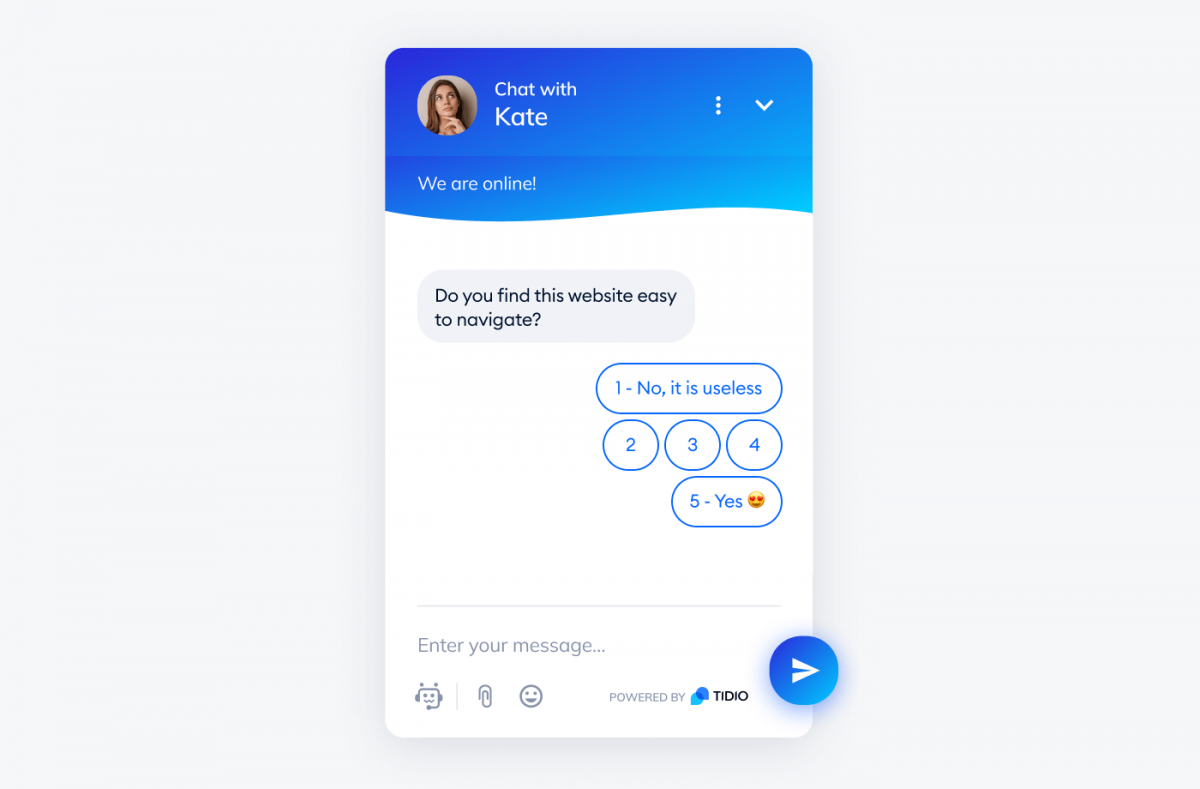 Try to keep the message focused on one point and not too complicated. For example, you can ask for customer feedback and then sidetrack into other topics through the exchange of messages. The conversation may start with an eye-catching welcome message and end with a sales pitch.
Read more: How to Recreate In-Store Customer Experience Online
3. Choose what communication channels you want to cover
If you want to start implementing conversational marketing, the best places are your website, messaging apps, and social media. Take into consideration:
Not all marketing channels work the same way. For example, if you want your chatbot to help customers with product recommendations, then you might want to use a chat platform like Facebook Messenger. If you want your chatbot to answer customer questions about your products or services, then you might want to use an FAQ customer support chatbot and add it to your website.
4. Select the best conversational marketing platform for your business
Conversational marketing is the future of digital marketing as such. Not surprisingly, there are many companies offering out-of-the-box solutions. Adding live chat and chatbots to your website and social media is easier than ever.
Take a look at the list of the best conversational chatbot platforms:
Tidio live chat and chatbots. Provides a variety of free tools, such as Tidio autoresponder bot, that make it easy to set up and analyze your conversational marketing campaigns
Drift conversational marketing tools. A platform that helps businesses communicate with their customers through custom bots
Qualified. Lead generation tools with integrated CRM software to help you build your own customer database
MobileMonkey. A powerful solution for creating advanced Facebook chatbots
Intercom. Conversational marketing and customer service tools suitable for medium-sized and enterprise companies (you may want to consider one of the popular Intercom alternatives for small businesses)
You can also find a detailed comparison of top chatbot builders here.
5. Train your team on how to use conversational marketing tools
Using marketing chatbots and canned responses means you can talk to hundreds of customers without breaking a sweat. But, as with any new technology, this also means that you have to learn some things before everything runs smoothly.
Dealing with angry customers with AI bots can backfire, so you need to be prepared for all sorts of situations. Practice some common customer service scenarios in case your marketing chatbots are confused with customer service agents. You can set up mobile notifications and alerts about customers who want to speak with a real agent.
Read more: Best Customer Service Training Ideas and Resources
6. Design and test your chatbots before setting them up live
Customers should be able to chat with a business just the way they would with a friend. This means that businesses need to be more responsive, personal, and available 24/7. Well-designed chatbots are essential, especially when it comes to this last point. In fact, you can increase your sales by 67% with a good chatbot design.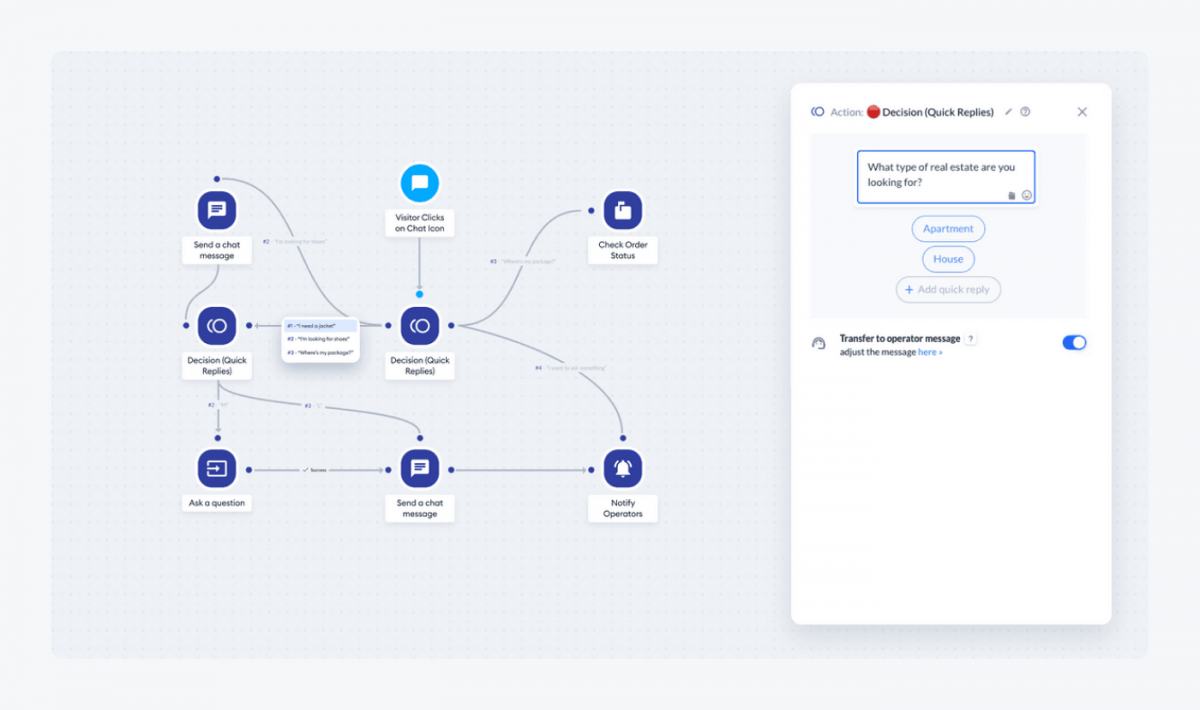 You can design different chatbot flowcharts and decision trees with multiple conversation choices with a visual chatbot builder. However, a much easier way is to use ready-made chatbot templates.
7. Measure your results and optimize the conversation flows
Tracking the results of your conversational marketing campaigns is quite easy, especially if you've chosen the right metric. But if the results are not satisfactory, you can see the drop-off rate for individual messages of your chatbot.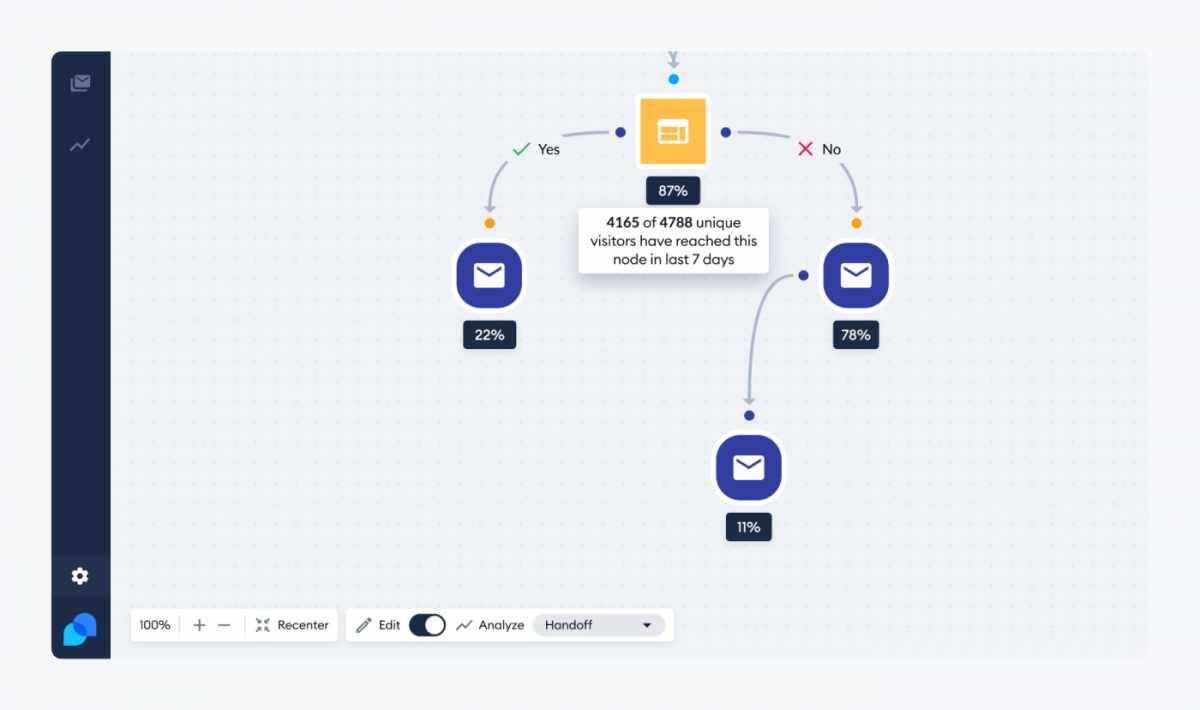 You may find that your customers get discouraged by a particular message or are interested in something else. By viewing the results for each message node you can optimize your conversations. This type of detailed analytics is available as a feature in the Tidio editor.
Conversational marketing examples
Conversational marketing tactics are perfect for businesses that want to create a more personal connection with their customers. By using them, you can make your customer feel valued and appreciated, which can lead to more sales and better customer retention rates.
Here are some examples of conversational marketing techniques used by companies.
Lead generation with chatbots
The most conventional example of conversational marketing in action is the use of lead generation chatbots. They are perfect for automating the process of lead capture and qualifying leads as they come in.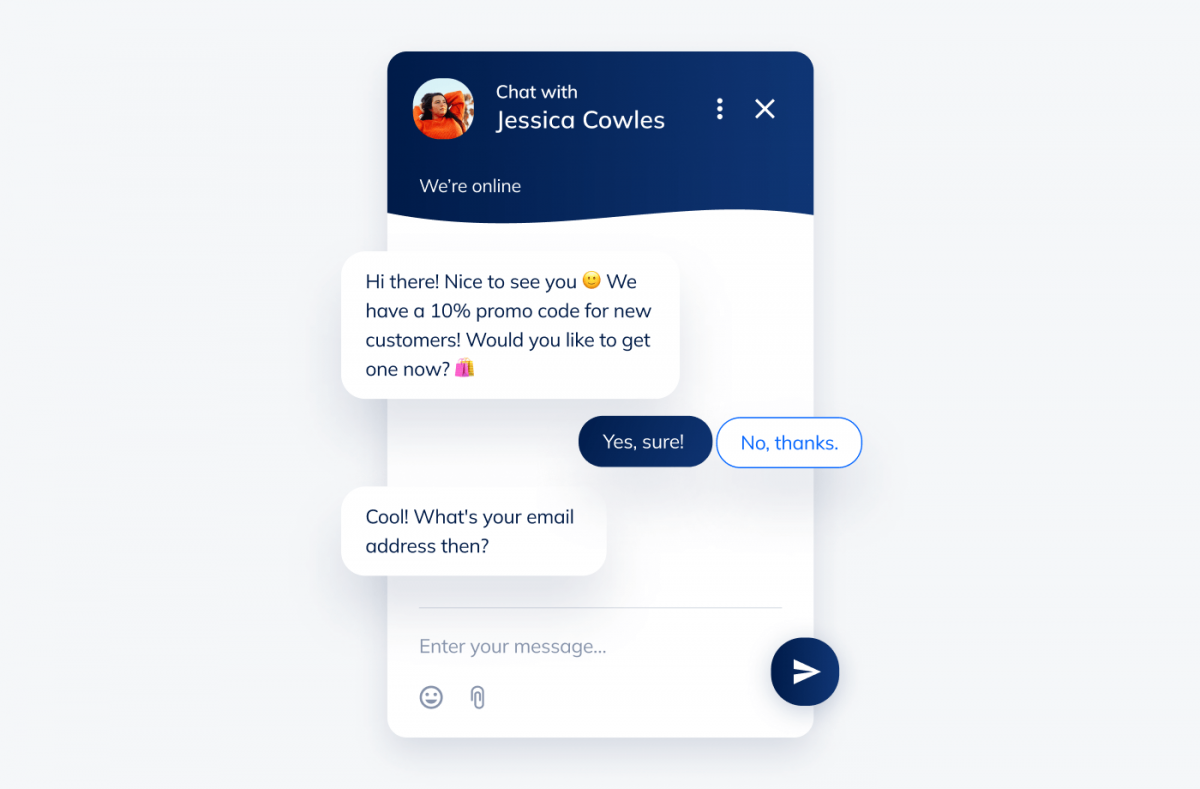 The chatbot can be triggered when someone visits a specific page or after a delay. Once customers message your chatbot, they are asked a series of questions. The primary task is to collect contact details, such as an email address or a phone number.
You can tempt your website visitors with free resources, products samples, or discount codes. Then your chatbot can send some follow-up questions that will help to categorize customers and find qualified leads.
Social media conversational sales campaigns
Conversational sales take place through conversational channels such as chatbots, social media, and email. Through a series of messages, you can suggest products to your customers, find out what they are looking for, or offer them a discount.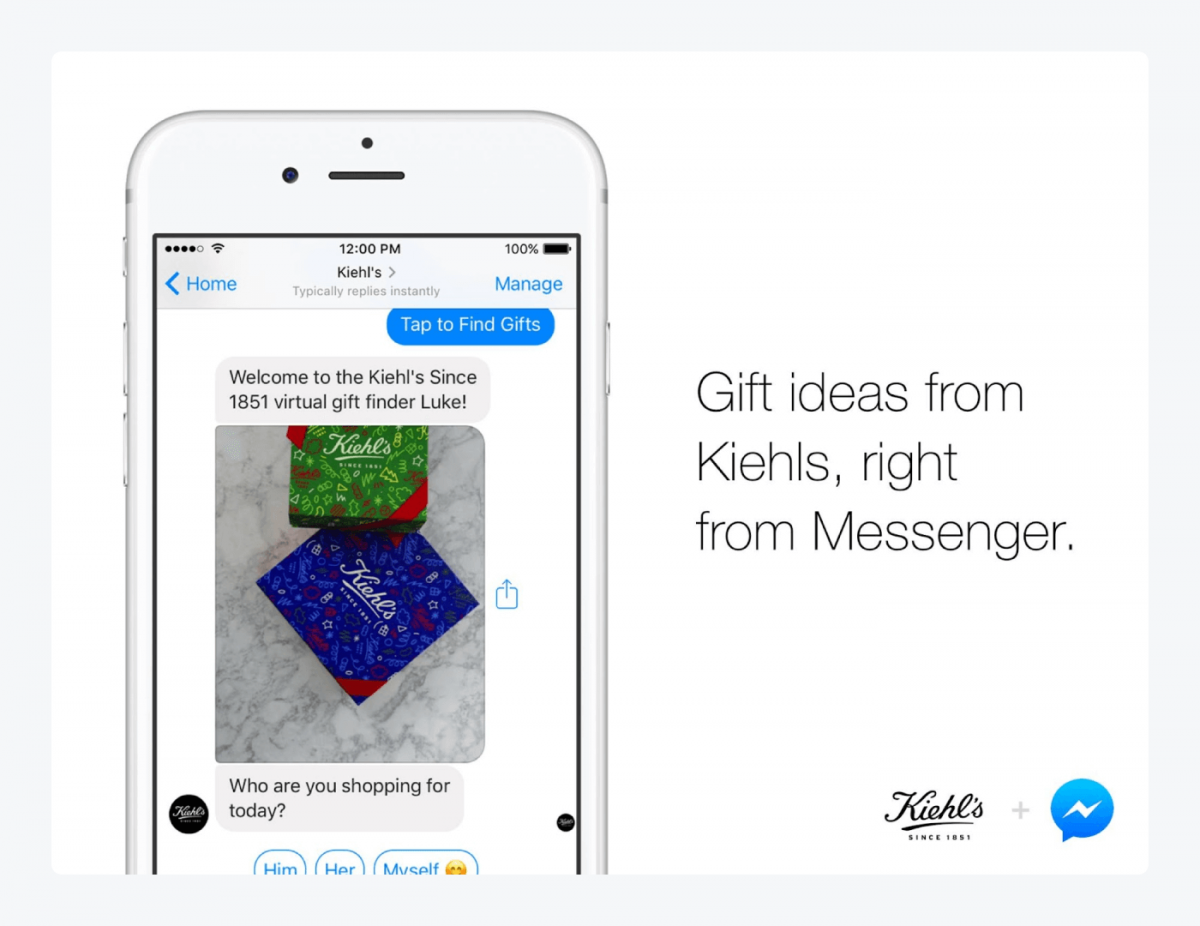 The example above shows a Messenger chatbot developed by Kiehl's that helps you search for skincare product gifts. It is a complete conversational sale—everything happens right in the conversation panel. By using payment automation within Messenger and integrating flexible payment methods, businesses such as Kiehl's can provide a seamless shopping experience for their customers.
Live chat on e-commerce websites
Live chatting is a conversational marketing strategy that uses live chat software to communicate with customers. It allows businesses to provide customer service and support, as well as send marketing and sales messages, through live chat conversations.
Live chat is a tool that becomes an integral part of your website or online store. You can customize its look and feel and configure messages to be consistent with your brand. While it may seem like a live chat widget is more related to customer service, it actually serves an important marketing function too. Customers find websites without a live chat feature almost 2 times less trustworthy.
Conversational landing pages
In order to create a conversational landing page, you'll need to use conversational design principles. These principles focus on creating a more engaging user experience by using conversational elements like questions, prompts, and personalization.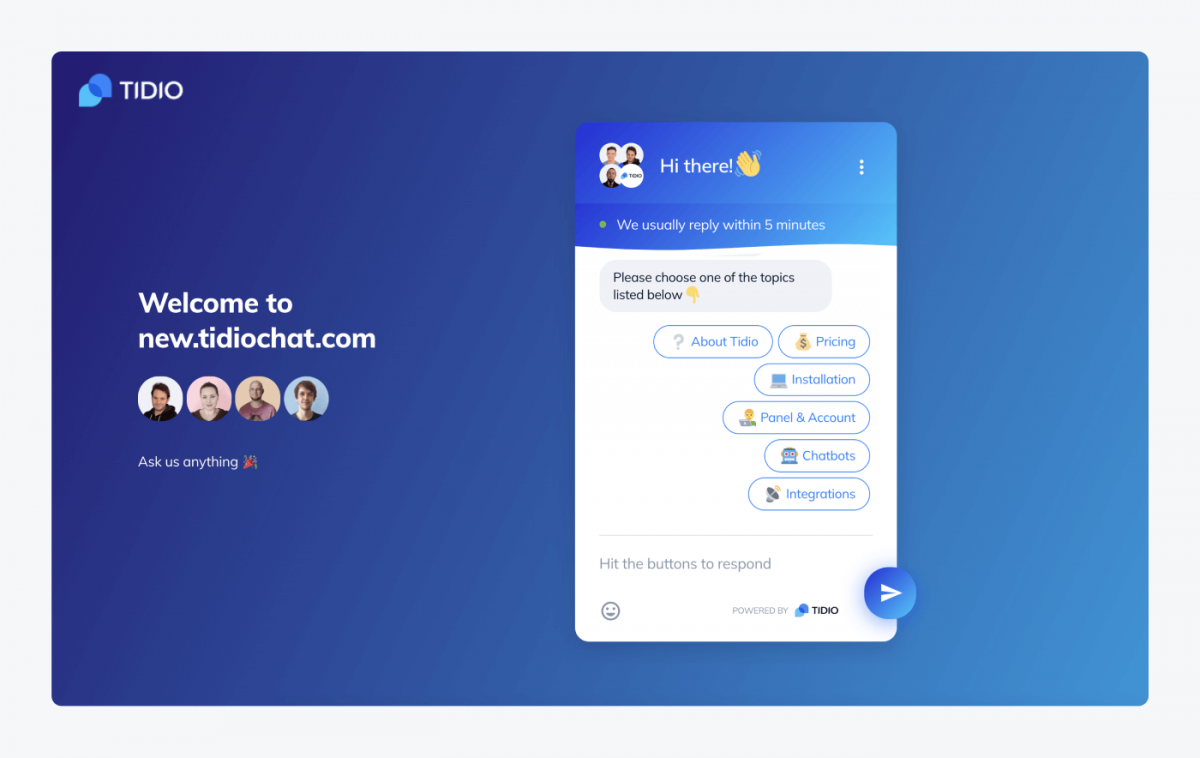 But you can also generate a conversational landing page for marketing automatically. Some best conversational marketing platforms allow you to embed an interactive widget and chatbots on any website. Or even host the landing page for you.
Conclusion
Conversational chatbot marketing is an effective way to increase conversions and revenue while reducing costs. It makes your business scalable, more efficient, and more personalized for customers. Additionally, getting started with a marketing chatbot platform like Tidio is simple and affordable.
If you are interested in implementing chatbot marketing for your business, click below to get started.