Business Growth
Conversational Marketing: from Traffic to Sales in 4 Steps
The cookie cutter marketing no longer cuts it. But the conversational marketing does. Boost your sales by giving your customers the personalized approach they are looking for.
Today's customers seek personalized connection – you can fulfill these needs, with the help of conversational marketing. The business is changing. Building relationships with customers was always important, but now it matters more than ever.
And this is where conversational marketing can help.
With this short guide, I'll show you what good can this strategy bring into your business, and how to start it with just a little effort.
What Is Conversational Marketing?
Conversation marketing is about having a one-to-one conversation with your audience, providing a real-time interaction in various areas of your business: marketing, sales, and customer service.
To put it simply – you talk with your customers, instead of talking at them.
This type of communication occurs mainly with the usage of live chat and chatbots (however, broader definitions of conversational marketing consider channels like phone, email, and social media as a part of this strategy as well).


Don't worry if you're fresh with the terms – here's a short explanation.
Live chat is a software that allows you to have a conversation with your customer in real time via live chat widget placed on your website (or through social media channels).
Chatbot, in simple words, is an artificial intelligence set up to complete certain tasks, and in that case – provide customer service or assist in sales. A chatbot is an example of conversational UI, which becomes more popular and engaging than regular graphic interfaces.
If you're more curious about how they work, check out our articles on "what is live chat" and "what is a chatbot".
The Rules of Conversational Marketing to Follow
One of the main rules of conversational marketing to keep in mind is treating your recipient as an individual being, instead of speaking to this person with generic and broad messages.
Personalization is the key. That's something that draws people's attention- 80% of customers are more likely to make a purchase when they're offered with personalized customer experience.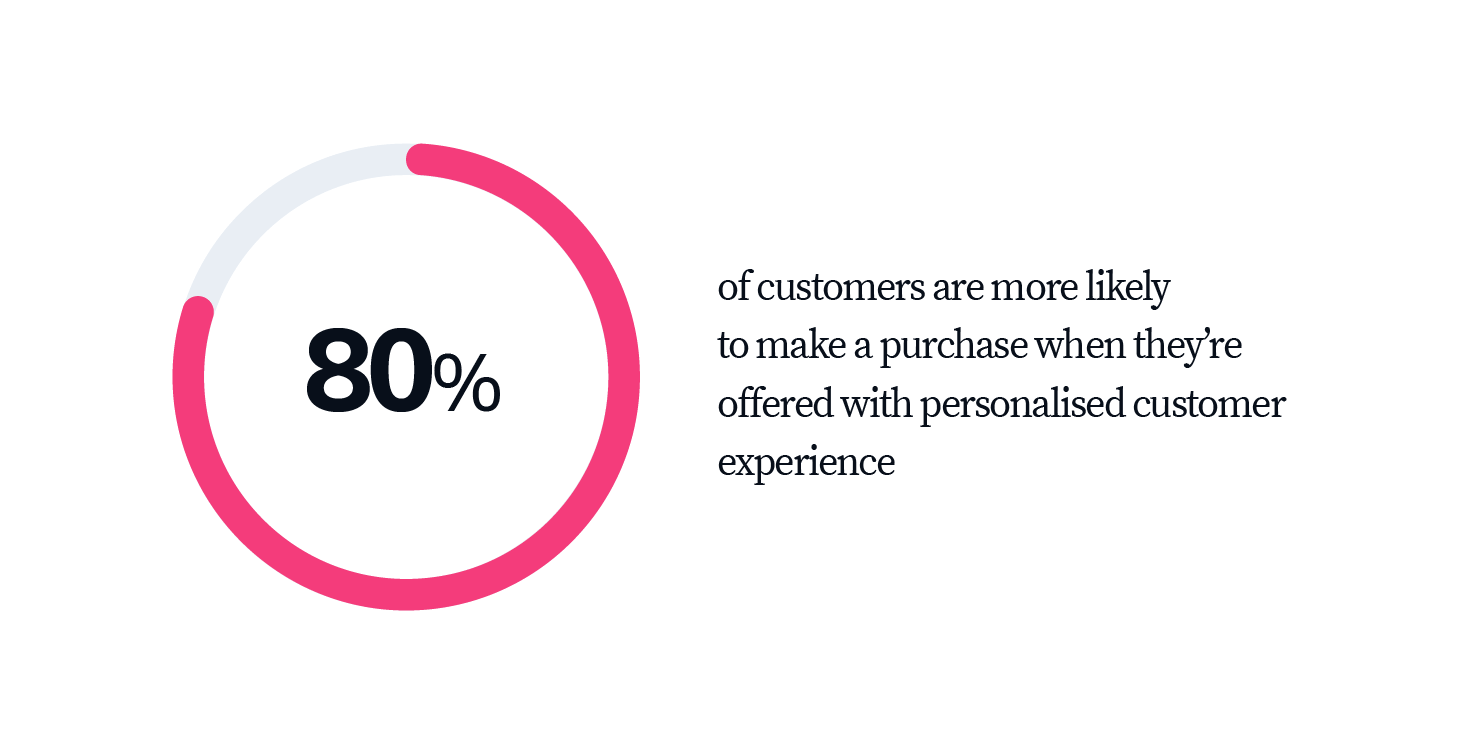 What do I mean by personalized customer experience? Everything that makes your customer feel unique – using their name, offering personal discounts, recommendations, helpful customer service tips, etc.
Another important rule of conversational marketing is live chat and chatbots usage.
With live chat, you offer a simple communication tool to connect with your customers in real time. Chatbots are a great addition to live chat since they allow you to automate many business tasks.
There's no denying that in most cases, customers prefer to speak with a human being. However, it may not always be possible – if you have a high volume of customers, you can't assign a live chat agent to all of them (even if a single agent handles multiple conversations at the same time).
Compared to live chat, chatbots are scalable – you set them up once, and they engage anyone at any time you wish, turning your business into automated 24/7 sales and lead generation machine.
And most importantly, customers don't really mind using automations – 47% of consumers would buy an item from a chatbot. And since they see no objections, neither should you.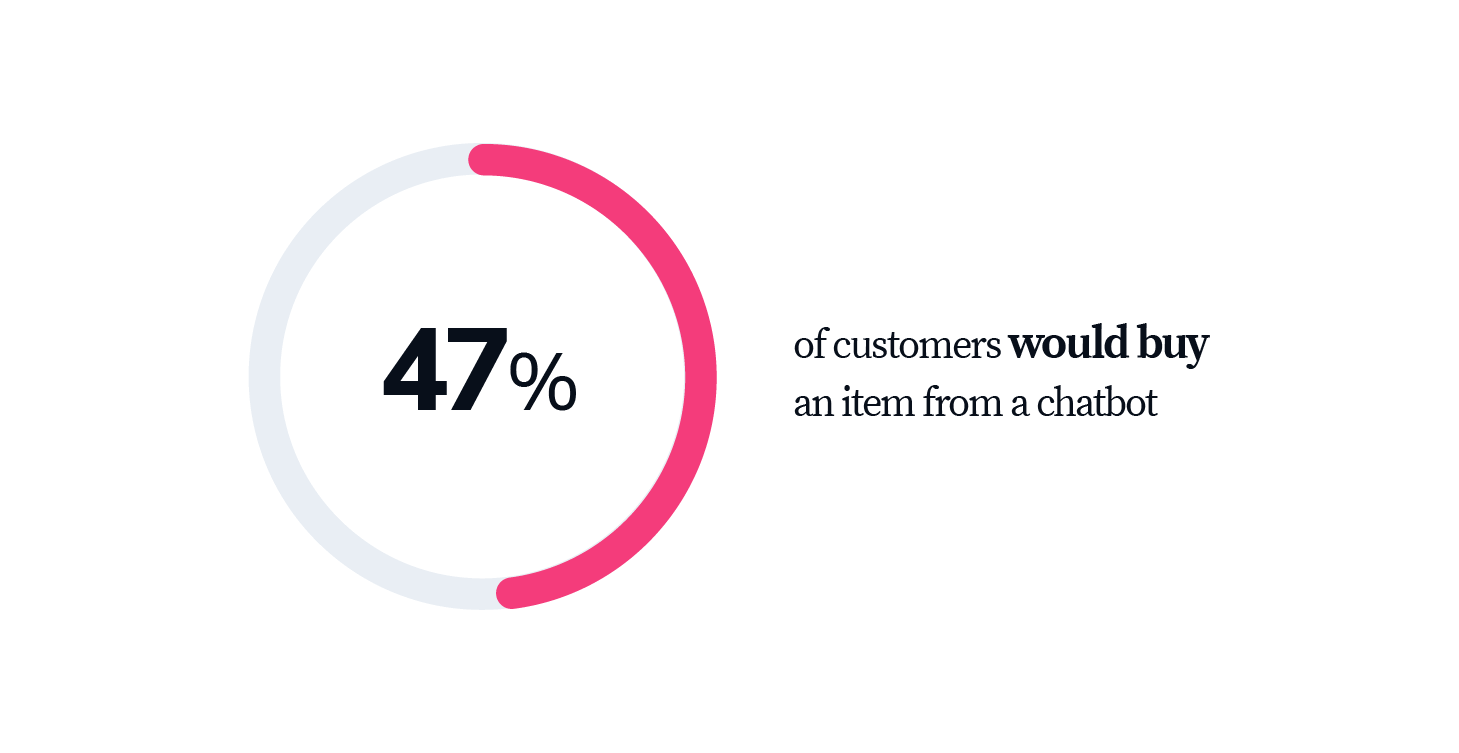 Now, since we're past the definition part, let's get to the point – what can your business gain from using conversational marketing?
How Can My Business Benefit from Conversational Marketing?
The concept of conversational marketing helps you to build a strong relationship and both-way communication with your audience, driving your sales and lead generation.
Why should you consider using this strategy?
Because customers are turning their backs on single-way communication.
Take a look at the data below:
"It was found that 25.2 percent of U.S. internet users blocked ads on their connected devices in 2018. This figure is predicted to grow to 27.5 percent in 2020."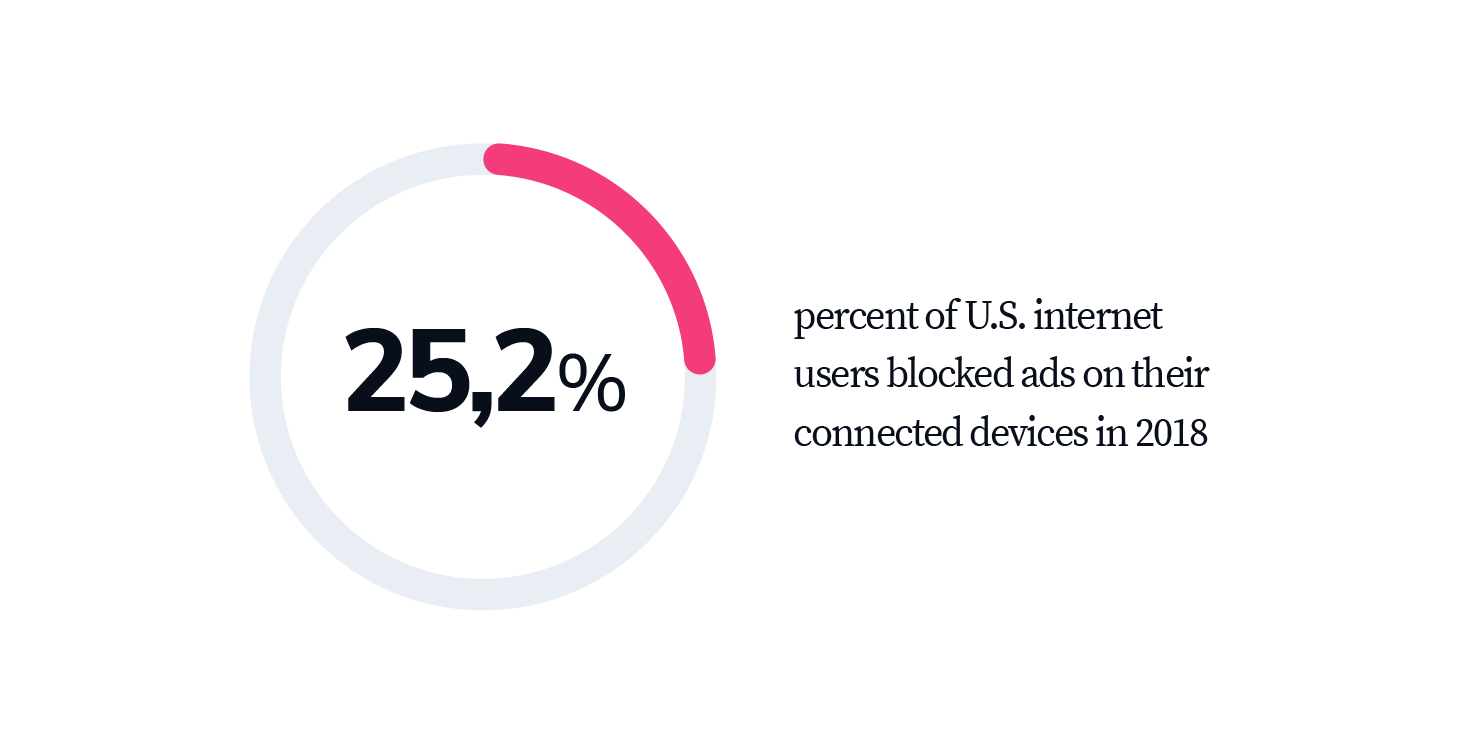 We're tired of advertising, and we're looking for a real human connection. And that's what conversational marketing is aiming to give to us.
I know that trying new strategies can be intimidating, especially when it includes seemingly complicated tools like chatbots, but believe me – it's not rocket science. It all boils down to setting up live chat, chatbots and conversation flows on your website. You don't have to be a developer to do that.
It's not just about the ease of set up – there's much more to conversational marketing. With its help, you can:
Optimize your sales and lead generation: with chatbots to be there when you're not, you're making sure it's making the best out of your sales opportunities. Chatbots react based on visitors' behavior on the website, and they can do some cool stuff like automatically engaging a visitor that came to a specific URL to collect a lead. Or if you're running an eCommerce business and your customers decide to drop their shopping carts, chatbot can engage them to ask what happened (or even offer a discount!).
Be easily accessible: 82% of today's customers demand an answer rate below 10 minutes. Live chat gives customers an opportunity to start a conversation with a single click, as opposed to making a phone call or writing an email which takes a little more effort. Personally, it's one of my favorite ways to contact businesses – I can multitask by asking a live chat agent about my query, and taking care of my stuff at the same time.
Be available 24/7: 51% of customers expect that from businesses nowadays. You just have to be there for them, either way, they'll turn their backs on you, and move away to your competitors. And thanks to chatbots – that's possible.
Be efficient: imagine you can provide customer service to a few clients at the same time. Impossible? Not with live chat, which allows having parallel conversations at the same time, making you more time-efficient. Not to mention you're free to set up chatbots to take some of the customers' queries off your back for even more time-saving.
A growth marketer from Web Profits, Sujan Patel, says:
So far, I've done about 15 tests at 15 different companies, and every time, implementing conversational marketing has led to a 30% or greater increase in leads. Not only that, the quality of the leads has improved as well since conversational marketing lets you qualify prospects in a more casual way before getting them to the right workflows and nurturing sequences.

Sujan Patel
Growth Marketer @ Web Profits | https://tinyurl.com/y6gfcku2
So conversational marketing can give you a lot of benefits with just a little cost and effort.
Check the paragraph below for the 4 step guide to bring this strategy into your business.
How to Start Turning Traffic into Sales with Conversational Marketing in 4 Steps
There are a few things to consider before starting with conversational marketing.
When it comes to live chat usage, it's quite simple – you just set up the widget on your website, and customers can reach out to you whenever they feel they need to.
With chatbots, however, there are many goals you can achieve with different approaches.
Let's skip the small talk, and get to the point!
Check this 4 step guide to implementing top-notch conversational marketing into your business.
Step 1. Get to Know Your Customers Better
Setting up a proper conversational marketing strategy will vary depending on a few aspects.
Start with answering these questions:
Who are your customers?
What are their goals?
What style of communication do they prefer?
How do you sell to them?
Answering these questions will allow you to create a good communication flow with your clients. Every business is different, and the same goes with customers, so adjusting your communication to them is crucial.
Another important factor to take into consideration is the way you sell – do you sell directly (e.g. you're an eCommerce business), or your sale is based on leads, and the sales process can be longer (e.g. you're selling services)?
Different selling styles will require slightly different chatbot types – I'll explain what you should aim for in the next paragraph.
Step 2. Set up Conversation Flow for Chatbots
Conversation flow is a conversation tree, where you decide how chatbot reacts to your visitor's behaviour.
Conversation flow usually consists of 3 elements:
Trigger: something that visitor has to do to launch a chatbot (e.g. visit a specific URL),
Action: an action that happens after a Trigger takes place (e.g. chatbot will launch after customer visits a specific URL),
(optionally) Condition: a condition that has to be met for an Action to start (e.g. a visitor has to be an USA resident for a chatbot to launch).
The look of a conversation flow depends on the goal you'd like to achieve with a chatbot. It's up to you how complex the flow will be – you're free to set up complicated flows, which'll result in many possible ways a customer can interact with your chatbot.
However, if you're just starting, I recommend sticking to the basics – simple conversation flows aiming to achieve a specific goal with your customer.
Would you like to take a sneak peek into what a Tidio chatbot is made of? We've put together the Tidio Chatbots Cheat Sheet that covers all the triggers, actions and conditions a chatbot may follow.
Here's an example of a simple flow that will make chatbot send a message to a 1st-time visitor, engaging them in a conversation: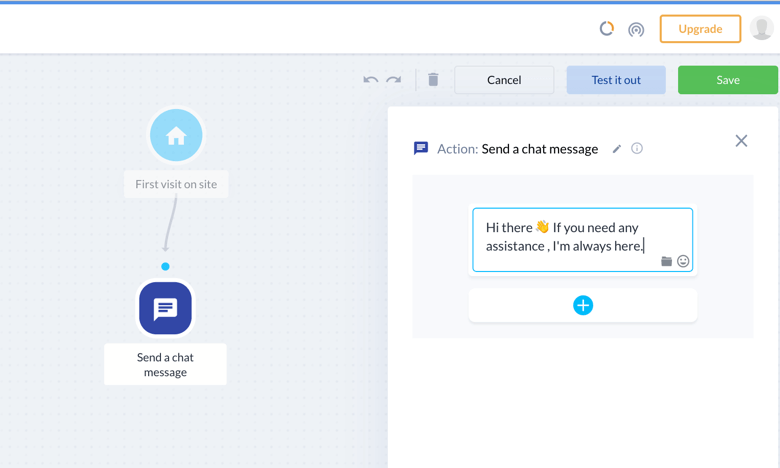 And that's how the chatbot will appear to your customer: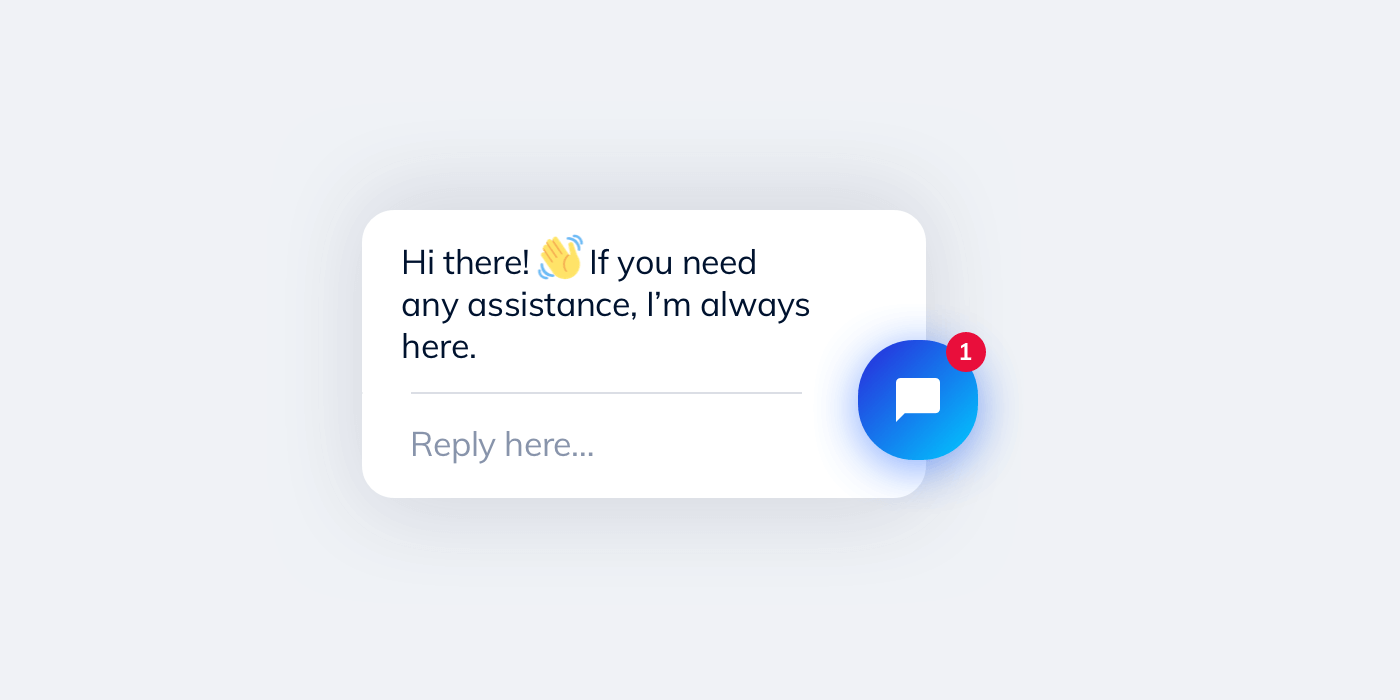 Which Chatbots Should I Use When Running an Ecommerce Business?
If you run an online store, then you should focus on selling right here, right now.
You can achieve that by engaging your customers and pushing them towards conversion with features like:
Stopping customers from abandoning their carts:
Offering discounts to returning visitors: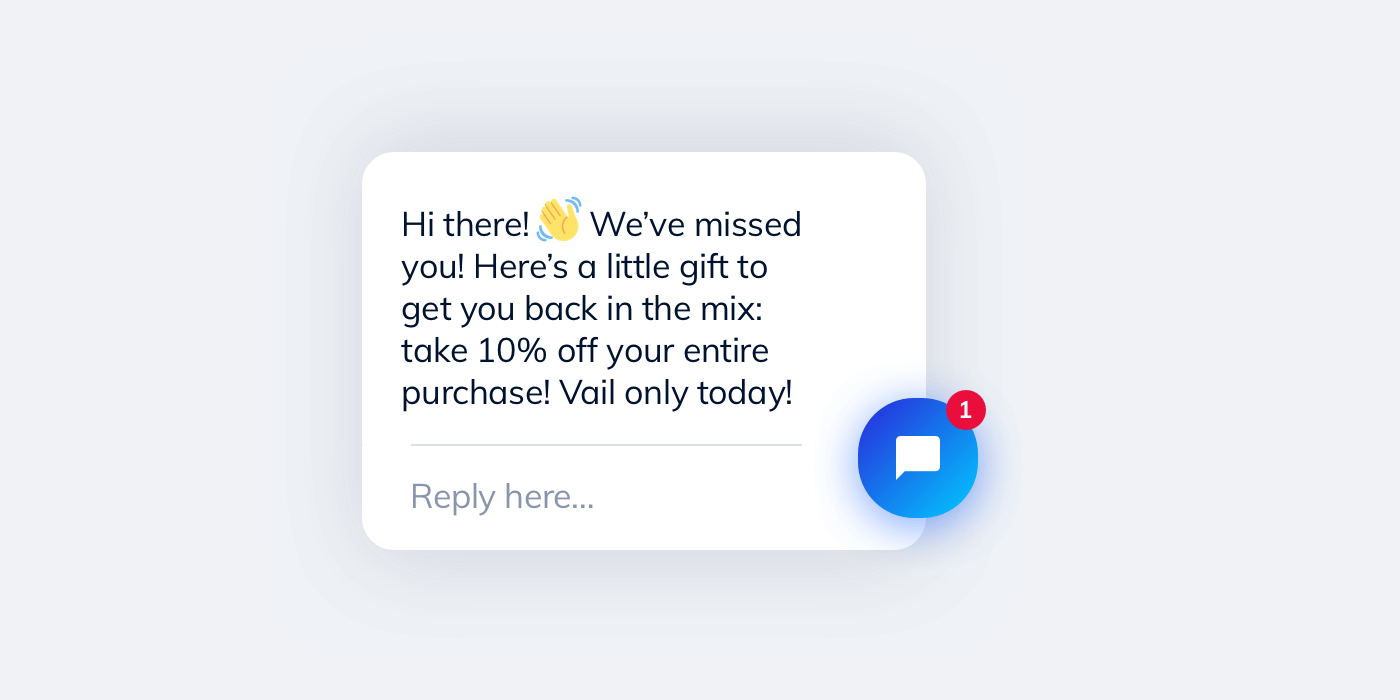 These are just a few examples of chatbots for eCommerce stores.
Go here to check the best chatbot examples to find ideas and boost your sales.
Which Chatbots Should I Use to Generate More Leads?
When you base on lead generation, you should focus on using chatbots to generate leads, and getting as much information about your customers as possible.
Good chatbot examples to use in that case would be:
Engaging users when they want to leave the website: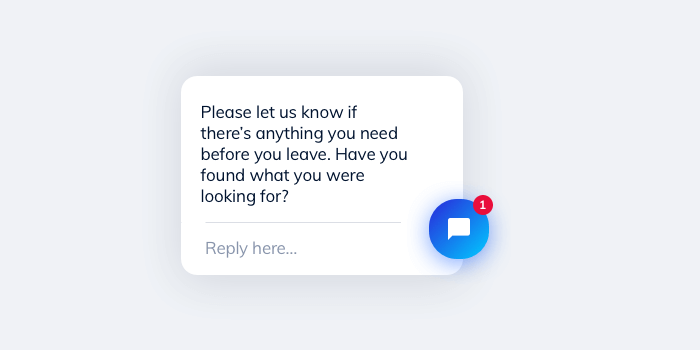 Allowing visitors to order a phone call:
Engaging a visitor who left the contact form:
Once again, these are just a few examples of chatbots to boost your lead generation. Check out our article on generating leads with live chat and chatbots – where we cover the most useful cases .
Step 3. Keep These Best Practices in Mind
There are a few best practices to keep in mind while starting with conversational marketing:
Engage visitors for a reason: keep in mind that the purpose of using chatbots is guiding your visitor to complete a certain action. Don't create flows that lead to nowhere.
Use pre-chat surveys: with this feature, you can collect information like name or email address before the conversation starts. You can use it for personalization (e.g. greeting your visitor with their name) or sale purposes (because you've collected a lead, right?).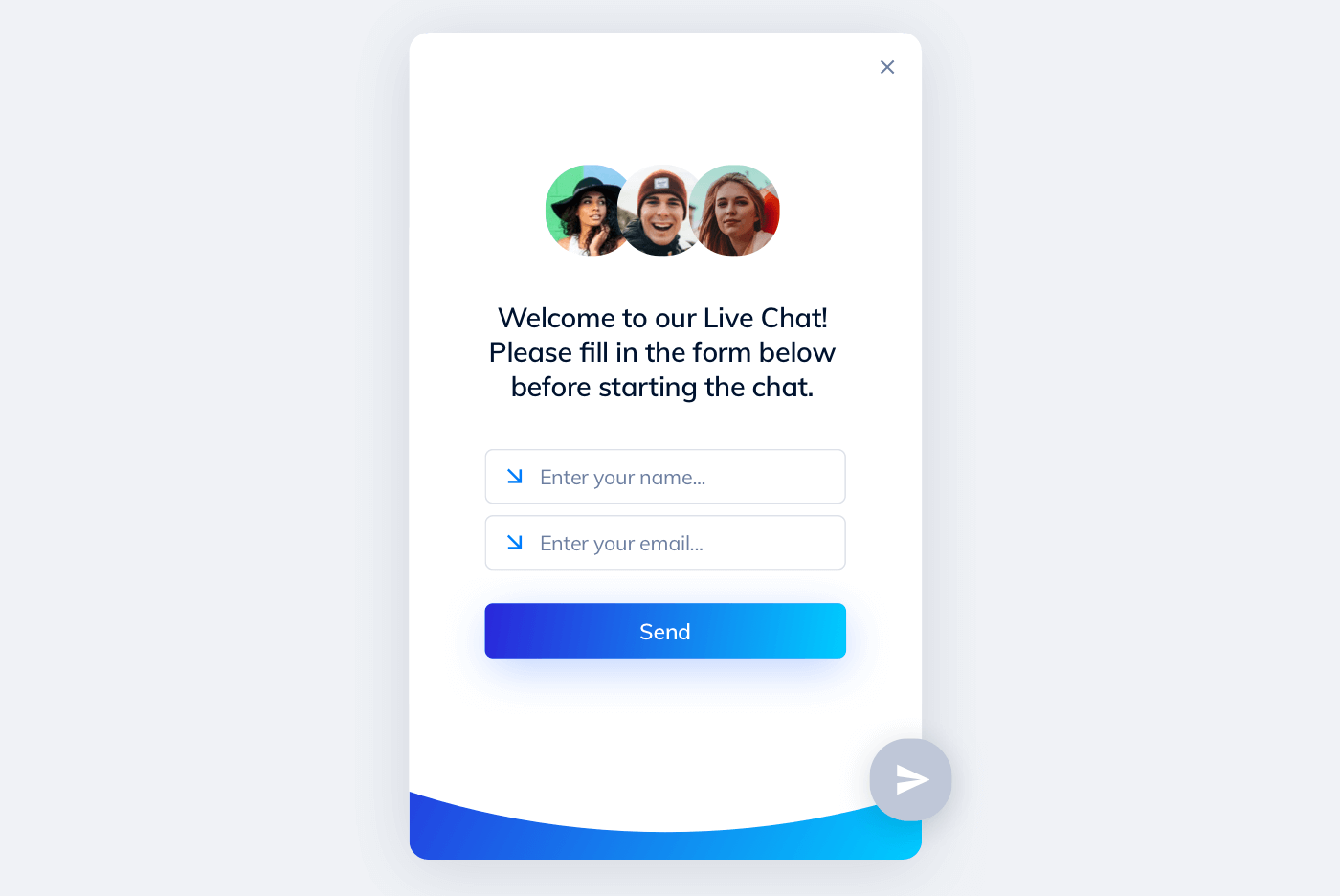 Add some human touch: customers don't mind using chatbots, but it doesn't mean that the communication should be robot-like. Make sure that the messages give a feeling of speaking with a human being – they're warm, polite and enriched with the voice of your brand.
Keep the flows as short as possible: get your visitor to the finish line with the shortest path possible to make sure that they won't tire and drop off in the middle of the conversation.
Use personalization: with the magic of personalization, you're 80% more likely to convert traffic into sales. Make sure to use your visitor's name or offer personalized discounts – that's something that customers value.
Avoid great blocks of text: for the convenience of your visitors, don't make them read too much text. Keep chatbot responses short and give your audience some time between sending the next messages.
Step 4. Test, Track Results, Adjust
What should you measure? A few examples of metrics to look after:
Number of conversations,
Interactions ending with success (e.g. generated leads or conversion rate from discount coupons sent by chatbot),
Customers' feedback,
Overall customer satisfaction,
Chat ratings.
Looking at all these metrics should tell you how your conversational marketing performs.
Remember to test various use scenarios and choose whatever performs the best.
Is Conversational Marketing For Me?
Everything that'll help you with standing out of your competition is worth giving a shot.
Especially that businesses are getting more and more competitive, and customers' are getting ad-proof.
We have to start looking for new ways to connect with clients, and conversational marketing is a great way to do that.
Here at Tidio we combine live chat with chatbots for a single and convenient platform to use, and you can try it for free.
If you feel convinced to start, we'd be happy to welcome you to our family 🙂