Here's the thing—
As many as 86% of customers are willing to pay more for a product if they receive a positive experience, according to an Oracle study.
And it's a customer success manager's job to make sure they get it from the first time they visit your website.
Whose job?
Well, this is exactly what we'll cover.
In this article:
If this isn't what you were looking for, check out these articles:
So, what does a customer success manager do?
Here's a quick answer:
A customer success manager's main job is to bring your sales, support, and success teams together, so the customer gets exactly what they came for. And then some more.
But—
It actually makes more sense to ask what a customer success manager can do for your business.
To understand this, let's take a closer look at the responsibilities of a customer success consultant and what they mean from a business perspective:
1. Filling the gap between sales and customer service
A CSM picks up the client where the sales have left them and guides them throughout the product adoption stage. Then, they oversee the customer support processes and establish a relationship with the client. By doing so, they begin to act as a middleman between sales and customer service, who not only take care of customers but also upsell and cross-sell.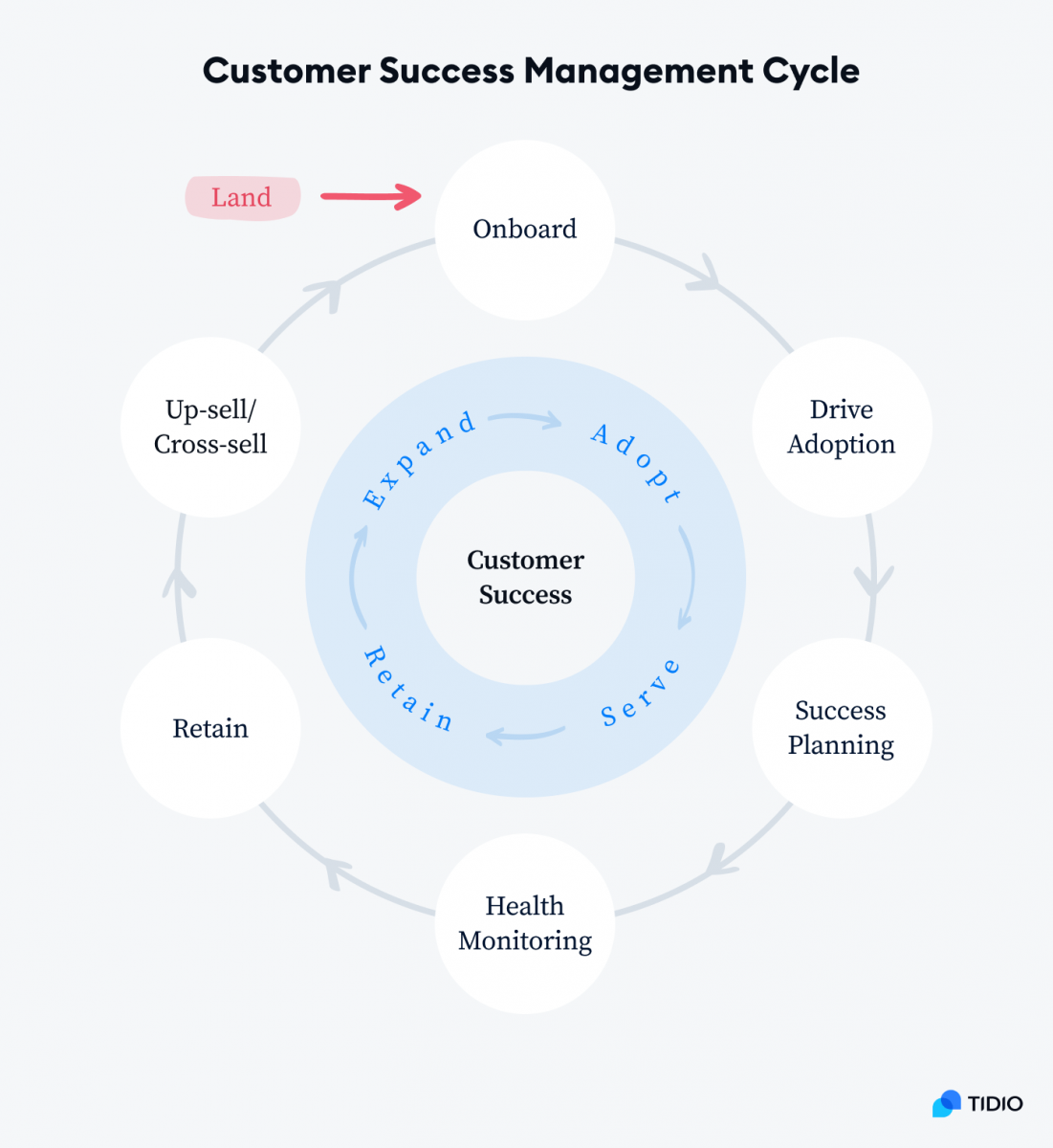 All these actions happen at critical stages of your customer's experience, and it's a CSM role to keep your clients in the loop.
2. Onboarding new customers
Nearly 63% of customers say the level of support they believe they'll receive post-sale is vital to making the initial purchase decision, according to Wyzowl research.

So, it's hardly a surprise that one of the top priorities for CSMs is the onboarding process for new customers. After all, clients need to know how to use your product and how it can help them reach business objectives.
Once a CSM evaluates which features are crucial for the client, they can focus on teaching them how to optimize the use of your product. Once the client sees the value your product can bring them, they'll be using it more often to reach their business goals.
3. Managing customer relations
While sales and customer service focus on clients' short-term happiness, one of CSM's main goals is to create a long-lasting relationship with a customer. When a prospect signs up for a service or buys a product, their commitment only just begins.
It's the customer success manager's duty to sustain it.
One of the ways to do it is to create an open line of communication, all the more so as 76% of customers say they expect companies to understand their needs. And there's no better way to do it than to communicate frequently.

This way, clients know that their needs will be heard, and CSMs develop a customer relationship based on trust.
4. Resolving customer issues proactively
Customer success managers keep a close eye on their customers and check in with them regularly, sometimes on a bi-weekly or weekly basis. Consistent communication and observing customers' satisfaction levels allow them to foresee potential issues and offer solutions before the problems even appear.
If technical or minor product issues occur that are not within the scope of the CSM's responsibilities, they will act as a link between the customer and the customer support team. Thanks to fast intervention, no matter the nature of the issue, CSMs reduce the churn and have higher chances to improve customer retention.

5. Reducing churn
Only 17% of SaaS customers log in to their service daily, and 50% of customers log in to their SaaS portals less than once in a month (!), according to Invespro.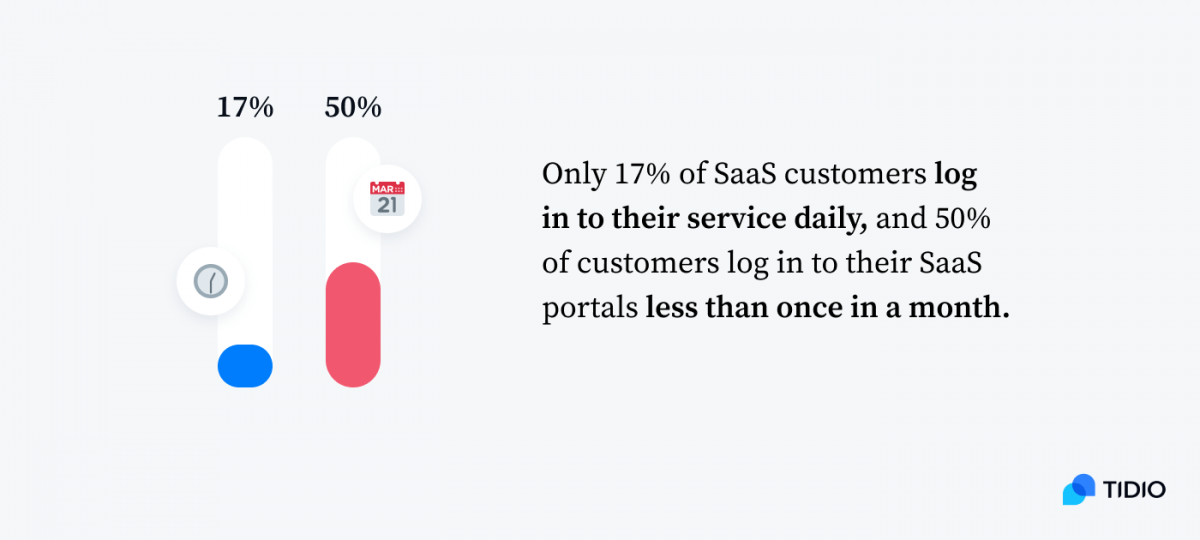 This is why one of the main jobs of the customer success team representatives is to make sure the customers are using your services consistently. Otherwise, the customers won't be able to accurately assess the value your solution brings to their business.
To reduce churn, CSMs analyze product usage patterns by monitoring which features the customers use. This allows them to determine which ones work as intended and which ones need significant improvements.
They also follow customers' organizational changes because organizational turnovers can be an indicator of a possible churn, especially if the decision-making person leaves the company. CSMs closely monitor these changes and determine the best strategy to align with the company's new staff.
Last, but not least, they train customers on a regular basis by organizing seminars, workshops, and certification classes to motivate the customers to use the product or service.
6. Advocating the product and brand
By working closely with customers and their team members, a CSM can boost your reputation on the market and chances of getting referrals.
Being close to the customers' real needs can turn CSMs into some of the best PR agents you'll ever get.
But there's more. A good customer success manager will also help you:
Segment your customers to engage them at the right time and drive more brand loyalty
Get your loyal customers to promote your brand and earn new business
Build trust by authoring case studies based on your own customers' stories
And much more!

7. Unburdening the customer support team
Even though the client success manager job description doesn't say it directly, a CSM helps customer support with their workload.
How?
Well, a CSM would often deliver personalized training sessions to your customers on how to use your product to meet specific business needs.
Trained customers will know the ins and outs of your solution, so they'll be able to independently handle their day-to-day challenges without bothering your busy support agents (too much).
Educating your customers will significantly increase your revenue and dramatically reduce your customer support costs. (…) When customers are trained on your business tools and industry, they are much more likely to adopt your product and become power users who have a longer customer lifetime value.
Suggested reading
Do you want to reduce your customer service team's workload? Read our article about canned templates and feel free to copy our canned customer service responses.
How does customer success differ from customer service?
To put it simply:
The role of customer service is to provide support once the problem arises. In contrast, customer success is about identifying and solving issues that may arise in the future.
Customer success is all about predicting what the customer might struggle with or which information might not be clear enough for them.
But why shift focus from here and now to the future?
For one thing, because a nurtured customer is more likely to buy from you when you're trying to upsell, compared to a customer who's merely satisfied because you solved their issue.
For another, research shows that the probability of selling to an existing customer is up to 14 times higher compared to selling to a new customer. This is why customer success managers' prerogative is to ensure that all your existing customers stay happy.
In a nutshell, customer success is about predicting where a fire may start and taking preventive measures, while customer service puts the fire down once it starts.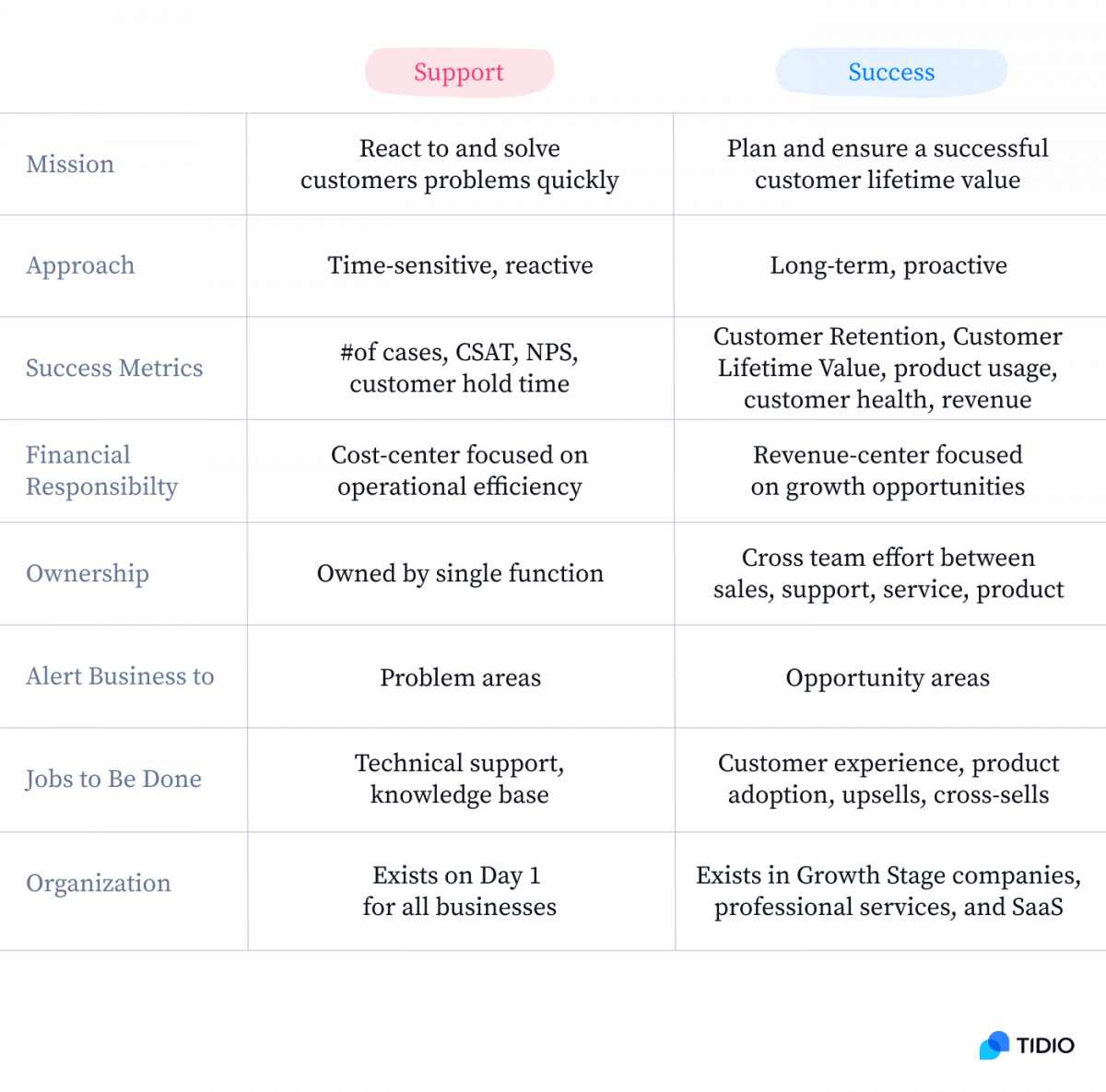 Customer success manager vs account manager
A CSM role could also be easily confused with that of an account manager.
Account managers serve as a single point of contact for your customers and, similarly to customer success managers, they interact with them on a regular basis. Yet, these interactions are limited to certain activities, such as quarterly performance reviews, or monthly calls.
As opposed to customer success managers, account managers are not involved in the day-to-day activities of the client, so they often don't have such a vast overview of the customers' business needs.
This doesn't mean that customer success management is more important. It shows, though, that specialists with a 360° perspective on customers' struggles will be more and more valued in customer-oriented businesses.
In fact, this is exactly what LinkedIn's 2020 Emerging Jobs Report has revealed:
Customer Success Specialist job title has been ranked 6th among the 15 fastest-growing white-collar jobs in the US, with an impressive, 7x increase since 2015.
What does a customer success manager job description look like?
Now, let's take a look at a typical customer manager job description:
A customer success manager is closely involved in various stages of the customer-business relationship and has a bird-eye view of the customer lifecycle, from the very moment the customer decides to purchase our product.

Your main responsibility will be to maintain and control our customers' profiles, as well as monitor overall engagement and activity. As a CSM, you will manage all the tasks with the help of CSM software to successfully monitor the individual data and spot the activity patterns of the whole customer base.
Typical duties of a customer success manager
Customer success managers' duties will differ depending on the sector.
After all, an airline company will have a different set of expectations compared to a SaaS business.
However, the types of duties and responsibilities of a CSM usually have something in common, and they may include:
Working cross-functionally with customer support and sales teams
Delegating specific issues to dedicated teams
Supervising the onboarding process for new customers
Managing customers' accounts
Acting as the first point of contact for customer training and problem-solving
Providing timely resolution of customer support issues
Enhancing customer satisfaction and building customer relationships by providing proactive support throughout the customer life cycle
Monitoring customer interactions
Generating sales leads
Reporting on the effectiveness of actions taken
Capture your customers' voice via surveys, feedback sessions, conversations
Key achievements of a customer success manager
What kind of things can you expect to actually achieve in this role?
Here are several examples of what a successful CSM can adorn their resume with:
Drove paid subscription adoption by x%
Maintained X% of top accounts with key stakeholders
Improved upgrade rates by X% through successful marketing campaigns
Increased product upgrade by X% to existing clients
Exceeded annual goals with client renewal rate above X%
Converted X% of all accounts into regular reference customers
Increased qualified leads by X % MoM/YoY
Customer success manager: metrics
Let's address the elephant in the room—
How to measure the performance of a customer success manager?
We broke down their customer success metrics into three main categories: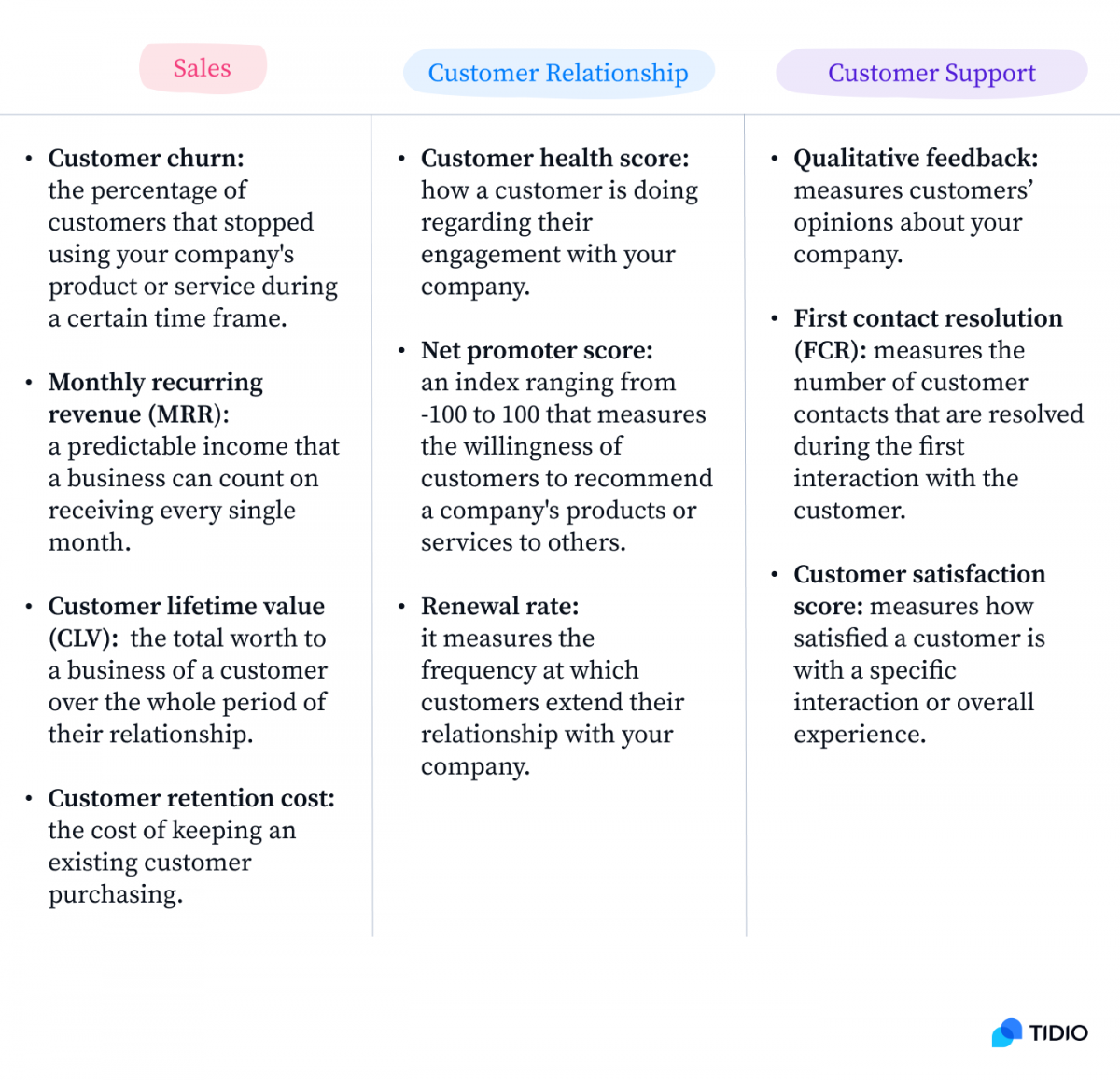 To measure these metrics, your success team needs to have access to CSM software that will help them with their core responsibilities: serving customers and expanding business by cross-selling and upselling.
While big companies use hefty CRM systems, smaller businesses can benefit from using more compact, smart solutions, like Tidio live chat and chatbots.
Crucial customer success manager skills
Now—
To do their job right, customer success managers need to have a very specific skill set.
If you're planning a career as one or looking to fill in a vacancy at your company, the skills we listed below are quite crucial:
1. Empathy
Empathy is what distinguishes a great customer success manager from the rest. If you think that focusing on feelings in the business world is corny, think again. It's a necessary skill in any customer-focused organization, and CSMs must be able to connect with customers in order to understand their goals and possible frustrations.
2. Data-savviness
CSM software enables a CSM to observe individual customers' behavior, and analyze the trends coming from vast amounts of data over long periods of time. This means that every CSM should be able to monitor and analyze its customer base in a typical CSM software. Being able to do that requires a data-driven mindset and a general knowledge of CSM software programs and how they operate.
3. Setting the right expectations
Salespeople make a promise that your product will solve a customer's problem. Effective client success managers take it a step further and set the expectations based on a customer's business needs and goals, whether they are short-term or long-term.

This skill requires a CSM to really listen to the voice of the customer in order to define how they can under-promise, but over-deliver when it comes to reaching goals. Poorly set expectations may result in a bad reputation and poor consumer experience.
4. Problem-solving
A client lifecycle poses a unique set of challenges (related to product adoption, timing, and account management, to name just a few). Developing a strategy and/or response that is fully aligned with the customer is not always a simple assignment, but a senior customer manager with years of experience and perseverance will usually find a way to delight a customer.

5. Relationship building and management
You might have a natural talent for connecting with people, but an outstanding CSM will actively strive to maintain and manage customer relationships. This is the only way a CSM can gain trust from a client, so a client knows that the CSM always has their best interest in mind.
6. Communication
Last, but far from least, a successful CSM will always be an effective communicator because communication skills are at the heart of all the skills described above. Clear communication allows you and your customers to be on the same page throughout the whole customer journey.
Suggested reading
Wondering what skills are required to provide great customer service? Read our article about 17 top customer service skills.
How to become a customer success manager?
Let's have a look at what it takes to become a successful customer success manager.
CSM qualifications
When it comes to customer success manager's qualifications, there are a few requirements that have to be met, so if you plan to tailor your CV and apply for the role, have this in mind:
Education: according to Software Advice, most companies will look for a bachelor's degree in a business-related field, but academic education doesn't count as much as experience in the customer-facing field.
Experience: a few years of experience in the customer service or account management sector will always be a plus. Companies list them as the most valuable because they showcase the above-mentioned skills, such as good communication and problem-solving.
Technical skills: as we already mentioned, data-savviness is a must because a customer success manager usually manages vast amounts of data in the CSM software. Listing these technical skills can give you a competitive advantage.
If you are looking for a piece of advice on how to start your career path as a CSM, have a look at this video:
Suggested source
Wondering what your CV should look like if you want to apply for a role of a customer success manager? Have a look at this CSM's CV sample and get inspired to tailor your own.
Customer success manager certifications
If you want to exceed your future employer's expectations, stay up-to-date with customer success trends, and expand your skills, you can consider doing a CSM certification. Here are just a few popular certifications you can choose from:
Remember that certifications may be most helpful at the beginning of your professional career. As you progress, your experience will naturally start to play first fiddle.
Customer success manager's career path
Customer success management is relatively new, so the career path is less direct and specific as compared to more traditional roles.
Depending on the company and its field, a CSM may transition to product marketing, product management, or sales enablement; or follow a more traditional path and strive to become a Chief Customer Officer.
The traditional career path of a CSM professional usually looks like this: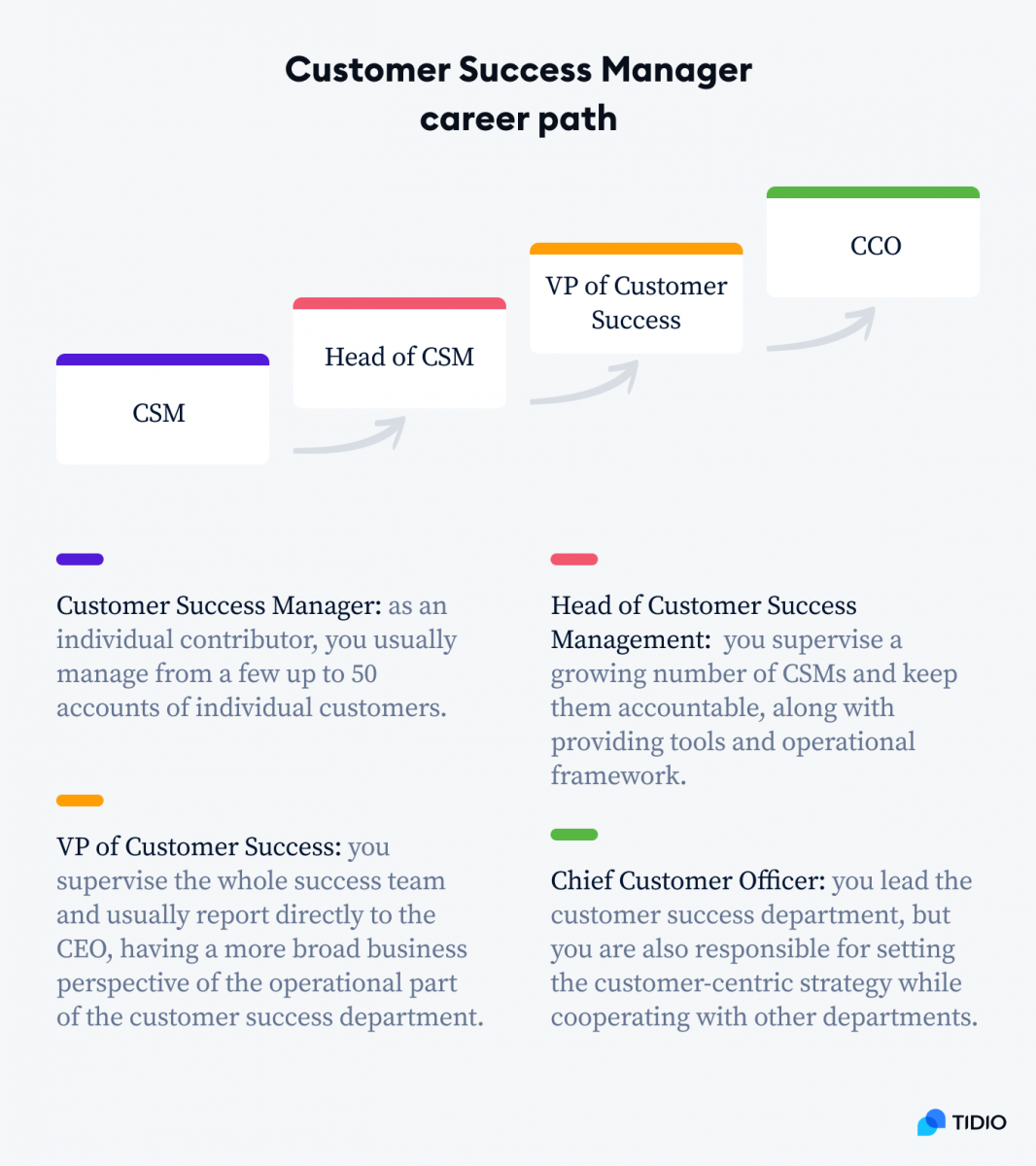 How much does a customer success manager make?
If you are thinking about becoming a customer success marketing manager or hiring one, you need to know that an average yearly salary of a CSM in the US is:
$74,584k, with $47k on the low end and $117k on the high end, according to Glassdoor
$60,282k with $53k on the low end and $83k on the high end, according to Indeed
$69,724k with $48k on the low end and $110k on the high end, according to PayScale
Because customer success is a relatively new field, some companies adjust the description and title of the job to their current needs. That's why there are roles that have a similar description of responsibilities to the customer success manager, but slightly different titles.
Let's review some of them below for the full picture:
Key takeaway
By now, you should have extensive knowledge about what a customer success manager is and what their responsibilities look like.
Let's quickly recap the most important info:
The customer success manager assists prospects throughout the sales phase and guides them into the support phase
A CSM main responsibility is to form and maintain a strong relationship with your customers as well as upsell and cross-sell
Customer success manager needs to have a vast variety of soft skills combined with technical skills and customer-centric experience
Does your company have a customer success manager? Are you one yourself? Or maybe you are reading this blog to find out more about the subject before you hire one?
In the meanwhile, you can add instant messaging to your website and see how real-time conversations with prospects can improve their customer experience. This can help your support, sales, and success teams.
And if you have any questions about customer success strategy and how to perfect it, don't hesitate to reach out—we will gladly help!