A live chat widget on your website is a tool that provides customers with a convenient, fast, and effective means of communication. It also offers significant benefits that can help improve your business and sales. Using a live chat solution can significantly increase your business growth rate.
I Chat, Therefore I Am
Customer service can make or break your business. It is the "to be, or not to be" of modern eCommerce. Your default mindset should be: I chat with my customers to make myself present and visible. This approach is far more engaging than leaving the visitors to browse your website on their own. Be a host, not a salesman who hides behind the counter!
Quality customer service is crucial to the long-term success of your business. Keep reading to learn about the most significant reasons why you should consider adding a live chat feature to your online support system.
Turn your website visitors into delighted customers.
Set up the Tidio live chat app in 5 minutes and watch your sales grow.
Learn About Live Chat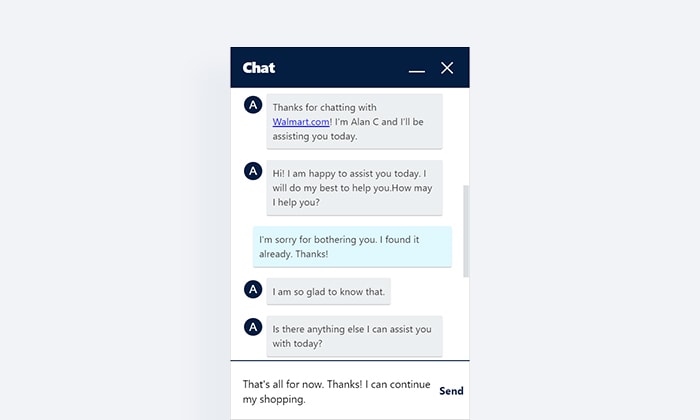 Why Is Live Chat Preferred over Other Communication?
Live chat is both direct and unimposing. As Joseph Vincze points out:
Millennials, having grown up with the Internet and responsive on-demand services, often cite phone calls as being overly intrusive, even presumptuous – thus their preference for texting.

Joseph Vincze
Virtual reference librarians (Chatbots) | http://bit.ly/2kYoD4F
Customers can be easily engaged, but they don't need to respond if they don't feel like it. Live chat messages are natural, and they don't demand much attention. Consequently, they seem "harmless" in comparison to aggressive pop-up ads.
A tiny chat widget in the corner of your website can do wonders for your customer's engagement level and your conversion rate, without deteriorating your customer's browsing experience.
Note: Looking for the best live chat for your business? We've cherry-picked and compared top live chat software available on the web.
Why Messaging Is Important to Company's Growth
It wasn't until quite recently that messaging took over social media browsing. This tendency has also altered the reality of today's e-commerce and marketing strategies. If the last decade was the golden age of social media marketing, the upcoming decade most probably is going to be the one of live chat messaging.
The manner in which customers approach shopping online has changed drastically. This means that while in the recent past reaching your customers was the single most important element of your strategy, now you should focus more on the quality of customer service instead of marketing.
What Are the Benefits of Live Chat?
There are six main benefits:
Increase Conversion with Live Chat Sales Techniques
There is one common misconception about live chat solutions. Some online store owners think that an operator can persuade visitors to buy something right away. It is true – live chat increases sales, but it does not achieve it directly. You can't be too pushy, because you'll scare off your potential buyers.
Let's imagine a situation in which someone enters a real-life, brick-and-mortar, physical retail shoe store. A salesman tells them to buy a popular pair of shoes at the very moment they pass the doorstep. It doesn't work that way.
It is better to offer assistance, ask some questions, and take a personal approach. Similarly, live chat is not meant to be used by pushy salesmen, but by customer support agents who understand the needs of their clients. It is not about selling, but about turning the process of buying into a pleasant, rewarding, and frictionless experience. This is known as proactive customer service.
Live Chat Reduces Cost and Time
The cost per interaction with live chat is lower than other methods, such as phone or email assistance. Faster response times and the ability to multi-task – to take care of many chat conversations at one – result in less average time spent on each customer interaction. It also improves customers' experience by having real-time responses to customers' questions and concerns.
A live chat box is where you exchange messages with your customers. However, it can be used by both human agents and bots. You can optimize your customer service workflow if you use auto-messaging features and chatbots.
Test some chatbot ideas to create the best customer experience you can. With chatbots, you can automate some of the most repetitive aspects, such as greeting your customers, and – at the right moment – take the conversation over.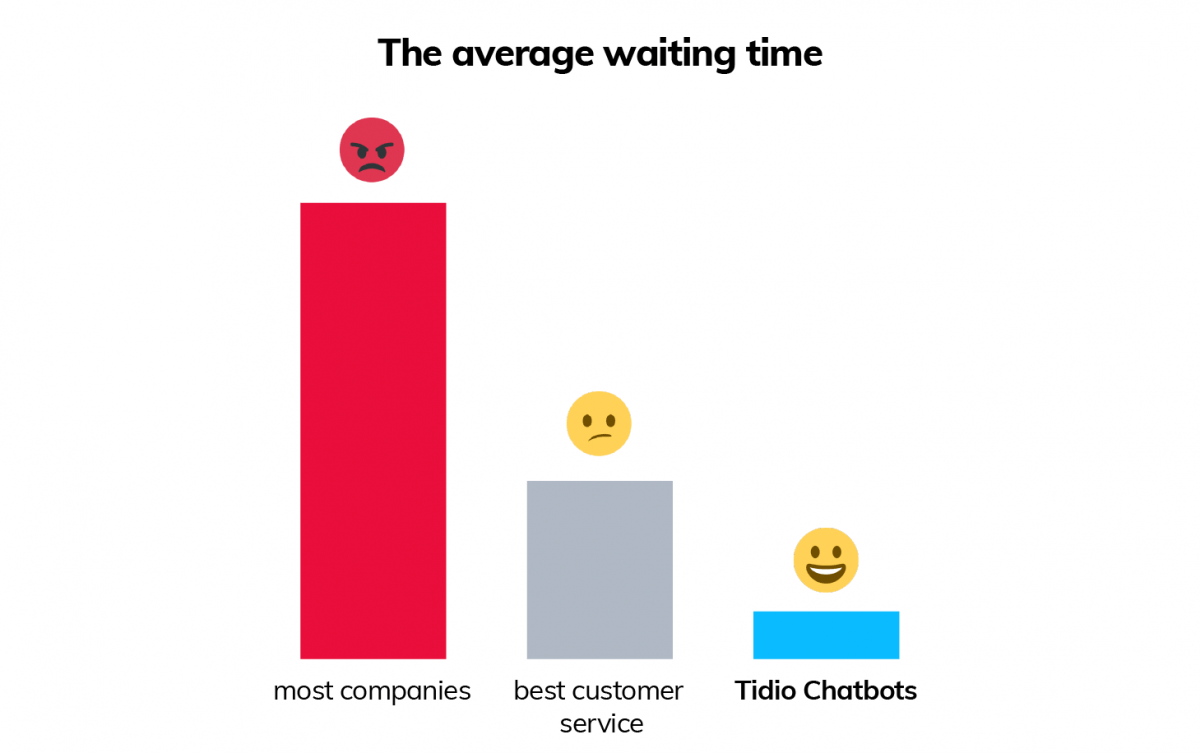 Live Chat Increases Website Credibility
If your brand is not famous and customers don't recognize it yet, you should make sure that your website looks professional and credible. There are many fake online stores and scam companies, so it is becoming more and more difficult to gain customers' trust. Adding a live chat widget can instantly add you some credibility.
When someone visits your website but can't find you online rating, other customers' opinions, or any online record of your activity apart from the website itself, a live chat can be your only hope. When customers know that there is a person on the other side and that person can help them with their concerns, all doubts can be dispelled.
Today, not being able to get in touch with an online business and get a response within 1 minute raises suspicion. By providing live chat customer service, you assure you visitors that everything is legitimate, in order, and fully operational.
Note: Do you happen to have a WordPress website? Check out our article and find out which live chat for WordPress is best for you.
Live Chat Increases Customer Experience
A cursory glance at the modern internet landscape – with websites such as YouTube, apps like SnapChat, or video chat rooms – could give us the impression that we live in the era of Homo Sapiens Videochatus. However, this applies only to private communication and entertainment.
When people need to contact the official representatives of a brand – even if they simply want to order a pizza – they usually don't want to reveal their face or voice. For them, clicking at a live chat icon and texting is the best solution.
Some people prefer to use a live chat box because they are already online. When they need assistance, it's easier to participate in a live chat conversation than to dial a number or write an email. Many companies have a live chat window open as soon as the person logs into the website or begins to browse the products or offer. It is a part of their business growth strategy. They want to make the process as easy as possible.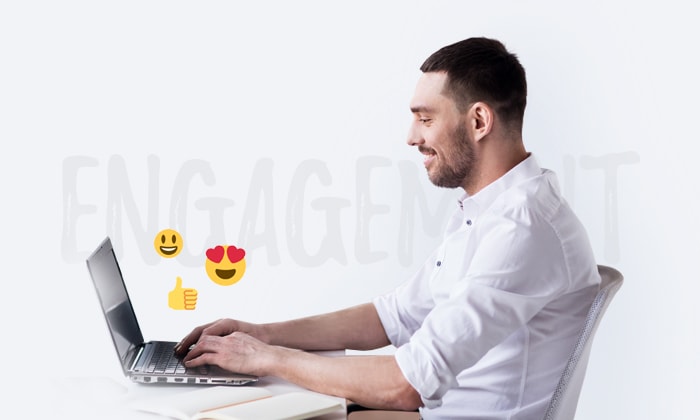 As long as the service is quick, and the information is useful and accurate, customers will be pleased with the experience, and they'll be more likely to buy from you.
Live Chat Helps to Understand Customer Needs
Some companies save live chat logs for future use, especially if the queries are relevant to improving the quality of their product or customer service. They can use those chats to analyze frequently asked questions and to help people save time.
If no personal information was exchanged during the chat, aside from a name, then, it's safe to use the messages from previous live chat conversations to help others and answer similar questions they may have. These "canned responses" can be reused in future conversations. It improves the efficiency of the support team.
Tip: Some live chat and chatbot services, like Intercom, don't have a freemium plan. Additionally, their pricing changes depending on the number of your visitors. Find a customer messaging platform with unlimited conversations and flat fees: Cheap Intercom Alternatives: Tidio vs Drift vs Intercom vs Zendesk.
Live Chat and Search Engine Optimization
Lastly but not least, live chat can reduce your bounce rate and improve your SEO rankings. Visitors who are engaged through live chat or click on your live chat icon are more likely to stay on your website. As a result, instead of being marked by Google as virtual passerby, they become high-quality traffic which boosts your website's position.
Additionally, by chatting with customers, you have many opportunities to learn about their problems. It can be a great source of inspiration for blog posts and other useful content. Understanding user intent is one of the most critical SEO factors. Articles which describe real problems of real users are in high demand.
How to Add Live Chat in Website
You can install a live chat plugins which are available for your platform in a matter of minutes. Simply type in "live chat" in the search bar of the WordPress Official Plugin website if you run a WP powered website, or use the Shopify App Store for Shopify websites. Alternatively, you can copy a code snippet and configure your live chat widget manually.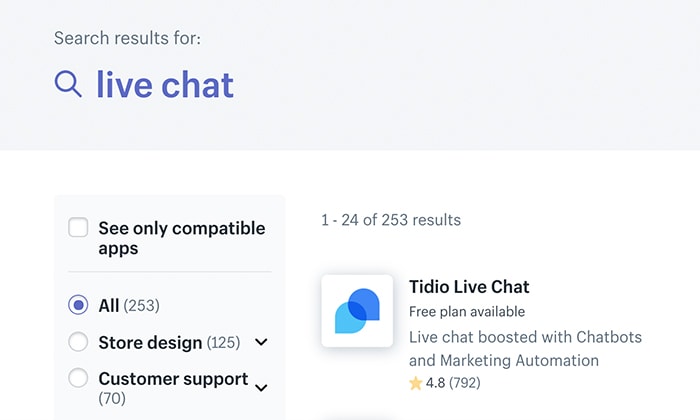 Get Ahead in Business with Live Chat
Many online businesses are not yet offering the benefit of live support. To be above the competition, get live chat on your site. The amount of e-commerce stores is overpowering, and anything that you can do to be a step ahead is worth taking.
Chat is the preferred method of communication for a vast majority of online shoppers, so by offering it on your website you are catering to the needs of your customers. This results in increased customer satisfaction and more sales.
A live chat box on your website can immensely increase customer experience. It leads to more sales and happier clients – which is crucial for business growth. Not only do customers become more satisfied with the quality of the service your business provides, but also you'll get more of them! Traffic is more likely to increase for companies with chat features than companies without them.
Let's grow your business together!
Try Live Chat For Free