Picture this—
Being your own boss. Working from the comfort of your couch. Earning a good income.
The list of reasons for starting an online store could go on and on. But you know this already, don't you?
Now stop daydreaming. Time to roll up your sleeves and actually set up an online store! We'll show you how easy this can be.
In this article:
How to create an online store quickly and with minimal effort.
List of steps to take before opening an online store.
The best online store builders you can use for free.
For your convenience, here's a list of steps we'll be covering. If you wish to jump to a specific section, just click on it.
Anyone with basic computer skills can make an online store in a matter of minutes. No coding, no hard technical skills needed. Generally, the entry barrier is pretty low.
No wonder as many as 90 percent of online stores fail in the first four months.
Low entry barriers do not mean that everyone will succeed.
If you want to avoid joining the doomed 90 percent, you'd better come up with a good plan.
In fact, building an online store should be one of the final steps of your plan. That's why we assume that if you're reading this you've already done your research and established such basics as what things to sell online.
If you are still in the deciding process, go ahead and read about starting an online business.
Without further ado, here are the steps to opening an online store:
1. Choose the Website Hosting
For your website to become part of the global web, you will need hosting. Or, in other words, a server where you can keep and maintain all your website or store components.
So, research what type of web hosting your online store will need and choose a suitable web hosting provider.
Check out whether the hosting provider supports eCommerce and offers monthly billing. The former is pretty much self-explanatory, the latter is very convenient—it's much easier to pay, say, $10 a month than $120 upfront.
Plus, keep in mind that you will be making transactions with your customers online, so pay attention to the security level the provider of your choice offers.
Web hosting providers examples:
Bluehost
Price: Prices start at $3.95/mo.
What Bluehost offers:
Hosting services (shared, WordPress, and dedicated hosting)
Email services
Domain purchase
HostGator
Price: Hosting prices start at $2.75/mo.
What HostGator offers:
Hosting (shared, WordPress, VPS, and dedicated hosting)
Website builder
Domain-related services (purchase, transfer)
Customer service (live chat, phone, and knowledge base)
SiteGround
Price: StartUp plan $6.99/mo., GrowBig plan $9.99/mo., GooGeek $14.00 mo.
What SiteGround offers:
Hosting (web, WordPress, WooCommerce, cloud)
Email services
SSL certificate
Daily backups
Tip: Many of the eCommerce store builders we recommend in this article offer hosting services.
2. Register a Domain Name
Your domain name is the address of your online store. It is what people type in to get to your website.

Unless your business already has a unique name, finding an available domain name that will suit your business might prove to be a most challenging task. You may realize that a lot of options, especially those with the .com extensions, are already taken.
To avoid disappointment, check whether or not the domain you would like to register is available before you start setting up your store. There's nothing more frustrating than having to come up with a new name for your online store at the last minute. Thus, learning how to purchase your domain name should be the priority thing that you need to do to make sure you can secure your domain name.
Tip: Even if you don't plan on starting a business soon but have an idea for a cool domain name, register it anyway! The cost is low, and you may save yourself disappointment in the future. Also, double-check if the name you choose isn't something that Google search engine will recognize as a common misspelling. If it does, it will keep suggesting the search results for the word it "thinks" you actually meant.
Domain providers examples:
Domain.com
Price: .com domain costs $9.99, .net domain costs $12.99.
Domain.com's offer includes:
Free website builder
Domain-related services (transfer, purchase, Whois lookup)
Security (SSL certificates, domain privacy and protection)
Domain email address
Hover
Price: Prices depend on the domain extension and range from $4.99 to $49.99.
Hover's offer includes:
Wide range of domain extensions (.design, .com, .io. .net, .club, .info, .ca, and more)
Free Whois privacy on supported domains
Domain email address
Domain-related services (transfer, purchase)
Google Domains
Price: Domains start at $9/year.
Google Domains' offer includes:
Three hundred domain extensions (.photography, .cafe, .dev, .studio, .com, .net, .biz, and more)
Privacy protection
Domain, and subdomain forwarding
Free, built-in email forwarding
One hundred email aliases
Tip: In many cases, you can register your domain name with the hosting provider, so it is possible to secure hosting and domain name within one subscription plan.
3. Get an SSL Certificate
An SSL (Secure Sockets Layer) certificate is what makes websites more secure. It enables online stores to move from a less secure HTTP to a more secure HTTPS protocol (your visitor will see a little padlock in front of the URL).

You will need such a certificate and SSL monitoring to check the validity to keep your online customers' data secure, verify ownership of the website, and prevent attackers from creating a fake version of your online store website.
The HTTPS protocol is one of the most critical factors that will help you gain your customers' trust—it tells them they can safely pay for their order.
Tip: Check whether the hosting provider you have chosen offers SSL security. It may turn out that you will not need to buy it separately.
4. Choose the Best Solution to Build an Online Storefront
The next thing in line is to decide how you want to create your online store. You can choose an online store maker offered by a number of platforms for eCommerce or you can go for a more general website builder.
Option #1: Create Online Store on a Dedicated Platform
eCommerce online store creators, enable merchants to build a fully-functional store from the ground up, and some even offer hosting services.
eCommerce online store makers are very straightforward to use. They come as standalone solutions or extensions to existing websites. Both options provide all the necessary features to let you sell items or services online.
There's one more advantage of choosing hosted online store creators:
Dedicated add-ons that are very easy to integrate with the store.
Those add-ons, called apps, extensions, or plugins, depending on the platform they were made for, extend the store's functionalities.
For example, a live chat plugin will enable you to chat with your visitors and customers directly on your websites. Another app, a chatbot maker, will help you and your customers track their orders and support them 24/7.
Here is a list of the top eCommerce and shopping cart platforms:
Shopify
Shopify's free online store maker is very straightforward to navigate. Users who have very little or no experience building stores will like the balance between rich features and user-friendliness.
You can host your store with Shopify (hosting is included in every plan) and buy a domain if you need one. With Shopify, you can sell products directly from your online store and across multiple marketplaces and social media.
You can try this platform for 14 days for free (no credit card required).
To begin, you will need to provide your email address and basic personal details.
Find out more about Shopify:
BigCommerce
BigCommerce is a scalable platform with plenty of built-in features designed for creating online stores. It comes with a range of SEO tools and allows you to sell across multiple channels such as Facebook, Instagram, and Pinterest.
Suggested reading: 6 Simple SEO Tips for Small Businesses to Generate More Traffic
You can try it for 15 days for free. To sign up, you will need to provide your email address and only a few details.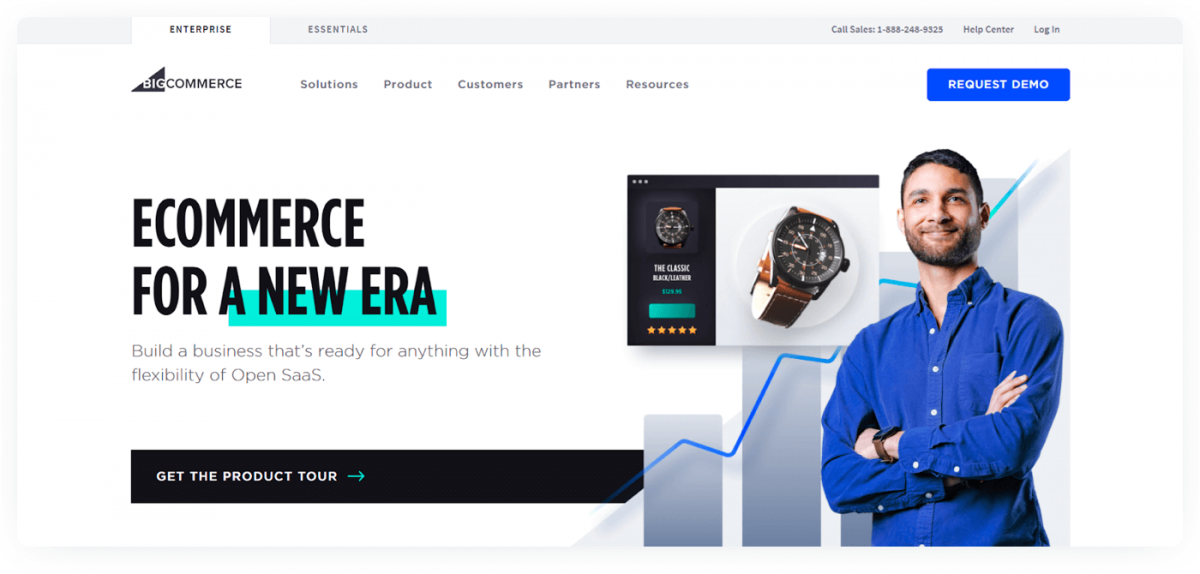 Also, as one of the top cart platform choices, BigCommerce offers many free and paid apps.
If you are interested in learning how Shopify and BigCommerce compare or how you can expand the features of your BigCommerce online store, take a look at the blog posts linked below.
Find out more about BigCommerce:
WooCommerce (WordPress)
WooCommerce is not a platform as such. It's a plugin that turns a regular WordPress website into a fully customizable online store.
With WooCommerce, you get secure payments, configurable shipping options, and many more features, out of the box, for free.
It is an excellent option if you have already built a WP website, and now you're considering opening an online store.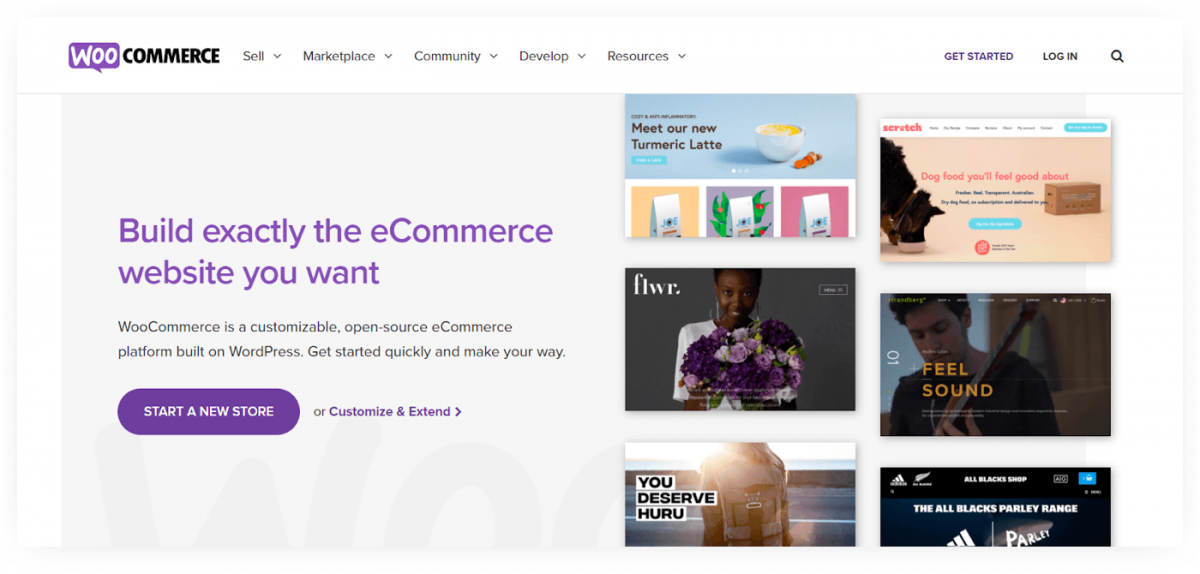 Find out more about WordPress eCommerce:
Ecwid
Ecwid is an Ecommerce widget that allows you to set up catalogs of products, along with photos, pricing, and weight. You can also define shipping rates, accept credit card payments, etc.
In short, you get all the essential features that you'd expect from an online store.
However, similarly to WooCommerce, Ecwid is not a standalone solution. It is designed to let you add online store functionality to an existing website (it doesn't need to be a WordPress site, though).
To use Ecwid, you need to add a piece of HTML code to your website or social media profile. Your online store will then be displayed wherever you've inserted this code.
You can use Ecwid for free or choose the paid plan. You'll need to register with your email address or with an Apple, Google, or Facebook account to get started.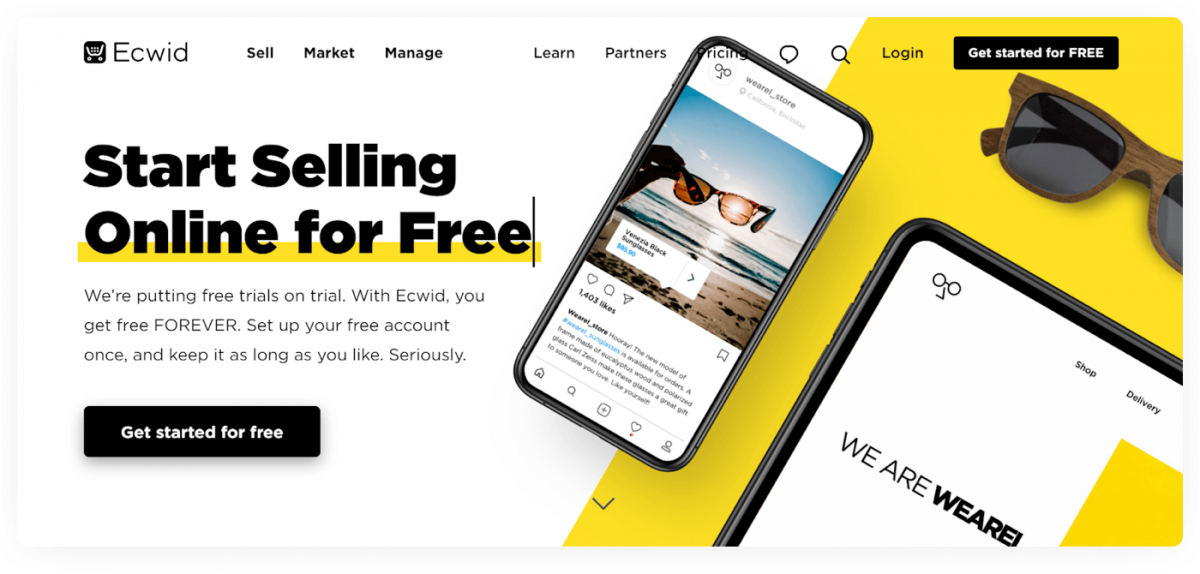 Magento (Open Source version)
Magento is a powerful platform that offers the richest set of features for online stores.
On the one hand, it means many possibilities for online merchants. On the other—a steep learning curve. For that reason, this platform is most suitable for midsize to large businesses.
Although Magento Open Source is free to download and use, it is not free to implement. Expect to pay for web hosting, domain names, add-ons, an SSL certificate, and payment processing.
Since Magento is not an out-of-the-box solution, you will need a developer to help you with the setup and customization. You won't be getting any free online storefront themes either, so you might need to hire a graphic designer as well.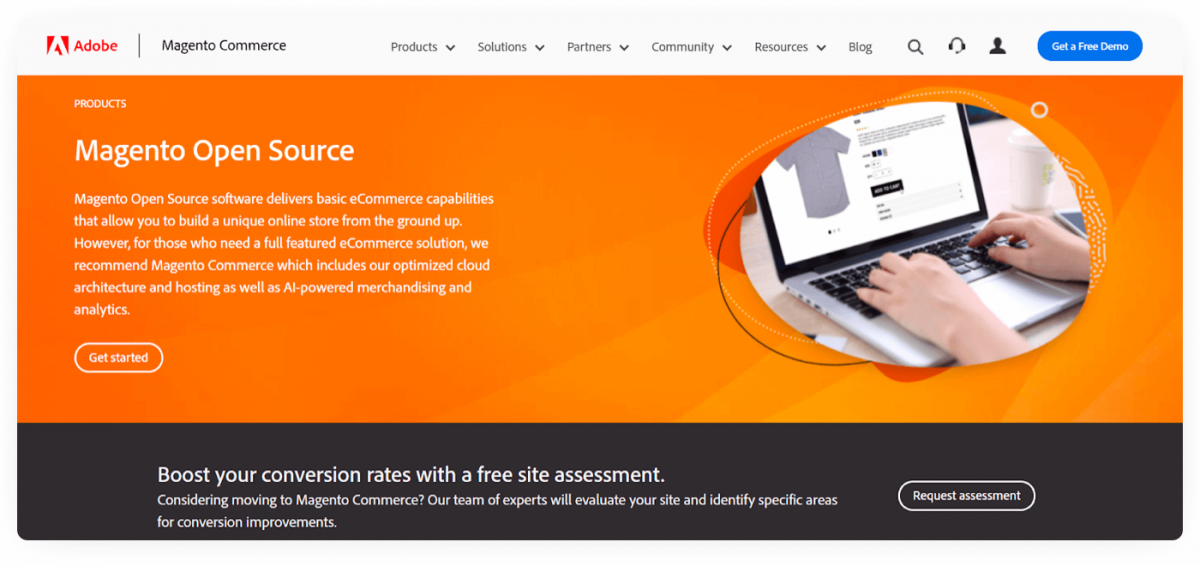 Prestashop
PrestaShop is a feature-rich, freemium online store maker that you can use to run stores in the cloud or via self-hosting. It is also an open-source platform which means that you can download and modify it the way you want.
PrestaShop offers all the necessary features the online merchants need to open an online store, including marketing tools, storefront themes (templates), product catalogs, shopping cart, and more.
It also comes with a dedicated marketplace where you can download online store themes and add-ons (called modules).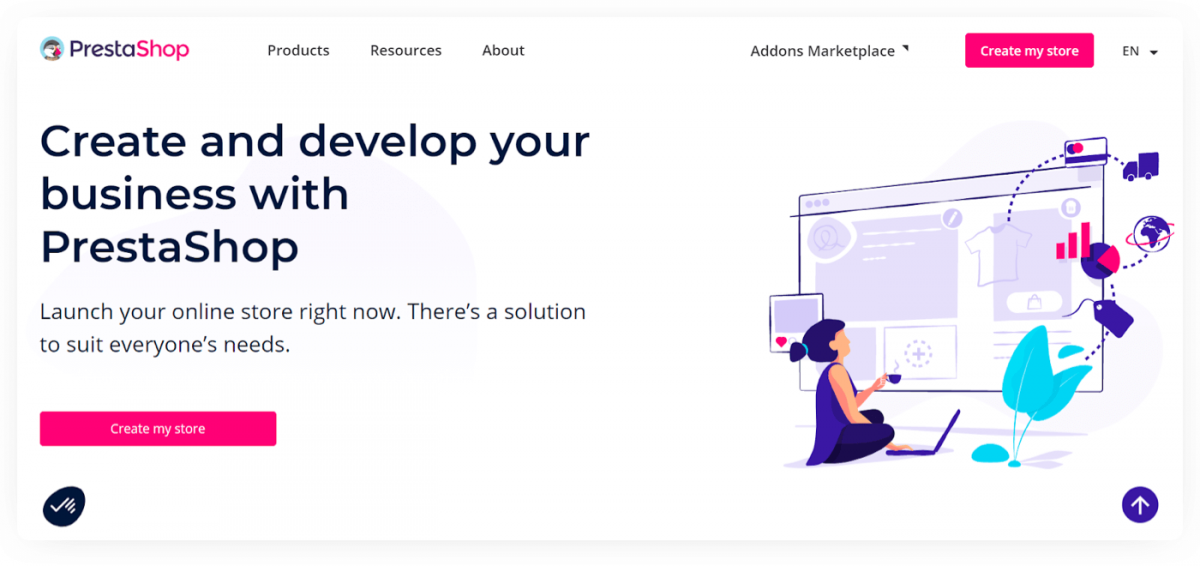 3dcart
3dcart is an established, industry-leading, and robust platform. It offers a range of built-in features that make opening an online store easy, fast, and effortless.
3dcart, like the other top cart solutions, offers many third-party apps you can integrate with their software. With 3dcart, your customers will have the freedom to choose from over a hundred different payment methods.
What's also essential, 3dcart doesn't charge any transaction fees and comes with all the necessary marketing tools. Plus, you will find over sixty free storefront templates to help you get started, which you can easily customize with a drag-and-drop editor.
You can try 3dcart for 15 days (no credit card required).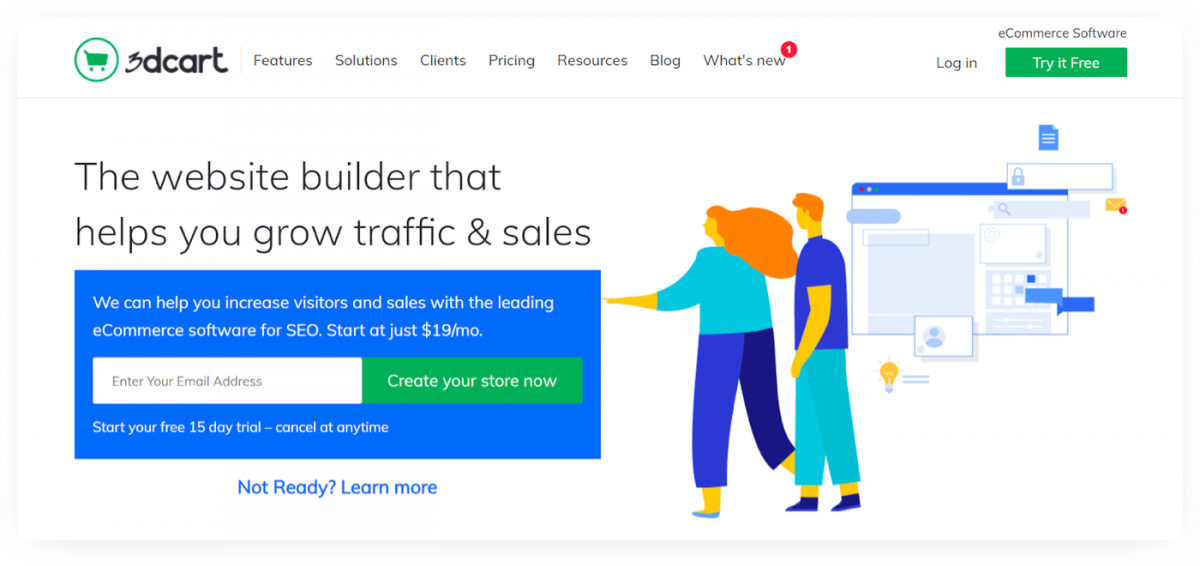 Option #2: Make an Online Store With eCommerce Website Builders
This is an alternative option if you prefer to start with a website first, and then build a proper online store around it.
The builders we have listed here simplify the process of creating an online store and require no coding skills.
Wix
The majority of users rate Wix as the easiest and the best builder.
With Wix you will create your website from scratch in no time with a user-friendly drag-and-drop interface. You'll also get SEO friendly tools, so you can start driving traffic to your new online store immediately.
Also, the subscription comes with web hosting and commission-free sales.
The main downside is that you cannot change the storefront theme once your website is live. To change the template, you will need to rebuild the store entirely, so be sure you chose the theme you really, really, really like.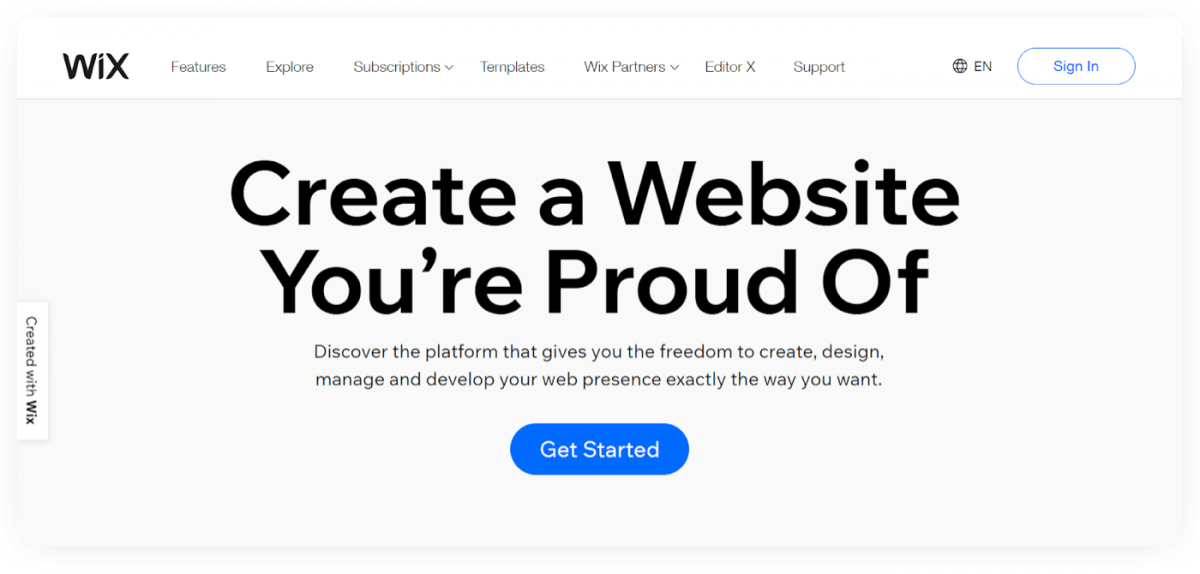 Squarespace
Squarespace platform is widely used by businesses of all kinds, but mainly by creatives and artists. It has a selection of stunning themes.
Although this builder is arguably best for building portfolios and blogging, it also offers tools to help you set up an online store.
You may consider Squarespace if you look for social media integration tools to market your store.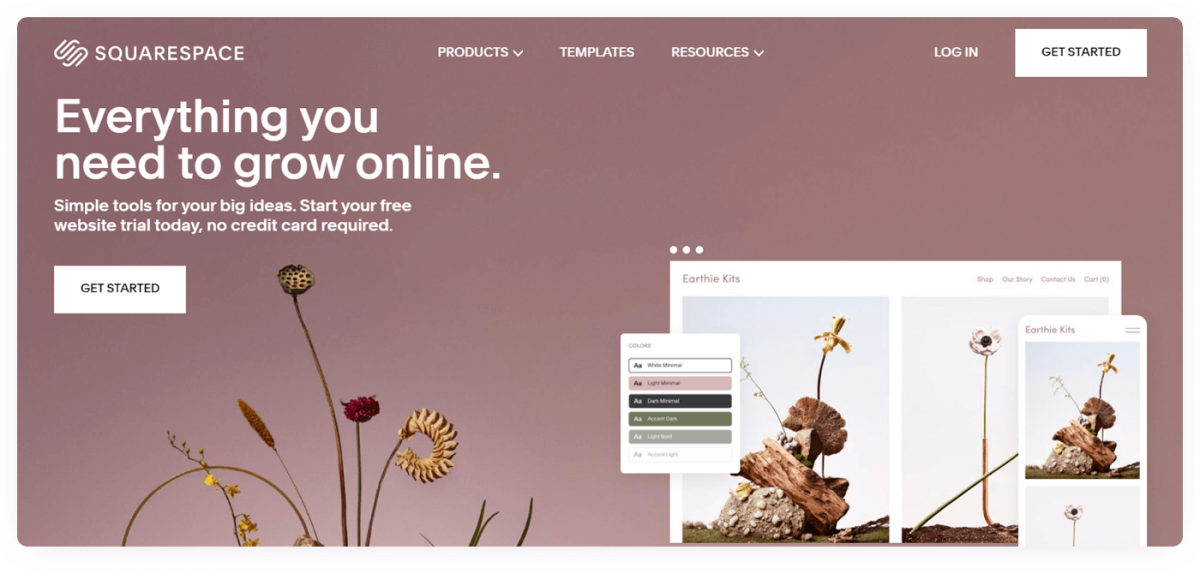 Weebly
Weebly is one of the most user-friendly and robust platforms for building an online store. You can also use it to launch a blog or personal website.
Weebly offers an intuitive drag-and-drop online store creator with 40+ mobile-friendly store themes.
It is a reliable tool that gives you many features to create SEO, advertising, and marketing campaigns. Overall, a good choice for startups and small businesses.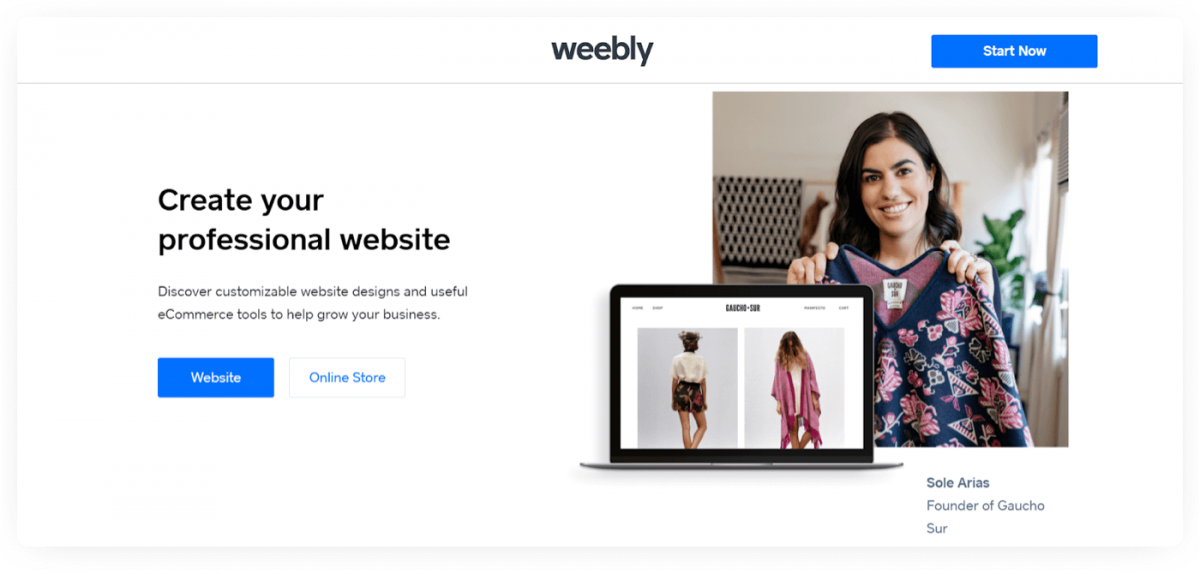 Big Cartel
Are you looking for ways to sell art online? Big Cartel might be your answer.
It is an online store builder designed for artists, makers, creatives, bakers, and authors. It supports independent entrepreneurs in their endeavors to produce and sell products they believe in.
Big Cartel is a web-based, fully-hosted solution that charges zero transaction fees. You will find that the features are simple, and the process of adding products, creating discounts, and managing orders along with the inventory is easy.
The disadvantage of this online store builder is a limited feature set. If you are expecting to sell high quantities of your products, Big Cartel might not be the most suitable option for you.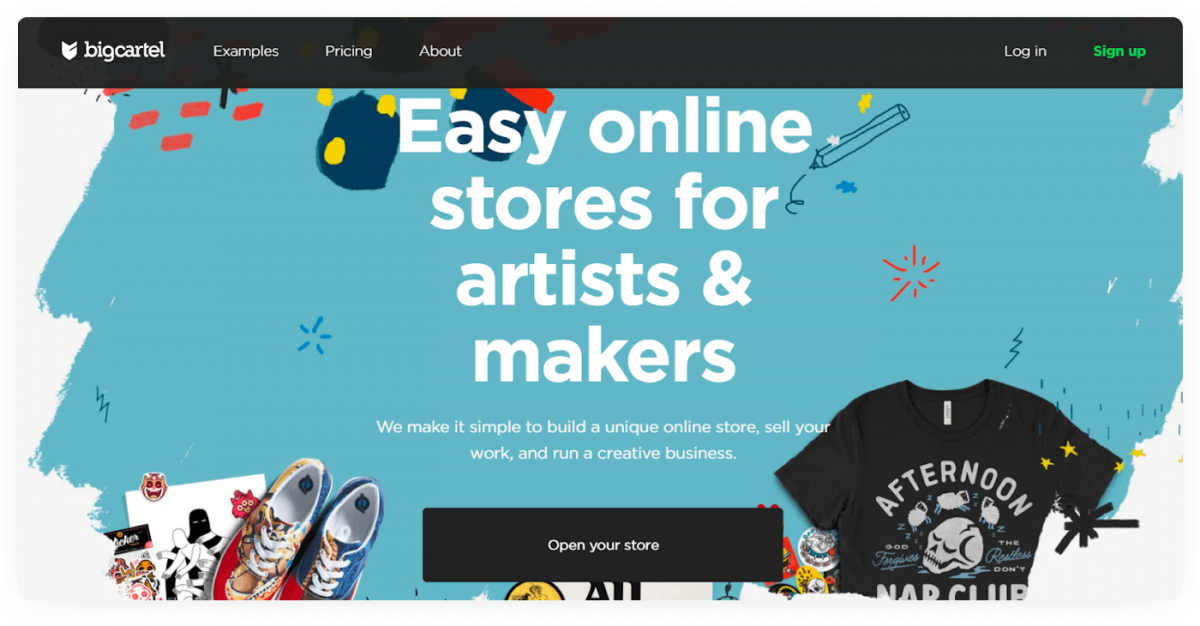 5. Design Your Online Storefront
Your store doesn't only need to look friendly—the design must guide your visitors toward placing an order.
It should also tell your visitors immediately what you sell and who your target audience is, while the style and colors you're going to use should be part of your branding.
But what if you do not have a designer on your team or cannot afford to hire one?
Don't worry, you still can have a beautiful store—with ready-made eCommerce themes (templates).
eCommerce store templates are a great option whether you want to code your shop from scratch or use an online store builder platform.
Many eCommerce platforms (Shopify, WooCommerce, BigCommerce, and Squarespace to name just a few) offer a wide range of various themes that you can easily add with just a few clicks.
And if you need to customize anything, you can do that, too.
Alternatively, you can search online for websites that sell or offer free storefront templates. Checkout free themes on Themewagon or Themefisher.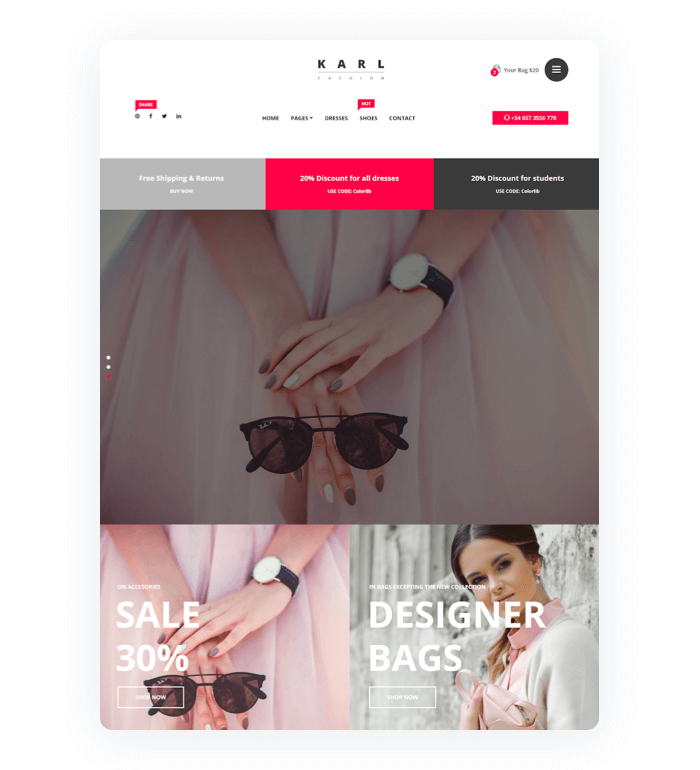 Be aware, though, that you will need some technical knowledge to customize and add the template to your store.
Tip: If you decide to get a store theme from another website, do pay attention whether it is ok to use for commercial purposes.
Starting an Online Store Is Not that Difficult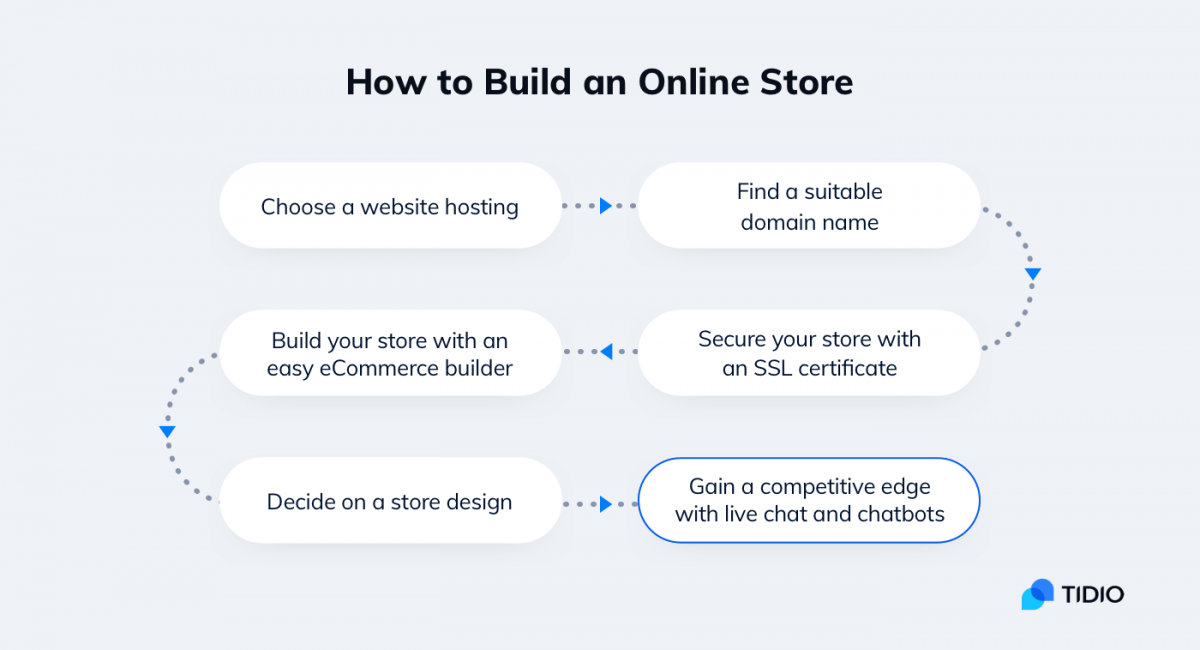 Key Takeaway
The online retail world is open to any entrepreneur, be it a beginner or an eCommerce veteran. No matter how (in)experienced you are, the steps to set up an online store are always the same:
Choose a hosting provider who offers monthly or annual prices that fit your budget and provides all the necessary features for online stores.
Come up with a business domain name that will be unique and available in the database.
Protect your future store and your customers' data with dedicated security and privacy certificates and features.
Build an online store with a dedicated online store builder or code it from the ground up.
Decide what your store will look like. Great design will affect your customers' purchase decisions, their perception of your business, and help you stand out from the competition.
It is estimated that there are around twelve million to twenty-four million eCommerce sites across the world with more being created every single day.