Your dilemma is common. You want WordPress for its blogging superpowers. You want to rank high in Google and attract armies of traffic. But—
Once you get it, you must convert. And nothing converts like Shopify or BigCommerce, right? Plus, they're easy and seamless for setting up an online store.
So—
Should you use WordPress eCommerce, and will your online store still be hassle-free? Or should you go with Shopify? And if you do, what about your blog?
Deep breath. There's an elegant solution, but it depends on your exact business needs.
This guide will show you:
When to use WordPress eCommerce and when to go with a dedicated eCommerce platform instead.
Top alternatives to WordPress for eCommerce.
The best-of-both-worlds solution that most online stores use.
Did you know a live chat widget can boost conversions through the roof?
Turn your website visitors into delighted customers.
Set up the Tidio live chat app in 5 minutes and watch your sales grow.
Learn About Live Chat
Are you already a WordPress user? Explore the best WordPress eCommerce plugins and take your sales to the next level.
Should You Use WordPress eCommerce?
If you want low costs and fine-detail-level control over your online store, consider using WordPress eCommerce. Its WooCommerce plugin is free, has millions of satisfied users, and comes with thousands of useful extensions (and HTML/CSS access) to give store owners almost endless customizability.
WooCommerce powers 3.8 million sites and over 20% of online stores. The WordPress plugin has an extremely high user rating score of 4.5 stars from thousands of reviewers. It drives 93% of all WordPress stores. Its massive community of developers can help a store overcome almost any hurdle.
Plus—there are no transaction fees, ever.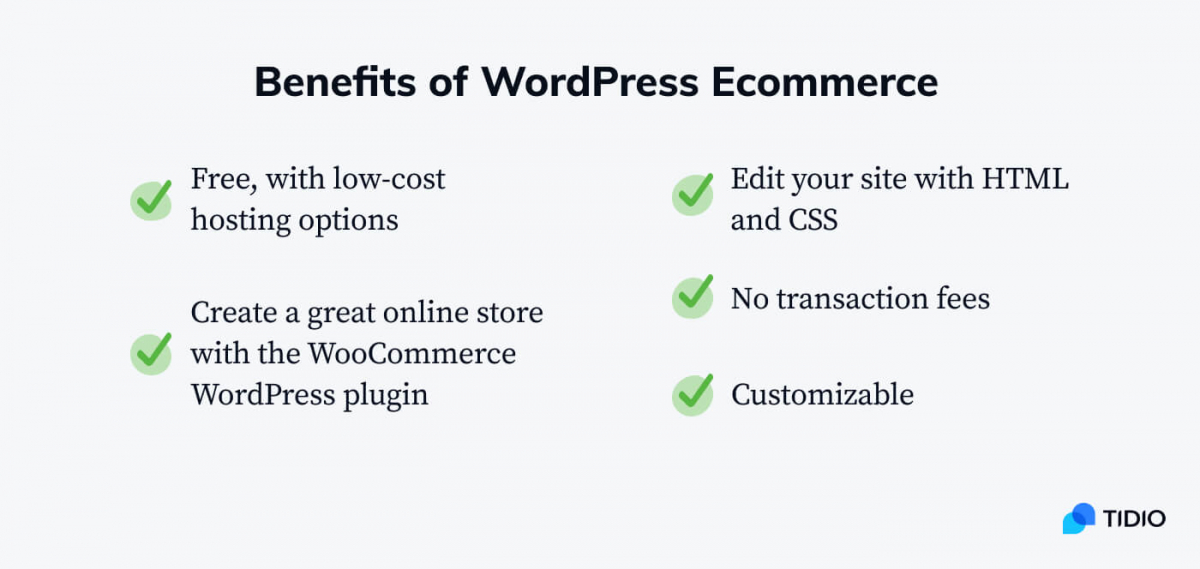 When Not to Use WordPress for eCommerce
Oh no! You made the wrong choice, and now your eCommerce store is a living nightmare. You don't get traffic and you can't convert. Plus, every time you want to make a tiny change, it takes forever! Where did you go wrong?
Don't use WordPress for eCommerce if:
You want a clean, quick, easy online store that's endlessly scalable
You want blog traffic without sacrificing store features
High-volume sales are in your future
You'd like to avoid updating a lot of plugins that could break your site
The short version? WordPress eCommerce is not so great if you want a quick, easy store setup designed to scale up fast and painlessly.
The long and short of it is, WordPress with a WooCommerce store is just harder to set up and update, with plugins that don't always play nice together after updates. It's a big enough problem that there are dozens of how-to guides to safely update a WooCommerce store (or fix a broken one).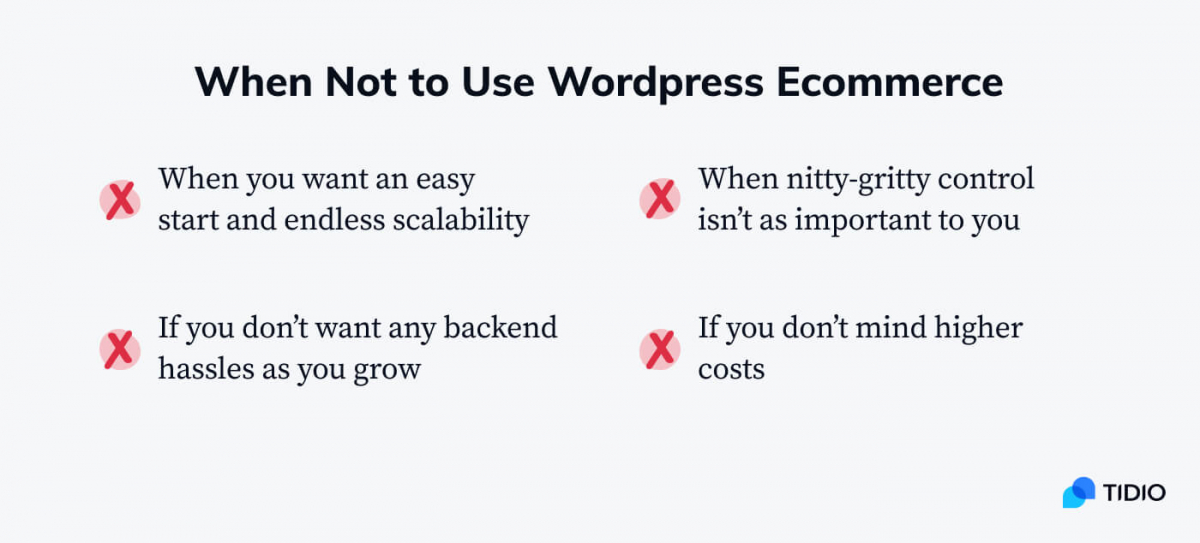 Once you get your online store set up, make sure you convert. See our guide: 7 Effective Ideas to Increase eCommerce Conversion Rate
WordPress eCommerce vs Shopify/BigCommerce
You can pull your hair out trying to choose between WordPress eCommerce (with the WooCommerce plugin) and a dedicated sales platform like Shopify or BigCommerce.
Let's break down the features of each, so you know what you're getting into.
WordPress eCommerce features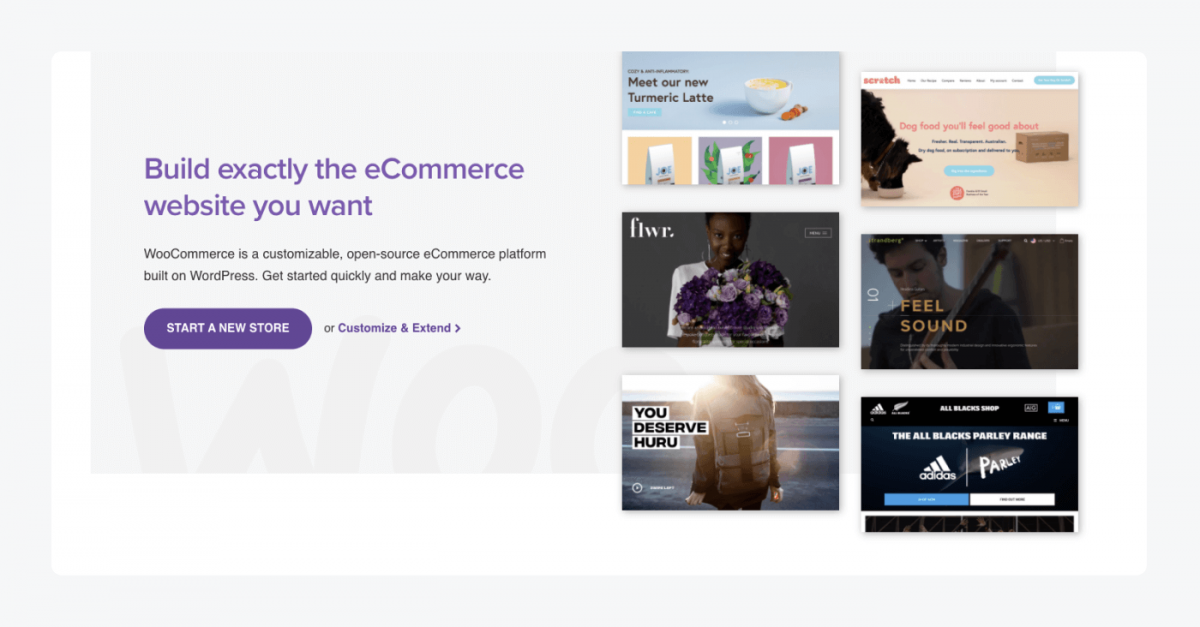 WordPress eCommerce has a lot going for it. If you're a small business with low-volume, it'll make your life easy because it's inexpensive and fairly easy to install.
To build a WordPress store, you'll need the WooCommerce plugin. This highly-popular plugin is used by about 23% of online stores (vs 31% for Shopify). That seems neck-and-neck, but bear in mind that Shopify almost certainly wins by a mile in terms of revenue (because it's geared toward higher-volume stores).
Here are a few of WooCommerce's best WordPress features:
Free (sort of). Since WooCommerce is free, open-source software, it costs $0 to use forever. (You'll still need to shell out for domain, hosting, and an SSL certificate, but hosts like BlueHost can cut the cost as low as $7 a month.) There are also costs for add-on extensions.
Content-ready. Since WooCommerce is built on WordPress, it seamlessly integrates your blog with your online store.
Lean & mean. If you just need a basic online store, you can have one. You only add the WooCommerce features you want.
No limits. You won't be charged more if your store scales up. Unlike BigCommerce or Shopify, there are no fees for added revenue or for transactions.
Massive developer community. WooCommerce supports stores and developers all over the world, so if you want to hire a developer to help you customize your WordPress eCommerce store, you'll have a big pool to draw from.
Supports 3M+ active stores. The good thing about choosing a popular eCommerce platform like WordPress with WooCommerce is, you know your store isn't the plugin's first rodeo. Most of the glitches have been smoothed out.
400+ extensions. Want to add payments, shipping, accounting, or marketing functions to your site? WooCommerce has hundreds of extensions to make your site exactly how you want it. Want to add Etsy integration, prepaid digital gift cards, or tax tracking? Connect an extension and you're on your way.
Endlessly customizable. Use HTML, CSS, JavaScript, and other technologies and tools to make your online store into exactly what you want it to be.
WordPress eCommerce with WooCommerce has hundreds of other useful features that make it a great choice for an online store.
There is one important feature that you should also consider—You can multiply your store with WordPress Multisite. Many eCommerce business owners on WordPress have several similar stores with different brands and they manage them from one place.
💡 Pro Tip:
Not computer savvy and afraid a WordPress store will be too tricky? Hire a WordPress developer. There are tons of them, and most work cheap (but remember to back up your code before you let anyone change it).
Did you know it's easy to add a free chatbot to your eCommerce site? See our guide: Integration of Tidio Live Chat with e-commerce
Shopify and Bigcommerce Ecommerce Features
"It just works." In some ways, the question of WordPress eCommerce vs a dedicated store platform is like the old "Mac vs PC" debate. Ages ago, Macs were known as turnkey machines and PCs were for people who wanted more options and had technical skills.
If you don't want to spend a lot of time working on your store (or hire someone to do it) then you'll probably be happier with Shopify or BigCommerce as your eCommerce platform.
Here are some of the perks and differences of using a standalone eCommerce solution:
Customizable

Shopify has over 2,400 apps you can add to your store to add cart discounts, preorders, price tests, and more. BigCommerce has fewer, but they're furiously adding more. For instance, you can add a free, conversion-boosting chatbot with both Shopify Live Chat and BigCommerce.
Most reliable option

Shopify and BigCommerce just work. They aren't open-source and don't use lots of third-party plugins, so they don't suffer from potential update issues. Both platforms test the apps in their app stores to make sure updates won't break online stores.
Dedicated support

BigCommerce and Shopify offer 24/7 support to help with setup and operation. Need to add a feature to your online store or fix an issue? There's always someone there to guide you. WooCommerce has limited setup and operation support. For plugin and theme support, you'll hire third-party developers or post questions in an online community.
Higher cost

Shopify and BigCommerce both charge around $30 to $300 a month depending on the size of your store. BigCommerce adds fees based on the amount of sales. Shopify charges transaction fees. Either option costs more than WordPress eCommerce with WooCommerce.
Great design and themes

Like WooCommerce, Shopify and BigCommerce both have excellent design choices to make your online store look great. Whether you choose WordPress eCommerce or another option, you won't have to fret over an ugly store.
Endlessly scalable

You won't notice any creaks and cracks as your business grows with BigCommerce or Shopify. They host everyone from tiny mom 'n' pops all the way up to Penguin Books and Heinz. When you grow, you won't have backend development headaches popping up to plague your flow.
If you do go with an eCommerce platform like BigCommerce or Shopify, which one should you pick? See our guide: BigCommerce vs Shopify – Which One Should You Choose?
How to Use WordPress for eCommerce
"Yes, but how do I USE it?" It's pretty easy to set up WordPress eCommerce. If you're already running a WordPress blog, it's as simple as adding the WooCommerce plugin. Below is a quick guide to setting up WordPress for eCommerce, from "I'm not online yet" to "I'm selling like hotcakes."
BTW. You still haven't figured out what to sell? Don't reinvent the wheel. See our guide How to Start a Dropshipping Business or browse our eCommerce Case Studies.
1. Buy a Domain
Choose a website domain address that fits your business. Select a name your customers will recognize, that's short and easy to remember. A ".com" domain is best because it's familiar and still the most trusted, though that's changing. Want to check if your domain is available? Use an online domain search tool.
2. Choose a Host
Once you know your domain name, find a service to host your WordPress eCommerce store. Some of the most popular WooCommerce web hosts are Bluehost, Liquid Web, and SiteGround, but check independent reviews before you buy. A WooCommerce-specific web host will set you up with a full package with domain, SSL certificate, and more at a lower price than a one-size-fits-all host.
3. Install WordPress
It's easy and free to install WordPress on your site. Most hosting companies offer one-click WordPress installation. If yours doesn't, you can always download it from WordPress.org. Need instructions? There's a great tutorial on the WordPress site.
4. Choose a Theme
Decide how your store will look by selecting a WordPress theme. WordPress has both free themes and paid ones that you can browse before you buy. WooCommerce recommends their own proprietary storefront theme (or a variation of it). It's free, but you can add paid extensions to build it out.
5. Install WooCommerce
To install the WooCommerce plugin for WordPress, open your WordPress site's dashboard and click "Plugins" in the left menu bar. Click the big "Add New" button at the top, and type "WooCommerce" in the search bar. Then click "Install Now," and "Activate." Then follow the WooCommerce setup wizard. It's that easy.
6. Add WooCommerce Extensions
You'll want to look at the WooCommerce extensions store to make your life so much easier—and your store more functional. Find profit-maximizing extensions like an affiliate marketing add-on to help influencers spread the word, Stripe to accept debit and credit cards, and an Amazon & Ebay extension to put your goods directly on top selling sites.
Read more about the best plugins and WooCommerce extensions here: 12 Best WooCommerce Plugins & Extensions
7. Add the Best WordPress eCommerce Plugins

WooCommerce itself is a WordPress plugin, and it's got lots of extensions to make your store a rollicking success. But there are other plugins you may want, like Easy Digital Downloads to let you sell digital products, or a Google Analytics plugin to track traffic and conversions. Browse the best WordPress eCommerce plugins to ramp up your store's power.
We're biased, but we think the Tidio WordPress chat plugin (5 stars for 70,000+ installs) is one of the best. It adds abandoned cart recovery, 24/7 chat, and tons of other profit boosters, and it's free.
For full steps on how to get started with a WordPress eCommerce WooCommerce store, see the WooCommerce setup guide.
How to Integrate WordPress and an eCommerce Platform
If you want to have a blog for traffic and a store for sales, you can have the best of both worlds.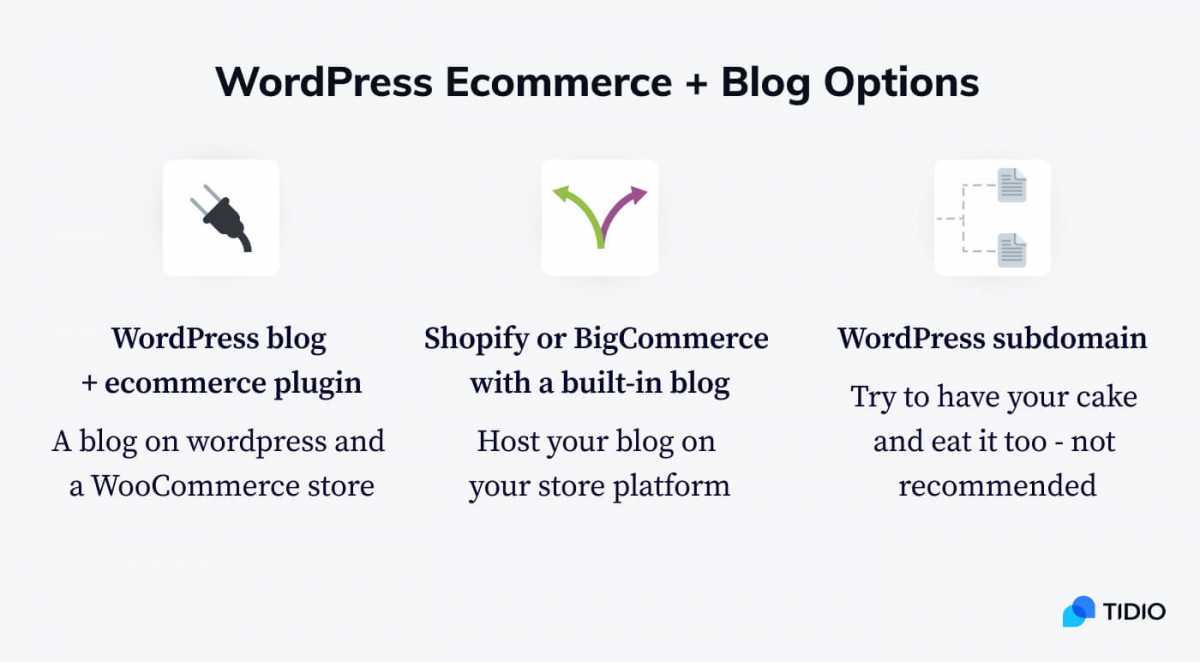 There are three basic ways to do it:
WordPress blog + eCommerce plugin. Run a WordPress blog and use an eCommerce plugin like WooCommerce. Alternatively, you can use WordPress' Shopify or BigCommerce plugins, but they're not as popular or as highly rated. (Thousands of installs and ratings vs millions.)
Blog on an eCommerce platform. Use Shopify or BigCommerce, then install a built-in blog right on your store with the Shopify or BigCommerce software. It's easy, and though many say it's not as good for SEO, a blog is a blog as far as Google is concerned.
Ecommerce store + WordPress subdomain. Set up a Shopify or BigCommerce store, then a separate WordPress site hosted somewhere else. If the store is mystore.com, the blog will be blog.mystore.com. You'll then change your Shopify settings, adding a new menu item to your store's navigation. The menu item will link to your blog.
Each method has its pros and cons. With a WordPress blog plus WooCommerce, you're in for a steeper learning curve and more hassle as you grow. With a blog on an eCommerce platform, you won't have access to tons of great WordPress SEO plugins to help you rank. With an eCommerce store and WP subdomain, some say your SEO will suffer.
Our pick? Go with a turnkey store option like Shopify, and use their built-in blog. If your pages are well-written with the reader in mind, you'll rank high and your SEO will be fine. Don't try to marry WordPress and Shopify as an eCommerce + blogging Frankenstein. You'll create more hassle than it's worth.
If you choose option #1 (WordPress eCommerce with WooCommerce) you'll be happy because of the endless customization and cheaper starting price. If you choose Shopify eCommerce with a built-in blog, you'll love the hassle-free, infinite scalability. But don't be like those people who bought the El Camino in the 1970s. "Hey, you couldn't decide whether to buy a car or a truck, so you didn't get either!"
💡 Pro Tip:
There's a difference between free WordPress eCommerce with the WooCommerce plugin and WordPress.com's $45 a month eCommerce solution.
Curious about chatbots? See the comparison of the best solutions: 7 Best Chatbot Platforms for SMBs [Free Chatbots Included]
Key Takeaway
WordPress eCommerce decision-makers:
To use WordPress for eCommerce, install the WooCommerce plugin. It's got thousands of extensions to make your store exactly how you want it.
Use WordPress eCommerce if you want low startup costs and endless customization, and you don't mind backend challenges as you grow.
If you don't mind paying extra for a hassle-free, endlessly-scalable eCommerce experience, go with Shopify or BigCommerce instead, plus a built-in blog.
Don't worry that only a WordPress blog will rank in Google. WordPress for eCommerce has SEO advantages for blogging, but they're slight.
Try Tidio For Free