If you're new to selling art online you may think you need thousands of eyes on you to be successful and that it's going to take years to get there.
Well, it's not true.
If art is your passion—this article will help you monetize it.
We'll show you:
And more!
1. Think Like an Entrepreneur
The moment you decide to start selling anything online, you need to start thinking like an entrepreneur.
To be more specific, it means that you will need to learn, among some others, how to optimize your storefront to help your patrons find you, how to market it, and how to handle your current and potential buyers.
This approach is applicable regardless of whether you intend to build your online store from scratch or you simply intend to put your works for sale via dedicated platforms.
Here's some advice from Luiza Niechoda of luizacreates.com:
You need to think like a business owner. I realize that as a creative soul you may absolutely hate this idea. But you need it, and the key to success is balancing things out. This is how it works for me: I work in collections. In other words, I create a series of 10 to 15 paintings each quarter. I spend 1 to 2 months painting and sharing the process via social media. This is the time to be creative, artistic and let the emotions guide me. The month of the release is when I turn my business owner mode on and shift my focus to marketing, sales, numbers, and data. There are many artists who share their strategies via paid courses. You certainly follow some artists who appear successful on Instagram. If you don't have the money to invest in courses or classes, just look closer at what those people do. Take notes and do the same!
2. Learn the Basics of Business
The change of mindset from an artist to a business person will not happen overnight. If you have very little to no business experience, you will need guidance in the right direction.
Luckily, there are tons of resources, including books and online courses that will teach you how to promote yourself and build up an art business.
Here are a few suggestions for you to start off with:
"How to Sell Your Art Online: Live a Successful Creative Life on Your Own Terms" by Cory Huff (book).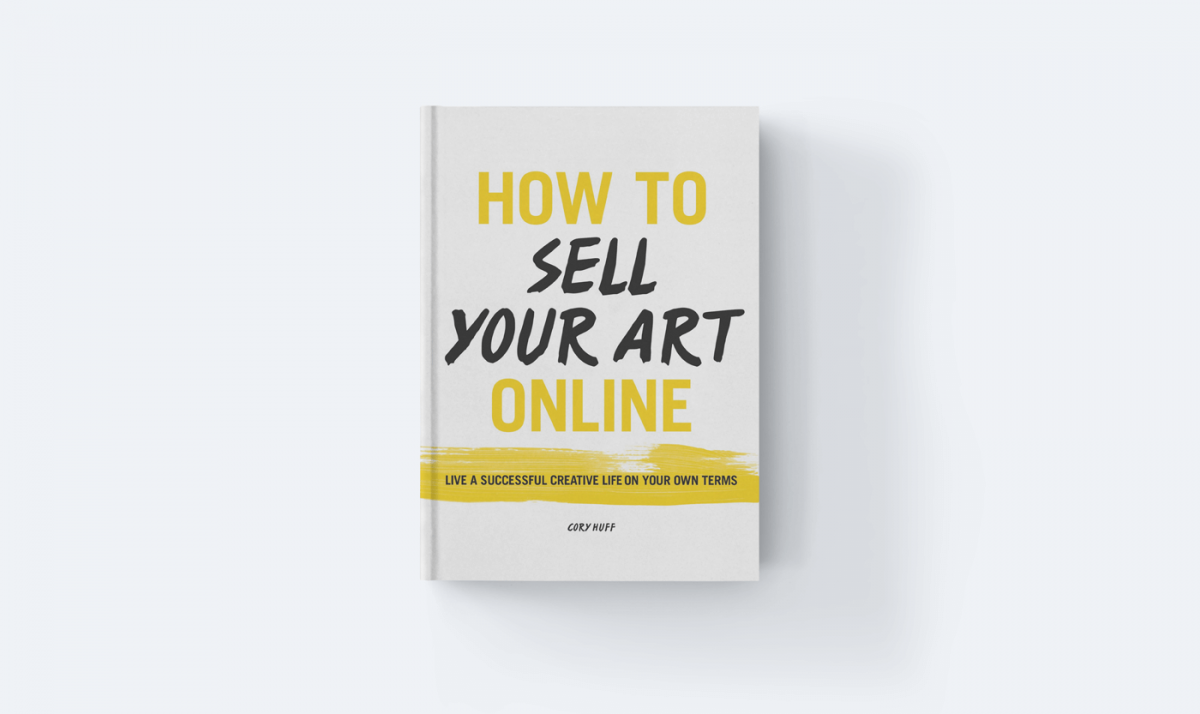 "How to Sell Your Art Online" will show you how to make a successful living from your work by learning effective business strategies necessary to make your artistic creations pay.
In this book, you will learn:
How to find your niche.
What elements are essential for an effective website.
How to start with email marketing, blogging, social media marketing, and paid advertising.
Shape and tell your unique story as an artist.
"Artist's Guide to Promoting & Selling Your Art Online" by Jason Allen (Udemy online course).

A comprehensive video guide to selling your work online. You will learn how to:
Use various sales platforms and make them work for you.
Figure out shipping costs, taxes, commission fees, etc.
Price your artwork.
The course is regularly updated. Also, if you have questions related to the course, you can ask the tutor for help.
"Introduction to Personal Branding" by Kimberley Barker, the University of Virginia (Coursera online course).

As an artist, you are your own brand. And since every brand has a story, you should have one, too.
Personal branding will help your patrons emotionally connect with you. But first, you will need to:
Understand what personal branding means and what it means to inhabit it.
Learn how to establish yourself on social media platforms.
Create a mission statement for your personal brand.
Create a system for on-going brand maintenance.
"Introduction to Marketing" by Darren Dahl and Paul Cubbon, the University of British Columbia (EdX online course).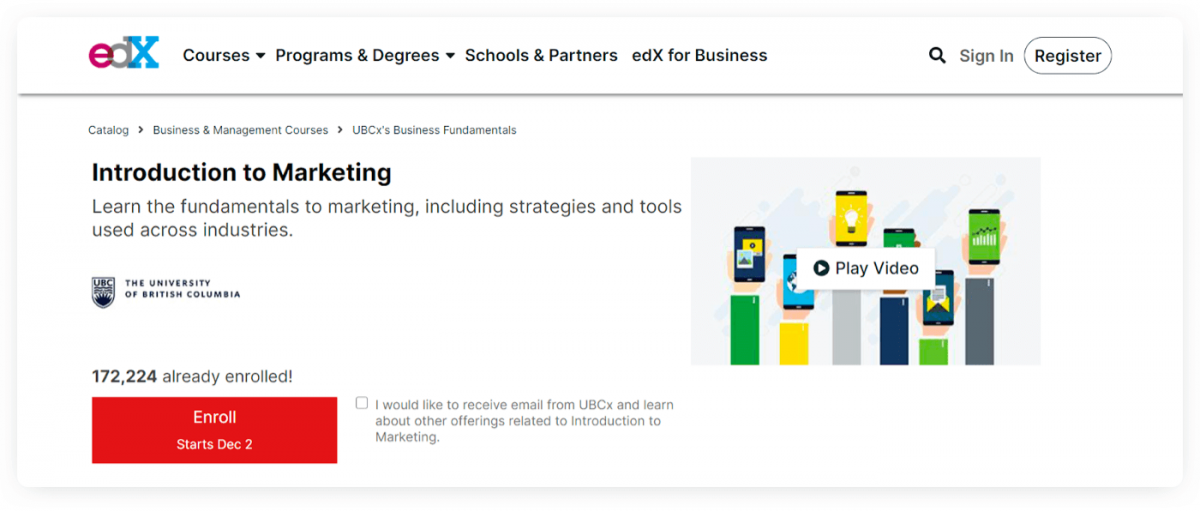 Marketing will help you drive awareness about your artwork, cultivate brand credibility, and build trust among your target buyers.
This online course will teach you the basics of marketing, in particular, you will find out:
How to develop a basic customer segmentation system.
What consumer behavior is and how buyers make their purchase decisions.
How to develop your pricing strategies to maximize profitability.
How to understand how marketing metrics can benefit your business.
Basics of SEO (Search Engine Optimization)
SEO is about increasing your visibility online. A store that is well optimized will be found through the search engines (e.g., Google or Bing) by more potential buyers who look for exactly what you are selling.

The best part is that the traffic that comes from your SEO activities (so-called "organic traffic") is free. You do not pay for ads or anything. You just need to make sure that your shop is ranking high on the search result pages so that your patrons can find you.
Suggested reading: 6 Simple SEO Tips for Small Businesses to Generate More Traffic
You can find comprehensive guides all over the internet and as well as YouTube. Here are a few places worth visiting:
3. Set Up Your Website
Having a website will allow you to showcase your artwork. But not only that. You will be able to drive traffic through SEO and ad campaigns directly to your virtual gallery and sell your items straight to your clients.
To do that, you can choose from the many available eCommerce platforms or website builders. They will let you build your website in no time.
For instance, with WordPress, you can build a fantastic website, and when you add a few eCommerce WordPress plugins to it (like WooCommerce), you can turn it into a proper online store.
Popular website and store builders include:
Wix Stores
BigCartel
ArtStoreFronts
Squarespace
Weebly
GoDaddy
Shopify
Suggested reading: How to Set Up and Online Store
Tip: Another way to start building your online presence is by setting up a social media profile. Nowadays, it is possible to buy items directly from Facebook or Instagram, so fan pages are viable alternatives to websites or online stores.
Take a look at the websites below. They are good examples of self-branding, connecting with customers via a live chat, as well as finding their niche where they can exercise their love for art and crafts—and get paid for it.
Warrior Made Designs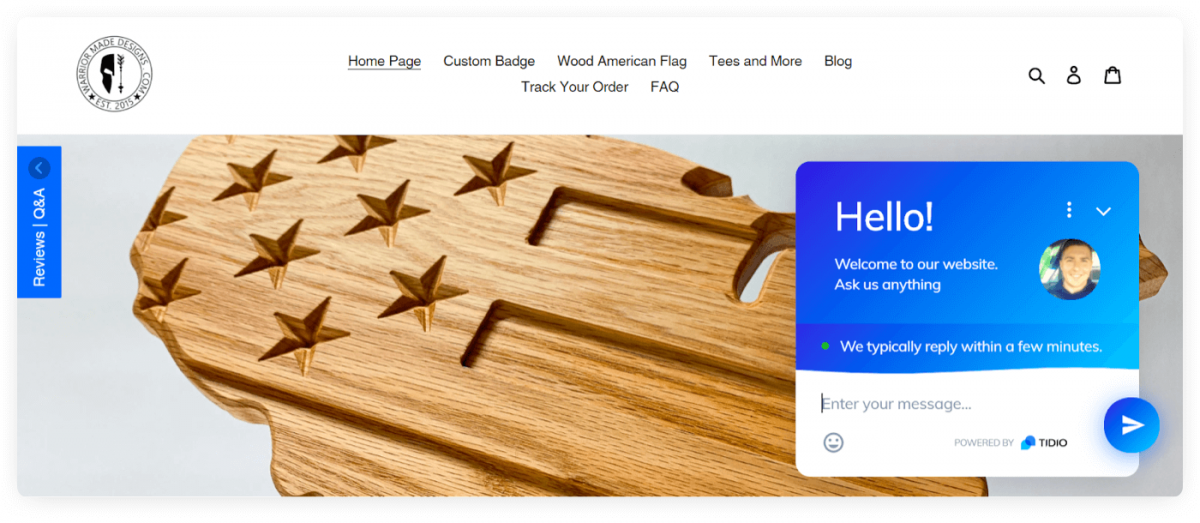 Warrior Made Designs website has a pleasantly clean design and clearly communicates what the visitor can buy there. The visitors can immediately notice the instructions on how to place an order as those are conveniently positioned right below the hero image.
Furthermore, the buyers have a wide range of payment options, including Google Pay and Apple Pay. There's also a very detailed tutorial on creating wasteboard surfacing files which is not only super helpful but also a great opportunity for better SEO.
Customers who require assistance can get in touch with the company via a live chat added to the website.
Industria Design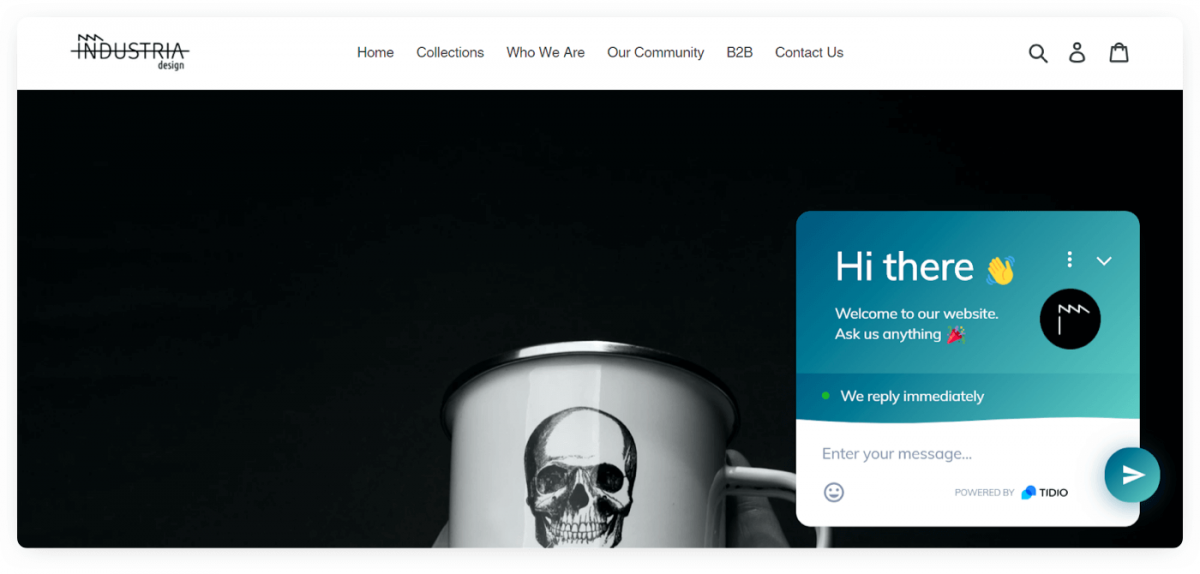 Industria Design's website catches attention with a large hero image and high-quality photos of their art products. Caterina, the artist behind the brand combined her art with products of everyday use which they sell to individuals as well as to other businesses.
For me, Industria Design is sharing ideas and living our great passions. It's friendship. It's another beast starving for new experiences, for new stories.

Caterina Priolo
Industria Design
If you're on the fence about setting up your own website versus using a dedicated sales platform to sell your art online (e.g. Etsy or Singulart), here's what Luiza Niechoda advises—
Etsy is easy to set up and use. But as of 2019, you have 2.5 million competitors there. That's a lot. Think about having your own piece of online real estate designed to provide the best, branded, shopping experience. Now that's exciting! Building a website is going to take time and energy, but it is the best thing you can do for your business.

Luiza Niechoda
from Luiza Creates
4. Gather Sales Tools
Building your own online store to sell your art has many advantages. One of them is that you gain access to hundreds of apps that will help you run your online art business. Many of them are free to install and use.
How to get them? That depends.
If you use a specific website or store builder, take a look at their app store (Mind you, the name may vary—some platforms call it apps, while others plugins or extensions). You will find dedicated apps for Shopify, WooCommerce, or BigCommerce stores (and a few others).
If you haven't used any website builder to make your store, don't worry. You can install many of them just by adding a small code snippet to your website source code. Moreover, popular apps that are available for one platform are often available for another.
Tip: You can integrate Tidio live chat with all major eCommerce platforms and website builders by installing a dedicated app or plugin. But you can also add it to your store by inserting one line of code to your store. Take a look at our guide: How to Install Tidio Chat on Your Website
Here are a few examples of different types of apps and plugins you could add to your website or store:
Shipment and Fulfillment
These apps will let you and your customer monitor the status of their order delivery. Moreover, they will give you the most up-to-date prices for the shipment based on the carrier and destination:
Printing and Dropshipping
If you're into design and do not intend to produce art prints and stock them yourself, there are services that will do it for you. The process is simple: the customer orders a product with your design on it (e.g., a t-shirt), and the third-party company prints it and ships it for you.
Customer Support
As a new entrepreneur, you will soon realize that personal connection and excellent customer service are vital components of a successful business. The most preferred communication channels are live chat and email.
Live chat will allow you to answer your customers' questions in no time and build relationships with customers. In contrast, the email campaigns will let you nurture those relationships and convert your prospects into buyers.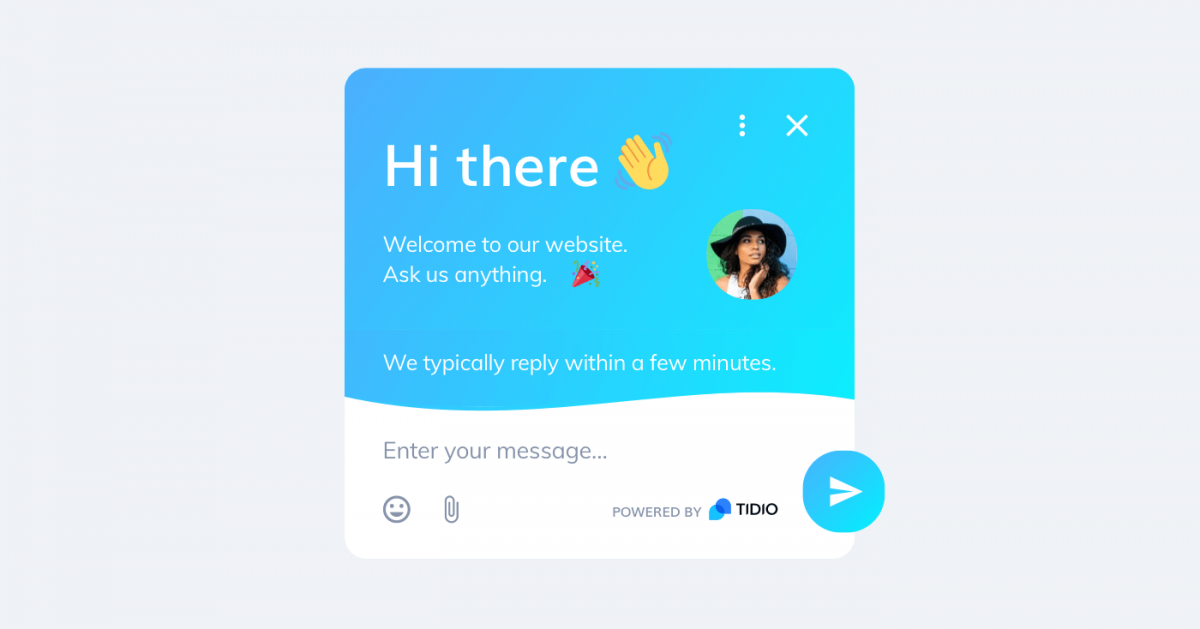 Suggested reading: What Is Live Chat and How Your Business Can Benefit From Using It?
Image Galleries
Gallery plugins give you the freedom to arrange your art photos the way you want and help you express yourself as an artist better. Not to mention that your website will look more original:
More app recommendations:
5. Find Your Niche—Or Create One
When it comes to selling art online, or any other product for that matter, you have two options:
One
You follow market whims and sell to cater to public demand. It's a reasonably safe route but very competitive, so you'll need to do some serious marketing to break through the crowds.
Two
You create your niche by selling something new, or look for opportunities in less "crowded" specialties. It is a less competitive option but will also require lots of promotion.
And remember:
If you happen to be a painter specializing in landscapes, there's no need for you to change your speciality. There will always be those who will enjoy your work, and those who won't. The question is how many of the former there are and what you need to do to reach them—and this is what you need your entrepreneurial side for.
6. Network and Build Social Media Presence
Every person you meet could be your buyer or someone who can refer you to others.
Hand in your creative business cards (you are an artist, after all!), and don't be shy to chat about your work. You might be surprised how many people will be eager to talk with you about photography, jewelry, or handicraft.
And people usually remember those who speak about their work with enthusiasm and passion.
In an online setting, social media is your good friend. They will help you attract followers, as well as the attention of other professionals who will require your skills or—again—know others to refer you to. For instance, TikTok statistics show that art-related videos are the second favorite type of content among users.
One common myth among artists attempting to sell their work online is that you need a huge social media following. It's not true. Here's what Luiza Niechoda has to say:
You don't need thousands of Instagram followers. You need 20+ engaged collectors who really love what you do. And whatever it is that you're creating, there's always someone who'll love it.

Finding your target audience and identifying the ideal client is key to creating a meaningful emotional connection. A happy collector always comes back. I know many people with less than a thousand followers, who quit their day job and paint full-time.

Remember to look at all the options. Instagram's algorithm changes constantly—right now (beginning of 2021), if you're using your profile to sell stuff, you'll have a lower reach.

It's also very difficult to go viral on Instagram. I use Insta to nurture relationships with my current followers/collectors. To find new people, I rely on diversifying my online presence. There's Facebook, Pinterest (a must for every visual artist!), TikTok, Reddit. I'd say try them all for 6 months and see which three convert best.

Luiza Niechoda
from Luiza Creates
7. Build Your Contact List
Getting to know people or growing the number of your followers is crucial, but you'll also want to start growing your email list at some point and communicate with your audience beyond your website or fan page.
Email campaigns are still a big part of marketing, and you cannot afford not to utilize them. With timely and relevant emails, you'll keep your audience updated and engaged with your brand. They also allow you to develop your relationships with them and bring them back to your store.
Email marketing is not a substantial financial investment. If you choose the right email marketing software, you'll be able to send hundreds of emails per month for free.
When your contact list grows, your business will grow. By then, you should be ready to upgrade if you need to send more massive campaigns.
Here's a final piece of advice from Luiza:
Do you know why selling online is better than working with a gallery? Well, you get to keep all the money you make, but also—your website is your own private gallery, and you can collect emails there. Your email list is a VIP club. Galleries don't have those.

I call mine "The Collectors Club" and its members get discounts and early access to new work. Email list members want to purchase your work and will wait for your next email to land in their inbox.

Connecting an email marketing service to your site may be an additional workload, but it's worth it. Proof: I can't calculate my Instagram conversion rate, but I'd estimate it at 1-2%. My email list conversion rate is almost 40%.

Luiza Niechoda
from Luiza Creates
Suggested reading: How to Build an Email List From Scratch
8. Set Your Prices
If you are not sure how high or low you can go, you can check what your competitors are charging. You just need to visit the sites where they sell their art and get a general idea about the prices.
You may notice, however, that the prices are quite far apart. It could be the case that the artist already has a well-established clientele and can afford to charge more.
If the art you want to sell is photography, illustrations, or logos, then the stock media portals usually have fixed prices.
9. Act Methodically
That's going to sound rather obvious, but success will not happen overnight. You may end up trying several different platforms, marketing techniques, only to find out that they do not work in your case.
It may take some time before you get to the point where you want to be.
So be reasonable when setting your expectations at the beginning of your journey. It is possible that you will be earning less than you have hoped for, perhaps even not enough, so you should take such a scenario into account as well.
We encourage you to read the business case studies of people who were where you are now (for a bit of inspiration, and perhaps, motivation as well). Although none of them sell art, they also struggled and made mistakes along their way until they became successful.
But—if you feel that running your very own business is not your thing, you can go down the alternative route and try selling art via dedicated platforms as a side hustle.
Bonus: Best Websites to Sell Art Online
Dealing with all the business stuff could be overwhelming. So how about using websites that specifically help artists sell their art?
There are tons of options and opportunities to sell your art online. You need to be aware of one thing, though—the convenience will come at a price. In many cases, you will be charged a commission on each piece you sell.
Some of the sites we've listed come with dedicated art selling apps that allow buyers to find, view, and buy art from artists like you.
Fine Art America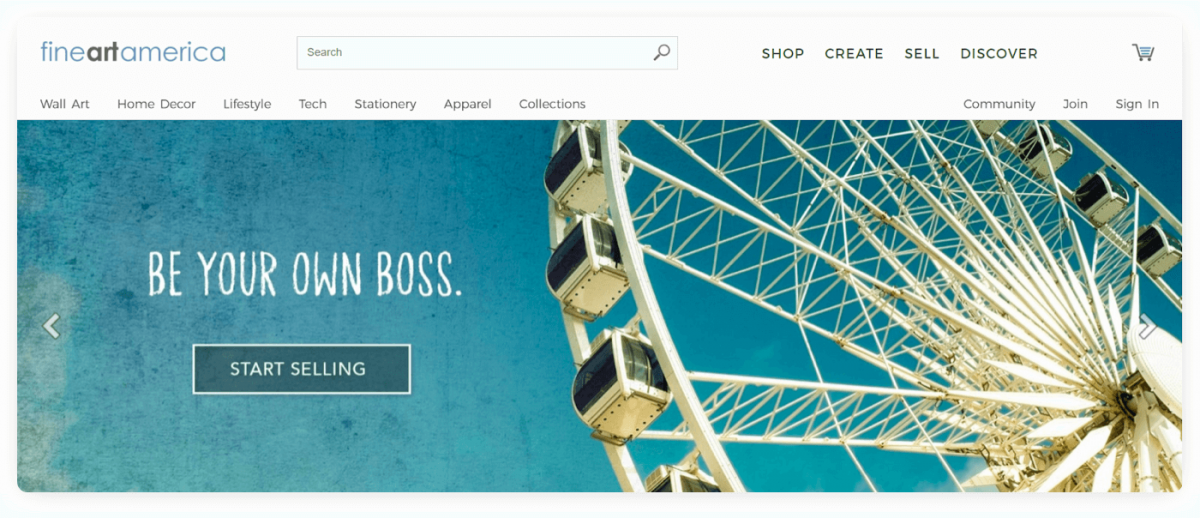 Fine Art America is the world's largest marketplace and one of the best print-on-demand places to sell art online. FAA will help you sell your art as wall art, home decor, or apparel prints to the global audience of art lovers.
To start selling, you need to upload your piece of work and set your price. Fine Art America will fulfill each order worldwide on your behalf.
Key facts:
Used by over 500,000 users.
Reach millions of potential customers through the website, mobile app, and retail stores.
Integrate FAA with your Facebook fan page, Shopify store, or own website.
Free and premium plans available.
License your artwork on TV.
Wide range of marketing and promotion tools.
Saatchi Art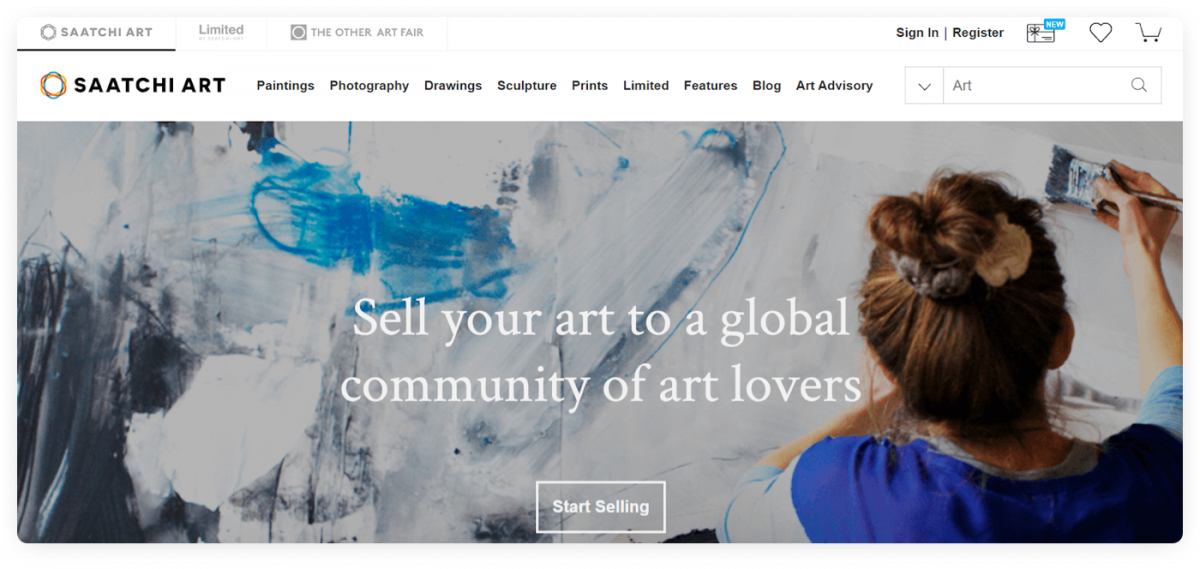 Another online art marketplace through which artists can sell both prints and originals. It's free to sign up to sell, and Saatchi Art handles shipping. You will only need to pay for the packaging.
In return for the commission paid, Saatchi will give you the possibility to expose your art to your audience in various ways.
Key facts:
Used by 60,000 emerging artists from over 100 countries.
Sells works to collectors from over 80 countries.
The commission fee is 35 percent.
Social media promotions.
Art Advisory services to collectors.
Sell paintings, sculptures, photography, installations, new media, and drawings.
ArtPal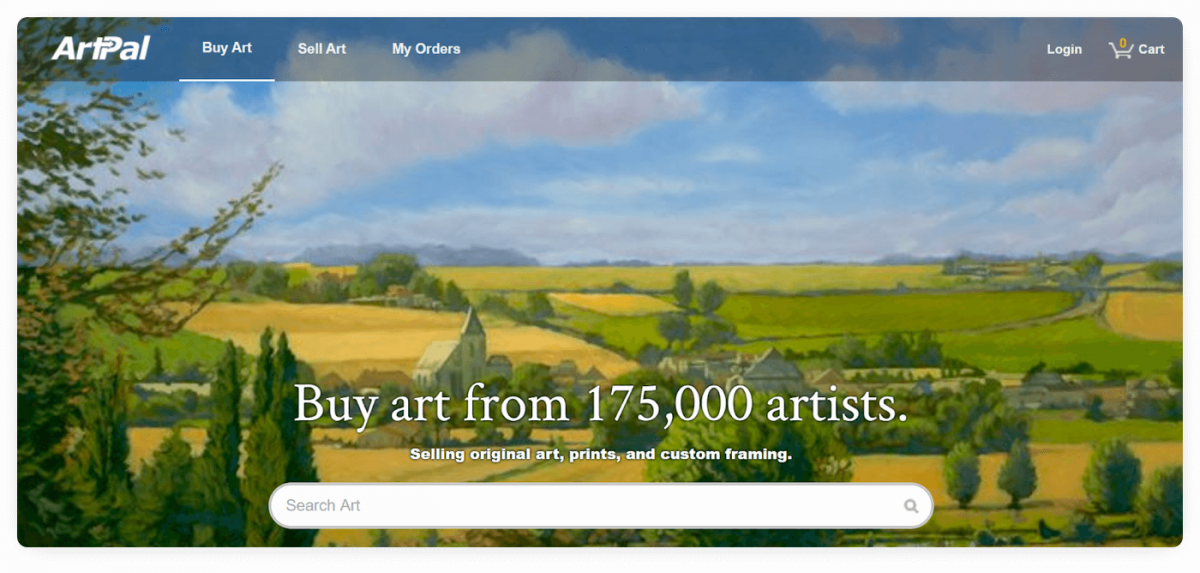 ArtPal is a unique online gallery where you can sell your items or use ArtPal's print-on-demand features.
The POD option gives you flexibility in how you want your customers to buy art from you.
This website is not limited to prints or paintings. ArtPal also invites pottery and glass artisans, sculptors, and jewelry makers to sell their art online.
Key facts:
Home for 175,000 artists.
No membership fees. No commission.
Get paid instantly.
Sell paintings, prints, photography, drawings, illustrations, sculptures, jewelry, and more.
Etsy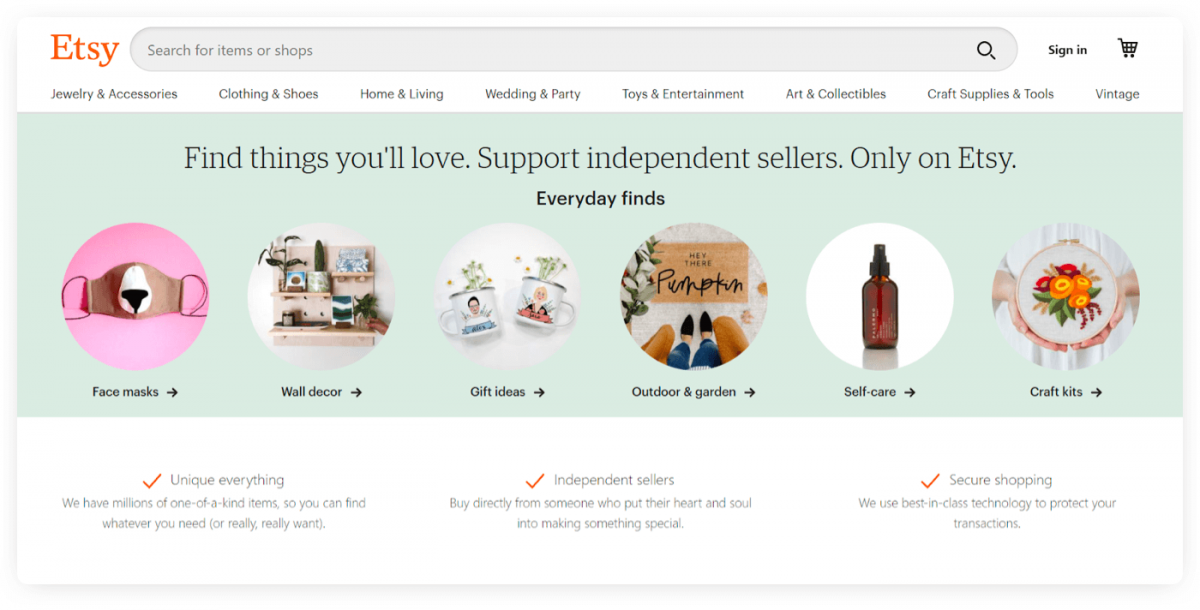 One of the most popular global online marketplace for crafty sellers but also incredibly competitive.
Although it is not the cheapest option, Etsy makes it a breeze to open your shop and provides you with a set of useful tools to help you reach the world of shoppers.
Key facts:
Over 2.5M sellers from 234 countries and over 60M buyers.
$0.20 fee for each item listed for sale on a website or mobile app.
Etsy Ads, Offsite Ads, coupons to help you promote your listings.
Seller Handbook for Etsy sellers to learn the best selling practices.
Two plans available: Standard (no monthly charges) and Plus ($10).
5 percent commission fee on each sold item.
Sell jewelry, clothing, shoes, home decor, art, personalized gifts, and craft supplies.
Storenvy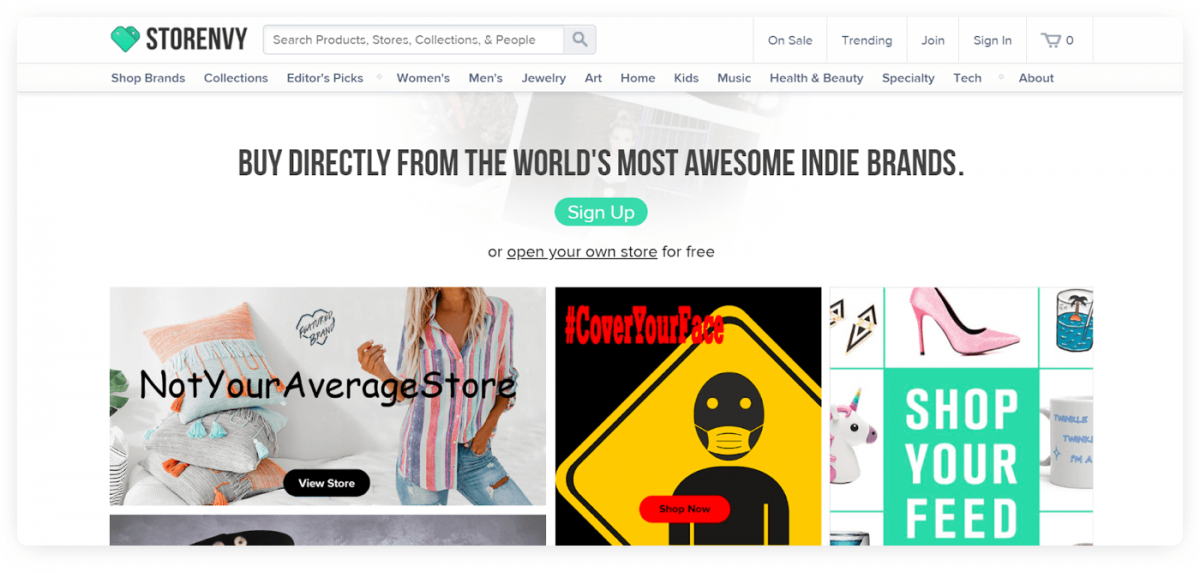 Storenvy is a marketplace and a store builder in-one, where you can set up your store in minutes for free.
To start selling art on Storenvy, you can either list your items to the general public in a marketplace or build a professional eCommerce store,
Artists running their stores on Storenvy can integrate them with their Facebook profile or fan page. This way, their fans can buy their art straight from Facebook.
Key facts:
Place for over 66,000 indie brands.
Over 1M buyers.
Create your own sales events.
Build a professional online store for free.
Resources section about business, customer experience, marketing and promotion, and more.
Sell all sort of art: fine art, jewelry, furniture, tech, music, toys, clothing, and much more.
Artfare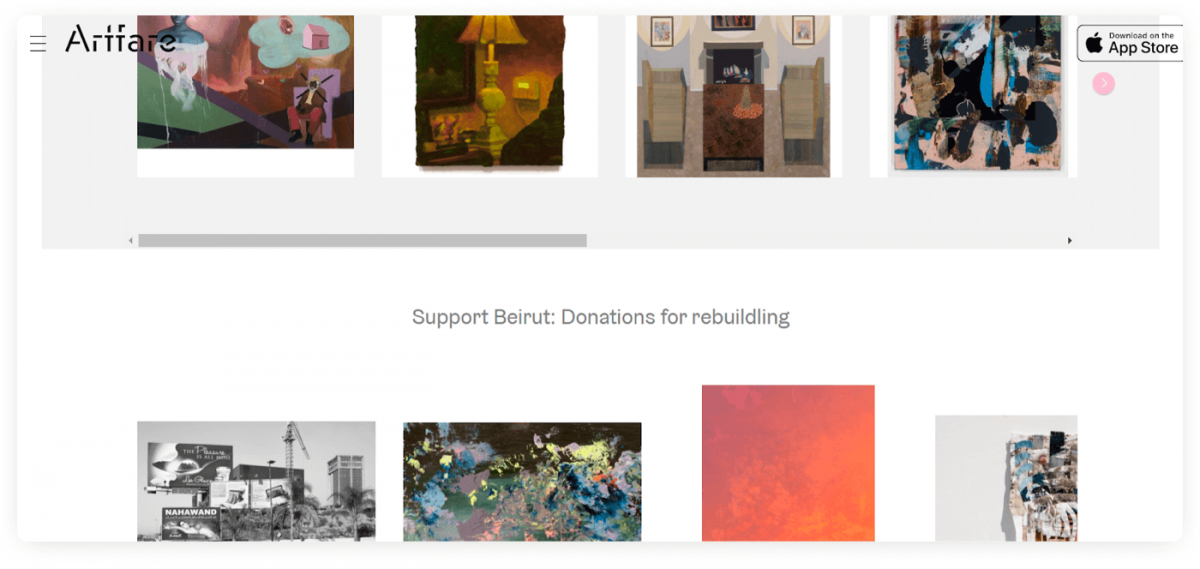 If you are looking into selling paintings online and would love to make personal connections with your patrons, Artfare will help you make it possible.
You'll be able to meet your potential buyers in person in your studio or during special events and talk about your work and creative process.
Key facts:
Communicate with your patrons via a dedicated mobile app or website.
Artfare handles the logistics from insurance to packing, shipping, and delivery.
The monthly membership fee is $20; cancel anytime.
Commission fee: 10 percent (unless you sell your art piece through any other channel besides Artfare then no fee is charged).
Key Takeaways
Selling art online ain't easy, but possible. With all the tools and resources available nowadays, there is no excuse for not selling your artwork online.
Here's what you need to remember if you want to sell art online:
Learn how to think like an entrepreneur.
Build your online presence through social media, your website, or an eCommerce store.
Learn how to build and market your brand.
Optimize your store or website to receive steady organic traffic.
Engage with your online audience and build relationships.
Network as much as you can and continue building a contact list of your prospects.
Leverage available dedicated art websites that will help you reach global audiences or meet them locally.