What is the first thing you need to sell online?
Traffic, of course!
You absolutely can't increase sales unless your site attracts a significantly high number of visitors, in fact.
But what if your site has low traffic so far? Is there really no way you could sell online, then?
Well, as a matter of fact, there are two things you could do and we'll describe both of them for you in this guide.
The first one is boosting visitor numbers. The other – Ensuring higher conversions from the traffic you have so far.
But before we discuss them both, let's make a few things clear…
Is There a "Safe" or Sufficient Traffic Level to Ensure Steady Online Sales?
Alright, so you've started your eCommerce business and much of the advice you read online focuses on "high traffic" or "large visitor numbers."
But what does that mean, really? Is 1000 visitors a month enough? Or should your traffic get to five or six-digit numbers before you can relax about your store's future?
And finally, how can you tell that your traffic is, in fact, high enough to start selling comfortably?
Well, let me be clear about this. All this "high enough traffic" talk is one big pile of rubbish (sorry!)
Yes, you need traffic to sell online.
But there is no single metric or value that defines the right traffic level.
Any traffic can be converted into sales. Granted, the more visitors you have, the more sales you will make. But you can generate revenue with lower traffic too, and you can implement strategies to help increase those conversions also.
(Similarly, you can generate low conversions with a high volume of traffic too, if your checkout process is flawed, for example.)
There is another part of those statements above that gets to me. You see, getting high enough traffic suggests a point at which you can stop caring about it but nothing could be further from the truth.
In Ecommerce, you can never ever under no circumstances stop generating more traffic. There is no comfort level at which you can rest.
First of all, traffic levels fluctuate. You cannot be certain how many visitors you'll attract today or tomorrow.
Marketing channels change too, and it might affect your traffic levels as well.
Finally, your competitors do not sleep either. Many of them would be actively trying to steal your traffic and conversions.
In short, the moment you stop is the moment you let them get ahead.
With that of the way, let's cover different strategies to achieving both objectives – attracting more visitors and maximizing conversions from your current traffic.
Generating More Traffic
In this section, you'll find both short- and long-term ideas to help you attract more targeted visitors.
#1 Evaluate How Your Competitors Drive Traffic
I've listed the competitive research first on purpose because I see eCommerce owners stuck wondering what to do, and where to drive traffic from and what channels to focus on, all the while they have access to the most reliable source of such insight – Their competitors.
Providing that your competitors have been in business longer than you, we could safely assume that they have tried many options to boost their traffic already. Most likely, they have settled on what works best in your industry.
Analyzing their current strategies could shed light on the strategies you could implement in your business. What's more, competitive intelligence would shorten the trial and error process significantly, saving you money in the process.
Take a quick look at this store's traffic and you'll immediately see where they invest their time and effort. The majority of their visitors come from search engines (39%,) followed by direct and referral traffic (25% each.)

Naturally, you could dig deeper. You could, for example, identify what keywords drive them the most traffic, what are those referral sources and so on and understand their success even better.
And that's why you should start with the competitive intelligence – To reverse engineer your competitors' strategies and use that insight to drive your campaigns.
#2 Boost Traffic Quickly with Online Advertising
The unfortunate thing about most traffic channels is that they take time to drive results.
But what if you have to boost online traffic right away? You may need it not just because you need more sales, mind you. As you'll see in the other part of this guide – conversion optimization – those extra visitors might help you validate many assumptions about your site, the value proposition and even, your products.
Well, then, buy more traffic through online advertising.
Search engines, for example, let you place direct ads within the search results for specific keywords. With that, you can drive targeted traffic almost instantly.
Boost Traffic Tip:
If you want instant traffic to a website, Google Ads is one way to get it.
Unfortunately, there is a downside too – You have to pay for each click, and that cost can eat into your margins significantly.
#3 Run Paid Social Media Ads
This is another way to purchase traffic and boost visitor numbers fast. However, in this case, you place ads on social media sites, promoting the products you sell or content you've published to attract new visitors.
#4 SEO: Identify More Commercial Keywords to Rank for
Year after year, SEO remains the most valuable channel for online retailers. According to this year's data from Smart Insights, for example, not only it generates the most visits, it also drives the highest revenue!
Traffic data: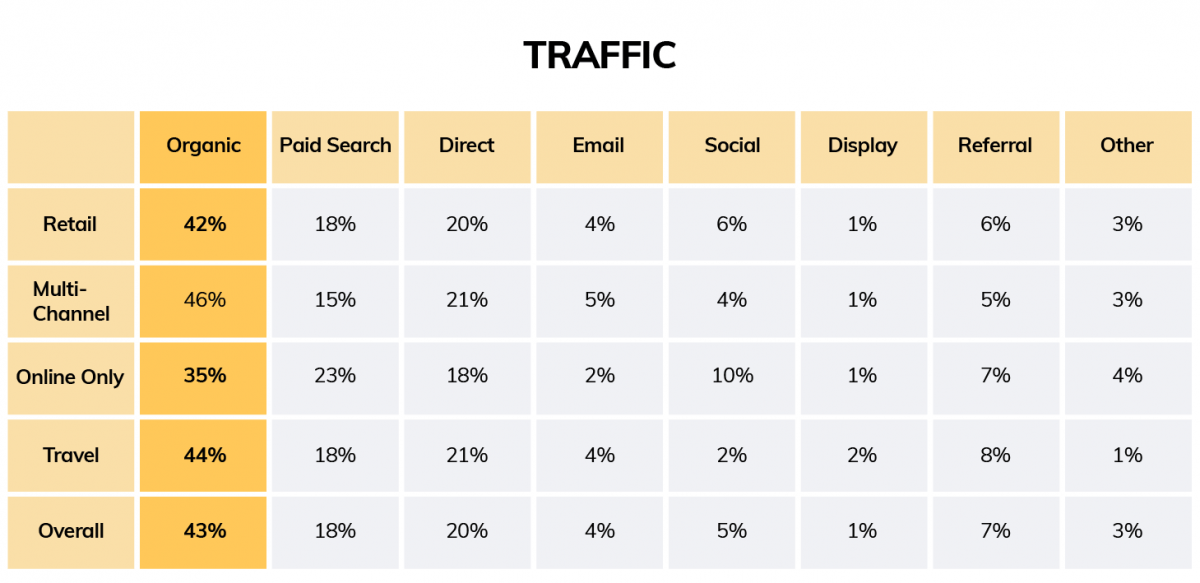 Revenue data: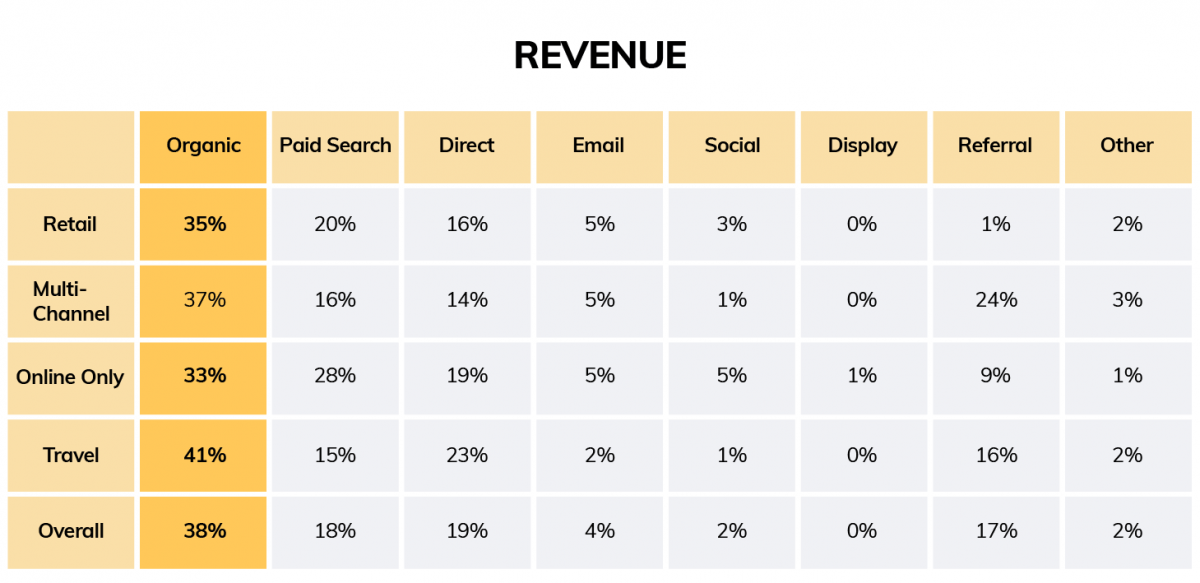 Unfortunately, SEO takes time to flourish. Luckily, there are ways to speed up the process.
Firstly, identify more commercial keywords your homepage, product and category pages could rank for in Google.
Secondly, expand your existing copy's relevance by adding semantic phrases. By doing so, you can increase the number of potential keywords each page could rank for and attract greater traffic.
#5 Maximize Your Email List
It's easy to assume that people who are on your mailing list already (or your personal connections) visit the store regularly. I doubt that it's the case, actually. In fact, from personal experience, I know that, often, by joining the mailing list, we begin to rely on the email to notify us of new products or promotions.
So, consider increasing the email frequency or send messages aiming at attracting your subscribers back to the site.
Some examples include instilling urgency, offering a hard-to-resist but one-time-only discount or even, promoting a completely new line of products.
#6 Strategic Guest Posting
The benefits of guest posting are irrefutable. If done well, the strategy can drive traffic, generate links and help your store in so many other ways.
And when done strategically, (don't worry, I will explain what I mean by this in just a moment) it can also place your store in front of a huge number of potential customers.
Enter strategic guest posting. In this approach, you focus on placing articles on the sites your target audience visits the most only. You identify their top publications, the topics they'd love to read about that are connected with what you sell and offer advice that will engage them to visit your store.
Strategic guest posting works exceptionally well when you sell a proprietary product. In this case, you can use it to position the product in the context of the problem it solves. But you can use the strategy to promote your store in general too, introducing it as the place to go for a specific type of product.
#7 Run Contests
Contests, particularly if coupled with social media promotion, are a great way to generate buzz and attract attention to your business. Not to mention that they can also generate a nice spike in traffic to your site.
In eCommerce, you run three different types of contests:
Giveaways (or sweepstakes, as they are also called) which use a draw to select winners.
Competitions which select winners based on some predefined criteria, and
Lotteries in which participants must do something, typically make a purchase, to enter.
#8 Leverage Forums
This technique relies on participating in forums your target audience frequents. By joining in the discussion, you may get a chance to mention your store, and attract other forum members to the site.
I admit that this is a time-consuming technique. However, if done well, it can help boost traffic.
A variation of this is joining Slack channels where your audience is likely to hang out, participating and being active and (occasionally) referencing your store or specific products.
#9 Product Reviews
Finally, offering products for reviews can help attract the audience following a particular blogger. If you can afford to offer them a special discount, you can increase your chances of boosting traffic even further.
That said, getting your product reviewed isn't easy and requires time and dedication to connect, engage and convince a person with a significant audience to devote some of their time to your product.
If you manage to do it, though, the rewards might be substantial.
Capitalizing on the Existing Traffic
Below you'll find strategies that will help you increase conversions from the traffic you have so far.
#1 Get Proactive with Live Chat and Chatbots
Today, having a live chat and a chatbot is the absolute must-have for an eCommerce website.
First of all, both increase online sales.
Chatbots help retain visitors for longer, engage them, and convert into customers or leads.
They can also help you serve customers during out-of-the-office hours.
Finally, customers and visitors alike expect instant communications with you. What's more, for many of them, just the sheer option of being able to chat with someone from the company validates the site even more.
But having the live chat on the site isn't enough. You must use it to engage customers proactively.
Some ideas for that include:
Engaging customers when they might be abandoning the site,
Offering incentives to buy to returning customers,
Instilling urgency,
Engaging customers when they begin interacting with the site, and more.
Note: Read our in-depth article to find the best WordPress chat plugin for your specific needs.
WANT TO KNOW MORE?
CHECK OUT OUR GUIDE TO ECOMMERCE CHATBOTS.
#2 Optimize the Site for Mobile
Today's shoppers use their smartphones more than any other device to buy online.
52% of traffic to online stores comes from mobile devices, according to Smart Insights.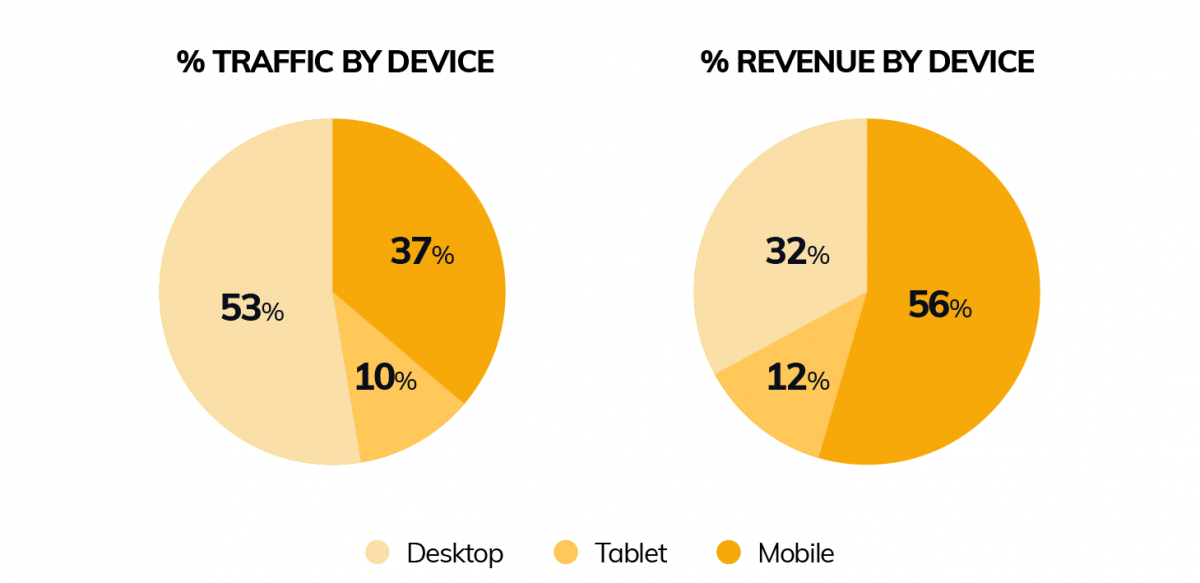 This means that unless your site is fully optimized to serve mobile visitors, you'll likely lose up to half of your revenue potential.
Why, because when they can't review a product page fully or check product photos, they'll likely just go somewhere else.
They have plenty of other options, after all…
#3 Add Social Proof
Social proof plays an incredibly huge role in the customer's purchasing behavior.
In short, buyers use the opinion of others (the social proof) to inform their product selection and even the buying decision. This is particularly true when they're stuck with deciding between a number of options. Reviewing what others think about each product – its reviews or star ratings – helps them make that final selection.
As a result, an eCommerce site that doesn't clearly display any social proof is likely to receive fewer orders and inquiries.
Those that do, though, will stand a greater chance at converting more visitors into customers.
That's because social proof adds credibility to the store or its products and builds trust. Its mechanism is simple – Since others have rated you favorably, one can assume that you will provide an excellent service.
But what if you don't have any social proof?
What if your store is relatively new and you haven't had enough customers that you could ask for reviews or ratings?
Well, you can use the product's social proof instead. Manufacturer's often have existing social proof that you could place on the site. Or the product has amassed ratings on review platforms that you could republish or reference on your product pages (with the full attribution, of course.)
#4 Introduce Secondary Calls to Action
You have the same single goal for every ad you run or the popup you use – You want it to convert its recipients into customers, right?
But here's the catch, not every visitor will buy from you during their first visit. Many of them won't do so even after coming back to the site over and over again.
It doesn't mean that they never will, though. Those people might just need more time to get to know you better.
Offering a secondary action that the person could take, like joining your email list, helps you continue engaging with them and building that relationship until those leads are ready to buy.
#5 Improve Product Pages
Product pages are where customers make up their mind about purchasing whatever you sell. As a result, the bulk of your conversion optimization effort should go towards making product pages as engaging as possible.
Some of the most effective ways to optimize product pages for higher conversions include:
Improving product visuals,
Including pictures of the product in use,
Adding the social proof that we mentioned above,
Adding trust signals like accreditations, return policies, etc.
Having a live chat (we talked about that already too,)
Featuring shipping information (one of the biggest factors in the eCommerce purchasing decision,) and more.
#6 Shorten and Simplify the Checkout
Did you know that your checkout process could be preventing people from buying?
It's true, unfortunately. Consider these reasons for abandoning the checkout below.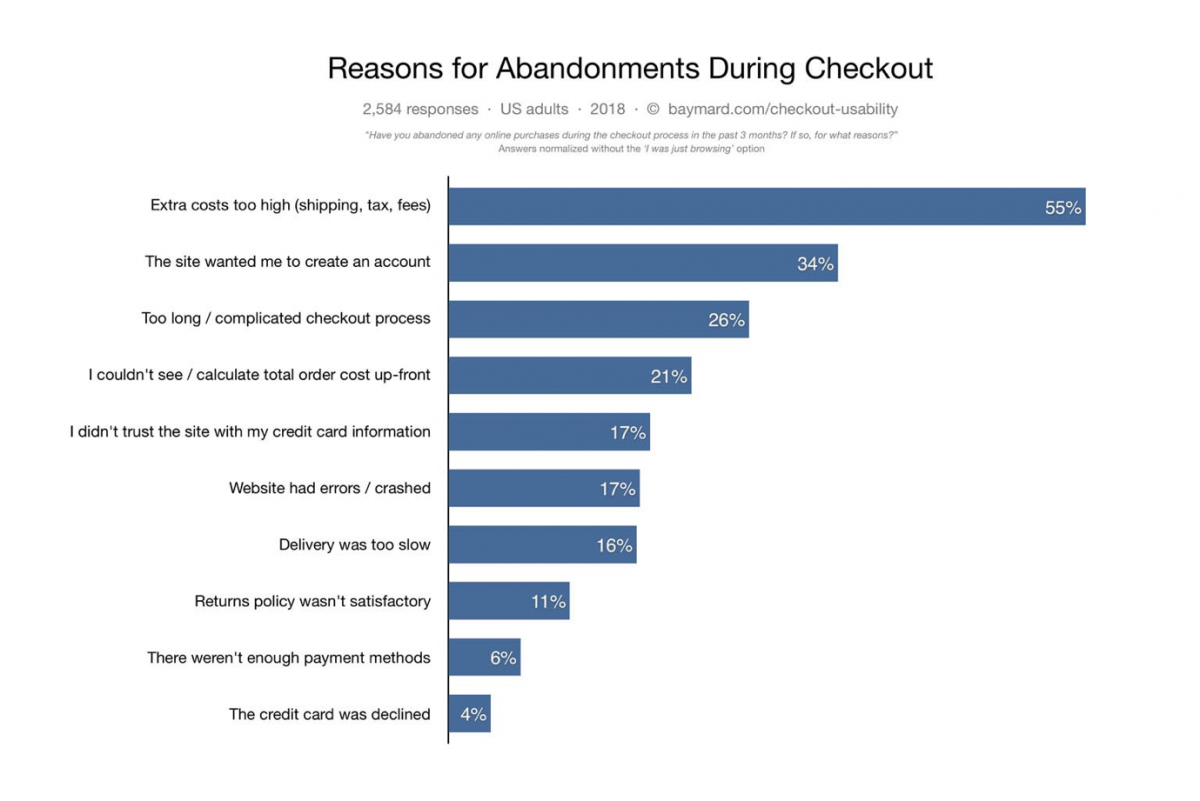 Three of the top-five reasons relate to problems with the actual checkout – Having to set up an account (34%), facing too long checkout process (26%) or not being able to see the entire cost of the purchase right away (21%.)
In either of those situations, the checkout process actually prevented someone from completing the purchase they've started already.
At the same time, as the Baymard institute has discovered, improving the checkout design can increase conversion rates by up to 35%.
#7 Introduce Incentives to Purchase
Finally, you could boost sales by offering incentives to entice visitors to buy. By doing so, you'll add value to the purchase, and present your customers with an irresistible offer.
Many different incentives will help you achieve such an effect. The most popular (and effective) are free shipping, discounts or offering a free gift with a purchase.
Did We Help to Organize Better Your Website Traffic?
Did you get the insights you were looking for to make more online sales on a low traffic website? Let us know.