Great reviews sell stuff. Period.
Why?
Because they're an indication of the product's quality.
It's a social proof, where a bunch of people point something out and say "hey, we want that!". It always works the same, regardless if it applies to products, services, or applications.
Table of Contents
If you want your business to be more exposed and have it monetized better (who wouldn't want that?), then you should master the art of getting good reviews.
Turn your website visitors into delighted customers.
Set up the Tidio live chat app in 5 minutes and watch your sales grow.
Learn About Live Chat
Why Having Good Reviews Is Important?
Imagine that you have to choose between two apps – both of them offering the exact same features.
The only difference between them is that one of the apps is more expensive, but has a lot of good reviews, while the other one goes with just average ones.
Which one would you pick?
Unless there's no personal reason to go with the worse app, you'll most probably choose the one with better reviews.
And so would other customers. According to Apptentive report, 90% of clients read reviews and ratings before trying an app.
What exactly does it mean?
Apps with Good Reviews Get Better Conversion Rates
Good reviews attract visitors and convince them to download your app – it's as simple as that.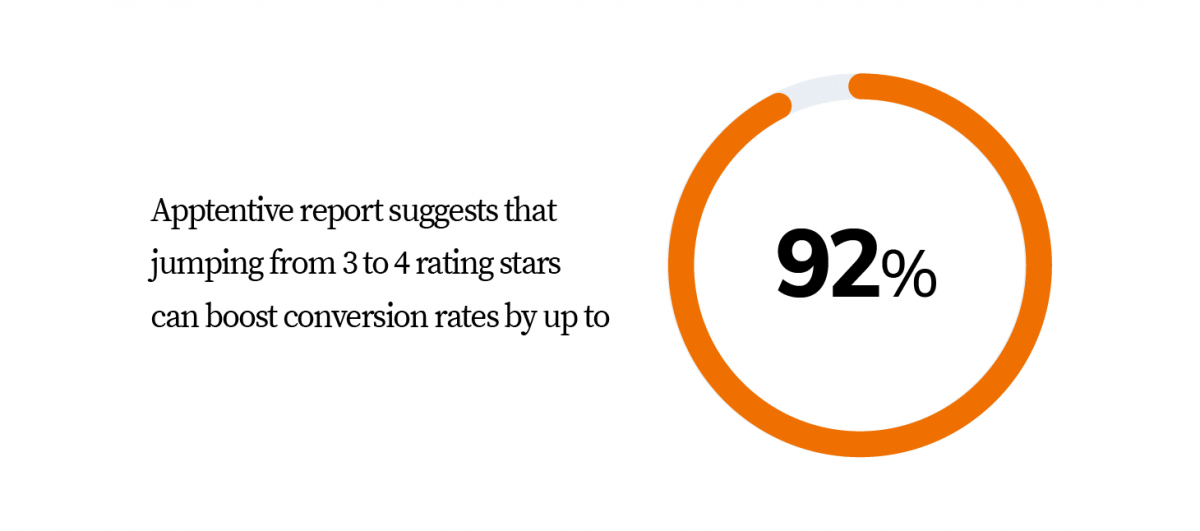 Apptentive report suggests that jumping from 3 to 4 rating stars can boost conversion rates by up to 92%!
Better Reviews = Better Exposure
Various app stores have their own visibility algorithms, but there's one thing in common for all of them – the more good reviews you get, the better your exposure is.
Better visibility is revealed by showing higher in specific app categories or within the app store's modules (like Shopify's "Trending Apps").
And what's the outcome of great exposure? Improved conversion and better monetization.
Reviews Improve SEO
When a user leaves a text review or a comment, they create the so-called "user-generated content".
If you have a lot of reviews (especially good ones) naturally enriched with keywords, they count as content on a website they've been placed on (e.g. app store).
This helps you boost your position not just in the store itself, but in search engines (like Google) as well.
Good Reviews Give You Priceless Feedback
Even if the review praises your app, it can still point out some of the product's flaws. And this is great because a customer is the best source of knowledge when it comes to making your product or service better.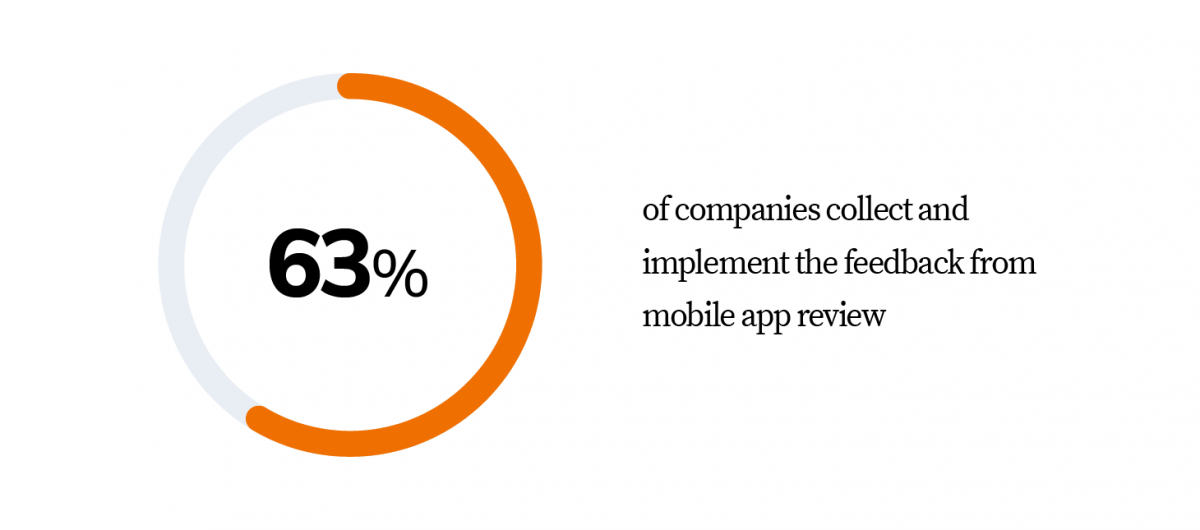 According to The Manifest, 63% of companies collect and implement the feedback from mobile app reviews.
And it's not just about fixing bugs, it's about making your product more suitable for your clients.
Wouldn't implementing something that you suggested impress you as a customer?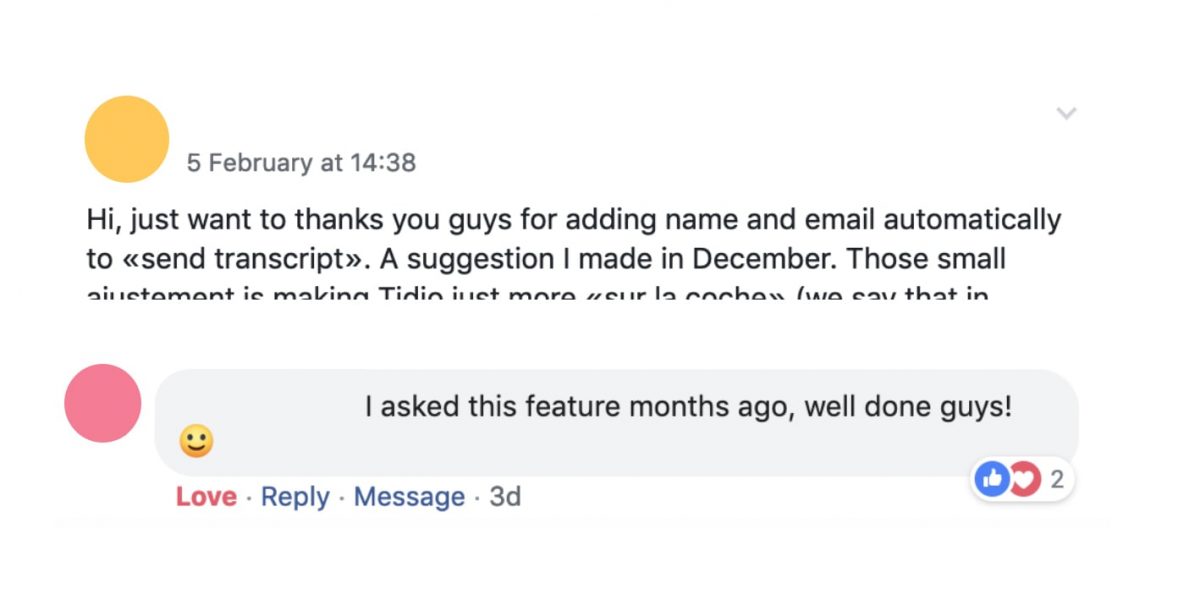 So, do you want to know the secret behind getting excellent app ratings? 
Tidio Live Chat app has recently hit 600 5-star reviews in Shopify App Store! We scored a total of 769 reviews, with an average of 4.8.
Curious how we got there?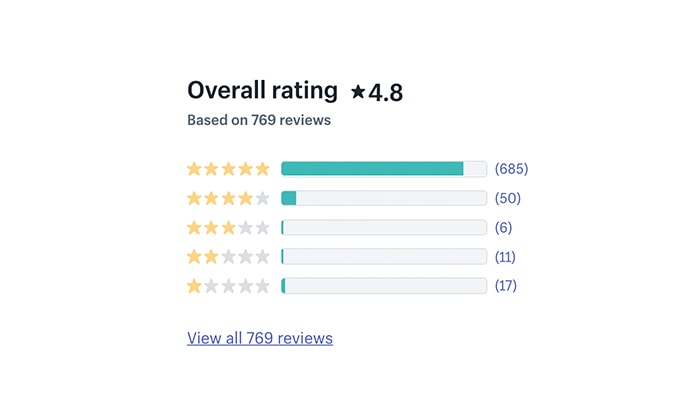 7 Tips For Getting Good Business Reviews
Below you'll find a list of actionable tips that gave us such great results!
Always ask for a review after a conversation is over
Add links to review pages
Fix Bad Reviews
Use their own, positive comments
Take advantage of fixed bugs/corrected issues
Always respond
Get more reviews
Let's do it!
Tip #1: Always ask for a review after a conversation is over
Ask, ask, ask. You will never get a satisfactory amount of reviews if you don't ask your users directly. The more personal, the better. A typical sentence I use at the end of the chat is "Would you be so kind as to leave a short review on our Shopify page?". Obviously, we have to exceed user expectations during the chat to feel comfortable asking that.
Ask for reviews with Tidio live chat
Tip #2: Add links to review pages
Add a link to a credible review platform and display it after a successful lifecycle step. Contrary to the NPS score where you want to learn the harsh truth and ask for unbiased feedback, asking for positive reviews is your time to shine.
Think of the peak satisfaction moments for your customers – right after a purchase was made or after a quick delivery process. We are still experimenting with various life cycle steps to see which one works best.
You can even think of automating this workflow with Zapier/Mailchimp or Hubspot. Create an automation that will send a link to g2crowd/Capterra, Google Places or to your Facebook page for people to leave you a good review.
Tip #3: Fix Bad Reviews
This email always makes it hard to breathe for a few seconds. Time stops. My Boss calls me.
Don't be afraid to fix bad reviews too. It's easier than you think.
Here's a procedure I follow when we receive a negative review:
Look out for email notifications about new reviews being posted (make sure you get notifications about all reviews). Those notifications should never be muted – in this crucial window of time, speed is your friend.
Quickly assess what actually happened and prepare an answer as quickly as possible. What could make this user think that way? Do you need to fix something?
Find the contact details of your user – preferably their phone number or email address. Take a deep breath even when everything suggests that the user is wrong and either call or write them an email. Anger won't help here — being a wise mediator will (we sometimes joke that our support reps could have a side-gig as police negotiators).
Say that you're really sorry to see their review and ask why they feel that way. Ask what needs to be done to fix it.
Fix the issue – whether by making changes in your product or service or by compensating for user's loss.
Once the issue is fixed and a user is satisfied – ask if they could reconsider their review. If you ask this quickly enough after a review was posted, there is a high possibility the user will remove the review or change their rating to a higher one.
Tip #4: Use their own, positive comments
If you notice a positive comment from your customer during a chat/call/ email exchange saying anything along the lines of "your product is really good" or "I really enjoy using your app" don't just thank them!
Instead, use it as an opportunity to ask them to share such comments with your new customers by adding it to the review. If they see you appreciate their positivity, they will usually get excited and be willing to put out the review right away.
Tip #5: Take advantage of fixed bugs/corrected issues
Don't hesitate to use any fixes to ask your visitors for a review as well! Especially, if you keep working with them on an issue for quite some time and you finally manage to fix it. They will usually appreciate your help a lot and will be more willing to share their positive support experience with others, even if they've been scratching their head around it for a while.
Tip #6: Always respond
Try responding to every review left for your business. While only a percentage of your customers might leave reviews, dozens are scrolling through the reviews. Not responding to positive reviews may send a message that you don't really care about what your users have to say. Good or bad – try to reply to all comments.
Tip #7: Get more reviews
Finally, build up more good reviews to dilute the bad ones. 😉
Deploying chatbots on a website is one of the options. After the conversation is over, you can send a friendly chatbot message and ask for customers' opinions about the overall experience with your store.
Key Takeaways
Having a lot of good reviews helps to expose your business and provides you with social proof.
Keep in mind that you should always start with providing an excellent app's quality, as well as top-notch customer service.
Once you're there, all you have to do is giving your customers a little push towards spreading a good word about your product.
And if they really like it, they'll go along!