Congratulations! You're getting traffic. Would-be customers are streaming in from PPC and from search. You're on the map.
The problem?
They're streaming back out again, without buying. If you can't convert, the best outreach and traffic-generation machine in the world is a popgun.
Worse, lead generation landing pages are finicky, right? Too often they don't work. Done wrong, they drive customers away, and then you have no list plus a lot of unneeded expenses.
Take heart. We've got the goods with the top 10 lead generation page examples and tips. Read on, and take your signup rates from zero to hero in just a few steps.
What Is a Lead Generation Landing Page?
A lead generation landing page collects contact info and other customer data upfront, with no buildup. Unlike traditional landing pages, it doesn't waste time on a long sales pitch or walls of thick text. The most successful lead generation pages stay simple and don't ask for too much.
This is one of the most popular lead generation landing page examples on our site, because it's quick, easy, and ditches the great wall of text:
Lead Generation Landing Page Example [With Chatbot]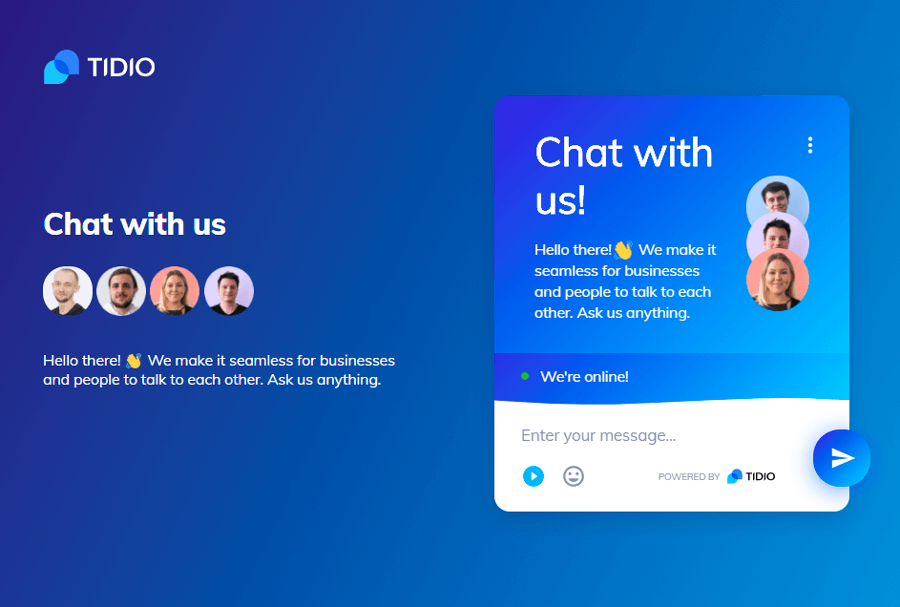 Why does that page work so well? Because it's simple, fast, inviting, and personalized. It also follows the 10 other rules below for lead generation that works.
Want to see it in action? Give it a test drive: Tidio Lead Generation Landing Page with Chatbot
What Do Lead Generation Landing Pages Do?
Lead generation pages create leads. They front-load the collection of contact information to the top of your funnel. Instead of waiting until a customer makes the leap, they dive in right away with a request for an email address. They work best when the customer has come looking for a freebie — and doesn't mind a quick detour.
10 Tips to Make Great Lead Generation Landing Pages
Disaster. Your team spent hundreds of hours developing lead generation landing pages — to no avail. Worse, your customers took one look and high-tailed it for the weeds, and now you've lost them forever. What did you do wrong? Your page wasn't simple enough, fast enough, and had poor design.
Take a quick walk through the 10 research-backed lead-generation landing page examples and tips below. You'll find plenty of low-hanging fruit and ideas to get your pages up, running, and collecting leads like a phone book.
1. Use a chatbot
You can painstakingly implement all the great lead generation tips below to make great landing pages. Or — you can automate the process with a chatbot.
How does that help?
Chatbots tick all of the boxes to pile up leads like Dale Carnegie. They're simple, quick, and inviting. They come pre-packaged with great design. They're easy to A/B test, and they customize themselves, providing the right information to each customer like a flesh-and-blood sales team.
In short? Chatbots are tailor-made to generate leads. Check out this example from Optimizely:
Lead generation landing page example [Optimizely]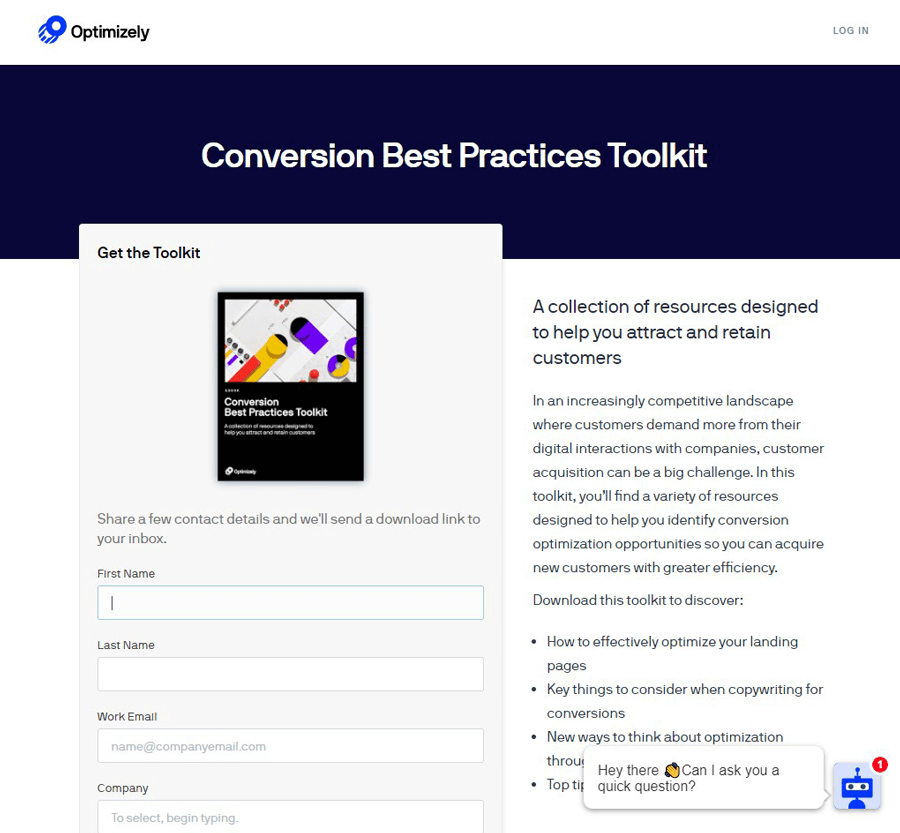 Why it works:
Great design
Easy to understand at a glance
Makes a solid sales pitch in the bullet points
The chatbot is there to field questions
Doesn't ask for too many details
Could be better:
While this is a great lead generation landing page, a simpler, cleaner design would use less text, and let the chatbot deliver the key points.
Want to try out your own chatbot? It's easy, fast, and free forever with Tidio. See our guide: How to Make a Chatbot In Less Than 15 Minutes
2. Don't ask too much
Be warned. Your top-of-funnel leads aren't sure they want your product yet. They're certainly not ready to buy. But — you need them to commit at least some time. Even 30 seconds may be too big a commitment at this stage. Think carefully about what you ask for.
Autofill makes things faster, but busy leads just see a lot of blanks and think, "Uh-oh. Just browsing." So ask strategically, and break up your questions into bite-sized chunks. The less you ask up front, the bigger chance your lead will click. Once you have that single click, they've taken action, and it's easier to get them to do more.
Here's a great example from SalesForce:
Lead generation landing page example [Salesforce]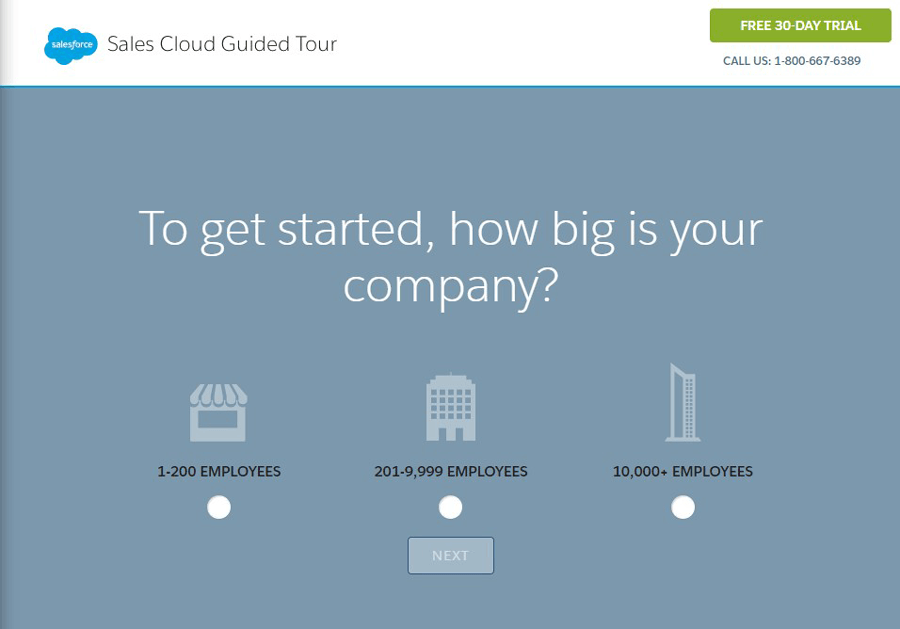 Why it works:
Super simple
It's an easy question for leads to answer
Great design
The visuals back up the text
The text is very minimal
Once a lead clicks, they're in a commitment-to-consistency loop
Could be better:
Could promise more value
User testimonials or other social proof
3. Improve your CTAs
"I don't have time to type all that in!" A great lead generation landing page needs a great CTA. The best calls to action start with a strong verb, phrased as a command. They provoke emotion, too, and give your site visitors a reason to take action. They play on the dreaded "fear of missing out."
A lead generation page should never be "just" a form to fill in. There should be a big "what's in it for me" for the reader. Your potential customer should be chomping at the bit to fill it out. If all you do is ask for information, it's like fishing with a line, but no lure.
Here's a tempting example:
Lead generation landing page example [SproutSocial]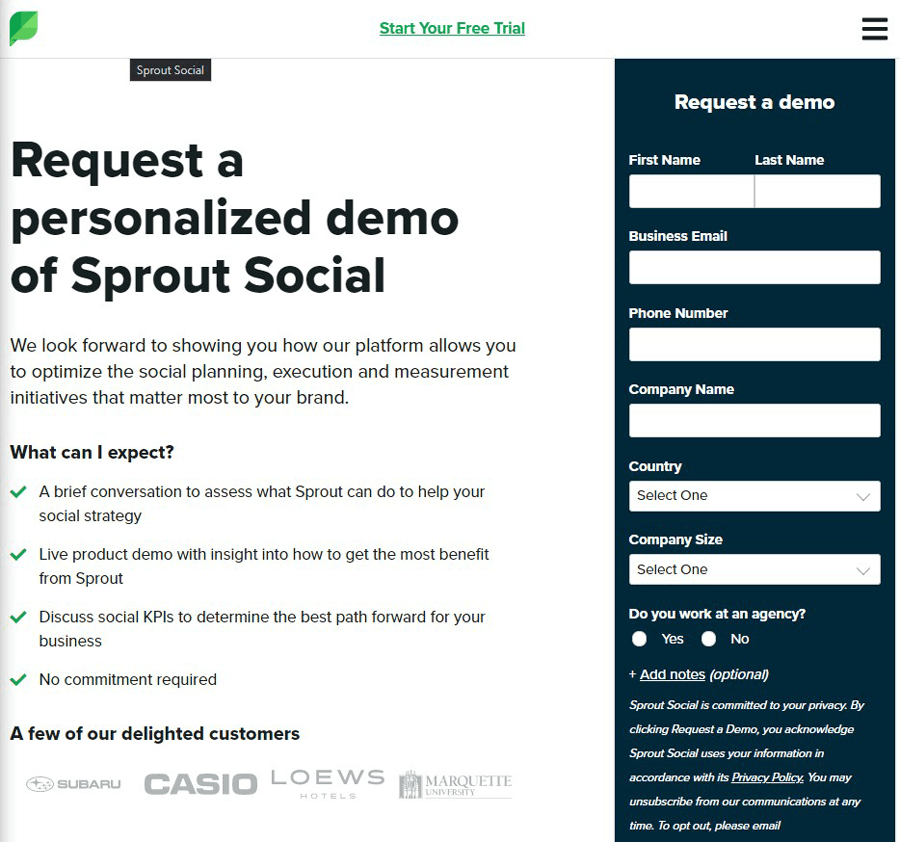 Why it works:
Short and easy form
Emotional ("personalized" is an emotion-loaded word)
Clear, engaging result is promised
The bullet list promises mountains of value
The customer list gives social proof
Could be better:
A bit busy
Form could be shorter still
Less text would be even sweeter
Want to grow your list like wildfire? See our guide: 5 Easy Steps to Build an Email List from Scratch for Free
4. Get your design right
Great design gets the information straight into your brain. It almost bypasses the eyes on the way. Almost. Your lead generation landing page design should be clear and simple to understand. The viewer shouldn't have to stop and wonder what they're looking at.
Rely on clean lines, and simple shapes and color schemes. Leave plenty of white space, and dial in your typography. Aside from these elements of great design, use images to show your benefits. The more your design makes clear what leads are getting for their time, the more likely they'll fill out your form.
Lead generation landing page example [Visually]
Why it works:
Clean and simple
The minimalist style makes it easy to understand
The icons sell the benefits
Could be better:
A shorter form would be more inviting
The dropdown menu icons make it look involved.
5. Shorten your forms
Every lead generation landing page is a transaction. The customer buys something — a demo, information, or a free trial. She also pays for it with something — time. Make the time too long, and the lead may decide the price is too high. She may go elsewhere, looking for a faster fix.
In fact, research shows that 80% of web users abandon online forms, and 27% ditch forms because of length. Think carefully about what information you actually need. Is an email or phone number enough? Do you really need to know the size of the company and business web address?
If you do need to know a lot, consider letting chatbots do the heavy lifting. Chatbots present a micro-sized face to your site visitors. They start with one quick question and can quickly get a lead's full contact information. But be warned — even chatbots that ask too much can risk abandonment.
Want a quick way to make your lead generation pages look inviting? Use checkboxes and buttons when you can.
Lead generation landing page example [AdStage]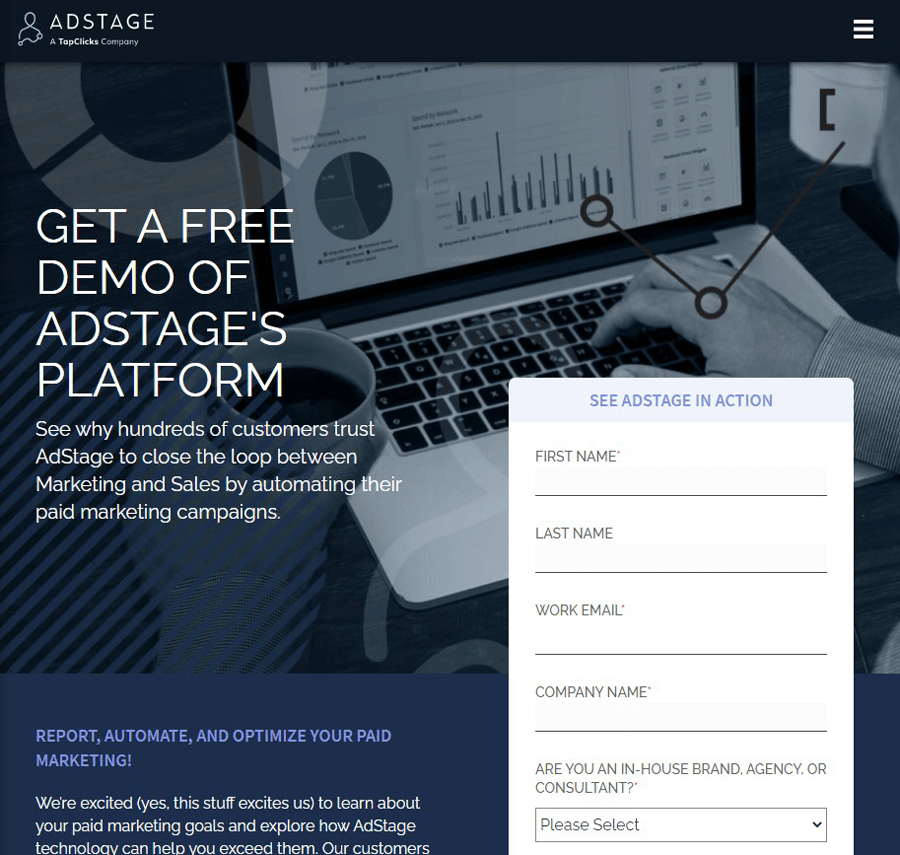 Why it works:
Clean and quick
Asks for minimal information
Great design
Makes a quick promise in very few words
Adds social proof for extra punch
Could be better:
A bit wordy at the bottom
Opt-in newsletter button at the bottom (out of image) asks a bit too much
6. Add social proof
We all know social proof works. You've probably seen numerous statistics from Influence by Robert Cialdini or Contagious by Jonah Berger about the power of what other people like. 70% of consumers trust recommendations from people they don't know, and 92% believe unpaid reviews more than any other kind of advertising.
Social proof can come in many forms, but the most successful sites lean on a three-step approach. First, they pin a list of well-known clients to the bottom of their lead generation landing pages. Next, they add a quote from a living, breathing customer beside the form. Last, they add a picture, so we know this is a real live human.
Mix those three strategies, and your leads will picture themselves enjoying the same great benefits.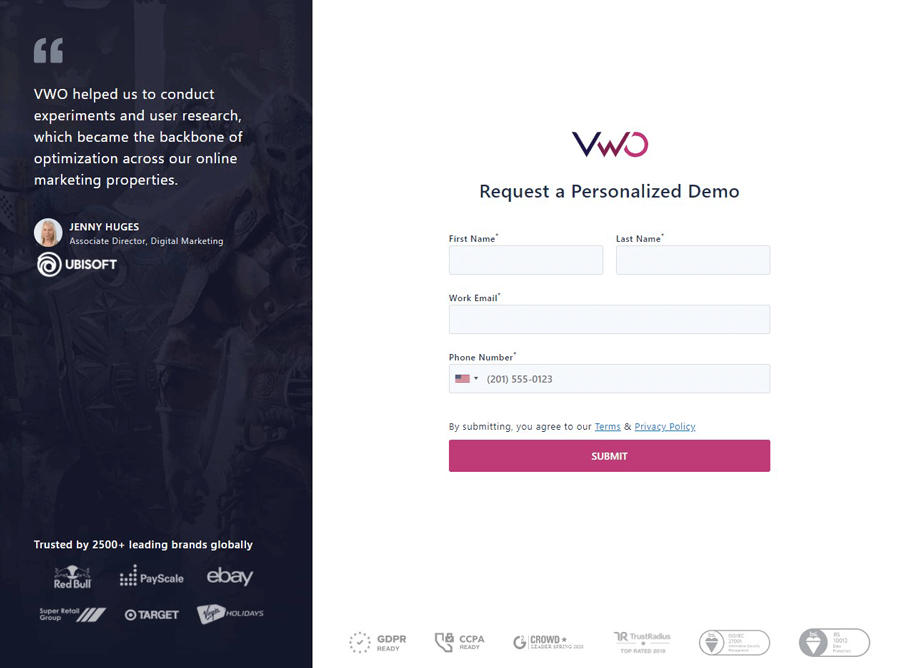 Why it works:
The form is super-simple
The CTA button is big and bold, with the only splash of color on the page
Excellent social proof from clients like eBay and Target at the bottom
A moving quote from a satisfied human being on the left
A picture of the real live person who gave the quote
The logo of the major company the human client works for
Could be better:
A chatbot could help clarify the message for the unconvinced
Could convey the product's benefits better
Unclear what the demo will deliver
You need to send conversions through the roof. Here's how: 7 Best Tactics to Increase eCommerce Conversion
7. A/B test
As with any marketing effort, A/B testing cuts the risk and gives a shortcut to success. To increase ROI, trying different lead generation landing pages can cut a clear path to the right decision. Using variations of your page can lead to more conversions, clicks, and happier customers than leaving your lead list to chance.
Vary your designs, amount of text, form length, chatbot messages, and the benefits you list. Keep your list of metrics low, and don't trust your first result. Give tests ample time to run their course. Identify your goal up front too, like, "Choose the best of three designs for lead generation."
Lead generation landing page example [Unbounce]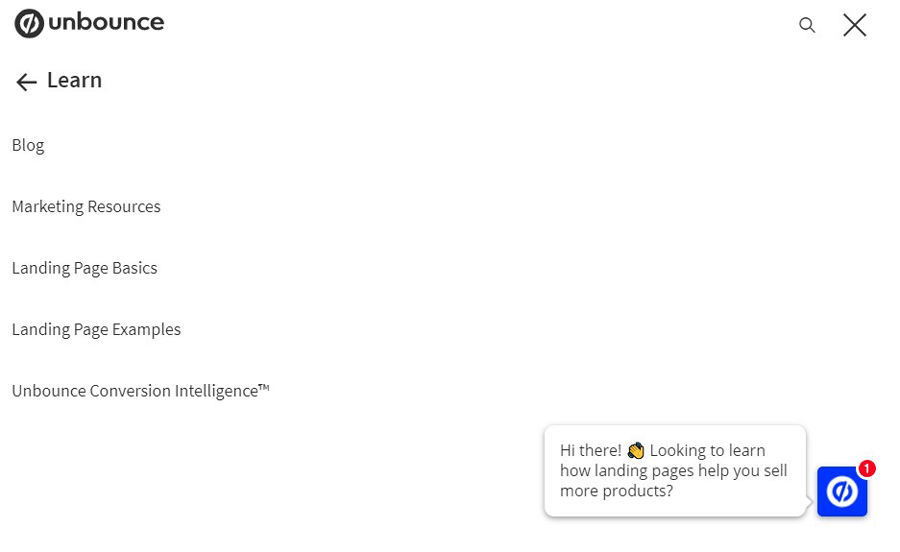 Why it works:
Incredibly simple design
Lead generation landing page masquerades as a drop-down menu
The chatbot on the otherwise blank page draws the eye
Once a user clicks, commitment-to-consistency kicks in to walk them through the rest
Could be better:
Read more: Discover the best lead qualification software for your business.
8. Talk up your benefits
Features tell. Benefits sell. The magic key to selling anything is to show how the product will make things better for the buyer. Nevermind that a web app displays ads to website visitors. That won't sell. But tell potential clients it'll increase conversions by reaching 98% of visitors who haven't purchased yet, and you've just landed a new lead.
Think carefully about your product's elevator pitch. How does it improve your client's lives? What's the finish line, and how does it feel to your new buyers? Nobody wants to buy a couch. They want a comfy place to sit with friends and family. Each page should have its own unique benefit or benefits that show the visitor what's in it for them.
Lead generation landing page example [ReTargeter]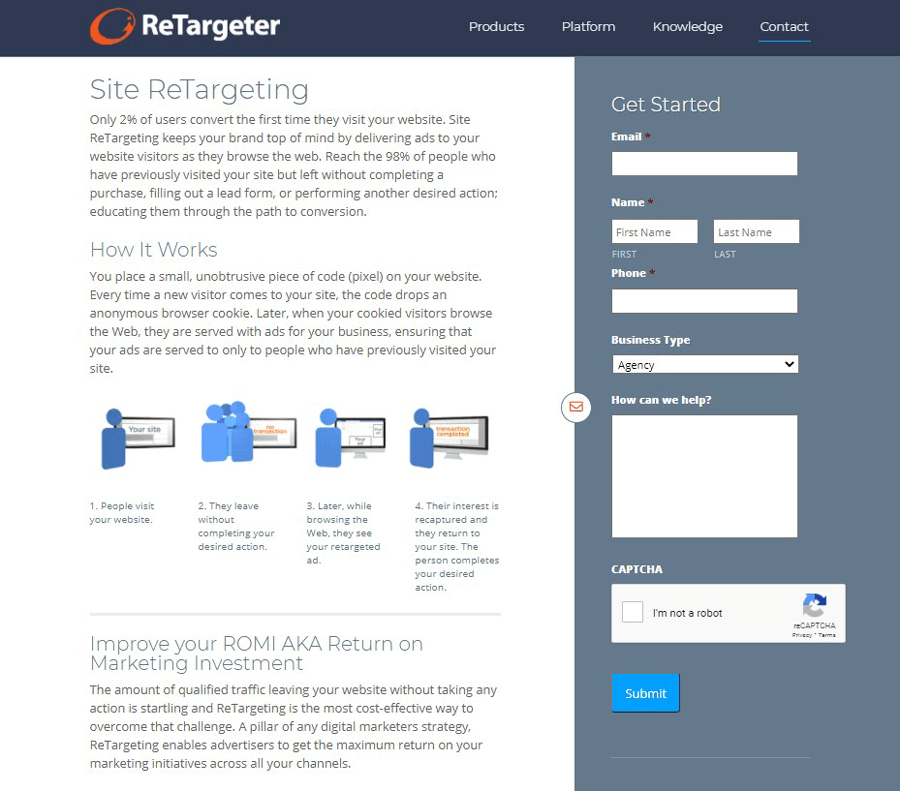 Why it works:
Explains exactly how the product helps the user
Shows a success story with simple graphics
Clean design
Could be better:
Too wordy
Form could be shorter
Challenging to pull the benefits from the wall of text
9. Optimize for mobile
Most website builders these days automatically optimize for mobile. That makes sense, since 2 billion shoppers buy from phones and tablets, and 95% use mobile devices to research purchases. But just because a site is mobile-ready, that doesn't mean the lead generation landing page is, too.
Forms that hang off the edge of the screen send users packing. They can also hurt SEO and draw red flags from Google. Make sure forms display well on any screen, and that all fields are quick and easy to tap and fill on phones. For a super-easy fix, try a mobile-optimized chatbot that always fits the same screen real-estate.
Lead generation landing page example [AdRoll]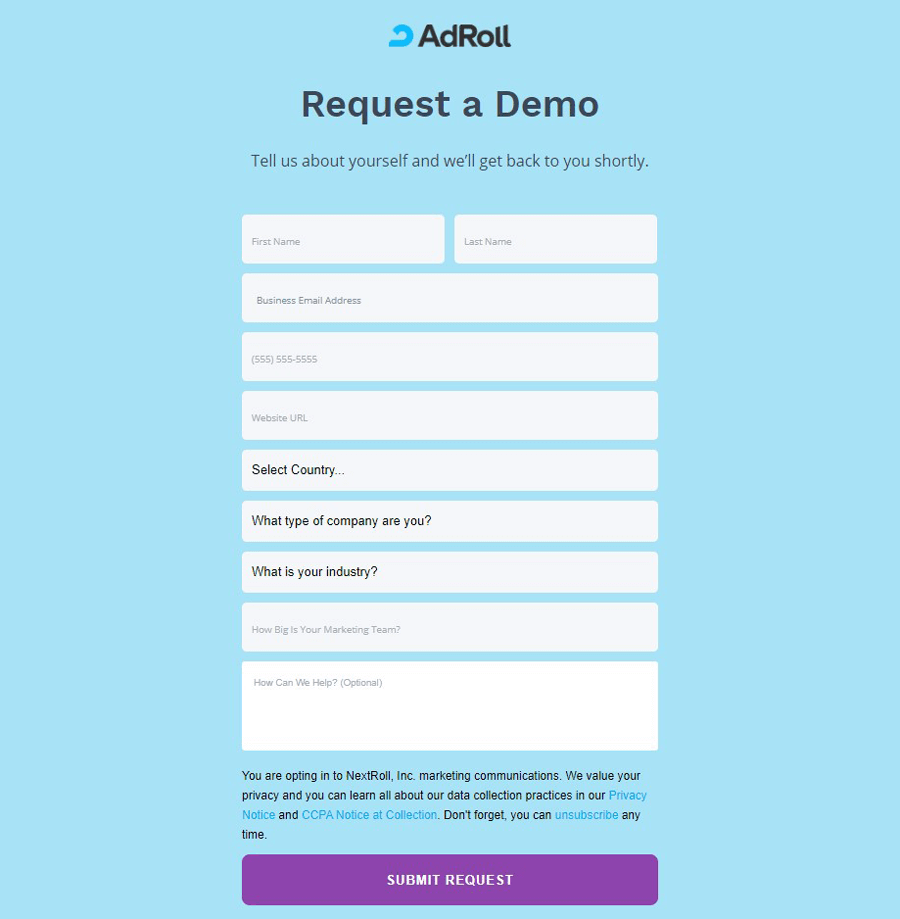 Why it works:
Minimal style fits mobile easily
Easy to tap all fields and fill with text
Clean, eye-friendly design
Big, tappable CTA button
Could be better:
Form could be shorter
Lacks social proof
No benefits stated
Opt-in legal message is vague
The best lead generation landing pages create a conversation with the viewer. See our guide: Conversational Marketing: from Traffic to Sales in 4 Steps
10. Think like a customer
Sales is empathy. If you know what your customer wants — and your product fills the need — your work is almost done. Think about your buyer's frustrations. Then consider how your offer makes them go away. Consider your funnel, and where your customers are on it. Then tailor your pages to fit your different customer types.
Are your potential clients frustrated because they spend money on marketing initiatives they can't track? Then highlight that frustration in your lead generation landing page. Draw them in with pain points, then offer to remove the pain — in exchange for filling a short form.
Lead generation landing page example [HubSpot]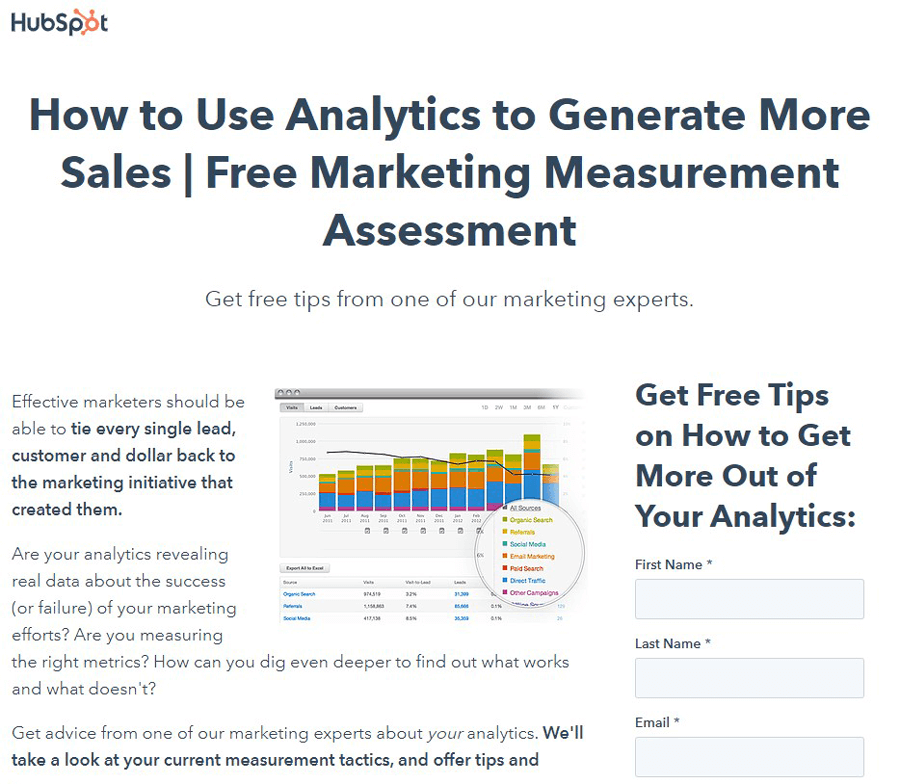 Why it works:
Offers a big carrot
"Free" generates action
Hits the customer's pain points
Solid design
Form is incredibly short (name and email)
Could be better:
A bit on the wordy side
No social proof
Key Takeaway
Lead generation landing pages are a great way to build your list. Prospects that come in looking for one kind of product or feature can be segmented and qualified right on your website.
To write great lead generation pages, use chatbots, ask for as little as possible, write solid CTAs, add social proof, talk up your benefits, and A/B test. Follow the steps in this guide, and your pages will draw leads like Erica Feidner and Joe Girard.
Try Tidio For Free