Imagine walking into your favorite store.
The decor, the smell, the smiling faces of the shopping assistants—you can't replace this.
Or… can you?
In this case study, you'll get to see how a store selling designer clothing and accessories spotted a gap in the market to create a new and exciting brand for small leather goods.
They have successfully recreated their unique brick-and-mortar customer experience in an online environment using Tidio and other technologies.
Read on to learn how your store can do the same for your clients in this crazy COVID-19 reality.
Here's what we'll cover:
First, take a look at this timeline to get an idea of how Small Wallet's story unfolded: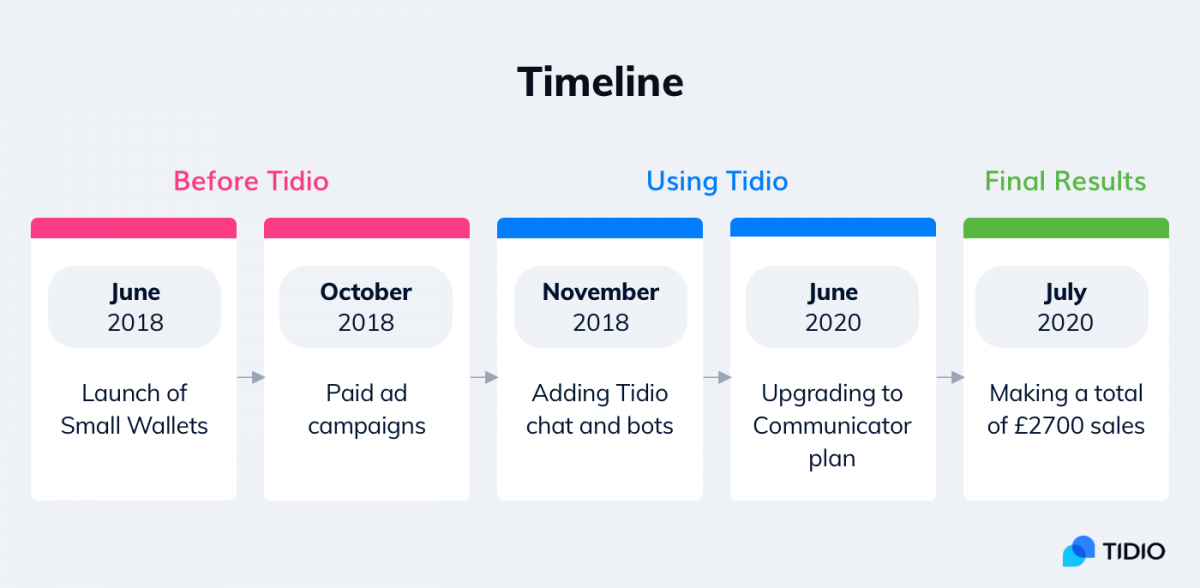 How a 124-Year Old Brand Launched an Online Store
Let me share with you the story of Alex Broadley, the 22-year-old founder of Small Wallets—an eCommerce business offering unique wallets, Cardprotectors, and key chains.
Small Wallets was launched in June 2018 as a subsidiary company of a long-established brand—Broadley's.
By the way, you can say Hi! To Alex via Tidio live chat located on the right side.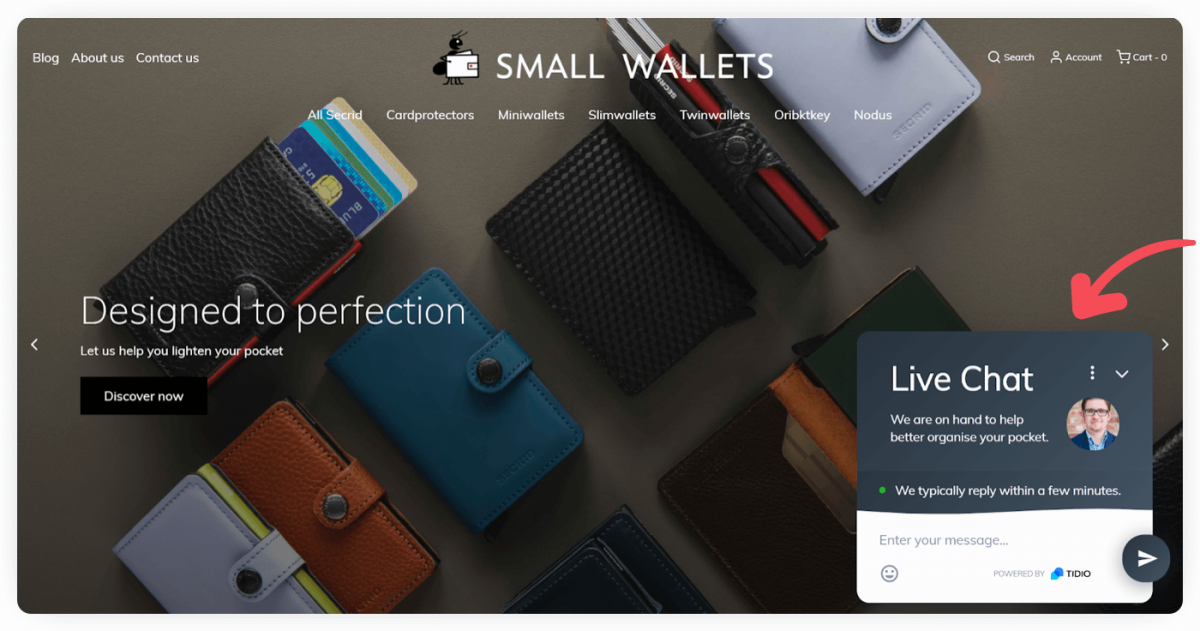 You see, Broadley's is a 124-year-old family business (crazy, I know!) with a physical retail store located in East Grinstead, West Sussex UK (and their building even dates back to 1355).
Why did they decide to go online?
In 2018, when Alex was studying Business & Entrepreneurship at Falmouth University, he participated in a contest and was selected for TransferWise 20 under 20 for submitting a brilliant business idea.
This gave him a real boost of confidence—also because a few years back, going to the university would never have crossed his mind.
He said: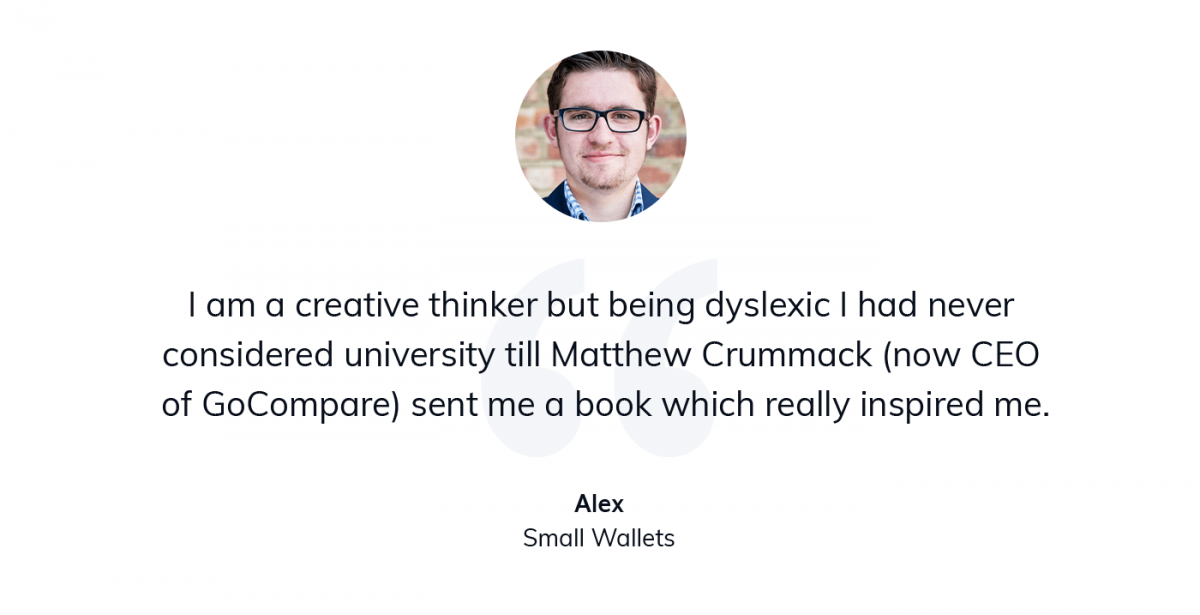 Fast forward a few months after the Transferwise contest, and Alex's entrepreneurial journey unexpectedly began.
Initially, he decided to launch an online store offering a selection of products already available in his family's retail store ( (Broadleys)—mainly wallets from a brand called Secrid.
When I asked about his mission for Small Wallets, Alex simply said:

The idea was to "bring back the enjoyment of using a wallet" and Alex took the time to conduct research and narrow down his audience.
Target market : Men and women between 25-34 years old, and people who want a change and like techy gadgets.
To bring traffic, Alex experimented with two channels:
Paid advertising
SEO (blog)
Apart from branding, his competitive advantage came down to this: an exceptional customer experience.
Among many things, this included great service and extremely fast delivery time.
Moving online created new opportunities but the mission to replicate the success of the 124-year old brand was going to take a lot of hard work and dedication.
Luckily, it was the kind of challenge that Alex was excited to take up.
Challenges in Replicating in-Store Experience in an Online Store
You see, if there's one thing Alex learned while helping out to run his family's business, it was this: people are more likely to buy from companies that make them feel valued.
Surely you know what it's like shopping in a place that cares about your experience:
You are welcomed with a warm "Hello" the moment you walk in
The staff attentive to your every need
You receive helpful recommendations and honest answers to your questions
… and the list goes on.
This was the in-store experience for everybody walking into Broadley's store, in East Grinstead, UK. And it was precisely what made this family business gain loyal customers and thrive on the market for 124 years!
Looking for expert tips on building strong customer relationships? See: 7 Ways to Build Strong Relationships With Customers
Naturally, Alex wanted to replicate this success with his own venture—Small Wallets.
He understood that it could be done by adopting a similar approach—putting customers first and providing them with an exceptional shopping experience online.
He asked himself this question.
Challenge: How to replicate a personalized in-store experience in a Small Wallets online store?
Truth is, it was a tough nut to crack.
Shopping online is completely different from walking into a physical store and interacting with its staff.
Yet, Alex knew that there must be a way to connect with his online customers and build a strong relationship with them while they are shopping.
He set the following goal for Small Wallets.
Goal: Use technology to personalize the online shopping experience and approach each customer in an individualized way.
Shortly afterward, he conducted research and stumbled upon live chat as a possible solution. He decided to give it a shot.

🚀 Read more: What Is Live Chat? How Your Business Can Benefit From Live Chats With Customers
How I've Used Bots and Live Chat to Boost Sales and CX
Then, while browsing a Shopify app store, Alex came across Tidio.
Tidio Shopify live chat had awesome ratings and reviews, plus it was a free plugin that could be added to a site in less than 3 minutes.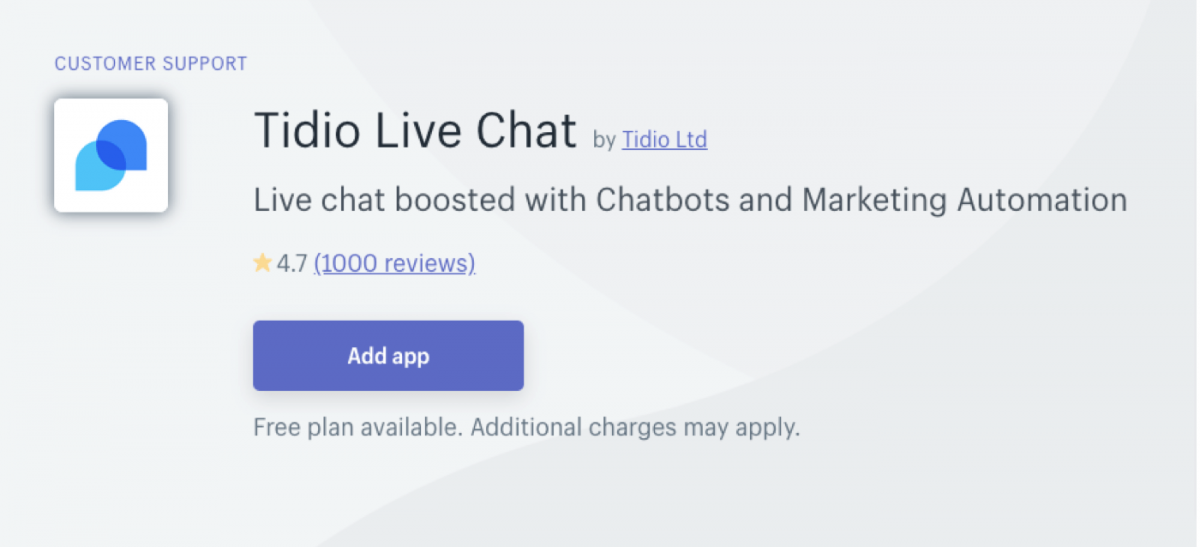 "Seems like a perfect solution to try"—thought Alex.
And so he did.
He set up a welcome message, and played around with a few chatbots only to find that Tidio was extremely easy to use, and… the customers were more than happy to use it for asking questions.
Now, Alex has more than 32 (!) bots that handle:
Customer support (FAQ)
Cart abandonment
Lead generation
Sales
… and more! Just take a quick look at his bots' dashboard.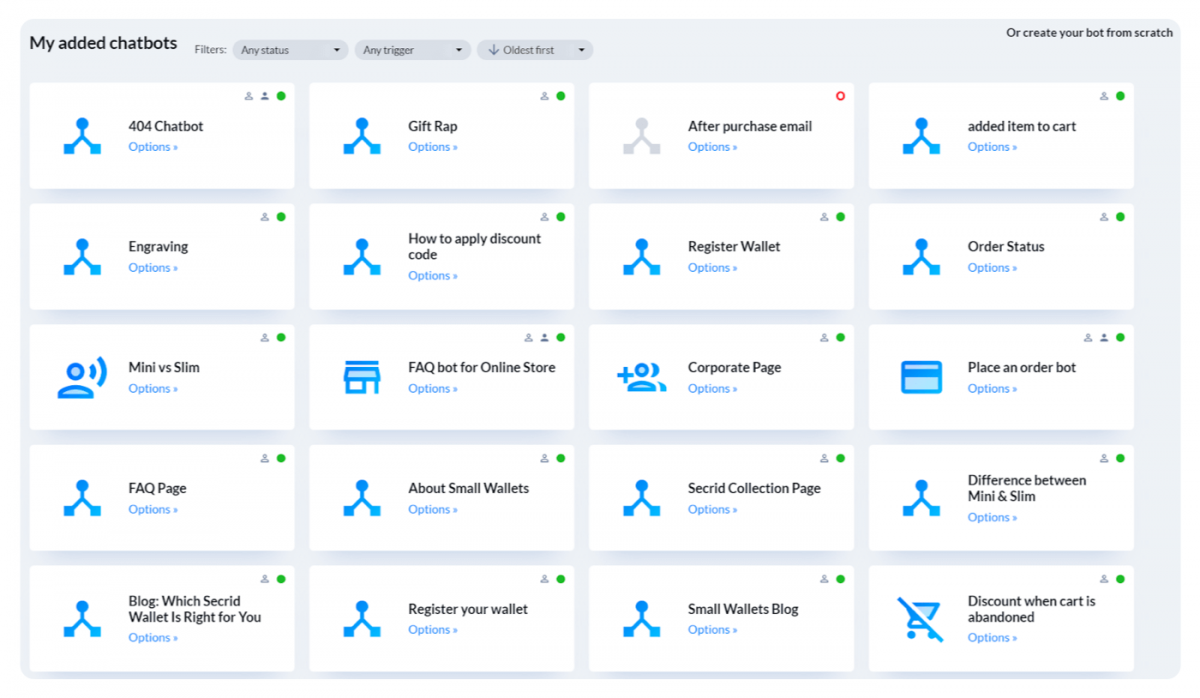 You don't need to spend hours coding chatbots from scratch! Simply, use one of our free 20+ chatbot templates and hire your first bot in minutes!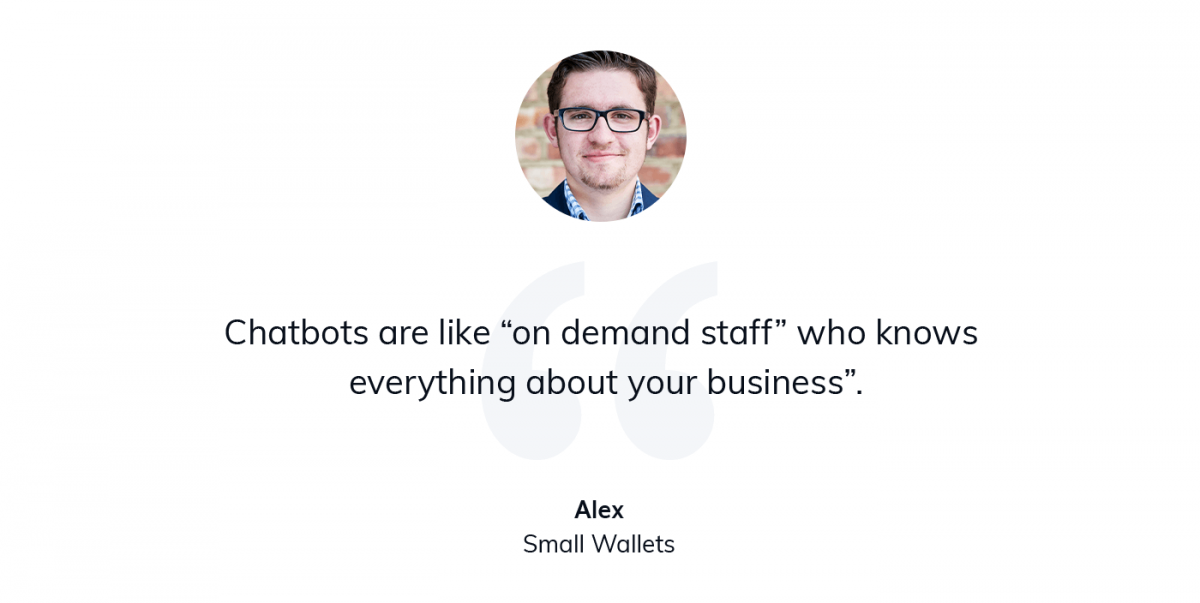 Bots helped Alex automate the majority of repetitive tasks so that he could focus his energy on what really mattered for him: creating an outstanding customer experience.
How Small Wallets used Tidio live chat to achieve that?
As you remember, Small Wallets' mission was to recreate the in-store, personalized customer experience online.
That's why, in June 2020, Alex purchased Tidio Communicator plan, and started taking full advantage of Tidio live chat's features.
Here's his default welcome message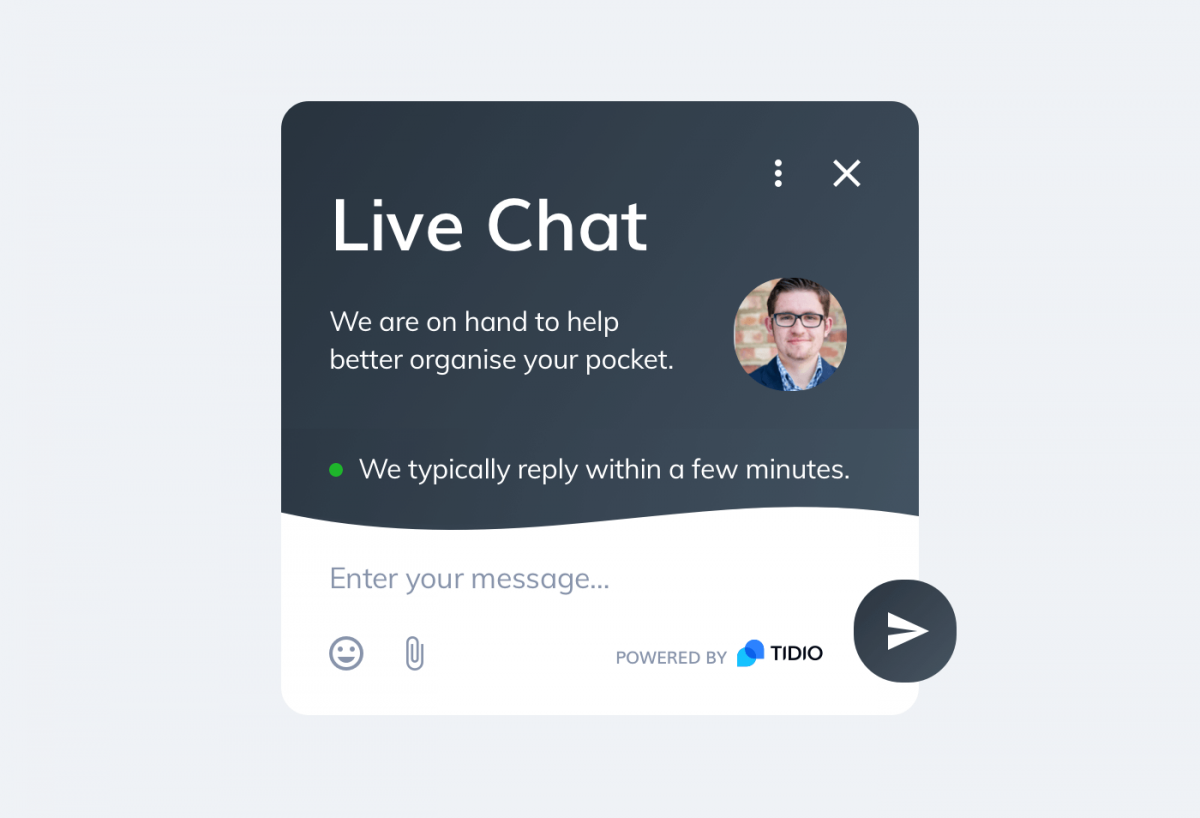 Alex also installed Tidio's mobile app on his phone which allows him to respond to visitors' messages in seconds!
And that's not all.
With a communicator plan, Alex is able to access:
Live visitor's list (users browsing the site)
Viewed pages of site visitors'
Live typing
New visitor incoming notification (mobile + desktop)
100 free chatbot triggers
What is the most useful Tidio chat feature for him?
Viewed pages!
Here's how he uses it: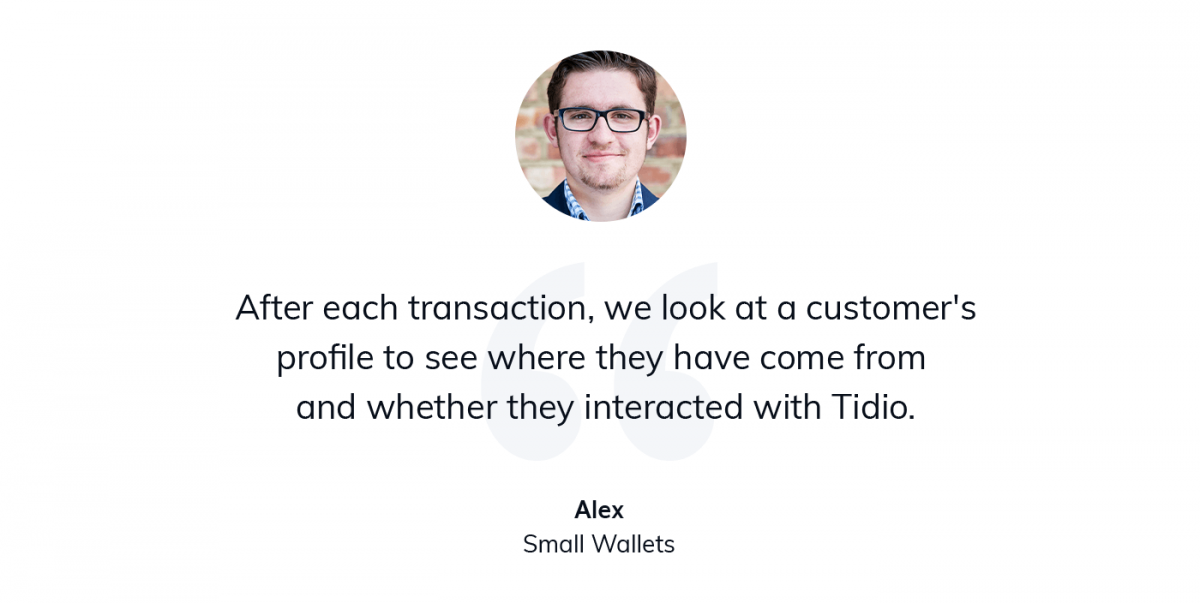 Using previously viewed pages, Small Wallets is able to understand potential customers better and offer them product recommendations (with a bot), or engage with them directly while they are browsing the site.
You know, in the same way a staff member would approach you in the physical retail store that truly cares about its customers!
Alex confirms: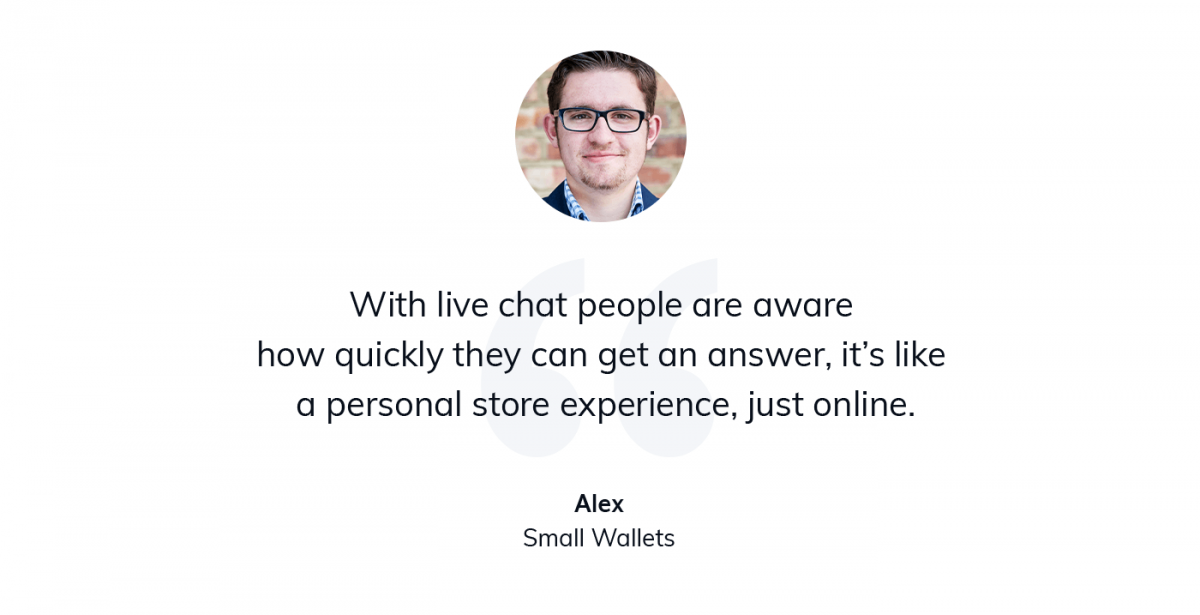 How does he know that live chat and chatbots truly helped him succeed? Numbers speak for themselves, and it's time we dive into them!
Results—Using Tidio Chat to Win a Corporate Client and Make £2700
You see, when Alex told me excitedly "Tidio massively improves our customer service", I couldn't help but ask him to prove it with data!

He added: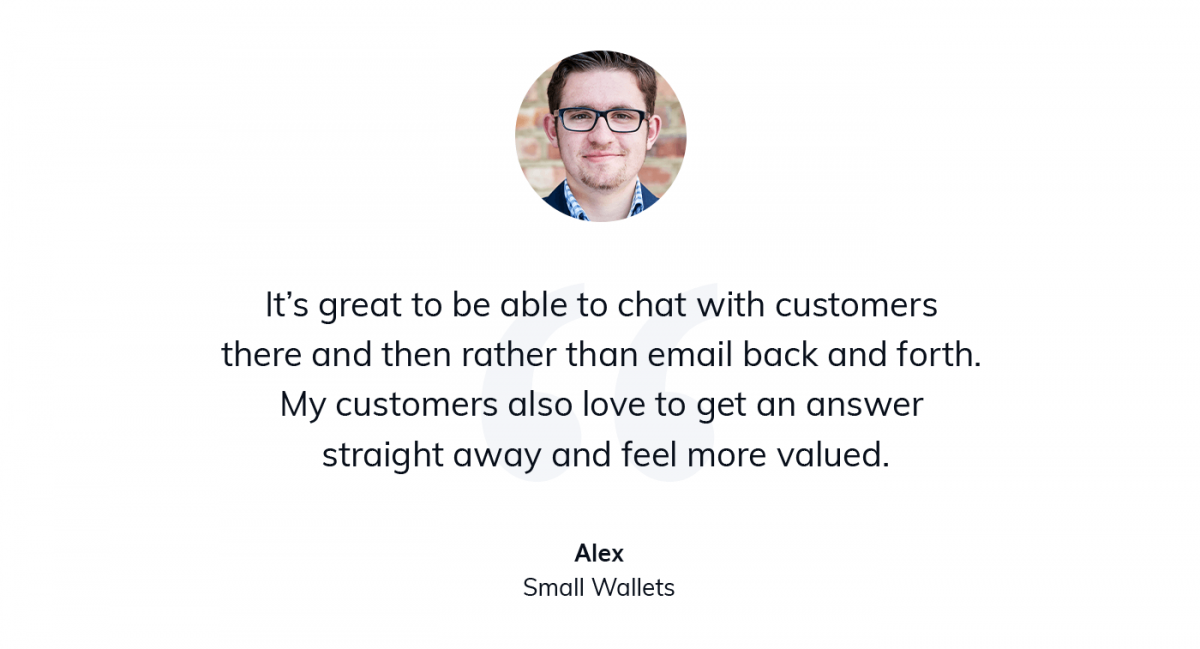 But let's not just take his word for it. 😉
Here's the data from Alex's Tidio panel showing his £2700 sales generated in two months with live chat and chatbots alone.

It was thanks to a live chat conversation that Small Wallets won their first corporate client who ordered 10 wallets for a wedding event.
This only proved to Alex that replicating an authentic in-store customer experience in his online shop has really paid off.
🚀 Read more: Live Chat & Chatbots That Grow Your Sales
Replicating in-Store Experience Online in 6 Steps
Made it that far? Great! Here's a short recap of the most important learnings from Small Wallet's study:
Define your target audience before starting out
Put your customer experience first. Always.
Use free chatbots to automate repetitive tasks
Talk to your customers via live chat to understand their needs better
Get a mobile live chat app to help your customers right away
Focus on personalization to boost your sales
Lastly—do not be afraid to experiment and adjust your customer experience strategy as you grow.
Bonus Tutorial
Alex created chatbots triggered by specific events. It is a very good approach. He can have many chatbots that pop up in different situations and don't clash.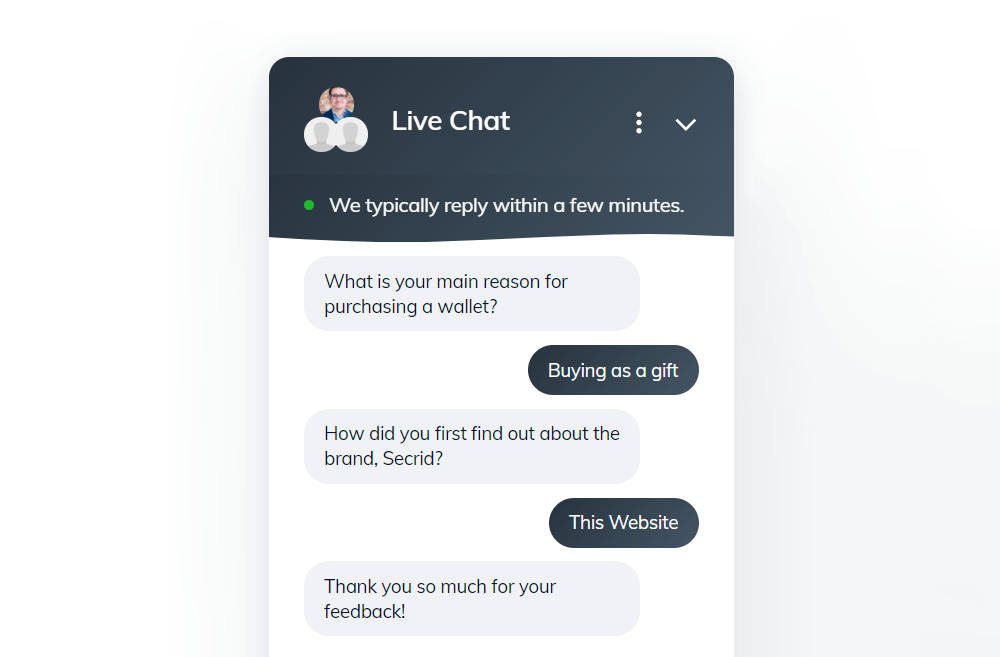 Let's take a look at one of the chatbots. It collects feedback from the customers who completed a purchase.
If your store is on Shopify, all you need to do is select the right template. Go to Chatbots > Boost Sales on Shopify > Purchase complete message.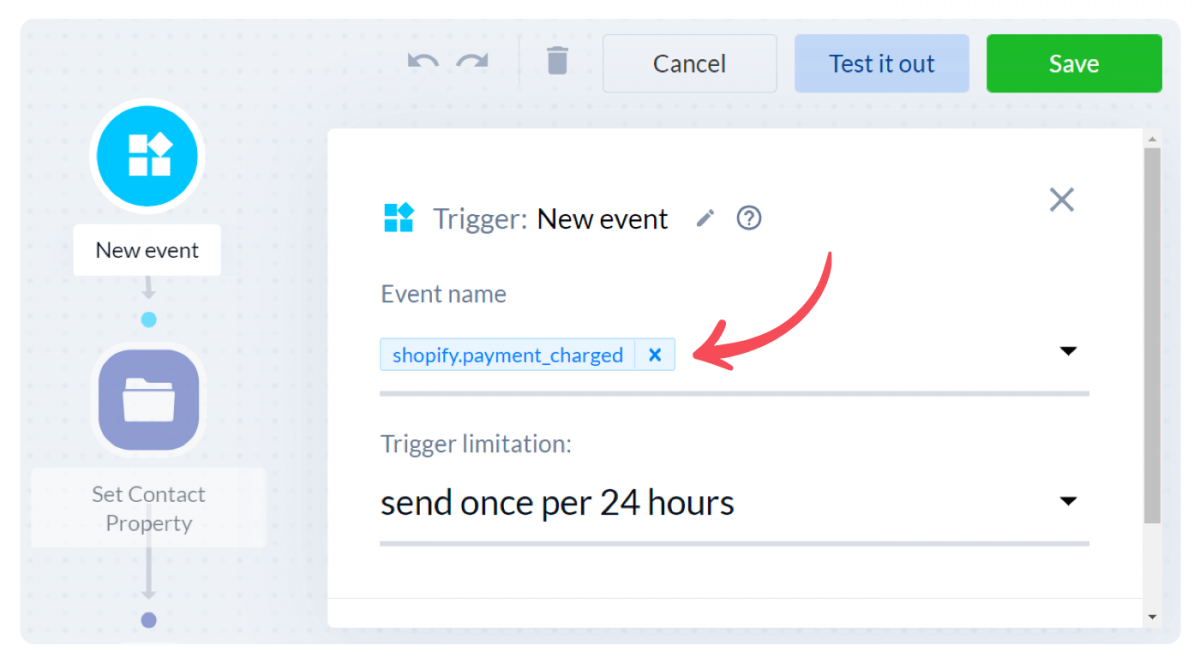 It's also possible to configure your own triggers manually with Tidio API.
You can add more nodes, questions, and messages.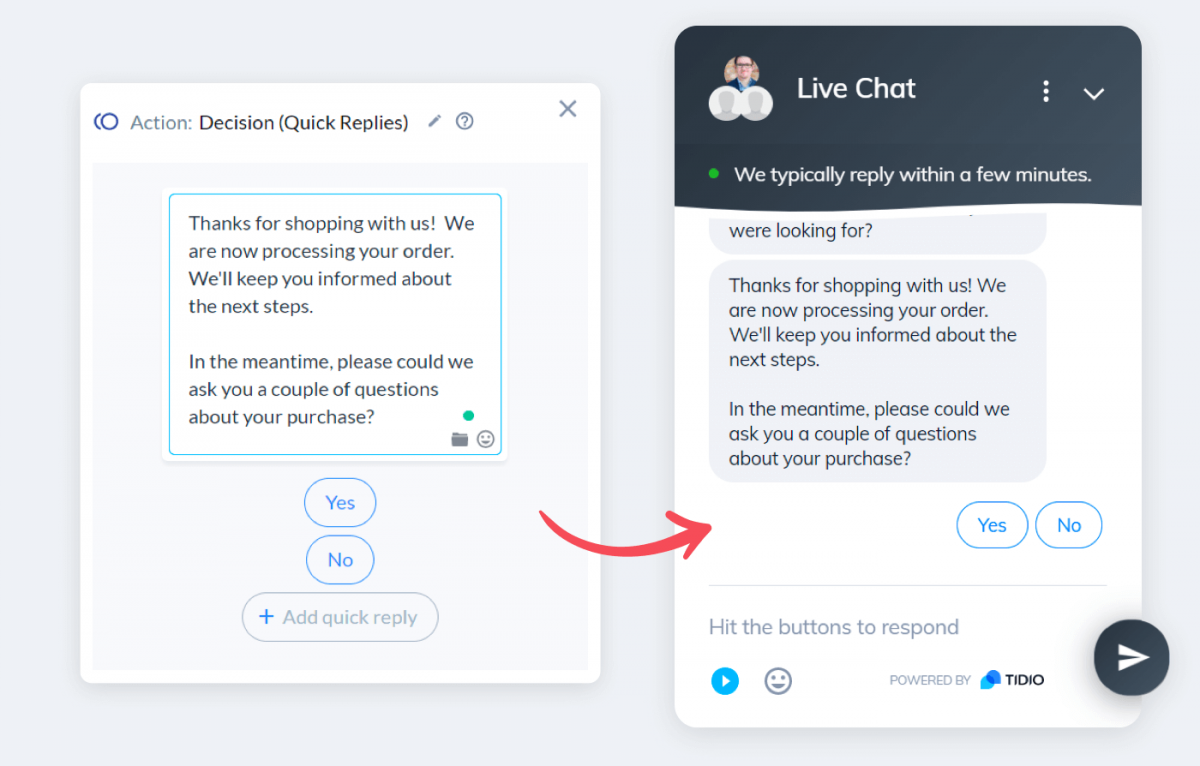 The first node in Alex's chatbot sets a custom contact property. It is a very smart move.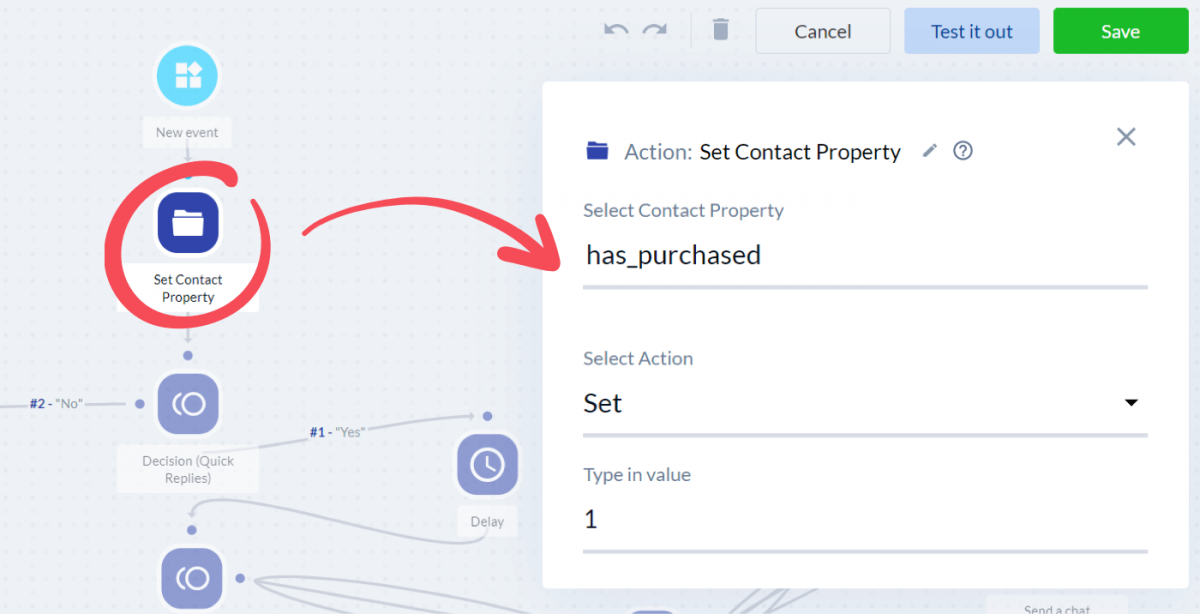 The chatbot collects tons of valuable feedback!
Now, Alex can go to his Contacts and find the users who chatted with the bot.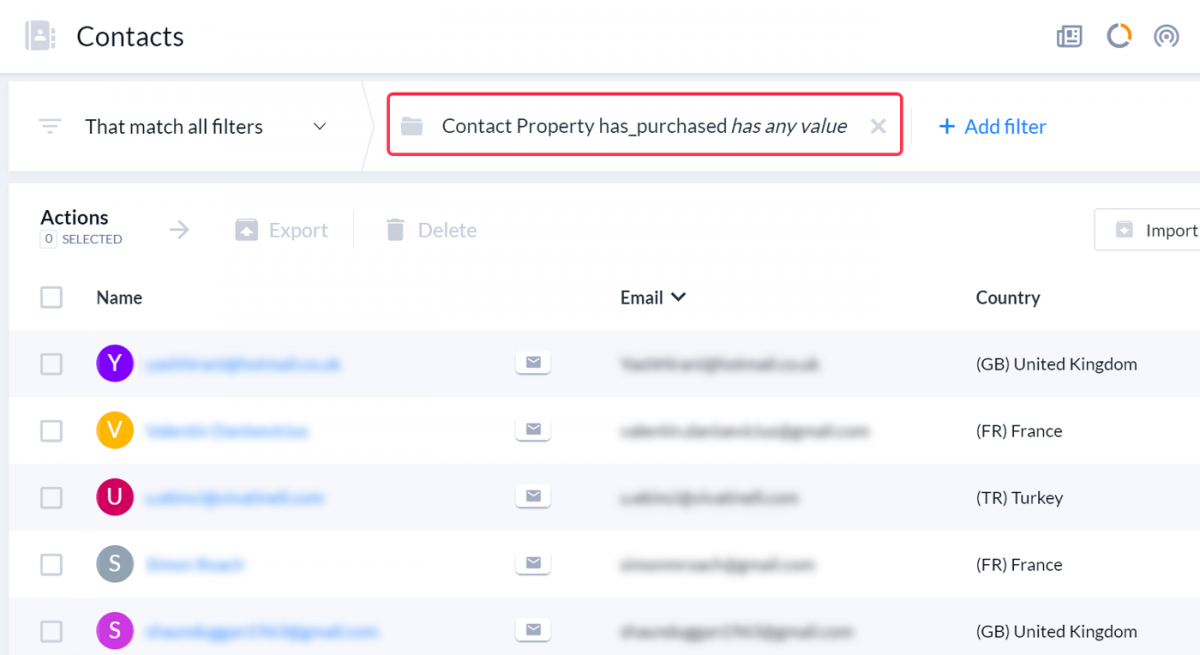 Setting everything up is very easy.
You should also give it a try!
Browse different triggers
Try adding custom properties
Filter your contacts based on that properties
You can save the filtered contacts as a segment and use them in your email marketing campaigns.